Last updated on November 20, 2023
Transform your home into a charming Wild West retreat because every space deserves an adventurous touch of design.
Saddle up for a journey into the heart of the Wild West without leaving the comfort of your home. This article is a goldmine of ideas to transform your dwelling into a stylish frontier haven.
From rustic furniture to cowboy-inspired décor, we'll delve into various ways you can infuse your space with the spirit of the Wild West.
Keep reading to discover how to bring the charm of a prairie homestead or a saloon straight into your living room, kitchen, or even your bedroom.
All the details you need to create your own western-inspired oasis are right here.
Rustic-style Wooden Furniture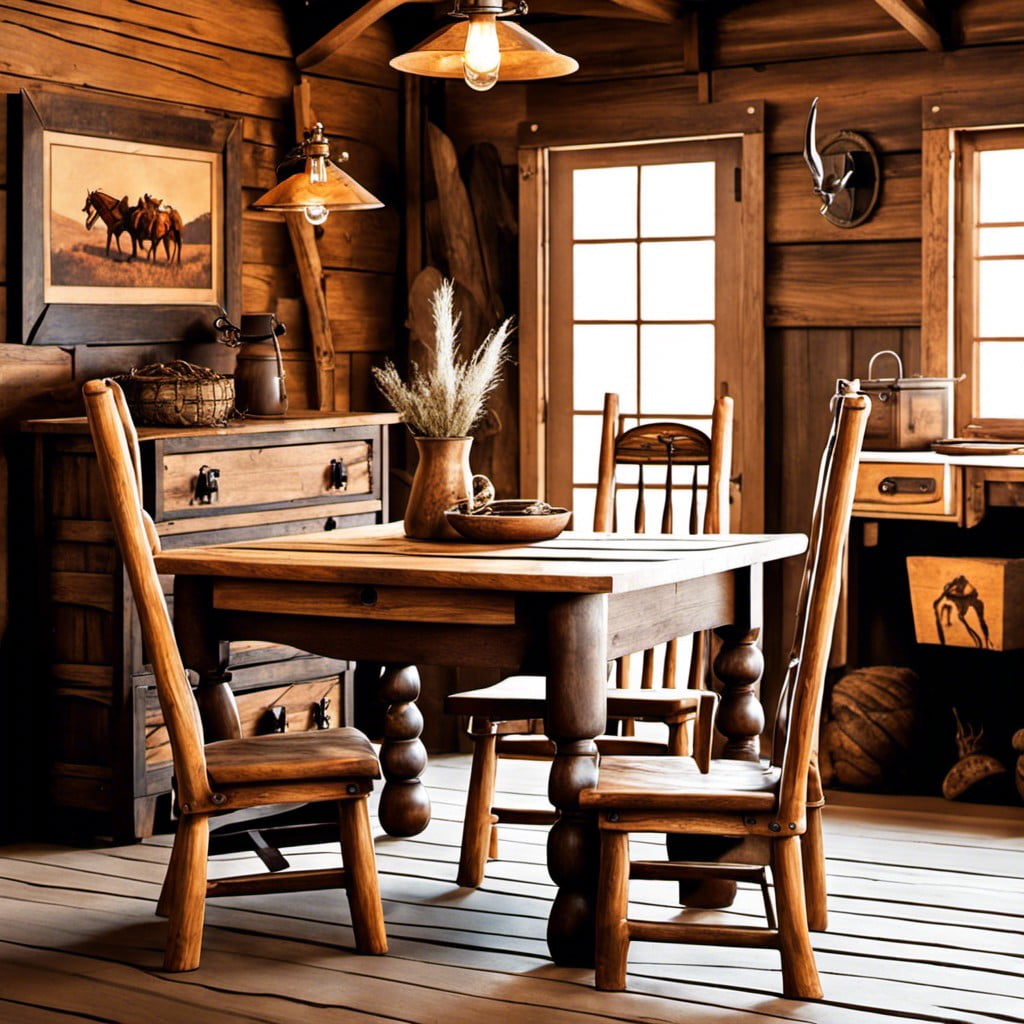 Opting for furnishings hewn from timber enhances the authenticity of a Wild West vibe. Seek out pieces showcasing unrefined bold lines in their design, promoting a sense of gritty, untouched wilderness.
Include solid wooden tables and chairs, hefty chest of drawers, and robust bookcases. Keep finishes natural, leaning towards distressed or reclaimed wood to further the rural charm.
Enhance the ambiance with an oversized wooden mantle, doubling as a focal point in a living room, or select robust bed frames in your bedrooms graced with warm, woodsy comfort. For an unanticipated twist, incorporate a tasteful wooden rocking chair in a reading corner.
Nothing spells western more than a blend of comfort and raw nature!
Wagon Wheel Decor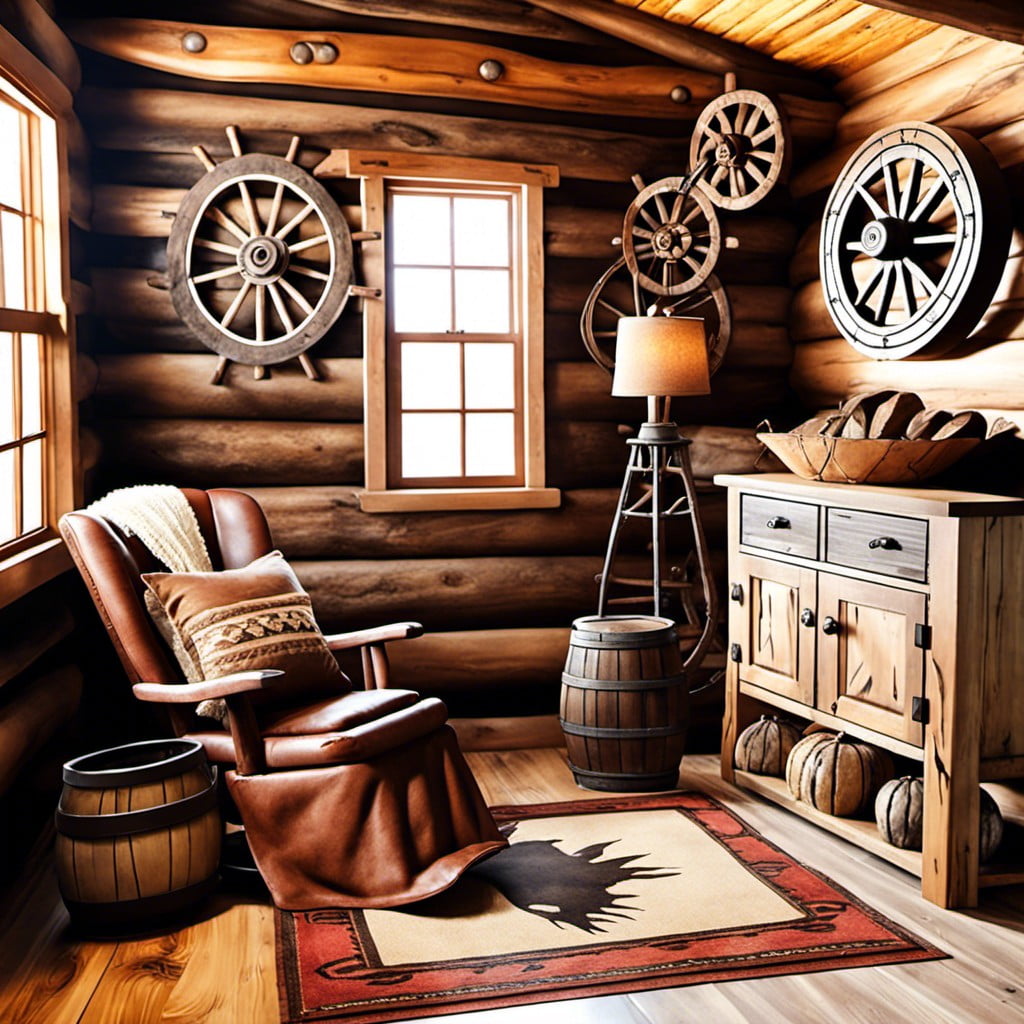 An old-time wagon wheel can initiate rustic charm effortlessly into your living space. While larger wheels can command attention as a distinctive focal point when leaned against a wall or mantel, smaller variants can find their use as chandelier structures or even as a base for coffee tables.
As for garden spaces, wagon wheels can offer a truly picturesque feel when used with climbing plants. The sight of a wagon wheel entwined with blooms and foliage can make a significant visual appeal. Not only this, but wheels can also be sunk halfway into the ground in your garden to offer a permanent decorative element.
Whether placed indoors or outdoors, this unique decor imbues the spirit of the Wild West. For an added characteristic touch, paint them in weathered finishes or use them in their natural, raw form. Remember, authenticity is the key to nail this style.
Cowhide Rugs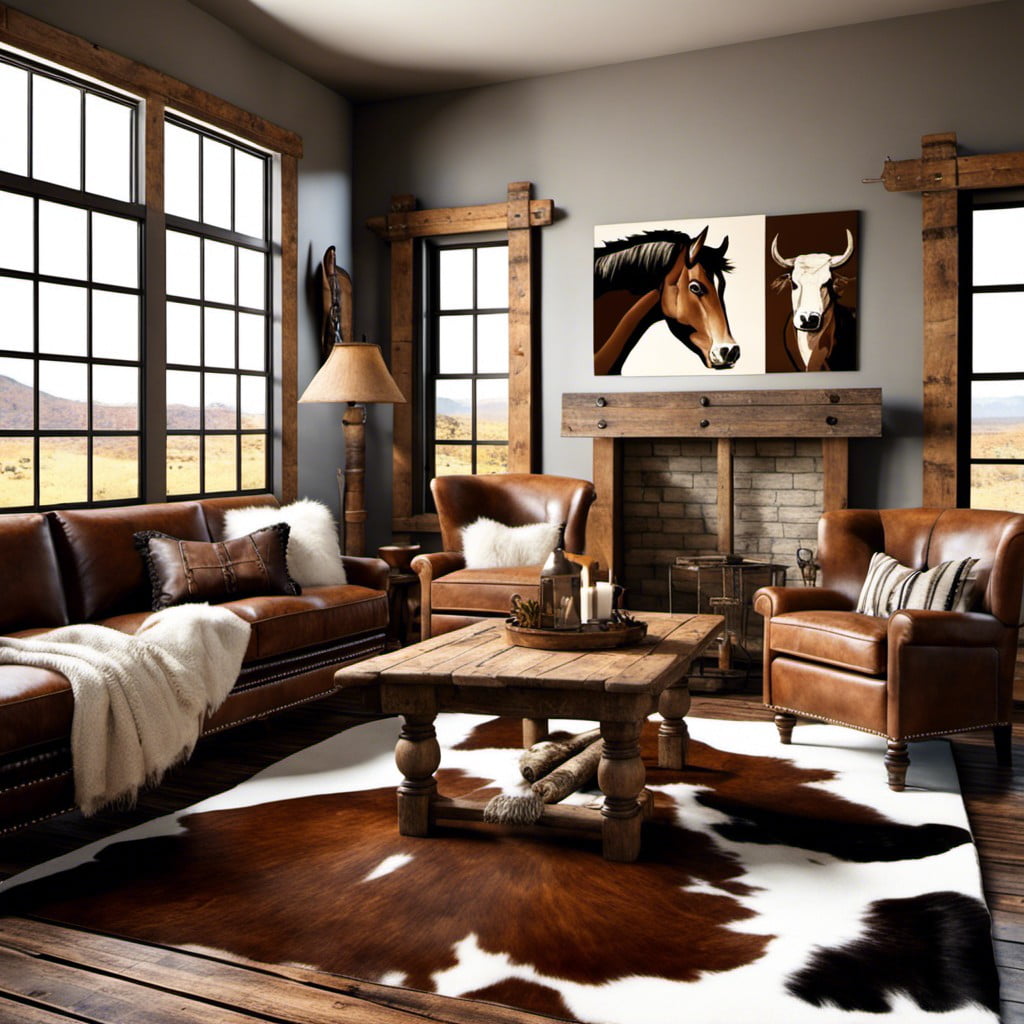 Authentic and multifaceted, cowhide rugs inject a dose of rugged charm into the home decor. These stylish yet durable accents perform superbly across various floor finishes and provide a soothing, soft underfoot feel.
They come in an array of natural patterns, from solid black, white, and brown to assorted speckled or patched designs, thus offering versatility to match any western-themed interior.
If you prefer an animal-friendly option, consider faux cowhide rugs made from acrylic or polyester. These alternatives retain the look but not the origin, perfect for those seeking ethical home decor.
Be sure to vacuum regularly and clean spills promptly to maintain the rug's rustic appeal.
Lone-star Patterns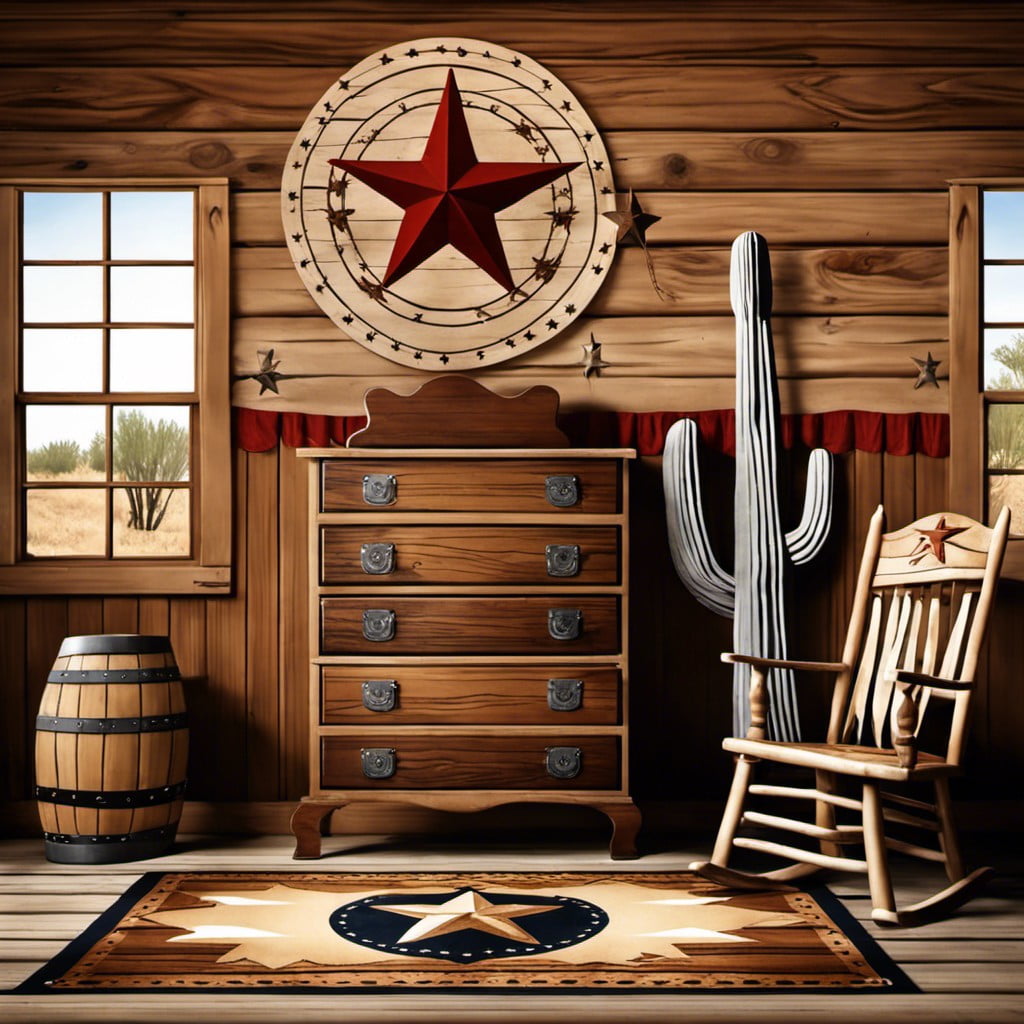 Lone-star patterns, with their traditional appeal, enhance a Wild West ambiance effortlessly. They consist of a single star, often encircled by contrasting rings—usually adopted in quilts or wall arts.
A distinctive pendant light with a lone-star pattern bark can cast a beautiful shadow while increasing the aesthetic appeal of the room.
Opt for door mats or area rugs embroidered with this pattern.
Repurposed wood panels with the star symbol can be a perfect backdrop for the seating area.
Accentuating your curtains, towels or cushion covers with this pattern can also give a minor yet detailed western touch to your home.
Mounted Deer Antlers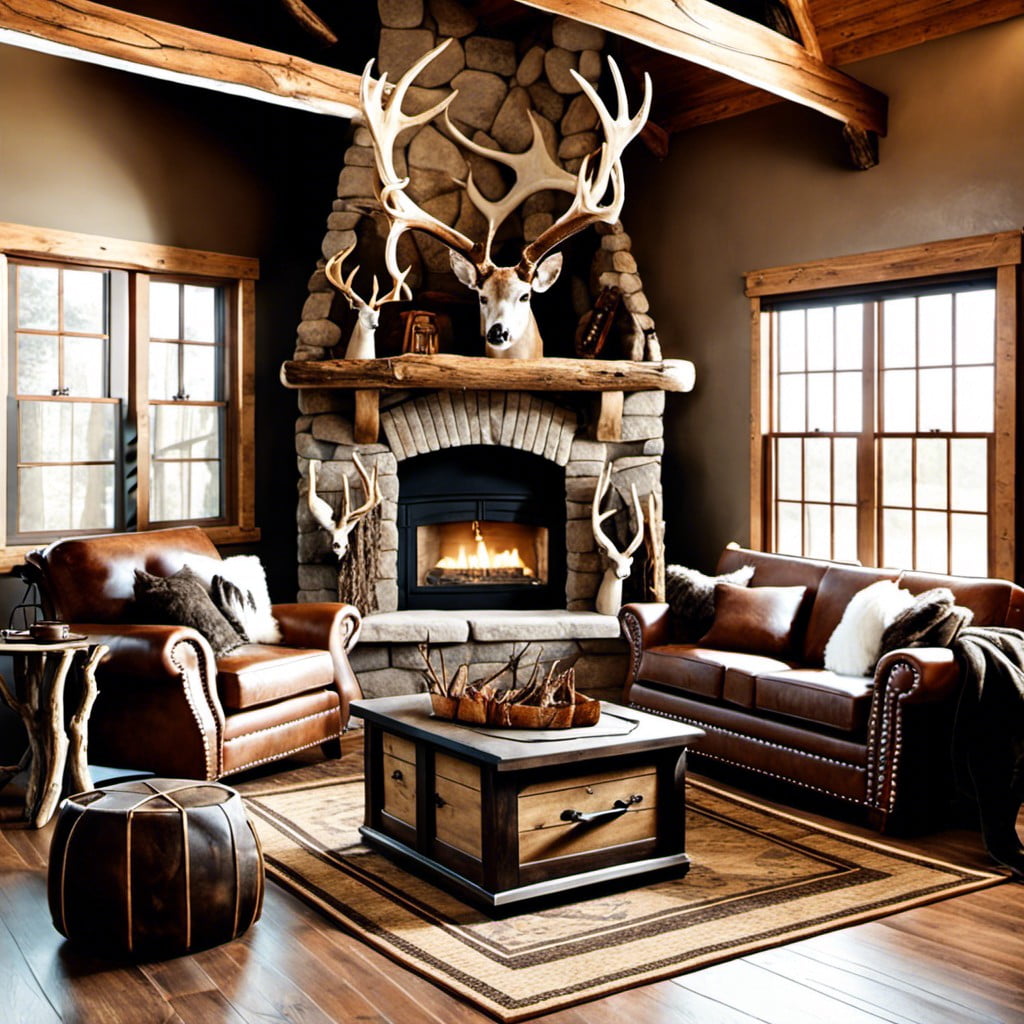 Incorporating mounted deer antlers into your decor invokes a sense of the wilderness while adding depth and interest to your walls. The antlers can be presented in their natural state, emanating a rustic charm, or they can be painted to complement the color scheme of the room.
A collection of small antlers can be grouped together to create an accent wall, or a single pair of large antlers can serve as a focal point. Alternatively, you can affix them to a wooden plaque for a touch of elegance. Using faux deer antlers is a cruelty-free option that offers the same visual appeal.
Lastly, consider integrating string lights or tiny ornaments on the antlers for an extra whimsical touch during festive occasions.
Cowboy Boot Planter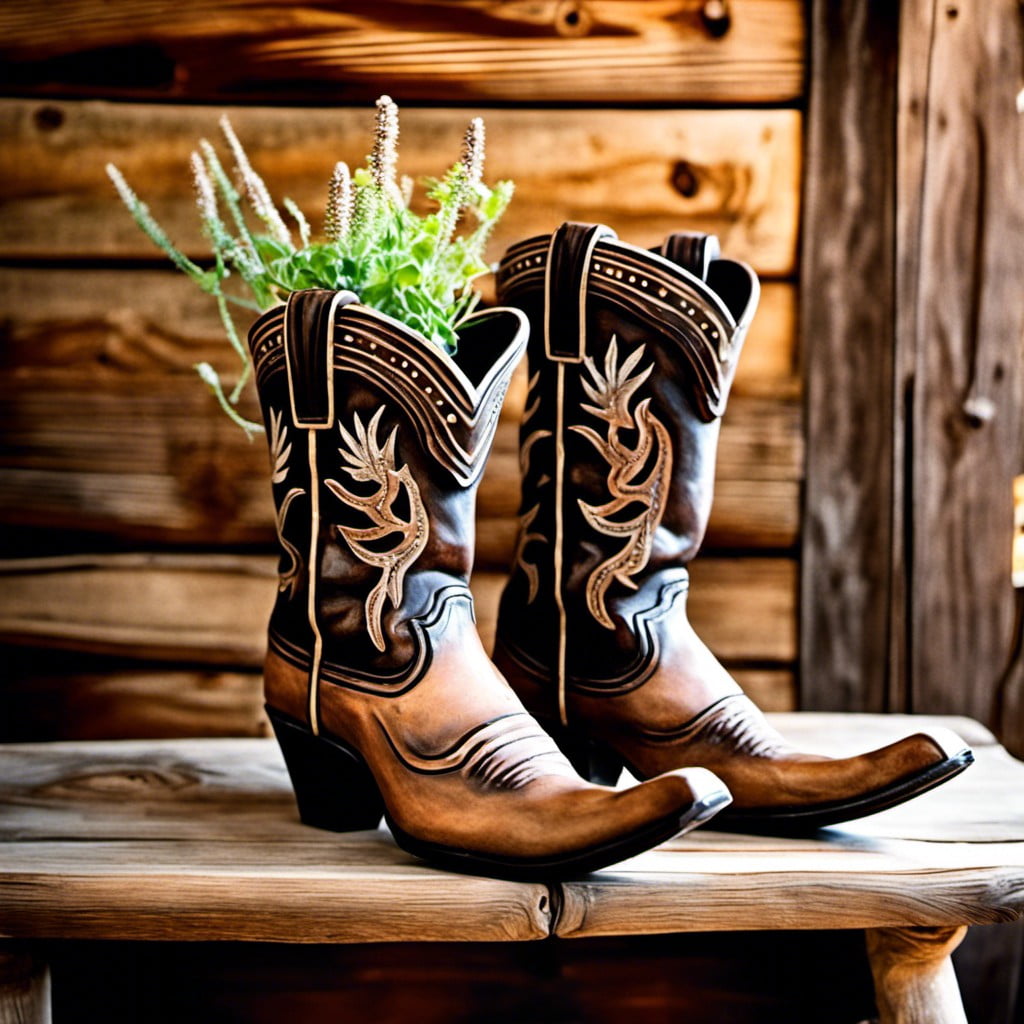 A simple yet resourceful way to showcase your love for the west is to upcycle your worn-out cowboy boots into funky planters. An ideal fit for succulents or small flowering plants, they add an instant wild west appeal when put on display.
1. Selection: Choose boots with interesting patterns or a warm, weathered look to enhance the rustic vibe.
2. Preparation: Clean boots thoroughly and create a drainage hole at the bottom.
3. Planting: Insert a layer of pebbles for further drainage, add appropriate soil, then place your chosen plants.
4. Placement: Position these boot planters strategically around your home, perhaps at the entrance, in the living area, or even as a quirky kitchen garden addition.
This creative arrangement adds a striking and unusual aesthetic, also proving your recycling tendencies!
Indoor Metal Windmill Fan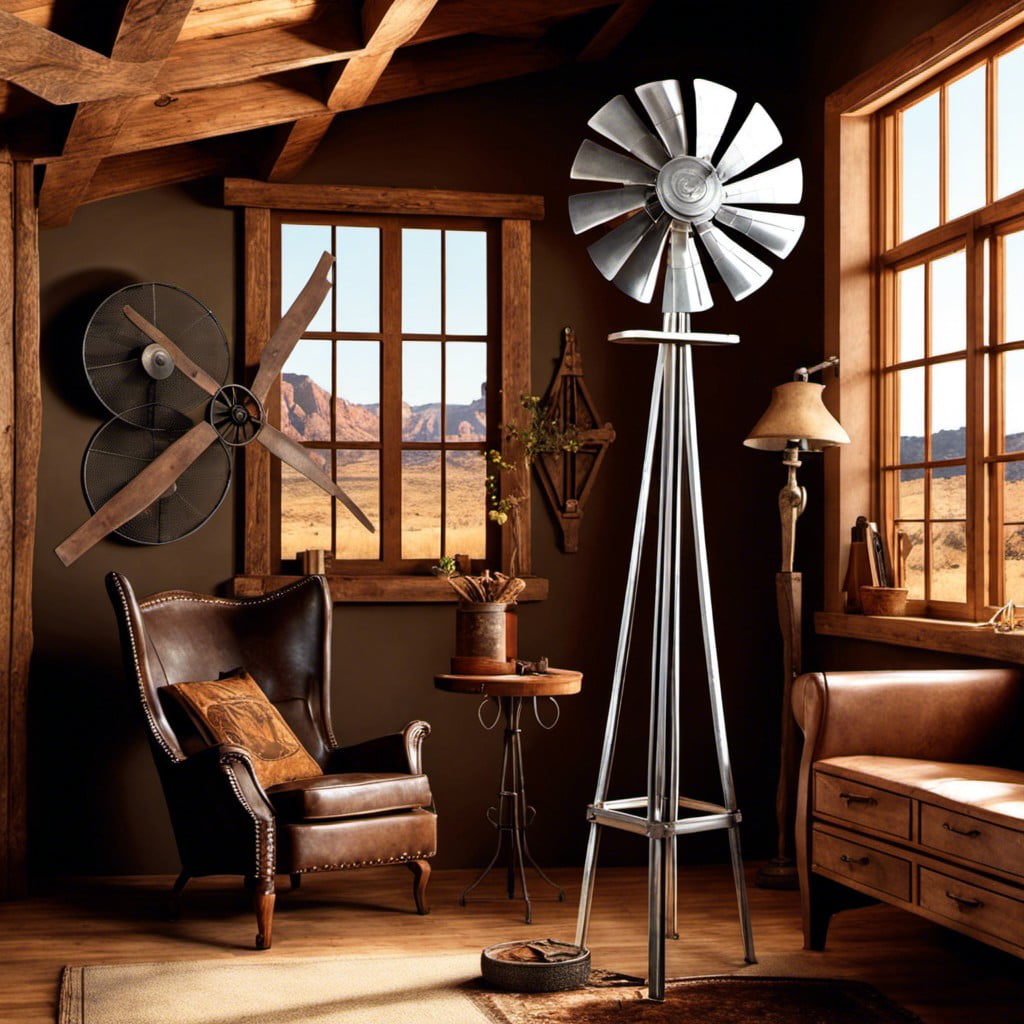 A symbol of the open, breezy great outdoors, this addition offers a fresh twist to the typical ceiling fan. It's functional as a cooling appliance but more importantly, it serves as a statement-making centerpiece.
To accentuate its presence, consider highlighting it with spotlights. Select one with metal blades that have a weathered or rustic finish to resemble an actual windmill.
If up for a more daring design, seek out models with colored blades – turquoise and red offer a bold and quirky touch.
An adjustable speed control ensures comfort while its unique aesthetic elevates your living space, whisking in the wild west's spirit of freedom and adventure.
Cactus Print Textiles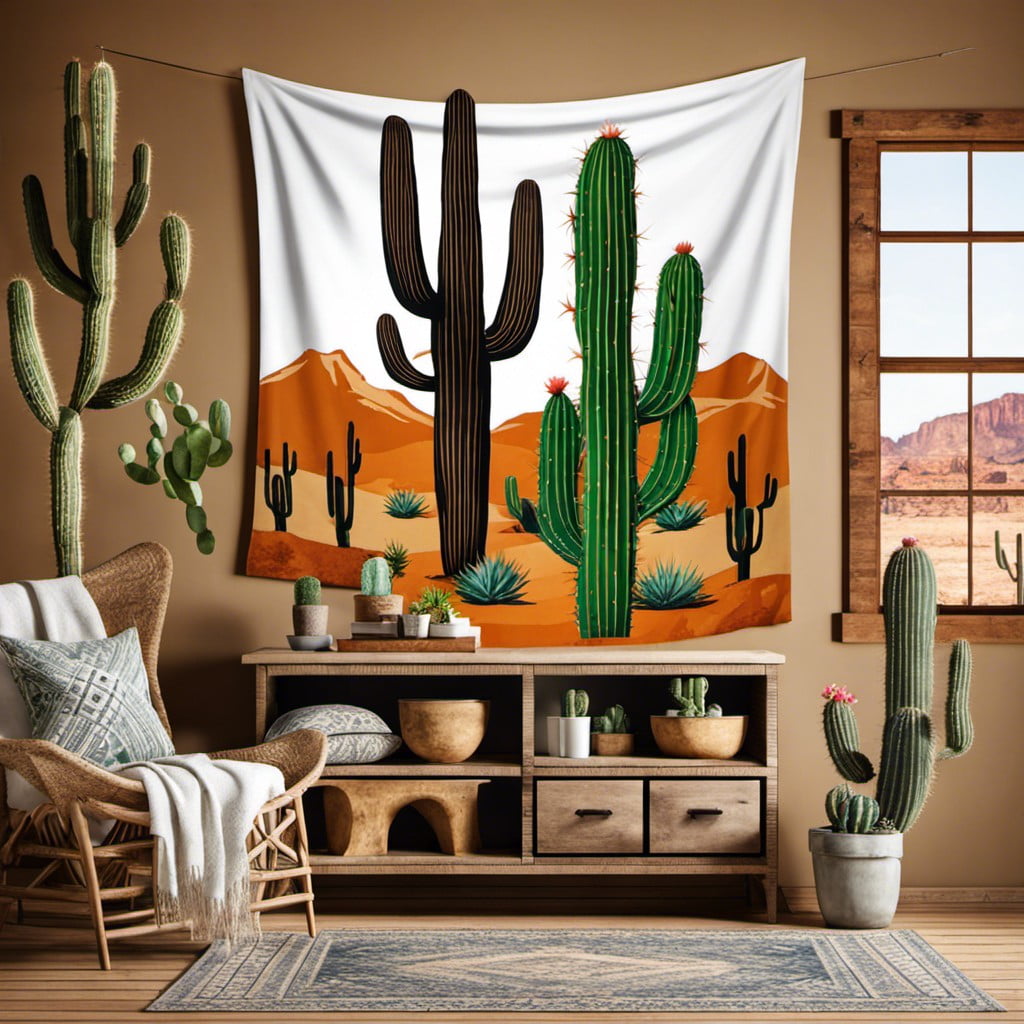 Liven up a humming living room or a sleepy bedroom with the vibrancy of cactus print textiles. Consider scatter cushions adorned with the spiky silhouette of a saguaro cactus, or throw blankets imprinted with a medley of different succulent varieties.
These prints work wonderfully with neutral tones, particularly grays, tans and earthy browns, adding a splash of southwestern charisma. You can also explore curtains with subtle cactus motifs as fresh window dressing ideas.
The longevity of these desert plants mirrors the enduring nature of this timeless design trend – vibrant yet elegantly simple. Remember, the goal is not to overwhelm, but to thoughtfully integrate these elements, creating visual cues that transport you to the untamed frontier of the wild west.
Weathered Wooden Frames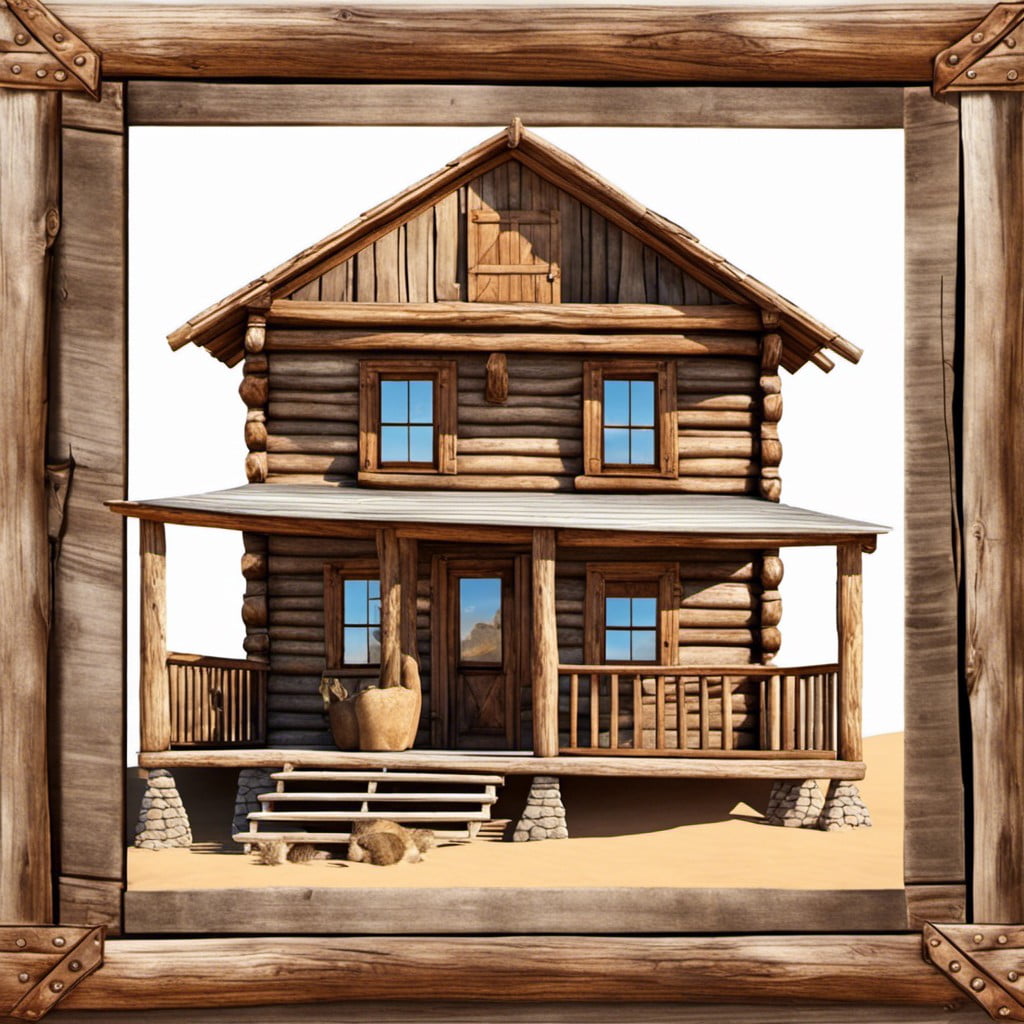 Incorporating these frames into your interior design will impart a simple yet effective homage to the old west. They effortlessly imbue any room with a sense of history and rustic charm.
To maximize their impact, consider:
Pairing them with black and white photos or sepia-toned prints.
Using them to highlight pressings of local plants or leaves for a natural touch.
Utilizing a cluster of different sized frames on one wall to create an eye-catching focal point.
Mixing and matching with other wood finishes to deepen your design's texture and complexity.
Placing them in unexpected spots, like a bookshelf or mantle, to sprinkle additional old-west ambiance throughout your rooms.
Remember, these frames are more than just accent pieces – they're little snapshots of history brought into your space.
Vintage Lanterns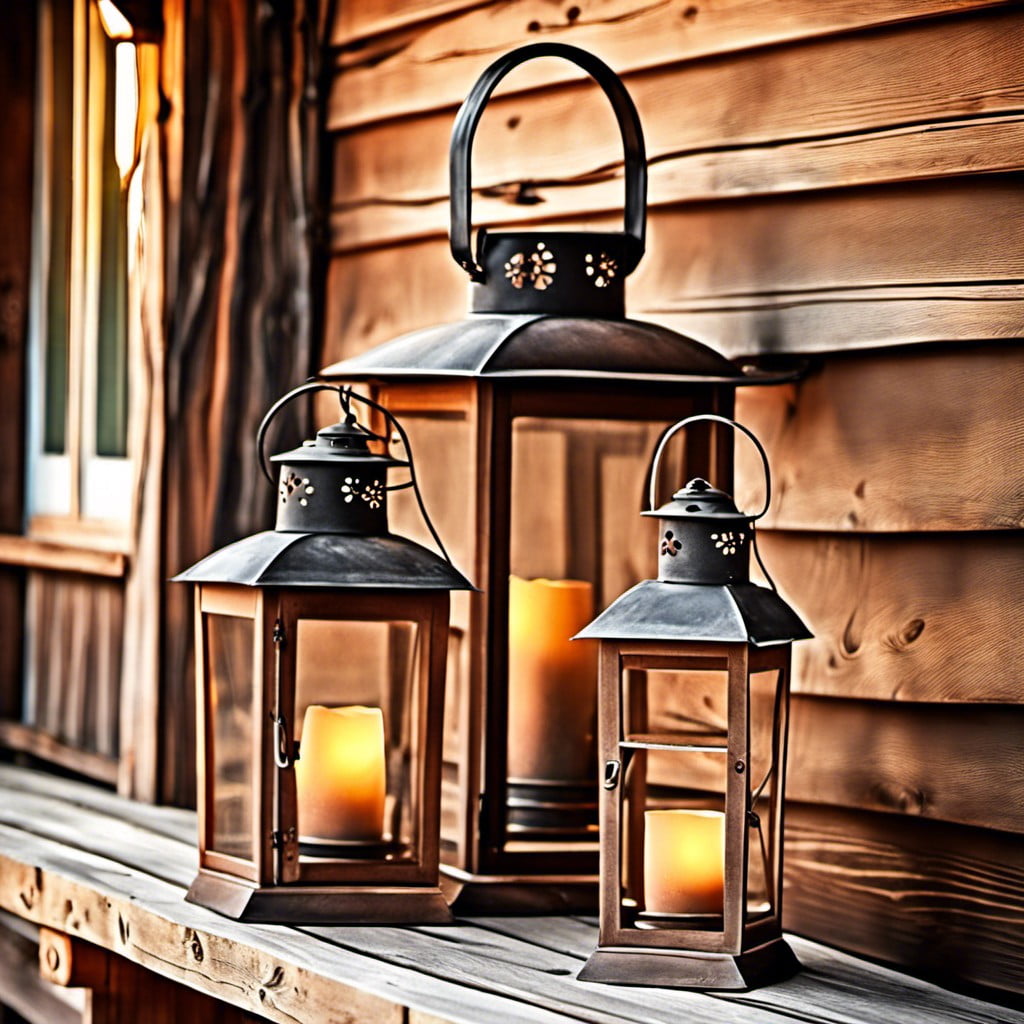 Whether it's a soft glow to enhance the ambiance of your evening, or a simple illumination for late night moments, a vintage lantern serves a dual purpose. Choose lanterns with an aged-patina for an authentic look.
Candle lanterns give off a natural, warm glow that's reminiscent of a prairie bonfire, though LED versions exist for modern convenience.
Hanging in collections at different heights, or carefully placed on rustic shelves and tables, these pieces create a unique charm.
Not only is this an ode to the past, reflecting the settlers' use of handheld lanterns in the timeline of old westerns, but a visual, functional storytelling piece in your western-themed home.
Saloon-style Swinging Doors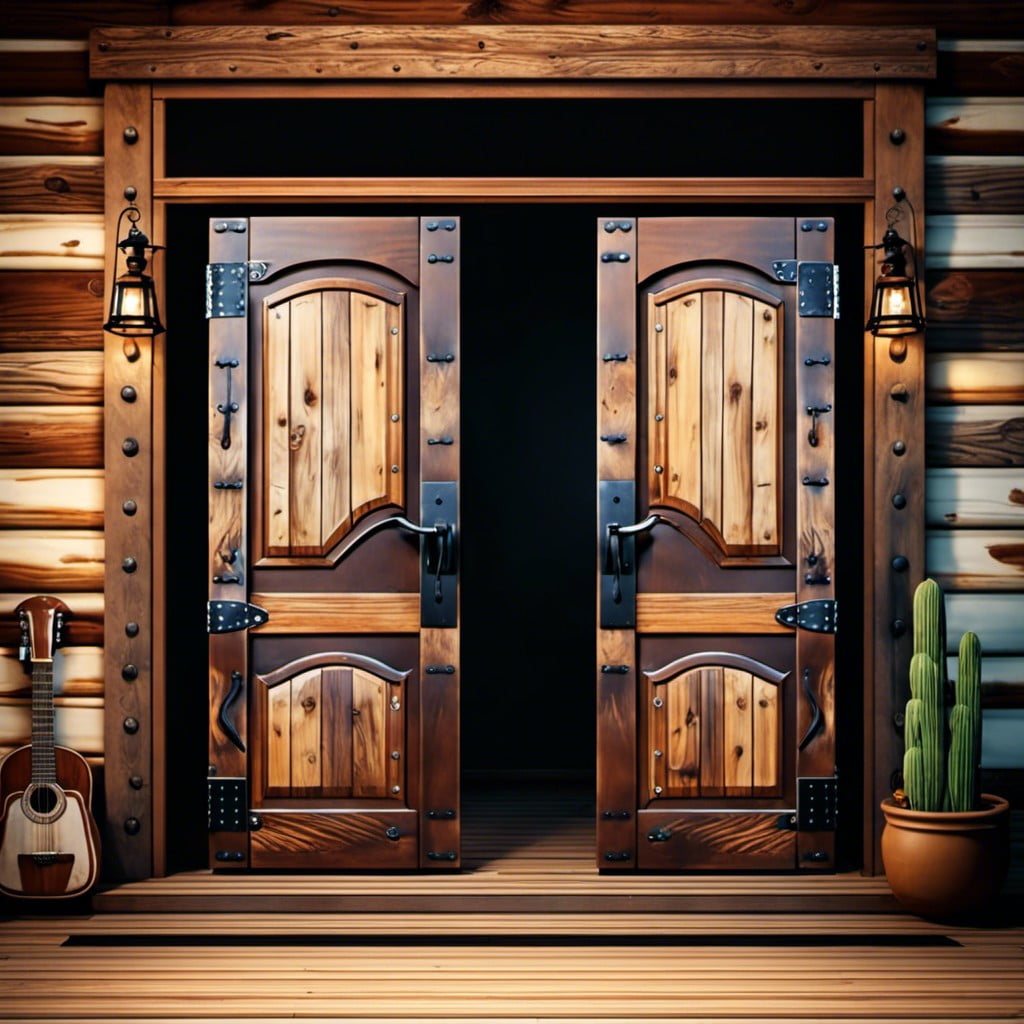 Nothing says Wild West like a set of classic saloon doors dividing your kitchen and dining area. Crafted traditionally from sturdy wood, these functional pieces give an intriguing charm to your interiors.
Here's how to bring this touch to your home:
Select a finish: Distressed wood finish harks back to the old saloon aesthetic.
Measurements: Ensure accurate dimension to maintain balance between accessibility and privacy.
Installation: Align the hinges right at about chest high. The unique orientation adds to whimsical charm.
Decorative details: Carving adds a personal touch, but make sure it's not overdone to stay true to the simplicity of the Wild West.
Hardware: Opt for a rustic black or bronze for an authentic appeal.
Remember, your aim is to create a pleasant passageway with intrigue!
Horse Saddle Stools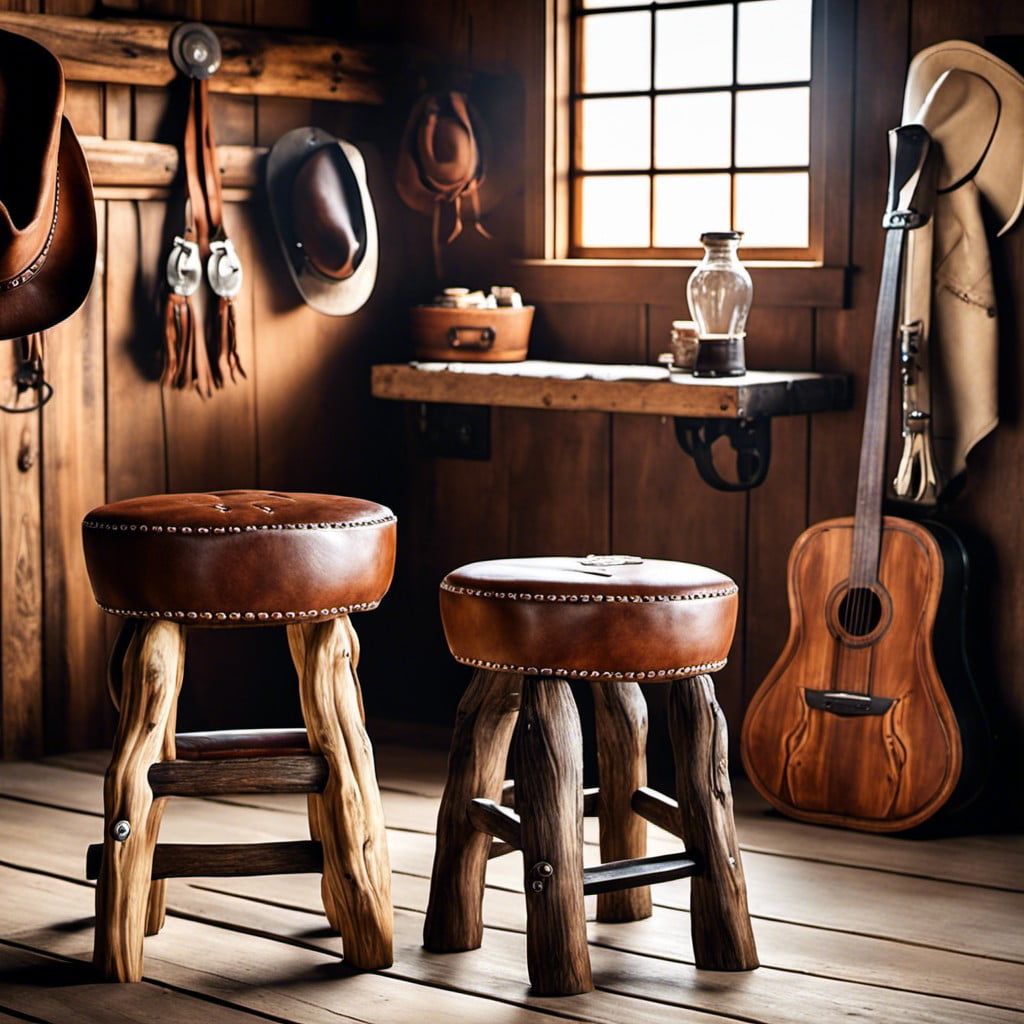 Outfitting a bar or kitchen island with horse saddle stools offers an authentic touch in any Wild West-themed décor. They not only feature comfortable sitting arrangements but are visual rustic gems. They are a DIY project worth undertaking as well:
1. Purchase unused horse saddles or find used ones for a more vintage appeal. Ensure they are sturdy, well-conditioned, and free of pests.
2. Choose a sturdy stool base that can support the saddle and a seated person's weight. Wooden or metal barstool bases are recommended.
3. Securely mount the saddle onto the stool using screws or industrial-strength bonds.
4. For improved comfort, consider adding additional padding and upholstering the saddle.
5. Consider finishing touches like hitching post-style bases or footrests, which will undoubtedly add that extra wild west charm.
Remember to balance aesthetics and functionality when crafting these unique seating creations.
Native American Tapestries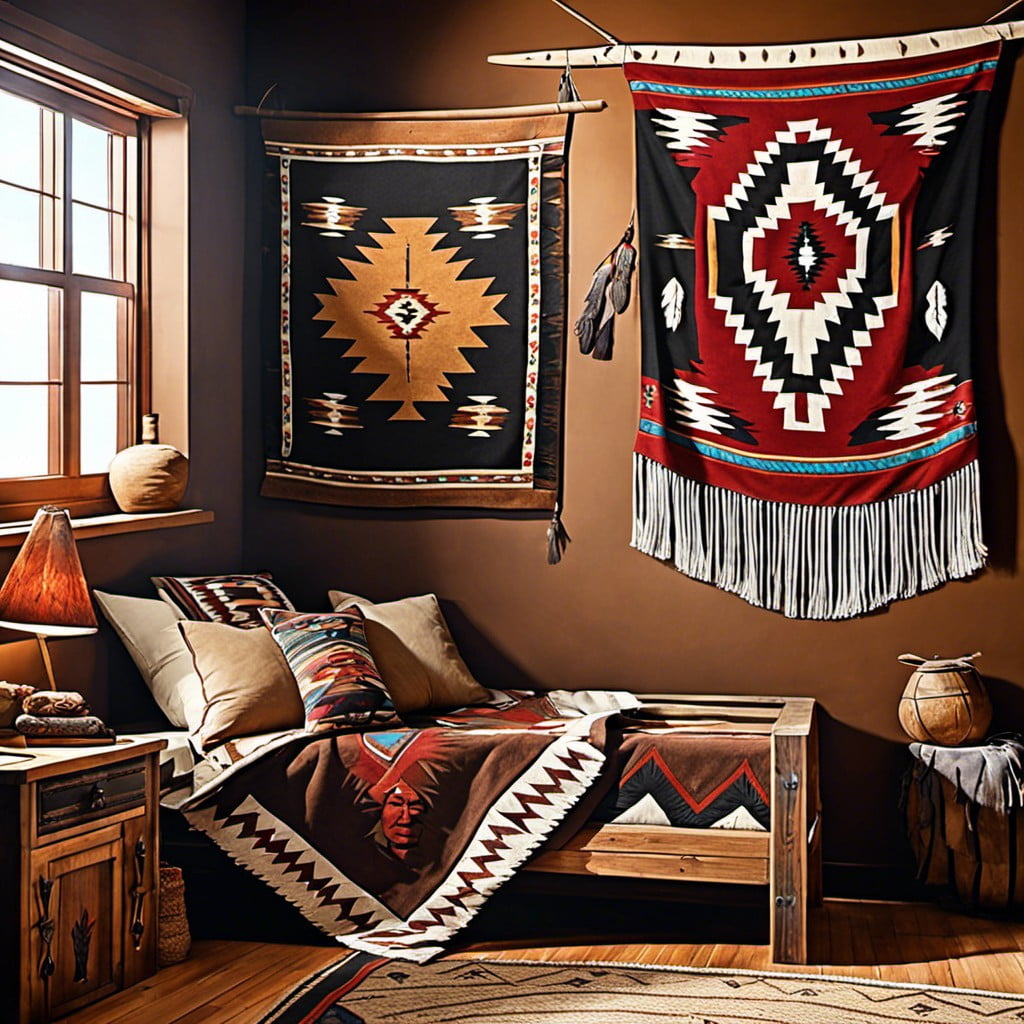 Incorporating these beautiful and intricate designs can add a unique touch to your home decor. They are full of rich, vibrant colors and often tell a story or represent native symbols.
Hanging one on a focal wall can be a true statement piece. Smaller tapestries can also be draped over furniture or used as area rugs to bring in some colorful, artistic flair.
For an authentic feel, opt for designs that feature iconic wildlife such as eagles, buffalos, or bears.
Just remember, when purchasing, to respect the cultures these designs hail from by choosing items that are ethically sourced and approved by native communities.
Iron Spurs Collection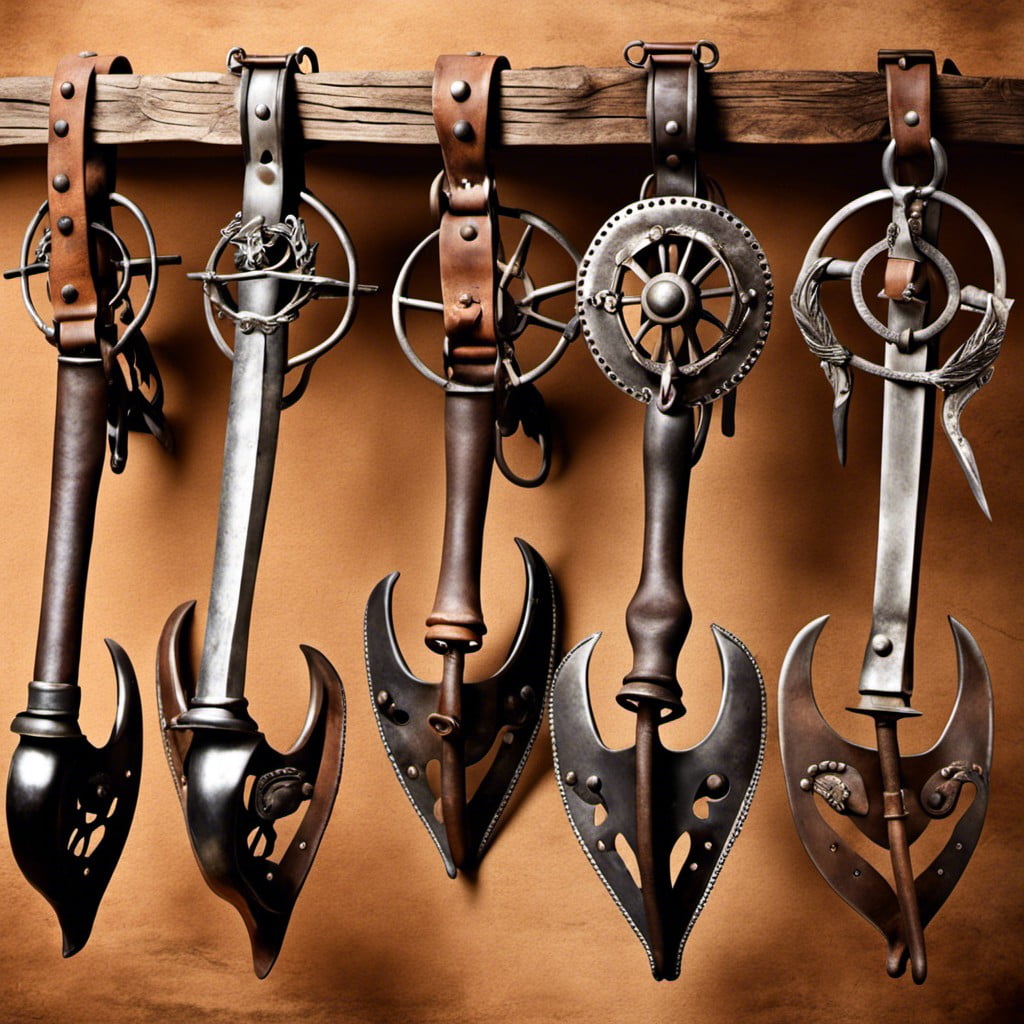 Begin by selecting a variety of vintage iron spurs, which will add a unique touch and give your home a robust western appeal. Display your curated pieces on a rustic wooden shelf or in a shadow box on your wall. You can find these old-world treasures at local thrift stores or online vintage shops. They vary in shapes, sizes, and designs, which makes each piece undeniably unique and a delight to spot by your guests.
The rusty iron texture adds to the wild west vibe and complements a warm, earthy color palette. Remember, the key to a good collection is diversity, so try to find spurs with different styles and histories. Each can be a fun talking point during your gatherings. Equally important, ensure the spurs are securely displayed to prevent them from falling and causing harm. Add a hint of mystery and a dash of rugged charm to your dwelling with this truly authentic accent.
Bourbon Barrel Coffee Table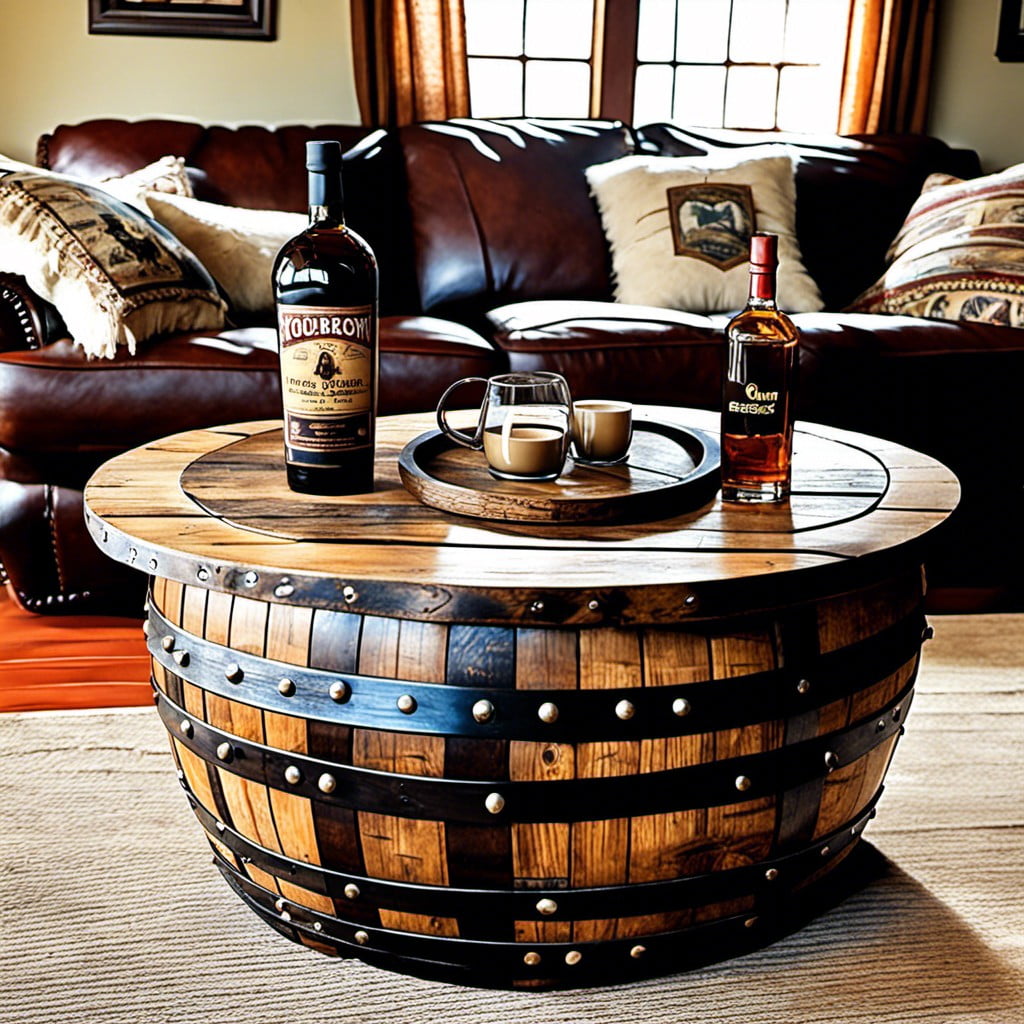 A bourbon barrel coffee table exudes a rugged charm that is undeniable. Crafted from authentic, used bourbon barrels, each piece boasts unique markings and shading. To enhance the natural beauty, maintain its raw, weathered look, or opt for a more polished finish.
Implementation can highlight two key factors: practicality and aesthetic. Firstly, consider how its functionality fits into your overall room layout. Due to its sizable nature, it can serve as an outstanding focal point for your living area or as a robust statement piece in any western-themed den.
Alongside being a practical furniture piece for resting your cup of joe, it provides an excellent storage solution too. Many designs have built-in compartments, perfect for neatly stowing away your favorite books or magazines.
Making it your own requires adding your personal touch. Choose a barrel from a distillery you cherish for a more intimate feel. Or even better, elevate the table-top with rustic elements like a glass panel showcasing a collection of vintage Wild West memorabilia for an eye-catching display. Remember, it's all about capturing the pioneering spirit of the Old West in a stylish, yet functional piece of furniture – becoming a conversation starter at every gathering.
Old West Photos/art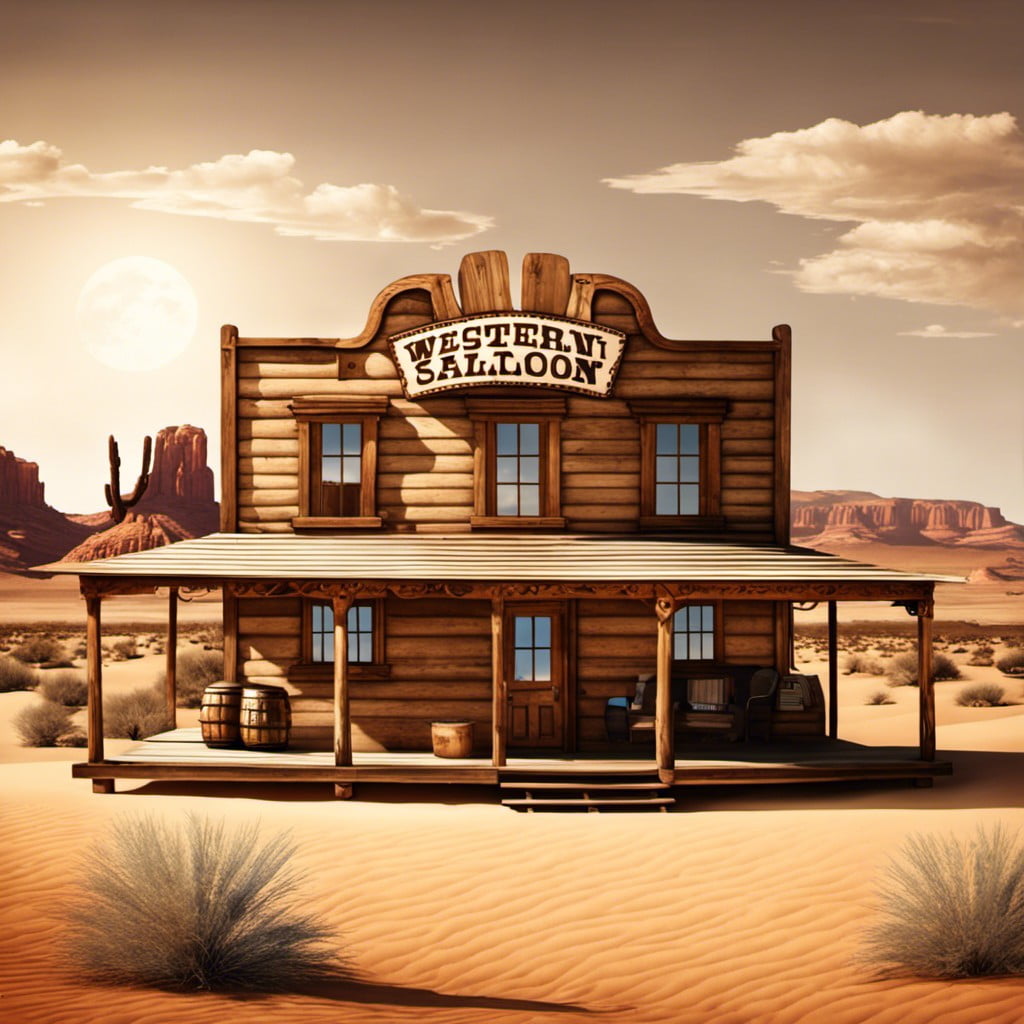 Draw inspiration from history when deciding what to hang on your walls. Opt for antique photos depicting cowboys, frontier landscapes, or native wildlife to create an authentic old west ambiance. Sepia-toned photos and art prints can wonderfully offset the rustic elements in your home. With this, your living space would breathe an era that's far-gone yet so present.
Also try incorporating art with old west themes. Think canvases displaying saloons, rodeos, or gold prospectors to add a sense of adventure and western folklore into your interiors. Mind you, these don't need to be priceless antiques, replicas can give just as much charm and period accuracy.
Just remember balance is key. Overdoing the art and photos could make your dwelling look more like a wild west museum than a home. You just need a few pieces distributed evenly, serving as tasteful focal points around your space.
Bucket and Pulley Pendant Light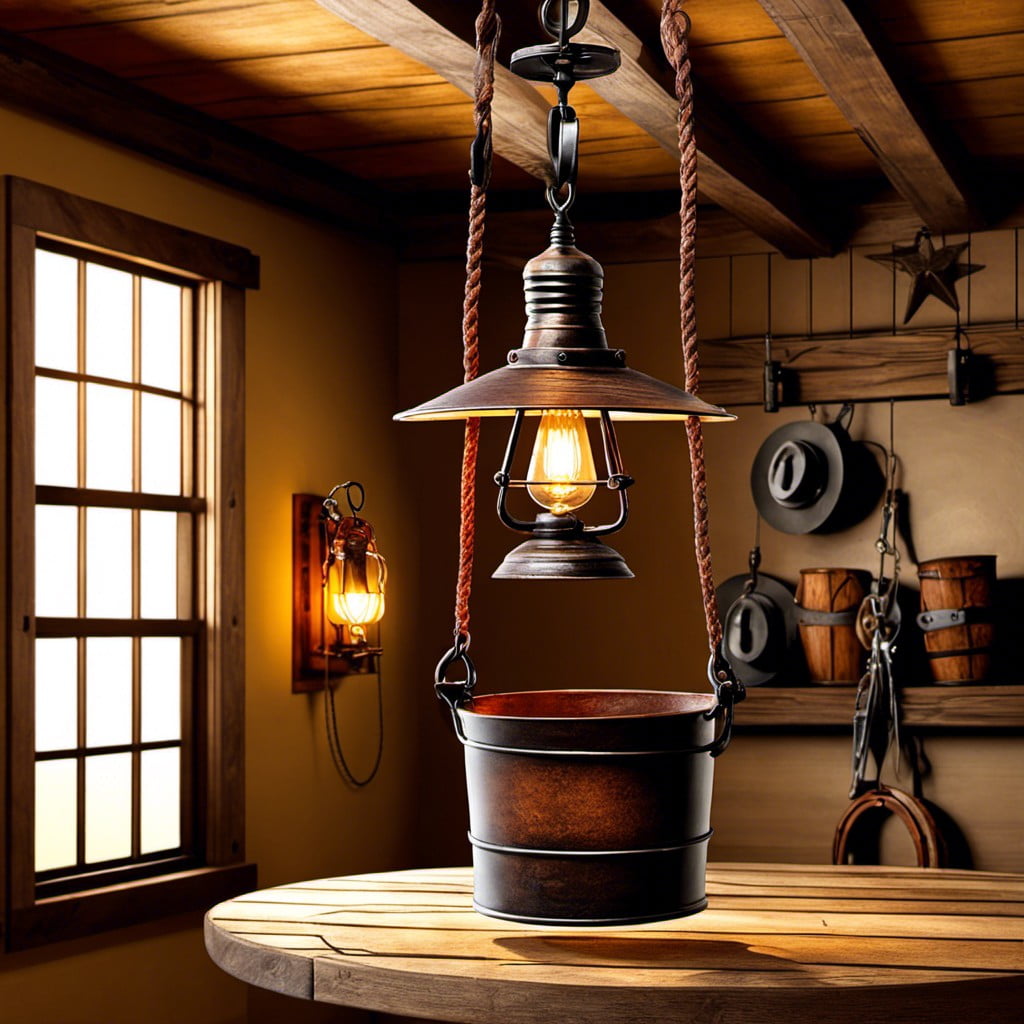 To create a unique statement piece, think of using lighting that not only illuminates your space but also draws in that authentic wild west vibe. Consider the bucket and pulley pendant light. It's just what you'd imagine – a pulley suspends a simple rustic bucket, usually made from weathered tin or aged wood, which houses the light fixture. The pulley allows you to adjust the height of the pendant, adding extra versatility.
Here's a quick rundown on why you should incorporate this detail:
Adds a Raw but Functional Aesthetic: With its rustic charm and simple design, it furthers the wild west feel while providing essential lighting.
Versatile and Adjustable: Can be hung low over your dining table or higher in the hallway – easy to adjust with the pulley system.
Repurposes Common Old-West objects: Reinforces the theme by using symbolically rich western items.
Mood Setter: When paired with a warm light, it creates a cozy and inviting atmosphere mimicking those of saloons or intimate homesteads.
Remember to complement it with other western decor elements for a cohesive look!
Cow Skull Wall Art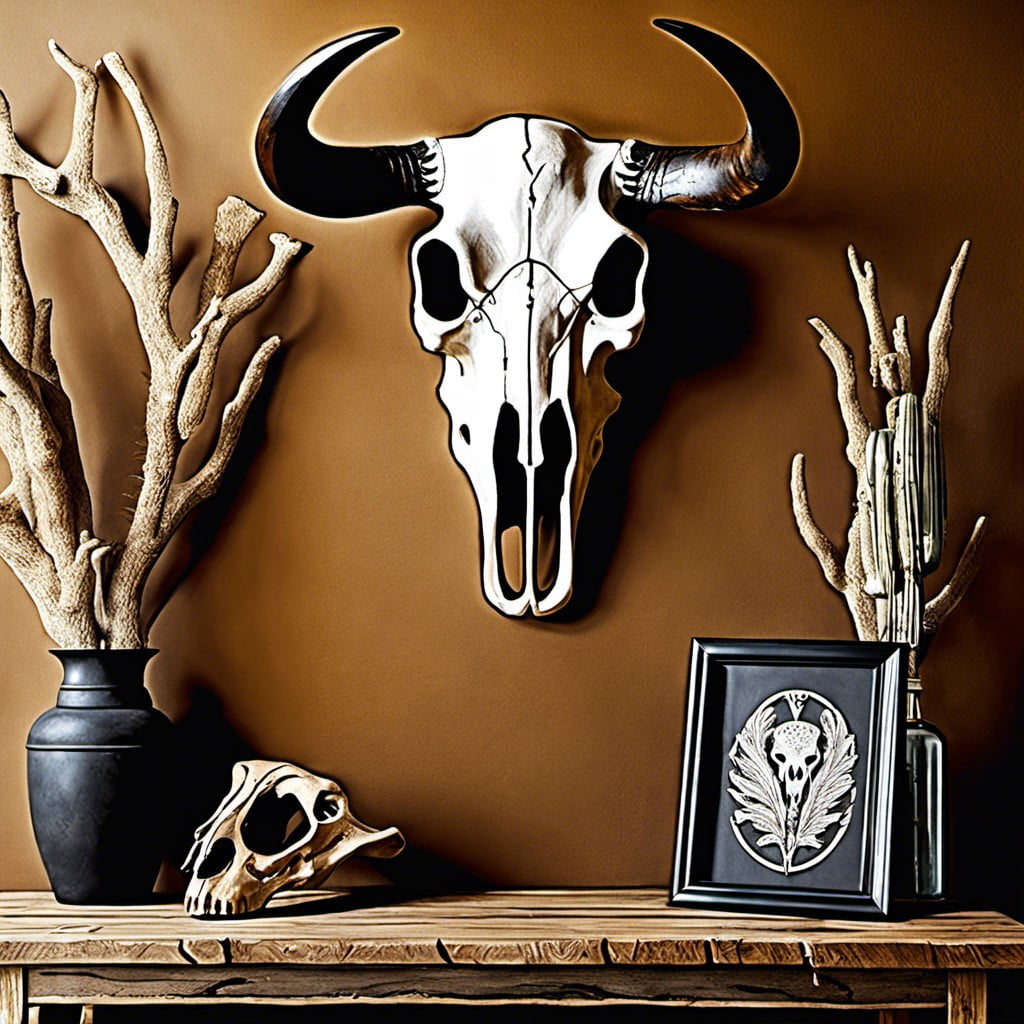 One way to instill a true wild west atmosphere is by incorporating cow skull wall art into your decor. With its ethereal and rugged charm, it adds depth to any room setup.
1. Choose authentic or faux cow skulls depending on your preference and budget.
2. Consider various sizes and designs. From intricate carvings to simple, unadorned pieces, each offers a unique aesthetic.
3. Positioning is crucial. Place it as a centerpiece on a focal wall for maximum impact.
4. Pair it with antler mounts or native tapestries to complement the theme.
5. Opt for mounted skulls with horns for a more dramatic effect.
6. To maintain an elegant look, make sure the rest of the decor on the same wall is subtle and doesn't compete with the skull.
Remember, the idea is to create a balance between the rustic wild west vibe and your home's existing style. Surprisingly versatile, these skulls could add an unexpected twist to your interior design.
Leather and Rawhide Accents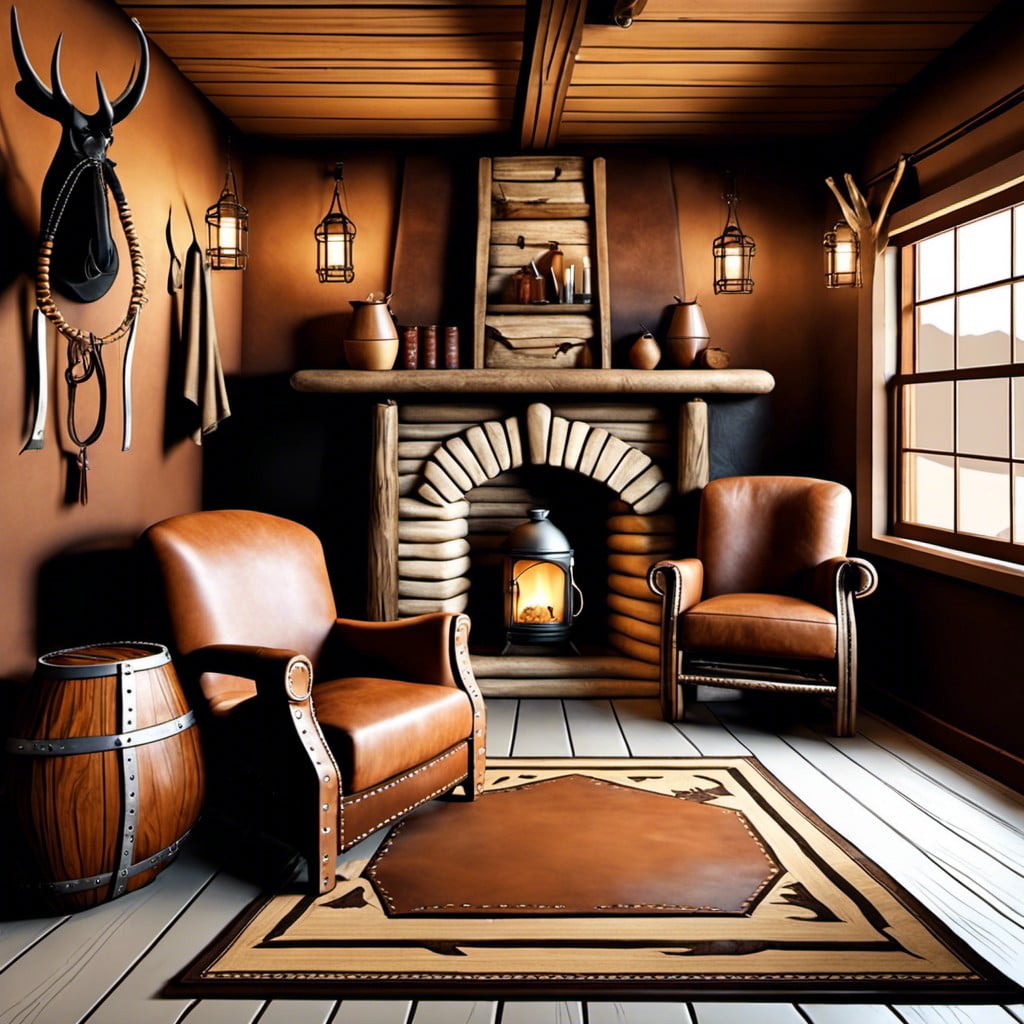 Leather and rawhide can add an authentic touch to any wild west themed household. They harmonize perfectly with other rustic elements and have incredible durability. Aged leather has a characteristic patina that conveys a sense of history and authenticity.
Incorporate these accents in various forms. A leather ottoman not only offers a place to sit but also serves an aesthetic purpose. A rawhide lampshade can create a soft, warm glow that harmonizes with the rest of a room's ambience. Remember, balance is key. Strategically place these accents to maintain a cohesive look but avoid overloading with leather or rawhide to prevent overpowering the room.
For a more subtle incorporation, utilize leather-strapped shelving, or rawhide drawer pulls and door handles. Display vintage leather-bound books on a coffee table or bookshelf. For a bold statement, consider a prominent leather or rawhide chair. Ensure any pieces selected are of high quality to maintain their charm over time.
Horsehair Pillows and Throws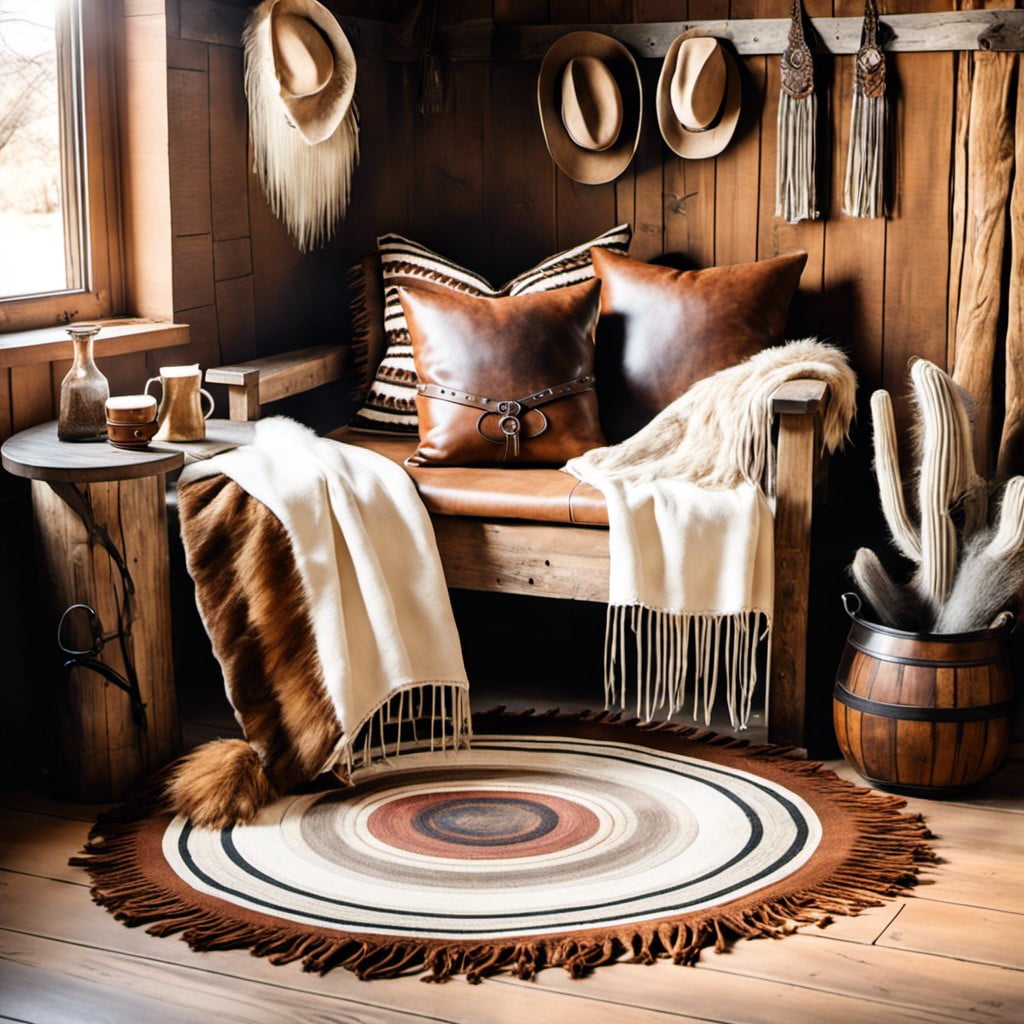 Investing in horsehair pillows and throws is a subtle way to infuse your space with authentic Western vibes. Known for their durability and unique texture, these pieces boast a rich history in the Wild West, where they were traditionally handmade.
Immediately, they bring a warm, rustic feel that's undeniably inviting. Here are a few things to consider:
Comfort: Horsehair is hypoallergenic and naturally springy, providing a pleasant tactile experience.
Colors: From natural taupes and browns to dyed vibrant shades, you can select hues that align with your overall decor theme.
Patterns: Opt for plain designs to keep things subtle, or embrace patterns like traditional Navajo prints if you prefer a bold aesthetic.
Sourcing: For a truly authentic touch, look for ethically sourced materials and makers who still use time-honored crafting techniques.
Placement: Frequently used areas like your living room or study could benefit from the robustness of horsehair accessories, while also enhancing the room's aesthetics.
Remember, these toss-ins forge a connection with the history and ruggedness of the era, making a prominent western statement.
Continue reading:
Recap