Last updated on November 19, 2023
Ignite your dining room with aesthetic allure and profundity because wine-themed decor gracefully merges elegance with joviality.
Looking to transform your dining room into a sophisticated wine-themed space? Look no further. This article is brimming with unique, stylish ideas to infuse your dining area with the elegance of a wine cellar or a chic wine bar.
From wine rack displays to color palettes inspired by your favorite vintages, these decor ideas will ensure your dining room is a place that celebrates the art of fine dining and wine tasting.
Dive in to explore these ideas in detail and find the perfect wine-inspired decor that resonates with your taste and style.
Wine-themed Wall Artwork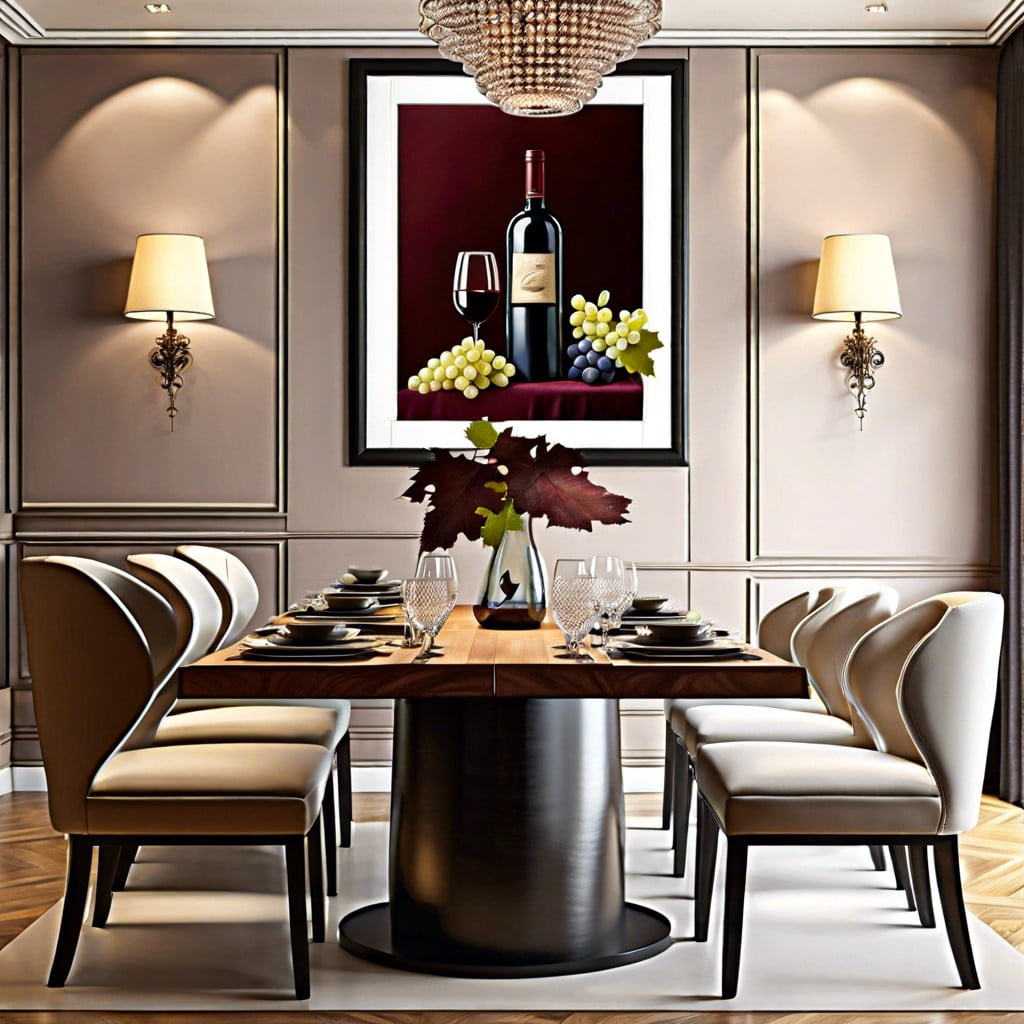 A beautiful blend of class and charm is apparent when you adorn your dining room walls with wine-themed artworks. They add a sophisticated statement and convey your passion for wine.
Opt for subtle vineyard landscapes in muted tones to create a calming ambiance.
Abstract representations of wine bottles or glasses introduce a modern vibe.
Artworks depicting wine labels bring an intriguing vintage aspect to your room.
Consider works featuring scenes from famous wine-producing regions for a more personal touch.
Mix and match different styles and sizes to create an eclectic gallery wall.
Consider metal wine art for a more rustic and striking look.
Remember, it's not just about the visual appeal—select pieces that resonate with your style and tell your wine story.
Hanging Wine Glass Rack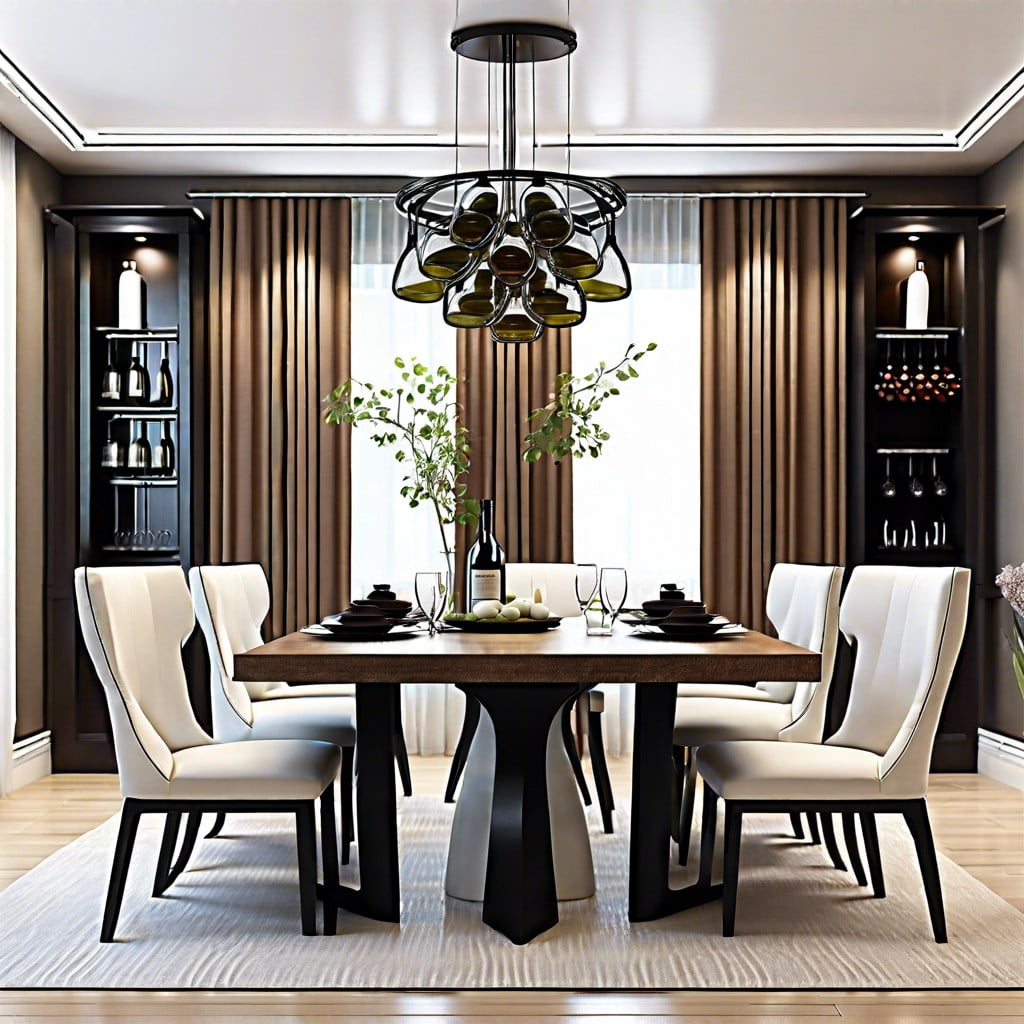 Envision this: It's Friday evening, you're ready to decompress and enjoy your favorite Pinot Noir. Conveniently perched above your counter or bar, your crystal wine glasses hang in a symmetrical yet tasteful display. Here's the magic of a hanging wine glass rack at play.
1. Functional Elegance: Combines practical storage with a touch of sophistication, keeping glasses at hand while adding a style statement to your dining area.
2. Spatial Efficiency: Ideal for rooms short on storage space, it uses vertical space that is often overlooked, creating a spin on 'out-of-sight, out-of-mind'.
3. Less Damage: Hung by the base, glasses stay dust-free and are less prone to chipping, enhancing their lifespan.
4. Easy Installation: Racks are easily mounted onto the ceiling or underside of kitchen cabinets, offering adaptability to different room layouts.
5. Variety: Available in numerous styles and materials. Whether you prefer a rustic wooden look or a sleek metal finish, there's a rack to complement your decor style.
Food for thought: a well-loved bottle of wine deserves to be enjoyed from a good glass. Why not store yours in style?
Wine Bottle Chandelier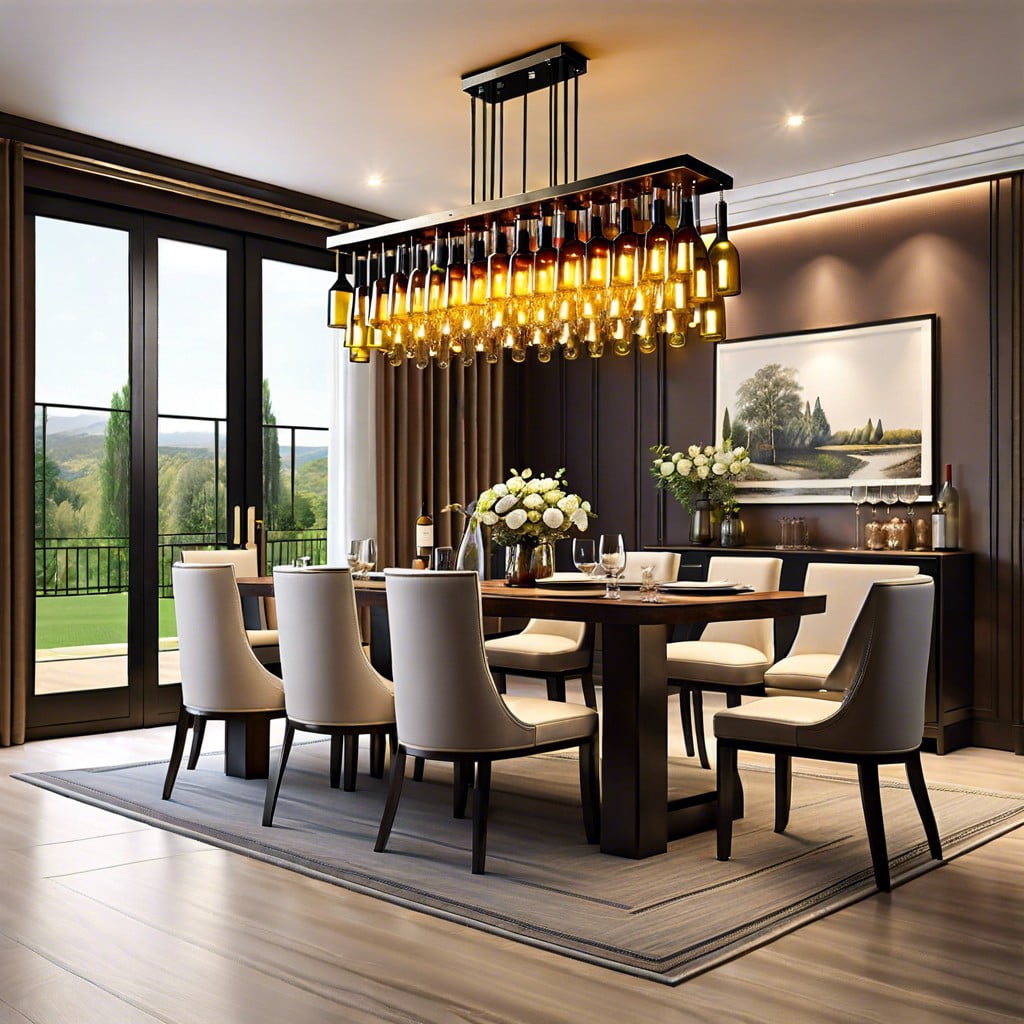 Such a chandelier is a unique, eco-friendly, and striking design feature. An empty wine bottle is not just a vessel; it can be gracefully reused to create light in the most literal sense.
To create a wine bottle chandelier, focus on the following points:
Choose either tinted or clear wine bottles. Tinted ones yield a subdued, warm light; clear bottles give off bright light.
The number of bottles should align with your aesthetic goals and size of your dining room. More bottles make a bold statement.
Customizing the lighting fixtures inside the bottles elevates this element. Edison bulbs, for example, lend a vintage touch.
The arrangement of the bottles can be made symmetrical for a disciplined look or random for a relaxed, free-spirit vibe.
Centerpiece Using Wine Corks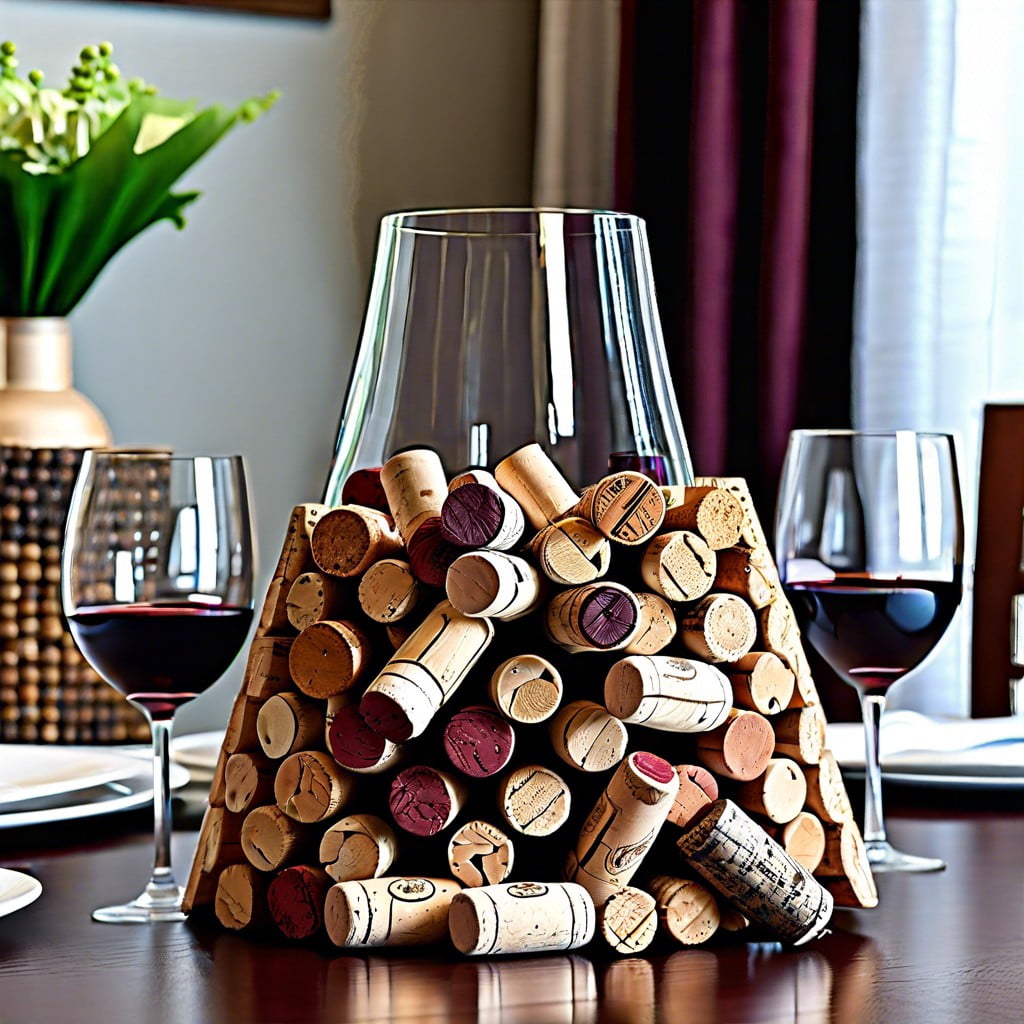 Creating your own centerpiece from wine corks isn't just a budget-friendly option, it also adds a uniquely rustic charm to your dining room. Reclaim those corks languishing in your drawer by incorporating them into your decor. Here is how you can achieve this:
1. Gather a variety of wine corks: This will lend a visually rich, distinctive element to your centerpiece. The more diverse, the better.
2. Choose a vessel: This could range from a large glass vase, a wooden box, or an ornate tray.
3. Arrange the corks: There's no fixed rule. You can stack them, align them horizontally, or pile them randomly. Feel free to play with the layout until you achieve the desired look.
4. Add accent pieces: Intertwine with fairy lights for a magical glow, add faux flowers for colour, or scatter some decorative pebbles to elevate its appeal.
Remember, this is your centerpiece; personalize it to reflect your taste. Mix and match, experiment, and you're sure to create a centerpiece that's not just functional but a talking point for guests.
Wine Cellar Mural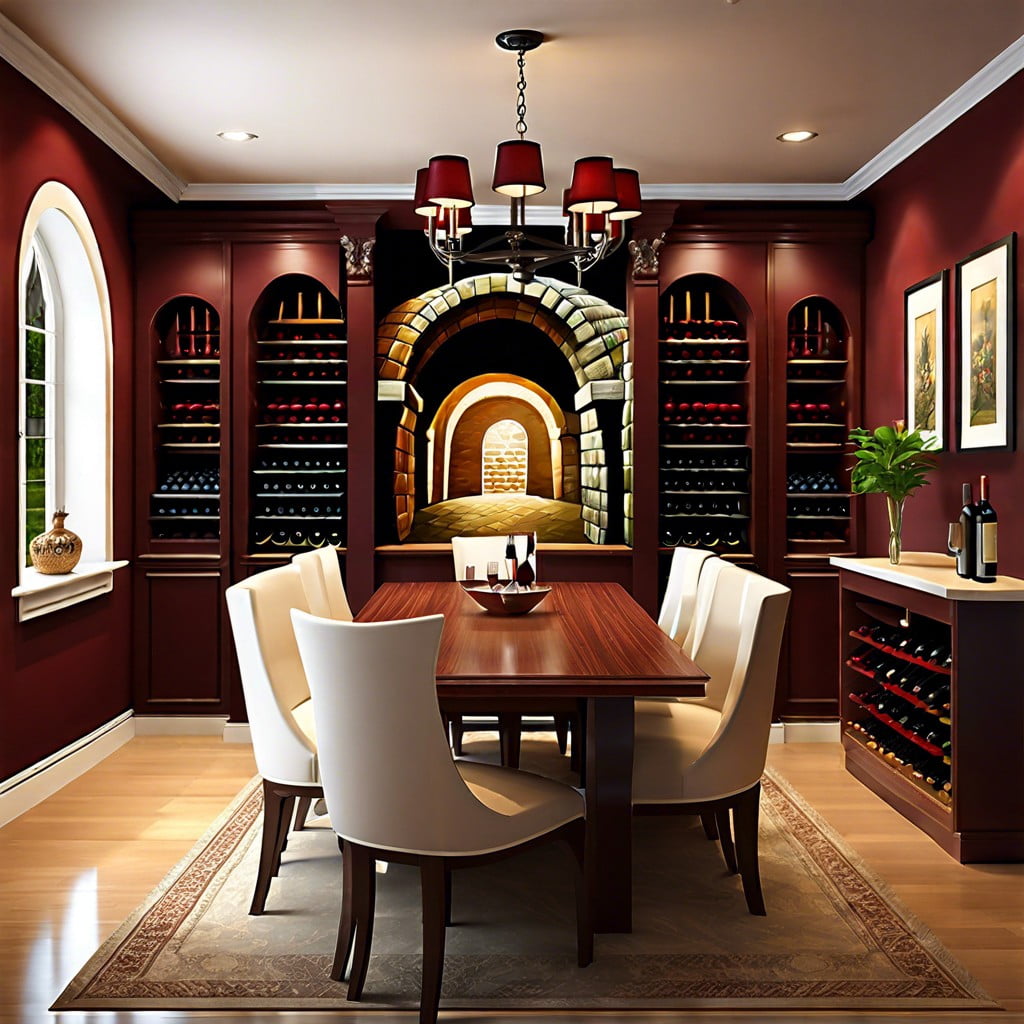 Stepping into a room and being instantly transported to a serene French vineyard or a bustling Italian winery is the transformative power of a wine cellar mural. Think of the vast scenes that can unfold – expansive vineyards under a Tuscan sun, rustic barrels stacked within a cool, aged cellar or the elegant geometry of a wine bottle rack, all rendered in dramatic detail.
To begin, select an ideal wall. It may be the one that's most exposed to view or the one your dining table faces. Wall murals come in different forms – wallpaper, decals or even a customized, hand-painted mural by a professional artist if budget permits.
Opting for a lifelike image of your preferred wine-producing region can infuse the room with its distinctive atmosphere, making any dining experience unique. Choose between cool color schemes for a more relaxed ambience or warm, rich hues to create a cozier environment. Whichever style suits your taste, ensure it harmonizes with the rest of your room decor.
Should you pursue the hand-painted route, engage the services of an experienced mural artist. They can bring your vision to life with their professional expertise. On the other hand, if you lean towards wallpapers or decals, numerous online stores offer diverse designs which you can easily purchase and install.
Remember, the goal is to create a centerpiece that evokes a sense of immersion, transporting you and your guests into the world of wine with a simple glance.
Vineyard-inspired Wallpaper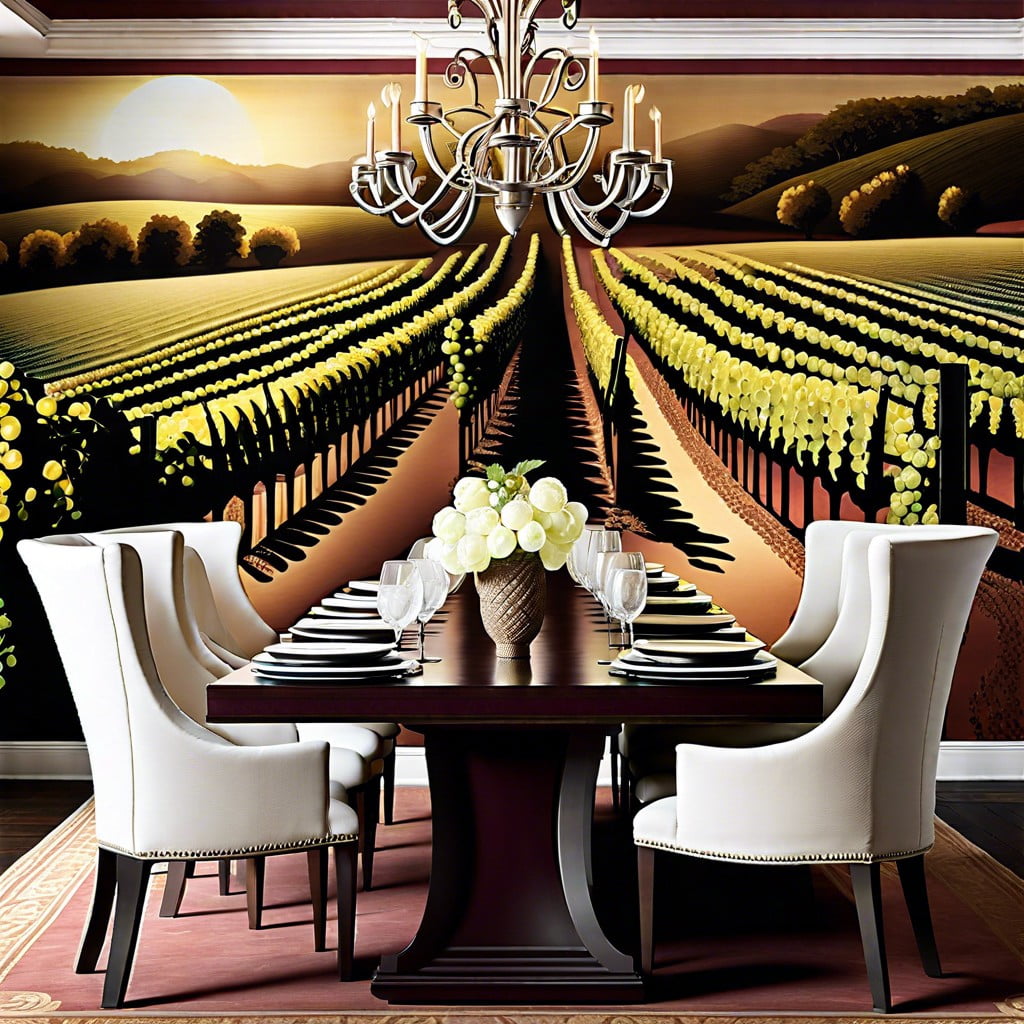 Immerse yourself entirely in the serenity of a vineyard without ever leaving your dining room. Opting for a vineyard-inspired wallpaper can instantly transport you to the tranquil hillside vineyards of France or Italy.
1. Tranquil Scenes: Depict vines heavy with ripe grapes, and rolling hills extending into the distance. Wallpaper designs may include warm, sunset colors or the cool greens of a midday vineyard.
2. Vibrant Variety: A myriad of vineyard scenes and color schemes provide versatility to suit any decor style, from rustic to contemporary.
3. Tasteful and Timeless: Vineyard wall coverings are a subtle nod to your love for wine, without being overly thematic.
4. Room Focus: It captures attention, becoming a conversation starter in itself, elevating the dining experience further.
5. Customization: Many wallpaper vendors offer customization, allowing you to select the specific vineyard image, scale, and color that perfectly matches your vision.
Add a touch of elegance to your dining experience with vineyard-inspired wallpaper. Its visual appeal will make your wine-dining room the star attraction of your home.
Wine Bottle Candle Holders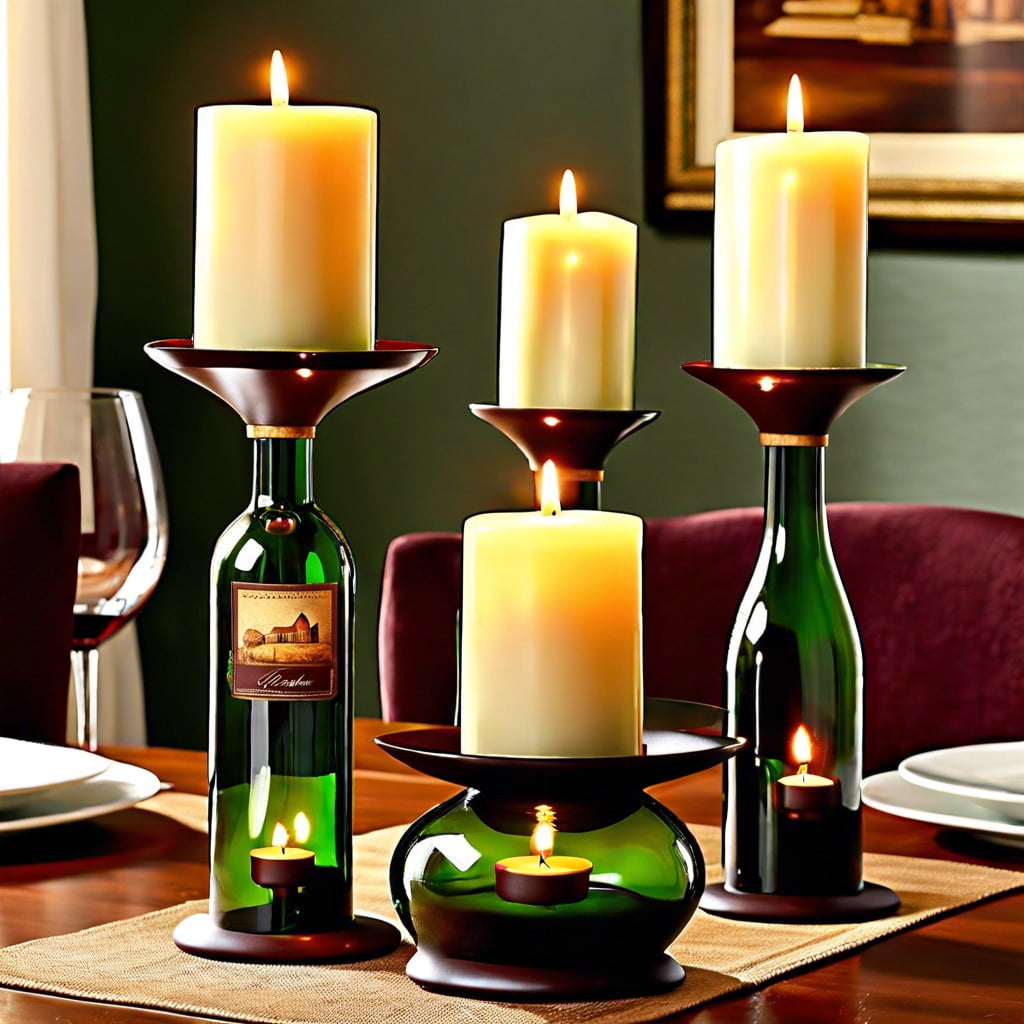 Creating candle holders from wine bottles is a truly ingenious way to integrate your love for wine into your decor. It offers an eco-friendly method of upcycling empty bottles while creating a cozy, inviting atmosphere.
For this, you don't have to do much. Gather up a few empty wine bottles, remove any label residue, and clean thoroughly. Place taper candles into the top of the bottles, select candles with colors to match the room's color palette to create a harmonious aesthetic around the room. If you're a fan of the rustic vibe, aged wine bottles with slightly peeled labels might just add that needed appeal.
Just remember to place these near non-flammable surfaces and away from curtains or other easily ignitable materials. Always supervise their use for safety's sake. Candles in wine bottles can provide beautiful, soft lighting for dinners or for simply unwinding after a long day. Not only will this offer an attractive lighting solution, but strikingly pay homage to your love for wine.
Wine Barrel Side Table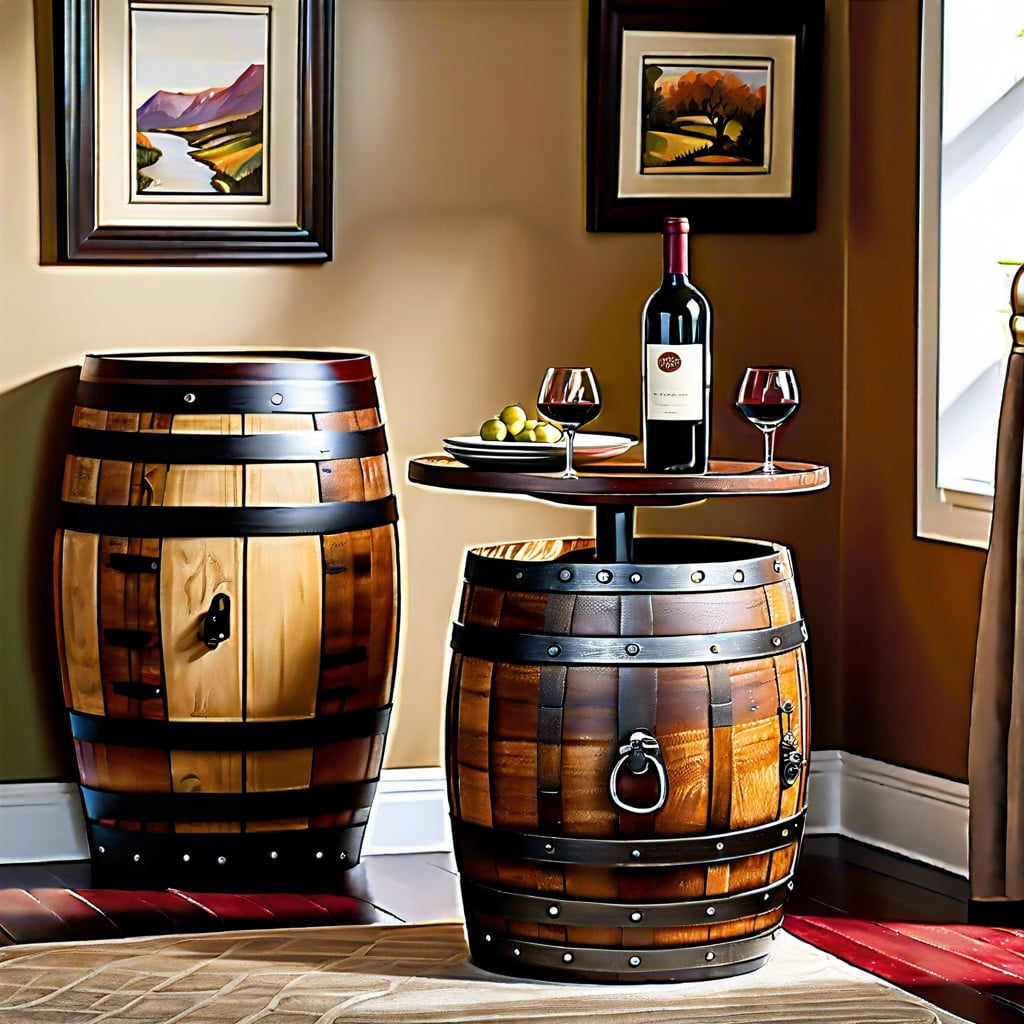 Incorporating this accent piece into your dining room is a fantastic way to bring a touch of vintage charm. The circular shape of the barrel makes it a functional and unique addition, suitable to be used as a surface for drinks or decorative items.
Owing to the sturdy nature of barrels, these side tables promise durability and longevity. Complement it with a glass top to showcase the rich wooden texture and wine stains inside, providing an authentic, rustic feel.
Should you prefer a more personalized touch, consider adding a themed wine label emblem on its side. Be mindful, however, to place this table where its organic outline can be fully appreciated.
Wine-themed Table Runner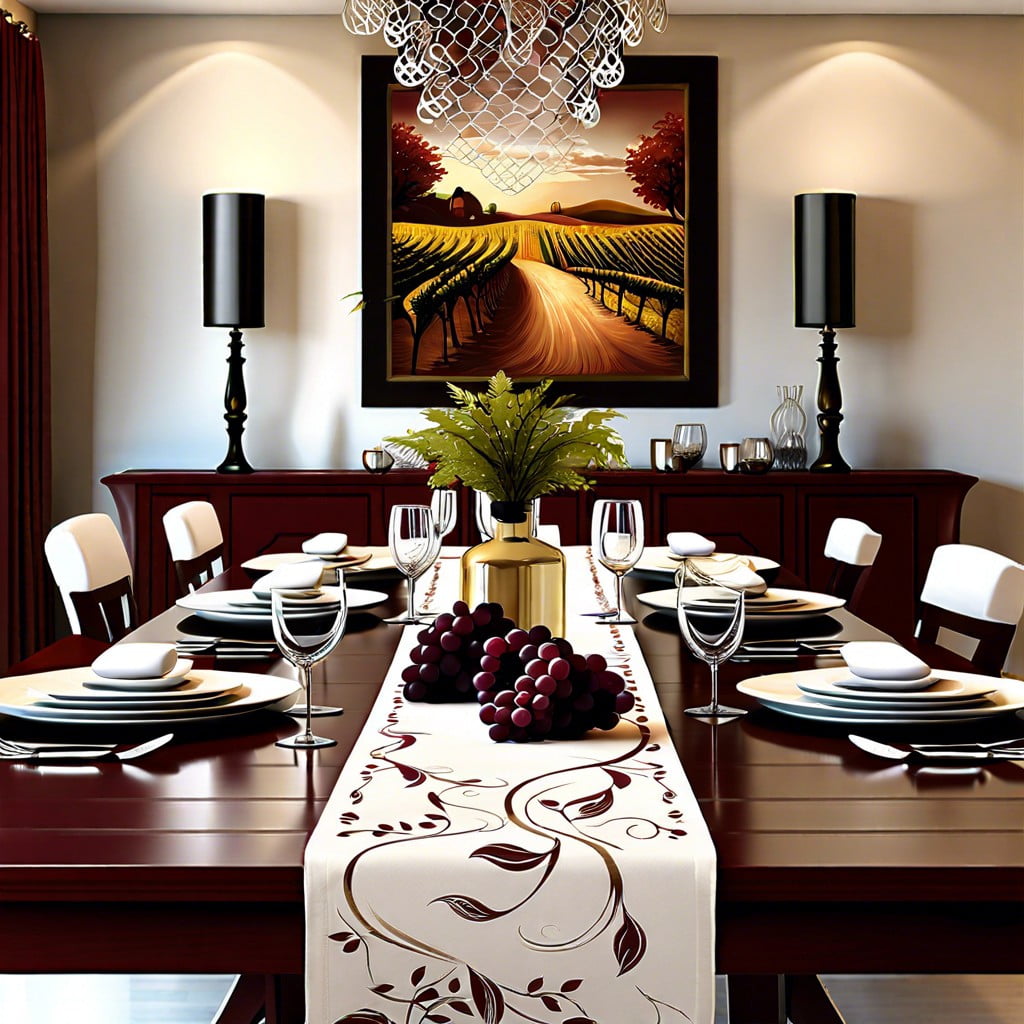 To amplify the cozy ambiance of your dining room, a subtle yet significant table runner can be a game-changer. Chose one adorned with wine-themed patterns such as wine bottles, wine glasses, or grapevines. They're available in a variety of materials – from cotton to Burlap, and a broad spectrum of colors.
Look out for ones of stain-resistant materials to take off the worry during your wine nights. You can also complement the runner with matching table napkins, making a cohesive setting. Consider the overall color scheme of your dining area while picking these to ensure they harmoniously blend with your decor.
Grape Cluster Decorations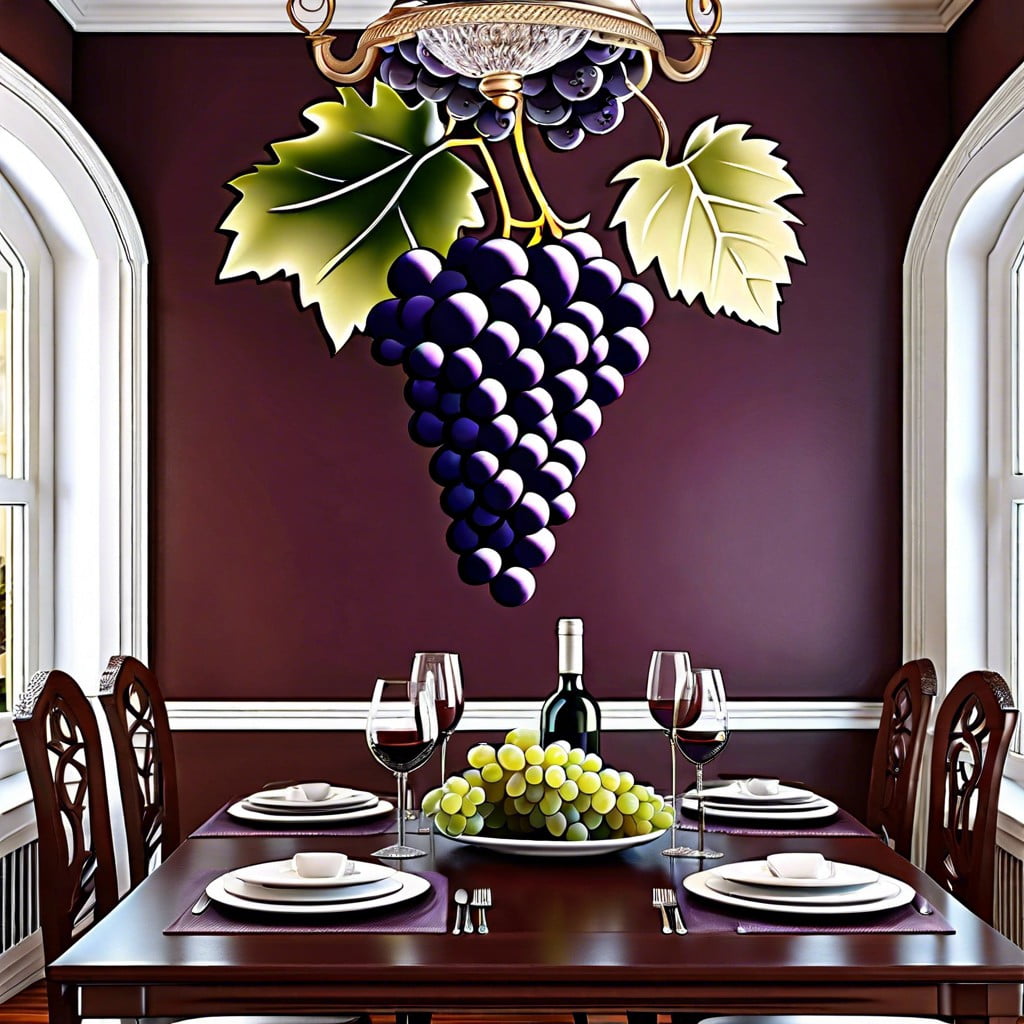 When looking to infuse a touch of authenticity into your dining space, these decorations truly shine. Both faux and real grape clusters serve as captivating elements that capture the true vineyard vibe.
Hang them around the room, maybe along the top of your wine rack or as a centerpiece on your dining table. Don't be afraid to use them in unexpected places, like in a large glass bowl on a side table – full to the brim for a generous burst of color.
Or, thread them around doorframes or curtain rails for a subtle but effective vineyard-esque look. Remember, it's the little finishing touches, like these, that combine to create a visually stunning interior.
Wine Rack Wall Mount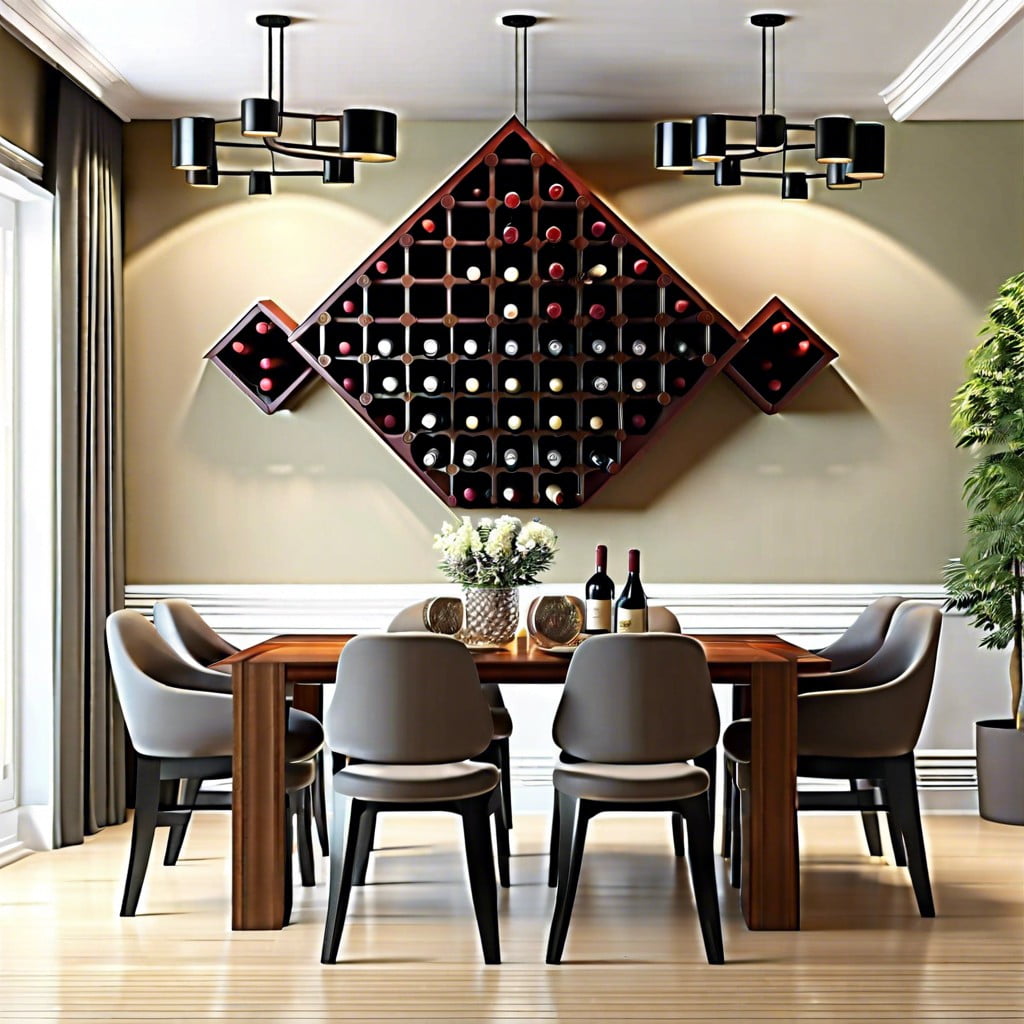 Mounting a wine rack on the wall serves as both an aesthetic addition and functional piece. Opt for wrought iron or wooden racks to achieve that rustic charm or a sleek metal design for a modern vibe.
1. Functionality: Essential for storing bottles correctly, especially those with corks. Horizontal storing keeps the cork moist, preventing it from drying out and ruining the wine. Besides, it saves cabinet and countertop space.
2. Stylish Display: Available in a range of materials and designs, ideal for showcasing your wine collection effortlessly.
3. Customization: Offers flexibility, as you can choose a size that fits your collection – be it a charming 10-bottle rack or an expansive 50-bottle one.
4. Convenience: Keeps your favorite wine within arm's reach when entertaining or indulging in a quiet dinner.
5. Integrated Designs: Many options come with additional features like a place for stemware or a mini-shelf for accessories, adding to the utility.
Remember, the placement should be away from direct sunlight and extreme temperatures. Consider pairing this with wall art from vineyard landscapes or wine vintage posters to elevate the overall decor.
Vintage Wine Poster Prints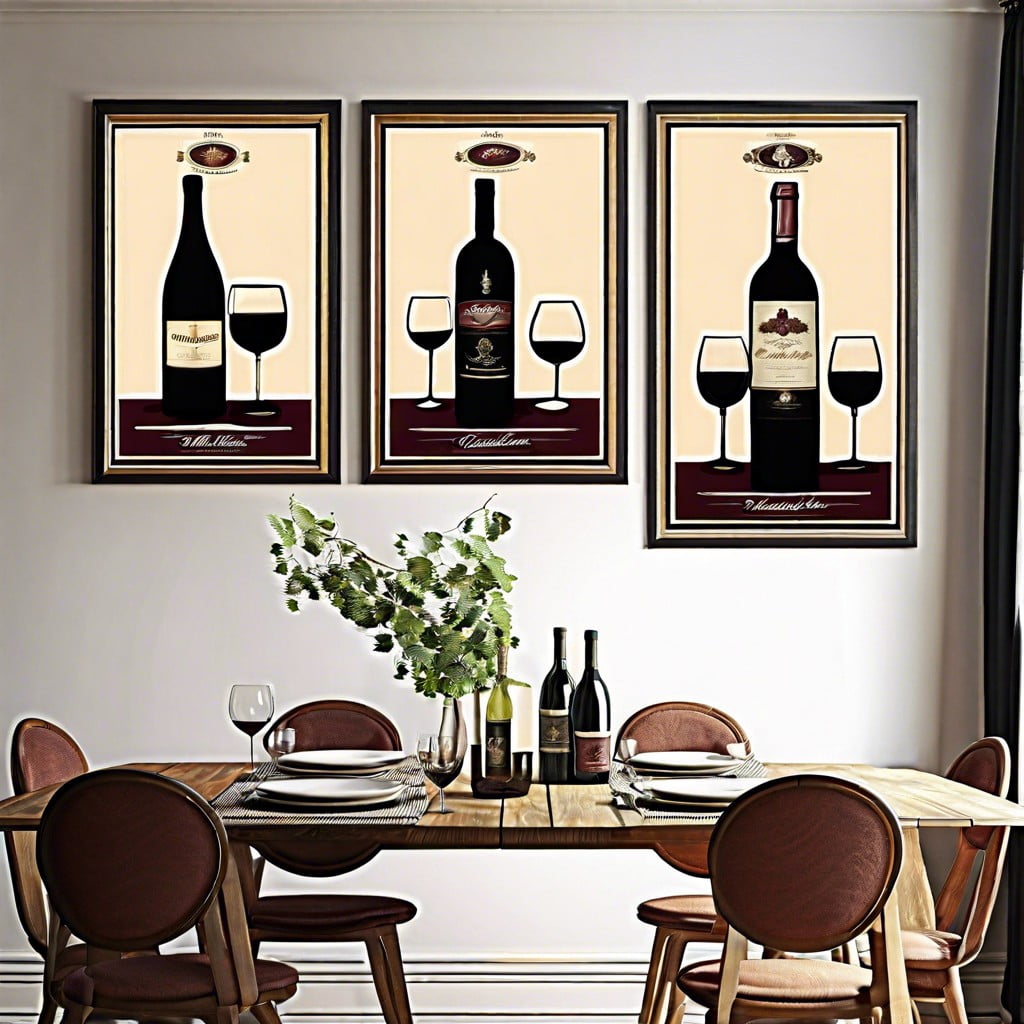 Donning the walls with classic and colorful poster prints can transform any ordinary space into a vintage wine hub. Opt for prints illustrating beautiful vineyards or featuring old wine ads; they impart an old-world charm and sophistication. These artistic pieces can easily become conversation starters.
Here are some helpful tips:
1. Incorporate prints in various sizes to add depth to the wall decoration.
2. Choose frames that mirror the room's overall décor style for a cohesive look.
3. Position the posters strategically around the room to draw attention or to create a focal point.
4. Ensure proper lighting to highlight these artworks and enhance their visual appeal.
Remember, the objective is to add a touch of retro elegance that subtly underscores the wine theme.
Wine Cork Message Board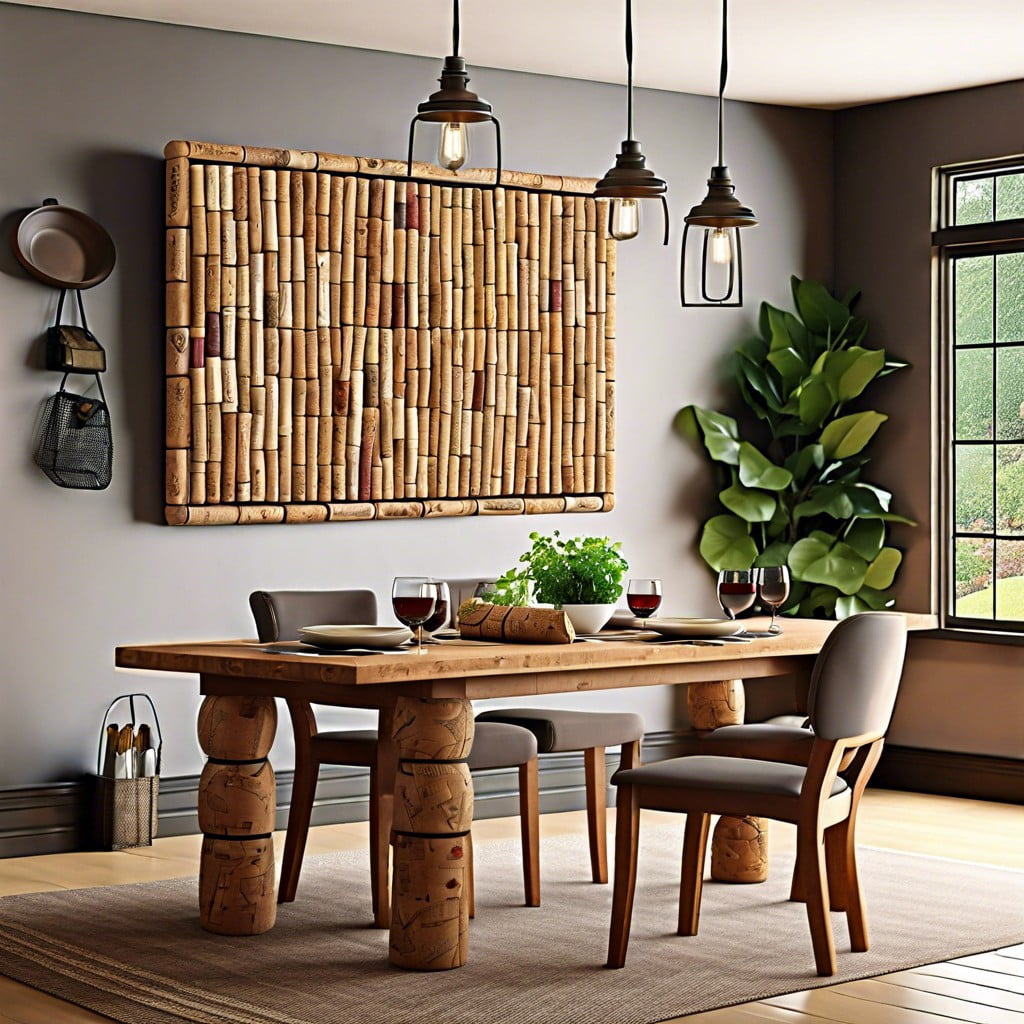 Crafting a message board out of wine corks is an impressive way of giving waste materials a chic and functional twist. It doesn't just add an intriguing texture to the room, but also serves as a practical element where you can pin important reminders, menus, or even your cherished memories captured in photographs.
To start, gather enough corks to fill a picture frame of your chosen size. Line them inside the frame tightly. Make sure the frame depth can comfortably hold the length of the corks. For an added rustic touch, opt for a weathered or vintage style frame. This decor idea is a testament to the inventiveness that comes with wine-inspired room decorating.
Wine-themed Curtains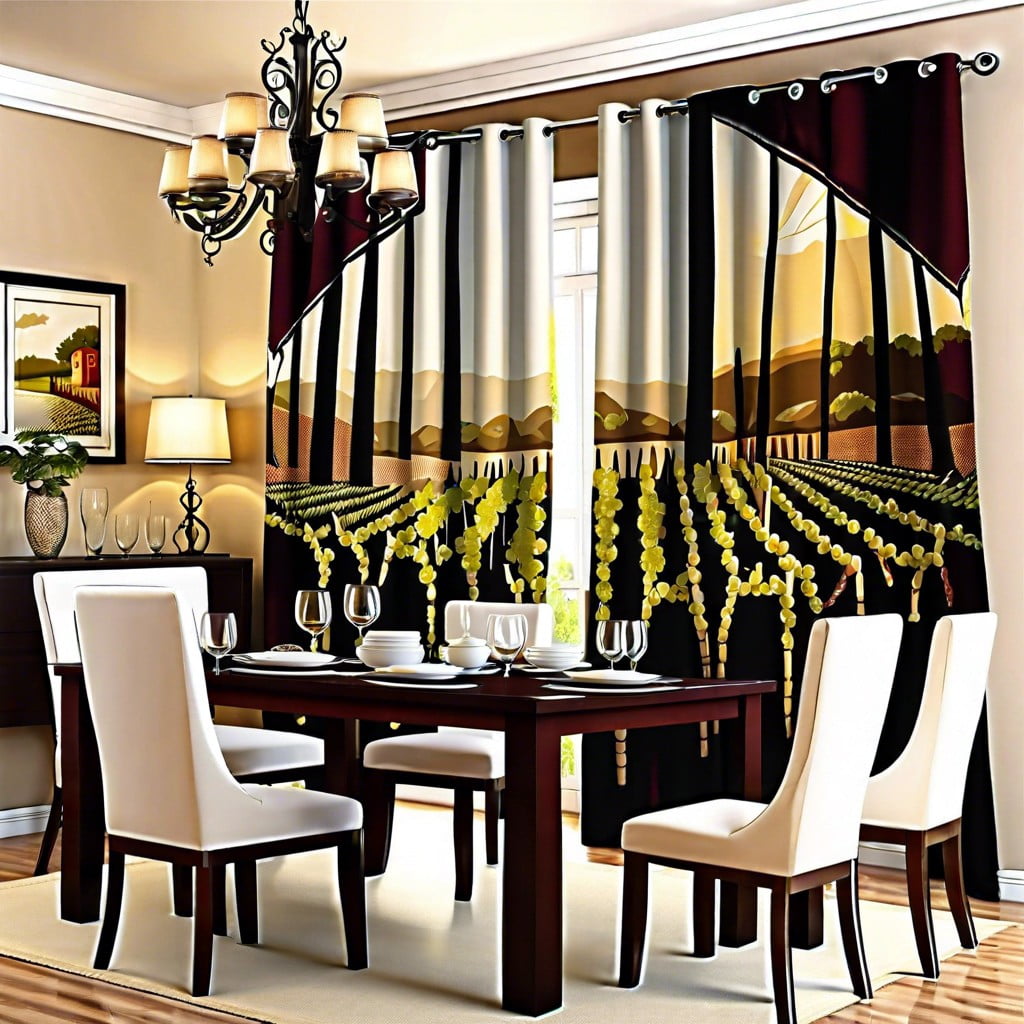 Selecting curtains with a subtle grape or wine bottle print can easily inject a touch of vineyard charm into your dining room.
Prioritize a color palette that complements your existing decor — rich purples, moody burgundies, and soft earth tones are natural choices.
For transparency options, consider whether you want a sheer, light-filtering fabric for a whimsical espresso afternoon or a thicker linen for a romantic, candle-lit dinner.
For a rustic look, opt for curtain rods made from recycled wine barrels or with an antiqued finish.
Keep in mind that less is often more; don't let the wine-themed curtain overpower the room, but gently blend it with the ambiance.
Barrel Stave Wine Glass Holder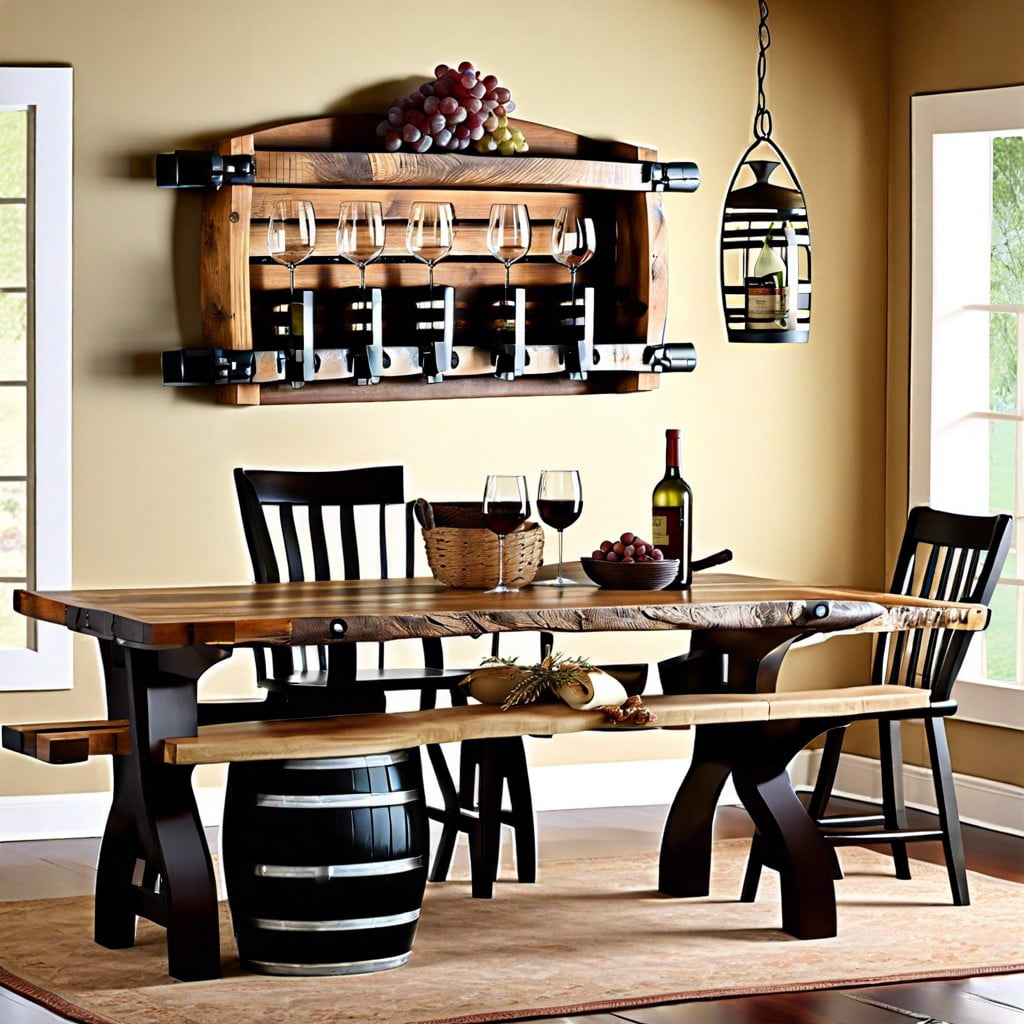 Integrating a barrel stave wine glass holder into your dining room decor adds not only functionality but also a rustic charm. It's a unique way to display your glassware while telling a story of wine's lifespan – from vine to bottle, and now to your room.
1. Where to Purchase: Don't limit yourself to local stores; both online boutiques and winery gift shops are treasure troves of beautifully crafted holders.
2. Display Locations: This piece can either be an eye-catching centerpiece on your table or mounted underneath your cabinets – both options free up cabinet space.
3. Style Flexibility: Even in a modern room, this piece stands as a conversation starter. It blends with various decor styles, from rustic to contemporary.
4. Maintenance: Just a little dusting will keep your holder looking stunning and ready for your next celebration.
5. Installation: Most come ready to hang, needing only a few secure screws. The installation is typically as simple as the piece is fascinating.
This functional piece serves as a beautiful reminder of the wine journey, and the joyfulness of gatherings that surround it.
Wine Quote Wall Decals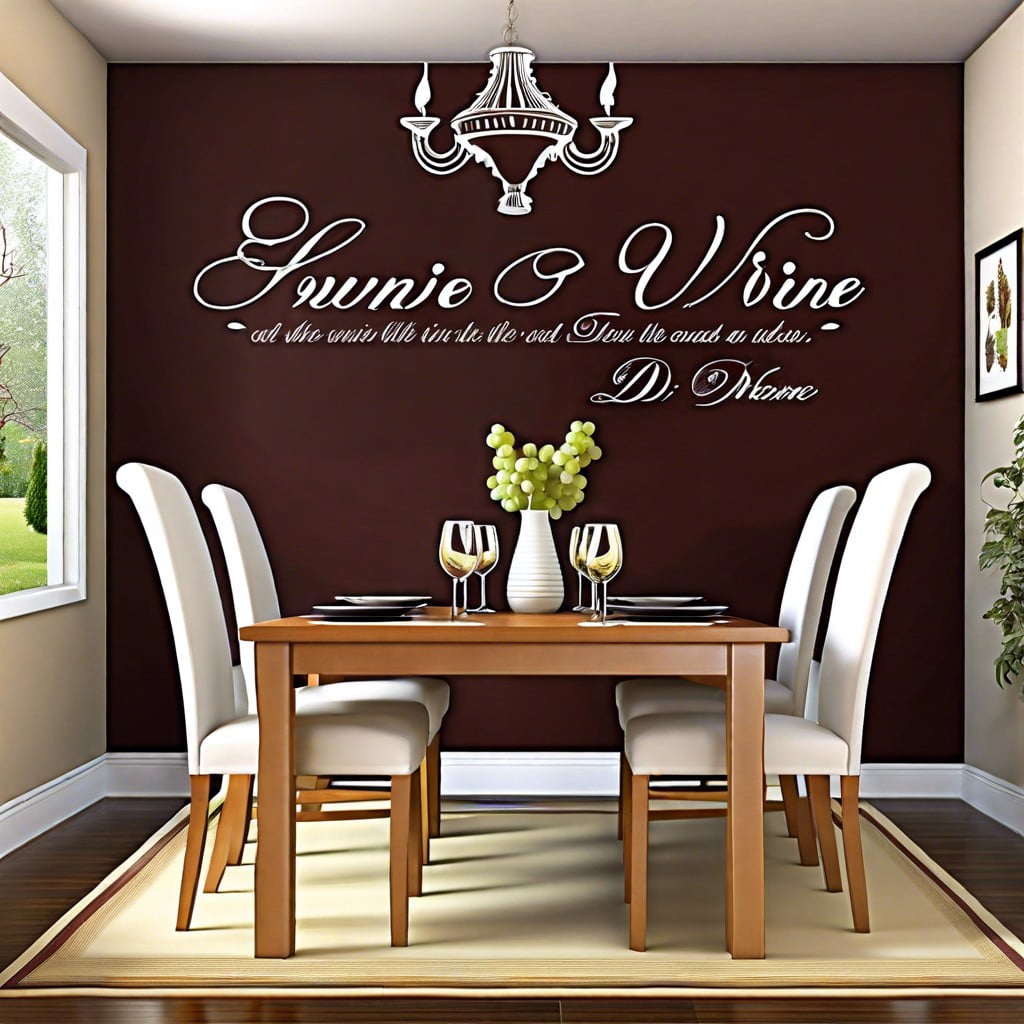 Infusing a dash of humor or inspiration into your dining room is easily achieved with these decals. They create an engaging point of interest, sparking conversation among guests. Simple to apply and available in a multitude of designs, they allow your decor to speak volumes about your love for wine.
Versatility: Wall decals can adapt to any variety of themes, from whimsical to sophisticated.
Phrase variety: Opt for humorous quotes like "Age gets better with wine", or sophisticated phrases like "Wine, the intellectual part of the meal" by Alexandre Dumas.
Easy application: No need for hammers or nails. Decals adhere easily and can be removed without damaging the paint.
Customizable: These can be personalized to suit your taste, making your dining room unique.
Artful display: They can serve as a main attraction or subtly blend in with existing decor schemes.
Remember, the purpose here isn't just to show your love for wine, but also to create an atmosphere that reflects your personality. With quote wall decals, express your fondness for fine dining and fine wines.
Wine Bottle Vases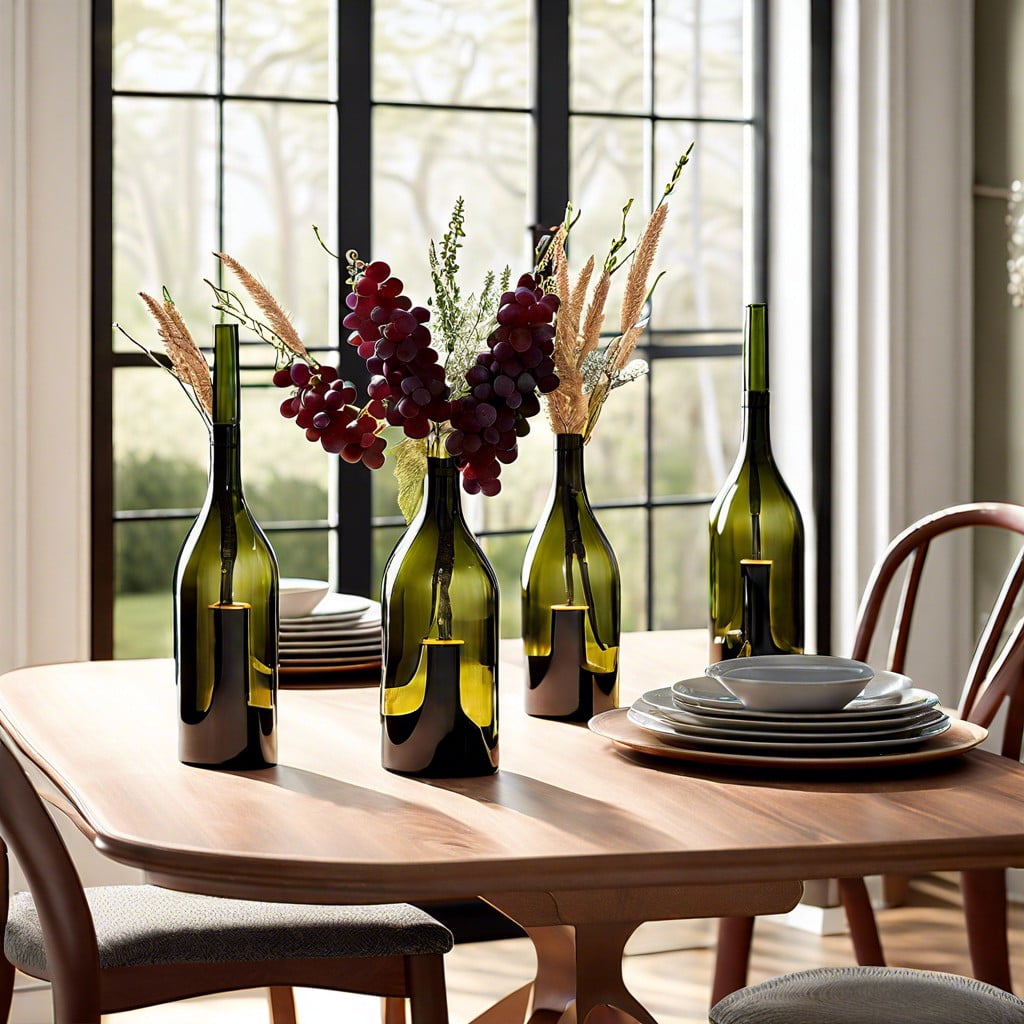 Re-imagine those empty wine bottles, as they can provide a stylish and inexpensive way to enhance your dining room. They can be used as chic vases, effortlessly adding an element of vintage charm.
Here are some tips to get you started:
1. Clean your wine bottles inside out, making sure to rid them of wine residue and labels. A mix of warm water and dish soap works well for this.
2. Depending on your preference, you can keep the original color of the bottles or spray paint them to match your room's color scheme.
3. Choose long-stemmed flowers or branches for a balanced and spectacular look. These add height to your dining room table, making it even more inviting.
4. Arrange the bottles in odd numbers, such as three or five, for a visually pleasing effect.
5. For an added touch, consider tying a pretty bow around the neck of the bottle or embellishing it with a rustic piece of twine.
6. Remember, less is more. A single bottle decorated well can make a stronger statement than multiple ones clustered together.
Experiment and have fun. The versatility of wine bottle vases lets you express your personal style while adding an unexpected touch of elegance to your dining room.
Themed Area Rugs Depicting Wine Elements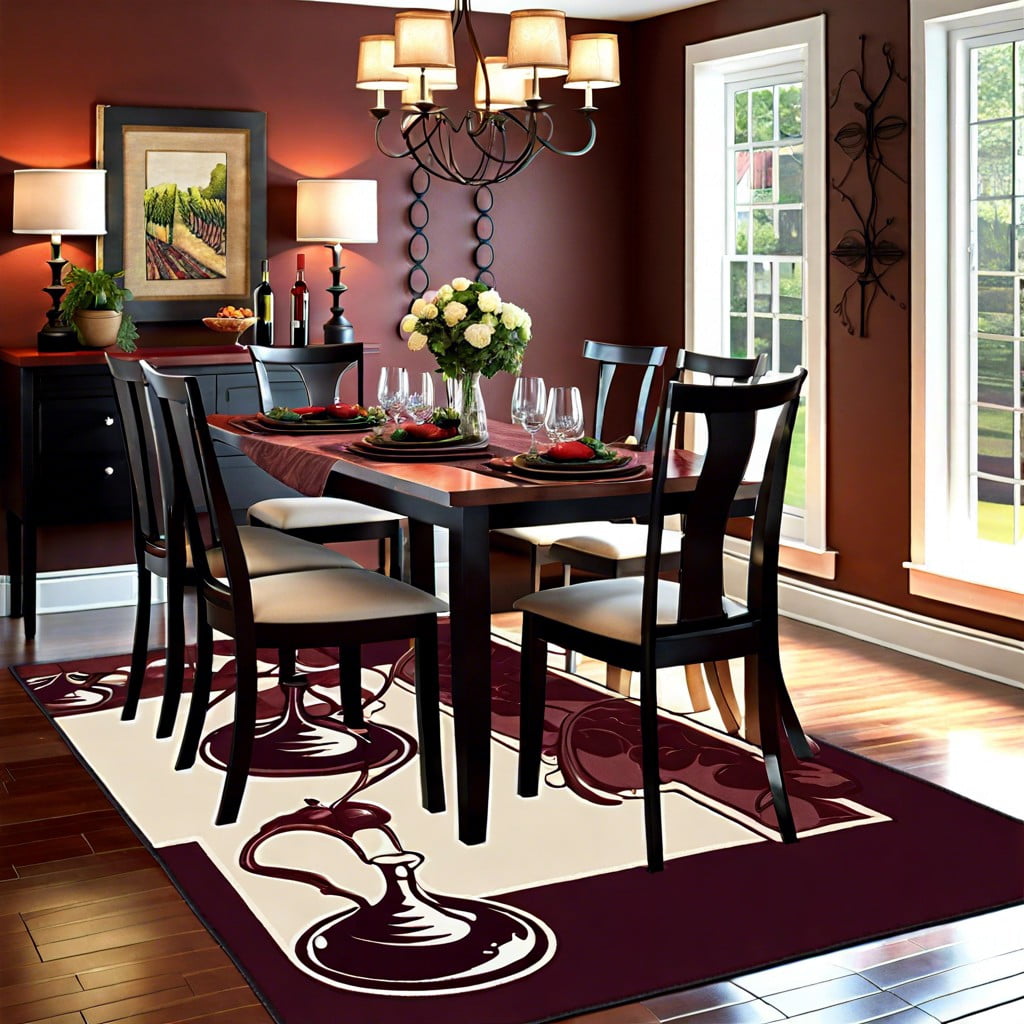 Adding a touch of whimsy to your dining room is as simple as rolling out an area rug with wine-inspired motifs. These rugs, filled with images of bottles, glasses, grape clusters, and even vineyard scenes, introduce an artistic element and can be a point of visual interest.
Consider material choices carefully for durability and ease of cleaning, especially in high-traffic zones. Favour darker shades to hide potential stains and choose a size that best fits your space.
Keep in mind that these themed rugs should still coordinate well with the overall color scheme and decor of your dining area. Pair it with neutral walls and furniture so that it becomes a standout piece rather than overwhelming the room.
Exchange rugs seasonally to keep your decor fresh, opting for lighter colors in spring and summer, and richer, darker hues during autumn and winter months.
Wine Crate Storage Solutions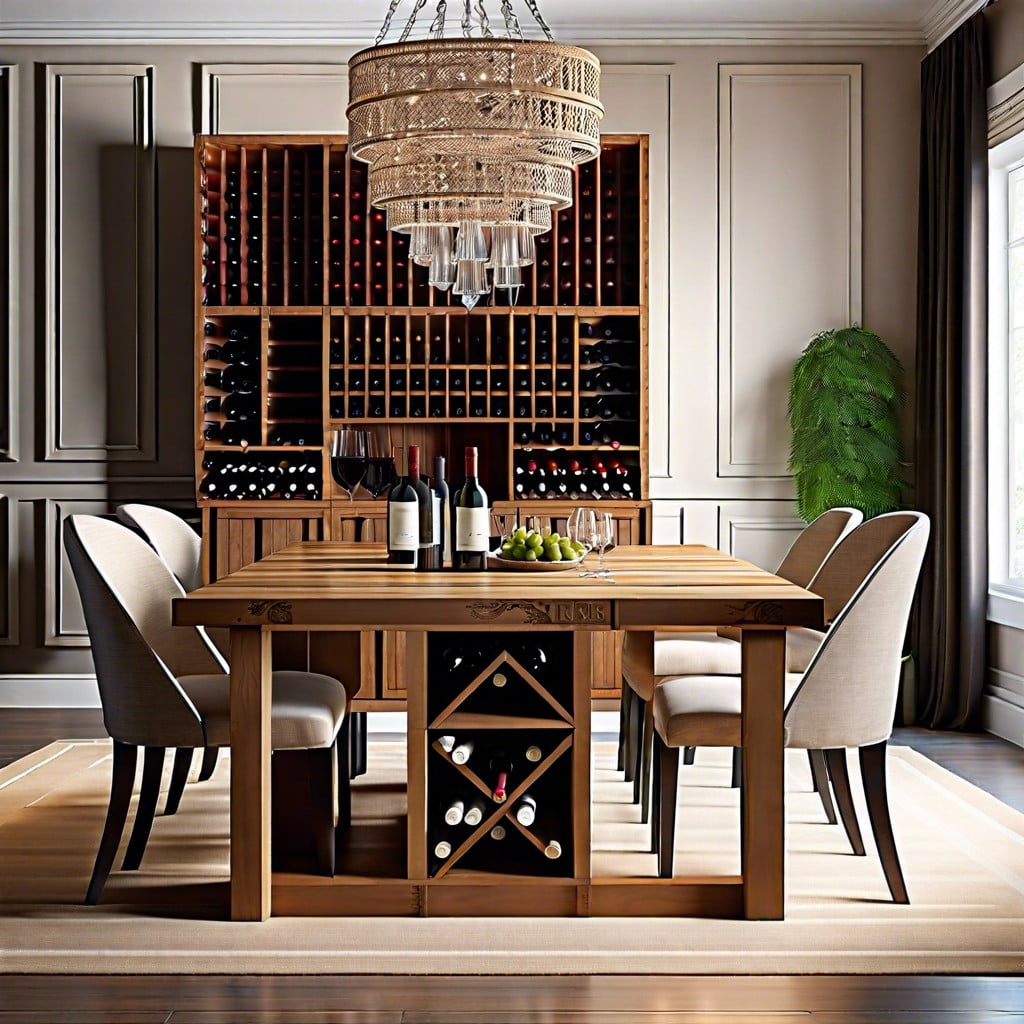 With the vast variety of designs and sizes, wine crates can serve as a stylish and practical storage solution to keep your postal bottles, glassware, and accessories organized.
To boost their longevity, consider treating the crates with a wood condition and showcasing them on open shelves or fastened directly to the wall.
Bonus points if you can find the vintage ones which may feature beautiful fonts or logos, adding an extra dose of charm to your dining ambience.
Remember, you can always stack them one atop the other to create a floor bookshelf effect or a countertop wine rack.
Wine Tasting Table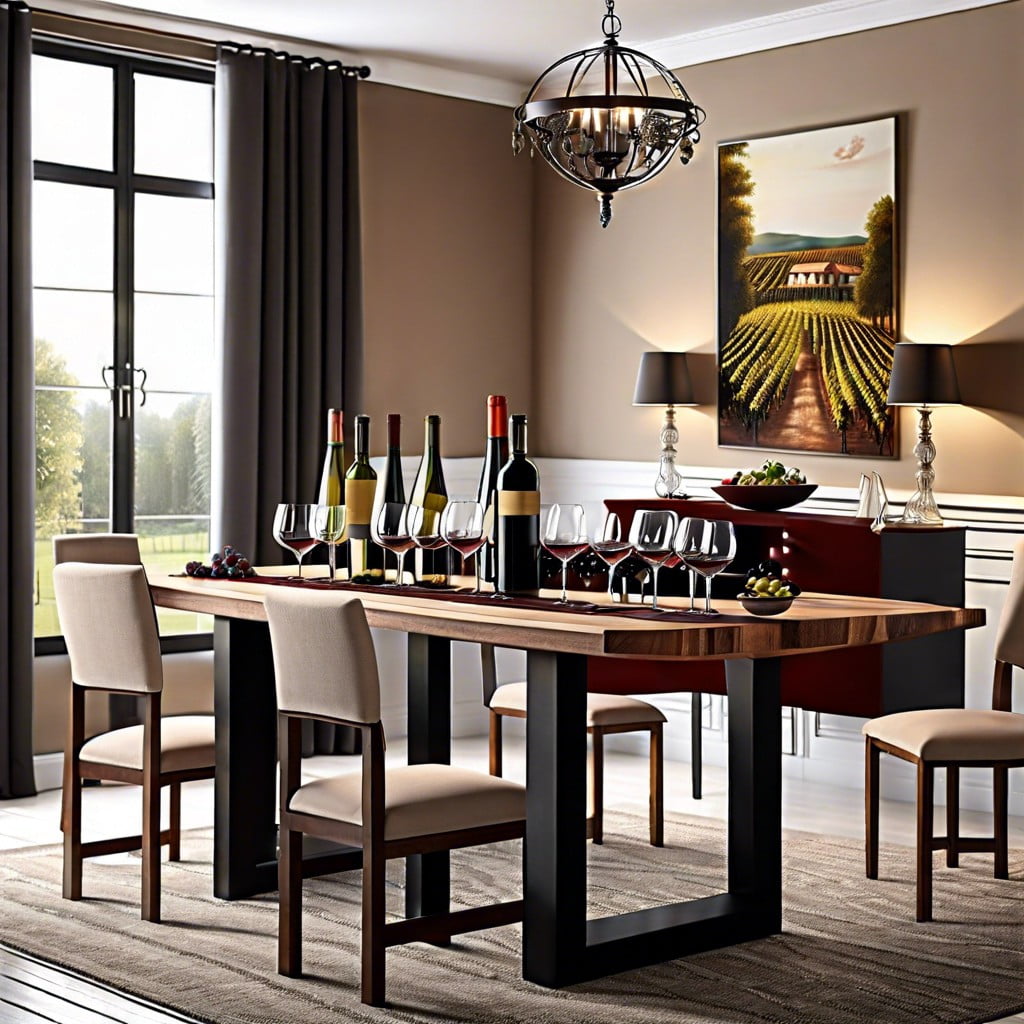 A tasting table gives your dining room a unique touch and a direct connection to the winery experience. Ask for tables with a sturdy build, as they should hold bottles, glasses, and a wine bucket comfortably. Opt for stain-resistant materials, as wine spillage may occur.
For an authentic touch, seek tables made from repurposed wine barrels or tables featuring wine crate etchings. Adding this piece to your dining space encourages casual, friendly gatherings around good food and great wine. It will subtly impress your guests with an invitation to the sophisticated world of wine tasting, contained within the comfort of your home.
Continue reading:
Recap