Last updated on November 19, 2023
Create a unique look for your home by displaying your glassware because the charm and elegance they bring are simply irresistible.
Showcasing your glassware can elevate your home decor to a whole new level. Whether it's your grandmother's vintage collection, your favorite wine glasses, or an array of colorful jars, displaying them effectively can add a touch of elegance and personality to your space.
This article will guide you through a variety of innovative glassware display ideas, ranging from floating shelves to illuminated cabinets. Each suggestion is designed to maximize your display while complementing your existing decor.
Keep reading for a detailed exploration of these ideas, complete with tips on how to implement them in your own home.
Floating Shelf Displays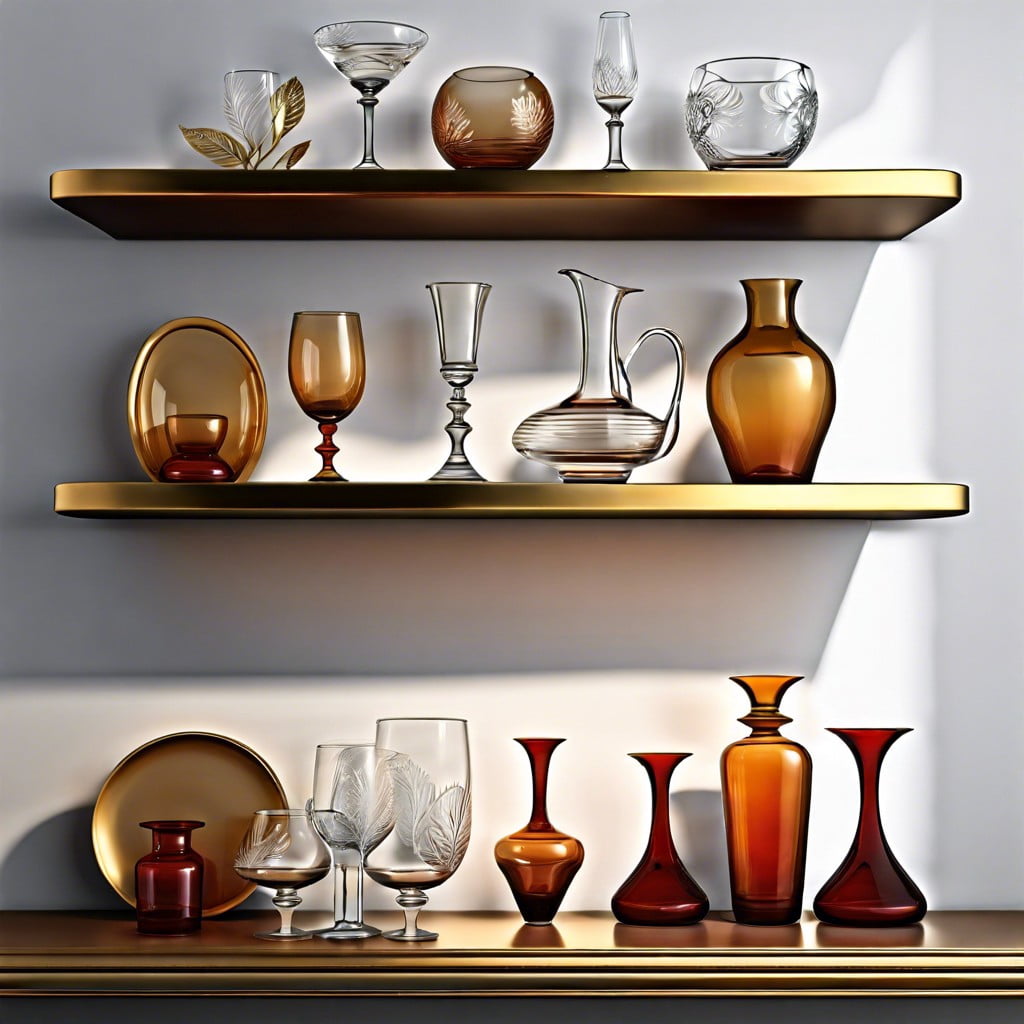 Opting for a floating shelf layout allows flexibility in arrangement and easy access. Here are some key steps to create a visually pleasing shelf display:
1. Prioritize: Begin by prioritizing the glassware you want to feature. Ensure you have a mix of heights, sizes, and patterns to create visual interest.
2. Balance: Arrange your glasses in a way that balances the larger, bulkier items with the more delicate ones. This keeps the shelf from appearing top-heavy or cluttered.
3. Spacing: Leave enough space between glasses to prevent them from knocking into each other when retrieving or cleaning them.
4. Grouping: Create small groupings of similar glasses to create visual clusters.
5. Accentuate: Add common household items like plants, books or a framed piece of art to accentuate your glassware and personalize the shelf.
Remember, truly successful floating shelves evolve with your taste and needs, so don't be afraid to change the design from time to time.
Under-cabinet Stemware Racks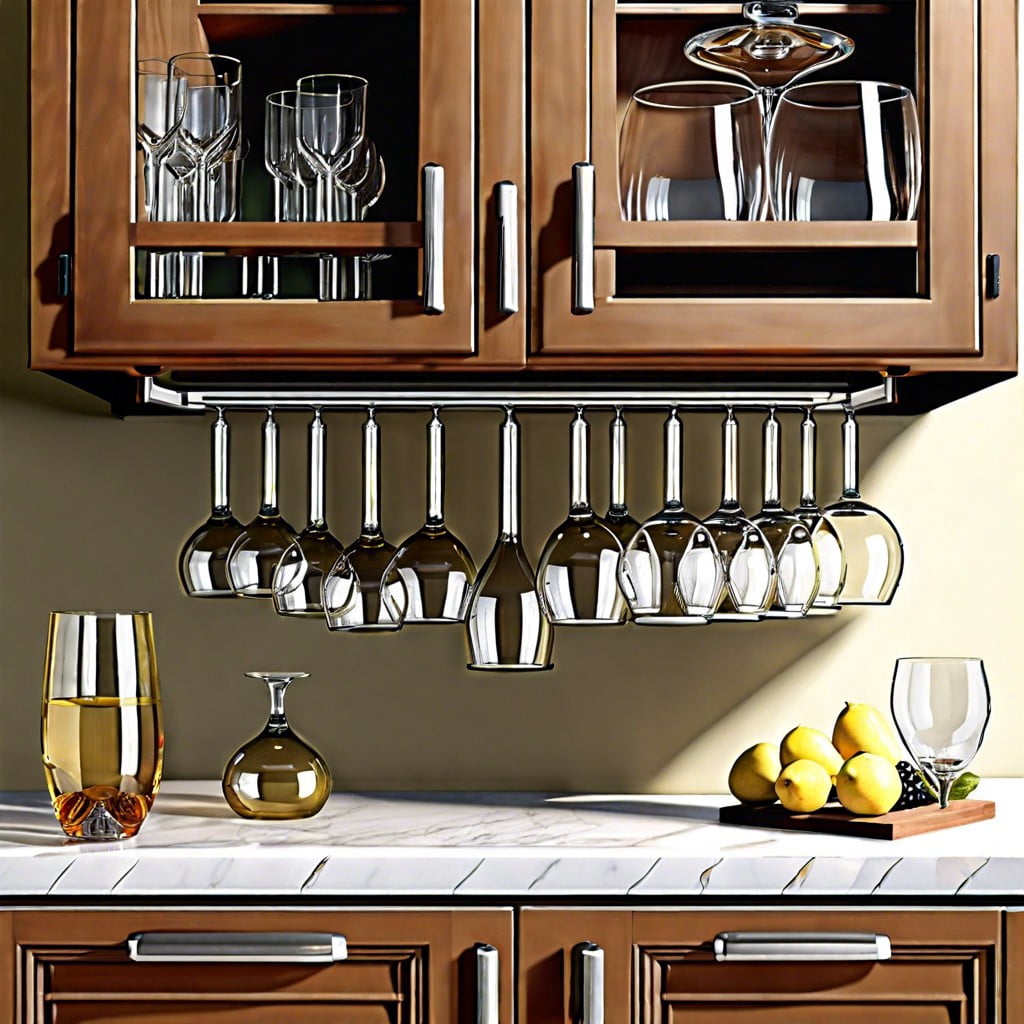 Having limited space does not mean you can't display your glassware in style. Look no further than the unused area beneath your cabinets. Here's a unique idea that not only offers clear visibility of your treasures but also saves precious counter space.
Using these racks, reachable stemware storage will be possible. The stemware racks can easily accommodate glasses of various sizes, by holding them upside down securely. These racks can be installed with minimal tools, and the process typically takes less than an hour.
Moreover, they are multi-functional. They prevent dust and debris from settling inside your clean glasses while providing an easy access solution. Available in a multitude of materials like plastic, metal, or wood, there is one to suit every kitchen decor.
Finally, pair these with under-cabinet lights to add a touch of elegance, enhancing your kitchen's aesthetic appeal.
Remember, keep these racks at an arm's length for easy access and avoid potential accidents. Store daily use glasses, and those you may not mind getting slightly chipped. The most delicate or precious pieces might be best kept elsewhere.
Glass Cabinet With Accent Lighting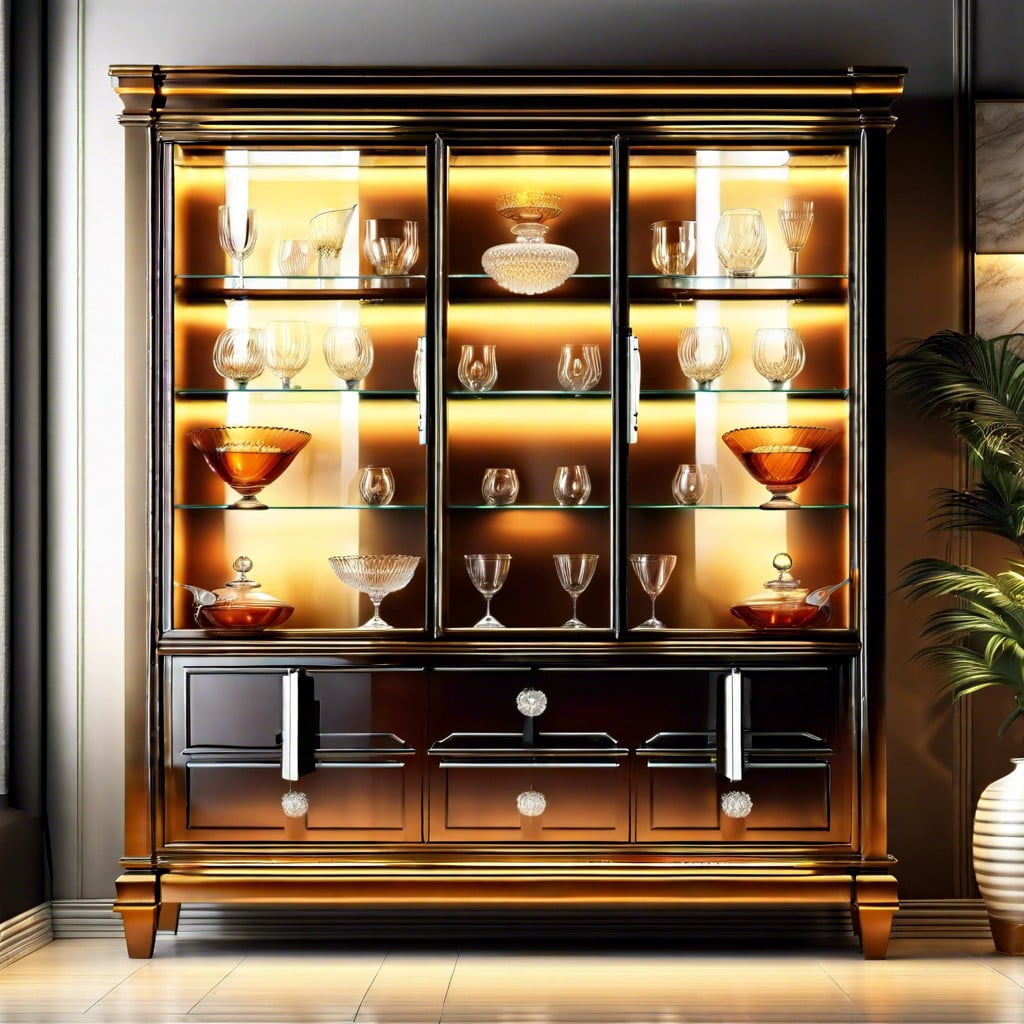 Accent lighting not only illuminates the interior of a glass cabinet but also adds an aesthetic quotient that showcases your glassware collection in a rich and luxurious manner. The key concept behind this innovative display idea is to put the spotlight on your fragile pieces, enhancing their exquisite details while also serving as functional lighting.
Here are some points to consider:
Use LED strip lights: Tucked away inconspicuously, LED strip lights create a rich, unobtrusive glow.
Scatter individual spotlights: Consider placing individual spotlights in strategic places, highlighting particular pieces.
Experiment with colors: Depending on the glassware, warm or cool light can make a significant difference.
Control light intensity: Adjustable brightness allows setting the right mood for every occasion.
Choose proper placement: Always ensure that the light complements rather than overwhelms your display.
Test light angles: This helps avoid unsightly glare and make the most of the accent lighting.
Remember, lighting can transform a simple glassware collection into a spectacular display, giving it the appreciation it deserves.
Vintage Suitcase Glassware Storage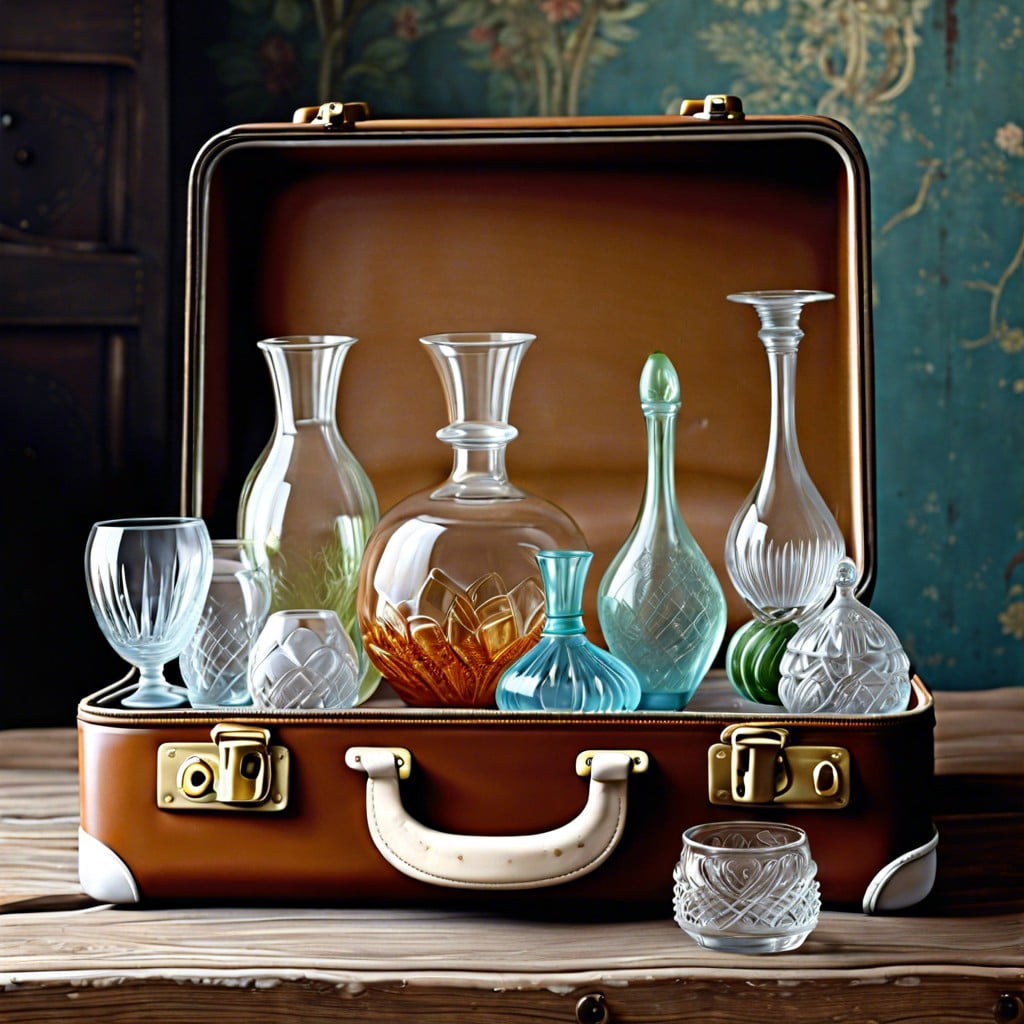 Stepping away from common display cabinets, think fashionably retro with a vintage suitcase. Their sturdy structure makes them ideal for storing an array of glassware, from your delicate champagne flutes to your robust whiskey tumblers.
1. Choose a suitcase that's got depth, allowing the glasses to fit snugly without nudging the lid.
2. Add cushioning: To prevent glass breakage, line your suitcase with a soft fabric. Satin or velvet offers an additional touch of class.
3. Layout planning: Arrange your glasses cleverly; mix and match sizes, colors, and styles for an eclectic look.
4. Secure Your Glassware: You can use silicone gel or elastic bands to secure your glasses from moving around.
5. Multipurpose usage: Lid of your suitcase can serve as a nifty tray for serving your beverages.
Remember, the idea is to not just store but to showcase your glassware in a novel, aesthetically pleasing manner. And what's better, when not in use, your vintage suitcase glassware storage adds an intriguing decorative element to your room.
Wooden Wine Racks With Glass Slots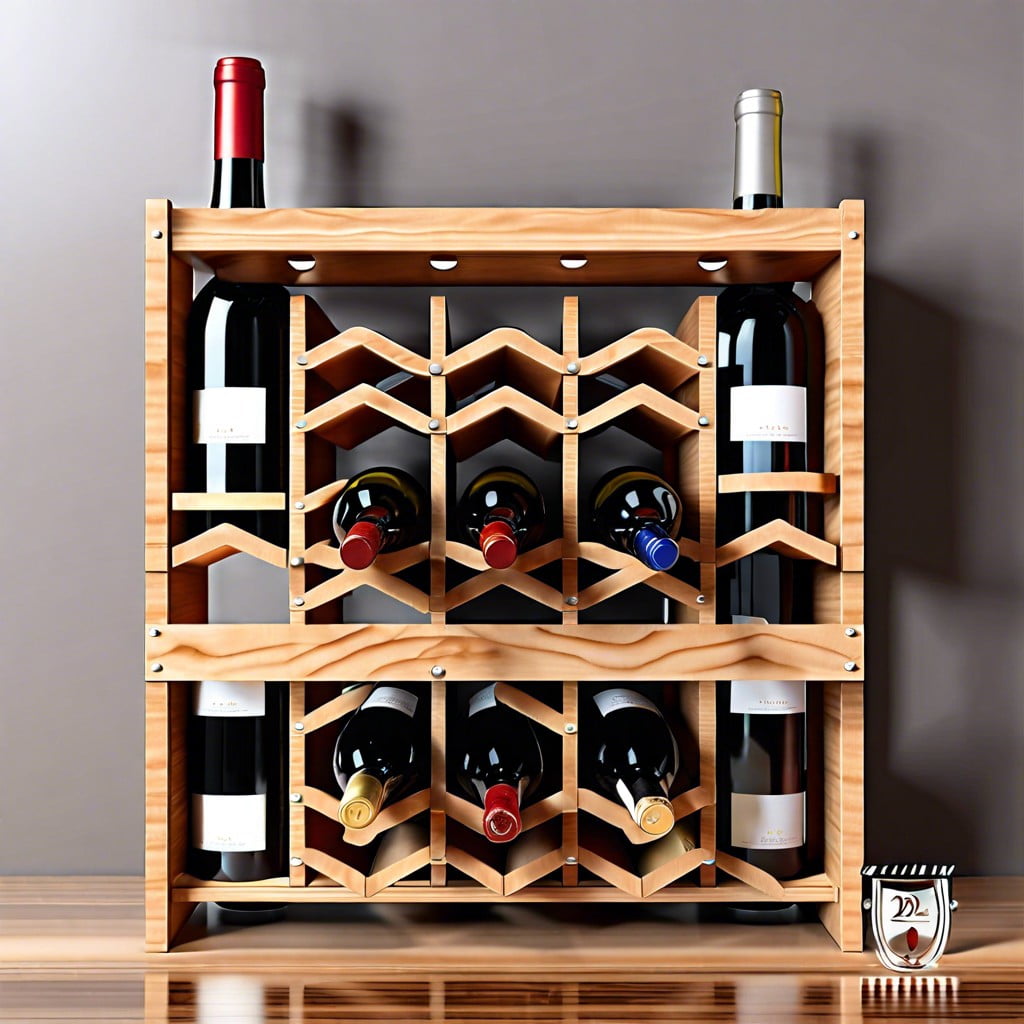 Consider the humble wooden wine rack an underestimated multi-purpose display idea. With built-in glass slots, it easily doubles as a practical storage unit for your beautiful stemware.
Here are specific reasons why it's an ideal choice:
Practicality: Aside from bottles, the slots accommodate a variety of glass sizes, from tall flutes to broader burgundy glasses.
Versatility: They're available in a plethora of designs and finishes – from country pine to sleek modern black or polished mahogany.
Accessibility: The vertical arrangement allows easy access and ensures glasses are stored upside down, preventing dust collection in the bowl.
Space-saving: Perfect for countertop, against the wall, or even hung up, utilizing vertical space efficiently.
Aesthetic Appeal: The graceful arch of hanging glasses brings a sophisticated air to areas like the dining room or kitchen.
Stacking Shelves for Glassware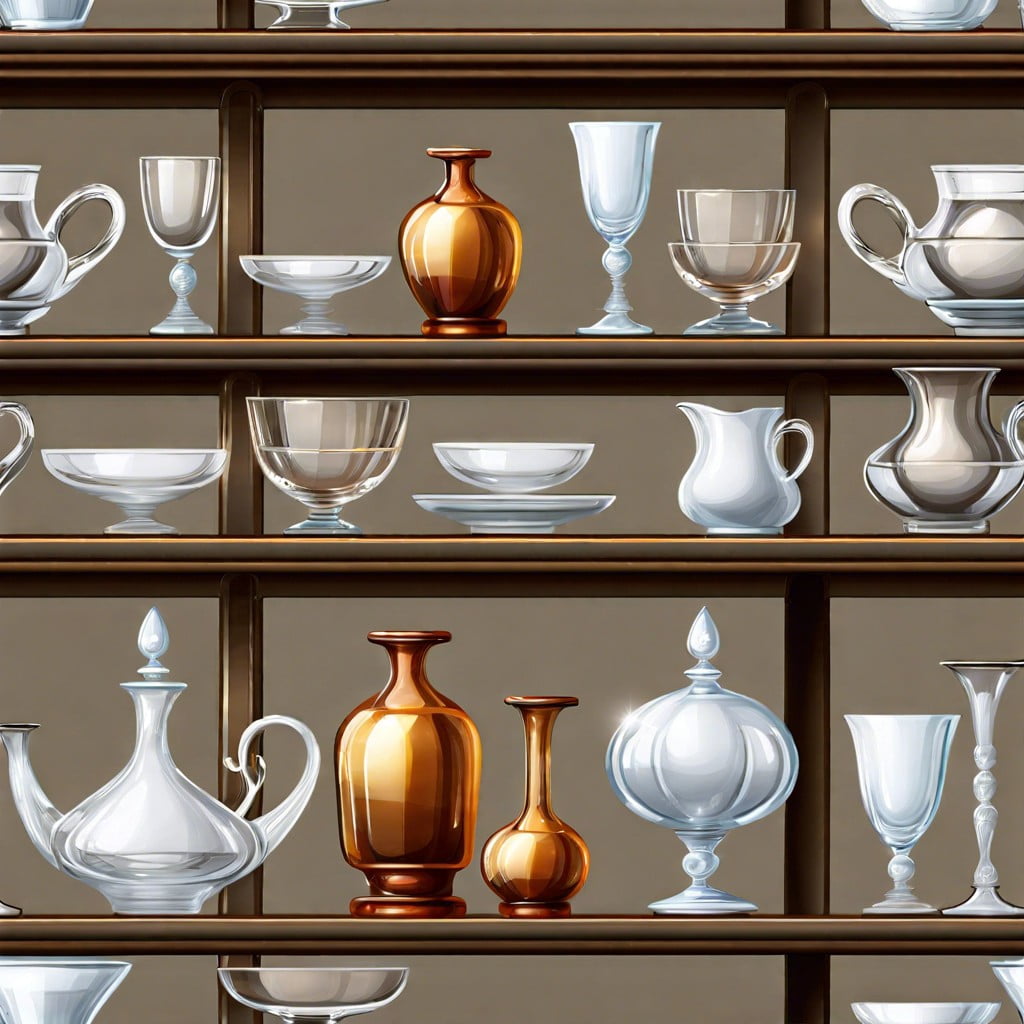 Brace yourselves as we jump right into the details.
Allow stacks of different glasses to be displayed on separate shelves. Opting for this option considerably increases storage capacity, offering space even for the most abundant glassware collections.
Here are a few key points to keep in mind:
1. Prioritize Stability: Make sure each stack is secure. Avoid stacking delicate items too high to prevent damage.
2. Mix and Match: Play with different glass shapes and sizes on each shelf – from stemware to highball glasses.
3. Leave Space: Ensure a little room between each glass to highlight individual pieces and prevent chipping.
4. Stick to Symmetry: Keep the design visually pleasing by mirroring stacks on each side.
This method is a great way to showcase variety and keep your precious collections in plain sight. It aids in easy access while maintaining an impressive display. Remember the goal is order and beauty!
Open Brass and Glass Etagere
Offering a hint of glamour with its sleek silhouette, the etagere can serve a dual purpose – it elegantly showcases your glassware collection while infusing a modern vibe into your space.
Notable characteristics include:
Versatility: Their adaptable nature allows them to blend into a wide range of home design schemes, from sophisticated to eclectic.
Multi-levels: Multiple shelves, varying in size, providing ample room for glassware. A mix of tall and short glasses can add depth and visual interest.
Brass Frames: The metallic hue stands in bold contrast with clear drinking vessels, further enhancing their appeal.
Glass Shelves: Transparent shelving amplifies the display, allowing light to filter through and cast a shimmering glow onto the pieces.
Open Design: This style provides accessibility while highlighting every item on display, making it easy to fetch a specific glass when needed.
Remember, if a wine goblet or an ornate champagne flute is featured close to where your eyes naturally land, it can serve as a pivotal attraction within your décor.
Color Coordinated Glassware Display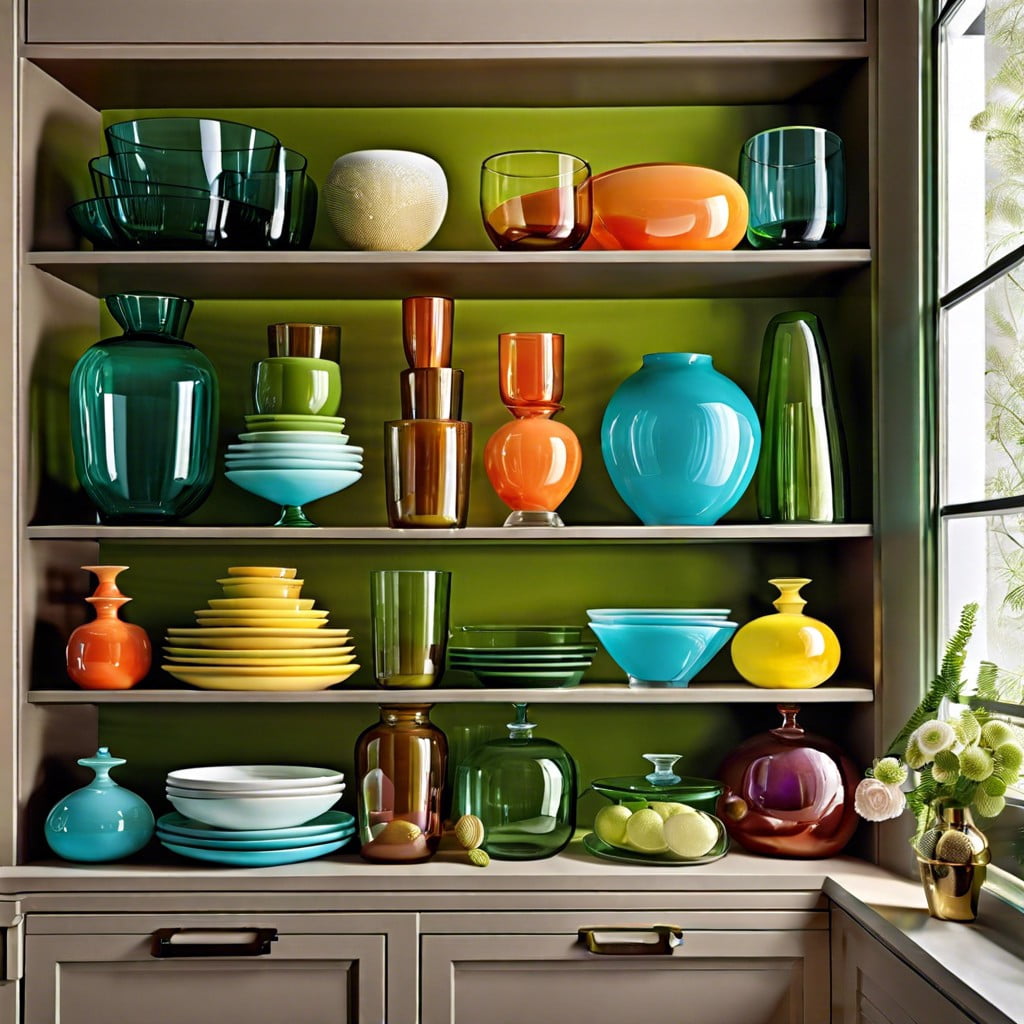 For a visually impactful presentation, utilize shades and hues to organize your glassware. The color-spectrum themed arrangement transcends all ordinary decor standards.
Starting from vivid red to cooler blue, create an ombre effect on open shelving. Alternatively, grouping similar colored glassware units together on various shelves or sections fire up symmetry and a neat, coordinated look.
This method not only showcases your stylish glassware but also becomes an artistic focal point in the room. Transparent and neutral-toned glassware is best placed on the ends or shelves with good lighting to highlight their delicate details.
It's a feast for the eyes and a clever way to make your glassware the star of your home decor.
Antique Hutch With Glass Doors for Display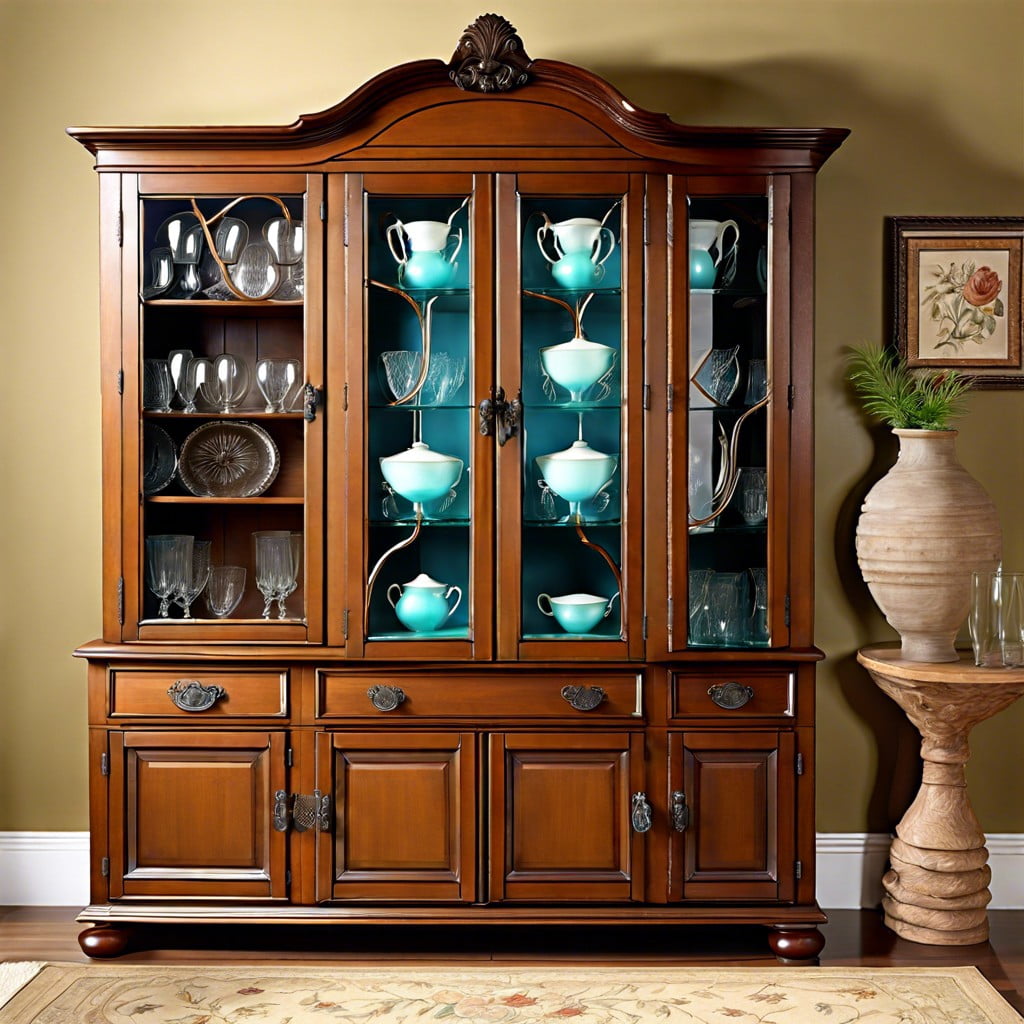 The natural elegance of an antique hutch can effortlessly become a focal point in your home. It creates ample space for showcasing your precious glassware collection behind the protection of glass doors.
To enhance the appeal, consider these elements:
1. Lighting: Try integrating small LED lights within the hutch to illuminate your glassware. This not only displays your items beautifully but also adds a warm ambiance to the room.
2. Organization: Create an organized look by categorizing glassware by style, size, or color. A symmetrical arrangement can give a neat, visually pleasing look.
3. Background: Consider lining the hutch's backside with patterned wallpaper or painted wood, which can provide a stunning contrast to your delicate and transparent pieces.
4. Access: Ensure that the hutch is placed where you can easily access your glassware when needed. Accessibility does not have to compromise display aesthetics.
5. Protection: The glass doors of the hutch reliably protect your glassware from dust and accidental damages, hence providing safe exhibition.
Remember, an antique hutch is not just a piece of furniture; it's a stylish, functional home for your glassware.
Rustic Wooden Crates for Casual Display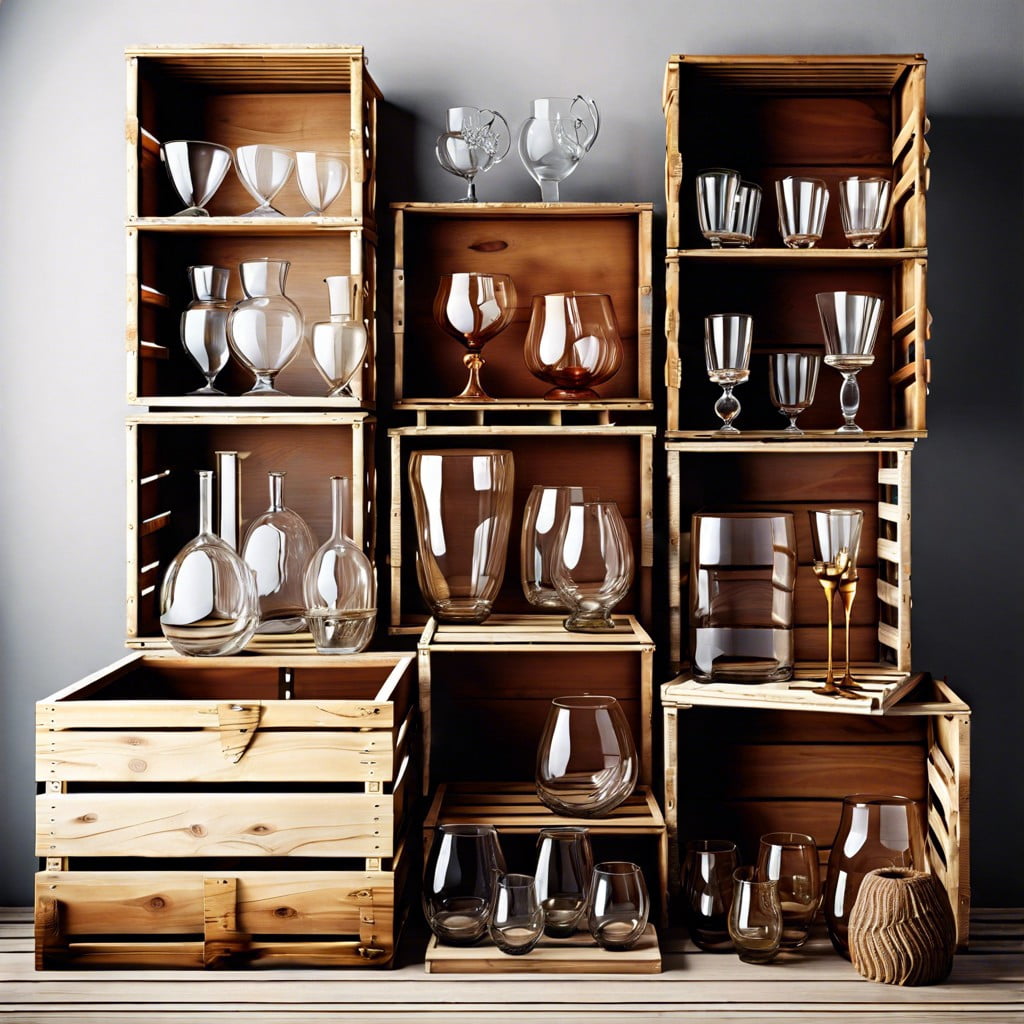 Moving from fully-fledged cabinets or shelves, opt for an earthier country-house vibe with wooden crates. Here's how they effortlessly showcase your glassware:
– Versatility: Unvarnished or distressed painted crates impart a homely, rustic charm. Stack them horizontally or vertically, letting you use them according to your needs and space. – Cost-effective: Often cheaper than other display options, crates offer a budget-friendly choice without compromising style. – Hip and Trendy: Borrowing ideas from popular farmhouse décor, they make your space look contemporary and stylish. – Easy Availability: You can find them in most hobby shops or even repurpose old wine crates. – Complements Glassware: The texture of aged wood juxtaposes brilliantly with the glossy sheen of glasses. – Easy Rearrangement: Being lightweight, they can be rearranged with ease, allowing you to experiment with different layouts.
Ladder Shelf Glassware Presentation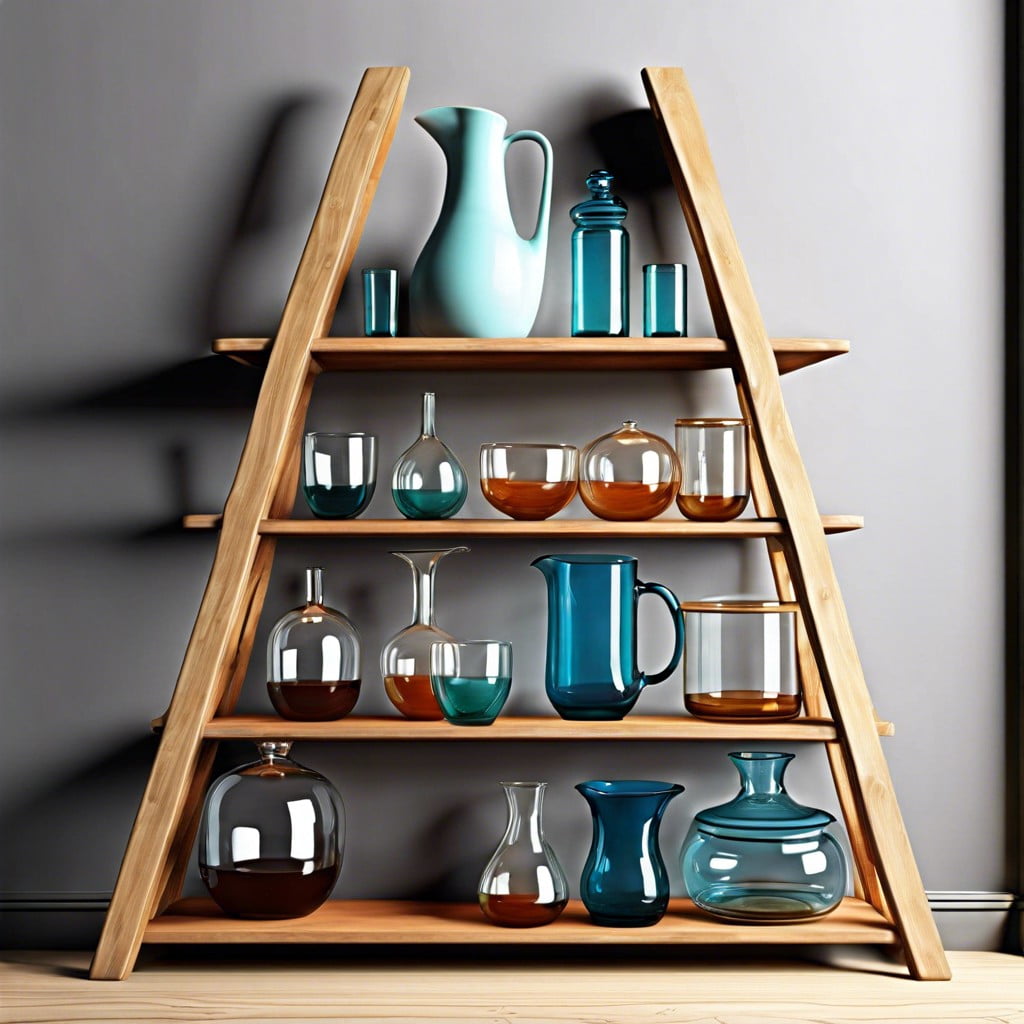 Creating an aesthetically pleasing arrangement while keeping your favorite pieces easily accessible, a ladder shelf works wonders. Its tiered structure effortlessly showcases an assortment of glassware.
Begin with larger, heavier pieces on the bottom tier for stability and work your way up with lighter items. Ensure glasses are safely positioned with enough space around them to prevent accidents. Matching glassware types or sets per shelf can provide a clean, organized look.
Add intrigue by interspersing glassware with small decorative items, plants, or books. A wooden ladder shelf lends a rustic charm, while a sleek metal one caters to a more modern space. However, be mindful of the height of the shelf if there are children in the home.
A ladder shelf offers both functionality and a visual feast; it's a win-win.
Glassware Wall Mounted Racks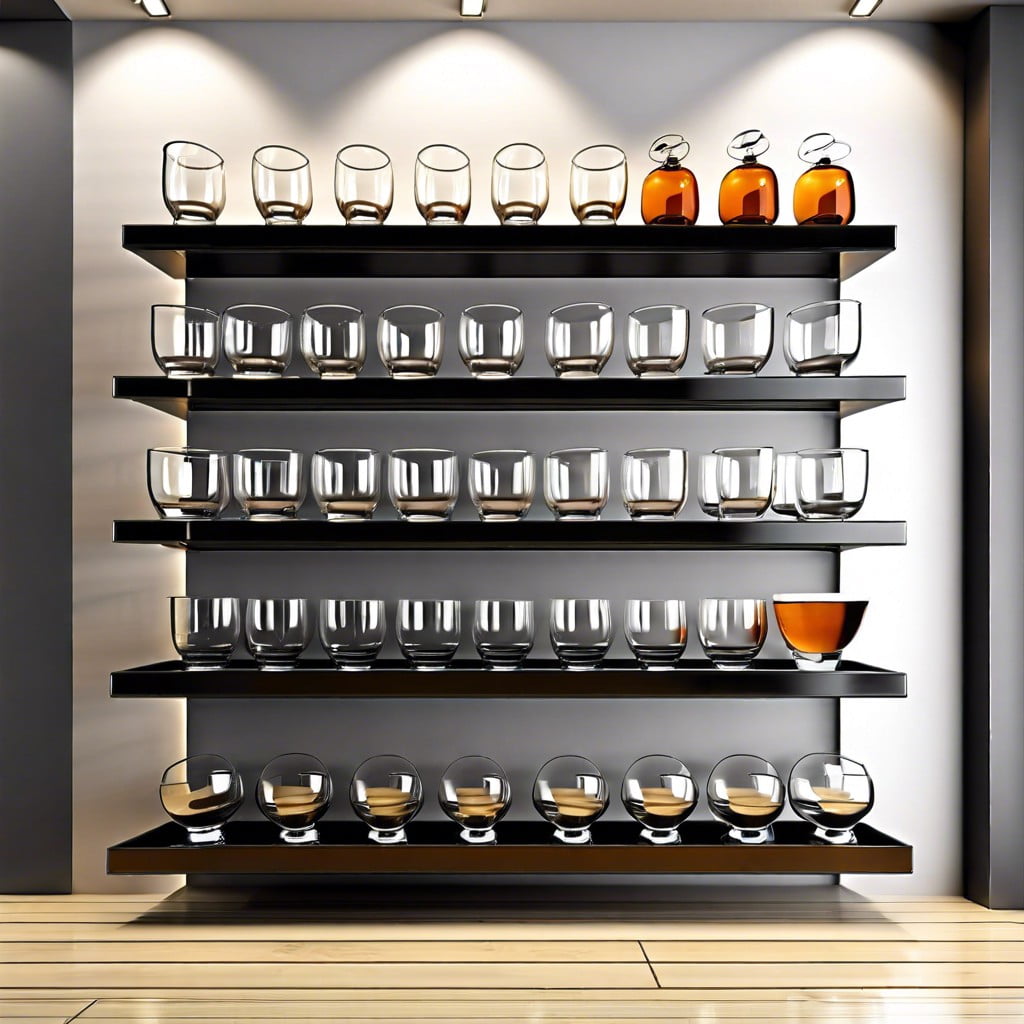 Sometimes, the best way to display your glassware isn't on a horizontal surface, but vertical. Wall-mounted racks free up countertop or shelf space and become a piece of three-dimensional wall art. Plus, they offer easy access to your favorite pieces.
Here are some points to explore the concept:
Design: From sleek metal bars to rustic wooden ones, find a rack style that complements your interior. Some models offer spots for wine bottles too, delivering an all-in-one storage solution.
Placement: Consider kitchen, dining, or bar area walls. The choice depends on where you typically serve drinks or meals. Ensure the height is practical without reaching uncomfortably high or bending down low.
Capacity: Racks come in various lengths and widths, holding different numbers of glasses. Choose depending on your glassware collection size.
Installation: Most racks are simple to install, requiring some screws and wall anchors. However, ensure they are secured to wall studs or used with appropriate anchor hardware for your wall type. The last thing you need is crashing glassware.
Remember, the beauty of wall-mounted racks isn't just in their storing capacity, but in the aesthetic touch they bring to your dwelling.
Tiered Dessert Stand for Small Glasses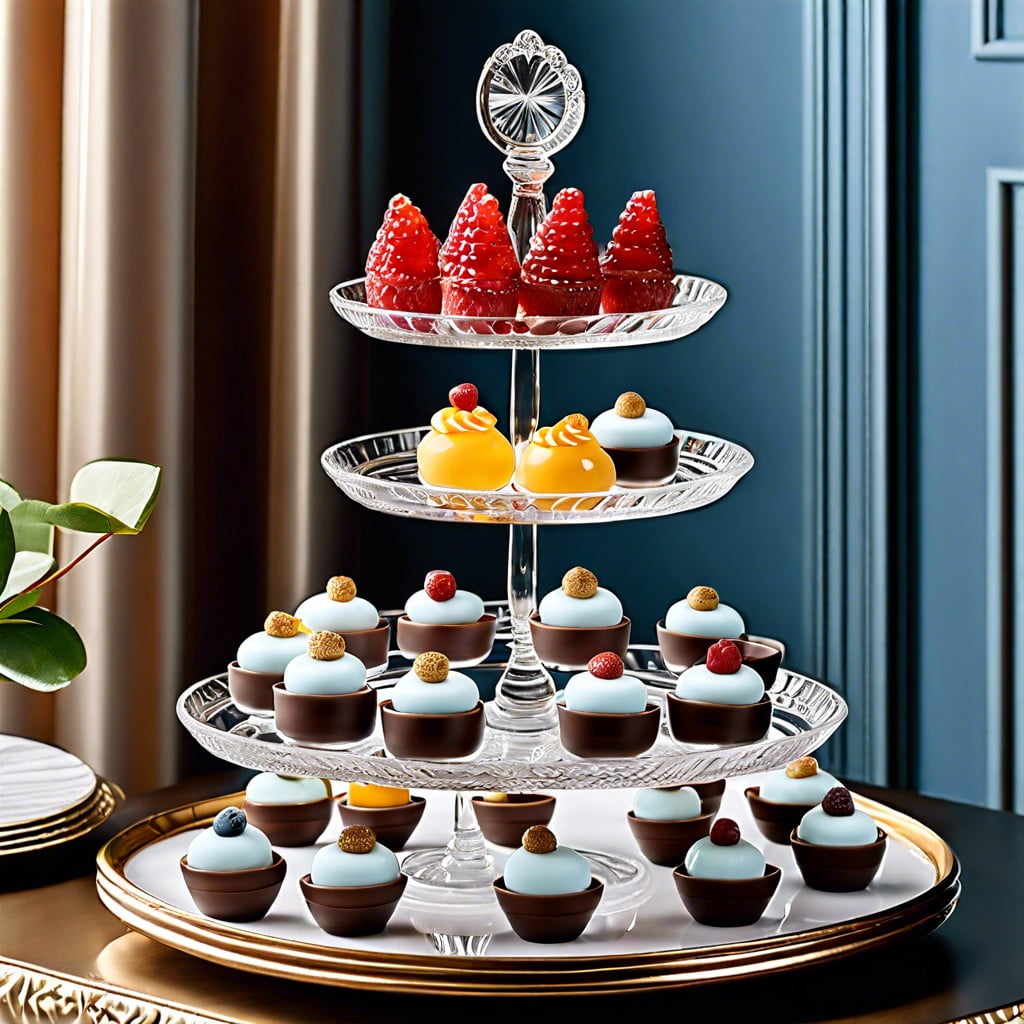 A dessert stand isn't just for pastries anymore! To give your collection of petite glasses a pulse-quickening sense of elevation and prominence, consider this trendy idea. Its inherent layered structure can capture attention and increase the aesthetic appeal of even the most humble shot or cordial glasses.
Expertly curated stands can create a stylish centerpiece in your dining or living room – vintage, modern, or anything in between. These stands are available in a variety of materials – from glass to metal to wood, which gives you a chance to find just the right one to match your home décor.
Furthermore, with its compact footprint, a tiered stand can make use of vertical space effectively, which may be a boon for those wrestling with limited storing options.
Remember, the art of the successful glassware display lies in balance – between size, colour, and style. So, don't overcrowd your stand and allow for some space between the glasses – this will give each piece a chance to shine. Finally, to elevate the look even more, be playful and complete the look with a touch of greenery or other decorative elements.
Transparent Acrylic Boxes for Individual Pieces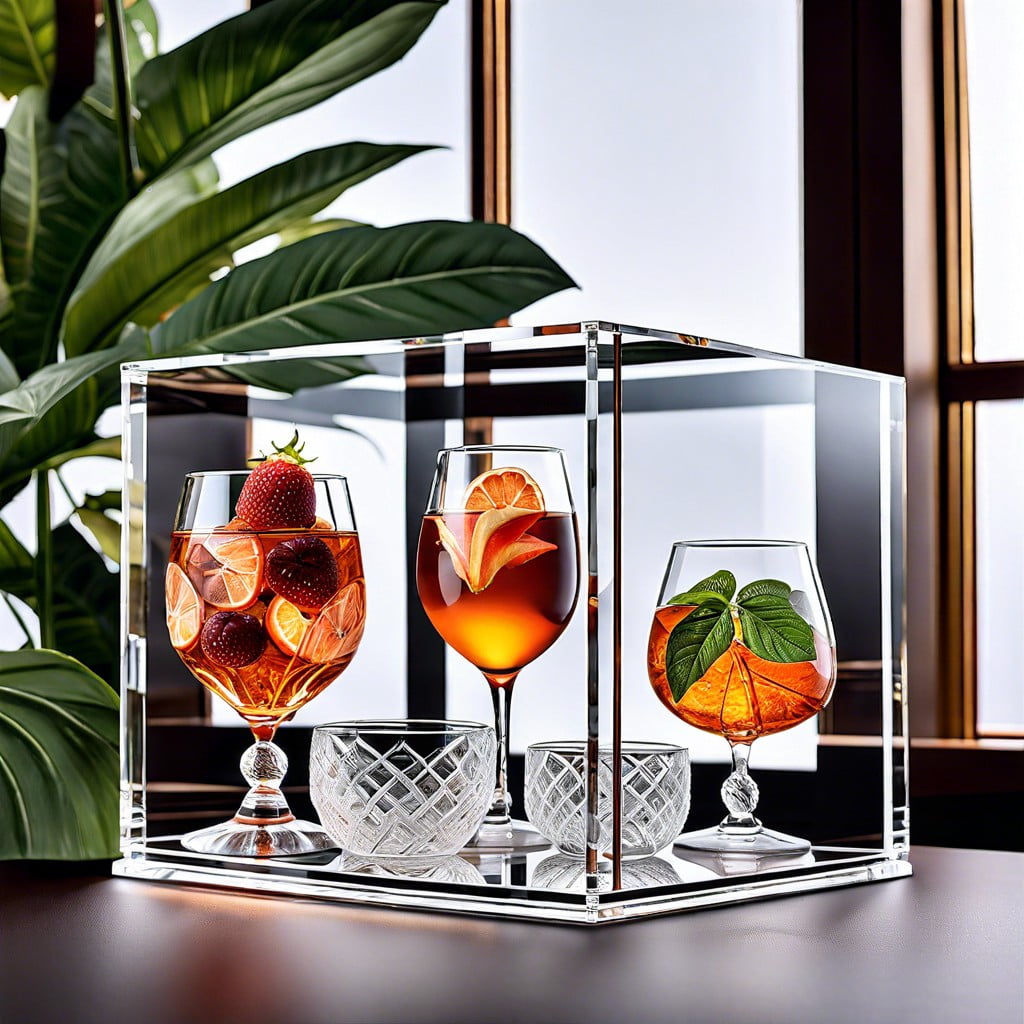 Redefining the elegance of displaying glassware, these boxes add a modern vibe. Being transparent, they don't distract from the delicate beauty of your cases.
Acrylic, a strong material, ensures your glassware is safe and dust-free. These boxes are versatile and can be placed on any shelf, counter, or table.
Furthermore, they come in various sizes to accommodate different glassware pieces, from wine glasses to vintage goblets. Arrange them in a nook, a centerpiece, or a side table.
For utmost visually pleasing look, try grouping boxes of different sizes together. It's an ingenious way to make each piece in your collection shine.
Corner Display Cabinet for Saving Space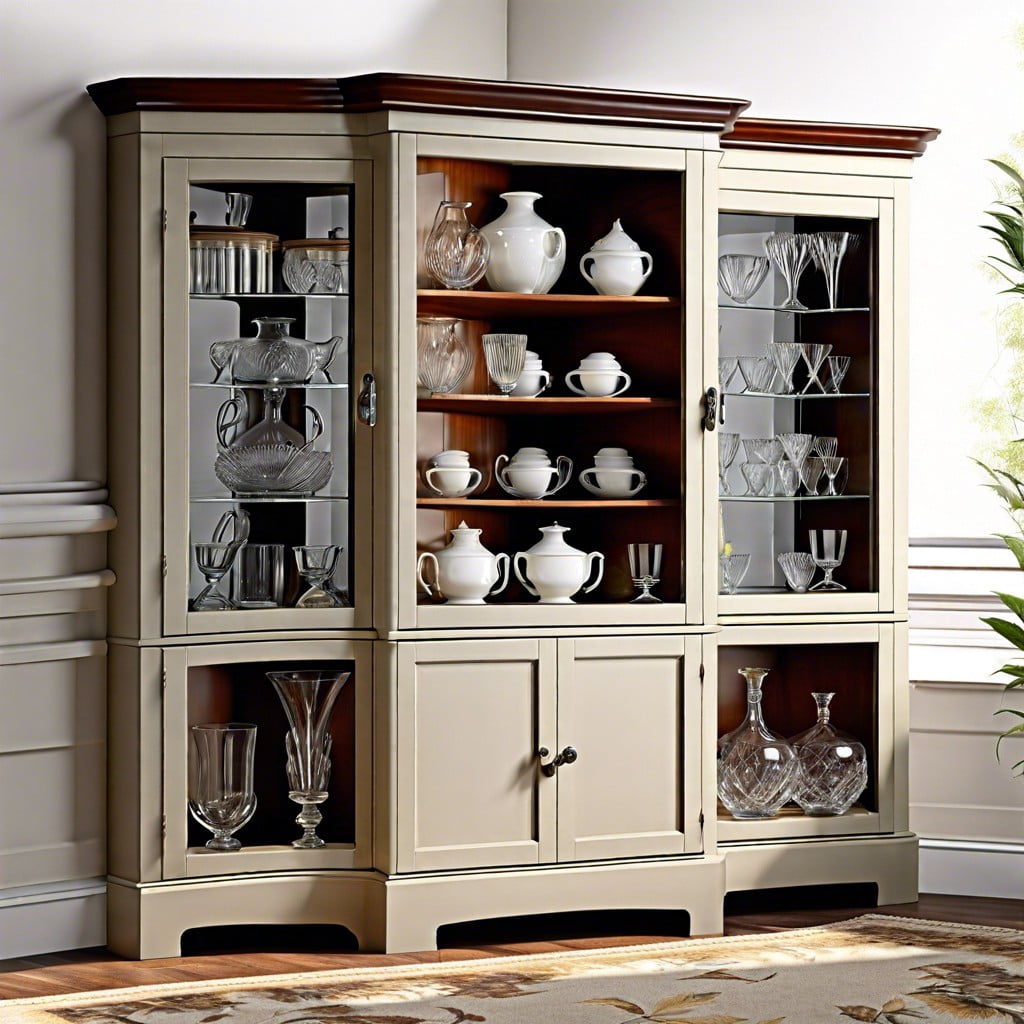 Optimized to fit in any corner, these unique cabinets provide a functional and decorative way to get the most out of your space. Regardless of whether you have a collection of vintage glass, trendy stemware, or a mix of classic and modern pieces, corner cabinets can readily showcase your glassware without consuming too much room.
Here's how to utilize them effortlessly:
1. Efficiency: Leverage the underused corner spaces. They offer optimum storage while retaining your decor layout.
2. Visibility: Customize the cabinet with transparent or glass doors for easy identification and a visual impact.
3. Lighting: Install internal lighting, this will highlight your glassware collection and provides an atmospheric glow.
4. Shelving: Consider adjustable shelves. They enable easy configuration to accommodate different sizes.
5. Protection: These cabinets deter dust and damage, keeping your glassware in pristine condition.
Remember, corner display cabinets marry practicality with style, helping you bring a touch of sophistication to your home while retaining its natural flow.
Glass-front Drawer for Low-level Display
Incorporating a low-level option into your household decor can prove to be an inventive way to showcase your glassware collection. A simple glass-front drawer works marvelously. Its demure presence effortlessly blends into any design theme and makes an unassuming yet chic statement.
Several advantages come with this design:
Easy Access: Positioning at a lower level makes your glassware easy to reach, particularly when they're needed in a jiffy.
Space Management: Such drawers occupy less space. Therefore, it's a perfect solution for compact homes.
Security: With a glass front, you can instantly spot your collection, decreasing the chances of accidental breakages due to handling errors.
Organization: If labelled appropriately, it ensures every glass type is easy to locate without rummaging.
Remember, the choice of wood finish or color for the drawer can either make it merge with your interior decor or stand out as a focal point. However, whatever design you opt for, the functionality remains the same – a handy storage for your glassware.
Rotating Glassware Display Stand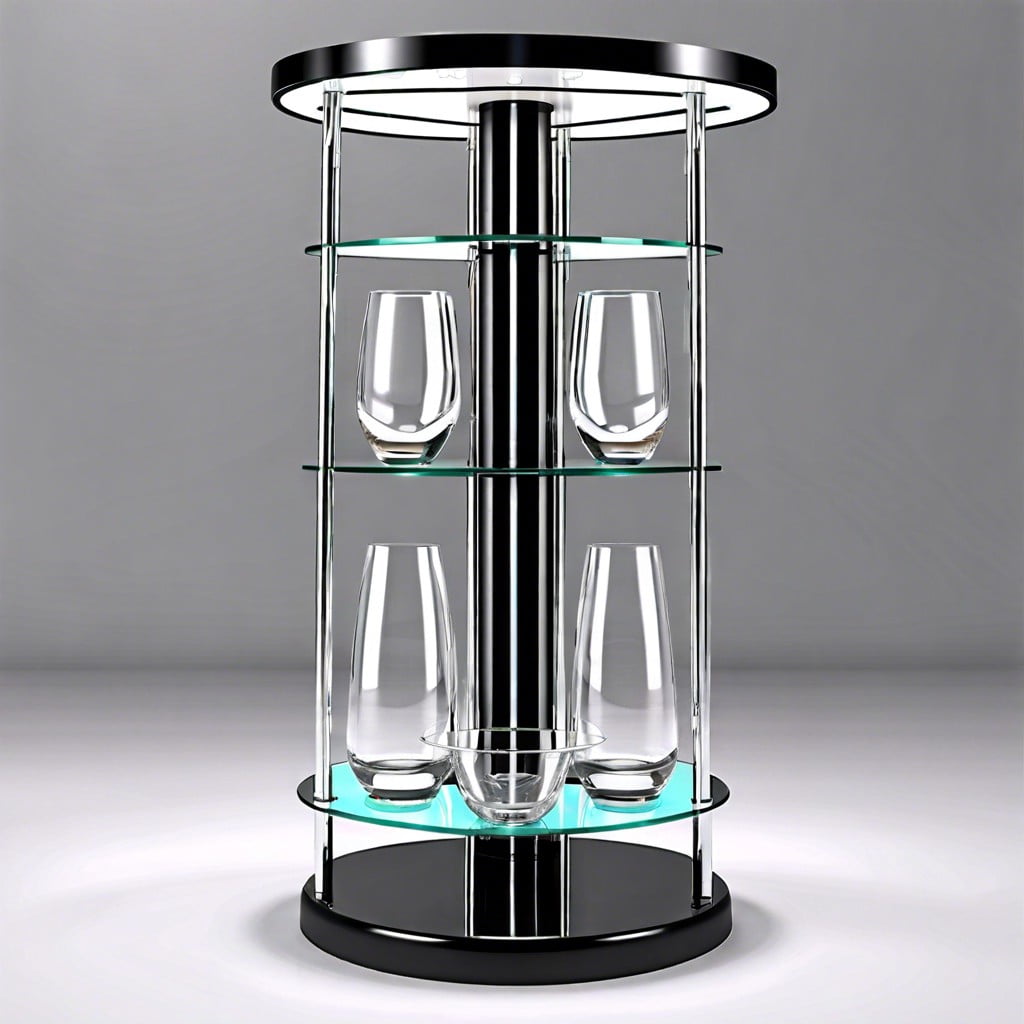 A stand-out and elegant solution, a rotating display stand allows your glassware to twirl in a carousel-like fashion, offering a full view of your collection in a compact space. This option is ideal for collections with variety, showcasing the different shapes, sizes, and colors of your glassware. It works beautifully not only for showcasing but also for accessibility.
Here are key points to note:
1. Placement: Consider positioning your rotating stand in a space where movement isn't restricted. A spacious countertop or a roomy side table could be perfect.
2. Design selection: Opt for a design that complements your room decor. A wooden stand adds a rustic charm, while metal or glass spins a modern touch.
3. Size Consideration: Make sure to measure your tallest and widest glasses to ensure they fit comfortably on each level of the rotating stand.
4. Care: As the stand rotates, ensure the glassware is securely held to prevent accidents. Consider styles that have soft grip areas or cushioned slots that will hold each item safely.
5. Lighting: If your stand is placed near natural light, your glassware can refract lovely patterns as it turns. Or placing a light source nearby can add a stunning aesthetic effect, especially when entertaining.
Remember, the biggest advantage is a 360-degree view of your collection, making it a conversation piece. It combines function and style seamlessly, serving as a fully accessible storage solution and an eye-catching display simultaneously.
Mirrored Back Cabinets for Reflection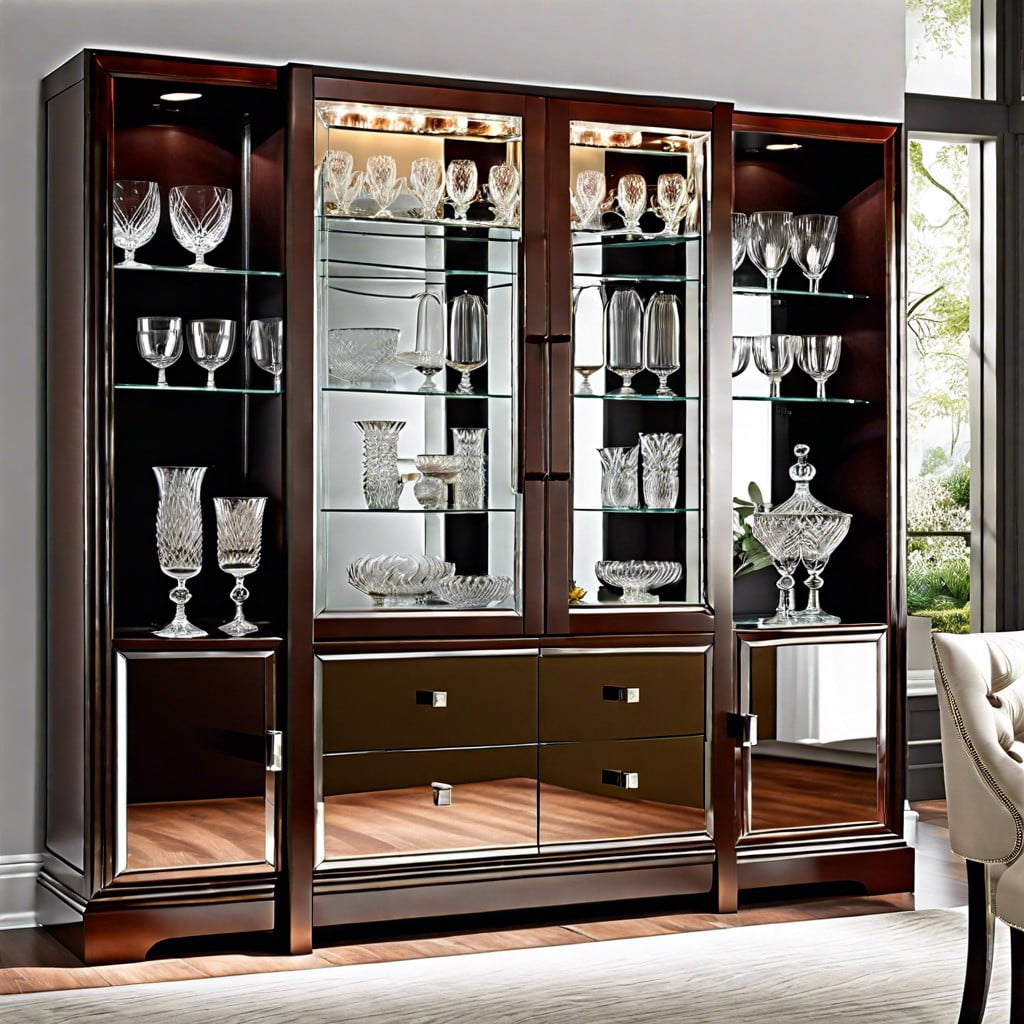 This technique adds depth to your aesthetic while enhancing the light in the room. The mirrored backs amplify the display and allow every detail of the glassware to stand out. It's an illusion of sorts, making your collection appear larger.
There are various designs available too; from sleek contemporary styles to more traditional wood-framed models, there's sure to be a perfect fit for your décor. Do consider the maintenance it might require, as mirrors may sometimes be a dust magnet. Nevertheless, this design choice typically pays off handsomely when you see your favorite glassware gleaming from across the room.
Wine Barrel As Glassware Storage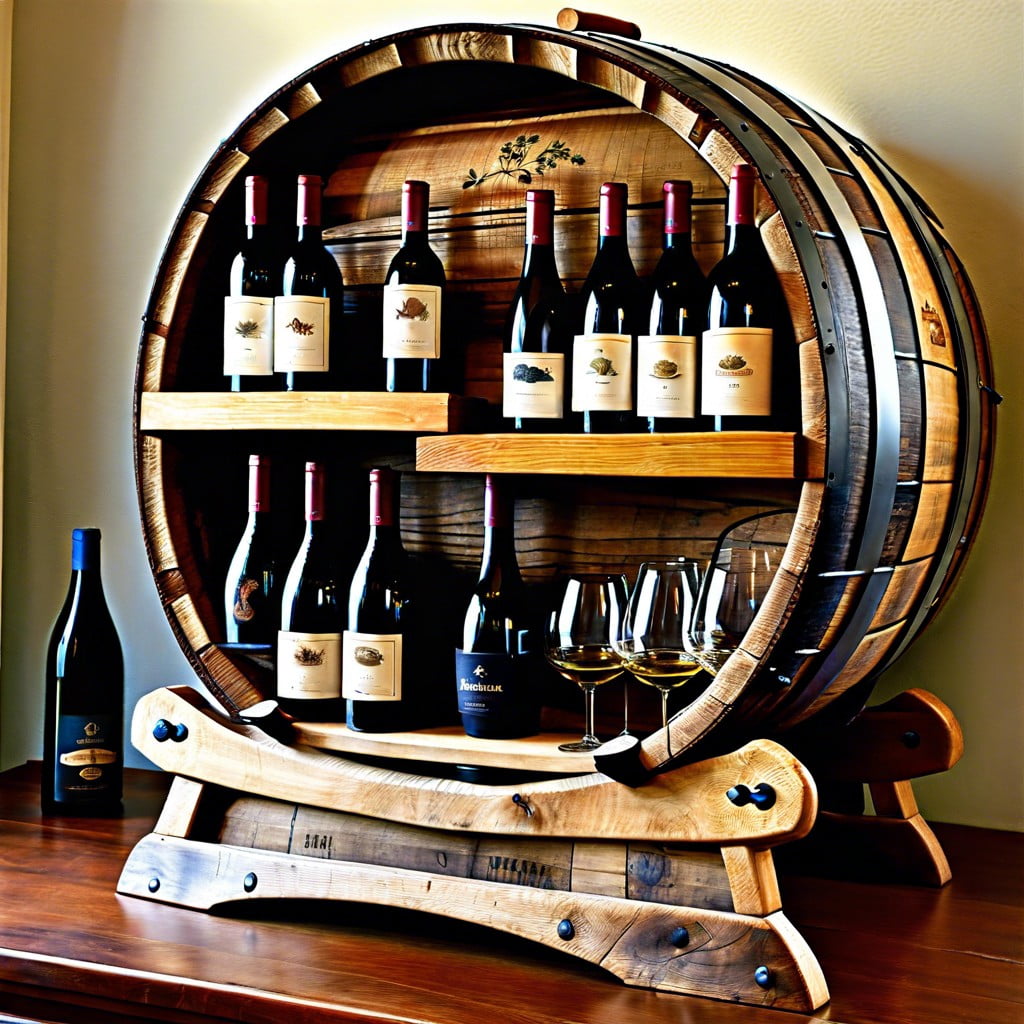 This out-of-the-box idea is an exciting way to utilize a common item and turn it into an effective storage solution. Wine barrels can comfortably house your beautiful collection of glassware, while oozing a rustic charm that adds to the dwelling's ambiance. Further, it augments the environment with a unique vintage vibe.
1. Space-saving and original: With its cylindrical shape, a wine barrel can fit snugly against a wall, taking up minimal floor space. The capacious interior provides ample storage for your glassware.
2. Functional and decorative: Not only can it store, but it can also showcase your glassware collection to add character to the room.
3. Customizable to your needs: The barrel's interior can be fitted with shelves, hooks, or racks based on individual requirements and glassware types.
4. Cost effective: Instead of investing in expensive cabinetry or shelving units, repurposing a wine barrel makes for an economical alternative.
Remember, creativity knows no bounds. The key lies in taking everyday items and finding new ways to utilize them. Wine barrels are an excellent item to do just that!
Hanging Wine Glass Rack Over Kitchen Island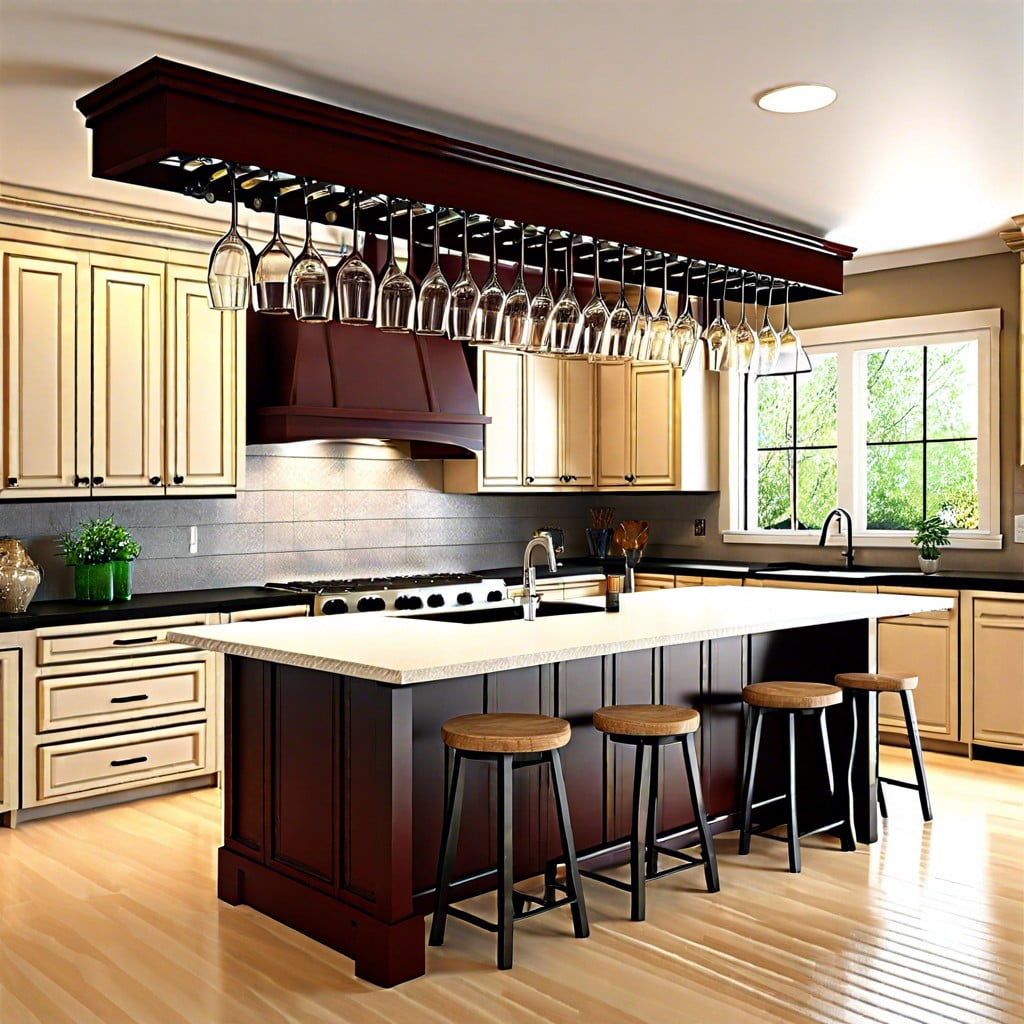 Installing the rack overhead, just above the kitchen island, serves as a functional and decor attraction. Select the rack that complements the style of your kitchen for an integrated look. Position it high enough to avoid head bumps but within comfortable reach. With this strategy, you utilize vertical space, leaving your countertops clutter-free.
Ensure stability and safety during installation. Depending on the size of your collection, you may need a larger rack. Alternatively, install multiple small units.
Create a visually pleasant display. Group glasses of the same type together. Go one step further by arranging them in ascending order of their sizes. Turn this essential cookware into an eye-catching centerpiece.
Add a touch of sophistication by lighting the area. A few pendant lights on the island not only illuminates your glassware display but also provides necessary task lighting.
Lastly, regular dusting and cleaning will keep your glasses sparkling and ready for any occasion. Remember, the charm of a hanging wine glass rack on show is clear, clean glasses.
Continue reading:
Recap