Last updated on November 26, 2023
Dive into the charm of western living room decor because it marries comfort with timeless stylings that promise to revitalize any space.
Immerse your home in the charm of the Old West with creative western living room decor. This article unveils unique design elements that blend rustic aesthetics with modern comforts.
Think distressed leather furniture, weathered wood, natural stone accents, and southwestern textiles.
Discover how to incorporate these elements to create a warm, inviting space that tells a story of the rugged yet romantic West.
Dive in to explore detailed design ideas, tips, and tricks to transform your living room into a western-inspired haven.
It's all about striking the right balance between rough-and-tumble frontier spirit and contemporary coziness.
Leather Furniture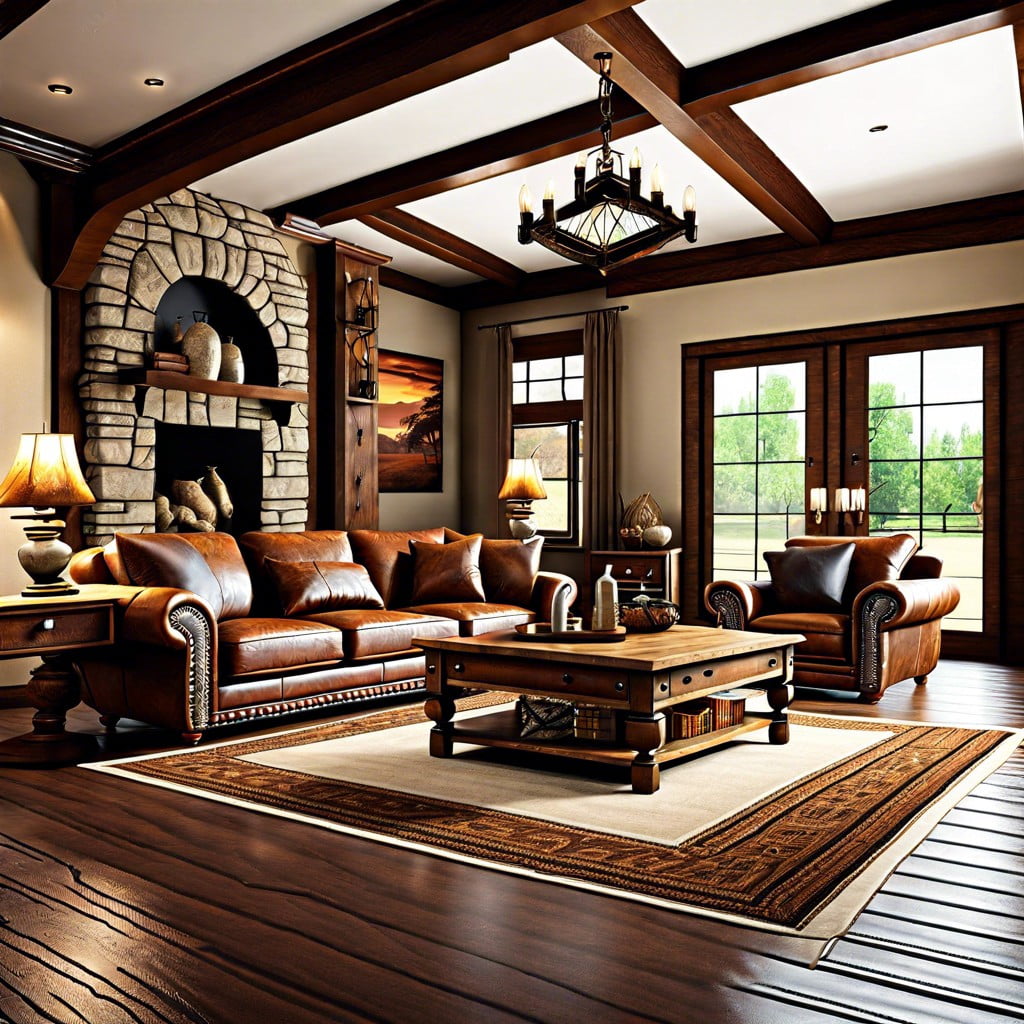 Durable and sophisticated, leather couches or chairs are staples for injecting a true western feel into a living room.
While they offer lasting comfort, they also embody a certain ruggedness often associated with cowboy style.
Opt for distressed or worn finishes to add a touch of authenticity.
A saddle brown leather sofa, for example, can mimic the look of a vintage riding saddle.
Additionally, leather armchairs in darker hues can provide a striking contrast against a light wood floor or cream rug, enhancing the visual intrigue of your space.
Remember to care for your leather pieces properly to maintain their beauty and integrity over time.
Cowhide Rugs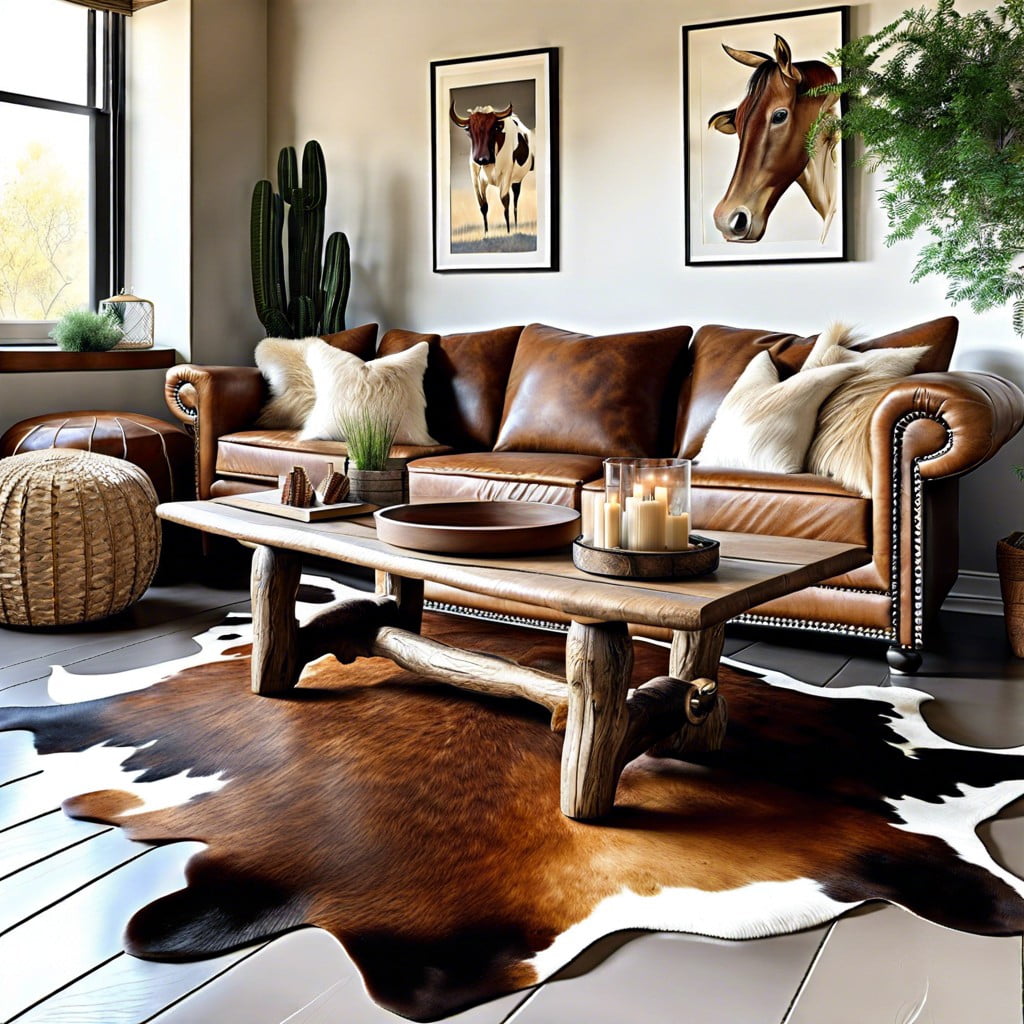 Featuring a natural element in your living room can significantly boost the coziness factor. Including a variety of textures adds not only warmth but also a more modern dimension to an otherwise rustic western decor. In comes our champion, a crowning glory central to most western homes- the quintessentially versatile, cowhide rug.
These rugs command attention with their unique patterns, complimenting nearly every theme or color palette. Concerned about durability? Fret not! They are naturally resistant to stains and dust, thus making them perfect for high traffic areas. And of course, they remain unrivaled in imparting a plush feel under your feet. Craving a touch of elegance? Try the metallic cowhide rugs which feature gold or silver accents.
Don't limit them to the floor though, drape them over your couch or hang them on the wall to break up large spaces, amping up that western vibe. Making the most out of your rug is all about creativity. Just remember, no two cowhides are alike, and that's largely where their allure lies.
Antler Decor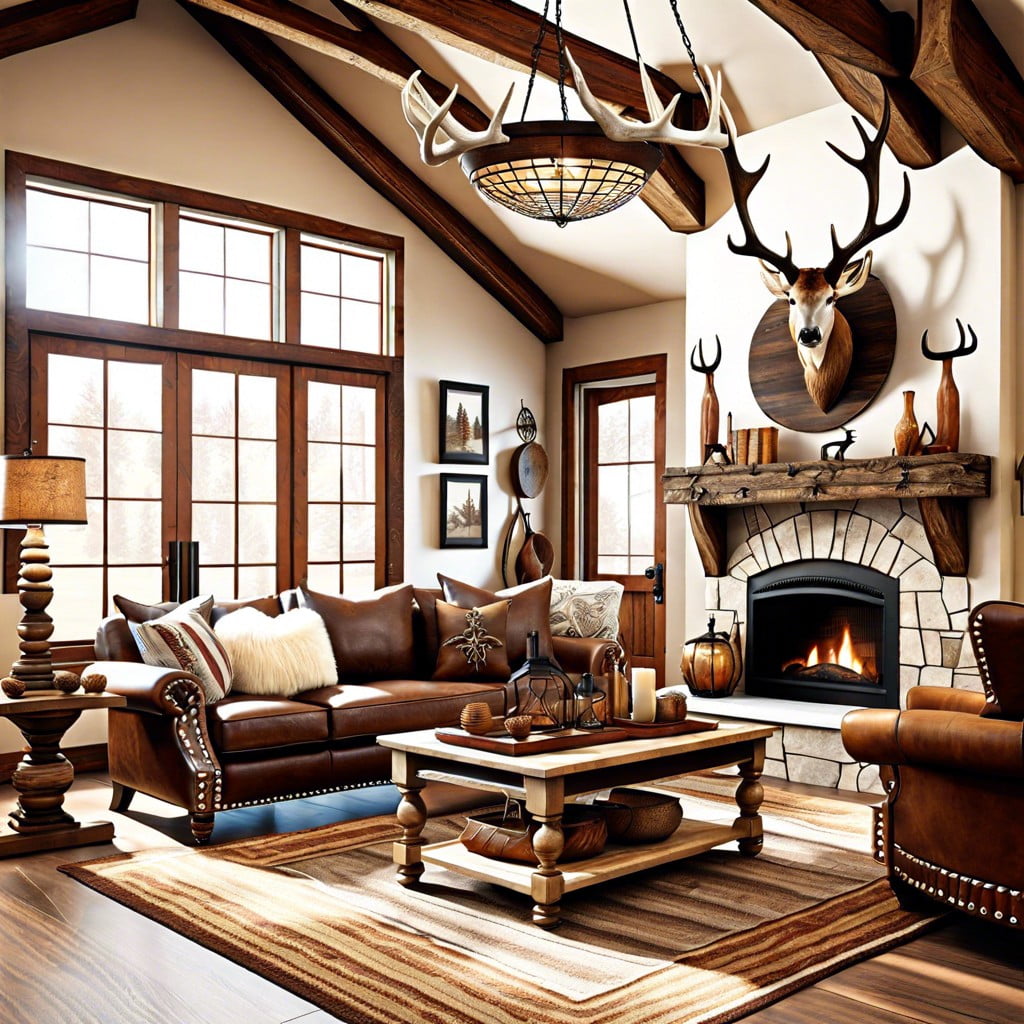 Bringing the beauty of the wild indoors, antlers offer a range of decor possibilities. They're versatile, fitting seamlessly into any corner or surface. Consider placing a well-polished antler on your coffee table or bookshelf, making sure it's completely clean and free from any natural debris to maintain an elegant look.
For a bold statement, consider an antler chandelier. They are perfect for creating a focal point in your living room, providing a warm, natural glow that's equally grand and charming. The scale should match the room; don't overwhelm a small space with a massive fixture.
Antler candle holders are another chic choice to add a rustic touch. Paired with off-white candles, they can emit a serene, cowboy-esque atmosphere that subtly screams Western.
Remember, in design, less is more. Allow every piece to shine by not overcrowding your room with antlers – one or two key pieces should be enough to convey that authentic Western feel.
Vintage Cowboy Prints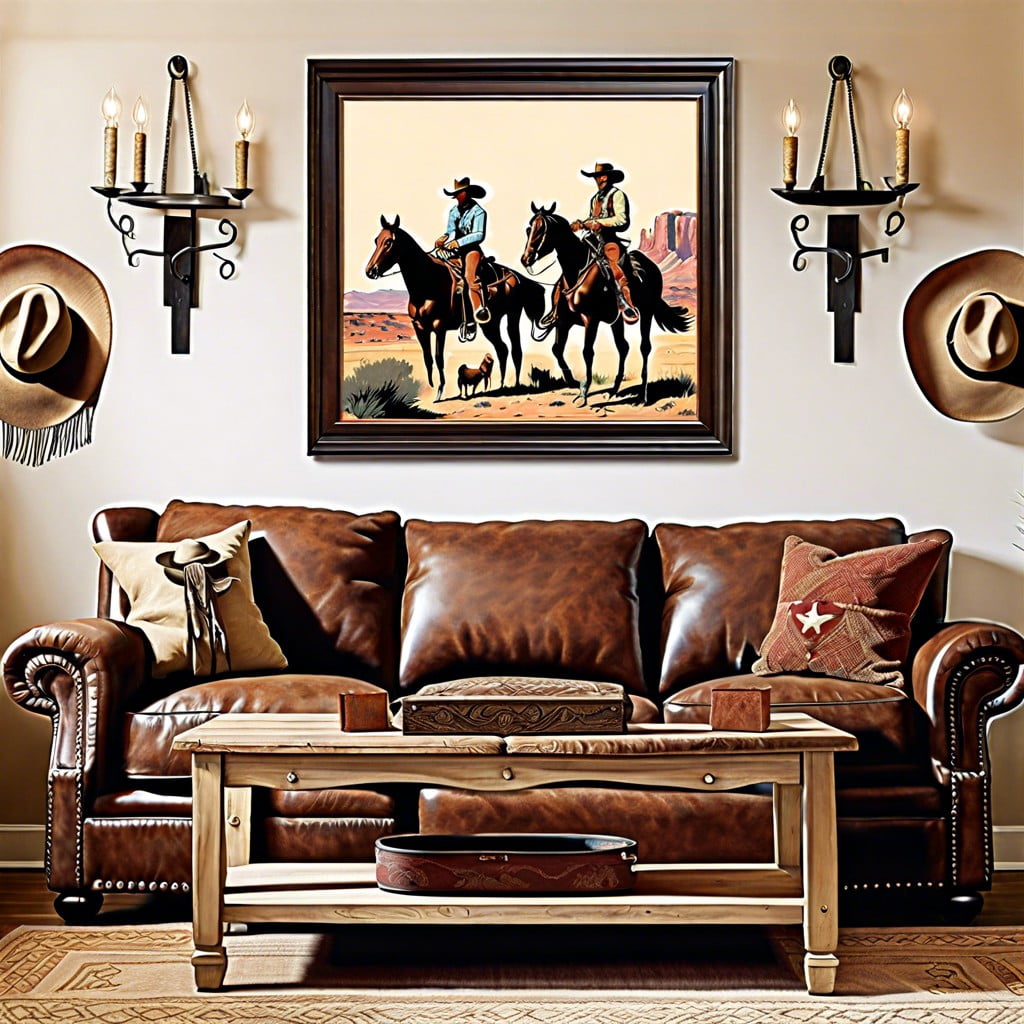 These prints, often showcasing scenes of old frontier life, can truly embody the rugged spirit of the Wild West. Hang them over the fireplace or make them a focal point on a bare wall for maximum impact.
They come in a variety of styles from classic sepia-toned photographs to colorful representations of rodeo cowboys. For an eclectic gallery wall, try mixing and matching different sizes and orientations. Or, choose black and white prints for a more sophisticated look.
This kind of wall art not only enhances the rustic ambiance of your living room but can also serve as a storytelling element for your guests.
Distressed Wood Accents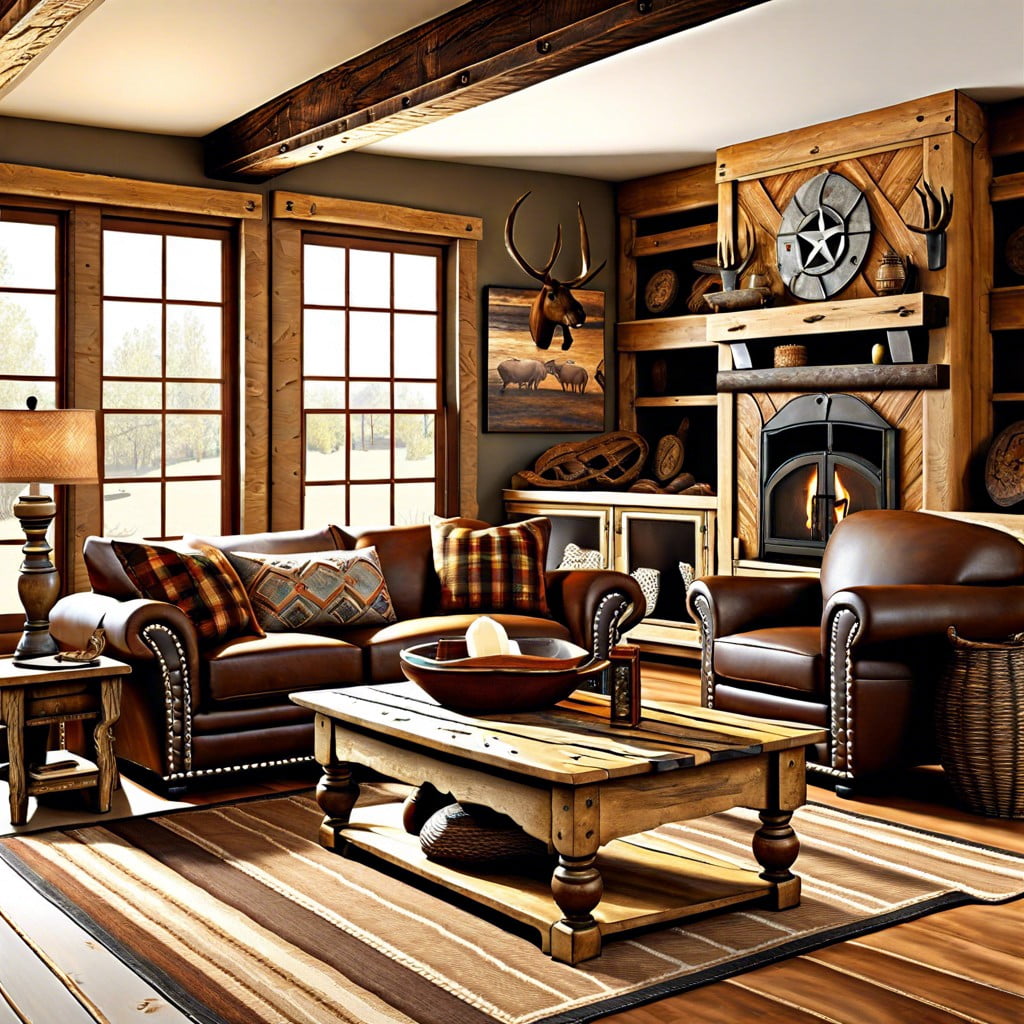 The worn-out appearance and natural imperfections of distressed wood add a unique, vintage charm to your western-themed living room. Here are some ways you can incorporate these accents:
1. Furniture: Consider a coffee table or side tables made from distressed wood. They not only provide functionality but also become a major style statement.
2. Wall Art: Distressed wood can be utilized to create beautiful wall art or as a backdrop for your favorite western paintings or cowboy photos.
3. Shelves: For a practical application, create shelves using distressed wood. They're perfect for displaying your western memorabilia or vintage books.
4. Fireplace Mantel: If you have a fireplace, a distressed wood mantel could be just what your western-themed room needs.
5. Room Divider: Use a large, distressed wood panel as a room divider in an open space to give it a rustic appeal.
6. Ceiling Beams: Exposed distressed wooden beams on the ceiling can give the room a farmhouse-like charm.
Remember to spotlight the wood's natural imperfections, as they truly capture the rustic, free-spirited essence of the west.
Horseshoe Decorations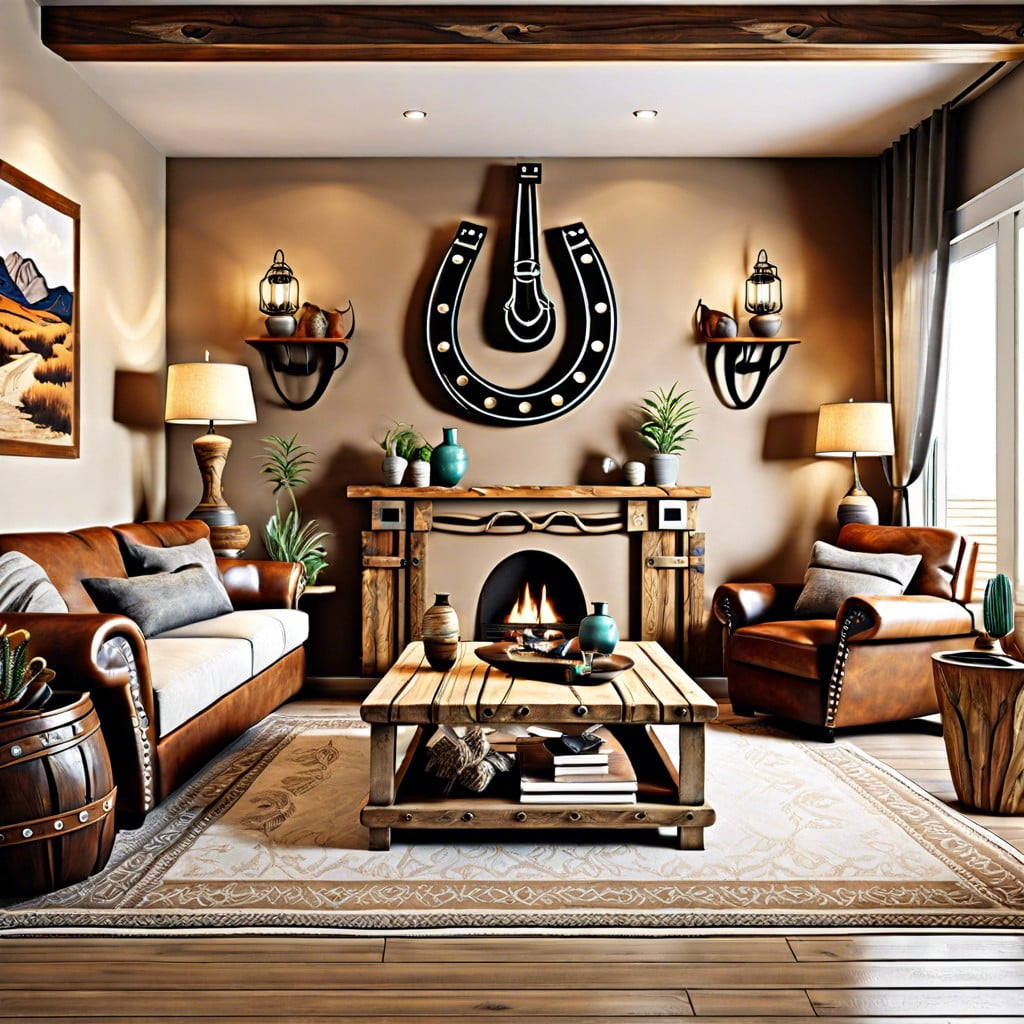 Incorporating horseshoes into a home's decor brings not only a classic western aesthetic but also a touch of good luck, according to popular folklore. This emblem of the old west offers great versatility:
i) Mounted on a wall, a horseshoe becomes a unique piece of rustic art or a solid base for a coat rack.
ii) Smaller horseshoes can become handles for drawers or cupboards, adding a touch of country charm to any piece of furniture.
iii) Horseshoe wine racks are another wonderful option, providing both form and function.
iv) Using horseshoes as bookends can give a western nod to your library or study.
v) A horseshoe chandelier creates a major statement piece, setting a decidedly western vibe.
A neat trick is to repaint them according to your overall color scheme, adding an unexpected pop of color to your living room.
Rugged Stone Fireplace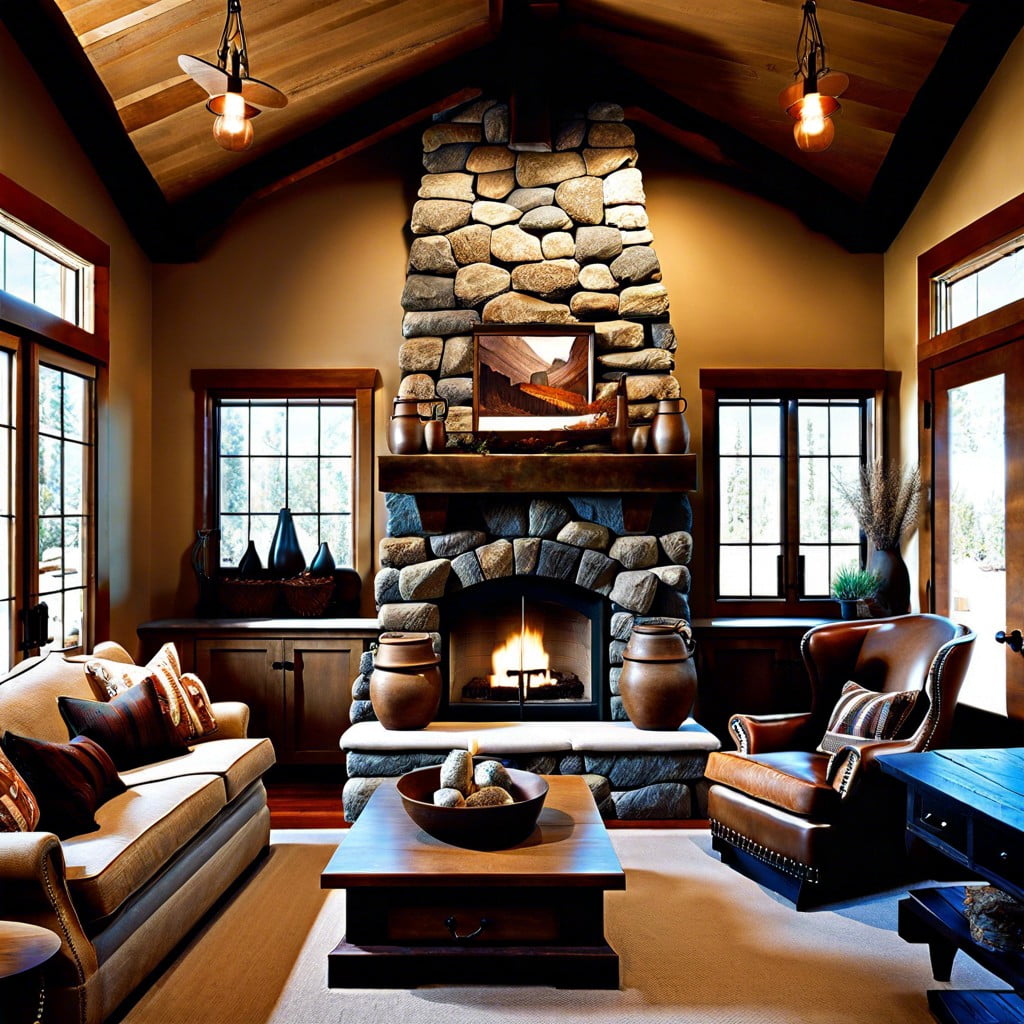 A robust centerpiece for any western-themed living room, a fireplace crafted from rugged, natural stone manifests the raw, underlying essence of the Old West. The texture and earthy tones of these stones offer a depth that draws the eye and anchors the room.
The materials are key. Opt for fieldstone, granite, or river rock to best capture that quintessential western aesthetic. Remember, irregular shapes and varied sizes keep it authentic.
Consider the fireplace's surrounding area. Complement it with wooden mantles to enhance the rustic vibe. Leave them bare or display antique spurs, candle holders, and rustic lanterns for a dash of western personality.
Installation should ideally span up to the ceiling to create a dramatic focal point. It's not just a fireplace; it's a conversation starter that embodies the spirit of the wild west, right in your living room. You're creating a grand statement – bold, raw, and invitingly warm. Remember, it's the rugged charm that transforms a house into an authentic western abode.
Western Tapestries or Wall Hangings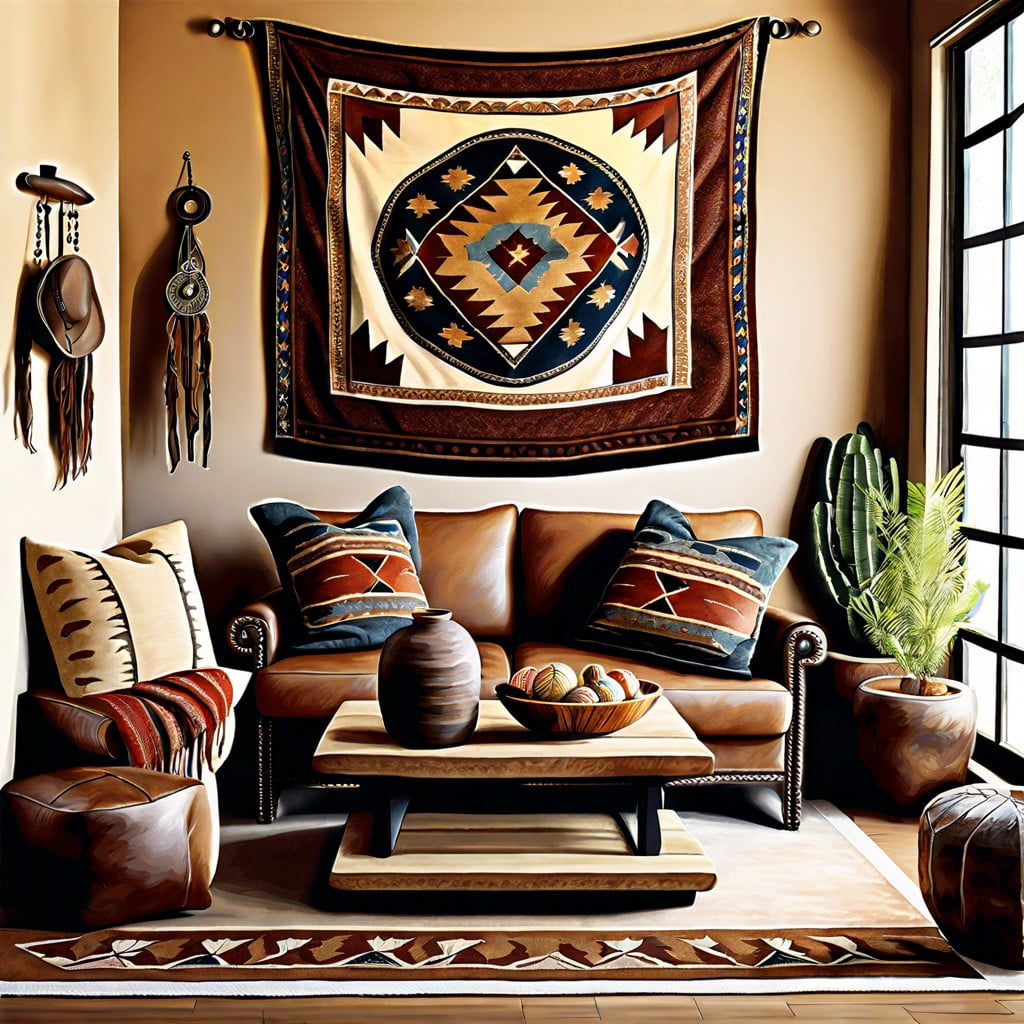 Providing a visual story of Western culture, these atmospheric pieces are not only decorative but encapsulate histories and legends, bringing depth and authenticity to your space.
Opt for designs showcasing rustic landscapes, native animals or indigenous patterns for an authentic touch.
Fabric materials like wool or cotton add texture and warmth.
Surprisingly versatile, they can be draped over the back of a sofa, hung on a wall or placed on a table.
Some may even incorporate them into curtain designs.
Incorporating these art pieces into your décor is a stylish way to honor traditional Western aesthetic while adding noticeable character to your room.
Navajo-inspired Throw Pillows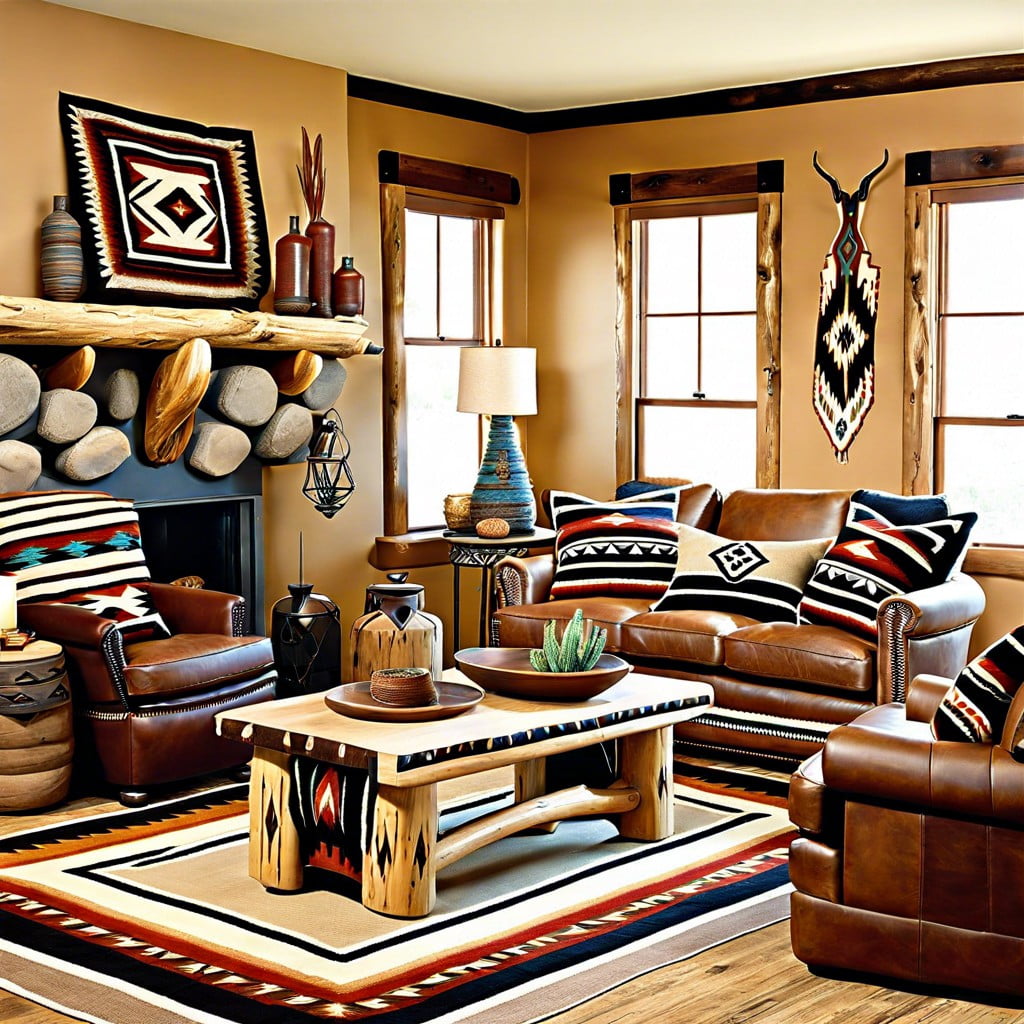 Incorporating pillows that flaunt Navajo-esque designs can ignite a distinct western vibe in your living room. Their rich and vibrant colors can break the monotony of more neutral shades, injecting life into otherwise drab settings.
Firstly, go for patterns that echo traditional Navajo weaving. Distinct geometric designs, including diamonds, triangles, or zigzag lines, are common and usually rendered in bold colors. However, you can also select more subtle, earth-toned options to match an existing decor palette.
Additionally, you can opt for stonewashed fabric to maintain the vintage look. This material not only adds textural depth but is typically easy to clean.
Remember, it's not so much about matching everything as it is about creating an overall cohesive and visually appealing scene. You can mix and match different styles of pillows, but sticking to the Navajo motif will unite your theme and enhance the western charm.
Wrought Iron Fixtures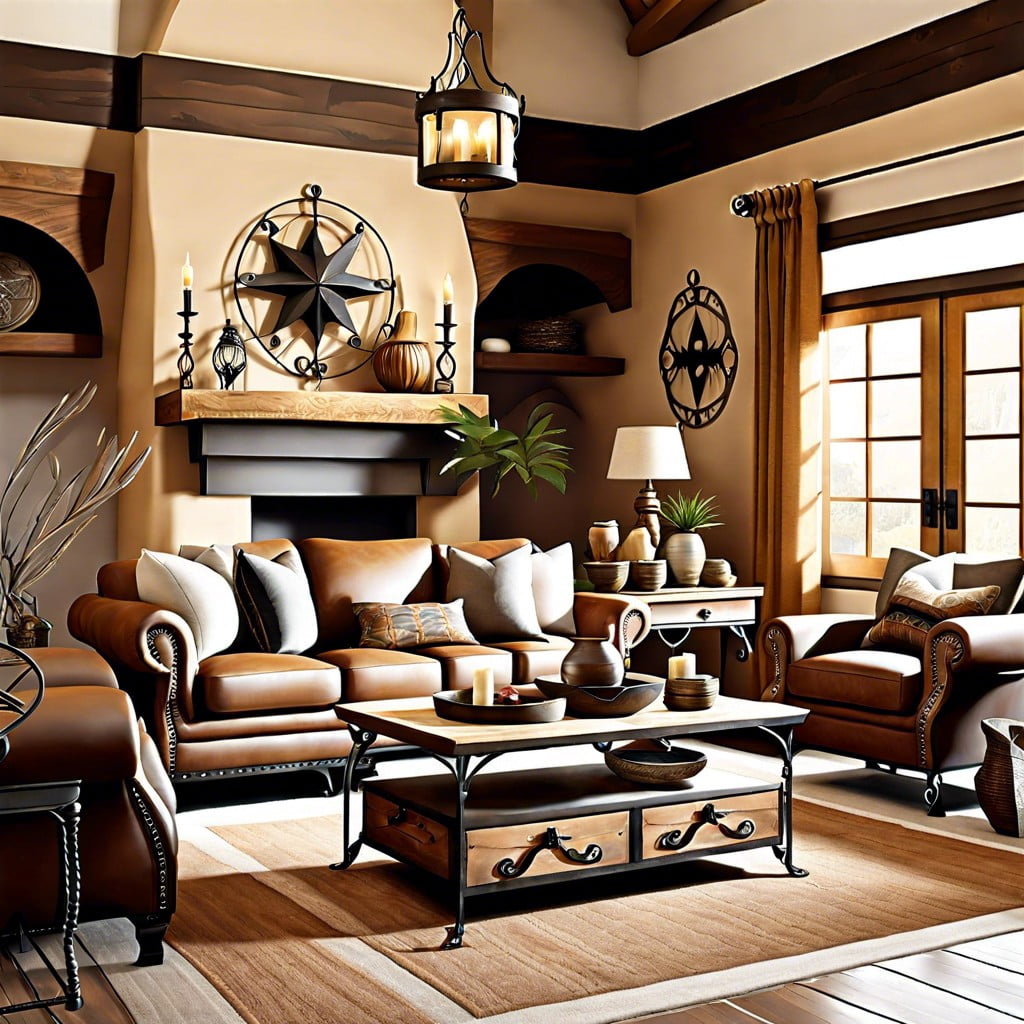 To amplify the rustic and sturdy ambience of a western living room, we can't underestimate the presence of wrought iron fixtures. They're both structurally solid and aesthetically dramatic. Chandeliers, light fixtures, and wall sconces are some elements you can enhance with this material. A lamp with a creative, hand-forged geometric design can produce soft shadows and add depth to your room.
But don't stop at light fixtures, even your furniture can make a statement. Iron bookshelves or coffee tables with iron details can thoroughly embrace the western motif. And yes, you can incorporate this material into smaller details too. Think curtain rods, picture frames, or even unique iron sculptures on your coffee table. The options are many, but the essence is one: Wrought iron fixtures, a texture-rich material bringing strength and authentic western charm to your living room.
Mason Jar Lighting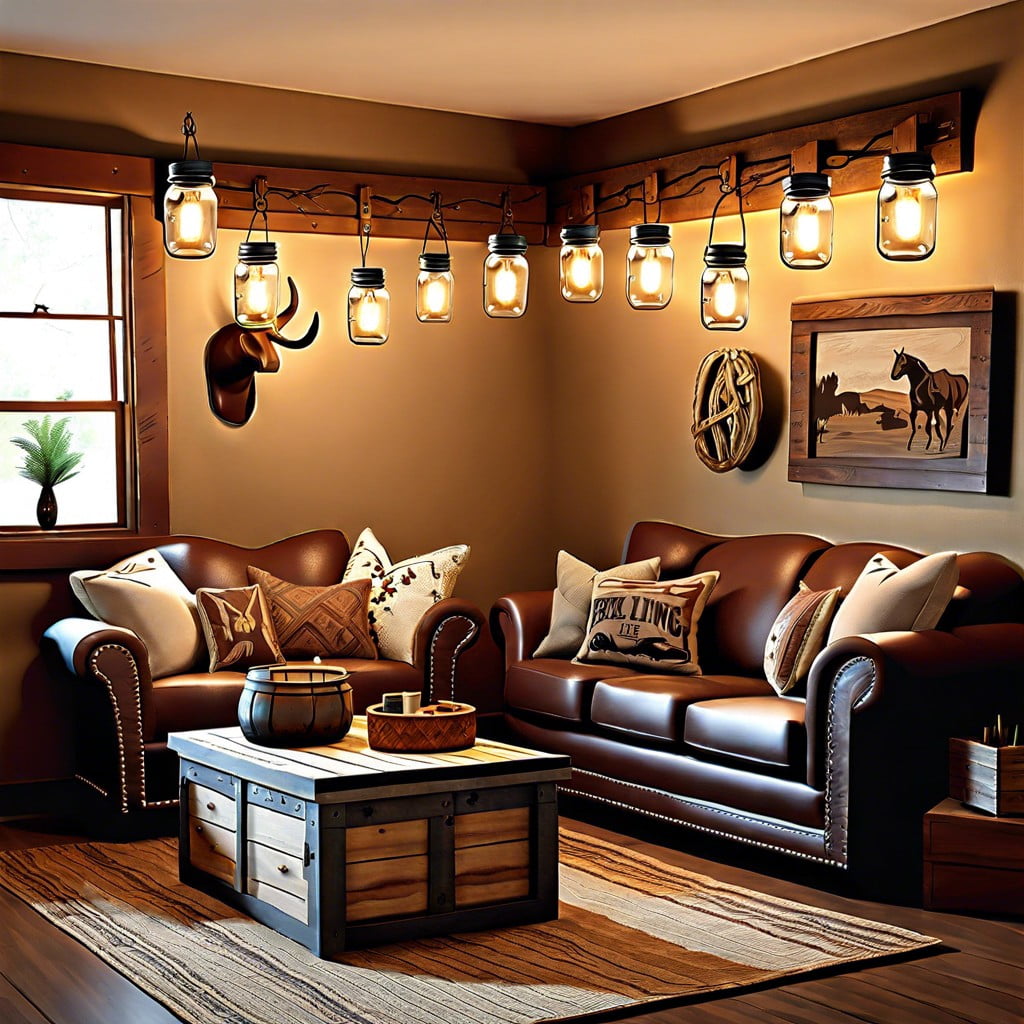 These versatile containers offer an innovative way to approach residential illumination. One can fill them with fairy lights for a whimsical glow, use Edison bulbs for a vintage appeal, or even colorful LED lights for an audacious twist.
They can hang from the ceiling as pendant lights, get affixed to wooden boards for wall sconces, or even strewn across a mantel. The transparency of the jars allows for a potent glow, transforming any space into warm, inviting havens.
Remember, the finish of your hardware, whether it's polished brass or rustic wrought iron, will further cement the overall aesthetic. With their charm and practicality, it's no wonder they've become a staple of Western-style living room decor.
Wooden Beam Ceiling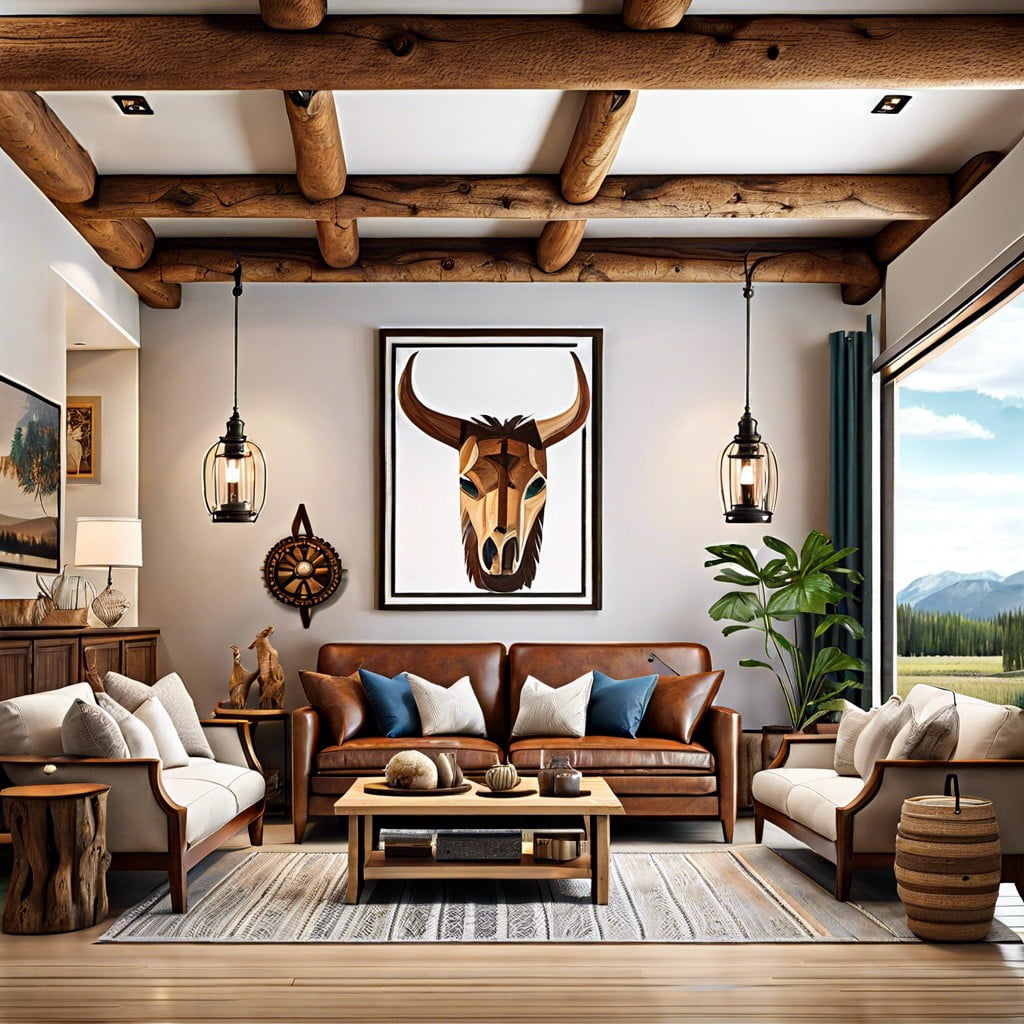 Bringing an authentic feel of the Old West to your living room may feel incomplete without the strong ambiance set by a wooden beam ceiling. This classic design element can add warmth and character to any space.
1. Material Choices: Consider the type of wood that would best enhance your setting. Reclaimed barn wood beams offer a rustic yet sophisticated charm, while pine or oak can offer a more polished look.
2. Scale and Placement: It's important to ensure the size and quantity of the beams respect the scale of the room. Beams should be proportionate to the room size.
3. Finishes: From unfinished to stained or painted, the finish on your beams can dramatically impact your room's overall appearance. If a cozy, rugged appeal is wanted, consider leaving the beams unfinished.
4. Contrast: If the rest of your decor is light or neutral, dark wooden beams can offer an attractive contrast, drawing the eye upward and making the room feel larger.
5. Coordination: Make sure your wooden beam ceiling ties in with other wooden elements in your room, such as the furniture or flooring, to create a harmonious look.
In the end, the placement, color, and scale of your beams can greatly influence the room's energy and provide that quintessential western vibe.
Saloon-style Bar Area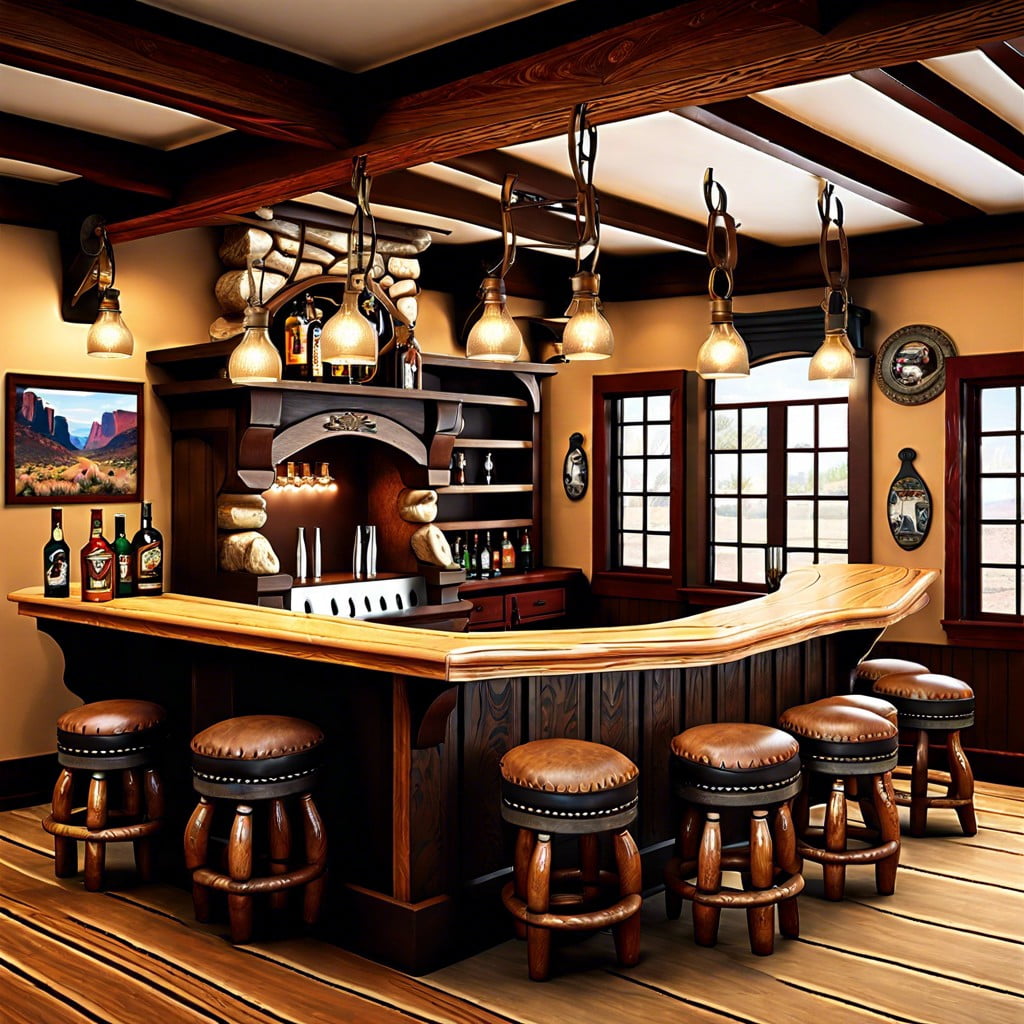 Incorporating this feature not only boosts entertainment capabilities but also significantly enhances the western ambiance. Begin with a sturdy wooden bar counter; a rough, untreated finish maintains authenticity.
Vintage stools, ideally with leather seats, give it a genuine saloon feel. Displaying antique liquor bottles or even replacing modern bottles with vintage variations will add to the aesthetic.
Hang an old-fashioned mirror behind the bar counter, often seen in real western saloons. As a final touch, install traditional pendant lighting above the bar to provide that soft, warm glow notorious of old western taverns.
Antique Wagon Wheel Decor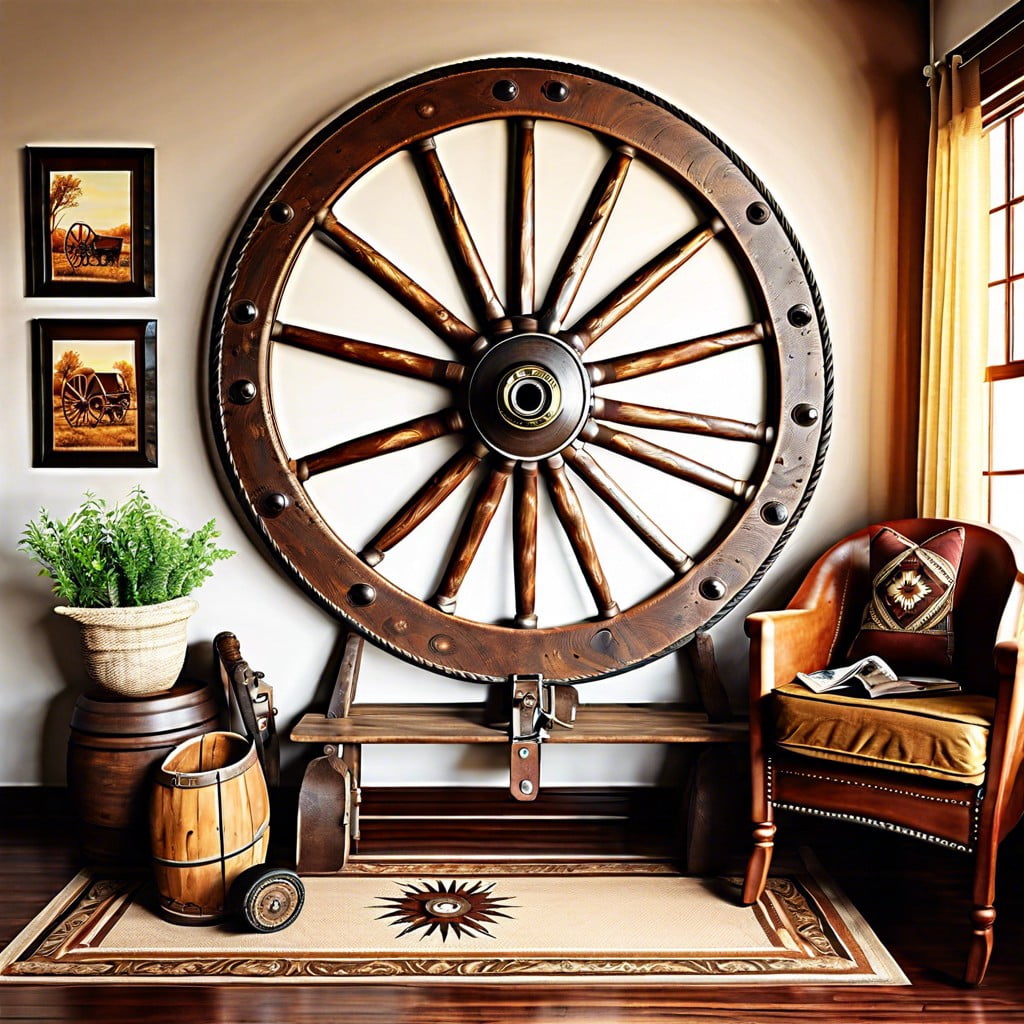 Often salvaged from original farm equipment, these robust wooden pieces make striking decor. You get a sense of history and authenticity that's perfect for Western aesthetics.
The rich wood can be cleaned up or left as is for a more distressed look. They can be creatively used in a variety of ways:
1. Wall Decor: This is an easy way to make a dramatic visual impact in your space. Anchor the wheel on a prominent wall. It works especially well above a fireplace.
2. Light Fixture: Adding a few pendant lights, the wheel can be transformed into a unique chandelier.
3. Garden Accent: They also work wonderfully outdoors. Create a rustic garden wheel feature, leaning against a wall or positioned amongst plants.
4. Coffee Table Base: Pair it with a glass tabletop and voila, you have a cool coffee table.
Remember, versatility is key. Embrace the character of these interesting historic artefacts; they introduce a modicum of rough charm to your western-style space.
Rustic Coffee Table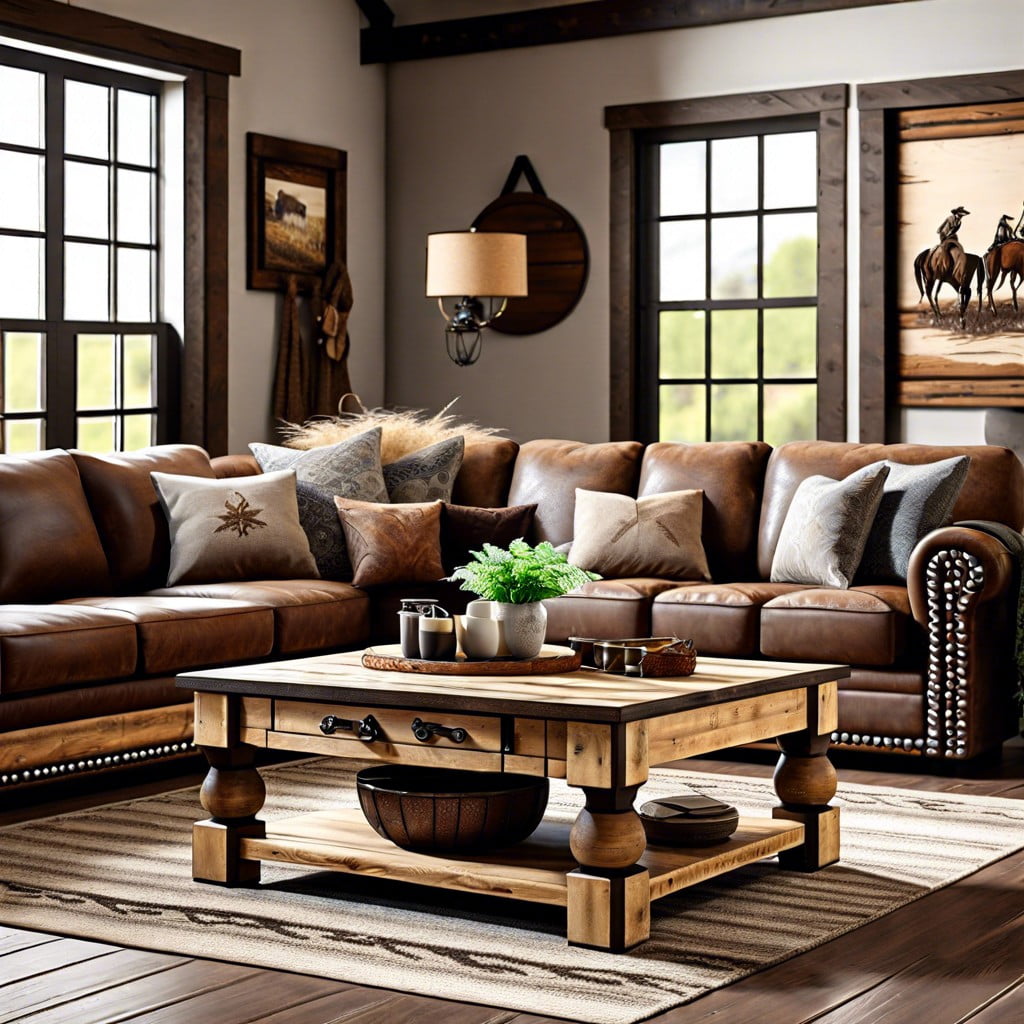 Offering more than just a place to set your favorite brew, a rustic coffee table underscores the western theme by refining aesthetics and adding utility.
Opt for distressed wood, rough-hewn logs, or even repurposed whiskey barrels for the construction.
Adding finishes like a clear coat or light stain can enhance the natural beauty of the wood, while still preserving the rugged essence.
An iron-framed base complements the rugged top and contributes to the old-world charm.
For added western flair, consider tables featuring horseshoe accents or wagon wheel designs.
Remember, functionality and personality join hands to create a memorable centerpiece.
Styling it becomes simple – a few classic hardbound books, a vintage lantern or a weathered tray often does the trick.
Southwestern Pattern Rugs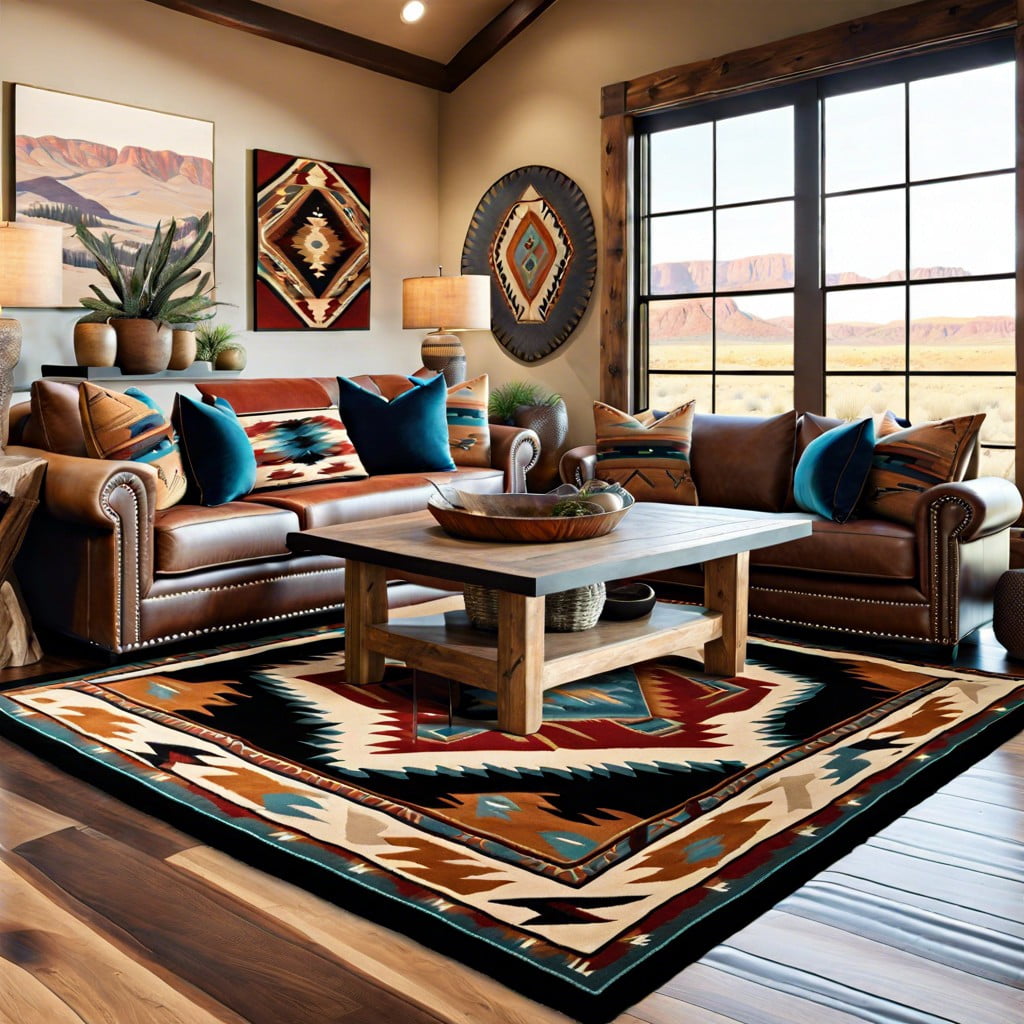 Incorporating Southwest patterns into your carpeting is a fantastic way to express the aesthetic fully. Let's dive deeper into this subject.
Start with colors, primarily earth tones: shades of brown, tan, orange, and red, punctuated by pops of turquoise or deep indigo, portray the desert landscape and sky. The rug patterns often depict symbolic and natural motifs, including arrows, diamonds, zigzags, and stripes, and sometimes animals and landscapes, each telling a unique story.
Materials are essential too. Most authentic Southwestern rugs are hand-woven using methods passed down through generations, mostly made from wool or cotton.
Placement is key. Whether under the coffee table, spanning the living room floor, or even draped over your leather sofa, your rug becomes a key focal point, infusing personality and warmth into your home.
Remember, it's about making the space your own. Whether it's a subtle nod with a small accent rug or a bold statement with a large area rug, embrace the Southwest vibe to your liking.
Cowboy Boot Vase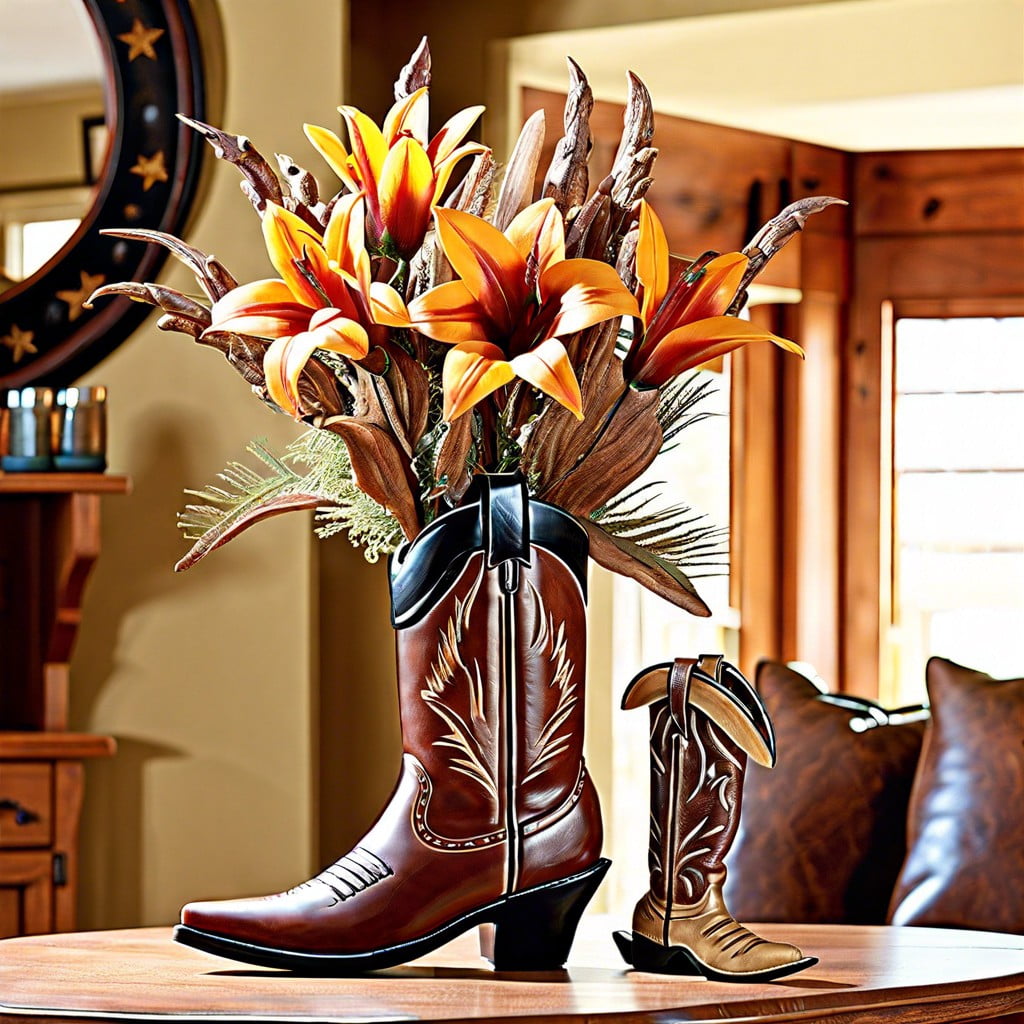 A fantastic way to incorporate that authentic western touch to your living room is by using a cowboy boot vase. These iconic footwear pieces turned vases make for unique decorative items, making a compelling statement about your love for the Wild West. Use original leather cowboy boots for a vintage, rustic effect that perfectly resonates with the western theme.
Next, consider filling this unique vase with dried wildflowers or feathered grass for a natural, earthy vibe. Not only will this add character and texture to the space, but it naturally complements other western-inspired decors like leather furniture or antler pieces. The beauty of a cowboy boot vase lies in its versatility. It can sit on the floor, on a coffee table, or even on a rustic shelf. The key is to position it where it can effectively accent the room yet not impede movement or function.
It's not necessary to go out and buy a new pair of boots. If there are old, worn-out boots available, they are perfect candidates for this transformation. Otherwise, thrift stores often have a selection of used boots that can be repurposed into charming decorative elements, adding authenticity and warmth to your western-themed living room. Be creative, you'd be amazed at how such a simple addition can inject that western charm into your living room.
Rope-framed Mirror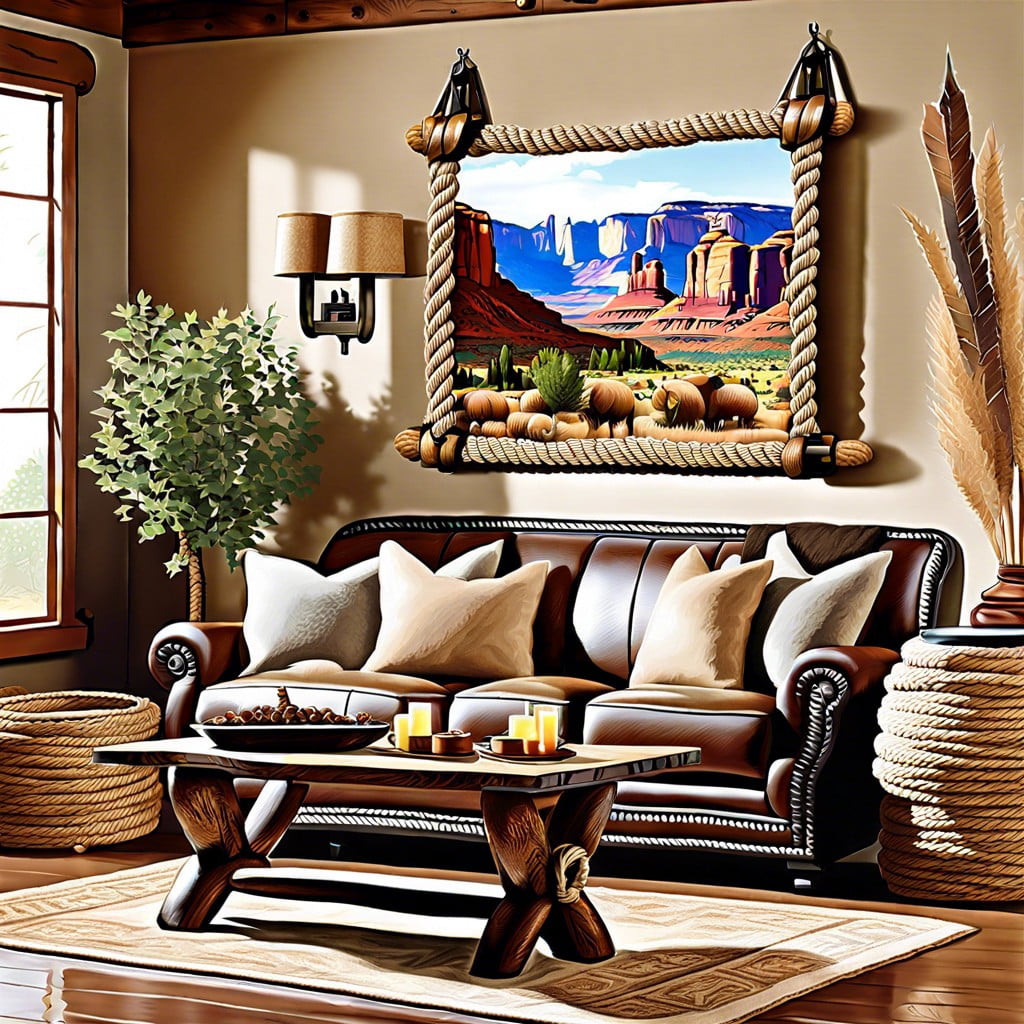 Swapping sleek, modern mirrors for those bordered in rugged rope can add an unexpected twist. This authentic ranch-style design component gleams subtlety by honoring the simplicity and artistry of old-west inspired aesthetics.
Implement this idea by sourcing pre-made designs from home decor stores, or venture into a DIY project to customize the shape and size to your specific requirements, adding a personal touch to your living space.
The texture of the rope brings a tactile element into the living room ambiance that contrasts yet harmonizes with smooth surfaces. Ideal places for these mirrors could be above the fireplace, the console table, or even a ledge, reflecting the beautiful Western-style of your living room.
This functional decor piece can open up the room, make it more inviting, and create an illusion of extended space all the while resonating with the Western theme.
Old Western Photographs or Artwork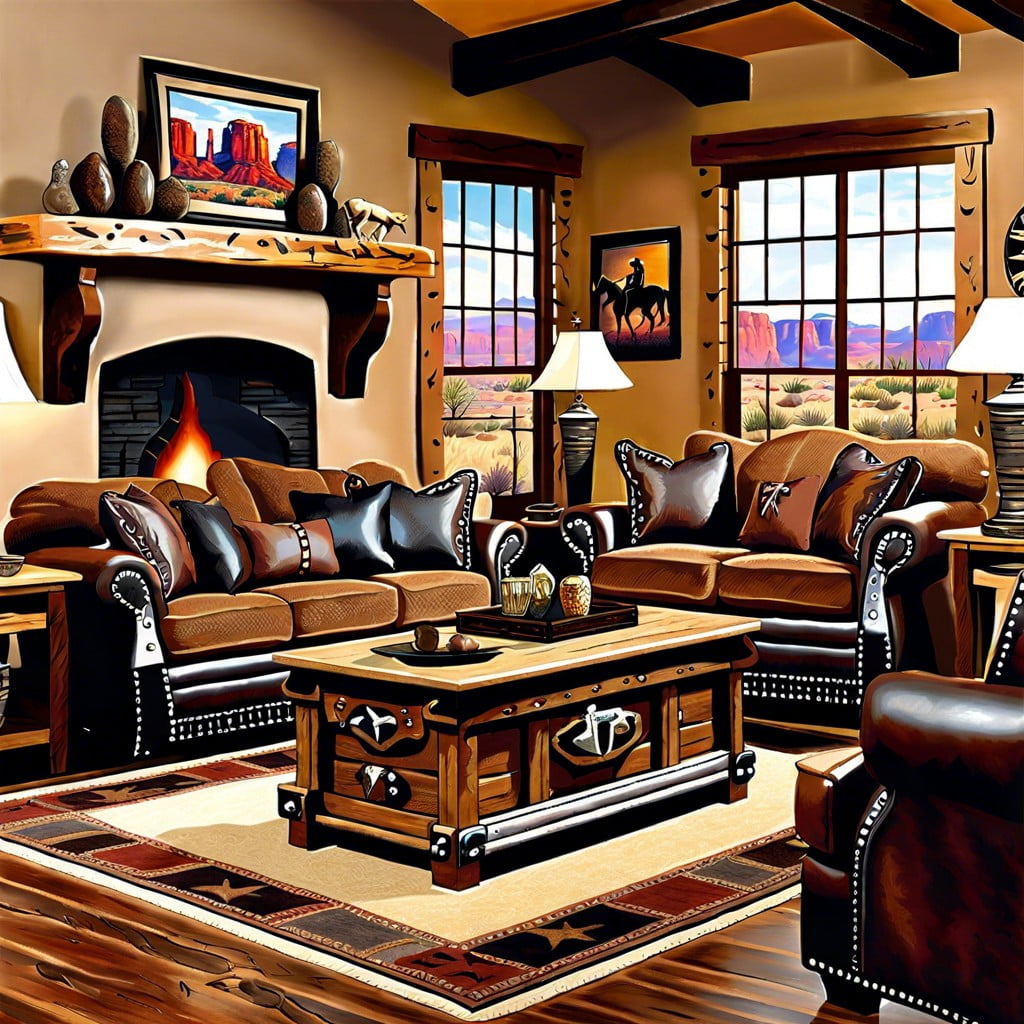 Old western photos and artwork beautifully encapsulate the rugged charm and history of the West. They make great conversation starters and, when strategically placed, may serve as the focal point of your living room.
Consider grayscale or sepia-toned photographs for a sense of antiquity and authenticity. Subjects could range from majestic landscapes to character-rich portraits of cowboys and Native Americans.
For art, opt for pieces that reflect Western culture and wildlife. You can find them from many online retailers or local antique stores. To make it cohesive with your decor, try using distressed wood frames. Such adornments imbue your space with an authentic, memorable spirit, setting a unique atmosphere for guests and family members.
Rustic Storage Chests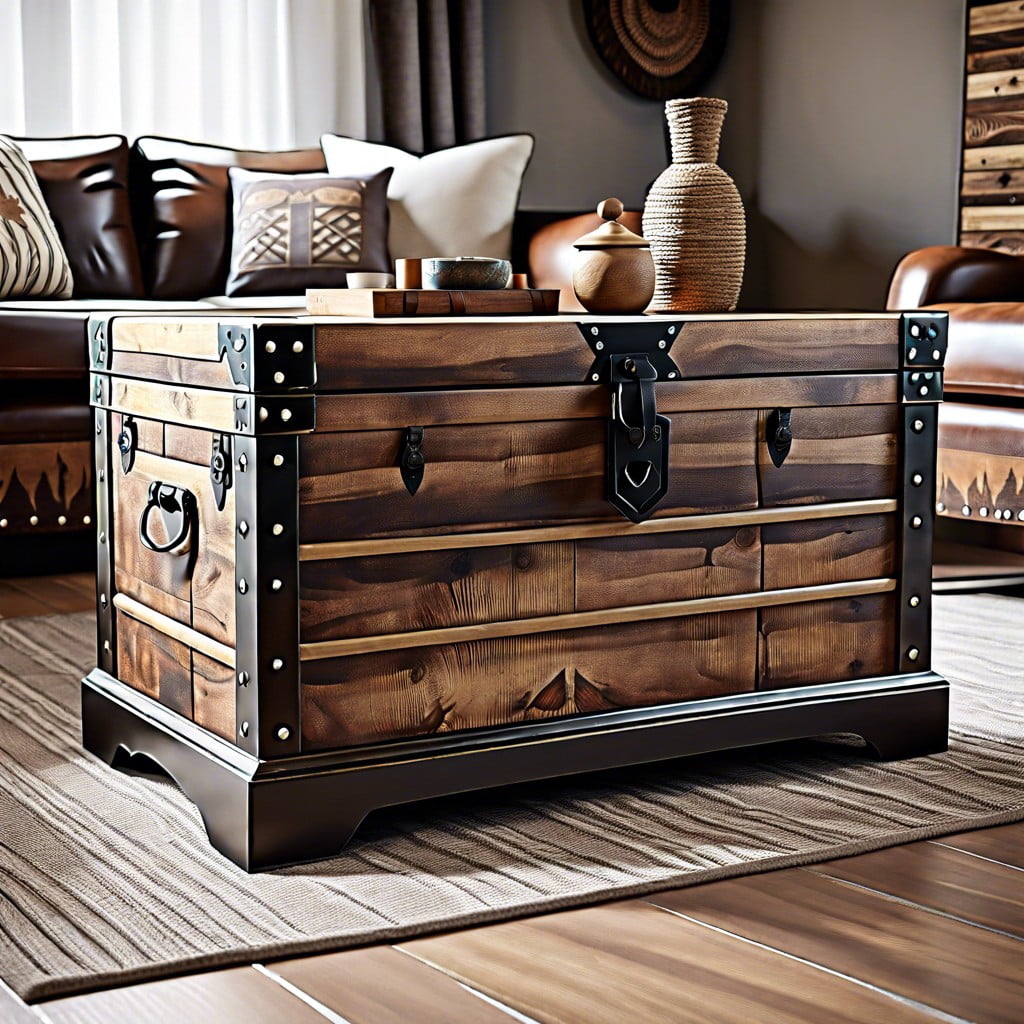 These storage solutions are far from ordinary. A blend of style and function, rustic storage chests serve a dual purpose.
Handcrafted from reclaimed wood, they add an earthy, raw touch, while their rugged appeal brilliantly encapsulates the western theme.
Varying sizes, from small trinket boxes to larger trunks, ensure an option for every need.
Brass or ironwork detailing, such as latches, corners, or straps, can elevate their aesthetic, while a distressed finish further enhances the weathered look.
Consider these chests for housing blankets, board games, or simply as stylish coffee tables.
Remember, each piece, with its unique grains and knots, tells a story linked inherently to nature, reinforcing that quintessential western concept of manifest destiny.
Continue reading:
Recap