Last updated on November 21, 2023
Explore chic yet functional wine glass display ideas because they can make an undeniable statement in your home decor and provide easy access at your fingertips during merry events.
I'm thrilled to share my personally crafted article on "20 Innovative Wine Glass Display Ideas: Your Ultimate Home Décor Guide," brimming with unique designs that I hope will inspire you and bring as much joy as they brought me while creating them.
Looking for unique ways to display your wine glasses? You've landed on the right page! This article will guide you through some creative and stylish ideas to showcase your collection.
Whether your style is rustic, modern, or classic, we've got you covered. We'll explore various solutions, from under-cabinet mounts to standalone racks, and even DIY options.
So, prepare to transform your kitchen or dining area into a chic space that perfectly highlights your wine glasses. Stay tuned for all the details!
Hanging Wine Glass Rack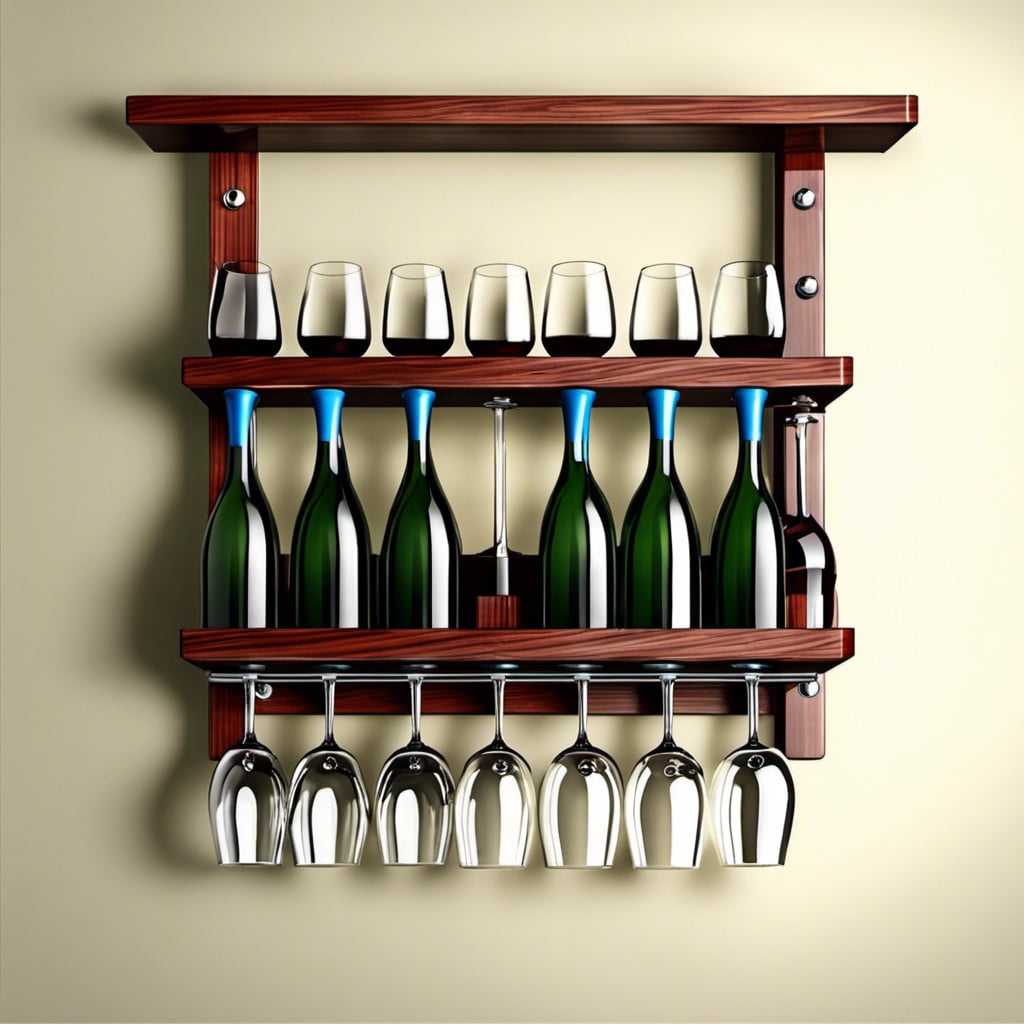 This ingenious space-saving solution allows you to store your wine glasses efficiently and within easy reach. Simply install the rack above your kitchen counter or home bar area. Its horizontal slots will help keep your glasses secure, with the stems fitting into the openings for a firm hold.
This practical setup has the added benefit of minimizing the risk of the glasses getting chipped or damaged. A metal rack presents a sleek, modern look, while a wooden one exudes a more rustic, cozy vibe. It's an effortless way to display your wine glass collection without compromising the aesthetics of the room.
Wall-mount Display Shelves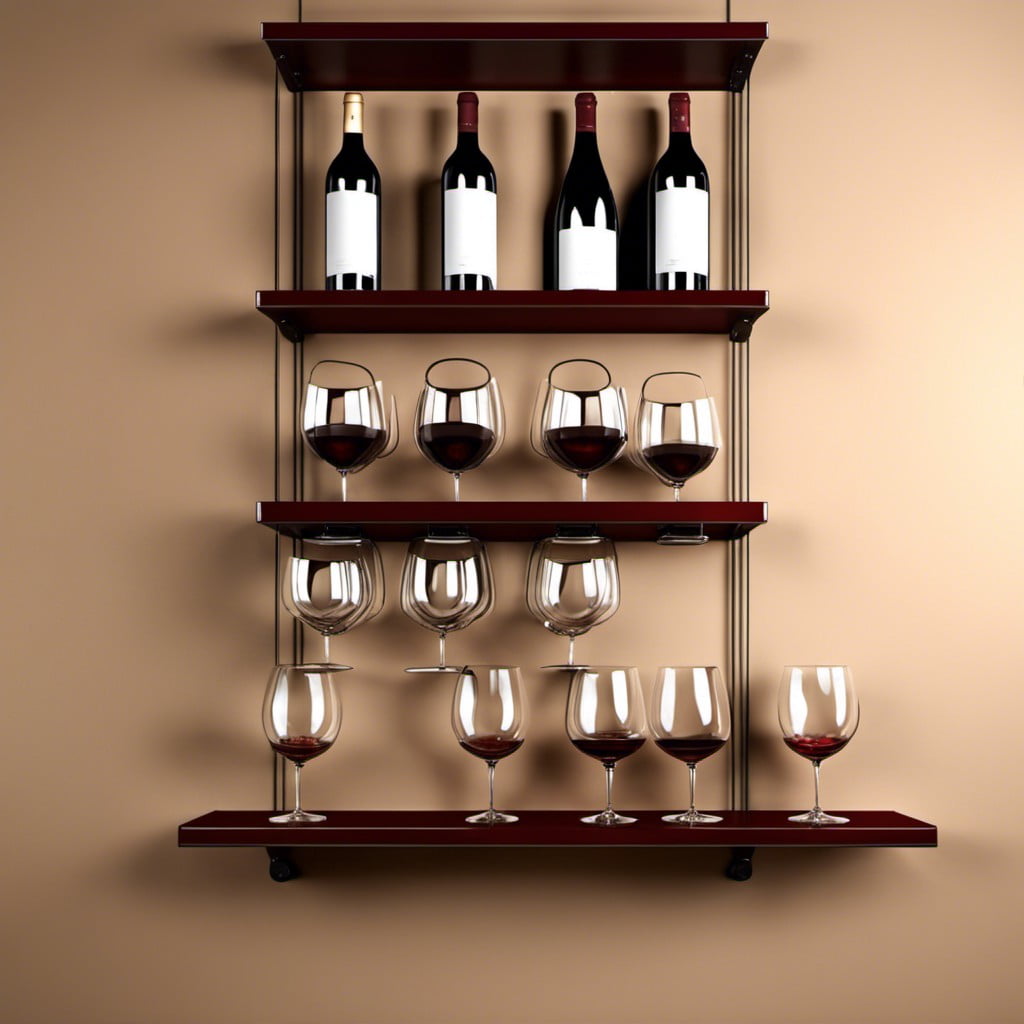 Equipped with their space-saving merit, these creative options deliver fashion and function in equal parts. Featuring designs from minimalist steel fixtures to ornate wooden blocks, there's bound to be a style to suit every abode.
The glasses hang upside down, preventing dust accumulation in the bowl, while showcasing the beautiful stem design and making them easily accessible.
Strength and stability are crucial; ensure you choose high-quality materials and sturdy design. Further, consider shelving with barriers or compartments that can prevent accidental tip-overs.
For an elevated display, match your wall-mount shelves with ambient lighting to highlight your glass collection. This becomes particularly stunning for colored and designer wine glasses and adds a touch of class to your space.
Feel free to explore different designs, but remember the key points:
Space-saver design
Showcase for stems
Safe and Stable
Optional: Match with ambient lighting
Remember, the essence is to create a space that is as practical as it is visually appealing. Blending aesthetics and function, wall-mount display shelves surely make the perfect pick for both casual and devoted wine connoisseurs.
Glass Cabinet Display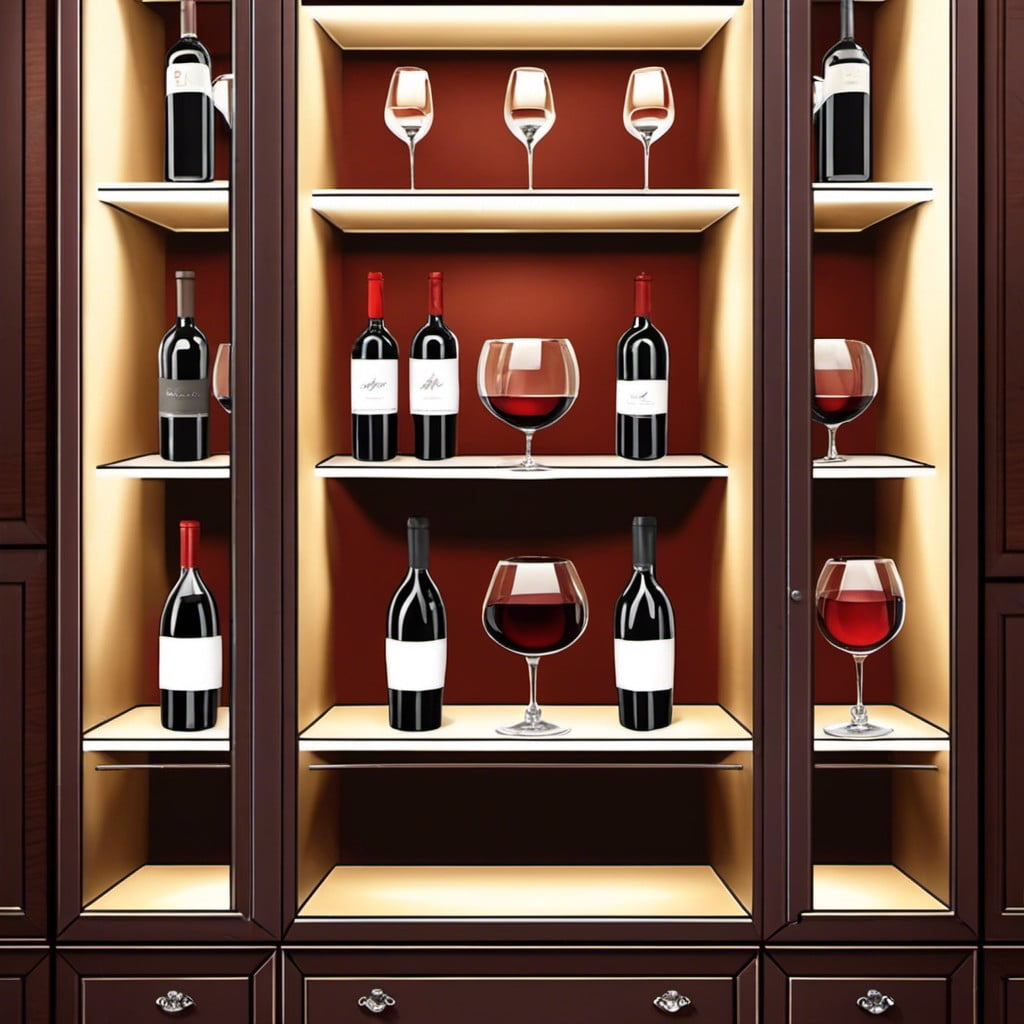 An elegant choice with double duty functionality, these cabinets offer both storage and showcase for your collection. Choosing a cabinet with clear glass doors allows easy visibility, while frosted glass imparts a subtle hint of mystery.
Light positioning is key – consider installing LED strips along the edges for a glowing ambiance. Customizing the shelf heights accommodate glasses of varying sizes. Always remember to position the glasses with the opening down to avoid dust settling in them.
Pairing the cabinets with matching wine racks can create a cohesive look. Cabinet showcases are especially effective in dining rooms or kitchen spaces, adding an aesthetic interest while keeping your collection organized. Also, bear in mind, temperature control might be necessary depending on the surrounding environment to keep the elixirs at optimal conditions.
Illuminated Bar Shelves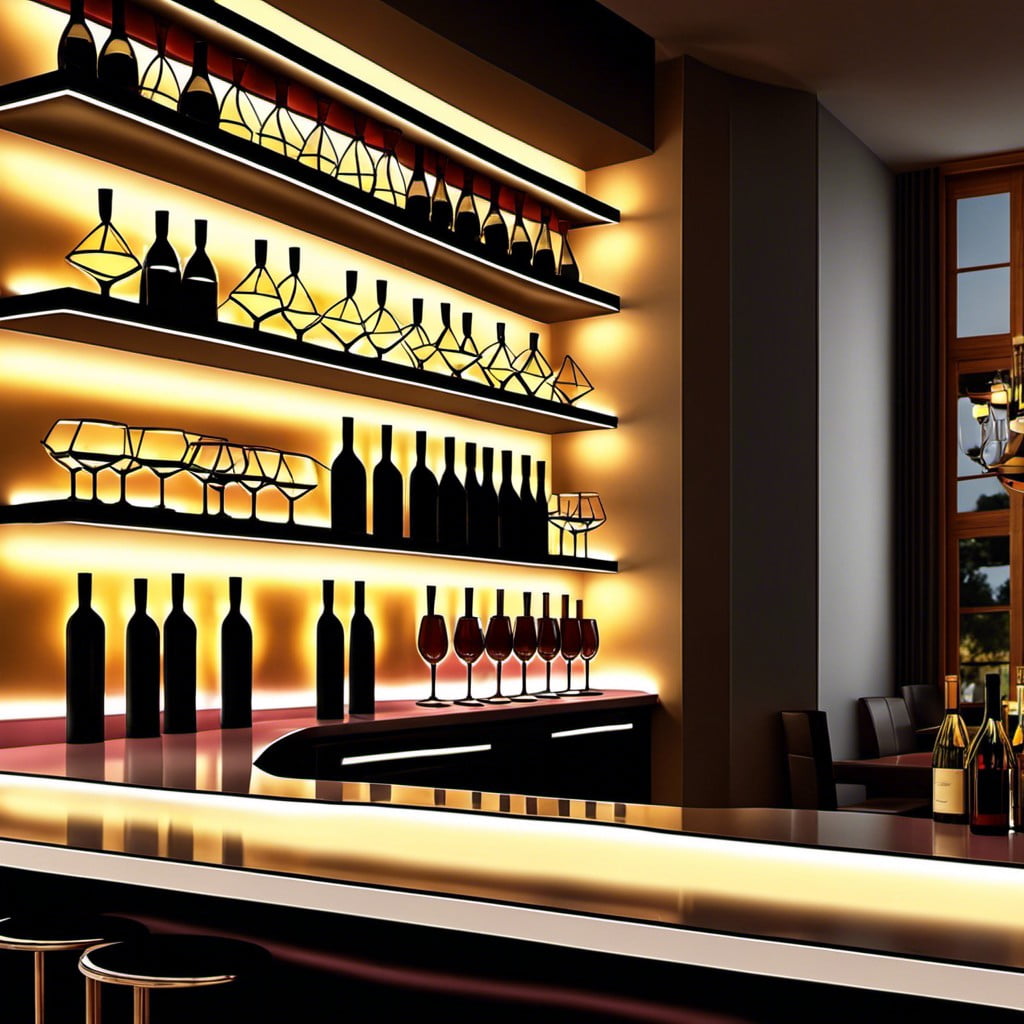 Perfect for showcasing your wine glasses with flair, Illuminated bar shelves add a magical touch to any home. Casting a gentle glow against the glass, they enhance the display while providing easy access to your stemware.
To create this dazzling effect, consider the following:
Choose LED lights: Energy efficient, they emit less heat, are safer for your glasses and offer varied color choices.
Add a dimmer: It allows you control the intensity of the brightness and can set the ambiance of the room.
Choice of Material: Glass is a popular choice for the shelves as it aids in reflecting the light beautifully. However, for a chic modern look, acrylic shelves work just as well.
Cleaning: Ensure the light fixtures are easy to clean and replace, as a clean light source will always cast a better effect.
Keep in mind, positioning tall glasses at the back and shorter ones at the front helps to magnify the illumination effect. Be it a cocktail party or a quiet dinner, these gleaming shelves are sure to make a statement.
Under-cabinet Stemware Holder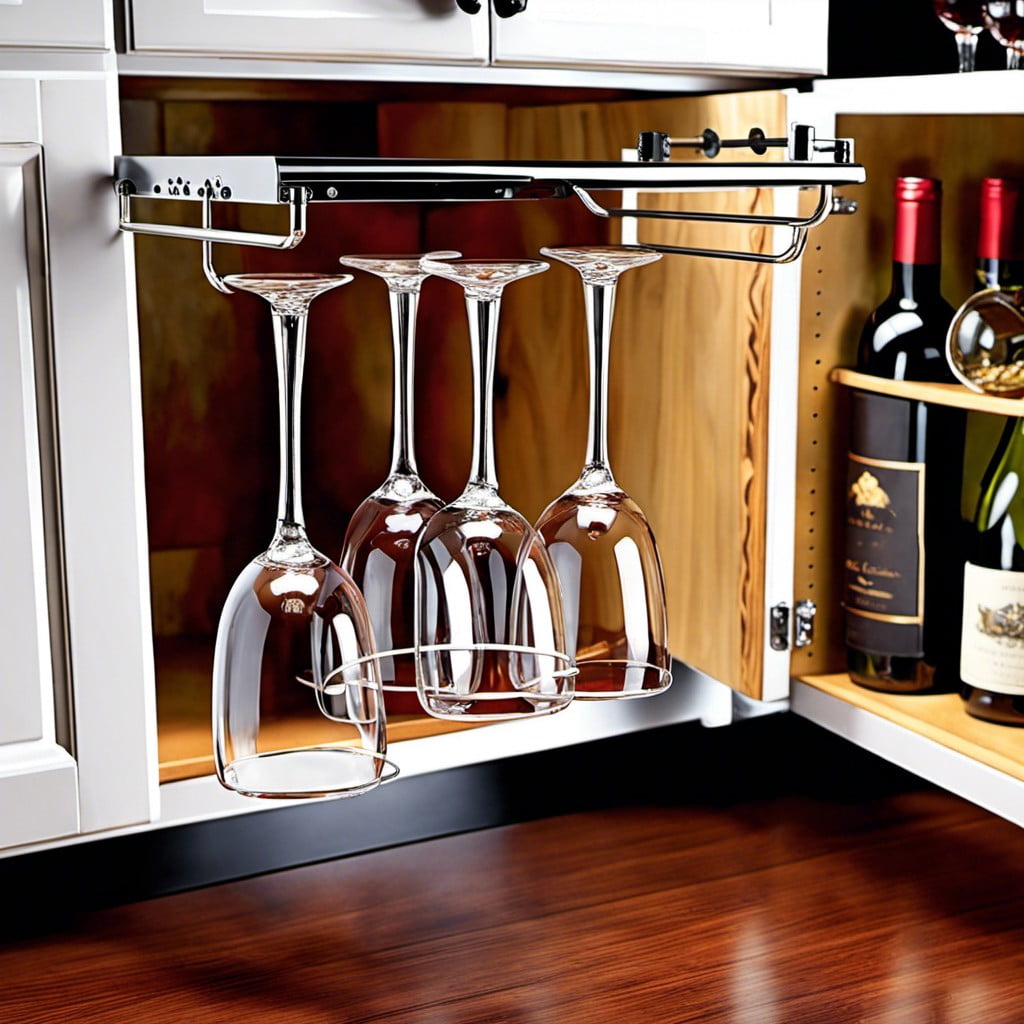 In smaller kitchens or compact bar areas, storage space can be limited. This clever design utilizes the often-unused square footage beneath your wall-mounted cabinets. Keeping glasses stored upside down, dust accumulation gets thwarted, always ensuring your stemware is ready for use.
1. Space Utilization: Make use of the hidden, usually unused space under cabinets.
2. Easy Access: Glasses are within arm's reach when needed, which is perfect when entertaining guests.
3. Dust-Free Storage: The upside-down storage keeps the glasses clean and ready for usage, eliminating the need for frequent cleaning.
4. Decorative Aspect: It can add an elegant touch to your kitchen or bar area, showcasing your stemware collection.
5. Variety: Available in various materials such as wood, stainless steel, or wrought iron to blend perfectly with your existing decor.
6. Customizable: Tailor your holders to fit the number of glasses you own.
Remember to ensure your cabinet can hold the weight of the rack and glasses before installation.
Tabletop Wine Glass Holder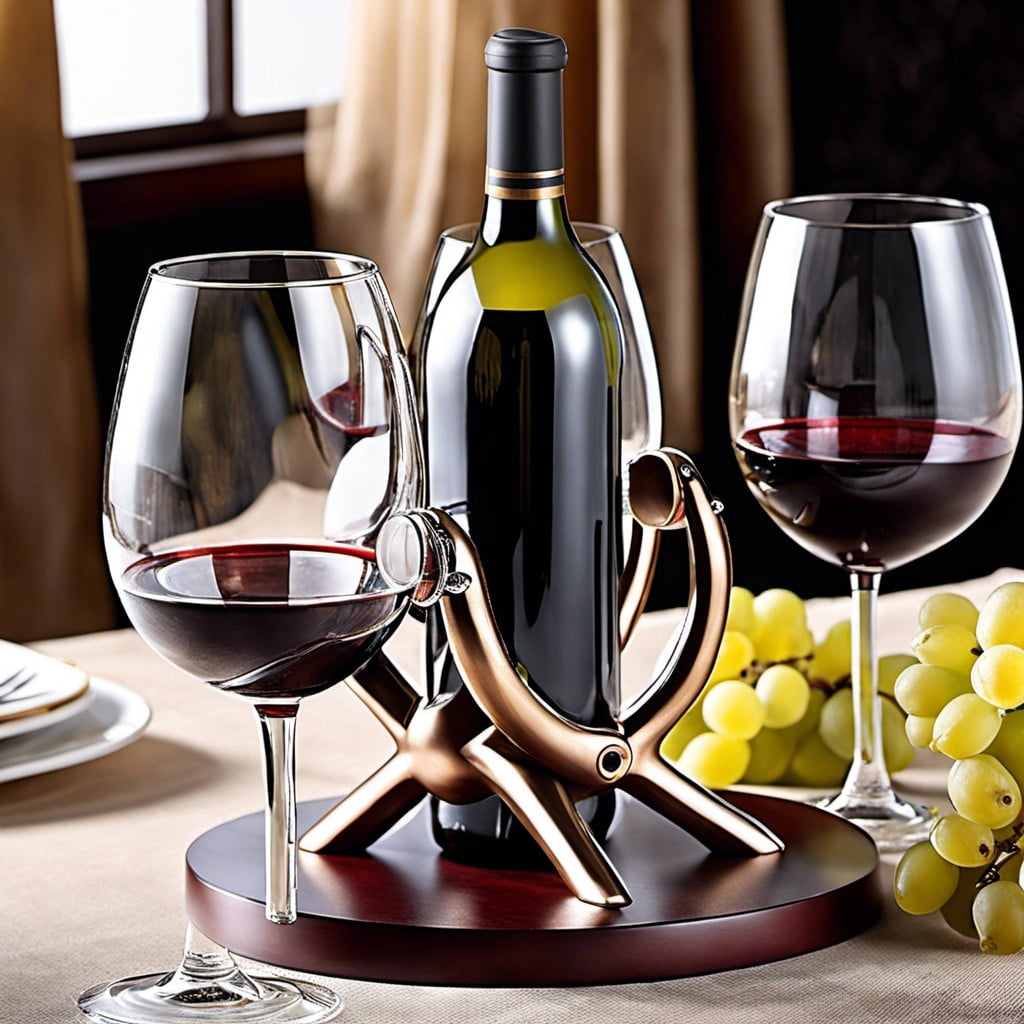 Opting for a tabletop holder enables wine enthusiasts to keep their favorite pieces in arm's reach. Not only does it serve as efficient storage, it's also an opportunity for decoration adding a touch of elegance to any dining table, side table, or countertop.
1. Easy access: A tabletop holder puts your glasses at your fingertips, saving time during dinner parties or family dinners.
2. Variety of design: Available in multiple styles — rustic, modern, or even whimsically shaped like a tree or an animal – there's a perfect fit to match your aesthetic.
3. Affordability: From simple wire designs to detailed wooden carvings, there are options in every price range.
4. Small space solution: For those challenged by space, this holder is compact while still accommodating a reasonable number of glasses.
5. Conversation starter: A stylish holder can add to the ambience, impressing guests, and kickstarting entertaining chats.
Remember that an optimal tabletop holder should balance functionality and style. Ultimately, it's about choosing a holder that complements your home decor and suits your wine consumption habits. This low-maintenance display can make your wine glass collection an integral part of your everyday life.
Wine Glass Tree Stand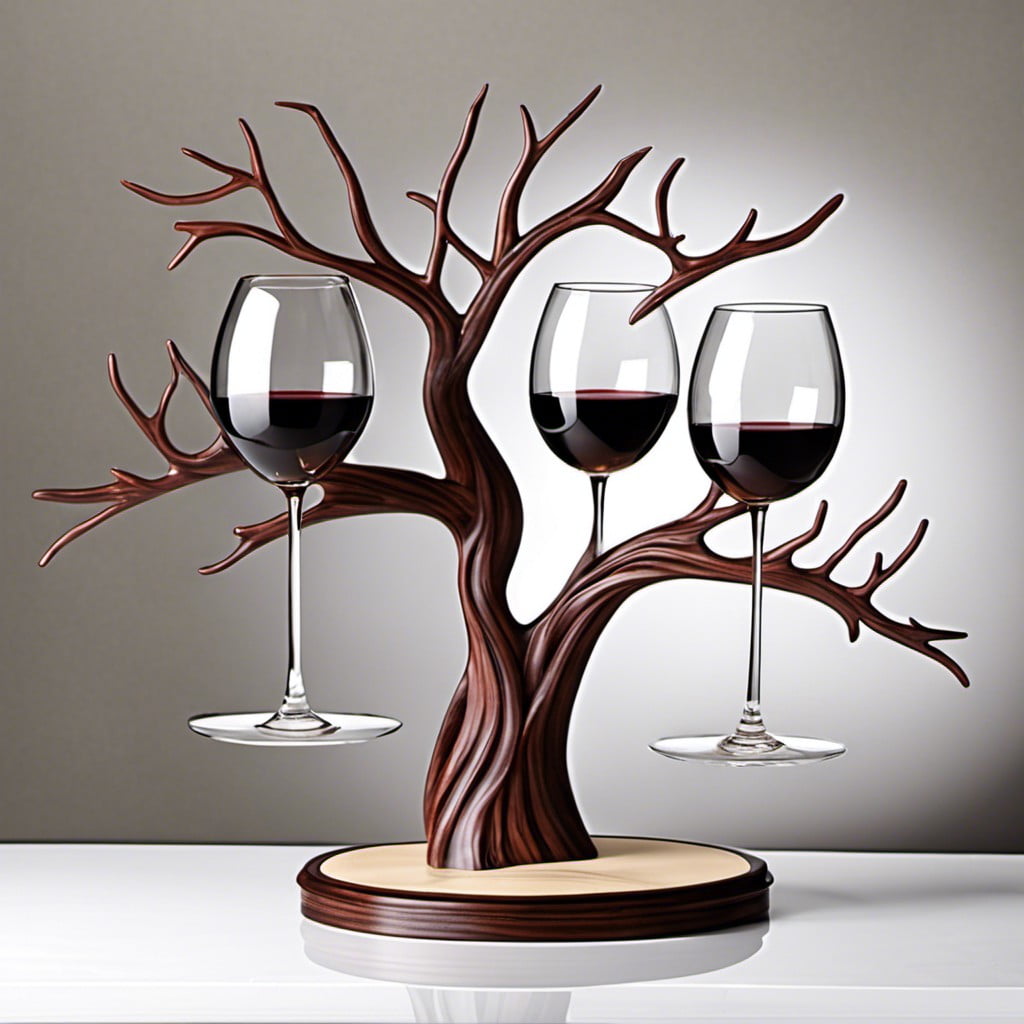 A unique twist on display, the tree stand lends an artistic yet functional way to showcase your collection. This solution often features a central pillar with multiple curving branches, offering your wine glasses pleasing exposure.
Points of note include:
Minimal surface space required: The tiered design saves on counter space, perfect for smaller kitchens.
Easy access and storage: Glasses are easily hung from and retrieved off the stand.
Inspiring aesthetics: It can serve as a conversation starter due to its unique, sculptural appeal.
Material considerations: Typically, these stands are made of metal or wood, which can complement different interior decor styles.
Flexibility: They can be placed on a counter, in the bar area, or even housed in large, open cabinets.
Consider these aspects when determining if a wine glass tree stand aligns with your home's space and style. It's not just storage—it's a touch of pizzazz for your décor.
Horizontal Wall Display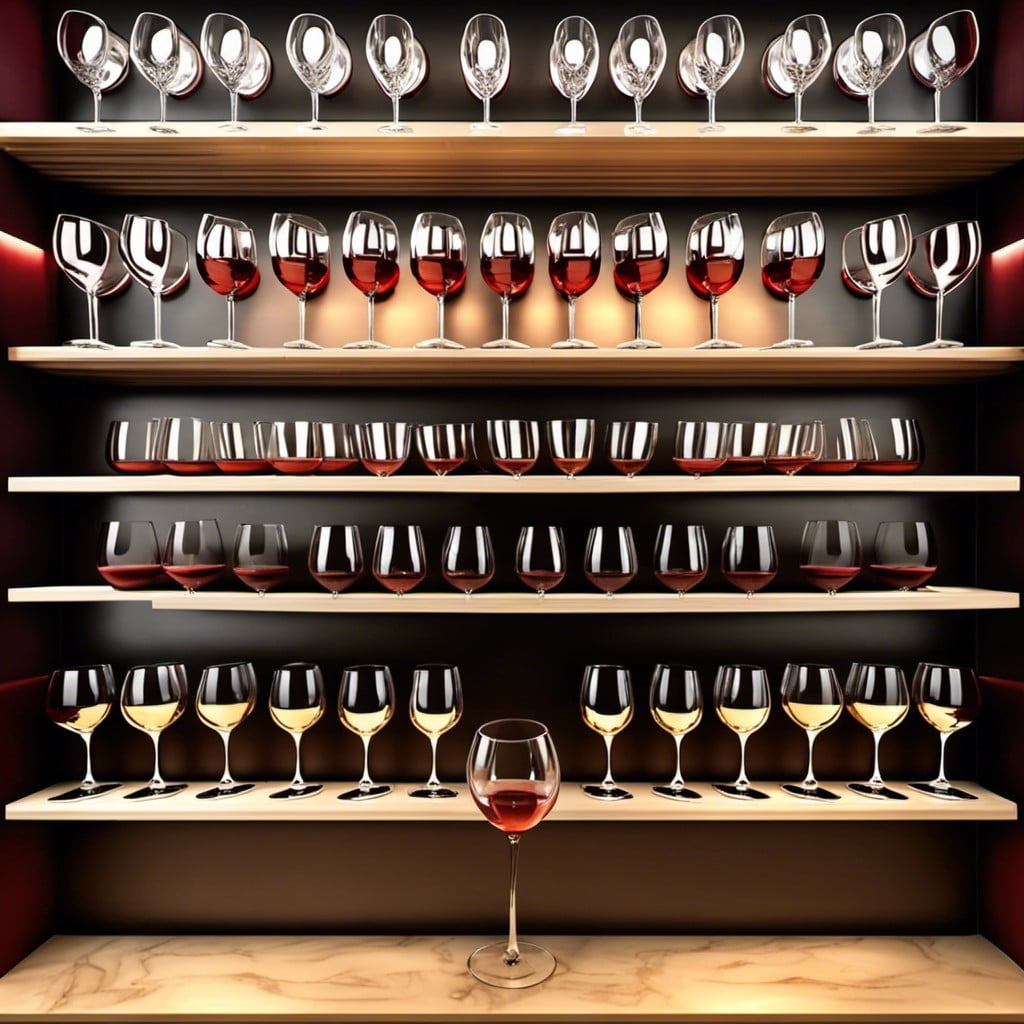 To achieve a unique yet functional display, this arrangement spreads your stemware along the wall in a straight line. With slim metal or wood racks attached between wall studs, this design can accommodate a significant number of glasses. It's visually striking and also makes selection easy.
Consider the following points while planning:
Measure wall space to ensure correct fit and glass safety.
Choose slim, sturdy racks for elegant look and durability.
Opt for clear or natural finishes to let your glasses shine.
Ensure proper installation for load-bearing capacity.
Space out racks for easy glass access and to avoid clutter.
Strategically place the display to avoid accidental bumps.
Keep a small step stool nearby for tall displays.
Finally, remember periodic dusting to maintain the radiance of your collection.
Decorative Wine Glass Box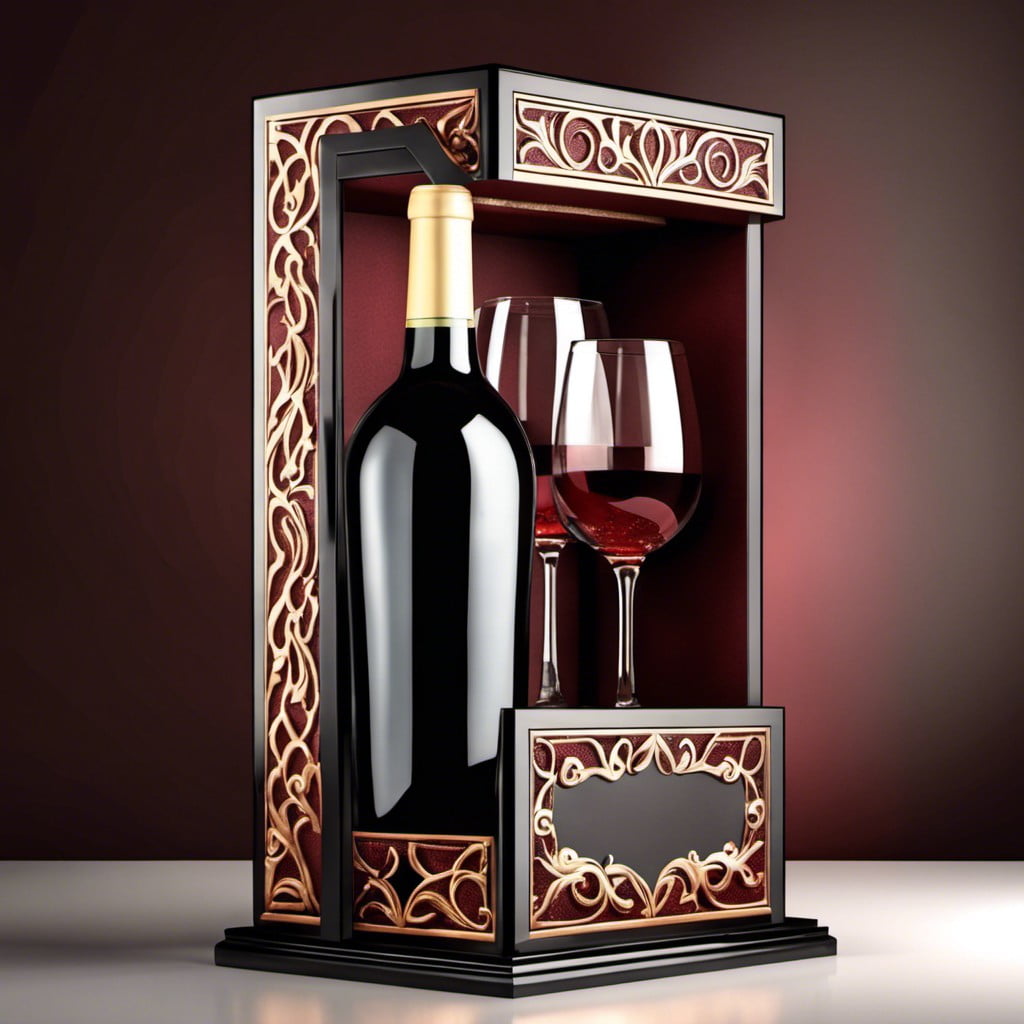 Beyond simply storing, a decorative box can showcase your beautiful stemware in a visually appealing manner, while protecting them from dust and accidental damage.
1. Choose an ornate box: Consider materials like hand-carved wood, smoked glass, or even hammered metal for an authentic, artisan feel.
2. Layered Display: Within the box, create layered stands with foam or wood to position glasses at varying heights, showing off their unique designs and catching the eye.
3. Lighting: Consider adding soft indirect lighting in the box to highlight the glasses and add a warm ambiance to your room.
4. Visibility: Opt for a box with a glass top or sides for full visibility, and enjoy your wine glasses as a part of your home décor, even when they're put away.
Remember, functionality and design can coexist. Your wine glasses are not just kitchenware, they're also design fixtures.
Built-in Rack in Pantry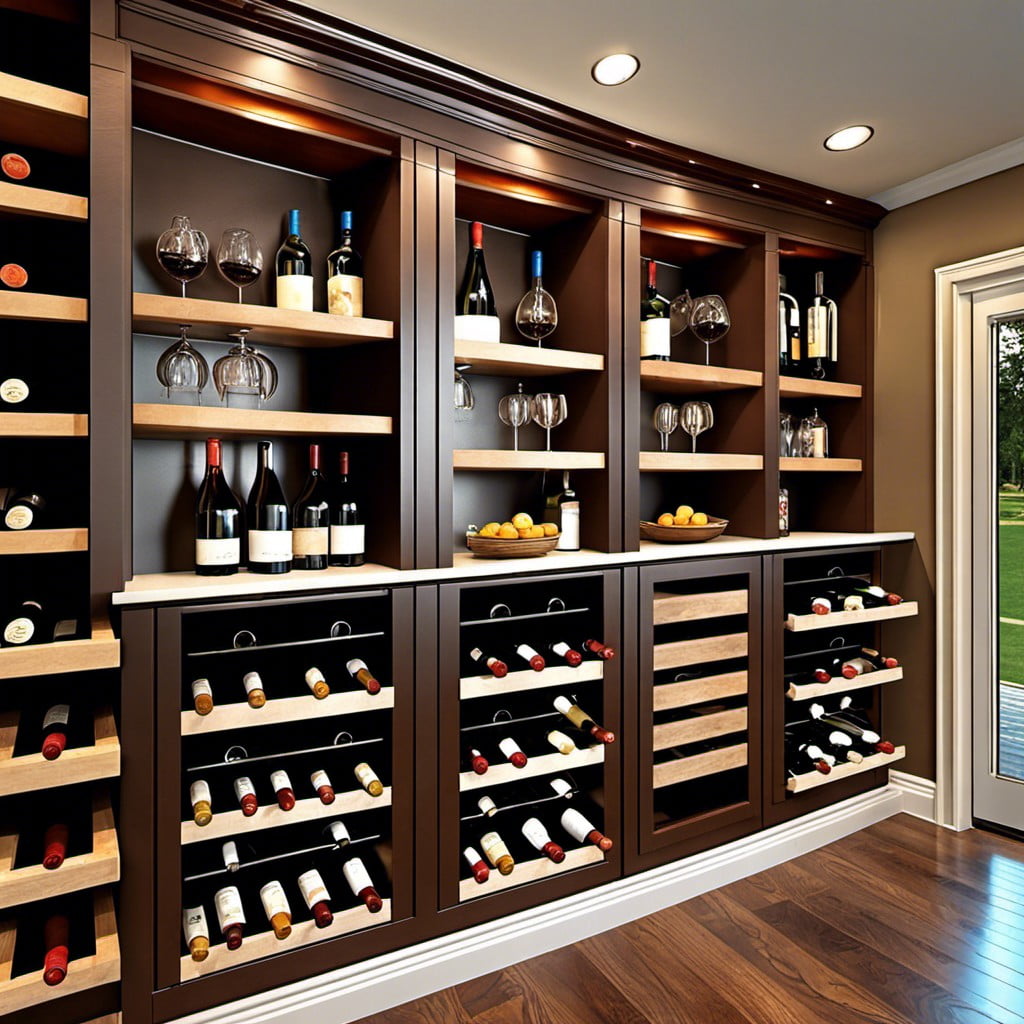 Optimizing your pantry area provides safe and organized storage for wine glasses. Cleverly designed slots ensure each glass has its individual place, reducing the risk of accidents. This system not only simplifies finding the correct glass for every occasion but also beautifully showcases your stemware collection.
Consider these points:
Tailor the rack to hold the collection's variety, from Bordeaux to champagne flutes.
The allocated size in the pantry should match the rack, accommodating enough glasses without overcrowding.
Ensure accessibility, either on pantry doors or integrated within shelving.
Choose a design complementing your kitchen's aesthetics – modern, rustic, or classic.
Ventilation is key; glasses should dry completely to prevent mold or odor.
Install a soft-closed system to minimize jostling and potential breakage.
If possible, make the rack adjustable to accommodate future additions to your glassware collection.
With intelligent planning, a wine glass rack in the pantry can augment the functionality and elegance of your kitchen space.
Wine Cart With Glass Storage
Exploring the dual functionality of this design, a wine cart not only provides an excellent display feature but also hosts a built-in storage system for wine glasses. This movable piece, often adorned with wheels, becomes a portable mini bar that adds instant charm to both indoor and outdoor events at your home.
1. Space-Effective: Acts as both a storage unit and a serving table in one compact design.
2. Portable: Wheels or casters provide easy mobility to roll the cart to where it's needed most.
3. Versatile: Easy assembly allows changeable rack heights to accommodate glassware of different sizes.
4. Design: Available in various materials, such as metal, wood, or glass, to suit individual aesthetic tastes.
With a combination of style, practicality, and versatility, such a cart is an excellent addition to a wine-lover's home, keeping both the bottles and the glasses within hand's reach.
Freestanding Wine Cabinet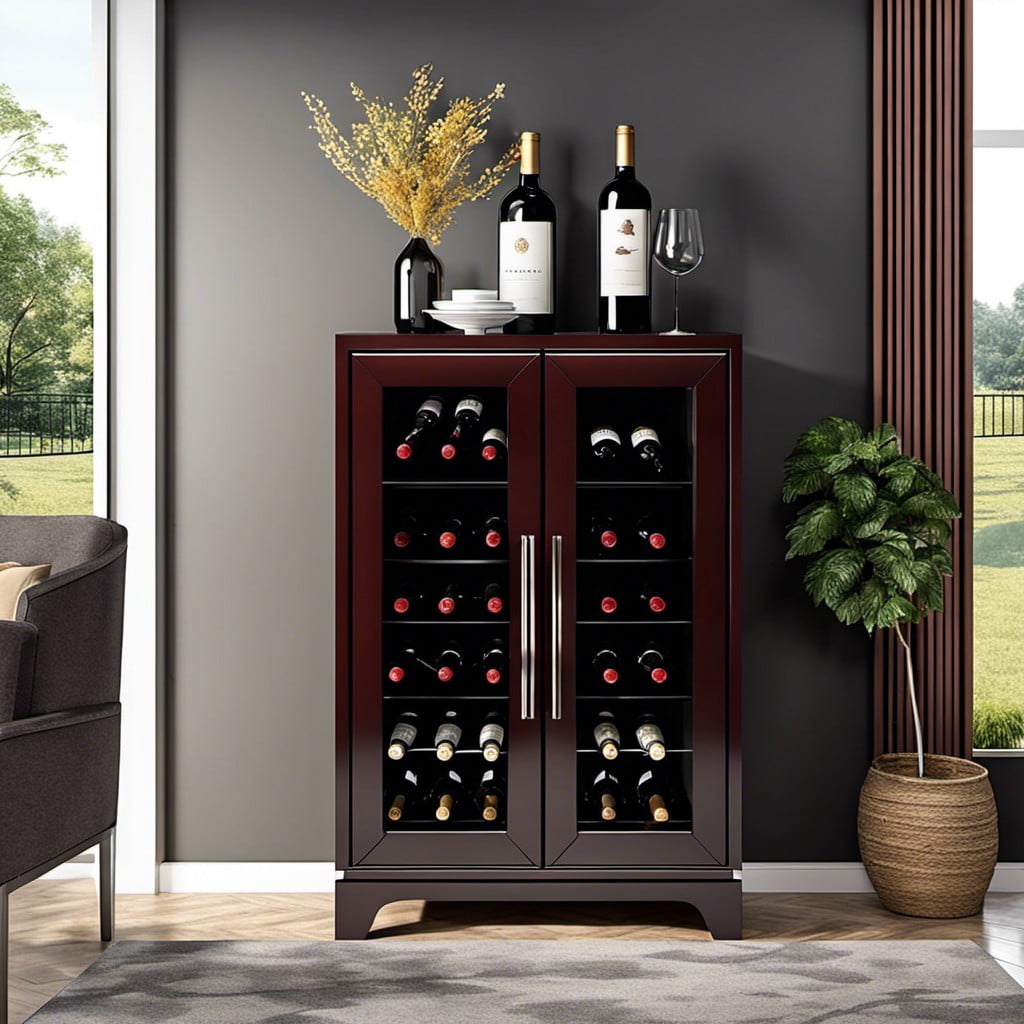 For the discerning wine enthusiast, nothing beats the convenience and elegance offered by this type of storage. Showcasing a refined yet practical design, here are the key characteristics of freestanding wine cabinets:
Versatility: They can be placed anywhere, from the dining room to the living space, and even the kitchen.
Storage: They offer dual functionality, allowing for the storage of both wine bottles and glasses.
Aesthetics: Available in a variety of styles and finishes, they can seamlessly blend with your existing home decor or stand out as a statement piece.
Protection: Most models are equipped with features like temperature controls and UV-protected glass doors, ensuring your wine and glasses are shielded from potential damage.
Accessibility: With your glasses conveniently stored in the same place as your wines, you'll always be ready for an impromptu toast or celebration.
Stackable Display Cubes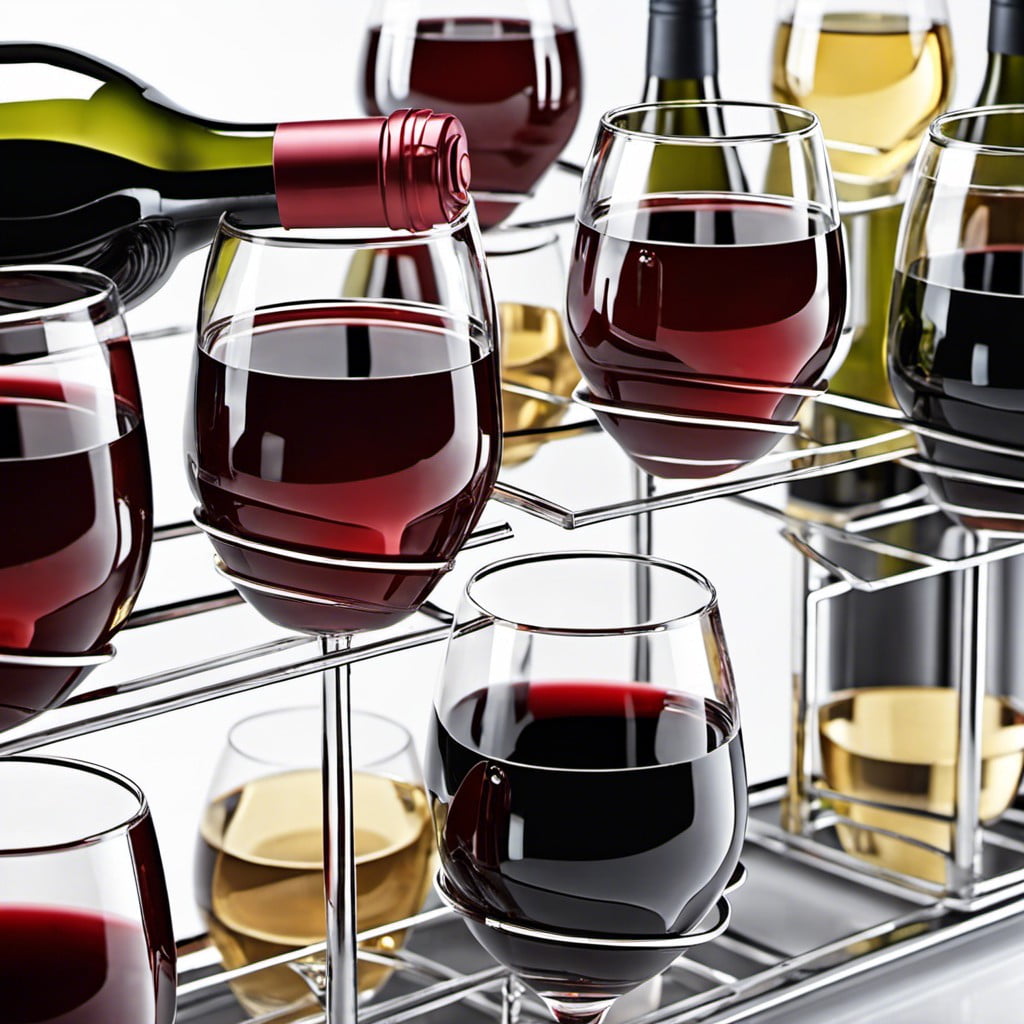 Designing your space with stackable display cubes offers a modern solution that prioritizes both display and accessibility. They are versatile and able to fit in various spatial arrangements, providing an organized system for your wine glasses.
1. Flexibility: Due to cube stacks' modifiable nature, they cater to ever-expanding collections. Expand upwards or to the side, forming structures that meet your expectations and space requirements.
2. Creativity: Perfect for those who favor minimalist yet intriguing designs. Customizing the arrangement enables a personalized showcase, contributing to the overall home décor.
3. Practicality: Cubes, being see-through, make locating specific wine glasses simple, reducing the risk of breaking others while searching.
4. Protection: The cubical sectioning minimizes contact between stems, preventing cracks and chips in the delicate glasswork.
5. Space-saving: Maximizing vertical space is a core feature of this storage solution, ideal for those working with smaller or crowded spaces.
Customizable, novel, and manageable, stackable cubes are a stylish approach to wine glass storage.
DIY Rope and Wood Hanging Display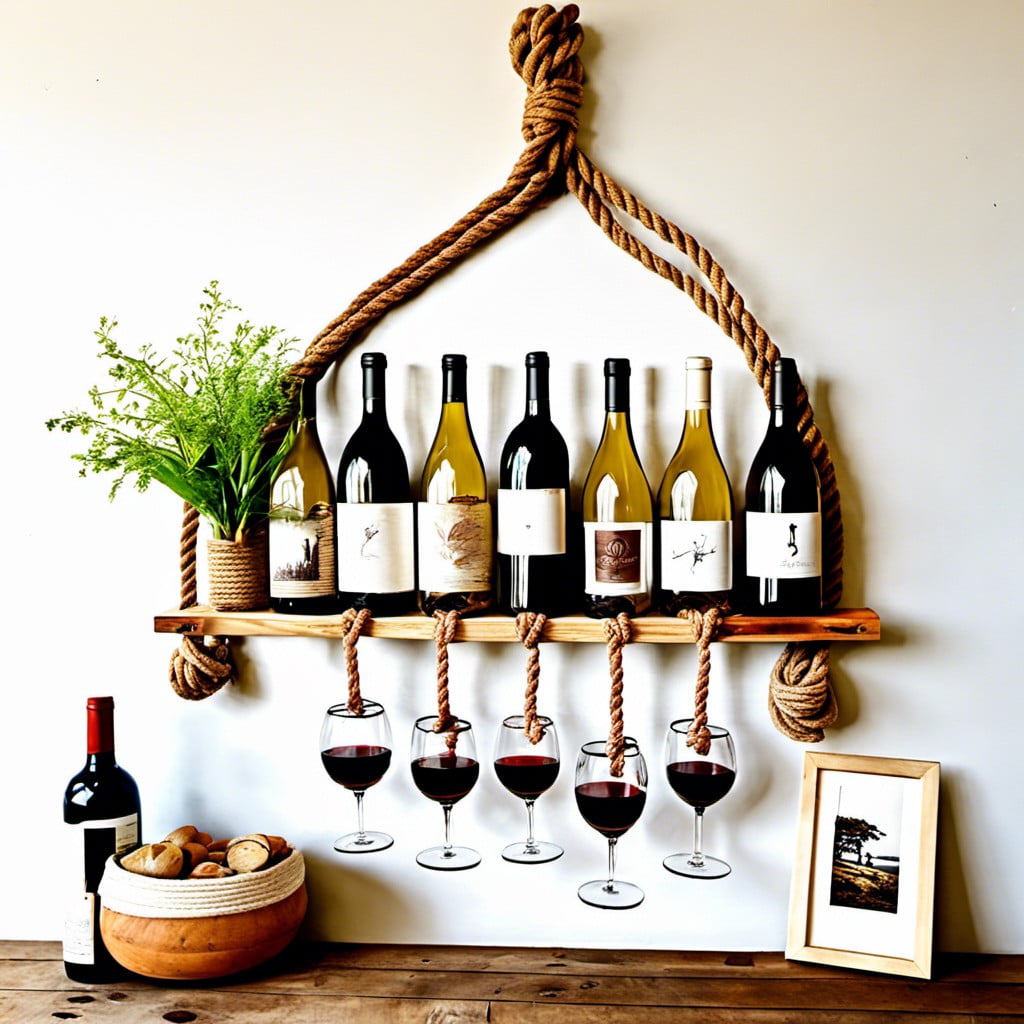 Firstly, select a quality, durable piece of wood, easily available at local hardware stores. Go for an aesthetically pleasing wood type, such as pine or mahogany.
To hang the wood, prepare strands of thick, marine-grade rope.
Measure equal distances along the wood plank to drill holes. These will allow the wine glasses' stems to slip in. Next, drill a larger hole at both ends for rope loops to suspend the display. Make sure the holes for the wine glass stems don't go fully through the wood.
Sand the wood to smooth out any rough edges. If you prefer, add a finishing touch by painting or staining the wood to match your home's decor.
To hang, thread the rope through each of the two end holes, creating loops to suspend it. Attach sturdy hook screws to the ceiling where you want your display, then hang your wooden plank using the rope loops.
Finally, slide your wine glasses' stems through the holes drilled. They will hang upside down, making a beautiful display. Adjust rope length as needed for easy access and to ensure glasses hang securely.
Floating Shelves With Notches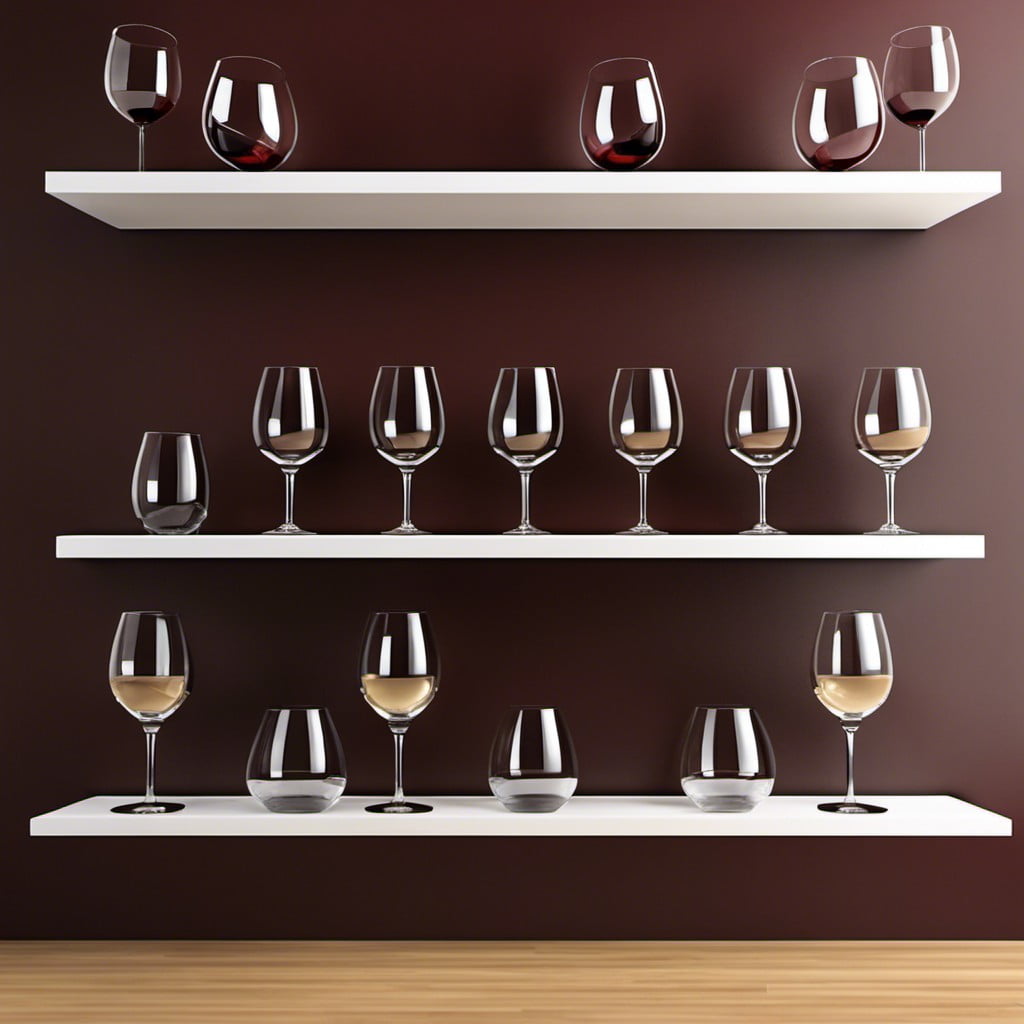 Beneficial for both serving and storage purposes, this ingenious idea pieces together aesthetics and practicality. To start, choose a spot that accentuates your interior and is easy to access. When installing, ensure the shelves are level and sturdy to bear the weight of the glasses. Notches should be sanded down to prevent scratching the stem and sized appropriately to snugly fit your specific glassware.
Position your glasses upside-down to keep the inside hygienic and align neatly, creating a notably sophisticated look. Different colored bottles can even form a decorative mosaic of hues further enhancing the charm. This is an especially wise solution if you're dealing with limited space, as it uses vertical real estate quite effectively. Remember, the key is to maintain balance between maximized storage and not overcrowding the area.
Wine Glass Chandelier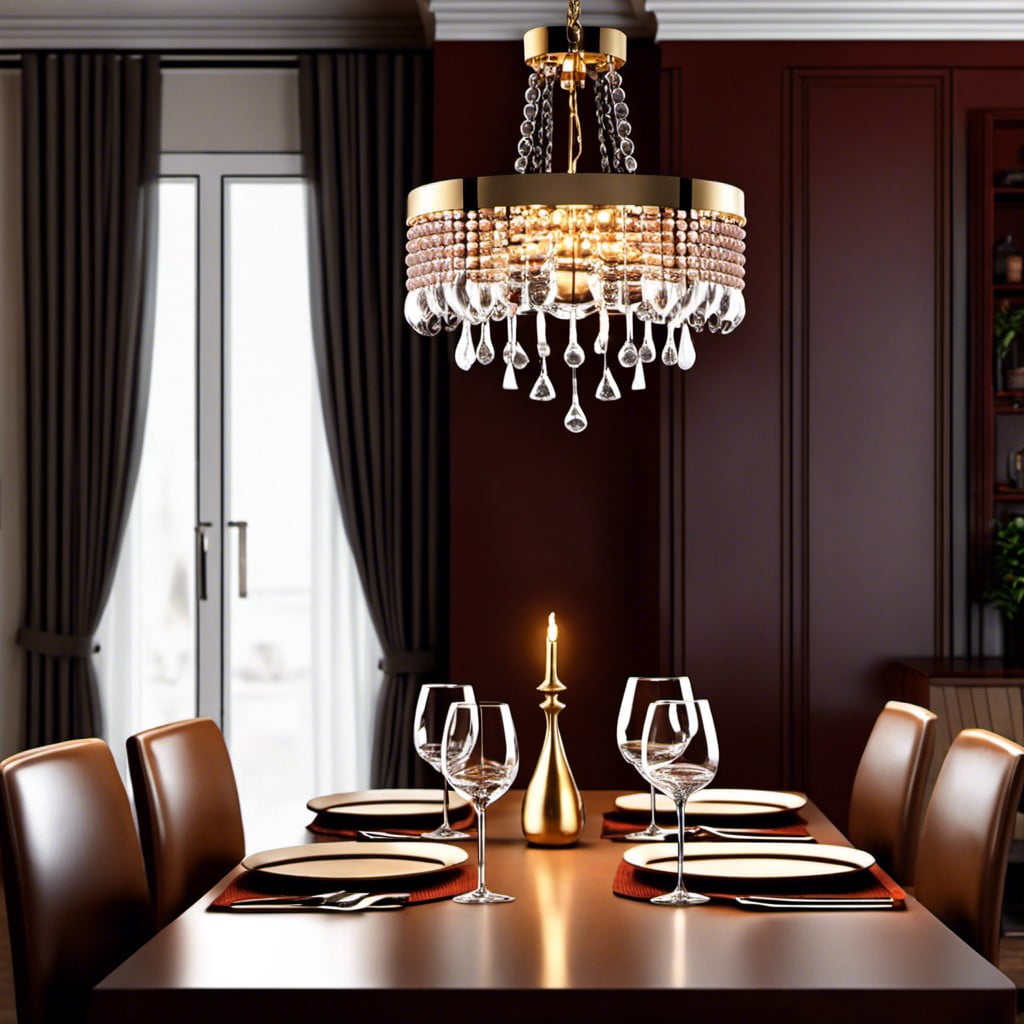 Crafting a wine glass chandelier provides an eye-catching centerpiece, perfect for kitchens, dining rooms, or even a home bar. Here are key attributes to create this innovative statement piece:
1. Firstly, consider the location. Ideally, it should be above a table or counter to prevent accidents and ensure easy access.
2. The chandelier's design can vary from ornate ironwork to a more modernistic metallic frame. Choose a style that complements your home's aesthetics.
3. Next, the hanging mechanism for glasses should ensure they are safe yet easily removable. Opt for slide-in slots or clamps.
4. The size of the chandelier needs to align with the amount of glasses you plan to display. It's a delicate balance between showcasing your collection and maintaining functionality.
5. Illuminate the chandelier with soft LED lights to accentuate your wine glasses' sparkle, enhancing the overall atmosphere.
6. Ensure a sturdy installation. The chandelier will be heavy with wine glasses, so secure attachments to the ceiling are crucial.
This stylish blend of lighting and storage not only saves space but also evokes elegance and sophistication.
Iron Wine Rack Tower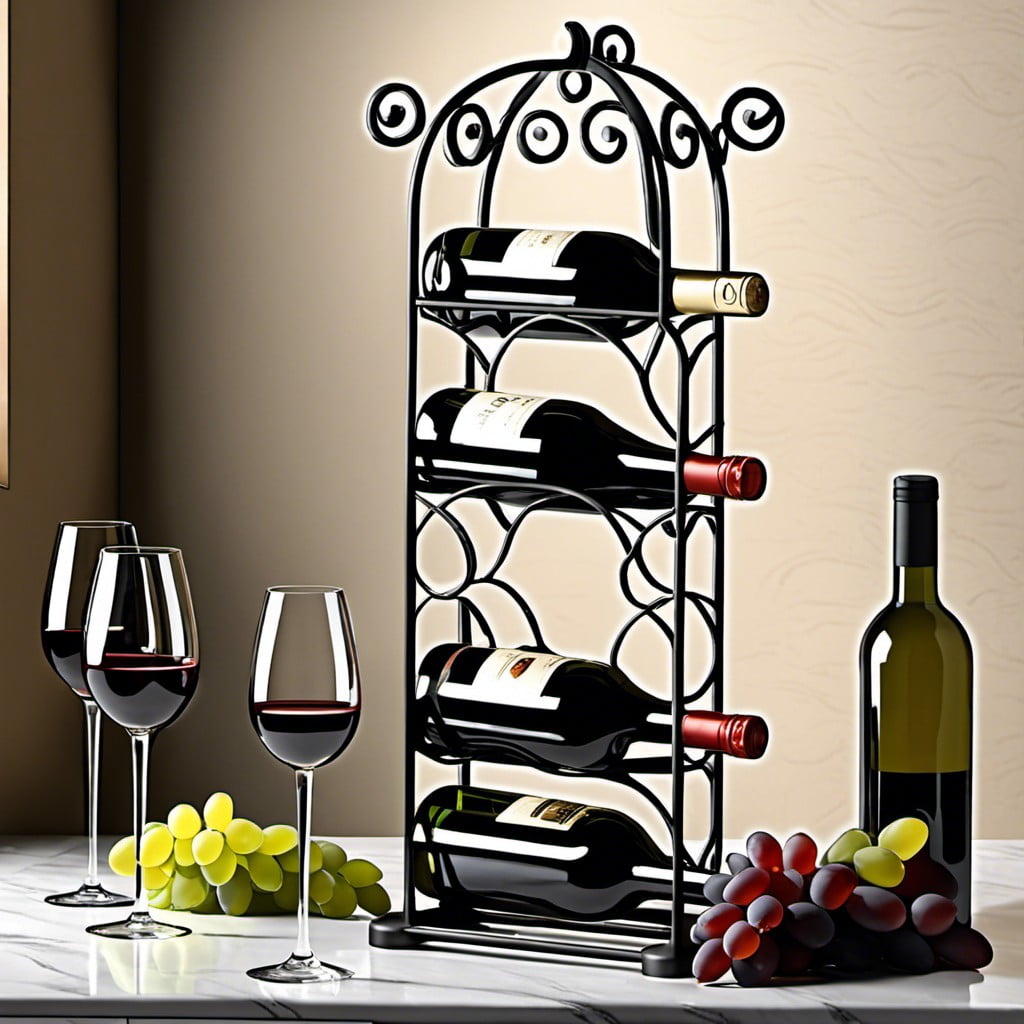 Iron wine rack towers are a perfect blend of practicality and style. They serve a dual purpose: gracefully storing your wine glasses while acting as a stunning centerpiece.
These structures, typically crafted with delicate, scrolled ironwork, can house a generous number of glasses making them perfect for wine enthusiasts. Their open-air design aids in keeping your glassware dust-free as well.
Generally freestanding, these towers can be positioned anywhere in your home, making them a flexible option for those who enjoy changing their decor frequently.
Significant features of these towers include their sturdiness, range in sizes, and separate sections for bottle storage, making it a comprehensive wine solution.
Upside-down Hanging From Ceiling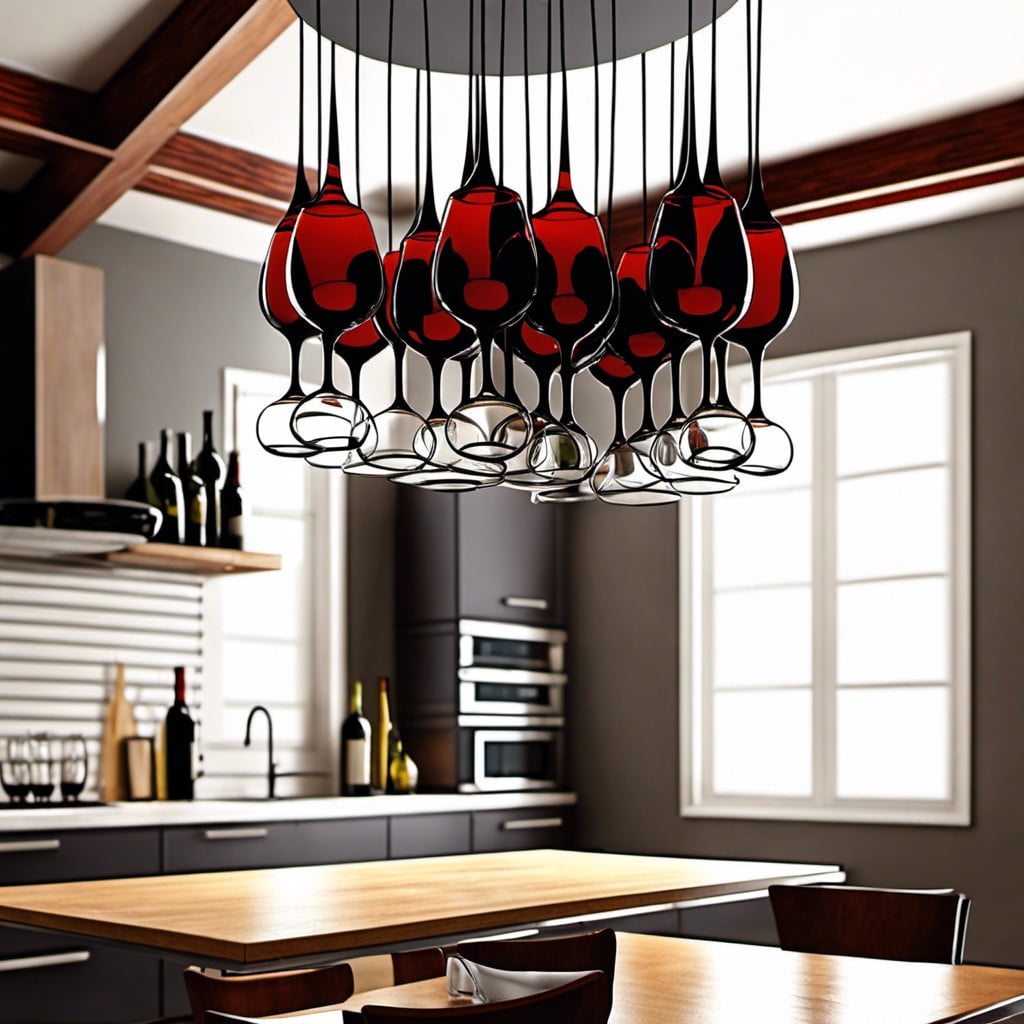 For a modern and space-saving twist, consider suspending stemware from the ceiling. This off-the-ground solution offers easy accessibility while adding an unexpected visual element to your space.
Here's how this trick works:
Utilize sturdy hooks: These should be attached securely to your ceiling, ensuring the adequate support for your glassware. Ensure the hooks' size is sufficient for the base of the glass to fit and hang comfortably.
Arrange by size: When hanging glasses, it's best to place similar sizes together for symmetry and balance.
Mind the height: Keep the hanging height within comfortable reach but also high enough not to bump into them.
Location matters: Choose a location that isn't high traffic to avoid accidental bumps.
Ensure cleanliness: Hanging glasses exposed will collect dust over time, ensure you clean them regularly.
Remember, maintenance is key. With dust being more visible on glass, ensure you include a regular cleaning schedule for your suspended stemware.
Shadow Box Display Case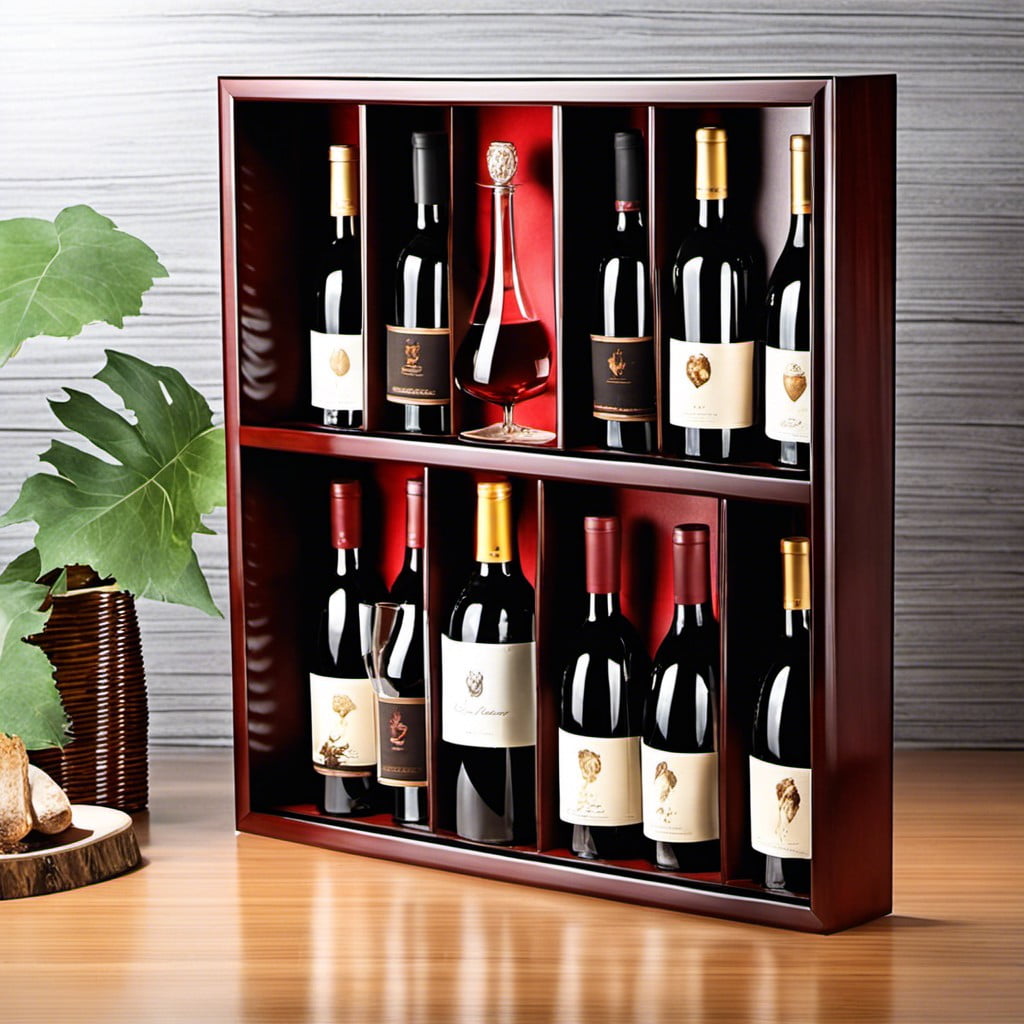 A shadow box display case offers an ingenious solution to not only store your wine glasses but also artistically showcase them.
Dimension: These cases ideally come with varying depths. Deep enough to house your wine glasses, yet shallow enough to highlight them. Look for a case where each glass will be in its individual compartment.
Frosting: Opt for transparent glass or acrylic front. For those desiring a more distinctive look, choosing a frosted front adds a touch of mystery.
Lighting: Enhancing the display, especially for a centerpiece attraction, is as simple as installing small LED lights. This way, even in dim surroundings, your glass collection stays in the spotlight.
Hanging: Most shadow box cases come ready to hang. Usually, just a few sturdy screws or anchors will suffice. Ensure it's positioned at a safe, yet accessible height.
Thus, a shadow box display case can be an optimal solution if you are seeking a stylish and secure way to store and show off your wine glass collection.
Rustic Wooden Crate Display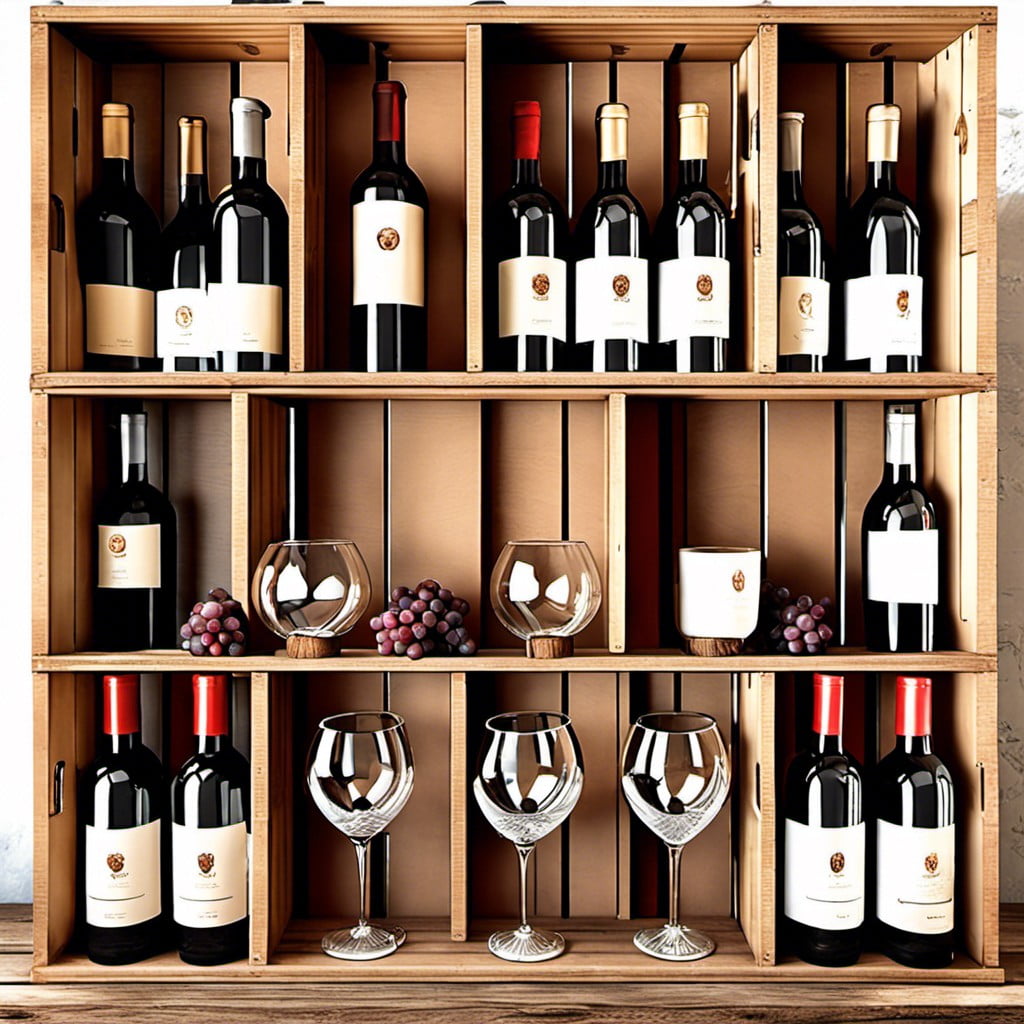 Bring a touch of country charm to your kitchen with a rustic wooden crate display. Perfect for adding warmth and character, these unpretentious boxes can easily be mounted on the wall as individual holders or stacked for higher capacity.
1. Natural or Distressed Finish: Choosing the right finish can make all the difference. Natural wood adds warmth while a distressed finish exudes a vintage vibe.
2. Versatility: Horizontal or vertical, stacked, or individually mounted, the possibilities for customization are endless. Experiment to find the layout that suits your space and needs the best.
3. Accessibility: Easy access is an uncompromised advantage of this display option. Convenient for frequent use and cleaning, ensuring your wine glasses stay pristine.
4. Budget-Friendly: This choice is cost-effective without compromising on style. You might even have old crates lying around, just waiting to be upcycled.
5. Easy Installation: You won't require a team of handymen. Some basic tools are all it takes to secure your crate to the wall and start showcasing your glasses.
Continue reading:
Recap