Last updated on November 27, 2023
You'll want to dive into these captivating primitive bathroom ideas because they befuddle the modern dwellings with a rustic charm that is nothing short of irresistible.
I am proud to have authored the article "20 Primitive Bathroom Ideas: Unveiling the Ultimate Style Guide and Design Inspiration," filling it with unique designs, and I sincerely hope you find as much inspiration and enjoyment from it as I experienced creating them.
Embracing the charm of primitive decor in your bathroom can transform it into a cozy and inviting space. This article is brimming with unique ideas to help you achieve that rustic appeal.
From the use of vintage wooden accents to handmade soap dishes and primitive lighting fixtures, we'll explore a myriad of ways to infuse your bathroom with a touch of simplicity and antiquity.
Whether you're starting from scratch or looking for ways to upgrade your existing bathroom, this piece offers detailed guidance to help you create a primitive bathroom that perfectly matches your style and comfort.
Rustic Wooden Bathtub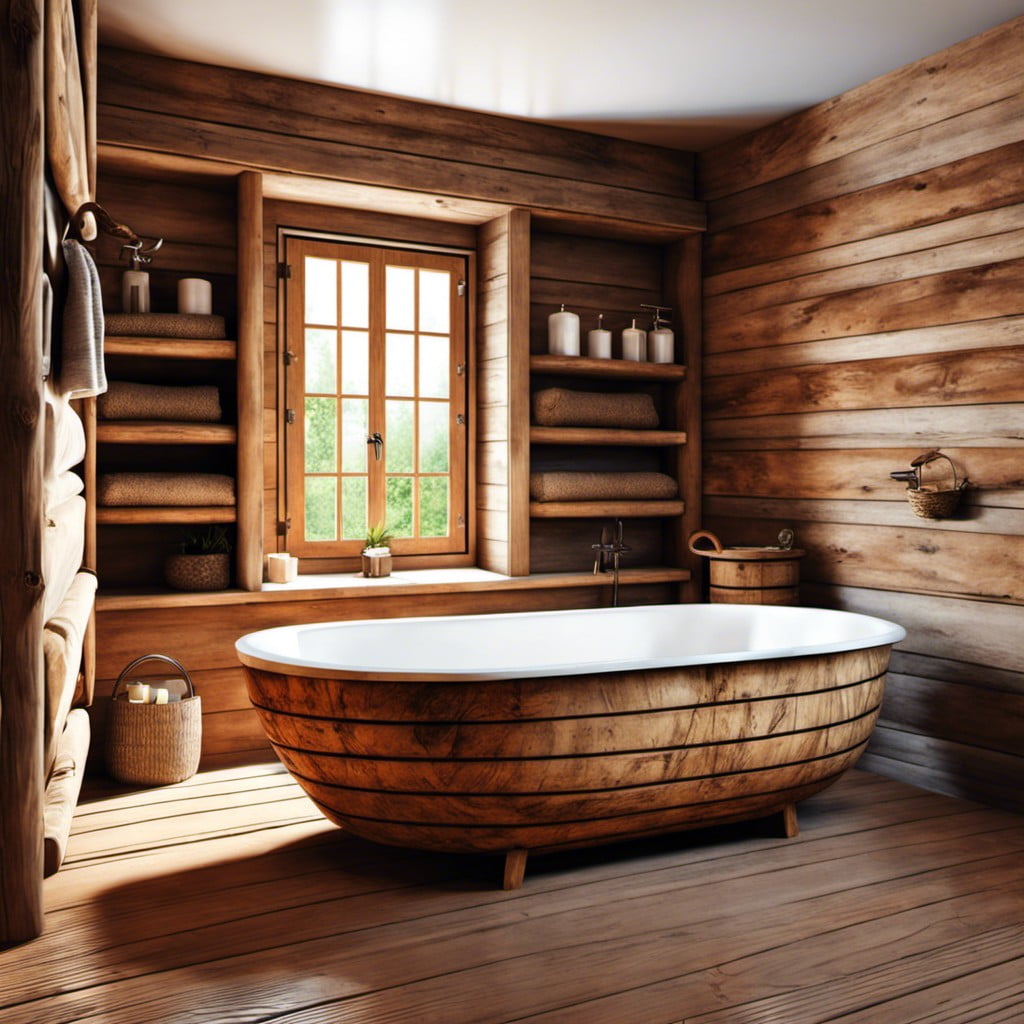 Carefully selected, treated and finished, a rustic wooden bathtub acts as a warm and inviting centerpiece. Wood, being a natural insulator, keeps the bathwater hot for longer, maximizing your relaxation time. Species like teak or cedar are often preferred due to their resistance to water damage.
While it leans towards luxury, it also champions practicality, a true testament to meticulous craftsmanship. To upkeep, it only requires regular cleaning and occasional oiling to preserve its charm. Infusing a primeval feel, this bathtub marries nature's appeal with stellar functionality.
Stone Sink Basin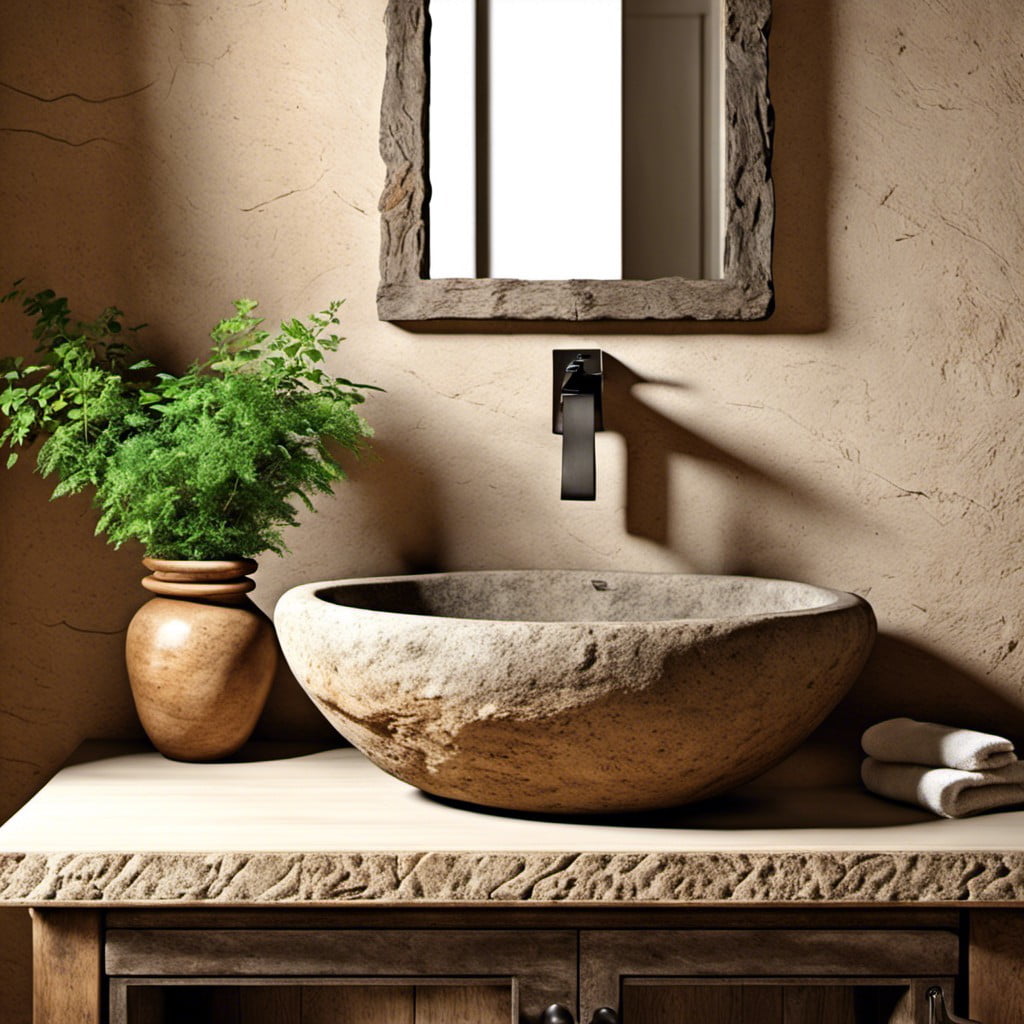 Marrying style with durability, a stone sink basin creates an immediate striking visual in any bathroom.
The varying color, texture, and patterns make each piece a unique work of art.
Made from all-natural materials like granite, marble, or travertine, the structure can withstand high traffic usage while maintaining its aesthetically pleasing look.
Integrating a stone basin also helps to bring an earthy, organic touch to the space, giving off a soothing, spa-like ambience.
Remember, it's crucial to pair it with a simple, minimalist faucet to let the stone be the star of the show.
Cleaning is relatively easy too – a mild, non-abrasive cleaner is all you need to keep it looking sparkling and new.
An added advantage? Its robust nature increases the bathroom's overall value, making it a smart, long-term investment.
Pallet Wood Wall Decor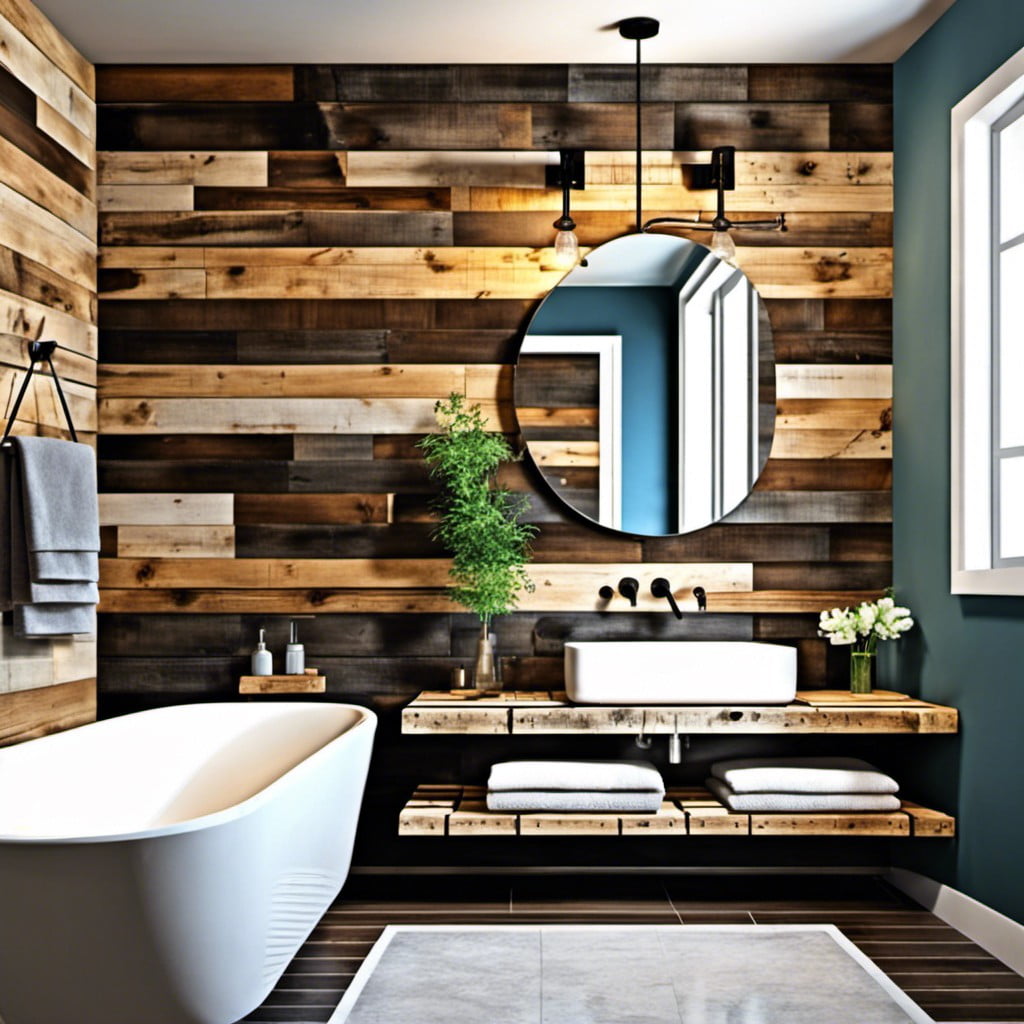 Starting with reclaimed pallets, you can create a warm and inviting aesthetic. Follow these simple steps:
1. Measure the wall area you want to cover and calculate how many pallets you'll need.
2. Disassemble the pallets, carefully separating wooden planks. Remember to check for rusty nails or staples.
3. Sand each piece to remove rough edges.
4. Apply a wood stain or leave the planks raw, depending on the look you're striving for.
5. Finally, screw or nail the boards onto the wall, ensuring to stagger where the ends meet for a cohesive and natural look.
Additional embellishments like vintage signs, wrought iron hooks, or even a distressed wood mirror can further enhance the primitive look authentically. The bold grain of the wood also adds a pleasingly rustic texture that further emphasizes the primitive theme.
Rough-hewn Timber Vanity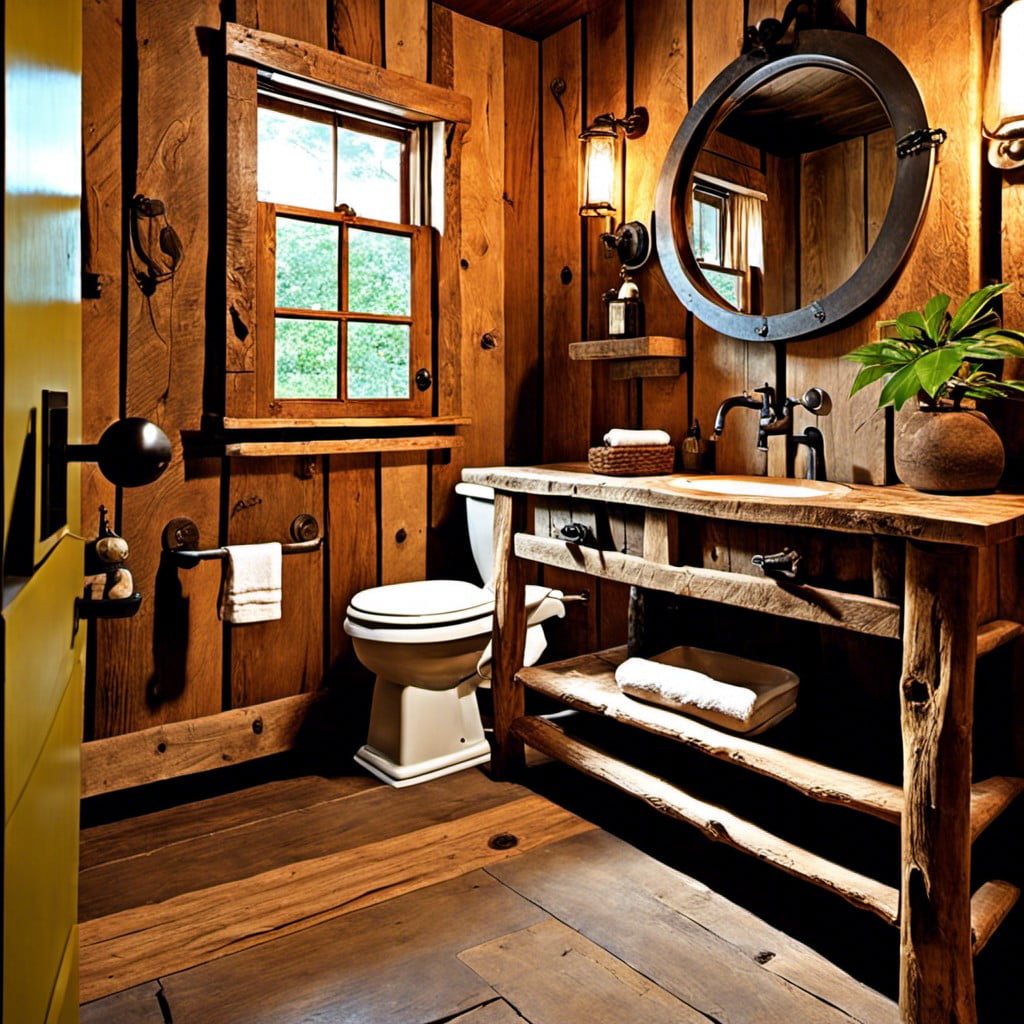 Choosing a timber vanity isn't only about tapping into the rustic aesthetic. It's about embracing the charm of natural elements and integrating an authentic piece into your bathroom decor. This one-of-a-kind furniture piece carries a unique allure with its grain patterns and hand-carved features. The rough hewn finish will subtly reflect your lighting, adding a warm glow to your bathroom.
When selecting your vanity, consider the following elements:
Grain and Color: Each piece of wood carries its unique pattern and hue. Choose one that aligns with the color palette of your bathroom.
Size and Shape: Depending on your bathroom size, select a vanity that complements the available space. The shape should easily integrate into your existing decor.
Storage: Timber vanities often come in different configurations. Some offering drawers, others cabinets, while few may provide open shelving for showcasing decorative items.
Sink Compatibility: Make sure the vanity is compatible with your sink type. Whether it's an under-mount, countertop, or vessel sink.
Finish: Look for a vanity with a water-resistant finish to withstand the humid conditions of the bathroom.
Remember, a timber vanity isn't just a functional piece—it's also a statement. It will serve as a focal point, adding depth and contrast to your bathroom design.
Iron-cast Light Fixtures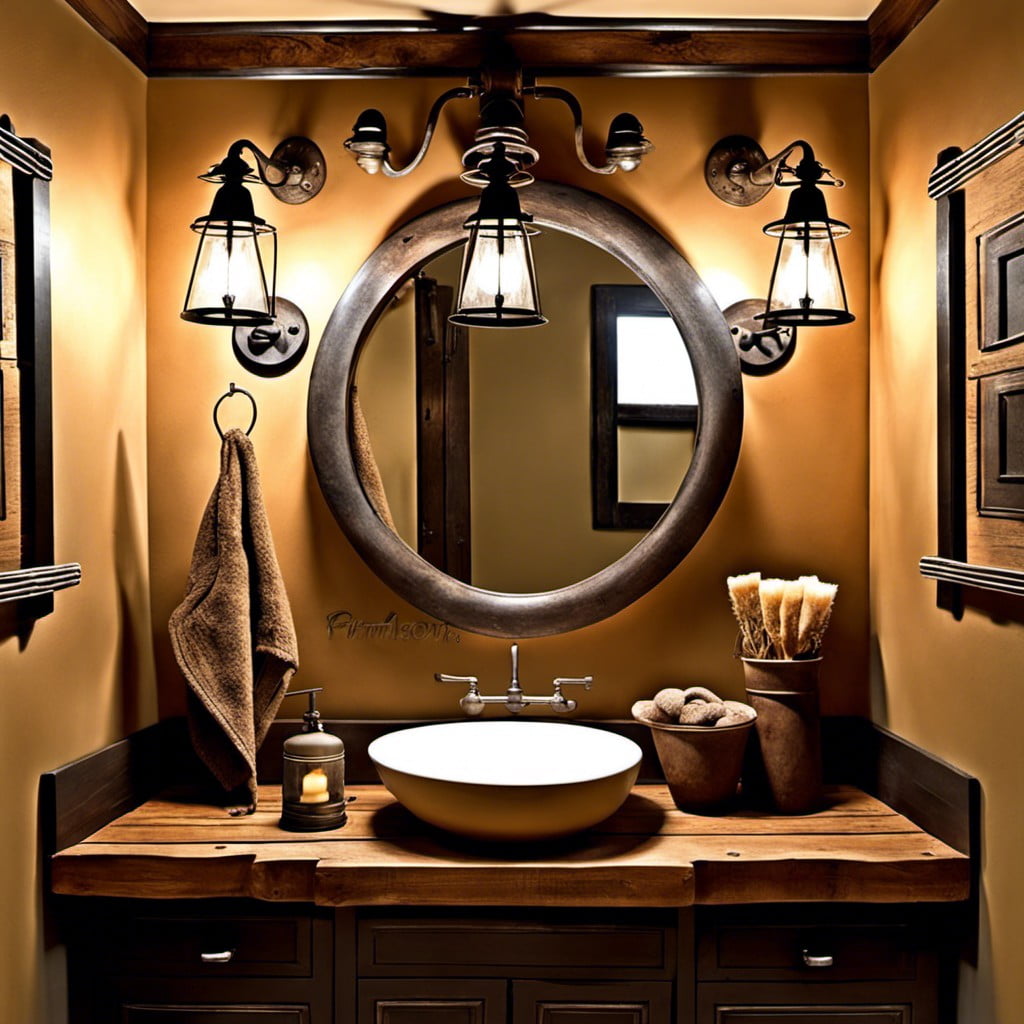 Enhancing the charm of your bathroom with the raw, unfinished industrial allure of iron-cast light fixtures is a great choice. These never go out of style and are perfect for a primitive themed bathroom. Designed to last, they offer a robust and resilient option. Here's why they are the perfect choice:
1. Lofty Ambiance: The sturdy materials, dark finishes, and bold design lend an air of sturdy simplicity that sets a rustic tone.
2. Durability: Iron is hard-wearing and resilient, ensuring your light fixtures stand the test of time, adding to their antique appeal.
3. Versatility: Ability to suit both exposed bulb designs for a true vintage look or paired with frosted glass for a softer glow.
4. Easy Installation: They can be simply wall mounted or hung from the ceiling, providing flexibility to your design.
Choosing iron-cast light fixtures allows for both functionality and style, adding character and warmth to your bathroom.
Barnwood Shelves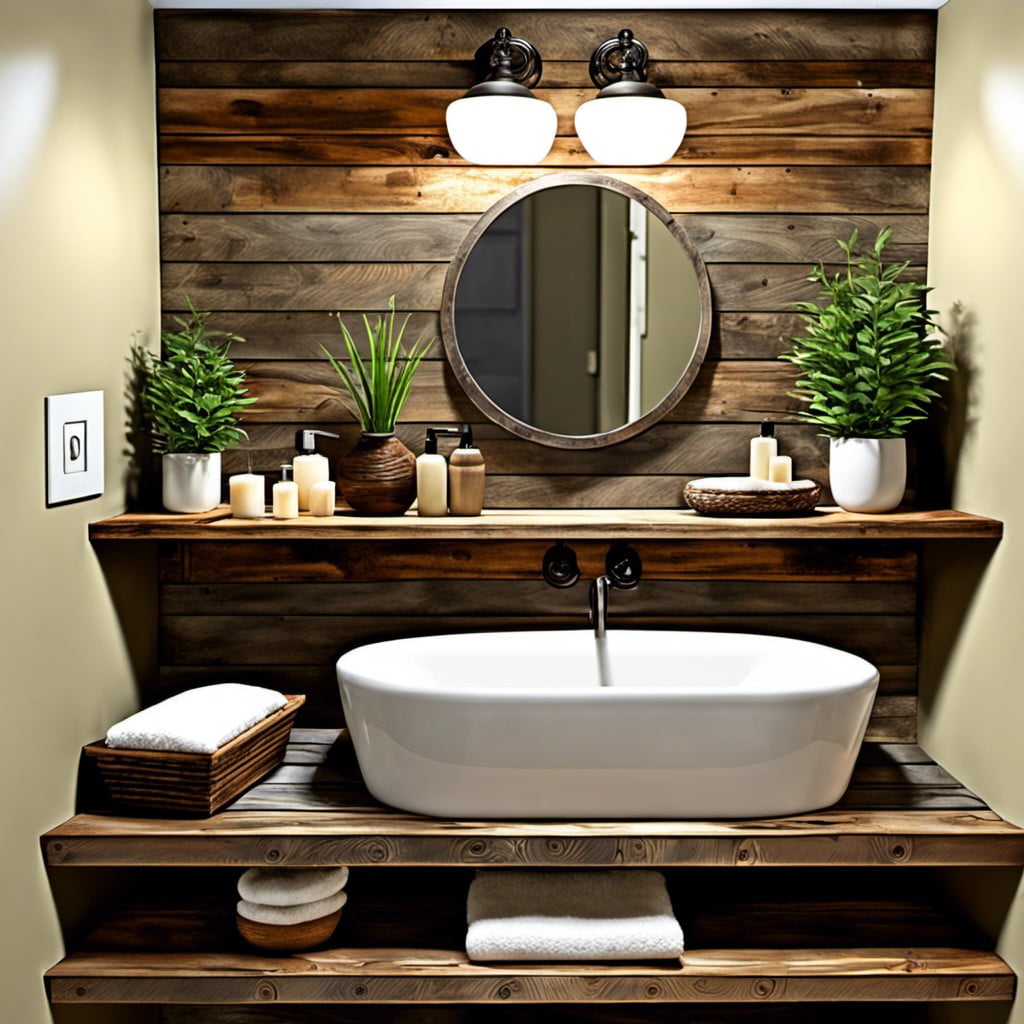 The beauty of these shelves is found in their varying shades, nail holes, saw marks, and time-worn edges, all of which contribute to their one-of-a-kind appeal.
Just remember, it's not about perfection. Uneven planks, differing lengths, or contrasting stains can enhance the overall primitive aesthetic.
When deciding what to display on your Barnwood shelves, consider the color and texture of the objects. A simple jug, woven baskets, or steel enamelware would do beautifully.
This should serve as functional decoration, adding style and providing extra storage for your bathroom essentials.
One final tip: the more natural, the better. Let the wood's raw character shine through, no need for a gloss finish. Instead, opt for a light touch of oil or wax to preserve its authentic feel.
It's all about balancing function with aesthetics to create a unique and charming bathroom.
Burlap Shower Curtains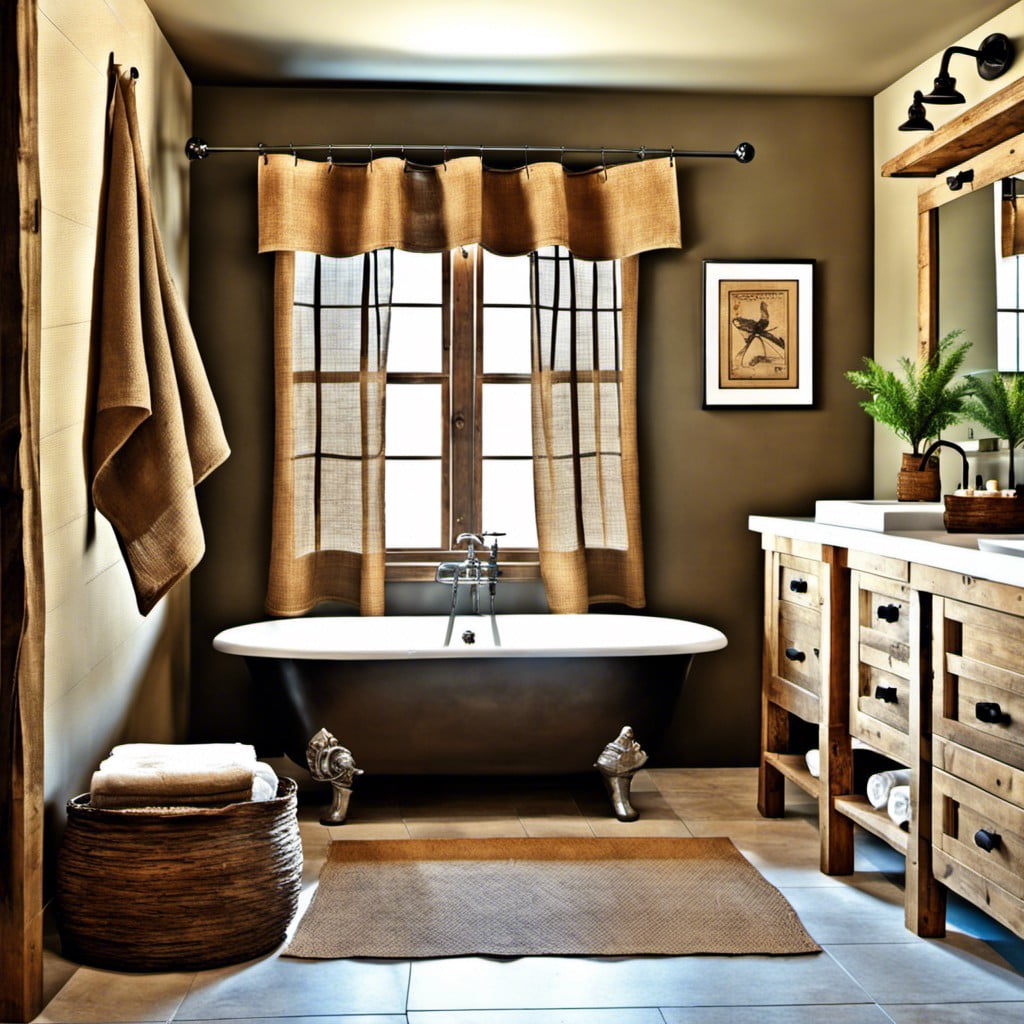 They might not be the first thought when considering bathroom materials, but burlap shower curtains provide a unique charm. Their earthy, raw fibers seamlessly blend with the primitive bathroom theme. Unlike synthetic materials, burlap is environmentally friendly, inherently supporting nature-centric design principles.
In addition to their eco-friendly nature, burlap shower curtains offer functional flexibility. Easily manipulated and draped, they offer privacy when required and can be conveniently pulled aside to showcase other bathroom features.
From a care perspective, they can be washed at home – a convenient way to maintain hygiene standards. Play with the texture of burlap, layering where necessary to create a more private or open space depending on your preference. But remember, with burlap, ensure that it is far enough from water sources to avoid mildew buildup.
In accessories, mix and match with brass or weathered metal curtain rings to add a touch of vintage appeal. Complementing it with a rustic shower mat made of teak or bamboo can provide a visual and tactile contrast that highlights the curtain's primitive appeal.
Antique Ladder Towel Rack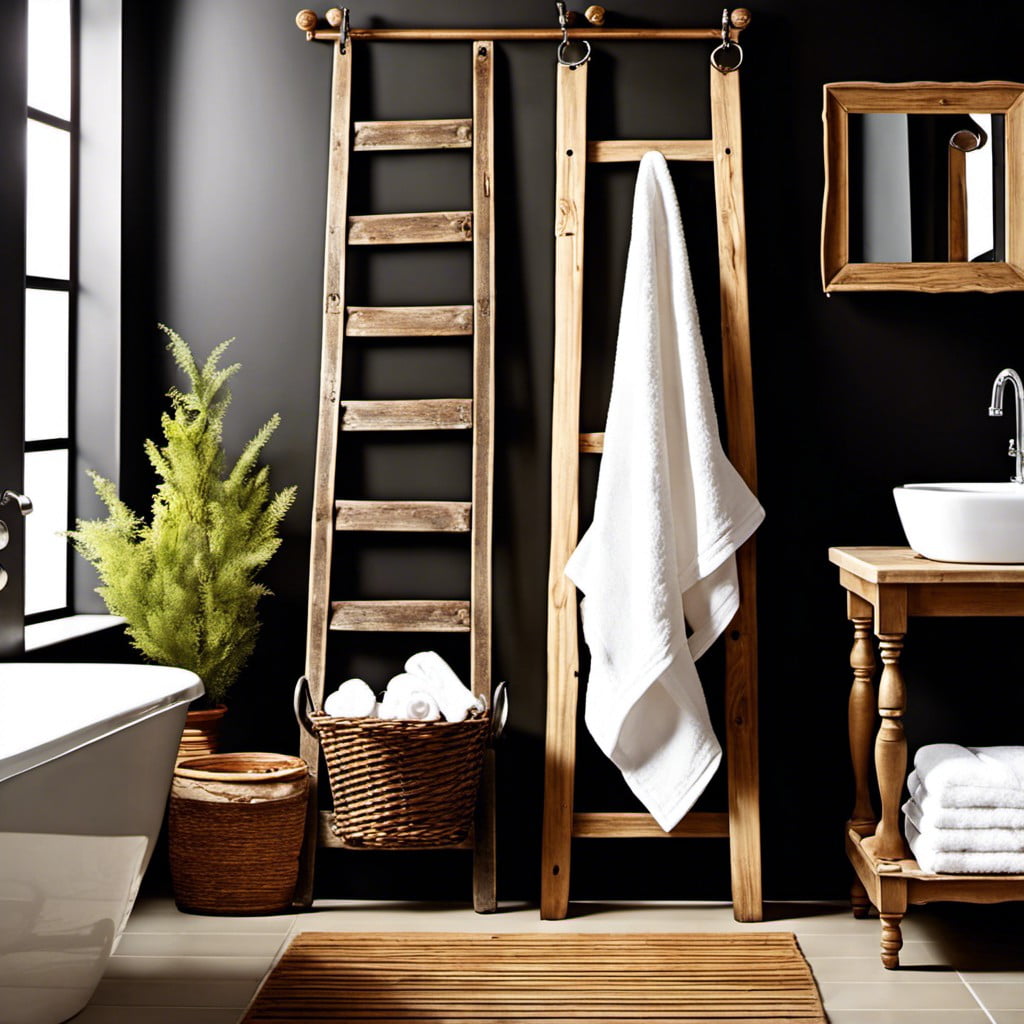 An old, weathered ladder can become more than just a step-up tool. When horizontally mounted on a bathroom wall, it serves a new purpose – a delightful towel rack. This simple idea blends functionality, charm, and a hint of nostalgia, all in one.
1. Character: Each aged scuff or mark narrates a story, bringing captivating character to the room.
2. Space-saving: It uses wall space efficiently, freeing up floor area.
3. Easy DIY: Wall brackets, a vintage wooden ladder and you're in business.
4. Customizable: Adapt the ladder size to suit your needs, even extend it for additional storage.
5. Cost-effective: A polished, new ladder can be costly, while antiqued ones often come at a bargain.
Remember, always secure it properly to the wall to ensure safety. So, with an antique ladder, change the game from mere towel storage to a decorative conversation starter.
Handmade Soap Dispense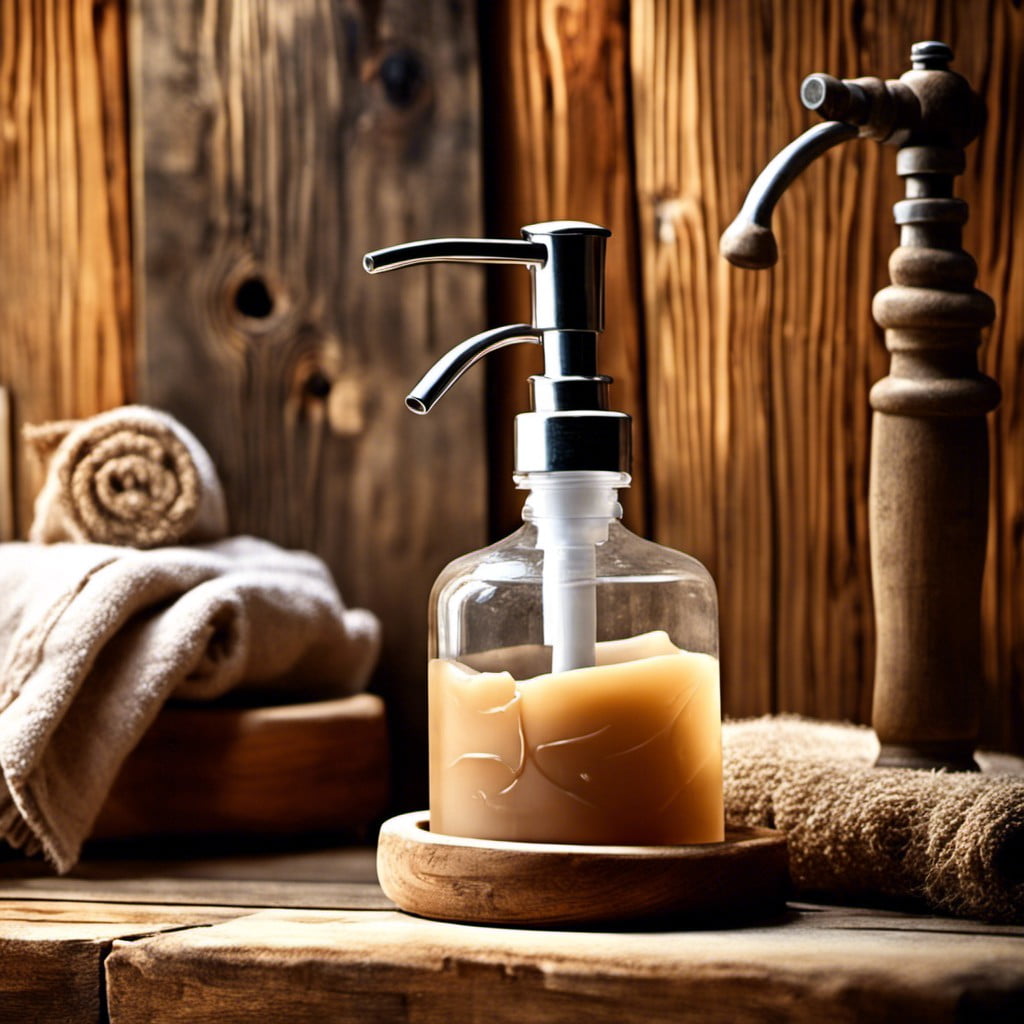 For a truly earthy feel, opt for dispensers crafted from natural materials. Think ceramic or glass with hand-carved wooden tops; not only are they aesthetically pleasing, they are also environmentally friendly.
Complement these with artisan soap, preferably organic and locally sourced. This tiny detail can seamlessly integrate nature into the bathroom, creating a calm and soothing ambiance.
Remember to maintain its primitive charm by avoiding overly modern shapes or bright, artificial colors. Let your soap dispenser tell its own story through its unique textures and understated elegance.
Rustic Brick Backsplash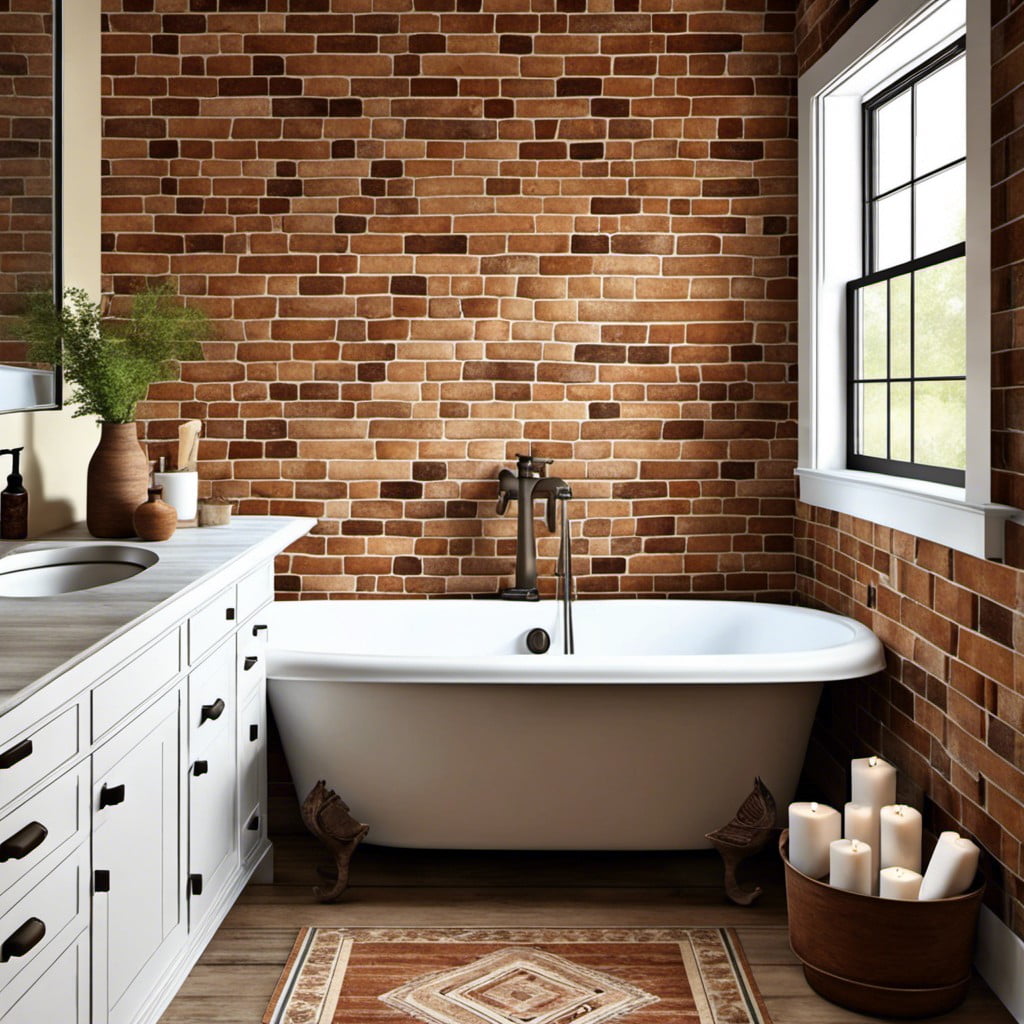 Incorporating this element adds character, texture, and warmth to your bathroom. Authentic aged bricks result in a unique look, but if that's not feasible, consider brick veneers which are thin, lightweight, and relatively easy to install.
The richness of hues from beige to burnt sienna offers a chance for a color theme. Consider accenting with rustic accessories and natural elements to enhance the look. Seal the bricks to prevent moisture absorption. Remember, style should never compromise functionality.
Remember to also add quality lighting to throw a spotlight on the rugged texture, creating a dramatic effect.
Hammered Copper Tub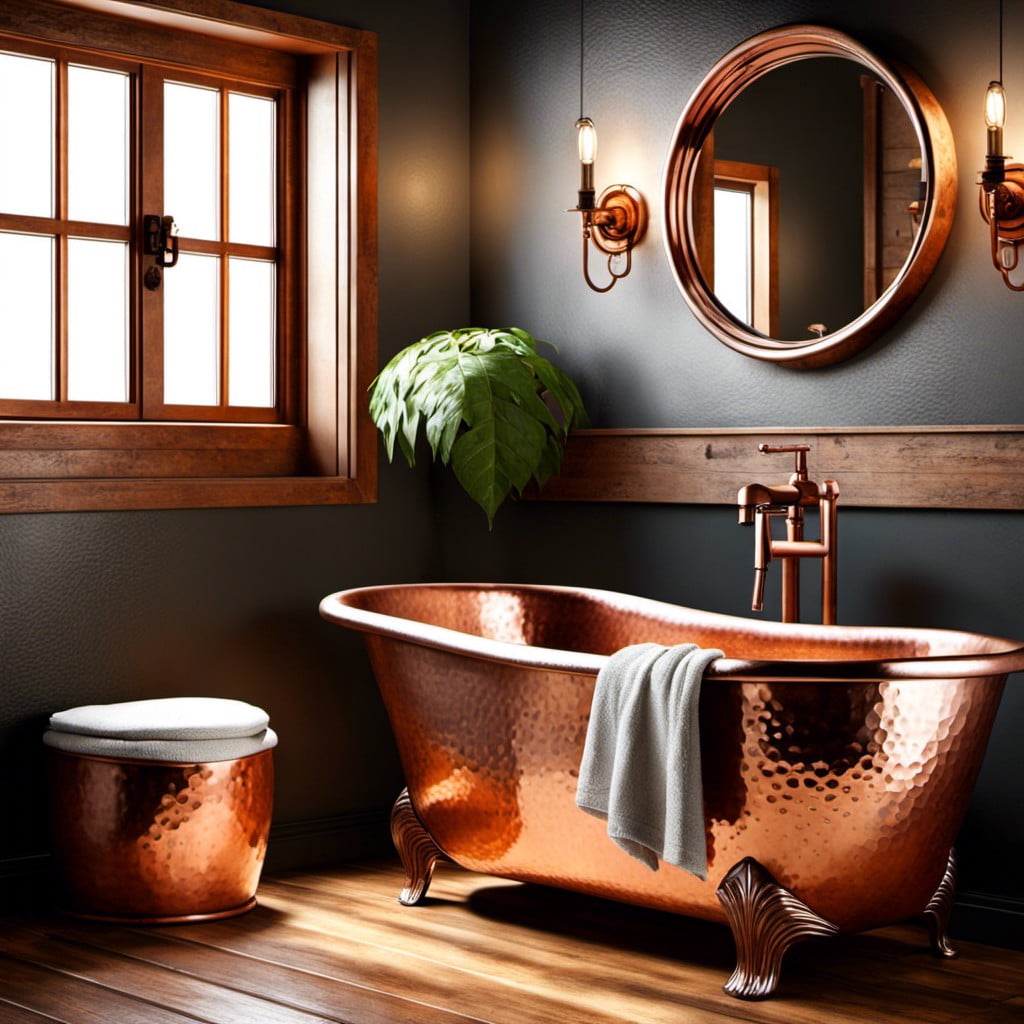 There's an undeniable allure to this particular bathroom feature. Offering a soothing respite, the rich, warm hue combines perfectly with rustic aesthetics.
Its unique, hand-beaten finish introduces an artisanal element, where finishes will vary slightly, enriching your bathroom space with an exclusive touch.
Coupled with its long-lasting durability, this tub is not just beautiful but also a sound investment, enriching your primitive bathroom for years to come.
Vintage Crates for Storage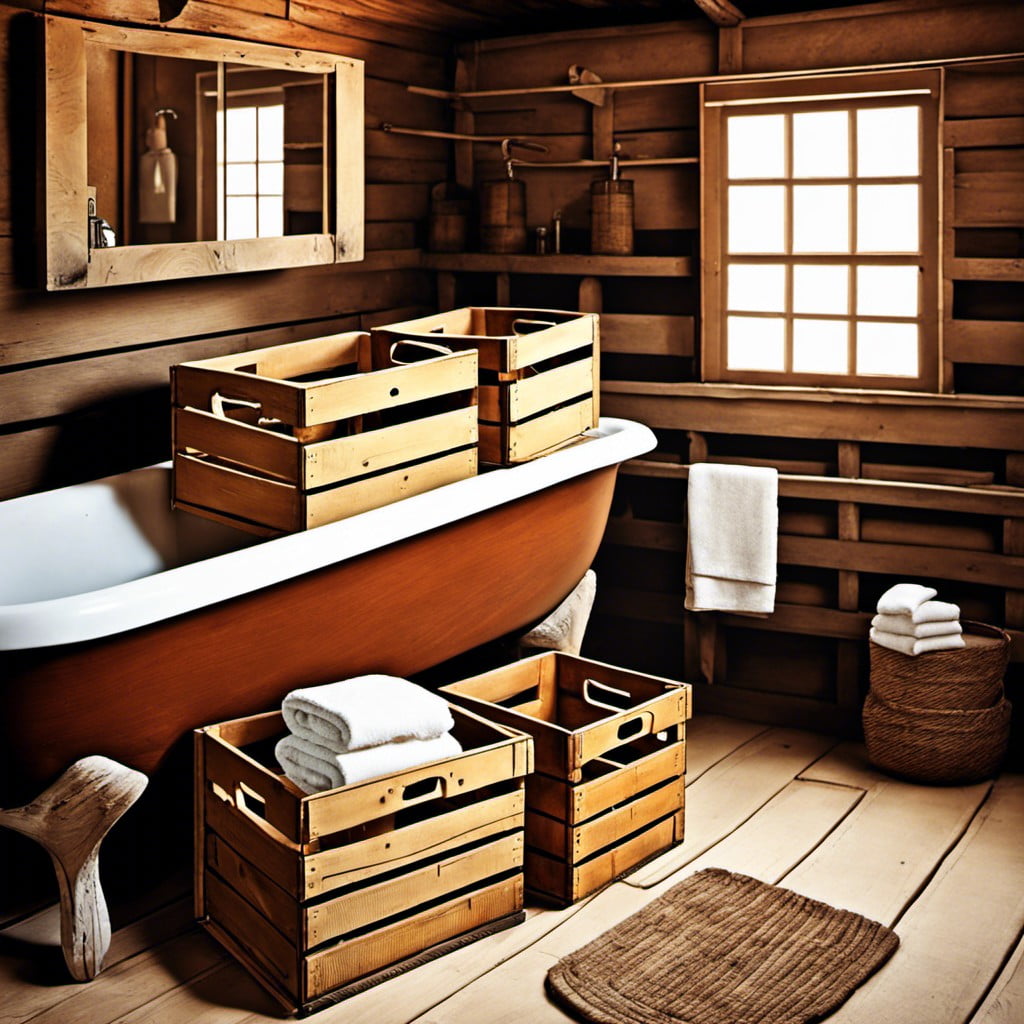 Vintage crates offer a unique storage solution that lends a warm, inviting vibe to any bathroom. They stand out with their distinctive design, yet they blend effortlessly with a primitive theme. These functional pieces also add texture and depth, instantly giving the bathroom a personality.
Key points:
Aesthetic & Practical: Available in various sizes allowing you to store anything from toiletries to towels.
Versatile: Can be stacked to create a shelving unit, affixed to walls for hanging storage, or simply placed on the floor to be utilized as under-the-sink storage.
Distinct Charm: Their weathered look and vintage appeal is perfect for enhancing the primitive theme. Add small label tags for added visual interest and to keep items organized.
Easy to Find: Flea markets, online sale pages, or antique stores often have a great selection of you to choose from. Don't hesitate to get creative with a little paint or stain to make them match your color scheme.
Remember, it's not just about adding storage to your bathroom, it's about choosing pieces that complement and enhance your overall design.
Natural Stone Floors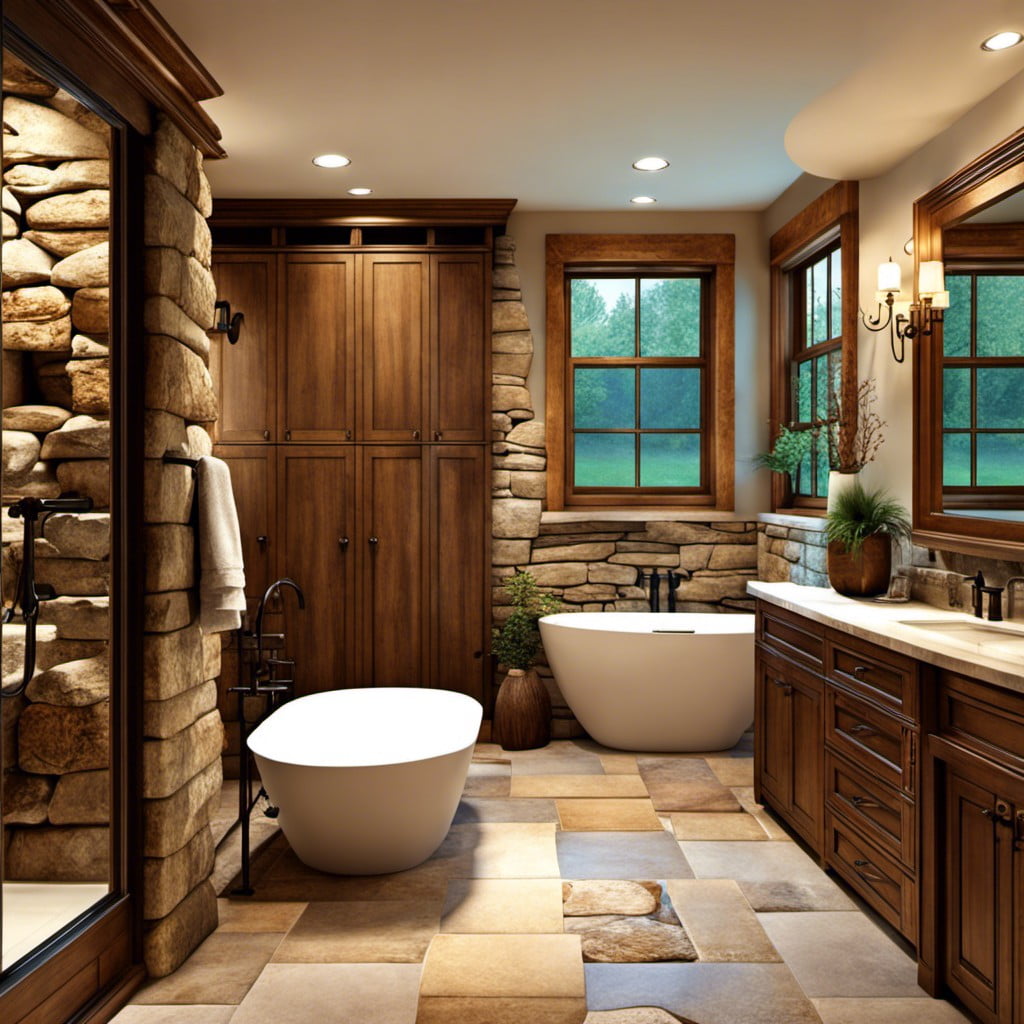 Incorporating this phenomenal element brings a potent touch of nature to your charming sanctuary. It's not only visually captivating but also incredibly durable, making it an excellent choice when longevity is considered. Imagine the cool feel underfoot on a hot day, or its raw, tactile texture welcoming you as you step out of the shower.
Stone flooring options range from granite to limestone, each offering a unique palette of colors and patterns. Sealed varieties resist water, ensuring lasting beauty. You may opt for matte to slightly glossy finishes depending on your preference.
While these floors demand a bit more in terms of installation and upkeep, the conversion of your space into a tranquil retreat seamlessly whisked from nature's bosom is certainly worth it. This, indeed, is the magic of natural stone floors.
Reclaimed Wood Mirror Frame
Adding character to any bathroom can be effortlessly achieved by incorporating a mirror frame fashioned from reclaimed wood. Its historical charm and authenticity not only uphold sustainability but also offers an antique and aged aesthetic.
Here are three primary concepts to consider:
1. Sourcing Material: Look for weathered, discarded wood, ensuring its condition is still suitable to craft into a frame. Ideal places to look might include salvage yards, old barns, or even antique stores.
2. Design: The beauty lies in its roughness. Chunky, heavy frames work well, while a more minimalist approach would involve a thinner, sleeker design.
3. Finishing: Retain the imperfections to highlight its unique personality. However, ensure it's sanded enough to prevent splinters. Apply a clear sealant to maintain its original color, or opt for a stain to darken it to your preference.
Farmhouse Faucet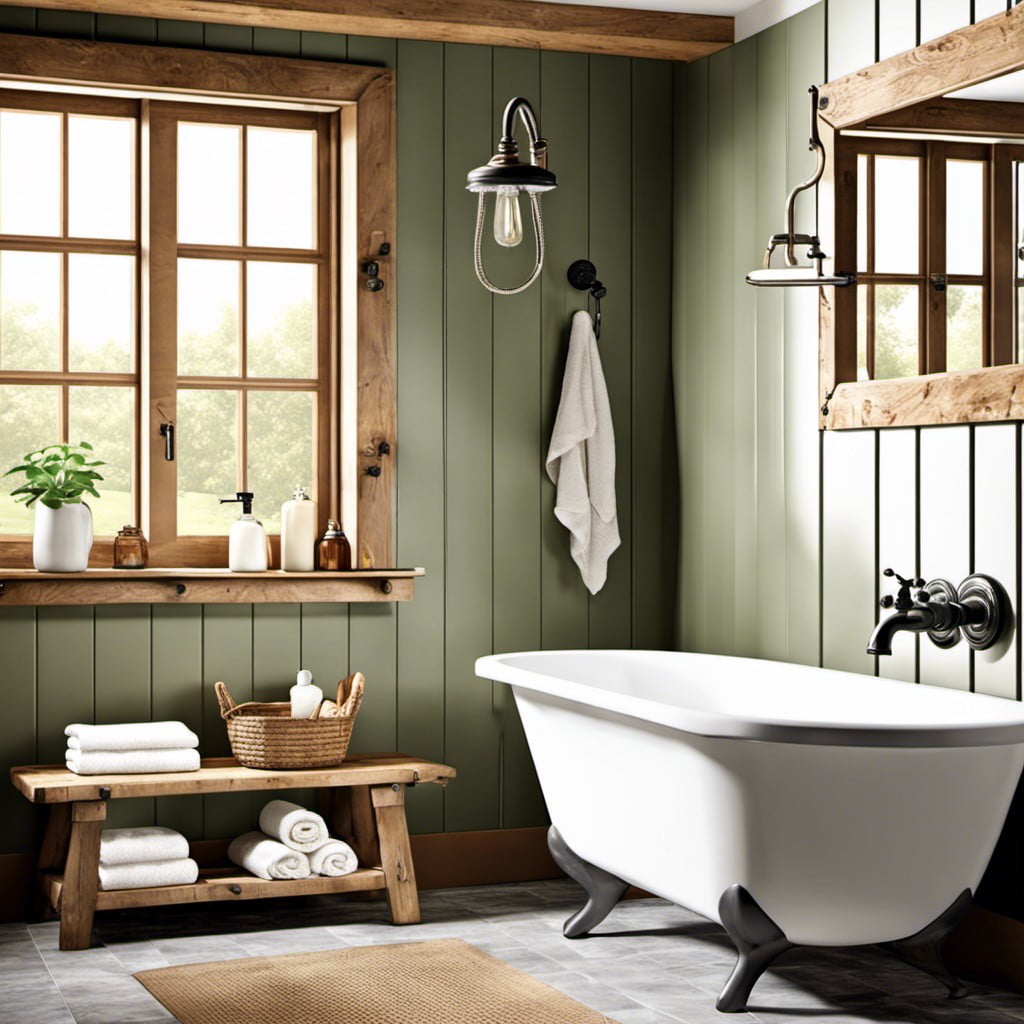 With its distinctive country-style appeal, the faucet becomes an equally important fixture not only for its functionality, but for its contribution to the overall aesthetic as well.
Traditional farmhouse designs share a common theme with vintage-style elements such as cross handles and brass materials.
Newer models, meanwhile, are a fusion of the old and new, presenting a sleeker look with smoother handles and ceramic or nickel finish.
Despite the evolution in style, they remain consistent in accomplishing the core goal: providing a charming rustic ambiance to your bathroom.
Remember, a farmhouse faucet, apart from enhancing visual appeal, need to be robust and durable.
A faucet that's crafted from solid metal ensures long-lasting performance.
As farmhouse faucets focus on recreating an antique look, consider a weathered or tarnished finish to add a touch of authenticity.
Lastly, a wall-mounted farmhouse faucet, while requiring a bit more planning and installation, can create an eye-drawing centerpiece.
Mason Jar Light Fixtures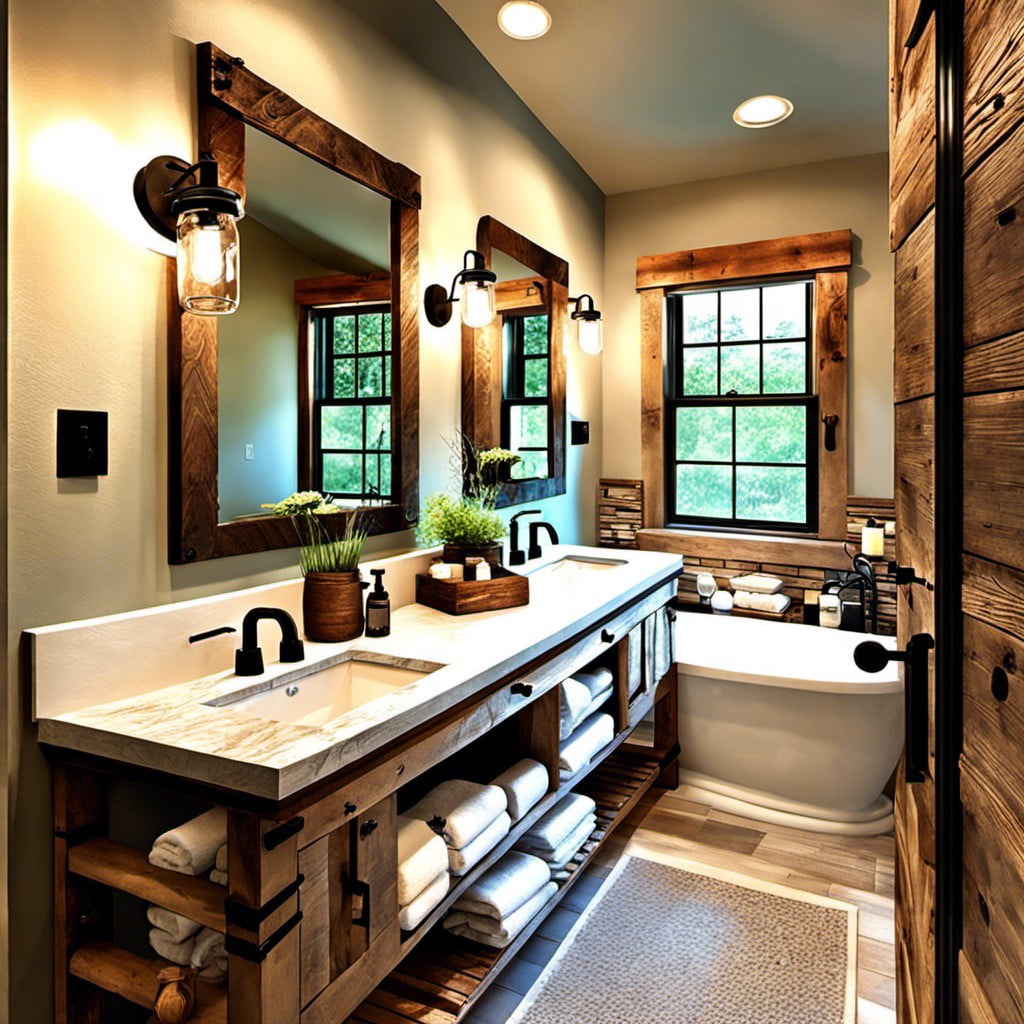 Harnessing the quaint charm of Mason jars can add an element of rustic sophistication to your bathroom. These versatile containers aren't just for preserving fruit – they can shine a light on your design sensibilities too.
Here's how:
1. Customizable: Choose from clear, tinted, frosted, or painted jars to match your decor. They can even be adorned with twine, rope, or vintage labels for added effect.
2. Easy Installation: Many DIY kits are available that contain all the necessary hardware, making it a breeze to install your Mason jar light fixture.
3. Variety of Configurations: Whether you want a single jar pendant or a multi-jar chandelier, the options are plentiful.
4. Affordable: Compared to traditional lighting fixtures, Mason jar lights are a cost-effective solution to enhance your bathroom's rustic appeal.
5. Energy Efficient: Opting for LED bulbs can reduce your energy consumption while maintaining the warm glow you're after.
So, start illuminating your primitive bathroom with the soft glow of Mason jars.
Galvanized Metal Accents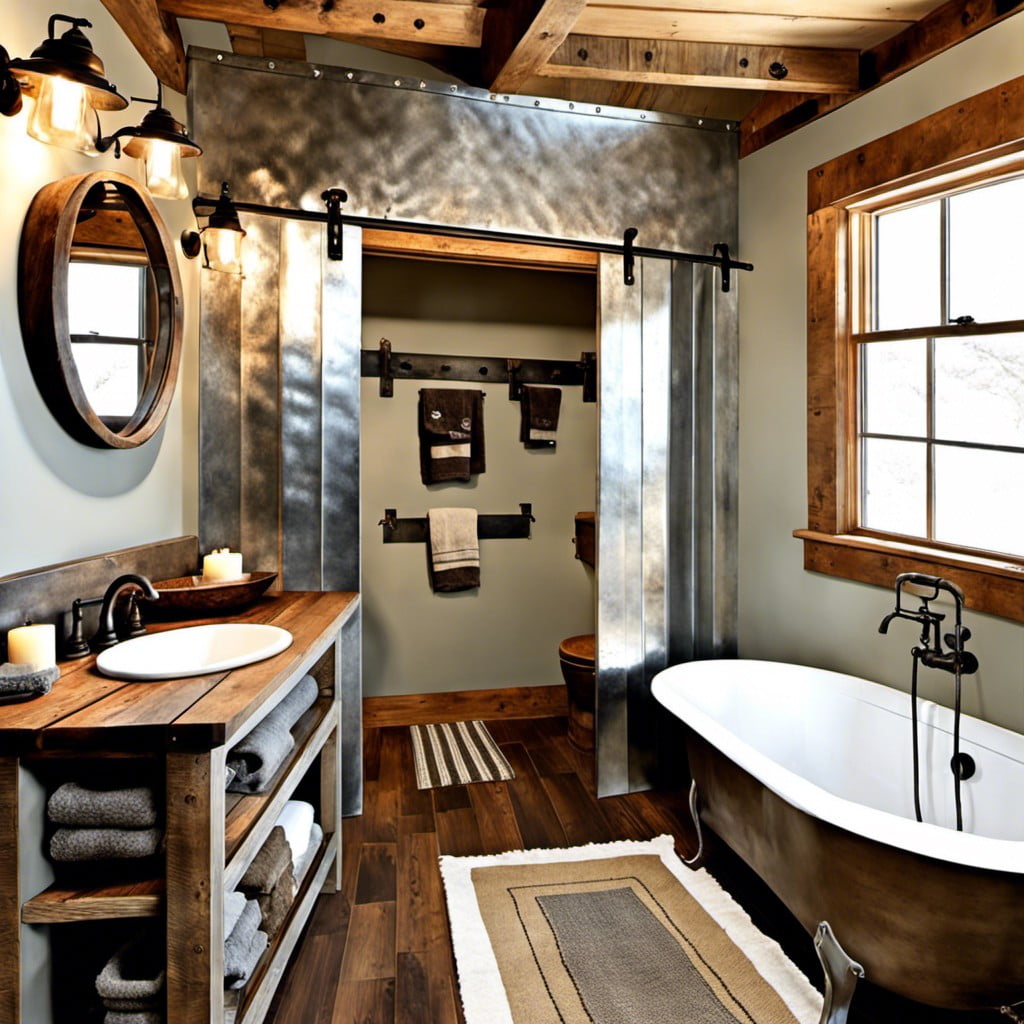 Infusing your bathroom with a burst of industrial chic, these touches create aesthetically pleasing contrasts when combined with more rugged, natural elements. Use them for a shower curtain rod, toilet paper holder, or shelf brackets. They add to the primitive look while still being incredibly functional.
For an extra dash of rustic allure, consider adding some wall decorations or hooks in this finish. Ensuring durability, they also embody the spirit of repurposed materials, keeping your decor sustainable and authentic. They are easy to introduce into the interior and often come at a reasonable price, making them a perfect way to add character to your bathroom without breaking the bank.
Tree Stump Stool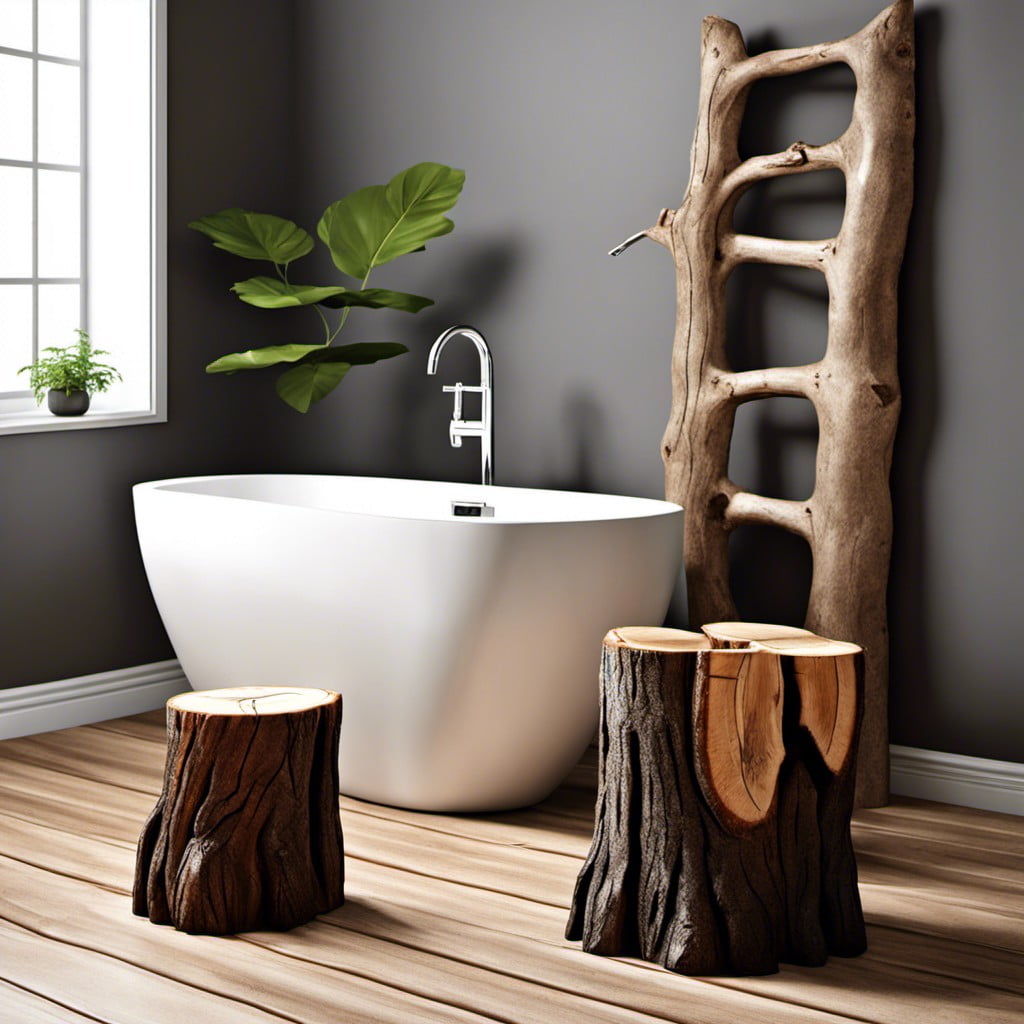 Harnessing the natural appeal of a tree stump can convert a mere bathroom accessory into a conversation piece. A thick slice of oak, maple, or birch can be carefully sandpapered and sealed with a protective clear varnish to create a charming, robust stool.
This piece brings a touch of outdoorsy whimsy while functioning as a seat or a stand for towels, books, or plants. Keep in mind, choosing the right size is crucial for maintaining balance and space. Apply anti-slip pads underneath to prevent movement and ensure safety.
With the right stump and a bit of effort, your bathroom can boast a unique and stunning accent, imbued with the spirit of nature.
Clawfoot Bathtub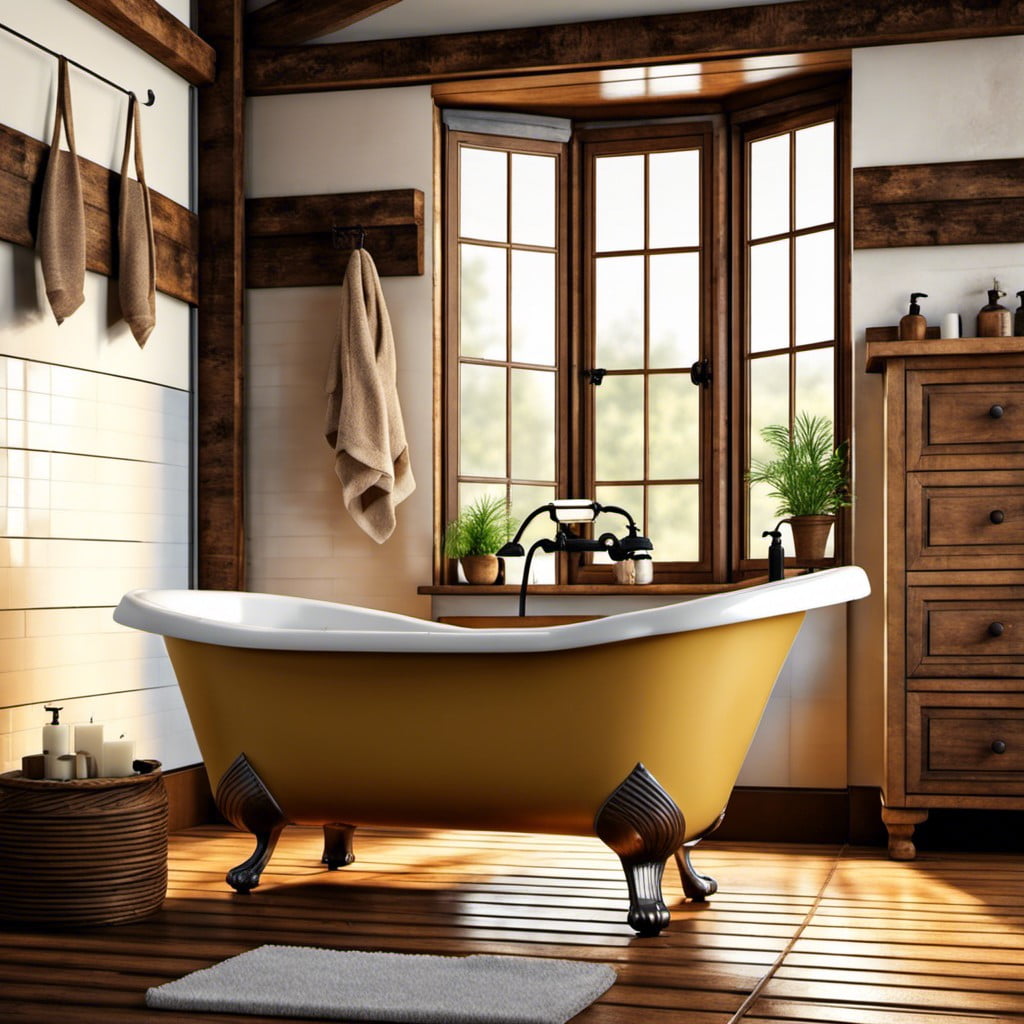 Rooted in the charm of Victorian-era design, the clawfoot bathtub serves as an elegant and timeless centerpiece. Whether refurbished or new, its presence in your bathroom immediately conveys an aura of sophistication and taste.
Several factors make this tub a worthwhile addition:
Appeal: Its vintage allure injects a dose of character, transforming even the simplest bathroom into a chic space.
Comfort: With its high back and deep basin, the clawfoot tub supports full-body soaking, creating an ultimate bath experience.
Versatility: Available in varied styles, from classic roll-tops to slipper baths, it aligns with personal tastes and existing interiors.
Status: Culturally, it represents a dash of luxury, elevating the overall stance of the bathroom.
Placement: Unlike built-in options, it allows flexibility in bathroom layout as it can be positioned anywhere.
Remember, though, to consider bathroom size and water capacity before investing in one, given its considerable size and heavy-duty construction.
Wooden Bucket As a Trash Can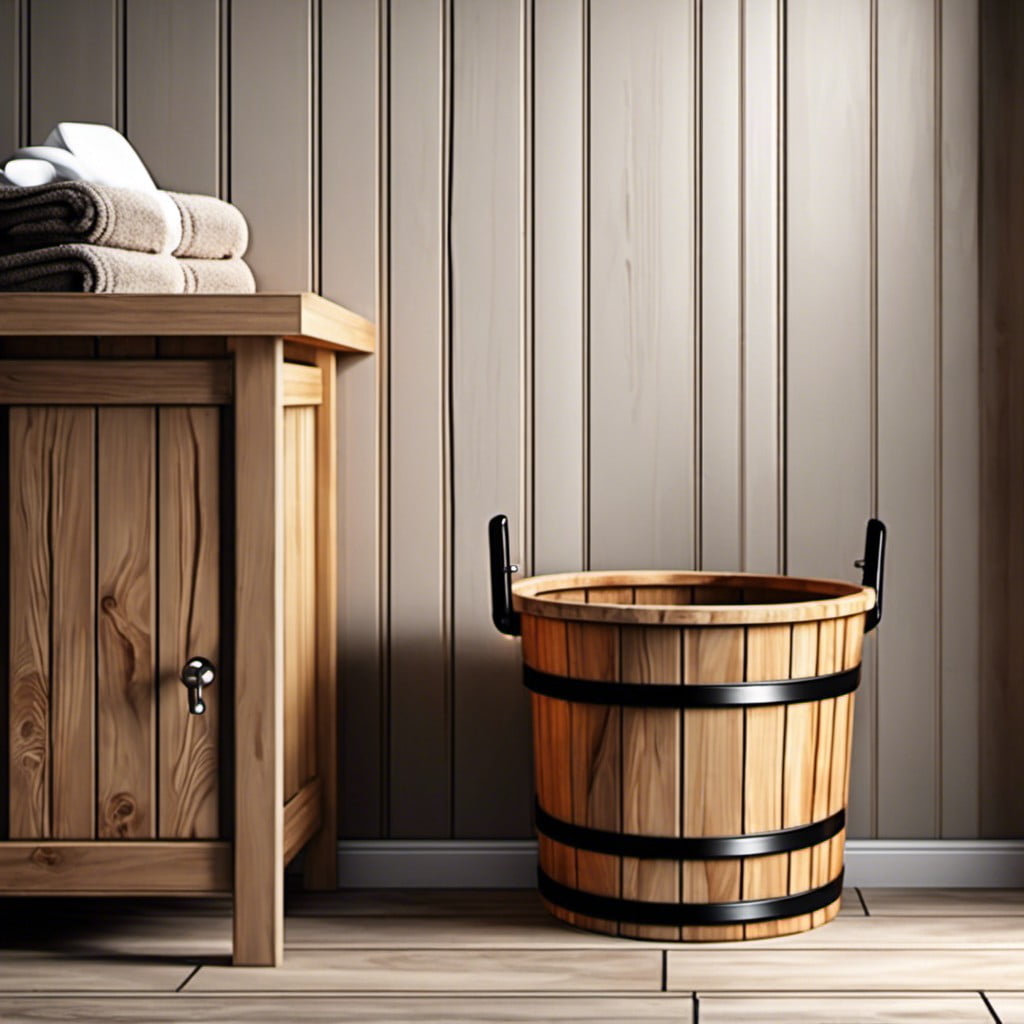 A wooden bucket offers a unique, rustic charm to the bathroom setting, acting as an efficient trash can alternative. Incorporate one with a lid to keep the unsightly waste out of view while maintaining a neat and orderly space. It's an effortless step towards creating a primitive atmosphere.
Consider adding a durable liner for easy disposal and to prevent any potential damage to the wood. With a choice of finishes and sizes, it's easy to find a wooden bucket that perfectly suits your bathroom aesthetics. Opt for darker stains to hide any potential staining or consider a lick of waterproof paint for added longevity.
Continue reading:
Recap