Last updated on November 27, 2023
Discover how the right waterproof bathroom window curtain can completely transform and safeguard your bathroom because it serves as both a striking design element and a shield against unwelcome moisture.
Looking to add a splash of style to your bathroom while maintaining functionality? Waterproof bathroom window curtains are the perfect solution!
They offer privacy, light control, and most importantly, protect your window and sill from moisture damage.
This article will guide you through a variety of waterproof bathroom window curtain ideas, from chic transparent designs to elegant patterned options.
You'll also discover the best materials for these curtains and how to care for them.
So, get ready to transform your bathroom into a stylish yet practical space with the perfect window treatment.
Frosted Glass Waterproof Curtains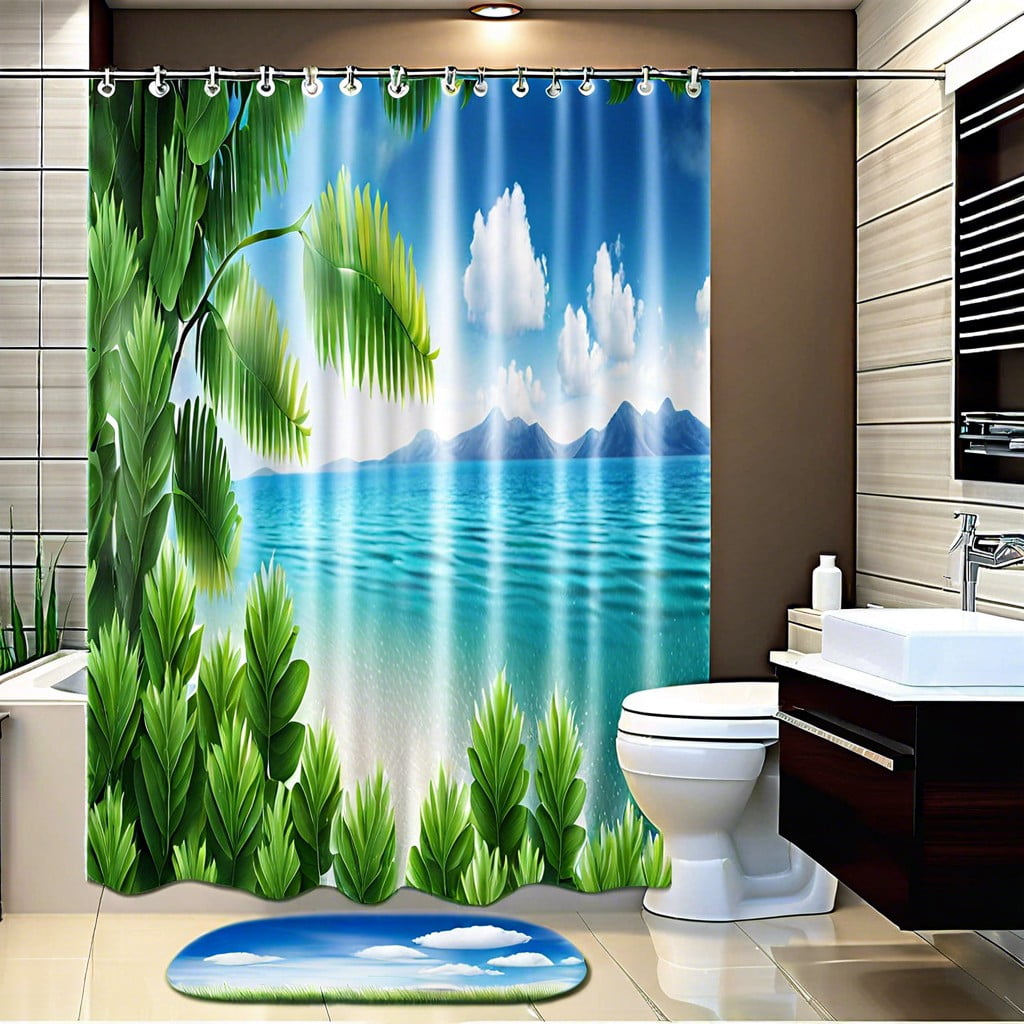 Frosted glass curtains not only provide privacy but also add a touch of elegance to any bathroom.
The frosting process gives them a waterproof feature which ensures they are not damaged by constant exposure to moisture.
They're highly versatile, catering to an array of style preferences.
You can go for a simple frosted design, geometric patterns, or choose nature-inspired motifs that can transform your bathroom into a bespoke sanctuary.
Maintaining frosted glass curtains is a breeze; a simple wipe with a clean damp cloth keeps them as good as new.
Moreover, they are resistant to mildew and mold – common issues with bathroom curtains.
Some designs even come with an anti-glare property, softening harsh sunlight and bathing your bathroom in a warm, effortless glow.
Implementing these curtains gives you a stylish solution that respects your privacy and stands up to the bathroom's wet condition.
Vinyl Roller Blinds
Ideal for bathrooms, Vinyl roller blinds are notably durable. They handle moisture excellently, and constant exposure to water will not damage them.
With an impressive range of designs from plain to patterned, you can effortlessly match your decor style. Another perk of these blinds is their low maintenance – a swipe with a damp cloth keeps them pristine and ready to guard your privacy.
Appropriate for home DIY enthusiasts, they're easy to install and replace if needed. The qualities of vinyl make these blinds a cost-effective, robust, and stylish solution for bathroom windows.
Sailcloth Shower Curtains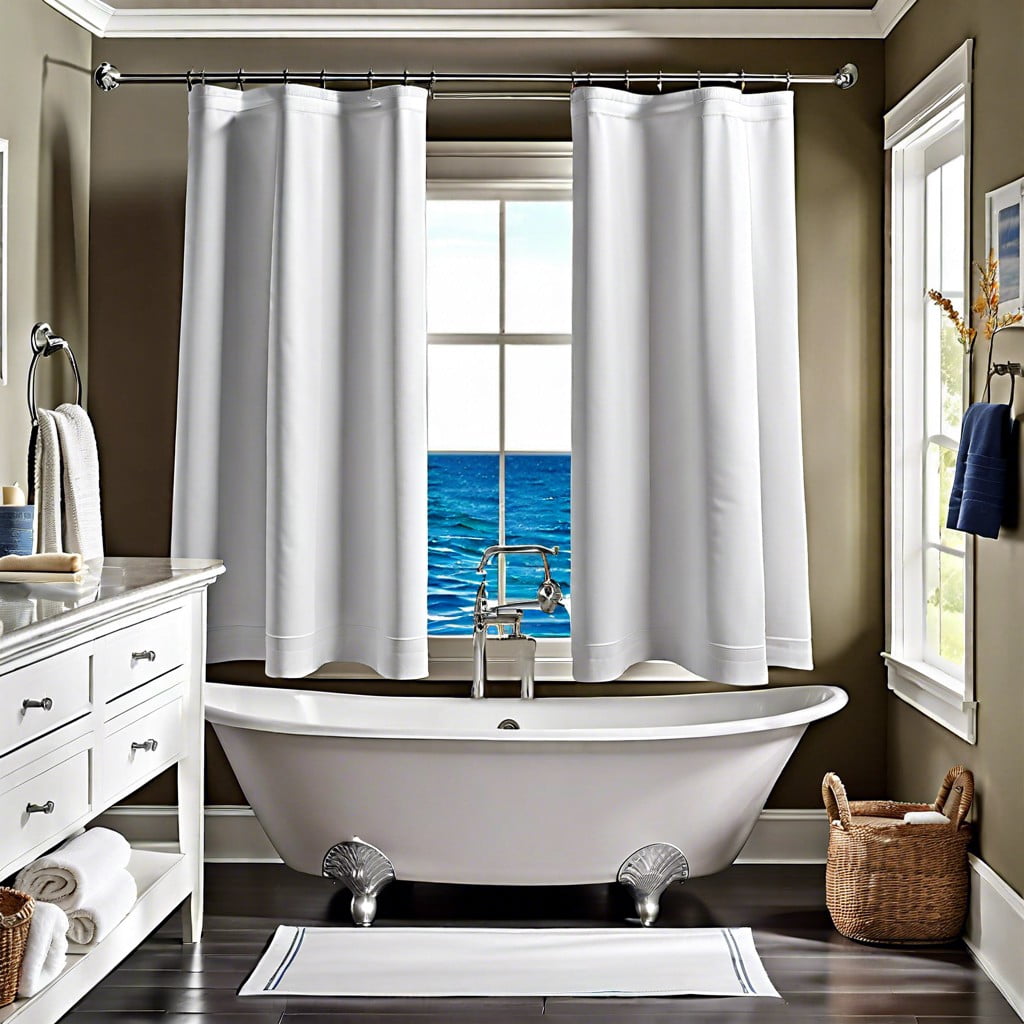 Riding the wave of fresh yet sturdy design, sailcloth shower curtains emerge as a desirable choice for the bathroom window. These sails, formerly bracing the high seas and fierce winds, now serve as a statement of style. They are designed to handle splashes of water, making them perfect for bathroom use.
Here are some concepts to appreciate about these curtains:
Durability: Unmatched strength and endurance come from the tightly woven fabric, ideal for handling the moist and demanding environment of the bathroom.
Aesthetic Appeal: Bearing nautical charm and masculine character, they add elegance without excessive grandeur.
Light Control: They effectively prevent unnecessary sunlight penetration, aiding in the retention of the bathroom's cool demeanor.
Eco-friendly: Upcycling old sails into curtains aids in waste reduction and promotes the idea of sustainable living.
Bonus? Their minimalistic design introduces an unconventional beauty that doesn't require high maintenance.
Plastic Waterproof Window Curtains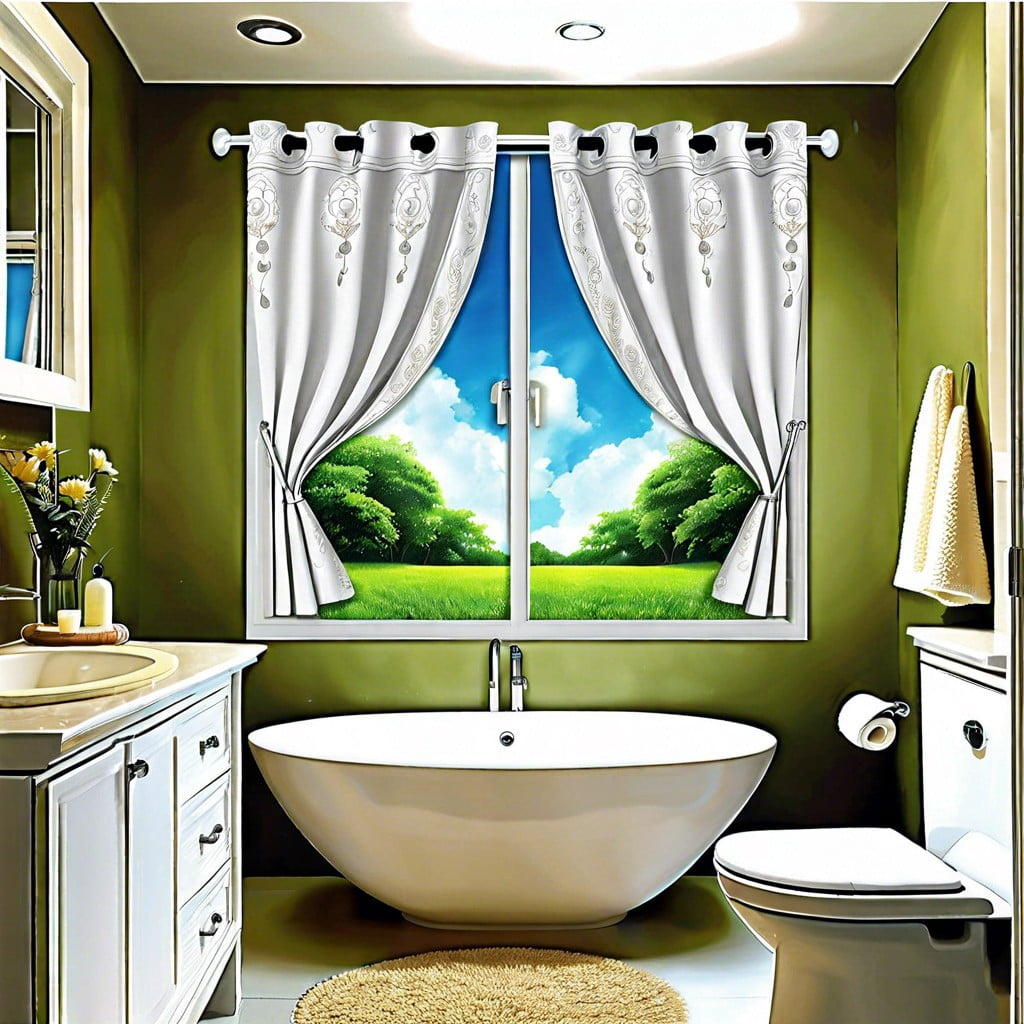 If you're in search of a budget-friendly and practical option, look no further. Plastic curtains remain a popular choice due to their high water-resistant capabilities and easy-to-clean nature.
They come in a variety of styles, from completely clear varieties that allow in plenty of light, to patterned curtains that add a fun aesthetic touch to your bathroom.
Keep in mind that they are not only affordable but amazingly durable as well. Plus, they are light-weight and easy to install, a perfect blend of function and convenience.
Remember, however, plastic curtains should be wiped down regularly to prevent soap scum or mildew buildup.
Bamboo With Waterproof Coating Shades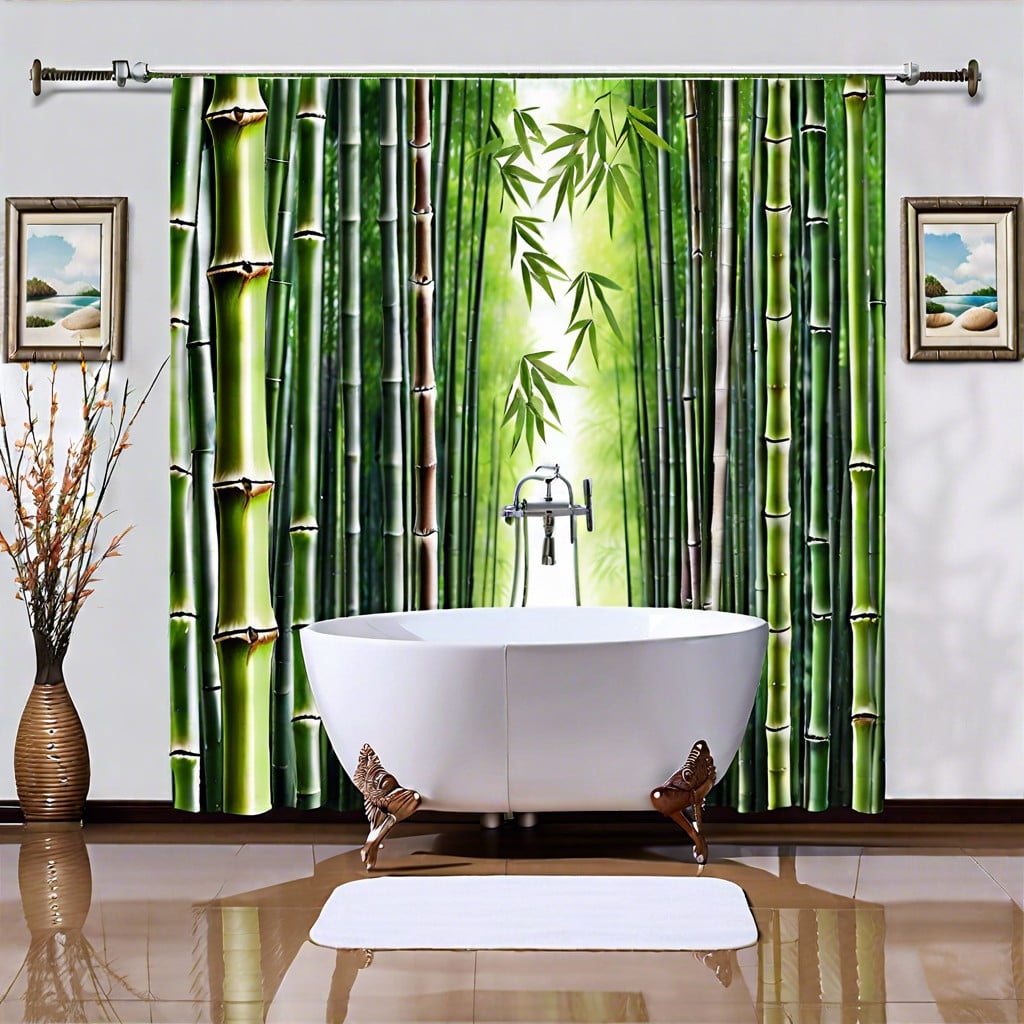 Starting with natural appeal, bamboo shades, once treated, can resist water, making them a fantastic choice for your bathroom window. Their organic design effortlessly blends with any decor style, offering a touch of earthiness.
Partnering function with aesthetics, these shades block out unwanted views without compromising on natural light. Just remember, though water-resistant, bamboo is not thoroughly waterproof, so avoid direct contact with water. That said, you can comfortably use them in well-ventilated bathrooms with minimal dampness.
Let's not forget how low-maintenance they are – simply dusting them down or wiping with a damp cloth from time to time will keep them looking fresh. The varnish coating aids in better protection against humidity while enhancing the bamboo's natural charm. A win-win, wouldn't you say?
PVC Blackout Curtains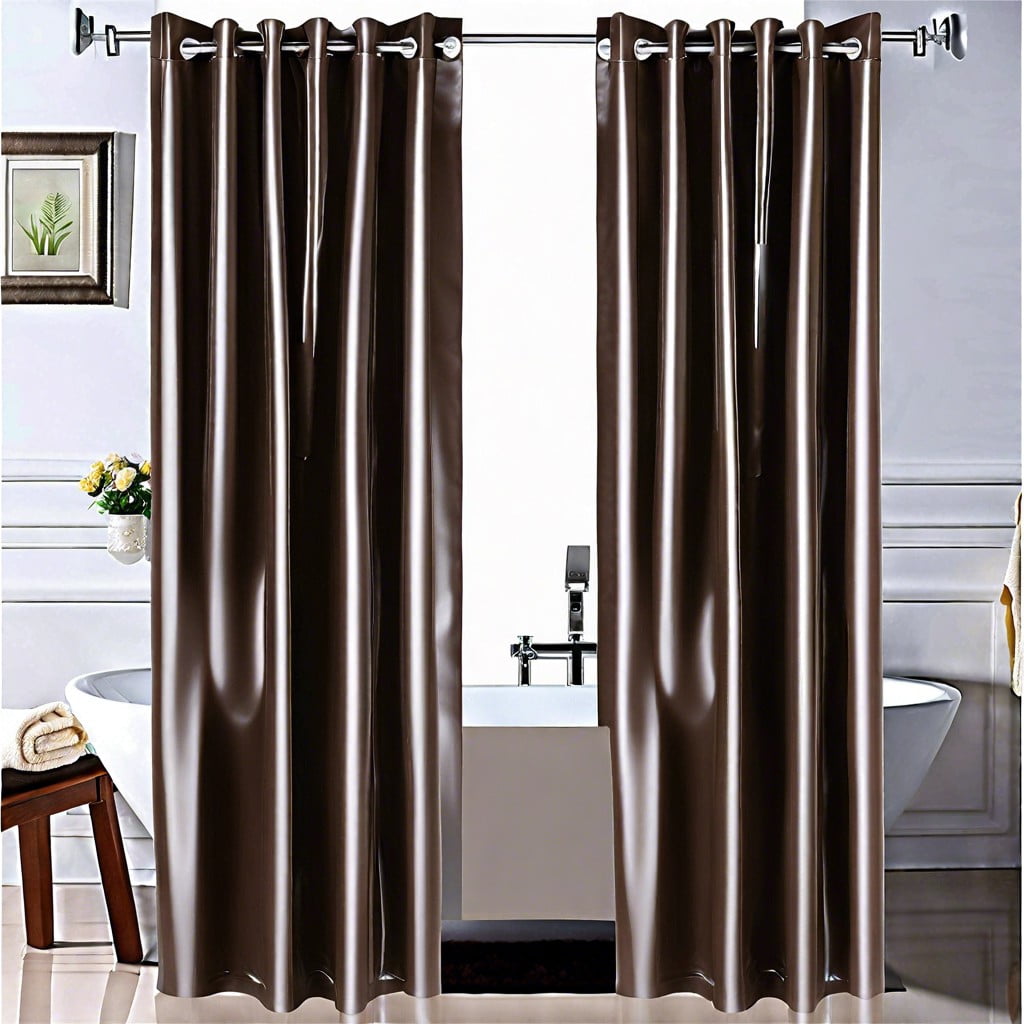 PVC blackout curtains are an efficient solution both for battling exposure to water and limiting light penetration. These curtains, made from high-quality polyvinic chloride, resist the effects of moisture effectively, ensuring longevity, while providing an undisturbed bathing experience by blocking out a significant amount of light.
Three key points to keep in mind:
Durability: Compared to other materials, PVC offers sturdy, longer-lasting performance, making these curtains a smart investment.
Light Blocking: Their blackout feature is ideal for preventing unwanted light, offering an added layer of privacy, especially important in a bathroom setting.
Easy Maintenance: A soft damp cloth will maintain the fresh look of PVC curtains, making them an appealing low-effort choice.
Remember, colors and styles fluctuate vastly, so there's no need to sacrifice aesthetic for functionality. A wide variety of designs ensures that you'll effortlessly find the perfect match for your bathroom decor.
Faux Linen Water-repellent Curtains
Water-resistant faux linen curtains combine functionality with elegance. The linen finish imparts a refined, luxurious aesthetic.
Their availability in a variety of colours and patterns ensures their compatibility with any bathroom decor.
The water-repellent characteristic is key here – no droplet can seep through.
Additionally, these curtains are easy to install, maintain, and clean.
This hassle-free solution allows you to enjoy the opulence of linen without worrying about water damage.
They strike a balance between practicality and style, making them a prime choice for a chic and functional bathroom.
Marine-themed Waterproof Curtains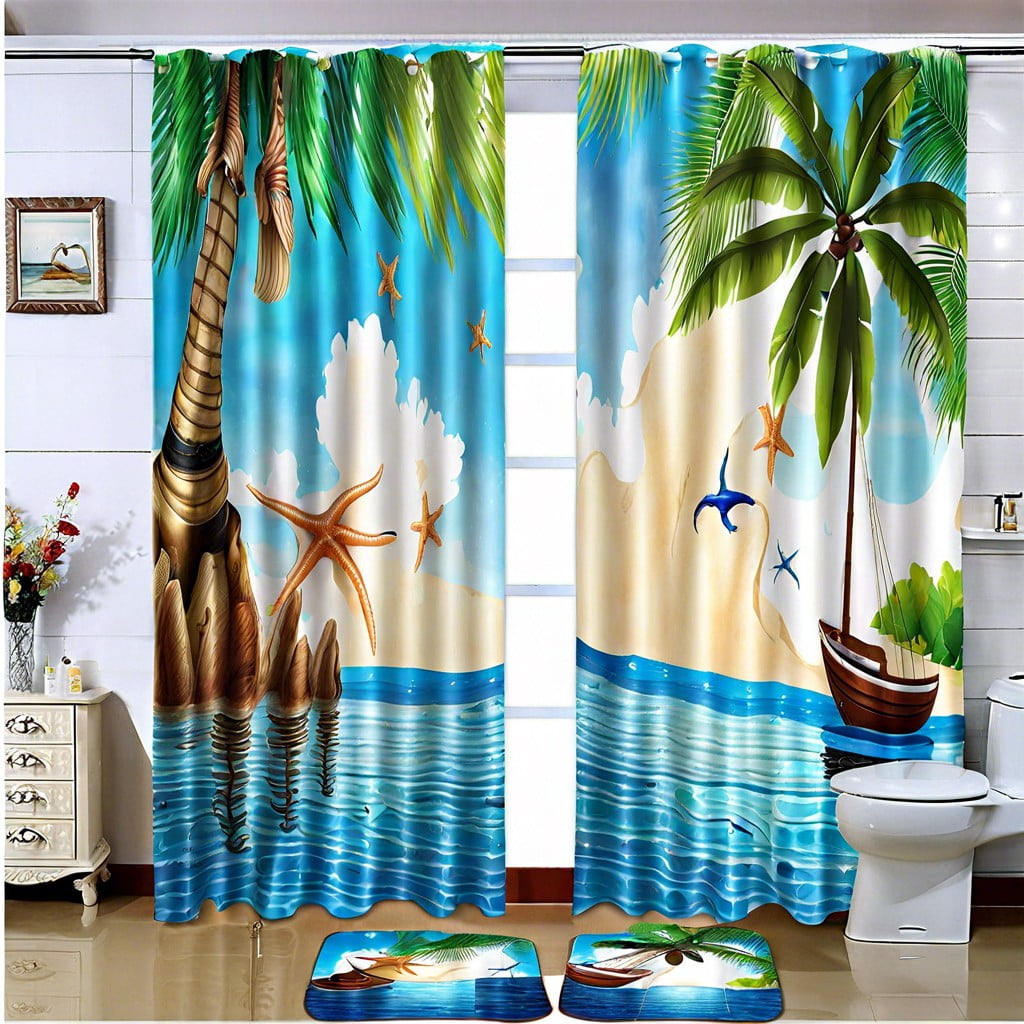 Immersing your bathroom in a nautical style can be easily achieved with this choice. These types of curtains perfectly withstand the humidity of the bathroom, thanks to their water-resistant properties. Additionally, they help to imbue the space with a relaxed oceanic vibe.
Patterns: Inspired by marine life, these come in various designs such as maritime stripes, seashells, or fish.
Material: Typically crafted from polyester, a synthetic fabric known for its high level of water resistance.
Functionality: Besides their water-repelling function, they provide privacy and can add an artistic touch to your bathroom.
Remember, the choice of your curtain style will heavily depend on the overall décor of your bathroom, so choose a pattern that complements your existing aesthetic rather than clashing with it.
Water-resistant Roman Shades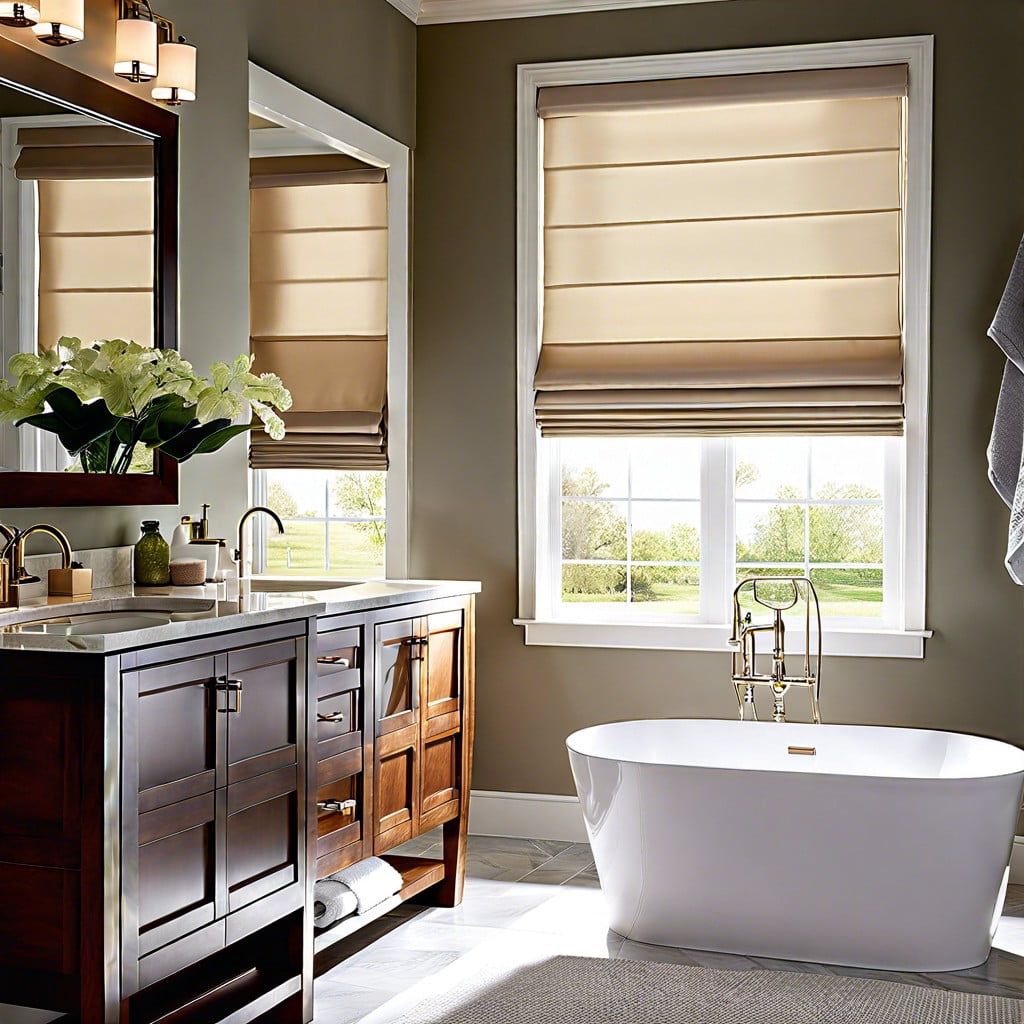 Making use of both form and function, these variations in window covering serve as both a sophisticated aesthetic feature and a practical solution for bathroom privacy.
Manufactured with water-resistant materials, they stave off condensation and dampness.
Similar to traditional roman shades, they possess the distinct ability to control natural light, which can vary from subtly diffused to complete darkness based on the design.
Available in various textures, colors, and patterns, they seamlessly blend with any bathroom decor, adding to their appeal.
Another advantage is their easy-to-clean nature, often requiring a simple wipe down for maintenance.
Furthermore, installation is often manageable without professional help.
Various online and physical retailers offer these shades, providing a range of prices to fit various budgets.
Opaque Thermal Insulated Curtains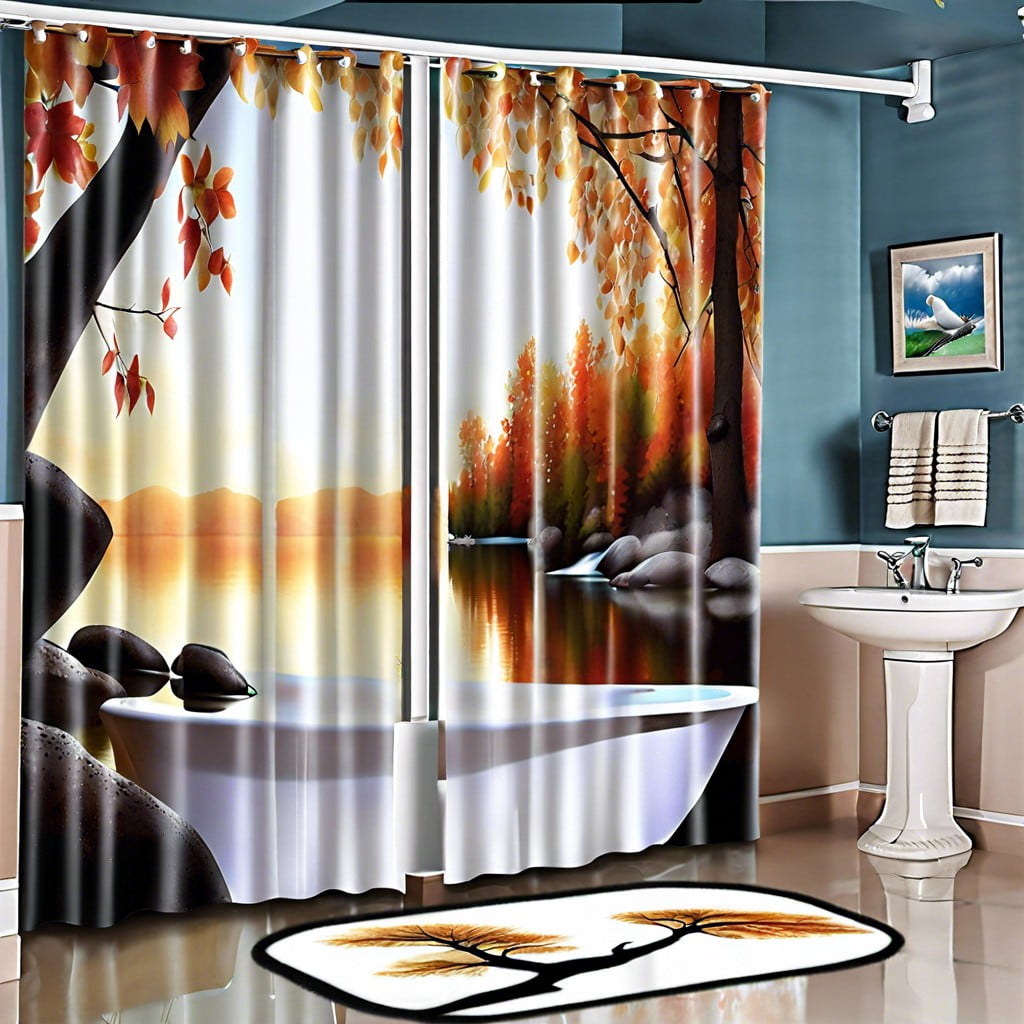 Featuring a double-sided coating, these curtains serve a dual purpose. Firstly, they block water, staying dry even in the most steam-filled bathrooms. Secondly, they contain a layer of thermal insulation, keeping your bathroom at a comfortable temperature and aiding in energy efficiency.
Installing these curtains ensures privacy due to their opaque nature. They come in a variety of colors and patterns, providing ample room for personal aesthetics. Not just utilitarian, their vibrant colors or subtle hues can add a splash of personality to your bathroom.
Importantly, these curtains, despite their sophisticated functionality, are low maintenance. Occasionally routine clean-ups will preserve their look and water-repelling qualities, keeping your bathroom window looking sleek and stylish for years to come.
Polyester Fabric Shower Window Curtain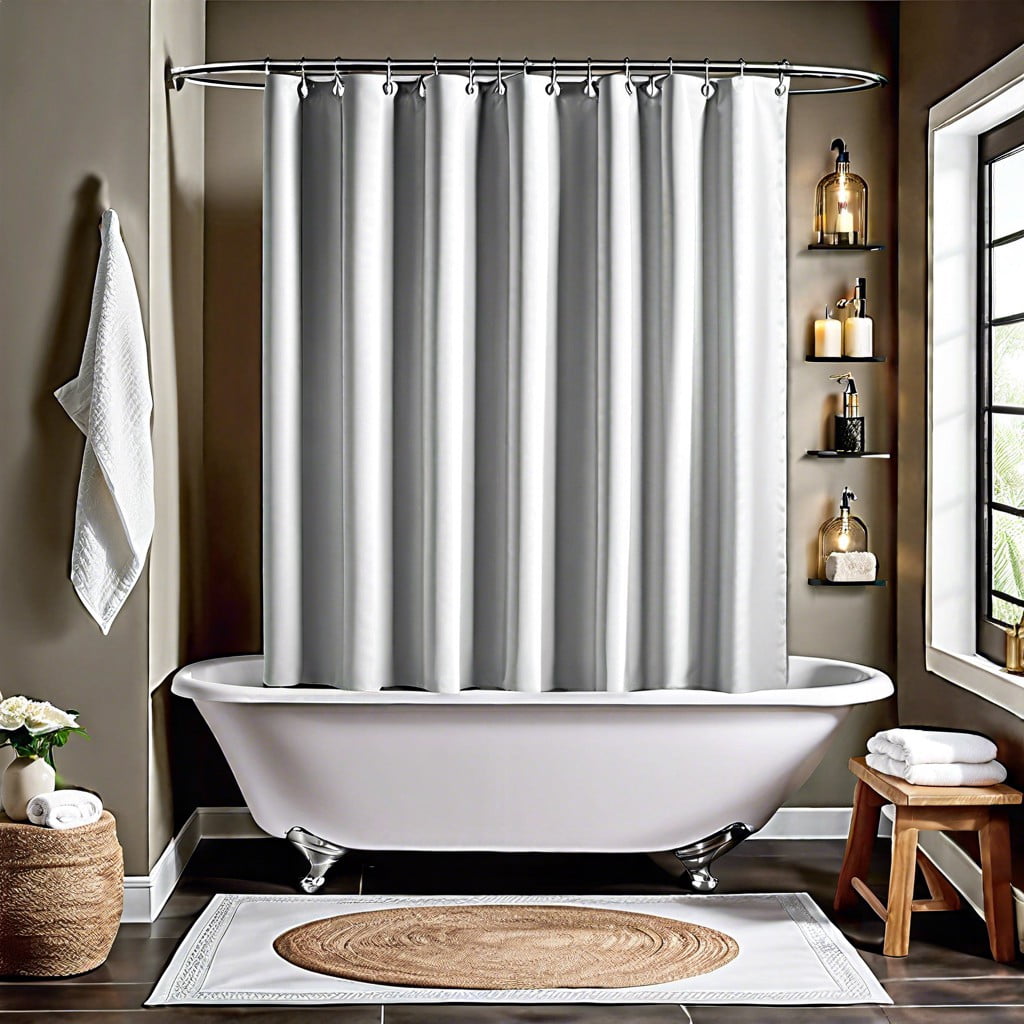 These curtains are known for their strength and durability. The fabric resists shrinking and stretching, ensuring it retains its original shape for a long time, making it a practical option for a bathroom. Additionally, polyester resists water, deterring the formation of mold and mildew.
You'll appreciate the versatility these curtains offer. Polyester is easy to dye, providing an array of color options to complement any bathroom decor. From solids to prints, the design choices are vast, enabling you to add a personal touch to the space.
One of the outstanding qualities of polyester is its easy-care nature. It's generally machine washable and can be tumble dried on a low setting. This saves you the hassle of special care instructions, making maintenance a breeze.
Don't be fooled into thinking that polyester lacks in the visual appeal section. With the option for a satin or silk finish, you can achieve a luxurious look at a fraction of the price of real silk or satin.
Remember, though, that not all polyester curtains are created equal. Check for a polyester curtain specifically designed for use in wet areas for the best results. A curtain with a waterproof liner will offer even better water resistance. You don't want to sacrifice function for style!
Treated Fabric Floral Pattern Curtains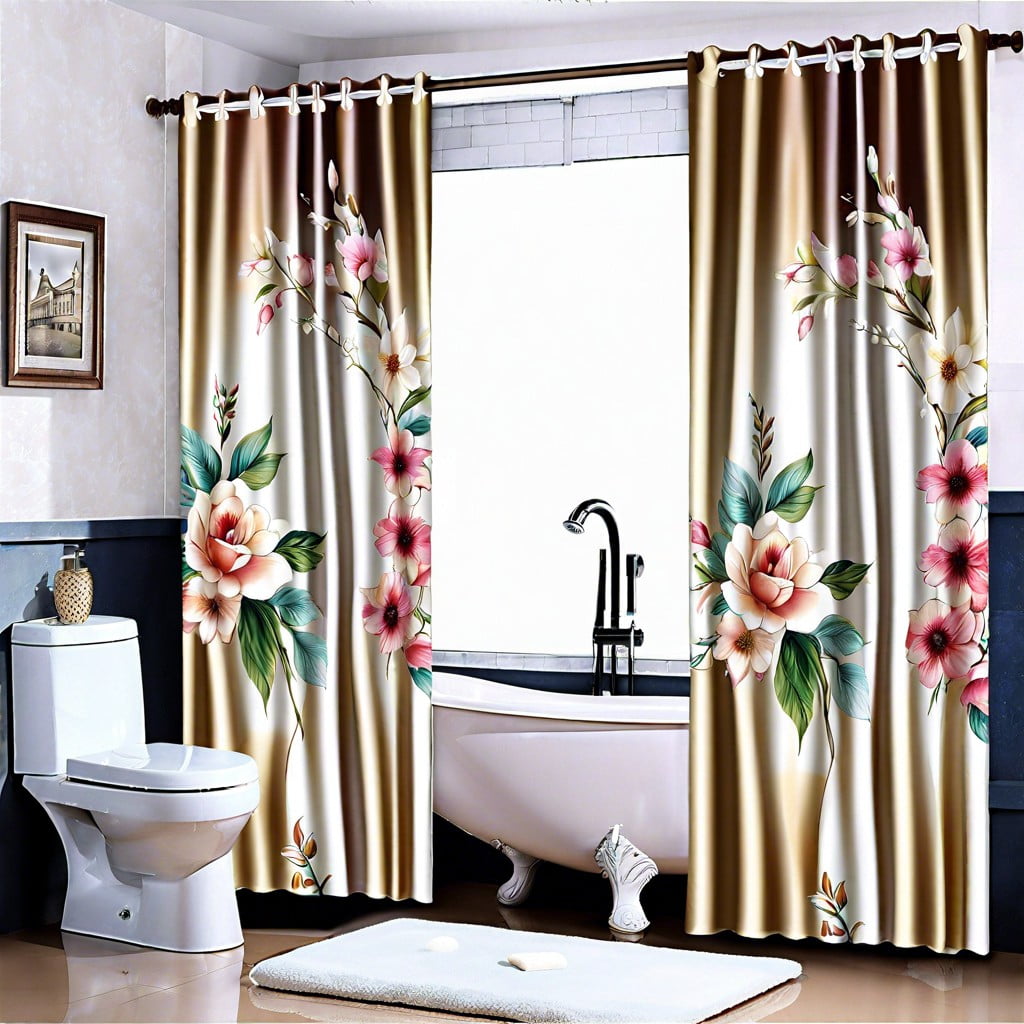 Ensuring aesthetics while providing functionality, these eye-catching curtains bring a refreshing natural design. Go for colors that complement the overall scheme of your bathroom. Ensure that the fabric has been adequately treated with waterproof substances to resist moisture build-up and mildew.
Starting with style, expressive floral patterns are a go-to choice for many. They enliven the space by injecting a burst of color, balancing the usually neutral tones of a bathroom.
In terms of practicality, the fabric's treatment keeps them fresh and new for longer. The material can withstand splashes and high humidity conditions, making it ideal for bathroom settings.
Keep your curtains clean by taking care of the simple maintenance these require. A gentle wash, mild soap, and air drying the curtains periodically will help retain their look and performance over time. Absolutely no dry cleaning or ironing required. This saves valuable time and makes these curtains a convenient choice.
Last but not least, treated fabric curtains keep sufficient light in while providing privacy. You can feel secure without sacrificing the natural illumination during the daytime.
Hookless Vinyl Bathroom Window Curtains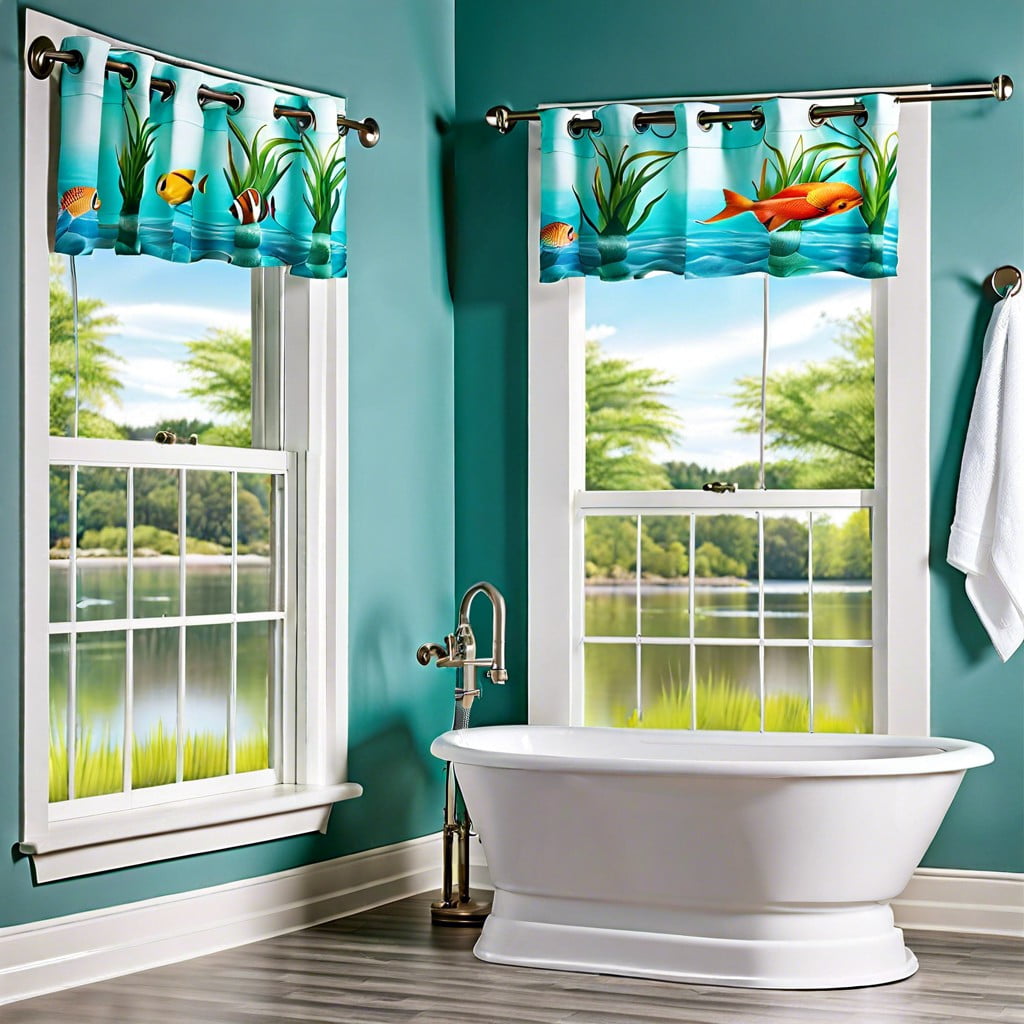 Interestingly, this option stands out for its easy-to-install property. Being hookless, it quickly fits onto your curtain rod, causing zero fuss. The vinyl material adds a significant advantage, a practical solution for damp bathroom situations. Resistant to moisture, vinyl does not allow water to seep through, ensuring a dry and comfortable bathroom environment.
You may choose from an assortment of styles and color options to suit your personal taste. Different patterns and prints are also available for maximum aesthetic appeal. Offering a fabulous coupling of practicality and style, this curtain choice brightens up your bathroom space while providing the required functionality.
Remember to clean regularly. A damp cloth or a soft scrub brush with some mild soapy water will do the trick. This simple maintenance routine helps to maintain its appeal over time, ensuring your bathroom remains chic and visually pleasing. Keep in mind, the vinyl material tends to be clastic, so handle with adequate care to preserve its longevity.
Clear Heavy-duty PVC Curtains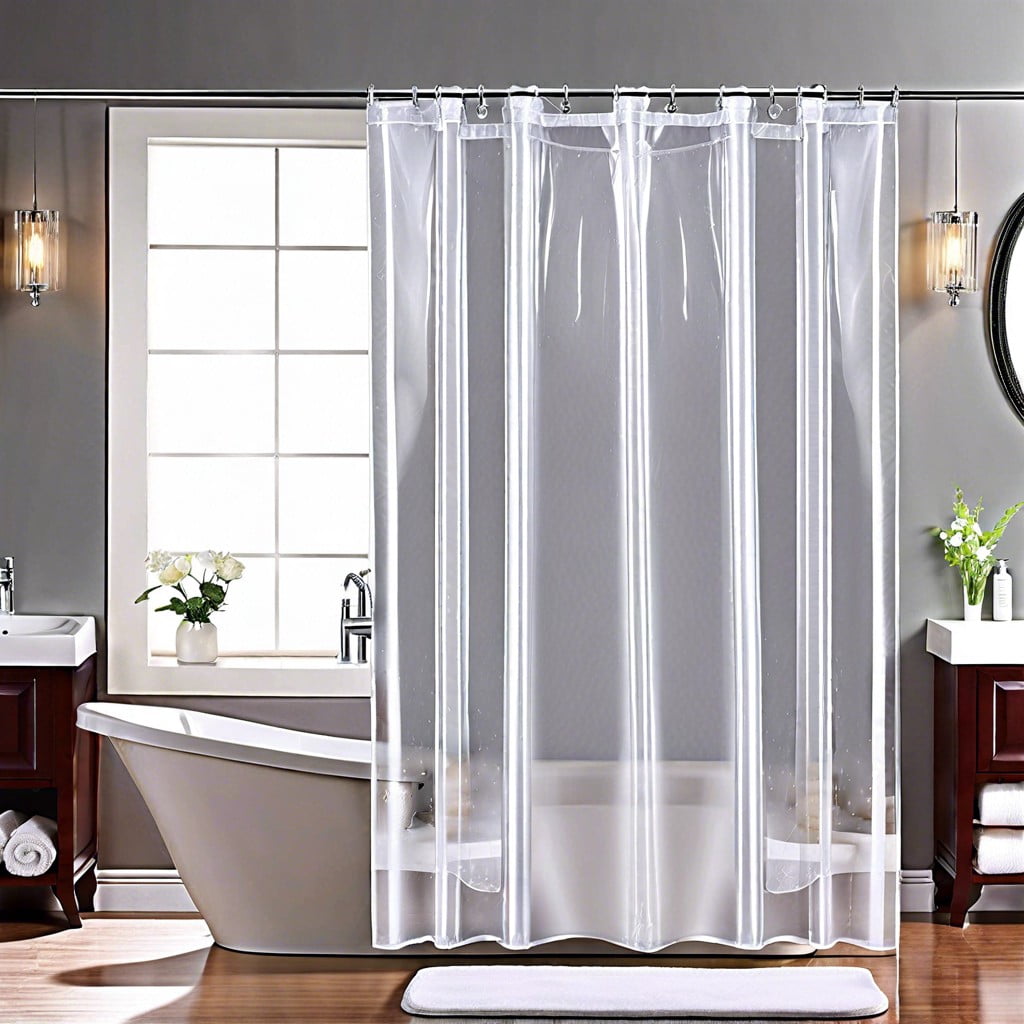 When it comes to maintaining a view while ensuring water doesn't damage the window, there's no beating this option. Its thick, durable structure keeps moisture at bay without limiting light or view, making the bathroom feel larger and more open.
Here are the key features:
1. Top-notch waterproof quality. Being a PVC curtain, water simply beads up and rolls off, leaving your window dry.
2. Clarity and light. Unlike opaque options, it allows a substantial amount of light to filter in, keeping your bathroom bright and airy.
3. Ease of cleaning. A quick wipe down usually suffices in keeping it sparkling clean.
4. Durability. Despite being clear, it's also heavy-duty, ensuring long-lasting use without yellowing or cracking over time.
5. Versatility. You can pair it with other window treatments like blinds or shades for your privacy needs.
Bear in mind, while it stands out for functionality, style might be limited when compared with other curtain kinds. Consider this when making your final choice.
Patterned Waterproof Curtains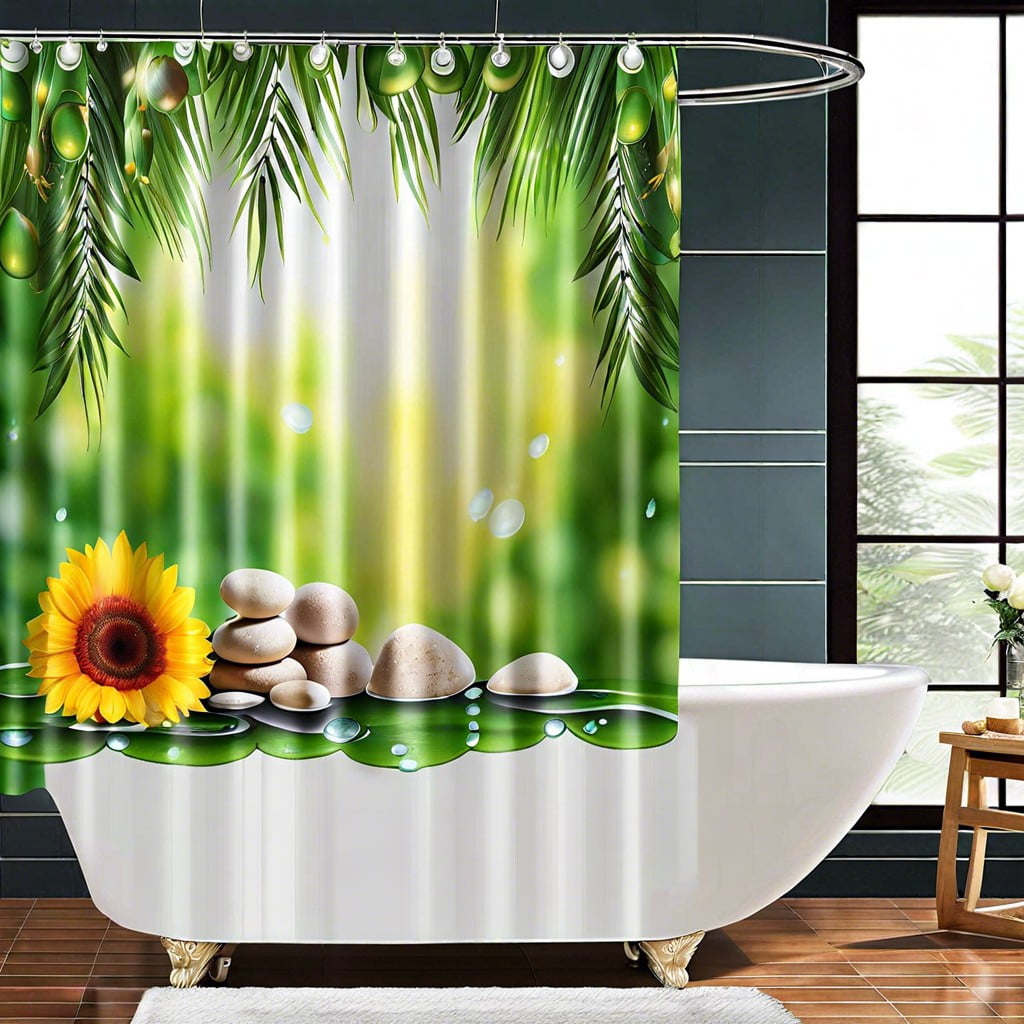 While solid colors bring in a sense of calmness, patterned curtains are the perfect choice for individuals who love to infuse their space with a dash of creativity. They come in a wide variety of designs, allowing the owner to match with the existing bathroom décor or become an eye-catching focal point.
A few advantages that make patterned waterproof curtains a worthwhile choice include:
1. Versatility: From modern geometric shapes to more traditional floral designs, there's a pattern to suit every aesthetic preference.
2. Hide Stains: They are better at camouflaging mildew or soap splash stains compared to their solid-color counterparts.
3. Mood Booster: Intricate designs or vibrant colors can uplift the mood and provide a refreshing aura.
4. Customization: They provide an extensive range of choices for those who love to personalize their space.
Remember to always opt for water-resistant materials when shopping for these versatile curtains. This ensures that they not only act as trendy décor but also are practical in keeping the window area dry and free from mold.
Textured Waterproof Window Blinds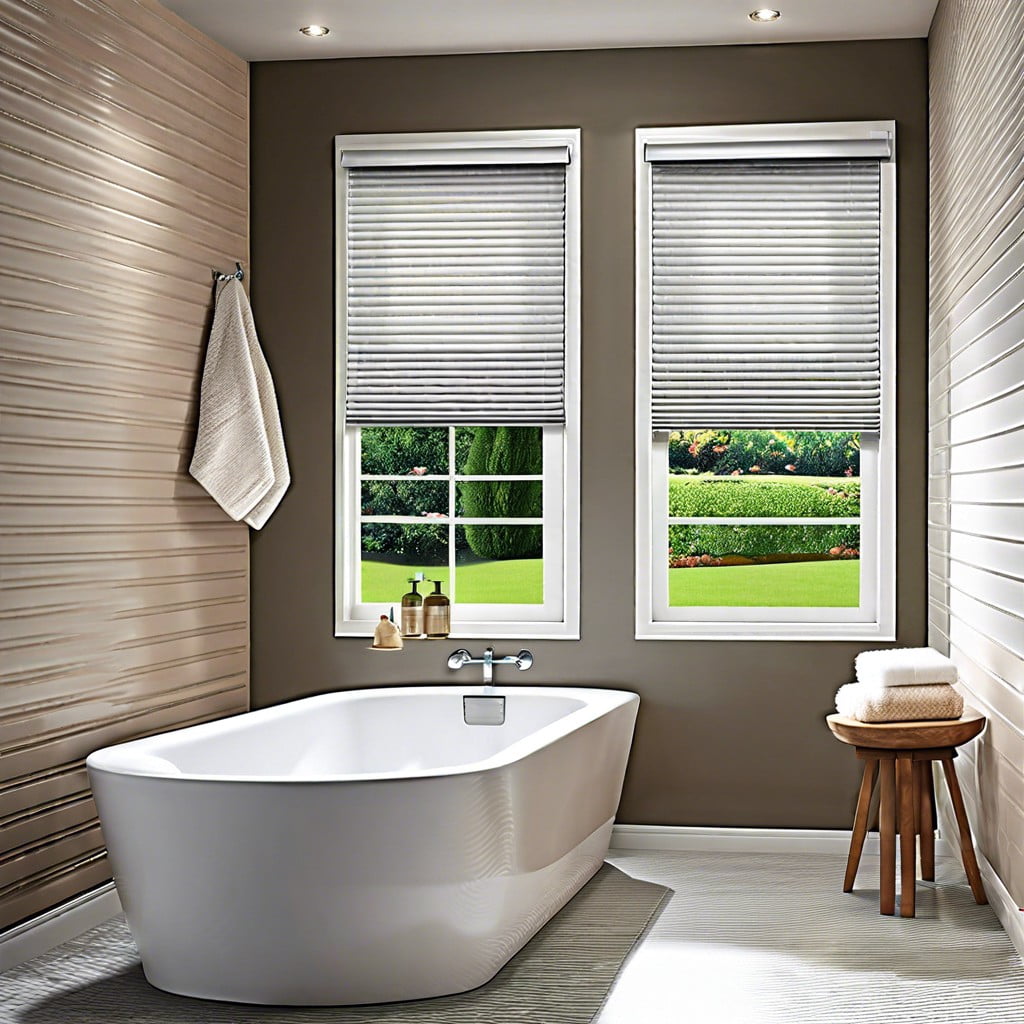 Sealing out moisture, yet delivering a charming aesthetic, these blinds are an all-round winner. Their textures add character and depth to the bathroom. They are available in a variety of patterns such as stripes, waves, or geometric designs to complement any decor style. Manufactured with waterproof material, they resist mildew and dampness, keeping them hygienically clean over time.
They are light filtering, allowing a smooth passage of natural light, yet ensuring privacy. Each style is designed to be easily cleaned, either with a damp cloth or by vacuuming. Versatile and practical, this type of blind makes the bathroom look contemporary while still serving its purpose. Do note that they work best on smaller windows or in bathrooms with a robust ventilation system to prevent excess moisture build-up. Opt for textured waterproof window blinds if you are seeking a combination of style, privacy, and functionality.
Water-repellent Ruffle Curtains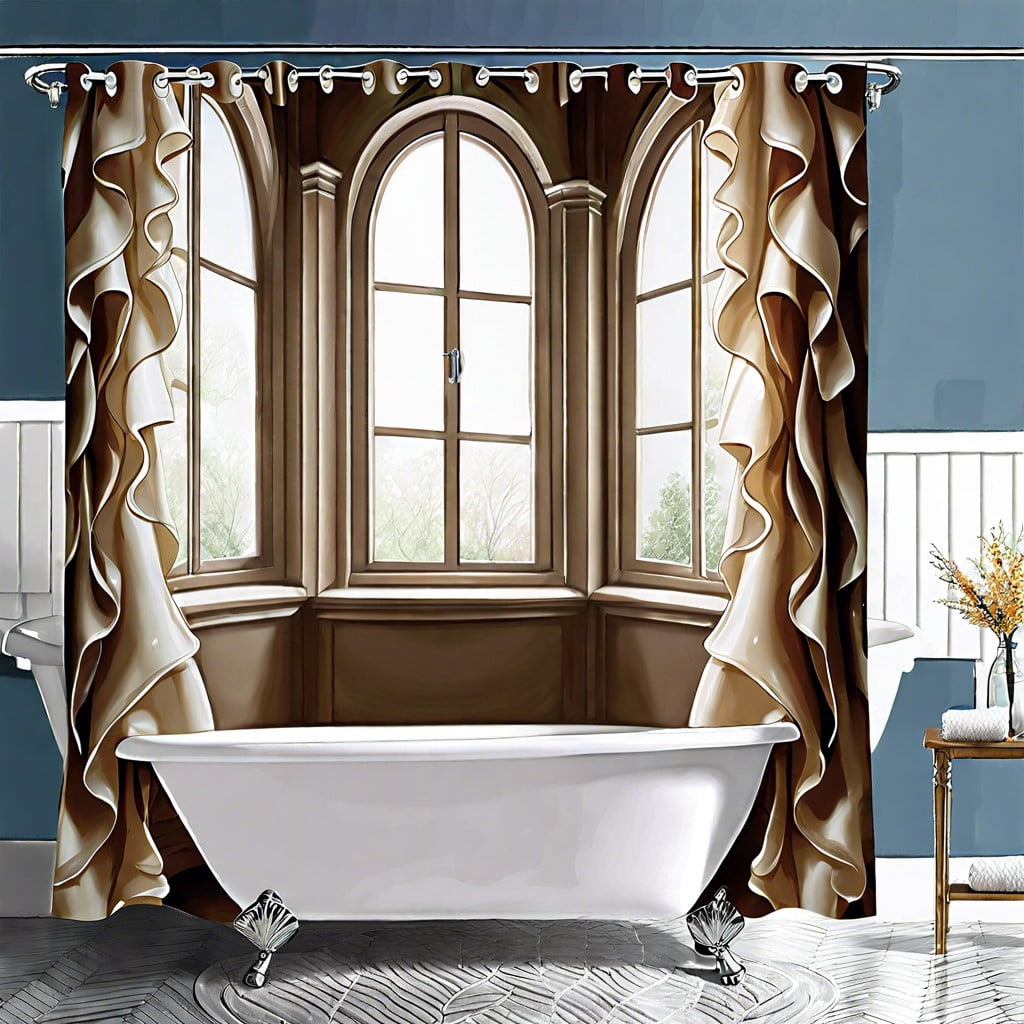 Bringing a touch of elegance into your bathroom, these curtains combine functionality and style. Made from a fabric, typically polyester, treated to repel water, these curtains are designed to keep the moisture out effectively.
Here are some points that explain their concept:
Layered Design: Multiple layers of ruffles add depth and texture, creating an eye-catching backdrop in your bathroom.
Fabric Quality: The material used is durable and made to withstand the humid atmosphere of the bathroom.
Versatility: They come in a variety of colors and patterns, making them adaptable to any bathroom decor.
Practicality: These provide the right balance of light-blocking and privacy without sacrificing aesthetics.
Easy Maintenance: You can machine wash them when needed, and they'll retain their water-repellent properties.
Environmentally Friendly: As they are reusable, they make an ecological choice compared to plastic options.
Explore this delightful alternative and elevate your bathroom ambiance with water-repellent ruffle curtains.
Synthetic Water-stopping Curtains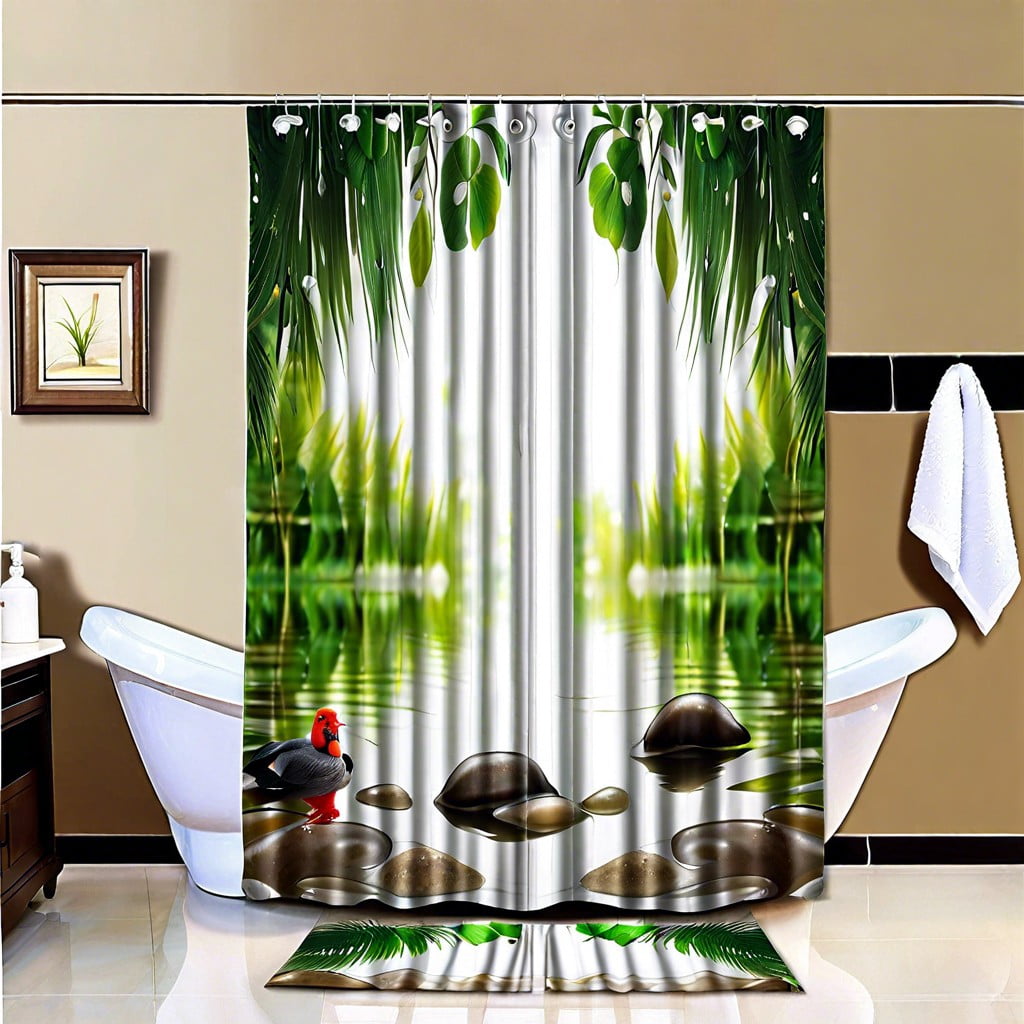 Employed primarily in high-moisture environments, these curtains have remarkably efficient water-repelling properties. Made from synthetic materials, like polyester and nylon, they are engineered to resist mildew and mold growth.
Given certain treatments, these curtains can even prevent the accumulation of soap scum and hard water stains. They're also low maintenance — a simple wipe with a damp cloth will restore their squeaky clean appearance. Plus, they deliver on design flexibility, providing a broad spectrum of colors, patterns, and sizes to match your bathroom decor.
In fact, they can deliver quite the aesthetic upgrade besides their functional advantages. Try coordinating them with bathroom mats or wall art for a harmonious look. With minimum investment and easy installation, they offer a user-friendly solution to bathroom window privacy and moisture control.
Nautical Print Waterproof Curtains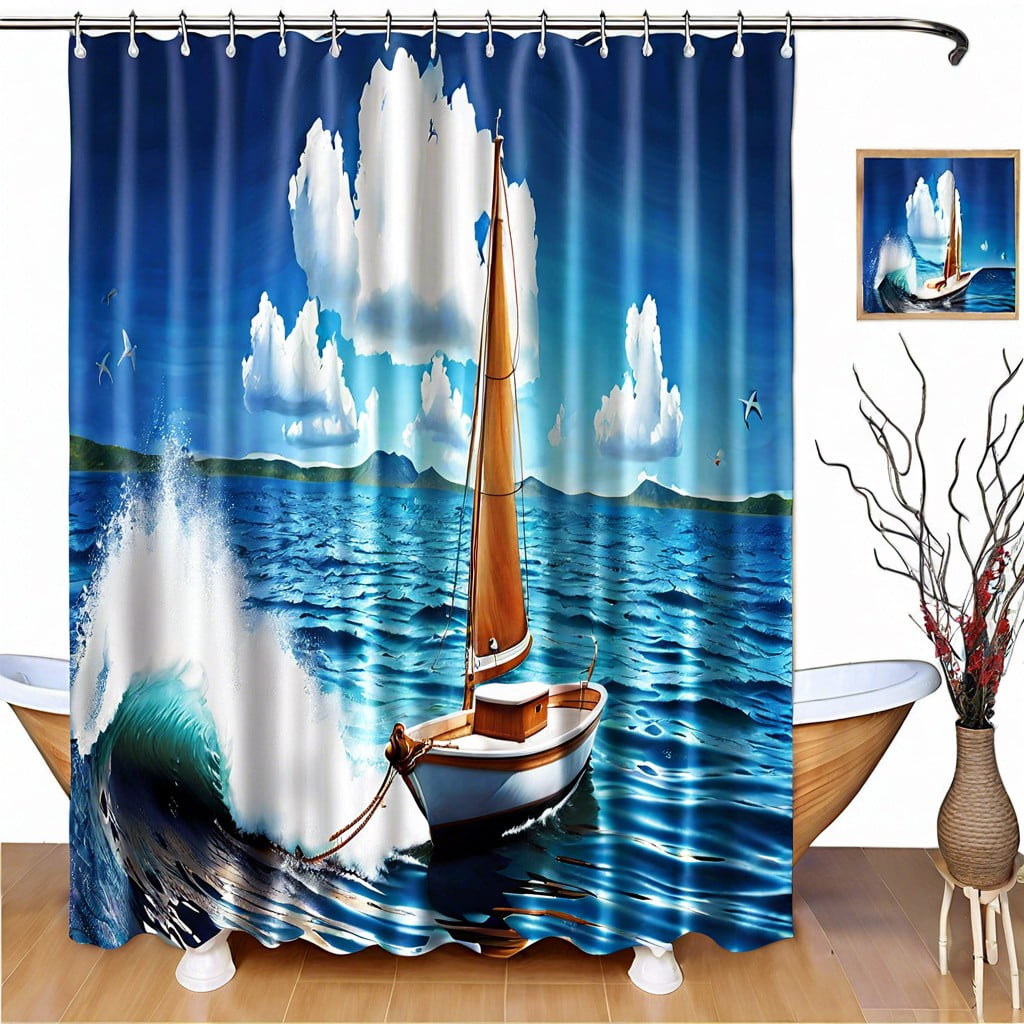 Steering the ship towards more thematic options, let's dock at this harbor of inspiration. With this choice, it's impossible to distance ourselves from the comfort of coastal vibes. Perfect in bathrooms sporting a beachside decor or simply wanting a splash of marine life, these curtains wave synonymous with creativity and functionality.
Set sail with prints like anchors, ship wheels, or starfish that transform any bathroom into a nautical haven. Whilst adding a seafaring sparkle to the room, they also perform diligently in keeping water at bay. Crafted from waterproof materials such as polyester or vinyl, water damage is tossed overboard.
Furthermore, these curtains drape the window in privacy and shield against excessive sunlight, without snuffing out the natural light completely. They strike the perfect balance between bold aesthetics and practical utility, each print a buoy of style in your bathroom's sea of design. Light in maintenance, they are effortless to clean, simply requiring a gentle wiping down to keep them looking ship-shape.
So let these nautical print waterproof curtains hoist the décor in your bathroom to new horizons, while packing a punch against moisture and sunlight. All aboard this trend and navigate towards a refreshing bathroom revamp.
Mildew-resistant Fabric Curtains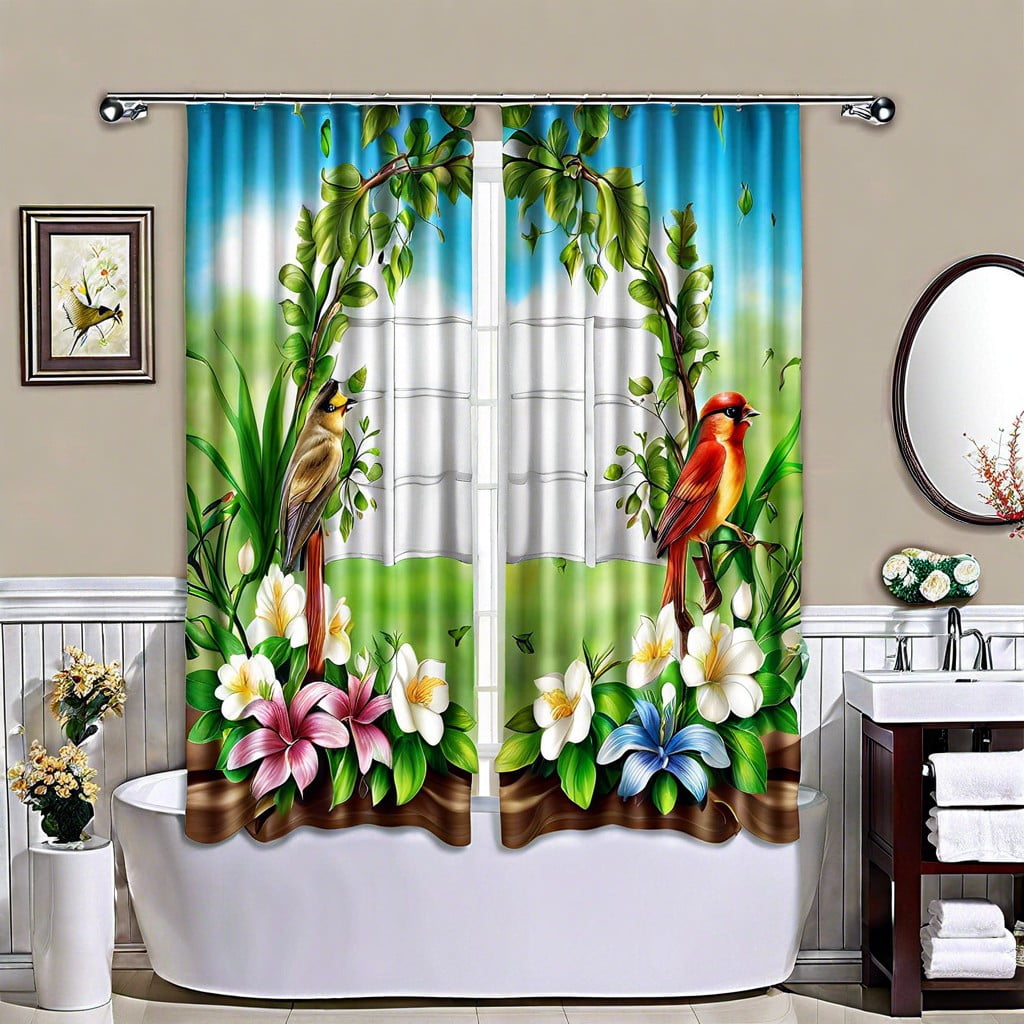 Investing in mildew-resistant fabric is a wise choice for those who prioritize longevity and cleanliness in their bathroom curtains. This material, typically made of polyester or nylon, naturally inhibits the growth of mildew even in the moist environment of a bathroom.
There are three main points that make these curtains a top pick:
Durability: Unlike regular fabric, they can withstand high moisture without damage. Their unique design allows them to resist wear and tear, making them a long-lasting solution.
Easy cleaning: Mildew-resistant fabrics require less maintenance and cleaning. Most simply need a wipe-down or a quick machine wash — no need for intensive scrubbing or special solvents.
Health benefits: Mildew can cause health concerns like coughing, wheezing or skin irritation. So, besides aesthetics and convenience, these curtains also offer a barrier against these potential risks, contributing to a healthier bathroom environment.
With these key points, you now have a clearer picture of why these curtains trumph in a bathroom scene. From durability to health protection, they certainly earn their keep.
Continue reading:
Recap