Last updated on October 30, 2023
Transform your ordinary bathroom into a lavish spa sanctuary because you deserve that ultimate relaxation and comfort at home.
I'm thrilled to share this article and unique spa bathroom designs with you, all created by myself, and I sincerely hope you find as much inspiration and enjoyment in them as I did in creating them.
Transforming your bathroom into a luxury spa oasis is a fantastic way to bring a touch of elegance and relaxation into your home. This article will guide you through a variety of ideas, from installing a freestanding tub to adding ambient lighting, to help you create a serene sanctuary right in your own home.
Whether you're looking for minor upgrades or a complete overhaul, you'll find a wealth of information here to inspire your spa bathroom transformation. So, get ready to explore a world of luxury bathroom design ideas that will elevate your home and provide a tranquil retreat to unwind at the end of a long day.
High-end Granite Countertops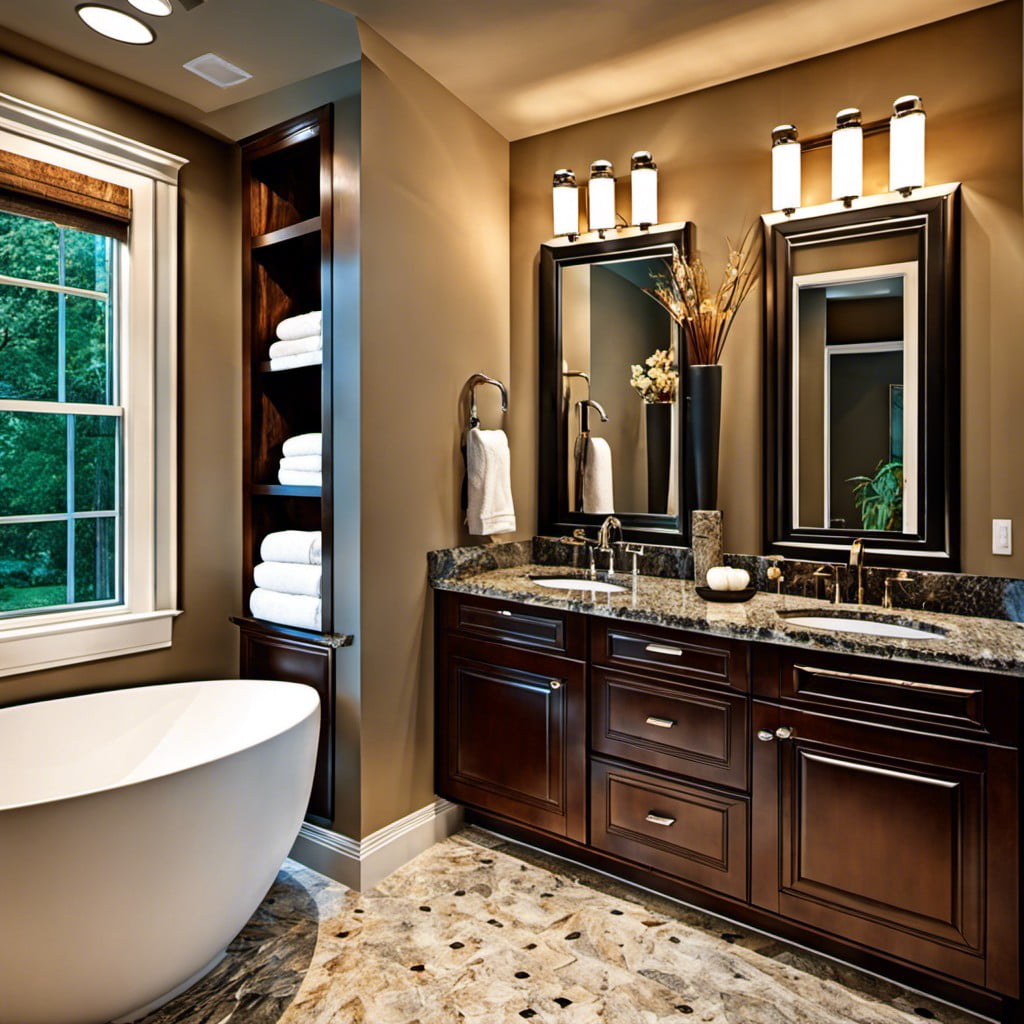 Harnessing the resilience and elegance of granite for your countertops not only enhances the aesthetic appeal of your bathroom but also offers a durable and practical addition. This significant upgrade is worth considering due to a few stand-out features.
First, granite is renowned for its impressive resistance to scratches and daily wear from high usage. This characteristic suits the bathroom environment perfectly as it's a frequently used area.
Second, the unique patterns and colors available in granite allow for personalization according to individual tastes. From deep black granites with enigmatic silver streaks to lighter tints graced by distinctive veining, bathroom countertops can become pieces of art.
Finally, its natural ability to withstand moisture, coupled with appropriate sealant application, results in a long-lasting surface immune to water damage. This trait further underlines its suitability as a bathroom fixture.
By opting for a granite countertop, a blend of durability, beauty, and practicality invigorates your bathroom, transforming it into a functional yet luxurious spa-like sanctuary.
Seamless Glass Shower Enclosures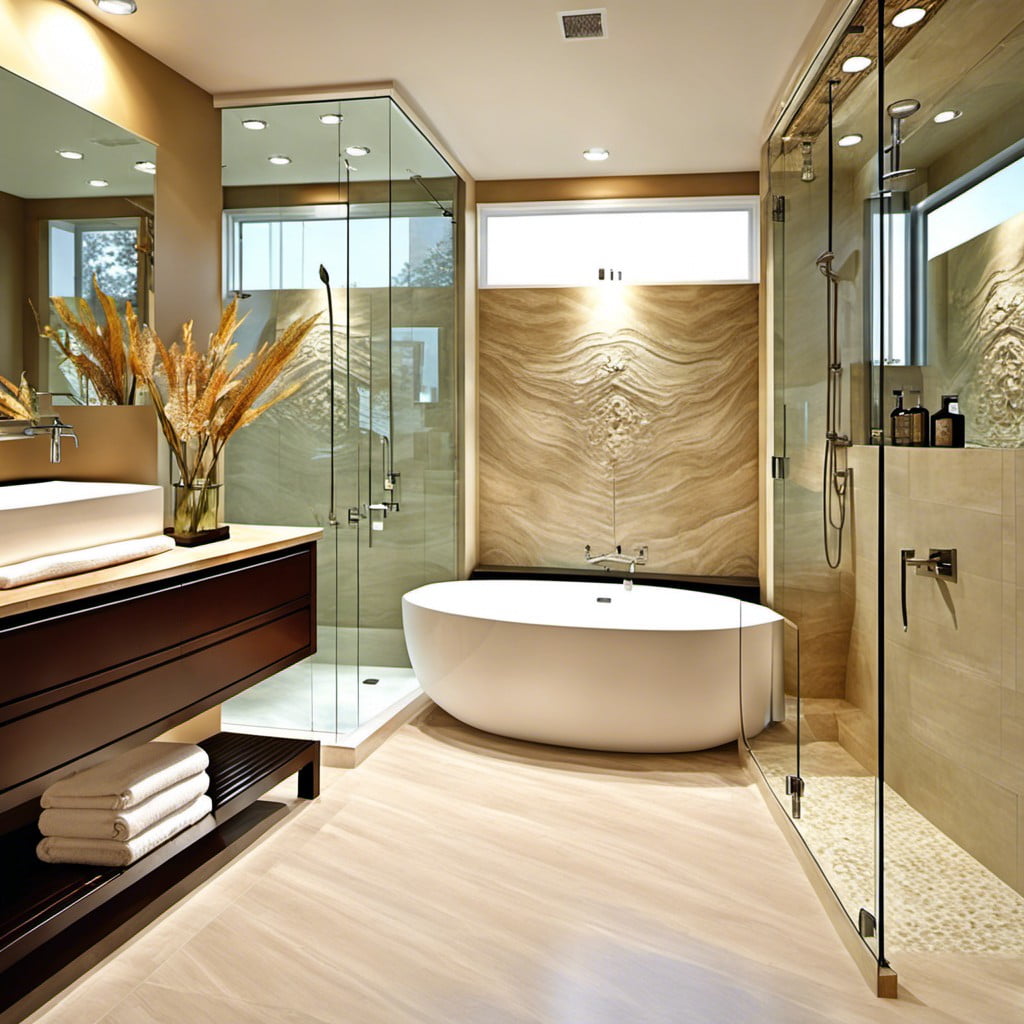 Elevating the bathroom's aesthetic while offering an illusion of expanded space, and serving as a practical solution, these enclosures are a must. Their transparency contributes to a bright, airy vibe, mirroring the open ambiance of a true spa.
Additionally, they can be customized to fit any size, adding functionality to your personal sanctuary. They are also easy to clean, thus reducing maintenance time and effort. Pair them with a minimalist shower system for a clean, modern appeal.
And let's not forget the undeniable touch of elegance they bring, seamlessly incorporating luxury into your daily routine.
Rainfall Shower Head Installation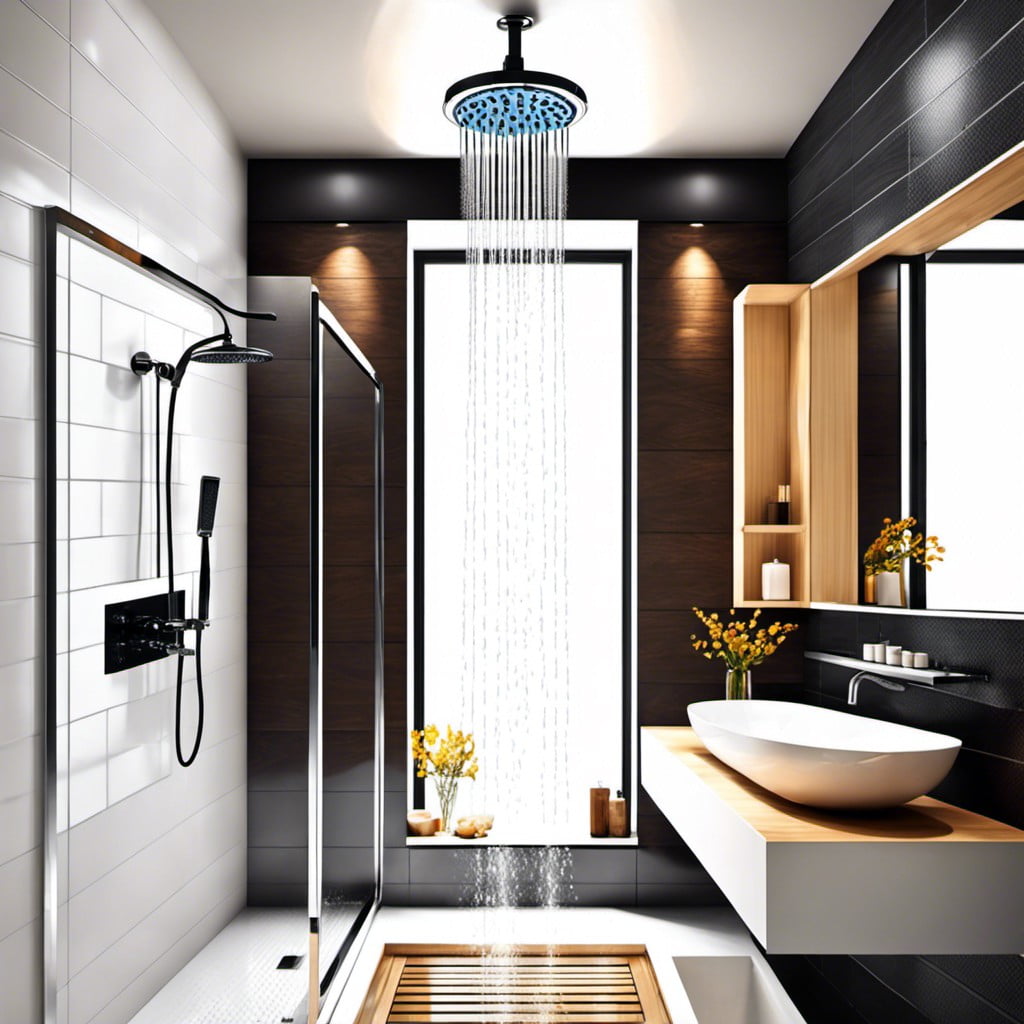 Known for their luxurious flow, these installations bring the serenity of a soft summer rain right into the bathroom. The larger diameter of the head, when compared to traditional ones, disperses water over a broader area, creating an immersive showering experience.
Overhead mounting further enhances this spa-like ambiance as water cascades directly downwards, much like actual rainfall.
Though typically simple to install, it's key to verify sufficient water pressure beforehand. Systems with in-built air effects can help circumvent any flow-related complications.
It's also vital to choose the correct style and finish that seamlessly integrates with the bathroom's overall design. With options ranging from sleek stainless steel to vintage brass, it's easy to find a perfect match.
Quality shouldn't be compromised for cost, as durability ensures continued relaxation and stress relief.
Pro-performers also bring eco-friendly benefits like water conservation, thanks to their constriction-free flow patterns.
Lastly, considering a model with customizable settings yields a personal rainfall experience, customizable to suit individual preferences for a truly personalized spa-like shower every day.
A Sunken Jacuzzi Tub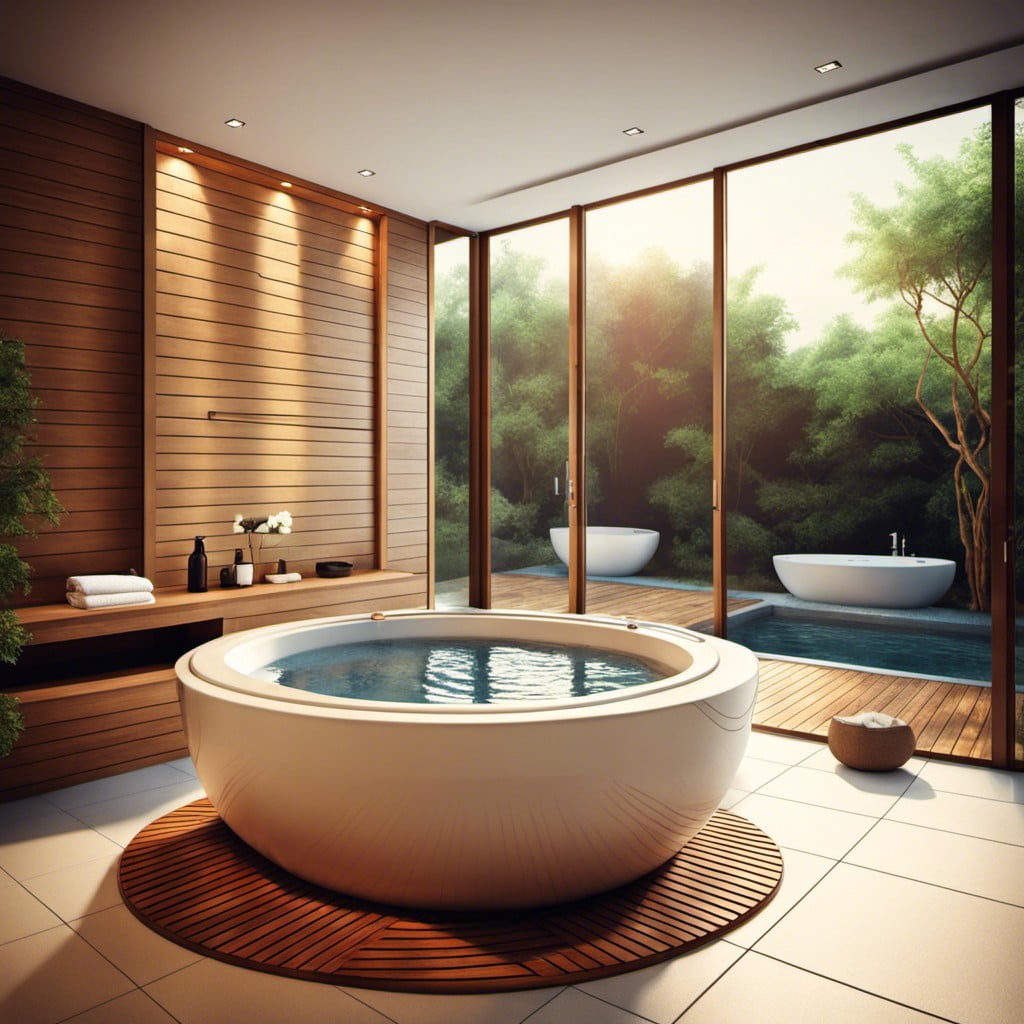 Offering an elevated luxury experience, sunken Jacuzzis add a unique element to your bathroom. These tubs are often installed flush to the floor, creating a smooth, unbroken line of sight across the room. The lower positioning makes it easy to get in and out, enhancing safety.
To truly accentuate its opulence, adding a wall inset for votive candles can provide ambient lighting. Surround it with natural stones or tiles matching the color scheme of your room for a truly integrated look. Consider installing an art piece or a window with a serene view nearby to elevate the relaxing atmosphere during your soak.
Remember to discuss placement and available space with a professional before installation. A sunken Jacuzzi needs adequate room and specific building code requirements must be met to ensure it's correctly plumbed and electrically wired. Keeping maintenance in mind is also essential for long-term functionality. These factors, though technical, will help maintain the high-end, spa-like vibe you're aiming to achieve.
Upgrading to a sunken Jacuzzi not only boosts the visual appeal of your bathroom but also contributes immensely towards transforming your bathroom into your very own personal retreat. From a tiring day to a rejuvenating dip, watch the transformation unfold.
Heated Flooring System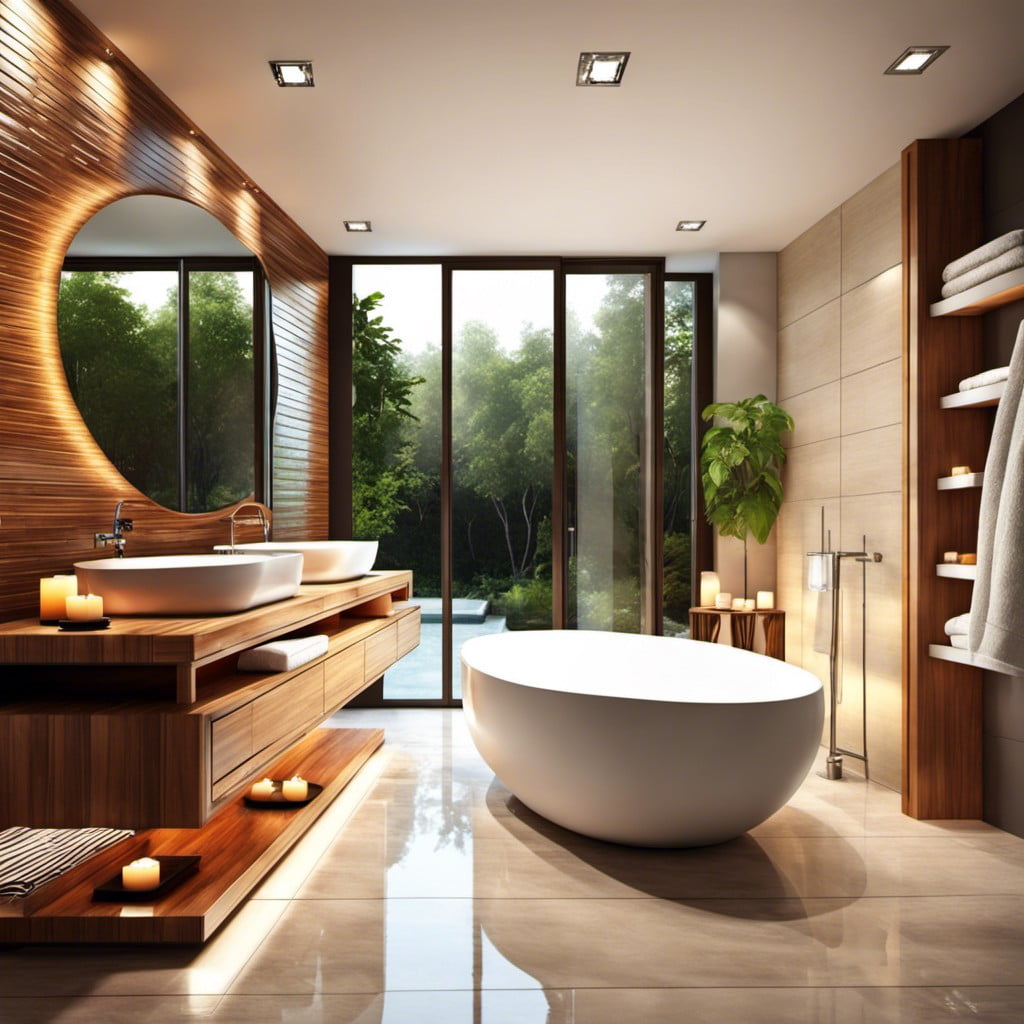 Radiant heating in a bathroom sends warmth directly to the body, increasing comfort levels while maintaining a sleek aesthetic. This hidden luxury is installed beneath the flooring, silent yet efficient. It's perfect for those cold early mornings or chilly midnight visits, ensuring your feet always touch a cozy surface. Plus, it's energy-efficient! By targeting specific areas, it requires less energy than traditional heating methods, resulting in lower utility bills.
Controls can be adjusted to your preference, allowing you to control the temperature and schedule when the heating is on or off. This simple inclusion, while seemingly small, enhances the overall spa-like experience significantly.
Luxurious Marble Wall Tiles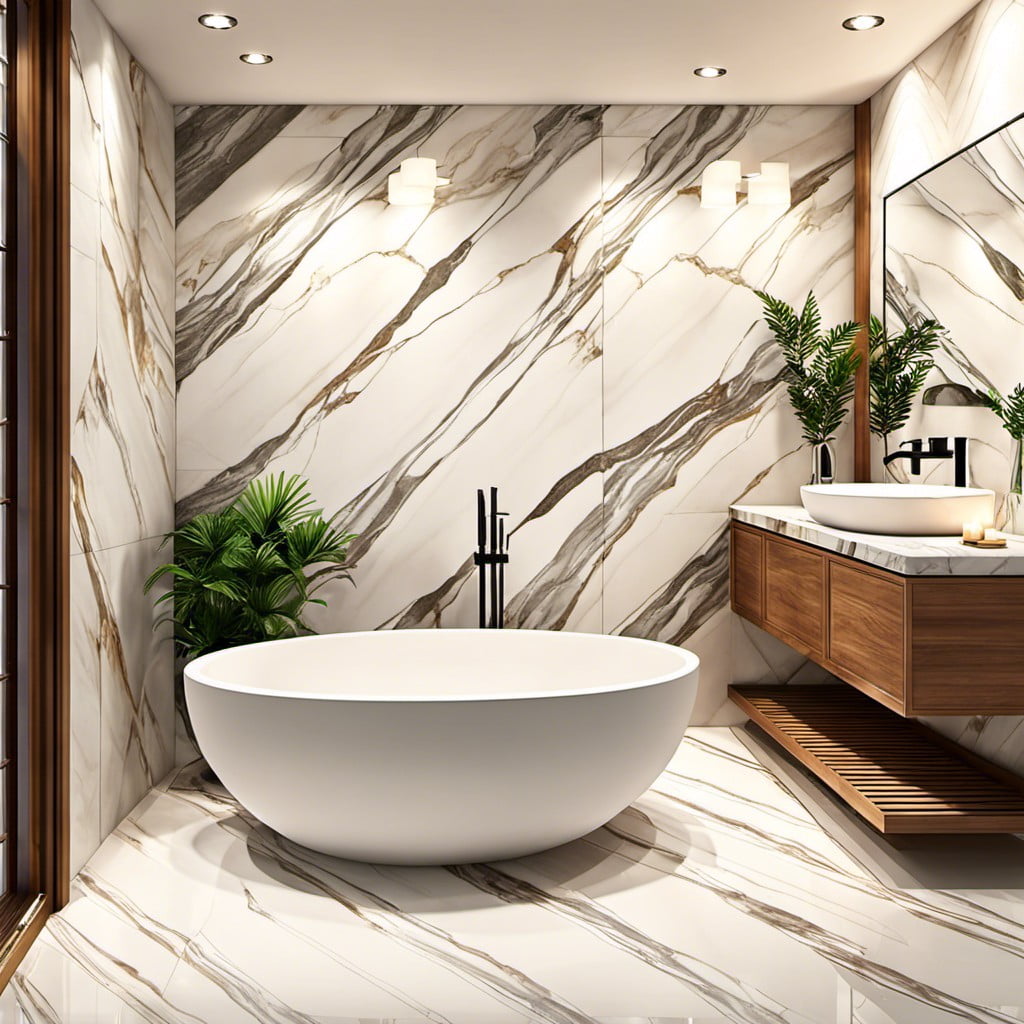 Marble tiles create a distinct luxurious aesthetic. Each piece possesses unique veining, offering an exclusive, one-of-a-kind design.
When it comes to color selection, the range is broad, from pristine white, warm beige, to stunning black.
On the texture front, polished marble adds a touch of magnificence, reflecting light to brighten the space. Alternatively, honed marble comes with a matte finish, lending a softer, more natural ambiance.
Marble mosaics are also an option for creating an eye-catching focal feature.
Maintenance isn't as tedious as popularly believed. Regular quick wipes and periodic sealing keep it in pristine condition. Furthermore, choose marble with high polish for showers as they resist water stains better.
Finally, consider underfloor heating, often overlooked convenience with marble tiles. Your feet will appreciate the warmth, especially during colder months. So, don't let the upfront cost deter you; the charm, elegance, and durability of marble are worth it.
Underwater Mood Lighting in Tub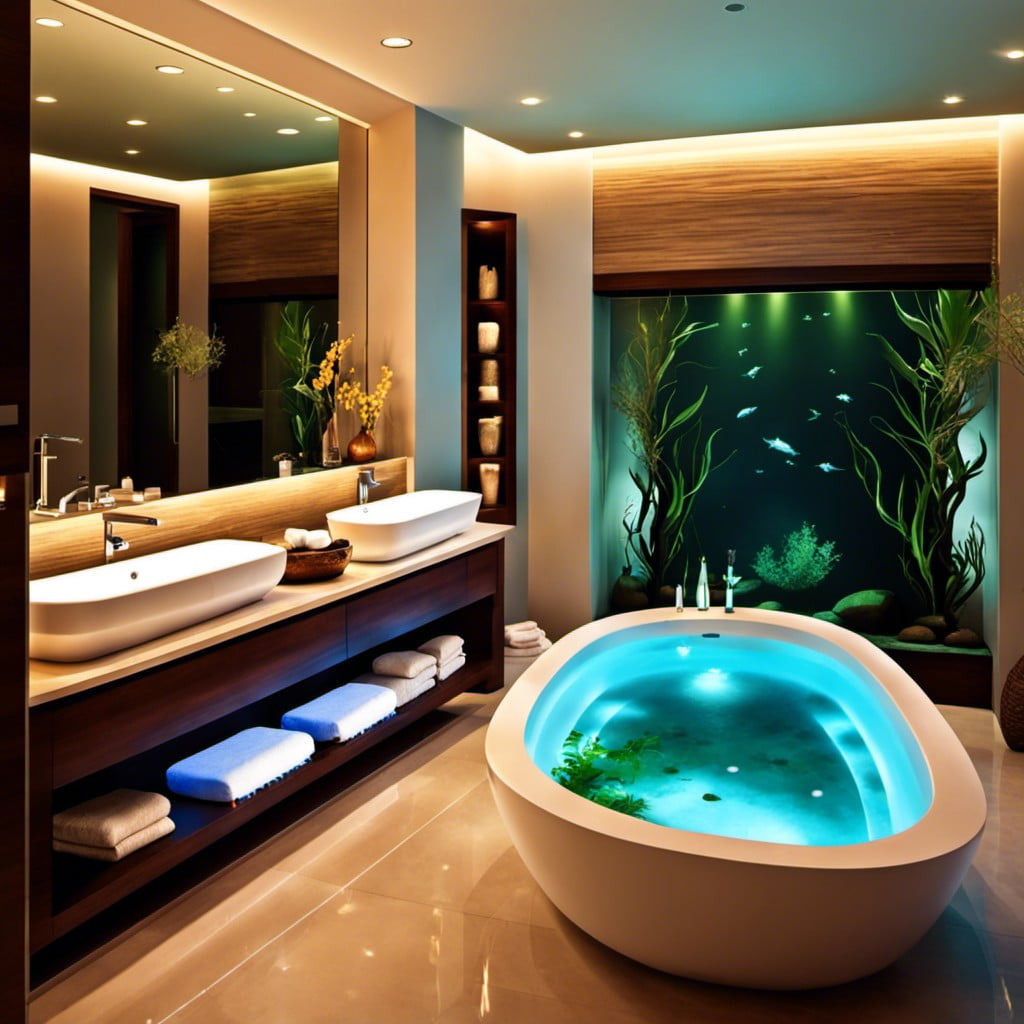 Harnessing the calming attributes of chromotherapy, this modern innovation will elevate your bathing experience. Imagine immersing yourself in a warm amber glow or vibrant blue twinkle while you unwind in the tub.
Let's delve into some nuances behind this enthralling feature:
1. Different colors induce different emotions and states of mind according to color therapy principles. Choose a color that aligns with your relaxation goals for a tailored experience.
2. User-friendly controllers enable you to effortlessly switch between hues or set up automatic color cycling to create a mesmerizing light show.
3. Make sure to opt for waterproof and corrosion-resistant lights for longevity and safety considerations.
4. Task a professional with installation to ensure effective sealing and positioning, enhancing the overall aesthetic and safety.
5. Pair this feature with a translucent tub for a stunning effect that further amplifies your opulent spa-like retreat.
It's one splurge that goes beyond luxury, it offers an immersive therapeutic experience right at home. Just dim the overhead lights, slide into the tub, and bask in the radiant underwater spectacle.
Double Sink Vanity With Polished Brass Hardware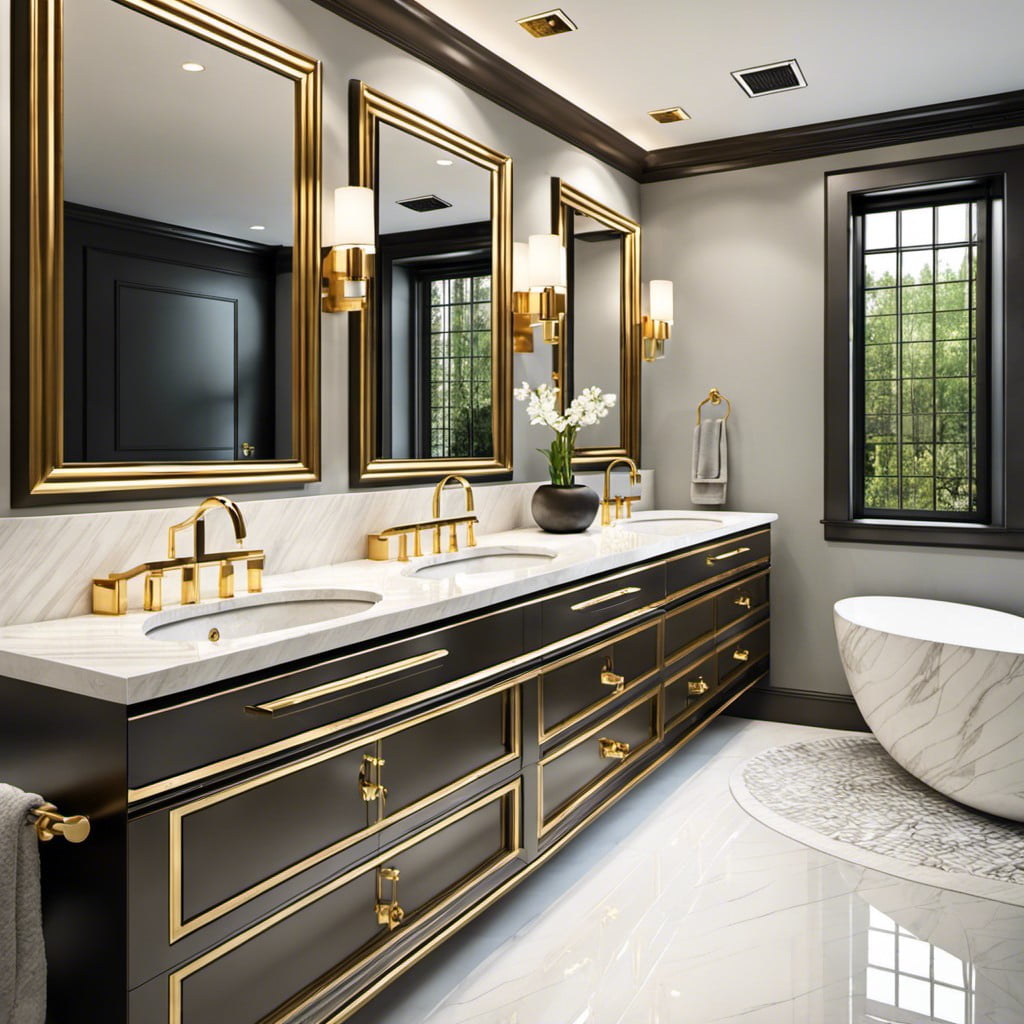 Opting for double sinks drastically enhances both functionality and aesthetics. This design offers personal space for simultaneous use, reducing morning rush hours. Polished brass hardware on the other hand, captures the essence of opulence, and adds vintage charm.
Here are some key points:
1. Solves space issues: It provides ample room for two users at once, ensuring a stress-free start to the day.
2. Offers personal storage: Each sink can have dedicated storage space beneath, significantly reducing countertop clutter.
3. Radiates elegance: The gleaming brass fittings provide a classic touch and contrasts beautifully with modern design elements.
4. Durability: Brass is renowned for its longevity and resistance to corrosion, providing a dual functionality – ornamentation and endurance.
5. Easy maintenance: These hardware pieces are simple to clean, maintaining their luster for years with minimal effort.
With these factors in mind, a double sink vanity with polished brass hardware can truly make your bathroom both practical and luxurious.
Wall-mounted LCD TV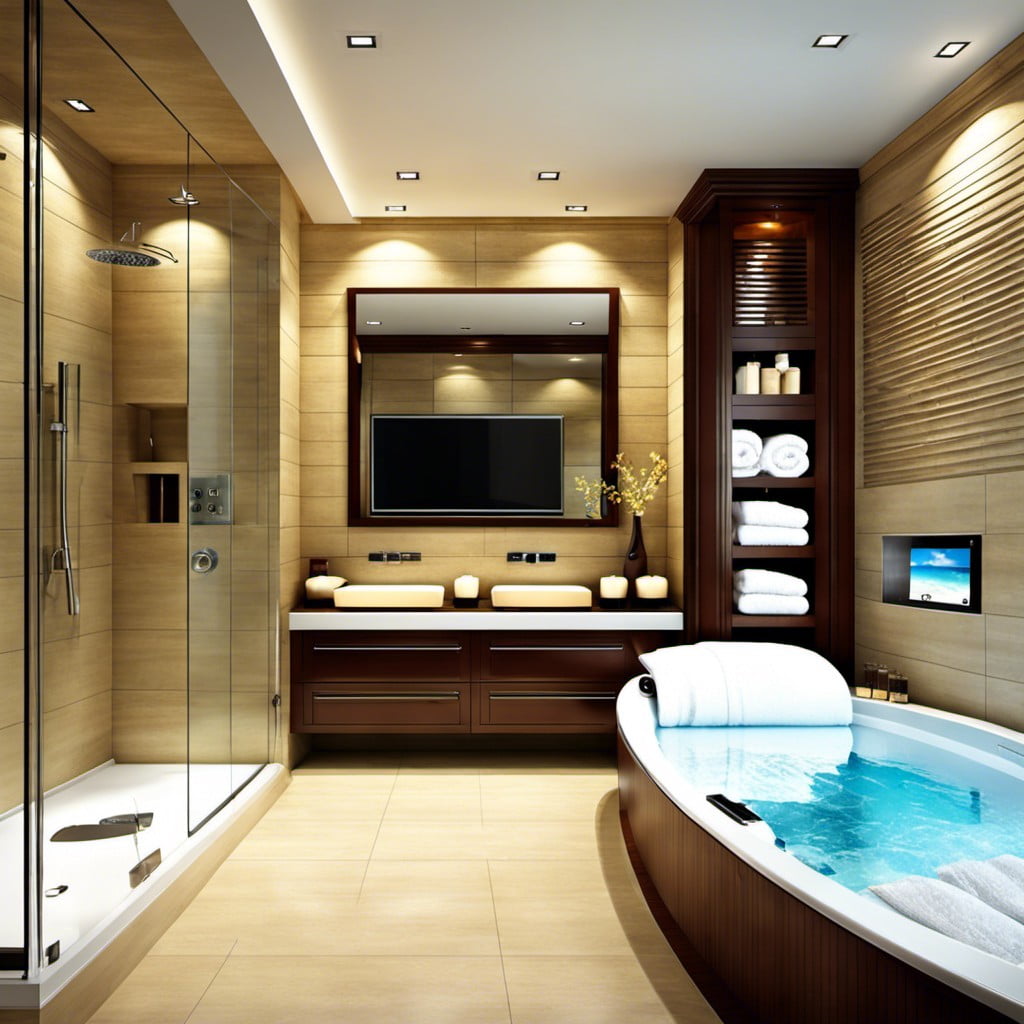 Integrating technology into your bathroom space can really amp up the luxury factor. Opt for a high-definition display that's resistant to humidity and moisture. You can catch up on your favorite shows while soaking in the tub, or stream soothing nature sounds for that ultimate spa-like experience.
For optimal viewing, install it at comfortable eye level across from your bathtub or bathroom area. Consider a smart model for Fire TV, Netflix, or similar streaming services. It's a touch of modern comfort that makes any bathroom feel lavish and luxurious.
Sauna or Steam Room Corner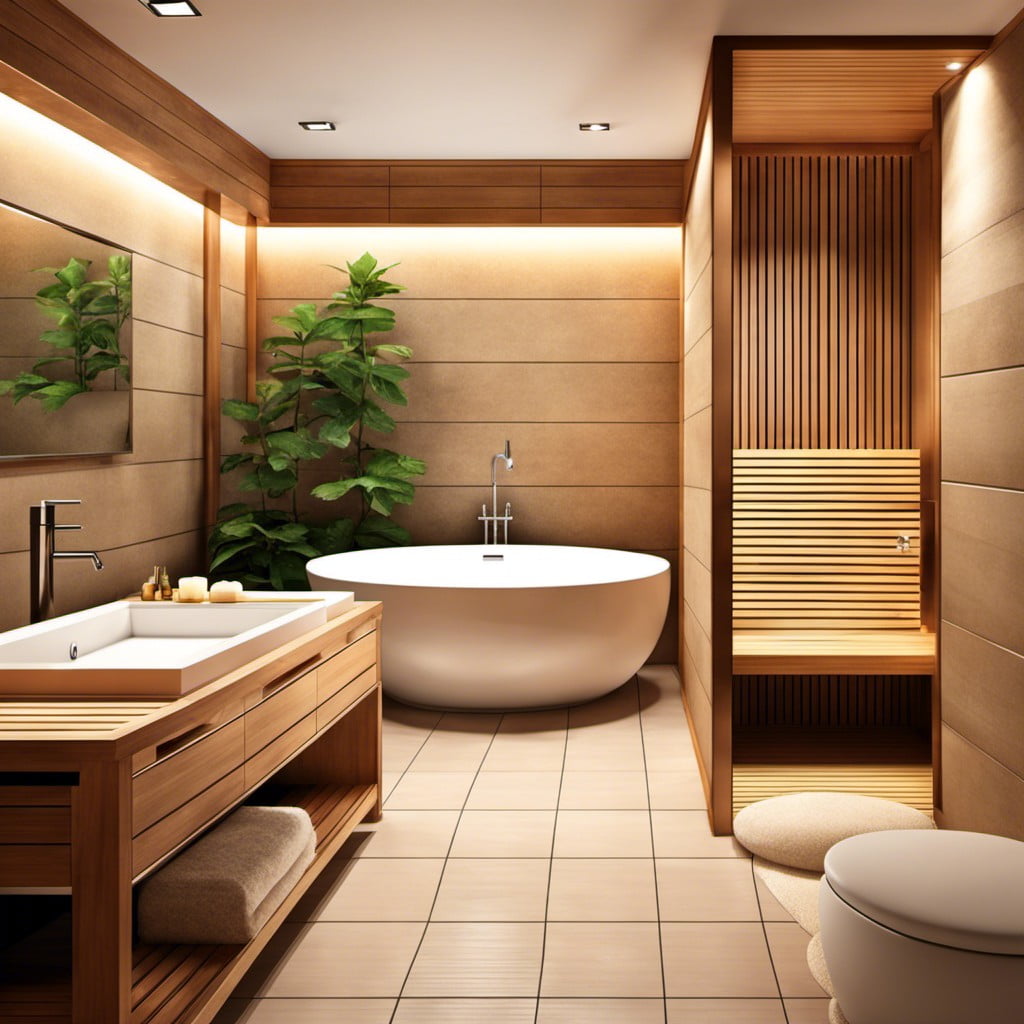 Incorporating a private sauna or steam room into your existing bathroom layout offers an authentic at-home spa experience. Opt for traditional wood saunas for a rustic, cozy ambiance, or go modern with glass walls for a sleek feel.
Be mindful of space requirements; a 4'x6′ space can comfortably fit two people. Consider a bench for comfort during your sauna sessions. Choose between an electric stove or an infrared heater based on personal preferences.
Remember, a proper ventilation system is essential to control humidity and temperature. For steam rooms, moisture-resistant materials like non-porous tile or glass are a must-have to avoid damage. Finally, do not forget to integrate a digital control panel for setting the temperature and session duration at the touch of a button.
Waterfall-style Bathtub Faucet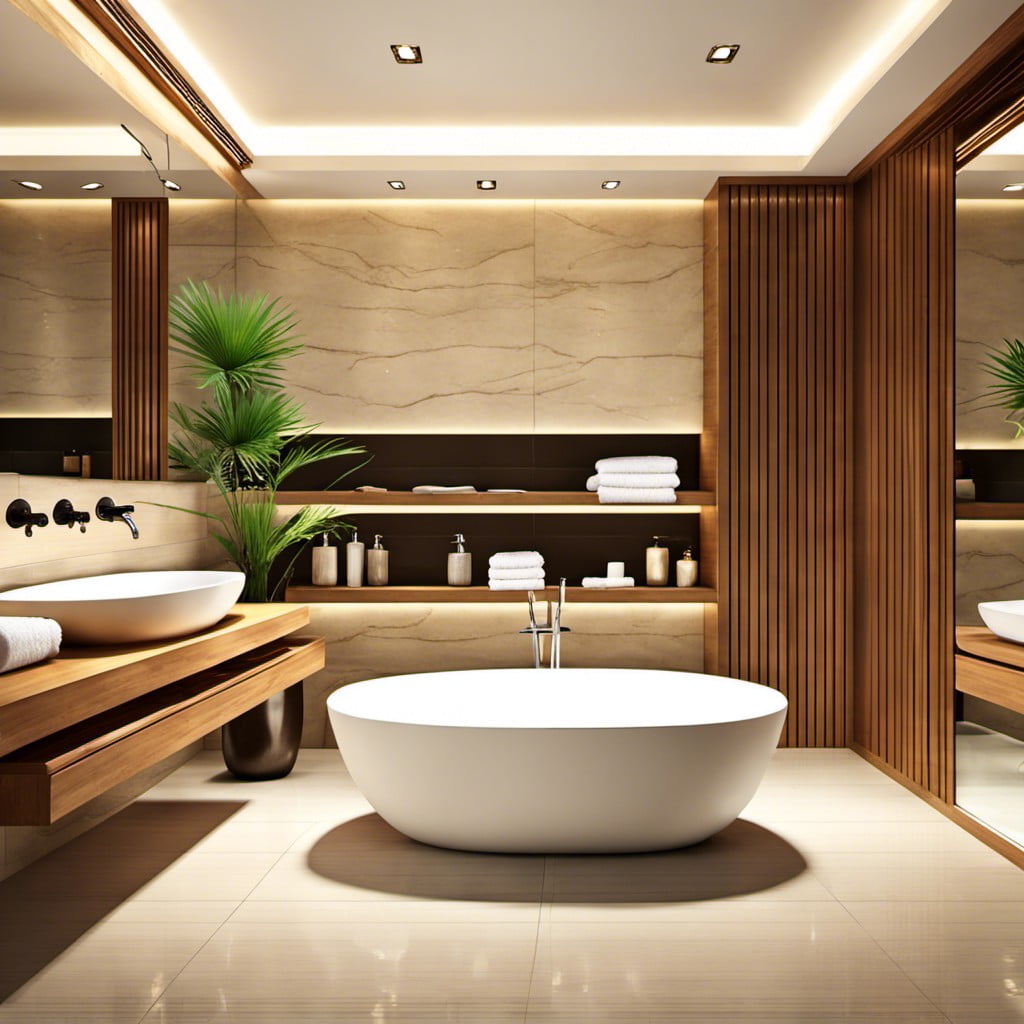 Aesthetically pleasing and functional, the beauty of this design feature lies in its unique water flow mimicking natural streams. With a gentle spout, this faucet-type reduces the splash, ensuring a tranquil experience. It comes in various finishes such as chrome, bronze, and matte black to match any bathroom decor.
Installation calls for professional expertise, ensuring correct water pressure for optimal functionality. Once successfully installed, enjoy a serene bath ambiance, creating a tranquil space for relaxation. Remember, quality models with anti-rust and anti-tarnish properties ensure long-lasting performance. Also, regular cleaning and routine checks for leaks guarantee your faucet continues to provide a soothing waterfall effect.
Incorporate this feature and transform your bath time into a natural, relaxing escape. With water cascading down, the visual and audial senses add to the spa-like feel.
Plush Bathrobe and Slipper Set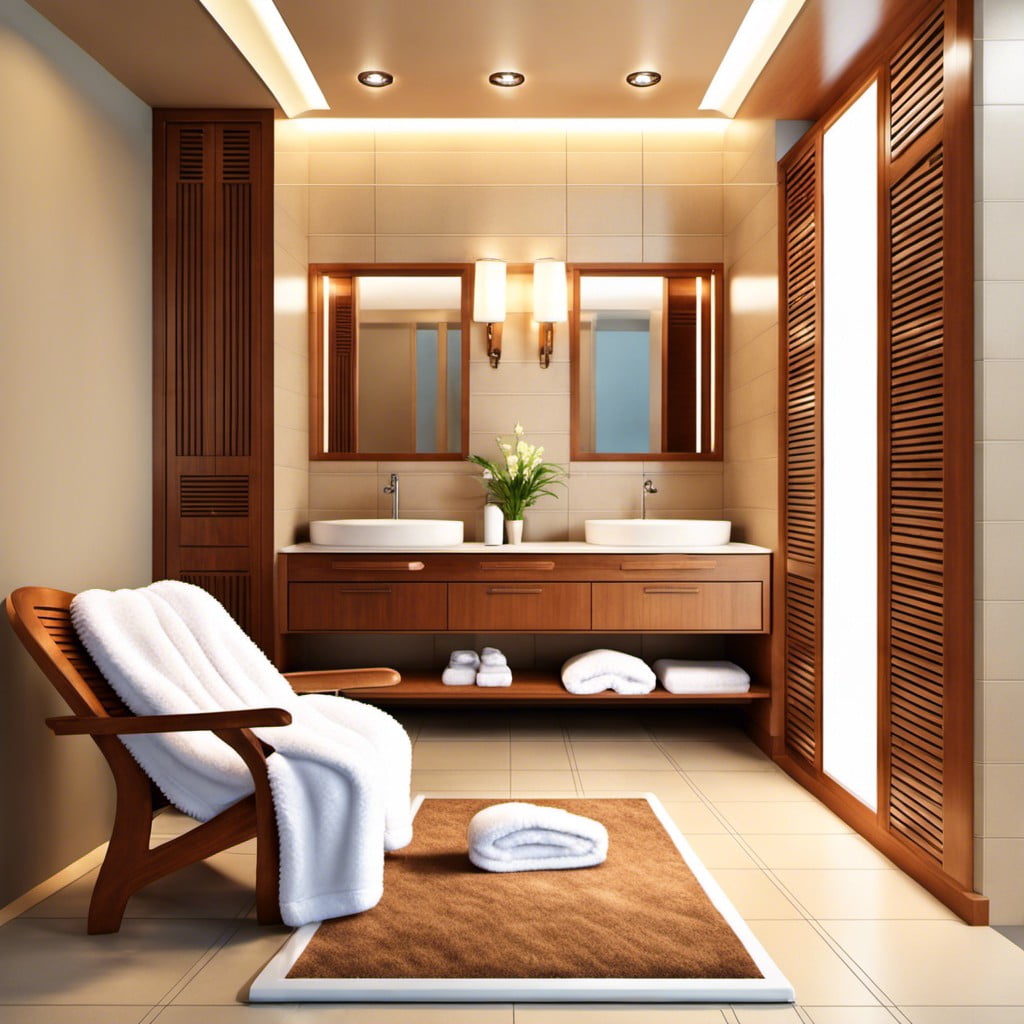 Cotton-terry or velour choices are luxuriously soft and highly absorbent.
Opt for robes that have a shawl collar and turn-back cuffs for that extra touch of indulgence.
Darker hues or pure white sets will enhance the spa vibe.
Ensure slippers match or complement the robe, and that they are cushioned and stable for comfort.
Giving attention to these details sets the tone for a holistic spa experience right at home.
Remember, quality should be a priority to ensure both comfort and durability for daily use.
Towel Warmer Rack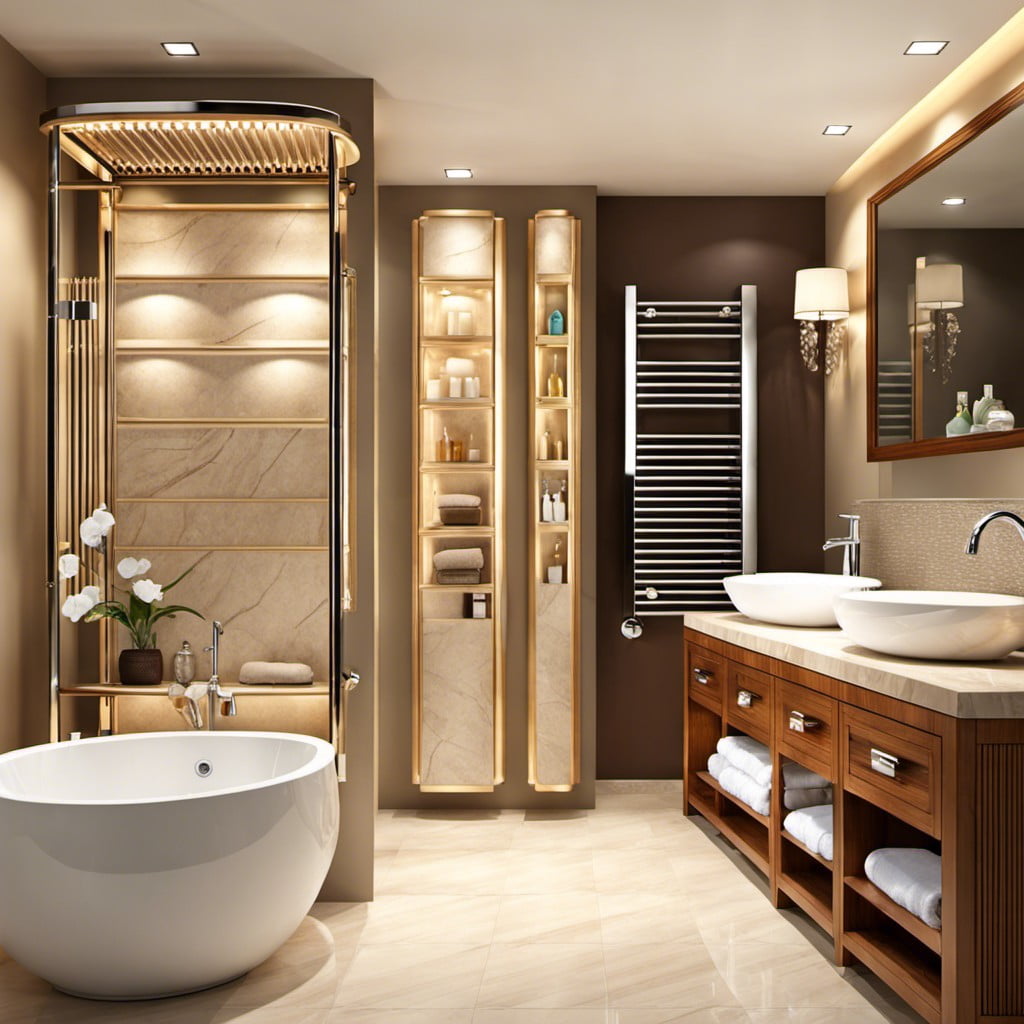 Offering genuine comfort and a touch of splendor, this feature is a smart way to elevate your bath time experience. Imagine stepping out from your shower or bath and wrapping yourself in a warm, fluffy towel immediately. A charming combination of practicality and elegance, it becomes an integral part of the luxurious spa-like bathroom space.
These racks come in a myriad of styles catering to every aesthetic: traditional, contemporary, or minimalist. Consider a sleek stainless-steel built for durability and a modern edge or a classic brass finish rack to evoke an air of timeless luxury.
Moreover, they provide the added benefit of keeping your towels dry and free from damp odors. And with options for wall-mounting or freestanding units, they optimize bathroom space perfectly. Finally, don't overlook energy-efficient models that will maintain your towel's warmth while keeping electricity consumption low, promoting sustainable luxury.
Spa-inspired Scented Candles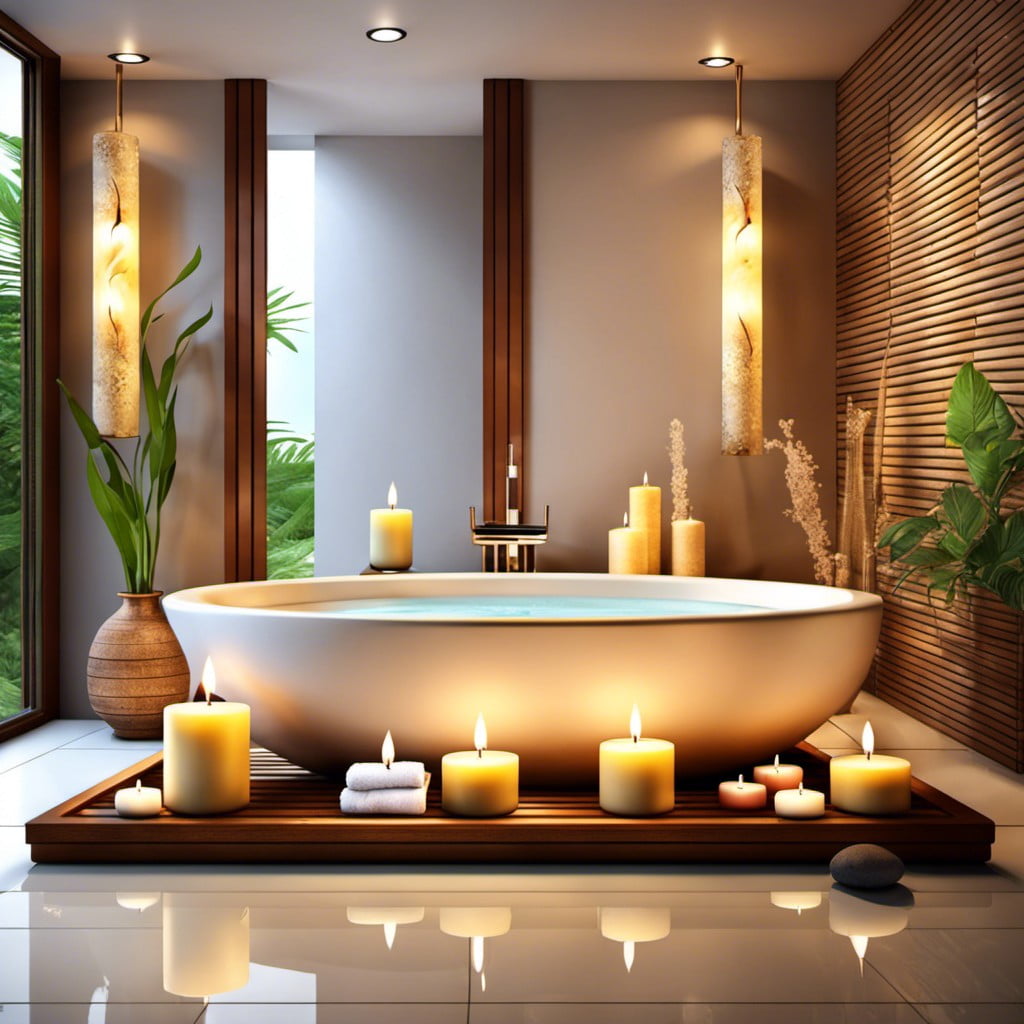 For that authentic spa feel, opting for aromatic candles can truly transform the atmosphere. Choose fragrances that promote relaxation, such as lavender, eucalyptus, or chamomile. Not only do these candles provide a gentle illumination that complements any decor, but the scents also contribute towards a serene bathing experience.
You can line these up along the edge of the tub, place them on the vanity, or even create a small dedicated display shelf. Remember, safety is paramount, so always monitor lit candles and keep them away from flammable items. It's also worth investing in quality candles with lead-free wicks for a clean, soot-less burn. Make sure to mix and match different sizes for an appealing array.
Crystal Chandelier for Lighting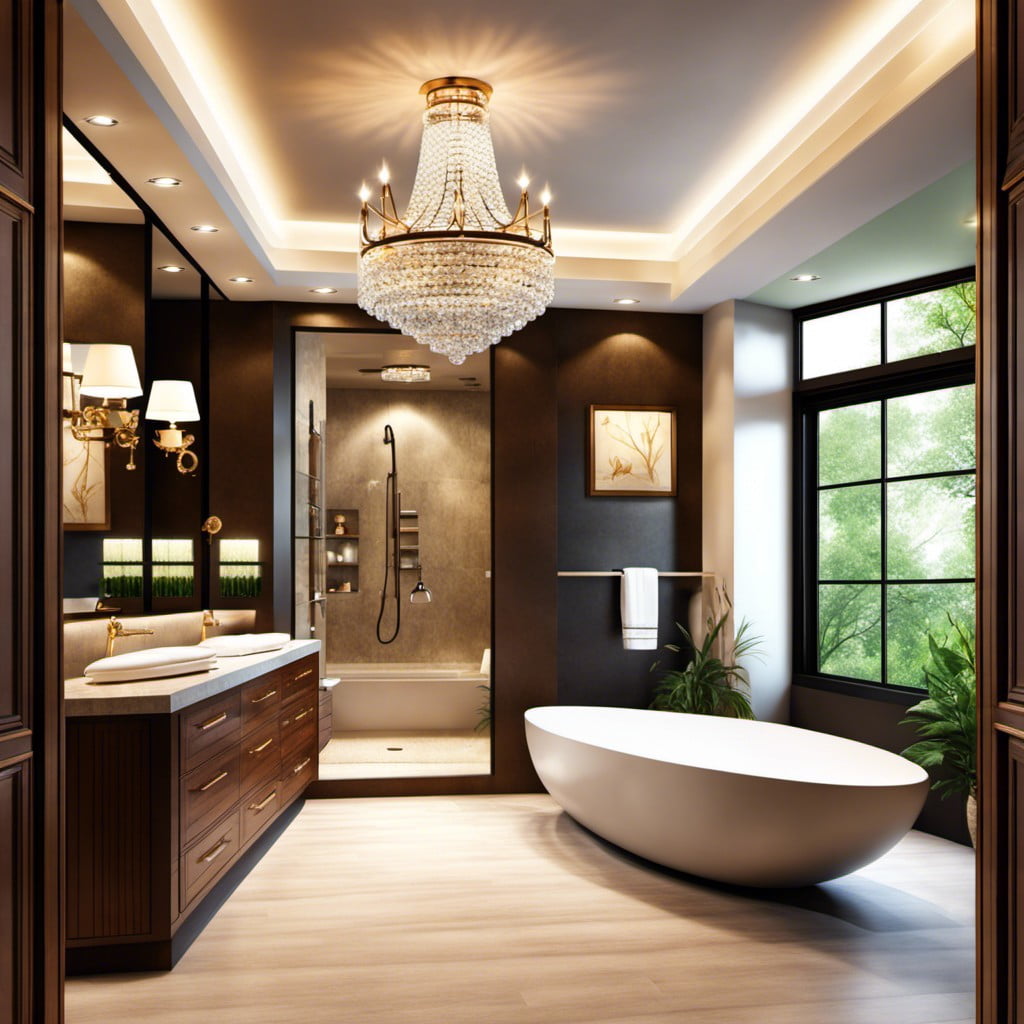 Dangling elegantly from the ceiling, a crystal chandelier immediately commands attention, infusing the bathroom with a touch of old-world glamor. It serves not only as a predominant source of light but also as an opulent centerpiece, giving your space a dramatic flair.
There are various styles to choose from, such as contemporary, vintage, or minimalistic to match with the bathroom's overall design language. Remember, the chandelier should be proportionate to the room's size to create a balanced visual symmetry.
For an extra splash of luxury, look for chandeliers with fixtures that scatter light in captivating, colorful patterns across the room when illuminated. Invest in dimmable options to control the intensity of light according to your mood. Hang it centrally, preferably over the bathtub or the vanity for maximum impact.
Make sure the piece is waterproof and rated for bathroom use to ensure long-lasting beauty and safety from potential water damage. This illuminating addition creates an atmosphere of sophistication and class, reminiscent of a high-end spa.
Automated Bidet Toilet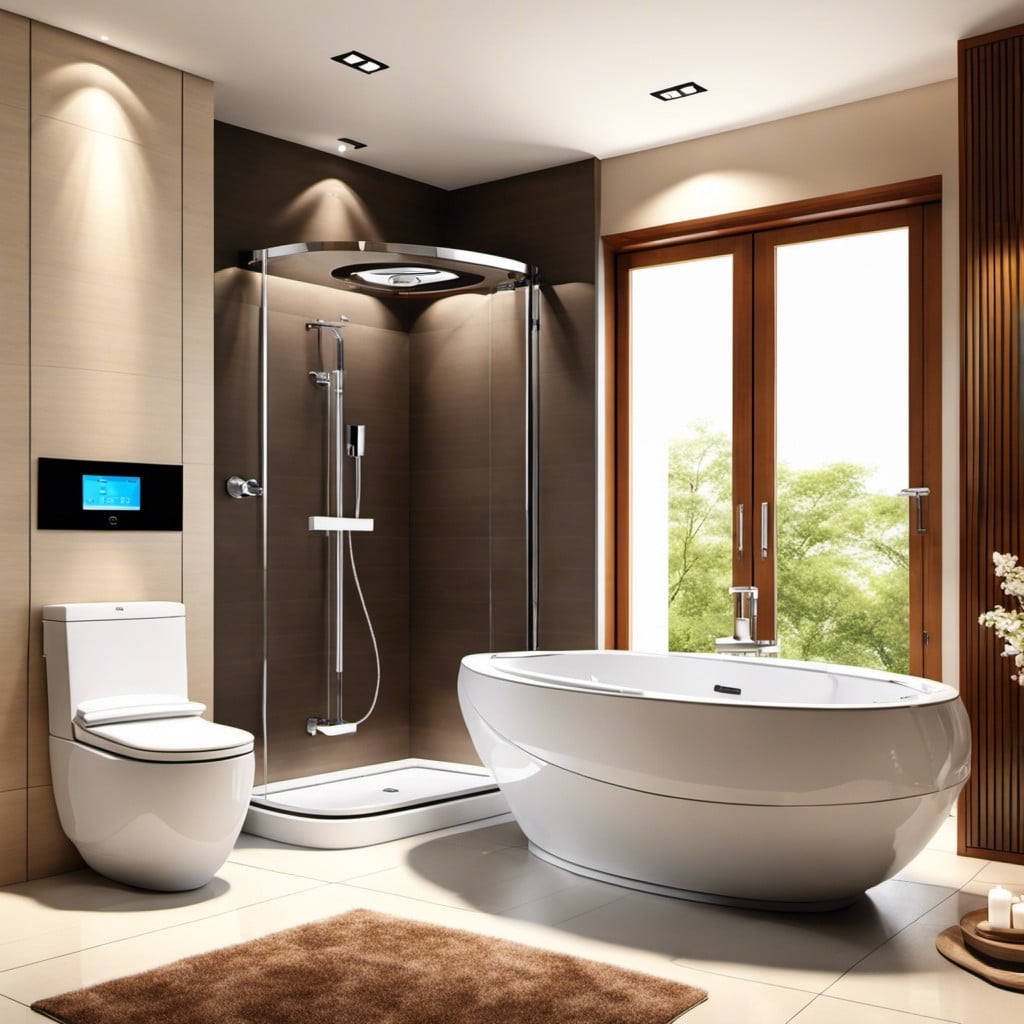 Investing in an automated toilet offers a heightened sense of comfort and luxury. Equipped with impressive features such as adjustable water temperature and pressure, warm air dryer, deodorizer, and heated seat, these toilets provide a unique and luxurious experience.
Furthermore, they have energy-saving modes and nightlights for ease during the night. With a touch of a button, users can personalize settings to match their liking. The self-cleaning feature ensures utmost hygiene while reducing the time and resources spent on cleaning. It's a notable aspect of 21st-century bathroom luxury.
Indoor Vertical Garden Wall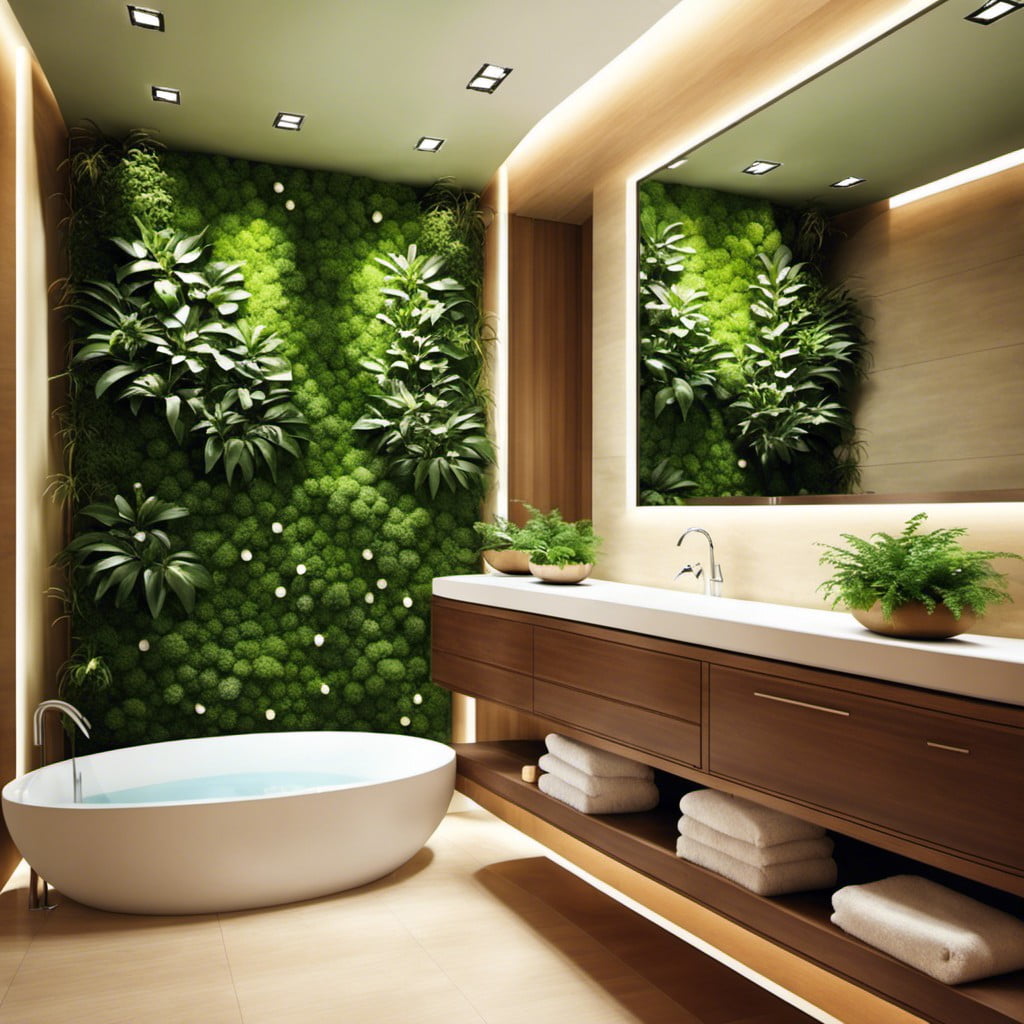 To bring a touch of natural serenity to your spa bathroom, consider crafting an indoor vertical garden wall. Selecting plants that thrive well in high humidity and low light settings such as English Ivy, Peace Lily, and Ferns will create a vivid, lush green backdrop.
Not only are these visually appealing, but they serve as natural air purifiers, refreshing the air while instilling a sense of calm. Think unobstructed greenery cascading down artistically either beside your tub or opposite your vanity.
The integration of such an element elevates the ambiance, blending the indoors with the outdoors to create a tranquil spa sanctuary. Make sure to install an automated irrigation system to ensure consistent moisture supply, allowing you to enjoy the stunning wall of greenery without the worry of maintenance.
Touch-screen Control Panel for Shower Settings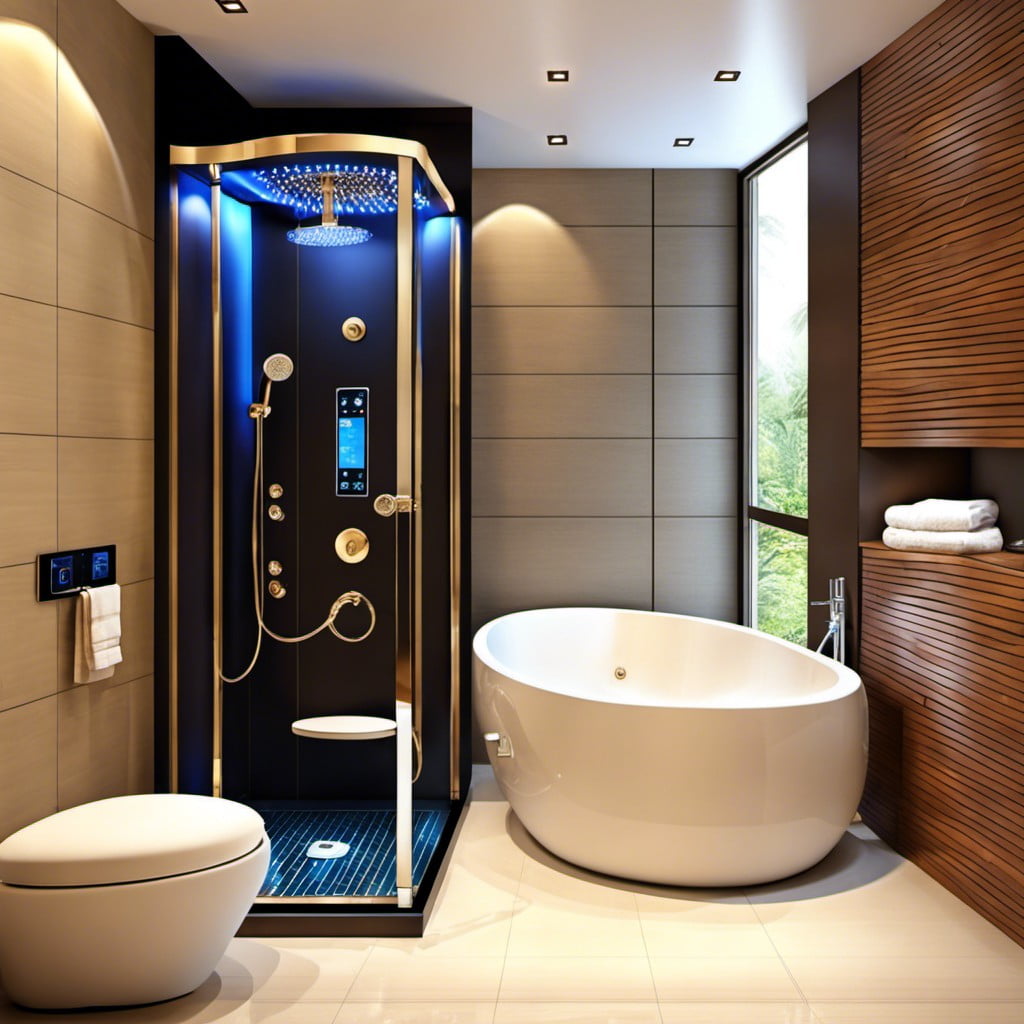 Having this modern feature allows you to easily program your optimal shower conditions, whether that's a warm, soft mist in the morning or an invigorating, cool tally in the evening.
Selecting your desired water temperature becomes a breeze without the need for countless adjustments.
This control panel can also offer the option of memory settings, where your favourite showering preferences can be saved and repeated with a simple touch.
It's efficiency, comfort and luxury combined into one.
Knowing exactly what to anticipate from your shower will make the experience all the more enjoyable.
Luxury Bathroom Accessories, Like Gold Soap Dispensers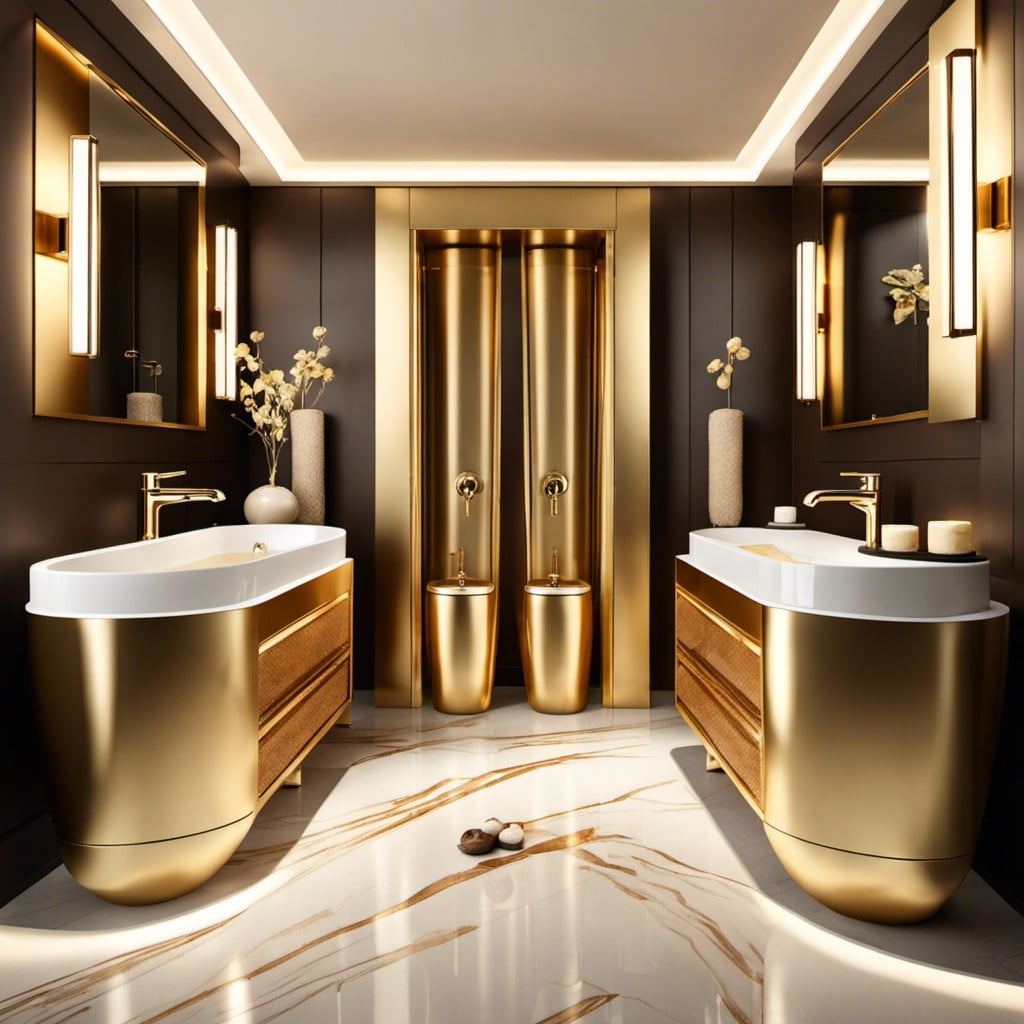 Exceptional objects serve to elevate the aesthetic appeal of a spa bathroom. Opting for gold soap dispensers, for instance, does more than carry out a functional purpose. The remarkable lustre of gold stands out against the rest of the decor, easily becoming an eye-catching focal point.
One advantageous aspect of such an investment is versatility. Not exclusive to soap, they can accommodate other materials such as lotions or bath gels. Having a series of coordinated dispensers presents a neat, organized appearance.
Moreover, selecting materials like gold can imply refined taste and elevate the overall ambiance of your spa bathroom. It's not limited to solid gold; gold-plated and gold-finished accessories have the same luxurious effect and can be more budget-friendly.
Consider also their design – intricate, complex patterns inspire an antique allure while sleek, minimalist styles channel a contemporary vibe. Both equally contribute to the opulent atmosphere you aim to create.
Another crucial point is their placement. Ideally positioned near sinks or showers, they should be within easy reach, optimizing your spa experience whilst maintaining the crucial tenet of stylish design.
When chosen wisely, these luxurious accessories – such as gold dispensers – can serve a dual purpose. They bring the desired functionality to your bathroom while accentuating its lavish aesthetics.
Floating Cabinets With LED Lightings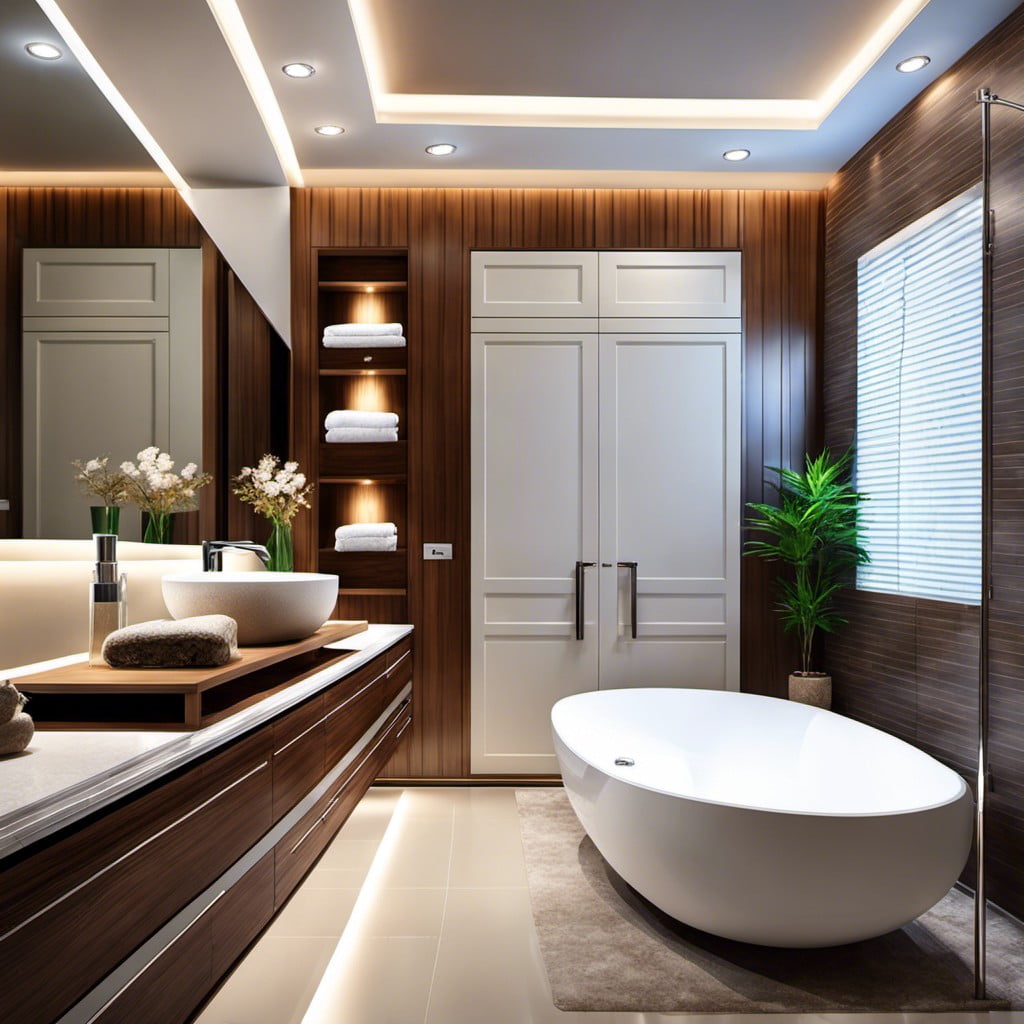 Let's explore why opting for this kind of cabinetry can be a game-changer. First, they add an immediate sense of space to your bathroom. By being mounted on the wall, they clear ample floor area, contributing to a more open and airy environment. Second, they offer practical storage solutions. Easily organize toiletries, towels, and other bathroom necessities, keeping counters clutter-free.
Now, the LED lighting. Interlacing your cabinets with these particles of brilliance is both purposeful and decorative. They serve as a soft night light, providing safe navigation during late-night bathroom trips. The subtle glow also highlights the impressive design of the cabinet, enhancing the overall aesthetic. Additionally, LEDs are energy efficient, a wonderful plus for the environmentally conscious renovator.
In summary, floating cabinets with integrated LED lighting are an aesthetically pleasing, practical, and energy-efficient way of elevating your bathroom experience. These features, combined with other luxury touches, are essential for a home spa oasis.
Continue reading:
Recap