Last updated on November 27, 2023
Turning your master bathroom into a spa-inspired oasis without a tub is beneficial because it offers extra space for features that complement your lifestyle, a topic this article will explore in depth.
I'm proud to have personally crafted this collection of 20 Stylish and Spacious Master Bathroom Ideas Without a Tub, and I sincerely hope you find these unique designs as inspiring and entertaining as I've found creating them.
Master bathrooms without a tub are a growing trend in contemporary home design, offering a spacious and luxurious feel.
This article will guide you through a variety of innovative ideas that will transform your master bathroom into a stylish sanctuary without the need for a tub.
From walk-in showers to clever storage solutions, you'll find a wealth of inspiration here.
Stay tuned to explore all the details and discover how to create a master bathroom that is both functional and fabulous, even without the traditional bathtub.
Large Walk-in Shower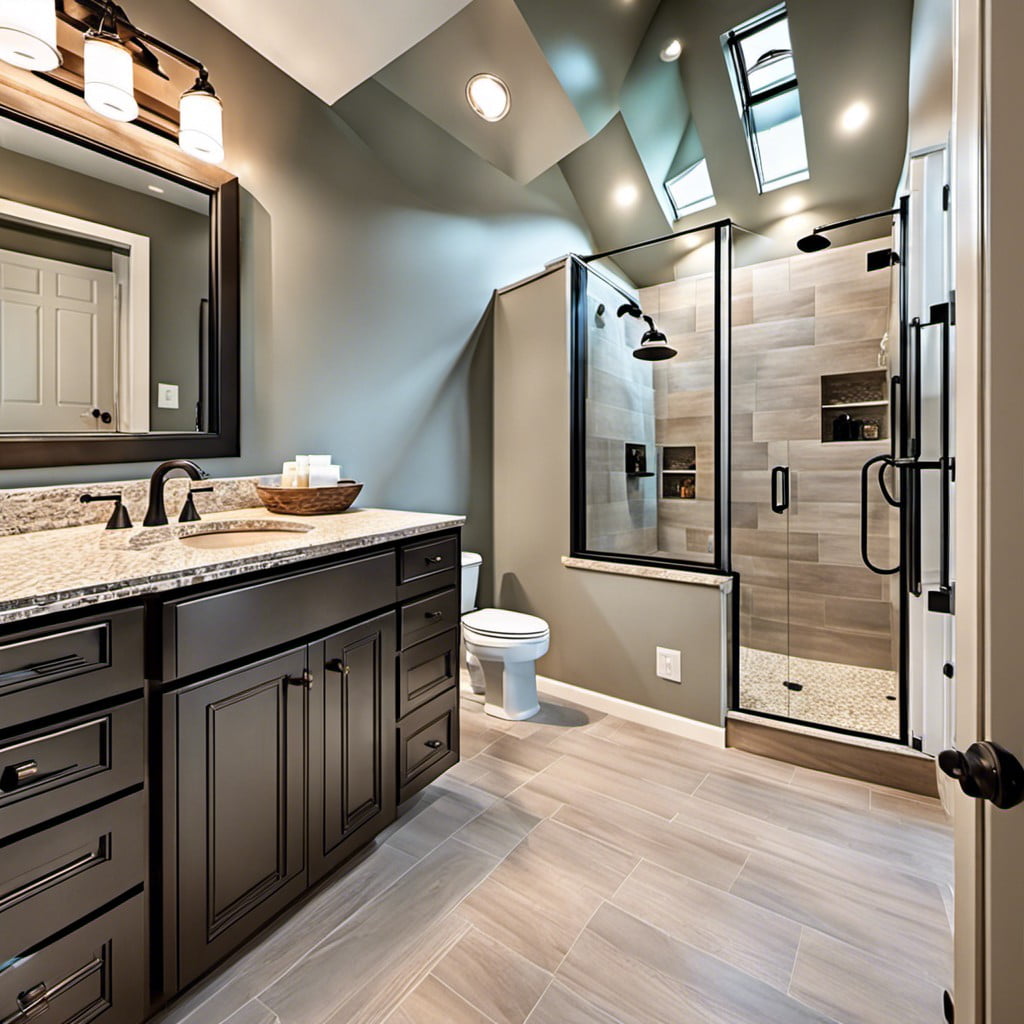 Adding a large walk-in shower in your master bathroom maximizes the available space while providing a spa-like ambiance. Unlike traditional shower cubicles, walk-in designs have minimal visual interruptions, making your bathroom look bigger and more stylish.
Opt for frameless glass enclosures to maintain an open and airy feel. You can also add a shower bench for comfort, a useful feature especially for those who have mobility issues.
For a touch of luxury, consider installing multiple shower heads- a fixed, a handheld, and a rainfall shower head to cater to your different moods and needs. Remember to include built-in niches for convenient storage of your toiletries.
Non-slip flooring is a crucial safety feature that warrants consideration. Materials such as textured tiles or stone slabs can offer both safety and style.
In terms of design, align your shower area with your bathroom's overall aesthetic. Choose materials and accents that complement the general theme.
This considerable upgrade not only enhances your daily shower experience but also increases your property's value should you ever decide to sell.
Double Basin Vanity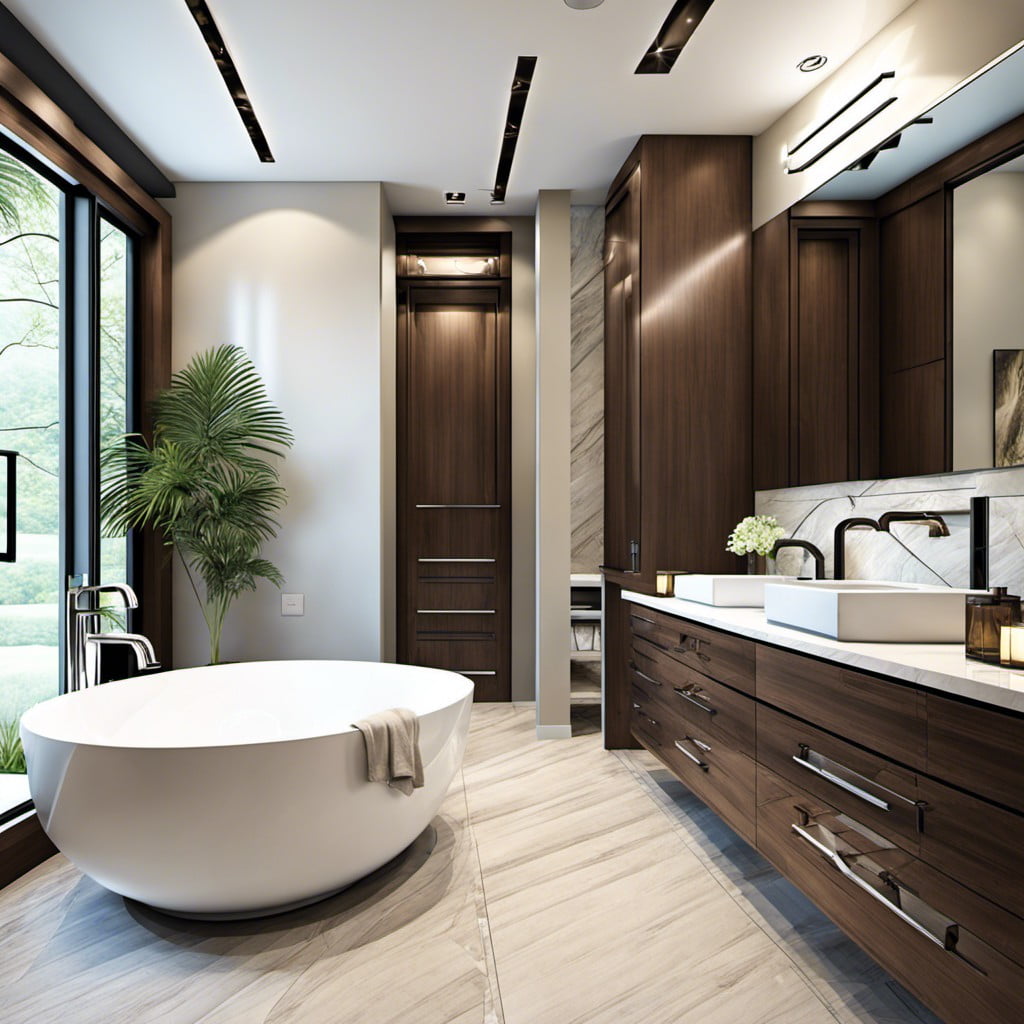 Investing in a double basin is a surefire way to boost the practicality of your master washroom. It's a popular choice particularly for couples, as it eliminates morning rushes and queues. Each individual gets their own space, fostering a sense of harmony in the daily routine.
Various materials, from timeless porcelain to fashionable concrete, can be chosen based on your aesthetic preference. Cabinets or drawers beneath the basins solve the perennial problem of bathroom storage, ensuring your essentials are always within reach.
You have creative freedom when selecting faucets; wall-mounted options yield a streamlined look, while deck-mounted versions are easier to install.
Heated Floors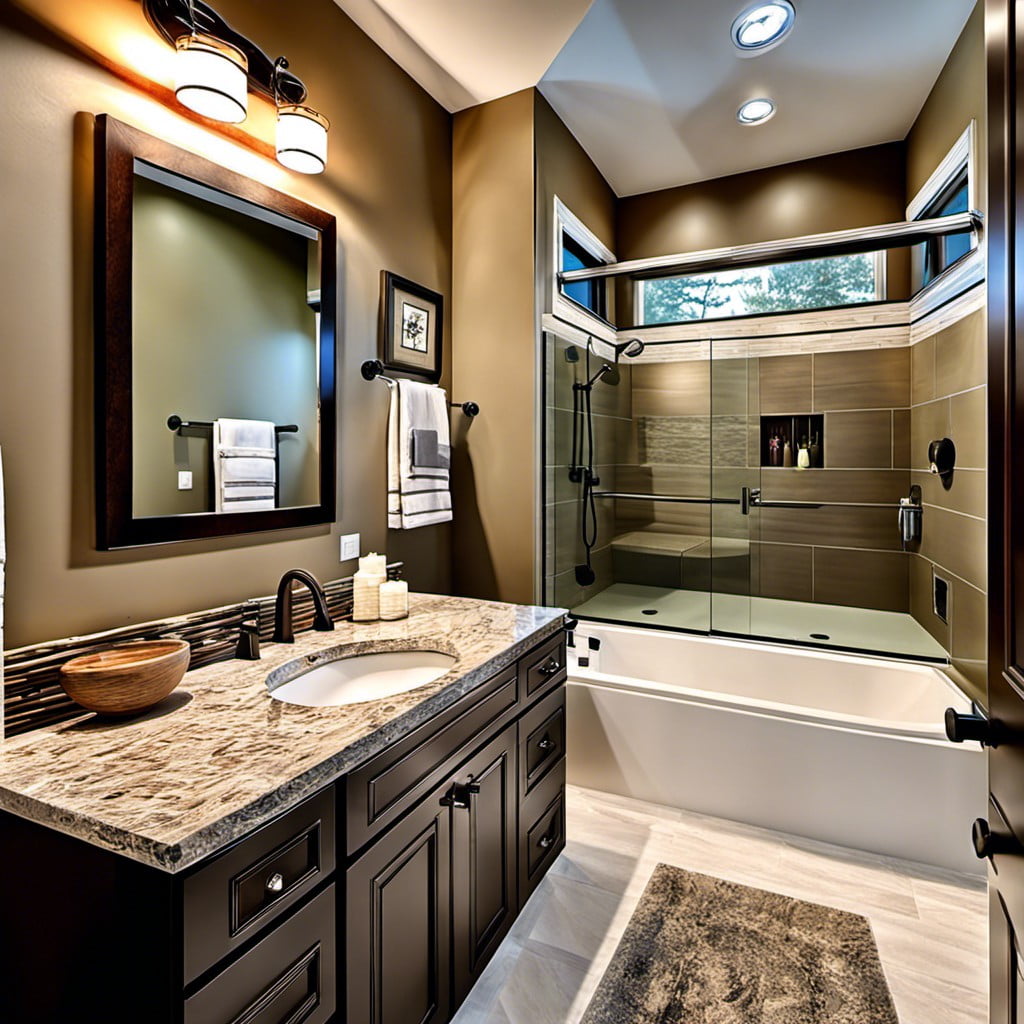 Imagine placing your bare feet on a warm, cozy surface on a chilly morning. That's the luxury heated floors bring into any master bathroom. They operate using radiant heat technology, warming objects above rather than the air itself, making it a more energy-efficient choice.
Now, there are two main types to consider: electric and hydronic. Electric systems are easier to install and work by running heated wires beneath the floor. While they increase monthly electricity bills slightly, they're perfect for smaller spaces.
Hydronic systems, on the other hand, use heated water piped from a boiler to distribute warmth. They're ideal for larger areas or for houses with a planned radiant heating system. They are more complex to install, but they can lower heating bills in the long run.
Options for flooring material compatible with heating systems are diverse. Ceramic, porcelain, stone, and concrete work great due to their thermal conductive qualities, but even certain types of wood flooring can be used.
Heated floors can add a touch of spa-like luxury to your master bathroom, giving it that extra snug touch. A wide range of programmable thermostats also allows homeowners to control when the floor heats up, adding convenience to comfort.
Sauna Room Feature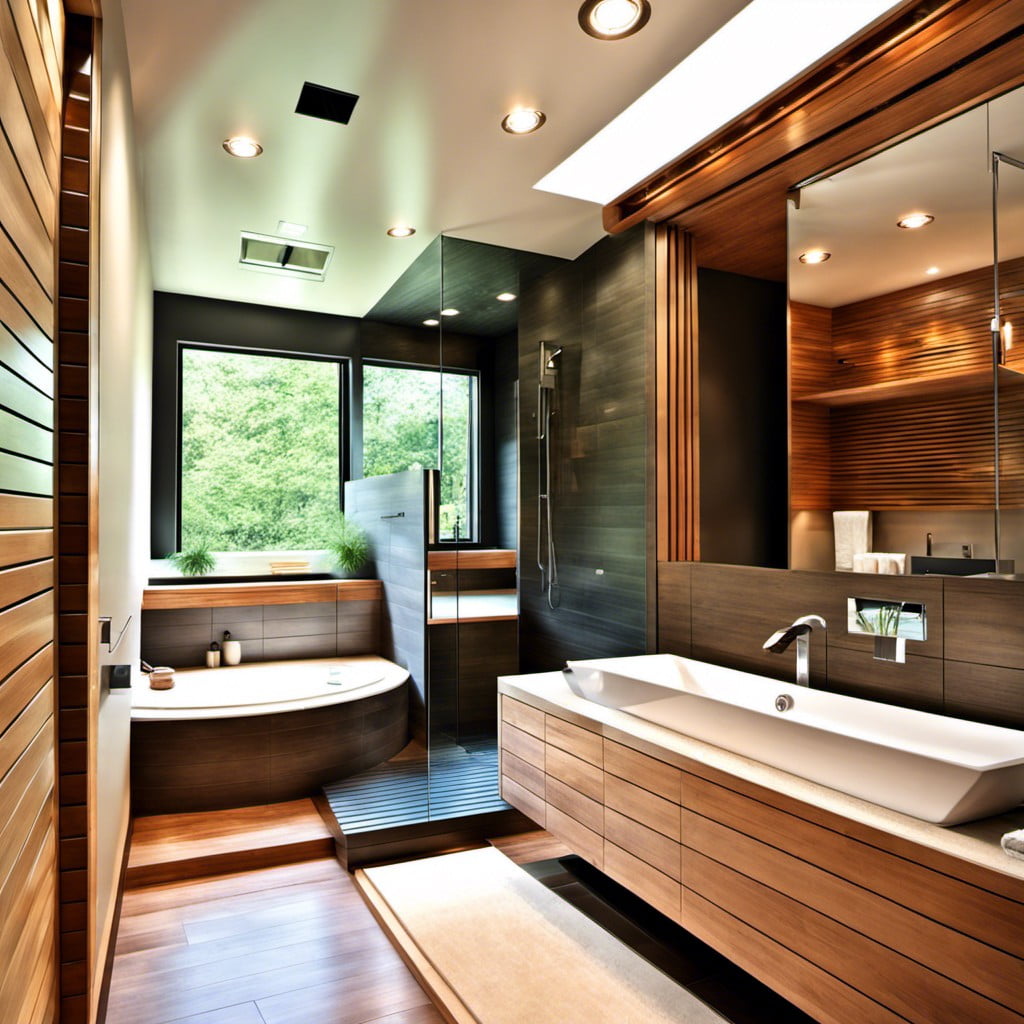 Integrating a sauna room into a master bathroom creates a luxurious spa-like experience right at home. It serves as an ultimate relaxation spot, helping to soothe muscles and boost circulation.
1. Space & Planning: Match the sauna size to the available bathroom space. Custom-built saunas can accommodate even unconventional dimensions.
2. Sauna Type: Decide between steam or infrared saunas – the former involving high humidity and the latter using infrared heaters for a dry heat.
3. Location: A corner location could be ideal for space efficiency, but also consider window placements for ventilation.
4. Materials: Stick with heat and moisture-resistant materials like cedar or hemlock. Metal and glass accents add modern aesthetic.
5. Lighting & Fixtures: Opt for adjustable, soft lights for ambiance and mood.
6. Seating: Built-in seating functionality raises the comfort quotient.
A sauna bathroom feature is basically the crossroads of wellness and luxury, providing an in-home retreat for end-of-the-day unwinding sessions.
Ample Lighting Options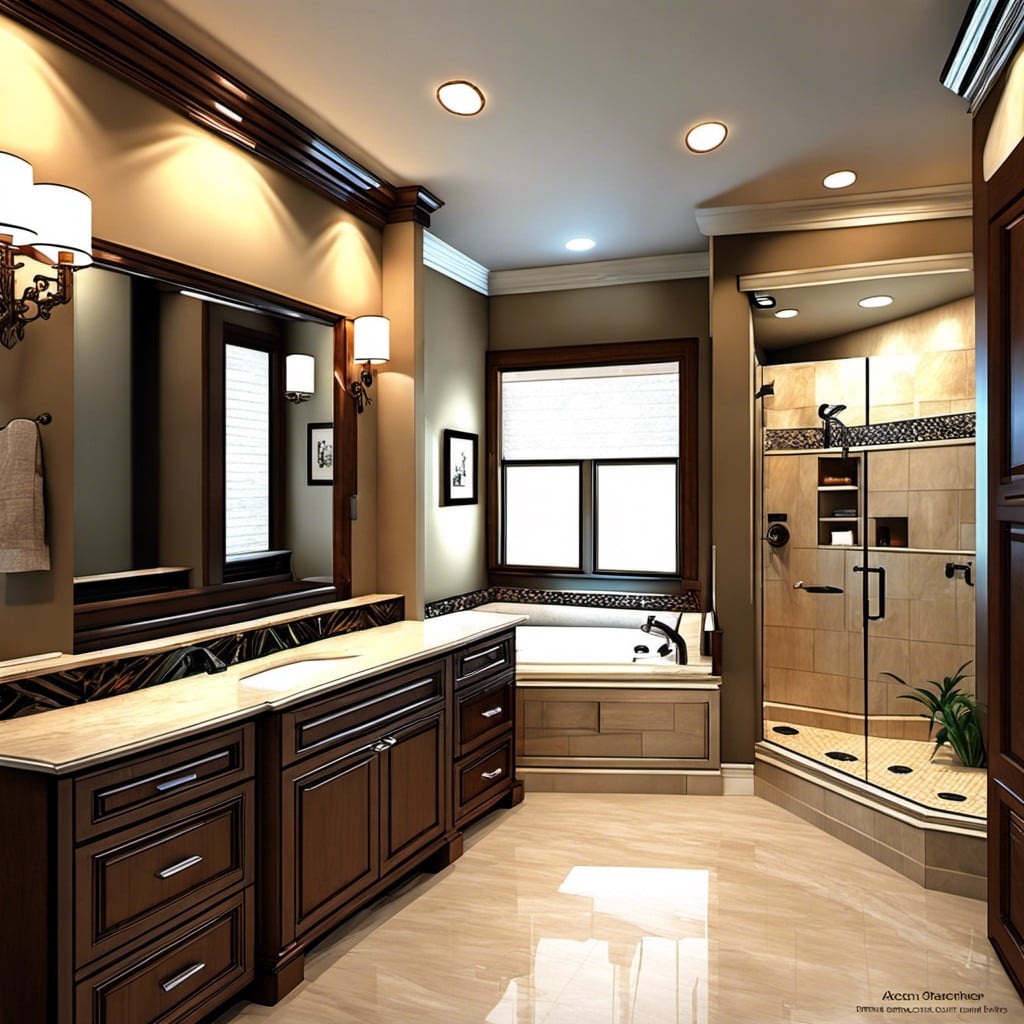 A proper lighting plan is indispensable in a master bathroom without a tub. To add depth and character to space, incorporate various light sources. Consider adding layered lighting, which involves using a mix of different light types such as ambient, task, and accent lighting.
Task lighting is vital around the mirrors and vanity areas. It provides adequate illumination for personal grooming tasks. Sconces and pendant lights are an excellent choice for this purpose.
Ambient lighting, often achieved through recessed ceiling lights or a stunning chandelier, fills in the overall light in the room, creating a welcoming atmosphere.
Accent lighting can highlight design features like a beautiful piece of art or an ornate mirror. Under cabinet lighting can also add a soft glow and make nighttime trips safer.
The inclusion of dimmer switches allows you to adjust the light intensity depending on the time of day or your mood. Moreover, a skylight or clerestory windows could bring in natural light which can improve the overall ambiance while maintaining privacy.
Finally, remember to select fixtures that complement the bathroom's overall decor style to ensure a cohesive aesthetic. Bright ideas, aren't they?
Granite or Quartz Countertops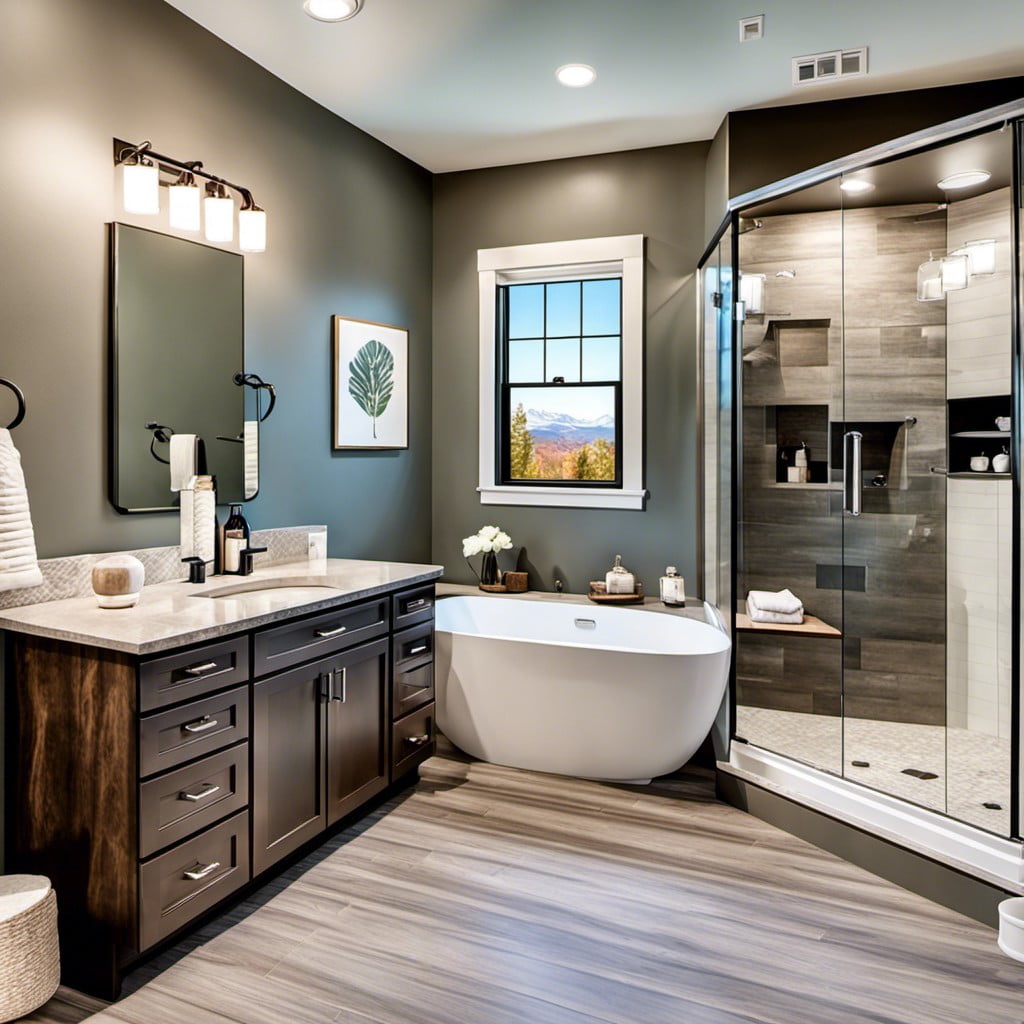 Offering both aesthetic appeal and practicality, these materials are a top choice for countertops in your tub-free master bathroom. The durability and easy maintenance of granite and quartz make them ideal, especially in a frequently used area like the bathroom. They resist stains and water damage, which helps to maintain a clean, fresh-looking space.
Not only are granite and quartz functional, but they also add a touch of luxury and sophistication. Available in an array of colors and patterns, you can easily find the option that matches your overall bathroom design. Their glossy finish can provide a visual contrast in an otherwise matte environment.
Keep in mind, both materials need to be professionally sealed during installation and regularly afterward, to prevent any seepage damage. Additionally, while both are robust, granite has a slight edge over quartz in terms of heat resistance, a beneficial feature if you often use hot styling tools in the bathroom.
By choosing granite or quartz for your countertop, you ensure your bathroom not only looks top-tier but is equipped to withstand the high-traffic nature of the space.
Linen Storage Cabinet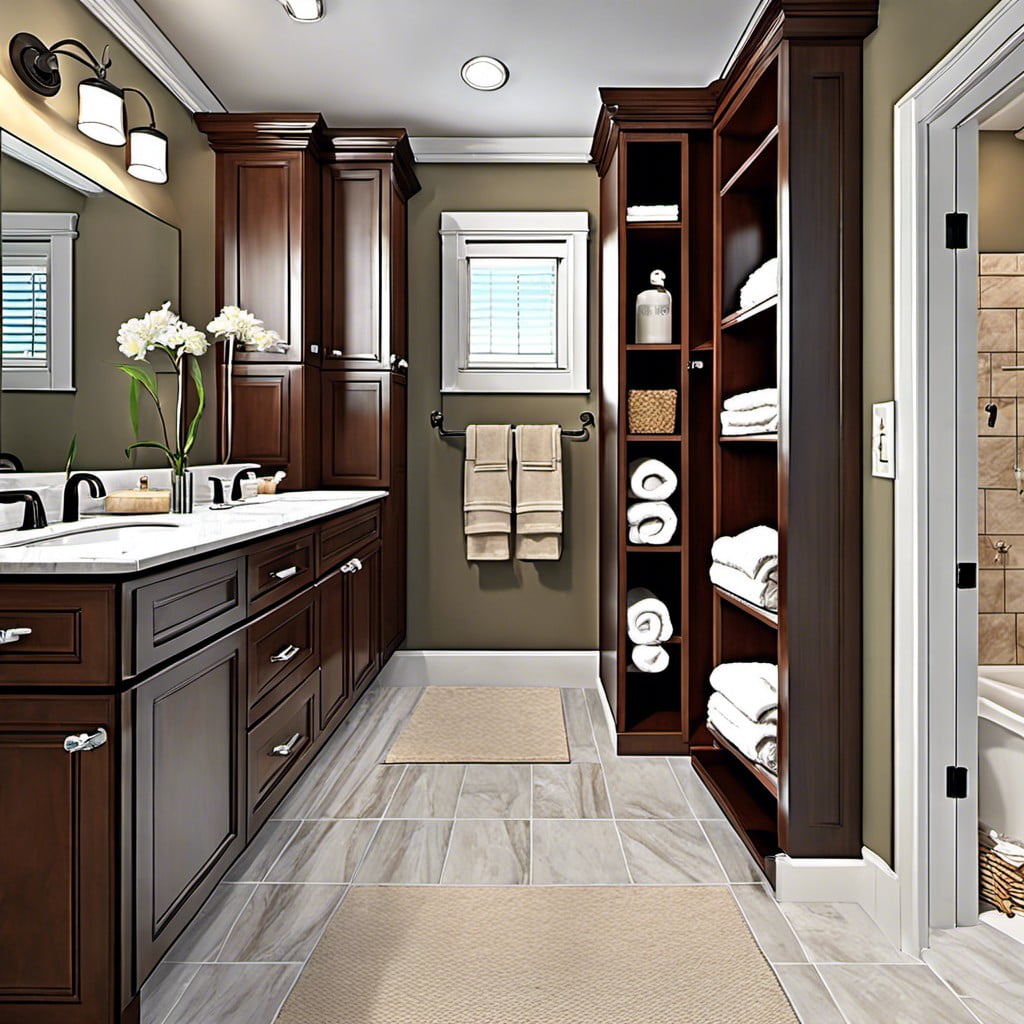 Incorporating linen storage directly into your master bathroom ensures all towels, robes, toiletries, and other necessities remain within reach. Keep clever design in mind when choosing a cabinet, look at the dimensions to find a right fit.
Consider taller units to maximize vertical space or opt for corner cabinets to keep the floor area open. Opt for a cabinet with open shelves or glass doors for decorative appeal, housing neatly rolled towels or baskets with toiletries. Alternatively, opt for solid doors in harmony with your decor.
To help beat the moisture, consider sealants or choose materials like bamboo or treated wood. Always measure the area you want the cabinet in to ensure a perfect fit. Remember, the key is to keep functionality at the forefront while not compromising on aesthetics.
Waterproof Recessed Shelving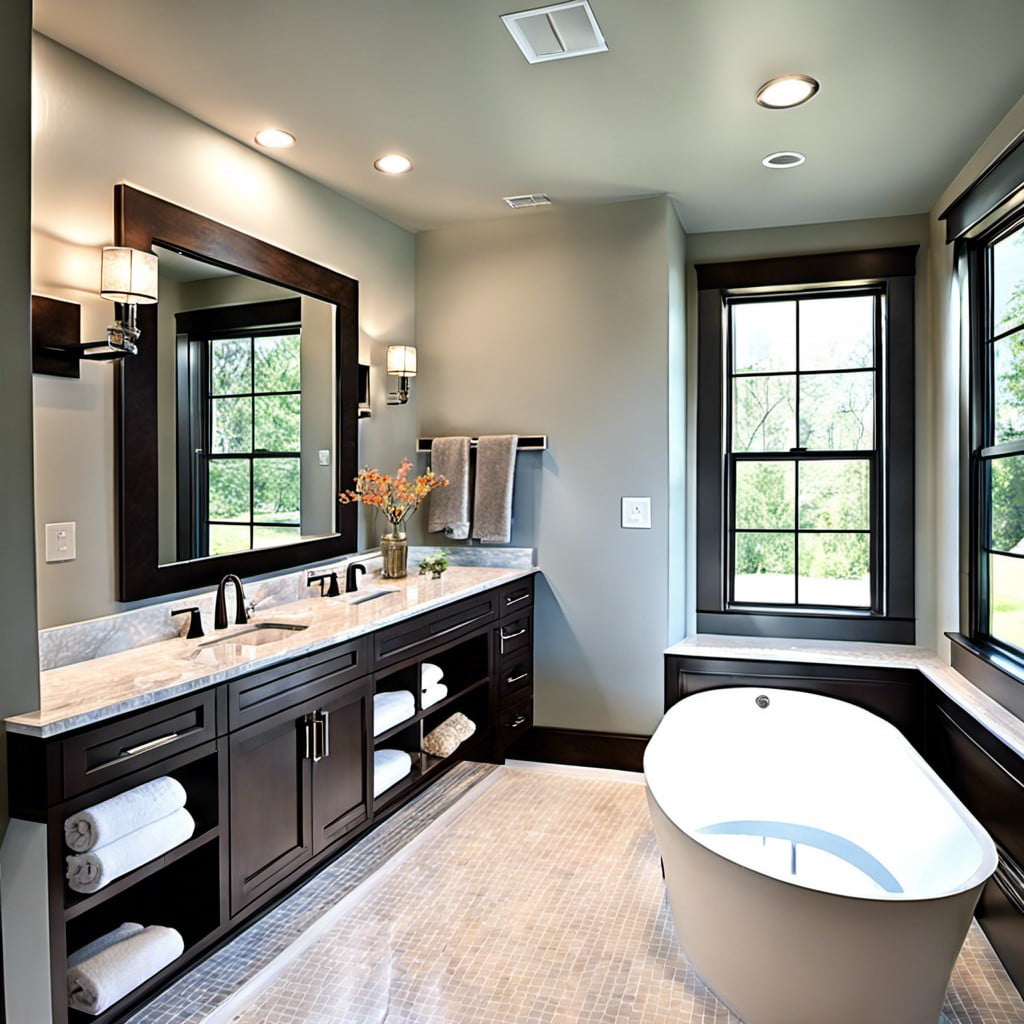 Installing waterproof recessed shelving within the shower area offers a practical and stylish solution for storing bathing essentials. By using waterproof materials like tile or stone, you prevent water damage and ensure longevity.
Here's a quick guide:
Choose a location that's easily accessible but not directly under the shower spray.
Opt for materials that match your shower decor for a seamless look.
Ensure an optimal size that accommodates your bathing products without overcrowding.
Arrange shelving at different heights for easy reach and organization.
Incorporate a slight slope to allow water to drain off and prevent standing water.
This approach keeps your shower area clutter-free and adds a sleek design element to your master bathroom.
Wall-mounted Faucets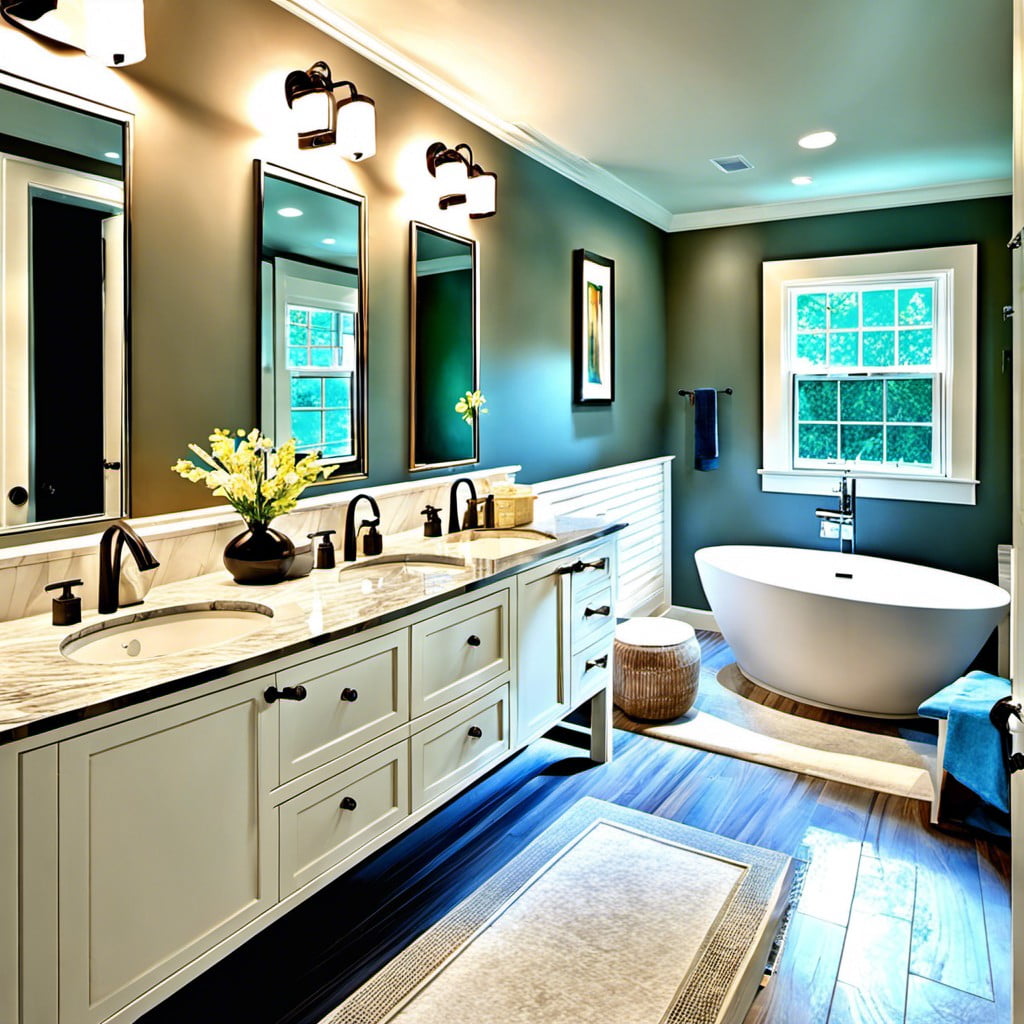 When looking for a space-saving, elegant, and modern touch for your master bathroom, wall-mounted faucets are an unbeatable choice. They free up counter space, making cleaning a breeze as there is less clutter around the sink area. An added bonus is the installation height flexibility, which allows for a perfect match with any sink style.
Considerations for this style choice are mainly about plumbing. Most traditional setups have water supply lines coming from beneath the sink. To accommodate wall-mounted faucets, plumbing modifications are necessary to redirect the water supply through the wall. It's best to consult with a professional plumber early in the planning stage to address this.
Option-wise, wall-mounted faucets come in various finishes to cater to your aesthetic. Brass and bronze lend a timeless, classic appeal, while chrome or matte black gives a sleek and contemporary look.
Remember, faucets are like the jewelry of a bathroom, so finding the right one can significantly elevate your master bathroom's aesthetic, comfort and functionality.
Large Wall or Floor Tiles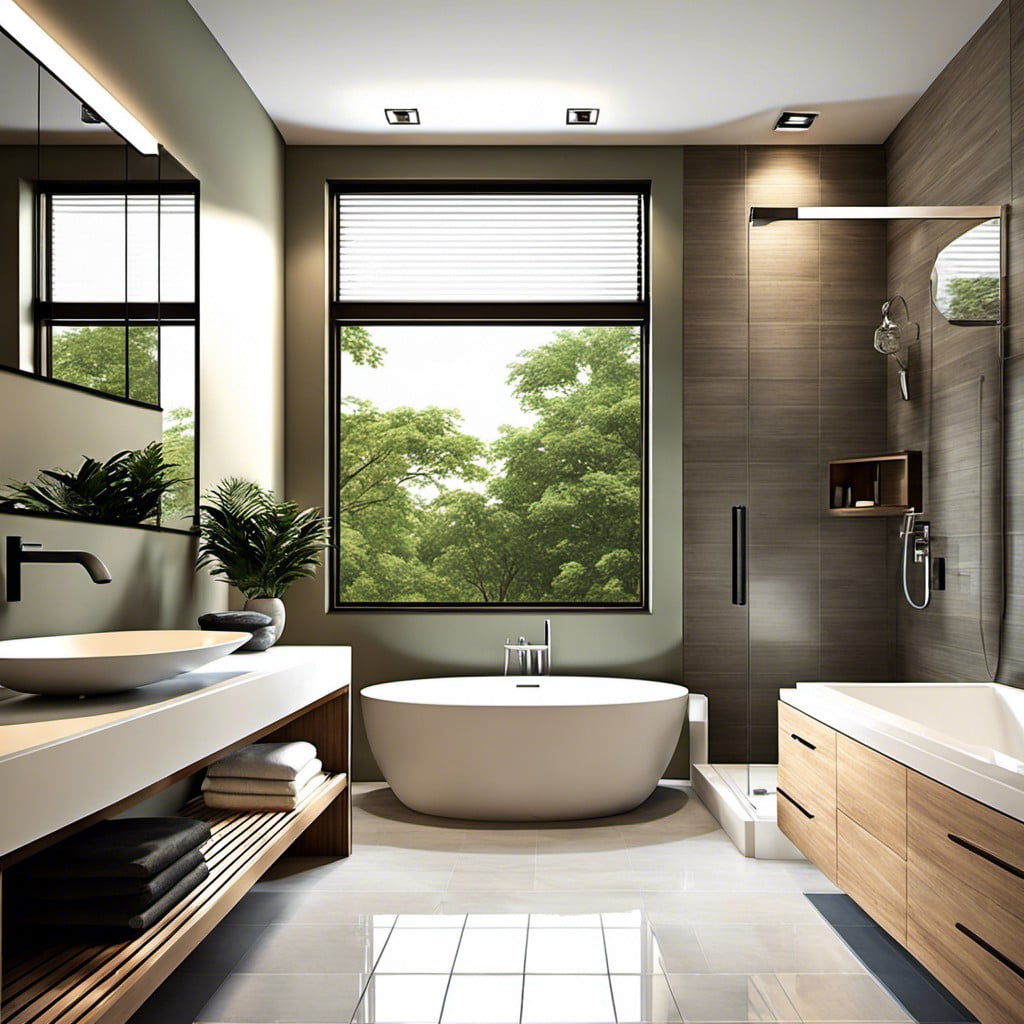 To further accentuate the bath-free spa-like ambiance, large tiles can be a sleek and practical choice for a master bathroom. Towering wall tiles, as well as sprawling floor tiles, will offer a modern minimalist appeal that requires less grout resulting in a cleaner look.
Opting for materials like ceramic, porcelain, or natural stone can provide the desired aesthetic effect, while adding resilience and ease of maintenance. Also, keep in mind the color and texture to match your overall bathroom décor.
An earth-toned matte tile might offer a warm, nature-inspired theme, whereas a darker, shiny tile might evoke a more glamorous and luxurious vibe. Remember, harmonizing functional needs with personal style preferences is key in planning the optimal master bathroom.
His and Hers Sinks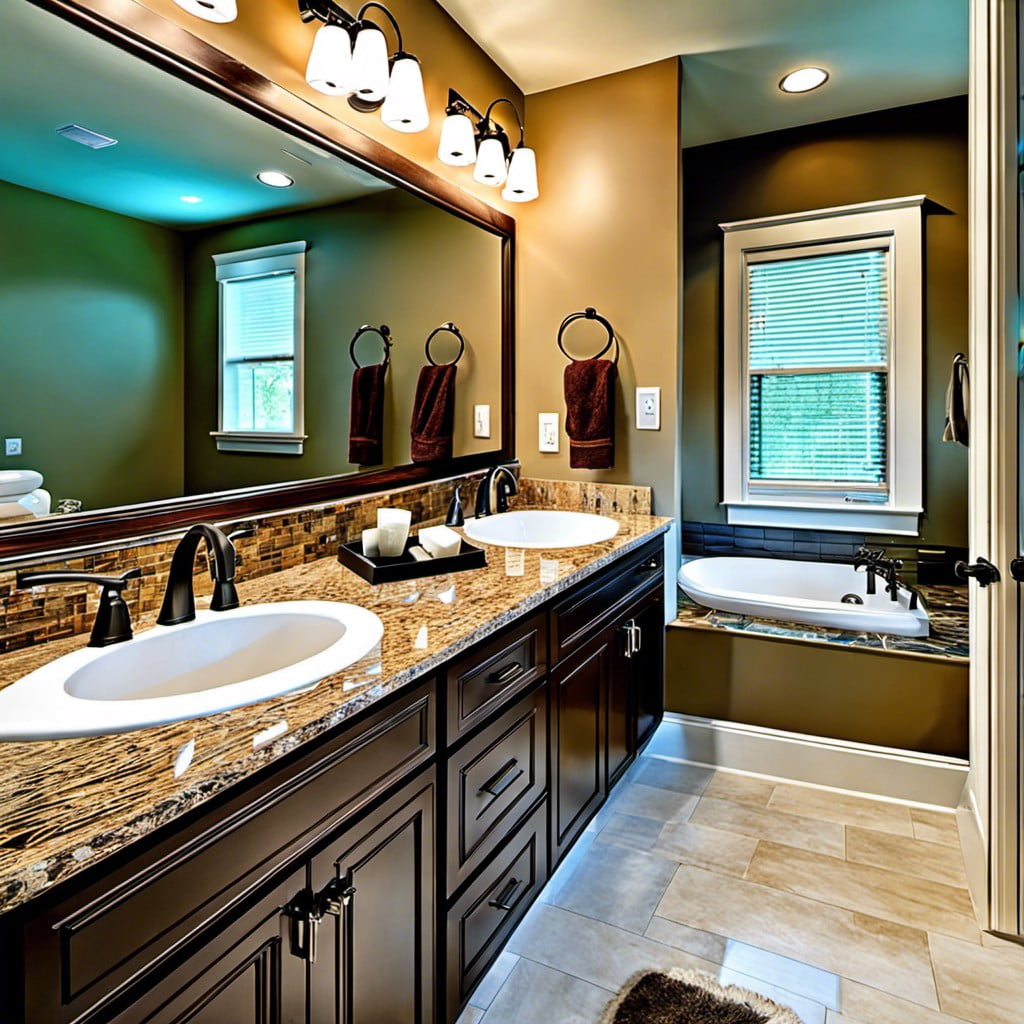 With separate basins, shaving kits and makeup brushes won't have to compete for space anymore. Not only does it add a sense of luxurious symmetry to your bathroom decor, but it also increases functionality resulting in smoother mornings.
Opt for identical mirror styles above each sink to maintain unity. You can further personalize each area to cater to personal grooming needs with adjustable lighting or storage accessories.
Of course, this concept requires a wider countertop, therefore, ensure to check the available space before making the decision.
Rainfall Shower Head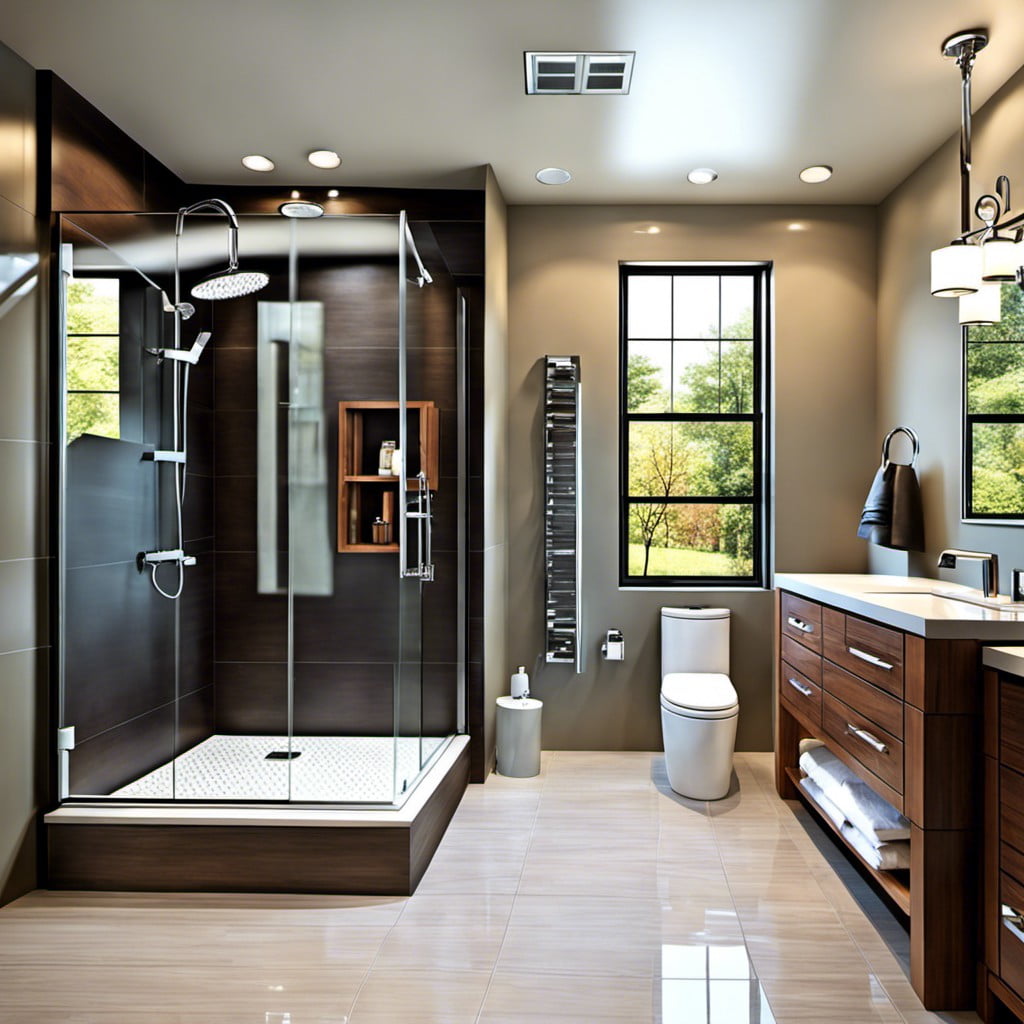 Creating a soothing environment is crucial. Opt for models that offer different spray settings for added flexibility, from a light drizzle to a more robust downpour.
Positioning it directly overhead creates a luxurious and comforting feel, as it imitates natural rainfall. The high-mounted fixture should be adjustable to accommodate people of different heights.
Consider including a separate traditional shower head for days when a quick wash is all there is time for. A rainfall head is a bit of an investment compared to standard against-the-wall units but worth every penny for the relaxation it brings to your everyday routine.
Frameless Glass Shower Area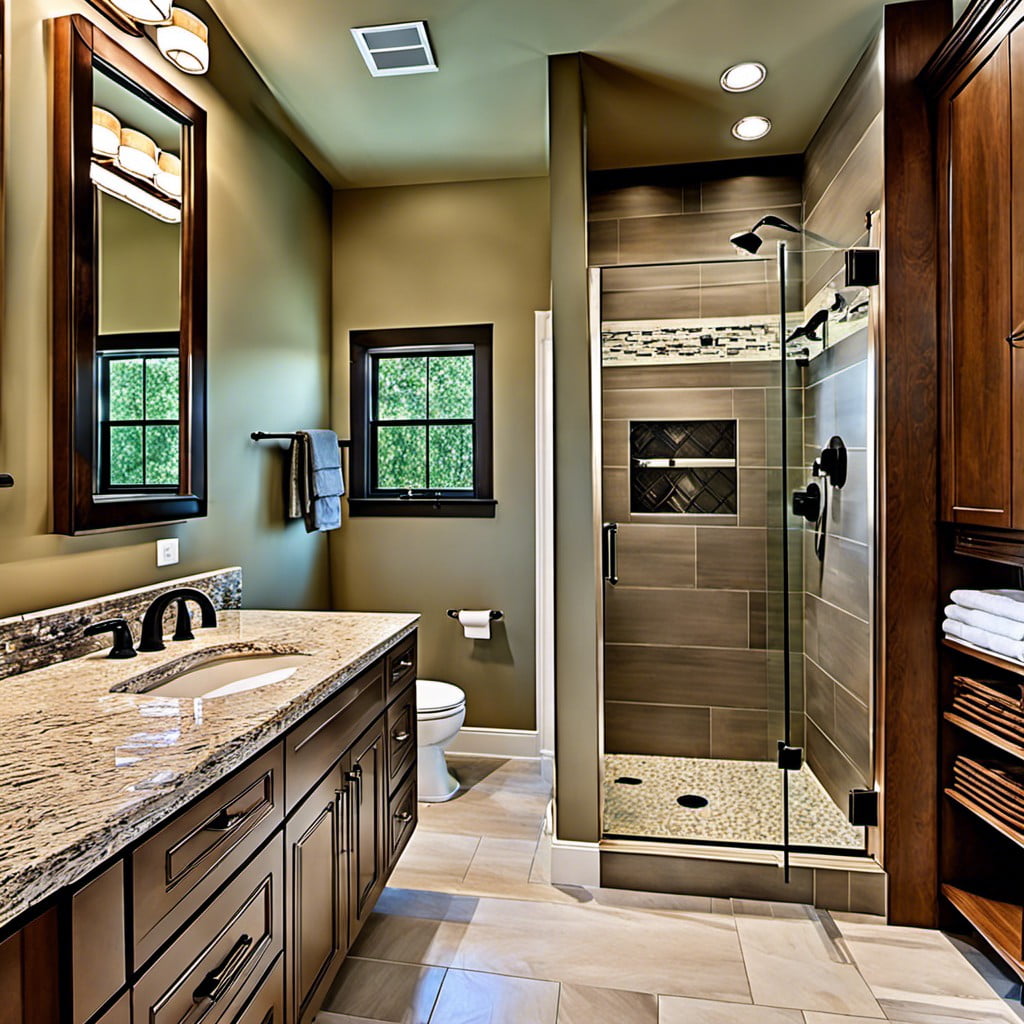 Transitioning towards a shower-focused bathroom without a tub? A popular option is a frameless glass enclosure. This design is not only sleek but it also offers a clean, modern edge to your space. These enclosures are sleek and less prone to mold growth due to fewer places for water to hide.
Moreover, the transparency of glass, lack of heavy metal framing, and customisability to any shape or size make these showers a gold standard for smaller bathrooms. It creates an illusion of space, enhancing the overall room's style.
Another major advantage is the easy maintenance. Simple glass cleaner and a squeegee can be used to keep it shiny and clear. Remember to choose a sealant to keep water inside the shower, you could even use a hydrophobic coating to make cleaning simpler.
Finally, personalise this space many ways – decorative tiles, unique shower heads, built-in benches, or even adding a steam feature. After all, it's all about creating a design that is truly your own.
Stone Accent Wall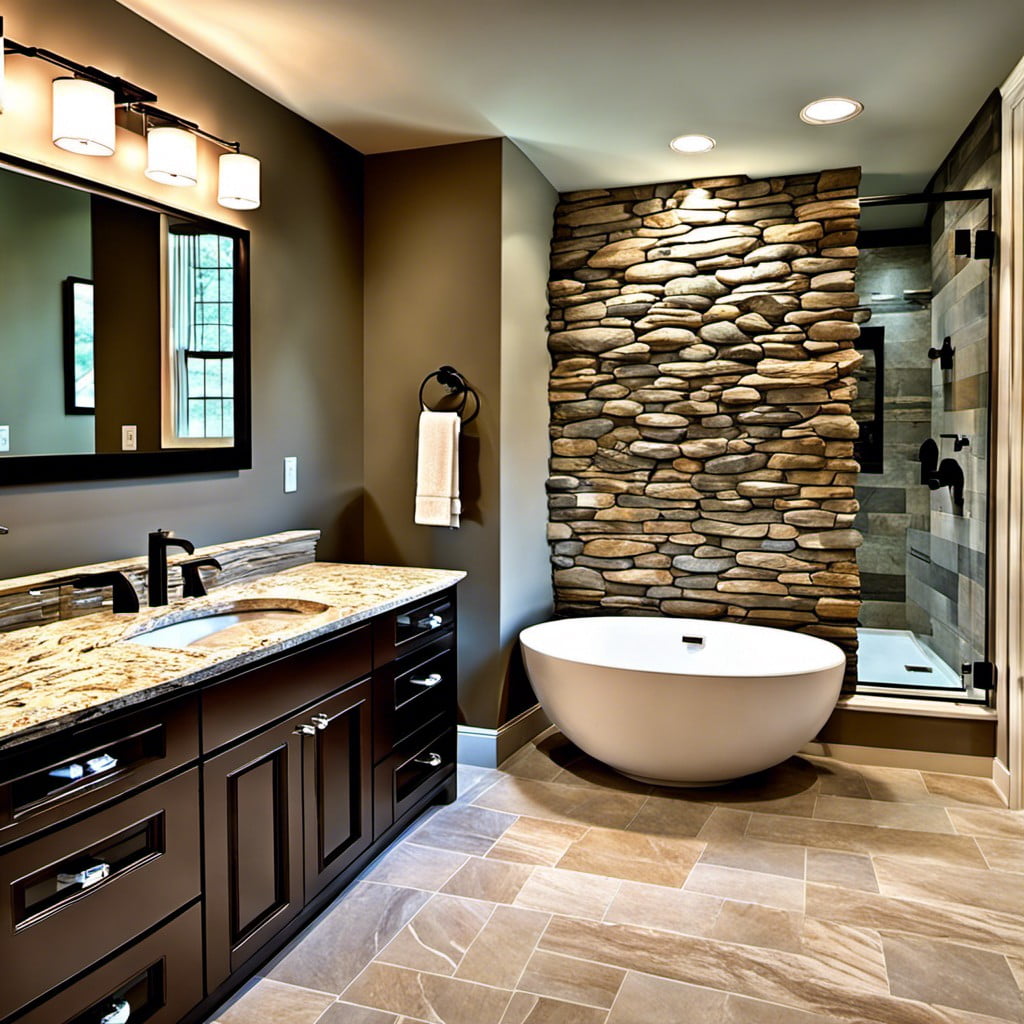 Texture, durability and style come together in a stone accent wall – a perfect addition to a master bathroom sans tub. It elevates the overall design and resembles a natural spa.
Choose from sleek marble, rustic cobble, or contemporary slate, every choice offers a unique pattern and hue. As a water-resistant material, it stays unaffected by shower steam.
This long-lasting design feature also ensures cleaning simplicity over wallpaper or paint. Few upgrades can match the luxurious ambiance of a seamlessly installed stone wall, providing a wow-factor to your master bathroom.
It is the epitome of combining practicality with aesthetics. Remember: professional installation is advised for precision and longevity.
Integrated Audio System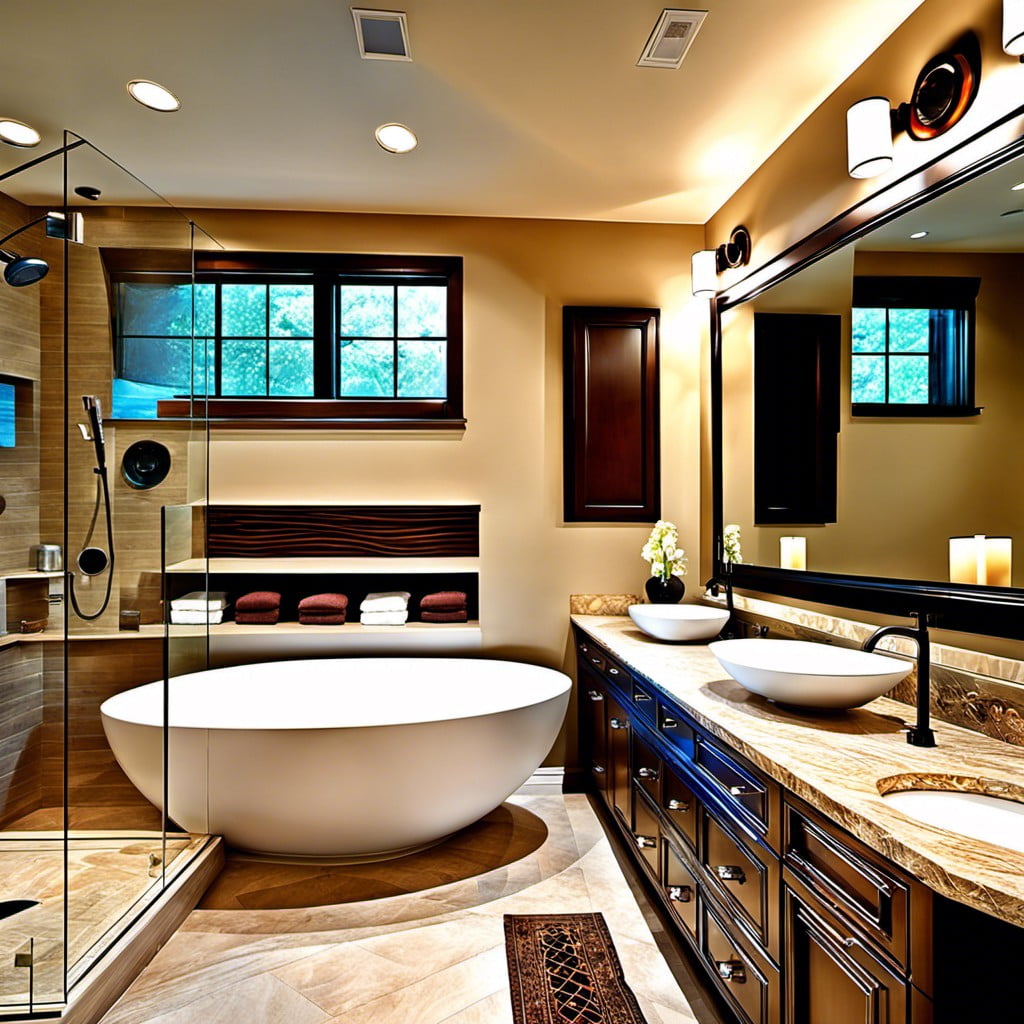 To immerse in your masterpiece of bathroom design, incorporating an audio system is key.
Imagine nerding out on your favorite podcast or unwinding to some soft jazz during your morning routine.
Opt for waterproof speakers, strategically nestled in unobtrusive areas.
If tech-savvy, consider voice-activated systems that can even control shower temperature or dim lights.
Just remember to ensure proper wiring and installation for safety.
A simple addition that indulges the senses can enhance your everyday routines, making them more enjoyable and stress-free.
Bidet Feature in Toilet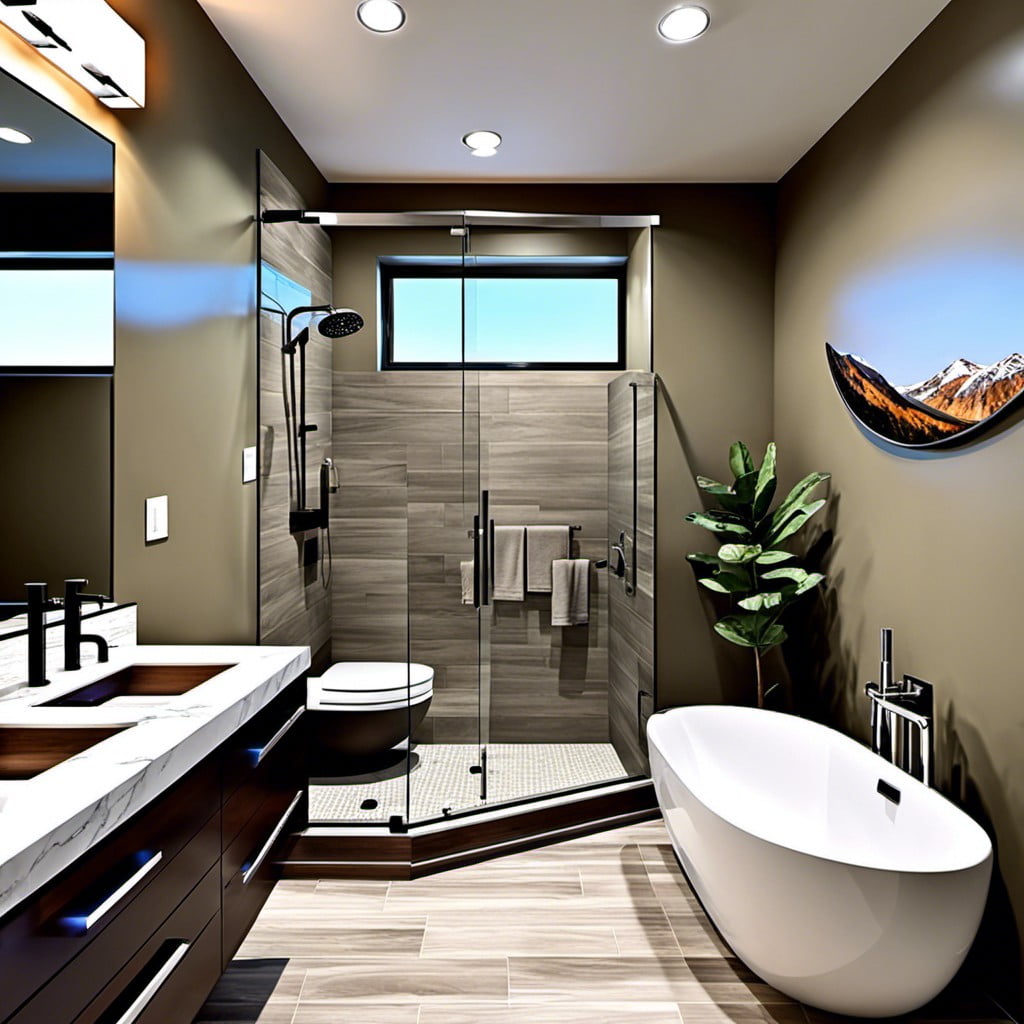 Integrating a bidet into your master bathroom not only provides an elevated level of hygiene, but it also adds a touch of luxury and sophistication. Designed to clean with warm water, this feature offers a refreshing alternative to toilet paper, contributing to a more sustainable household.
This toilet enhancement is available in numerous styles and can be easily installed, be it in the form of a stand-alone fixture, a toilet seat replacement, or even as a small nozzle attached to your existing toilet. Some models showcase elevated features such as heated seats, adjustable water temperature and pressure, or even air dryers for that extra indulgence.
Innovatively combining functionality and comfort, a bidet creates an indulgent experience that takes your master bathroom to the next level. With just a touch of a button, this smart gadget brings a spa-like atmosphere right to your home. Opting for this feature not only modernizes your bathroom, but also promotes a more sustainable lifestyle by reducing your reliance on toilet paper.
To make your experience more personalized, consider a model with customizable settings. Whether you prefer a gentle wash or a more vigorous rinse, there's an option to cater to everyone's needs. Plus, its user-friendly design encourages everyone in your household to indulge in this sanitary luxury.
Altogether, this addition is bound to give your bathroom a touch of opulence while prioritizing cleanliness and comfort.
Mirrored Wall for a Spacious Effect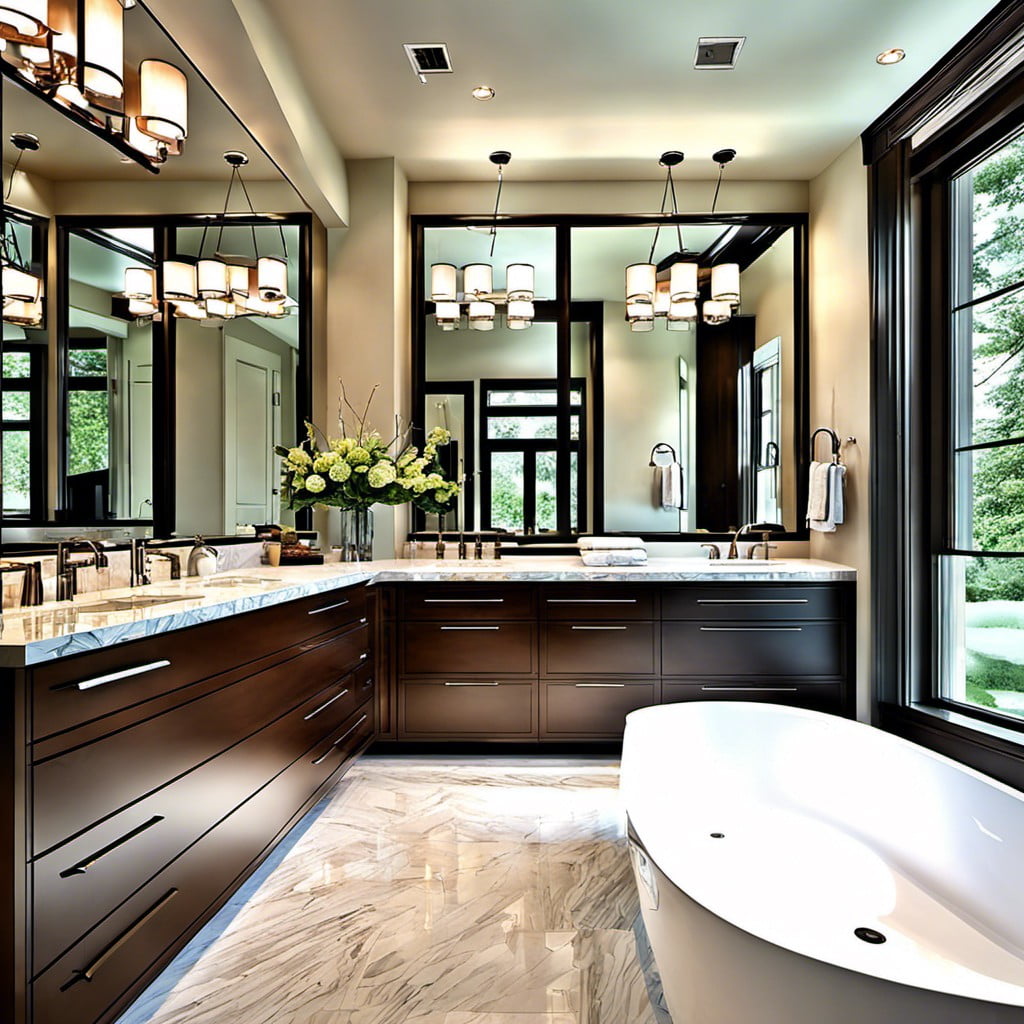 In a bathroom where space might be at a premium, employing a mirrored wall can visually double your area. Not only does it reflect light, enhancing brightness and giving a sense of more open space, it also adds a sleek, modern touch to the overall decor.
1. Reflection: The greatest benefit is the reflection of light, thereby amplifying natural or artificial illumination. It's like magic for small spaces, making them seem larger.
2. Decor/Aesthetic: Besides being functional, mirrored walls add a touch of glamour and elegance to your bathroom, offering a clean, sleek look.
3. Practical Function: Getting ready in the morning can be more efficient with a larger visual area. Hence, a mirrored wall serves a practical purpose along with an aesthetic one.
Remember, when planning for a mirrored wall, position it strategically, allowing it to truly shine and not reflect a less desirable angle of the room. Also, keep in mind cleaning implications as mirrored surfaces demand regular upkeep to maintain their sparkle.
Adjustable, Soft Lighting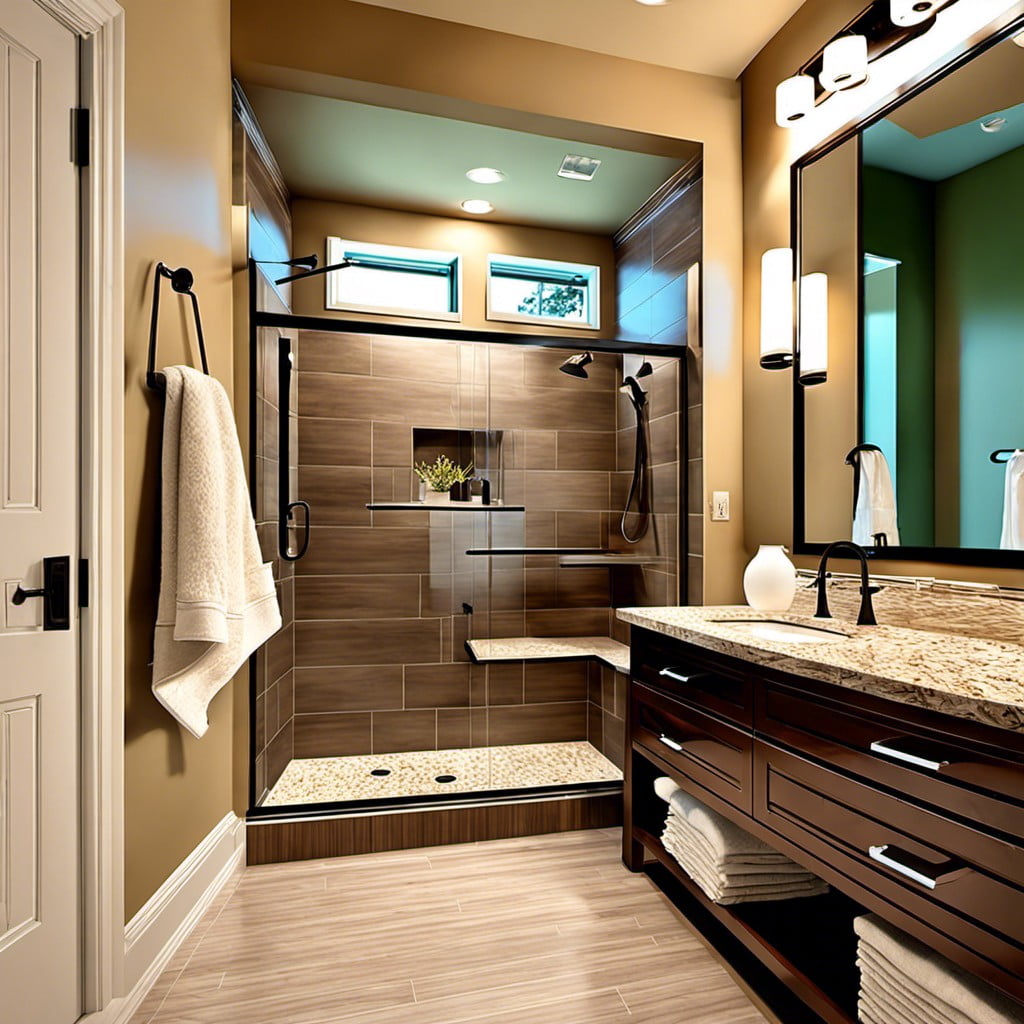 Incorporating dimmer switches lets you tailor the light intensity to suit your mood or task, be it a soothing soak or early morning preparations.
Sconces on either side of the mirror help eliminate shadows on your face.
A statement chandelier can add a dose of drama and elegance.
Don't forget the shower area; consider waterproof, recessed LED lights for brightness without the glare.
To make your bathroom feel more expansive and welcoming, opt for warm white lights.
Tunable white LEDS allow you to alter your light color temperature to mimic daylight patterns, promoting better sleep and overall well-being.
Be creative with your choices – under-cabinet lighting can add a soft glow and highlight your beautiful flooring.
Dedicated Make-up Vanity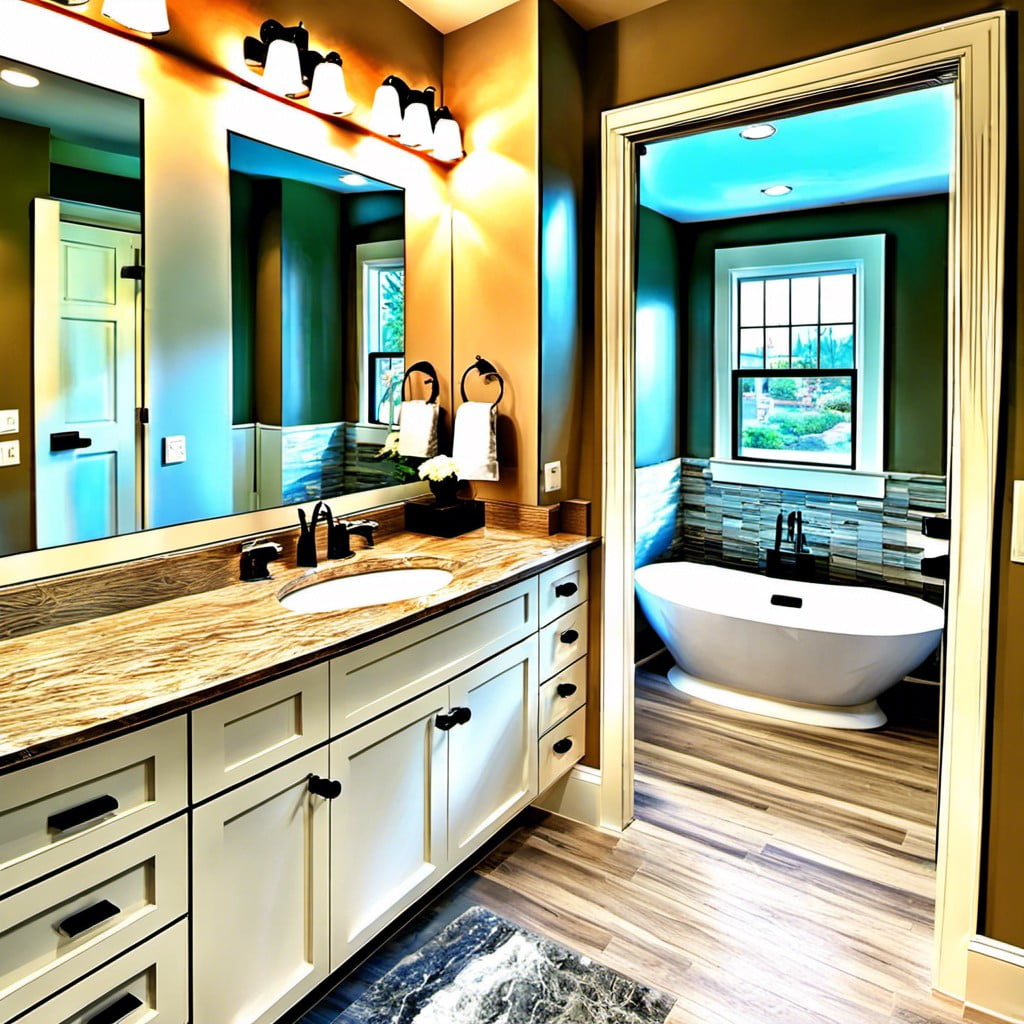 For a personalized touch, think about adding a dedicated make-up vanity area. This dedicated space should feature an elegant desk with drawers for organizing make-up essentials, brushes, and cosmetics. You can select a desk style that best blends with your bathroom decor. A comfortable chair or stool is also crucial.
Proper lighting, probably more critical here than in other spots, is crucial to enhance your grooming routine. Consider adding ring lights or mirror lights to your vanity, providing the best illumination for makeup application.
The addition of a well-sized mirror is also significant. Whether it's a hollywood style mirror with lights, or a traditional vanity mirror, choose a style that suits your personal preference and your bathroom's overall aesthetic.
Remember, your vanity space should be practical, stylish, and cater to your specific needs.
Smart Home Technology Integration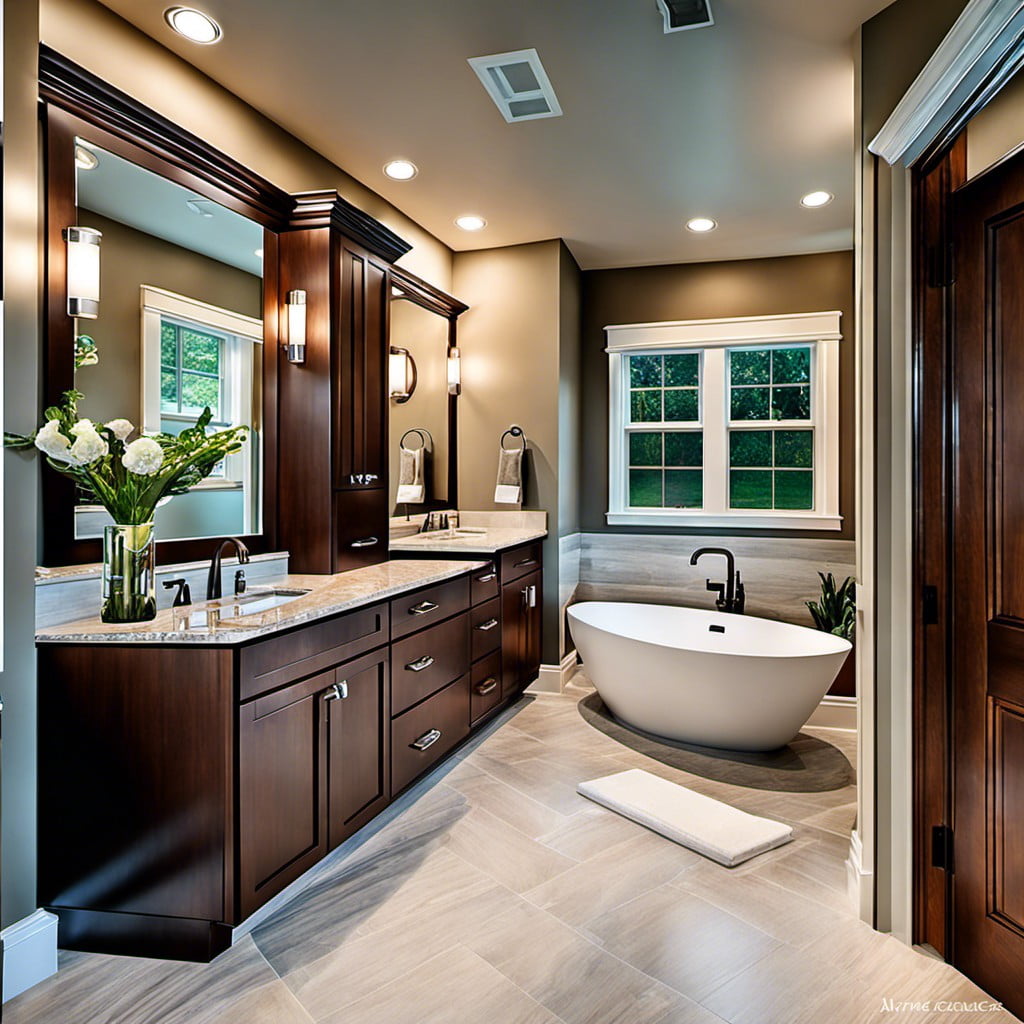 Investing in technology can elevate your master bathroom to a league of its own. Imagine starting your day with a warm, pre-heated bathroom by scheduling automatic starts for your heatings, or simply use your voice to activate them.
Implement digital shower controls to customize the water temperature and pressure to your preference before you even step inside. A built-in speaker system can integrate with your favorite digital assistants, making it easy to listen to the news, your favorite tunes, or podcasts while preparing for the day.
Automated lighting and window shades help control the mood and privacy. By connecting these features with your mobile device, you maintain control even when away from home, ensuring energy efficiency.
Adopting these smart technologies bring an element of luxury and convenience to your everyday routines.
Continue reading:
Recap