Last updated on November 17, 2023
Revitalize your bathroom space with Cape Cod design elements because these timeless features create a relaxing, seaside ambiance regardless of your proximity to the coast.
"I'm proud to have authored this article and devised these 20 unique Cape Cod bathroom ideas, genuinely hoping you gain as much inspiration and enjoyment from them as I did creating them."
Embrace the charm of Cape Cod style in your bathroom with a blend of classic elements and contemporary accents. This article will guide you through the process of creating a Cape Cod-inspired bathroom, from the use of soft, neutral colors and traditional beadboard to the incorporation of modern fixtures for a fresh twist.
Whether you're starting from scratch or looking to revamp your existing space, these ideas will help you achieve a timeless, coastal aesthetic. Stay tuned for all the details on how to bring the seaside serenity of Cape Cod into your bathroom.
Nautical-themed Decor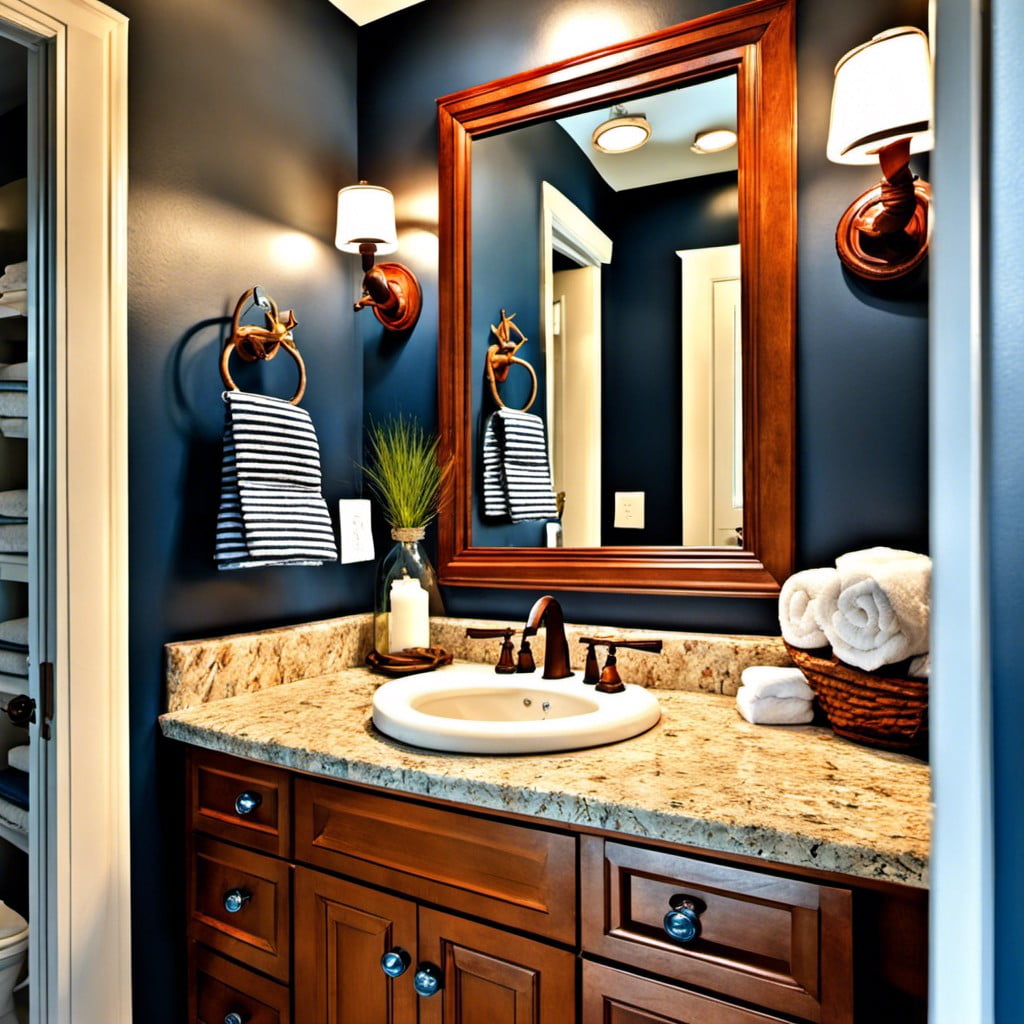 Much like the sea's captivating allure, nautical-themed decor brings a breath of fresh maritime air into your bathroom. Here's where you incorporate elements like anchors, ship wheels, and navigational maps. These elements, used sparingly, can transform your everyday bathroom experience into a seaside adventure.
There's much charm in decorative seashells or a tastefully placed marine knot tutorial print—both can serve as focal pieces. For lighting, lantern-style fixtures and candle sconces hark back to the days of ship lanterns, completing the nautical aesthetic in your Cape Cod bathroom.
So, why not embrace the sailor's life and let your bathroom become an extension of the sea's beauty?
Shiplap Walls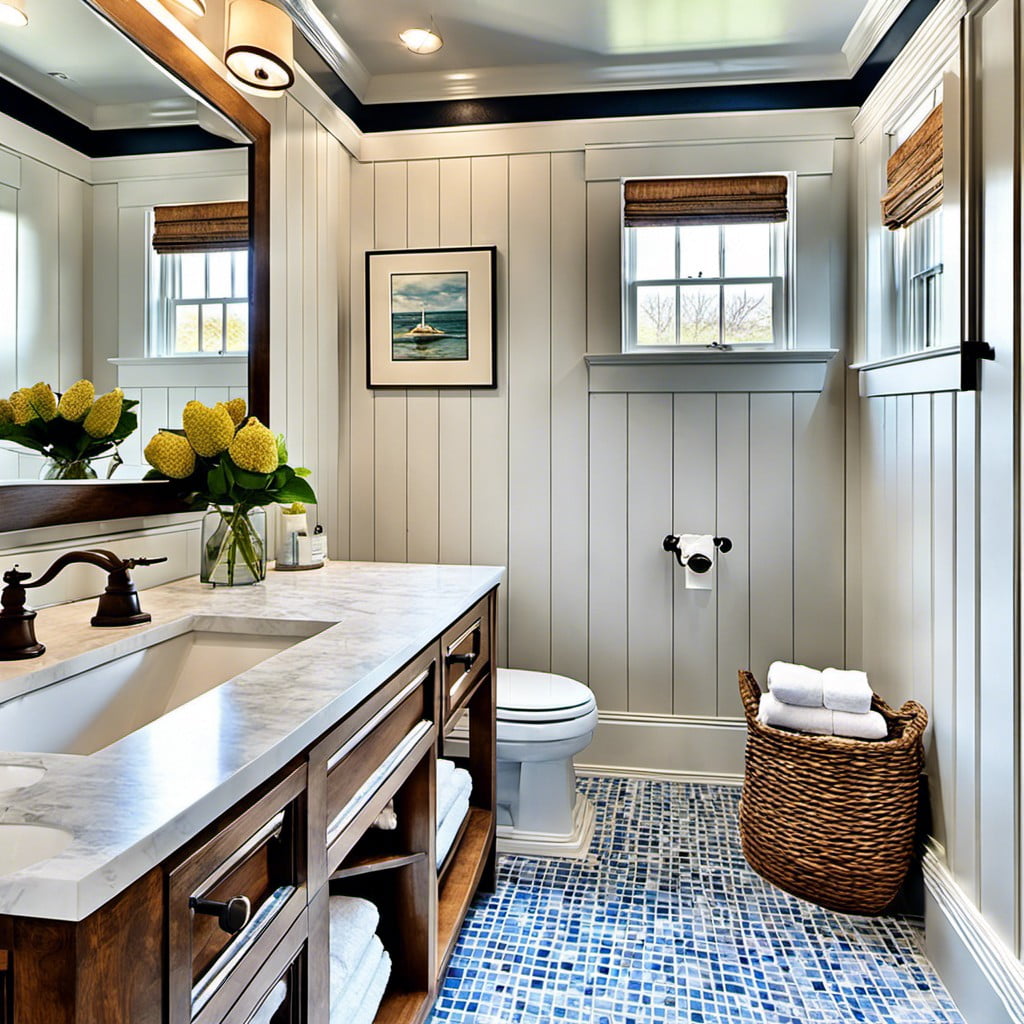 Shiplap, with its horizontal lines and distinct texture, offers a timeless design element that easily enhances a Cape Cod style bathroom. These boards, often painted in crisp whites or soft grays, can add depth to your room and accentuate its coastal feel.
There are two primary methods to install shiplap: the tongue-and-groove style, or the faux shiplap approach with plywood strips. The first one securely locks panels together, providing a seamless finish that's more durable but requires a bit more effort and cost in installation. The second, with wider gaps between boards, gives a rustic touch and costs less.
Shiplap overall acts as an ideal backdrop for other seaside decor. In terms of maintenance, it's pretty straightforward—wiping with a damp cloth is often enough. For a more dramatic look, consider extending your shiplap to the ceiling or offsetting it on one wall as a focal point.
Natural Light Liberation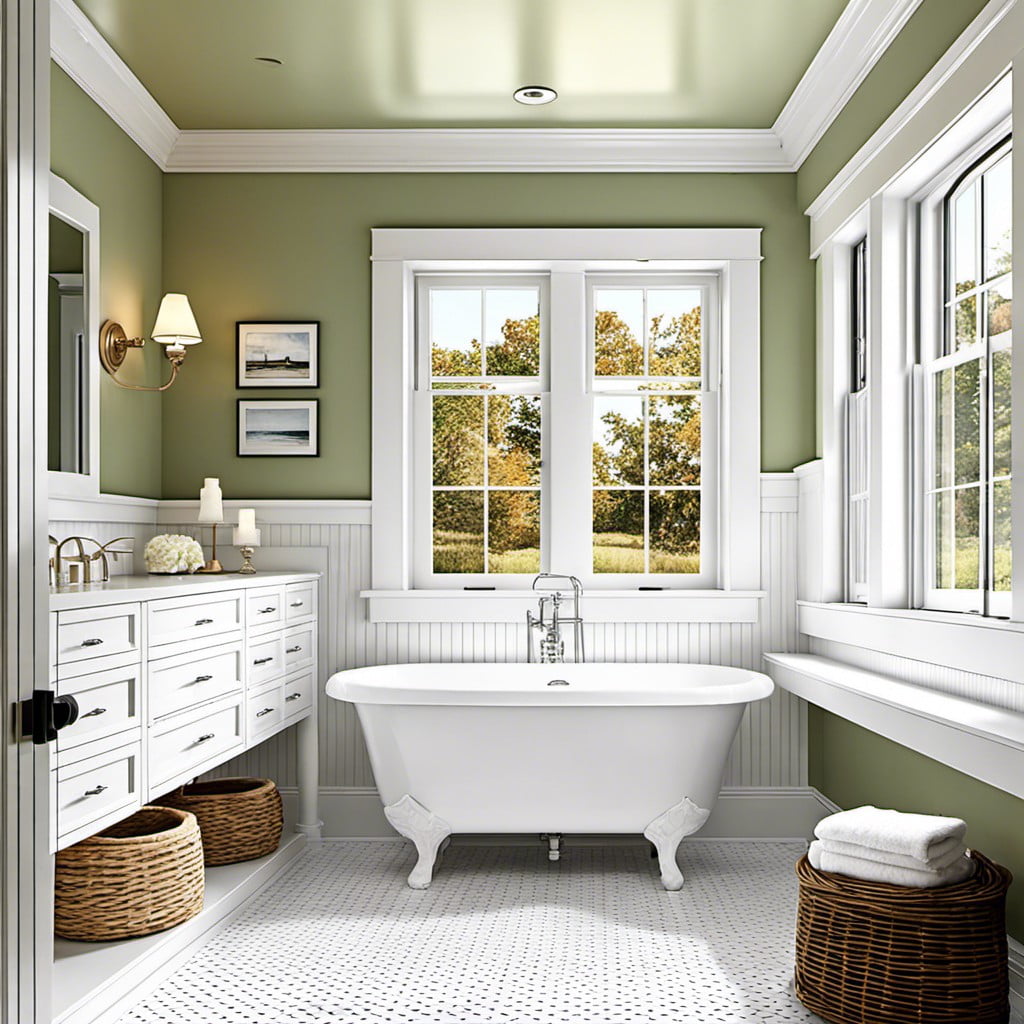 Letting in as much natural light as possible boosts the brightness of a Cape Cod-themed bathroom. Essential features include large windows or skylights that promote an airy, beach-like ambiance.
You can also maximize the effect of available sunlight by choosing reflective surfaces, such as glossy tiles or mirrors. Frosted glass offers a balance of privacy and light.
In places where windows are small or non-existent, consider installing solar tube skylights. These compact, weatherproof fixtures funnel daylight directly from the roof, providing a sunny glow even in the smallest spaces.
Keep window treatments minimal and in light, natural fabrics to avoid blocking-out the precious sunlight.
Freestanding Bath Tub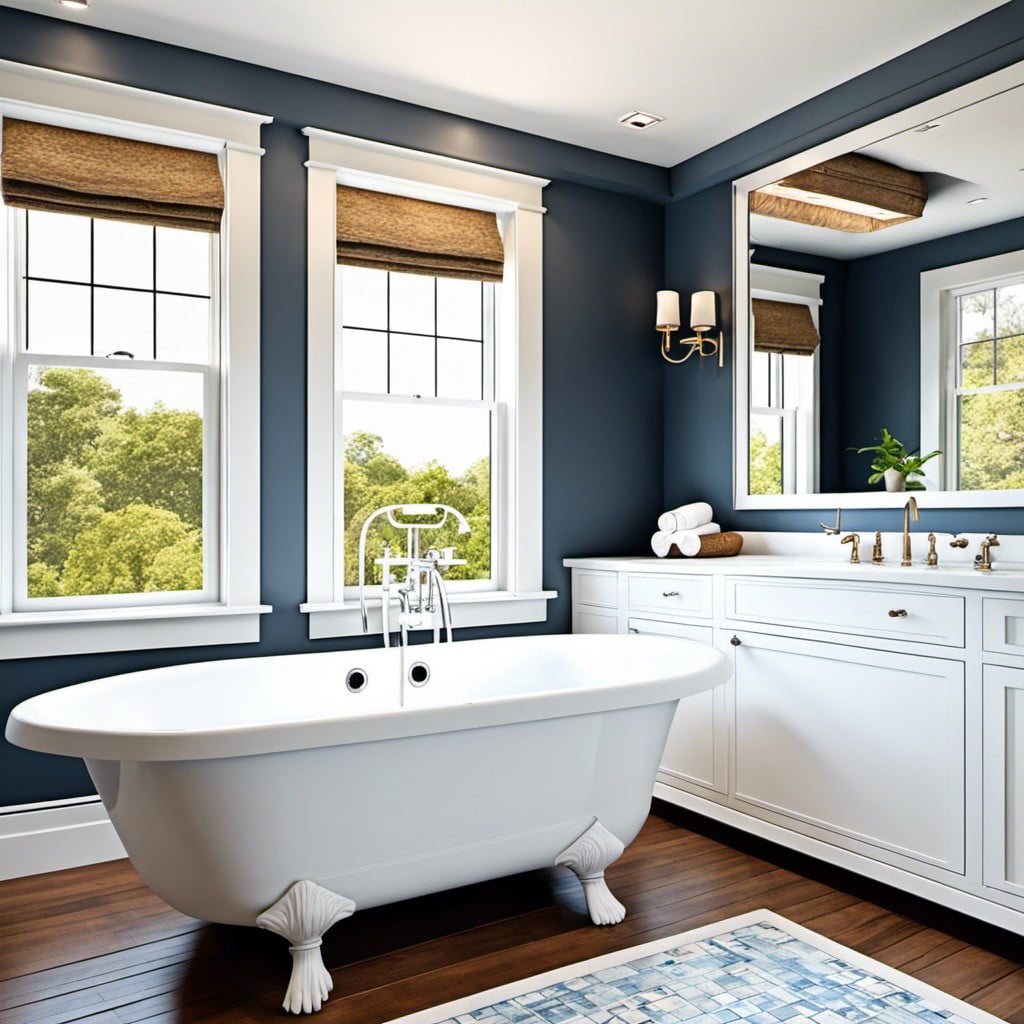 A freestanding bathtub accentuates the open, airy feel so characteristic of Cape Cod style. To enhance its statement-making presence, position it near a window to allow an inviting view and luxuriate in the pour of natural light. For a more faithful recreation of the Cape Cod aesthetic, opt for a clawfoot variation. The gracefully curved edges and vintage soul of the clawfoot tub captures the timeless beauty that Cape Cod style exudes.
Materials matter. Consider sturdy cast iron with an enamel-coating for longevity and heat-retention, or a sleek, modern acrylic tub for its warmth and lightness. Remember, your tub choice should balance sophistication and simplicity, always keeping ease and comfort in the forefront.
Pedestal Sink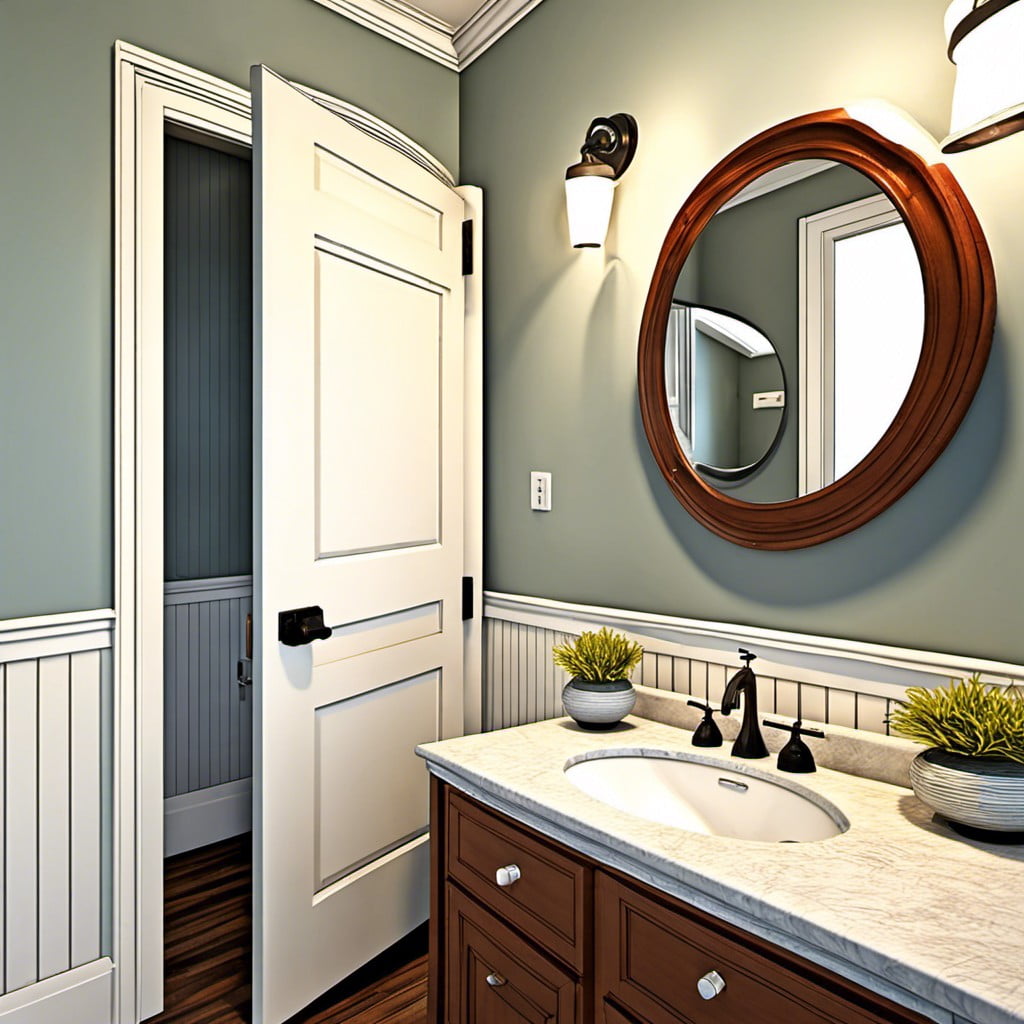 Pedestal sinks, thanks to their simplistic design, lend themselves beautifully to the Cape Cod aesthetic. The sleek lines and gentle curves of these fixtures introduce an understated elegance to the bathroom, complementing the overall seaside theme.
Their compact size also makes them a popular choice for smaller bathrooms, providing ample basin space without crowding the floor. Bolster the look by opting for a crisp white porcelain sink paired with brass or bronze fittings – a nod to the maritime inspiration at the heart of Cape Cod decor.
Consider placing a wicker basket underneath to optimize storage space, all while maintaining the stylish, beachy vibe.
Weathered Wood Features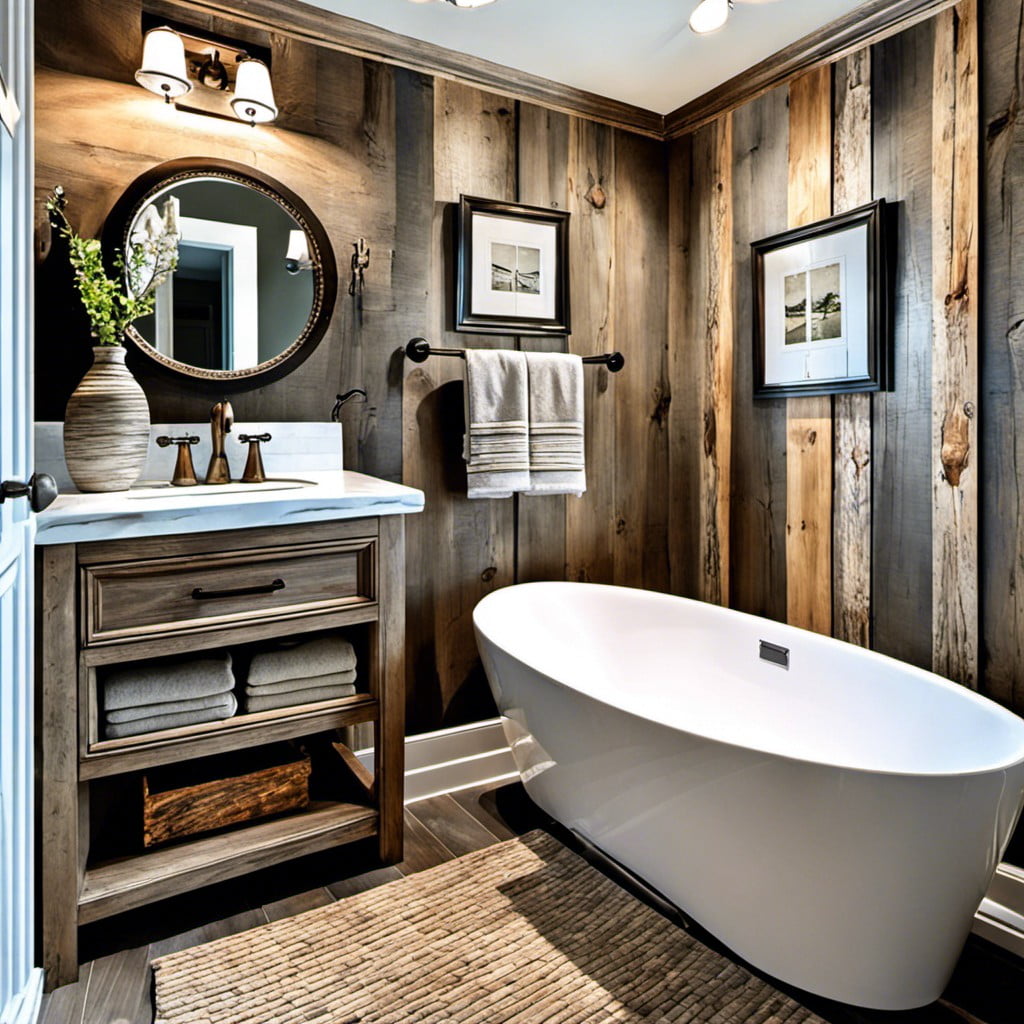 Naturally aged, or artificially distressed, wood offers a distinct appeal to a Cape Cod bathroom, echoing rustic oceanic vibes.
Take advantage of its unique texture and color variations to enhance the coastal atmosphere.
Try incorporating it as open shelving units or as vanity unit to infuse warmth and character into your space.
For smaller applications, consider a weathered wood framed mirror or picture.
Whether it's reclaimed lumber, driftwood-inspired pieces, or sun-bleached finishes, these elements contribute to an authentic seaside charm.
Ocean Color Palette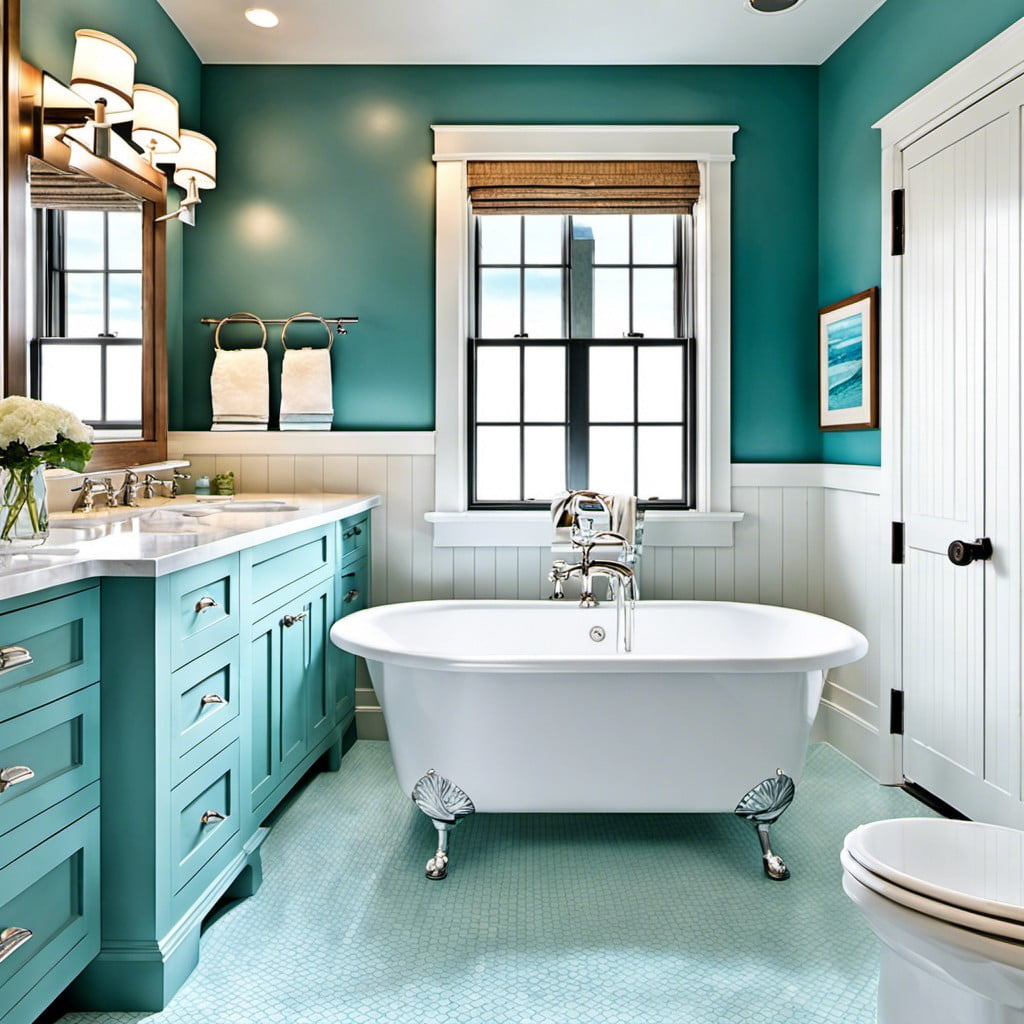 Embrace the soothing hues of the sea that surround Cape Cod by using them as your primary colors. Typically, this involves varying shades of blue – from deep navy to soft powder, greens of sea grass and turquoise, all offset by white or sandy beige.
Here are some quick tips to make it work:
Stick to light colors for walls and ceilings to reflect light, making a small bathroom feel more spacious.
Navy or turquoise accents can be added via vanity or towels for a bold yet beachy look.
Small pops of coral or sunset orange can bring warmth.
Adding sea glass green to the mix can break up the monotony of the blue-and-white scheme.
Don't forget, white and off-white tones can mimic the color of seafoam and create a serene, spa-like atmosphere.
Remember, balance is key. Avoid overwhelming the space with too much color. By following these tips, you can successfully incorporate an ocean color palette into your bathroom.
Brass or Bronze Hardware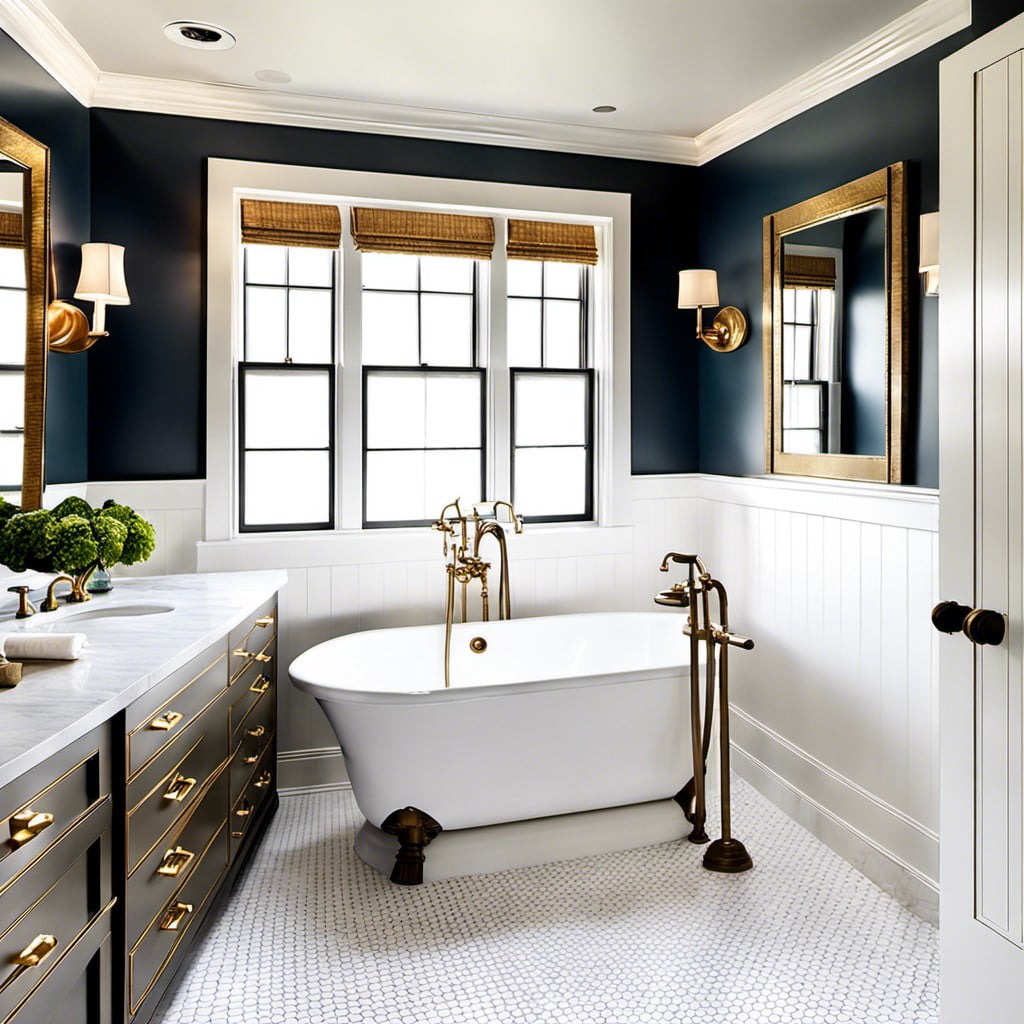 Opting for brass or bronze hardware adds a warm, vintage-inspired touch to the room. A standout choice for faucets, drawer pulls, and light fixtures. This style enhancement effortlessly merges class with functionality, presenting a charming patina that enhances with age.
Available in a myriad of designs and finishes, these options cater well to personal style tastes.
Take note: Balance is critical in preventing hardware from overpowering the room. Use sparingly and pair with neutral fixtures for a harmonious combination.
Consider cleaning procedures as well, as these metals may require special care to stay lustrous over time.
Turquoise or Navy Vanity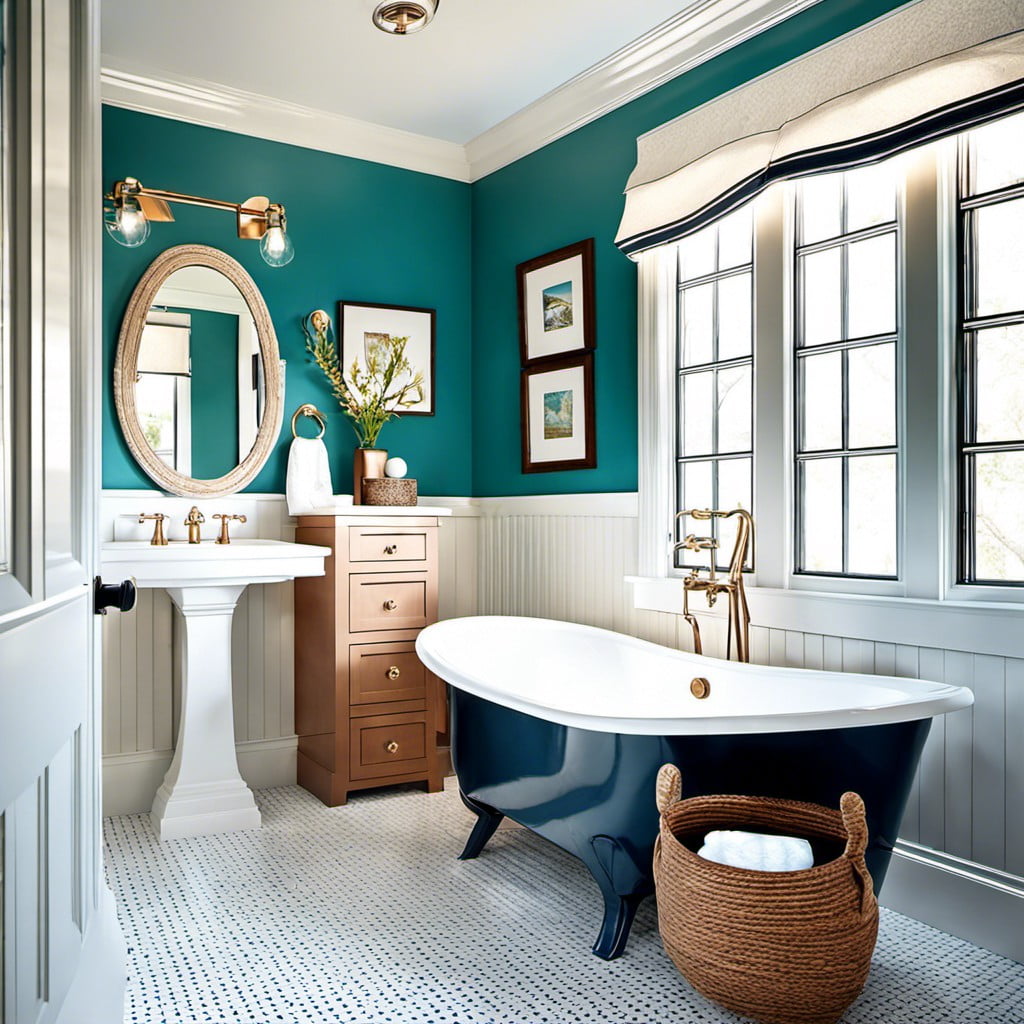 Incorporating these revered hues can create a tide of change in the most utilitarian of spaces. A vanity painted in a shade of turquoise will evoke the playful waves of the ocean. It complements rustic elements like shiplap walls or weathered wood accents perfectly, enhancing the overall coastal ambiance.
Opting for a classy navy-blue tone will imbue the bathroom with a sense of both elegance and serenity, mirroring the deeper, tranquil sea. Offset this bold choice with lighter countertops or brass hardware for a striking contrast. Layering these different shades of blue not only incorporates the color symbolism of the Cape Cod style but also adds intriguing visual depth to the overall design concept. Remember, maintaining a simple yet robust color scheme can truly anchor your cape cod bathroom style.
At the end of the day, both these choices remain true to the palette of the beautiful seascape that defines Cape Cod style, and either option would make a stylish statement in your bathroom.
Whale or Seashell Accessories
Accessories are the key to pulling together any design concept, and in a Cape Cod bathroom, they take on a distinctly marine vibe. Whale and seashell trinkets, like soap dishes or toothbrush holders, add whimsical charm to counter spaces. Metal wall-hanging pieces, or simple shell collections displayed artistically, can enhance bare walls and draw the eye around the room. For a touch of authenticity, you can fill clear jars with sand and seashells as an adorable, cost-effective DIY project. Remember, the goal is to intersperse these nautical elements subtly, to maintain sophistication and keep your marine-theme tasteful.
Beach Glass Bottles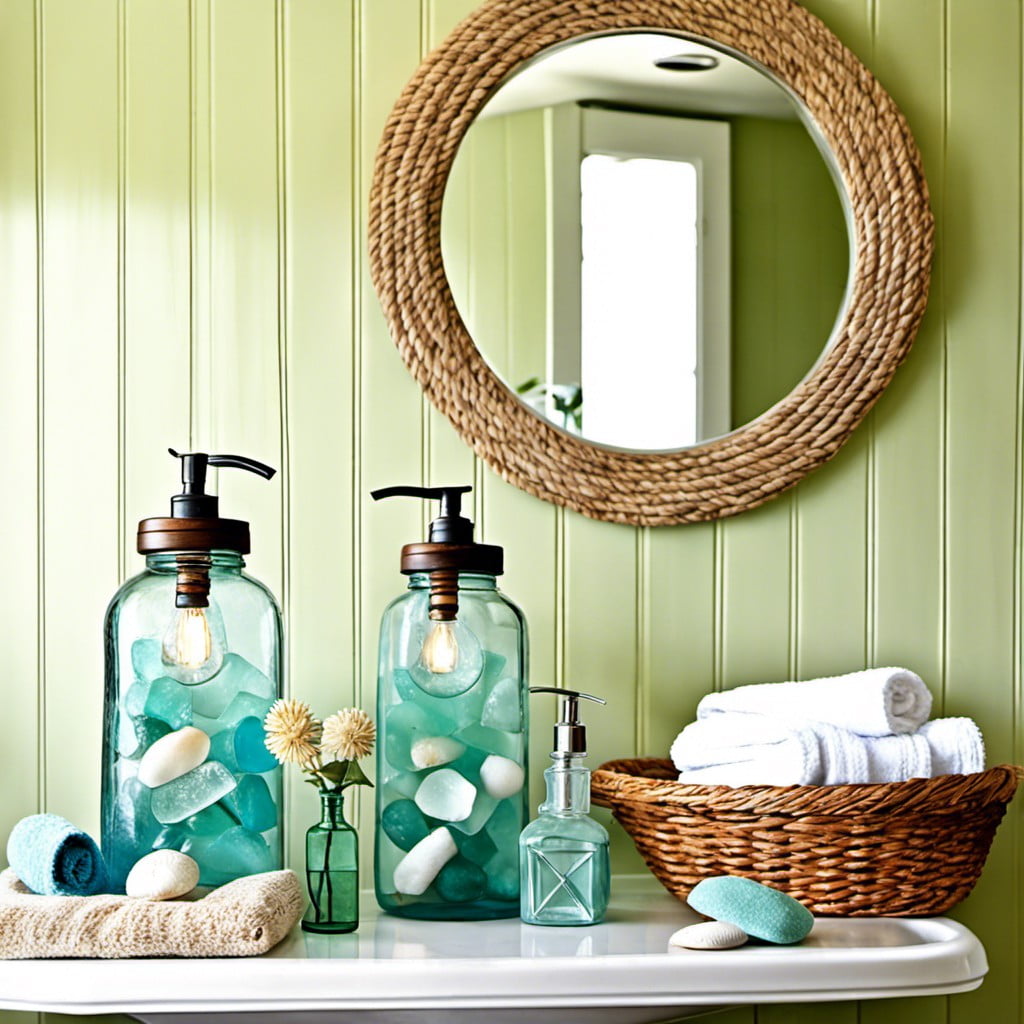 In keeping with the coastal vibe, nothing stands out quite like vibrant, weathered beach glass bottles. Usually found in assortments of soft greens, blues, and clear frosted variations, these bottles work wonders in enhancing the overall aesthetic.
1. Display in clusters: Group your bottles and place them on shelves, window sills, or the countertop. This arrangement creates a visually interesting coastal vignette.
2. Use as vases: A few simple stems of beach grass or lavender can add an extra touch of serenity. Remember, less is more when aiming for a Cape Cod look.
3. Creative lighting: Try stringing LED micro fairy lights inside the bottles for a muted, magical glow, ideal for creating a relaxing bath time ambiance.
4. Layered tones: When arranging your beach glass bottles, play with color by layering different hues. This can create depth and maintains visual interest.
Remember, beach glass bottles are a testament to the ocean's ability to take the ordinary and make it extraordinary, reflecting the heart of Cape Cod style.
Coastal Artwork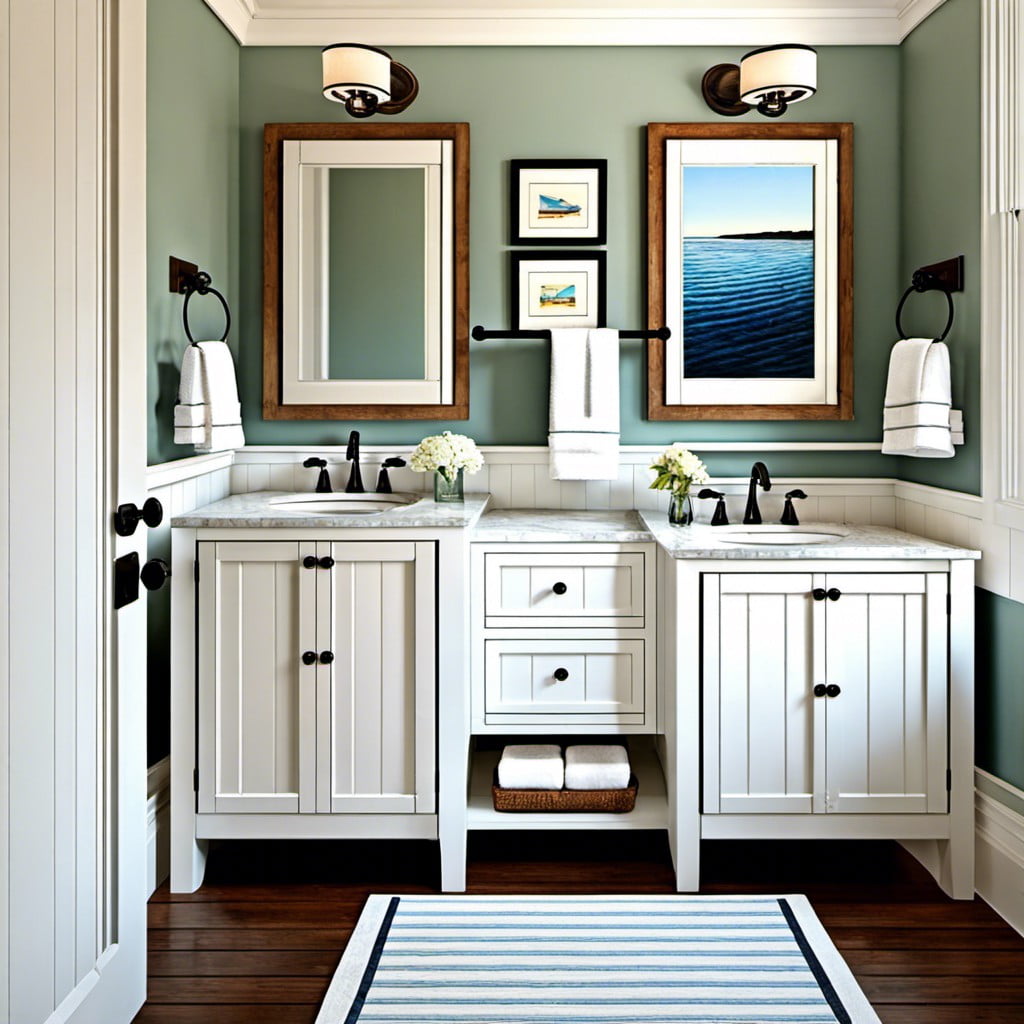 Dressing your bathroom walls with art inspired by the beach brings a serene ambiance to the room. There's no need for a top-dollar gallery purchase – even a simple, framed print of a rustic beach scene or waves crashing onto rocks can be a significant enhancement.
Have fun with it! Consider varied forms, from watercolor paintings to sketches, photographs, or abstract depictions of ocean life. Also, consider marine life illustrations or prints of old sea maps for a vintage twist.
It's all about creating a sense of space where the cool, calm spirit of the sea prevails.
Rope-framed Mirror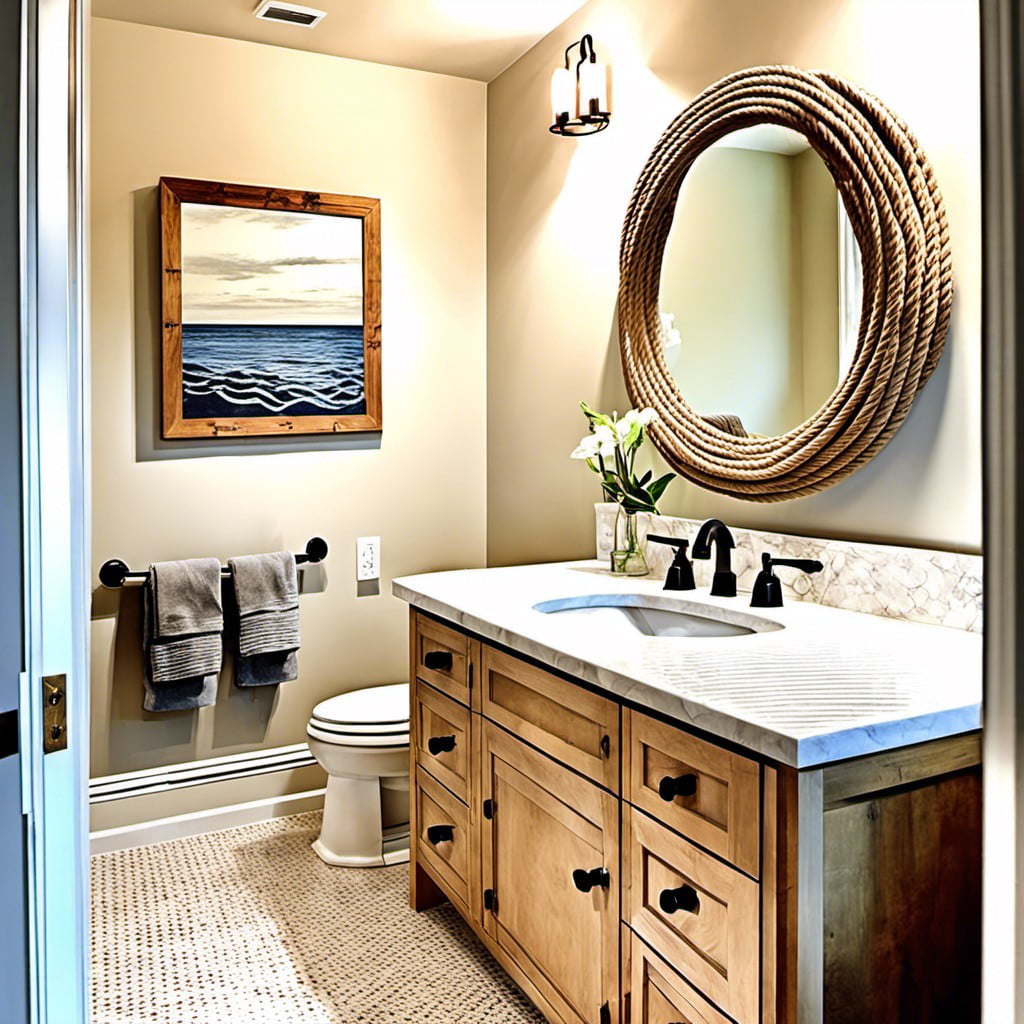 Utilizing natural materials can enhance the seaside feeling in your bathroom. A mirror encased in a rope frame is an ideal way to achieve this. The texture of the rope complements coastal decor, lending depth and warmth to your space.
Rope also adds a rustic touch, harking back to old seafaring times, yet fitting well within a contemporary setting. To maximize impact, consider positioning your mirror in a focal area, like over the vanity. Mounting hardware can be hidden behind the rope for an unbroken, clean look.
Don't be afraid to get creative, even intricate knotting patterns can be explored. This effortless idea, blended with others from the list, will significantly enhance your Cape Cod-themed bathroom style.
Navy Striped Shower Curtain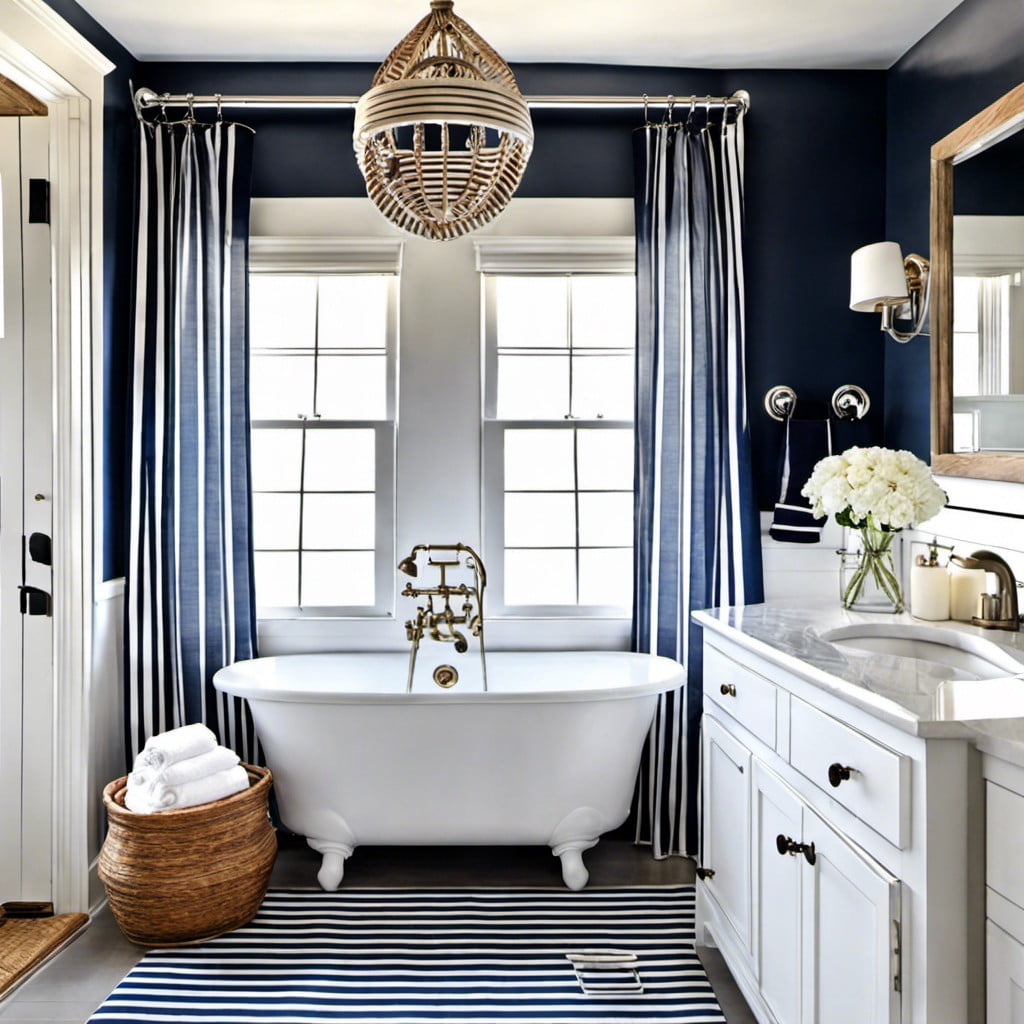 A bold choice for a Cape Cod bathroom is incorporating a navy striped shower curtain. The soothing symmetry of the stripes fosters a relaxed, beachy atmosphere.
Further, the navy blue hue embodies the Cape Cod aesthetic, bringing a serene yet dramatic touch to your bathroom. Opt for a high-quality fabric that can withstand humidity and frequent washing. Consider adding a liner to preserve the curtain longer.
A navy striped shower curtain works in harmony with natural, wooden, or white elements, best mirroring the Cape Cod style. Remember, the goal is to create a visual flow which eases the eye, as if listening to the rhythmic ebb and flow of ocean waves.
Wicker Storage Baskets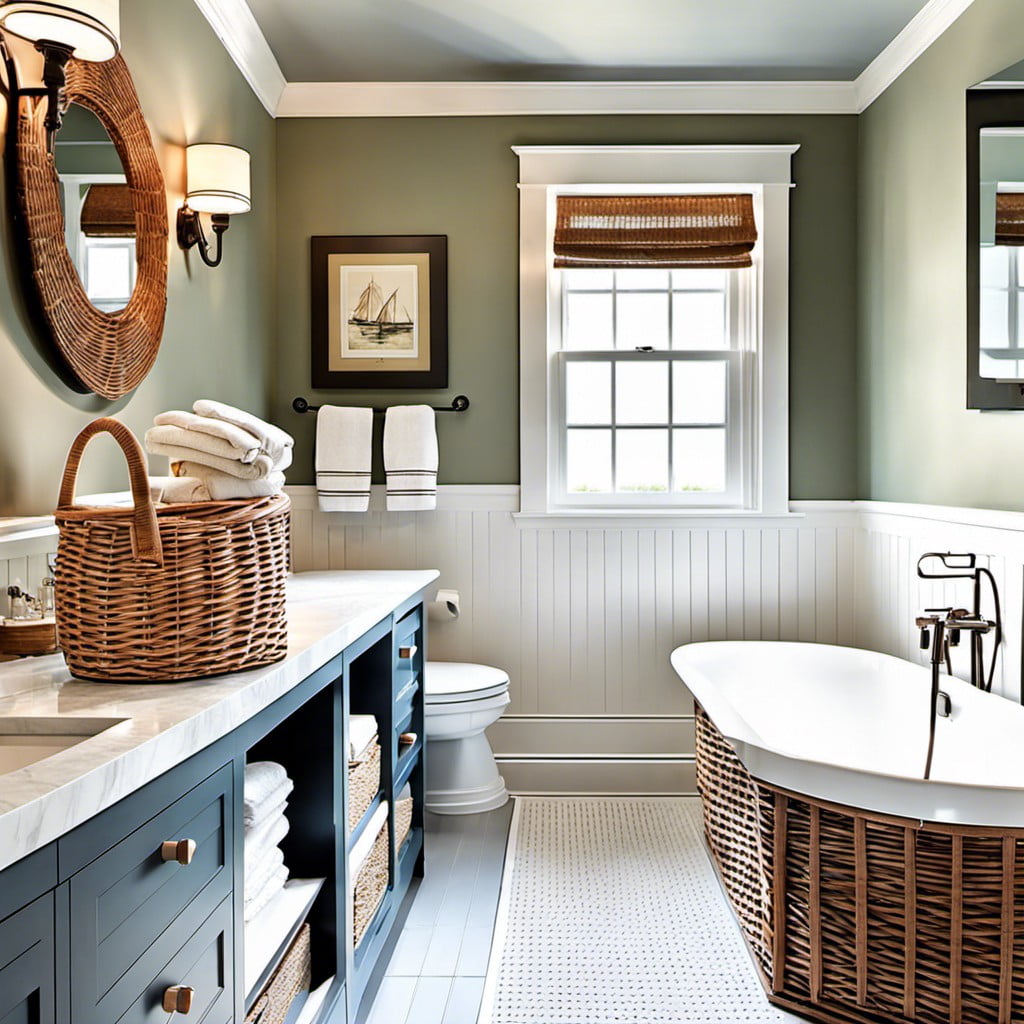 Utilizing wicker baskets provides numerous benefits. These baskets give an instantly beachy vibe, reminiscent of traditional New England seaside decor. They also serve a functional purpose, offering valuable storage space for toiletries, towels, or cleaning supplies, without taking away from the stylish aesthetic.
Wicker baskets come in a variety of shapes, sizes, and colors, making them an easily customizable addition to the bathroom. Their durability and resistance to moisture make them a safe choice for a potentially damp environment. Just visualize a stack of fluffy white towels nestled in a sun-bleached wicker basket. It not only exhibits Cape Cod charm but also encourages a well-organized, clutter-free bathroom.
Subway-tile Backsplash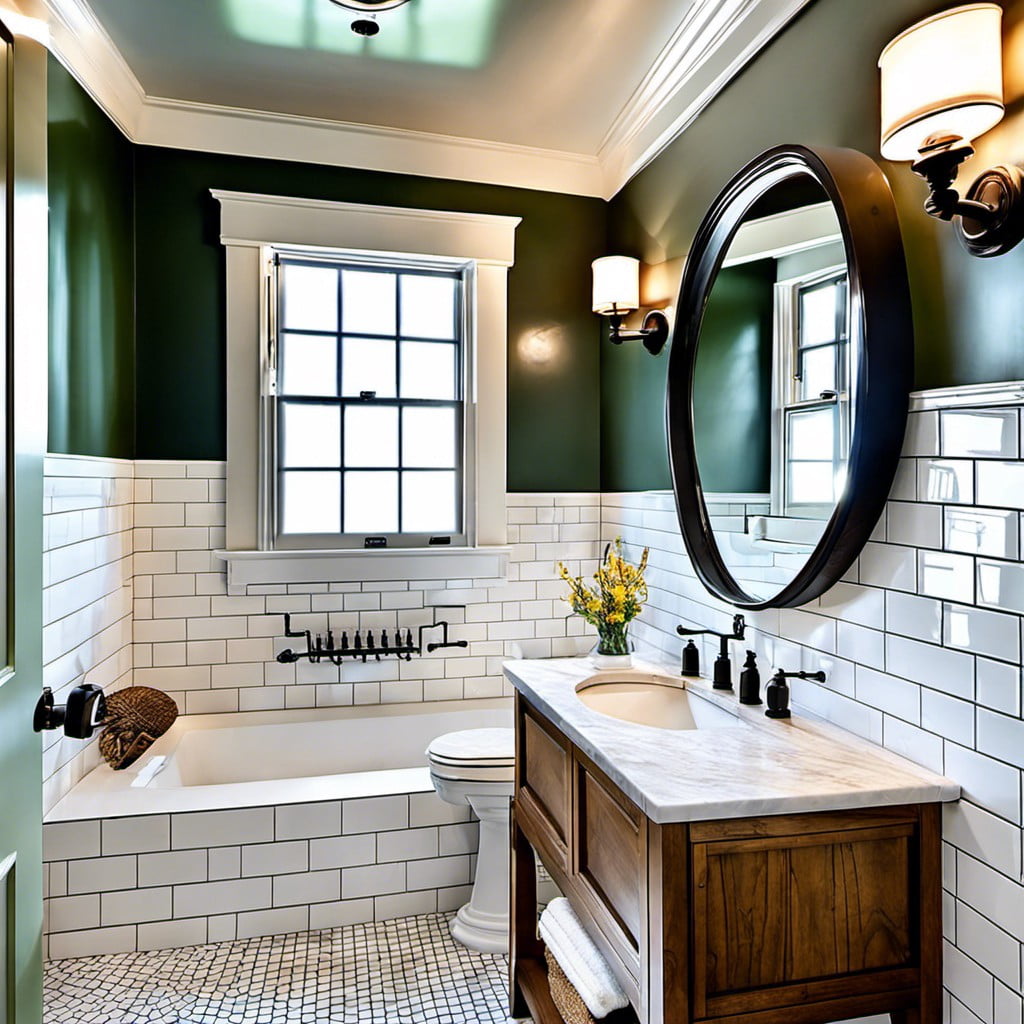 For capturing that Cape Cod charm, nothing beats the classic appeal of subway tiles.
These rectangular ceramics provide a crisp, clean backdrop, enhancing other coastal features.
With options ranging from glacial white to deep sea blue, you'll find the perfect match for your sea-inspired color palette.
Plus, their durability and easy maintenance make them a practical choice too.
Choose a gloss finish to reflect more light around your bathroom, emphasizing your relaxing beach-side ambiance.
Combine them with weathered wood or a nautical wallpaper pattern to truly whisk your space away to New England's shores.
For added visual interest, experiment with different tile layout designs like herringbone or crosshatch.
Furniture-style Cabinetry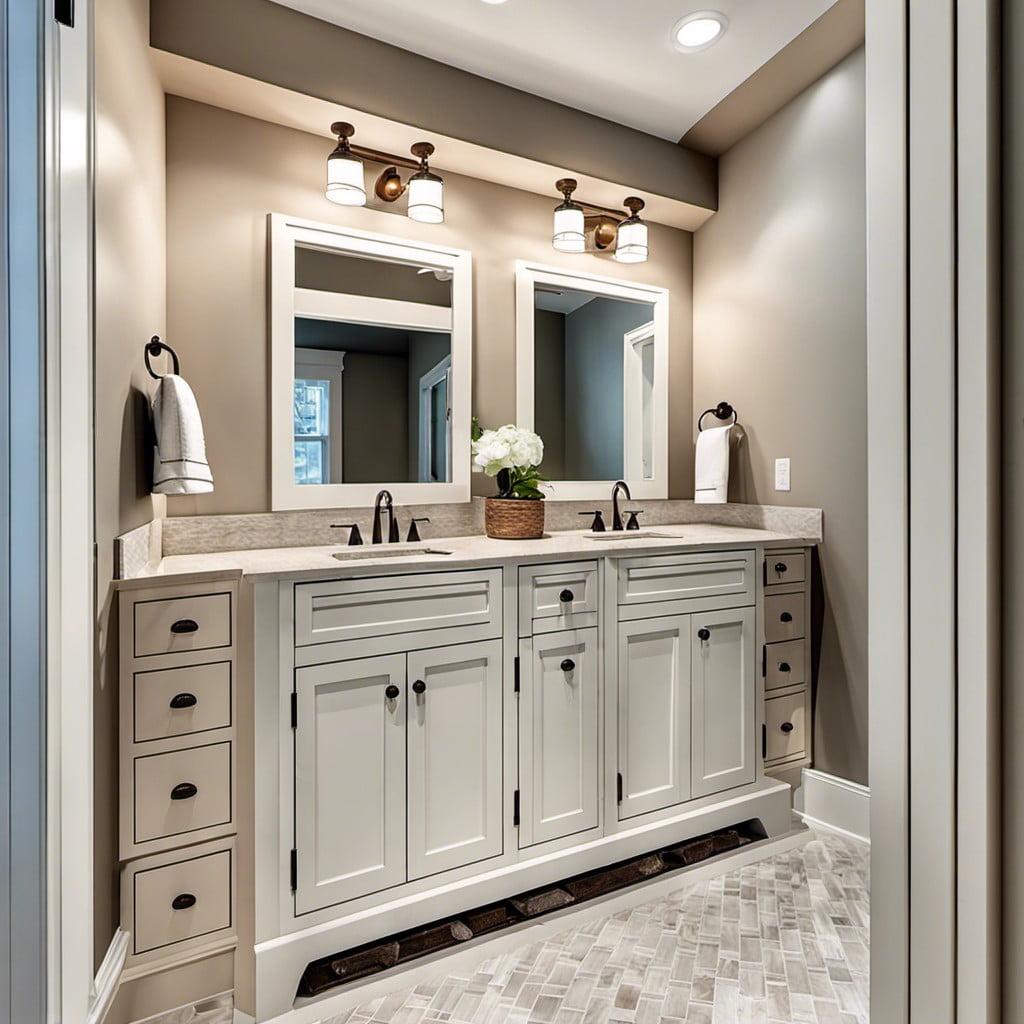 Embracing the concept of furniture-style cabinetry leads to a sophisticated yet warm feel. Think about using cabinets that are reminiscent of antique dressers – these offer not only impressive aesthetics but also superb functionality.
Consider the type of wood and finish – a weathered finish adds charm and ties in with the cape cod bathroom style. Espresso, honey, or charcoal shades are timeless and provide the needed warmth.
Opt for cabinets with glass-door uppers, this is an opportunity to show off beach-themed curios or stylishly rolled towels. Don't forget about the hardware, brass or oil-rubbed bronze pulls and handles make an eye-catching statement.
Remember, the goal is to create a seamless blend of functionality and design. You're not just installing furniture, you're crafting an atmosphere, a sensation of beachside relaxation and understated luxury.
Marble or Quartz Countertops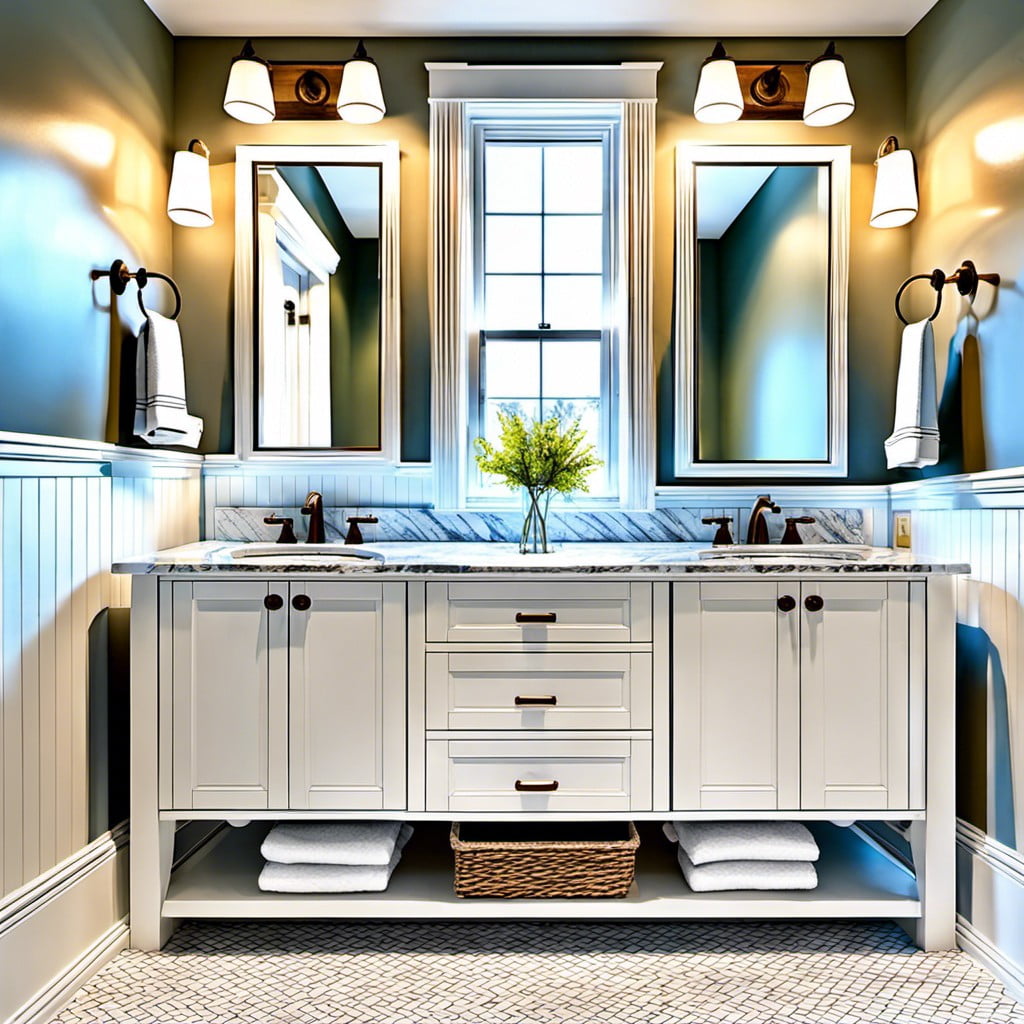 Offering durability and style, these materials are perfect for a bathroom countertop in a cape-cod style home.
Marble, with its unique veining, provides an elegant and classic feel. Do ensure it's sealed properly to prevent water damage or staining.
Quartz, on the other hand, requires less maintenance, and is available in a myriad of colors, finishes, and patterns.
Both options can amp up the charm, complementing other elements like your chosen vanity color, hardware, and overall color palette. Don't be afraid to mix and match – perhaps a sandy quartz countertop paired with a navy vanity. Experiment to find the combination that best suits your aesthetic and needs.
Beach-themed Wallpaper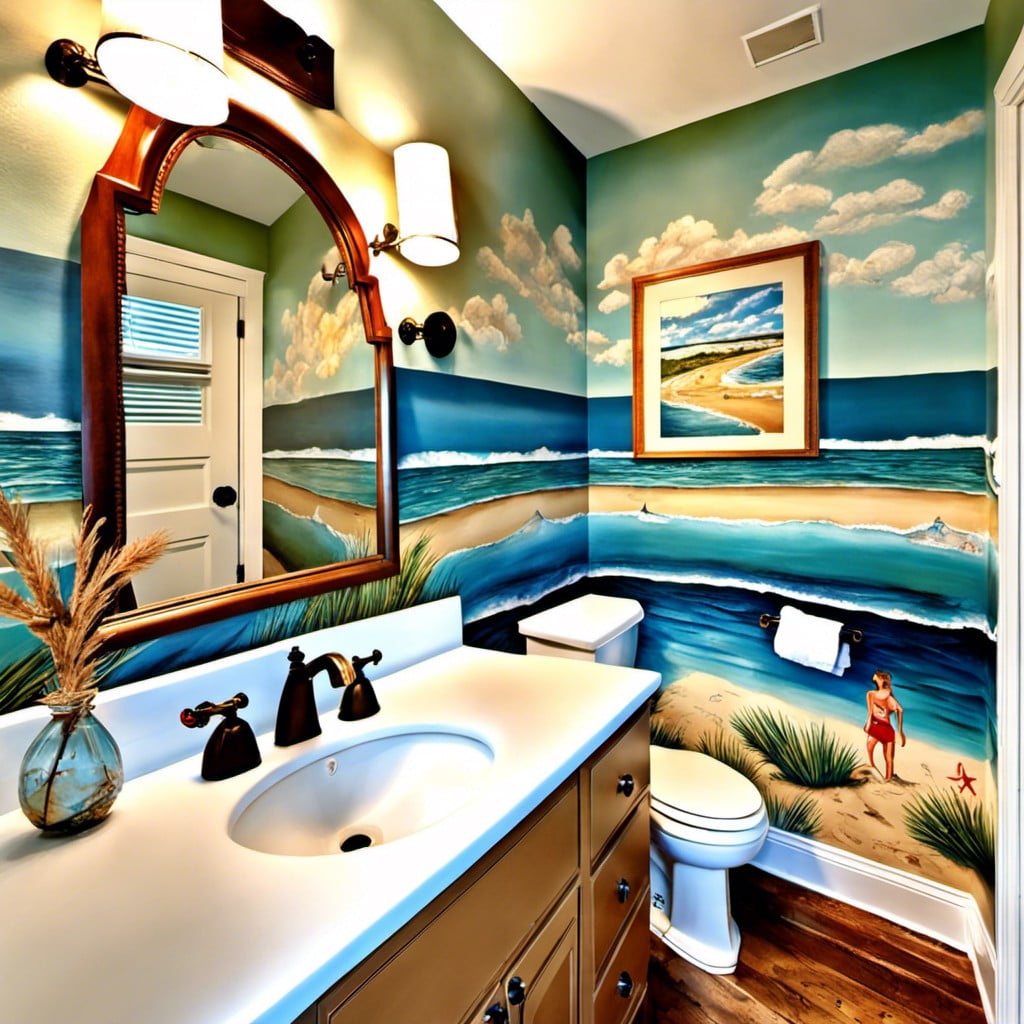 Opting for a beach-themed wallpaper introduces a striking focal point that encapsulates Cape Cod charm. Choosing designs featuring seashells, sand dollars, or coastal scenery adds depth and interest to the space, making it feel warm and inviting.
Favor light or pastel shades to maintain a relaxing atmosphere. The wallpaper can transform a single accent wall or enliven the entire bathroom. Additionally, moisture-resistant wallpapers geared specifically towards bathrooms ensure durability even in high-humidity environments.
Furthermore, choosing removable or peel-and-stick options provides the flexibility for future design updates. To round the look, consider blend your wallpaper design with complimentary fabric patterns for window treatments, shower curtains, and bath towels. Keep the rest of your decor simple to let your walls be the star of the show.
Chalk Painted Furniture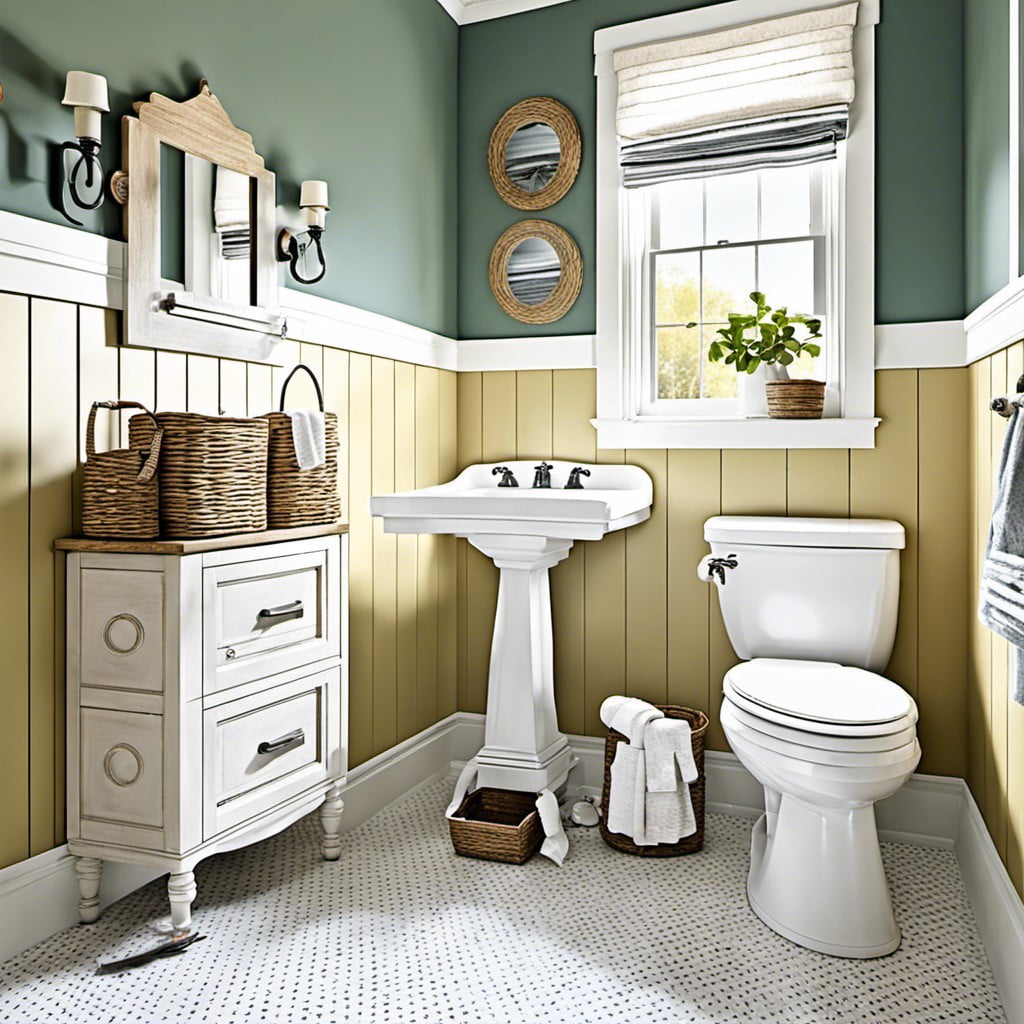 Adding a vintage, rustic touch to the furniture is simple with chalk paint. This paint type is ideal for rejuvenating pieces to resemble the well-loved, comfortable charm of Cape Cod-style. By selecting sea-inspired hues – think sandy beige, cloudy grey, or ocean blue – chalk paint can immediately give your bathroom a coastal makeover.
Chalk paint adheres well to a variety of surfaces without primer, and it's easy to apply, making it a user-friendly option. Furthermore, its matte finish can be easily manipulated to create various distressed or aged effects, perfect for adding that lived-in, salty-air feel to your space.
Here are some simple steps to transform your bathroom furniture with chalk paint:
Choose your preferred furniture piece and desired chalk paint color.
Clean the furniture thoroughly to ensure smooth application.
Apply the first coat of chalk paint. Let dry.
For more depth, apply a second coat. If distressed look is desired, lightly sand edges for an aged effect.
Finally, seal the paint with a soft furniture wax for durability.
Chalk painted furniture can be a true focal point in your Cape Cod-themed bathroom, emanating the essence of an oceanside retreat right in your home.
Continue reading:
Recap