Last updated on November 13, 2023
Transform your bathroom into a stylish sanctuary by repurposing a dresser into a vanity because it lends a classic, rustic charm that can't be found in traditional store-bought versions.
I take immense pride in the 20 Stylish Dresser Bathroom Vanity Ideas article I have crafted, with fresh designs I made myself, and it is my earnest hope that you find as much inspiration in them as I enjoyed creating them.
Transforming a dresser into a bathroom vanity is a unique and stylish way to add character to your bathroom. This article provides you with innovative ideas to repurpose an old dresser into a functional and aesthetically pleasing vanity.
Whether you're aiming for a vintage, rustic, or modern look, you'll find a wealth of inspiration here.
Detailed instructions on how to select the right dresser, modify it for plumbing, and finish it to withstand the bathroom environment are also included.
Follow along to discover how you can create a one-of-a-kind bathroom vanity from a dresser.
Rustic Wood Vanity With Stone Sink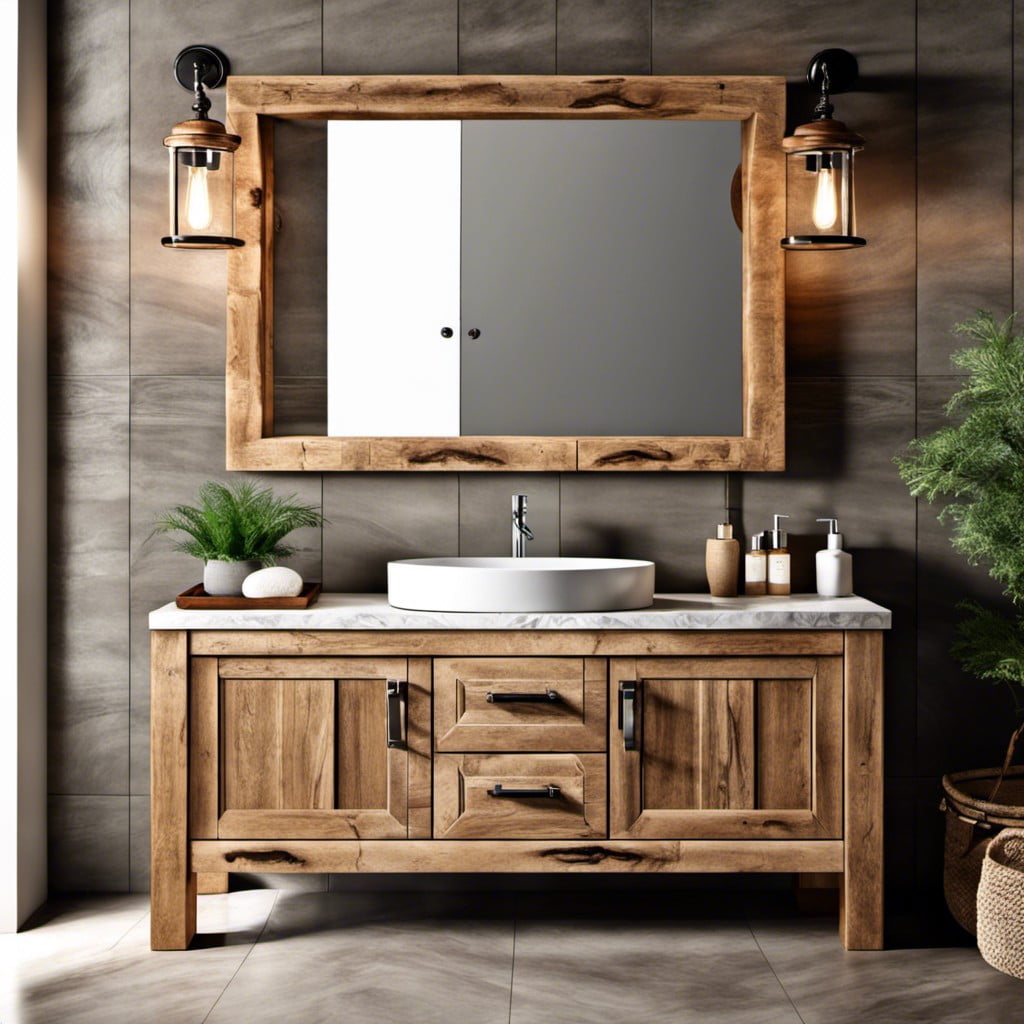 Utilizing a rustic wood dresser as a vanity brings a warmth and personality to your bathroom. Here, the natural imperfections in the wood add an element of character making each piece genuinely unique. Paired with a stone sink, it enhances the natural, earthy vibe.
Consider a stacked stone design to accentuate the rustic charm.
Key Points:
Choose a dresser with character: Natural wood knots, distinct grain, and worn edges all contribute to the rustic look.
Stone sinks: A carved stone or a faux-stone composite sink adds an organic touch.
Complementary fixtures: Bronze or iron faucets and hardware work well with rustic aesthetics.
Protect the wood: Ensure the wood is sealed properly to protect from moisture and prolong its lifespan.
Balance the rustic elements: Pair the vanity with softer or modern accessories to balance the roughness of the rustic style.
Vintage Dresser Turned Into Vanity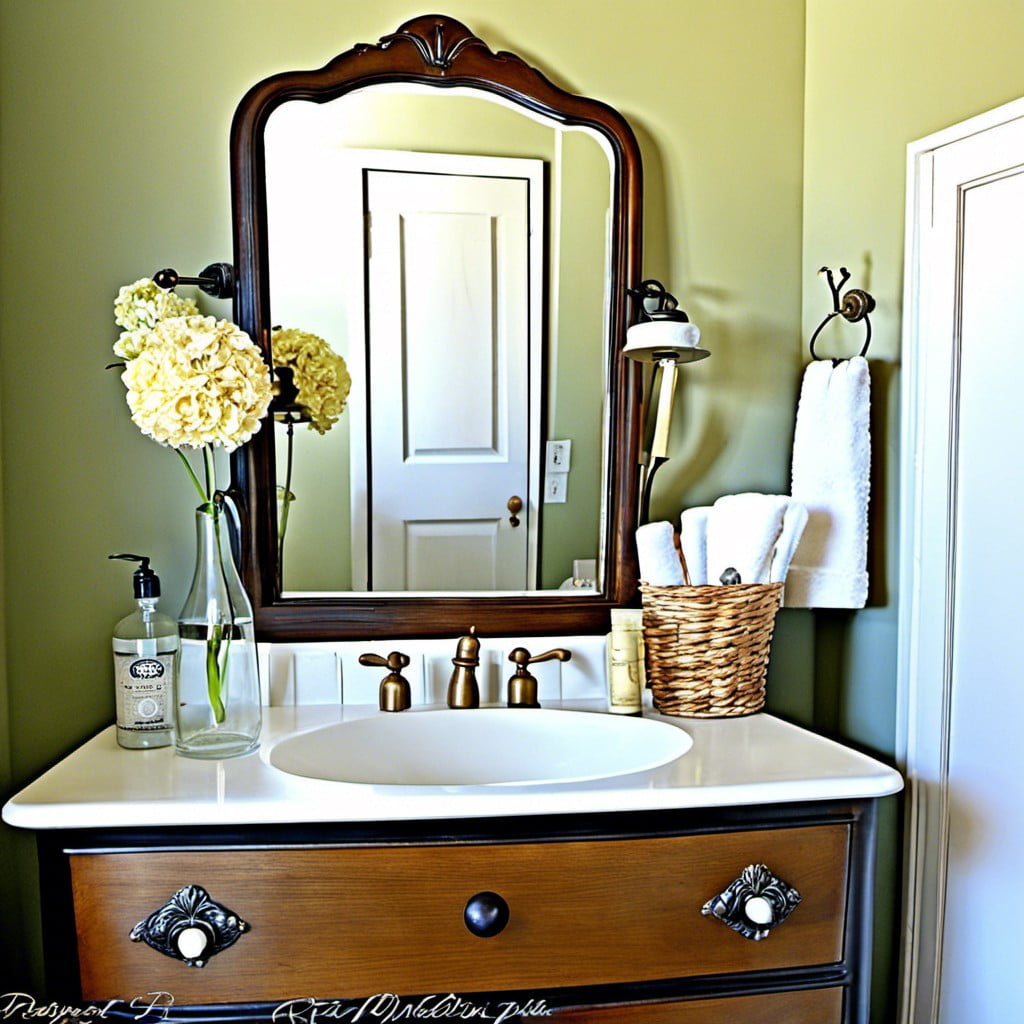 Capitalizing on the unique charm of a vintage dresser can add distinctive character to your bathroom. Here are a few ideas to consider:
1. Choose a piece with intricate detailing and ornate woodwork to serve as a centerpiece.
2. Preserve its original finish for authenticity, highlighting minor imperfections as tokens of its history and heritage.
3. Replace old knobs and handles with modern hardware to create an appealing contrast.
4. Opt for a countertop that complements the piece—consider white marble for elegance or a butcher block for a more rustic look.
5. Retrofit the drawers for plumbing, ensuring functionality isn't compromised for the sake of style.
6. Add a high-contrast, period-style mirror above the dresser to complete the look and amplify the vintage appeal.
7. Consider pairing with vintage lighting fixtures and accessories to maintain a unified theme throughout the space.
Modern Minimalist Floating Vanity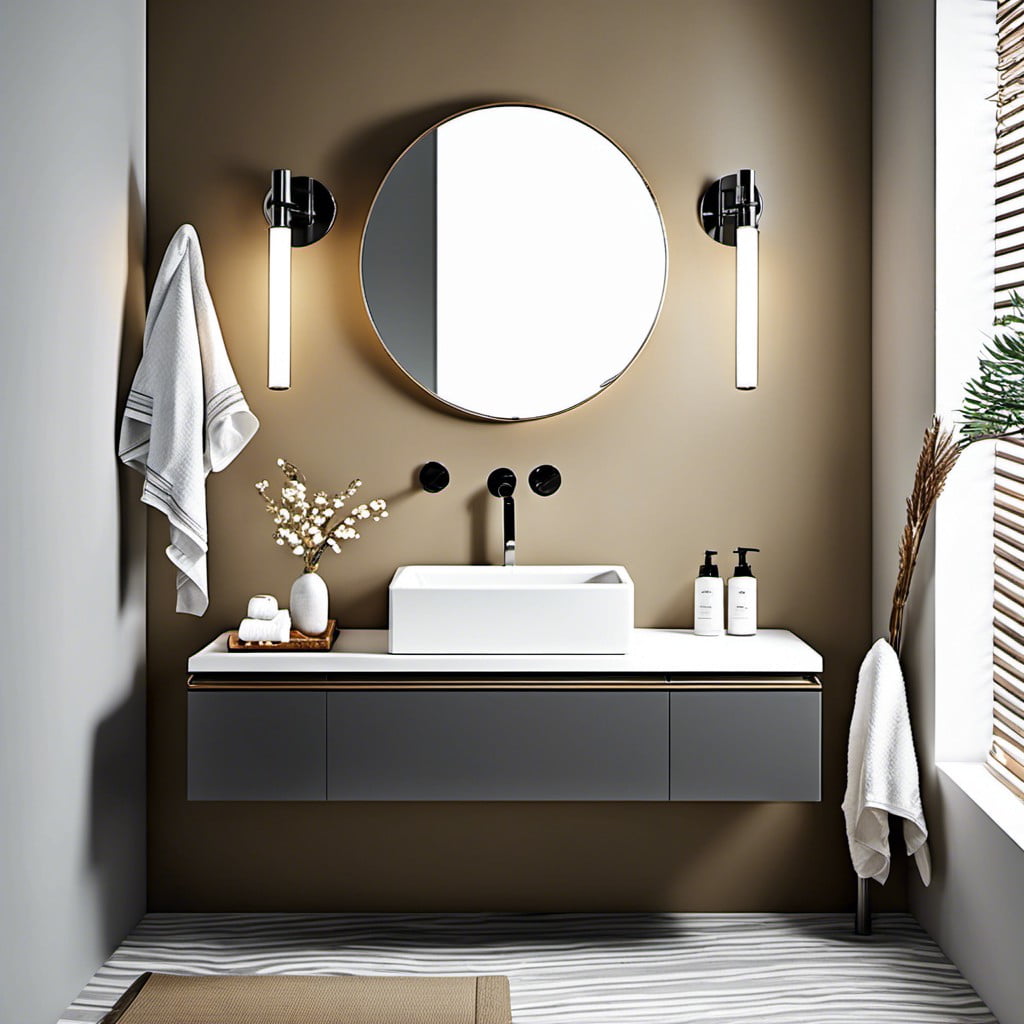 Simple, chic, and sleek is the holy trilogy of a modern minimalist floating vanity. One may lean into the minimalistic design by choosing a streamlined vanity in white or a light wood finish. Couple it with a straightforward, rectangular top-mount basin for that clean geometric look.
Revamping your space with neat lines does not equate to skimping on accessibility. Most floating vanities, while mimicking the lightness of air, come accompanied by easy-to-use, hidden drawers or shelved cabinets. It's a case of style meeting functionality head-on. Remember to choose chrome or black matte finish for the hardware to keep to the unadorned aesthetics.
The brilliance of a floating vanity doesn't stop at just pleasing the eyes. The visible floor underneath creates an illusion of a larger expanse, giving small bathrooms the gift of seeming spaciousness. Plus, it offers room for additional storage like stackable drawers, woven baskets or a stool.
Without straying too far from the minimalist ethos, consider a simple frameless mirror with backlit LED lighting to elevate the space. To balance the crisp edges, the addition of a soft pendant light or a small potted indoor plant can introduce an inviting warmth without overwhelming the aesthetics.
Dresser With Double Sink Design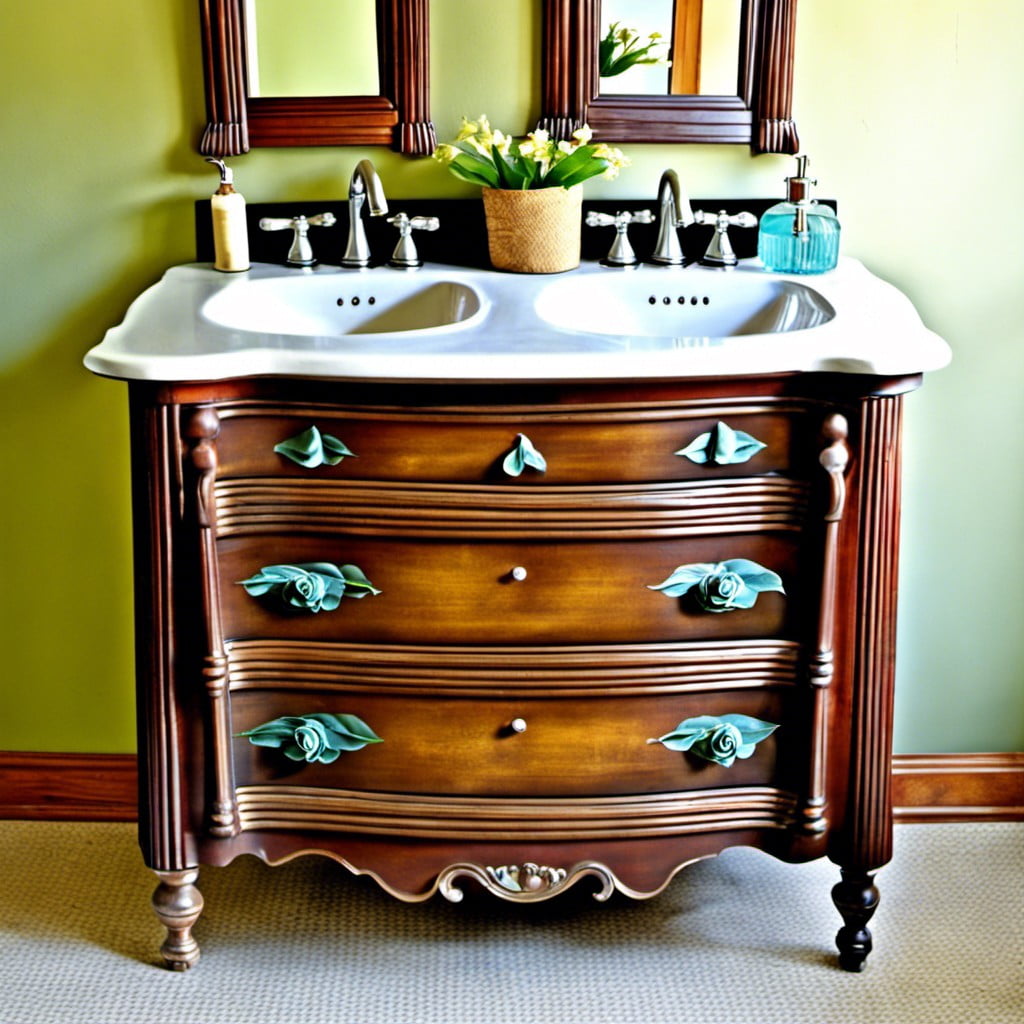 Adopting a double sink design not only maximizes your space but also provides convenience, especially during the morning rush. Having your own sink to use can be a game-changer. When transforming a dresser into such a vanity, select a long, sizeable dresser capable of accommodating two sinks.
Ensure to make provisions for plumbing works. This might require removing some drawers or reconfiguring them into smaller or fewer compartments. Balance is key; therefore, aim for an equal distance between the sinks and the edges of the dresser.
For the countertop, options like marble, granite, quartz or even a wood sealed with epoxy could be considered. The choice of the countertop might depend on your aesthetic preference, budget, and maintenance level. Custom cut-outs will be required for the sinks.
Depending on the dresser's style, you can choose undermount, drop-in, or vessel sinks. Consider using a wall-mounted mirror above each sink for individual grooming space, and balance these with suitable lighting fixtures for enhanced functionality and beauty.
Lastly, choose matching or coordinating hardware to update the dresser and provide cohesion. The handles and knobs can be switched to match the sink taps or to contrast beautifully with your chosen finishes.
Classic White Vanity With Marble Countertop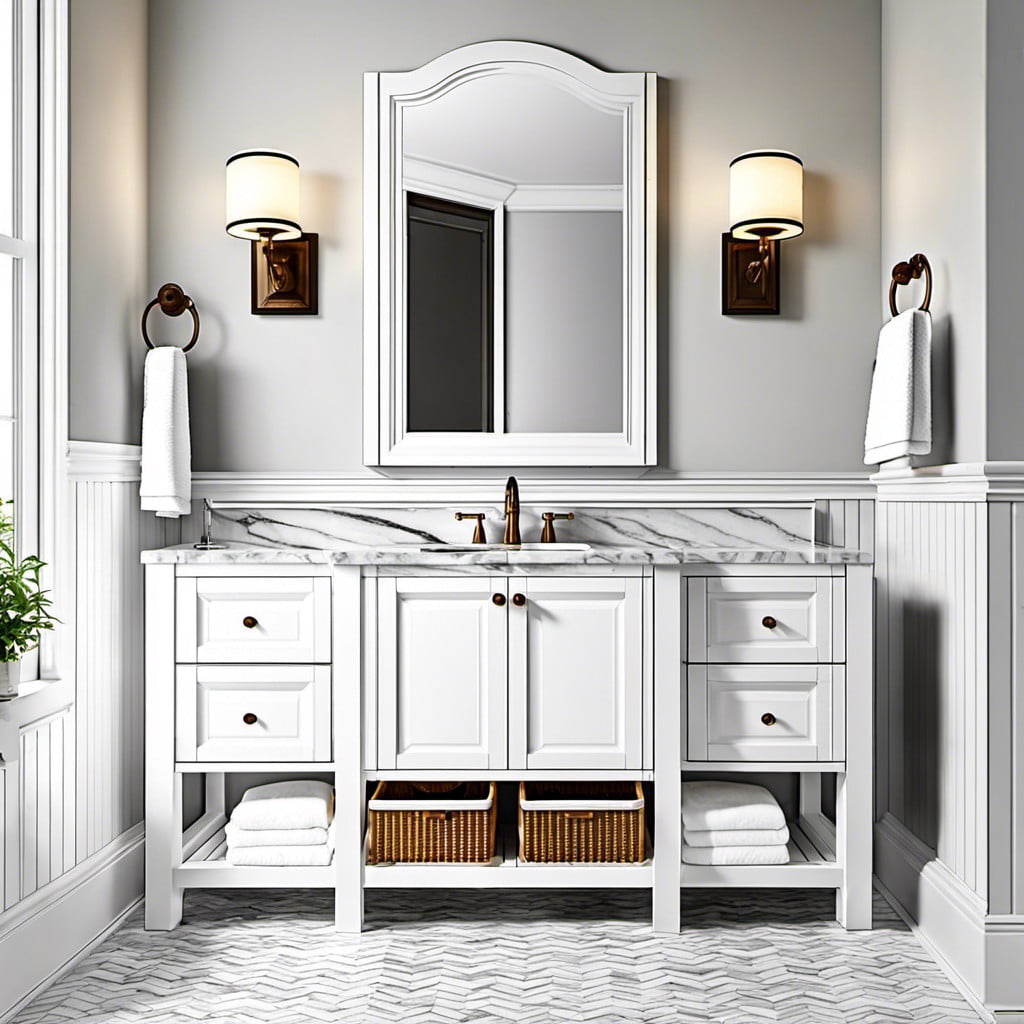 Enhancing your bathroom with elegant appeal is effortless with this style. This vanity utilizes a crisp white dresser featuring drawers for storage, maintaining functionality. Paired with a speckled or veined marble countertop, it not only adds contrast but also elevates the overall aesthetic.
Here are some points for implementation:
1. Select a white dresser with a traditional design – Think carved legs, raised panel doors/drawers, or intricate hardware.
2. Choose a countertop-grade marble. Consider the surface patterns and colors unique to each marble slab; your selection should harmonize with your bathroom's ambiance.
3. Ensure the drawers remain functional after sink installation. Consider modifying the interior, if necessary.
4. Incorporate matching or complementing hardware. Consider silver, gold or nickel, depending upon your preference.
Now, enjoy a touch of timeless elegance every time you step into your bathroom!
Dresser-style Vanity With Wicker Basket Storage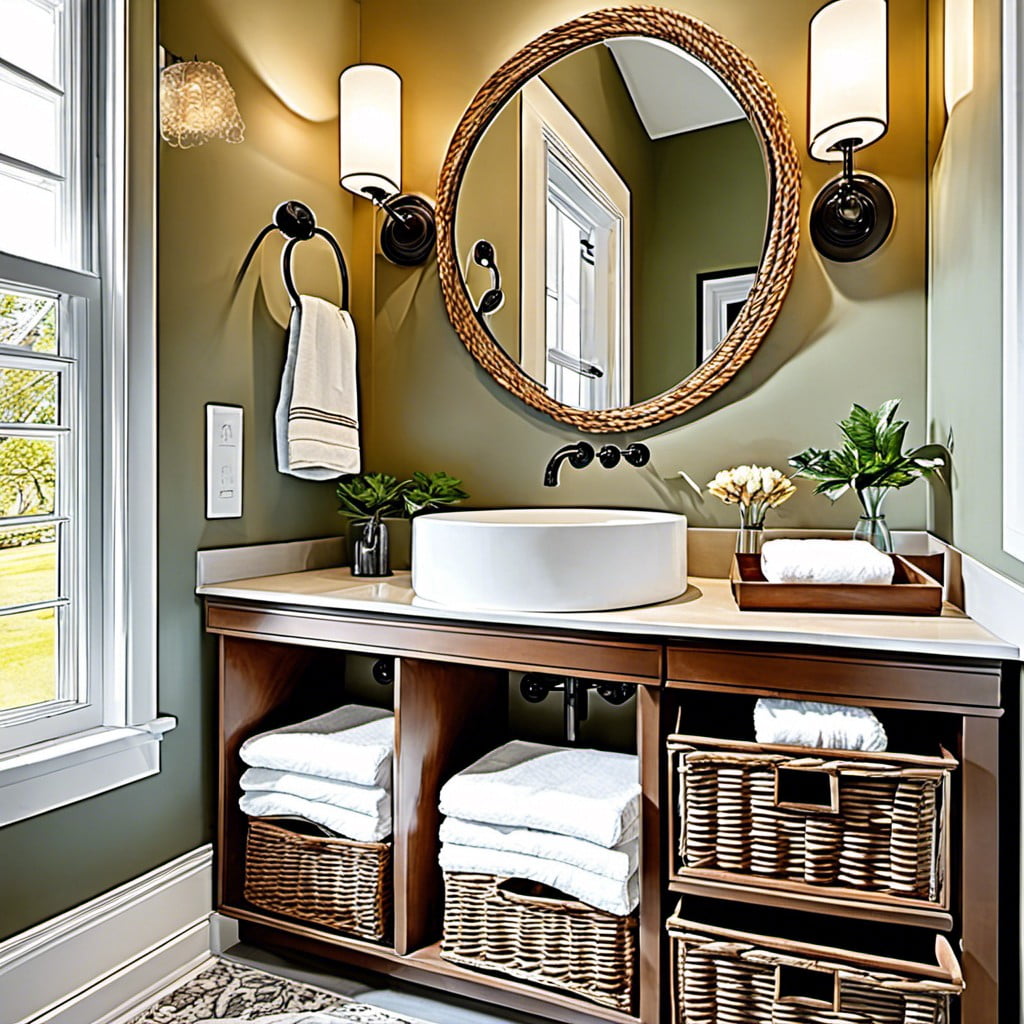 For a beachy, coastal feel to your bathroom, swap out your traditional cabinets with wicker storage baskets. These offer a casual, charm to your vanity and their unique texture adds visual interest.
Wicker basket storage is an excellent way to organize toiletries, towels, and other bathroom essentials neatly.
Consider using lined baskets for smaller items to prevent them from slipping through the wicker weave.
Choose baskets in a size that fits your dresser drawers for a seamless look.
If you're aiming for a more rustic approach, combine wicker baskets with a distressed wooden dresser.
For an upscale look, select dark stained dressers along with a marble countertop and stylish, undermount porcelain sink.
Add fun, decorative pulls or knobs to your dresser for an extra touch of personality.
Perfect for a true DIY enthusiast, the dresser vanity with wicker basket storage allows you to experiment with different finishes, styles, and configurations – while also providing you convenient storage options to organize your bathroom.
Industrial Styled Vanity With Metal Accents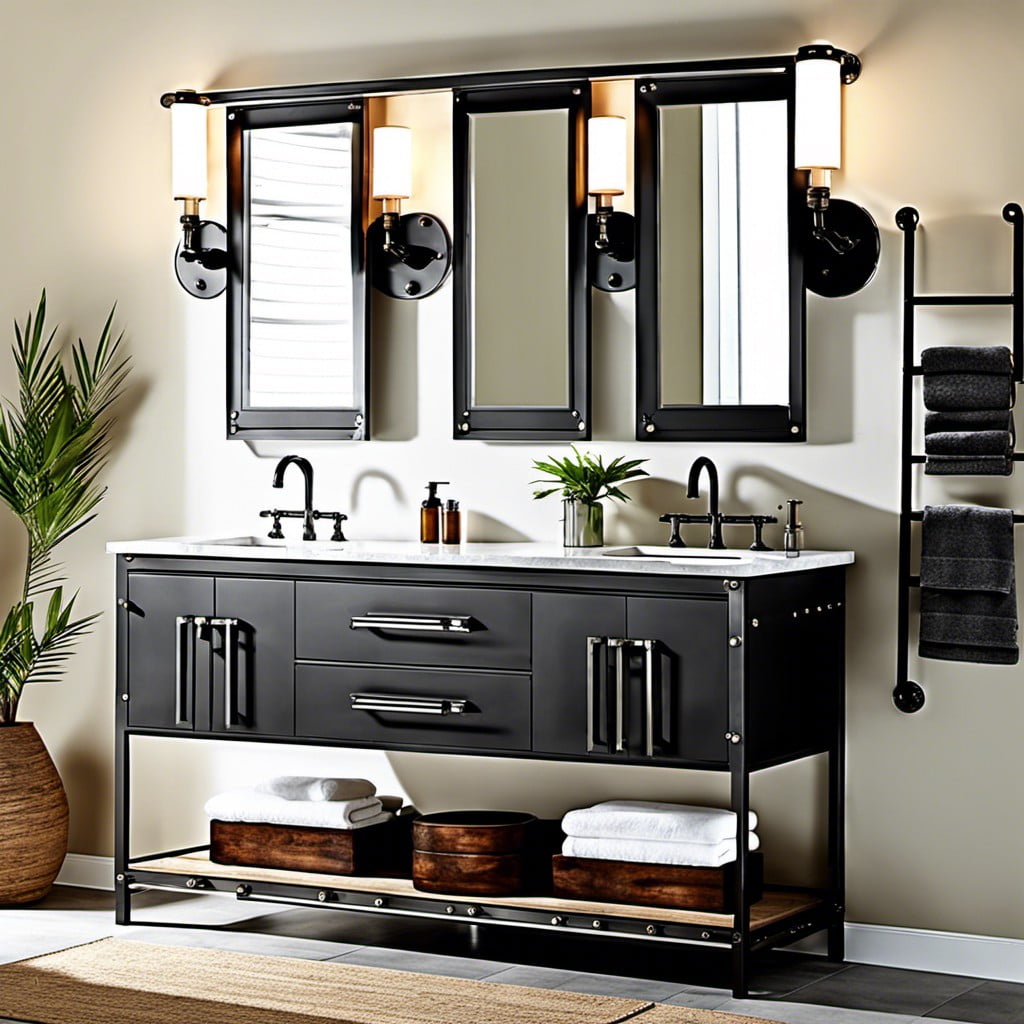 A primary key to achieving an industrial chic aesthetic lies in celebrating the contrast between raw materials and metal accents. Select a solid wooden dresser and add a touch of ruggedness with metal details. Here are some fine points to steer your journey right:
1. Opt for a mix of materials: A wooden base combined with a concrete or metal countertop not only adds visual interest but enhances durability.
2. Accentuate with metal finishes: Metal drawer pulls or knobs in wrought iron, copper, or aged brass helps sprinkle some edgy charm, reinforcing the industrial vibe.
3. Accessorize wisely: Keep embellishments minimal and functional. Metal towel bars or wire shelves can carry forward the theme without being overbearing.
4. Choose a stark palette: Keeping a predominantly neutral color scheme can help accentuate the metal accents and add a sense of cohesiveness, simplicity, and spaciousness.
Remember, industrial style is about originality and showing off materials in their raw, unfinished form. Embrace the imperfections, they often make the best design stories.
Mirrored Vanity for a Glamorous Touch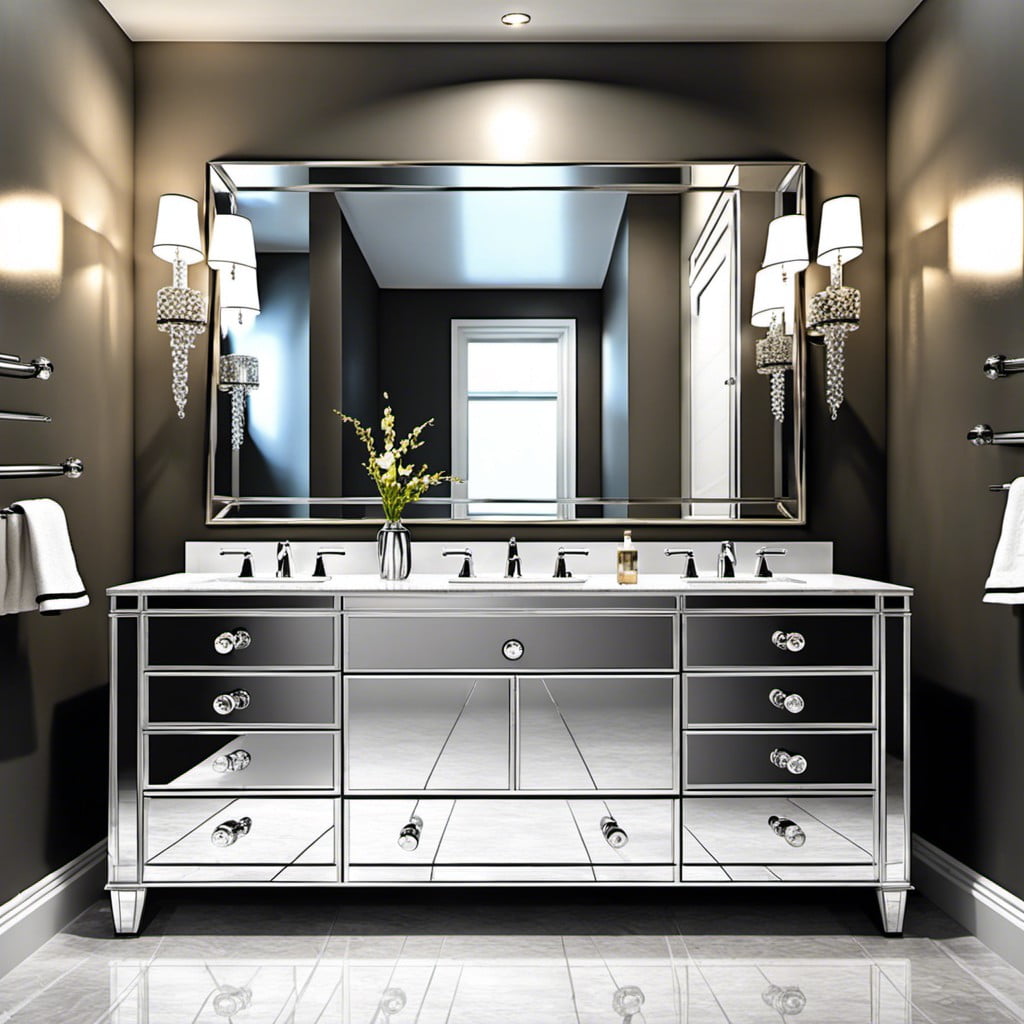 A mirrored vanity truly ignites the wow factor in any bathroom. This design utilizes reflective surfaces to create a sense of grandeur and spaciousness. Its shimmering effect adds an aesthetic appeal, turning a regular bathroom into a luxurious enclave.
Here are some elements that complement this glamorous touch:
1. Elegant Lighting: Use crystal chandeliers or sleek pendant lights to enhance the reflection and illuminate the space.
2. Clear Glass Accessories: Opt for clear glass or crystal dispensers, containers, and decorations for the counter.
3. Silver Hardware: Match the vanity with silver faucets and drawer pulls. It ties the look together with the mirrored surfaces.
4. Monochromatic Scheme: Stick with a black-white-grey color palette. It enhances the reflective quality of the mirrors, creating a seamless transition.
5. High Stool: To complete the opulent dressing room vibe, a plush, high stool tucked neatly under the vanity works splendidly.
This design, while looking extravagant, also serves a practical purpose. The reflective surfaces increase the light amount in the room, making it easier to see and apply makeup or carry out other grooming tasks. Also, it's exceptionally stylish; it adds an element of surprise and sophistication every time one walks into your bathroom.
Dark Wood Vanity With Brass Hardware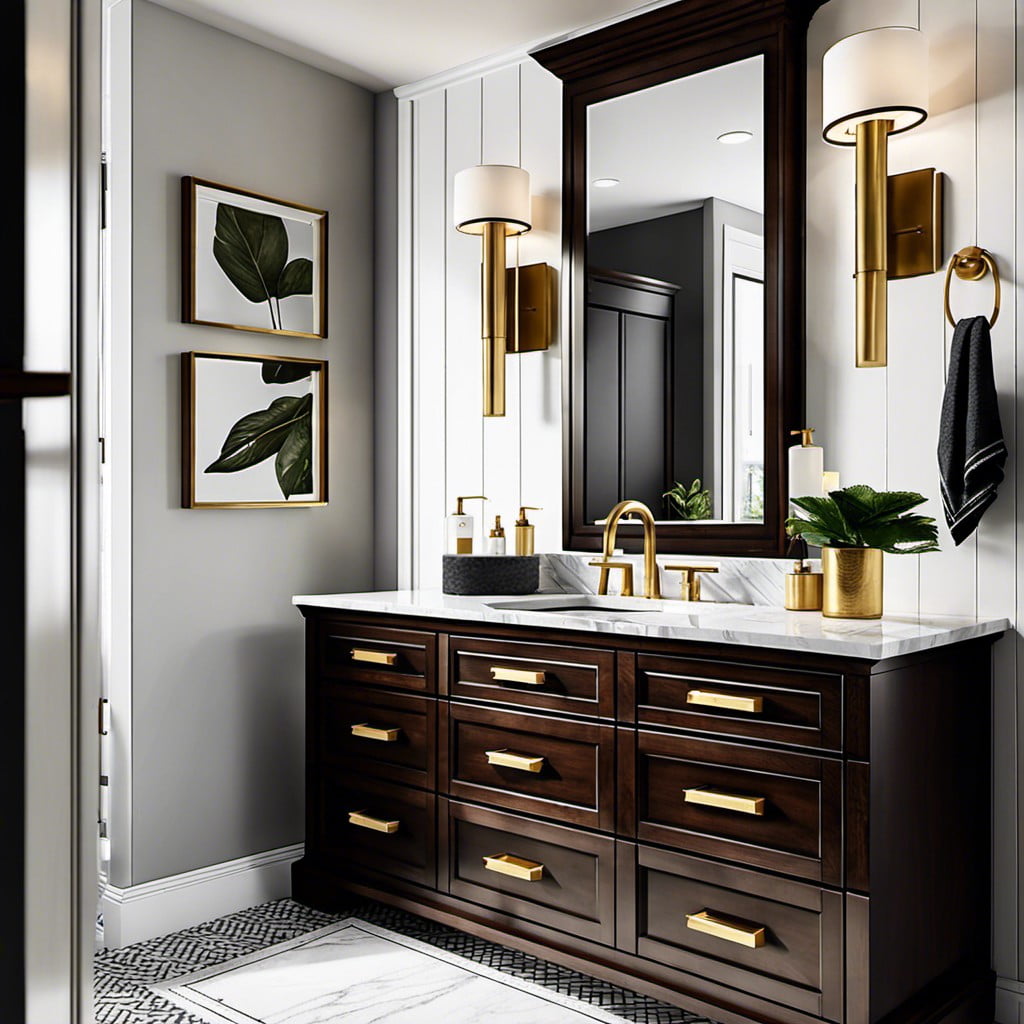 Brass hardware adds a touch of elegance to a dark wood vanity, creating a warm, inviting look. The contrast allows each element to stand out, augmenting the elegant allure.
1. Choice of Hardware: Opt for brass knobs, handles, and faucets. These can range from brushed, antique, and highly polished brass finishes, based on your personal style preference.
2. Wood Finish: Dark wood lends a sophisticated backdrop. Choices could include mahogany, walnut, or even ebony, each offering its unique shade and grain. A well-sealed finish will ensure longevity in a humid bathroom environment.
3. Complementary Elements: Consider including brass light fixtures and mirrors with brass frames that echo the vanity's hardware to tie the room together seamlessly.
4. Styling and Storage: Add a brass tray atop your vanity to keep accessories neatly arranged. Drawer organizers inside the dresser can compartmentalize your beauty products, maintaining tidiness.
5. Balance in Design: While accents of brass hardware on a dark wood vanity are impactful, balancing these elements with lighter shades in your bathroom through wall color or floor tiles can result in a harmonious design.
Painted Dresser Vanity in Bold Color (e.g., Navy, Red)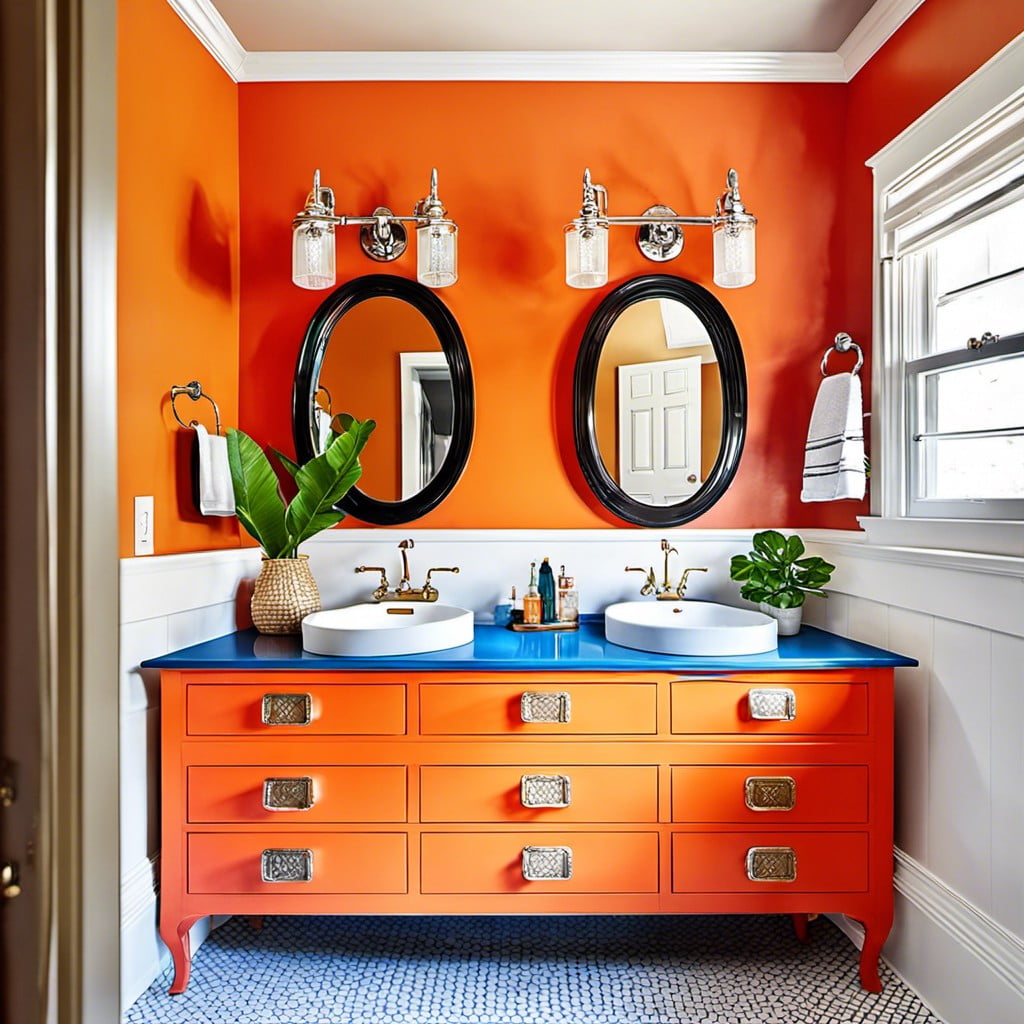 Bold colors are not just for your walls or statement furniture. When applied to a dresser-turned-vanity, they can create an exciting focal point in your bathroom.
Here's how:
1. Select a Color: Consider the mood you wish to evoke. For a calming effect, navy is your best bet, while a red might inject a fun vibe.
2. Pick the Right Dresser: Not every dresser is suited for this transformation. Ensure you choose a sturdy piece. Keep in mind the space requirement for your sink plumbing.
3. Matte or Glossy Finish: Depending on the style of your bathroom – a glossy finish adds glam, while a matte finish gives a sophisticated modern look.
4. Don't Forget the Hardware: Leverage the color palette with the hardware. Gold or brass adds a warm touch to a cool navy, while chrome or stainless steel gives a sleek edge to a fiery red.
5. Seal it Right: Given the high moisture environment of a bathroom, don't skip this crucial step. Use a sealant that maintains the color vibrance while protecting the wood.
With these points, your bathroom is set to make a daring yet elegant statement.
Retro-style Vanity With Patterned Tile Backdrop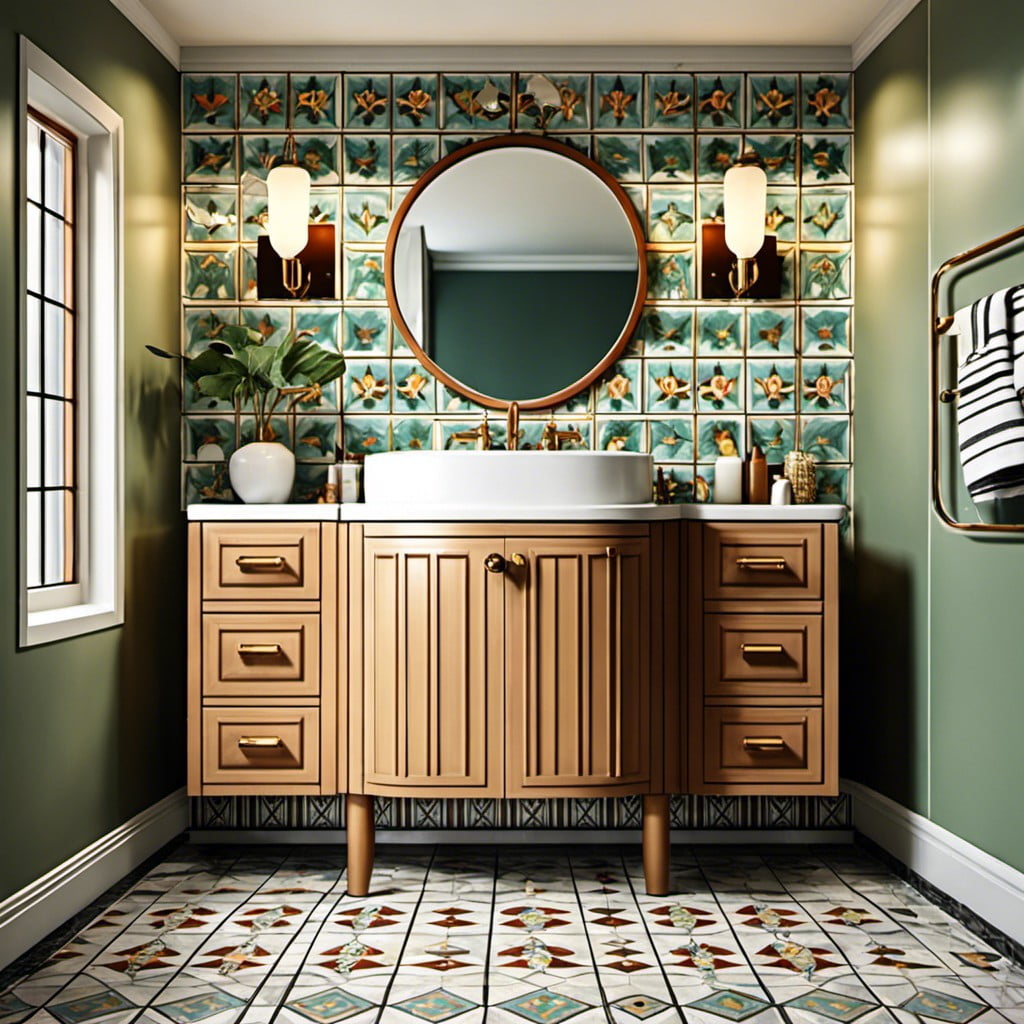 The charm of this design lies in the mix of old and new, creating a distinctive character. To achieve this style:
1. Choose a dresser with a mid-century aesthetic. This could mean clean, simple lines, tapered legs, and a muted color palette.
2. Pair it with a splashy backsplash, perhaps a vibrant geometric design or a classic black-and-white floral pattern. The contrast of modern and retro will be visually pleasing.
3. Consider adding a round vessel sink to break up the angular lines of the dresser and tiles effectively.
4. Further elevate the design by choosing retro-inspired faucets in a finish that complements your color scheme.
5. Finally, create a cohesive look by selecting hardware that nods to the vanity's mid-century roots – think simple, streamlined shapes in brass or chrome.
The result will be a bathroom vanity that not only serves its functional purpose but also adds a unique element of style to your home.
Antique Dresser Repurposed Into Vanity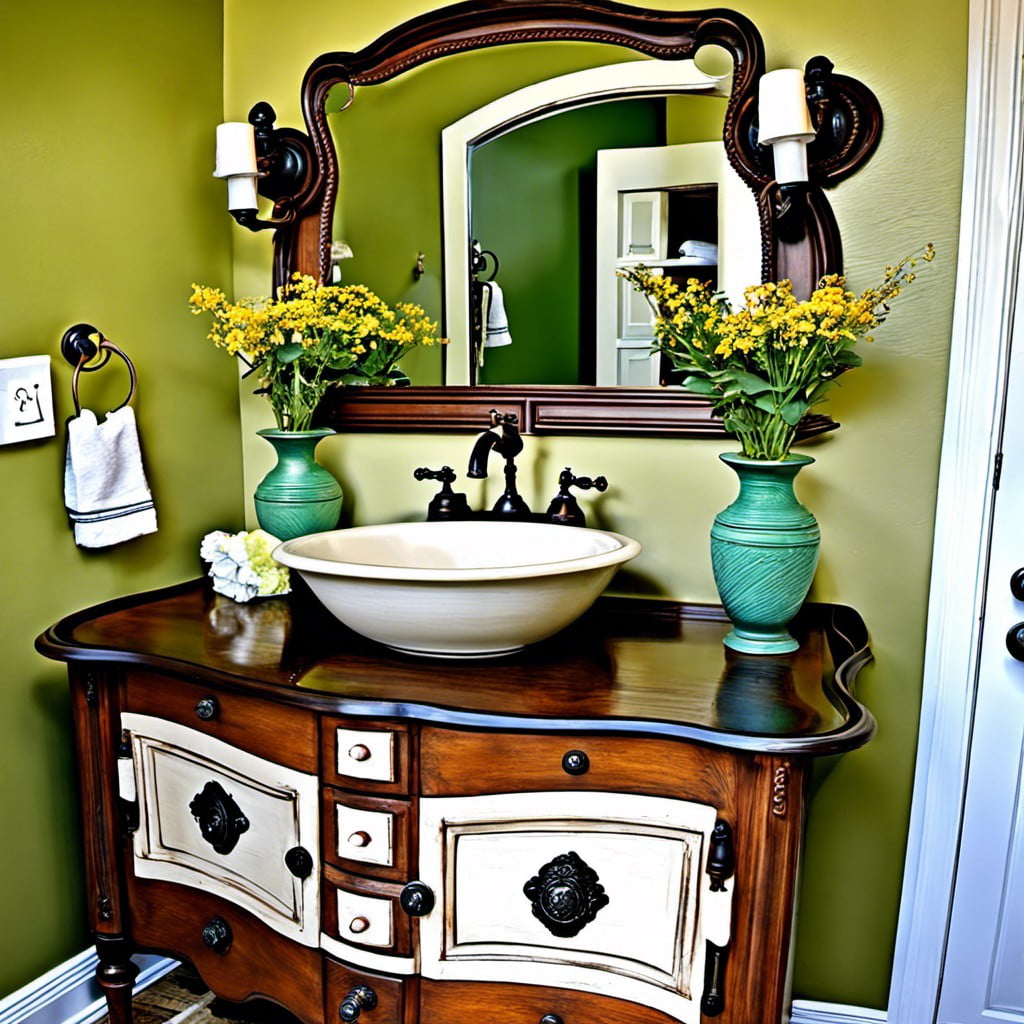 Highlighting the charm of yesteryears while ensuring functionality is key. Select a piece with sturdy wooden structures and intricate detailing; this will offer a rich, old-world charm to your restroom.
Depending on preference, let its original chipped paint and weathered wood show, or repaint it to match the bathroom's color scheme.
When choosing a sink, consider an undermount style to retain top drawer functionality. For the countertop, marble or quartz work excellently, adding an elegant touch without detracting from the antique vibe.
Initiate a seamless blend of old and new by adding brushed bronze or nickel fixtures. Utilize drawers or cabinets for creatively organizing toiletries.
Remember, an antique dresser-turned-vanity is not just a utilitarian addition, but a design statement. It anchors your space in history, offering a distinctly unique aesthetic.
Shabby Chic Vanity With Distressed Finish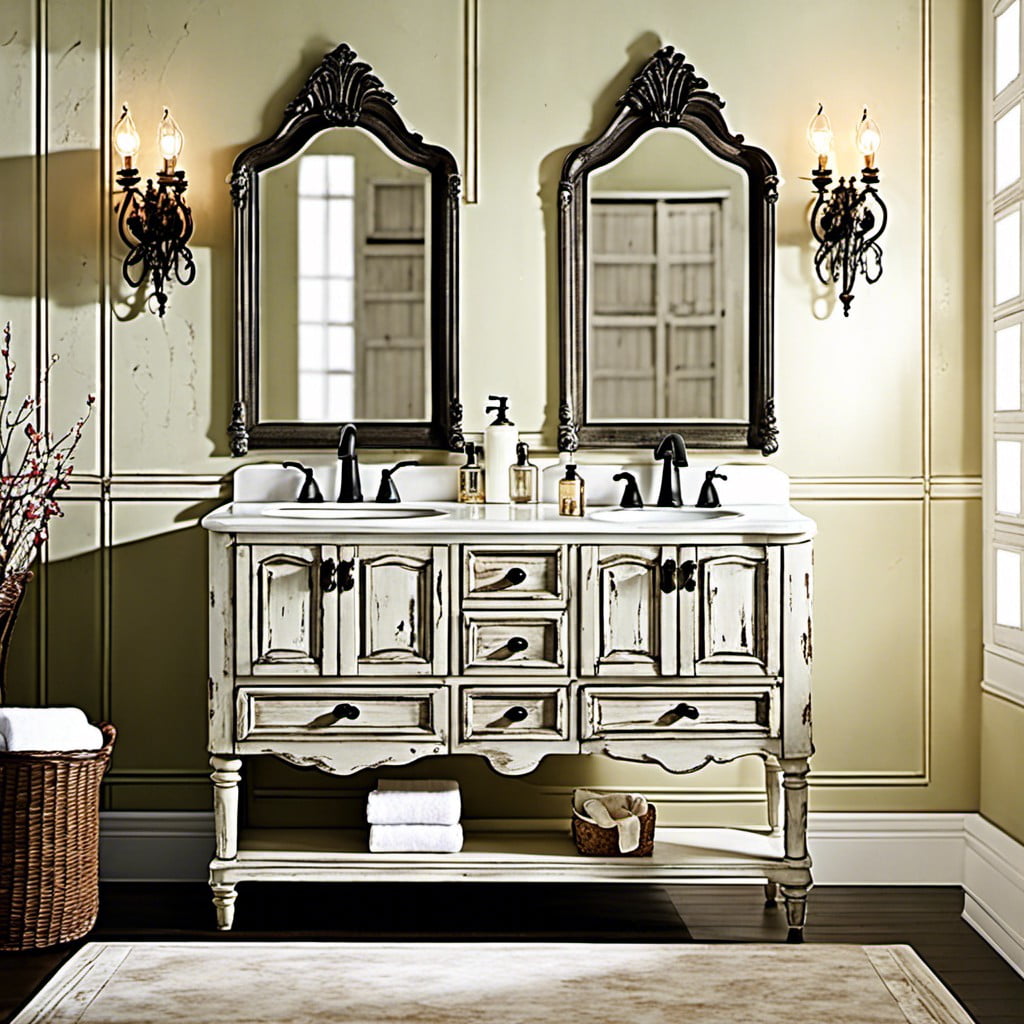 To achieve this characteristic weathered look, you'll need a base dresser. It doesn't have to be an expensive piece, even a garage sale find can do the job. Go for one with intricate details to make the distressing process standout.
Apply a simple white or pastel paint, then after it dries, sand the surface to create desired wear-and-tear locations. Places like corners, carved details, and raised edges typically weather most in real life settings.
For additional shabby chic charm, replace old knobs or handles with decorative porcelain or crystal ones. To enhance the worn-out effect further, a lightly brushed on antique glaze can do wonders.
The final result leads to a unique vanity that adds a charming and cozy touch to your bathroom, perfectly combining functionality with style. This trend skillfully brings the old-world charm into your modern living space.
Dresser Vanity With Open Shelving Storage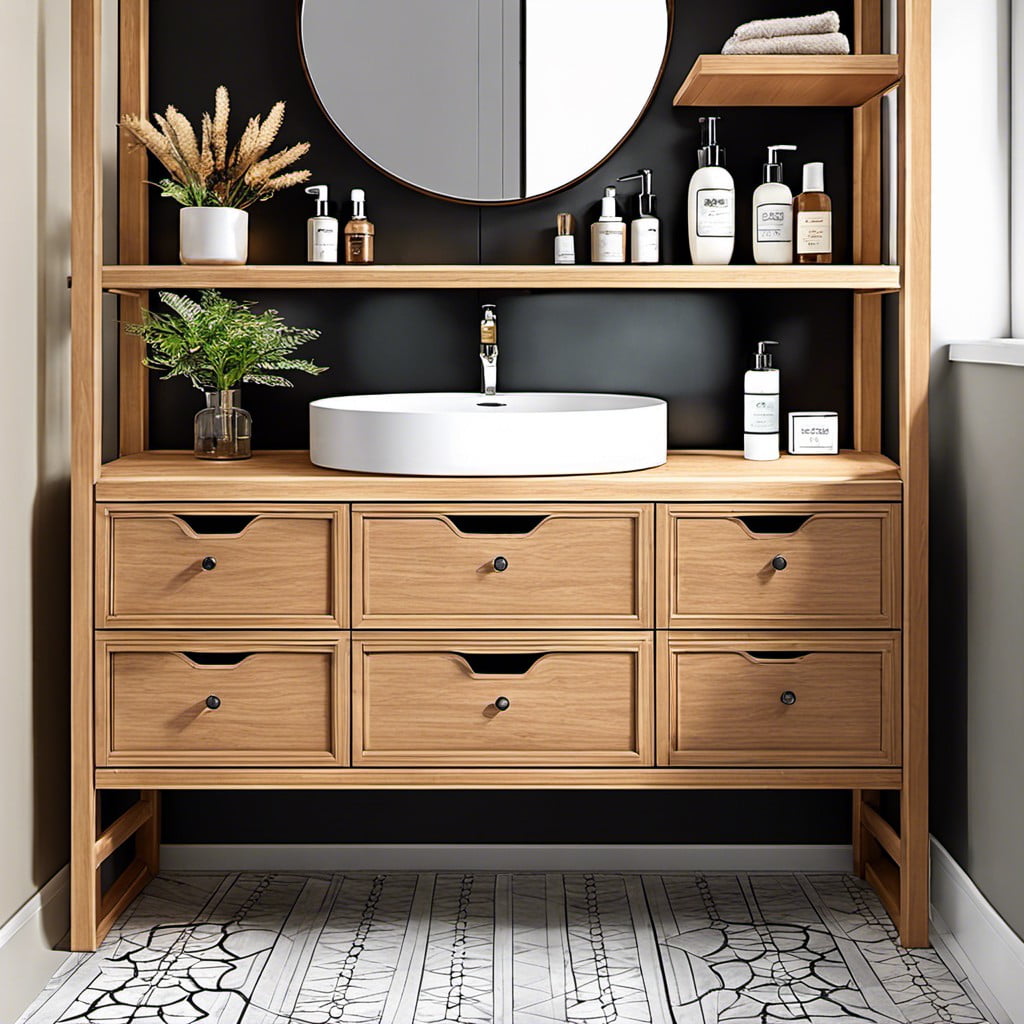 Open shelving provides a dual functionality – utility and aesthetics. This style allows for easy access to your towels or toiletries while displaying them in an appealing manner.
Use bins, baskets, or boxes to keep items organized and add visual interest. Alternatively, highlighting neatly folded towels or pretty toiletries infuses your vanity design with a personal touch.
Also, bear in mind that materials matter. Opting for a natural wood shelf could create a rustic ambiance, while sleek metal or glass shelves cater to a more modern taste.
Vanity Built With Eco-friendly, Recycled Materials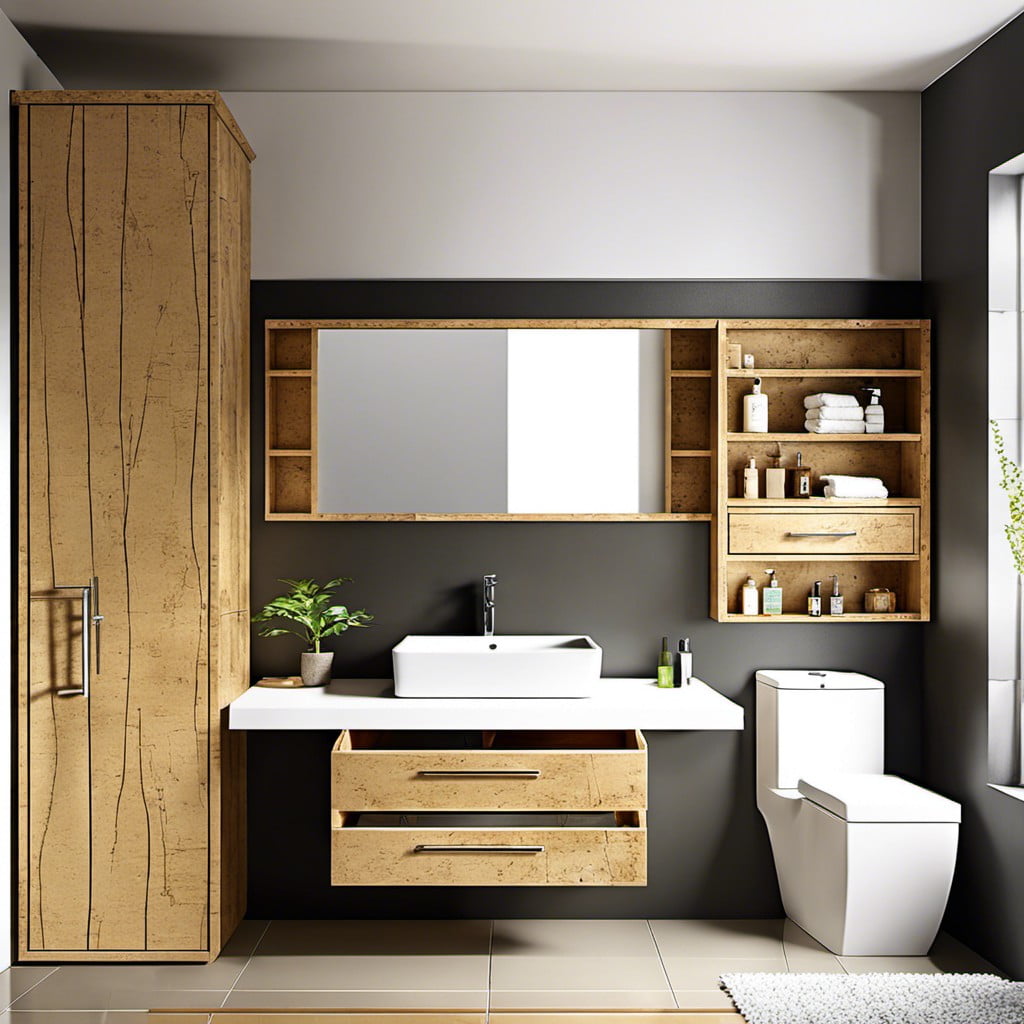 Embracing sustainability in home decor is not just a trend, it's a lifestyle. An eco-friendly vanity does indeed make a stylish yet responsible choice. There are a few ways to make this concept come to life in your bathroom.
1. Recycled wood: This could be barn wood, pallet wood, or salvaged lumber. These can add a distinct rustic aesthetic to your vanity.
2. Reclaimed metal: Think metal accent pieces that can be used for hardware or legs. They add a touch of industrial style to the vanity.
3. Recycled glass countertop: Not only are they striking, but also they are highly durable and stand up to humidity well.
4. Bamboo: As a fast-growing plant, bamboo is a sustainable makeover candidate. It can make an elegant, clean-looking bathroom vanity.
5. Ecoresins: These are a type of plastic made from recycled materials, and they make interesting, modern options for vanity tops.
Remember, every small step towards sustainability counts. It's about making choices, every day, that respect the planet. And in the process, your bathroom gets a vanity that is not only beautiful but also tells a story.
Dresser Vanity With Undermount Sink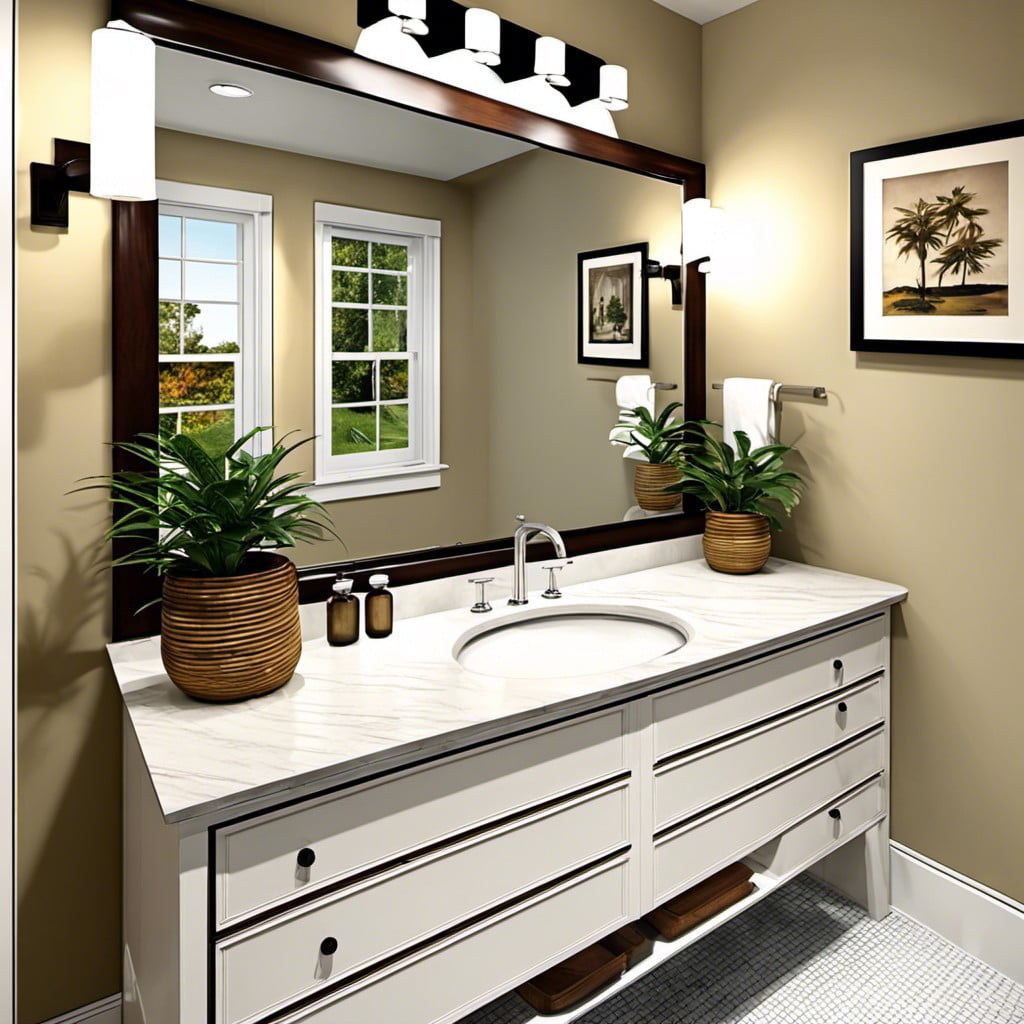 Switching to an undermount sink offers a clean and contemporary appeal. One outstanding feature is that they're installed beneath the countertop, resulting in a seamless transition between the sink and surface that provides an illusion of more space. Moreover, it's more practical as it's easier to clean since you can simply wipe leftovers straight into the sink without anything getting caught under the edge.
When selecting a dresser for your vanity, look for sturdy builds to ensure stability. Hardwoods such as oak or mahogany are ideal choices. Also, it's important to pay attention to the height of the dresser. Standard bathroom counter heights are typically 34 to 36 inches high; including the sink.
In terms of design, consider the theme of your bathroom – whether it be modern, rustic, or vintage – and then customize your dresser accordingly with a matching finish, hardware, or customized drawer pulls. Opting for spaciously designed dressers with multiple drawers can offer added storage, keeping your bathroom clutter-free.
Remember, the countertop material is crucial too. It must be waterproof and durable, choices range from granite, quartz to marble. Finally, professional installation can be beneficial, especially if this is your first undermount sink installation, as it ensures a perfect finish and extended longevity.
Glass-topped Vanity for a Sleek Look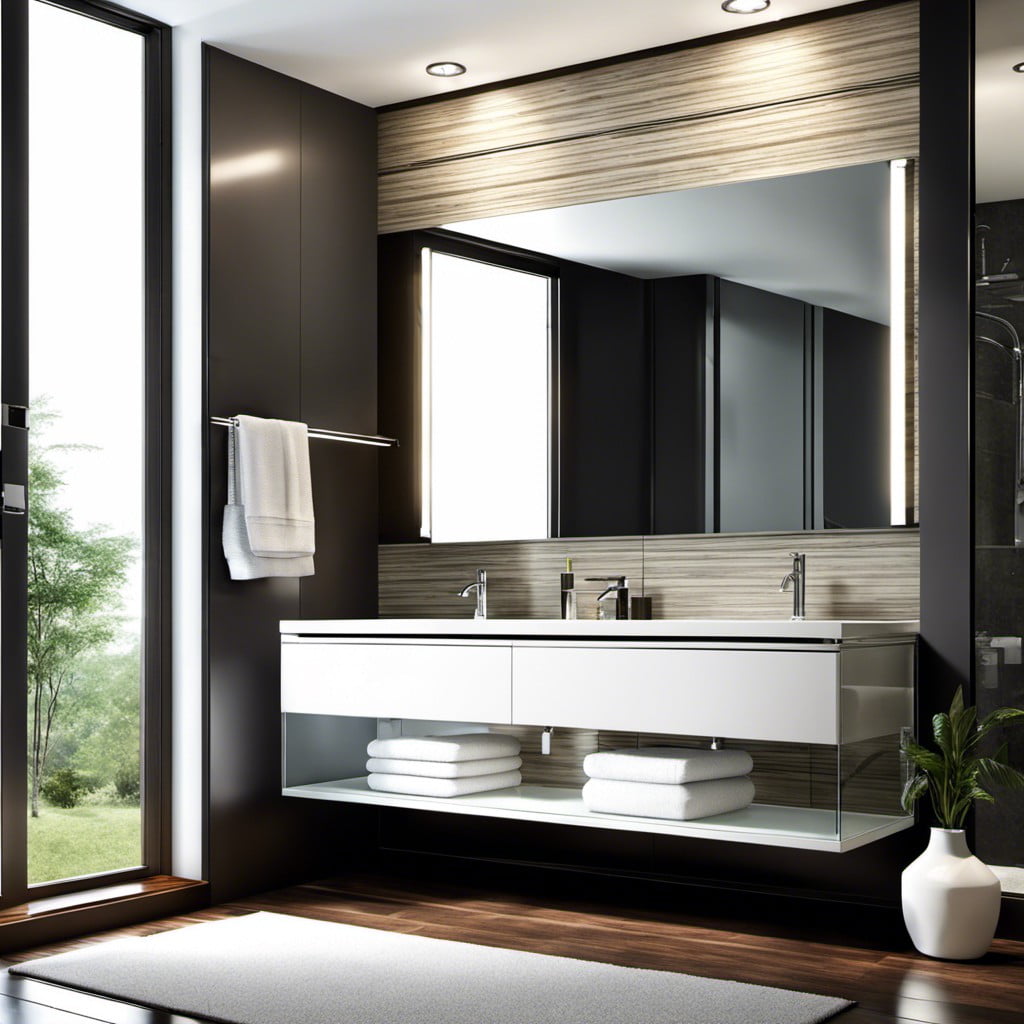 Opting for glass as your vanity top is a distinct yet sophisticated choice. It instantly amps up the style factor, giving your bathroom a modern and fresh look. As a material, glass is unique in its ability to amplify light, creating an illusion of a lighter and larger space.
Now, pairing this glass top with a dresser-turned-vanity brings about a contrasting combination of old and new. Whether you choose clear or frosted glass, the elegance remains unequivocal. Better yet, you can place LED lights under the top for an enchanting and ethereal glow.
But what about maintenances? Glass is notably easy to clean. Spills and stains remain on the surface, requiring nothing more than a swift wipe. Durability isn't a concern, either – glass tops are made from tempered glass, famed for its strength and resilience.
Enhance the look further by coupling the clear top with a statement bowl sink. Or why not experiment with colored glass? Light aqua or rose-pink can lend a subtle hue without overwhelming the space.
Remember, the goal is to blend charm and chicness while maximizing function. And a glass-topped dresser vanity does it all.
Vanity With Built-in Makeup Station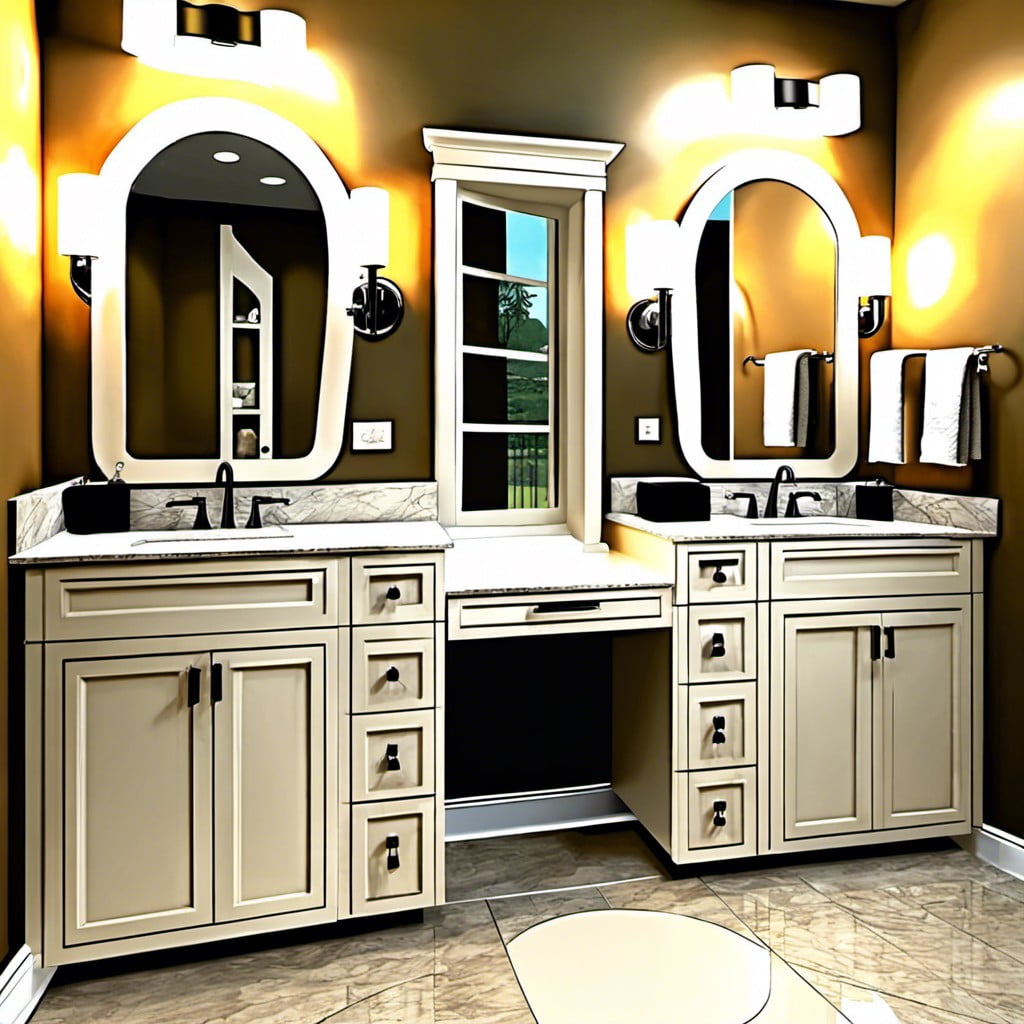 Incorporating a makeup station into your vanity design offers the perfect corner for self-adornment. The station can be fitted with a chic mirror – lighted or not – to highlight every detail.
Drawers or compartments are important for easy storage and access for brushes, palettes, and other makeup essentials. A proper seat, depending upon the available space, can be a stylish stool or a plush chair.
For a touch of elegance, consider adding a soft rug underfoot and good lighting fixtures to ensure perfect makeup application. Strategically chosen colors can elevate the mood of the space, for instance, a pop of color on the seat or the drawer handles.
Going for a neutral color scheme enhances the tranquility of the zone, and adding green plants can introduce freshness.
Lighted Vanity for Makeup Application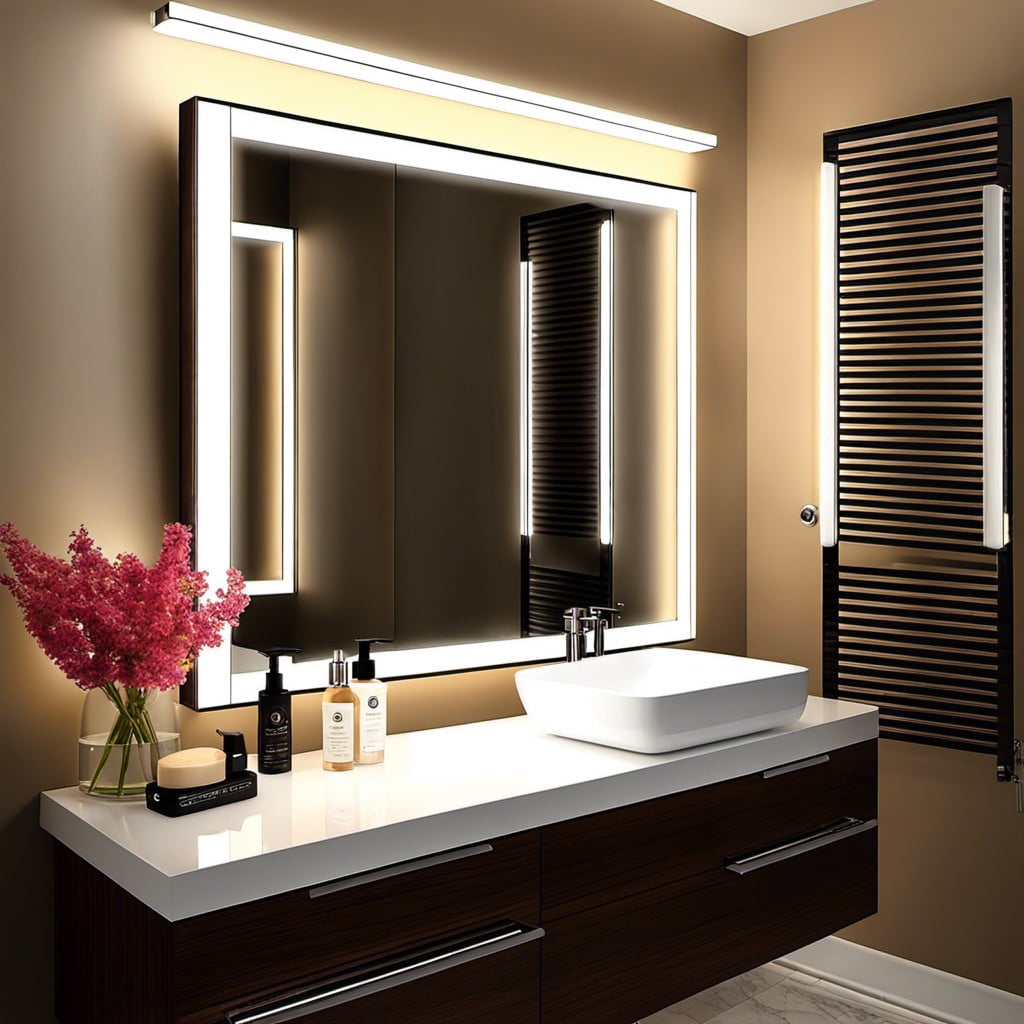 A lighted vanity brings the ultimate ease to your makeup application process. The idea is simple yet impactful: integrating lighting with your vanity. Quality illumination will render colors accurately, prevent eye strain, and aid in achieving that flawless finish.
Consider these when integrating lights into your vanity:
Proper Positioning: Place lights on both sides of the mirror at eye level to avoid casting shadows on the face.
Right Brightness: Choose bulbs with the correct color temperature, around 3000K, which mimics natural daylight and provides accurate color rendition.
Dimming Capacity: Invest in a dimmer switch to adjust brightness depending on the time of day or the type of makeup application.
Accessorize: Incorporate a magnifying mirror with built-in lights for detailed application.
Safety: Ensure the lighting fixtures used meet bathroom safety standards to prevent hazards.
Once implemented, this simple upgrade turns a typical dressing table into a professional-style makeup station. It's this understanding of functionality and aesthetics that takes your bathroom vanity to the next level.
Vanity With Vessel Sink for a Modern Twist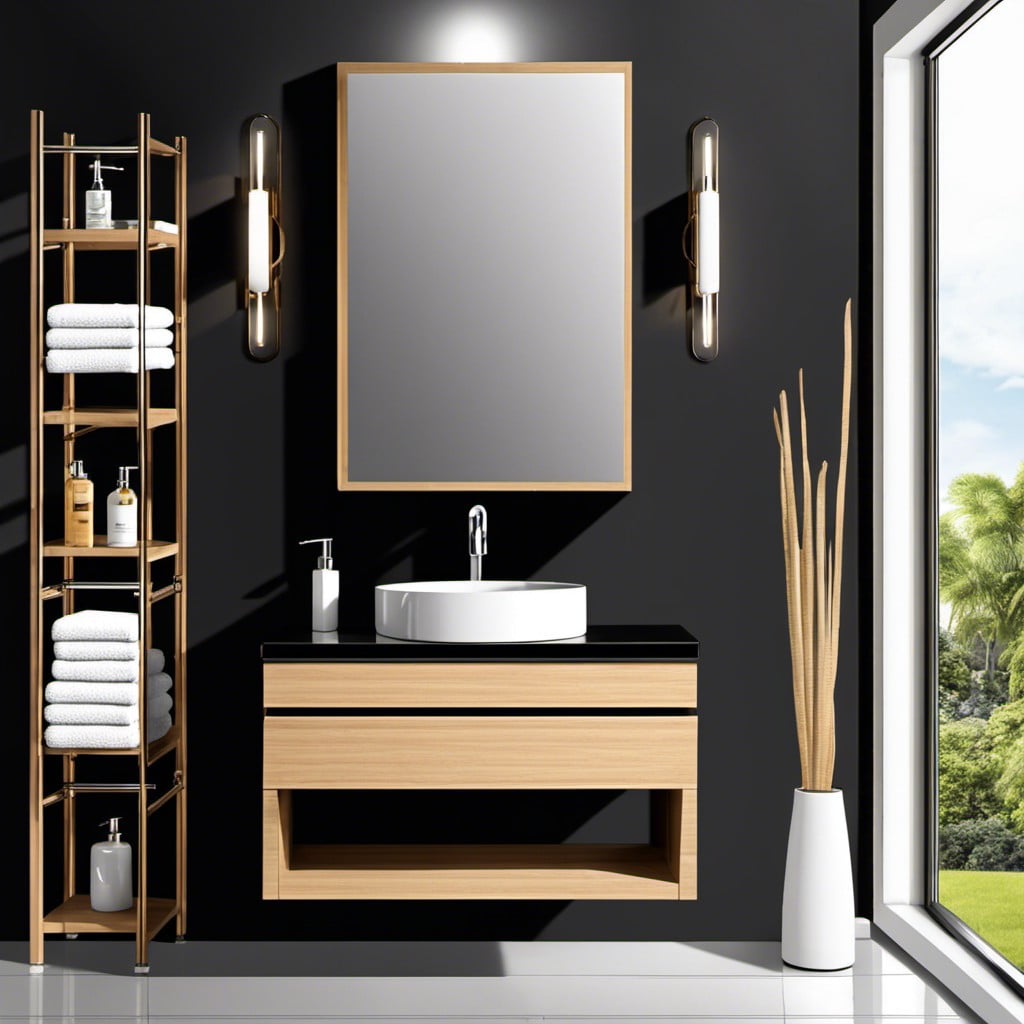 To achieve this look, consider the following elements:
1. Coordinate the vessel sink with the overall design. Vessel sinks come in all shapes, colors, and materials. Choose one that matches the style of your vanity and the overall aesthetic of your bathroom.
2. Ensure the dresser is high enough. Since a vessel sink sits on top of the vanity, it requires a lower dresser to maintain a comfortable height.
3. Reinforce the strength of the dresser top. The added weight from the sink and its demands might lead the dresser top to require some strengthening.
4. Plan carefully for plumbing. Modified drawers may be needed to accommodate the sink-and-faucet arrangement, and extra measures might be taken for seamless pipe installations.
5. Round up with a proper finish. To protect your new vanity from bathroom humidity, ensure to apply a waterproof finish.
With these points in mind, you'll be well on your way to creating a distinctive and stylish vanity with a modern twist thanks to the vessel sink atop.
Continue reading:
Recap