Last updated on October 29, 2023
Dive into the charm of country rustic bathrooms because they bring together intimate coziness and rough-hewn themes in a captivating blend.
I am pleased to present my personally curated article and unique designs on "20 Country Rustic Bathroom Ideas: Creating Your Ideal Hideaway Tips," hoping it inspires you and brings as much joy to you as it did to me in the process of creating them.
Giving your bathroom a country rustic makeover can infuse it with a warm, cozy, and inviting feel. This article will guide you through a variety of ideas, from the use of reclaimed wood, vintage furniture, and antique fixtures to the selection of earthy color palettes and unique accessories. Whether you're looking to completely remodel your bathroom or simply add a few rustic touches, you'll find a wealth of inspiration here. Stay tuned for detailed insights and step-by-step instructions on how to transform your bathroom into a country rustic oasis.
Distressed Wood Vanity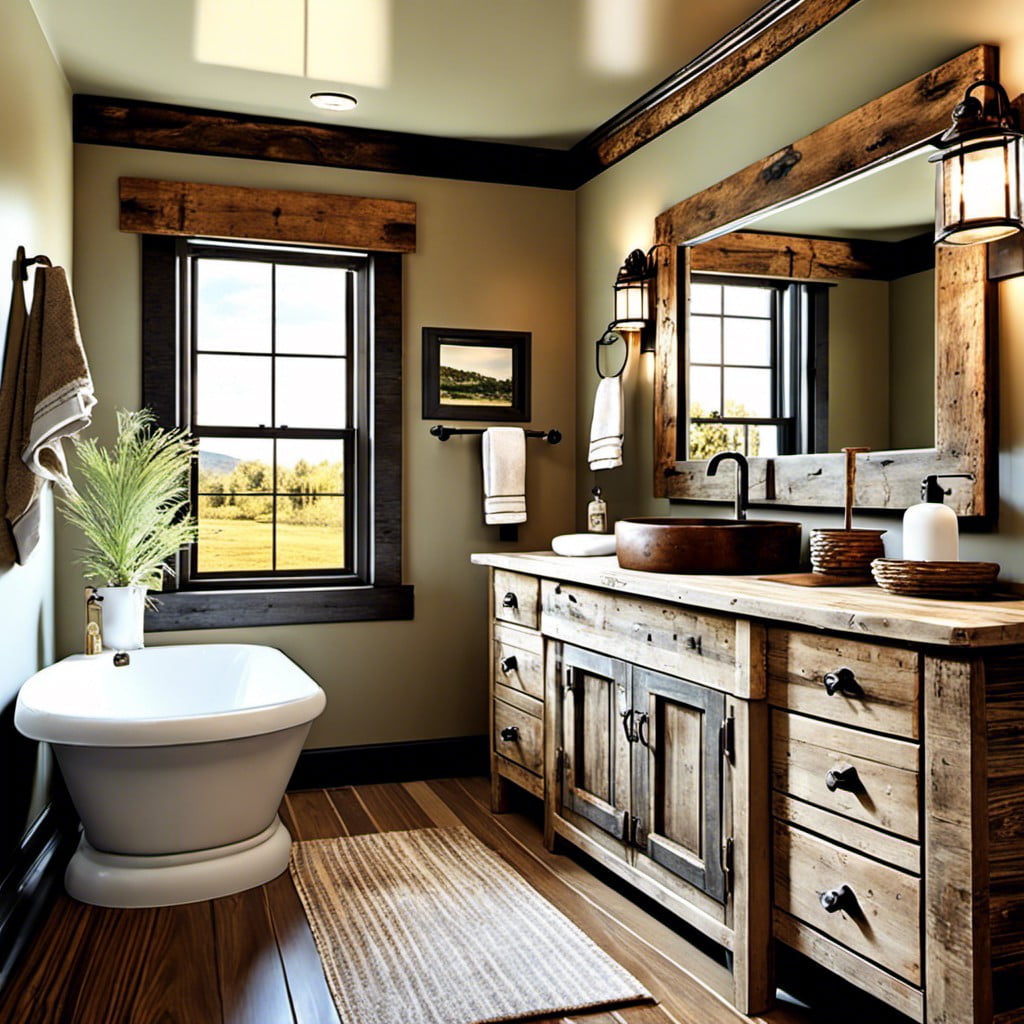 Combining functionality and style, this chic feature breathes life into any bathroom decor. Think raw, unpolished pieces that ooze charm.
You want to highlight the inherent beauty of wood grain patterns. Opt for warm hues of oak, mahogany, and pine.
To achieve that vintage, lived-in feel, sand the finish down to expose some of the natural knots and whorls underneath. The result is a stunning piece that marries modern functionality with an unmistakable rustic charm.
Remember, embrace imperfections – they are responsible for the captivating allure associated with distressed aesthetics. Add wrought-iron hardware for that perfect finishing touch.
Let rugged simplicity be your guiding mantra while decorating with distressed wood vanity. Resilient and exuding character, it is a major statement piece in a rustic bathroom, blending effortlessly with other elements.
Mason Jar Storage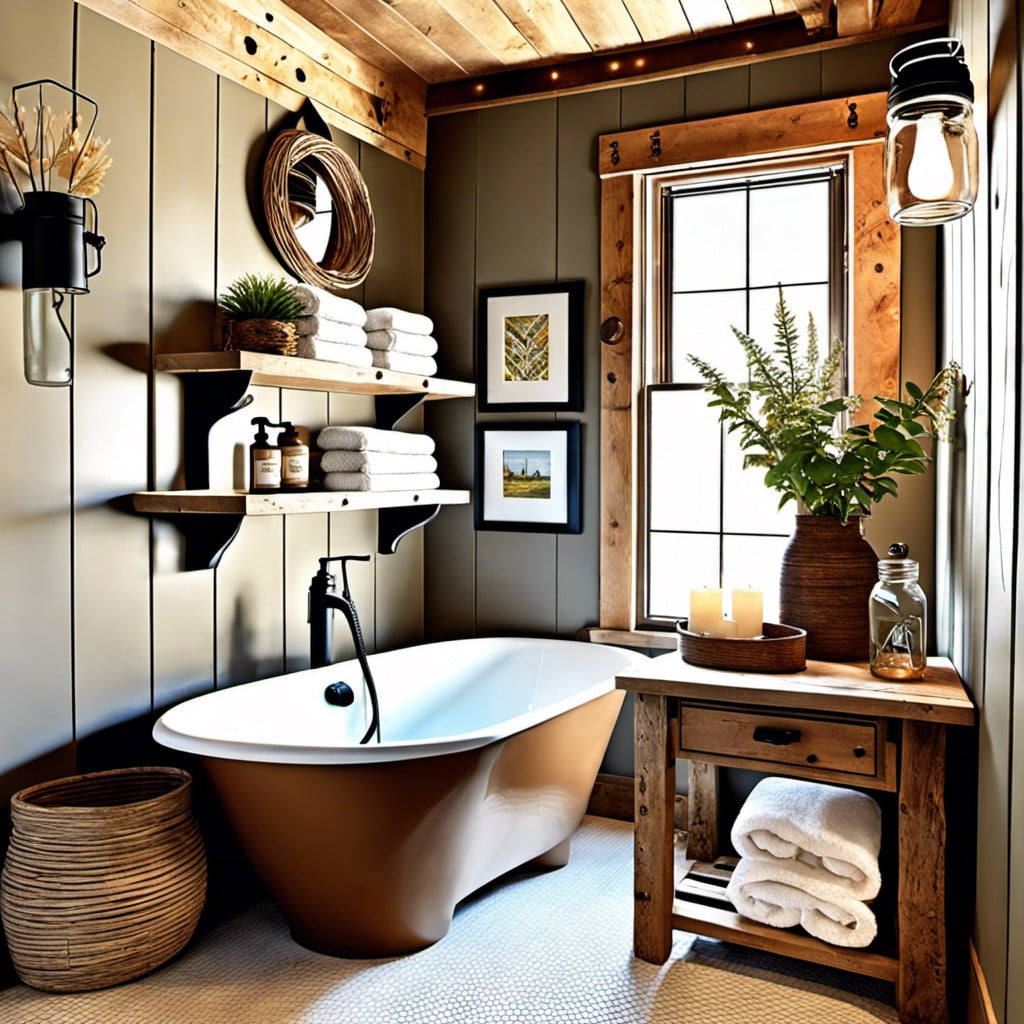 Mounting them on distressed wooden boards provides a strong grip, keeping them secure and within arm's reach.
Multiple jars can be used to sort and store small items like cotton swabs, floss picks, or hair ties.
Bonus benefit? You can see exactly what's inside with just a quick glance.
Paint or accessorize the lids for a stylish twist.
If Mason jars aren't available, any clear glass jar serves the purpose equally well.
Saying goodbye to the dreaded drawer clutter never looked so chic!
Antique Mirror Frames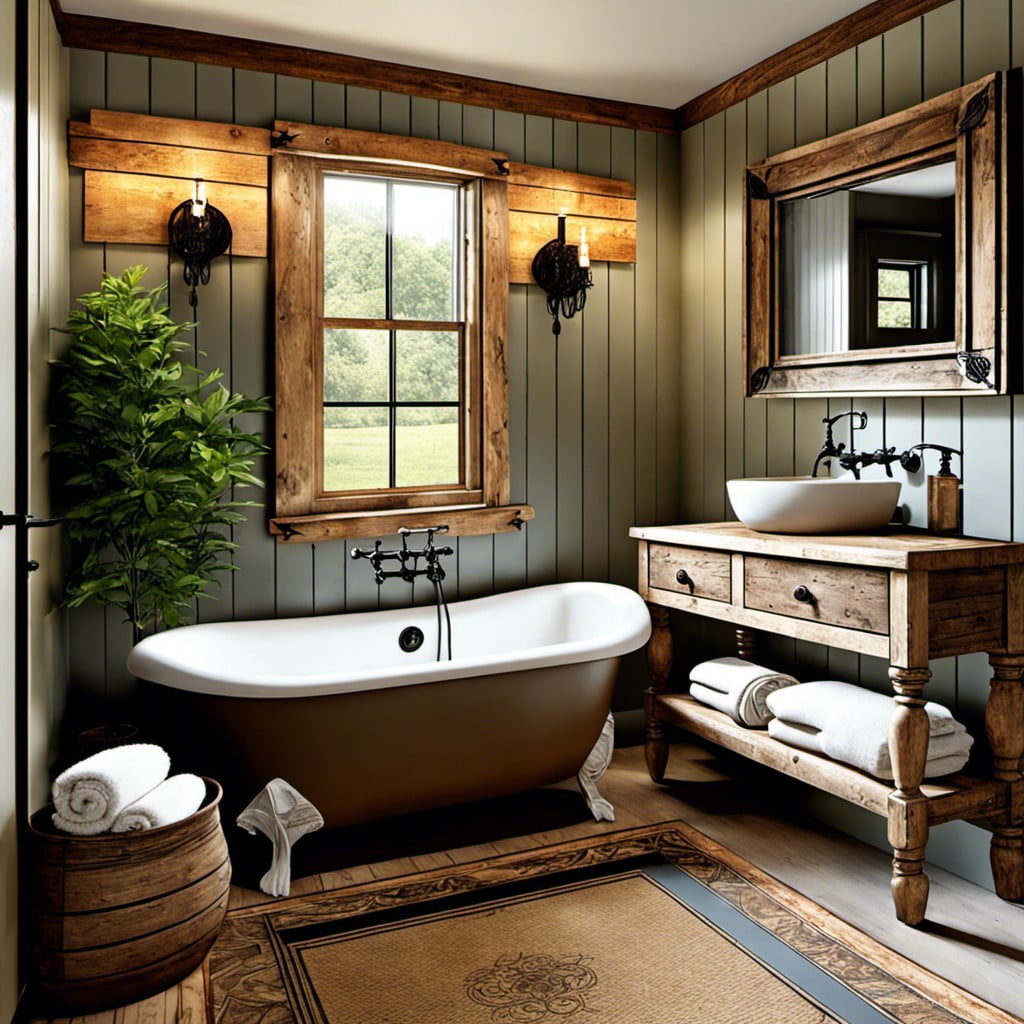 Versatile and steeped with history, antique mirror frames can effortlessly blend into a rustic bathroom setting. They bring a sense of time-worn beauty that's hard to match, whilst amplifying light and space. Furthermore, their ornate designs infuse an element of softness into the rugged aesthetic of a rustic bathroom.
Consider these points when incorporating an antique mirror into your bathroom:
Higher and wider frames can accentuate the visual space and provide a touch of grandeur.
Frames with a distressed or weathered finish can contribute to the rustic charm.
You can source frames from flea markets, thrift stores or even consider upcycling an old one. Note that mirror re-silvering can turn a worn-out piece into a treasure.
Pairing a mirror frame with a contrasting element, such as a sleek modern sink, can achieve an edgy yet harmonious look.
Placing the mirror strategically can maximize natural light and provide an illusion of additional space.
Remember, the goal is to build a cohesive space with an inviting, warm feeling. An antique mirror frame can become a stunning focal point that enhances the overall rustic ambience of the bathroom.
Rustic Ladder Towel Rack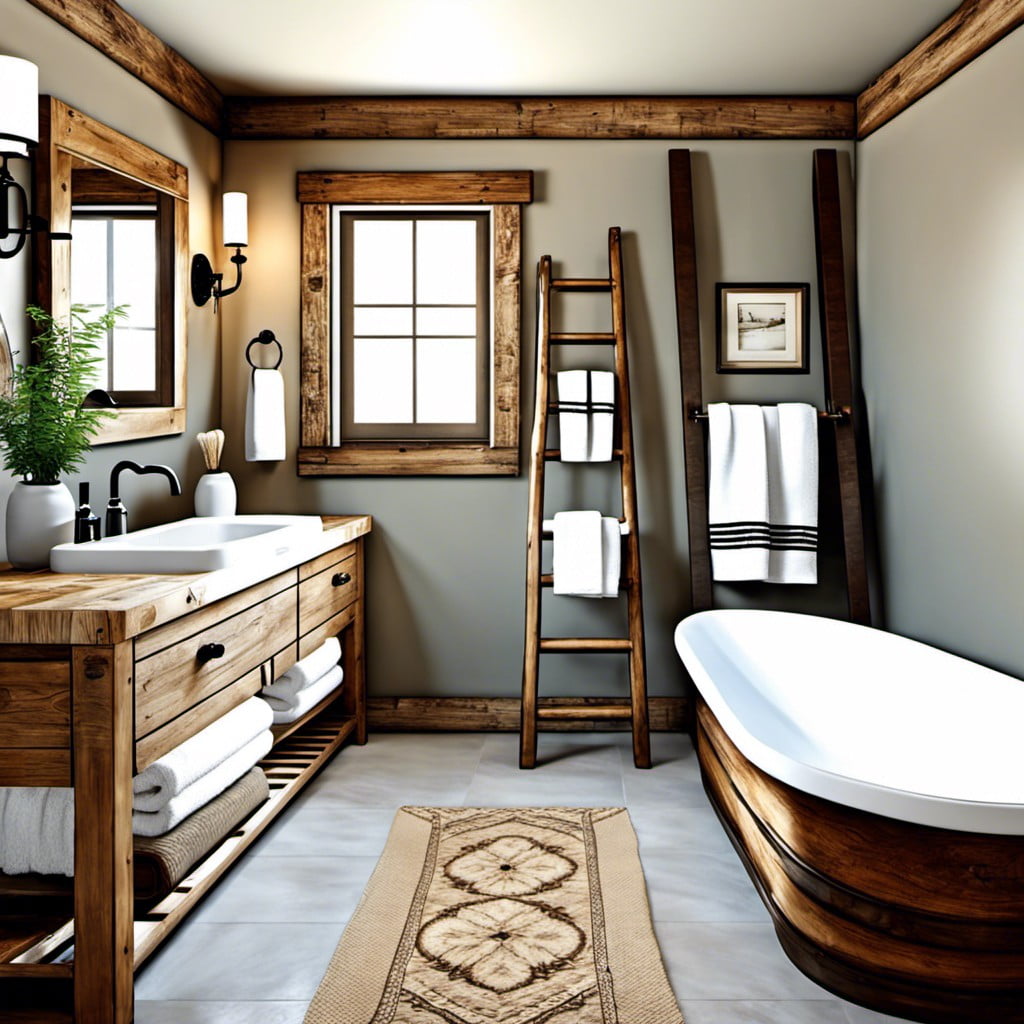 Making excellent use of vertical space, a repurposed old ladder lends an air of rustic charm while serving as an innovative towel rack. Here are a few key points to note:
1. Select an old wooden ladder with weathered patina for authenticity.
2. Ensure the ladder size suits the space and is capable of hanging at least two or more towels.
3. Fix it to the wall at the optimal height for easy reach.
4. Maximize functionality by adding S-hook hangers and baskets for extra storage.
5. Consider pairing this with other wood-centric features to maintain the overall rustic theme.
Remember, your ladder need not be perfect – uneven rungs or chipped paint might just add to the desired undone elegance.
Galvanized Metal Accessories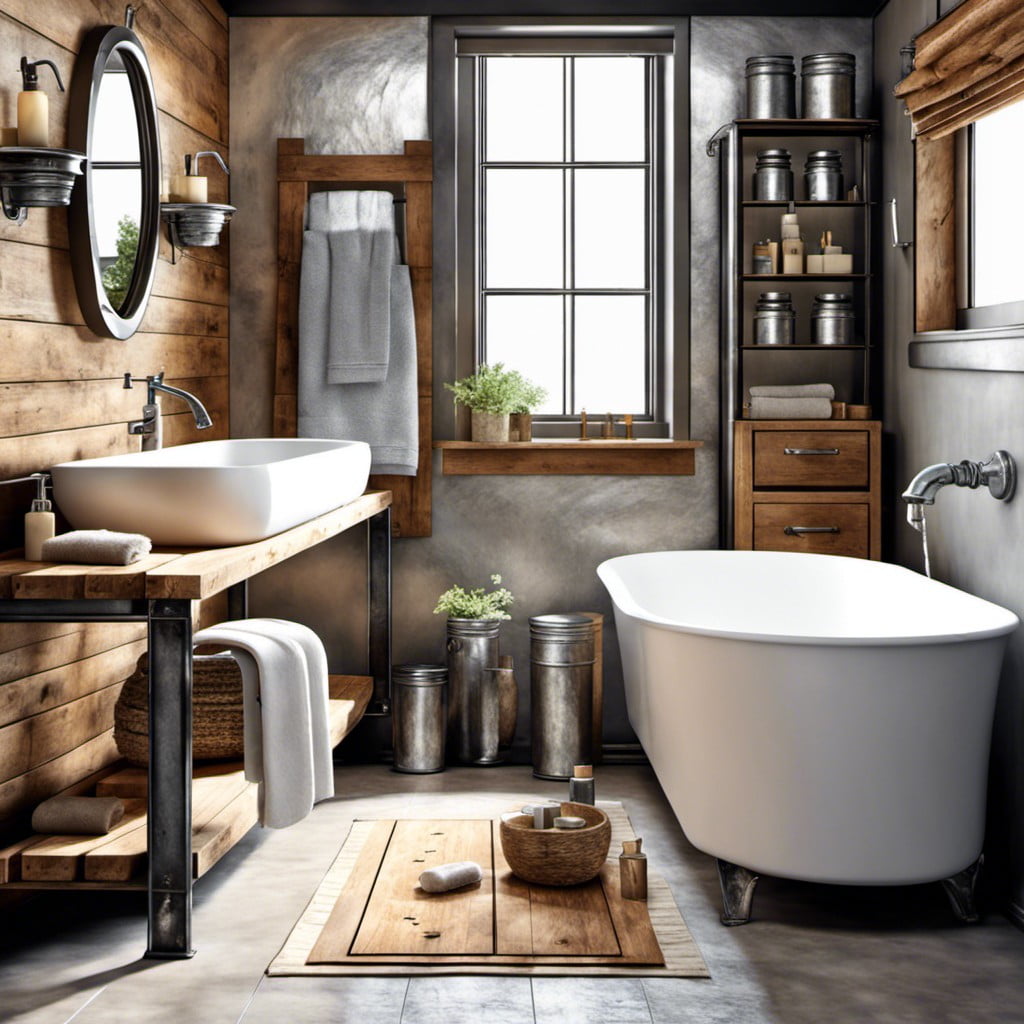 A distinctive characteristic of country rustic style is the incorporation of materials that reflect an authentic sense of age and experience, which is where the use of galvanized metals come into play. Traditionally utilized in farming tools and equipment, these metallic pieces provide a unique blend of practicality and style.
Some accessory options include soap dispensers, towel racks, tissue holder, light fixtures, and pail planters. Their slightly worn, yet sturdy appearance evokes a sense of history and charm. Additionally, these pieces function effectively in a bathroom setting due to their resistance to corrosion, a beneficial quality given the damp environment.
When choosing such items, consider a balance between the rustic galvanized metal and other features in your bathroom. For example, a galvanized metal mirror can contrast nicely against a weathered wood wall, creating visual interest without overwhelming the space. These accessories, although minimal, can significantly contribute to achieving an authentic country rustic feel in the bathroom.
Stone Vessel Sink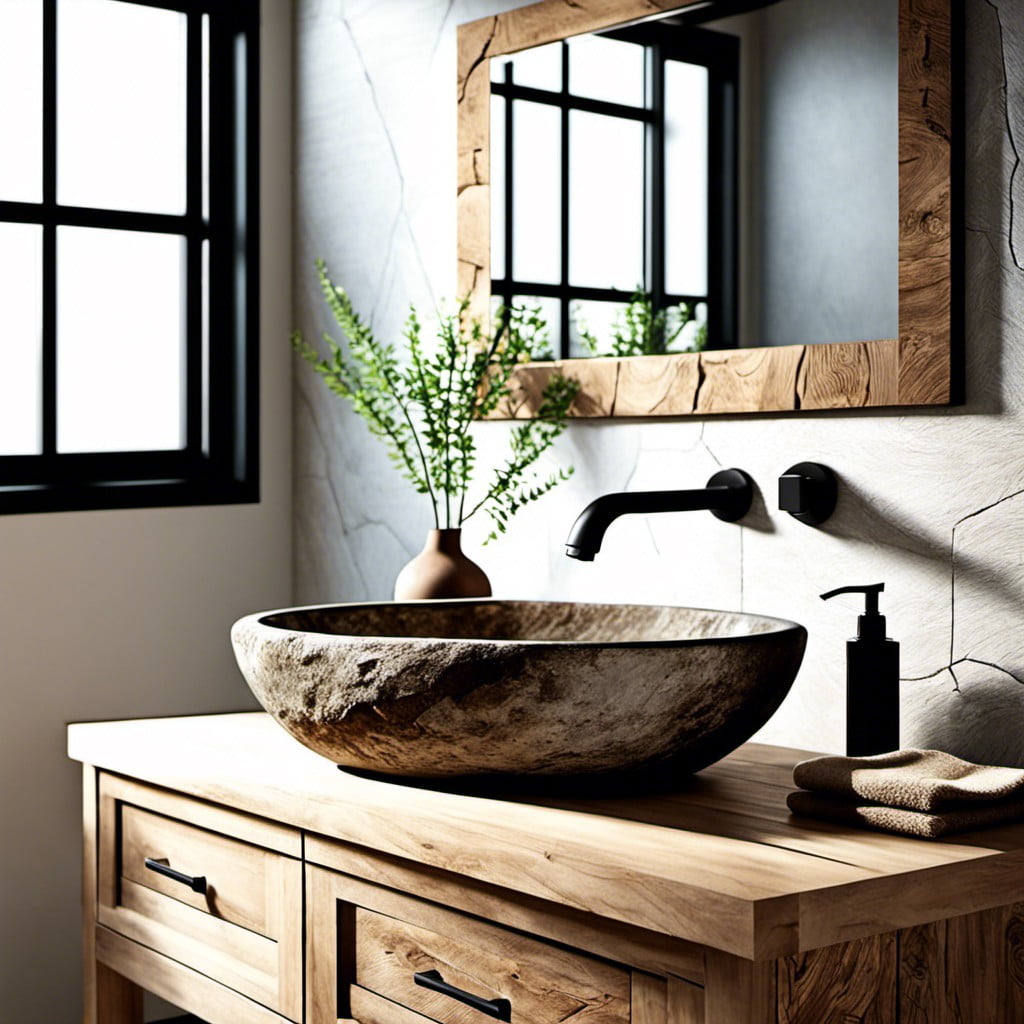 In the realm of rustic charm, a stone vessel sink can genuinely work wonders. Unrefined yet strikingly elegant, they add a touch of earthiness to the space. Each sink, a masterpiece molded by nature, bears a unique interplay of colors and textures, ensuring your bathroom carries a signature style.
Going with stone isn't merely an aesthetic choice. Stone sinks retain heat well, helping keep your water warm longer. Moreover, their durability is a testament to their longevity. Opt for a raw, matte finish to accentuate the rustic appeal, or pick a polished one for a sleeker edge. Balance things out with antique brass faucets for an added dose of old-world grandeur.
Remember, positioning is key! The eye-drawing appeal of stone sinks needs a worthy space, preferably where it could be the first thing one sees upon entering. Installation may be a tad complex due to the weight of the stone, but the visual impact is highly rewarding. Pair it with subtle lighting to really make it shine!
Barn Door for Privacy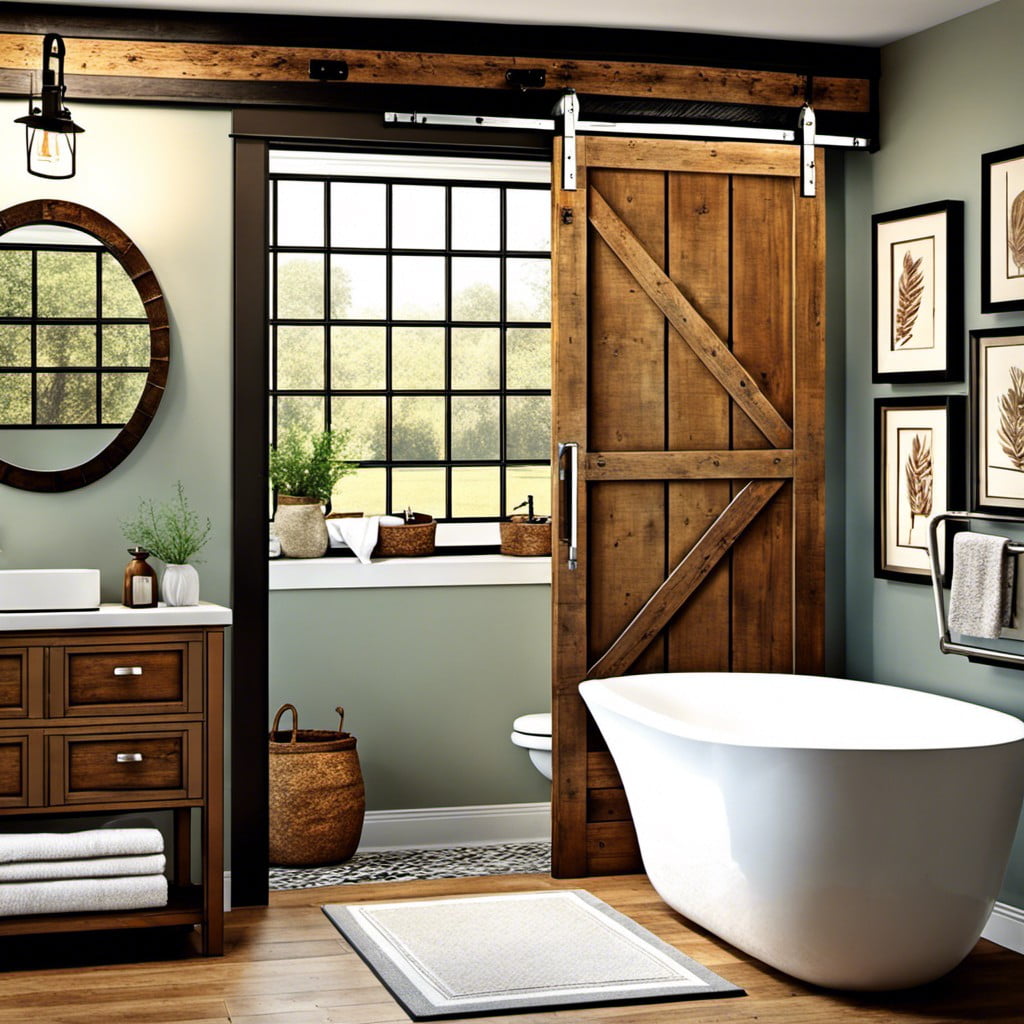 Embracing a barn door in your rustic bathroom design not only boosts the aesthetic appeal but also serves as a distinctive privacy option. This element is often characterized by its hefty and sturdy nature, making it both practical and trendy. Choose a weathered, reclaimed wood door for a touch of authenticity. Consider using wrought iron hardware to enhance the country feel, offering contrasting elements.
The sliding mechanism of a barn door can serve as a space saver, ideal for tight quarters. For additional charm, consider a custom paint job or unique distressing methods. Just remember, a barn door isn't just a portal—it's a statement piece.
Reclaimed Wood Shelves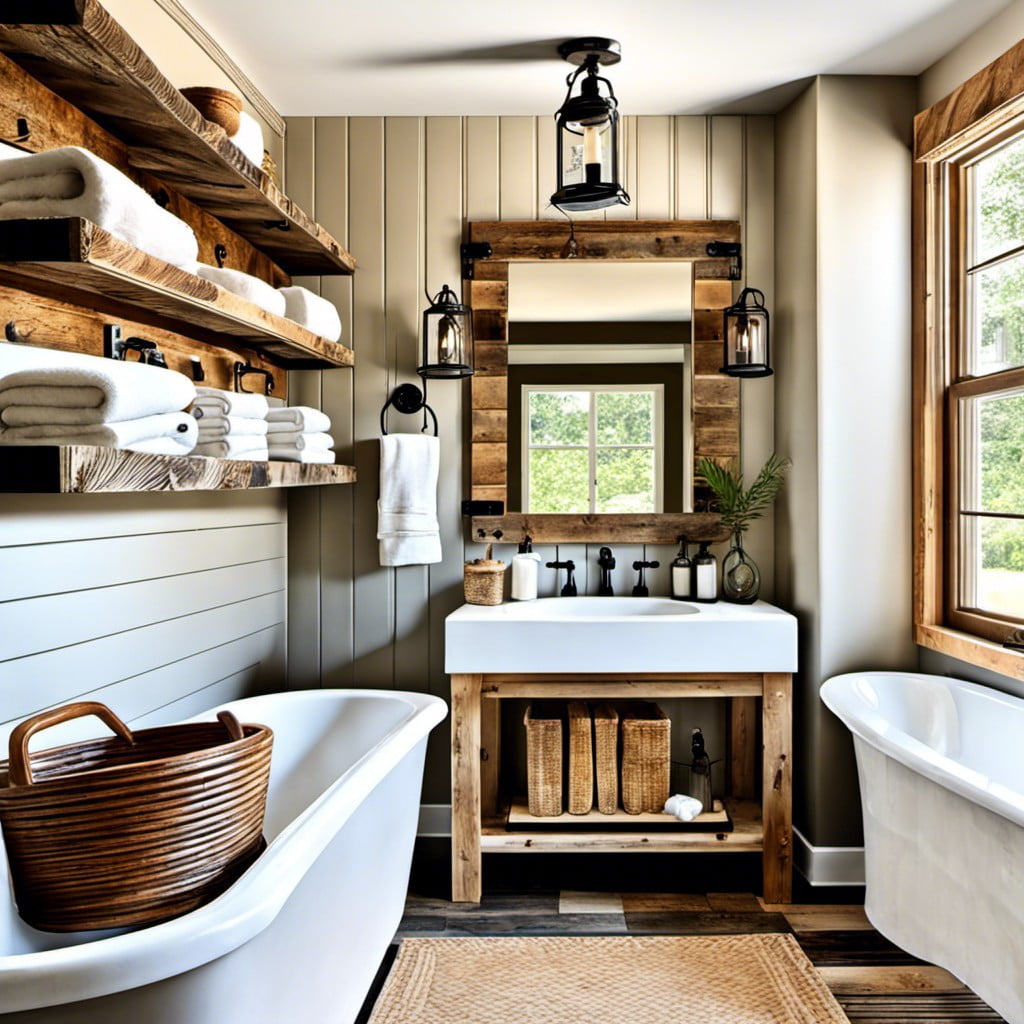 Integrating these shelves into your bathroom offers a multitude of benefits. Firstly, they provide ample storage for your essentials. Whether it's your skincare products, towels or decorative trinkets, these shelves can comfortably house them all.
Secondly, made from repurposed wood, they add an authentic rustic touch to the overall decor. Their weather-worn look delivers an appealing charm that perfectly marries functionality with aesthetics. Also, they are relatively easy to install and maintain. Applying a suitable sealant guarantees their longevity against moisture-related damage.
Consequently, these eco-friendly additions can transform an ordinary space into a country-style oasis.
Vintage Copper Faucets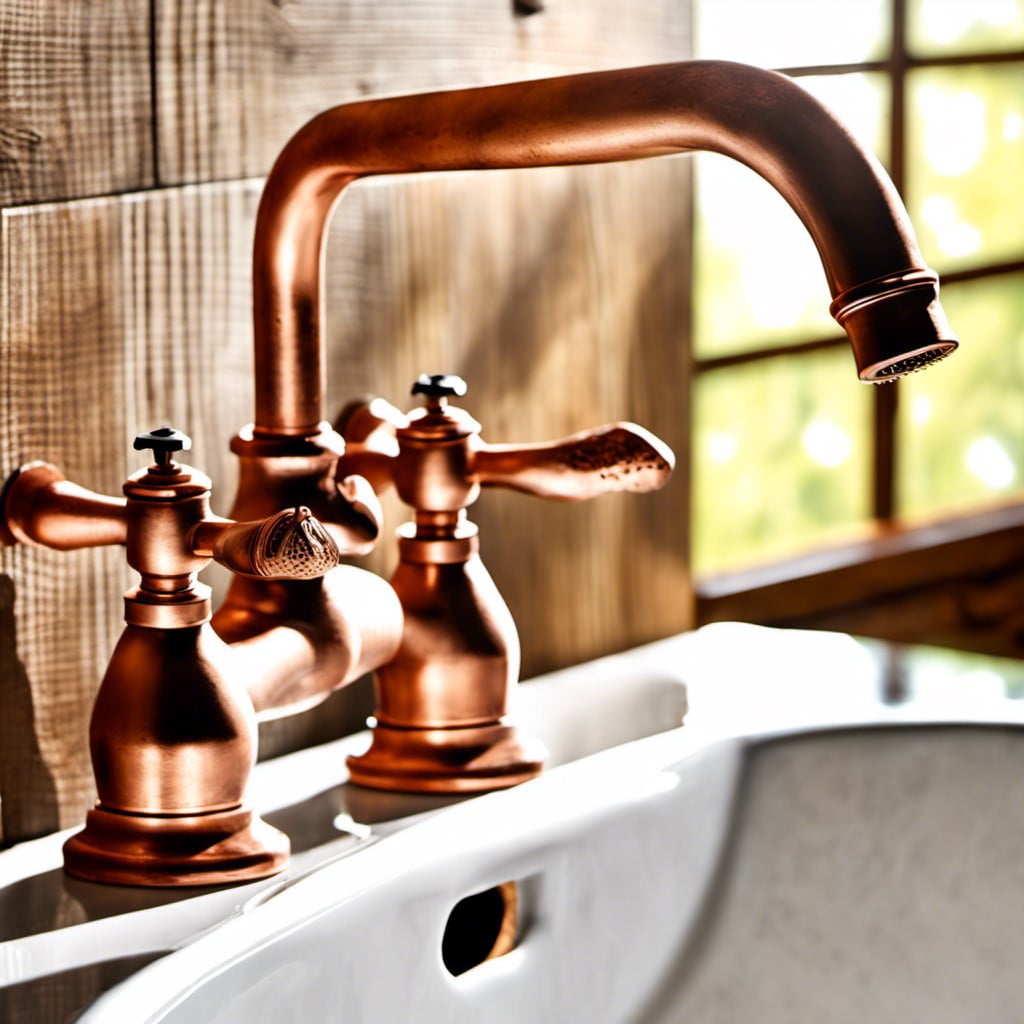 Vintage copper faucets truly become the masterpiece in a rustic country bathroom. Choosing the right one can inject a dash of understated elegance to the overall ambiance. Here's why:
Timeless Appeal: The copper hue radiates a classic charm that gracefully ages over time, offering an authentically antique look.
Imperfection is Beauty: Slight tarnishing and patina only enhance its beauty, making each faucet an exclusive piece with its own character.
Easy Coordination: This versatile finish pairs well with various styles and complements all settings, either it's a color-popping backdrop or neutral tones.
Durable Quality: Beyond just aesthetics, copper is highly resistant to corrosion and bacteria, promoting long-lasting usage.
To sum up, a copper faucet becomes much more than a functional fixture – it acts as a conversation starter, a stand-out feature in your rustic bathroom.
Rolled Towels in a Basket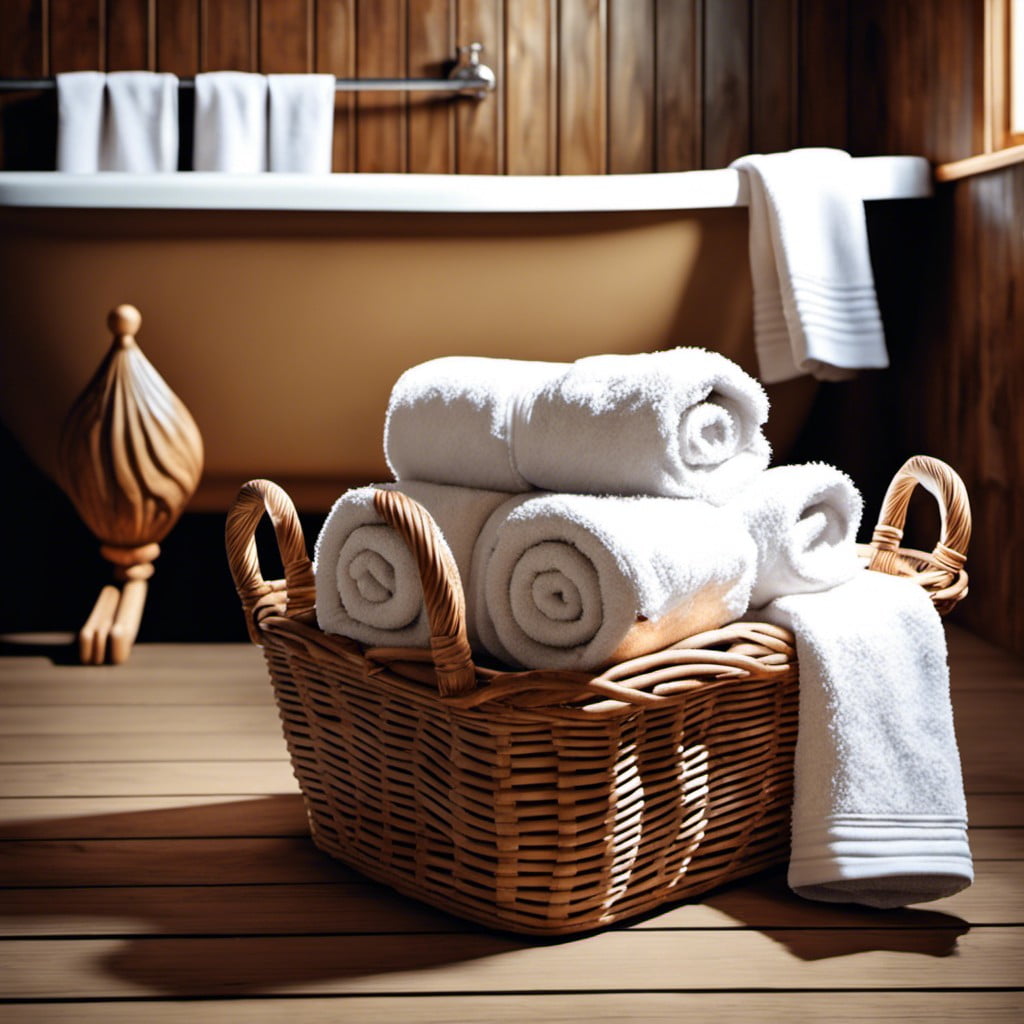 Arranging your towels neatly in a rustic basket can add a simple yet elegant touch. Choose a sturdy basket made either from wicker, rattan, or aged wire for an authentic country look. This not only improves the overall aesthetics but also keeps your essentials organized.
Mix and match towel colors to compliment the room's palette. A bonus pinnacle: it frees up valuable shelf space. Using a basket, stowed away tidily or casually placed in a visible spot, demonstrates practicality meeting style in country rustic decor.
Wrought Iron Light Fixtures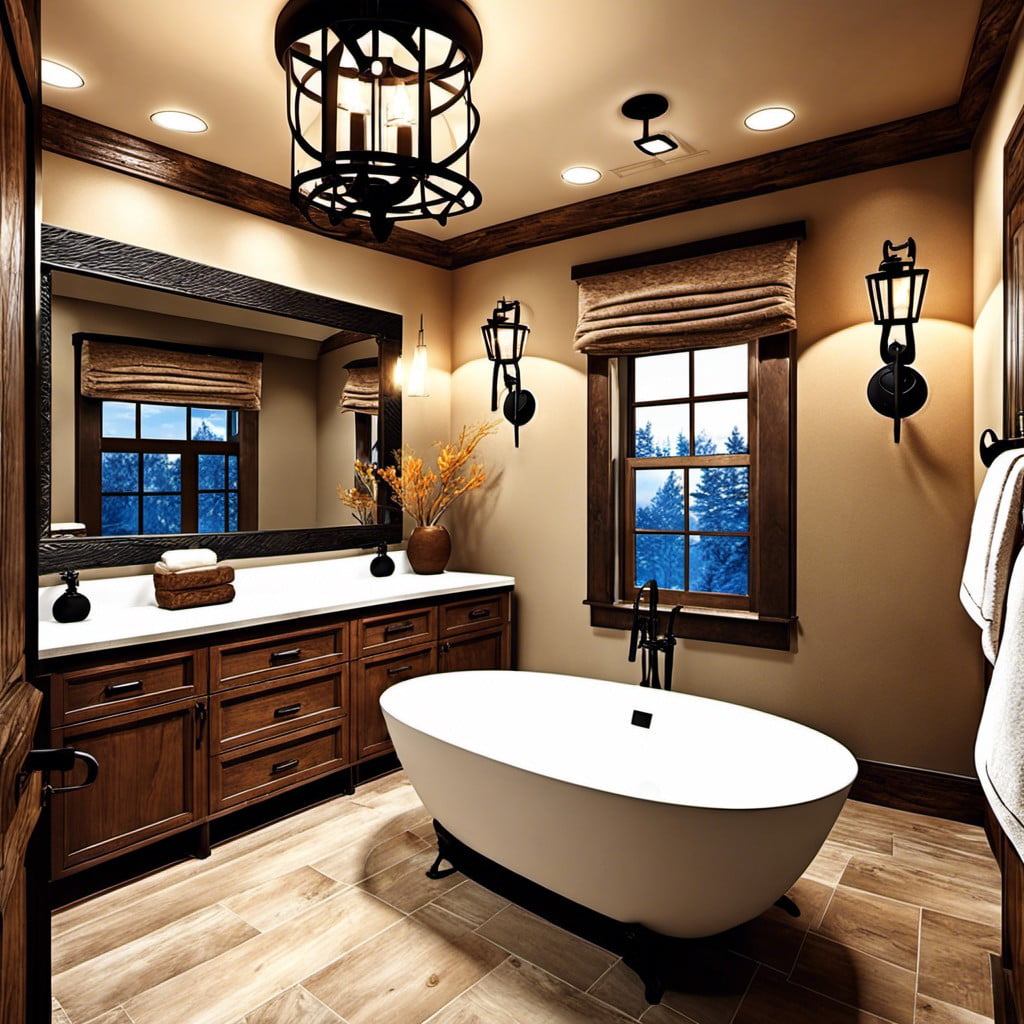 Cast in a timeless style, this material creates an air of old-world charm. With their exposed bulbs and intricate loops, they create striking visuals, turning the functional into an artistic statement.
Place these fixtures above your vanity to illuminate the space with a warm, inviting glow.
For additional depth and interest, consider a chandelier or pendant light with clear or seeded glass shades. This will amplify the natural look, adding a layer of beautiful texture.
You can play with the scale too – a grand fixture can become a focal point, whereas minimal, understated designs can blend seamlessly into the overall decor.
It's not all about the looks though. Wrought iron is known for its strength and durability, meaning these fixtures, with proper care, are built to last.
Thus, investing in such details is practical as well as aesthetically pleasing, marrying beauty with function.
Weathered Wood Flooring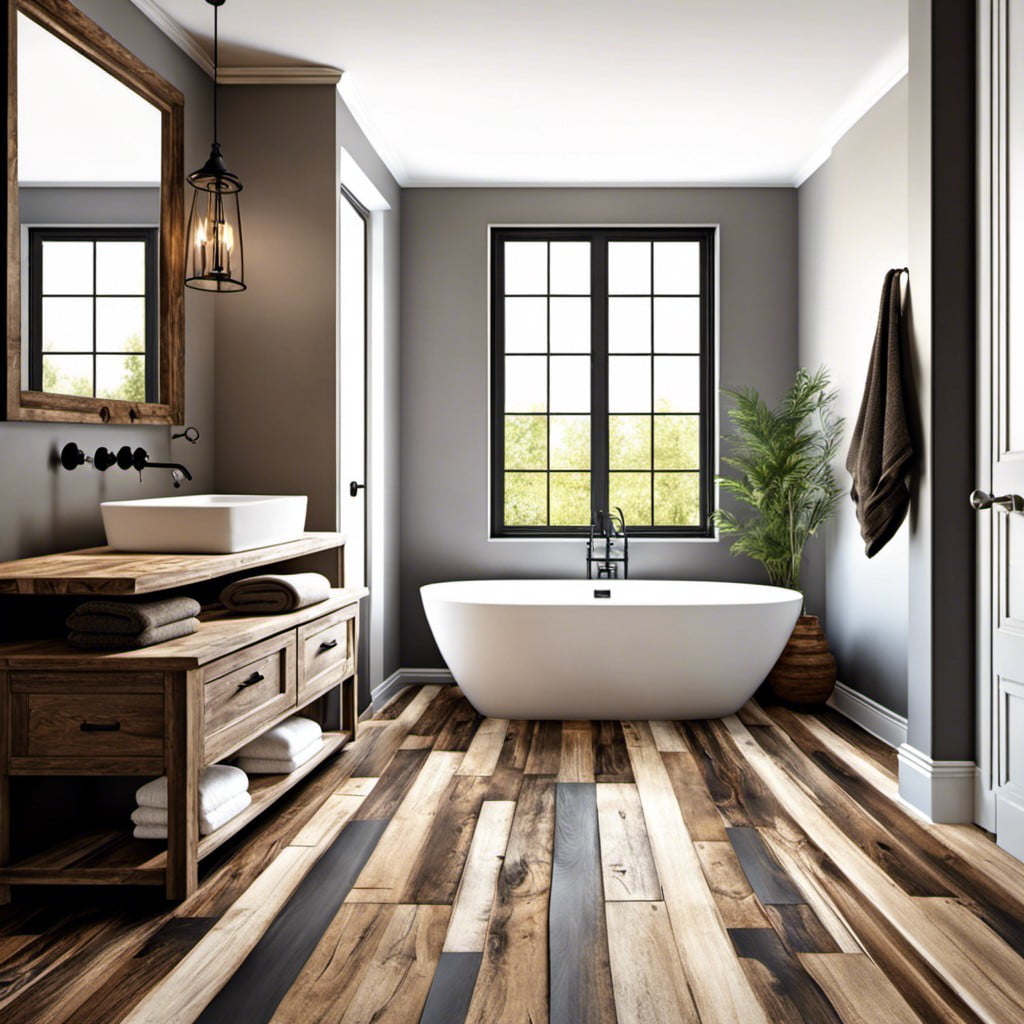 Whitewashed, hand-scraped, or barn-wood planks – these are some of the choices to consider when aiming for a rustic look. We can highlight two main reasons why this kind of flooring is such a distinctive part of a country rustic bathroom.
First, the natural grain and imperfections inherent to real wood translate authenticity. Second, this type of floor can be a wonderful contrast – both in colour and texture – to a white porcelain bathtub or sink.
Standout species to consider include oak, pine, and walnut, all celebrated for their grain, durability, and versatile tones. Remember to seal your floor properly! Given high moisture levels in a bathroom, it's crucial to choose a finish that will protect the wood from moisture while maintaining its rustic charm.
Wooden Wall Panels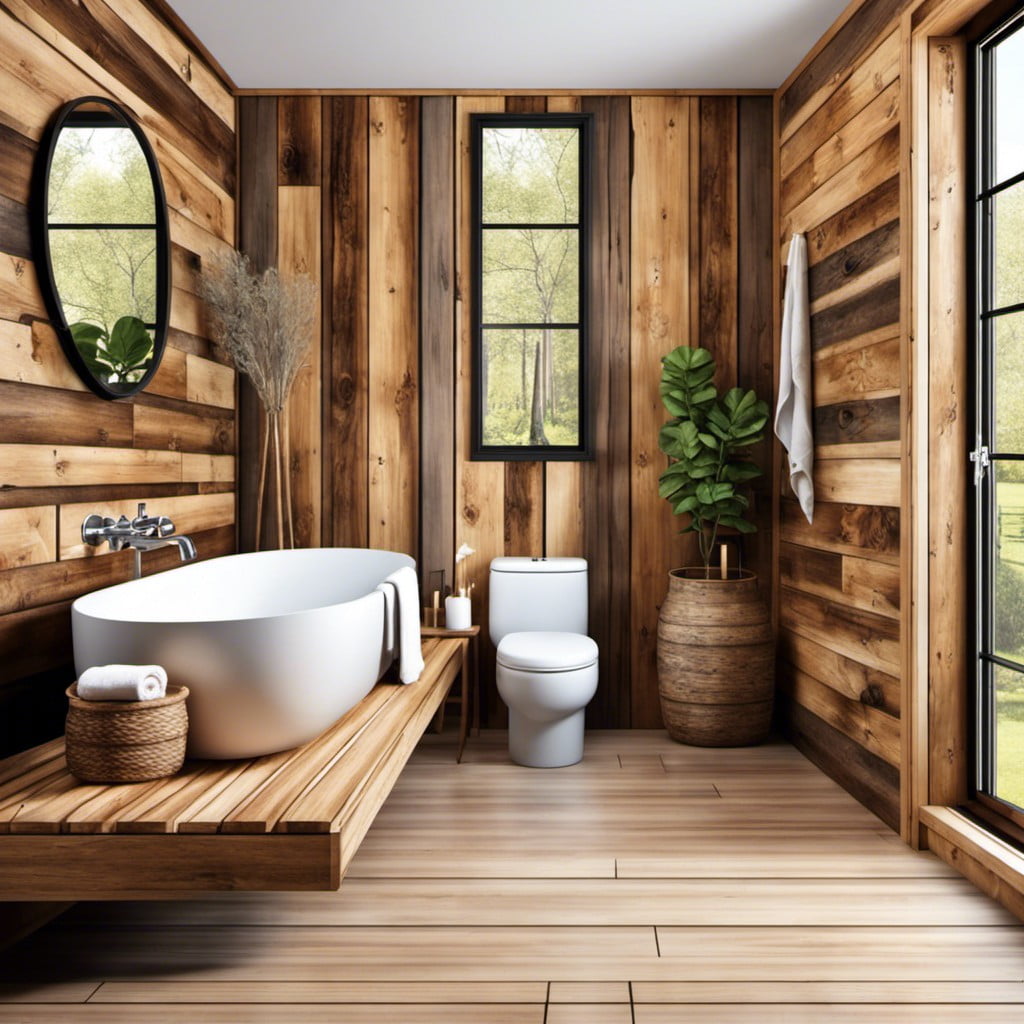 When sourcing for wooden panels, prioritize reclaimed timber to offer a robust, eco-friendly option. Consider the aesthetic appeal of different wood types.
Oak and pine promote a warm, welcoming tone, while weathered barn wood can lend an authentic rustic appearance. However, ensure to weatherproof and seal any raw timber to protect against moisture damage.
The installation pattern also plays a key part in enhancing the rustic vibe. Horizontal placements might emulate the traditional American barn, while vertical alignments resemble the common Swedish countryside house style.
To elevate the visual interest, you might want to consider a mix-match approach; different wood types, sizes, or grain directions within the same wall. This stunning mix will create a varied, textured look without the need to rely on other decorative elements.
Remember, the beauty of a countryside rustic bathroom lies in its imperfections. Natural knots, grooves, and uneven tones in your wooden wall panels are features, not failings. They underpin the tactility and authenticity of the space.
And last but not least, no matter what type of timber you have in mind, the proper lighting will enhance visibility of its natural features, creating varying shadows and highlights, thereby reinforcing the depth and character of your rustic bathroom.
Clawfoot Tub With Bronze Hardware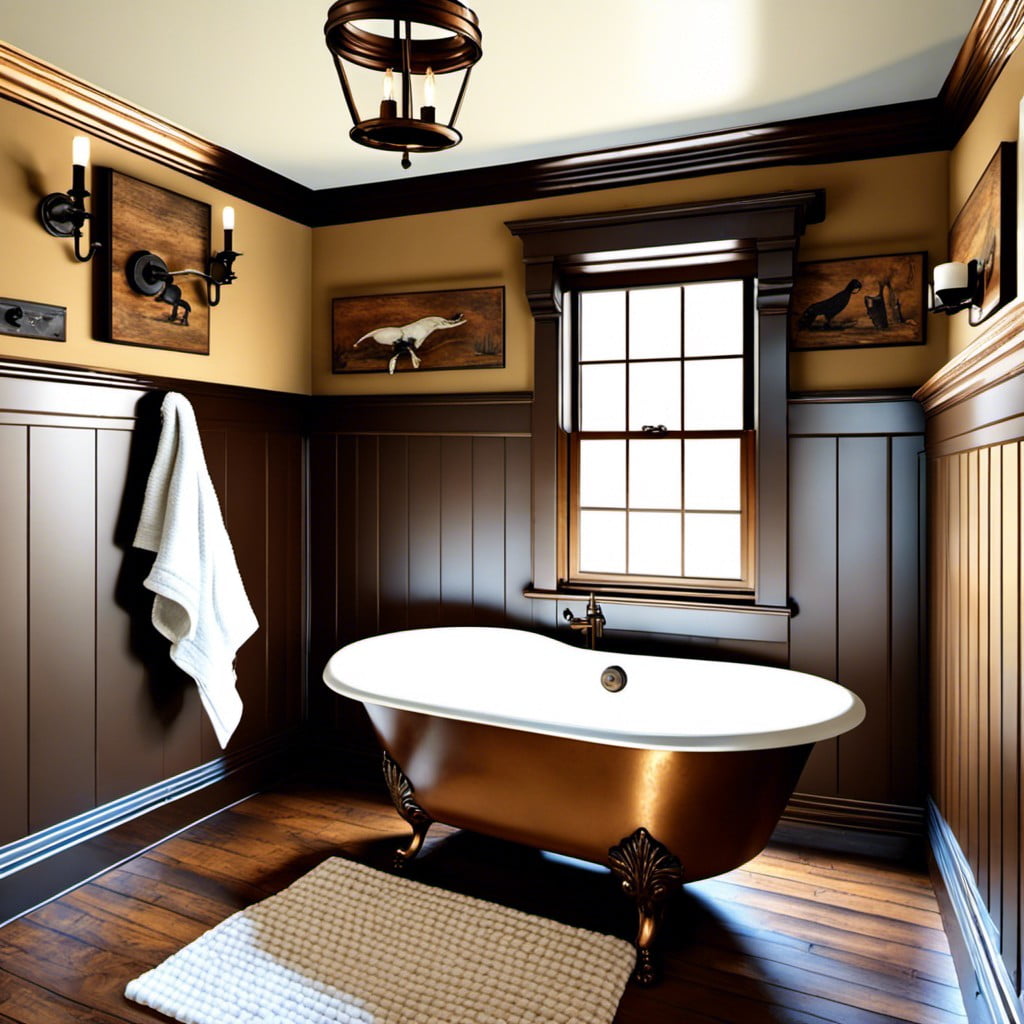 Clawfoot tubs have a nostalgic feel, providing an instant touch of classic elegance. Giving them a modern twist with bronze hardware will truly make your bathroom unique and captivating.
The soft, warm hues of the bronze beautifully contrast the pure white tub and give a welcoming, serene ambience. Here's how you can enhance its effect:
Complement the bronze hardware with matching fixtures, including faucets and shower heads, for a harmonious look.
To accentuate the vintage appeal, consider pedestal sinks with similar finish.
Use neutral shades like beige, cream, or earthy tones on walls and floors to allow the tub to be a focal point.
Add ambiance with dimmable wall-mounted lights with bronze fittings on either side of the tub.
A rustic wooden stool or table beside the tub can hold towels or bathing essentials, providing convenience while maintaining the aesthetic.
Remember, when opting for a clawfoot tub, ensure you have sufficient space as they require more room than standard tubs.
Rustic Log-stool Seating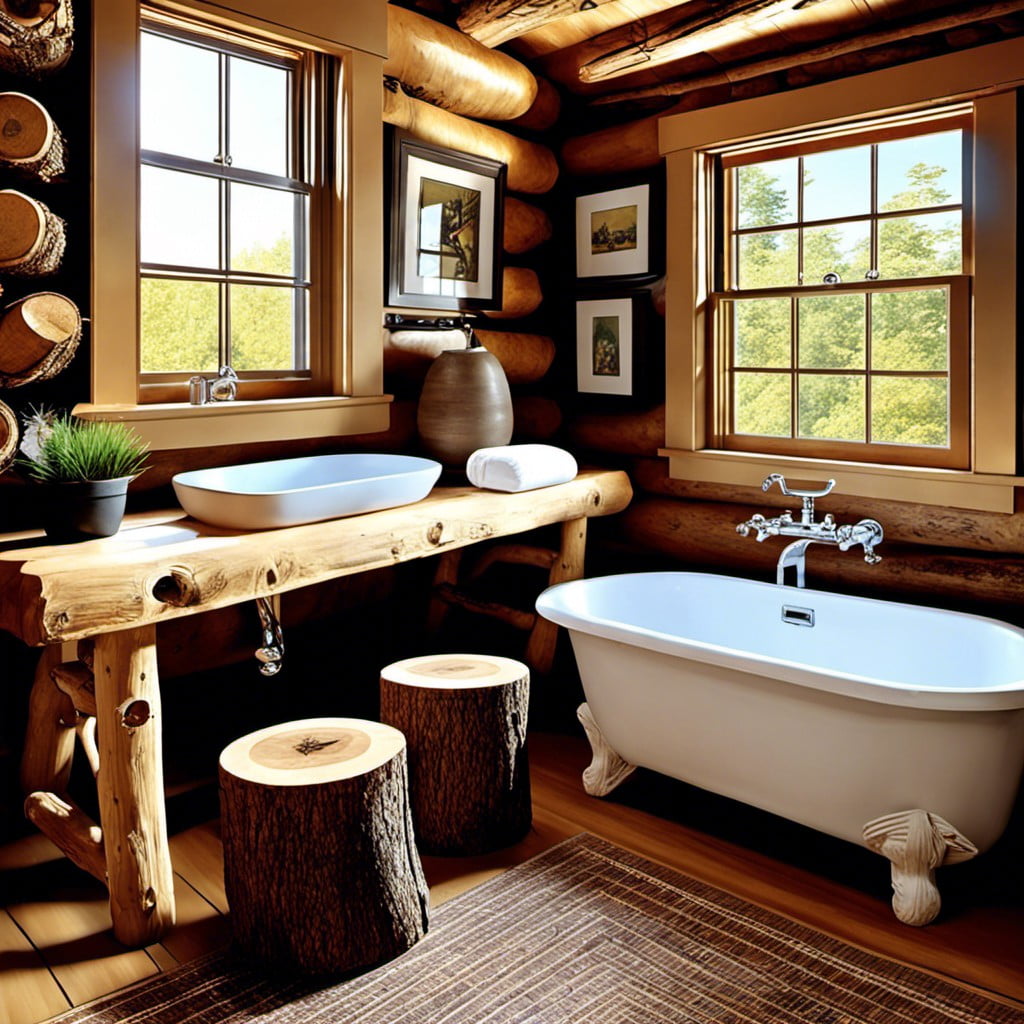 Finding beautiful logs and crafting them into stools not only adds seating, but also infuses an earthy charm into the bathroom. The raw beauty of natural bark contrasts wonderfully with smooth tiled floors and ceramic fixtures. Besides, they can serve multiple purposes.
These versatile additions can double as towel stands or even base for a plant pot. Their robust build ensures they stand the test of time. No two logs are alike so each stool is unique. To enhance the rustic feel, leave the exterior unpolished but for a comfortable seating, sand and add a clear sealant to the top.
Remember to choose wood that naturally repels moisture and insects like cedar or teak. This way, you'll give your bathroom a touch of the wild while keeping it cozy and inviting.
Natural Stone Tiles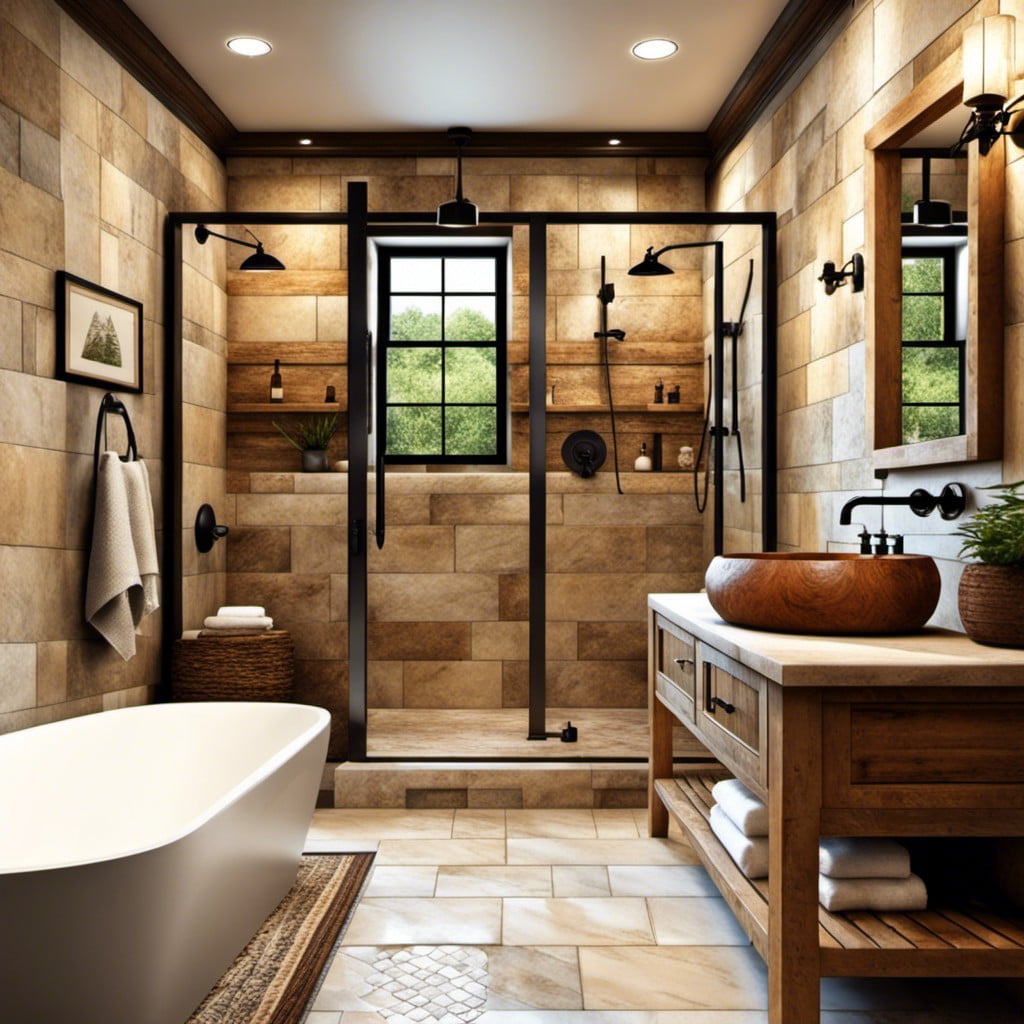 Choosing the right type of stone will make a significant impact on the room. Consider slate for its rich, earthy hues, or travertine for a softer, warmer look.
Either way, seal them properly to protect against water damage. Irregularly shaped or pebble tiles will introduce an authentic rustic touch. Mosaics can provide intricate details and elegance. Look for warm colors to enhance the cozy feel of the bathroom.
For a unique, rustic spin, combine various types of stones on the floor and walls. Take note, too, that underfloor heating pairs well with stone tiles for those chilly mornings. Remember, the key to achieving the perfect rustic country is the seamless blend of comfort and rugged beauty.
Pallet Wood Wall Decor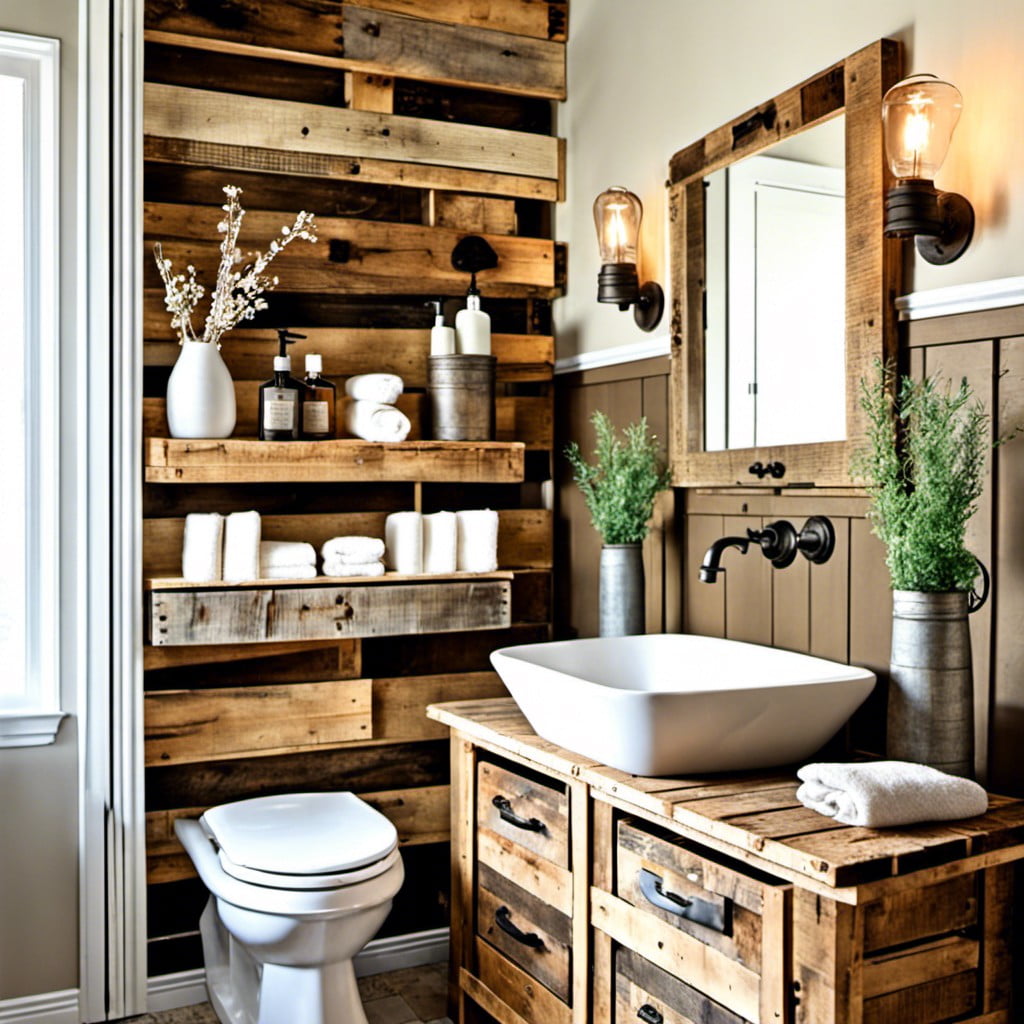 With a chameleon-like ability to blend into a multitude of design aesthetics, pallet wood can infuse a touch of country rustic charm to any bathroom decor. Often affordable and readily available, it allows room for customization in terms of size, color, and arrangement.
For a standout, yet harmonious feature, consider arranging the wood planks in horizontal or vertical patterns, or even a visually pleasing herringbone design. The variations in the wood grain and color impart an artful, warm, and organic ambience.
Although untreated wood speaks to rusticity, there's an option to seal the wood. A clear varnish maintains the raw appeal, while a white or gray wash can heighten the farmhouse appeal. One could also experiment with darker tones to create a striking contrast against lighter bathroom fixtures.
For an extra touch of creativity, embellish your pallet wood wall with antique hooks to hang robes or towels, or mount rustic sconces for added ambiance.
Burlap Shower Curtains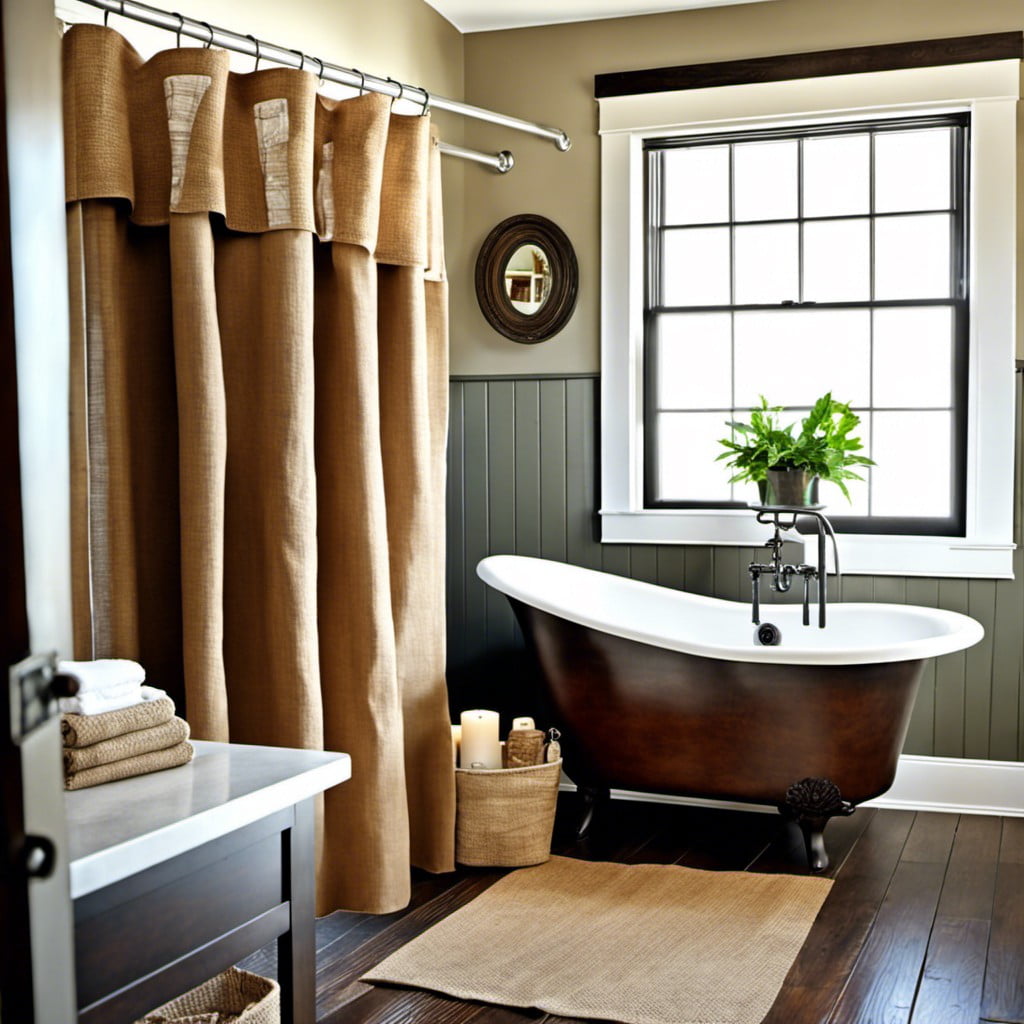 Burlap, with its natural textures and neutral tones, serves as an ideal material for a rustic bathroom. Highly durable and easy to care for, it promises longevity.
Opt for an unlined one to allow the beautiful diffused light to enter, creating a warm and cozy look. Some even come adorned with charming lace details for a feminine touch.
Remember, burlap can be heavy, use strong curtain hooks to keep it in place. Make a statement with a bold pattern or keep it simple with a solid color to evoke rustic charm.
With burlap curtains, the options are diverse, allowing customization to your taste and needs.
Candle Lanterns for Lighting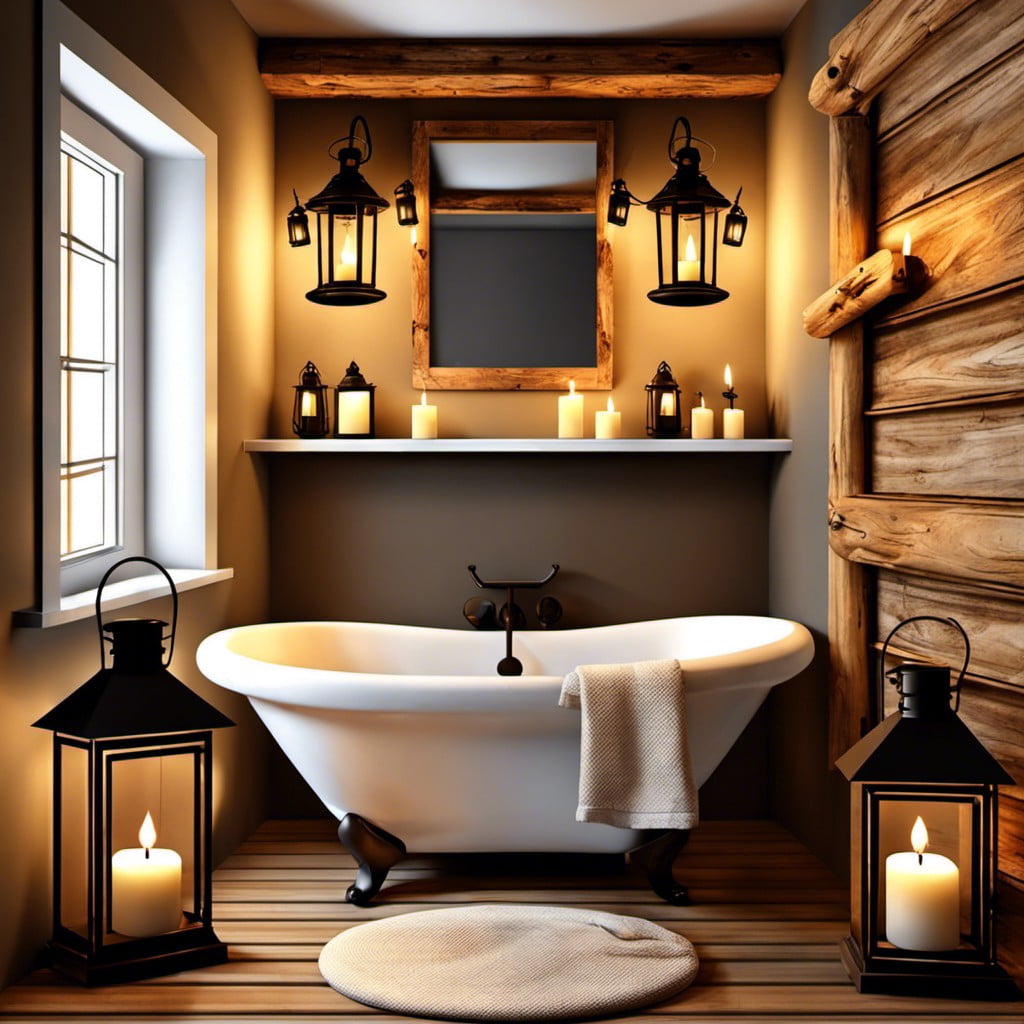 Pendant style, traditional or hanging wall sconces, there's a wide range to explore. Opt for varying sizes, shapes, and designs to add depth and character to your bathroom. Plus points for frosted glass lanterns that give a soft, muted glow, turning bath time into a serene experience.
Consider incorporating candles scented with essential oils. It's not just aesthetic but also therapeutic. Imagine indulging in a warm bath while your favourite lavender or eucalyptus scent fills the air.
One more consideration: flameless candles. These offer the same warm glow without the risk of open flame, especially if you have young children around.
Overall, candle lanterns serve a dual purpose. They bring in that rustic charm while also providing ambient lighting, adding to the overall calming and country-inspired atmosphere of your bathroom.
Woolen Rugs for Warmth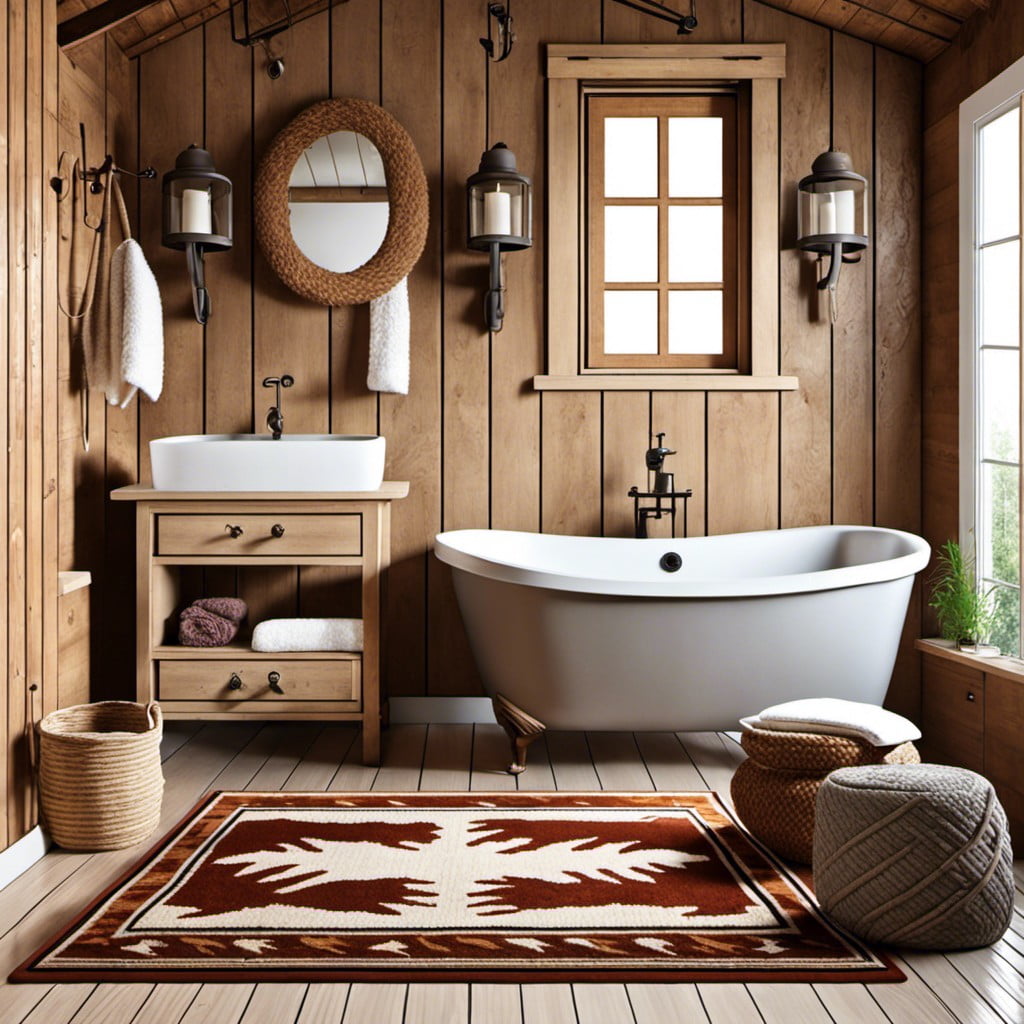 Selecting the right rug material is essential to maintaining a cozy atmosphere, and it's hard to beat the warmth and comfort of wool. Not only does it provide an insulating layer against cold tiling, but its classic texture achieves an authentic rustic look.
Wool is incredibly durable, naturally static resistant and flame retardant, making it an excellent choice for high-traffic areas such as the bathroom. Available in numerous patterns and colors, a woolen rug can effortlessly match other elements in the room.
Lastly, don't shy off getting creative with shapes. Besides the typical rectangular mat, consider other forms such as circular, oval or even irregularly shaped rugs to add a unique touch.
Continue reading:
Recap