Last updated on October 31, 2023
Revamping your home with contemporary bathroom ideas is essential because it brings a fresh and stylish ambiance to your personal space.
I am immensely proud to present my original article '20 Modern Contemporary Bathroom Ideas', filled with unique designs that I personally created with the hope that you will find them as inspiring and enjoyable as I did in the course of designing them.
Contemporary bathrooms are all about clean lines, minimalist aesthetics, and a blend of organic and engineered materials. This article covers a plethora of modern bathroom ideas, from sleek vanity units and spa-inspired showers to clever storage solutions and color schemes.
Whether it's a compact ensuite or a spacious family bathroom, you'll discover how to strike a balance between style and function. Dive in to explore the full spectrum of contemporary bathroom designs, each element meticulously detailed to help you create a refreshing and stylish space.
Glass Shower Enclosures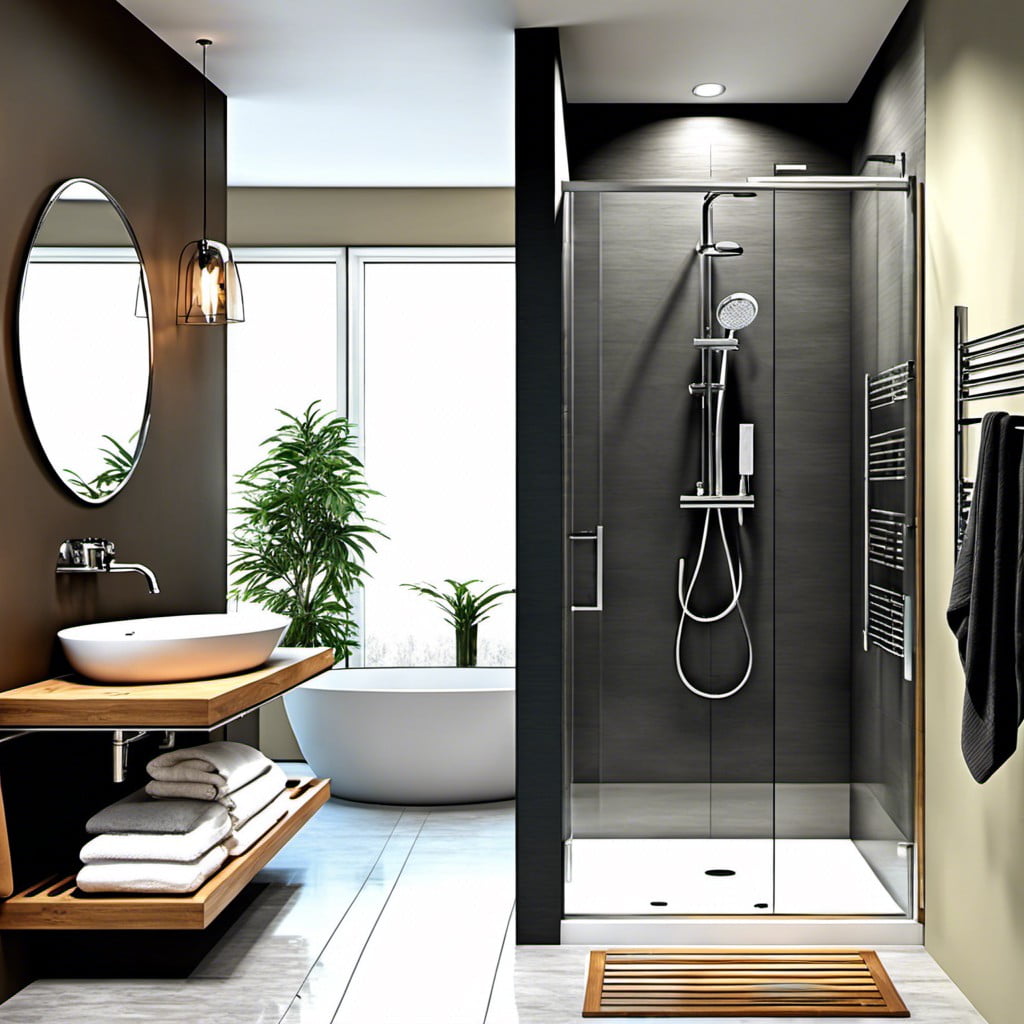 Gracing many contemporary homes, these sleek novelty items pave the way for expansive, open bathroom spaces that breathe a sense of luxury. With a clear focus on creating an unobstructed, spa-like atmosphere, enclosures move beyond just functionality to play a pivotal role in bathroom aesthetics.
Utilizing glass supports an abundance of natural light, aiding in the illusion of a larger, brighter space without the need for extra windows. Plus, the transparency of glass permits an uninterrupted view of the tile design, color scheme, or unique shower fittings within.
Durability should never be in question, as the thick, tempered nature of enclosure glass ensures longevity and easy maintenance. Moreover, options for customized finishes or frosted designs are an extra touch for those seeking varying levels of privacy.
Storage-wise, couple these enclosures with in-built niches or corner shelves to keep essentials handy without causing clutter. Lastly, frameless or semi-frameless choices continue the minimalist aesthetic, while metallic or black frames lend a striking contrast to lighter bathroom themes.
Wall-mounted Vanities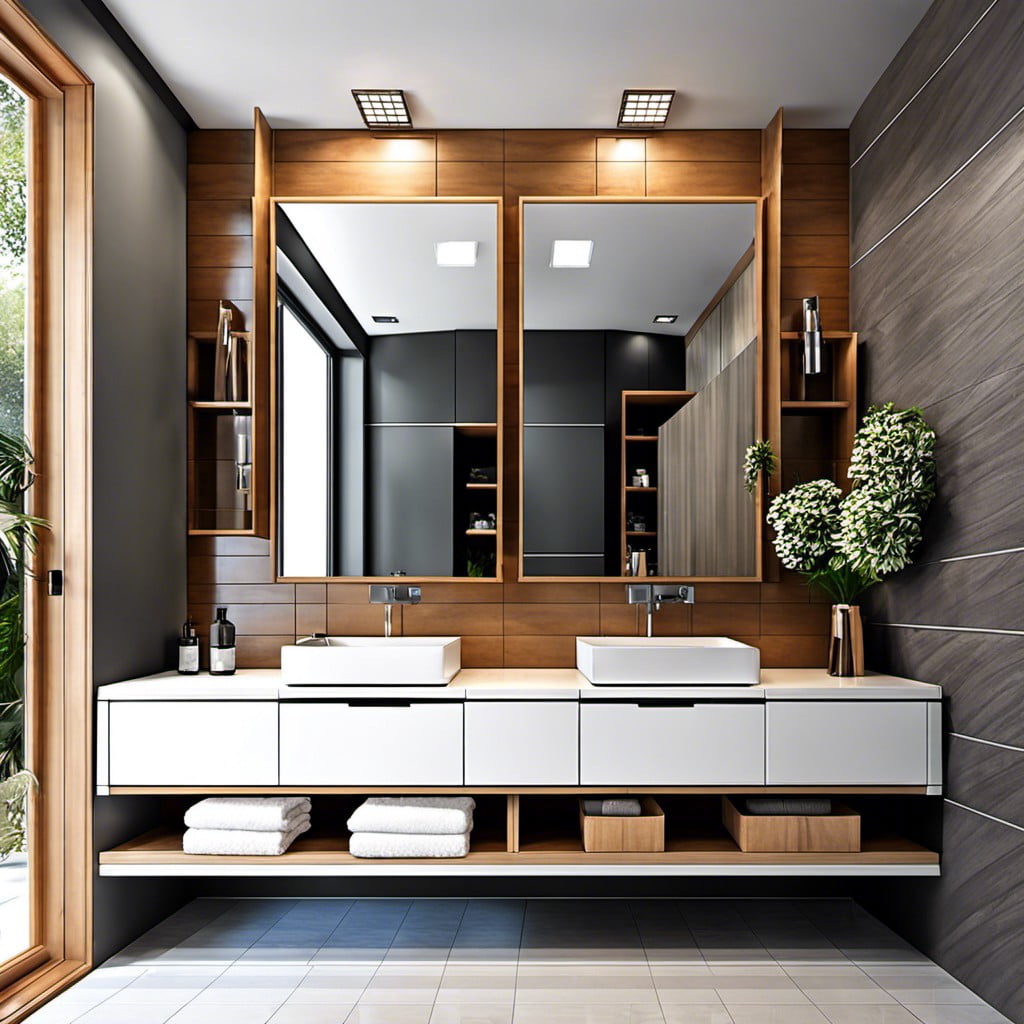 Offering both style and functionality, these vanities maximize floor space making your bathroom appear larger.
Installation at any height adapts to kids or adults, creating a customized comfort zone.
Their floating design enhances any wall color or tile texture.
Sleek drawer or cabinet designs keep toiletries out of view but within reach.
Consider choices in wood tones or high-gloss white for a chic modern look.
As a bonus, cleaning underneath is a breeze: no corners to trap dust or dirt.
Remember, proper wall reinforcement is key when installing, to ensure a safe and durable setup.
Freestanding Soaking Bathtubs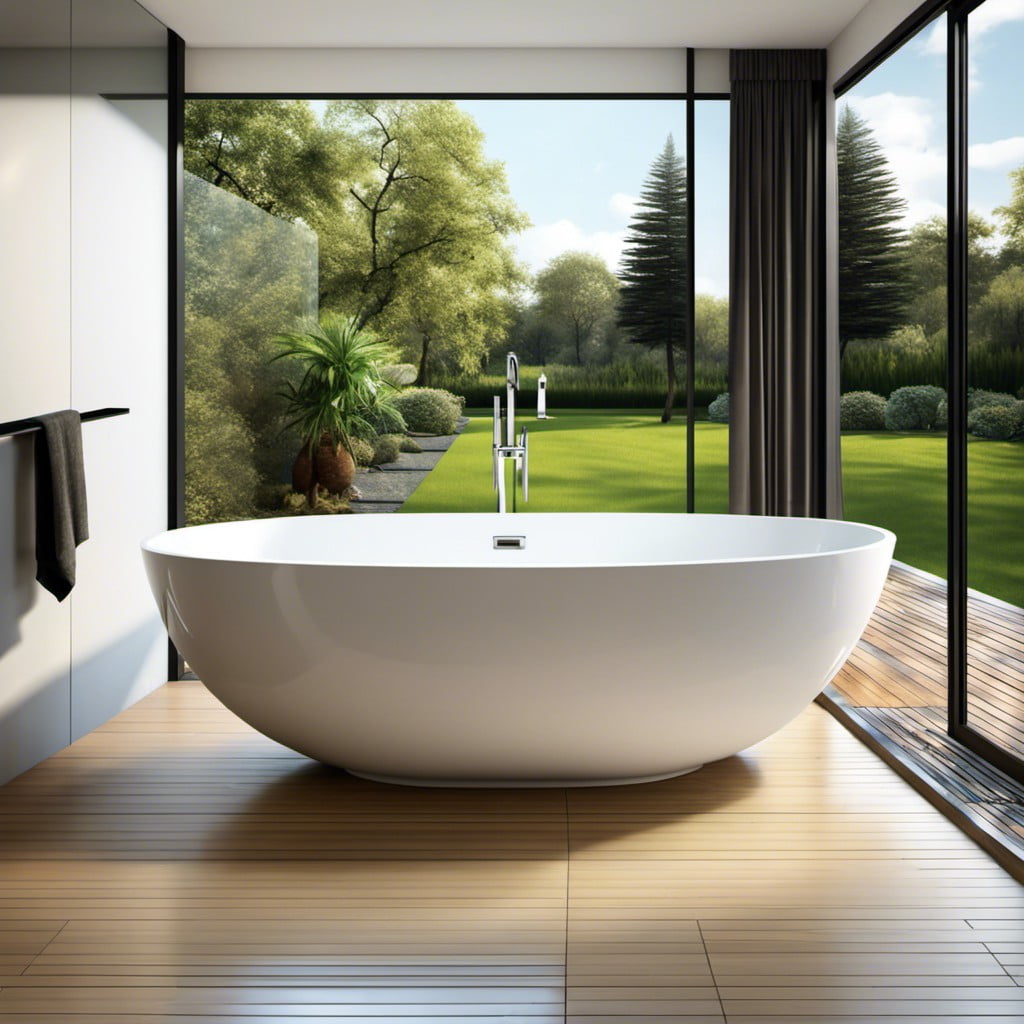 Ah, the allure of a freestanding soaking tub. It's beyond a mere bathing facility, branching out into the realm of luxury and relaxation.
Picture yourself soaking away the long day, enveloped by bubbles and surrounded by serenity. Being standalone, it instantly adds pizzazz, becoming the focal point of the bathroom.
Consider space and plumbing before deciding on the type; clawfoot, pedestal or slipper, each carries its own charm.
Opt for acrylic, copper, or stone based on preference and budget.
Remember, location matters. The tub should not obstruct traffic flow, yet must capture attention, adding to the overall aesthetics.
Comfort and design working in harmony, tuning your bathroom into a personal spa retreat.
LED Lighted Mirrors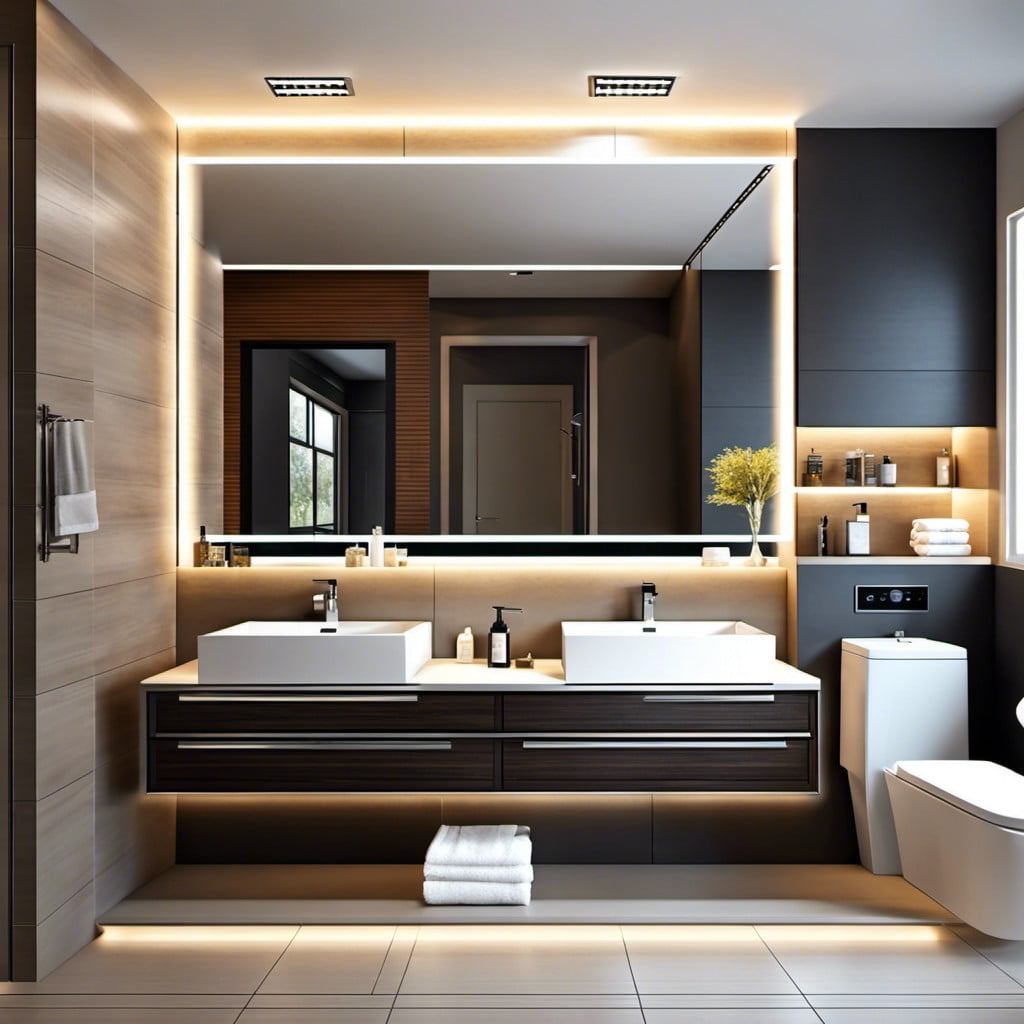 One major benefit of LED lighted mirrors is their energy efficiency. They use less power compared to traditional bulbs, making them both cost-effective and environmentally friendly. These mirrors also deliver ample, clear light, making routine tasks like shaving or applying makeup easier.
When it comes to style, the designs of LED mirrors are undeniably contemporary. Whether it's a backlit silhouette model or one with light strips along the sides, they add aesthetic appeal to your bathroom. Variety in shapes – circular, rectangular or even irregular, provide an array of options to cater to diverse tastes.
Remember, LED lighted mirrors often come with additional features, such as anti-fog functions, color temperature changing abilities, and even integrated touch controls. These smart functions give your bathroom an elevated sense of modernity while increasing convenience. Incorporating an LED lighted mirror is an easy step towards creating a chic, practical contemporary bathroom.
Heated Floors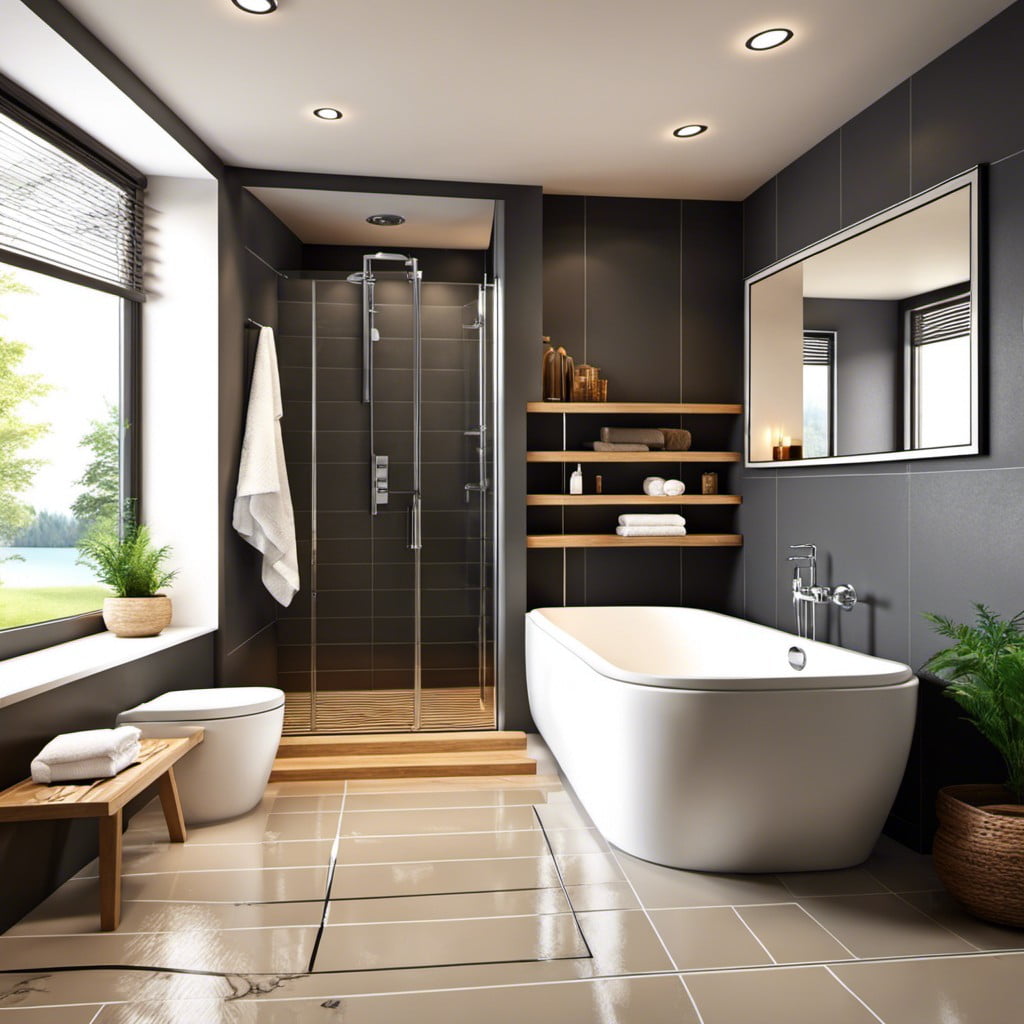 There's an undeniable charm in setting foot on a pleasantly warm floor, especially during colder months. This appealing feature is realized through radiant heating systems. Hidden beneath your bathroom flooring, the system circulates heat across the surface, ensuring every step is a warm one.
This practical luxury can be installed under various flooring types such as tile, stone, and wood. It not only adds a touch of indulgence but also enhances the overall ambiance of the room. Plus, it's an energy-efficient way to heat your bathroom, contributing to lower energy costs in the long run.
Moreover, heated floors offer a bonus benefit of preventing bacteria growth, certainly a useful feature for hygiene-conscious homeowners. It's not a surprise that this trend maintains its popularity in contemporary bathroom designs. To incorporate it, planning during the early stages of bathroom renovation is advisable, as it ensures seamless integration into your contemporary bathroom aesthetic.
Dual Sink Countertops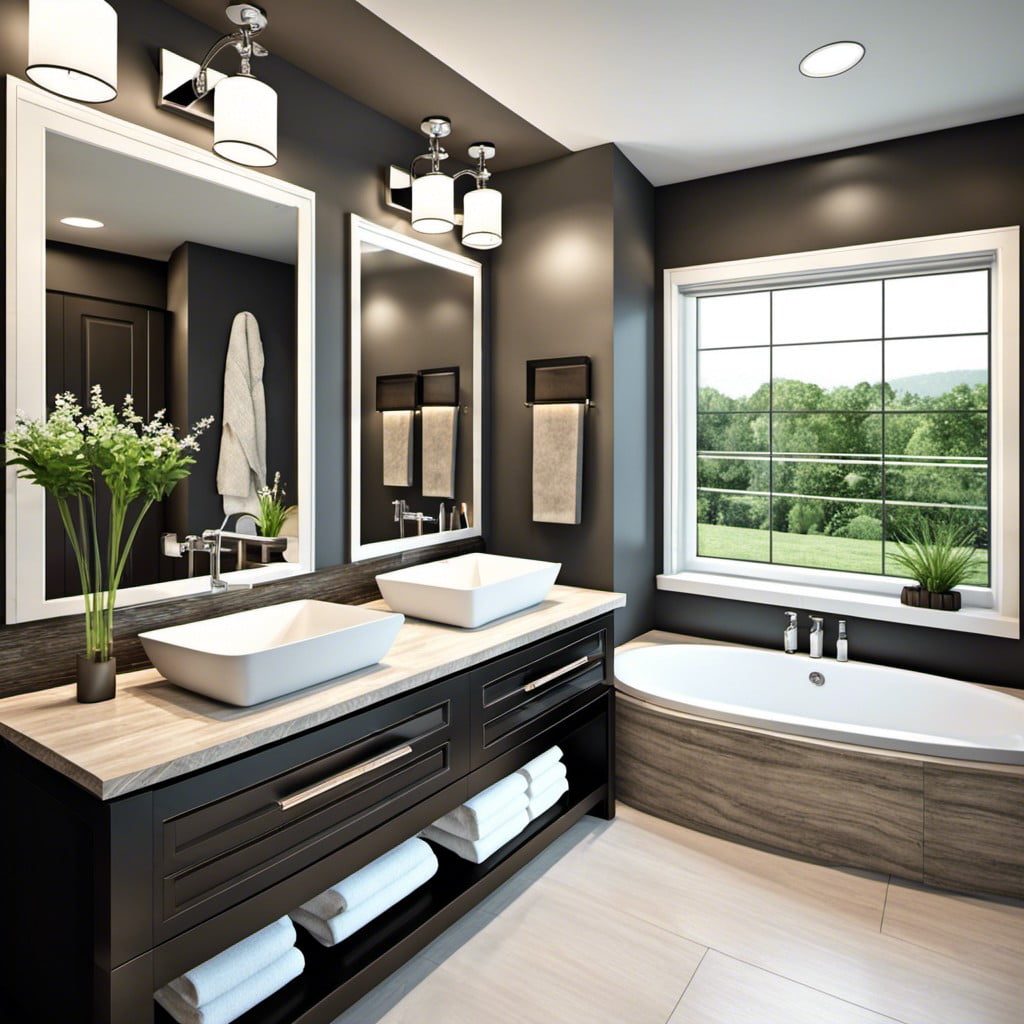 For a practical, functional, and aesthetically pleasing addition to your contemporary bathroom, consider incorporating double sinks into your layout. With this improvement, morning routines become less stressful, offering simultaneous use without infringing on personal space. Especially beneficial for sharing bathrooms, it eliminates the need for queuing and provides individual storage space for personal items.
In terms of design, dual sinks can be styled in numerous ways. They can be presented side by side, on opposite ends of the countertop, or distinctively separated by a storage unit. A variety of materials are available to suit your taste, including marble, quartz, ceramic, or even glass. The choice of rectangular or round basins adds an additional customization element, allowing you to align with the overall contemporary theme.
Additionally, choosing different faucet styles, like waterfall or mixer, can introduce a distinctive design statement without compromising the functionality. Moreover, options for wall-mounted or deck-mounted faucets offer flexibility in the layout while contributing to the minimalist look inherent in contemporary bathroom design. These aspects combined showcase not just a practical solution but also a significant aesthetic upgrade for your space.
Floating Shelves Storage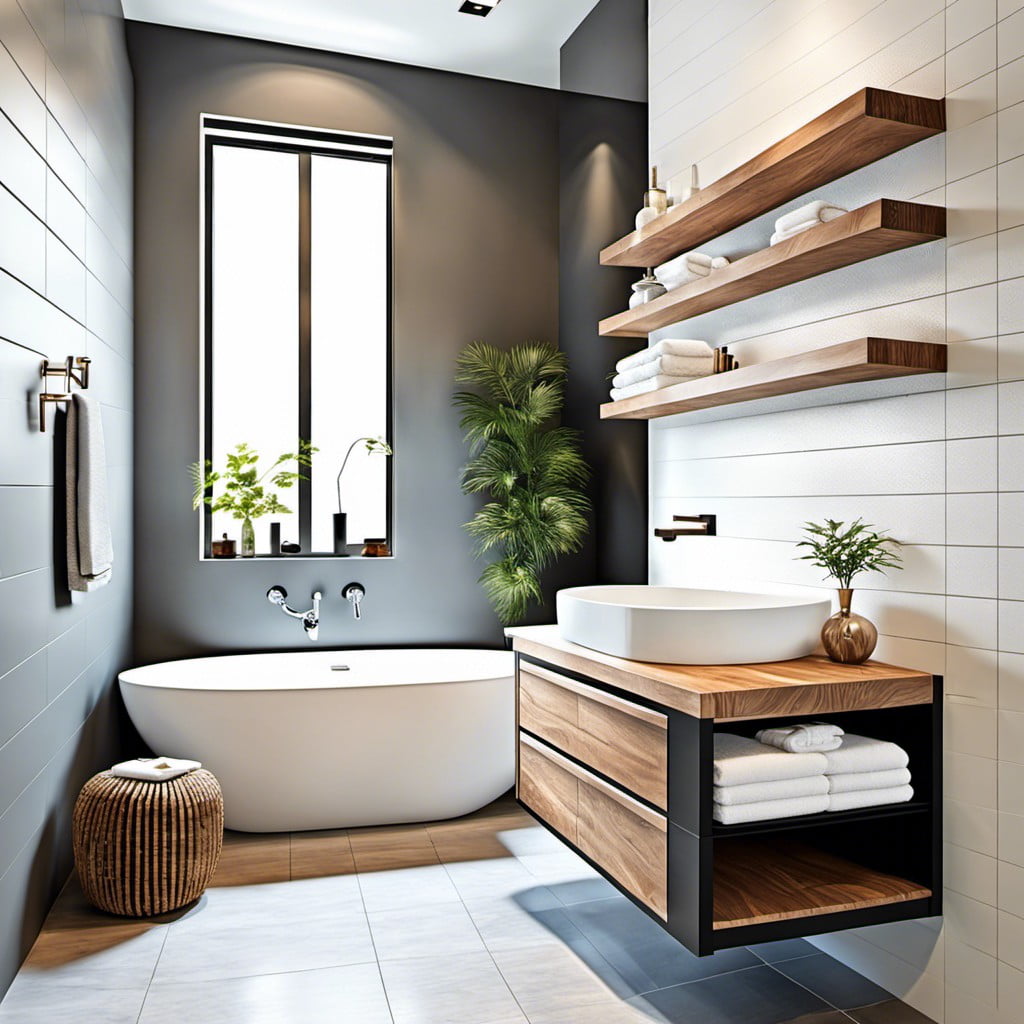 While you're curating your dream contemporary bathroom, don't miss out on this visually pleasing and practical trend. Strategically positioned, floating shelves can serve as perfect nooks for storing regularly used items like towels, toiletries, and even decorative pieces.
Their streamlined design creates an airy and open feel, enhancing the overall spaciousness of the room. Opt for materials such as wood or glass for a touch of class, or metal for industrial flair. Remember, size matters; choose shelf proportions that align with the scale of your bathroom.
Moreover, to ensure safety and functionality, always install the shelves at a convenient, reachable height.
Large Format Tiles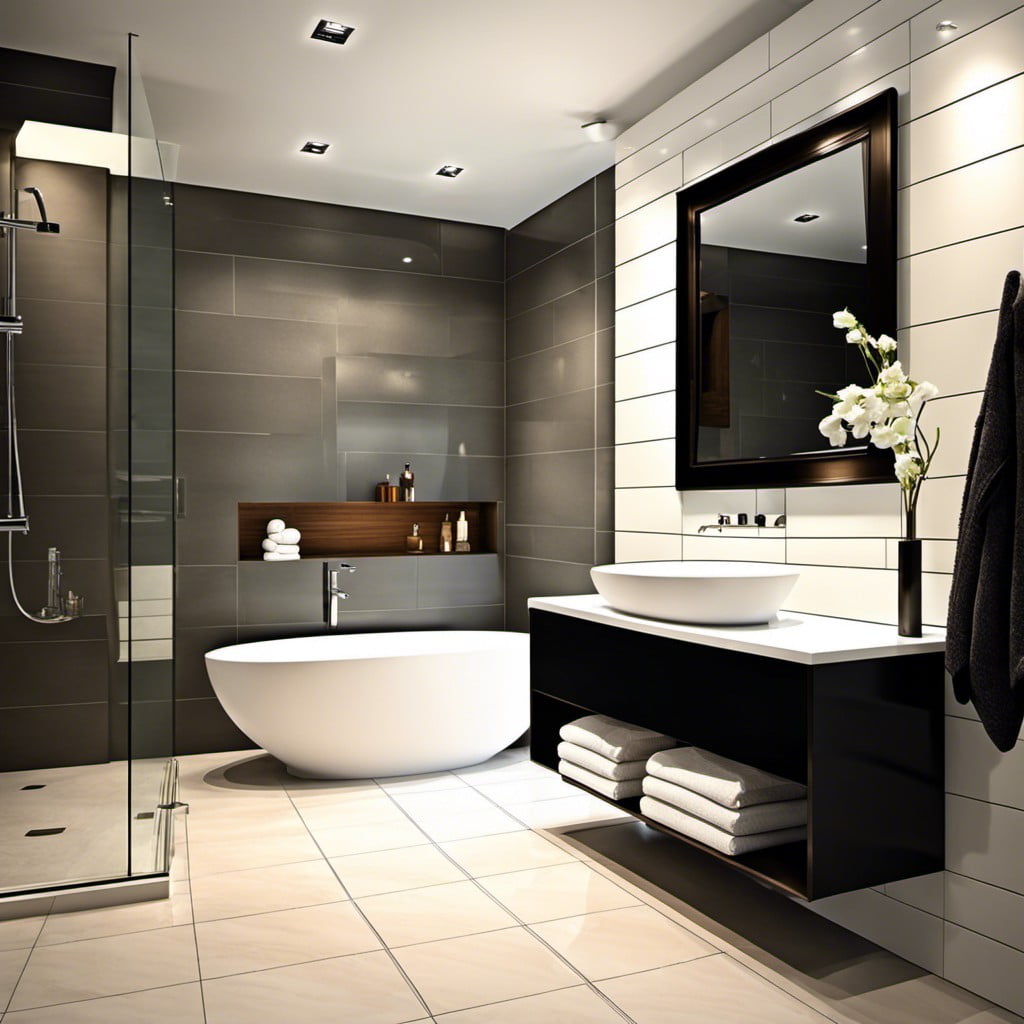 This modern tiling approach offers a sleek alternative to traditional small squares or hexagons. With less grout to worry about, clean lines and seamless continuity become the room's stars.
These expansive tiles can help a small bathroom appear larger, yielding a remarkably elegant result. They are available in several materials, including ceramic, porcelain, and marble, each offering its unique aesthetic.
Deciding on such a multipurpose option benefits both visual pleasure and maintenance time. Remember to match these with smaller tiles for balance and contrast in specific areas like the shower or floor.
Matte Black Fixtures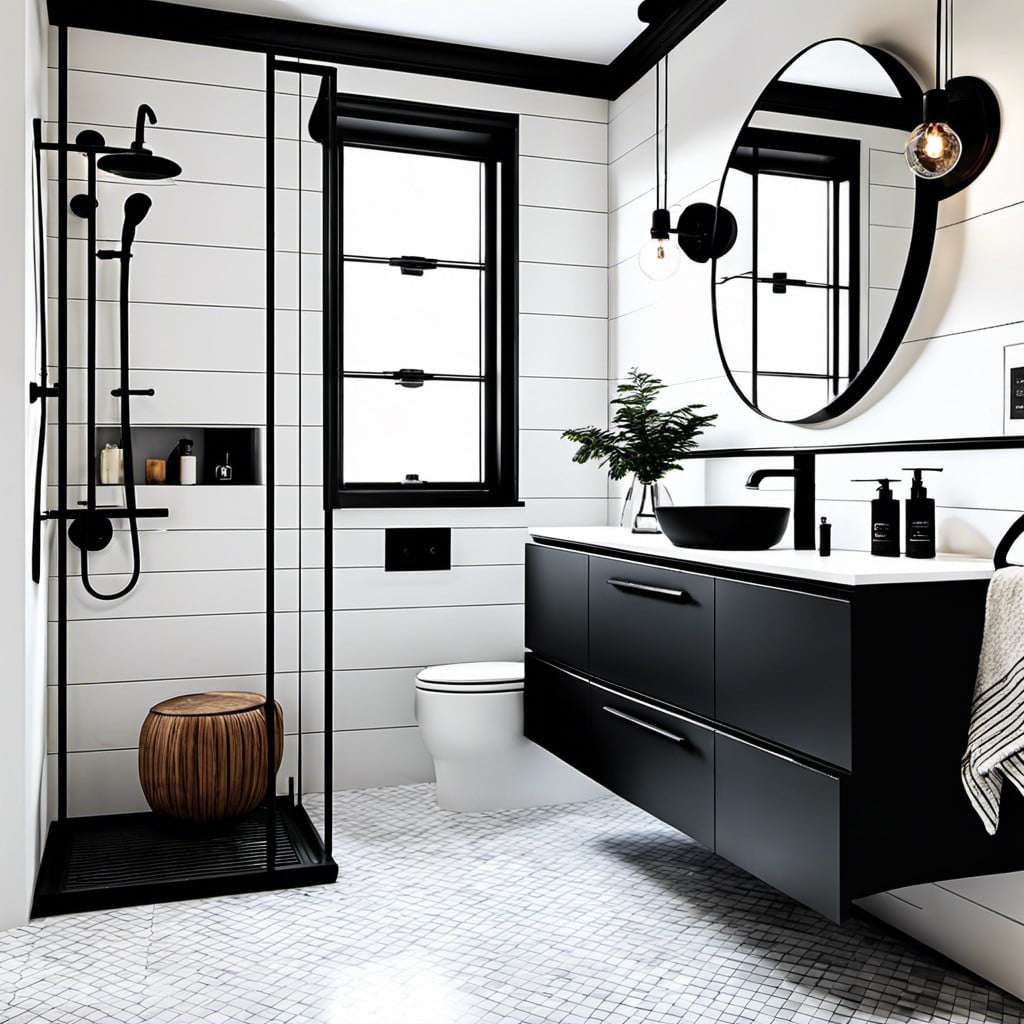 Creating a bold statement is a breeze with these stylish elements that blend seamlessly with almost any color scheme. By contrasting against lighter backgrounds, they draw attention towards the fixtures themselves, and their soft sheen adds an air of elegance.
Consider incorporating them into your faucets, showers, or even lighting fixtures for a consistent theme. These trendy pieces not only exude a sense of sophistication but are also known for durability and are less prone to visible water spots. Plus, they effortlessly mask fingerprints – a handy feature to keep your bathroom pristine and spotless.
Be mindful, though, to strike the right balance – too much black might make the room feel gloomy. The trick lies in finding the perfect equilibrium between statement and subtlety.
Minimalist Décor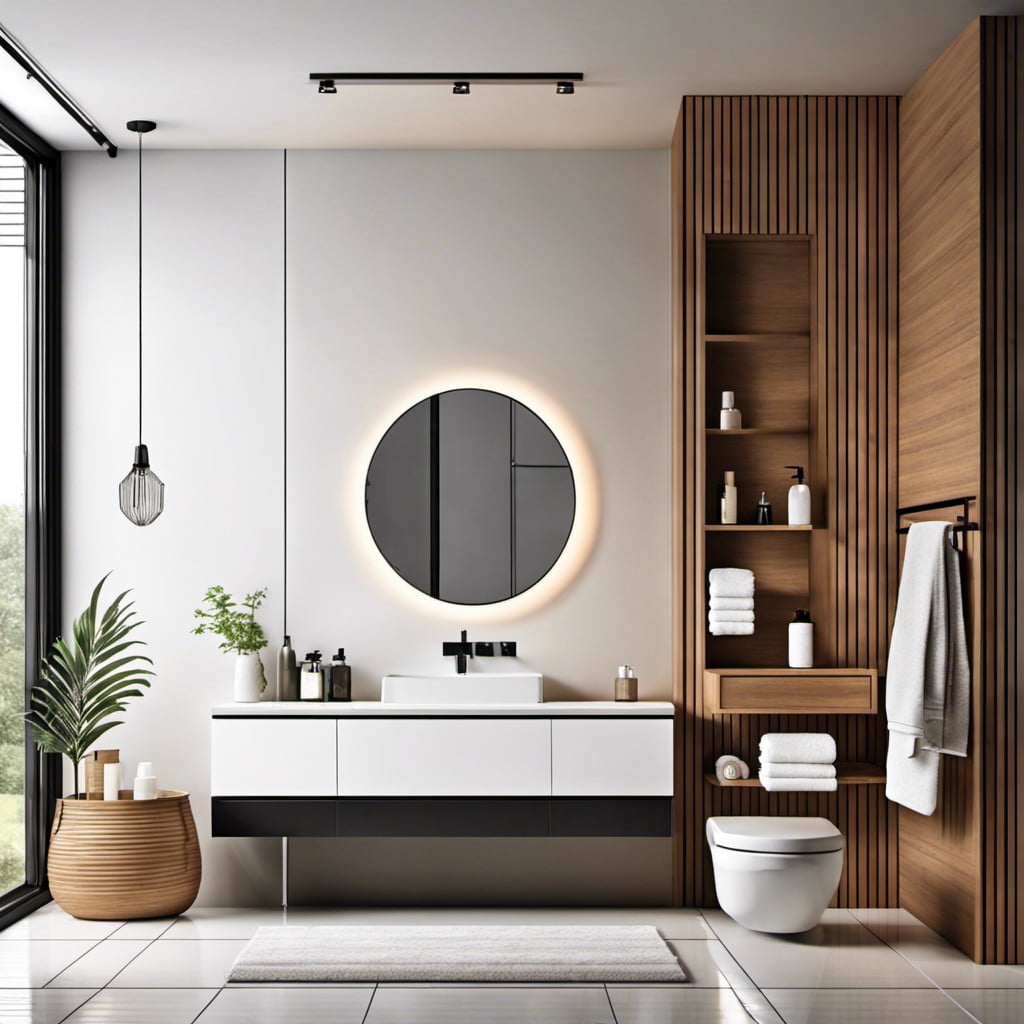 A lack of clutter with only essential items in view sets the stage for a minimalist sanitary space. Elegance is realized through simplicity by employing clean lines, plain geometric shapes, and restricted color basics.
Non-ornamental furnishings and mirrors also contribute towards achieving this aesthetic. Natural elements like wood and stone accessories strategically placed can break the monotony of the plain design, adding a touch of warmth.
Details matter in this design; therefore, hardware like taps and cabinet handles should have a simple and functional design. Consider storing everyday items in built-in cabinets or tucked away baskets to maintain the sleek, uncluttered look.
Recessed lighting maximizes the minimalistic vibe by eliminating the need for elaborate light fixtures. Remember, the key in minimalism is the saying, 'Less is More'.
Textured Wall Panels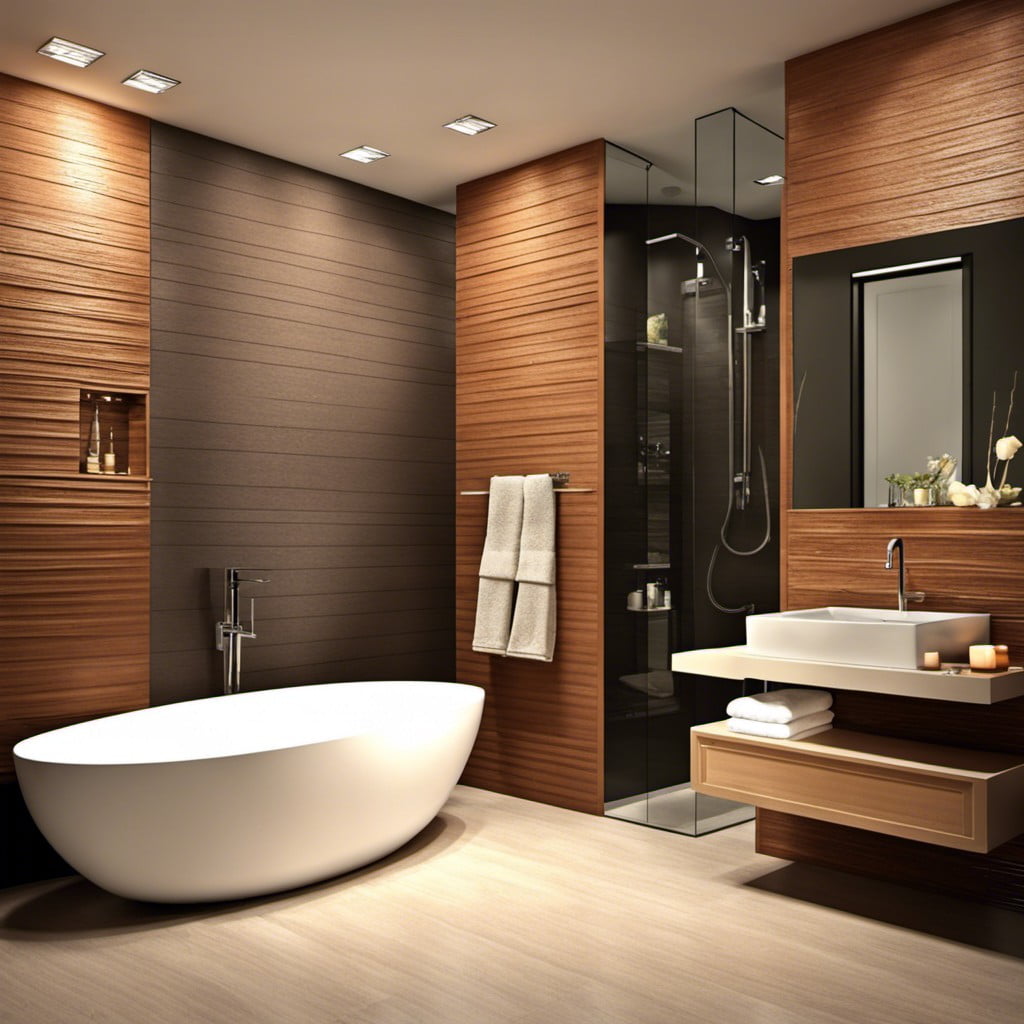 Introducing depth and dimension to your bathroom walls transforms the space, elevating the aesthetic. With textured panels, the options are virtually limitless – from stone and tile effects to geometric and wave patterns. They also enhance the tactile experience, enriching the overall sensory appeal of the bathroom.
Benefits:
Durable and water-resistant, ideal for damp bathroom conditions.
Easy to clean, reducing maintenance efforts.
Provides a unique element of surprise and interest.
Masks walls imperfections.
Comes in various colors and finishes to match any style.
Mindful Selection:
Opt for water-resistant materials specialized for bathroom use to prevent future problems.
Picking a texture that complements the rest of your bathroom décor for a harmonious look.
Measure accurately before purchasing panels to minimize waste.
Installation Tips:
Let panels acclimate to your bathroom's environment before installing.
Use a level to ensure panels are installed straight.
Seal seams well to ensure water can't seep behind panels.
With the right selection and installation, textured wall panels can become a stunning focal point in a contemporary bathroom.
Rain Showerheads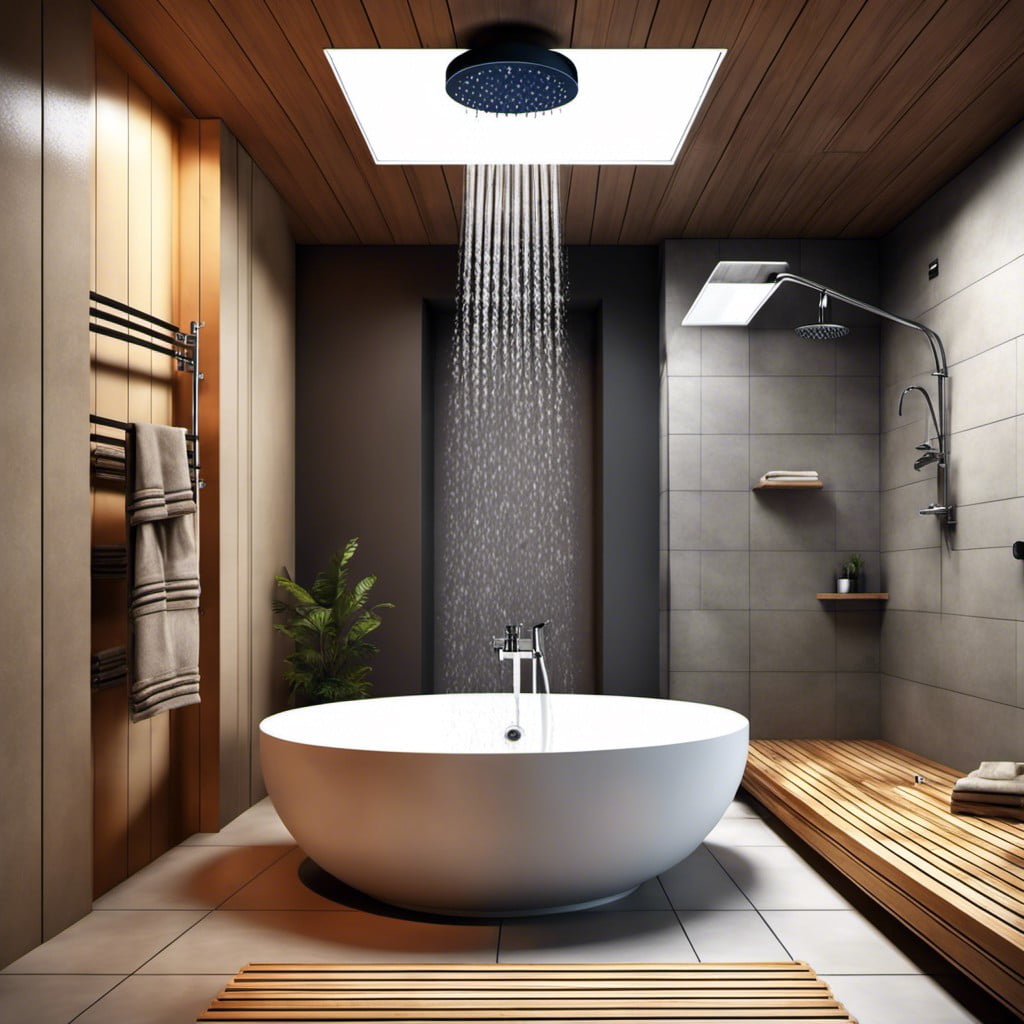 For an immersive and spa-like experience, consider this modern feature. Its large diameter mimics rainfall, providing full-body coverage and a soothing sensation.
Whether it's a ceiling-mounted version for an authentic downpour feeling or an adjustable wall-mounted unit for more versatile use, the beauty of functional design shines through.
Some notable points:
1. Standard models offer even water distribution, while luxury versions might come with additional features such as integrated LED lighting or adjustable water patterns.
2. While the installation may need a high-flow valve due to the increased water usage, it is generally a straightforward process if planned during bathroom remodeling.
3. The units are available in a variety of finishes, including chrome, brushed nickel, and oil-rubbed bronze, complementing other fixtures in the space.
4. It's more than just a stylish fixture – it also offers potential benefits from a wellness perspective, such as releasing muscular tension and creating a relaxing routine.
Remember to balance water use with environmental consciousness, as this feature tends to consume more water than regular showerheads.
Touchless Faucets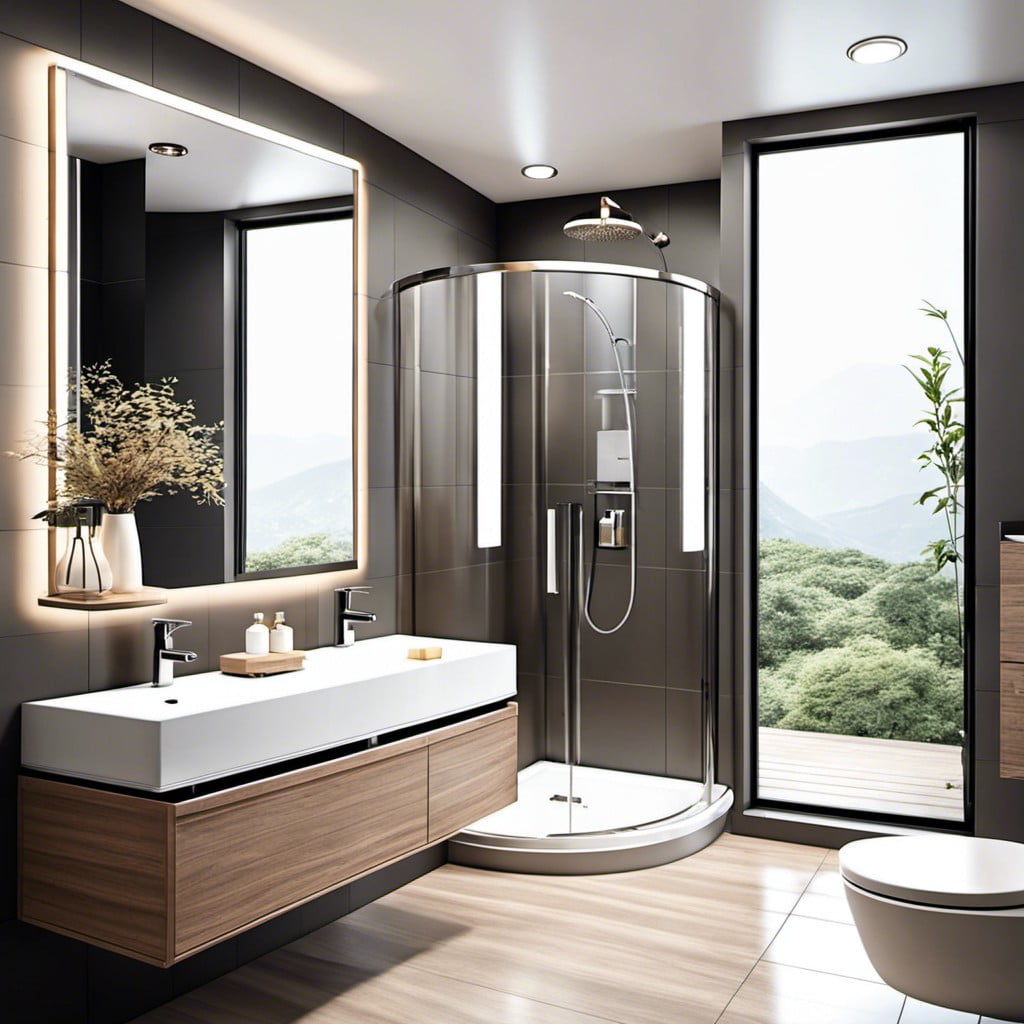 In the realm of sophisticated tech amenities, adopting touchless faucets are a prime choice. Their hands-free operation is not only elegant and modern; it's also a hygienic solution reducing cross-contamination from germs.
Moreover, these marvels of technology help conserve water by only flowing when needed, effectively reducing utility bills. There are varieties to fit every design palette, from sleek modern styles to more elaborate, traditional designs. And don't fret about installation; many models fit standard plumbing configurations.
A few smart features to look for:
Infrared sensor technology: The best touchless faucets come equipped with this, ensuring precision flow activation. The intelligent system senses your presence and automatically stops when you move away, thus saving water.
Temperature control: Some models offer adjustable temperature control, allowing for customized user comfort.
Power options: Decide whether you want to use AC power, batteries, or a combination of both for flexibility and consistency.
Ultimately, touchless faucets marry beauty with efficiency, cementing their place in contemporary bathroom design. Their blend of function and form makes them truly an indispensable asset in any modern bathroom.
Subway Tile Walls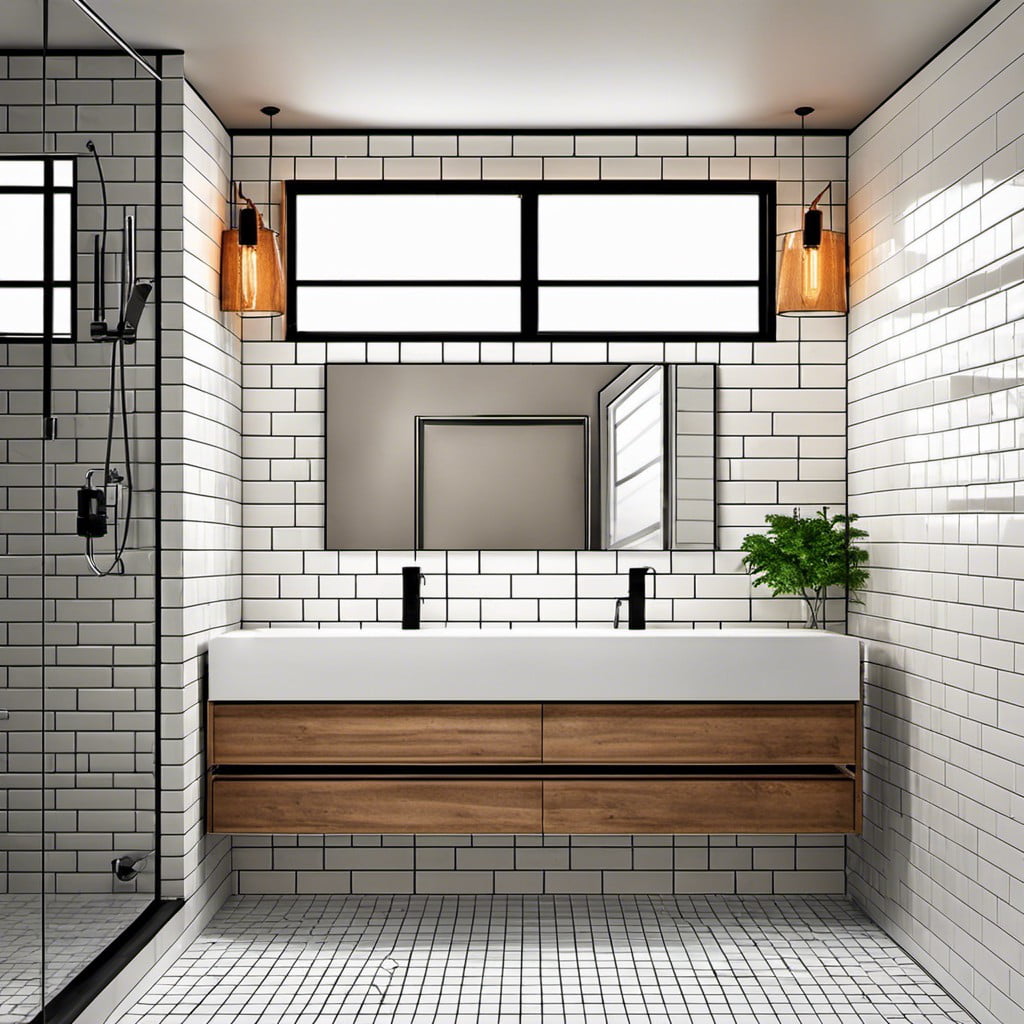 The retro-chic appeal of subway tiles continues to impress, offering a blend of tradition and modernity. Here's why:
1. Versatility: With a variety of colors and finishes, they complement most bathroom design schemes.
2. Easy Maintenance: The glossy finish makes cleaning a breeze, a plus for busy households.
3. Durable: Most are made of ceramic or porcelain, hard-wearing materials that withstand moisture and wear.
4. Customizable: Laying them in different patterns, vertical, herringbone, or staggered, can create distinct visual interest.
5. Economical: Compared to other tile options, subway tiles offer style without breaking the bank.
Plentiful options and enduring style make them a great choice for bathroom walls.
Concrete Accents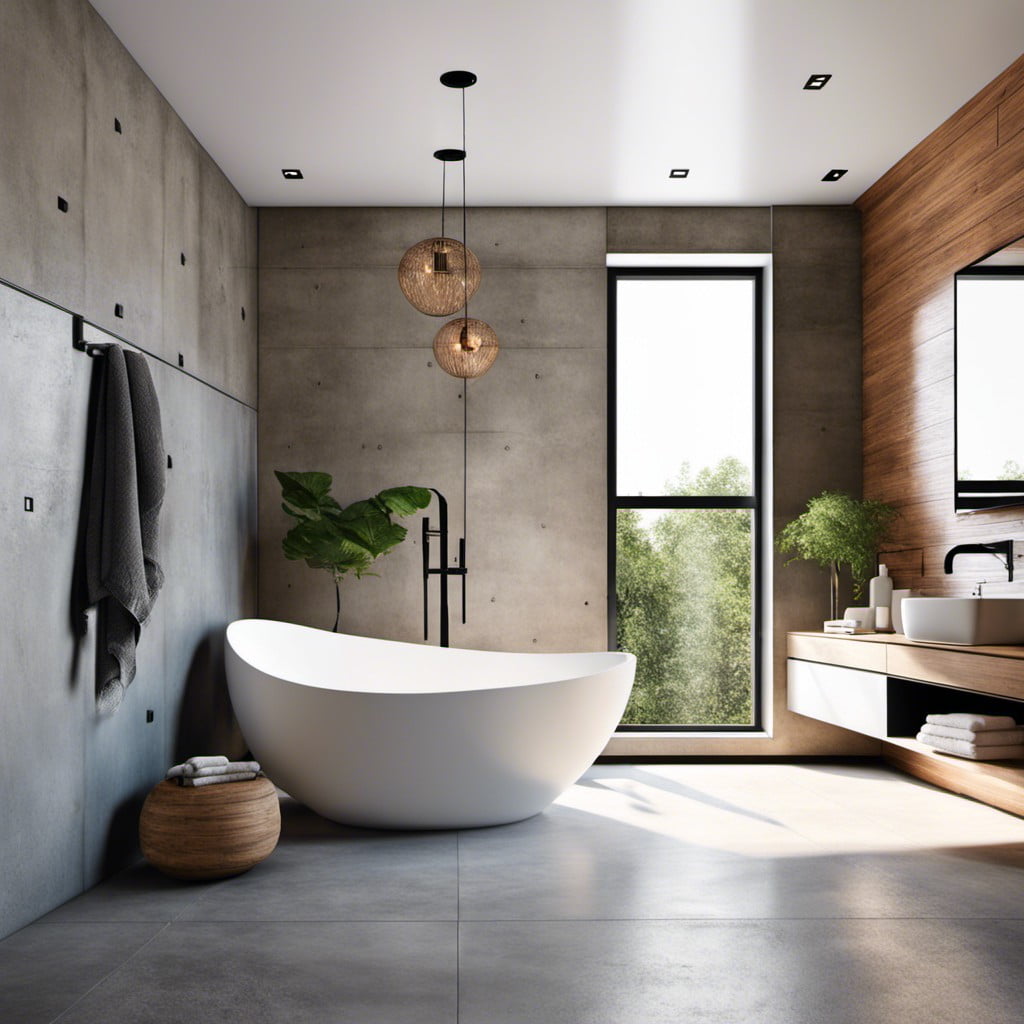 In the realm of contemporary design, not much competes with the raw and modern aesthetic of concrete. This versatile material slots seamlessly into the bathroom for a stylish vein of durability. You can incorporate it in a range of ways to suit any style preference.
One appealing choice is to use polished concrete for countertops. Its notable strength works superbly while offering a cool, industrial edge. Concrete shower panels are an emerging trend, offered in multiple colours to blend with your existing style or create an accent wall. Another clever use is concrete flooring – sturdy and waterproof. Lastly, you might fancy a modern concrete sink. It's not only a conversation starter but also practical and easy to maintain.
Remember, concrete doesn't have to be grey and austere; it can be manipulated into a range of hues and finishes. With the correct sealing and treatment, it can endure the rigours of daily use. Concrete is a lasting investment to the bathroom, allowing for a unique, durable, and contemporary touch.
Integrated Lighting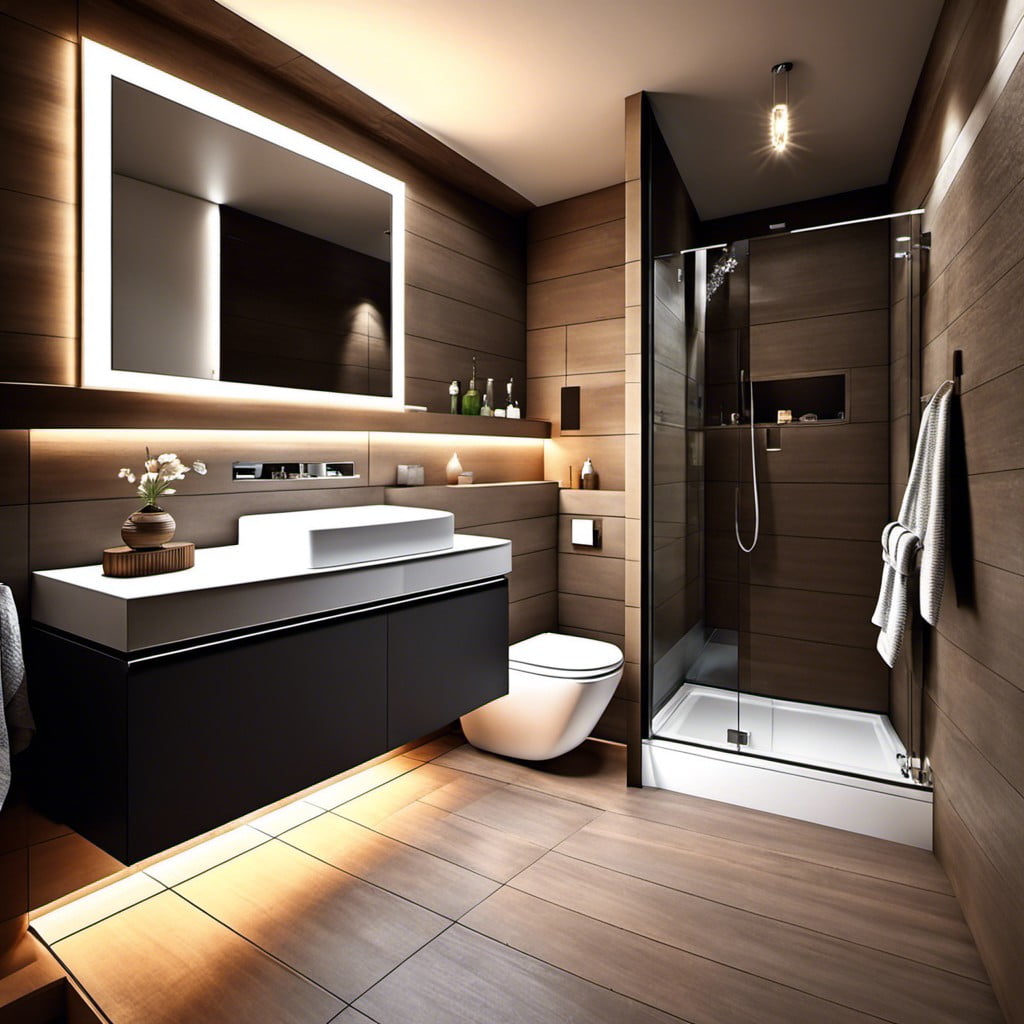 Integrated lighting is all about designing light sources as an essential part of the bathroom architecture. The goal is to provide necessary illumination while maintaining a clean, streamlined aesthetic.
Firstly, recessed ceiling lights are perfect for this style. They're hidden, providing a room with a light source without interrupting the overall visual.
Similarly, under-cabinet lighting can also be used, offering a soft, indirect glow that's perfect for nighttime bathroom visits.
Built-in mirror lights present a practical solution for tasks such as applying makeup or shaving, all while adding a touch of luxury.
Lastly, consider using linear fixtures integrated into the tiles. It creates unique effects, while also serving an essential function, especially in shower areas.
Remember, the key to successfully implementing integrated lighting lies in careful planning during the initial design stages.
Herringbone Floor Patterns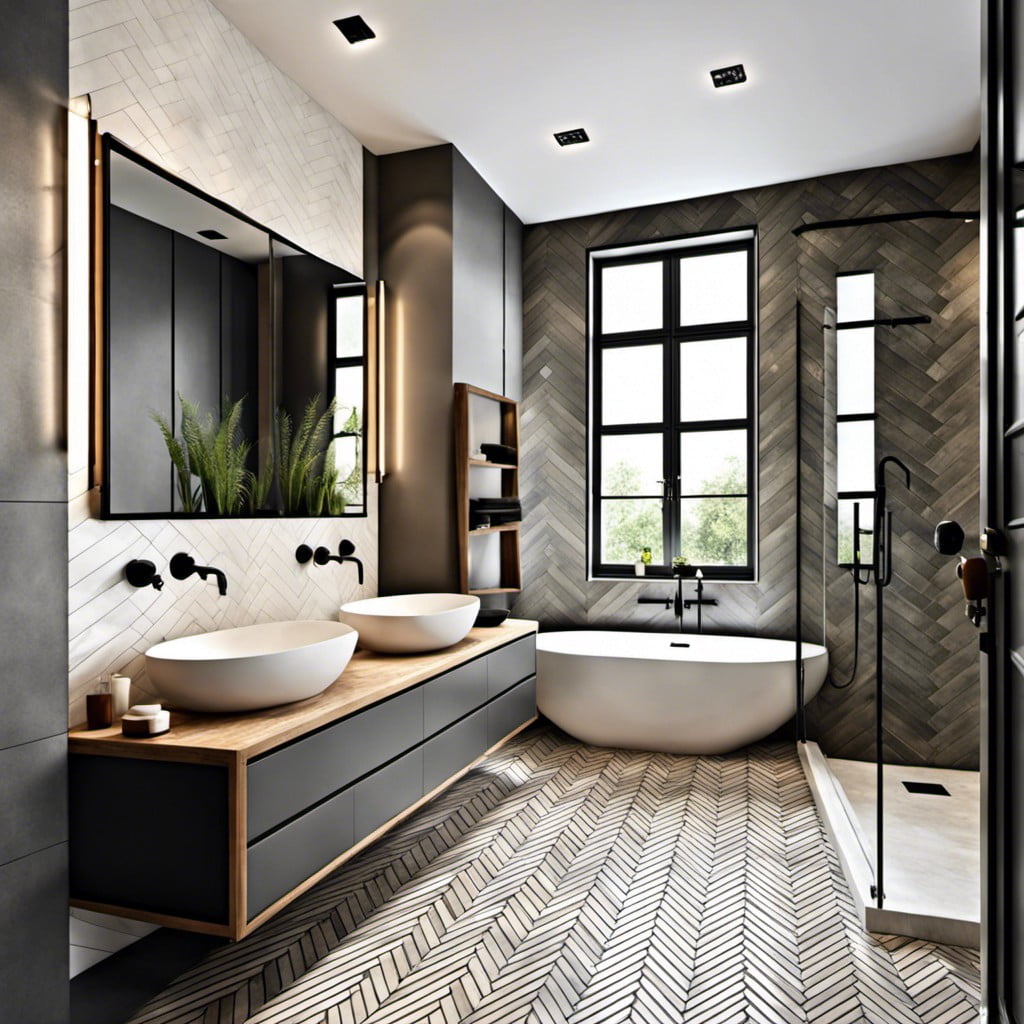 If you're looking to add a unique touch to your contemporary bathroom, the intricate geometry of Herringbone could be your perfect match. This pattern creates a sense of movement, texture, and added depth. It draws the eye, making smaller spaces appear larger.
Choose a contrasting grout color to make the pattern pop, or opt for a subtle, monochromatic palette for a more streamlined look. Despite its complex appearance, with precise planning and execution, Herringbone can be a DIY project. But, if you are after a flawless finish, consider hiring a professional.
And finally, don't forget to seal the tiles properly to extend their life and maintain their beauty.
Neutral Color Schemes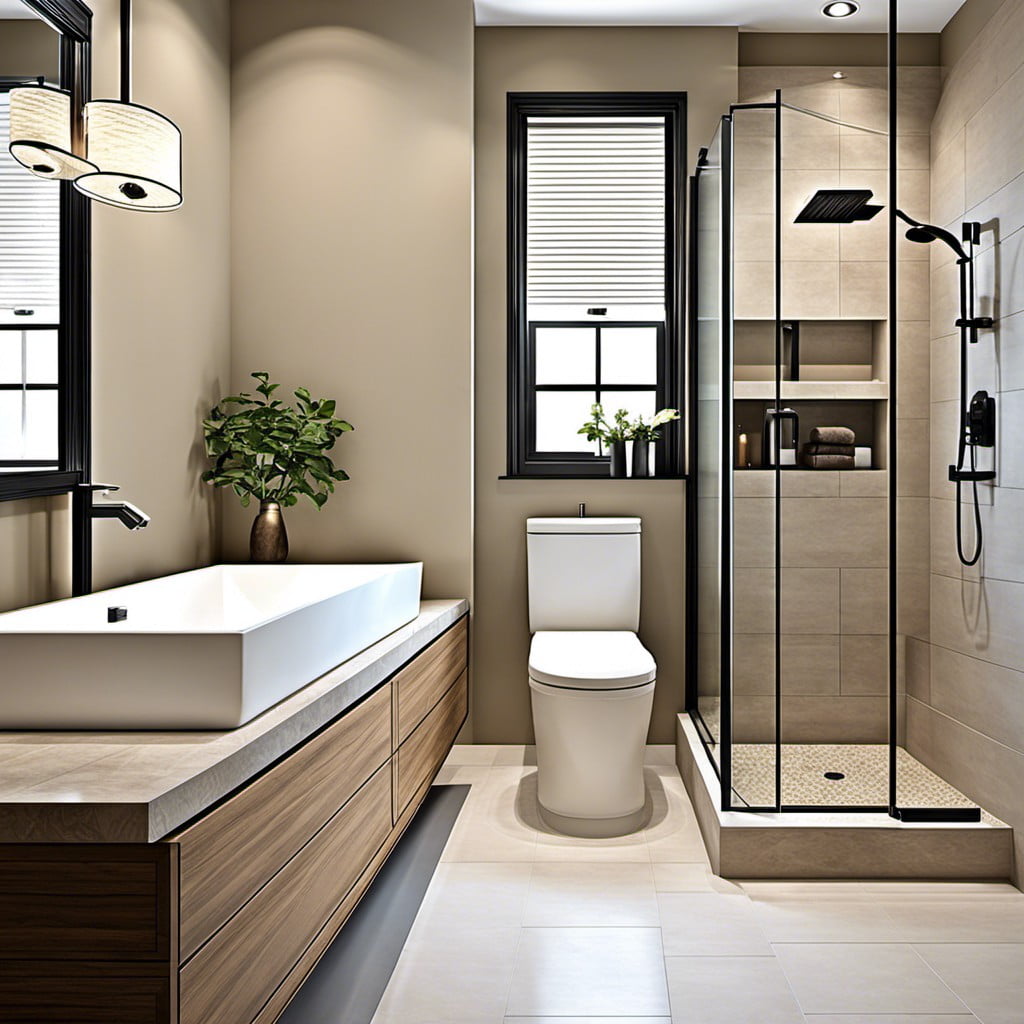 Harnessing the power of pastels and toned-down hues can yield a serene and calming bathroom atmosphere. Opt for shades like beige, gray, white or cream as base colors. These colors exhibit timeless elegance and pave the way for highlighting architectural details or accent pieces.
Using similar tones for walls, flooring, and fixtures creates a cohesive and spacious feel, while different shades of the same color add visual interest and depth. Simultaneously, consider incorporating natural elements like stone or wood to warm up the space.
Lastly, always prioritize natural light to truly capture the essence of a neutral palette, as it enhances the tones and brings that much-needed touch of freshness.
Eco-friendly Materials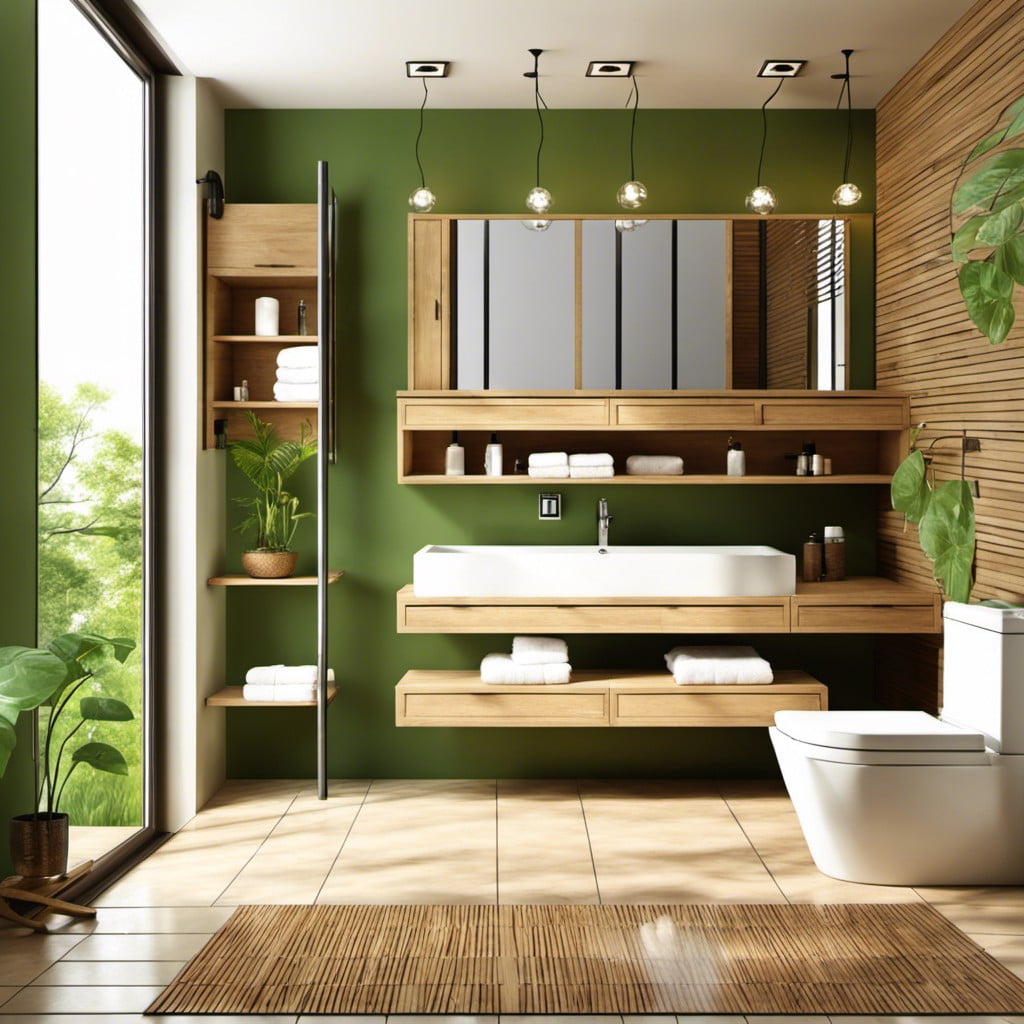 Switching to eco-friendly materials in the bathroom is not just a trendy choice anymore, but rather an essential practice to make our spaces more sustainable. Reclaimed wood can be used for storage units or countertops, acting as a stylish and environmentally responsible alternative. Bamboo, admired for its toughness and water resistance, is also suitable for flooring and countertops.
Recycled glass tiles offer both the environmental "thumbs up" and an array of aesthetic choices for walls and floors. Do not ignore the power of natural linoleum, which is antistatic, hypoallergenic, and comes in various colors to suit any interior design. With these options, anyone can incorporate sustainable materials easily and elegantly into their contemporary bathroom.
Smart Bathroom Technology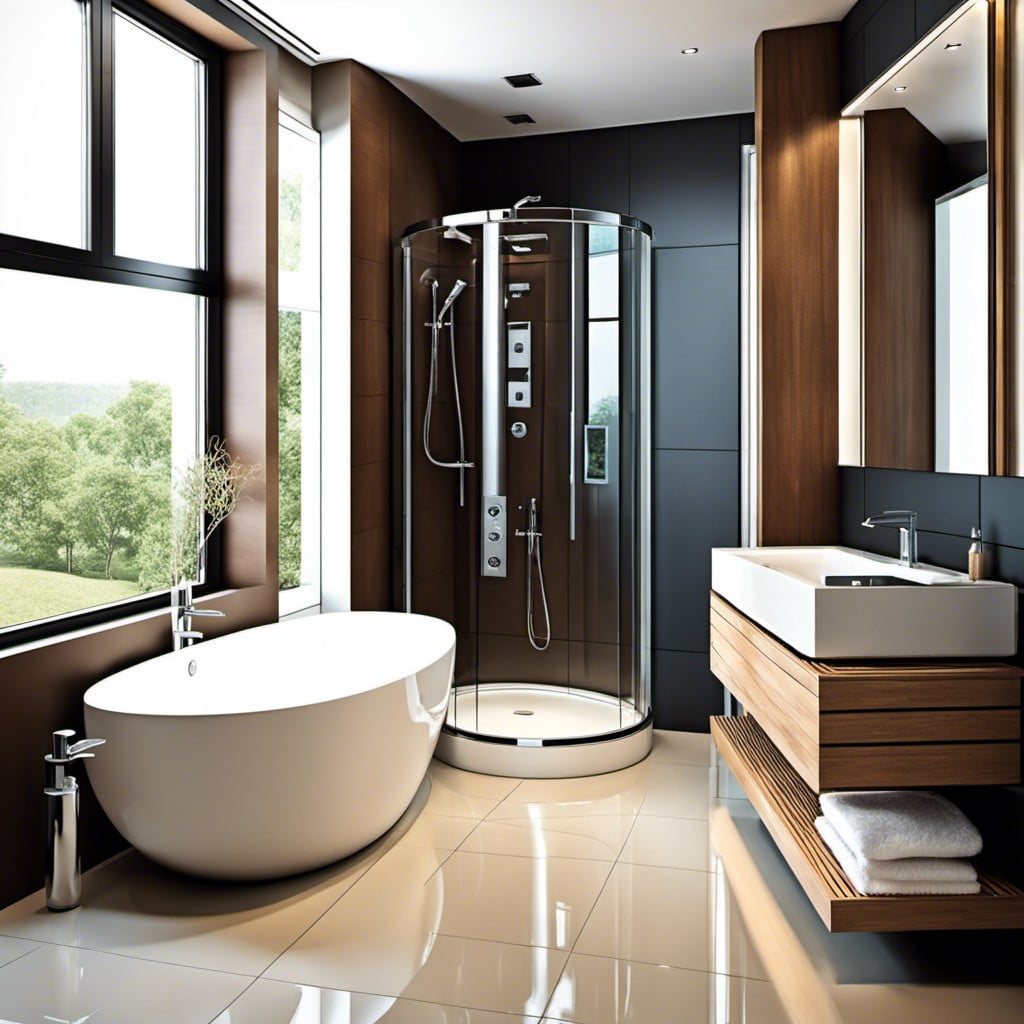 Imagine starting your day with a gentle, warming shower personalized to your temperature preference and a mirror that updates you with the morning news and weather. This is the reality with smart bathroom technology.
1. Digital Showers: They let you control water temperature and flow with precision. Some even come with integrated Bluetooth speakers.
2. High-Tech Toilets: These marvels provide automated flushing, heated seats, and even self-cleaning mechanisms.
3. Smart Mirrors: Feast your eyes on mirrors that offer touch control, displays for weather forecasts, news, and even connect to your home's other smart devices.
4. Automated Sinks: Faucets that turn on and off without touch to ensure cleanliness and conserve water.
5. Towel Warming Drawers: They ensure you always have a warm towel when you step out of the shower.
The beauty of it all? These developments are efficient to use, environmentally friendly, and can be controlled via an app on your smartphone. Indeed, technology has not left the bathroom behind.
Continue reading:
Recap