Last updated on November 14, 2023
Transform your personal sanctuary into a luxurious haven with gold bathroom decor ideas because it adds royal vibes and unique character to your bathroom.
"I am proud to present these 20 Gold Bathroom Decor Ideas crafted with my unique design vision, and I hope it inspires you and brings as much joy to your space transformation process as it did to me while creating them."
Gold is a timeless color that exudes luxury and sophistication. It is a versatile hue that can easily transform your bathroom from ordinary to extraordinary.
Whether you want to incorporate it through fixtures, accessories, or wall accents, this article will provide you with a plethora of gold bathroom decor ideas.
From subtle gold accents that add a touch of elegance, to bold statement pieces that command attention, you will find a range of options to suit your personal style and budget.
So, let's dive in and explore how you can infuse this glamorous shade into your bathroom decor.
Gold Ornate Mirror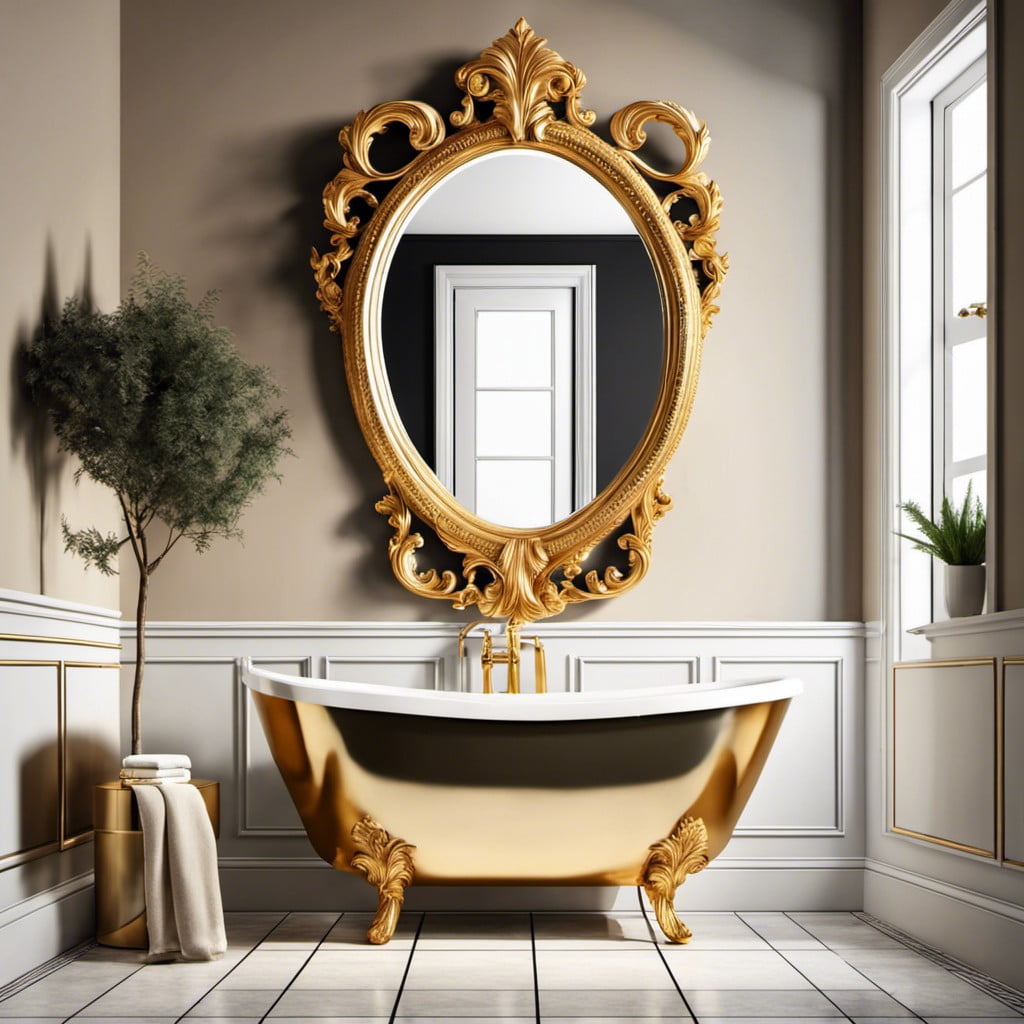 An ornate gold mirror can add a touch of opulence to your bathroom. Its reflective nature can make the room seem larger, brighter, and helps in accentuating other gold details.
For a symmetrical layout, hang the mirror directly above the vanity, centered on the sink. A larger mirror will yield a more dramatic difference. Select a design that complements the overall aesthetic, be it traditional or contemporary.
For a more luxurious feel, opt for mirrors with intricate designs, but remember, minimalistic mirrors also work wonders in modern bathroom settings. Maintain balance and harmony by ensuring other elements don't compete with the mirror's grandeur.
Gold Faucet and Fixtures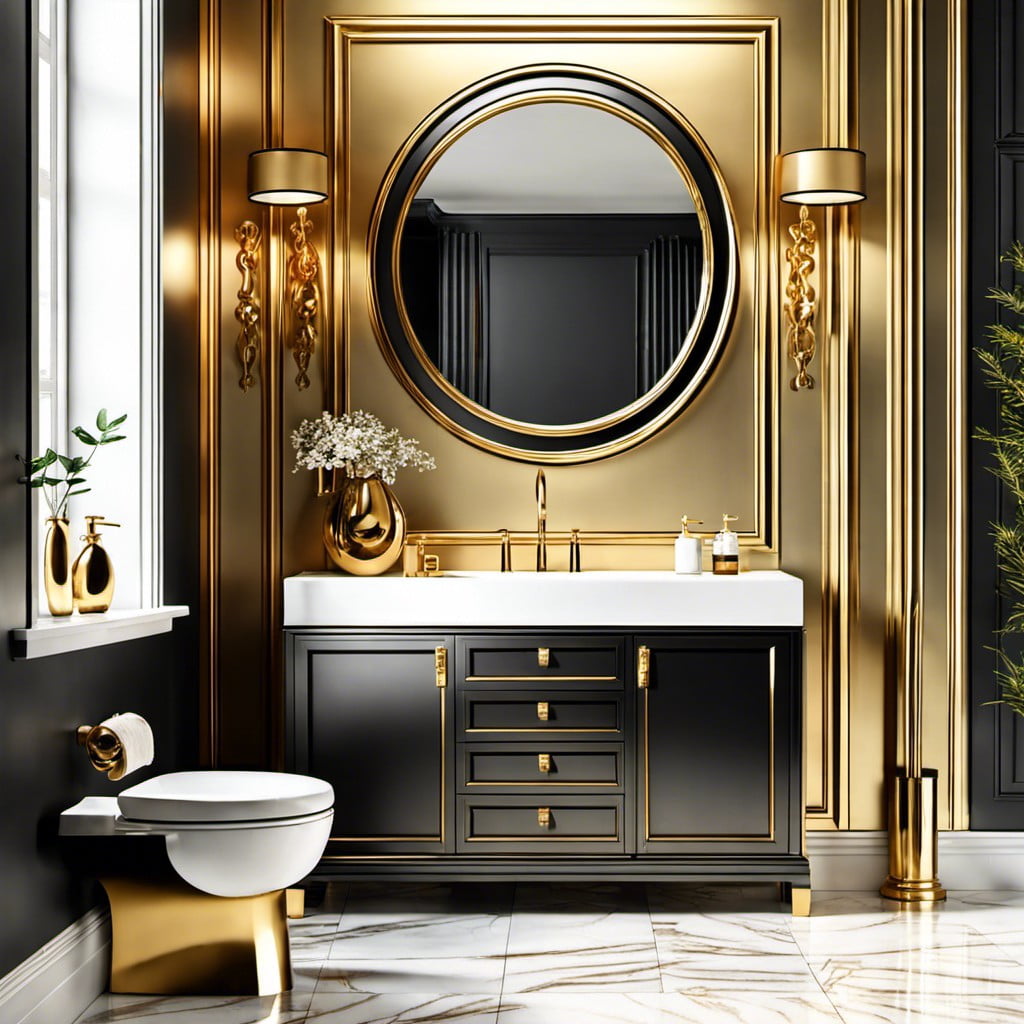 Choosing the right finish adds a high-end feel to your bathroom without causing a dent in your pocket. Faucets and fixtures play a key role.
Gold not only exhibits a rich luxury appeal but also offers long-lasting lustre.
Opt for brushed or satin finish for a subtle yet sophisticated ambiance. Matte gold fixtures can provide a modern minimalist look. On the other hand, polished gold faucets give an antique and classy appearance.
Changing faucets and fixtures can be an easy DIY project if you're handy. Always remember, consistency is crucial. So, try to match the finish of faucets and fixtures for a cohesive look. Adding gold faucets and fixtures change your space from drab to fab!
Gold-rimmed Soap Dispenser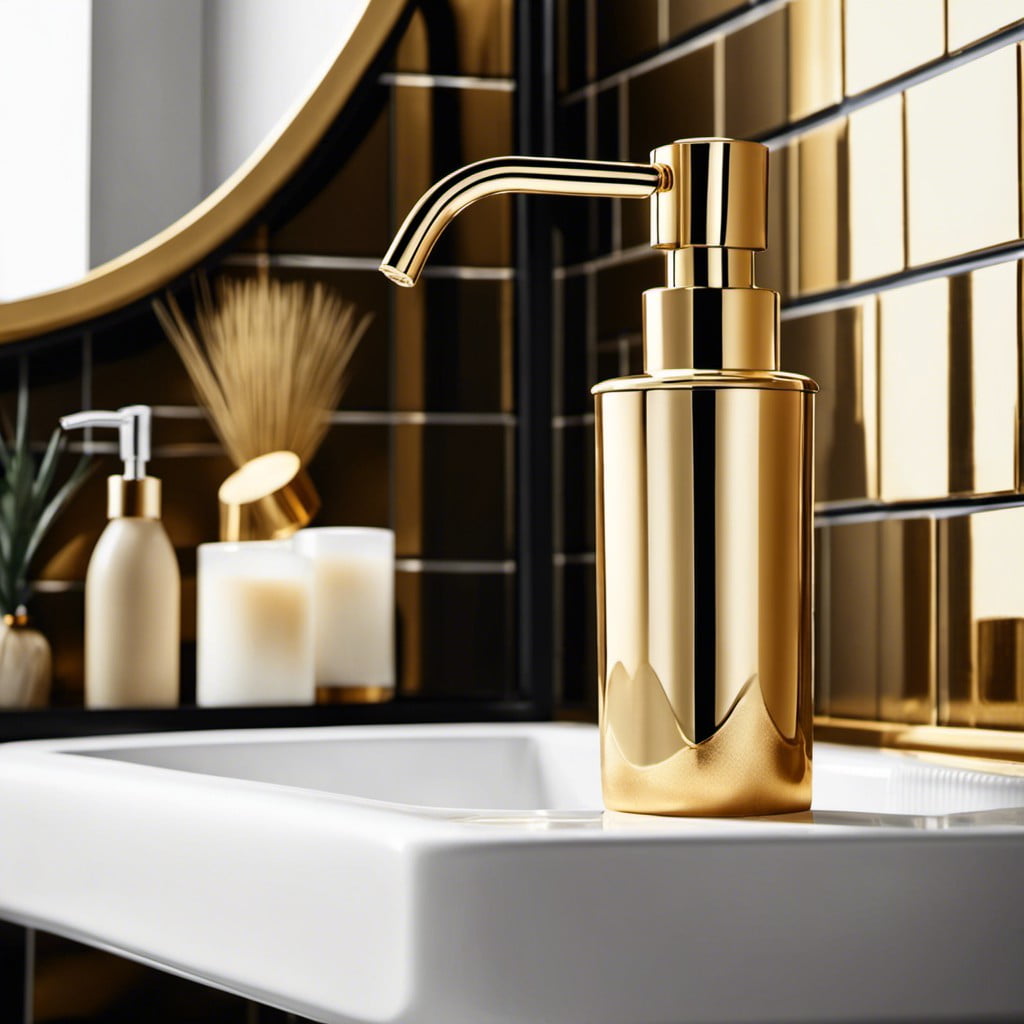 With the right design, even the most mundane items can add an elegant touch to your bathroom. That's where a good-looking soap dispenser steps in.
Select a dispenser that comes with intricate detailing on the rim for a sophisticated look. The soft gleam of the gold rim will not only catch and reflect the light beautifully but also match wonderfully with other gold accents, ensuring a cohesive look.
Think about a crystal clear dispenser that allows the color of your soap to show through – it could add a playful pop of color amidst the gold.
For a vintage vibe, a frosted glass option might be your best bet. Gold-rimmed soap dispensers are available in a multitude of styles, from modern geometric designs to classic curvy shapes, ready to blend seamlessly into your bathroom decor.
Gold-framed Art Pieces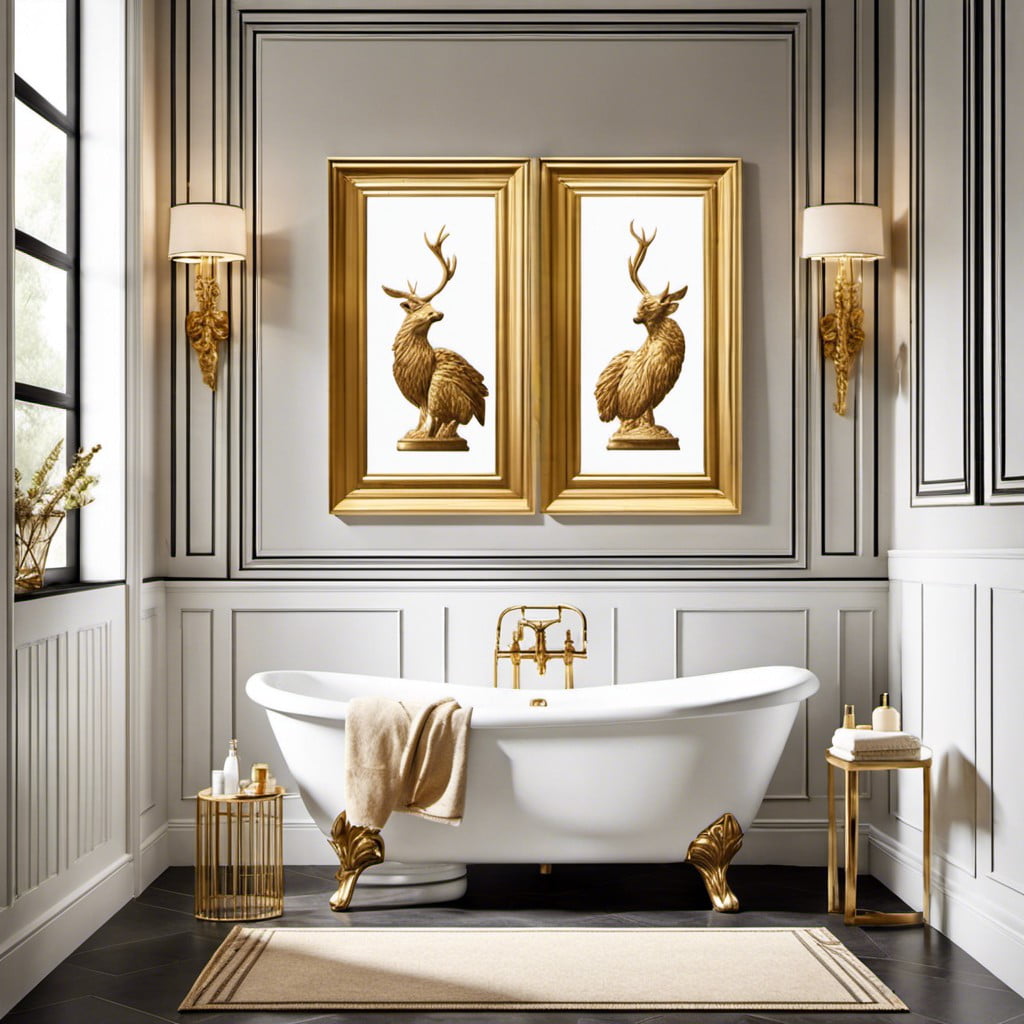 Incorporating art into your bathroom decor can create a compelling focal point and tie all the other gold elements together. Opt for pieces with frames that gleam in gold to bring a sense of luxury and elegance.
Here are few tips to consider:
Theme: Select pieces that reflect your personal style or follow a particular theme that matches your bathroom design.
Size: Bigger art pieces can create a statement while smaller ones can be used in clusters for a gallery wall effect.
Placement: Position your artwork where it can be easily seen, but also consider the humidity and potential water splashes.
Lighting: Highlight your gold-framed art using strategic lighting, like a spotlight or a wall sconce.
Remember, art isn't confined to paintings. Gold-framed mirrors or photographs, sculptures or even textiles can inject personality and style into your bathroom.
Gold Shower Curtain Rings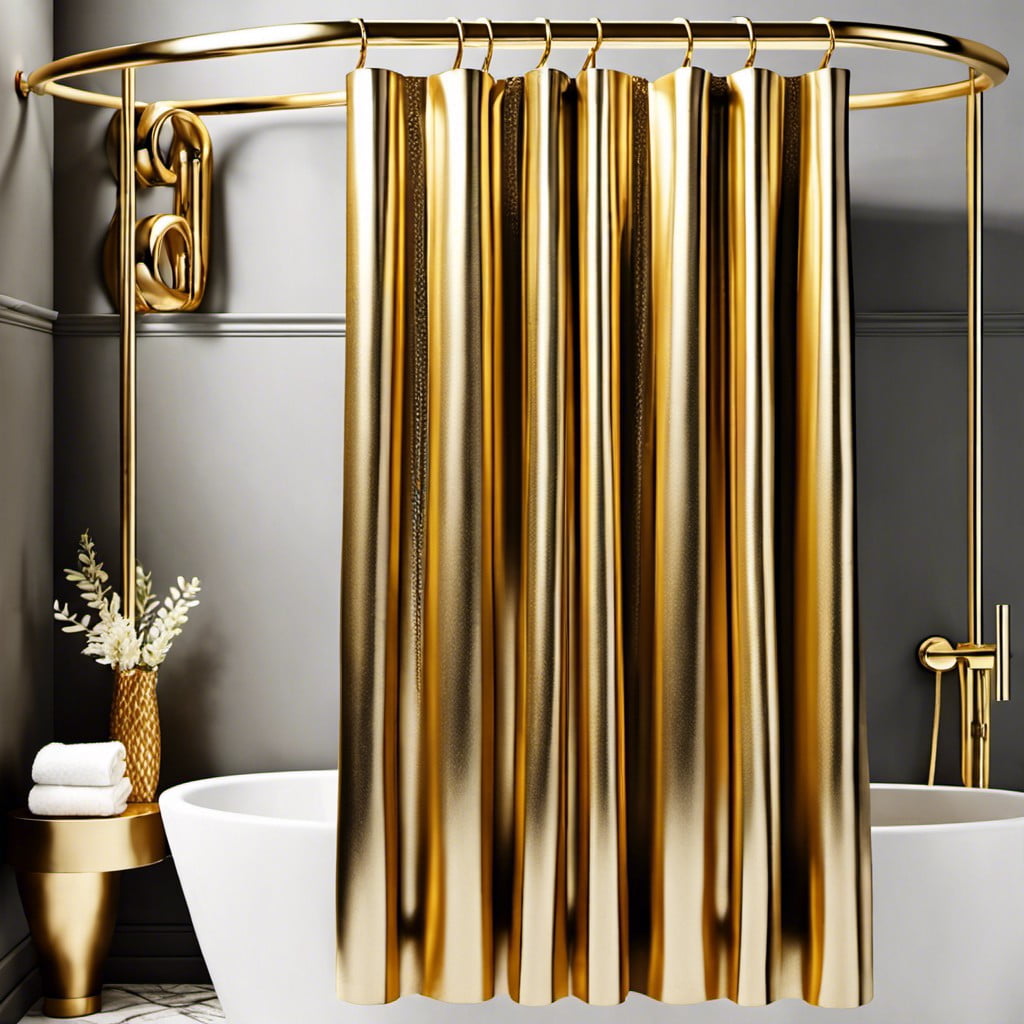 Elevating the elegance of your bathroom can be as simple as updating smaller details. Shower curtain rings can be both functional and artistically pleasing. Selecting a gold-toned set introduces a touch of opulence without overwhelming the aesthetic.
1. Quality Materials: Ensure they are rust-resistant to maintain their shine and durability.
2. Design Variety: Opt for something minimalistic with sleek circles, or make a statement with ornate swirls.
3. Easy Install: Most rings are designed to effortlessly thread through curtain holes and hook onto the rod.
4. Accessibility: Available in various home decor stores and online.
5. Affordable Luxury: It's a budget-friendly enhancement that carries significant visual impact.
Gold Towel Rack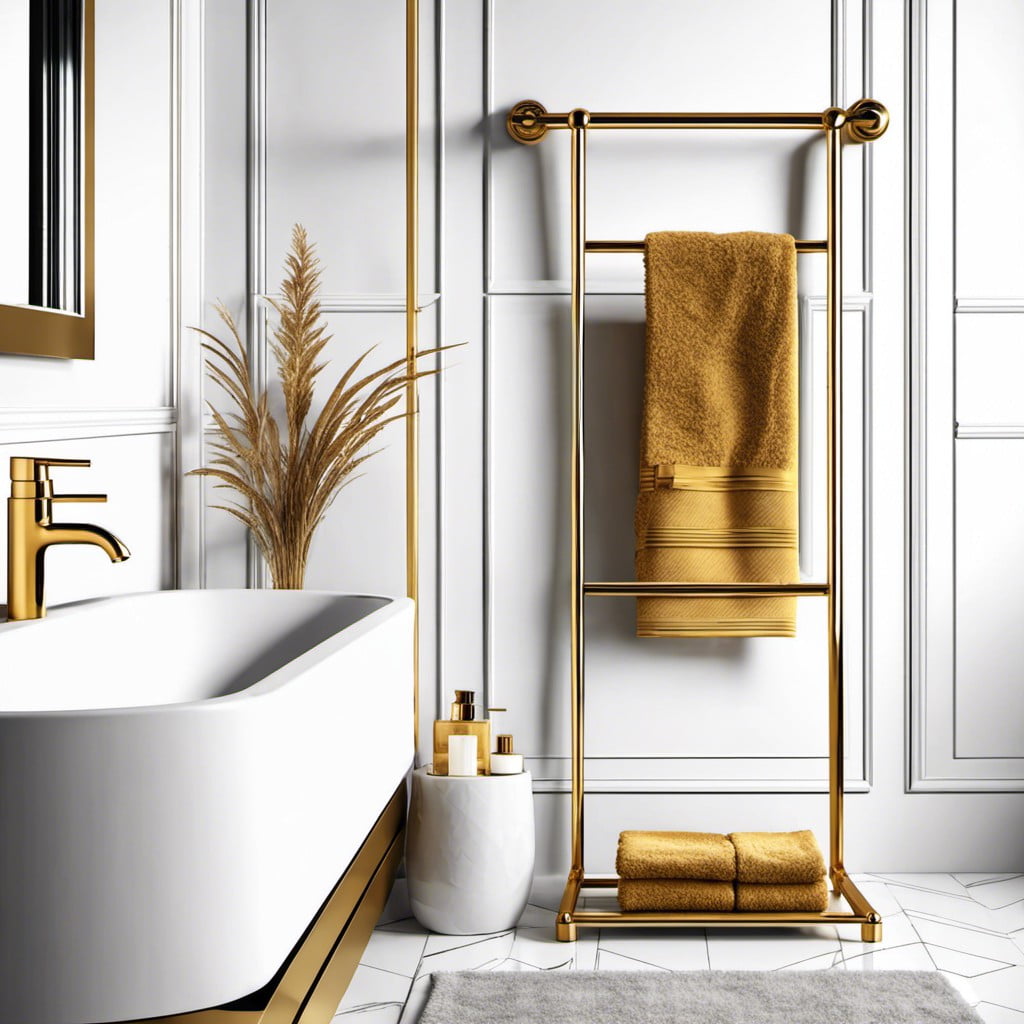 Early implements such as towel racks opt for gold hues to add a sense of opulence and warmth.
A well-placed shiny rack, aside from being functional, can double as a statement piece.
Consider racks with ornate detailing for a vintage charm, or geometric shapes for a contemporary edge.
Brass towel racks, thanks to their warm tones, give an illusion of gold while offering durability.
Meanwhile, a gilt rack can ignite a glittering spark near your bathroom lights, creating an inviting aura.
Remember, positioning is key. Aim for an easily accessible area that doesn't disrupt the flow of the bathroom.
Finally, don't shy away from coupling it with matching gold bathroom accessories, like a toilet paper holder, for consistency.
Gold Toilet Paper Holder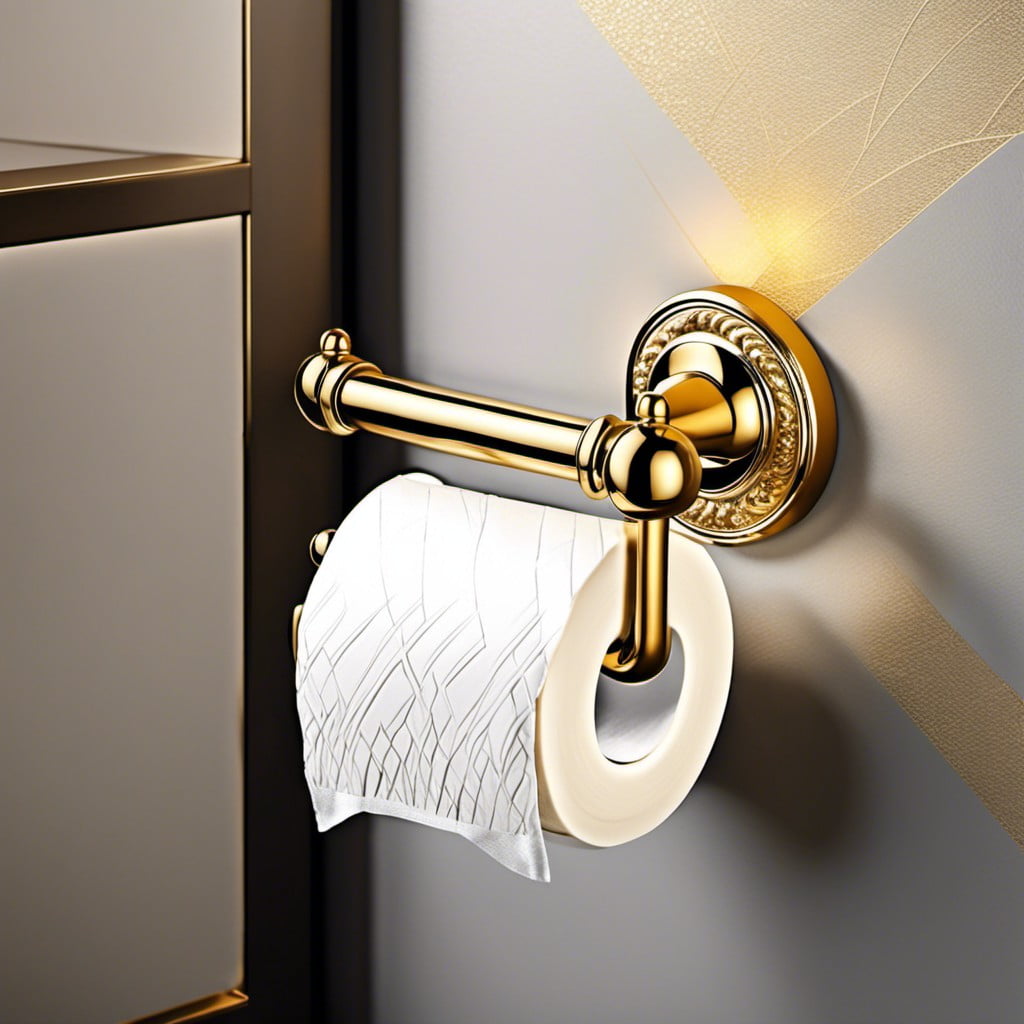 A touch of luxury can be as simple as a refined detail like a golden toilet paper holder. Choosing the right design can elevate the overall aesthetic of your bathroom. Consider an elegant metallic finish or a brushed gold design to add a contemporary yet opulent touch.
Remember, even though advantageous for the overall decor, functionality is key here. Look for those offering secure, easy-to-change rolls. Durability plays a crucial role too since bathroom fittings need to withstand humidity.
The holder can be a standalone unit or part of a matched set, depending on your preference and the rest of the styling details in your bathroom. Freestanding or wall-mounted, pick the one that suits the space and layout best.
Swap out your old standard chrome for a golden piece and notice how it instantly turns an everyday object into a chic accessory, pulling together even the minimal of gold accents for a cohesive and polished look.
Gold Bath Mats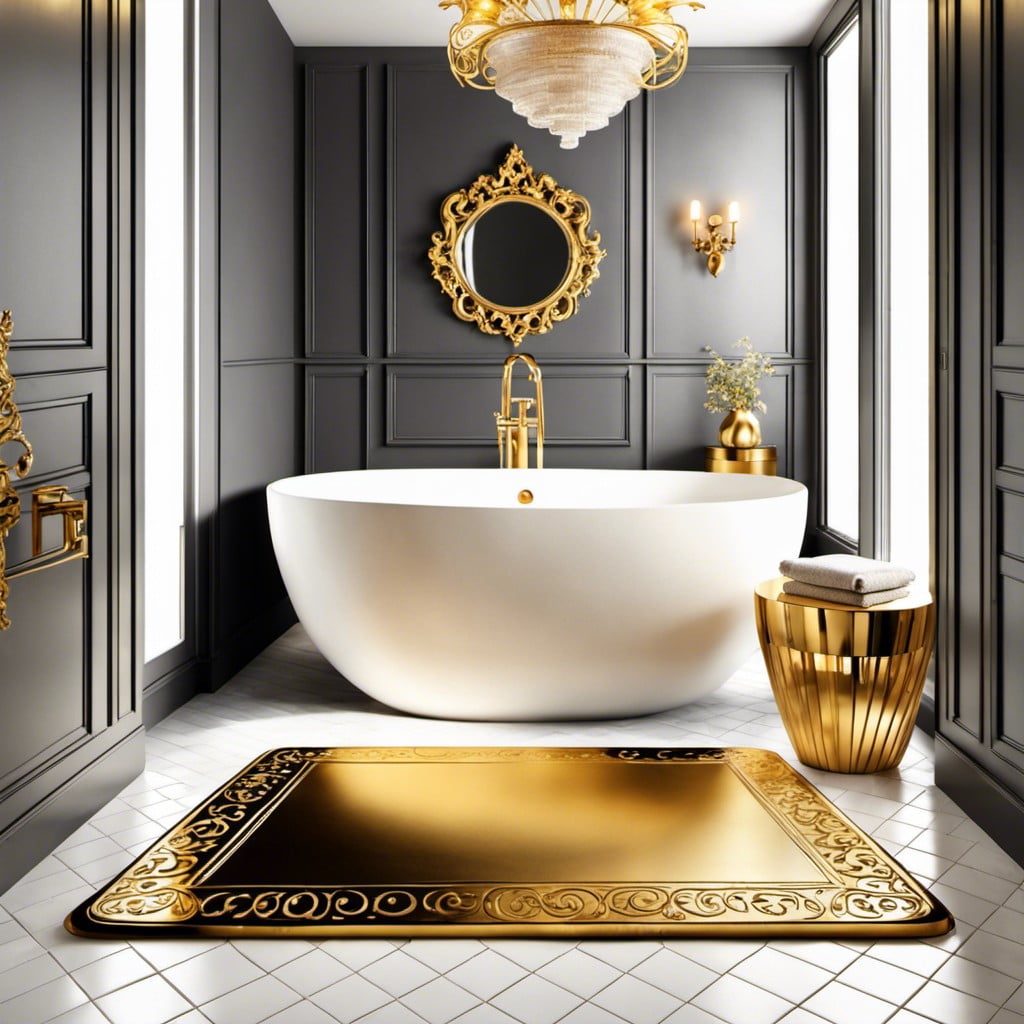 Choosing a bath mat in a brilliant gold tone will not only enhance your comfort but also give your bathroom an instant luxe uplift.
Think plush textures for a touch of opulence underfoot.
This rug-like addition is typically placed right outside the shower or bathtub, instantly catching the eye.
An added benefit: it adds a safety element by reducing the risk of slipping on wet tiles.
Opt for a design that complements the overall decor, whether it's an intricate pattern or a solid, gleaming gold.
Consider maintenance too, ensuring it's machine washable for ease.
If pattern is your thing, a gold geometric design offers both contemporary style and visual interest.
Remember, it isn't just practicality, but the golden sparkle it brings to the space that influences this choice.
Gold Light Fixtures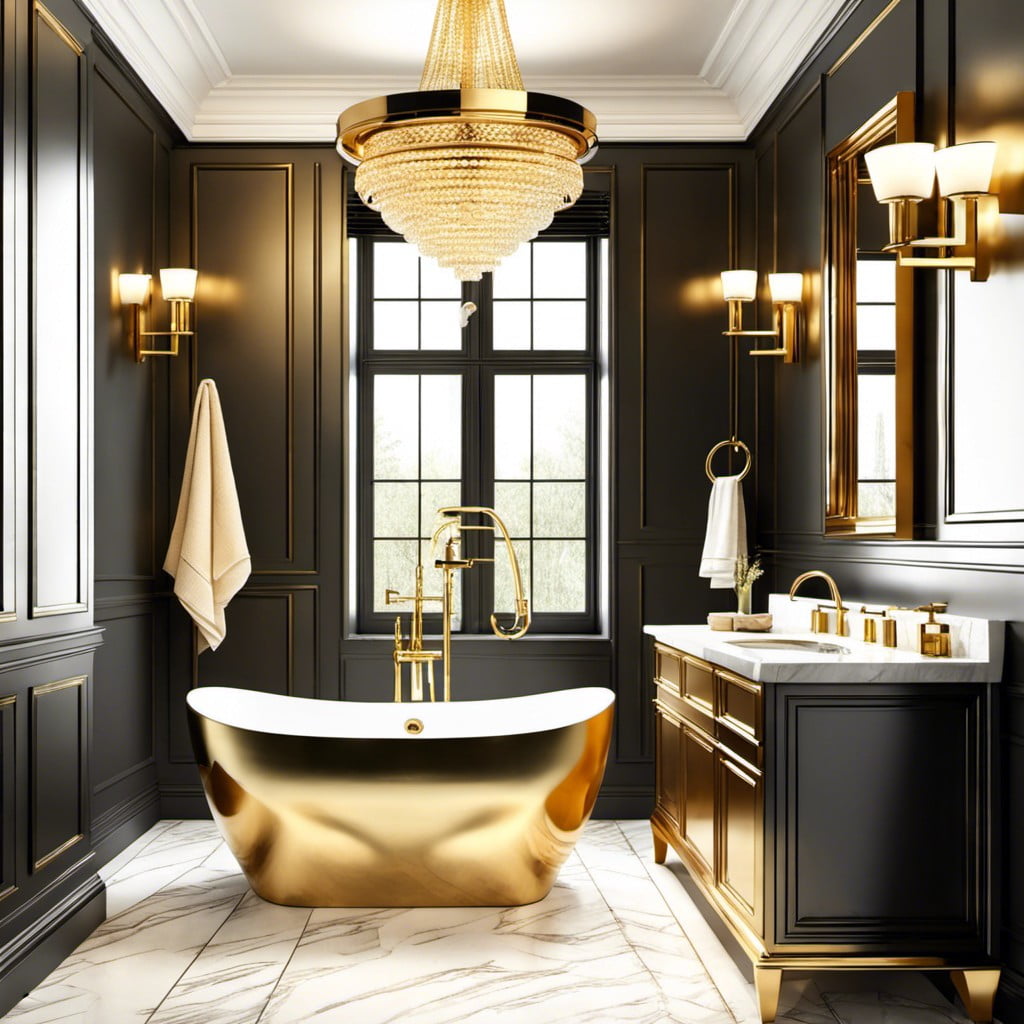 Integrating gold light fixtures presents an amazing opportunity to elevate your bathroom's aesthetics. Consider a glitzy chandelier for a touch of opulence or gold-tinted pendant lights for a contemporary look.
Sconces on either side of your mirror not only ensure ample lighting but also bring a vintage feel especially with gold finishing.
Recessed lighting with gold rims, on the other hand, provides a subtler approach.
Regardless of your choice, ensuring an even light spread is key to achieving a warm, inviting look. Remember, the goal is to blend functionality with style. Always focus on the quality of light and harmony with the overall decor. Opt for dimmable fixtures to control the ambiance as per your mood or time of day.
Don't be afraid to mix different types of light fixtures but keep the golden theme consistent for a unified look.
Golden Waste Basket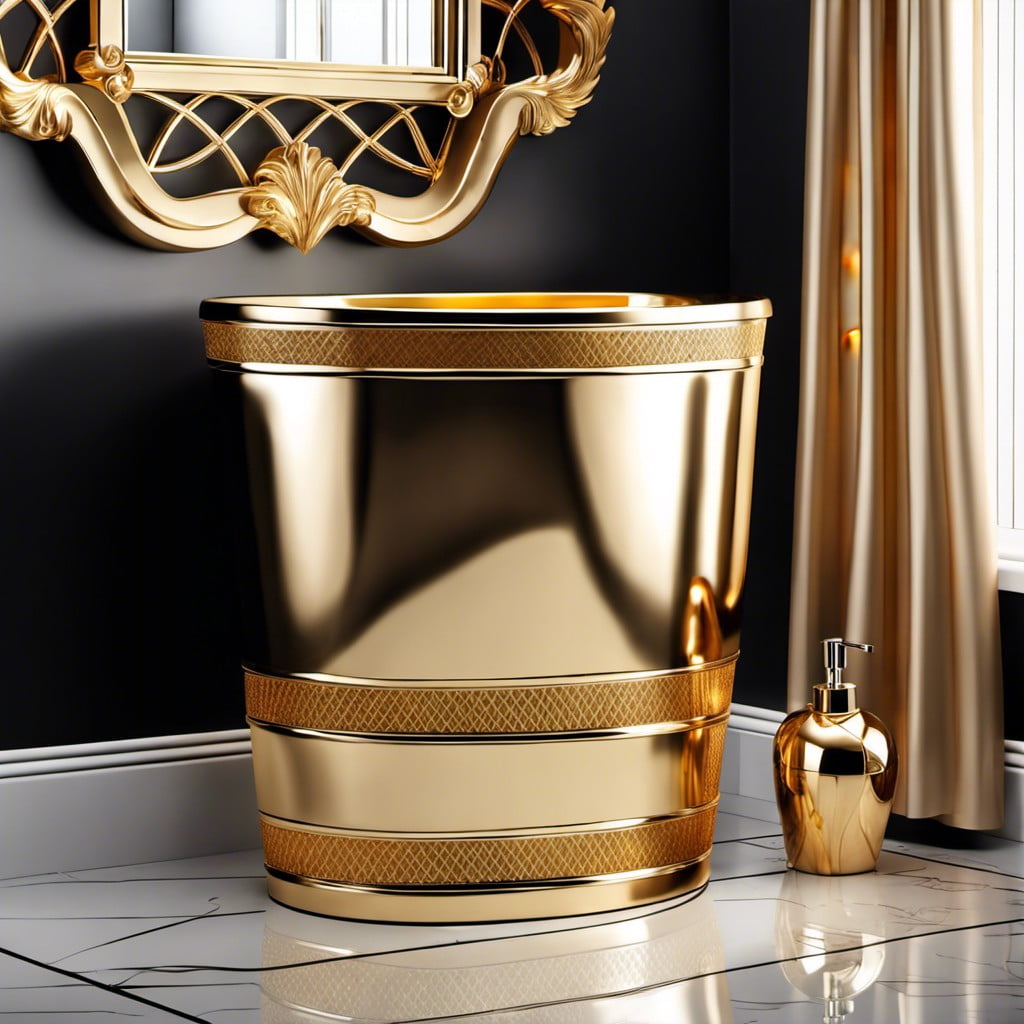 Consider even the smallest elements when introducing the gold theme into your bathroom. An often overlooked, but essential item is the waste basket. Instead of opting for a typical steel bin, a gold variant can elevate the room's style.
An antique gold filigree waste bin or a modern geometric patterned one not only serves a functional purpose but also acts as a chic decor piece. They intertwine luxury with practicality seamlessly.
Remember, the application of gold doesn't stop at big fixtures; the allure lies in the details. A golden waste basket could be the beautiful, stylish detail your bathroom needs. The gleam of gold can make even utilitarian objects feel luxe.
Gold Bath Towels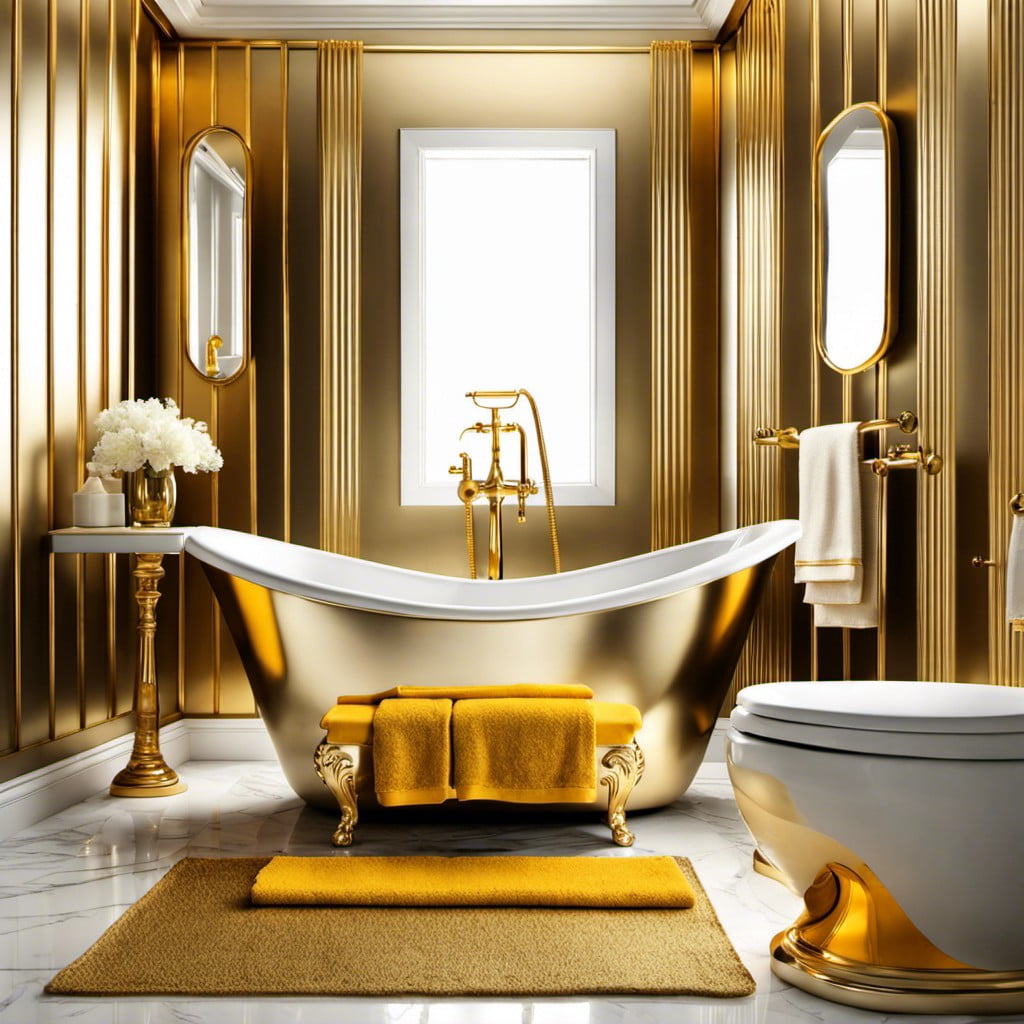 Bringing in the opulence of gold, bath towels make a statement piece that's both luxurious and practical.
Opting for high-quality cotton or plush velour varieties will not only ensure comfort but also matching sophistication.
When left on display, these towels act as a thoughtful dash of color.
Choices range from solid gold, understated patterns to gold monogrammed styles.
Proper display techniques, like a spa-like roll or a stylish fold on a gold-tone towel rack, amplify this decor element.
To maintain the gold color, proper washing techniques and detergent use play crucial roles.
Gold Accent Wall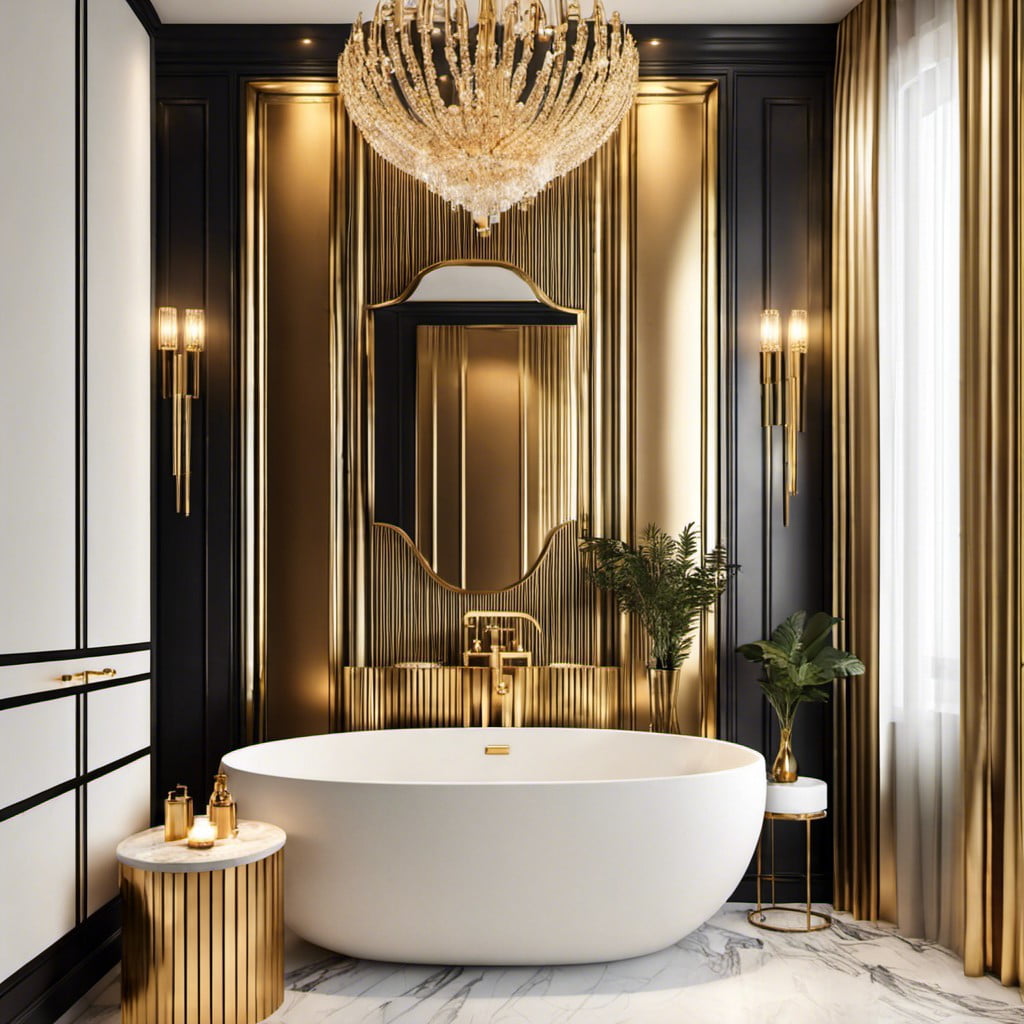 Having a gold accent wall is a splendid way of infusing grandeur and richness into your bathroom. It immediately catches the eye and works to highlight the features of the room. Here are a couple of noteworthy things to consider in achieving this.
1. Paint or Wallpaper: Choosing between these two depends mostly on your design preference. Wallpaper patterns often bring an additional element of texture to the room, while paint allows more control over the exact shade of gold used.
2. Choosing the Right Wall: Typically, the wall behind the vanity or bathtub makes an ideal accent wall due to its visibility.
3. Pair with Neutral Tones: To avoid overpowering the room, pair the gold with neutral colors such as white, grey or even black, these colors allow the gold to really pop.
4. Assess Lighting: The lighting in your bathroom can change the tone of your gold. Warm light brings out a rich, cozy golden hue while cool light will make it look crisp and modern.
5. Testing: Before you commit to a paint or wallpaper, test out samples under different lighting conditions to ensure you love the result in all settings.
Remember, the goal is to enhance the elegance quotient of your bathroom, so experiment until you find the gold accent wall that uniquely reflects your style.
Gold Drawer Handles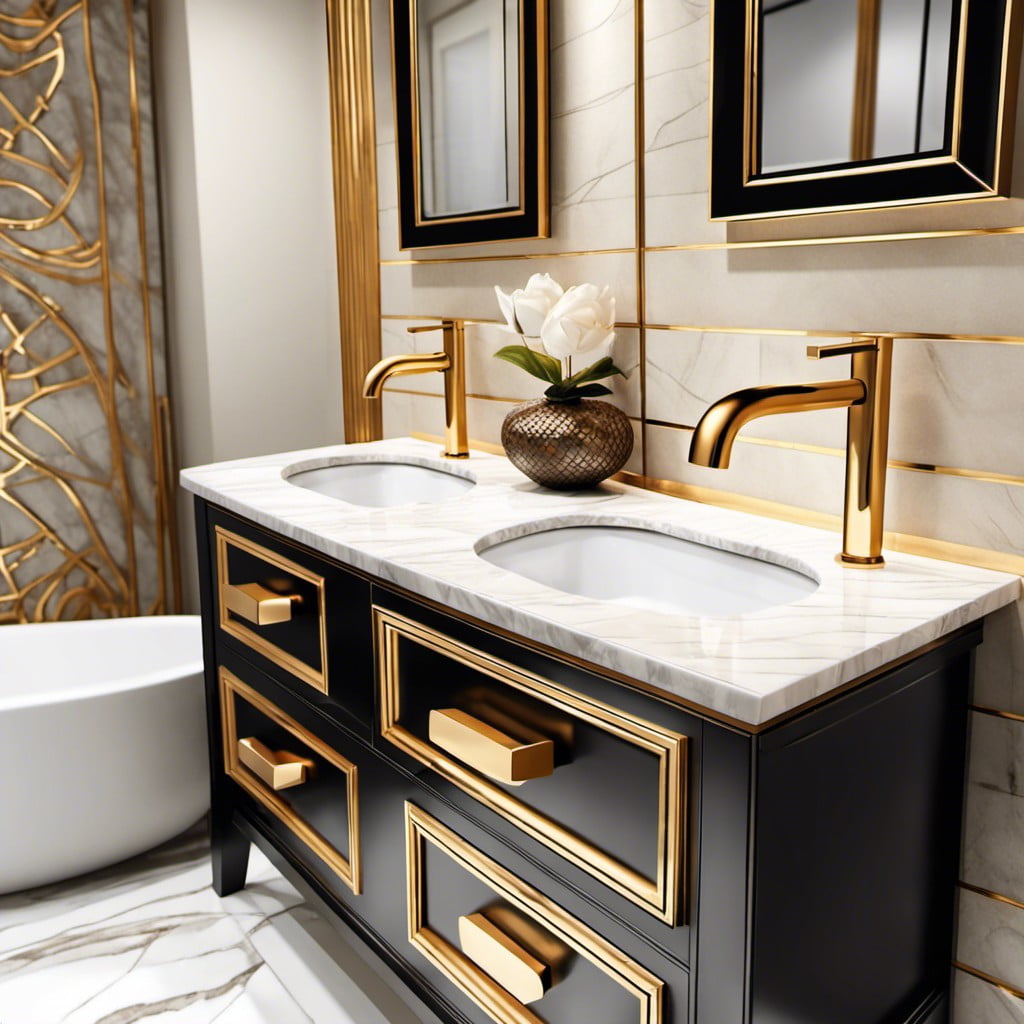 The right drawer handles can instantly elevate a bathroom's aura. Choosing a gold finish adds a touch of luxury and classic elegance. They're not just practical for opening and closing drawers, but act as a delicate accent that complements other gold elements in the bathroom.
1. Style Options: From antique to contemporary, there's a wide array of designs. Choose one that fits your decor theme.
2. Material Qualities: Brass and gold-plated metals offer durability against wear and tear, maintaining their sparkle over time.
3. Coordinating Elements: Pair them with gold fixtures for a cohesive look.
4. Installation: Most handle replacements are a simple DIY task, no professionals required.
Consider these factors when picking the best handles to ensure seamless integration into your bathroom decor.
Gold Makeup Organizer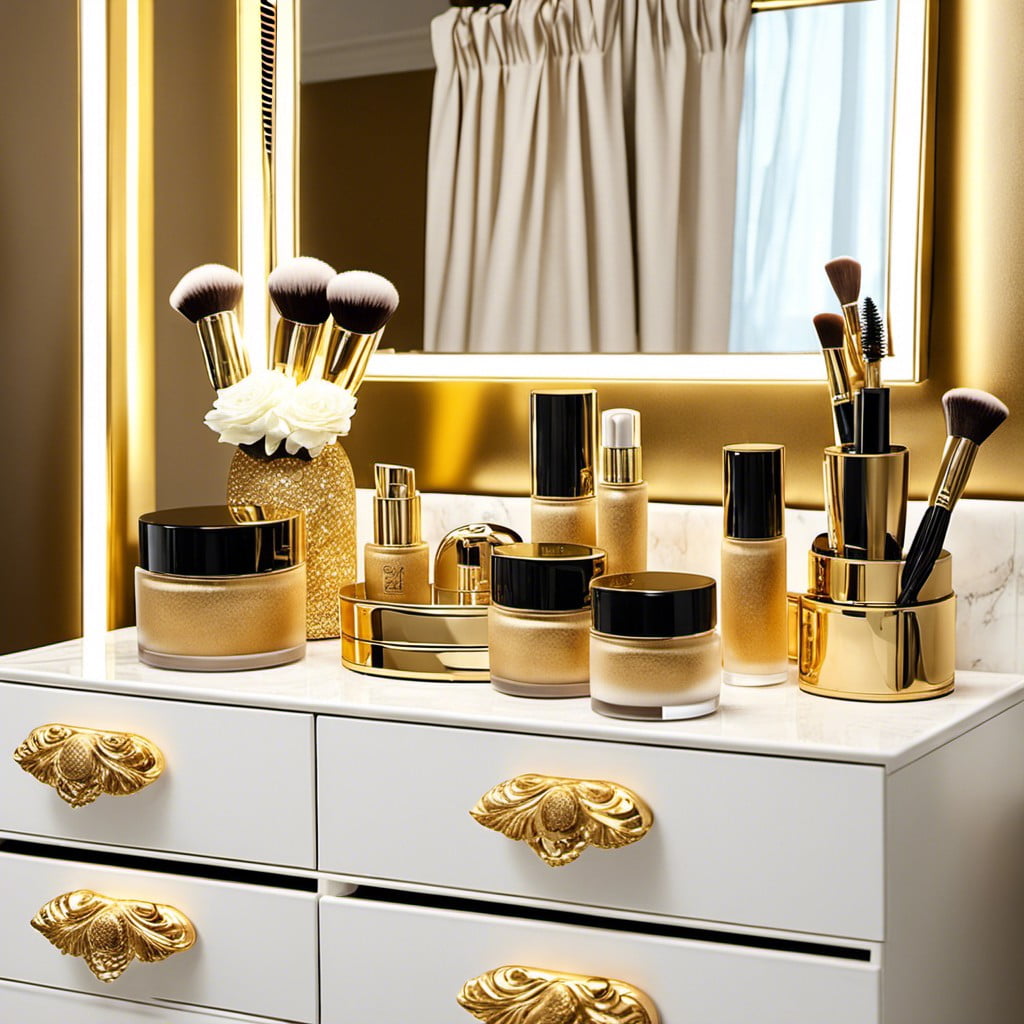 Picking the right makeup organizer can bring both form and function to your daily routine. When selecting a gold makeup organizer, consider options with multiple compartments in varying sizes. It's a fantastic approach to keep all your beauty tools in order – from lipsticks and eyeliners to blushes and powders.
As a bonus, it imbues your space with a touch of timeless elegance, effortlessly blending utility and aesthetic appeal. Consider the level of detail based on your style preference; if your bathroom leans more towards minimalist chic, simpler gold designs may stand out. If you prefer a more ornate, luxurious look, an organizer with intricate details could be a fascinating focal point. Don't forget, it's essential for the finish to be resistant to moisture and easy to clean, ensuring your organizer remains as beautiful and functional as the day you got it.
To further extend the golden theme, you may accessorize your organizer with a gold-handled makeup brush set or golden-edged facial tissue box. Placing it on a vanity where it's easily accessible and visible can truly elevate your gold-themed bathroom space.
Gold Toothbrush Holder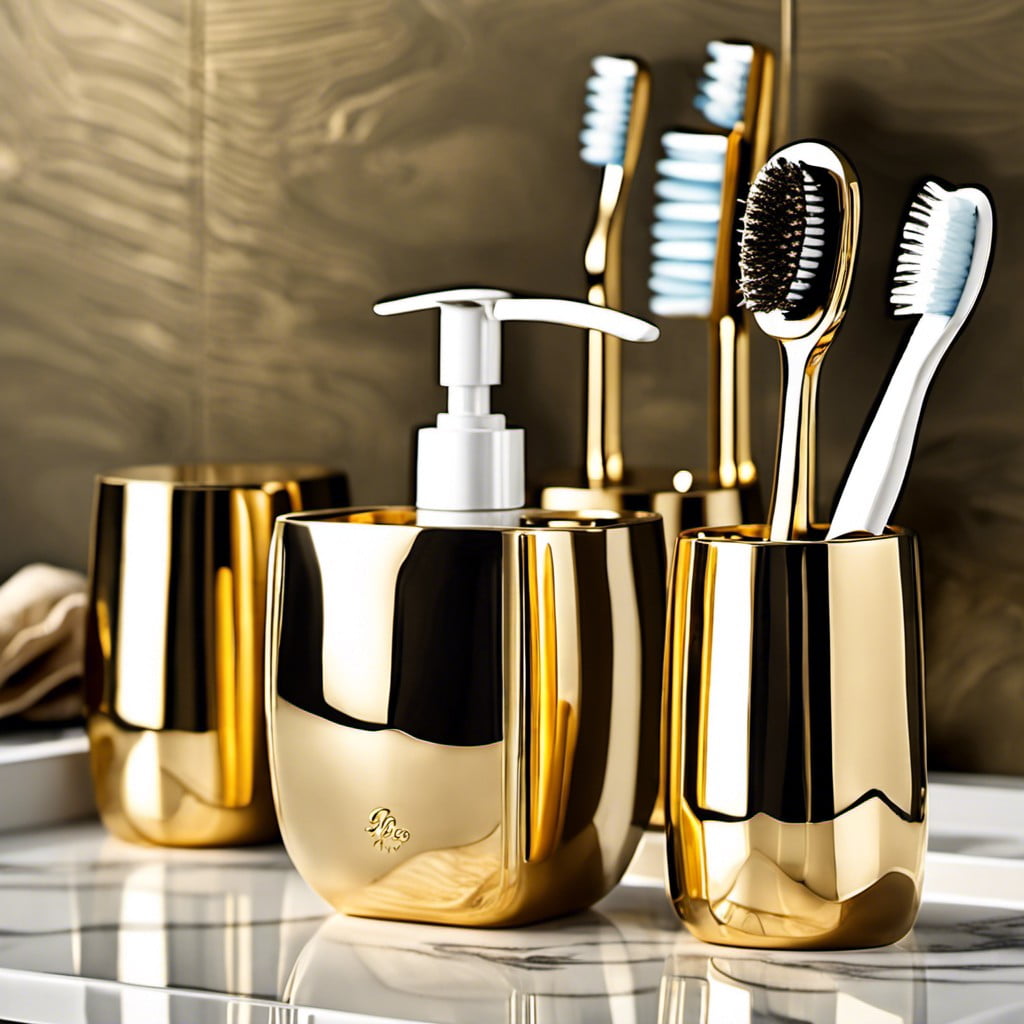 An understated yet impactful way to introduce gold accents to your bathroom decor is through everyday essentials like a toothbrush holder. Opting for a gold one, be it shiny and sleek or brushed for a muted, elegant look, accentuates the style quotient while providing utility.
Here are some points to consider when selecting a golden toothbrush holder:
Material: Metal options offer a high sheen, while ceramic ones with gold paint can provide a softer look.
Design: Consider a minimalist shape for a modern decor theme, or an ornate pattern for a vintage touch.
Size: Ensure it fits your countertop space while holding all toothbrushes adequately.
Compatibility: Opt for a design that complements other gold elements in the bathroom to tie in the decor.
Cleaning: Look for one that's easy to clean, to maintain its shine and prevent any build-up.
Remember, even small details can make a significant difference when it comes to home decor.
Gold Vanity Stool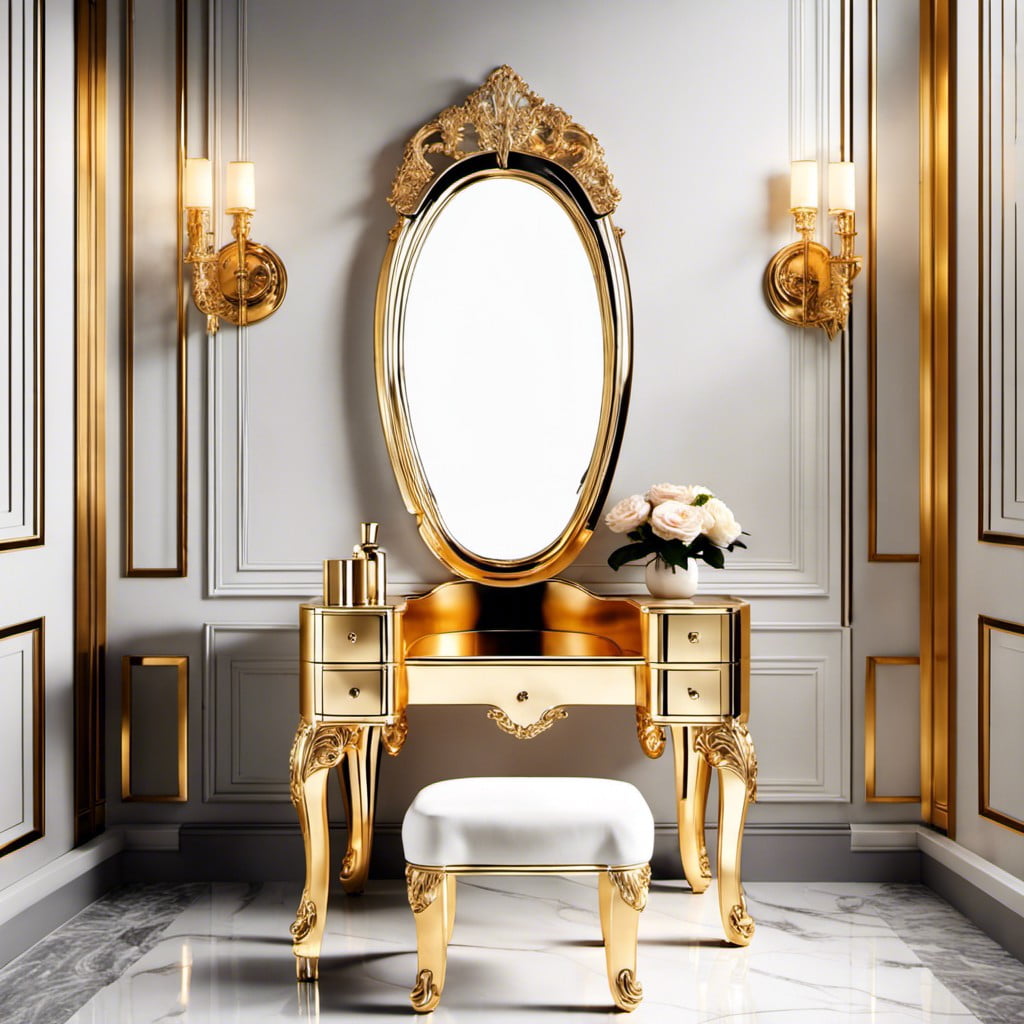 Elevating the level of elegance in your bathroom can be as straightforward as adding a stylish detail, like a gold vanity stool.
This small yet impactful piece does not only provide comfort and functionality but also adds a touch of opulence with its lush material and finish.
Opt for sleek, minimalistic designs for a contemporary look, or intricate detailing for a more traditional style.
It can be adorned with a luxurious fabric cushion for an added layer of sophistication.
Ideally, the gold hue of the stool should match other bathroom fixtures to maintain harmony within the space.
For a more dramatic effect, consider placing the stool against a contrasting colored wall or floor.
It's an investment you won't regret considering the fuss-free upgrade it delivers in real terms.
Remember to maintain its luster by using only gentle cleaning solutions.
Gold Trim Glass Shelves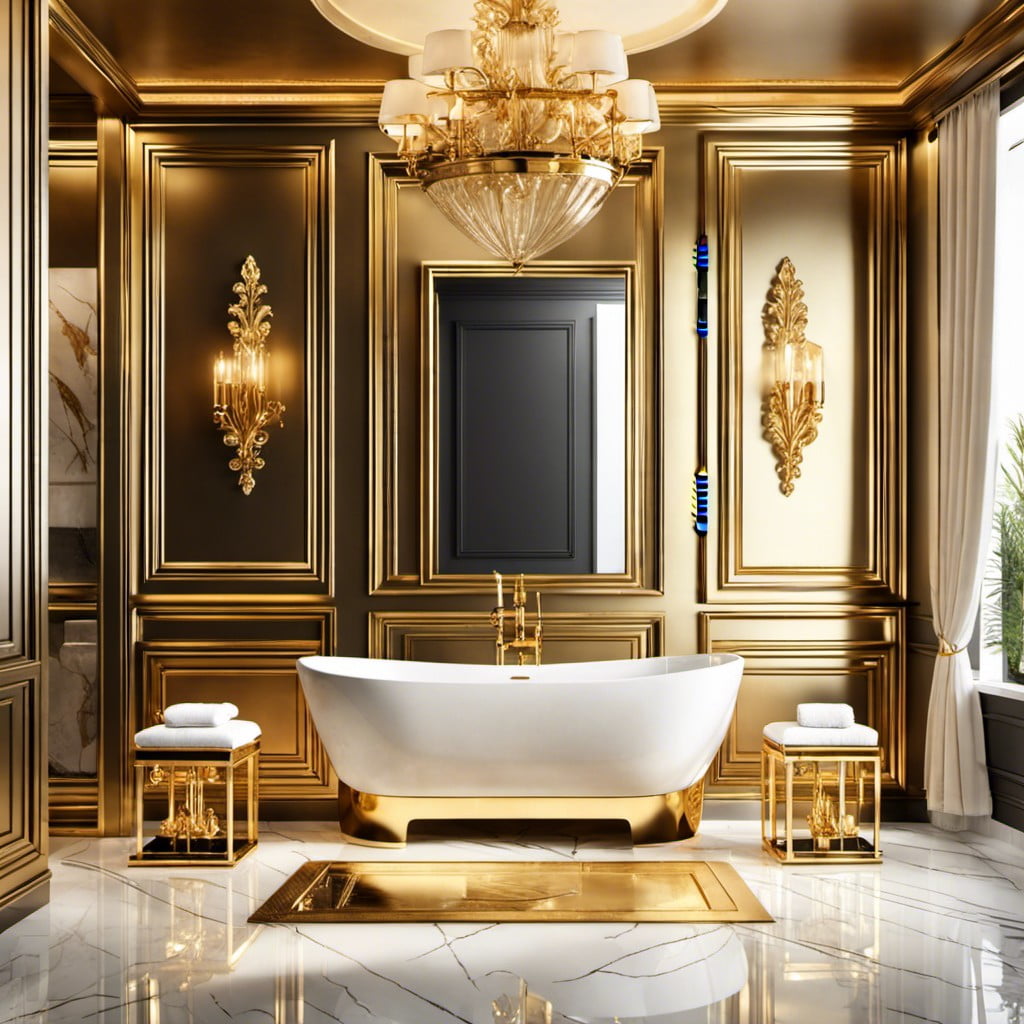 Installing these shelves not only boosts storage but also weaves a radiant aesthetic into your room. The delicate gold trim makes everyday items appear more luxurious.
But there's more to these shelves than just their beauty. They offer:
High functionality: Perfect for holding toiletries, decor items, and even small plants.
Easy reach: Strategically install where most needed. Close to the sink or bath area for easy accessibility.
Illusion of space: The clear glass shelves with a gold trim give the illusion of a larger space, a great tip for smaller bathrooms.
Highlight other gold details: Pair with gold hardware or accessories to create a cohesive look.
Customizable: Sizes and shapes are changeable to accommodate different needs and spaces.
Experiment with different arrangements to make the most of these versatile additions.
Gold Vintage Perfume Tray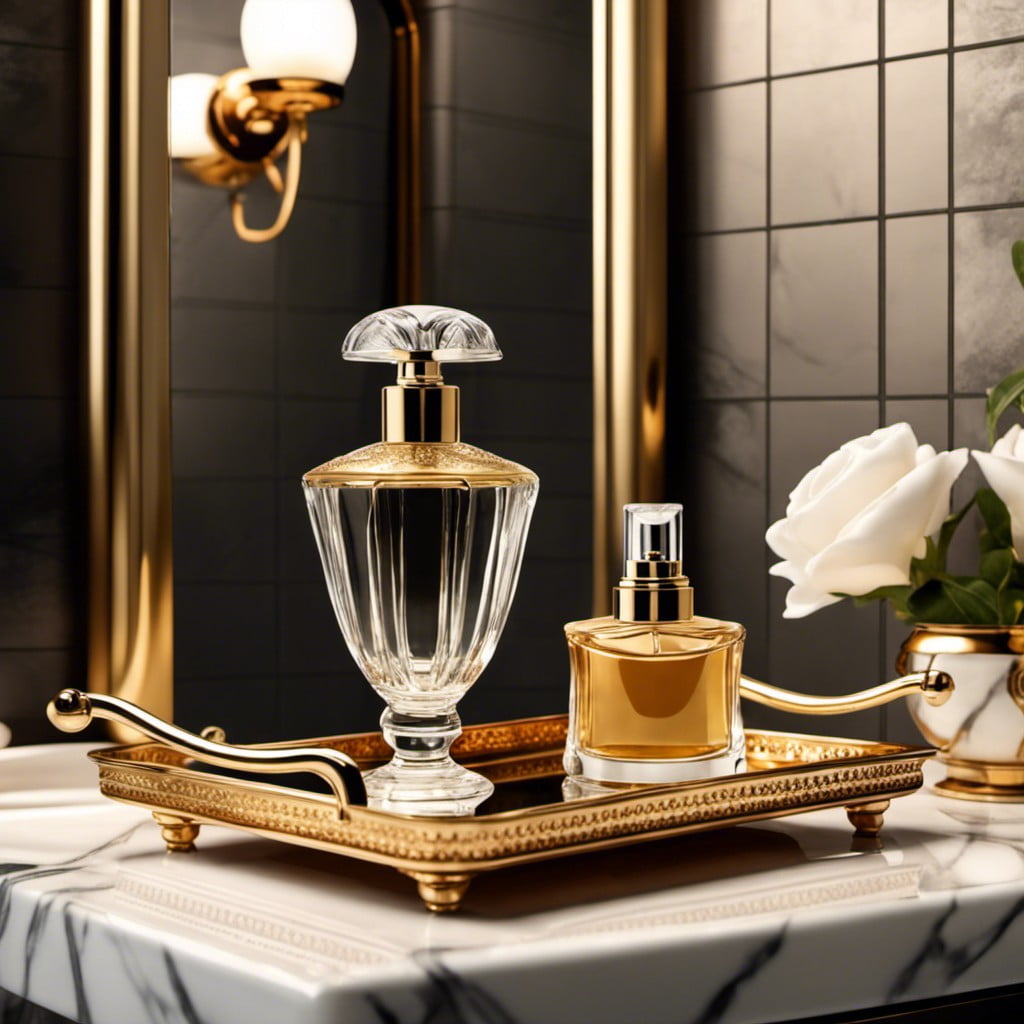 Adding a shimmering antique touch to your vanity is an effortlessly chic way to incorporate gold into your bathroom decor. Perfect for holding bottles of perfume or other necessities, these trays introduce a sense of bygone elegance.
Here are two things to consider:
1. Style: Antique, mirrored, or filigreed trays add a touch of vintage sophistication. These designs can perfectly complement any existing decor, adding a refined luster to the overall design.
2. Positioning: Place your perfume tray on an open countertop or the vanity. By placing the tray in plain sight, you not only get convenience but also a visually pleasing focal point. Remember, the tray's placement can play a significant role in the room's decorative harmony.
A subtle, timeless solution, the gold vintage perfume tray pairs functionality and decor, glams up your bathroom all at once.
Gold Decorated Candles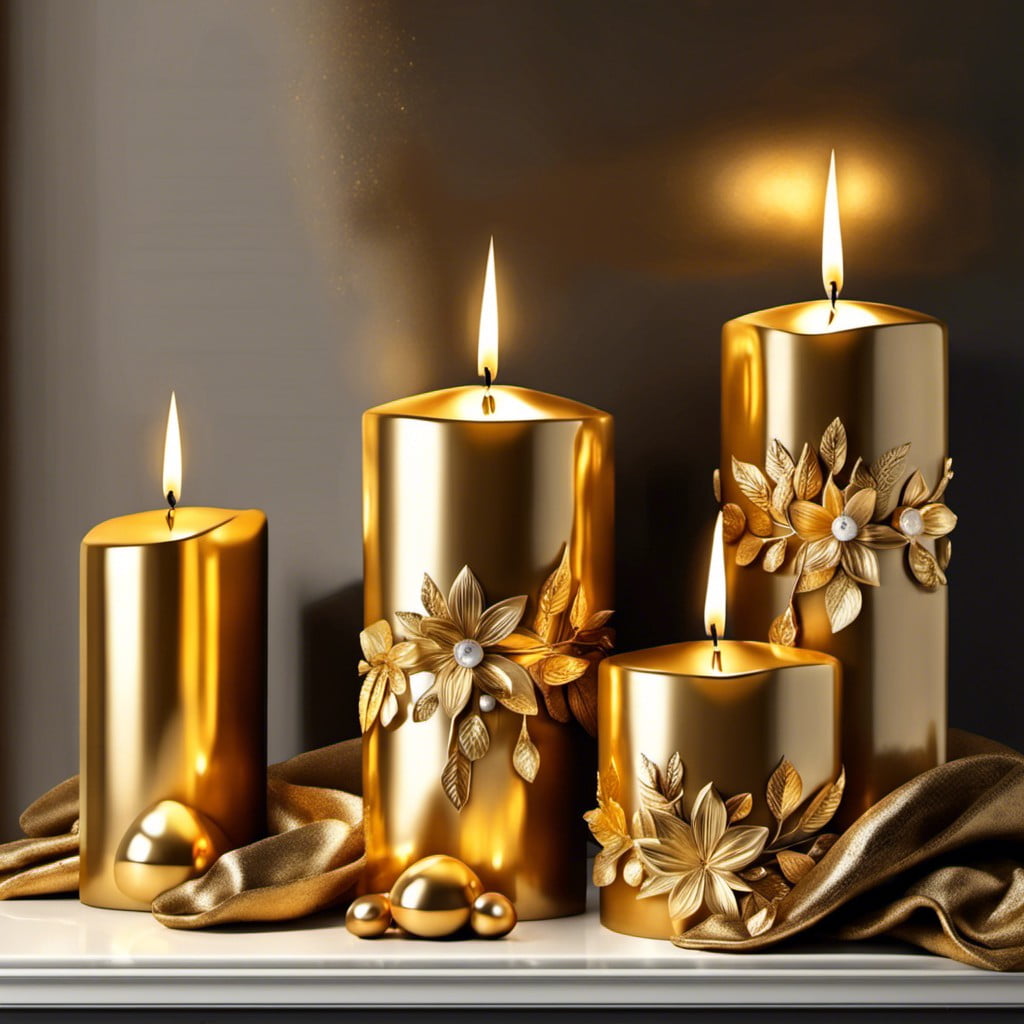 Integrating candles with golden details can unquestionably enlighten your bathroom. They not only look sumptuous but also infuse a warm, inviting ambiance.
You could opt for ones with golden holders, or perhaps select those with gold-flecked wax for a touch of glitz in their glow. Teaming these candles with sparkling golden candlesticks allows for an added layer of elegance.
Deep gold or bronze color options could work beautifully too, creating a vintage outlook.
To bring it all together, try arranging the assortment of candles on the vanity or around the tub to create a soothing atmosphere. This addition can certainly take your gold-themed bathroom decor to a higher level.
Gold-colored Bathroom Accessories Set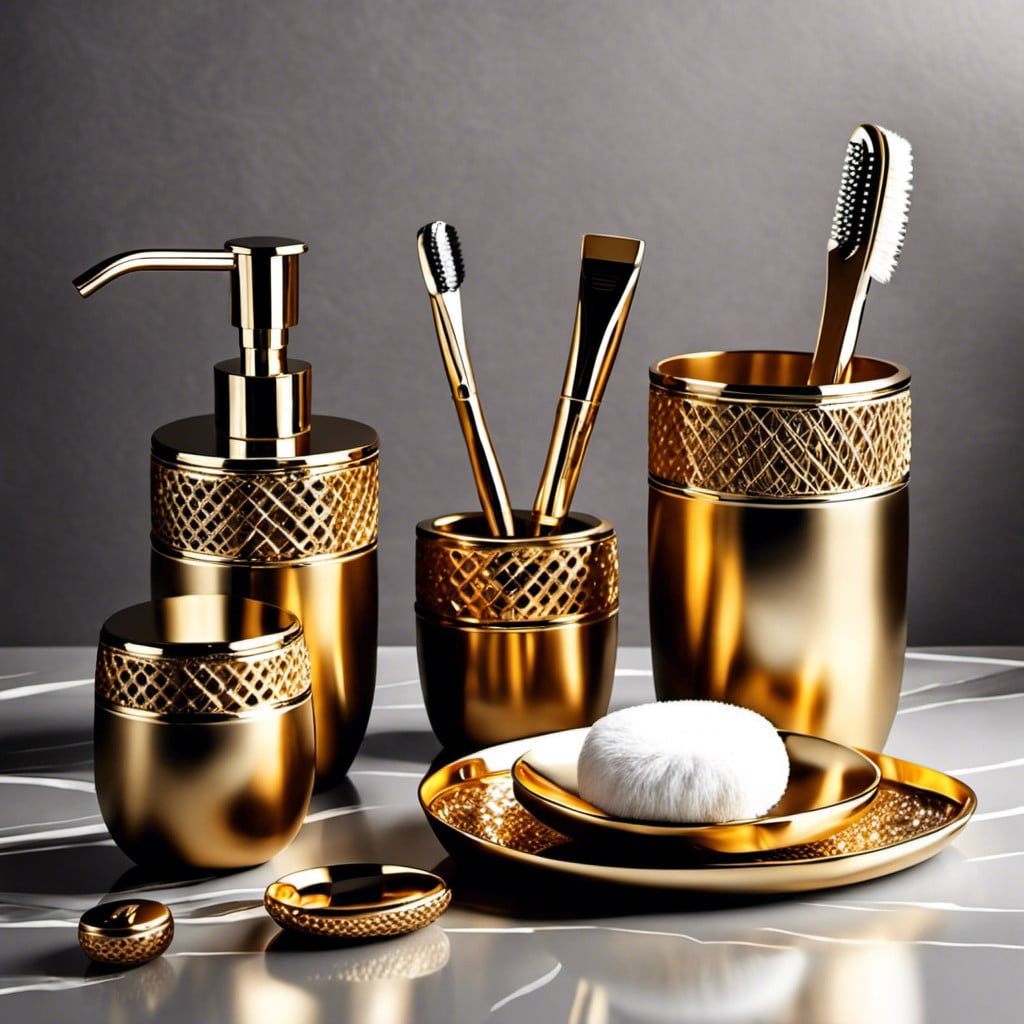 Investing in a matching gold-colored accessory set can effortlessly enhance the overall look of your bathroom. Swapping out regular necessities like a toothbrush holder, soap dish, lotion dispenser, and even a tissue box cover with the glamour of gold delivers a hint of opulence, without being overwhelming.
1. Universal Appeal: Gold sets integrate well with various color palettes, be it bright or neutral tones, offering broad versatility.
2. Stylish: Sets often come with a design theme, giving the bathroom a more organized and trendy look.
3. Budget-Friendly: Accessory sets generally prove to be cheaper than purchasing individual pieces.
4. Easy Rejuvenation: These sets offer an opportunity to effortlessly refresh your bathroom decor without indulging in major renovations.
5. Easy Installation: You don't need professional help to incorporate these pieces into the bathroom decor.
The choice of a grooved pattern, smooth gold, or shimmery accent – each set brings its unique charm to transform the bathroom space into an elegant retreat.
Continue reading:
Recap