Last updated on October 29, 2023
Revamp your bathroom aesthetics with clever towel hanging ideas because they not only ensure functionality but also add an element of style to your private space.
I'm proud to have penned this article and drawn up these 20 unique bathroom towel designs; my hope is that you will find as much inspiration and enjoy them as much as I enjoyed creating them.
Looking for innovative ways to hang your bathroom towels? You've come to the right place. This article will provide you with a plethora of unique and stylish ideas to transform the way you display your towels, making your bathroom both functional and aesthetically pleasing.
From wall-mounted racks to freestanding holders, we've got every angle covered. Be ready to dive into the world of creative towel hanging solutions, where practicality meets style.
Stay tuned for all the details that will help you make your bathroom a space of comfort and charm.
Over-the-door Towel Rack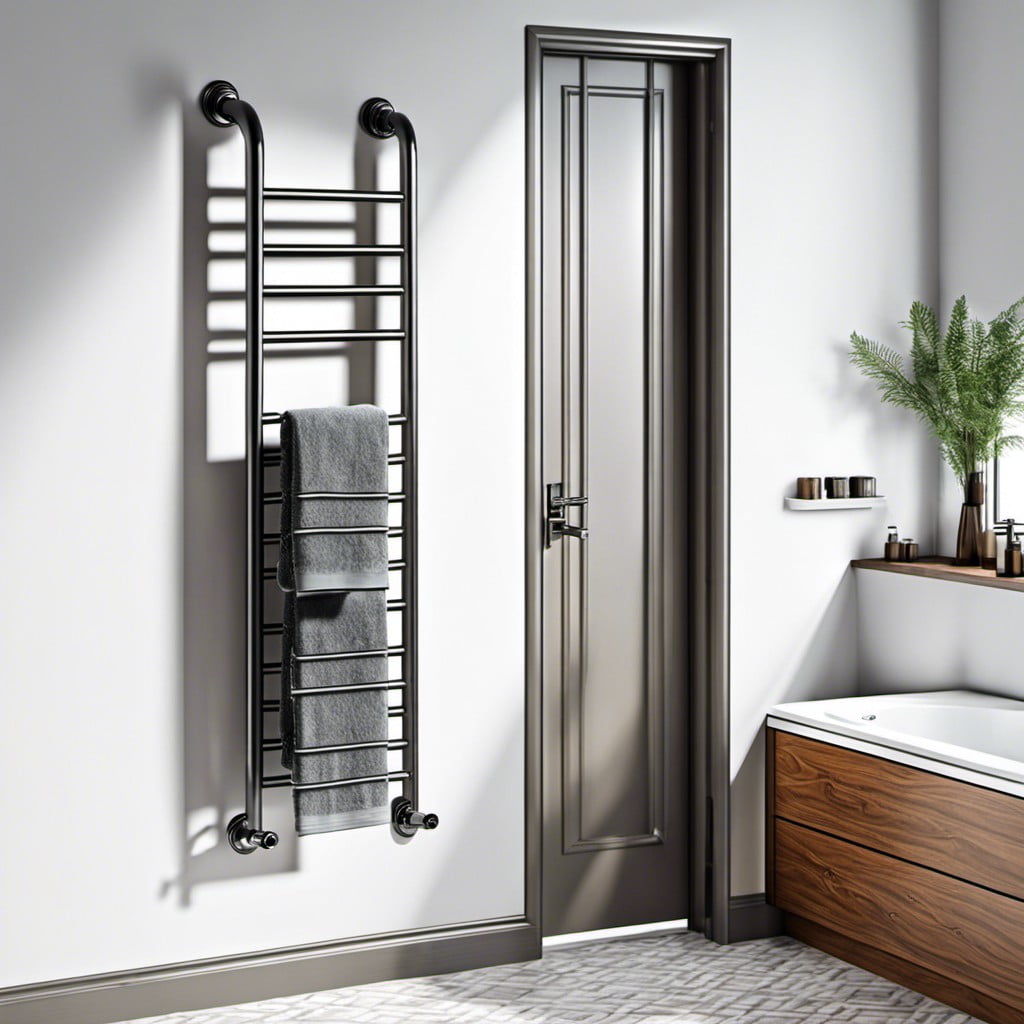 For those with limited wall space or renters who prefer not to drill into walls, this option is a viable solution. It's a method that capitalizes on unused space and requires zero installation effort.
Simply hang the rack on the top of your bathroom door. The beauty of this versatility is that you can adjust the height to suit. Look for racks with multiple bars for optimal towel storage. One could store their bath towels, hand towels, or even washcloths here.
Remember to make sure the door can close completely once the rack is filled with towels. It's a smart, simple solution that saves spaces and makes your towels accessible.
Free-standing Towel Ladder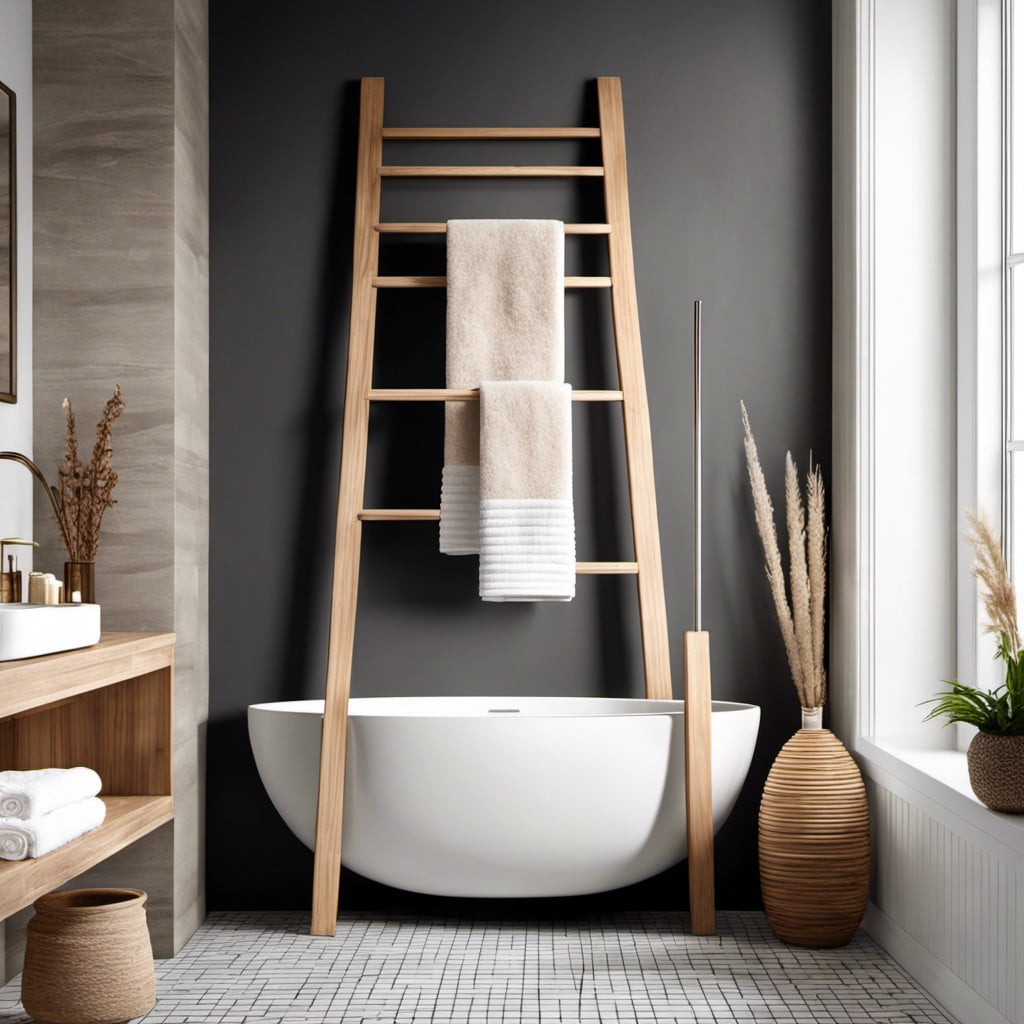 A free-standing towel ladder is a bold, stylish accessory for a modern bathroom. Unlike wall-mounted racks, it doesn't require any installation, making it an excellent flexible choice. Consider different materials and colors to match your interior.
Here are some key points about this unique towel hanging idea:
Versatility: It can be relocated easily, offering the advantage of use in different bathrooms or space in the home.
Space-Saving: Designed to be lean, it requires minimal floor space.
Aesthetic: It provides an artistic touch, inviting a rustic or modern appeal.
Capacity: With multiple rungs, it can hold several towels simultaneously.
Multifunction: Besides towels, you can hang or display other bath accessories.
Remember to secure the ladder to avoid tipping, particularly in bathrooms used by children or the elderly.
Wall-mounted Towel Rack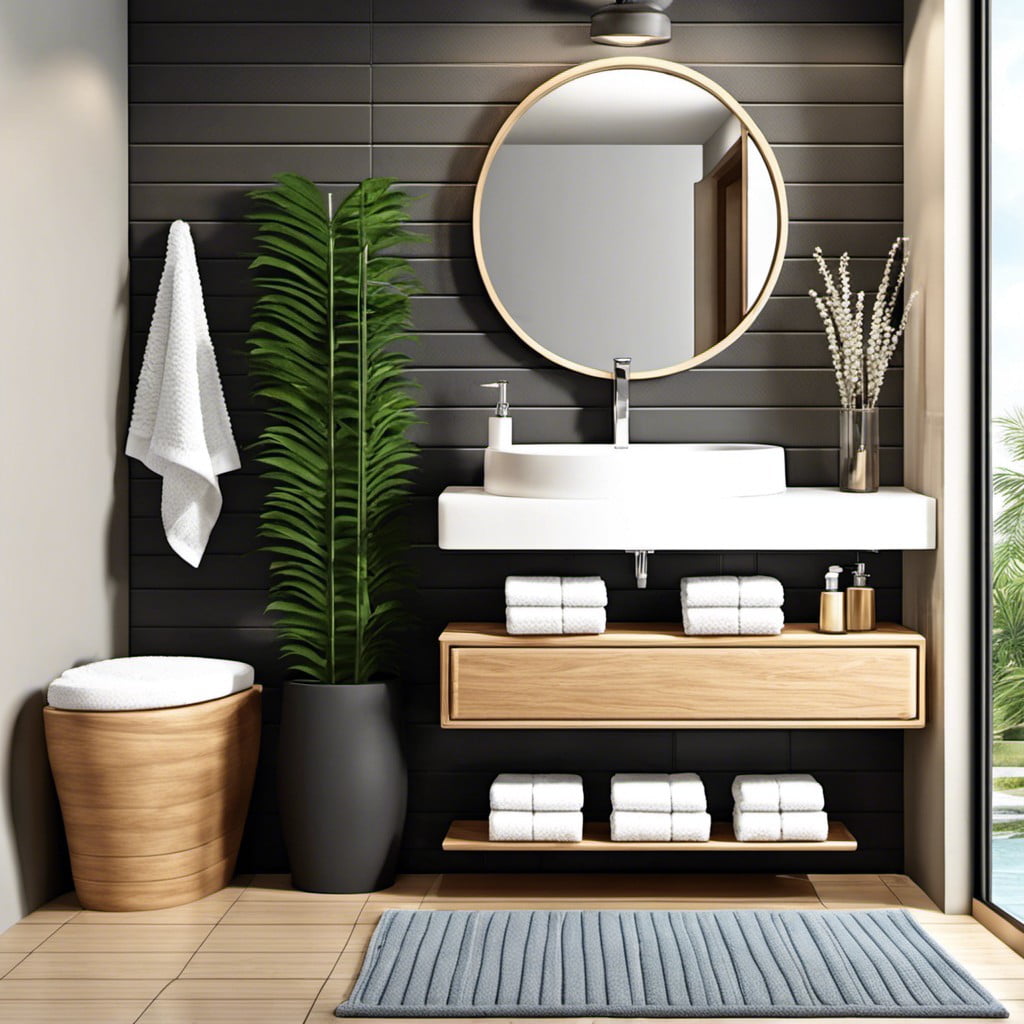 In a small space where square footage is a precious commodity, a wall-mounted towel rack serves as a smart solution. It offers exceptional convenience, being accessible at any time and freeing up valuable floor real estate. Furthermore, it provides bonus points for preservation as it keeps towels off the floor, dry, and sanitary.
Engaging in a DIY project? A towel rack could be fashioned from repurposed items like an old wooden window frame or even a distressed piece of lumber for a rustic touch.
For those with a minimalist aesthetic, opt for sleek metallic lines or a geometric design. Meanwhile, wooden designs complement a boho or farmhouse theme brilliantly. Remember, the rack should be a marriage of both form and function, dovetailing seamlessly with the overall décor theme while providing an effective hanging solution.
Installing one near the sink or shower is essential for accessibility, but always consider the wall's load-bearing ability and the weight of damp towels. Most importantly, ensure it's mounted at an appropriate height – typically around 48 inches from the floor, but this might vary based on personal preference.
Coming with various sizes and designs, they can cater to households of all sizes. Smaller, single bar racks are great for more intimate spaces or guest bathrooms, while larger households might benefit from multi-tiered or elongated designs. Futuristic options even come with in-built heating elements, perfect for those chilly winter mornings.
In essence, a wall-mounted towel rack equates to a smart investment, marrying style and efficiency and promising a necessary upgrade to elevate your bathroom's aesthetic and functionality.
Vintage Pipe Towel Holder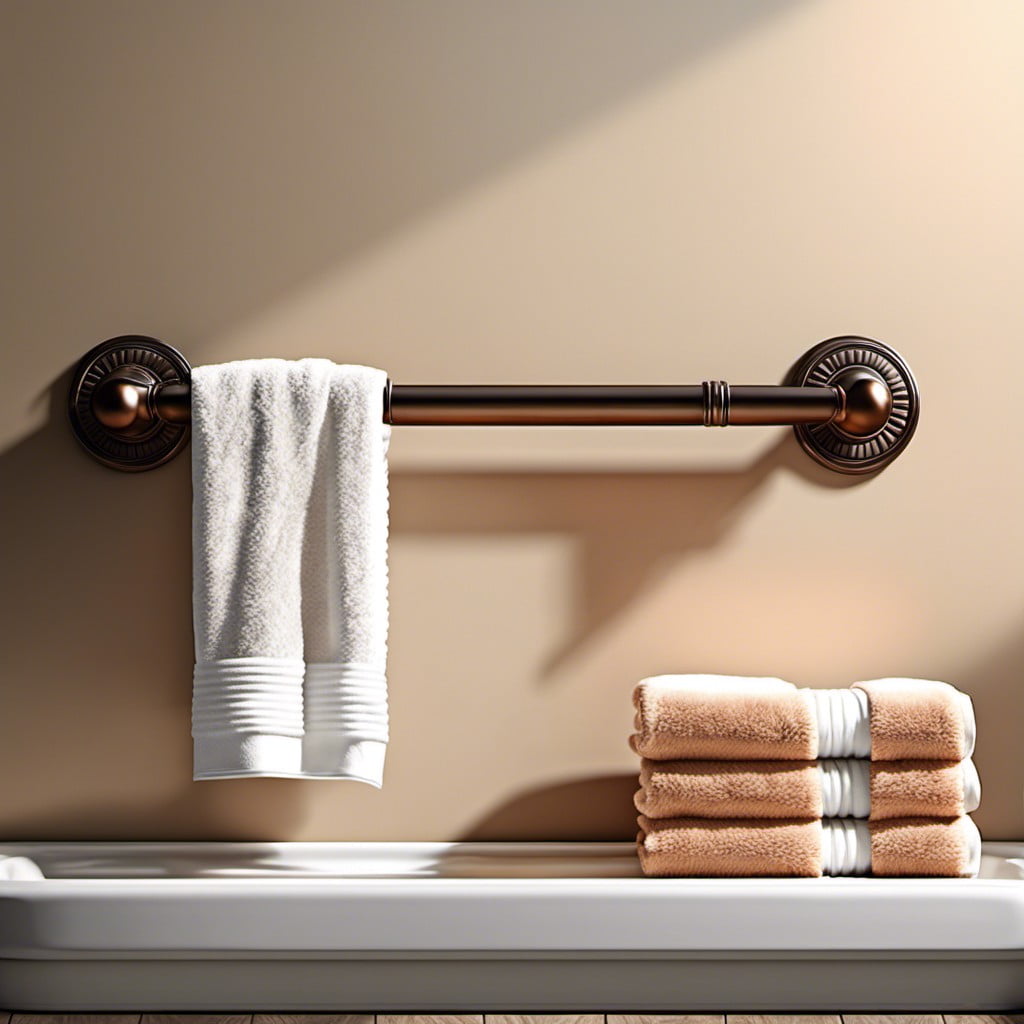 Vintage pipe towel holders offer an industrial-chic aesthetic to any bathroom, injecting a unique character into the design. To DIY, you'll need metal pipes, elbow joints, flanges, and screws.
1. Start by deciding on a design and layout that fits your space well. It may help to sketch this out first.
2. Once your design is solid, measure and cut the metal pipes accordingly.
3. Thread the pipe fittings onto the pipes to create your towel holder structure. This can include elbow joints for an L-shape and flanges for attaching to the wall.
4. Secure the entire structure to the bathroom wall using the appropriate hardware.
This holder isn't just functional; it also adds visual interest and a touch of vintage flair to your bathroom. A bonus – the metal pipes are incredibly durable and easy to clean! Make sure to complement this with other industrial-style bathroom accessories to maintain a cohesive look.
Towel Hooks On the Wall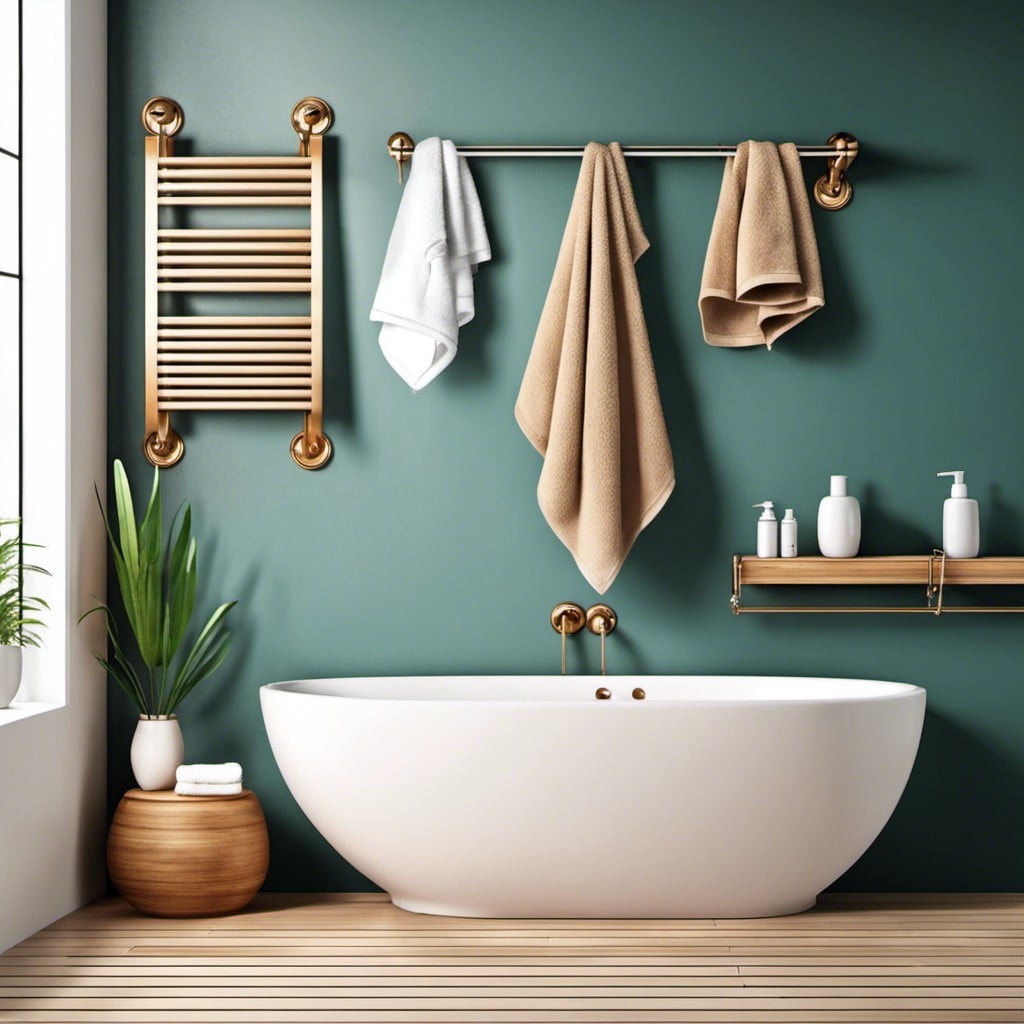 For an efficient, space-saving solution, hooks can be your best friend. They're ideal for keeping towels within reach, plus the wall-mount design means there's no need for extra floor space. You can opt for singles, doubles or even triples to accommodate the whole family.
Think about their placement. Next to the shower or above the bath makes for easy post-shower access. Getting playful with the arrangement can also lead to interesting wall art. Opt for a variety of hook styles or designs for a chic eclectic look.
Remember to consider the weight capacity to ensure your hooks can comfortably and safely maintain the weight of your wet towels. Also, be sure to install them in a way that prevents towels from constantly slipping off.
Material matters too. Durable materials are preferred for longevity, with corrosion-resistant being a great option for a damp environment. Choose something that complements your bathroom decor. Brass, bronze, or stainless steel can be elegant, while ceramic or wooden hook adds a touch of warmth and charm.
When convenience meets aesthetic, these little wall wonders flawlessly merge functionality with style.
Hanging Baskets for Towels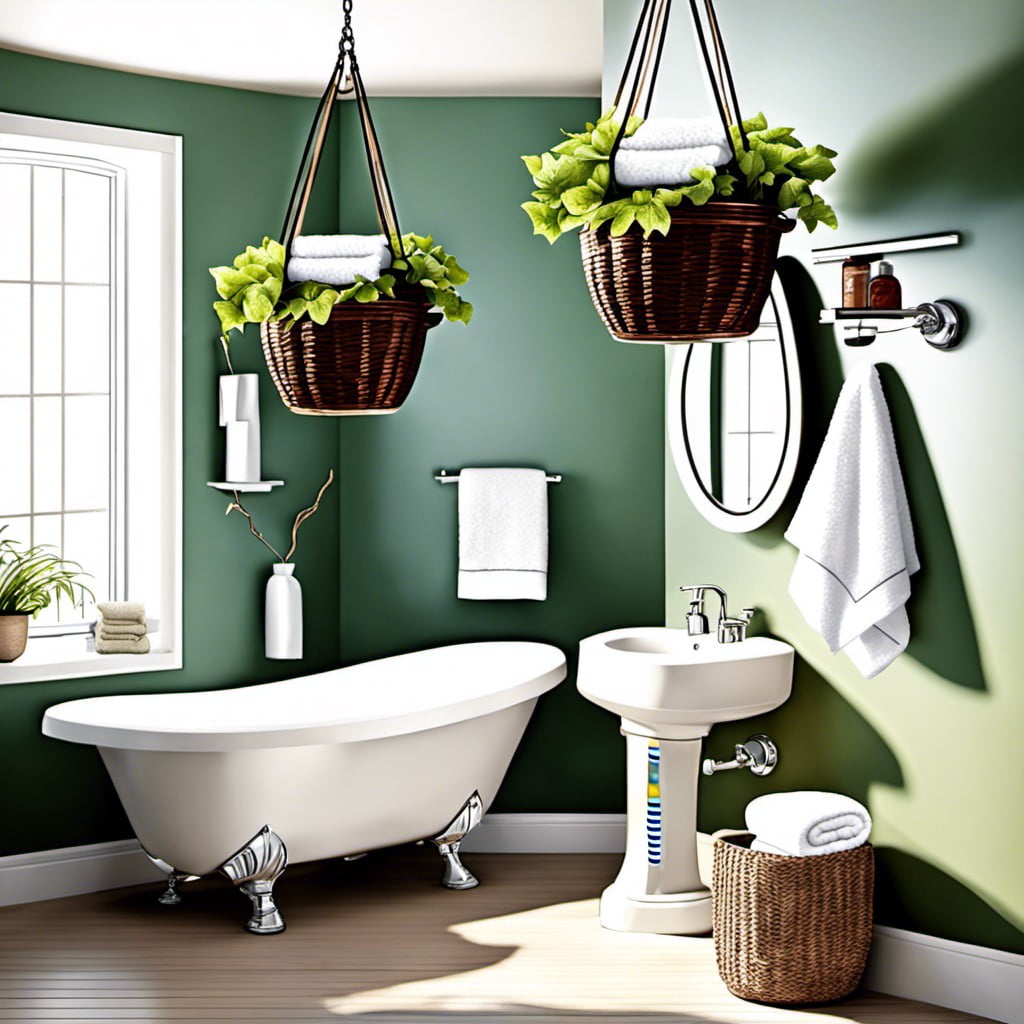 Experimenting with non-traditional storage systems often yields a surprising result. Take hanging baskets, for instance, they not only save floor space but also lift your towels off the counter, promoting hygienic practices.
Here's how to make the most of them:
Opt for wicker or wire baskets to allow your towels to breathe.
Don't overcrowd them; fluffy towels need space to maintain their shape.
Hang baskets at different heights for visual appeal.
Ensure robust installation; damp towels can be heavy.
Try lining your baskets with linen for an added touch of elegance.
Play around with different basket shapes. Round, square, or even novelty shapes can add flair to your bathroom.
Remember, hanging baskets offer a clever blend of form and function. Done right, this could be an inviting part of your bathroom décor while ensuring towel accessibility.
Wine Rack As a Towel Holder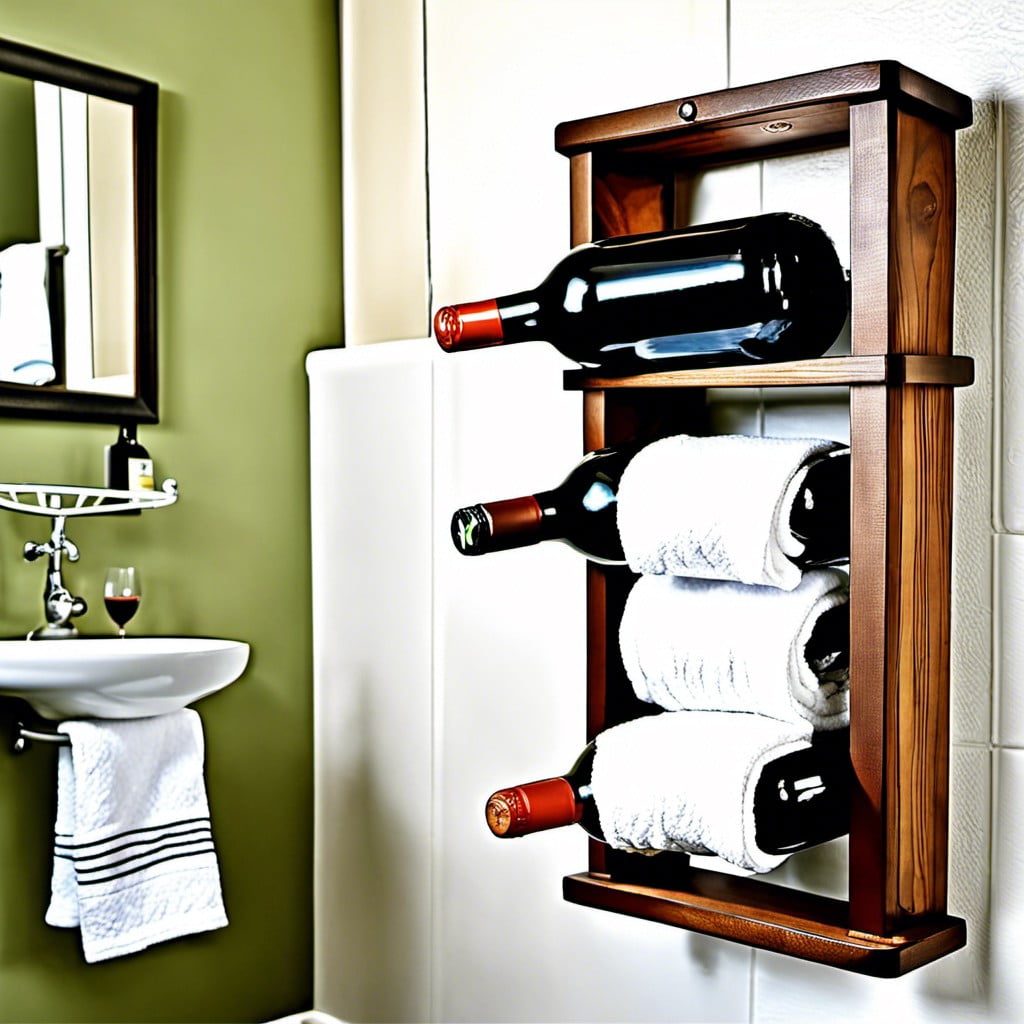 A touch of charm and functionality is added when a wine rack is repurposed into a towel holder. The inherent design of these racks lends itself perfectly: rolled-up towels mimic the rounded shape of a wine bottle, fitting snugly into each compartment.
Most wine racks are designed to fit multiple bottles, thus providing ample storage for several towels.
Some key points to consider:
1. This unique towel holder is suitable for both smaller and larger bathrooms. The size of the wine rack determines the fit.
2. Depending on your style preference, the market offers a variety of wine racks, from rustic wooden designs to sleek metal models.
3. Wine racks can be placed either on the floor or be mounted on a wall. Wall mounting is beneficial when floor space is limited.
4. The wine rack does not necessarily need to be used exclusively for towels. It can serve as a dual-purpose storage item for both towels and toiletries.
5. This inventive storage solution encourages you to keep your space tidy since your towels are on display.
Practicality meets aesthetics when a wine rack is thoughtfully incorporated into your bathroom décor!
Floating Shelves for Towels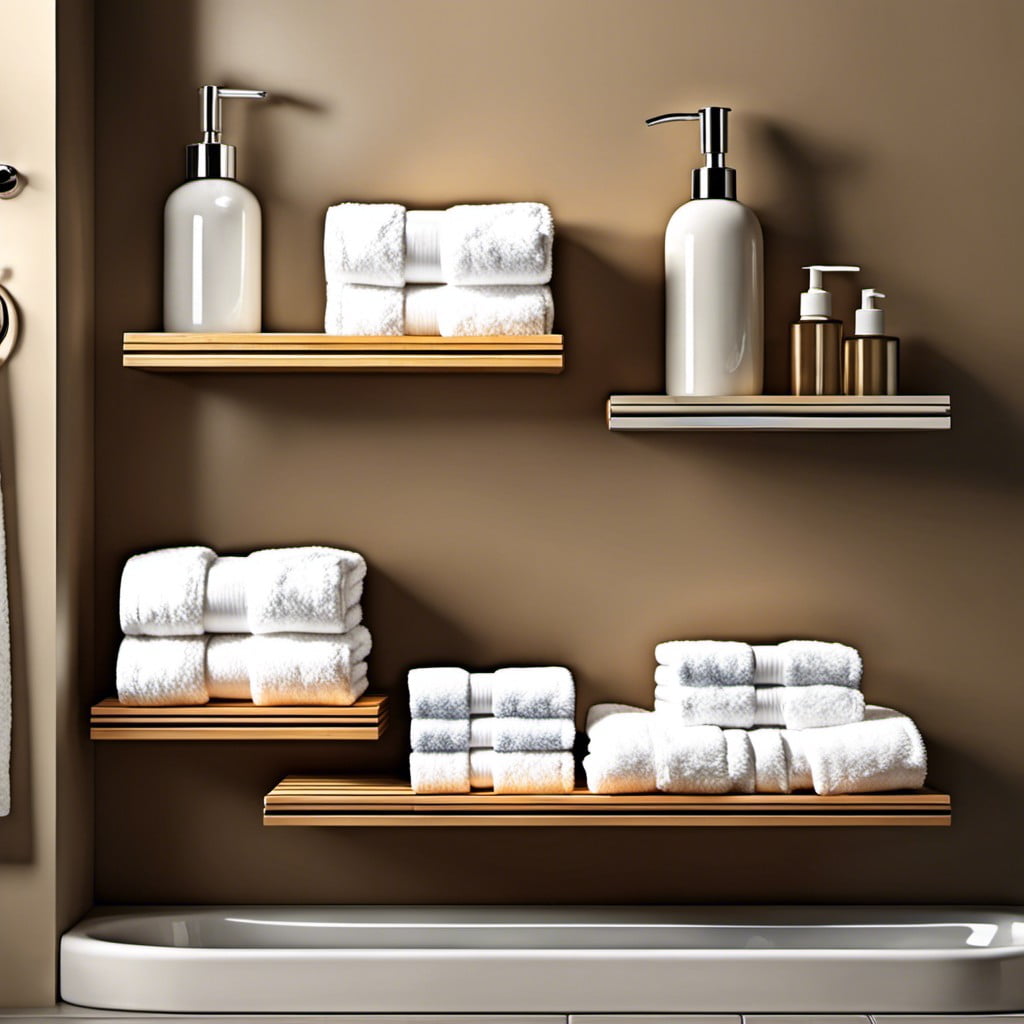 While they serve as a stylish addition to any bathroom, the utility of floating shelves can't be overlooked. They offer a convenient space for hanging your towels, keeping them dry and within easy reach.
Here's how to maximize the benefits of this option:
Placement: Choose a spot close to the shower or sink for instant access post-wash.
Depth of Shelves: Opt for a shelf deep enough to roll your towel neatly; presenting an organized look.
Material and Finish: Match the shelf material and color with your bathroom decor, hence integrating it seamlessly.
Layering: Utilize vertical space by placing multiple shelves. This is ideal for families with multiple members and various towel types.
Remember: A neat towel display on a floating bathroom shelf adds a personal touch while also being highly practical.
Towel Holder Stand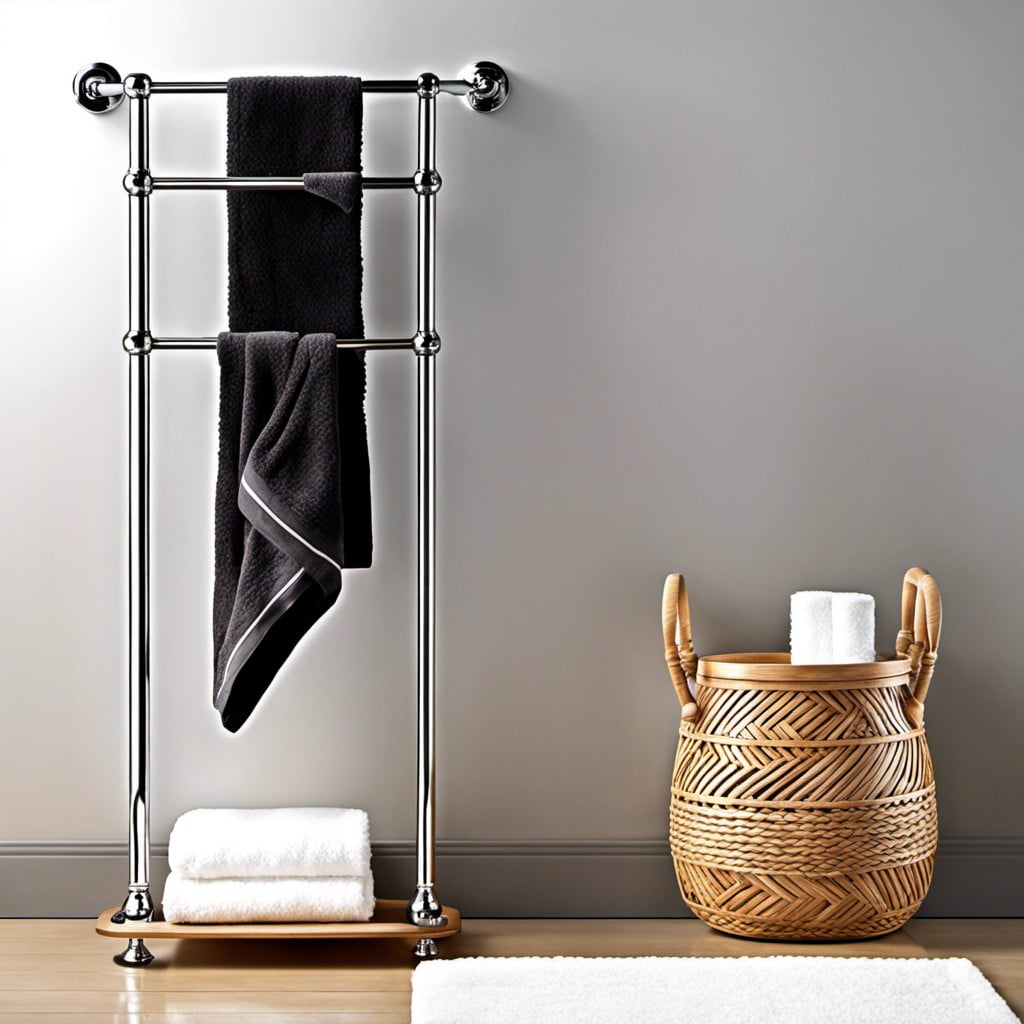 A stand offers quick and easy access to your towels, freeing up valuable wall space for other bathroom accessories. For a more eclectic look, consider using a coat stand instead of a traditional towel stand – a subtle twist to keep your bathroom unique.
Stands can prove handy in guest bathrooms too, where multiple towels might be needed. Want a personalized touch? Consider a stand in a unique geometric shape to add an intriguing visual element. Brass or teak wood stands, on the other hand, can lend a sophisticated look, incorporating a blend of traditional and modern aesthetics.
Be it functionality or style, towel holder stands have it all.
Towel Rack Above the Toilet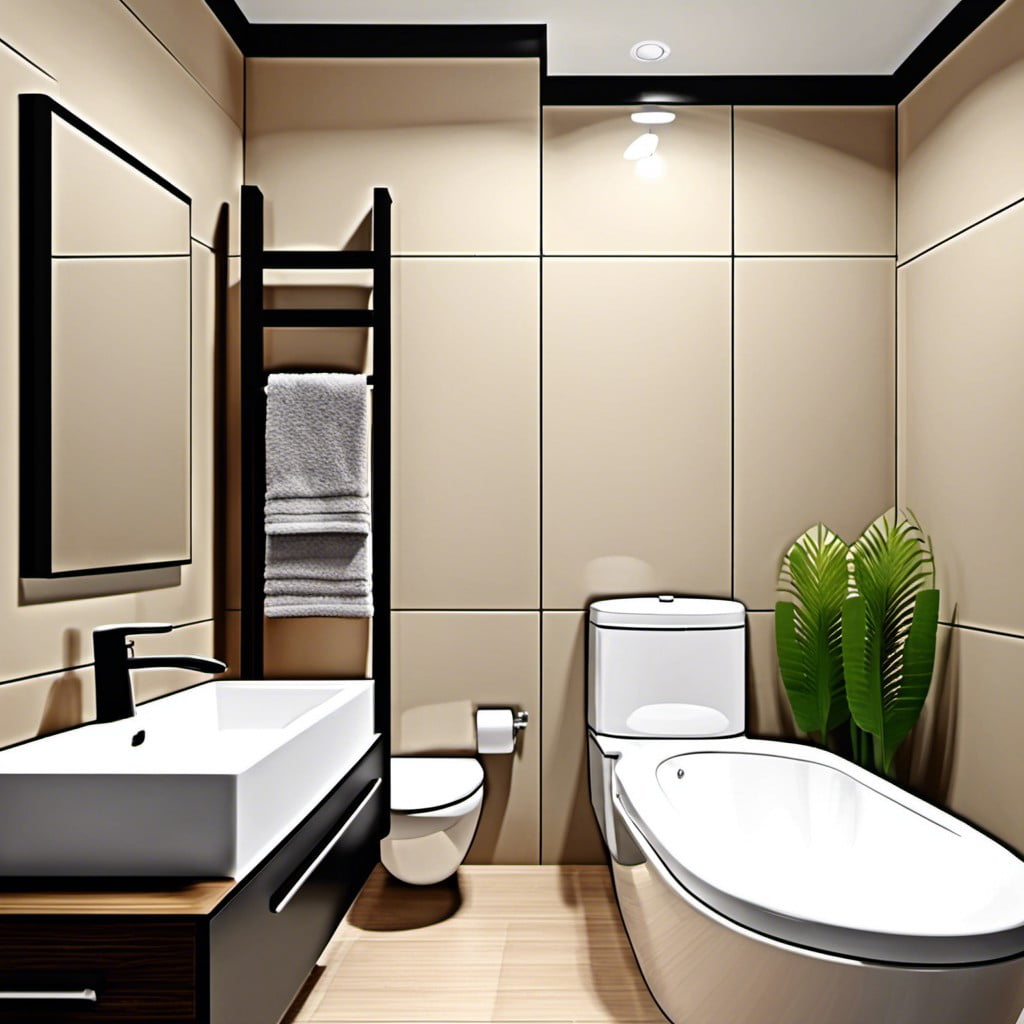 Installing a towel rack above the toilet is a space-saving solution that provides easy access to your towels. It works well in small bathrooms where fitting additional storage might be challenging.
1. Position the rack at a height that's convenient for reaching out and it doesn't interfere with the function of the toilet.
2. The rack should be wide enough to accommodate your largest towel when folded.
3. Make sure it's securely mounted to avoid any fall incidents. Use sturdy materials like stainless steel or solid wood for the rack to ensure longevity.
4. Opt for a design that complements your bathroom's style. A rustic wood bar can highlight a country-style bathroom, while a sleek metal design fits a modern aesthetic.
5. If possible, include a shelf in the design for placing small toiletries or decorative items. This helps to maximize the storage potential of the area around the toilet.
Remember that the functionality and convenience must be the primary considerations, but don't be afraid to add a personal touch to make it visually appealing. This handy fixture can balance purpose and style.
Towel Rings Beside the Sink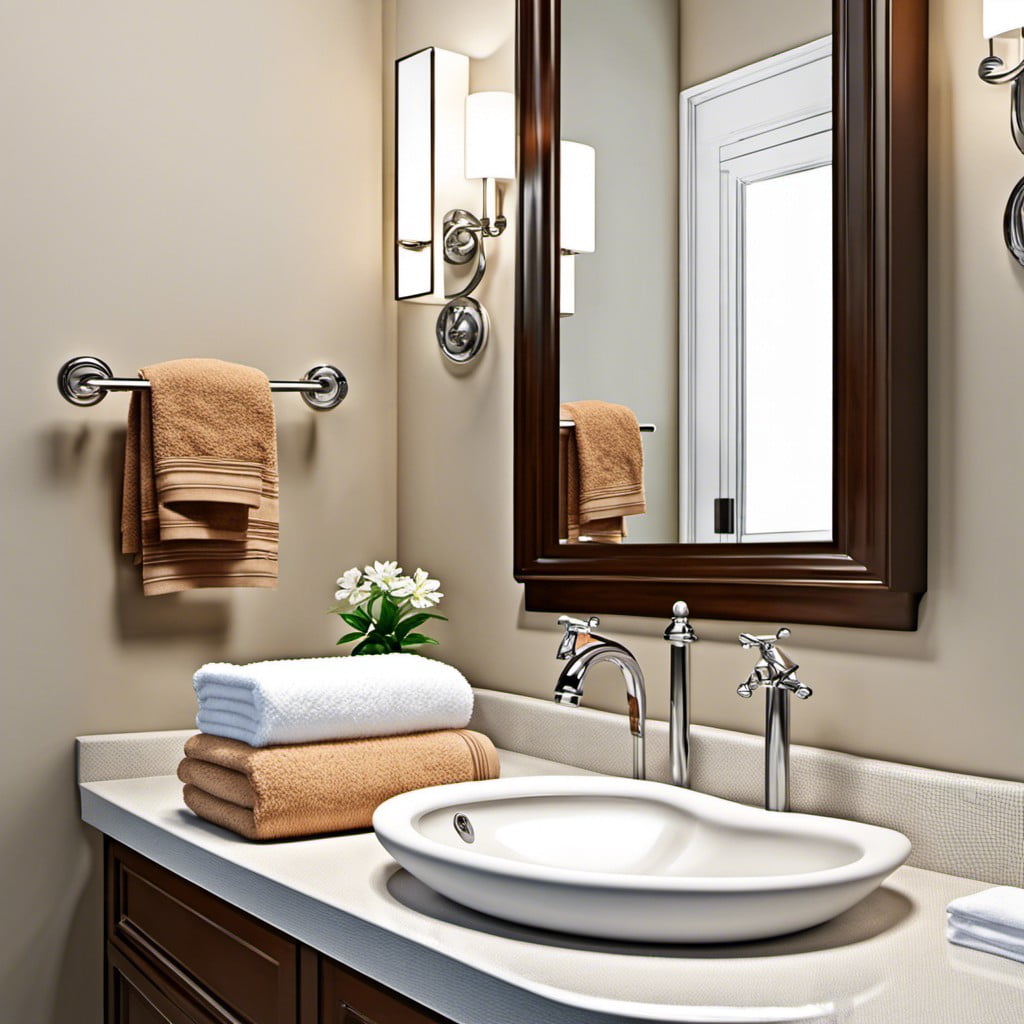 Positioning these close to the hand wash basin can be a clever move. It allows for easy reach after a quick rinse, keeping water from dripping on the floor.
Rings come in different shapes, sizes, and designs, so they can also serve a decorative function. A classic round ring is always a safe bet, but don't shy away from experimenting with geometric shapes to add an unusual aesthetic touch.
However, do consider the usability – ensure the ring is large enough to fit the type of towels used in your bathroom. Metallic finishes, such as sleek chrome or rustic bronze, can also complement other bathroom fixtures. For a cohesive look, try to match it with the style and color of your faucet.
For a small bathroom, opt for a swivel ring – it adds convenience without taking much space. Lastly, install it at a comfortable height, not too high for children or too low for adults.
Freestanding Towel Holder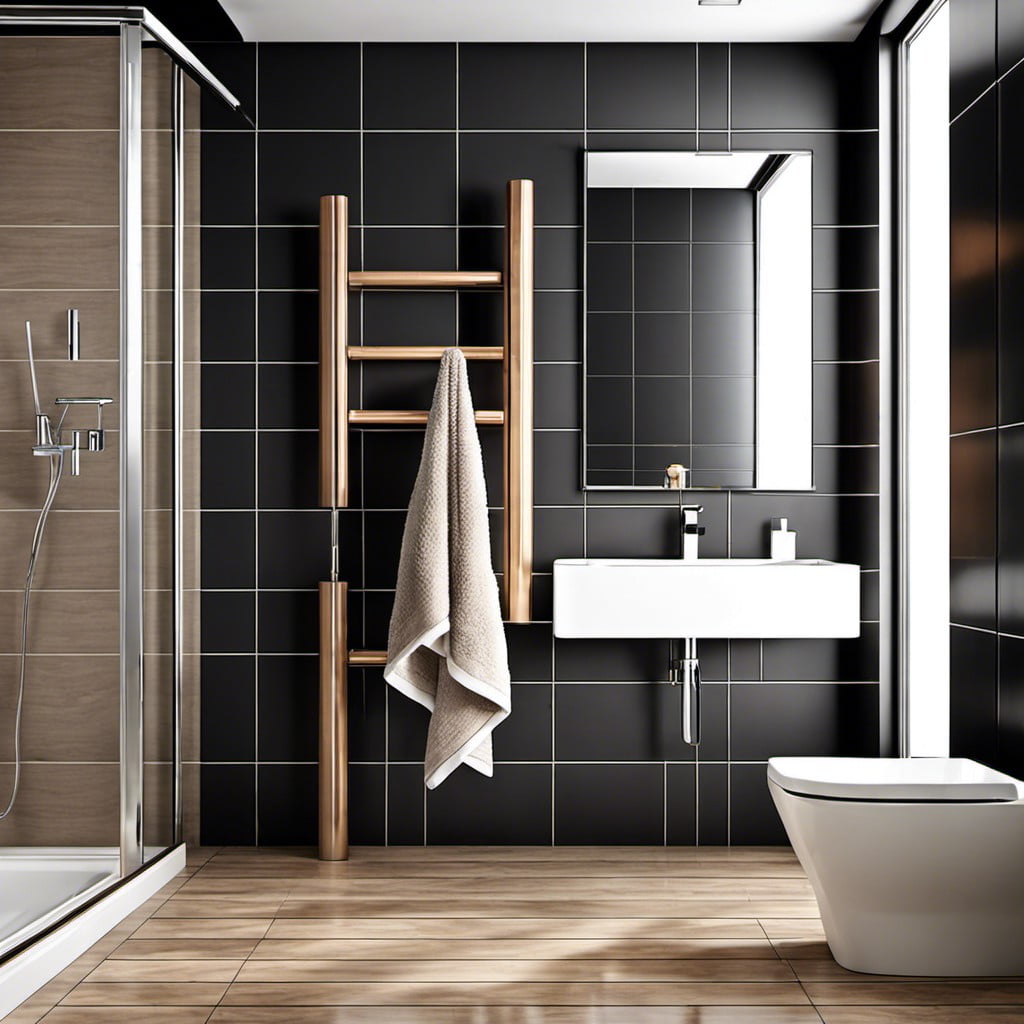 Freestanding holders are a boon for those who crave flexibility in their design. Being portable, these holders can be moved around based on need and convenience. Plus, assembly is typically simple and does not require any drilling into walls.
They come in various designs, from rustic wooden ones to sleek stainless steel versions. You can match the style to your bathroom aesthetics, opting for a minimalist modern look or an antique chic vibe. Capacity also varies, accommodating from a minimum of one to as many as six rolled up towels.
The location of your freestanding holder depends greatly on your personal preference and the layout of your bathroom. Keep it next to the tub for easy access while bathing, or maybe near the sink for anyone reaching out for a hand towel.
Remember to consider the size and height to ensure the holder fits comfortably into your bathroom space without impeding movement. Ensure stability as well to avoid any mishap with kids or pets around. Take a little time to browse and pick the perfect freestanding towel holder for your bathroom setup.
Heated Towel Rail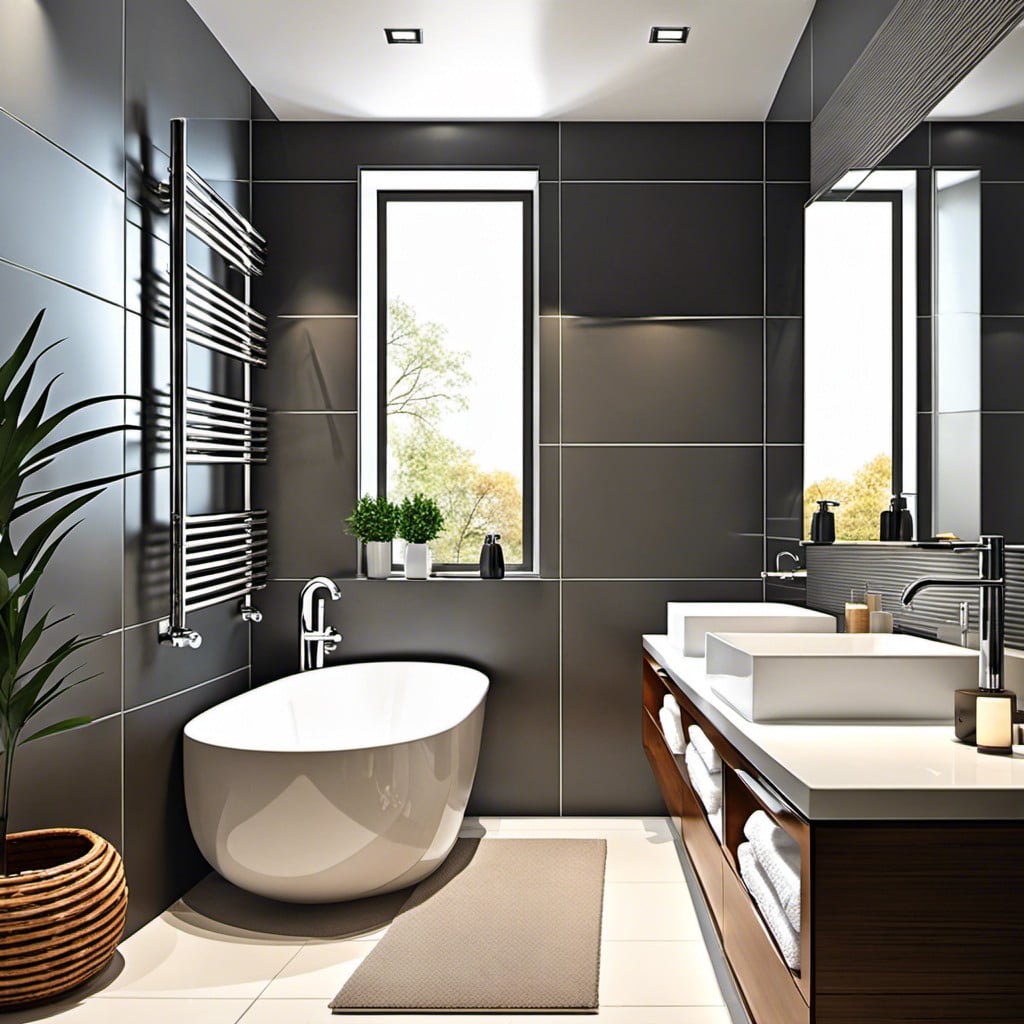 Exuding a dual purpose of warming your towels and heating your bathroom, this modern amenity is a luxury that is growing increasingly popular. The installation can be either hardwired into your electrical system or simply plugged in for portable models.
Here are few noticeable aspects:
1. Different styles can match the decor, from sleek chrome designs to vintage Victorian models.
2. They reduce dampness, making towels less prone to mildew.
3. Enjoy the cozy feel of a warm towel post-bath or shower.
4. Permanent models may require professional installation.
5. Energy efficient models available.
6. Suitable for any size bathroom, with various sizes on offer.
Remember, placement is key. Ensure your rail is within reach of your bath or shower for ultimate convenience.
Under-sink Towel Holder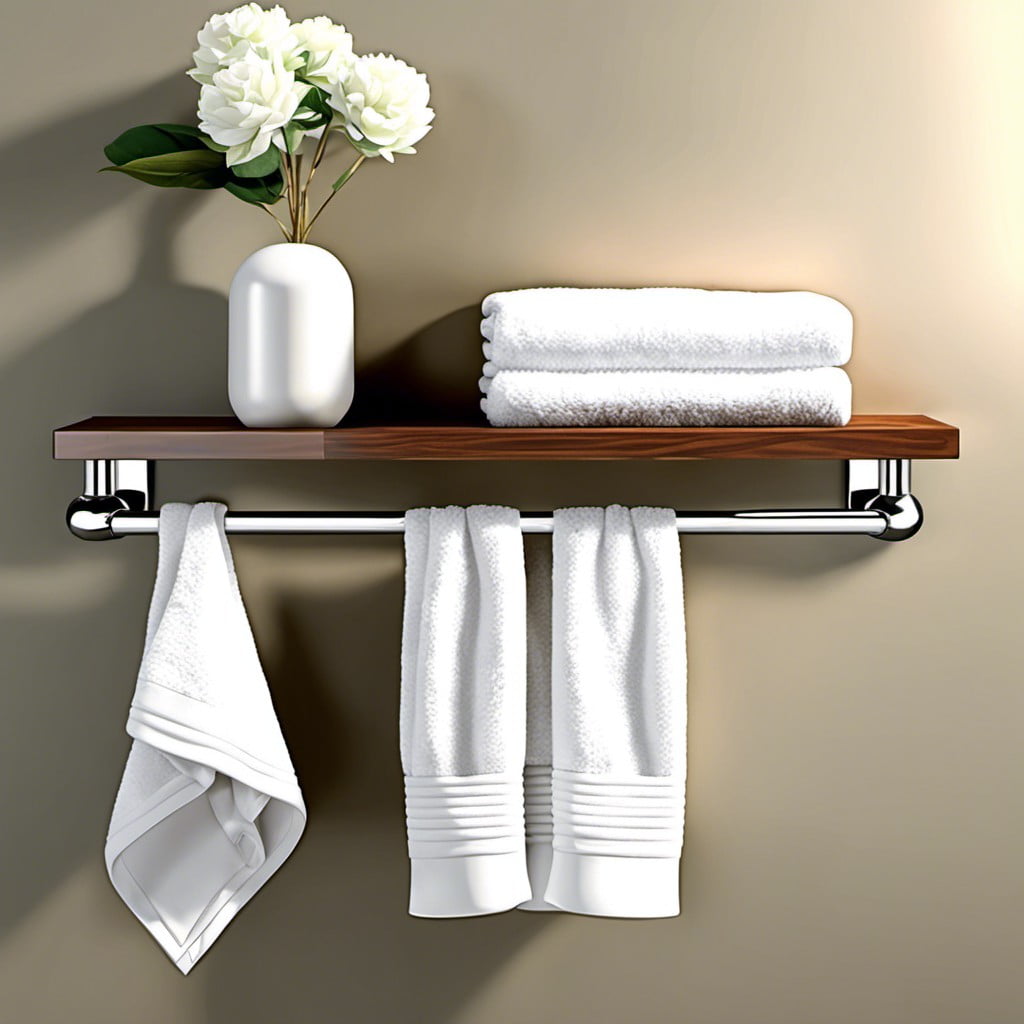 This innovative, space-saving solution is ideal for small bathrooms or half baths where space is at a premium. Constructed by adding a basic metal rod, or even an upcycled curtain rod, underneath your sink, it effortlessly accommodates your hand towels or washcloths. Its hidden location keeps it discreet, ensuring a sleek, uncluttered look.
Key Points:
1. Optimal for small bathrooms: Provides an extra towel-hanging area without taking up visible space.
2. Customizable: Can be made from various materials, like a simple metal rod or an old curtain rod.
3. Hidden storage: It maintains a clean, minimalist aesthetic in your bathroom.
4. Accessibility: Easy reach to hand towels or washcloths when near the sink.
Remember to consider the width and depth of the under-sink area to ensure there's enough clearance for towel hanging, avoiding any interference with the sink or piping. This clever design idea not only makes effective use of unused space, but also adds practicality to your bathroom.
Recessed Towel Storage in Wall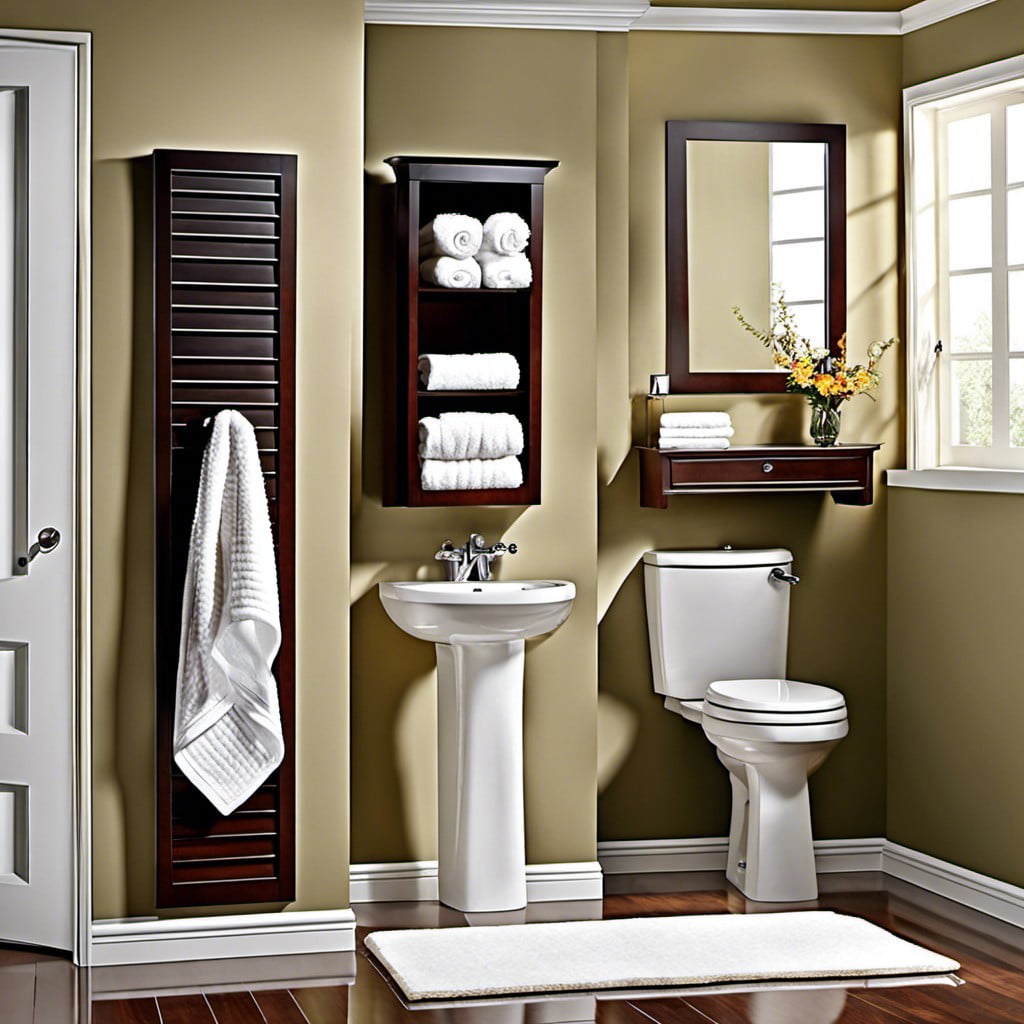 Implementing recessed towel storage in your bathroom wall is a great way to utilize space, especially in smaller bathrooms. You can play around with different arrangements – stack towels or fold them up for a neat and tidy look. With the convenient location, towels are right at your fingertips after a shower.
To create this look, ensure the wall you choose is not load-bearing for your home. Work within the wall cavity to create the recessed area. The wooden studs will provide a sturdy frame, while drywall or tile can be used for the internal and external surfaces. Install shelves to your liking within the recessed area for towel storage. For a sleek look, consider painting or finishing the shelves to match your bathroom decor.
Bear in mind that this option involves alterations to your home's interior structure and might require permission for changes, depending on the regulations in your area.
Towel Rod Behind Bathroom Door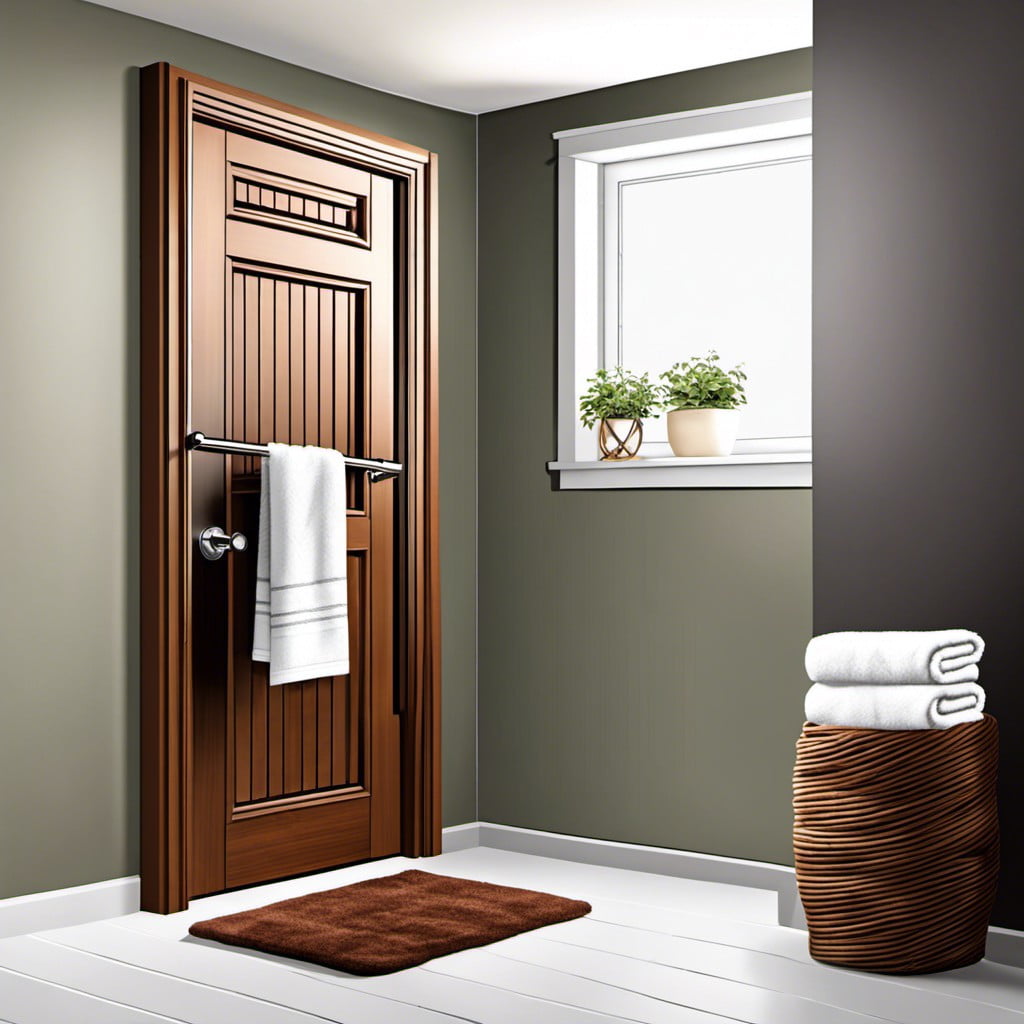 Positioning is critical when installing a towel rod on your bathroom door. Ensure it is at a height that is accessible yet not obstructive to the door's use. Typically, a spot on the upper third of the door is ideal.
Mount it strongly, use sturdy metal anchors if necessary to prevent any potential damage from the weight of damp towels. Using over-the-door hooks or a door bracket avoids drilling, and is suitable for renters.
Essentially, this method is about utilizing usually overlooked space while serving a practical purpose. Plus, it's a hidden gem that will surprise and delight your guests with your originality and resourcefulness. It also helps to keep your bathroom looking tidier and more organized by providing a dedicated spot for your towels.
This minor change could make a world of difference in your bathroom's appearance.
Do remember to secure the rod properly, as a loose rod can lead to accidents. A padded stopper at the back can be helpful to avoid any marks on your wall when the door is opened with force.
Multilevel Towel Holders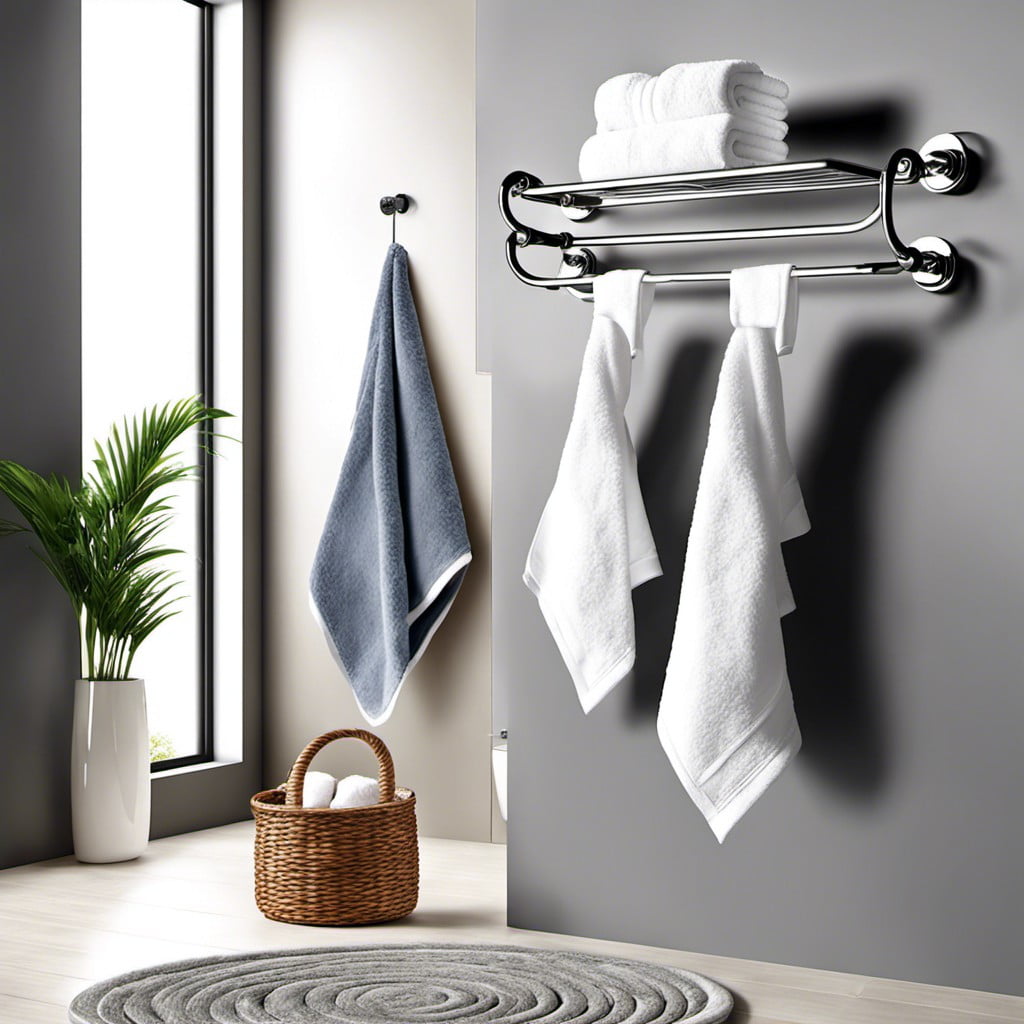 Featuring several bars arranged in a vertical row, this option provides a chic, space-efficient solution for larger families or those indulging in ample bath linens.
Attractively crafted from a variety of materials – think sturdy stainless steel or elegant brushed nickel – they can effortlessly blend with your existing bathroom decor while having enough room for everyone's towel.
Place it strategically near the shower or tub for easy reach, ensuring each towel dries correctly between uses.
An added bonus is the tiered design that provides a visual break and draws the eye up, offering the illusion of a higher ceiling.
Whether you choose a sleek, contemporary design or a more classical look, it's the perfect balance of function and style!
Trade Traditional Towel Bar for Hooks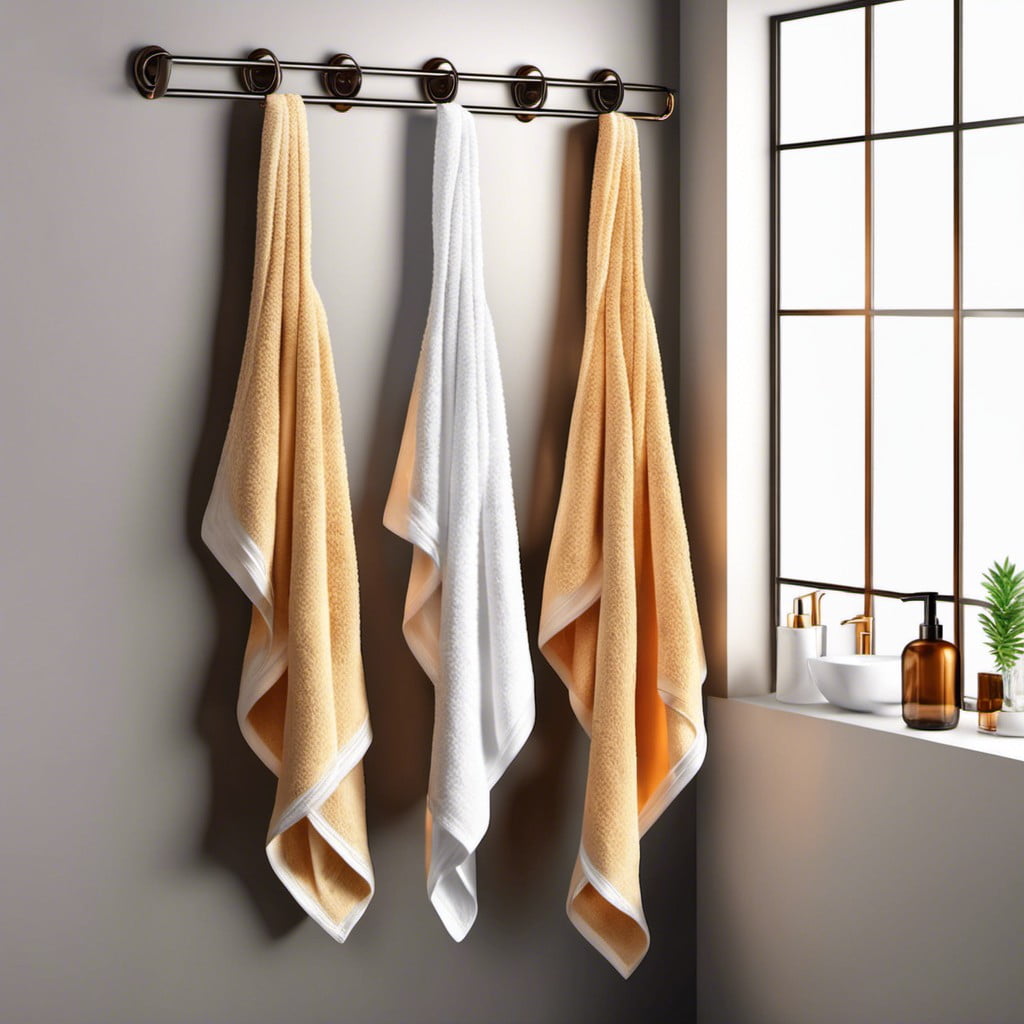 Switching from a conventional bar to hooks adds a touch of modern versatility into your bathroom space. Hooks effortlessly accommodate towels of different sizes, be it hand towels or bath towels. They're user-friendly, making hang-up and pick-up a breeze, especially for kids.
Position the hooks at varying heights to accommodate all family members, and consider installing them on the back of the door or on a previously unused wall for extra convenience. Additionally, hooks provide an ideal solution for small bathrooms where space is at a premium. Each hook can hold an individual towel, eliminating the cluttered look of piled-up towels and ensuring they dry out properly.
Choosing hooks with a finish that complements your other bathroom fixtures can also add a touch of style to your bathroom. From stainless steel to brass, and modern to vintage, the options are endless for this small detail that makes a big difference to the aesthetics and functionality of your bathroom.
Use of a Decorative Ladder for Hanging Towels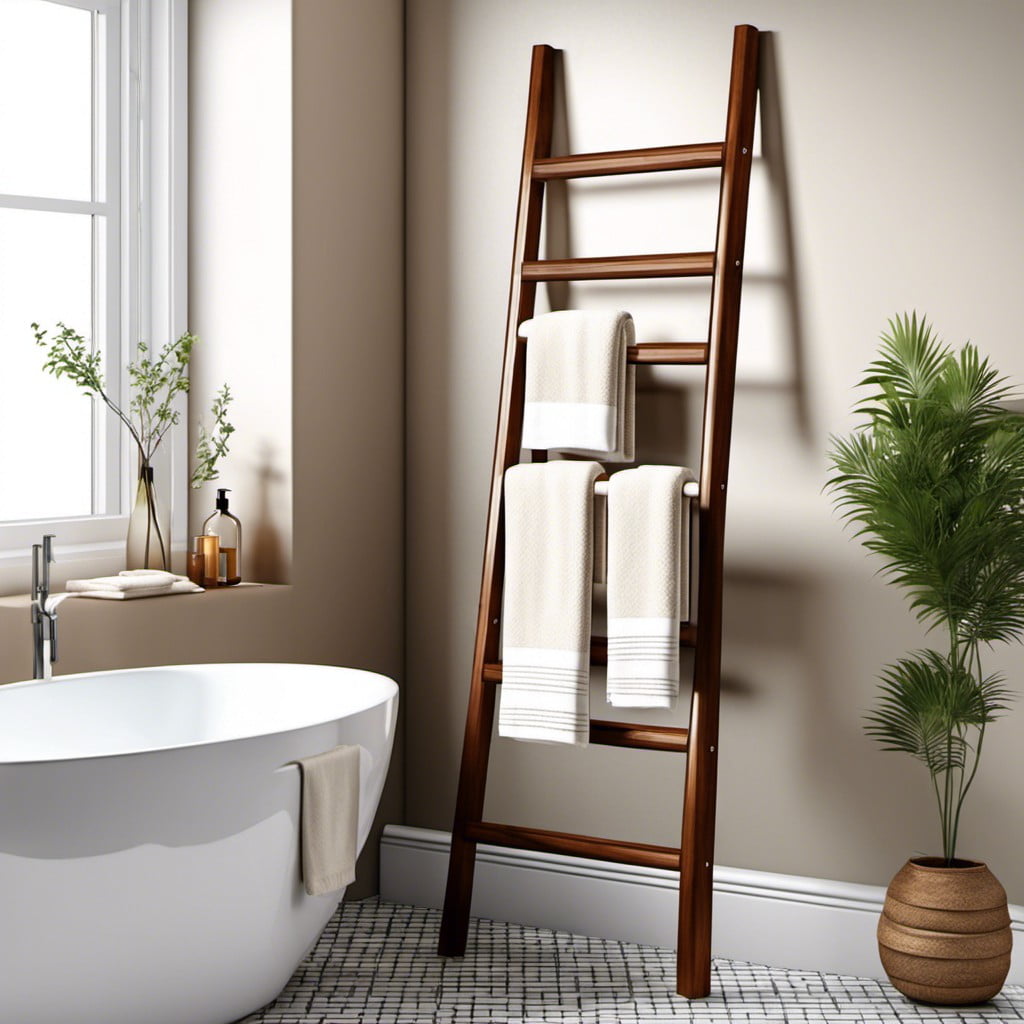 Incorporating a decorative ladder as a towel hanging solution combines style with functionality. The ideal choice boasts a rugged, rustic aesthetic that effortlessly complements a bathroom's decor.
The ladder takes up minimal space and can accommodate multiple towels at once – an excellent pick for large families or for when guests are over.
This idea doesn't require any installation. Just lean the ladder against a wall for a chic, non-permanent solution.
You can choose from various ladder styles to suit your bathroom theme. For a sleek, modern look, consider a black metal ladder. For a laid-back, beachy vibe, a bamboo or teak ladder can be your go-to.
Be mindful of safety. Ensure the ladder is sturdy and balanced. Avoid overloading it to prevent tipping.
Not just for towels, ladders can also hold small accessories such as bathrobes or small bathroom plants, further accentuating your bathroom space.
For an added personal touch, consider painting or staining the ladder to match your bathroom color scheme.
Towel Shelf Above the Tub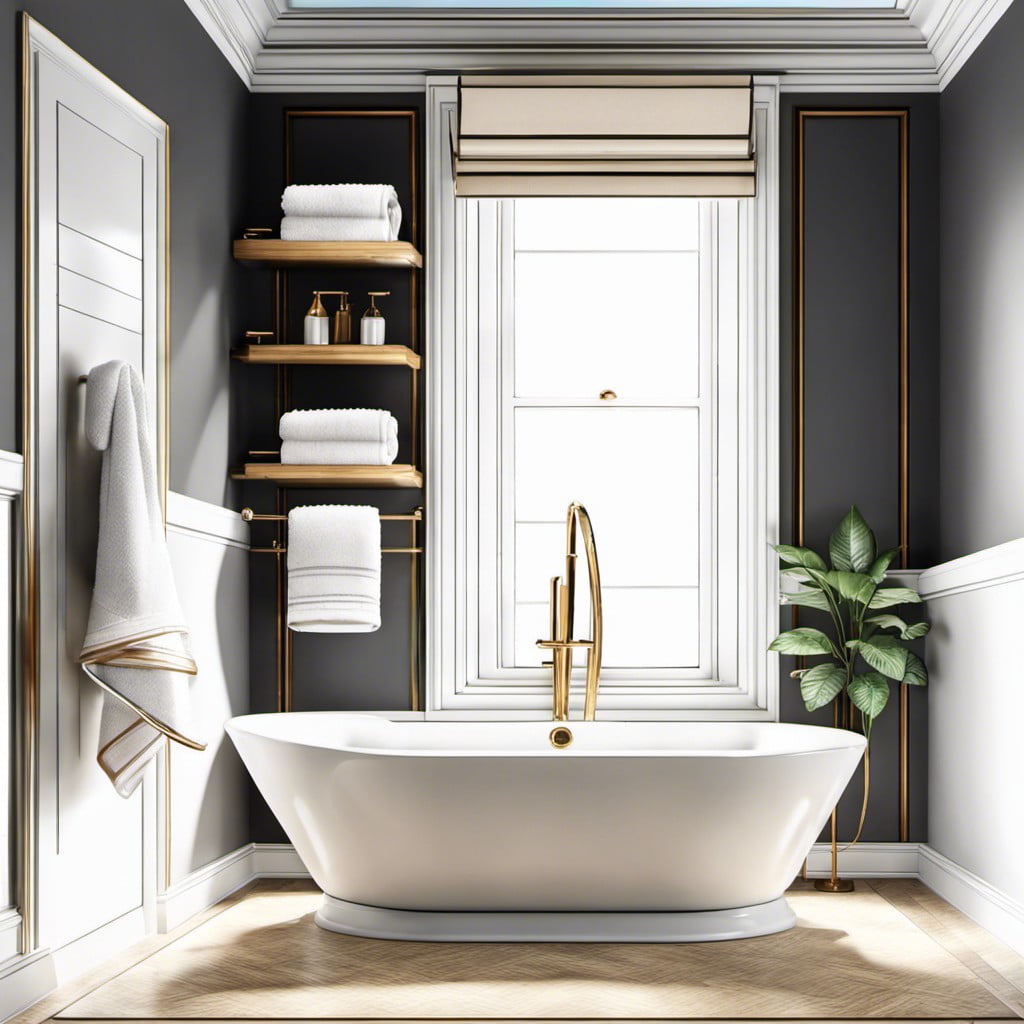 Positioning a shelf just above your bathtub serves multiple purposes. Firstly, it provides easy access to your towel the moment you step out of the bath, enhancing convenience. Secondly, it frees up space by utilizing an often underutilized area of the bathroom.
Here are expert points to consider when setting up a towel shelf above the tub:
1. Material Matters: Opt for materials that resist humidity. Stainless steel, plastic, or treated wood can make great choices.
2. Safety First: Install the shelf at a height that feels comfortable and safe. You wouldn't want to stretch or struggle to reach a towel, especially when you're already wet.
3. Style and Size: Consider the size of your bathtub and the overall bathroom decor while choosing the shelf. Ensure it blends well with the existing aesthetic.
4. Storage Load: Depending upon the number of members in the house, opt for multiple-tiered shelves to accommodate more than one towel.
5. Extra Amenities: You can also use the shelf to hold other bath accessories such as soap, sponge, or bath toys for kids.
By paying attention to these points, the towel shelf above your tub will not just be a functional addition, but also a stylish upgrade to your bathroom.
Continue reading:
Recap