Last updated on November 25, 2023
Revamp your bathroom's aesthetic because these shower curtain decor ideas will show new ways to elevate its style quotient.
"I am proud to present this article and my original shower curtain decor designs, and I genuinely hope they inspire you and bring you as much joy as I had when creating them."
Bathroom shower curtains can be a game-changer in your home decor. They are not just for privacy or preventing water splashes, but also an opportunity to add personality and style to your bathroom.
This article will guide you through various innovative and unique shower curtain decor ideas that could help transform your bathroom into an aesthetic space. Whether you're seeking a minimalist design, a bold pattern, or a trendy look, we've got you covered.
Let's explore some fabulous ways to elevate your bathroom decor with shower curtains.
Nautical Themed Curtain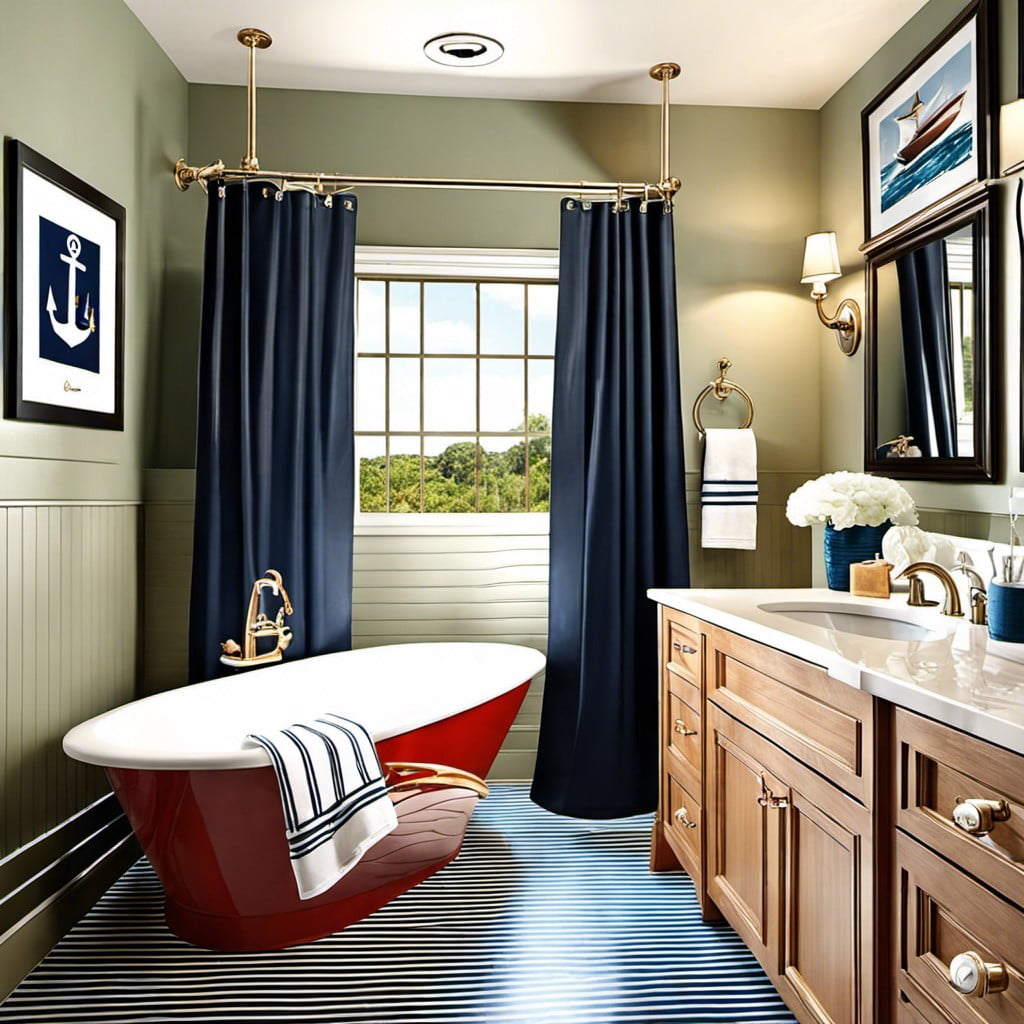 Crisp, clean lines in shades of blue and white set the stage for this design. It offers a calming beauty of the sea right inside your bathroom.
Consider coordinating your bathroom accessories, such as towels and rugs with lighthouse designs or sailor knot patterns.
Include elements such as anchors, seashells, and nautical stripes for additional authenticity.
Bring in the maritime spirit with the addition of a lighthouse or ship-in-a-bottle decorative piece.
And don't forget, a well-placed boat oar can serve as a unique, functional towel rack.
With careful selection of details, your bathroom can be transformed into a seafarer's paradise.
Floral Print Curtain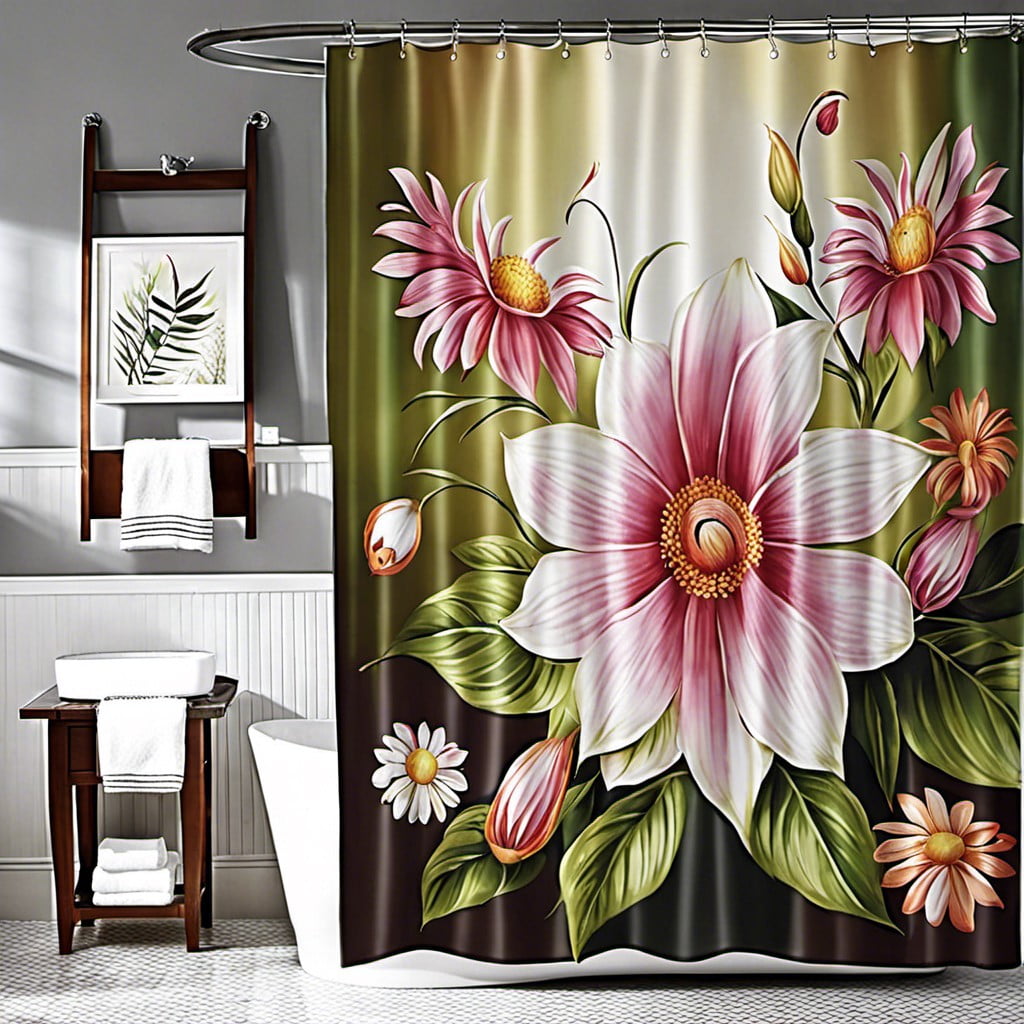 Ensuring harmony between the blooming touches on your curtain and the rest of the bathroom is paramount, but don't shy away from going bold and using contrasting styles as focal points. Here are a few recommendations:
1. Matching Colors: Choose a curtain where one color matches the dominant shade in your bathroom. It'll create a unity.
2. Size of Print: Pay attention to the print size. Large, bold prints add a modern, contemporary look, while smaller, delicate patterns provide a classic, timeless feel.
3. Light vs Dark: Light floral patterns can contribute to a lighthearted and spacious ambience. Dark florals, on the other hand, can produce an edgy, luxurious vibe.
Remember, the floral print curtain should complement your style and not overtake the scene, allowing for the curtain to be a defining but not overpowering accessory to your bathroom's décor.
Clear Curtain With Colorful Decals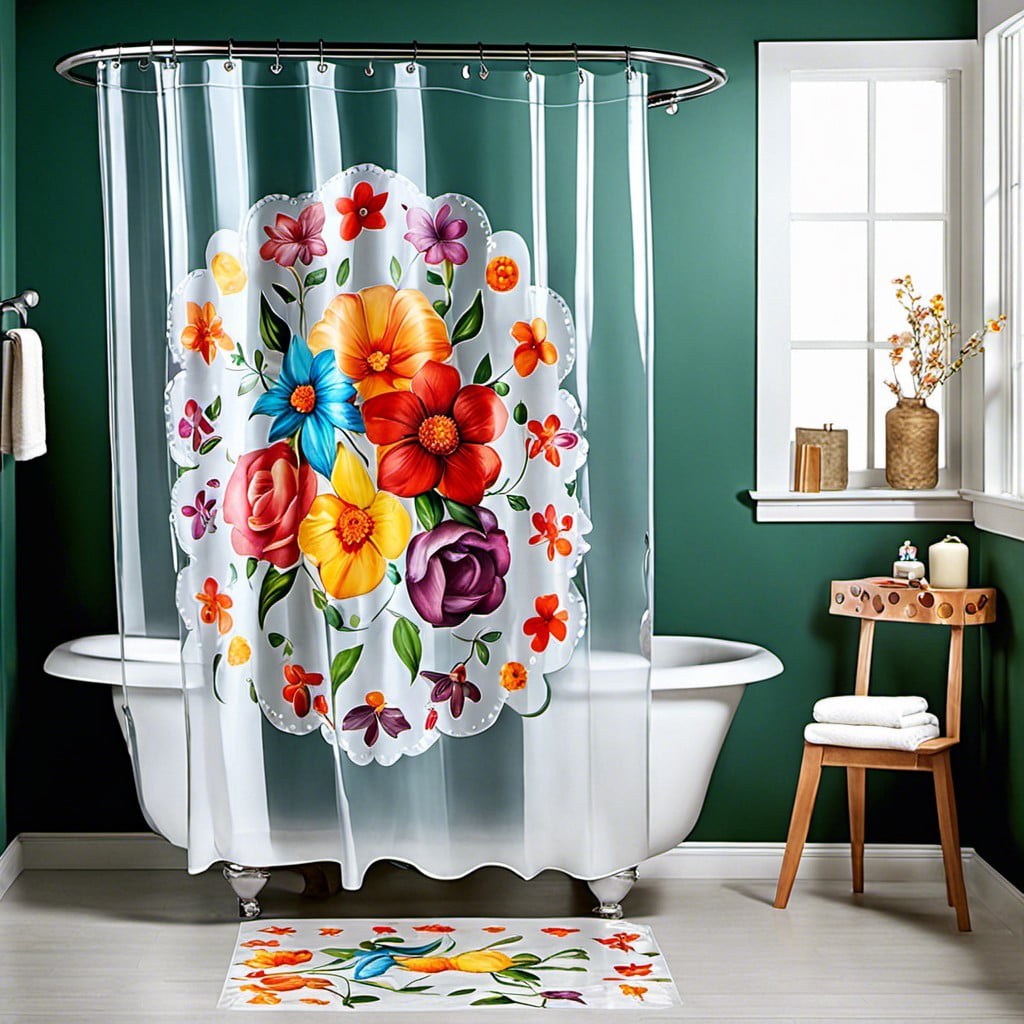 Decals offer a unique opportunity to enhance the natural lighting of your bathroom. Opt for an array of vivid and dynamic colors that can change the ambiance of the space depending on the time of day. You'll be surprised at the striking visual effect created when sunlight or artificial lighting transmits through these tinted embellishments.
You have two options to choose from – either a pre-decaled curtain or a DIY approach. The ready-made version is quick and hassle-free, while the DIY route allows for extensive customization – think of shapes like stars, fish, or geometric patterns reflecting your personality. A few tips when applying decals yourself:
Ensure your decal's adhesive side is strong enough to stick, yet can be removed without leaving a residue.
Apply your decals smoothly to avoid bubbles.
Space each decal evenly for a cohesive look.
This decor idea could also be particularly appealing if you're sharing the bathroom with children – they'll love their bath time among colorful dolphins or flying birds.
Remember, while your curtain is clear, the decals add an element of privacy where it's needed. A clear curtain with colorful decals hits that sweet spot between aesthetic appeal and functionality.
Black and White Geometric Patterns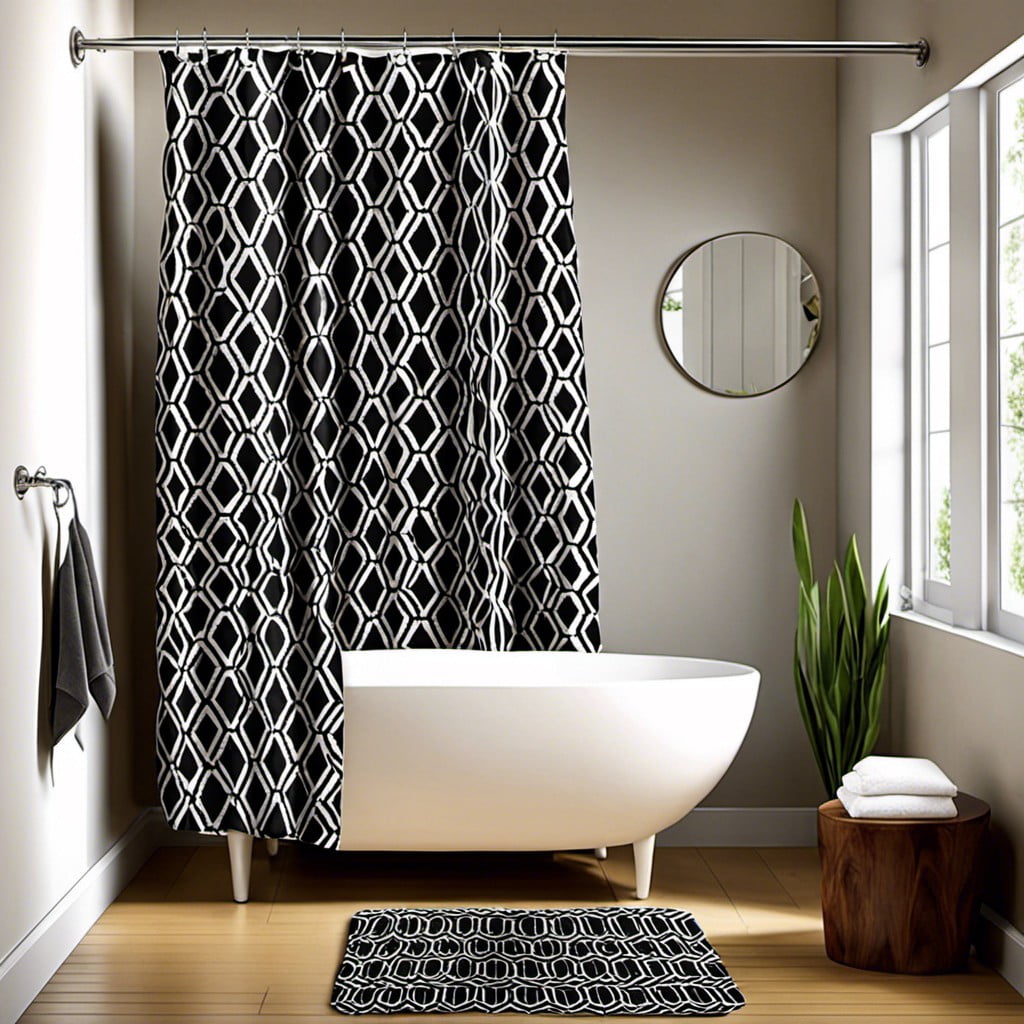 Visual appeal is doubled when the classic black and white duo meets fascinating geometric patterns. A great option for modern minimalist or contemporary bathrooms, these curtains add just the right balance between simplicity and drama.
They have a mystical power of making cramped spaces look bigger by creating an illusion of depth and height. As they play around with your perception, they add a conceptual layer to your bathroom décor.
You can opt for the monochromatic option, or add a pop of color with the inclusion of bold, vibrant hues, such as red or golden in the pattern.
Whether embellishing a small bathroom, or complementing a spacious suite, black and white geometric patterned curtains are style personified.
Tropical Leaf Design Curtain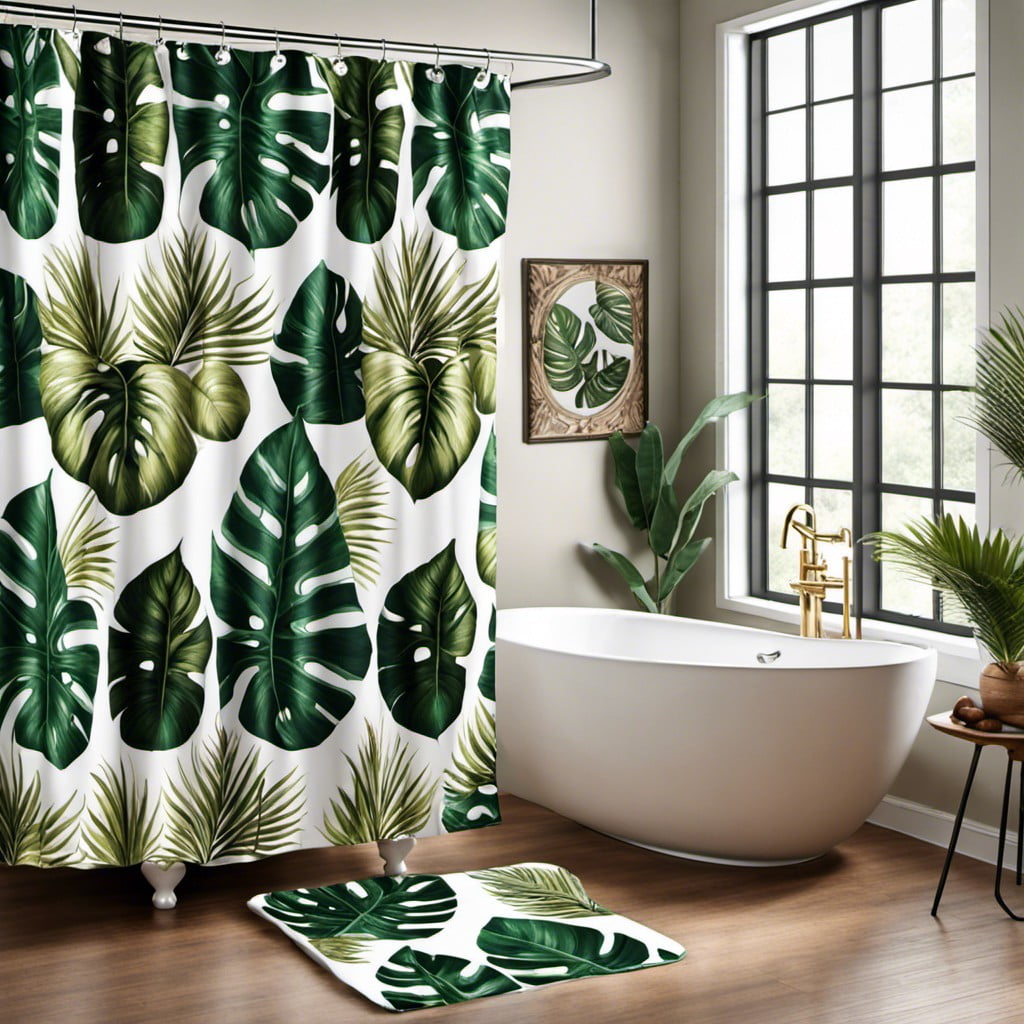 Bringing the freshness of nature into your bathroom cannot be easier. A curtain with leafy prints instantly turns the space into a tropical haven. You have numerous choices in terms of leaf variations. From the vivid hues of Hawaiian hibiscus to calmer shades of green palm leaves, you can find a pattern that suits your aesthetic.
For a more authentic feel, opt for a design that includes various leaf textures and shades. Some curtains even feature realistic water droplets. Combine with bamboo bath mats and leaf-patterned towels for a complete natural touch.
To contrast the leafy vista, consider a bright color for your bathroom accessories. Vibrant orange or sunny yellow soap dispensers and toothbrush holders would emulate the colors of exotic fruits. Also, consider adding some real greenery. A humidity-loving plant like a fern or orchid could thrive in your new tropical paradise.
Remember, your curtain should be waterproof and easy to clean. This design is more about aesthetics than functionality, so ensure it doesn't compromise on the practical aspects. You want your bathroom to look like a tropical oasis, and not feel like a rainforest.
Vintage Style Map Curtain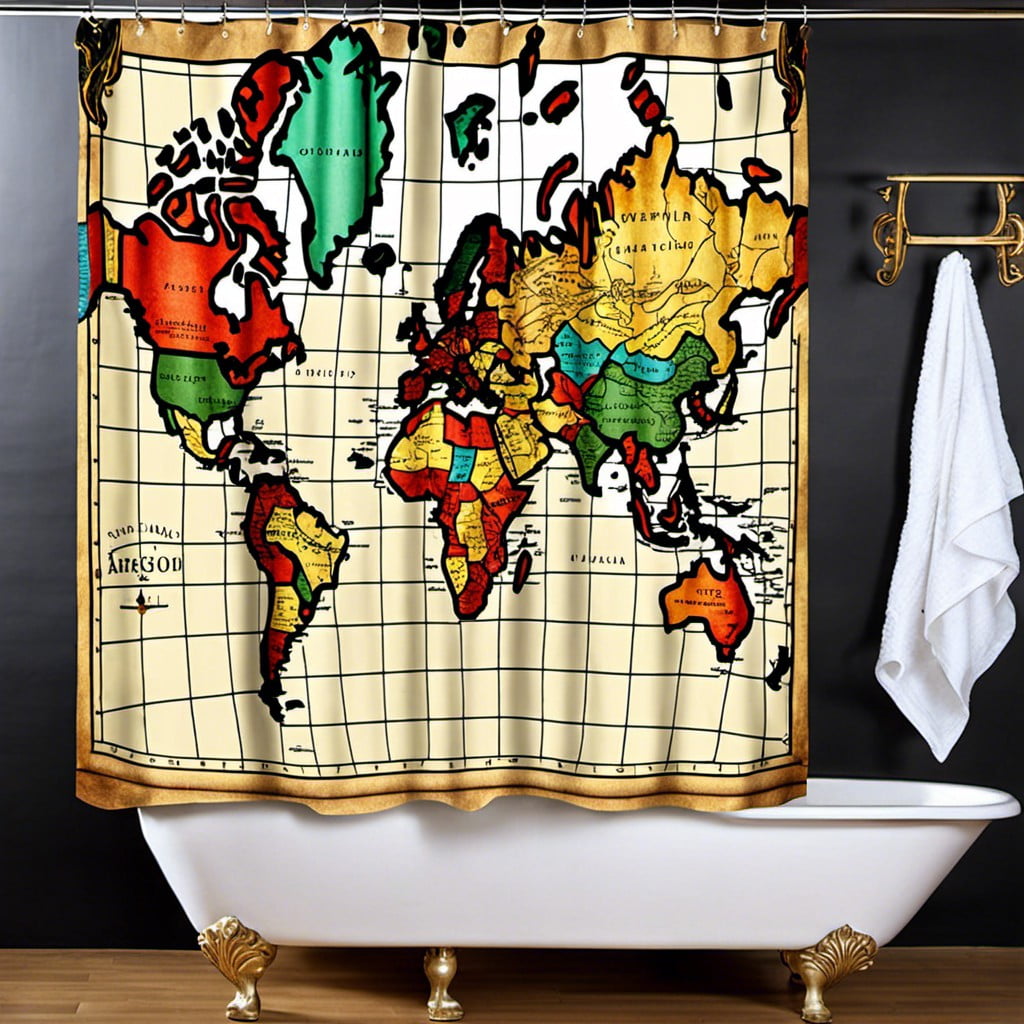 This decor idea presents a unique opportunity: turn your shower curtain into a conversation piece, while adding a refined aesthetic. A vintage map print serves not only as a coruscating visual element but also a nod to your adventurous spirit, or possibly your love for geography and history.
Here are some points to consider:
Look for antiquated designs preferably in sepia or faded tones to enhance the vintage vibe.
World maps, sea charts or even old city maps can all create captivating displays.
Balance out the vintage design by keeping the remaining bathroom decor simple and clean to avoid visual chaos.
Coordinate your choice with elements like rugs, towels or soap dispensers that echo the color scheme or motifs to create a cohesive look.
See curtain's material quality; it should be not just visually pleasing but also durable and waterproof.
This design fits perfectly in a variety of bathroom settings, from a classic Victorian style to a modern minimalist one, making it a versatile choice.
Curtain With Inspirational Quotes
Having daily affirmations in one of the most personal spaces in your home can indeed uplift the spirit. This decor idea is not only visually engaging but also offers a source of motivation every day. Here are some ideas on how to incorporate this trend.
Quotes and typography – Go for bold and simple fonts for maximum impact. Choose messages that inspire and align with your values.
Color coordination – Match the quote's colors with the bathroom interior to maintain harmony.
Unique Layouts – The layout of the quotes could be vertical, diagonal, or in expressive freehand-style.
Illustration with quotes – Pair the quotes with relevant illustrations to enhance visual appeal.
Choose a quote or design that brings positivity into your mornings. Remember, every little detail in your home decor contributes to your overall well-being.
Ocean Photograph Curtain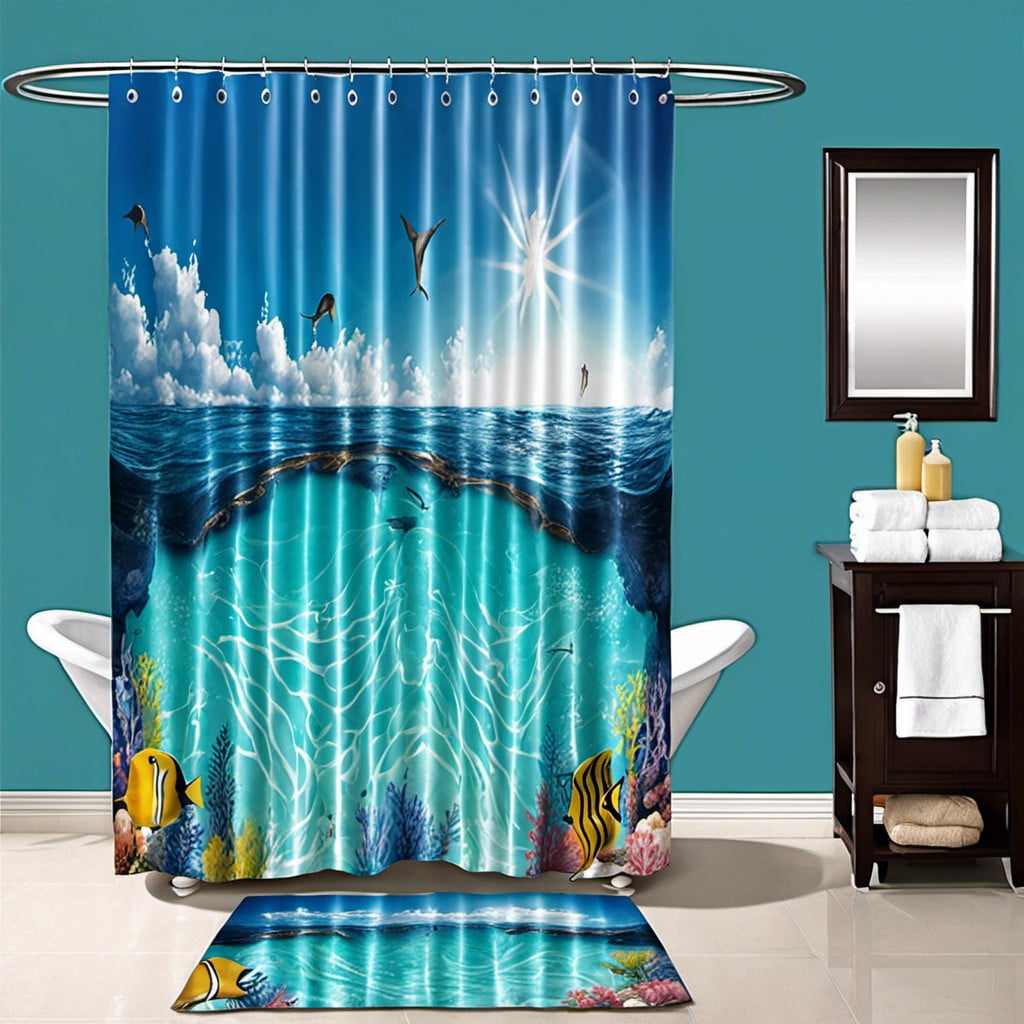 Snapping a perfect picture of the ocean is an art, and that art can now adorn your bathroom! The impressive wave crests, vibrant hues of blue, and tranquil atmosphere captured in these photos can create a serene and calming ambiance right in your shower.
It's like taking a dive into the cool sea without leaving your home. They come in various styles – from tropical beach sunsets to underwater wonders, reflecting the vastness and diversity of the sea.
Enjoy a soothing sunset or feel the thrill of a raging sea right in your bathroom. Whichever style you choose, it will surely transform your shower time into a delightful aquatic adventure.
Color Block Style Curtain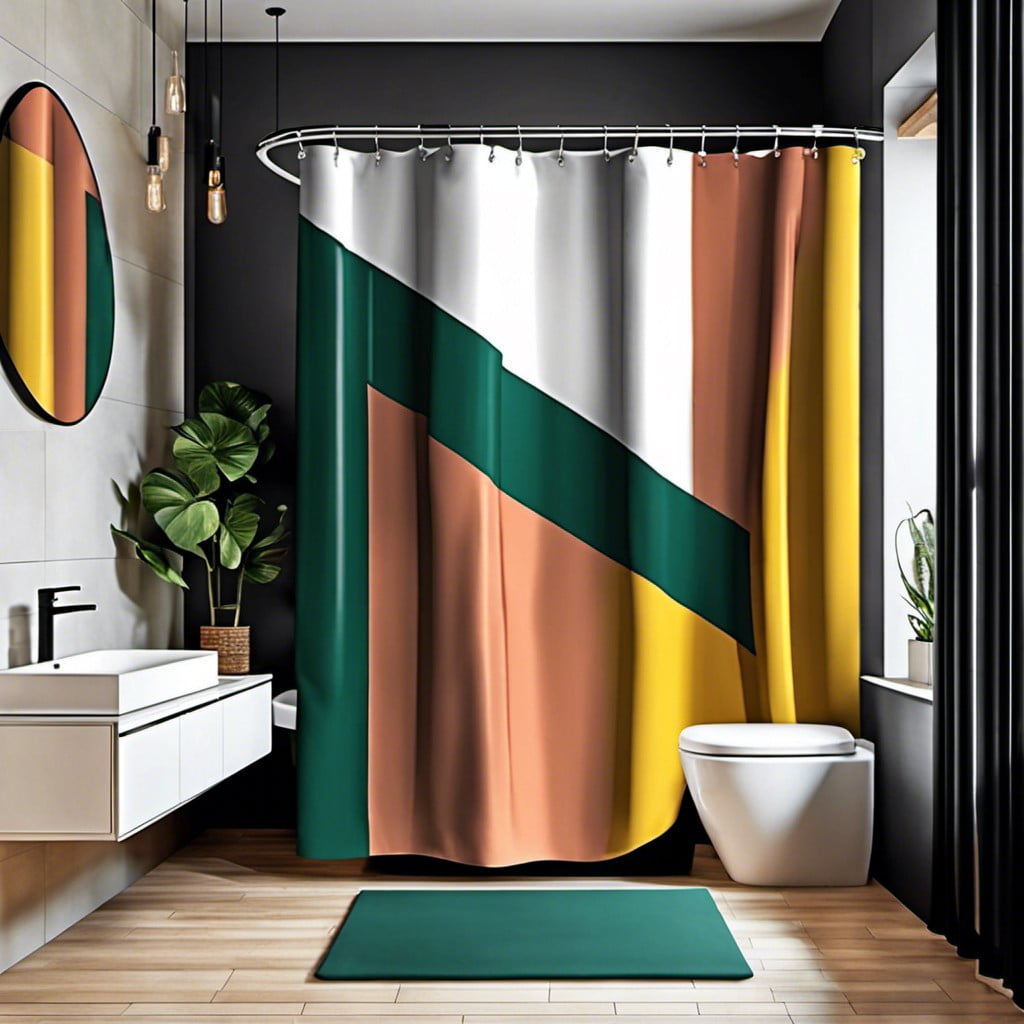 Color block curtains can be fantastic for introducing a burst of vibrancy to your bathroom. With blocks of different hues, they effortlessly break the monotony of solid-colored curtains. It gives you the opportunity to experiment with shades that complement your wall color, flooring, and bathroom fixtures.
For instance, balancing a soft pastel block with a deep, rich color can create an interesting contrast. Similarly, pairing a neutral color block with a bright, bold color block can heighten the visual appeal.
If you're yearning for an eye-catching look, consider trendy combinations such as lime and teal, pink and navy, or mustard and grey. Just remember, it's all about playing with colors to mirror your style preference and bathroom décor.
Rustic Barn Wood Curtain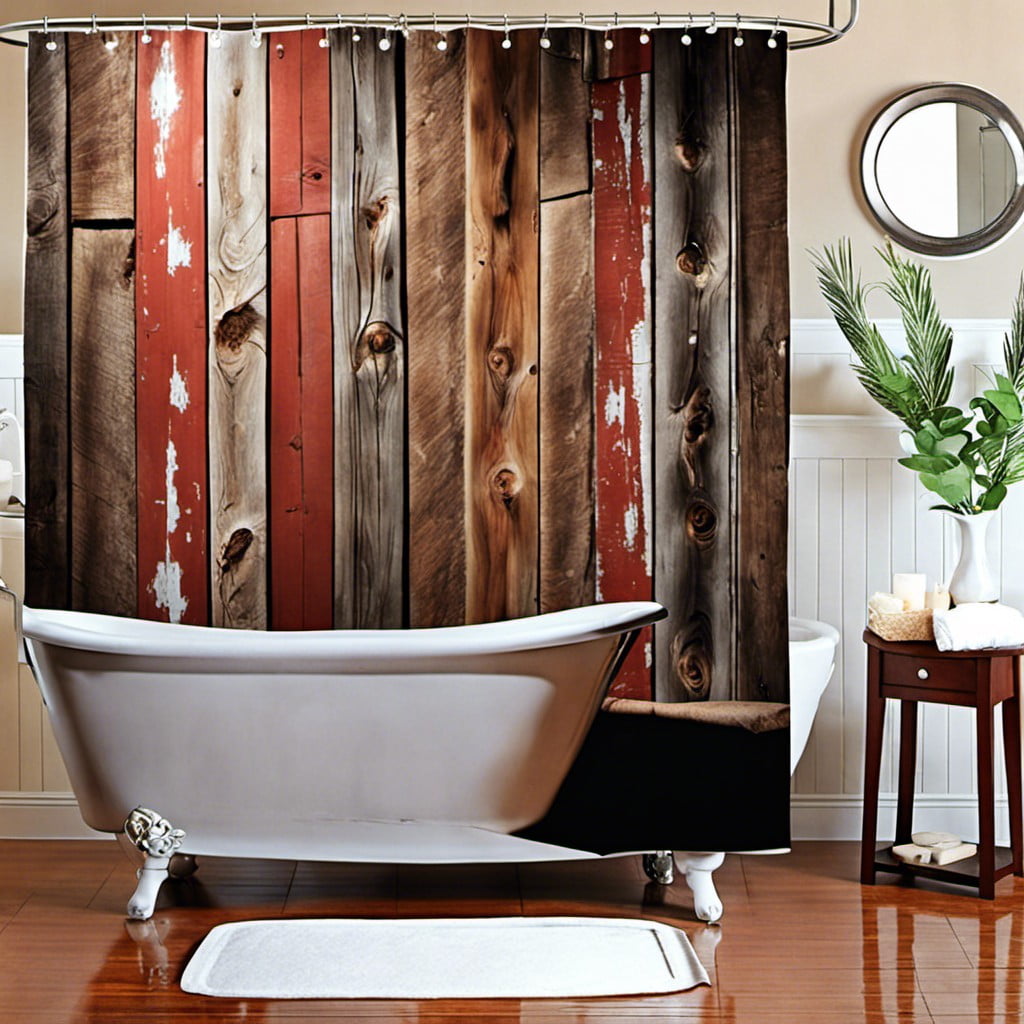 Rustic doesn't have to mean rundown. Perfect for bringing a countryside charm right into your urban dwelling, a rustic barn wood curtain effortlessly blends nature with your bathroom interior.
1. Using Muted Shades: Play with a neutral palette of grays, browns, and whites mimicking the hues of aged barn wood.
2. Focusing on Texture: The printed canvas enhances the rustic feeling with textures imitating the rough-hewn wood of a barn.
3. Adding Weathered Features: Moderate amounts of weathering give an authentic-look feeling of being time-worn, not old or damaged.
4. Keeping It Natural: Complement the look with other natural elements like stone or soft beige towels and bathroom mats for an organic touch.
Remember, you don't need to own a farmhouse to enjoy the cozy cabin vibes!
Striped Curtain With Shades of Blue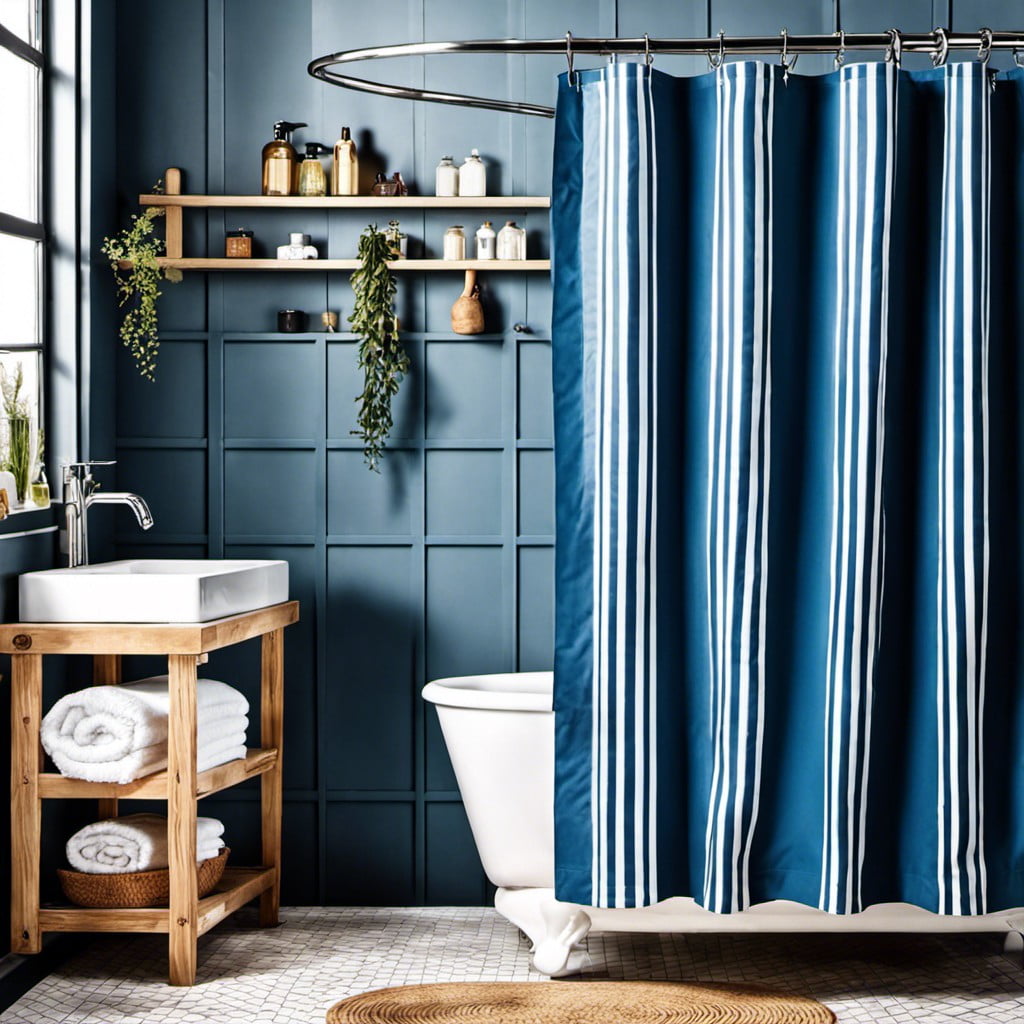 Dive into a calming seascape every time you enter your bathroom by incorporating various blue hues. These tranquil tones, ranging from nautical navy to soothing sky blue, bring feelings of serenity associated with the vast ocean.
1. Gradience: Create a subtle transition effect by selecting curtains with stripes that gradually move from a deep marine blue at the top to a light cyan towards the bottom.
2. Contrast: Choose curtain designs that contrast dark and light shades of blue. This can not only make your bathroom visually engaging but can also assist in regulating the depth of the room.
3. Horizontal versus Vertical: You might also consider the orientation of stripes. While vertical lines can add perceived height to the room, horizontal strips can make the space appear wider.
4. Pairing: Remember, the curtain isn't the only part of your bathroom. Pair your blue curtain with neutral tones like whites, greys or even sandy beiges to fully bring out the nautical and beachy feel.
Experimenting with these diverse elements can turn your bathroom into a serene maritime space – the perfect oasis to start your day. Stay open to trying different configurations until you find the one that best suits your aesthetic and space.
Curtain With Kid-friendly Cartoon Animals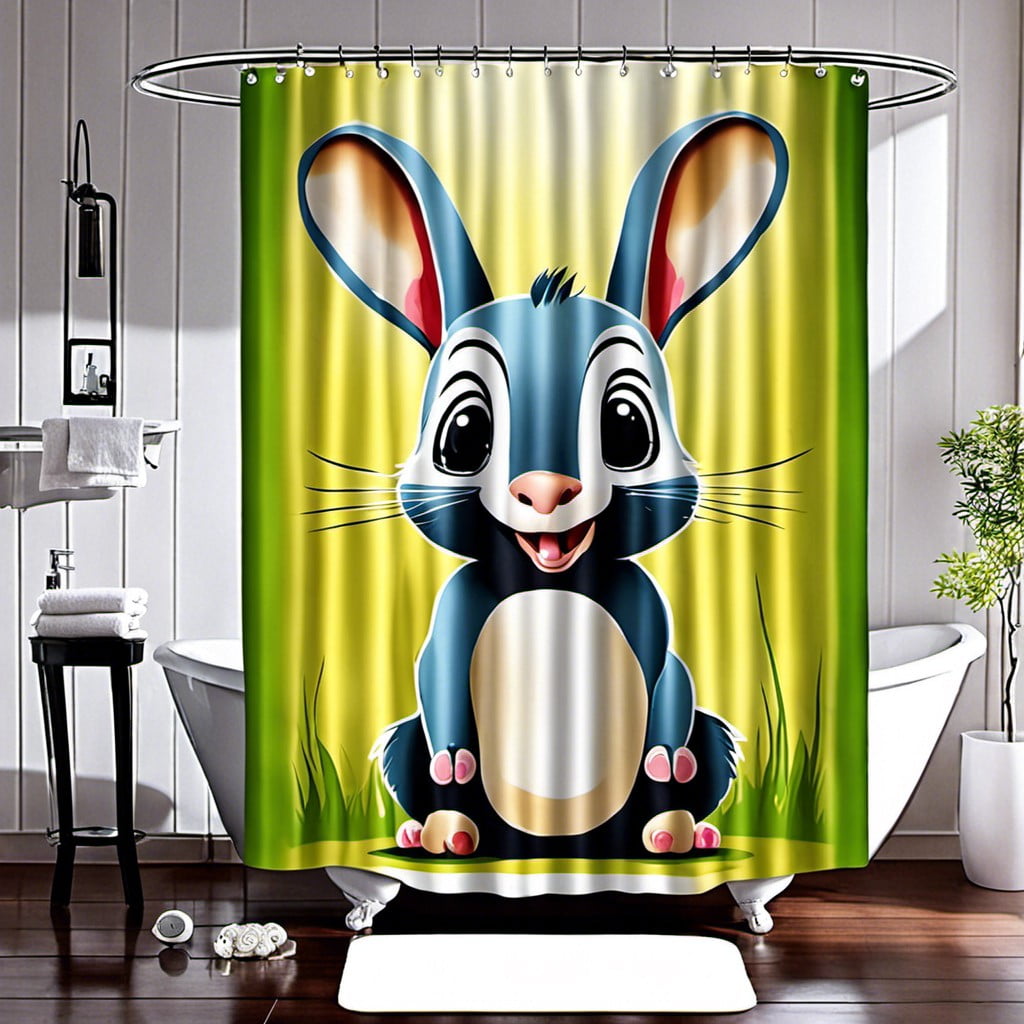 For a shared bathroom or one dedicated to children, an animated approach can bring joy and fun into the daily routine. Opt for a variety of animals to intrigue and educate the youth, or stick with their favourite creatures for a personal touch.
1. Educational Value: Depicting different species, these curtains can serve as a fun tool for kids to learn about the natural world.
2. Colorful: Cartoon animals usually come in a wide spectrum of colors, making these shower curtains visually appealing and vibrant.
3. Versatility: No matter the bathroom color scheme, a curtain with cartoon motifs can easily fit in.
4. Creativity: This choice sparks imagination and encourages storytelling, making bath time more enjoyable for children.
5. Customizable: Plenty of manufacturers allow custom requests, making it possible to have your kid's drawings transformed into curtain designs, fostering their artistic flair.
Remember to consider the curtain material to guarantee both the durability and safety of the product. Polyester and vinyl are commonly preferred for their water-resistant and easy-to-clean attributes.
Monochrome Minimalistic Curtain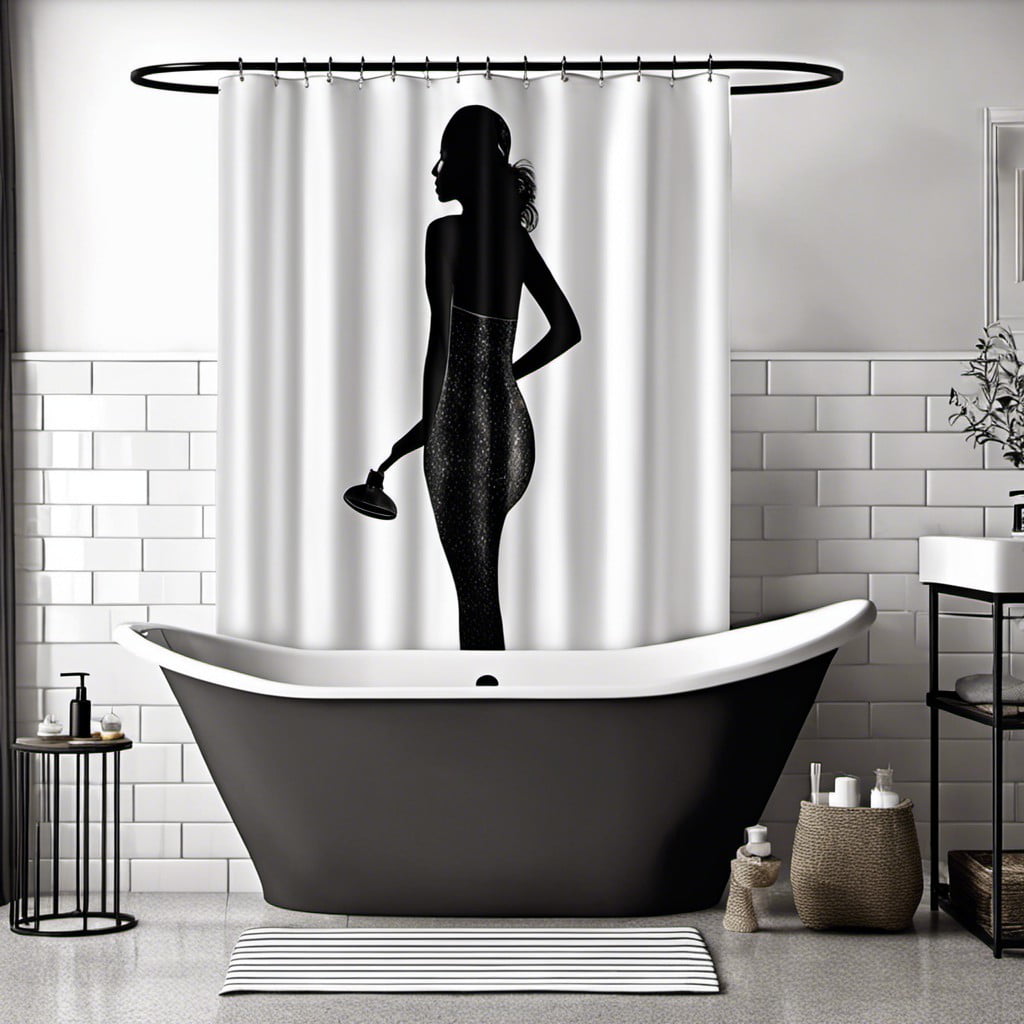 Choosing this style gives your bathroom a sophisticated, clean look. With shades from pure white to deep black, it allows for a wide array of design aesthetics. Furthermore, they pair well with sleek chrome or stainless-steel fixtures, adding an ultra-modern touch.
The fewer colors in a scheme, the more calming it tends to be.
1. Benefits: Simplistic, fits almost any decor, visually soothing, sophisticated.
2. Pairing: Works well with metal fixtures, stark whites, cool greys, or even bursts of accent colors.
3. Material recommendations: Opt for mildew-resistant fabrics for longevity. Textured fabrics can add depth.
4. Maintenance: Regular cleaning maintains the crisp look, but monochrome curtains hide soap and water marks better than their colorful counterparts.
5. Pattern Variety: From distinct geometric shapes to subtle textures, there's a wide range of monochrome curtain designs available.
6. Lighting: Monochrome curtains can help manipulate lighting in your bathroom. Lighter colors can brighten up a dark room, while darker ones can create a cozy, intimate atmosphere.
7. Size options: Monochrome curtains are readily available in standard sizes. However, special sizes are generally easy to find through custom order outlets.
Remember, the power of a monochrome minimalistic curtain lies in its ability to complement the existing decor while still maintaining its distinct visual appeal.
Polka Dot Curtain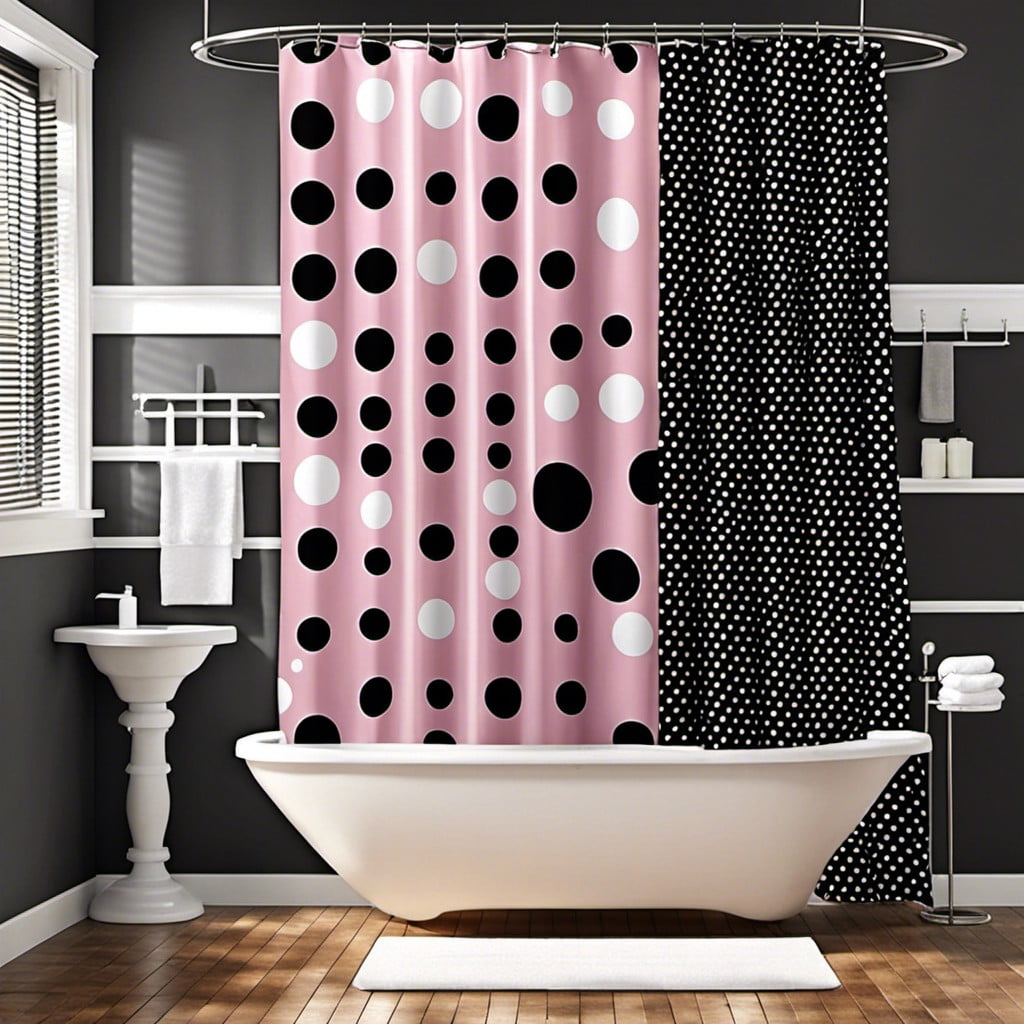 While remaining a classic, polka dots inject a fun and cheerful atmosphere into the bathroom setting. Their versatility lets them perfectly fit in both a vintage-inspired decor and contemporary setting. By manipulating the size and color of the dots, one can greatly influence the overall vibe.
Small and subtle dots strike balance, maintaining a relatively quiet and simple pattern, ideal for a calming environment. On the contrary, bigger, bold colored dots make a striking impact and infuse oodles of vibrancy. A black and white polka dot curtain lends a chic, timeless look while multi-colored dots can mirror a lively, playful aura.
Polka dot curtains, coupled with matching or contrasting accessories like towels and rugs, can create a unified, wholesome appeal. From polka-dotted bath sets to simple, solid color elements, accessories play a crucial role in enhancing or toning down the polka dot theme. A well-chosen curtain rod – be it bronze, chrome, or brushed nickel – can also amplify the aesthetic quotient.
In essence, the charm and flexibility of a polka dot shower curtain make it a darling of the decor world. It effortlessly creates styles ranging from subtle and elegant to lively and playful. The control to manipulate the ambiance vests in one's hands. So, go ahead and explore the plethora of possibilities it presents.
Patriotic Flag Design Curtain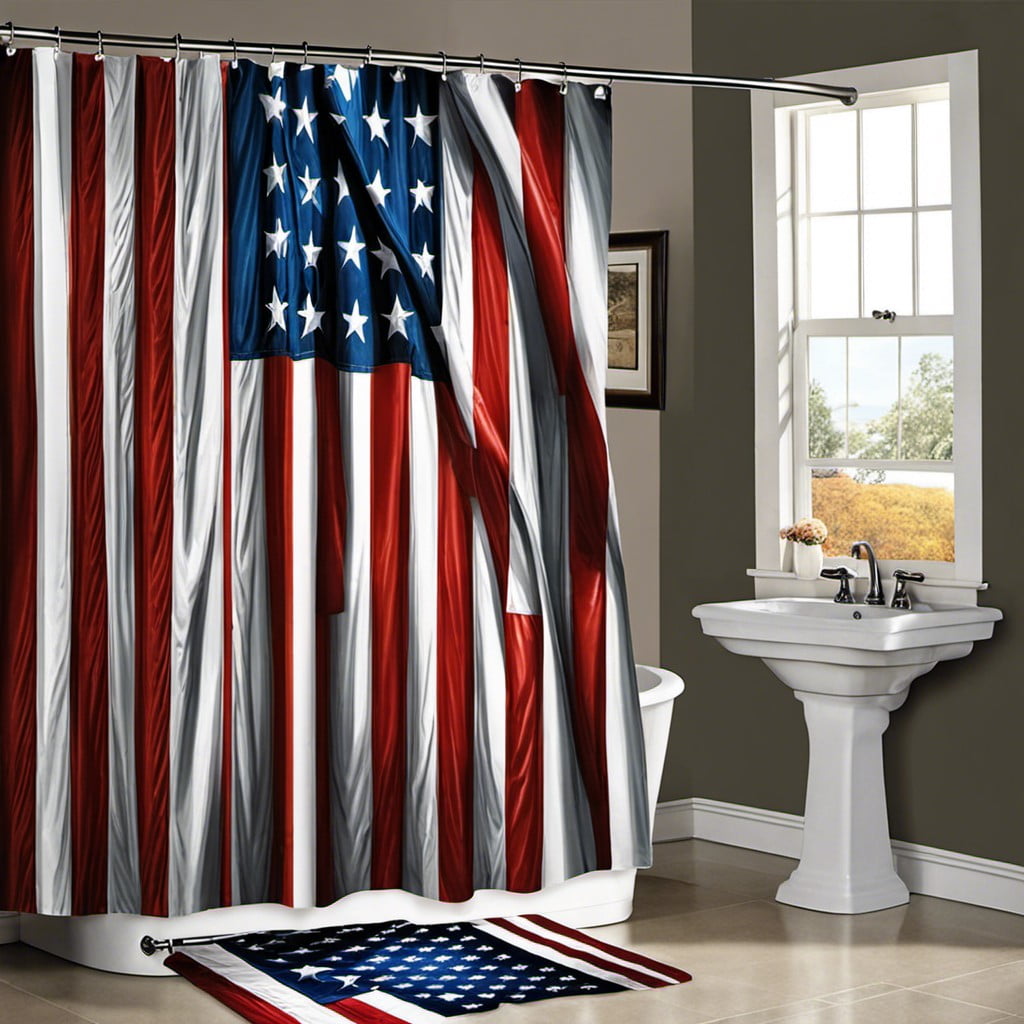 A flag design can bring a burst of color and strong sense of identity to the bathroom. The familiar pattern of your nation's star-spangled banner or Union Jack, as an example, immediately creates a bold and vibrant focal point.
Beyond aesthetic appeal, this decor option allows you to voice your pride and dedication subtly. It can be an excellent conversation starter, too. Implement it in a minimalist bathroom for maximum impact or a themed bathroom that already incorporates colors from the flag.
Matching towels or bath mats could increase the patriotic vibe, but remember the golden rule of design – less is often more. Keep the rest of the decor modest and let the curtain shine.
Starry Night Printed Curtain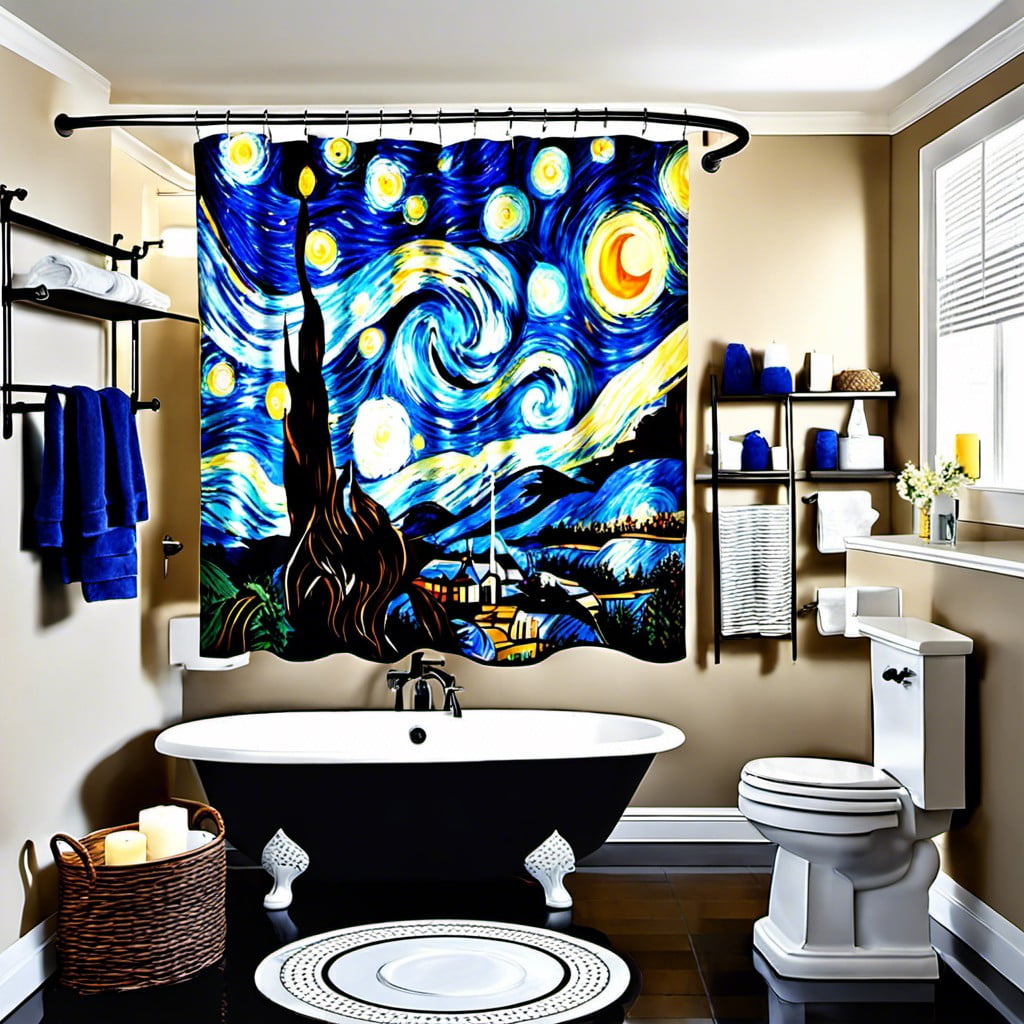 For a truly mesmerizing addition to your bathroom, consider a curtain printed with Van Gogh's infamous "Starry Night". The intricate swirls of blue and yellow will instantly transform your bathing space into a vibrant art gallery.
Besides its visual appeal, this design also carries a timeless touch, sure to outlast changing trends. With the various light and dark shades available, this curtain can blend into nearly any color scheme.
Lastly, remember that while the print is bold, minimalistic bathroom accessories will optimize its visual potency without being overwhelming.
Lace Detailed Shower Curtain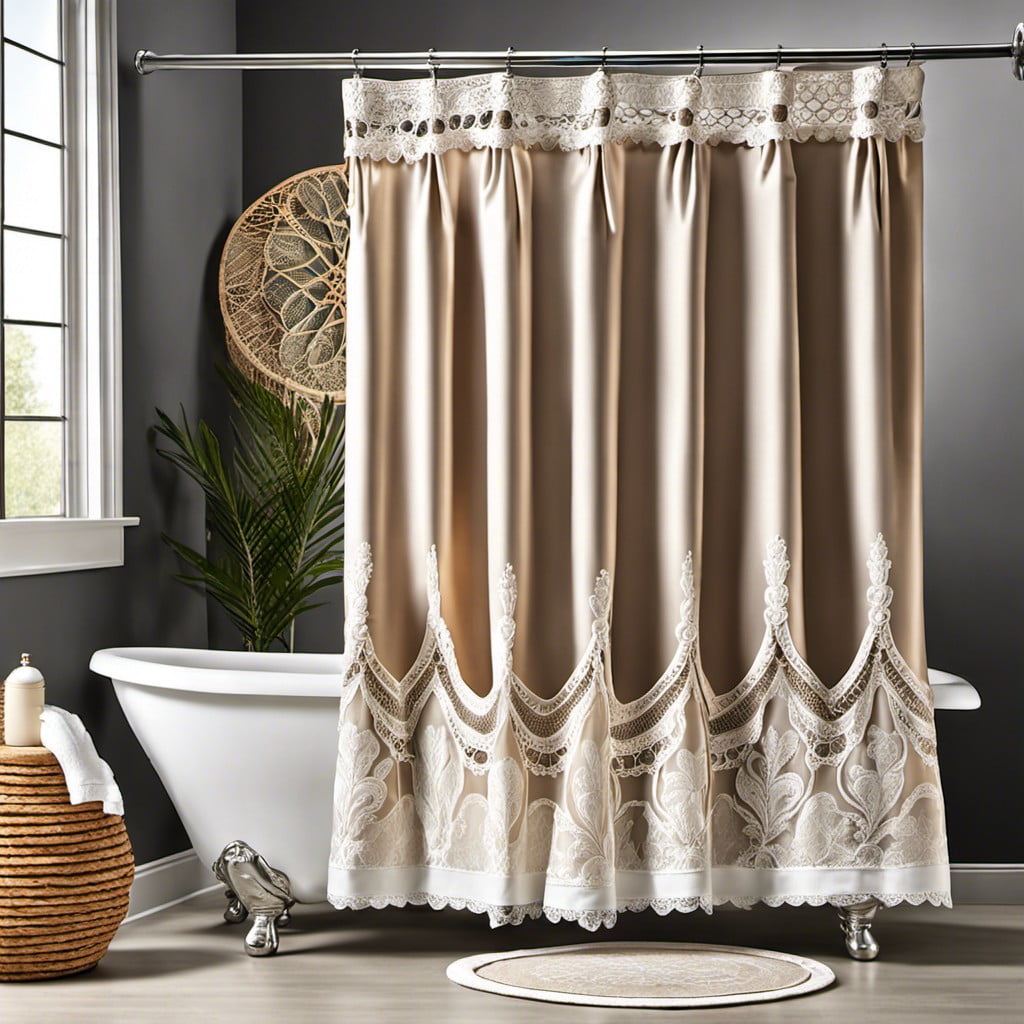 Embodying sophistication and grandeur, this decor idea brings a romantic charm to the bathroom. The light fabric with intricate designs provides both function and elegance. The lace detailing adds a layer of visual depth, while allowing soft diffused light into the shower area.
1. Choose a curtain with a netted lace pattern to create a vintage ambiance.
2. Opt for one with a dense floral lace pattern for a more feminine touch.
3. A simple linear or geometrical patterned lace will bring a modern edge.
4. Experiment with colors; while white convey pure classic, off-white or cream lends a warm cozy feel.
5. To protect the lace curtain from water, pair it with a shower liner.
6. Maintain the aesthetics of the lace detail by visually pairing with soft bathroom textiles, such as towels and floor mats.
Adding a lace detailed shower curtain to your bathroom means embracing not just the aesthetic appeal, but also form and function with a dose of lacy charm.
Colorful Mosaic Tile Curtain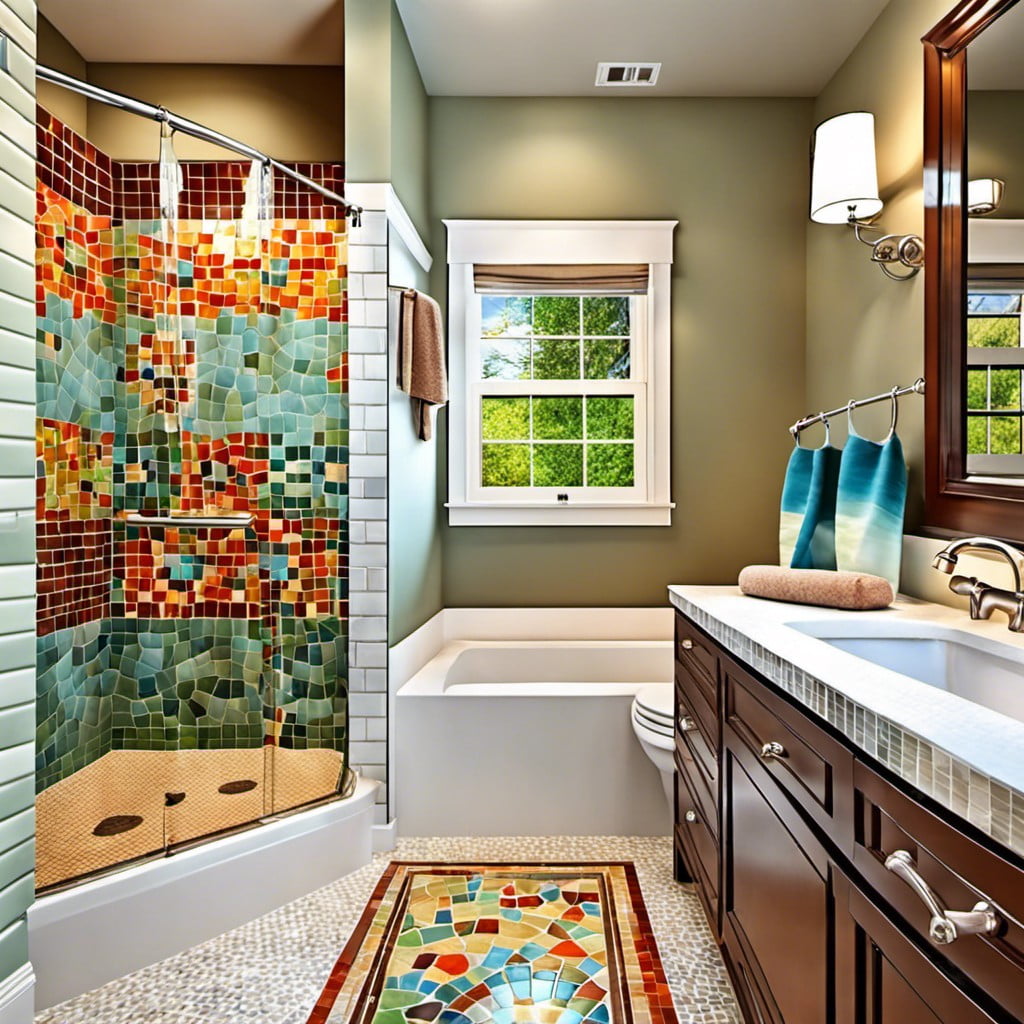 Reimagine traditional Mediterranean tiles with a shower curtain imprinted with vibrant, intricate mosaic designs. This choice brings an energetic personality to your bathroom, reflecting on brilliant cultures noted for their exquisite artistry.
Here are key considerations:
1. Color Scheme: Ensure that the rich hues in the mosaic pattern complement existing fixtures and decor items in your bathroom to avoid clashes. Neutral walls often work best with colorful curtains.
2. Material: Opt for a waterproof fabric or vinyl shower curtain for durability and easy cleaning.
3. Transparency: While a translucent curtain adds depth, a fully opaque one can boldly display your chosen design.
4. Scale: For smaller bathrooms, a smaller scale mosaic design can provide captivating decor without overwhelming the space. Conversely, large, bold tile prints can make a dramatic statement in more spacious bathrooms.
5. Matching Accessories: To enhance the charm, coordinate with towels, bathmats, or even soap dispensers that pick up colors from the curtain.
Keep your shower fun and invigorating with a colorful mosaic tile curtain!
Bold Abstract Art Curtain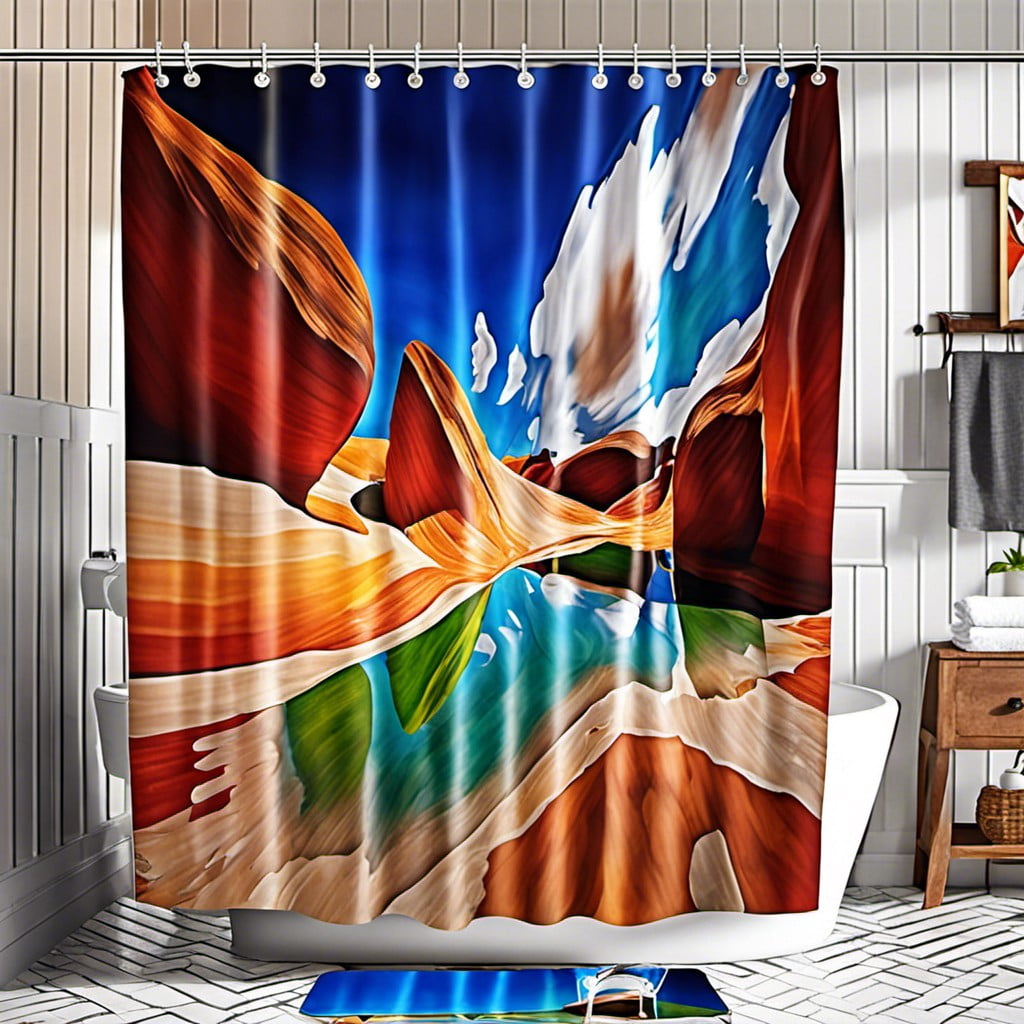 It's a daring choice, sure to make a focal point of any bathroom. This style of curtain is all about bold colors and irregular patterns, designed to catch the eye and stimulate the imagination. Experimentation is a big part of abstract art, offering room to challenge traditional aesthetics.
1. Colors: Vibrant hues, contrasting shades, or monochrome colors can all be used, depending on your taste and existing bathroom decor. Reds, yellows, and blues can create a vibrant, energetic atmosphere, while black and white designs offer a more sophisticated and mature appearance.
2. Shapes: Unlike other curtain designs, there's no 'correct' pattern or image for an abstract curtain. Irregular forms, chaotic arrangements, and seemingly random patterns are typical. This lends a unique and artistic feel to your bathroom.
3. Material: While the design is crucial, so too is selecting a high-quality material that complements the bold style. Materials that retain their color well, such as polyester and vinyl, are ideal.
4. Accessories: To balance out the boldness of the curtain, consider pairing it with more understated accessories. Think simple, single-color bath mats, towels, and other items. This will ensure your curtain remains the star of the show.
Remember, the beauty of abstract art is in its unconventional and unexpected nature. It's an excellent way to express your individuality and add a creative touch to an often overlooked area of home decor.
Curtain Featuring City Skyline Prints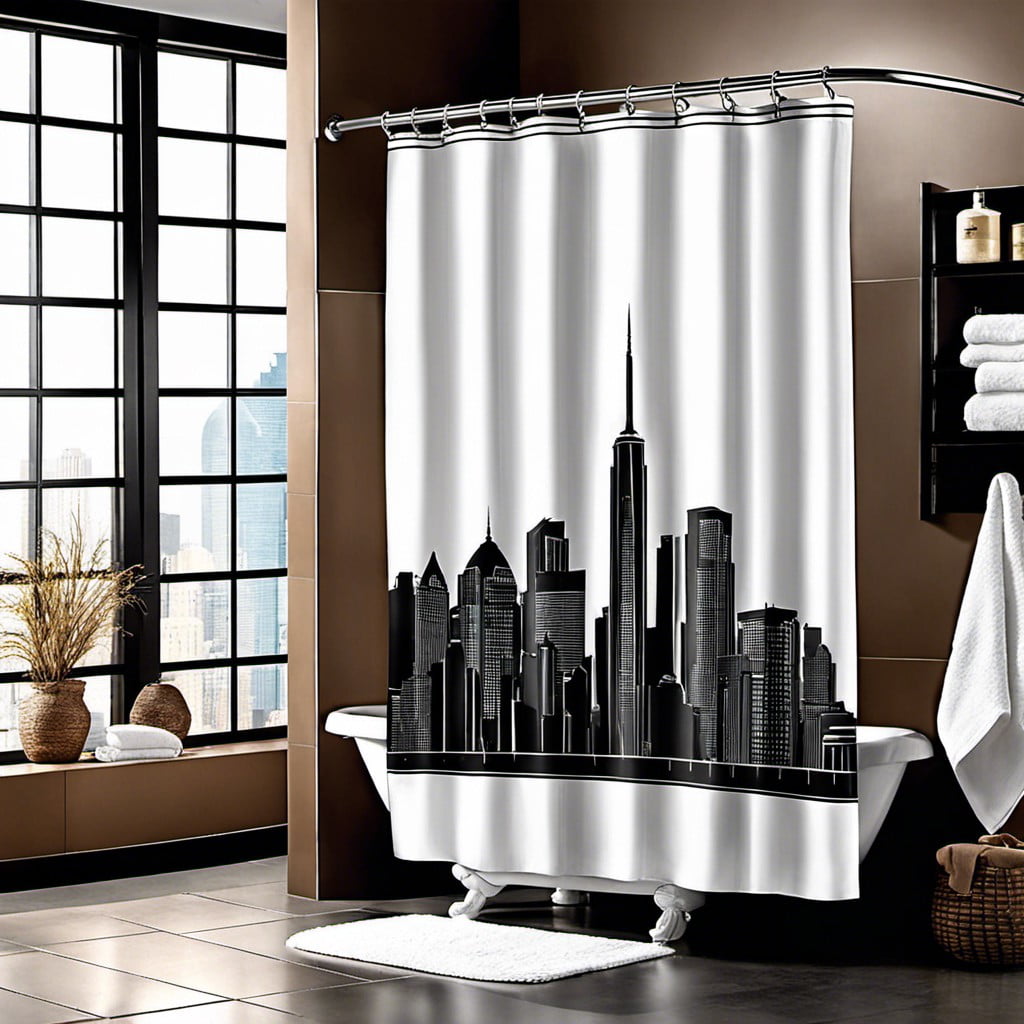 This type of curtain is an impactful way to pay homage to your favorite city or travel destination, infusing a metropolitan vibe into your decor. The right piece can serve as a stunning focal point, turning an otherwise simple bathroom into a tasteful statement about your lifestyle and preferences.
1. Opt for black and whites: A grayscale print creates a contrast against colorful bathroom tiles or walls, giving your space an elegant and sophisticated finish.
2. Flash of night lights: For those who enjoy the nightlife allure, picking a curtain that showcases a city's twinkling evening lights delivers an artistic spectacle.
3. Iconic skylines: Whether it's New York's sprawling high-rises, London's Tower Bridge, or Paris's Eiffel Tower, add an iconic skyline to personalize further.
4. Attention to detail: Ensure your city's skyline curtain coordinates with your bathroom's overall color scheme for a harmonious look.
5. Add complementary accessories: Silver or black bathroom fixtures, such as towel racks and faucets, are excellent pairings with most city skyline curtains.
Continue reading:
Recap