Last updated on September 25, 2023
Discover the elegance of white and gold bathrooms with these twenty stunning ideas that'll transform your space into a luxurious sanctuary.
Are you tired of your boring, outdated bathroom? Do you want to transform it into a stunning, sophisticated space that exudes luxury and elegance? Look no further than the classic combination of white and gold. This timeless color pairing can instantly elevate any bathroom from drab to fab.
In this article, we'll share 20 ideas for incorporating white and gold into your bathroom design, from fixtures to accessories and everything in between. Get ready to be inspired by these chic and stylish ideas that will leave you feeling like royalty every time you step foot in your new white and gold oasis.
Table of Contents
Gold-accented Faucets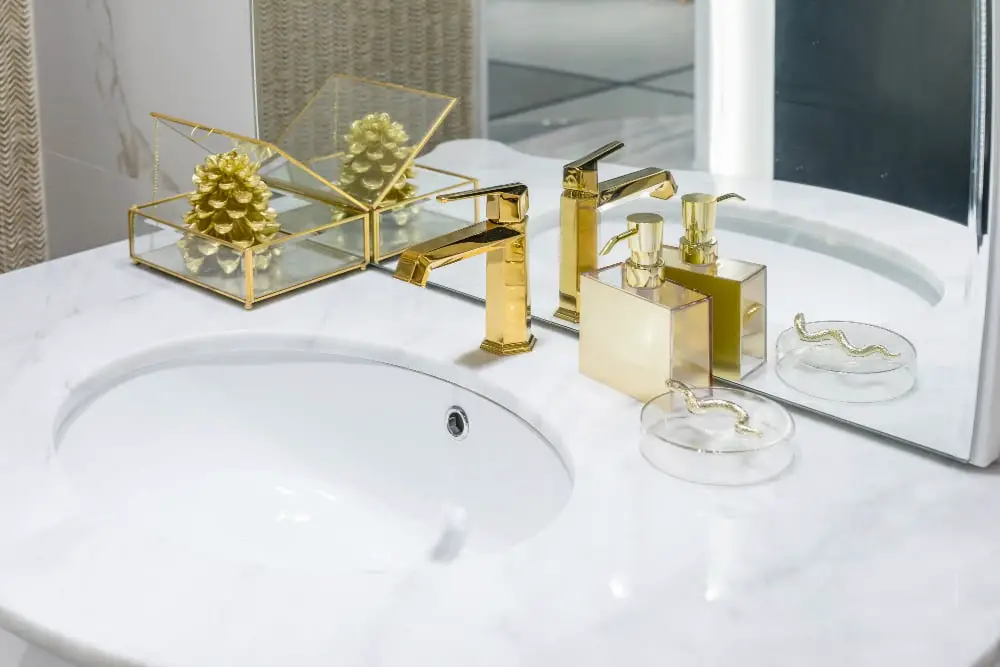 Gold-accented faucets are a great way to add a touch of luxury and elegance to your white and gold bathroom. These faucets come in various styles, from modern to vintage, so you can choose the one that best fits your bathroom's overall design.
Pairing these faucets with white porcelain sinks or countertops creates an eye-catching contrast that will make your bathroom stand out. Gold accents on the faucet handles or spout can complement other gold elements in the room such as towel racks or lighting fixtures.
Incorporating gold-accented faucets into your white and gold bathroom is an easy way to elevate its style without breaking the bank!
White Marble Countertops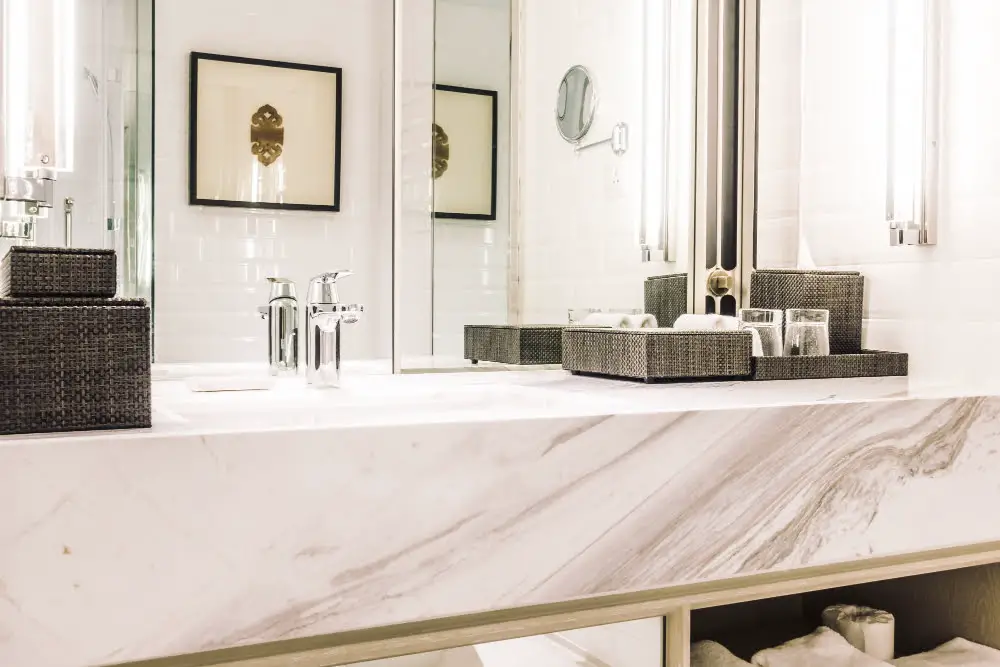 Marble is a natural stone that adds elegance and sophistication to the space. It's also durable and easy to clean, making it perfect for high-traffic areas like bathrooms.
When paired with gold fixtures or accessories, white marble countertops create an opulent look that exudes luxury. Whether you choose Carrara or Calacatta marble, your bathroom will have a timeless appeal that never goes out of style.
Keep in mind that while beautiful, white marble can be prone to staining if not properly sealed and maintained over time – so make sure you take care of it!
Gold-framed Mirrors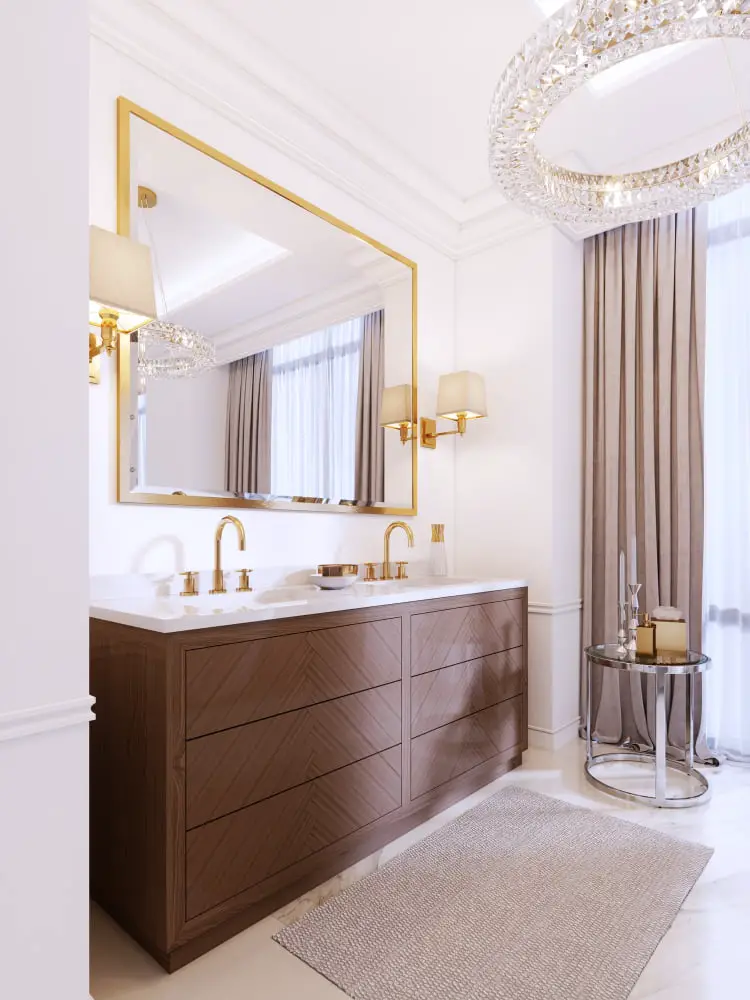 They add a touch of elegance and sophistication while also reflecting light, making the space feel brighter and more spacious. There are many different styles of gold-framed mirrors to choose from, including ornate designs with intricate details or simple frames with clean lines.
Consider hanging one large mirror above the sink or vanity area for a dramatic effect, or group several smaller ones together for an eclectic look. No matter what style you choose, adding gold-framed mirrors is an easy way to elevate your bathroom decor.
White and Gold Mosaic Tiles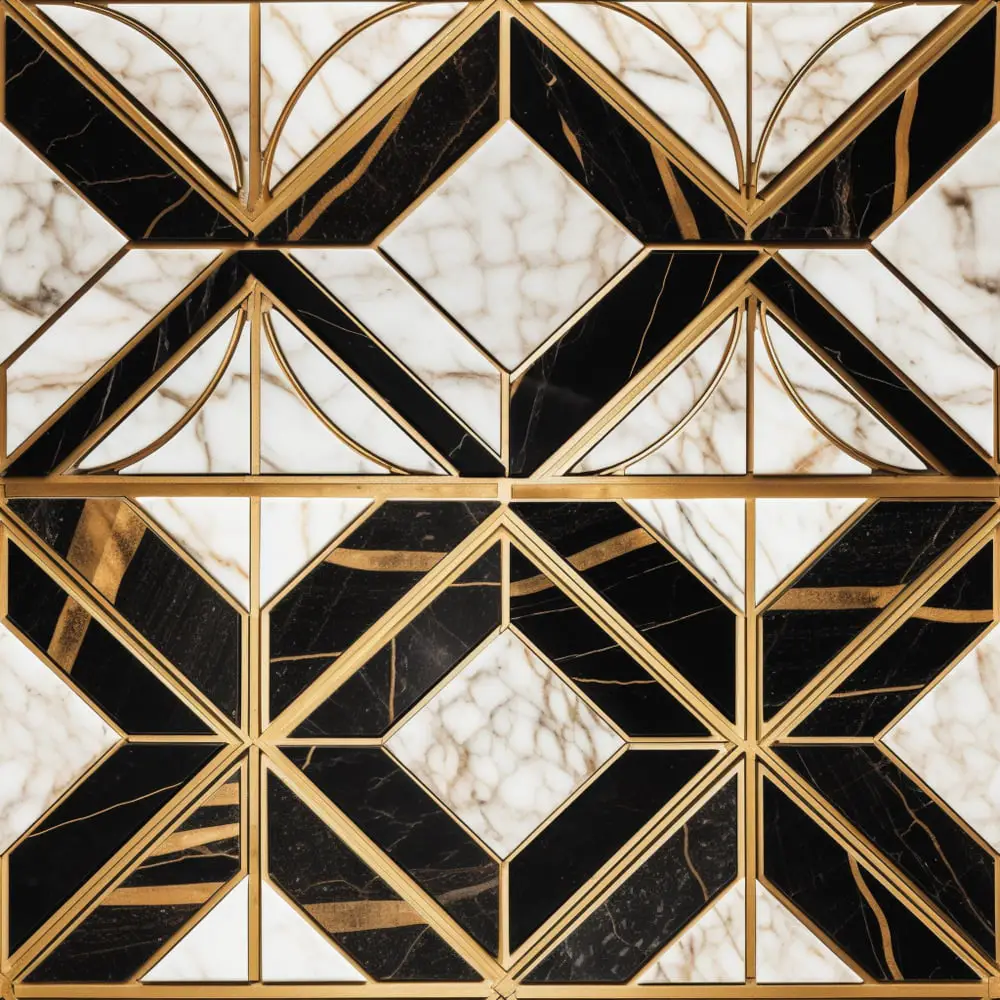 These small tiles can be arranged in various patterns, such as herringbone or chevron, to create a unique look. The combination of white and gold adds an elegant touch that elevates the overall design of the space.
Mosaic tiles also have practical benefits – they are easy to clean and maintain, making them perfect for use in bathrooms where hygiene is important. Consider using white and gold mosaic tiles on your shower walls or as an accent behind your vanity mirror for a luxurious feel in your bathroom design scheme.
Crystal Chandelier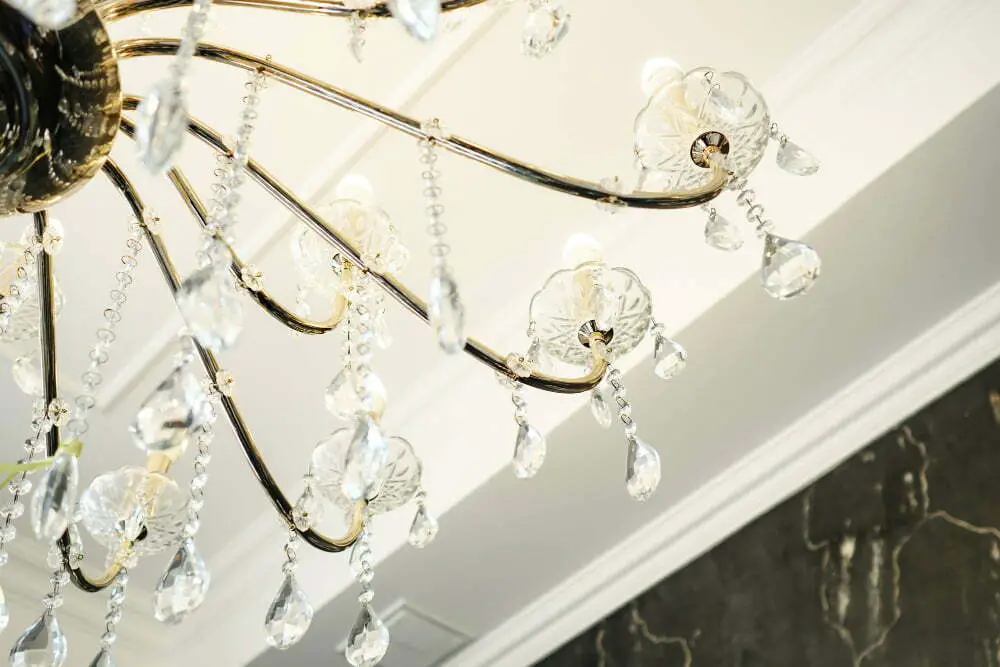 It adds elegance and sophistication to the space, making it feel like a high-end spa. The sparkle of the crystals reflects beautifully against the white walls and gold accents, creating an enchanting atmosphere.
A crystal chandelier can be hung above a bathtub or in the center of the room as a focal point. It's important to choose one that fits with your overall design aesthetic and complements other fixtures in your bathroom such as faucets, mirrors, or towel racks.
When properly installed by an electrician, it will provide ample lighting while also serving as an eye-catching statement piece for years to come.
White Porcelain Bathtub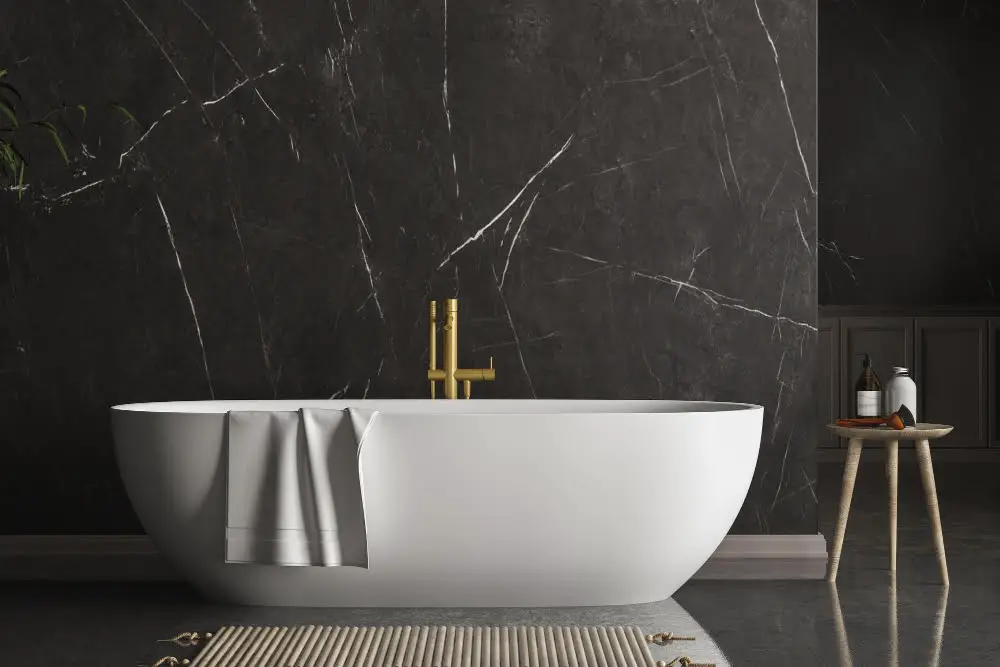 The clean lines of the tub create a timeless look that will never go out of style. To make your white porcelain bathtub stand out, consider adding gold fixtures such as faucets or showerheads.
You can also add some texture by placing a plush white bathmat next to the tub for added comfort and luxury. A simple yet elegant touch would be to place some fresh flowers in a vase on the edge of your bathtub for an extra pop of color against the pristine whiteness of your tub.
Gold Showerhead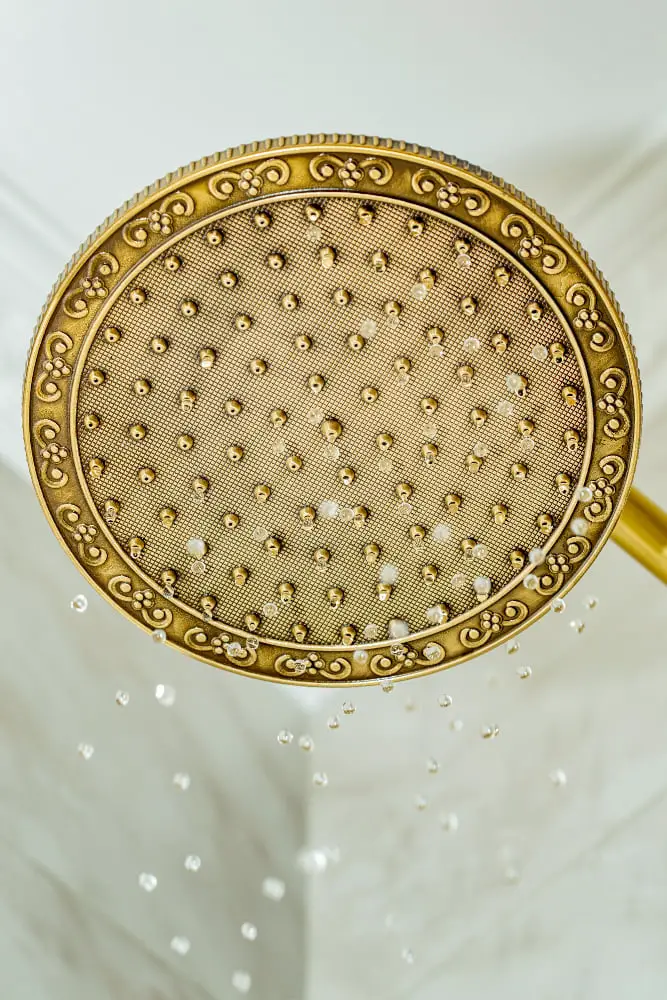 It adds an elegant touch to the space and can be paired with other gold accents such as faucets, towel racks, or lighting fixtures. A high-quality showerhead not only looks great but also provides a comfortable and enjoyable shower experience.
When choosing a gold showerhead, consider the size of your bathroom and the water pressure in your home to ensure that you select one that will work well for you. With its stunning appearance and practical benefits, a gold showerhead is definitely worth considering when designing your dream white and gold bathroom.
White and Gold Patterned Wallpaper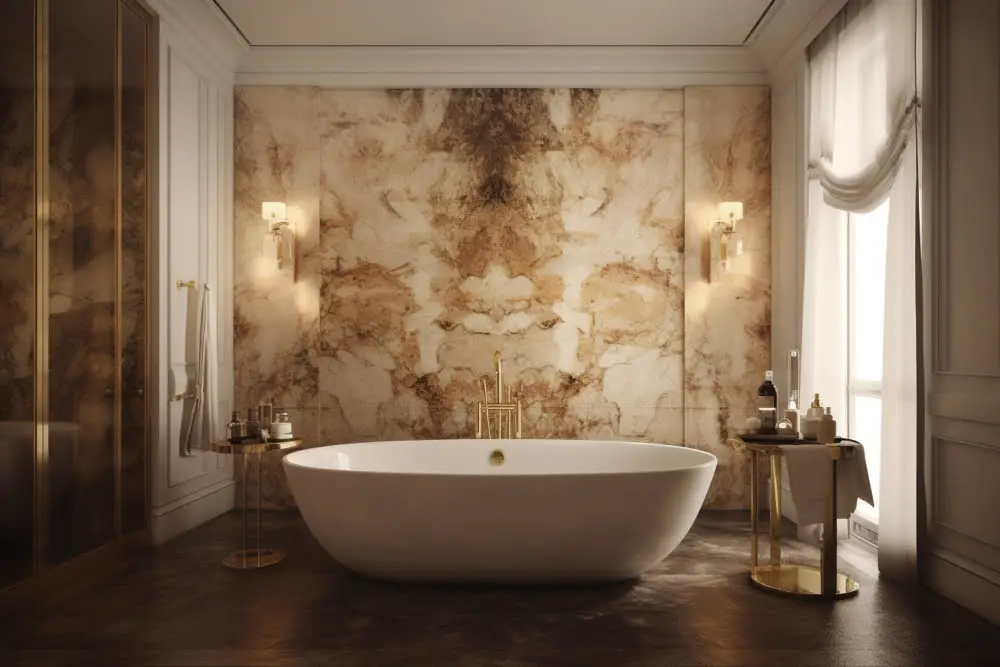 The combination of white and gold creates an elegant look that can be both modern or traditional, depending on the design you choose. A subtle geometric print in white with metallic gold accents can give your bathroom a contemporary feel, while a more intricate floral pattern in these colors will create a classic look.
When using this type of wallpaper, it's important to balance it out with other elements such as solid-colored towels or accessories so that the overall effect isn't too overwhelming. Consider pairing this wallpaper with simple fixtures like plain white sinks or toilets for maximum impact without going overboard on patterns and textures throughout the space.
Gold Towel Racks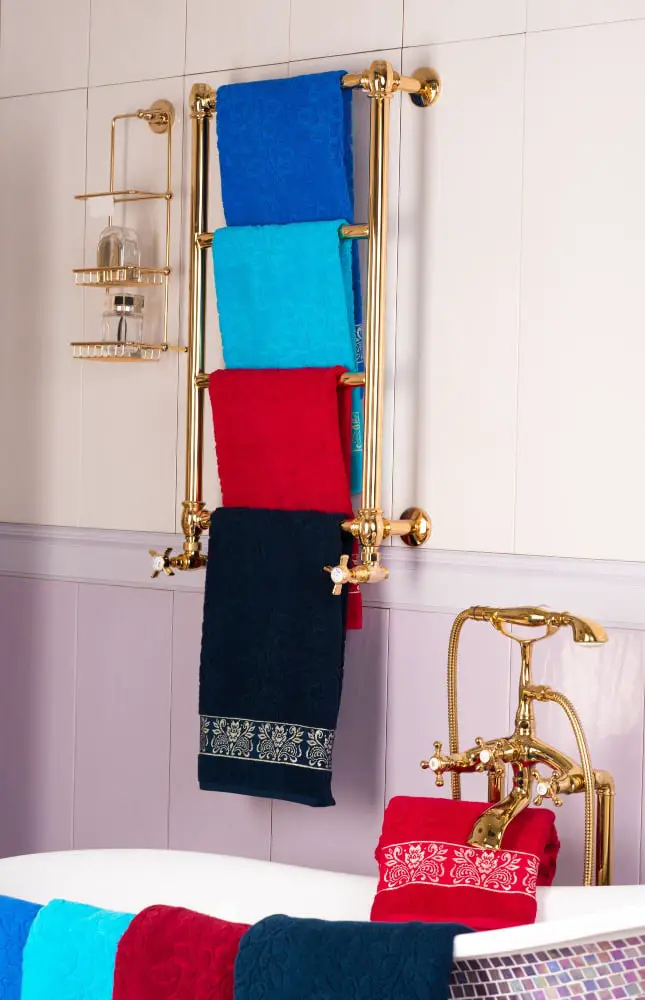 They add a touch of elegance while also being functional. Towel racks come in various styles, from simple straight bars to more elaborate designs with intricate details.
When choosing the perfect gold towel rack for your bathroom, consider the size and style of your space as well as how many towels you need it to hold. A larger family may require multiple towel racks or one with several bars for maximum storage capacity.
Whatever style you choose, adding a gold finish will elevate the look of your bathroom instantly!
White Plush Bathmat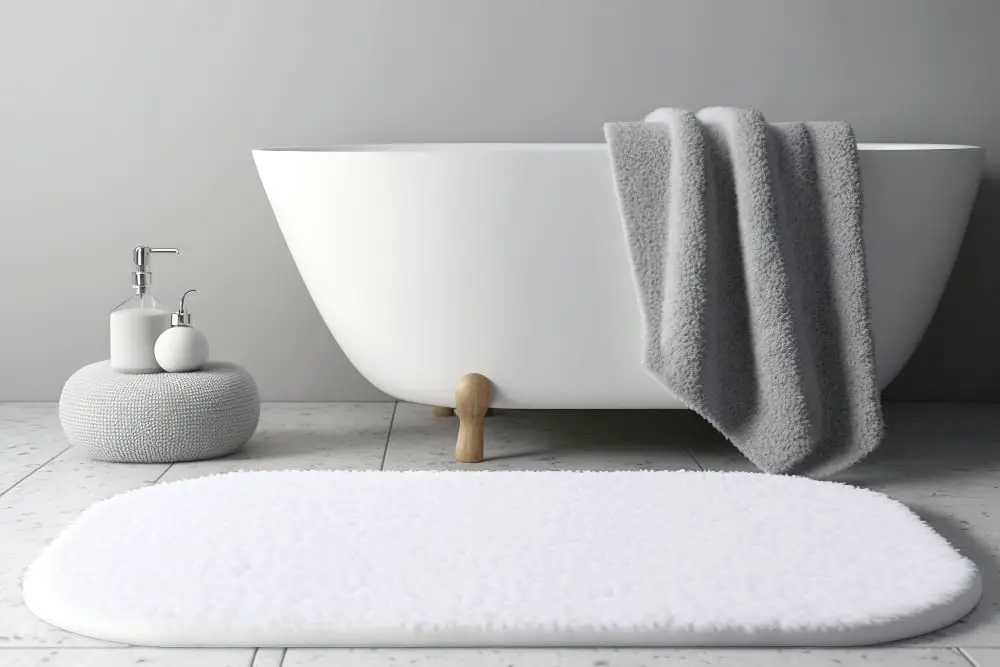 Not only does it provide comfort and warmth underfoot, but it also adds texture and depth to the overall design. A fluffy white bathmat can complement gold accents in the room by creating a soft contrast against shiny surfaces.
It's important to choose a high-quality material that will withstand frequent use and washing without losing its shape or color. A plush cotton or microfiber option would be ideal for this purpose, as they are both durable and absorbent materials that feel great on bare feet after stepping out of the shower or bathtub.
Gold Vanity Lighting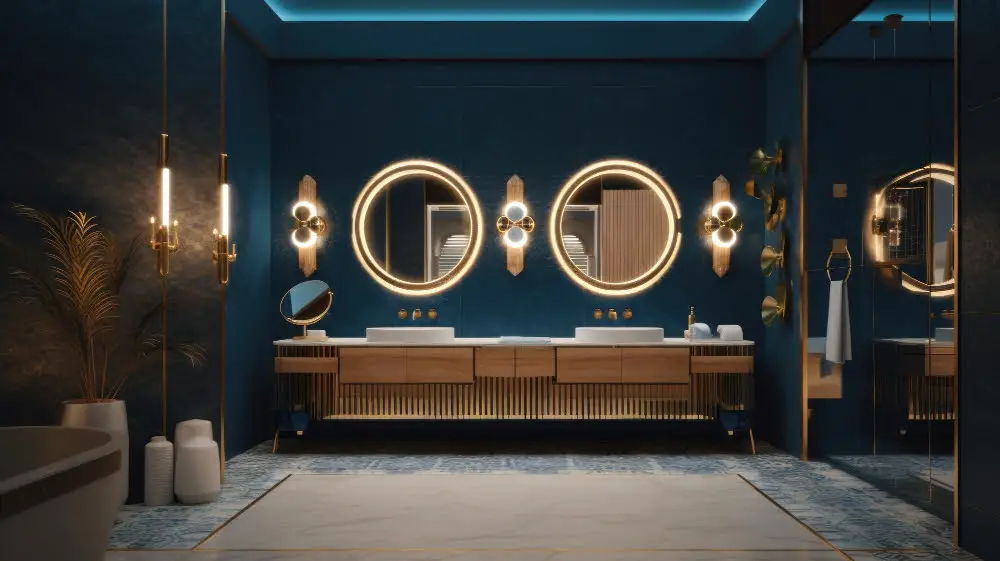 Whether you choose sconces or pendant lights, the warm glow of gold will create an inviting atmosphere in your space. Consider placing the lights on either side of your mirror for even illumination that will help you get ready in style.
Alternatively, opt for a statement-making chandelier above your bathtub or shower area to make it feel like a spa retreat. With so many options available, there's sure to be gold vanity lighting that fits perfectly with the rest of your bathroom decor!
White Storage Cabinets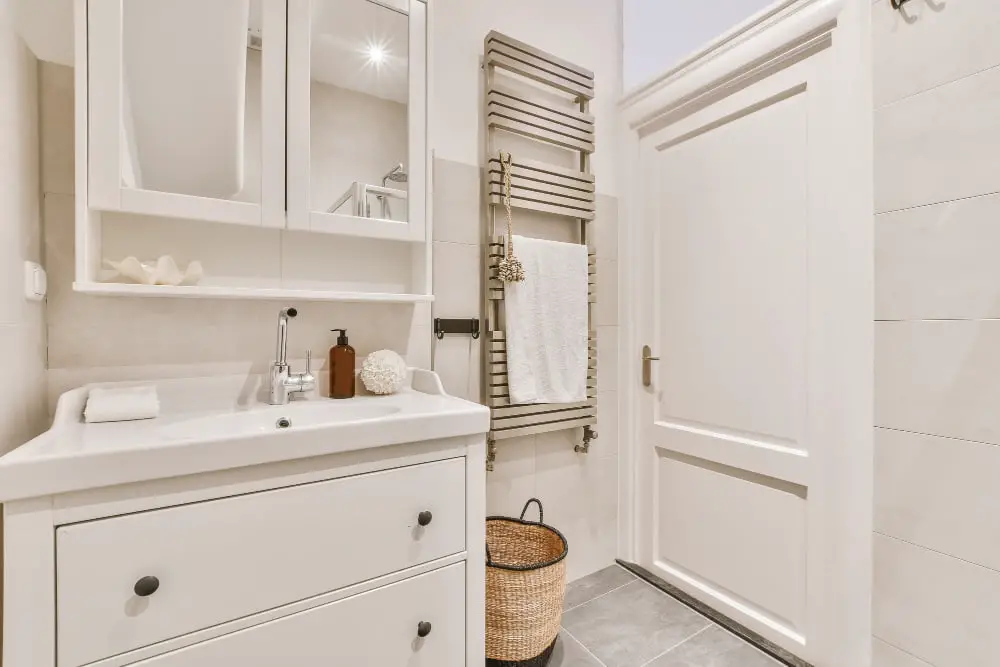 They provide ample space for storing towels, toiletries and other essentials while keeping the room looking clean and organized. Opting for white cabinets creates a bright and airy feel in the bathroom, making it appear larger than it actually is.
To add some interest to your white storage cabinets, consider adding gold hardware or knobs that will complement other gold elements in the room such as faucets or towel racks. You can decorate on top of these cabinets with small plants or decorative items that match your overall color scheme to create an even more stylish look!
Gold Sink Basins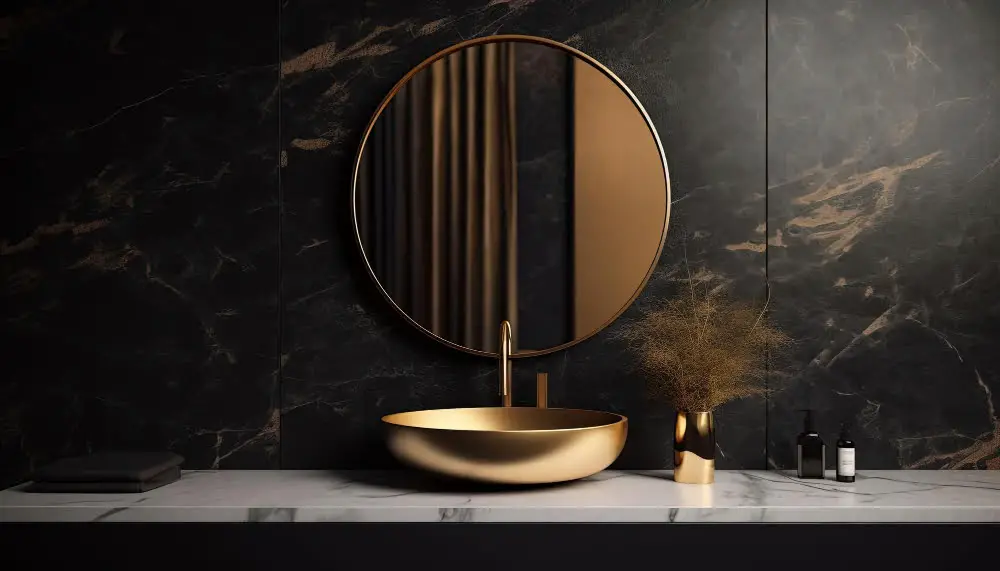 They add an element of sophistication and glamour that can elevate the overall aesthetic of the space. Gold sink basins come in various shapes, sizes, and finishes to suit different design preferences.
Some popular options include oval-shaped sinks with brushed or polished gold finishes, rectangular sinks with matte gold finishes, or round vessel sinks with hammered gold textures. When paired with white countertops or cabinets, these golden fixtures create a stunning contrast that is both elegant and timeless.
For those who want to make a bold statement in their bathroom decor scheme while maintaining an air of refinement, incorporating a beautiful golden sink basin is definitely worth considering!
White Flower Arrangements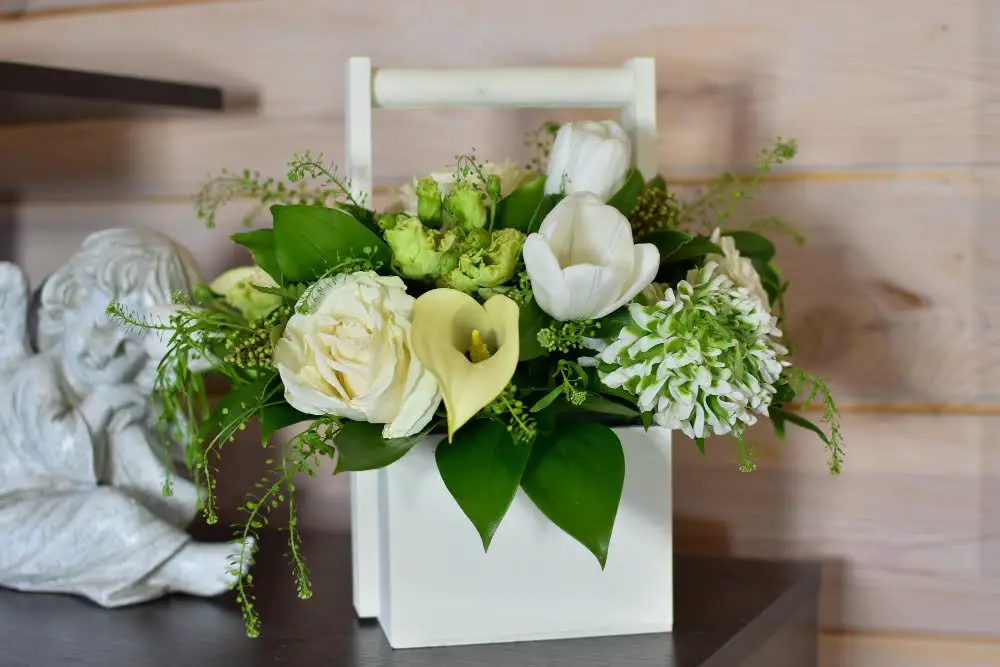 They are perfect for creating a spa-like atmosphere that is both calming and relaxing. Some popular white flowers for bathroom arrangements include roses, lilies, hydrangeas, orchids, and peonies.
These flowers not only look beautiful but also have a pleasant fragrance that can fill the room with their sweet scent. To create an eye-catching arrangement in your white and gold bathroom, consider using clear glass vases or jars filled with water to showcase the beauty of these delicate blooms.
You could also mix in some greenery or foliage to add texture and depth to your arrangement while keeping it simple yet stylish at the same time!
Gold Curtain Rods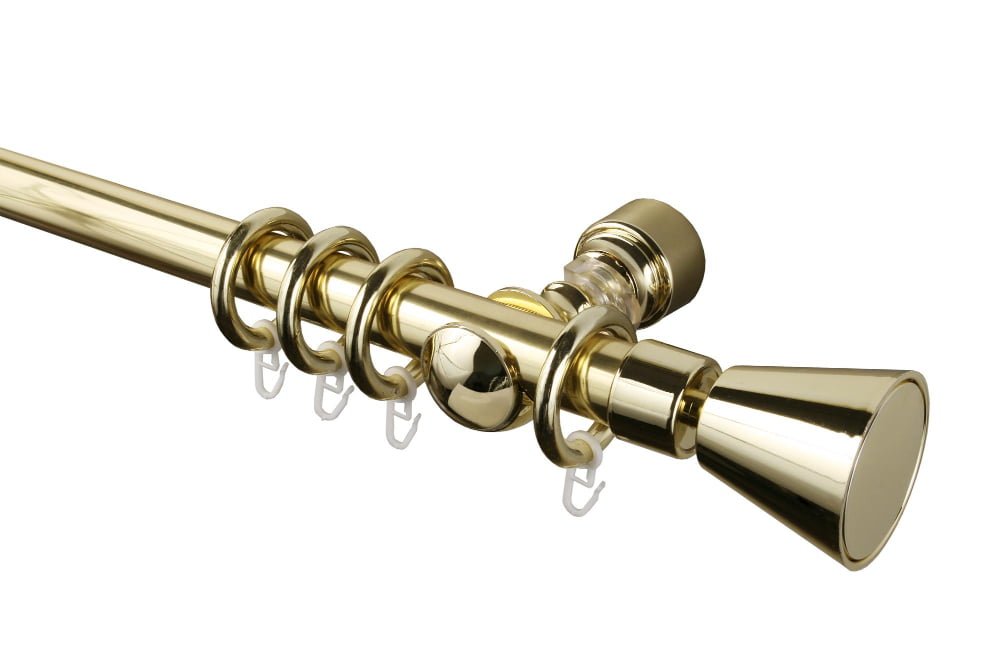 They come in various styles, from sleek and modern to ornate and traditional, so you can choose the one that best fits your decor. A gold curtain rod can also complement other gold accents in the room, such as towel racks or vanity lighting.
When paired with white silk curtains or sheer panels, they create a luxurious look that is both timeless and chic. Whether you opt for a single rod or double rods for layering curtains, make sure it's sturdy enough to hold up heavy drapes if needed.
White and Gold Bath Accessories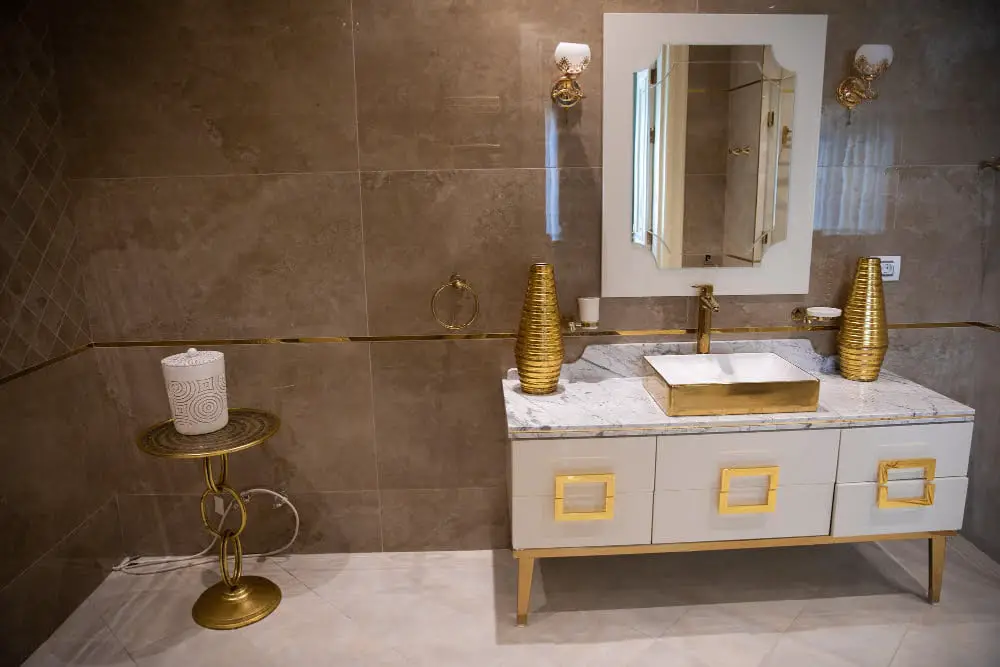 From soap dispensers to toothbrush holders, there are plenty of options available in this color scheme. A white and gold soap dish can be the perfect finishing touch for your sink area, while a matching tissue box cover can help tie everything together.
Gold-trimmed towels or a fluffy white bathrobe with gold accents will make you feel like royalty after every shower or bath. Don't forget about small details like drawer pulls and cabinet knobs – swapping out these items for ones with golden finishes is an easy DIY project that can really elevate the look of your space!
Gold Drawer Knobs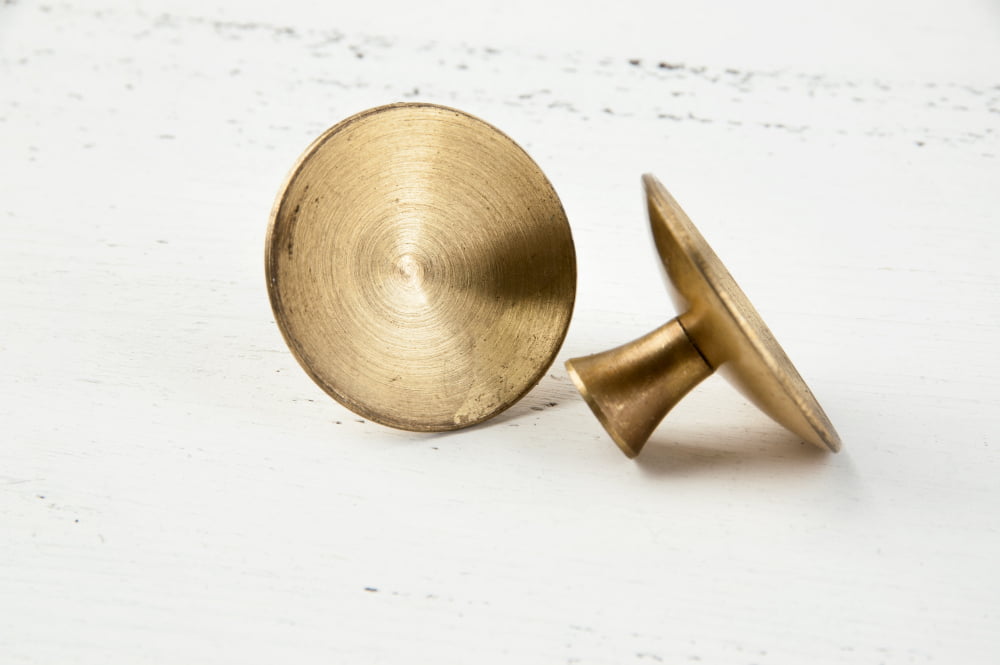 They come in various shapes, sizes, and designs that can complement any style you have in mind. Whether you prefer sleek modern lines or intricate vintage details, there is always an option for you.
Swapping out old knobs with shiny new ones can instantly transform the look of your cabinets or drawers without breaking the bank. Plus, they are easy to install yourself with just a screwdriver! So why not give it a try? Upgrade your storage game by adding some golden accents today!
White Subway Tiles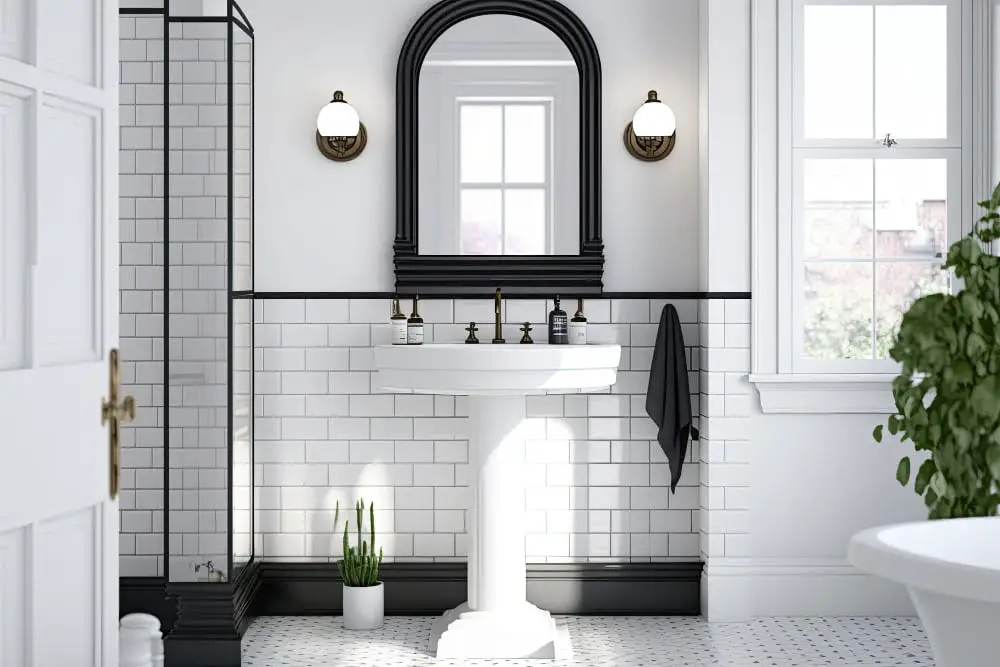 These rectangular tiles have been used in bathrooms for over 100 years, but their popularity has never waned. They're simple yet elegant, and they provide the perfect backdrop for other design elements to shine.
Subway tiles come in different sizes, but the most common size is 3 inches by 6 inches. They can be arranged horizontally or vertically on walls or floors to create different patterns such as herringbone or basketweave.
One of the benefits of using white subway tiles is that they reflect light well which makes your bathroom appear brighter and more spacious. These tiles are easy to clean since their smooth surface doesn't trap dirt easily.
Gold-trimmed Shower Door
The golden frame adds an elegant touch to the overall design, making it look more sophisticated and refined. It also creates a beautiful contrast against the white tiles or walls, giving your bathroom an eye-catching focal point.
A gold-trimmed shower door can be paired with other golden accents in your bathroom such as faucets, towel racks or lighting fixtures for a cohesive look that exudes glamour and style.
White Silk Curtains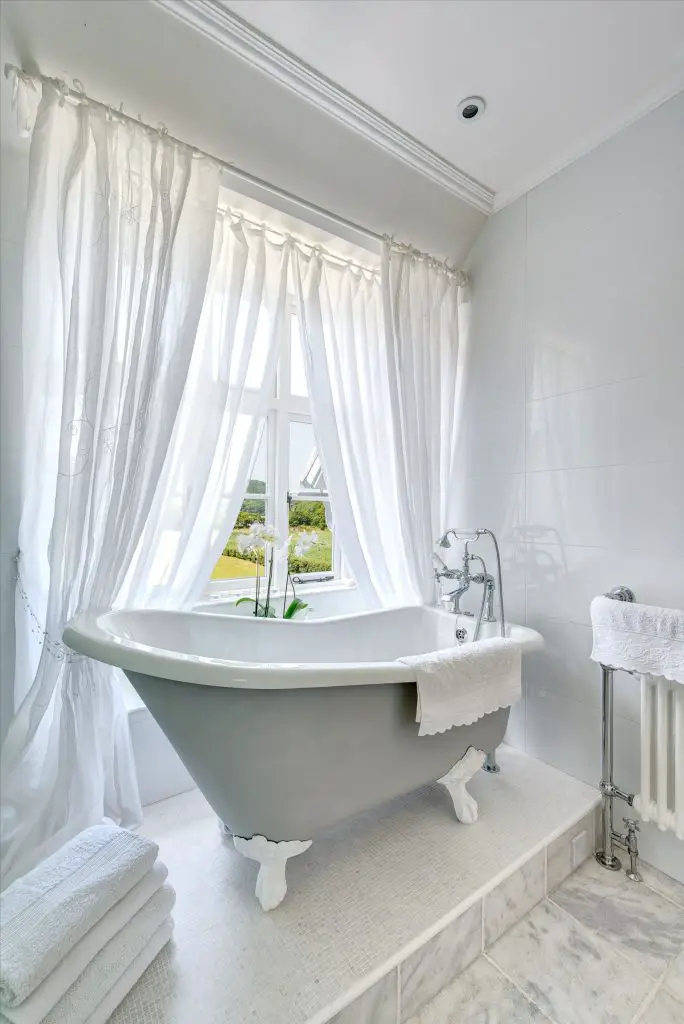 They add elegance and sophistication while also providing privacy. The soft, flowing fabric of the curtains creates a calming atmosphere in the room, making it feel like a spa retreat.
White silk curtains can be paired with gold curtain rods for an added touch of glamour or left to stand alone as a statement piece in the space. When choosing white silk curtains for your bathroom, make sure they are machine washable or easy to clean as bathrooms tend to have high humidity levels that can cause mold and mildew buildup on fabrics over time.
Continue reading: