Last updated on September 22, 2023
If you want to change up things in your home, think about the benefits of adding a personal touch to your home. After all, this is your space.
Homeowners can modify their interior or exterior to look and feel more like you. For instance, you can hang personalized or do-it-yourself home decorations or brighten your living space with hand-picked fresh flowers.
Hardie Boys recommends that homeowners install eaves to boost their exterior's aesthetic appeal with their decorative look while protecting their houses from water damage. Moreover, you can pressure wash exterior walls and add a new coat of paint to boost their appearance and express your style instantly.
Don't hesitate to show your creative side. You can do many things to make your home more inviting and unique from the rest of your neighborhood. Are you running out of ideas? Consider the ways that you can create a haven for you to feel comfortable in that is as unique as you are. Here are a few ways for you to vibe with your home:
Use Pictures That Make You Smile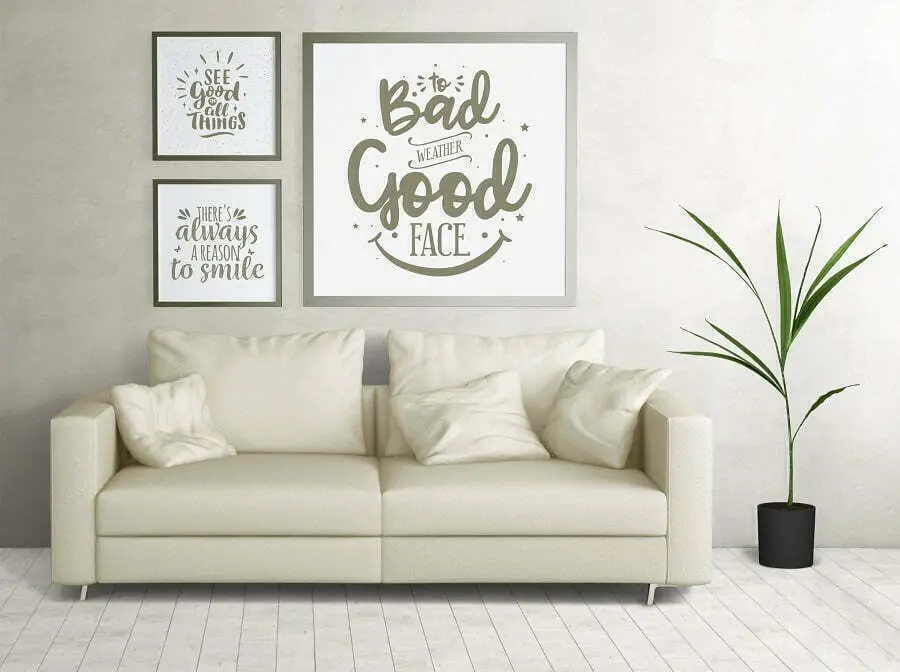 If you want to create a space that really feels like home, consider hanging pictures that make you smile. Whether they're moments and landscapes from trips or they're memories with family or friends, fill up your home with special pictures of moments you don't want to forget.
You can take a new family portrait in a studio or your favorite spot at home with the help of a professional photographer. It's also great to enlarge a photo from a special event, such as a birthday party or wedding. You can place the printed image in a decorative frame and display it on your sidewall cabinet or the wall.
A digital photo frame looks stunning and modern. Digital picture frames have smart displays that constantly change, showing different images. They have high-resolution screens, translating crisper images with better brightness and colors. You can also add new pictures to the frame via Bluetooth or the internet.
A cool look is to use canvas prints and if you shop around for a canvas discount, you could fill up your home with all the best memories while also creating décor that looks great.
Buy Decor You Love
As you think about decorating your home, what are the first thoughts that pop up. Typically, you'll think of décor and art that would make you happy but then your mind will wander to what looks trendy or what's in style.
This is your space, buy the decor you love, no matter how quirky it may be. Do you want to have all the souvenir magnets from everywhere you've been in your fridge? So what? If it's been done many times before. Do it anyway. After all, this is your space, so who cares whether or not someone else will love it. If it makes you feel good, it's the best décor for your home.
Make Your Own Art
Do you have an artistic flair that you don't tell anyone about? Great. Create your own art. It doesn't have to be perfect or what other people will love. If you know what would look perfect in a specific space in your home, go ahead and create that painting or drawing yourself.
You'll save money while also sharing a piece of you with your house guests. If you simply don't want to use your talent to paint in your home, you can always ask someone you know who is artistic to create something unique for your home.
Create Spaces That Remind You of Special Moments
If you have lived a full life, let that show in your home. That could look like making rooms with themes, such as your bedroom in line with your love for travel or your living room couch adorned with throw pillows from the place you lived in and loved for years in another country or city. 
Whether it's adding queen size beds to your kids' rooms or repainting your kitchen cabinets, make sure the room still looks cohesive. The last thing you want or need is a space with multiple design elements that clash with each other.
Showing a bit of your story in your home decor and setup is actually a beautiful way to share yourself in the way that you decorate and set up your home.
Have a Collection Space
If you love collecting books, coffee mugs, cute figurines, or anything really, a collection wall or shelf could be a great way to add style and décor to your home. Whether you have this space in your office or you have it in your living room or kitchen, there's something personal and unique about creating an area dedicated to your collection, regardless of how quirky that collection may be.
The Takeaway
Whether you're upgrading your home like new or you're moving into a new space, you can make it feel just like you by adding personal touches here and there. Whether you're working with an interior designer or you're setting up your space on your own, don't forget to make it somewhere that makes you feel at home and comfortable.
Continue reading:
Recap