Last updated on August 30, 2023
Discover innovative bathroom shelving ideas that effortlessly blend functionality with style, making your personal space clutter-free and chic.
Maximizing bathroom space while maintaining a stylish aesthetic can be a challenge. However, innovative shelving ideas can transform your bathroom into a functional and chic sanctuary.
From floating shelves to ladder-style storage, this article is packed with creative solutions that cater to every design preference.
Whether you're dealing with a compact space or a large bathroom, these shelving ideas offer practical storage solutions without compromising on style.
Stay tuned for all the details you need to rejuvenate your bathroom with these unique shelving ideas.
Table of Contents
Floating Wooden Shelves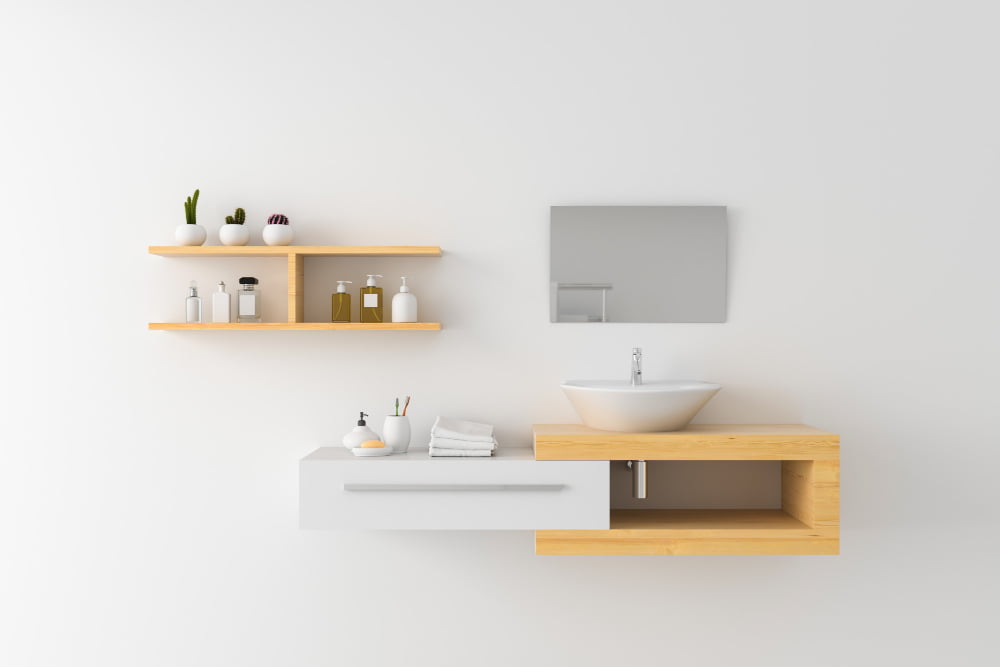 Floating wooden shelves are a perfect blend of functionality and aesthetics. These versatile pieces save space, keep essentials within reach, and add a warm, natural element to your bathroom décor.
Key Points:
Material Choice: Opt for moisture-resistant woods like cedar, teak, or bamboo to avoid water damage.
Installation: Ensure proper support and alignment with wall studs for best stability.
Design: Choose from rustic, modern, or minimalist styles to integrate with your existing decor.
Usage: Store towels, toiletries, or display decorative items. Always consider the weight limit of your shelves.
Maintenance: Regular sealing and cleaning are crucial to prolong the lifespan of wooden shelves.
Ladder Shelves for Towels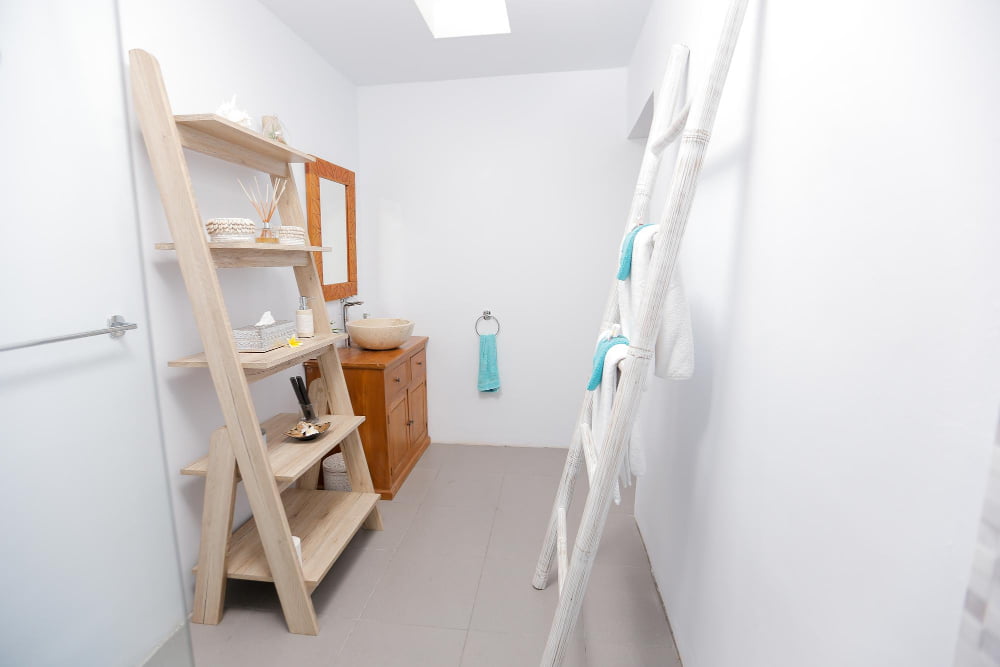 A brilliantly practical yet chic option, ladder shelves organically combine function and aesthetic appeal. They provide ample storage for towels, allowing them to air properly, and offer an element of visual interest that could elevate the bathroom's overall ambiance.
Key Points:
Space Efficient: Ladder shelves capitalize on vertical space, freeing up the floor area. Ideal for small bathrooms and powder rooms.
Easy to Install: This kind of shelving requires no complex wall-mounting – just lean it against a wall.
Versatile: Can accommodate other items too, like baskets, toiletries, or plants for a spa-like aura.
Personalization: Available in a range of materials and finishes, from rustic wood to modern metal.
Accessibility: With a quick reach, towels are within grasp from the shower or bathtub.
Non-Invasive: No drilling required, perfect for renters who can't make permanent changes.
Metal Frame Shelving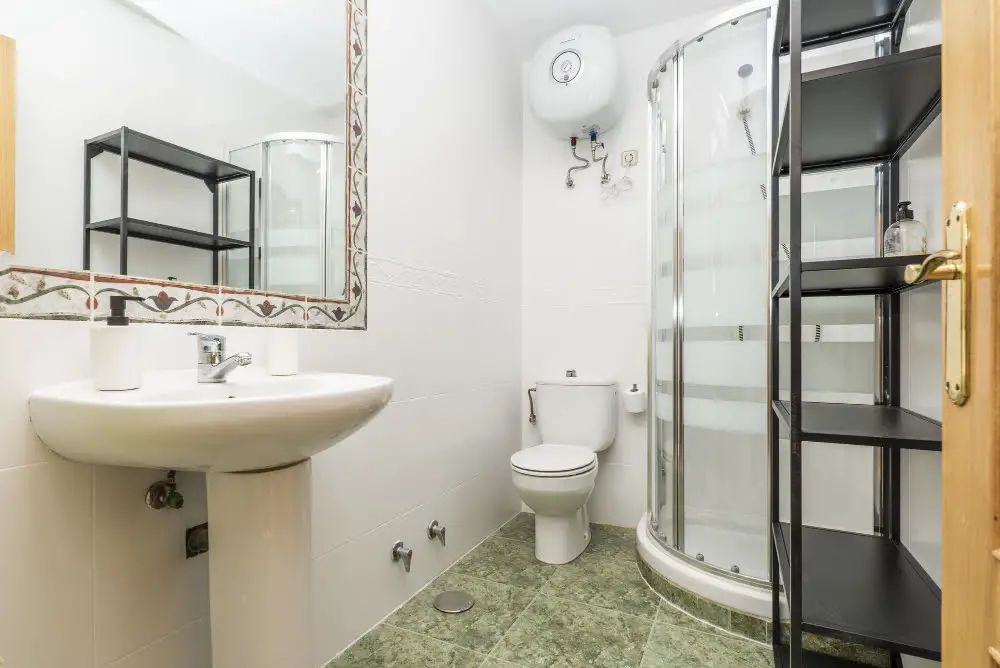 Metal frame shelving brings both practicality and style to a bathroom. These units are often long-lasting due to their sturdy design and they can easily resist moisture, making them a good choice for humid bathrooms.
Key Features:
1. Durability: Made of resilient materials, these shelves can carry heavy items like toiletries and bulky towels.
2. Versatility: Available in various shapes and sizes, they can fit into different bathroom layouts.
3. Aesthetics: They can add an industrial or modern touch to the bathroom decor.
4. Maintenance: Easy to clean, just wipe down with a damp cloth.
5. Resistance: Metal's ability to resist rust and other water-related damage is a significant advantage in a bathroom environment.
Consider pairing metal frame shelving with matching accessories for a cohesive look. Their simplicity allows for bold decorative pieces to stand out. Be creative! Reimagine the space with these practical and design-forward solutions.
Corner Glass Shelves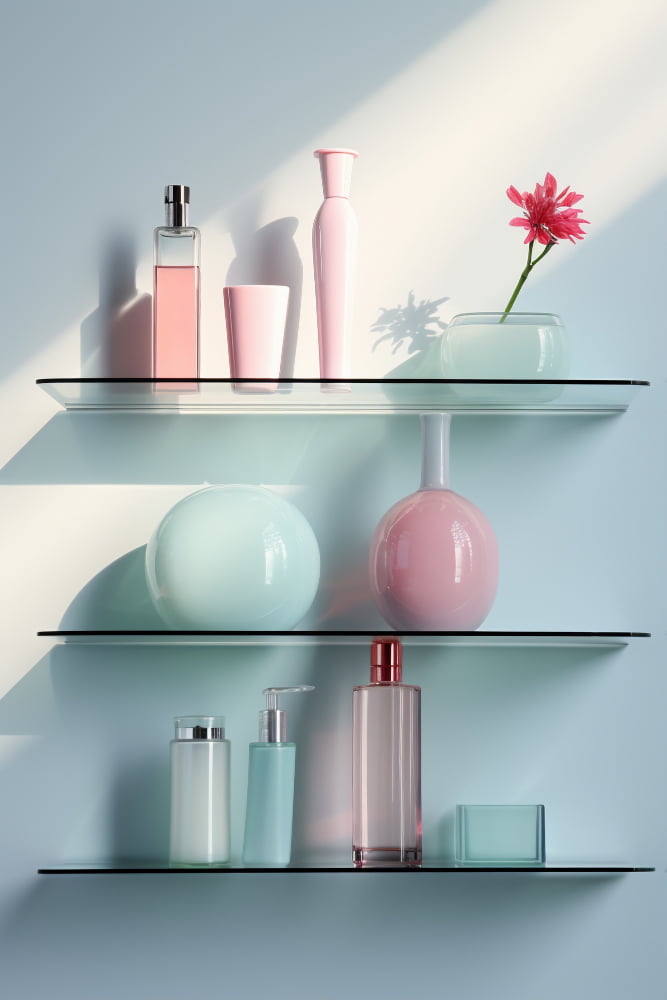 Employing corner glass shelves in your bathroom optimizes space and adds a classy touch to the decor. Here are some essential tidbits about this ingenious solution:
Best Fit: Perfectly place in unused bathroom corners, they optimize superior space utilization.
Appeal: Their transparency lends bathrooms a neat, airy look.
Durability: Made to resist moisture and steam, they are typically crafted from robust, tempered glass.
Versatility: Suitable for storing anything from toiletries to decorative items.
Easy to clean: Simply wipe with a glass cleaner for a sparkling finish.
Remember to seek professional help for installation to avoid accidents and ensure it's fitted securely. Moreover, make sure to consider the weight of items the shelf will hold for safety and longevity.
Over-the-toilet Storage Racks
Maximizing space is essential in smaller bathrooms. This is where over-the-toilet storage racks truly shine. Not only do they offer extensive capacity, but they also make use of vertical space that otherwise goes unused.
Key Points:
Efficient Space Usage: Nestles perfectly in the often overlooked area above the toilet, aiding in clutter reduction.
Variety of Designs: Available in numerous styles from wooden, metal, to a combination of both.
Easy Installation: Most models are freestanding and require no drilling, reducing potential damage to walls or tiles.
Extra Decor Element: Double as display shelves for plants, decorative items, or a small gallery of framed art.
Accessibility: Provides easy access to everyday items such as toiletries and towels while maintaining their organization.
Flexibility: Adjustable shelving features in some models cater to various storage needs.
Wall Mounted Cabinet Shelves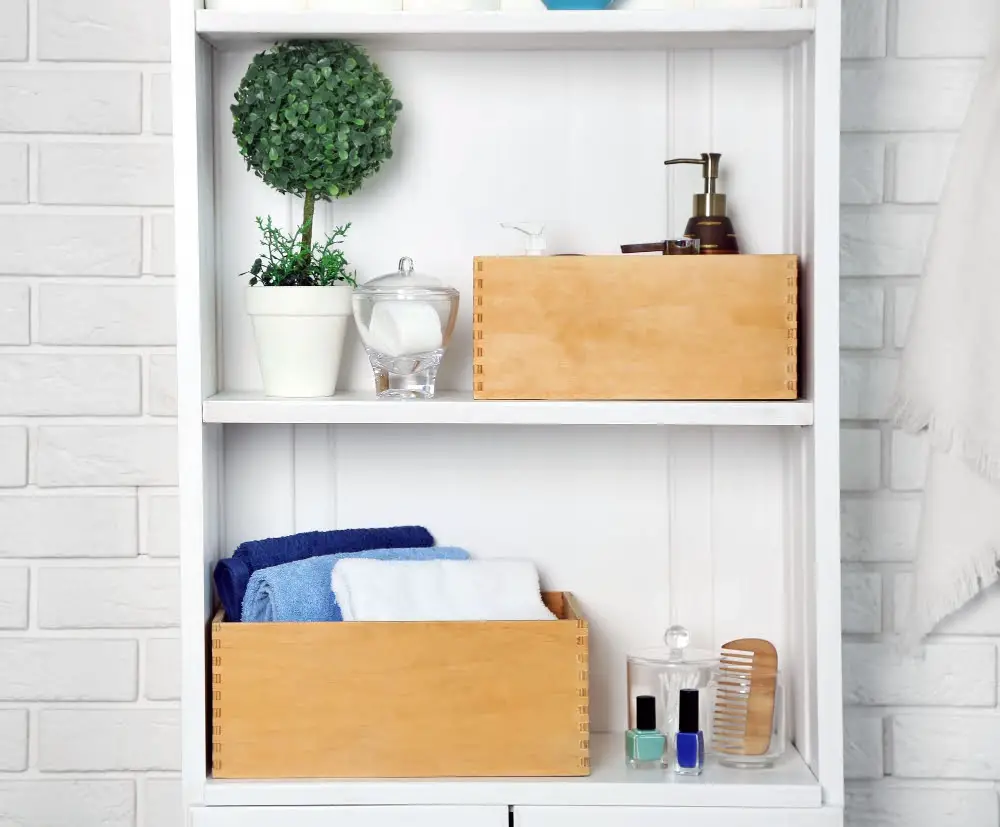 Mounting a cabinet to your bathroom wall offers a two-fold solution: it's both aesthetically pleasing and practical for storage. This type of shelving creates a clean, decluttered look as it takes advantage of vertical space instead of floor space. Moreover, the closed design makes it ideal for storing personal items out of view, maintaining a neat appearance.
Key points concerning wall mounted cabinet shelves include:
Space-saving: Ideal for small bathrooms as it maximizes vertical space.
Concealed storage: Ideal for items that need to be kept private or out of children's reach.
Versatile designs: Available in various styles, from modern, sleek lines to rustic, vintage finishes.
Durability: Typically built with robust materials to withstand moisture and humidity.
Easy maintenance: Simply dust or wipe clean with a damp cloth.
Customizable: Can be painted or stained to match bathroom decor.
Remember, careful measurement is essential before installation to ensure the cabinet fits perfectly and securely. Choose a cabinet shelf that complements your bathroom aesthetic while fulfilling your storage needs.
Rolling Bathroom Cart
A rolling bathroom cart, with its versatile and mobile design, serves as an excellent storage solution. Here are a few key points that highlight its advantages:
Mobility: Due to its wheels, you can easily maneuver it around your bathroom or to a different room entirely.
Multiple Levels: Typically, these carts come with two to four tiers, maximizing vertical space.
Customizable: Easily styled with baskets, jars, or bins to keep items tidy.
Accessible: Optimal for keeping frequently-used items at arm's reach, like toiletries or towels.
Variety: They come in materials ranging from plastic to stainless steel to suit any decor style.
In essence, a rolling cart is an effective, flexible storage option that allows quick access to essentials while keeping your bathroom clutter-free.
Recessed Shelf in the Shower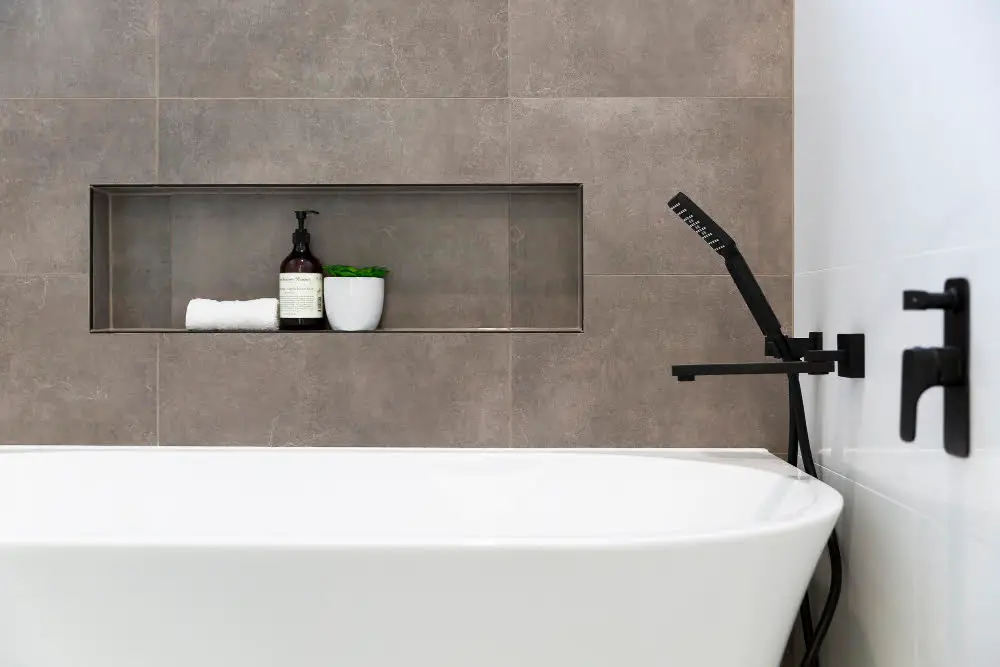 Employing a recessed shelf in your shower cubicle not only aids in organization but additionally aids in space utilization. The shelf tucks neatly into the wall, providing a sleek, unobtrusive storage solution ideal for small bathrooms.
Here are a few considerations when integrating a recessed shower shelf:
Location: Typically placed at chest height for easy access. Ensure it's away from the shower's water stream to prevent water pooling.
Waterproofing: Using non-porous materials helps reduce the risk of water damage, an important factor in shower areas.
Material: Consider matching the shelf material to your shower tiles for aesthetic cohesion. Alternatively, opt for accent materials for a distinct contrast.
Size: Ensure the shelf is large enough to accommodate your essentials, but not so large that it overwhelms the space.
Layout: A multi-tier layout can cater to various storage needs – lower tier for soaps and shampoos, higher tier for less frequently used items.
Remember to align this feature with your overall bathroom design to achieve a unified look. Keep functionality blend in with style for the best results.
Crate Shelves for Rustic Charm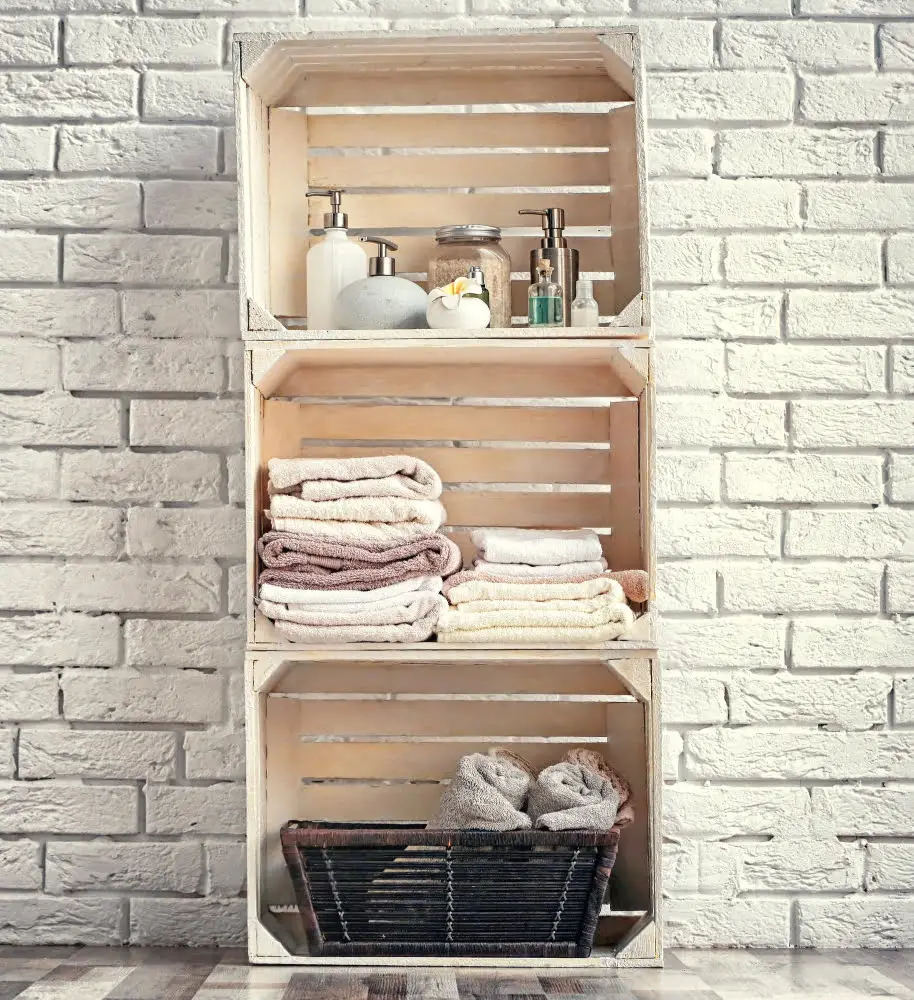 Looking for an economical way to add both function and style to your bathroom? Consider utilizing wooden crates.
Key Points:
Versatile use: Depending on their size, crates can easily hold anything from towels to toiletries.
Customizable: Easily paint or stain them to match your existing decor.
Easy installation: Fasten the crates directly onto the wall or stack them for a freestanding display.
Adds texture: The wood grain and rustic features offer a comforting, farmhouse appeal.
Remember, adding finishes or additional details such as drawer knobs or labels can enhance the style and usability of these striking storage solutions.
Open Shelves With Storage Baskets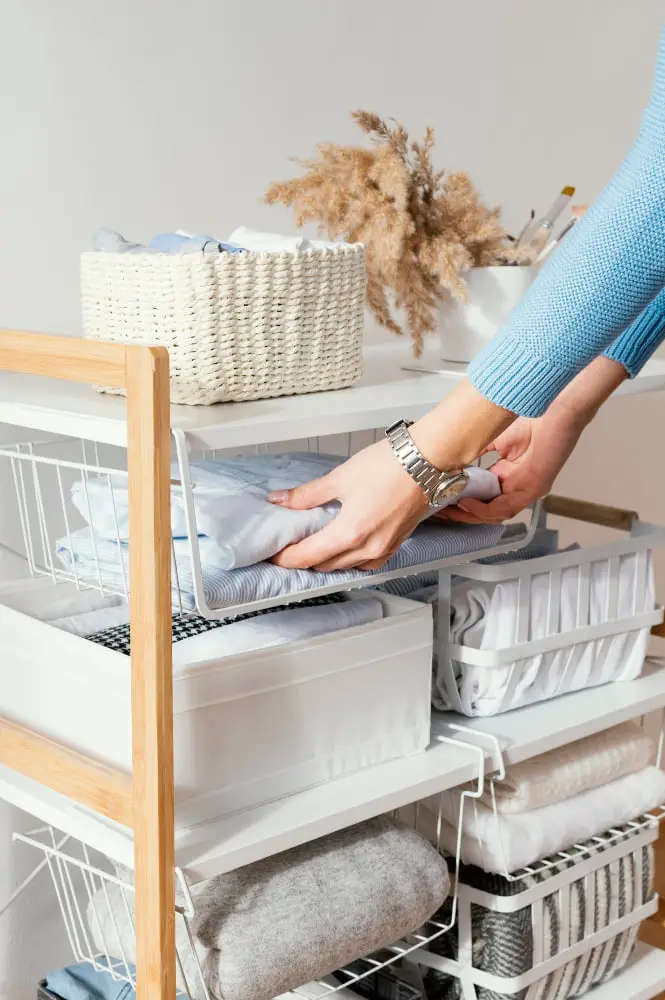 Keeping a clean and organized bathroom nowadays is more than possible with the use of open shelves and storage baskets. Not only do they provide an aesthetically pleasing setup, but also make access and storage of items a breeze.
Key Points:
1. Versatility: From towels to toiletries, baskets are flexible storage solutions. Depending on your needs, sizes can vary – smaller ones for cosmetics, larger ones for towels.
2. Materials: Woven straw, cloth, metal, or plastic – there's a wide range of basket materials to choose from.
3. Easy Access: No more rummaging through cabinets. With baskets on open shelves, contents are visible and accessible.
4. Pair with Labels: To further enhance accessibility, consider adding labels to baskets.
5. Styling: Match basket colors with the predominant shades in your bathroom to keep the design uniform.
Utilize these key points to fully appreciate the perks of open shelves with storage baskets in the bathroom, gaining practical storage without sacrificing style.
Modern, Cube-shaped Shelves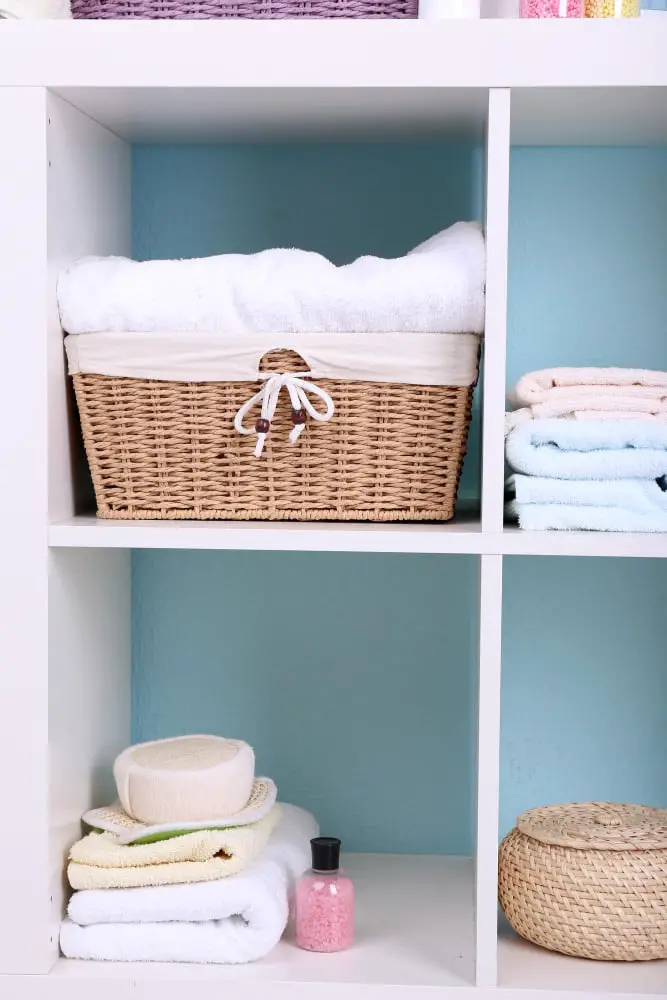 These shelves offer a clean minimalist aesthetic that suits any contemporary home. Offering flexibility, they can be arranged in any layout—stacked, staggered, or dispersed—to cater to specific storage needs. Made from a variety of materials, like wood, metal, or Plexiglas, they are ideal for storing beautiful bathroom essentials or decor items, creating a tidy, inviting space.
Key points:
Minimalist aesthetic: Perfect for contemporary bathrooms.
Versatile layout: Can be stacked, staggered, or dispersed.
Material options: Available in wood, metal, or Plexiglas.
Suitable for decor: Ideal for displaying beautiful bathroom essentials.
Mirrored Bathroom Shelving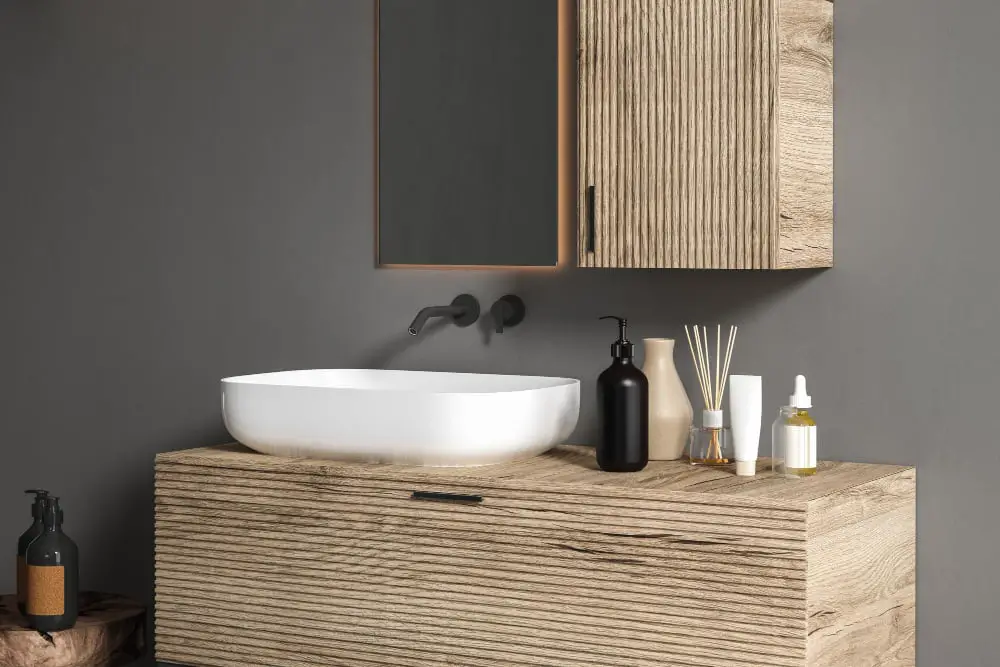 Mirrored shelving presents an opportunity to enhance a bathroom's sense of space, brighten dim corners, and maintain minimalistic elegance.
Key points:
Space illusion: Mirrors add depth, reflecting light and making a small bathroom appear larger.
Practical: A comb of mirror and shelf saves walls space.
Aesthetics: These shelves add visual interest and modern chic.
Storage: Offer a convenient place for toiletries.
Easy Installation & Maintenance: Can be hanged and wiped down easily with glass cleaner.
Remember, the placement, size, and style should fit your bathroom's decor and size. If done right, mirrored shelves can serve a dual function, practicality and aesthetic enhancement.
Industrial Pipe Shelves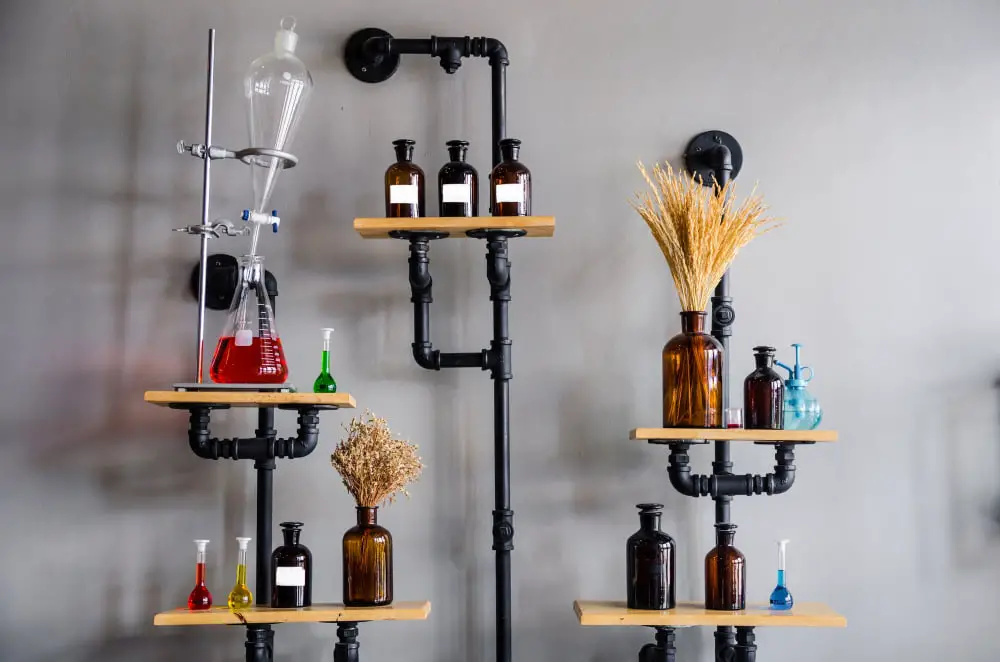 Industrial pipe shelves incorporate elements of rugged design and high functionality. Here are some key points to consider:
1. Material Choice: Built from strong, long-lasting iron piping, they offer a unique aesthetic and sturdy support for heavy items.
2. Style Integration: They seamlessly blend with the current industrial trend in home décor, giving an edge to the overall look of your bathroom.
3. Customization: You can adjust the size, shape, and the number of shelves per your storage needs.
4. Incorporation: Perfect for small bathrooms, they can hold towels, toiletries, and decor pieces, while not requiring a substantial floor space.
5. Installation: Though they require a bit of work to install, the result is a high-quality, standalone storage solution.
Remember, you can always pair these pipe shelves with wooden planks for a softer, rustic contrast to the metal. Take into account these aspects when considering this shelving solution for your bathroom.
Shelves Built Into the Wall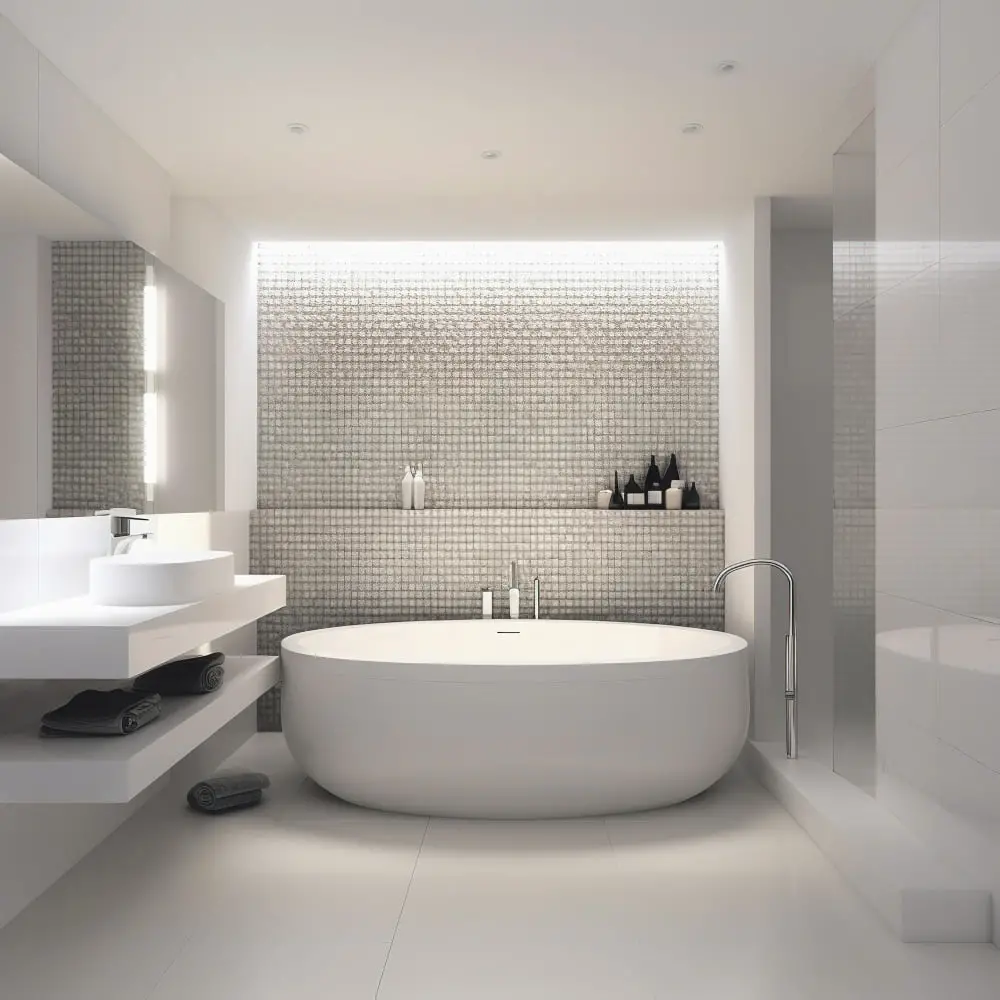 Perfect for smaller bathrooms, these shelves save space while offering ample storage. Install shelves directly into the wall between the studs. These 'built-in' shelves can store toiletries, candles, or even decorative items like framed photos or small potted plants.
Key points:
Space-saver: Ideal for minimalistic designs and compact areas.
Customizable: Modify the size, depth, and number of shelves to suit your needs.
Versatile: Store a wide variety of items, from functional toiletries to aesthetic decor.
Practical: Easy access to daily essentials, no more cluttered countertops.
Aesthetics: Paint or tile to complement your bathroom design, giving an elegant touch.
Increase Home Value: This upgrade can increase your property value.
Cost-effective: If you're handy, do the installation yourself, saving on labor costs.
Privacy: Can be hidden behind a mirrored cabinet door for a tidy finish.
Under-the-sink Storage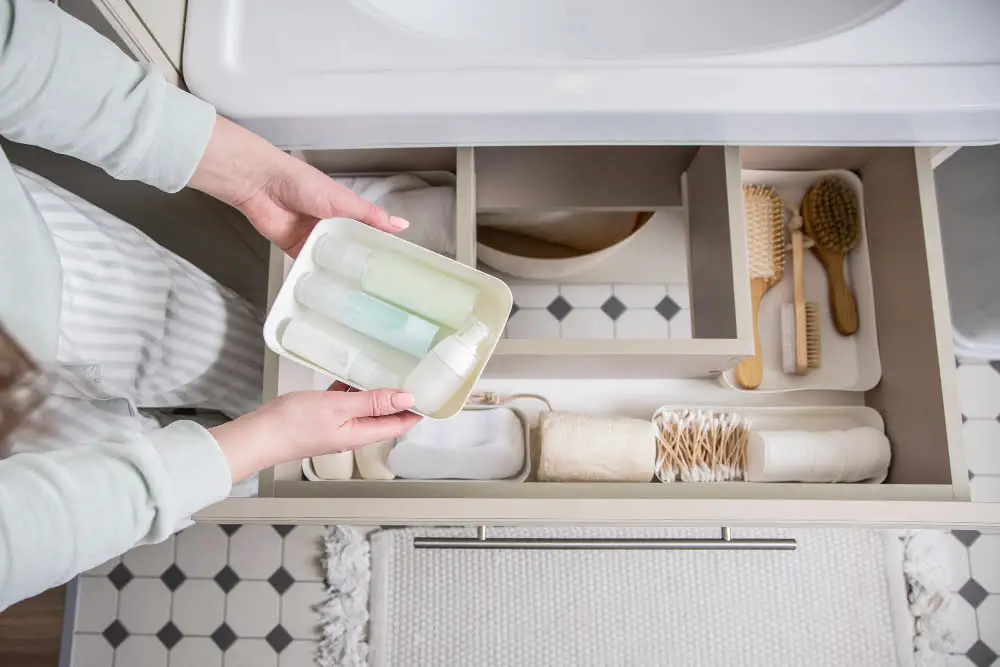 Maximizing the space under the sink requires a strategic approach. Usually cluttered with cleaning supplies and toiletries, implementing a few adjustments can convert this area into an efficient storage unit.
Key Points:
Install Sliding Drawers: Including sliding drawers allows easy access to supplies kept at the back.
Use Clear Storage Bins: Transparent storage bins aid in visual identification of items.
Add a Tension Rod: A convenient holder for spray bottles by their trigger, freeing up floor space.
Shelf risers: These can effectively double the storage space.
Hooks on Doors: These can be used to hang brushes or small baskets containing often-used items.
Remember, every bathroom layout is different. It is beneficial to observe your own needs and choose the suitable combination of these methods for the space under the sink. Ensure to measure the space accurately to find the perfect storage units.
Towel Bar With Shelf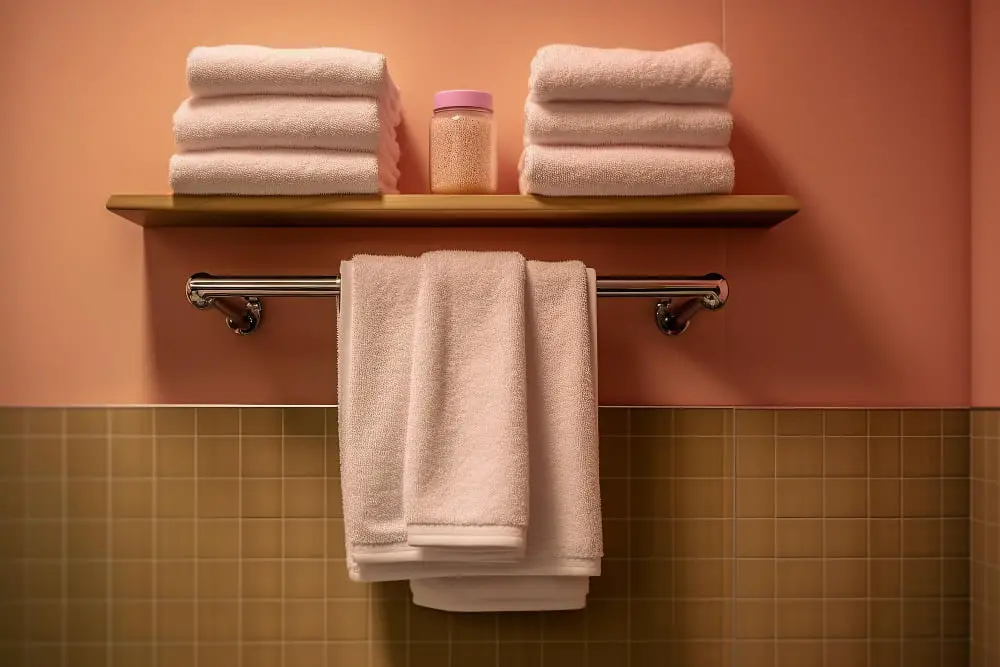 A towel bar with shelf serves a dual purpose by providing space for both storage and hanging. Key points to understand this concept include:
Space Efficiency: A design-savvy solution for small bathrooms that lack storage space.
Easy Access: Keep essential items like towels within reach.
Versatile Design: Works well with a variety of bathroom decors, from rustic to modern.
Material Choices: Available in various materials like wood, metal, and glass.
Installation: Typically wall-mounted, a simple installation can create more functional space.
Customization: Select the shelf size, bar length, and style that suits your bathroom layout.
Over-the-door Hanging Shelves
One space-saving solution often overlooked is the back of the bathroom door. It's the perfect location for easy-to-install, versatile shelving. Here's why:
1. Accessibility: These shelves provide quick access to your everyday essentials, keeping them within reach.
2. Optimized space usage: An aid in utilizing the room's vertical space, particularly beneficial for smaller bathrooms.
3. Easy organization: Segmented compartments ensure better categorization of your products.
4. Various designs: They're available in metal, plastic, or wood constructions to match your bathroom's ambiance.
5. Effortless installation: No drilling is required, protecting your walls from perpetual damage.
Remember, choosing the right kind of material for these shelves is crucial, depending on the humidity and temperature of your bathroom. A few decorative baskets or containers can enhance the style factor while providing additional privacy for certain items.
Antique Window Shelving
Lending a quaint charm to any bathroom, Antique window shelves mix functionality with vintage aesthetics. Here's how this concept spruces up your space:
1. Recycled Purpose: An old window frame serves as an interesting backdrop. This open display shelf creates an eye-catching focal point while ensuring the items are easily accessible.
2. Flexibility: Depending on the size and the design of the window frame, one can install small or large shelves. A distressed, chipped paint surface exudes rustic charm, while a repainted frame offers a more polished look.
3. Decor Display: It's not just for toiletries. Showcase themed curios, vintage perfume bottles, small potted plants, or antique soap dishes to further enhance this visual conversation starter.
4. Budget-Friendly: Old window frames, often found at garage sales or flea markets, make this a budget-friendly addition that brings a unique charm.
Standing Corner Tier Shelves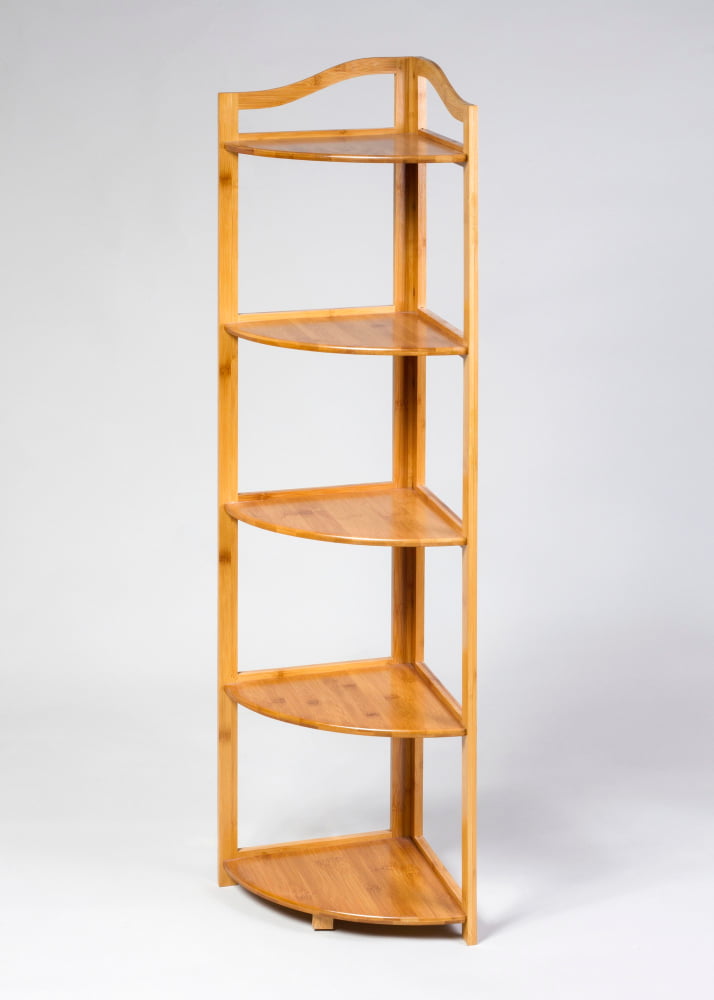 Standing corner tier shelves are a terrific way to utilize the often-neglected corner spaces in your bathroom. Depending on your style, these could be sleek glass installations or sturdy wooden tiers, or even industrial metal units.
Key Points:
Space Efficiency: Perfect for exploiting those underused corners, they add storage without eating into your floor space.
Versatile: Available in various materials and designs, they blend with any decor style.
Easy Installation: Most come in easy-to-assemble kits making them convenient for everyone.
Layered Storage: Multiple levels offer room for assorted items, from towels to toiletries, and more.
Accessibility: Its vertical design keeps your items within easy reach.
Standing corner tier shelves are a multipurpose addition that combines practical use with aesthetic charm.
Narrow Tower Storage Unit
Implementing this thin yet vertically extensive storage solution enhances bathroom space optimization. Enumerated below are some of its crucial attributes:
Efficient Space Utilization: Embracing the vertical area, a narrow tower storage unit does not consume too much valuable floor space.
Variety in Design: Available in various materials like wood, metal, plastic or mixed, such units can harmonize with any bathroom stylistic approach.
Multifunctionality: Useful for storing toiletries, towels, beauty products and more.
Easy Access: Stored items remain easily accessible due to the open style of most designs.
Enhancing Aesthetics: Available in several colors and styles to further improve your bathroom's appearance.
Flexibility: Some units come with adjustable shelving, allowing for larger items to be stored if necessary.
Picking the right one for your bathroom, consider factors like material durability in a humid environment, size, style and color coordination with existing decor. Also, make sure it fits well between other fixtures and provides enough storage for your needs.
Continue reading: