Last updated on November 19, 2023
Dive into modern pool bathroom ideas because these innovative designs add a fantastic splash of style while balancing function and poolside aesthetics.
I hope you find inspiration in these 20 modern pool bathroom ideas which I've meticulously penned and illustrated, having as much fun exploring them as I had while creating.
Dive into the world of modern pool bathroom ideas where functionality meets style. This article will guide you through the latest trends, from sleek vanities to unique tile designs, and innovative features that elevate your poolside experience.
Whether you're looking for a minimalist aesthetic or a luxury spa feel, you'll find a wealth of inspiration here. Stay tuned for all the details, from selecting the right materials to ensuring your pool bathroom blends seamlessly with your outdoor oasis.
Minimalist White and Gray Design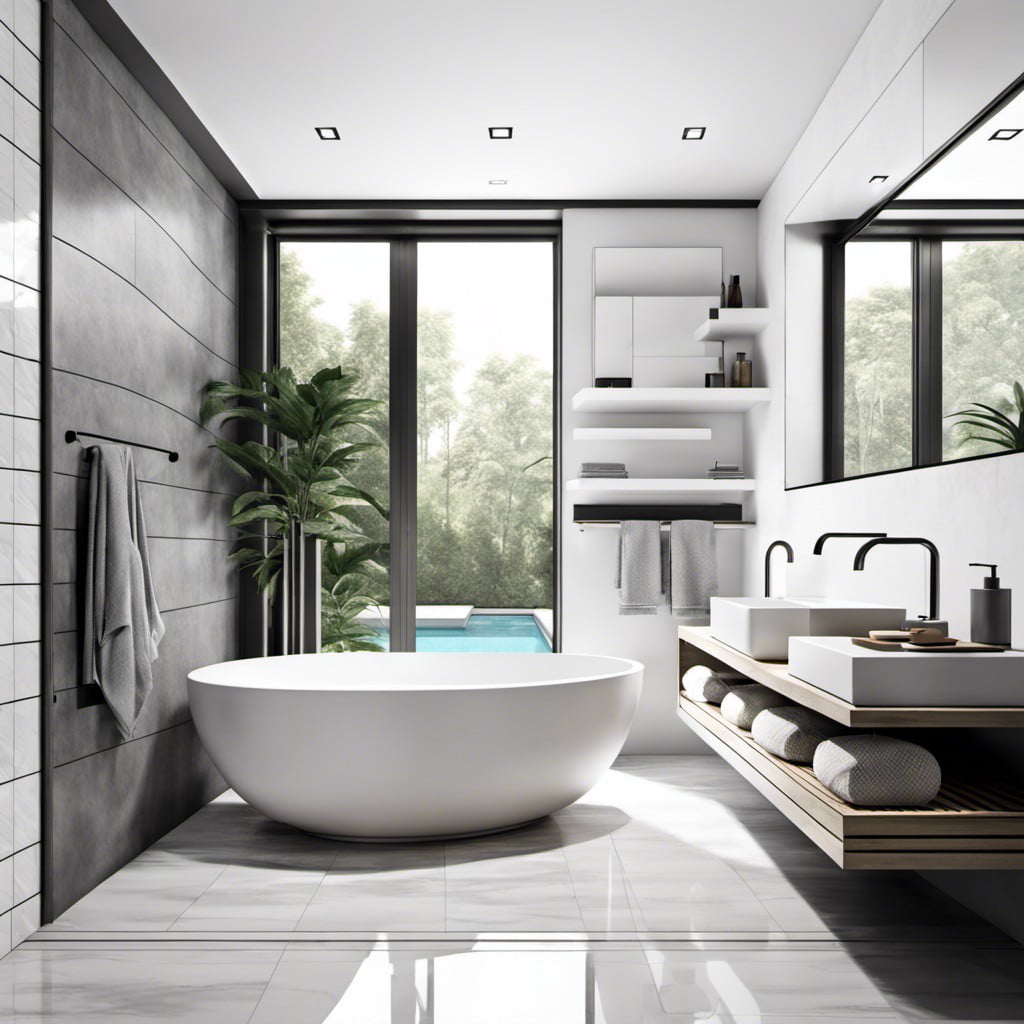 Simplicity and elegance characterize this choice for your pool bathroom. Its color scheme relies on the classic contrast of white and gray, bestowing an undeniably timeless appeal. Walking into this space, you'll feel a sense of serenity envelop you, making it your poolside oasis.
Here's how you can achieve this design:
Opt for white ceramic or porcelain tiles for a sleek, clean backdrop.
Select gray accents for fixtures and fittings to add depth and dimension.
You could also flip the color allocation: choose gray tiles and white accessories for an equally stunning result.
Choose chrome or stainless steel hardware for a modern touch.
Keep decor minimal and functional to avoid cluttering the serene space.
Embrace a minimalist vanity, preferably wall-mounted, to maintain the elegant, uncluttered vibe.
Let natural light flow in freely, illuminating the space without artificial harshness.
In essence, less is more in this design, creating an uncomplicated, yet sophisticated bathroom that matches your pool's relaxing atmosphere.
Blue Mosaic Tiles for Underwater Feel
In achieving this look, categorized by its distinctive blue tones, an aquatic atmosphere is brought indoors, virtually transforming the space into an underwater oasis. Similarly, mosaic tiles, well-renowned for their durability, are perhaps an ideal choice. Here are some key points to consider.
Versatility: These vibrant tiles come in a range of shades from turquoise to cobalt, allowing for various design opportunities. Assistance from a design professional could be beneficial in selecting the right tone.
Durability: Mosaics withstand most chemicals found in pool water, contributing to longevity.
Easy Maintenance: Their waterproof nature makes cleaning and maintenance a breeze, and they are resistant to staining and discoloration.
Lighting: Spotlighting or backlighting can augment the effect of the underwater feel.
Mix and Match: Coordinating with other elements in the bathroom creates cohesion. Consider pairing with white accessories or sandy tone floorings for a real watery vibe.
Remember, choosing the right shade and tile size is essential to capture the genuine underwater ambiance that this pool bathroom theme proposes. Professional consultation might be worth considering to achieve the desired look.
Indoor-outdoor Bathroom With Retractable Walls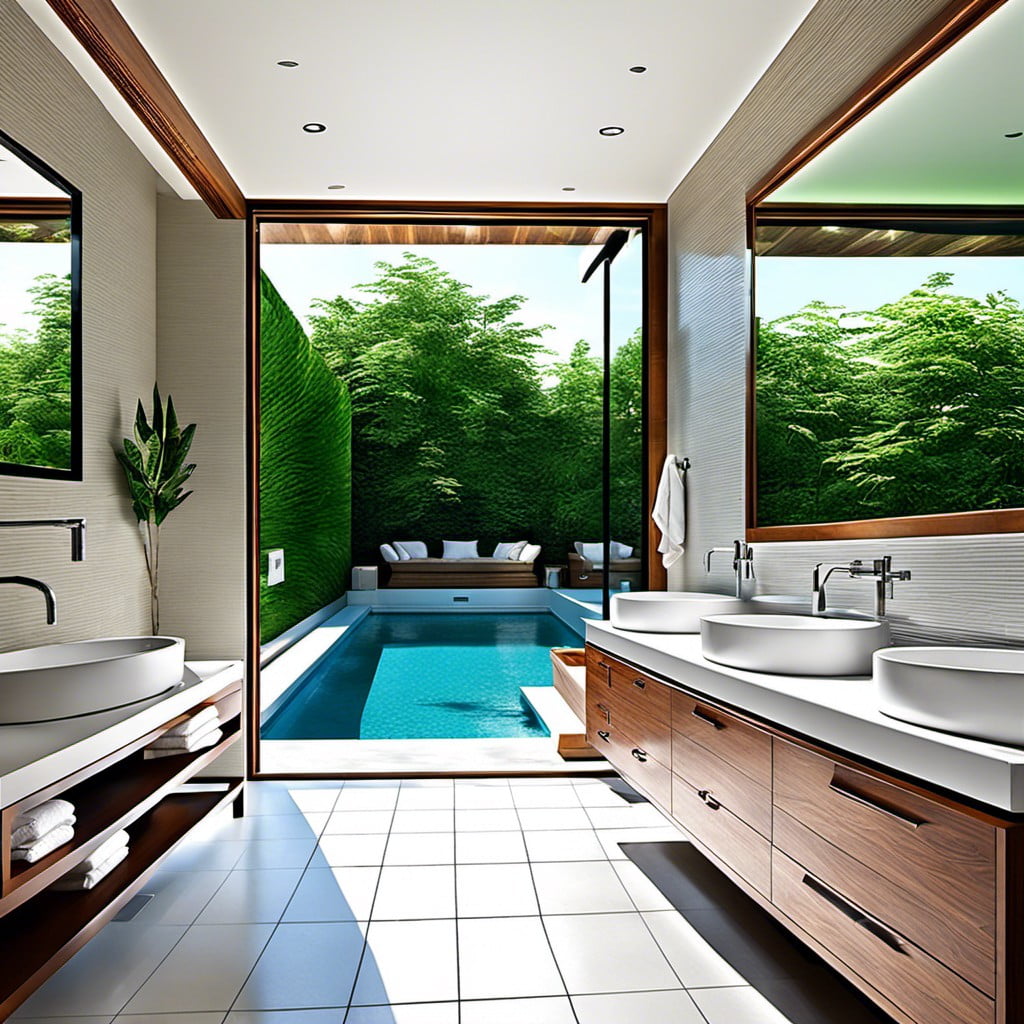 Having retractable walls can serve multiple functions. Firstly, it allows you to regulate the amount of natural light entering your bathroom – witness the magnificent sunrise or settle in for a spectacular sunset view right from your bathroom. Secondly, it offers a seamless transition between indoor and outdoor spaces, providing access to fresh air and creating a harmonious union with nature. Further, it ensures privacy when desired.
Ensure you choose materials that can withstand external factors. Aluminum, vinyl or wooden walls work efficiently and offer excellent durability. Add a nifty insect screen to enjoy the outdoor view without unwelcome guests.
To enhance the indoor-outdoor feel, continue the same flooring from inside to the outside patio. You can also use similar wall colors or finishes. Lastly, decorate with plants that can tolerate both indoor and outdoor conditions, thereby blurring the boundaries.
Remember, proper planning and execution are key to a successful indoor-outdoor bathroom so always work with professionals for the best results.
Rain Shower Head for Tropical Ambiance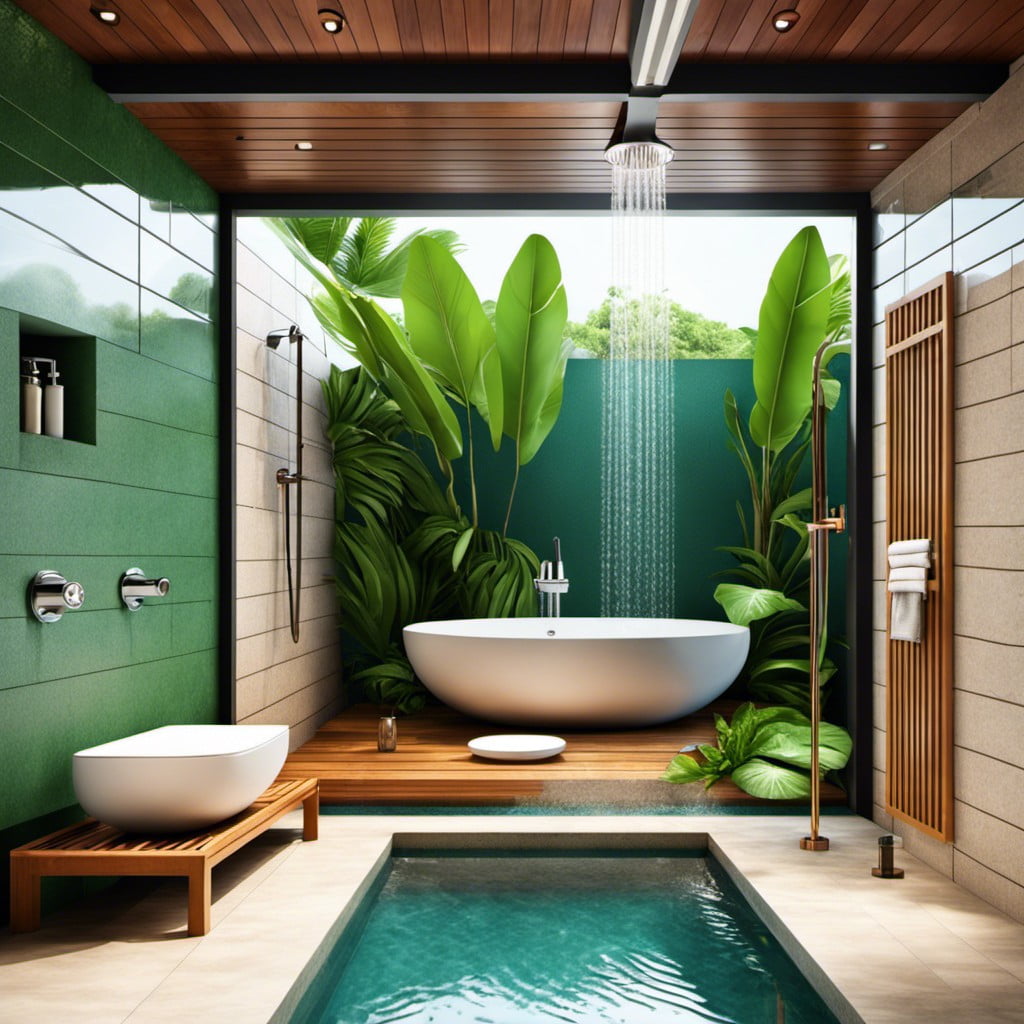 Breathing life into any poolside bathroom, a tropical ambiance could be effortless with the right fixtures. A rain shower head conjures the blissful sensation of rainfall, a familiar comfort in tropical climates.
Unlike traditional shower heads, these fixtures evenly distribute water over a larger surface area for a soothing, spa-like experience. Set against a backdrop of lush indoor plants, natural stone, and warm wood textures, the rain shower head becomes an integral part of your personal tropical oasis.
Installing one in combination with dimmable lighting can further emphasize the ambient mood. Lastly, make sure to choose a water-efficient model to stay eco-friendly while enjoying your summertime showers.
Utilize Natural Stones and Pebbles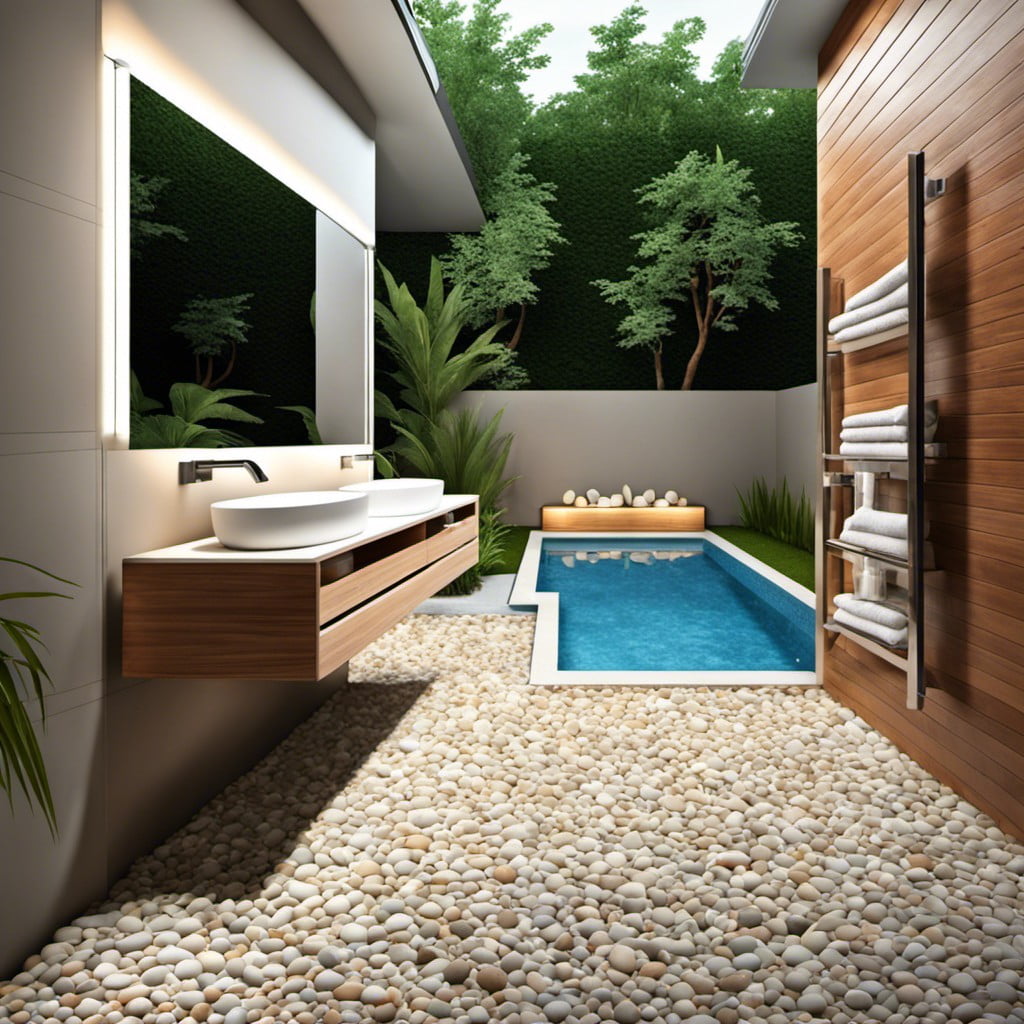 Bringing in elements of the outdoors can give your pool bathroom a unique and cozy feel. River rocks or pebbles can be used as shower floor, providing both a therapeutic foot massage and slip-resistance. Higher-grade slates or marbles can add a dash of luxury, while still maintaining an earthy aesthetic.
Consider using natural stone tiles for the walls as well, they're easy to clean, highly durable and come in an array of colors and patterns to choose from. If tiling the entire bathroom seems too much, you can opt for a single statement wall. Always seal natural stones to increase their longevity and to make them more stain-resistant.
All this together creates a space that not only feels rustic and homely but also classy and elegant. From stone sinks to pebble-filled niches, there are myriad ways to incorporate stoned surfaces and create your relaxing haven.
Install a Skylight for Natural Light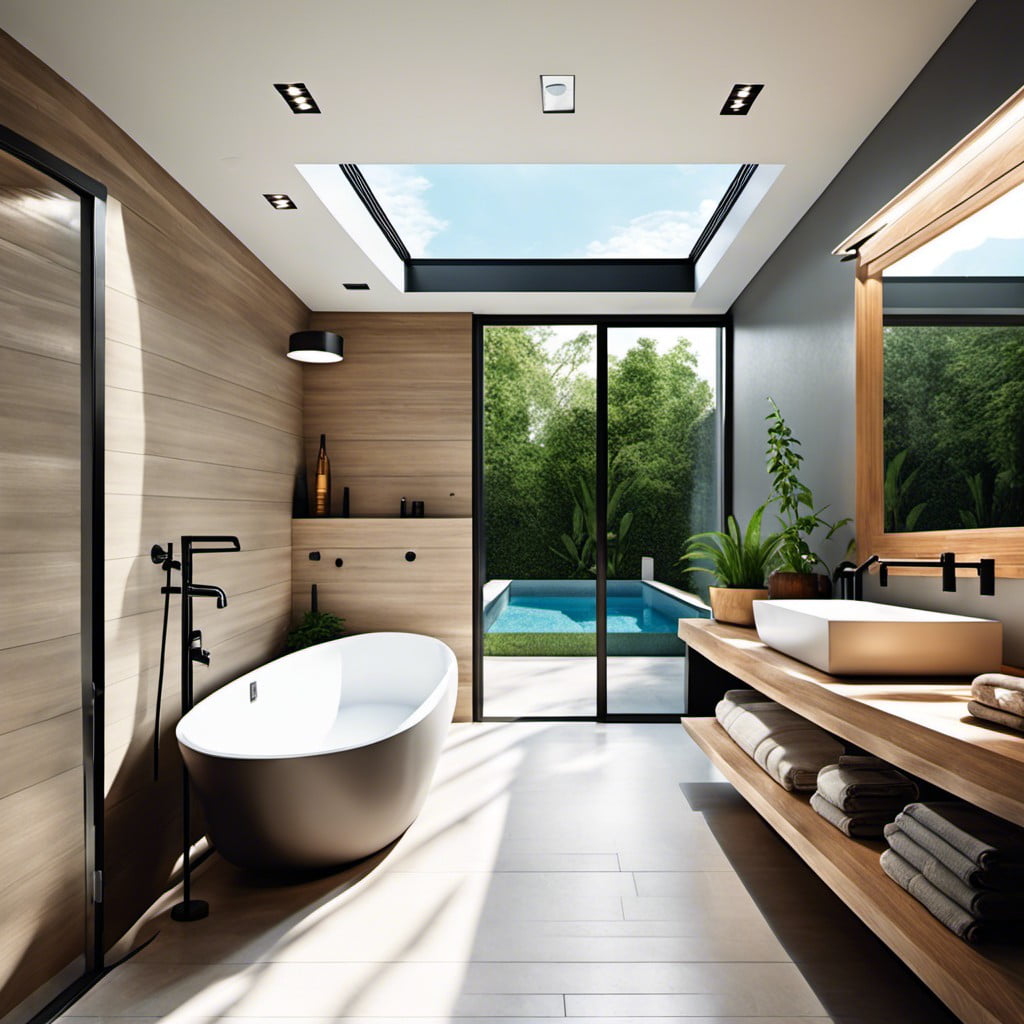 Skylights, beyond their stunning visual appeal, play a crucial role in heightening the overall ambiance of your pool bathroom. Utilizing the sun's natural luminescence, they inject ample brightness during the day, helping reduce reliance on artificial lighting.
Its strategic positioning is critical to maximizing incoming light while ensuring privacy. For optimum light inflow, align it with the sun's path across the sky.
Consider diffused skylights if the sunlight tends to be too harsh in your region, as they can evenly disperse light, minimizing shadows and glare.
Additionally, energy efficiency can be improved with skylights that have glazing, providing insulation and reducing heat loss in cooler months, whilst deflecting excessive heat in hotter periods, thus maintaining a comfortable room temperature.
Outdoor Shower Area Surrounded By Plants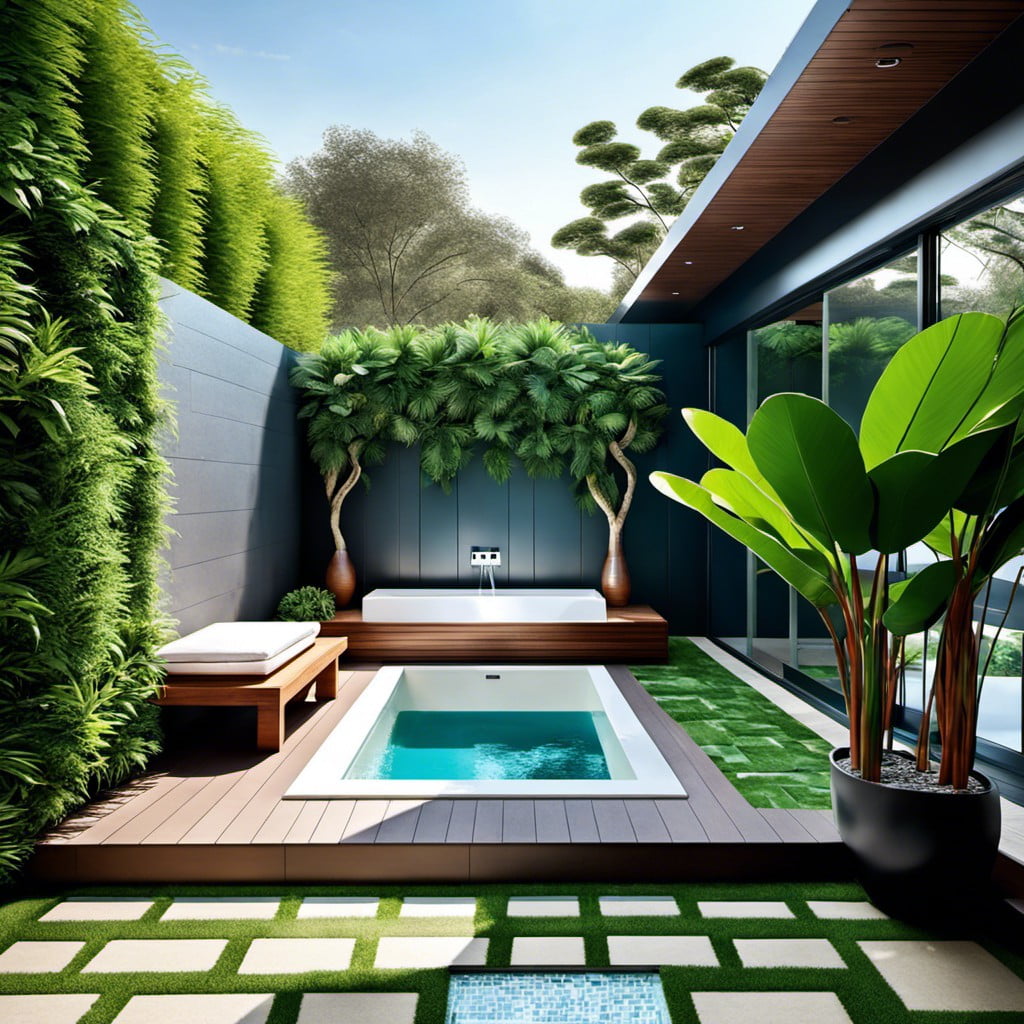 Creating an oasis of greenery around the outdoor shower elevates the whole pool experience. Choose plants that thrive in humid conditions as they would naturally flourish in a bathroom environment. Ferns, philodendrons, and bamboo are excellent choices. If you prefer a tropical vibe, consider banana plants or bird of paradise. For privacy, use taller plants or install trellis panels and allow creeping plants like ivy to grow onto them. This green background not only provides a lush, calm aesthetic but also offers a relaxing experience as if showering in nature. Remember, using non-slip materials for the floor and correct drainage is essential to safety and maintenance.
Exotic Bathroom With Bamboo Accents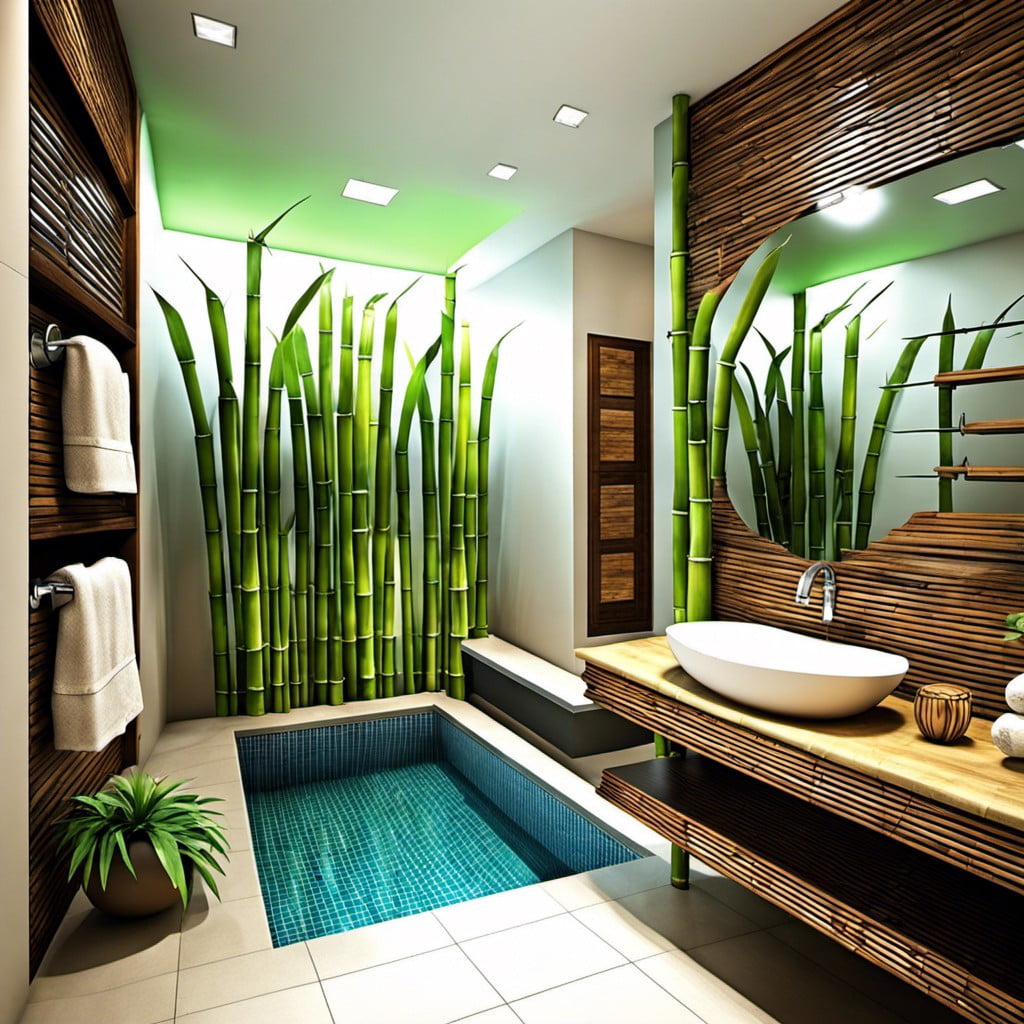 Incorporating bamboo into your pool bathroom will transport the space to an exotic retreat. A bamboo-screen divider can give a distinct yet subtle Asian flair to your space, maintaining privacy while allowing for permeable light. Bamboo-framed mirrors can create a coordinated look. Complement these with matching bamboo accessories such as towels racks and toilet paper holders. To intensify the tropical aura, consider a countertop made of bamboo for your vanity. The use of bamboo, a hardy and moisture-resistant material, will not only authenticate the exotic aesthetics but offer resistance and longevity in humid, poolside conditions.
Install Heated Floors for Comfort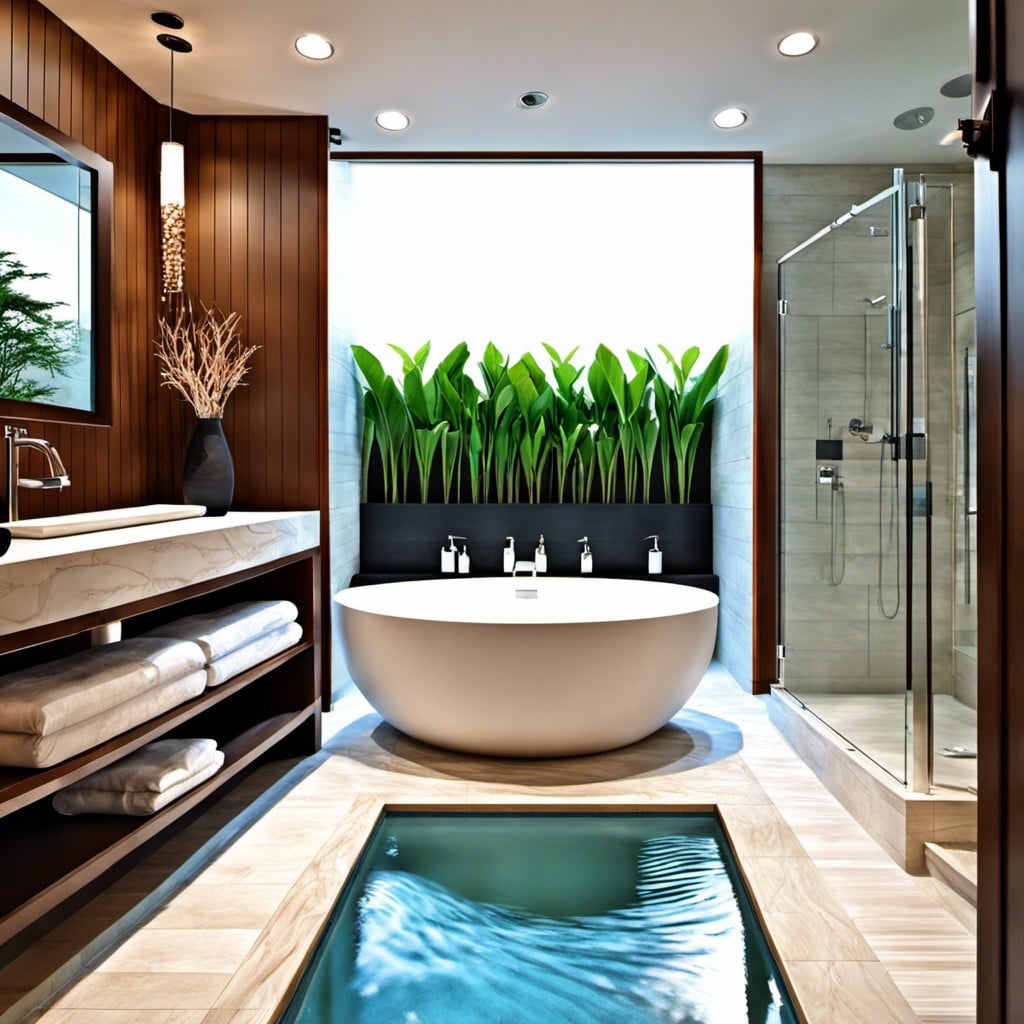 The discomfort of chilly bathroom floors, especially in a pool bathroom, can be effectively solved by adding heating elements underneath the tiles. This system radiates heat up, which not only keeps the floor warm but also adds an ambient warmth to the entire room. It's a particularly delightful treat during colder seasons making the transition from the pool to the bathroom, a luxurious experience.
Two major types of heated floors exist: electric and hydronic. Both are installed under the flooring, but they differ in the way they emit heat. Electric radiant heating is cost-effective to install, but can be expensive to operate in large areas. It's an ideal choice for smaller bathrooms. A hydronic system, on the other hand, is efficient for warming larger spaces but comes with a hefty installation cost.
Adding floor heating requires thoughtful planning. Elements such as tile type, bathroom size, and budget should be considered. Investing in a heated floor for your pool bathroom ultimately enhances comfort and adds an aura of opulence.
Sink Design Reflecting the Pool Shape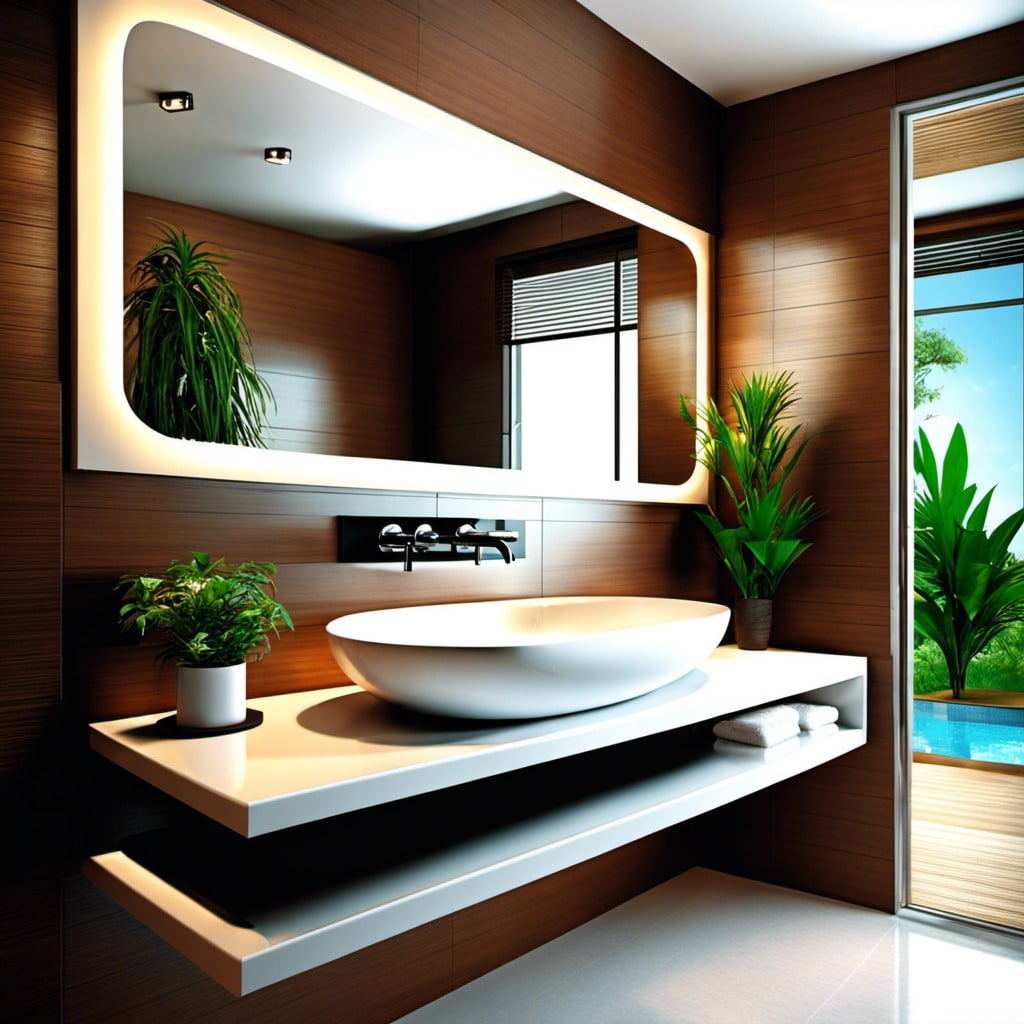 For an interesting twist in visual continuity, choose a sink that mimics your pool's shape. If you have a rectangular or square pool, opt for a vessel or undermount sink in the same shape.
In contrast, oval or round pools pair well with oval basins. Highlight the symmetry even more by picking a faucet that also plays into the theme, like a waterfall faucet for a lagoon-style pool.
This simple yet clever design trick helps to subtly unify the bathroom with the outdoor pool area, creating a cohesive and thoughtfully curated aesthetic.
Bathroom Mirrors With LED Lighting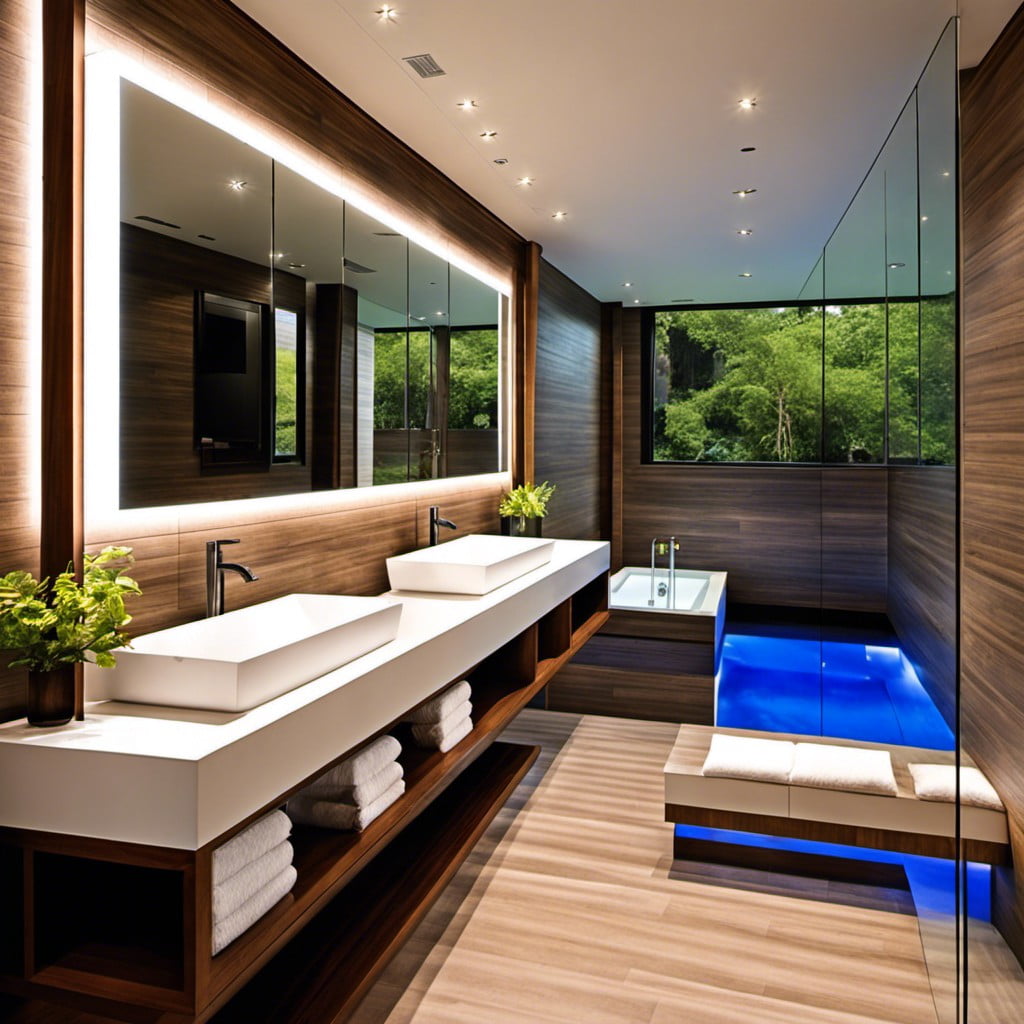 Of paramount importance is selecting the right light for your pool bathroom and LED-lit mirrors certainly fits the bill. The brilliance of these mirrors isn't just their forward-thinking design, but also the practicality they offer. Well-lit reflections are crucial for everyday tasks and these mirrors provide excellent illumination, even late into the night. Also, their energy-efficiency gives them an edge, given the substantial energy savings they can deliver.
Think about the size of your mirror and placement. Predominantly, it should align with the vanity and sink directly underneath for a unified look. For a minimalist touch, consider frameless options, but for a more profound effect, a bold, dark frame could work wonders.
Looking for a little extra? Some LED mirrors come with additional features, like anti-fog technology and dimmable lights, offering you a truly luxurious pool bathroom experience.
Glass Partitions for an Expansive View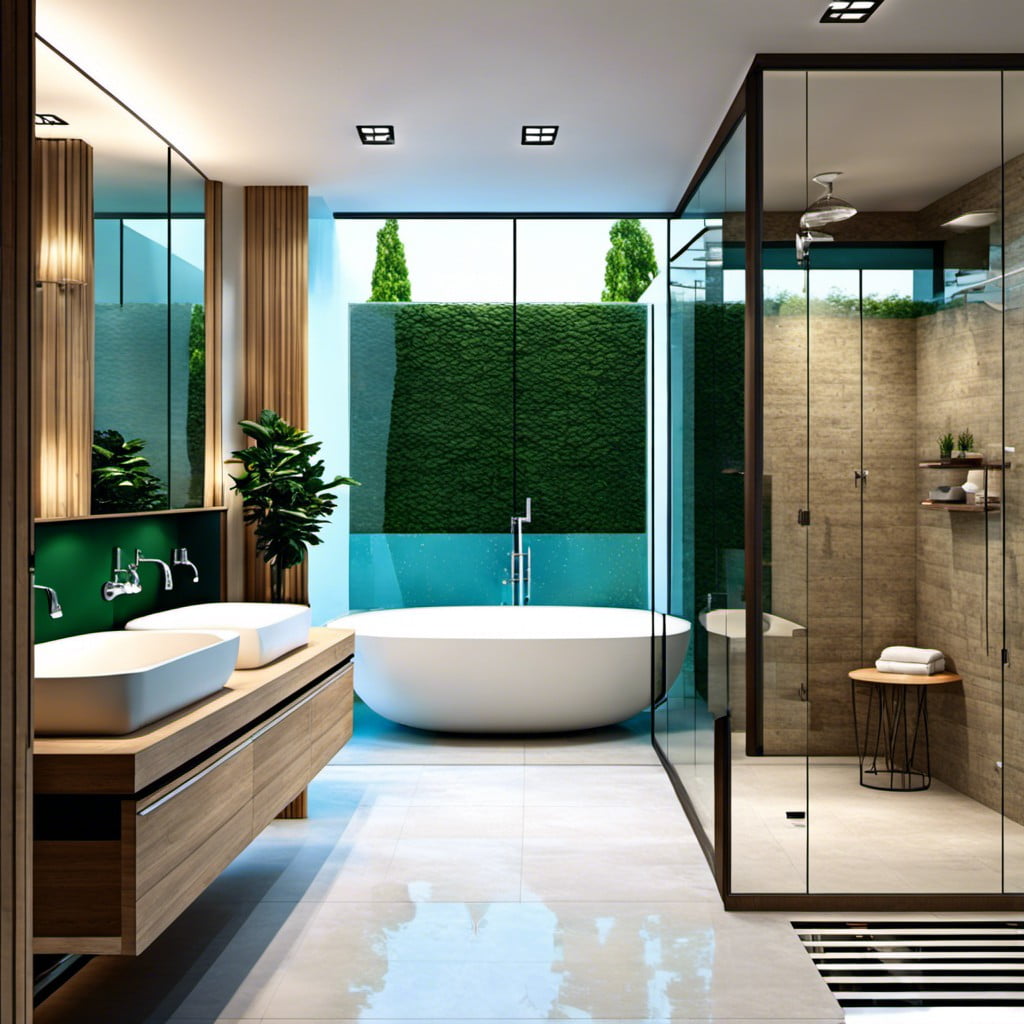 Having glass partitions in your pool bathroom not only enhances the space visually, but also allows a seamless transition between different areas. This concept brings in an element of sophistication while ensuring the area feels open and expansive.
Following are few points to consider:
1. Opt for clear glass for uninterrupted views of the pool and the outdoors.
2. For privacy without blocking light, consider frosted or textured glass.
3. Complement these partitions with sleek metal frames that add to the modern aesthetic.
4. Ensure the glass is treated to be water and humidity resistant, guaranteeing longevity.
5. To increase the safety, opt for tempered glass panes that are four times stronger than ordinary glass.
Remember, it's all about achieving that perfect blend of form and functionality!
Large Windows for Natural Vistas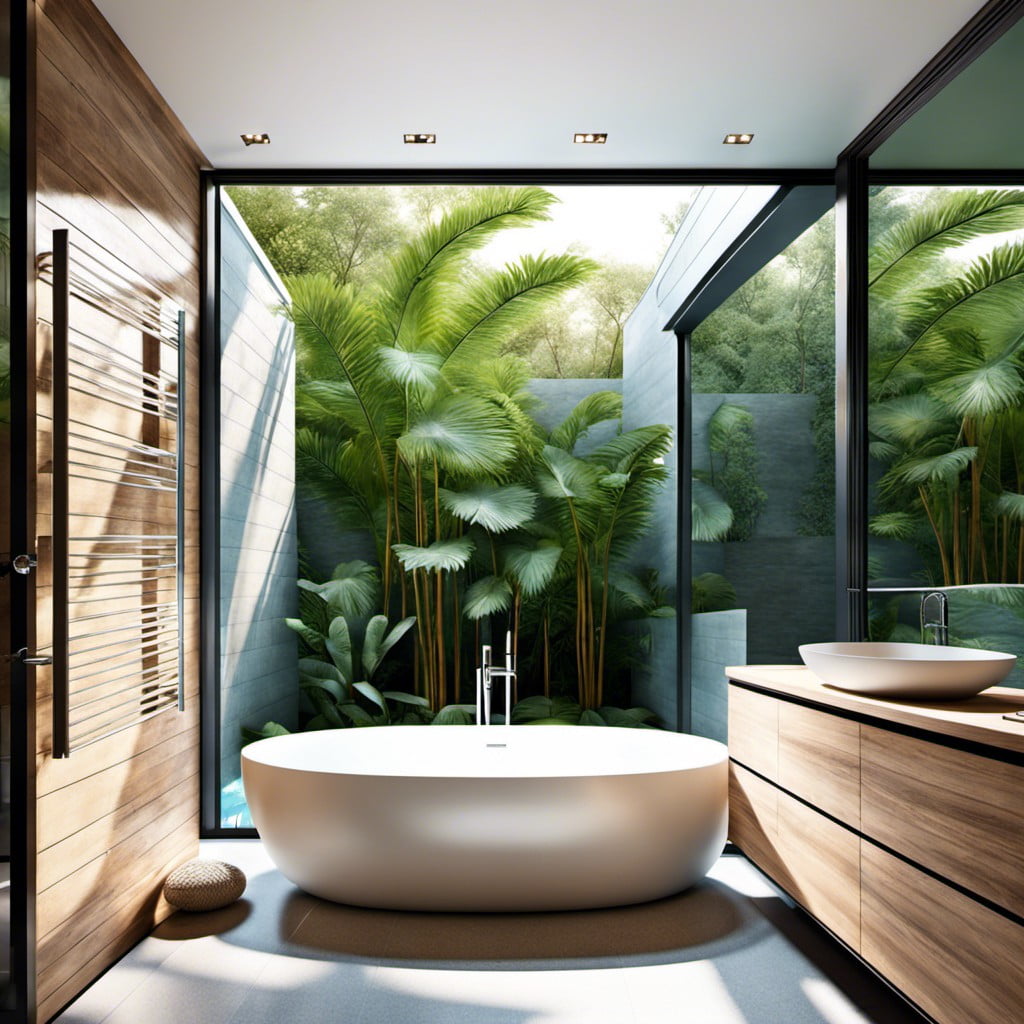 Enjoying a breathtaking view while soaking in the tub after a long day of fun in the pool is one of life's simple pleasures. Including sizable windows in pool bathroom design accomplishes this while also inviting an abundance of natural light in, creating a bright and airy atmosphere.
When planning window placement, consider angles that provide optimum views and prioritize privacy, possibly focusing on a well-manicured garden, a serene woodland, or an impressive cityscape.
Additional window tinting or smart glass can enhance seclusion without compromising aesthetics, and you can also opt for frosted bottom parts that maintain the view above while keeping the bathroom area discreet.
The shape of the window can further play into the bathroom's aesthetic: rectangular, circular, or abstract shapes can all work, depending on the overall design scheme. Remember to also take into account the windows' energy efficiency ratings to ensure minimized heat loss in winter and keep the bathroom cool in the summertime.
Sea-life Themed Bathroom Decor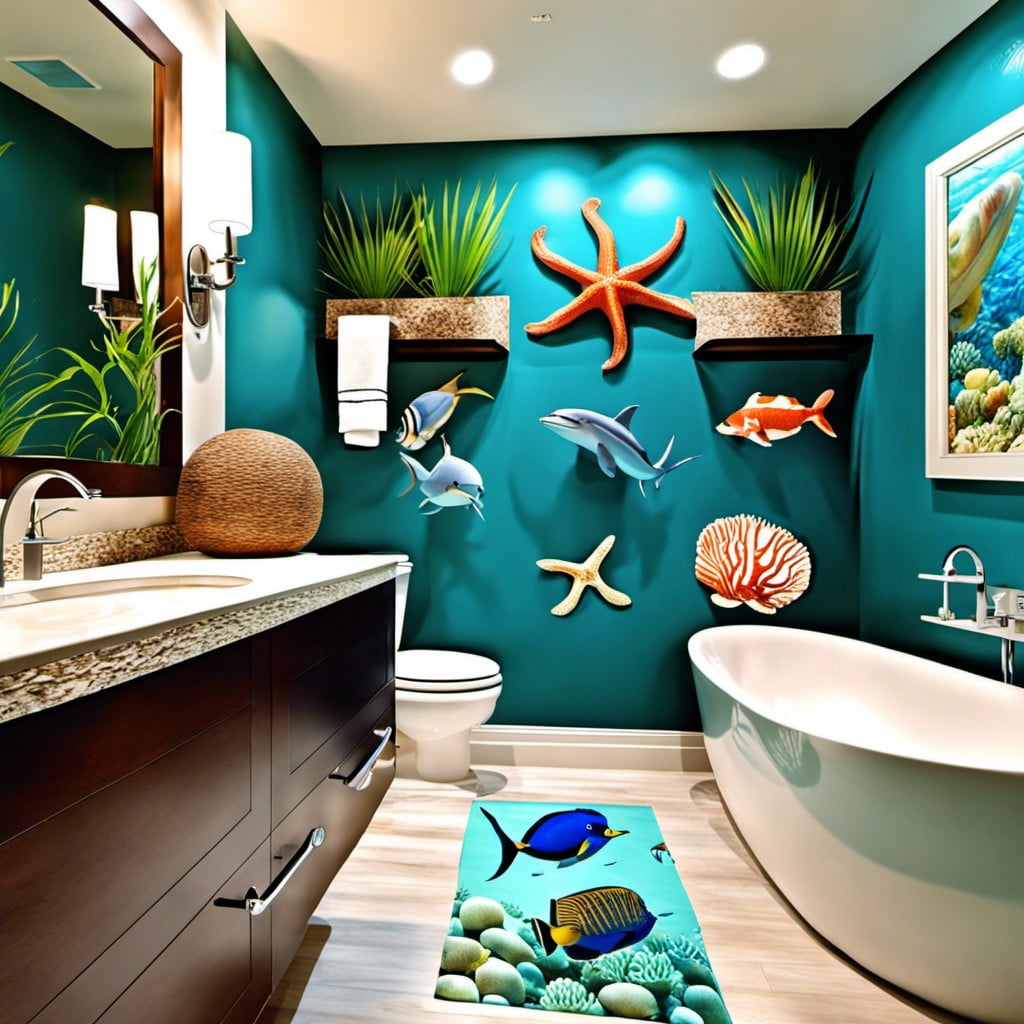 Delving into the charm of underwater treasures is indeed an exciting approach to pool bathroom decor. Begin by opting for wallpaper or tiles that mimic the serenity of ocean waves, maybe even a gradient of blues to capture the sea's depth.
Utilizing accessories like shell-shaped soap dispensers, coral or seahorse wall art adds a delightful detail. Try incorporating linen or curtains featuring motifs of marine life – think fish, octopi, or the timeless anchor symbol.
Lastly, consider a creative arrangement of actual seashells, starfish, or driftwood for a tangible slice of the sea. This creates an invitingly playful yet sophisticated atmosphere reminiscent of a seaside retreat right in your own home!
Incorporate a Splash of Vibrant Accent Colors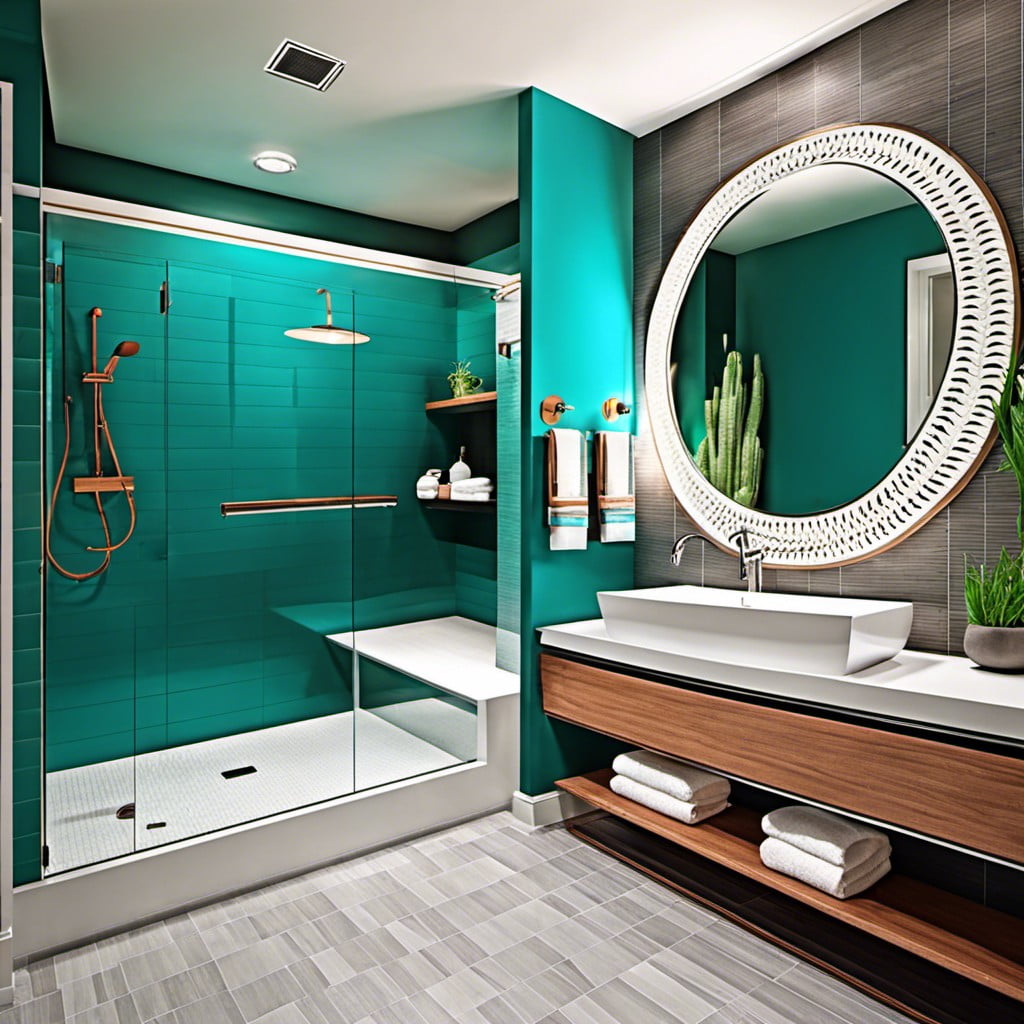 Splashes of vibrant colors can transform a neutral space into something dynamic and visually exciting. Consider adding colored towels, rugs, or even a vibrant piece of wall art. Don't overlook the power of a brightly painted accent wall. Turquoise, for example, can add a tropical touch, while a strong coral hue can inject a sense of fun energy into the setting.
Utilizing color strategically enables you to create a focal point, which can draw the eye and provide a pleasing visual respite in a predominantly neutral bathroom. Moreover, these accent pieces can easily be swapped out based on mood, season, or changing taste. Therefore, playing with accent colors gives you the flexibility to keep your pool bathroom looking fresh and trendy without committing to a major design overhaul.
Install Waterproof Sound Systems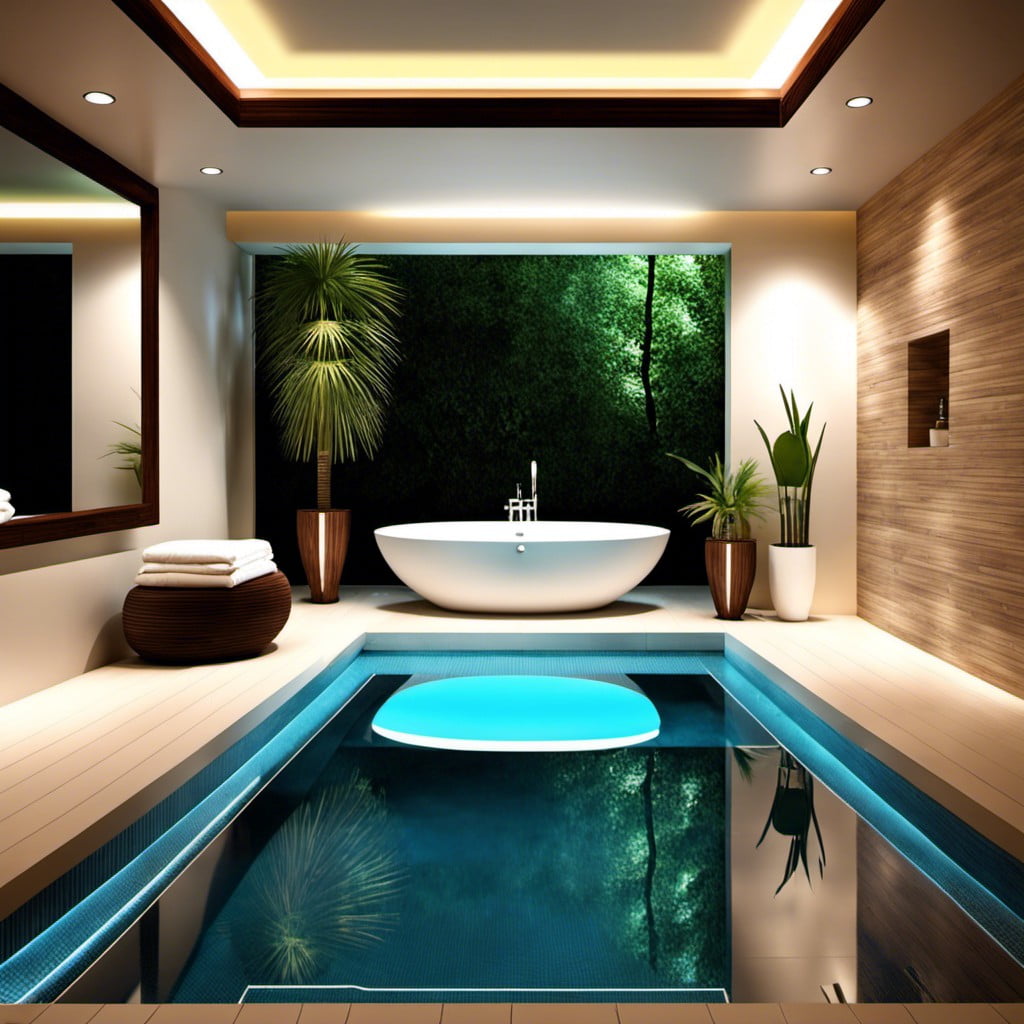 When considering a sound system that can withstand splashes, humidity, and the occasional soaking, opt for a waterproof specification. Particularly useful for those relaxing poolside times, where you might fancy a burst of your favorite tunes, or need an audio guide for your yoga routine.
Select a system with a high Ingress Protection (IP) rating, guaranteeing effective waterproof attributes. Bluetooth connectivity could enable playlist control directly from your smartphone, while separate, wall-mounted controls are a popular accessory to avoid wet hands on electronics.
Remember placement is key. Plan for acoustics, considering tiled surfaces can cause sound bounce. Strategically positioning speakers will create an immersive audio experience. Recessed ceiling speakers prove a discreet choice, avoiding intrusion into your bathroom aesthetics.
Ultimately, your waterproof sound system should offer a luxury touch, harmonizing functionality with your minimalist or modern bathroom decor.
Frosted Glass Doors for Privacy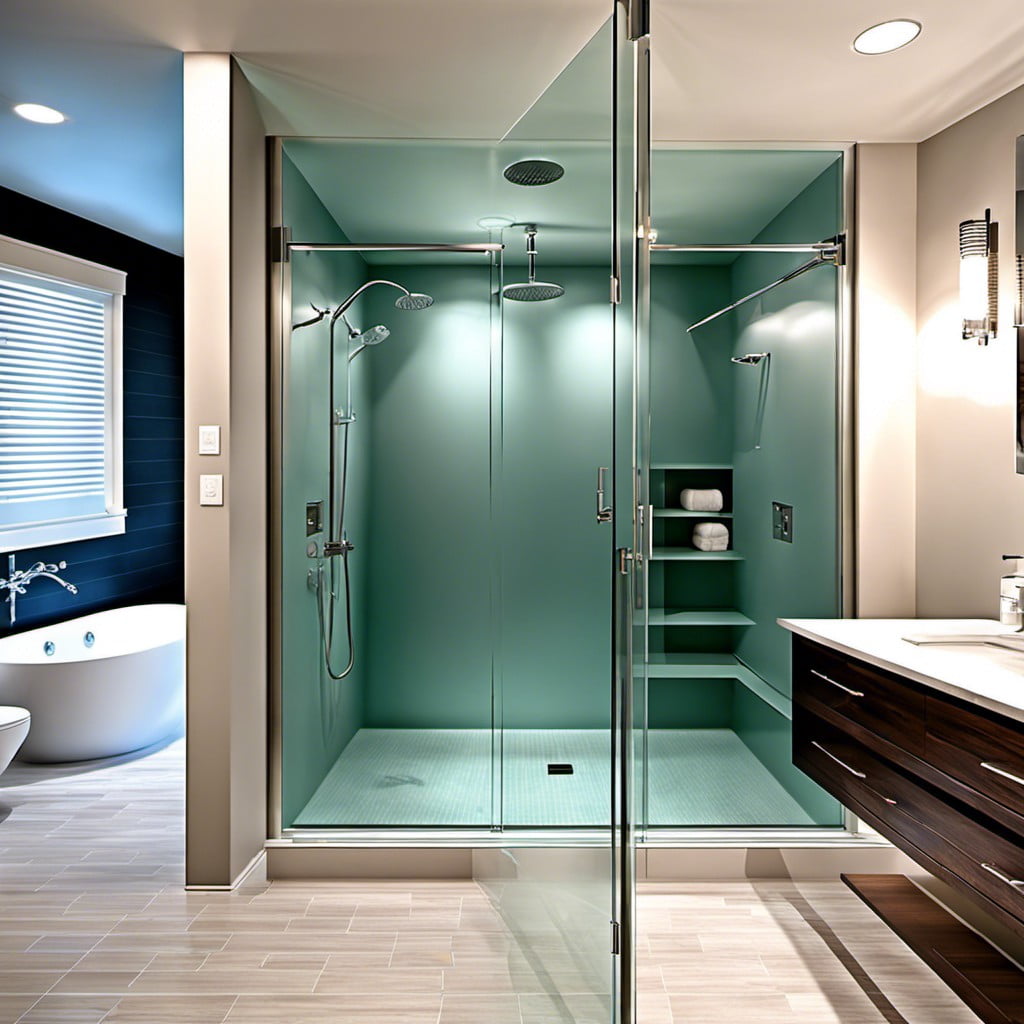 Shifting focus to maintain discretion doesn't need to compromise on the bathroom's aesthetic appeal. Frosted glass acts as an excellent solution, adding both elegance and privacy. Its light diffusing qualities illuminate the space with soft, natural light, creating a serene ambience. This ensures visual privacy, yet, bridging the gap between the bathroom and outdoors.
Several styles are at your disposal. Consider choosing customized frosted designs as an excellent opportunity to add a unique touch to your space, be it an abstract pattern, geometric shapes, or a natural scene. If you prefer an ultra-modern look, pick clear lines or a striped pattern. For a more opulent feel, opt for designs with ornate flourishes.
Maintenance is another beneficial aspect. These doors are easy to clean and relatively scratch-resistant, making them the perfect solution if you want to keep your bathroom presentable while having minimal maintenance chores.
Remember, a balance between style, privacy, and durability, like that offered by frosted glass doors, can turn your pool bathroom into a private oasis that ties in with your home's overall modern aesthetic.
Resort-style Bathroom With Sunken Tub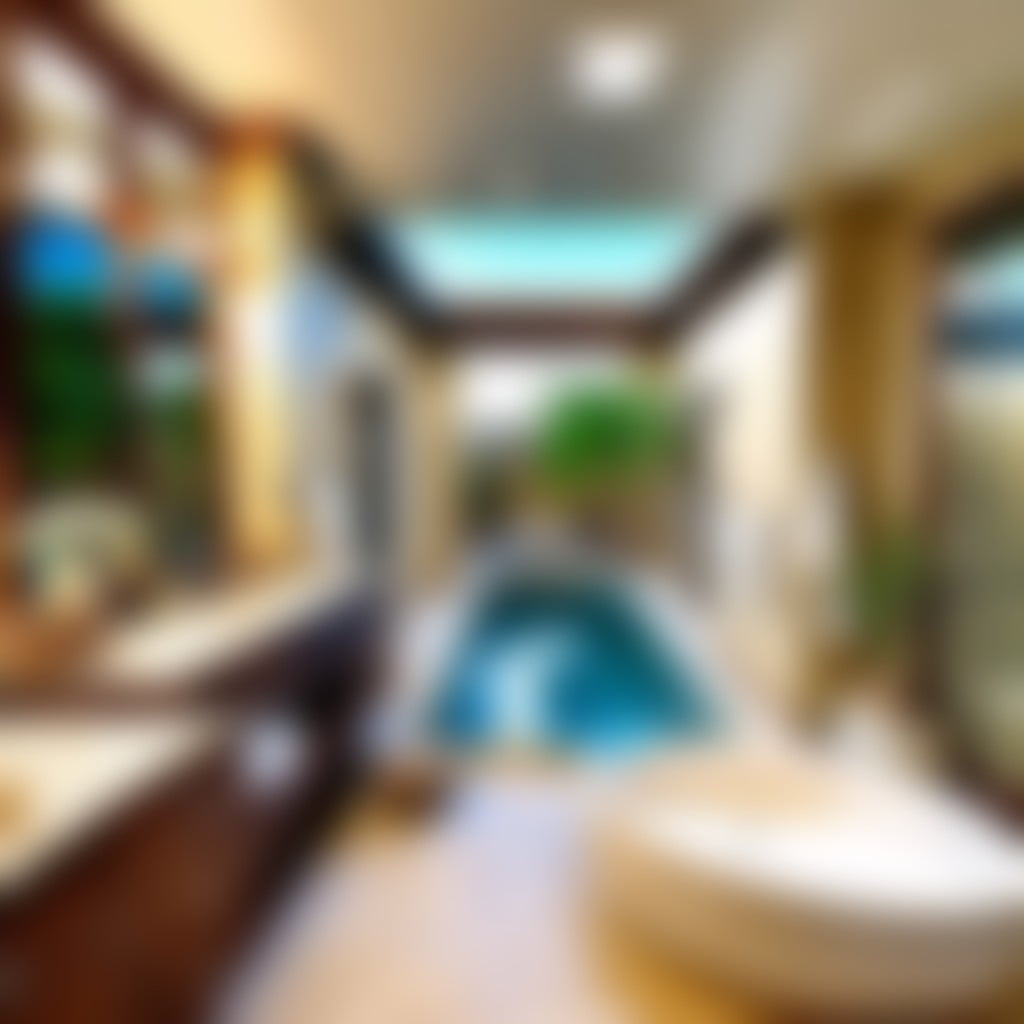 For an ultimate luxurious feel, a sunken bathtub is an excellent addition. It becomes a piece of stylish decor serving the practical purpose of relaxing soak after a swim.
Reinforce the resort-like atmosphere with natural elements. Consider tropical plants – they add a refreshed look and purify the air. Use materials like teak and stone for texture and warmth.
Highlight the tub area with soft, dimmable lighting to create a soothing environment. For an additional touch of elegance, hang a chandelier or pendant light above the tub.
Floating Vanity for a Modern Touch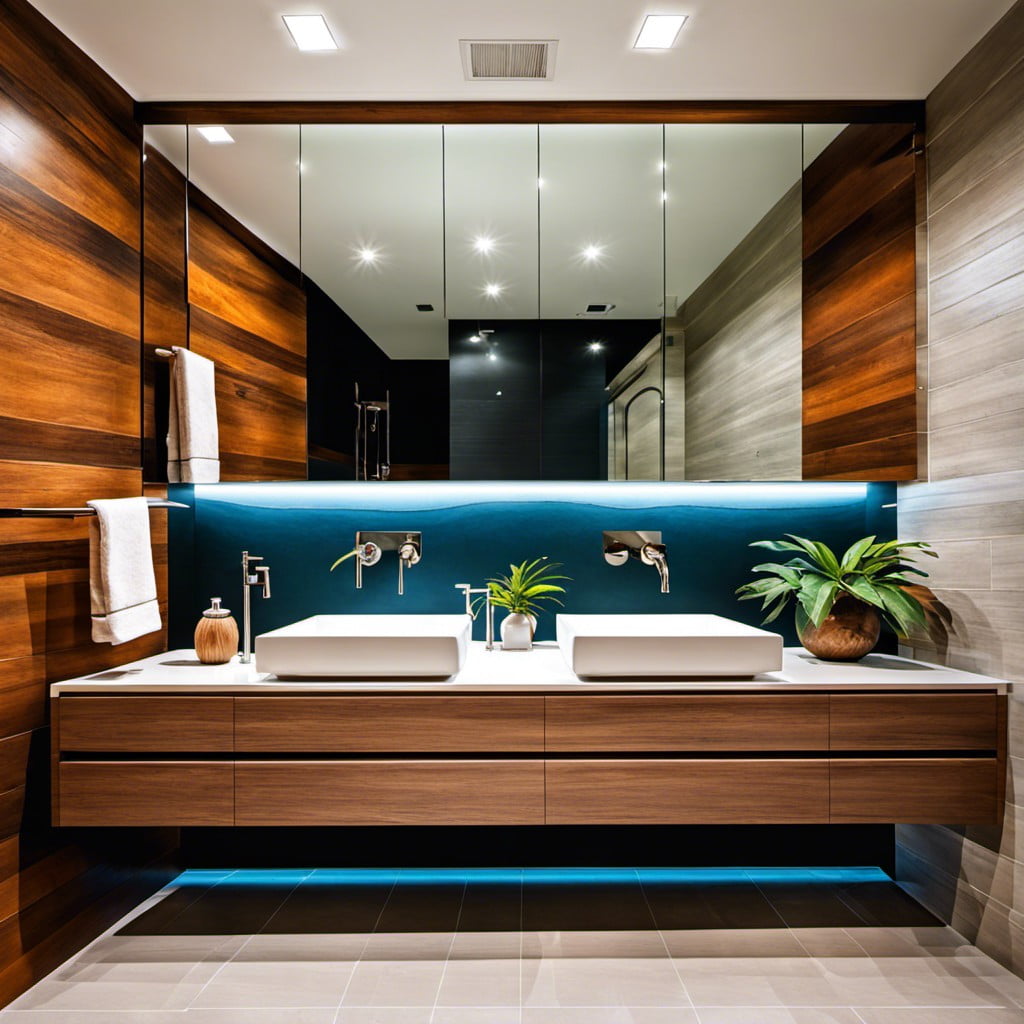 Finally, to give your pool bathroom a sleek, clean silhouette, think about opting for a floating vanity. This design not only creates the illusion of more space but allows for easy cleaning underneath.
Visually Light: Keeping the floor visible beneath the vanity tricks the eye into thinking the room is more spacious than it actually is.
Versatile Styles: There's no limit to the materials or designs you can choose. Granite, quartz, or even wood can add an unexpected twist.
Storage Solutions: Opt for a model with built-in drawers or shelves to keep toiletries neatly tucked away.
Customizable Height: Install at a height that's perfect for you. It's a game changer for homes with petite or tall residents.
Remember, the vanity can serve as the focal point of the bathroom. Don't be afraid to let it shine! High-gloss finishes or bold colours can draw the eye and make a bathroom you'd be proud to show off.
Install Energy-efficient LED Lights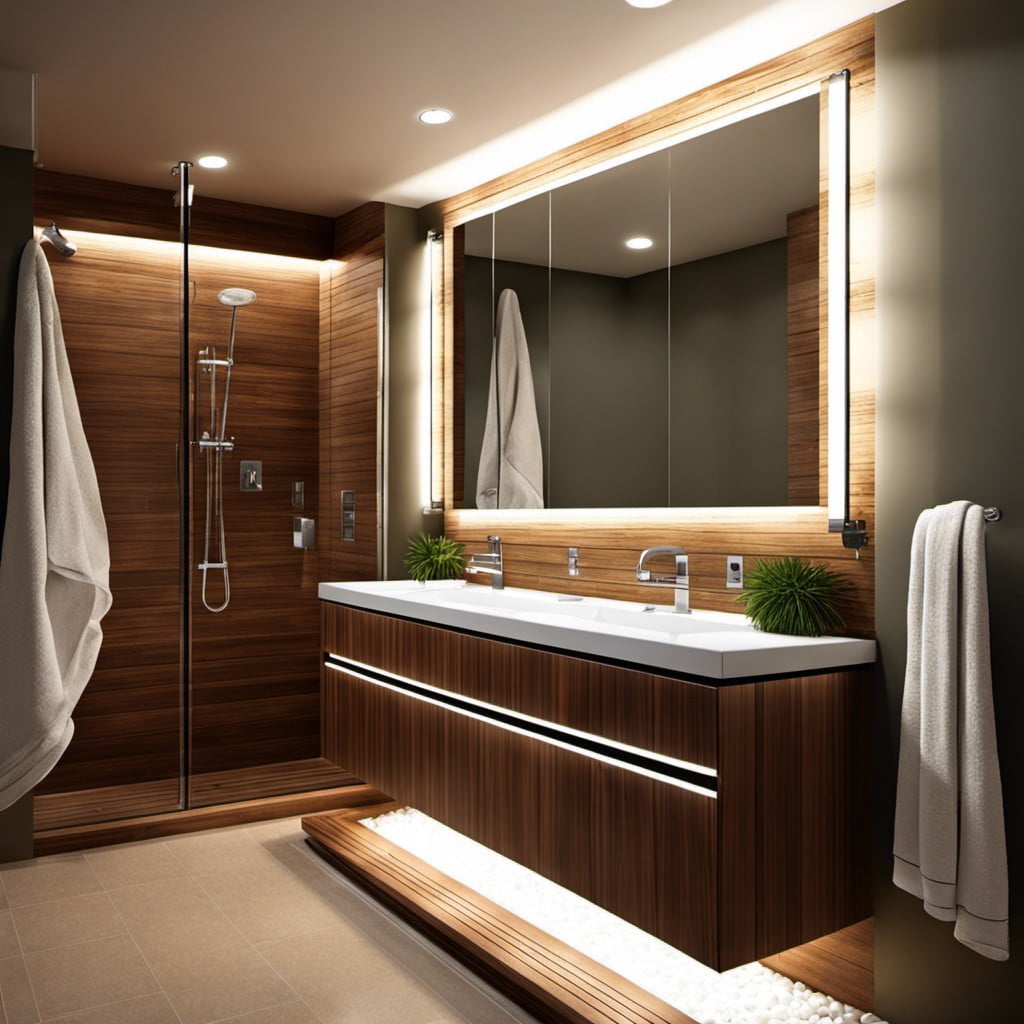 Energy efficiency is a key aspect of any modern bathroom design. The light emitting diode (LED) offers an eco-friendly and cost-effective solution. These low-energy lights offer the same or better illumination but use significantly less electricity. They also generate less heat, thus reducing the cooling demands of your bathroom.
Available in a range of color temperatures, from warm white to cool daylight, adjusting the mood of your bathroom to your liking is possible. Another advantage is their long lifespan, with many lasting years longer than traditional bulbs reducing replacement need. Consider dimmable options for zoning lighting and creating a relaxed atmosphere when needed.
All of these features can effectively enhance the ambiance of your bathroom while adhering to eco-friendly norms.
Continue reading:
Recap