Last updated on September 25, 2023
Dive into the world of bathroom paint ideas to transform your space from ordinary to extraordinary with just a few brush strokes.
Dive into the world of bathroom paint ideas where color schemes can transform a simple washroom into a luxurious spa-like retreat.
This article will guide you through the latest trends, from serene blues to energizing yellows, helping you pick the perfect hue for your bathroom.
Whether you're looking for a bold, dramatic statement or a soft, calming ambiance, you'll find a plethora of colors and finishes to choose from.
And not just that, we'll also provide tips on how to apply your chosen paint to achieve a professional finish.
So, let's embark on this color-filled journey to give your bathroom a fresh, new look.
Table of Contents
Sky Blue and White Scheme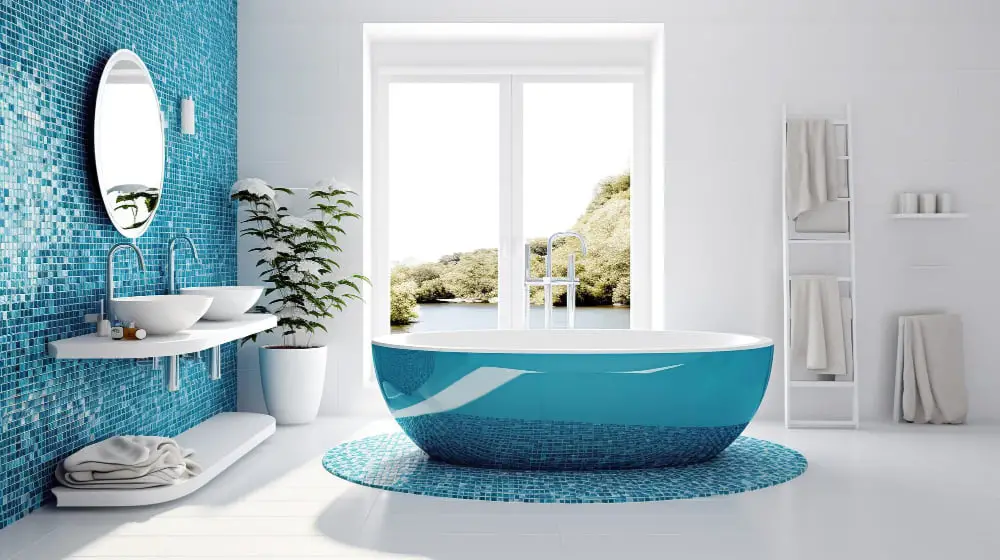 This color scheme speaks of crisp freshness, evoking imagery of clear skies on a beautiful summer day. The soft blue hues add a relaxing and tranquil touch, turning the bathroom into a serene retreat. Partnered with white, the color balance contributes to an airy feel largely admired in typical beach houses.
Enhances room's brightness: Sky blue reflects natural light, augmenting the brightness of the room.
Stains less visible: White, being forgiving, makes water stains less noticeable.
Suits various styles: The color combination is versatile, fitting into a contemporary, farmhouse, or coastal bathroom style.
Expand space impression: Light colors give an illusion of expanded space, valuable for smaller bathrooms.
Accessories: Enhance the look with white or light-toned bathroom fixtures for a harmonious blend.
Pairing sky blue with white is akin to introducing a dash of the outdoors, resulting in a calming and clean feel that every morning routine can benefit from.
Mint Green and White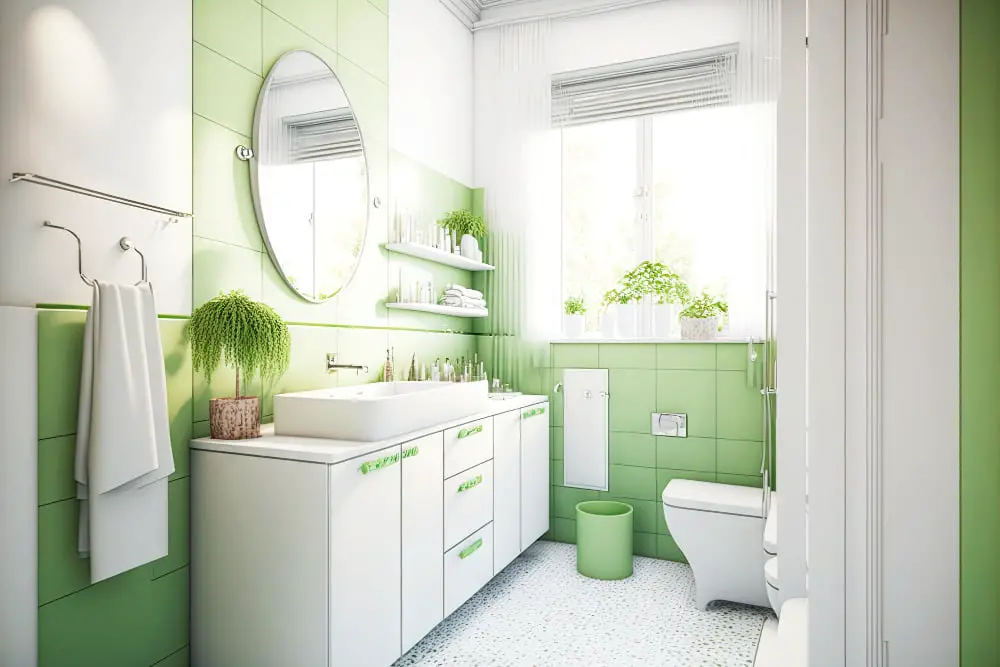 This refreshing choice offers a light, breezy atmosphere ideal for smaller bathrooms. The mint green acts as a natural highlighter against a white backdrop making the space look instantly brighter. Its cool tones evoke a spa-like tranquility, a soothing atmosphere for a long soak in the tub.
Key Points:
Light Reflectance: White enhances natural light in a small bathroom, making it look larger.
Cool Tones: Mint green evokes feelings of tranquility and cleanliness.
Complementary: Mint and white are a harmonious combination.
Sophistication: The blend adds an upscale, sophisticated touch to the bathroom.
Versatility: Suitable for both modern and shabby chic decor.
Color choices such as mint green fixtures or a feature wall can add an extra layer of depth to the bathroom design. As for the white, it can be cleverly used for tiling or the main paint job. Together, they create a stunning contrast, striking an excellent balance between vibrant color and calming neutral notes.
Dark Grey and Yellow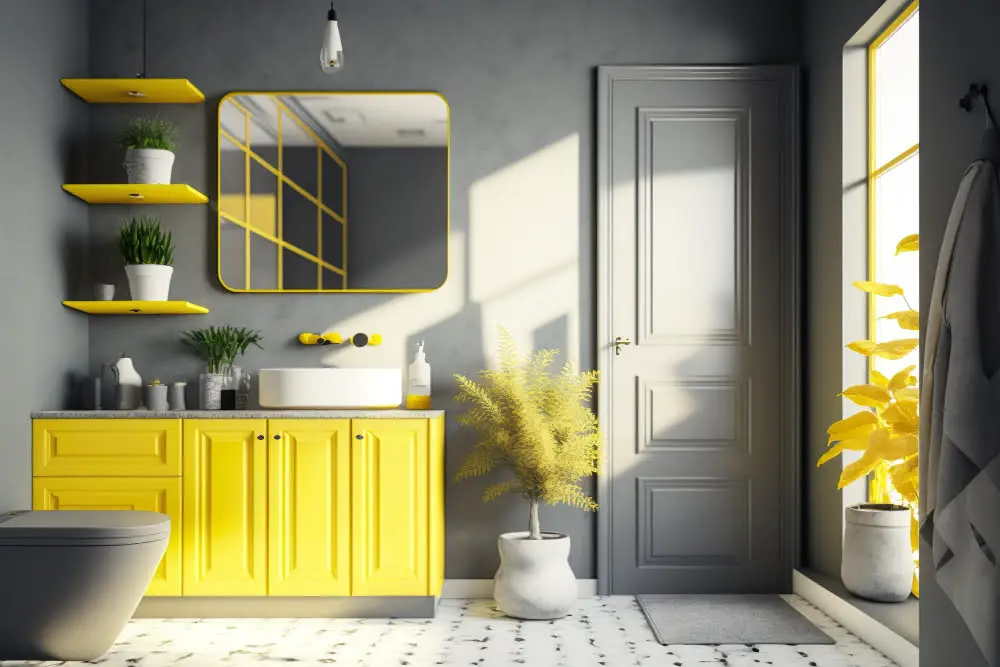 Utilize dark grey as your base color for walls, lending a modern and mature hue that works perfectly to highlight any architectural features. Contrast it with yellow accents which can be in the form of bathroom accessories or focal points like a mirror frame or a vanity. This stunning combination adds vibrancy and is particularly effective in bathrooms with ample natural light.
Key points:
Applying dark grey on walls creates a sophisticated base.
Yellow accents, through accessories or focal points, bring lively contrast.
Achieves optimal results in well-lit spaces.
Soft Lavender and Gray
This combination embodies serenity and sophistication. A soft lavender wall serves as the soothing backdrop, while nuanced gray accents add a modern twist.
Here's why this duo works wonders:
Balance: The soft hue of lavender contrasts beautifully with the gravitas gray brings, yielding a peaceful equilibrium.
Versatility: This duo complements both contemporary and classic décor.
Mood Enhancement: Lavender induces calm, while gray symbolizes steadiness — an ideal mix for a tranquil bathroom ambience.
Remember, matte finishes work best in moisture-intensive spaces like bathrooms. Include lavender-and-gray accessories like towels, rugs, or shower curtains to tie the room together.
Pale Peach With Cream Accents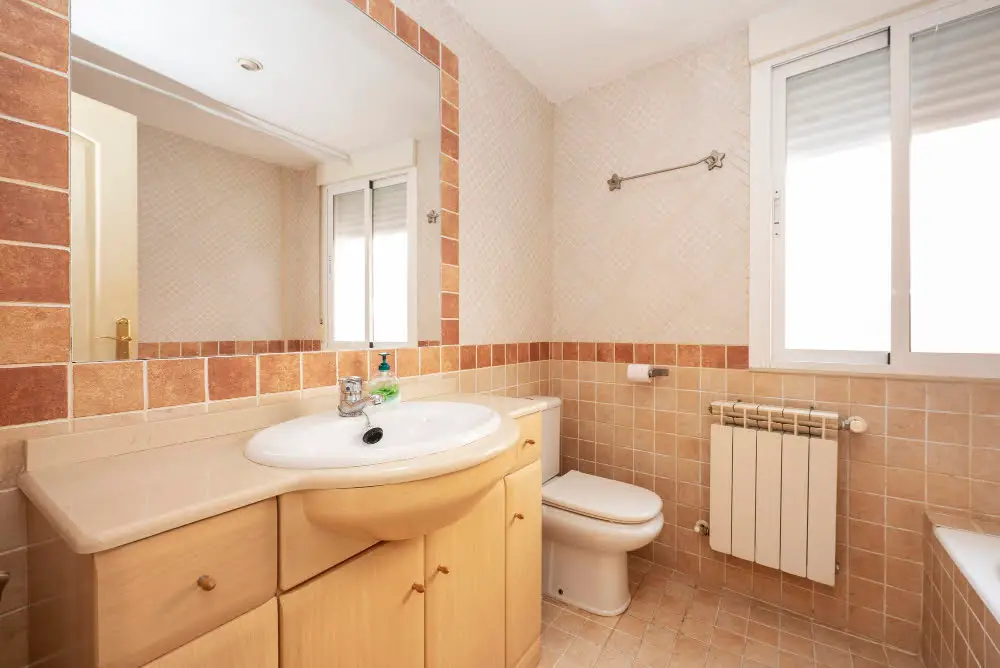 A harmonious blend awaits with a combination of pale peach and cream accents. Simply delightful to the eyes, it brings in the warmth yet keeping the bathroom looking pristine. The subtle undertones of peach add character to the bathroom without being overwhelmingly bright. It's the perfect setup to incorporate brass fixtures, natural wood furniture, and stone countertops.
Key Points:
Warm and inviting: Pale peach adds a hint of color that is comforting and engaging.
Soft and serene: Cream accents counterbalance the peach, adding a calming influence.
Versatile combination: Works well with brass fixtures, wood furniture, and natural stone.
Timeless appeal: Ideal for a classic or modern bathroom setup.
Light-enhancing: The light tones reflect light, making the bathroom bright and welcoming.
Aqua Blue With Nautical Stripes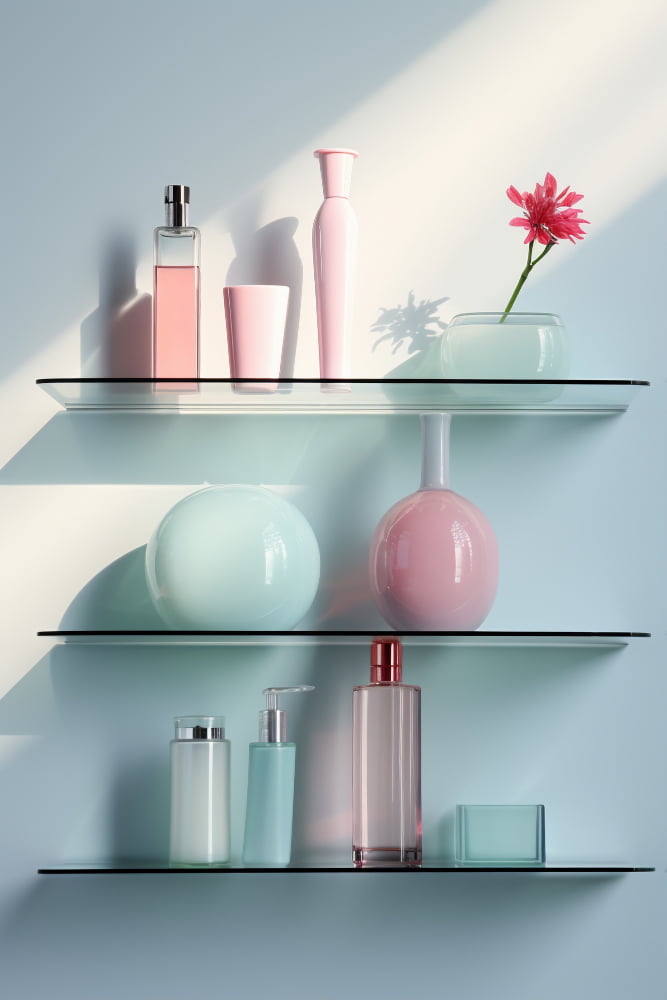 Infusing an element of oceanic charm is easy with this scheme. The aqua blue mimics the beautiful mysteries of the sea, lending a captivating touch to your bathroom. Incorporating nautical stripes can amplify the seaside ambiance.
Three main components to consider in this setup are:
Color Intensity: Select an aqua blue with a soothing yet vibrant hue. It forms the basis of your bathroom's visual appeal.
Stripe Placement: Incorporate the stripes through accents like a shower curtain or tiles. It's key to balance their frequency – neither too dominant nor too subtle.
Complementary Articles: Let your bath mats, towels, and shower essentials either go with the aqua blue or the stripe color. This brings harmony into the design.
Shades of Grey With Bold Accents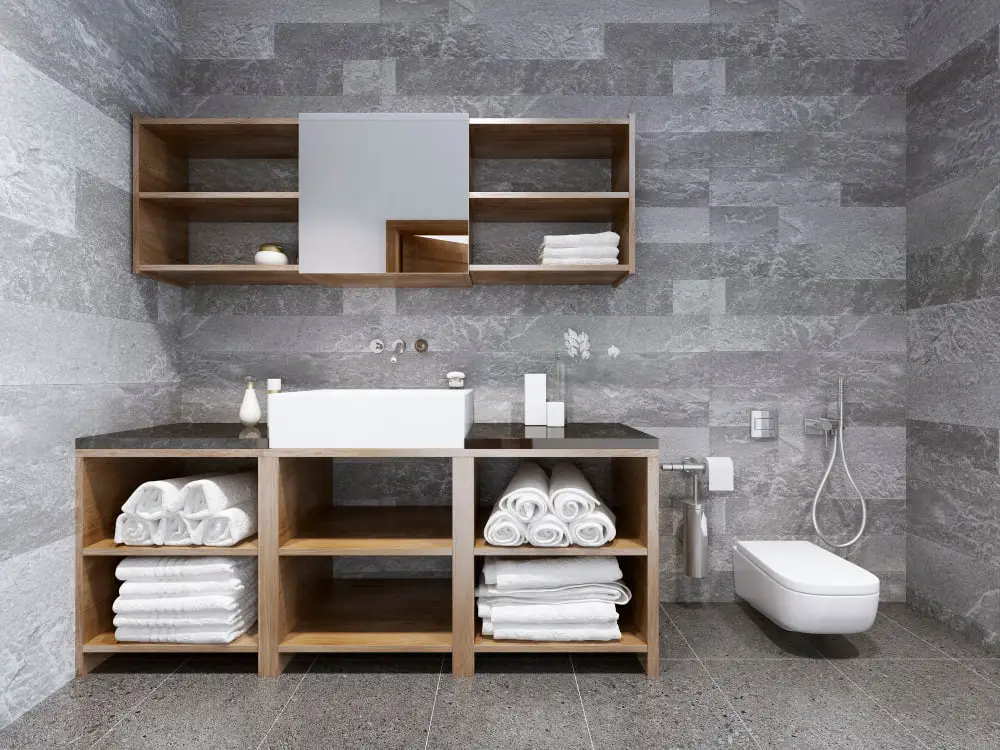 This color scheme offers a timeless elegance that never goes out of style. Different shades of grey can add depth and character to your bathroom.
A light grey is ideal for the most part of your bathroom. This allows for a relaxing and tranquil atmosphere.
Opt for a darker grey with undertones of either blue or green for an accent wall. This will create a unique contrast and make a bold statement.
Key Points:
Light grey base for tranquility.
Darker grey accent to add depth.
Blue or green undertones for unique impact.
No accessory restrictions; metallic or wooden accessories work well.
Optimal lighting can enhance color contrasts.
Balance is key; avoid overwhelming with too much darkness.
Classic Black and White Stripes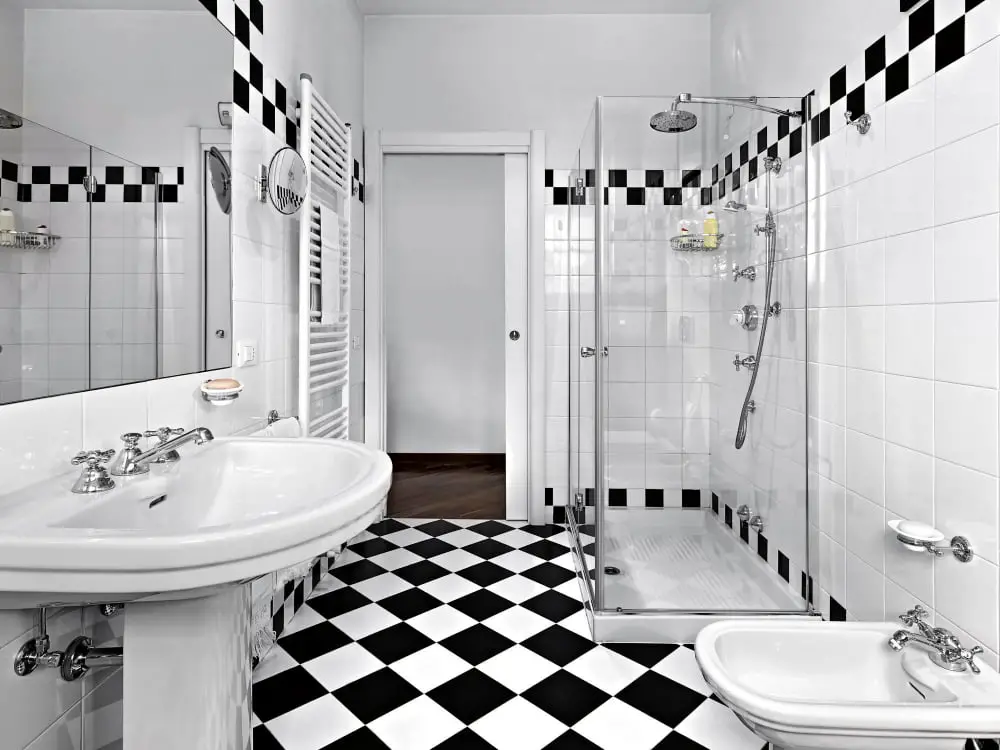 Versatile and timeless, this scheme exudes a sense of sophistication. Horizontal stripes serve to widen a smaller bathroom, conversely, vertical stripes can give the illusion of a higher ceiling, offering flexibility based on room shape and size.
The color pairing offers a high contrast, ensuring a crisp, clean aesthetic. Opt for satin or semi-gloss paint finishes for both a subtle sheen and moisture resistance.
Key Points:
Versatility: Works well in multiple room sizes and styles.
Illusion Effect: Stripes can visually alter the space.
High Contrast: Provides a strong, clean look.
Paint Finish: Satin or semi-gloss offer both sheen and durability.
Moisture Resistance: Important in a high-humidity space like a bathroom.
Vibrant Tropical Teal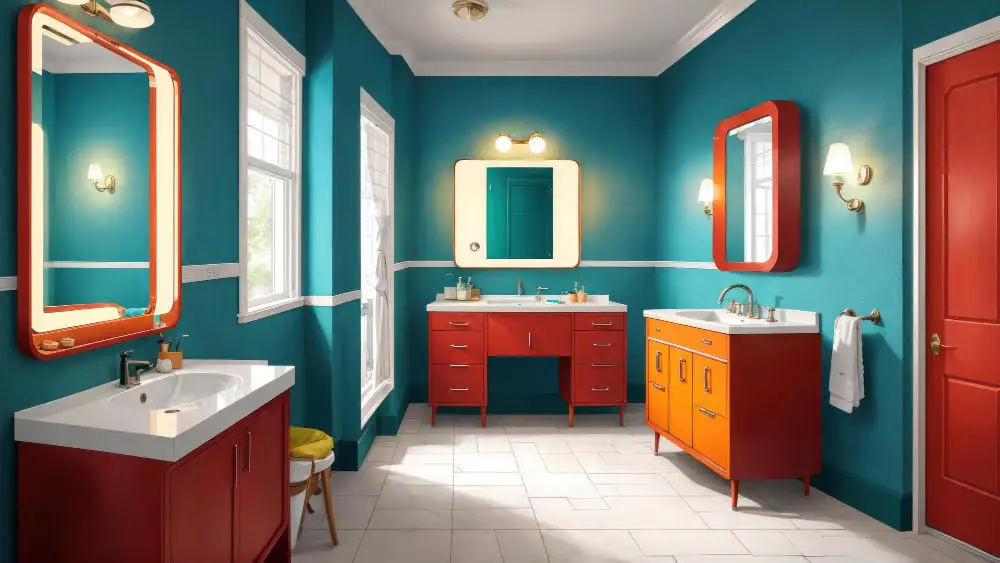 Drawing inspiration from nature, this choice presents an energetic vibe in your bathroom.
Key Points:
Enhances natural light: If your bathroom has windows, the teal walls can magnify natural daylight, creating a refreshing atmosphere.
Bold aesthetic: Tropical teal is a versatile color that not only stands alone but can balance other bold colors, such as sunny yellow or vivid pink, to produce striking visual effects.
Mood Booster: Flourishing in warmer environments, the vibrant blueish-green hue can stimulate a positive and uplifting mood.
Decor Flexibility: Teal plays well with materials like white ceramic and light wood, which are commonly found in bathroom accessories and fixtures.
Durable: Ideally, go for semi-gloss paint as it holds up well against moisture and is easy to clean.
Tip: A single statement wall in teal can be a stunning focal point without overwhelming the space.
Painting your bathroom walls with a vibrant tropical teal can transform the entire space into a relaxing tropical retreat. Ensure you balance it with lighter or neutral elements to prevent it from becoming overpowering.
Bright Orange With White Tiles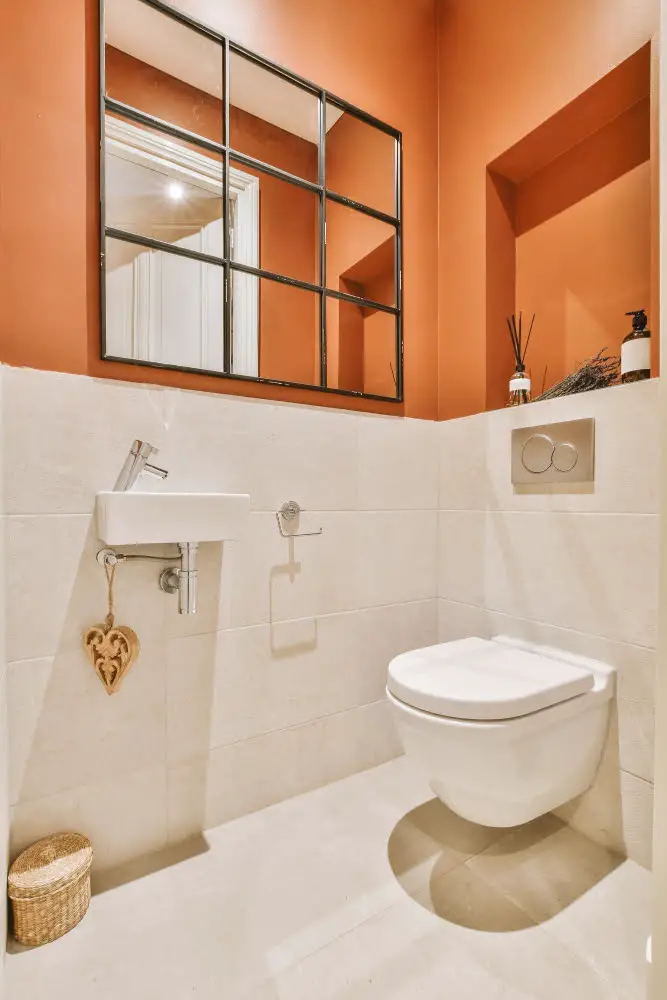 Engage in this bold color scheme to enliven your bathroom space. Incorporating bright orange infuses a burst of color, evoking a lively and playful ambiance. Adjacently, the white tiles serve as a subtle backdrop, tempering the orange's intensity.
Key Points:
Color Balance: The vibrant orange hue is balanced by the cool white tiles. They mutually enhance each other, maintaining a refreshing yet not overpowering look.
Size Enhancement: The contrasting colors can make your bathroom appear larger. Bright colors reflect more light, while the white elements add depth.
Versatility: This color combination works well in a variety of settings, from modern to farmhouse style bathrooms.
Accessorizing: Cultivate a visual interest by choosing accessories in earth tones. Wood, rattan, or brass elements add a warm, natural appeal.
Durability: White tiles resist moisture and stains, a practical choice for a high-traffic area like a bathroom.
Remember, the success of this color scheme depends on adequate lighting, both natural and artificial. By combining these factors, you can create a strikingly contemporary bathroom haven.
Mellow Mustard Yellow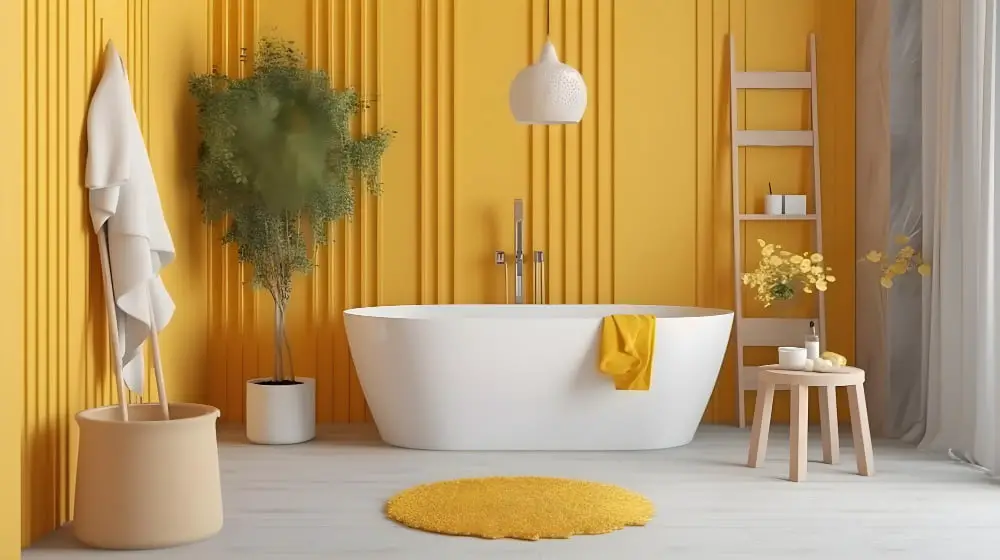 This warm hue brings a sunny disposition to any bathroom. It works perfectly in both small and large spaces, illuminating darker corners and complimenting natural light. When paired with crisp white fixtures, it creates an inviting contrast.
Key points to remember:
Balance: Brightness should be moderated to not overwhelm. Use it on a statement wall or mix with softer elements.
Complement Colors: Mustard yellow pairs well with cool blues or earthy neutrals, think navy or taupe.
Accenting: Consider mustard yellow for your towels or rug, if painting entire walls is too much commitment.
Lighting: This warm hue magnifies under proper lighting, it's vital to take into account the bathroom's natural and artificial lights.
Rustic Red in a White Bathroom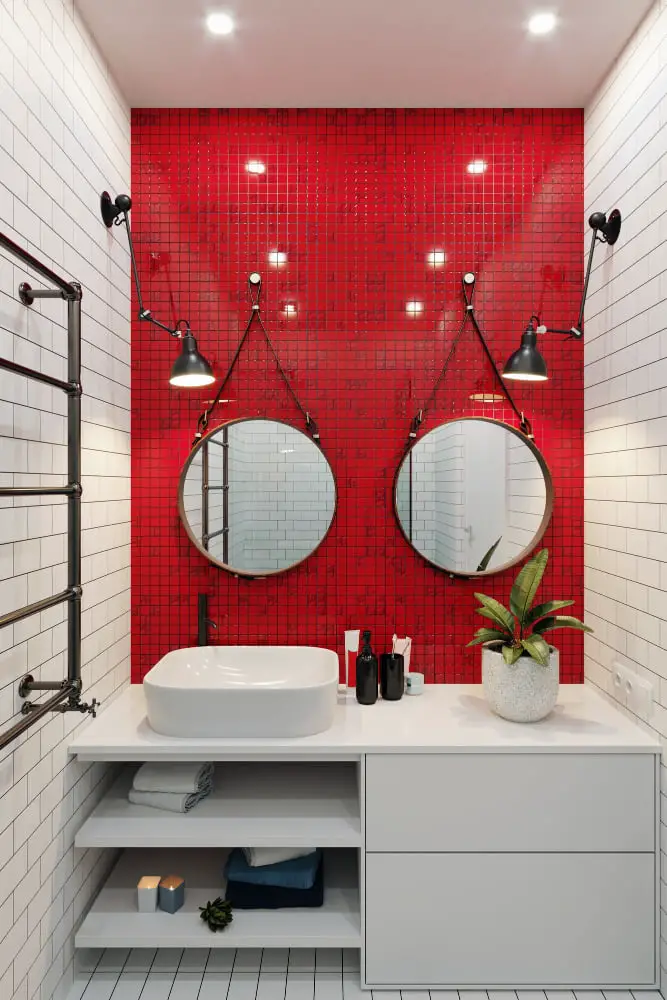 Emphasizing rustic charm while maintaining a clean aesthetic is the key focus in this design scheme. The red hues are suggestive of barnwood, hence the label 'rustic red'. The warmth and earthiness of the hue bring forth a calming, grounded ambiance.
Key Points:
White Fixtures: Stick to white for fixtures like sinks and tubs to balance the boldness of red.
Distressed or Satin Red: Depending on the desired look, either a satin finish or distressed finish could be used for the red.
White Accents: Utilize white accessories, such as towels and soap dishes, to lighten the room and create contrast.
Apply Lighter Tones in Upper Half: To prevent the bathroom from feeling overwhelming, lighter tones are used for upper walls.
Balance with Natural Elements: Consider accessories like a rustic laddered towel rack or wicker baskets to build more texture.
Dusty Rose Paired With Taupe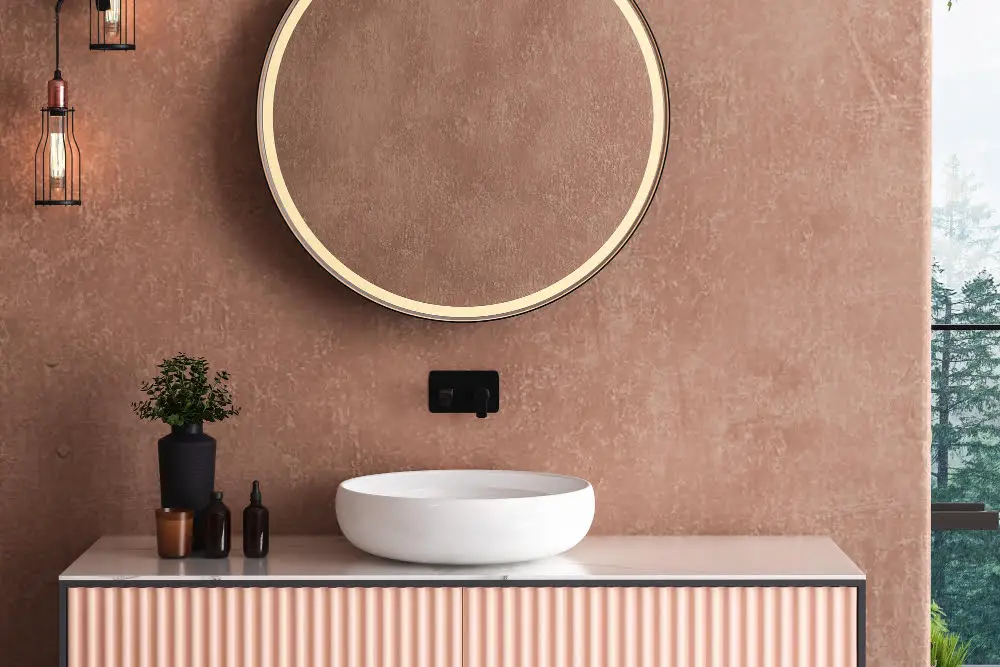 Emitting a sense of warmth and tranquility, this color combination casts a soothing ambiance. The dusty rose introduces a blush-toned delicacy, lending the room a feminine undertone. Taupe, on the other hand, offers a neutral groundwork, enabling the dusty rose to have its gentle allure.
Key points:
Dusty Rose: it's a romantic, vintage hue that exudes elegance and softness.
Pairing with Taupe: the neutrality of taupe balances the rosiness, creating a comfortable, balanced look.
Where to apply: Dusty rose works superbly on walls, while taupe can be used for fixtures and furniture for that seamless balance.
Accessories: Brass or copper fixtures and white linens complement this paint scheme exceptionally, enhancing its allure.
Utilizing these colors collectively in a bathroom introduces a dash of feminine elegance, without overwhelming the space, and ensures a calm, inviting environment. This scheme is ideal for those seeking a bath space that stands out, yet maintains a serene, relaxed feel.
Geometric Pattern in Pastels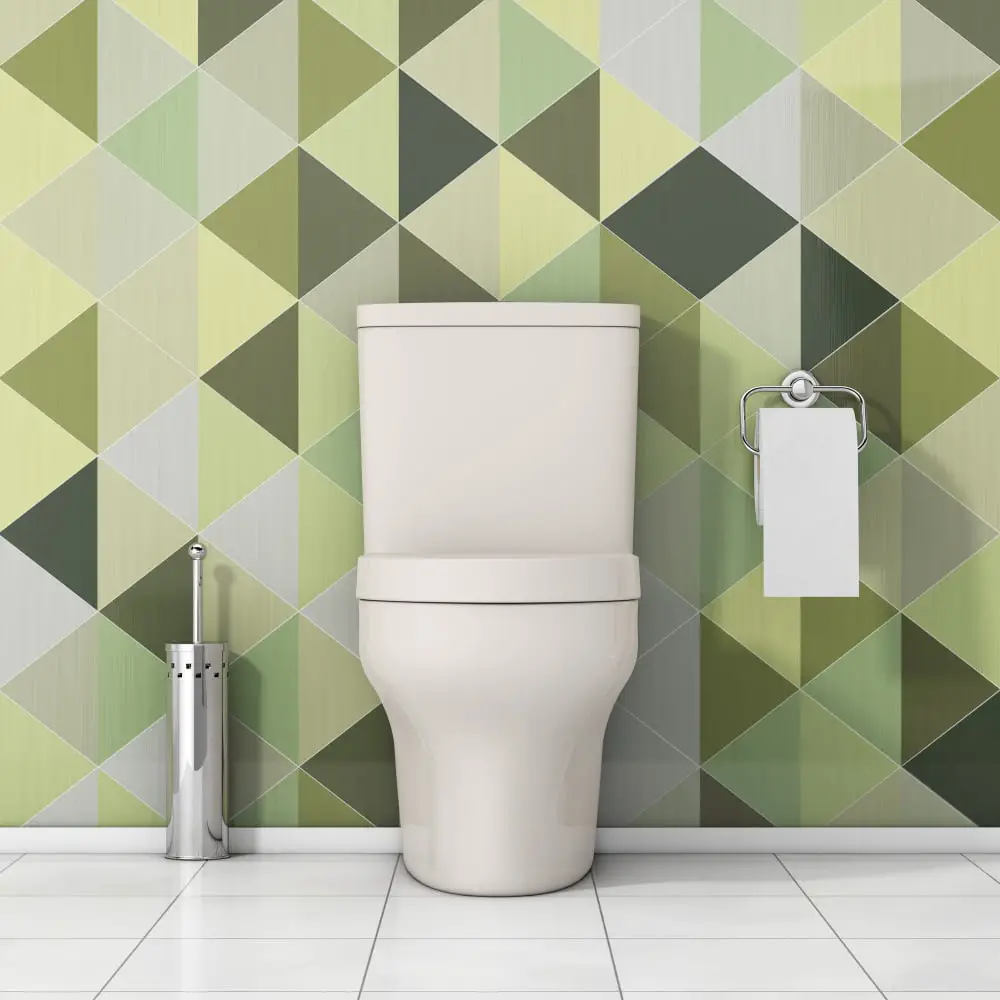 Adorn your bathroom walls with a fresh feel of pastel geometric patterns, an ideal blend of aesthetics and minimalism.
To paint the scheme:
Opt for soft shades, such as pale pink, baby blue or mint green.
Decide on geometric forms – think triangles, squares, or polygonal shapes.
Apply base coat; the lightest pastel tone typically works best.
Measure, mark and tape chosen patterns on the wall.
Paint each shape in a different shade using small brushes for precision.
This design will give depth to the room, create a playful atmosphere, and maintain the calming effect associated with pastel hues.
Keep in mind, balancing the complexity of pattern with size of the room is vital.
In smaller spaces, simplicity reigns supreme, so lean towards larger shapes.
Conversely, in bigger bathrooms, intricate patterns could work wonders.
Elegant Navy and Gold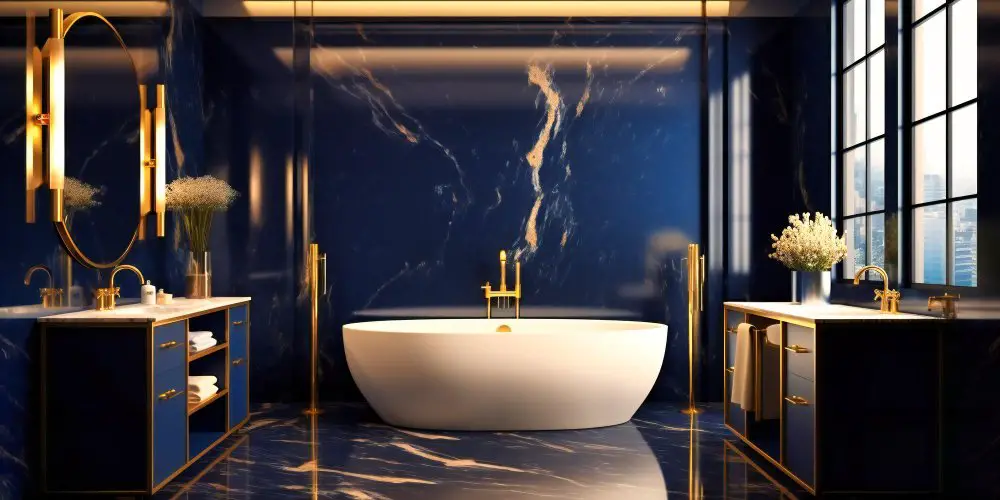 Combining the depth of navy and the luxury of gold can create a sophisticated space. Turning your bathroom into a royal abode is simple with this color combination.
Key points:
Navy Furniture: Opt for navy vanity cabinets or a navy bathtub for a regal look.
Gold Fixtures: Gold faucets, showerheads, and towel bars will complement the navy flawlessly.
Navy Walls: Paint the walls navy for a bold statement.
Gold Mirror Frame: A gold frame around the mirror will add a touch of elegance.
Navy and Gold Wall Art: To complete the look, add some navy and gold wall art.
Remember, balancing the two colors is crucial to avoid overwhelming the space. Too much navy can darken the room, while excessive gold may appear gaudy. Aim for a harmonious mix. Keep the color ratio at about 70:30, with navy being the dominant color. Gold should serve as an accent color, reserved mostly for fixtures and accessories.
Monochromatic Matte Black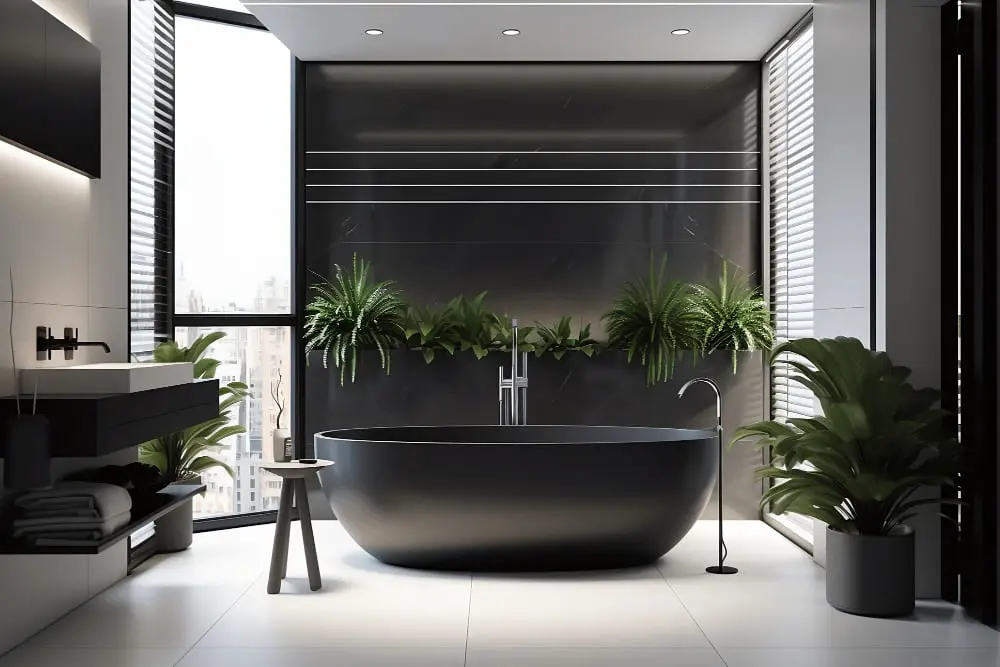 Monochromatic matte black prevails as an extraordinary choice for those seeking a bold allure. It's a unique choice, offering a dramatic yet elegant aesthetic to your bathroom. The implementation involves enveloping the bathroom in black, from ceiling to floor, and every inch in between.
Key points:
Lighting: With such a deep color enveloping the bathroom, proper lighting becomes critical. Well-positioned lights will allow black surfaces to shine, exuding elegance and drama.
Accessories: Opt for metallic accents like gold or silver to enhance the rich matte black surfaces. It adds a touch of luxury and breaks up the elements.
Maintenance: Given its dark tone, matte black requires consistent upkeep to keep it looking its best. Use surface-appropriate cleaners to maintain its deep luster.
Finish: A matte finish retains this color scheme's modern and sophisticated appeal. It minimally reflects light for a soft appearance, lending itself well to a tranquil bathroom environment.
Bold Botanical Green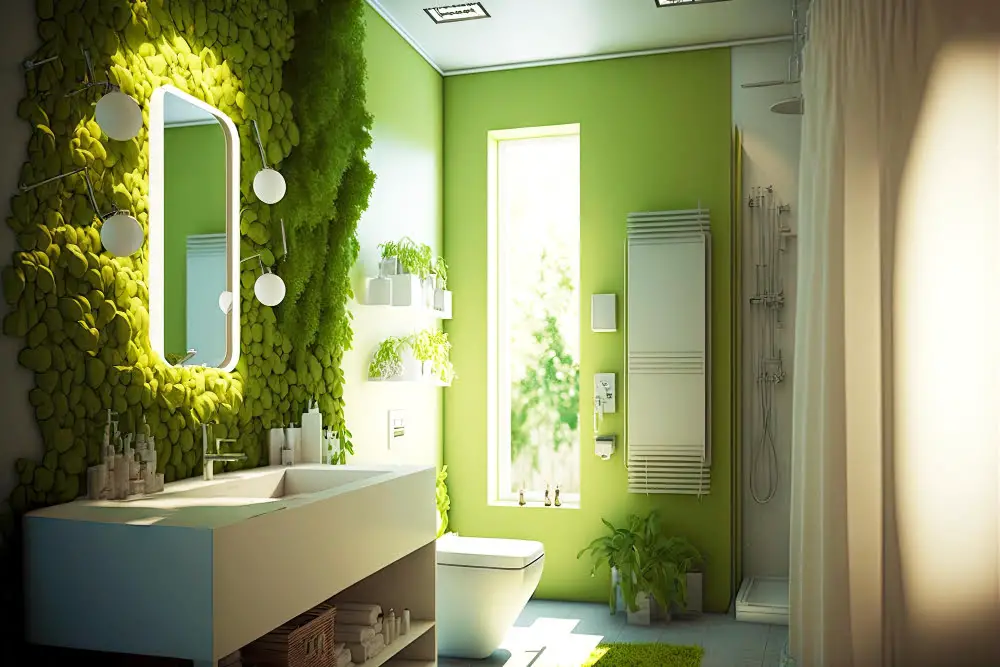 When seeking to establish an oasis of tranquility within the home, this hue stands out. Drawing from elements in nature, it not only invigorates but also embodies the essence of tranquility.
Key Points:
1. Nature-Inspired: This green hue borrowing its intensity from lush flora, creates a peaceful and serene atmosphere.
2. Versatility: From darker shades simulating forest canopies to lighter greens reflecting fresh sprouts, the breadth of choice is broad.
3. Accents: Botanical green pairs well with earth tones, whites, and wooden bathroom accessories, offering an aesthetic balance.
4. Texture: Consider different paint textures. A glossy finish reflects more light and makes a small bathroom seem larger while matte suits spacious rooms.
5. Lighting: This colour particularly basks under natural lighting – enhancing its beauty and organic feel. Thus, consider the amount of natural light your bathroom gets.
Note: Although it works well year-round, botanical green is especially suitable for spring and summer decors. However, remember to test the color as lighting changes throughout the day before the final application.
Subtle Beige With White Wainscoting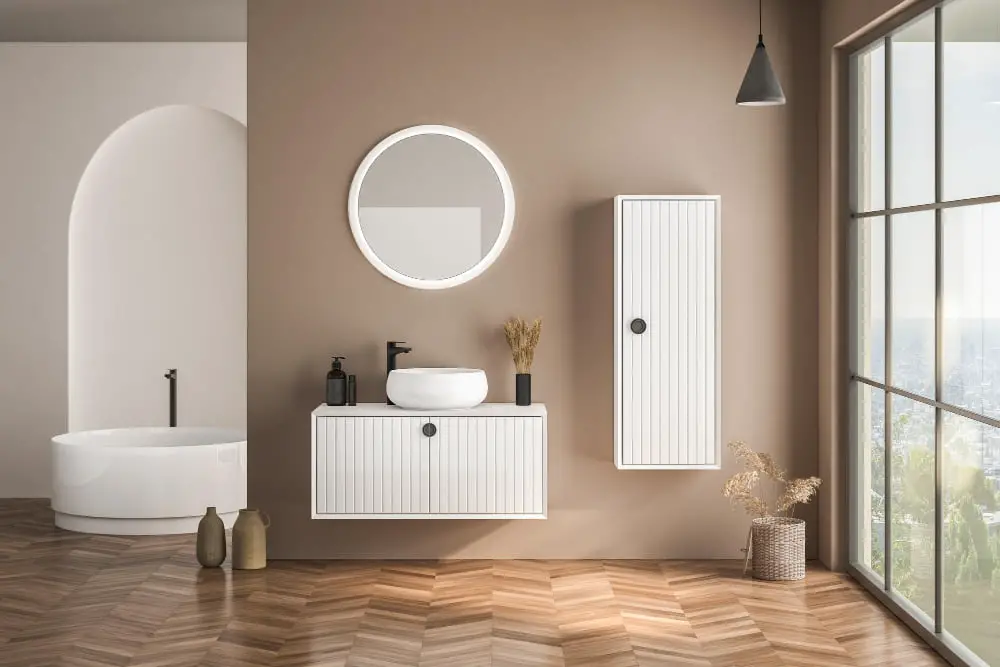 This color scheme is a perfect compromise combining two understated hues. The ease of blending these two paint colors together makes them ideal for those wanting a serene and calming retreat.
Key points:
Beige brings an earthy touch to the space, grounding the design and inducing a sense of calm and relaxation.
White wainscoting helps in enhancing the room's architectural structure and brightening the space.
Since both beige walls and white wainscoting are neutral, they work well with various types of bathroom fixtures and accessories.
Add vintage accents, like an ornate mirror or classic sconces, to complement this color theme for a timeless look.
While selecting paint, opt for a high-sheen finish for the wainscoting to make it more durable and water-resistant. This classic, elegant, and simple color scheme can transform your bathroom into a sleek and relaxing sanctuary.
Metallic Silver Accents On Royal Blue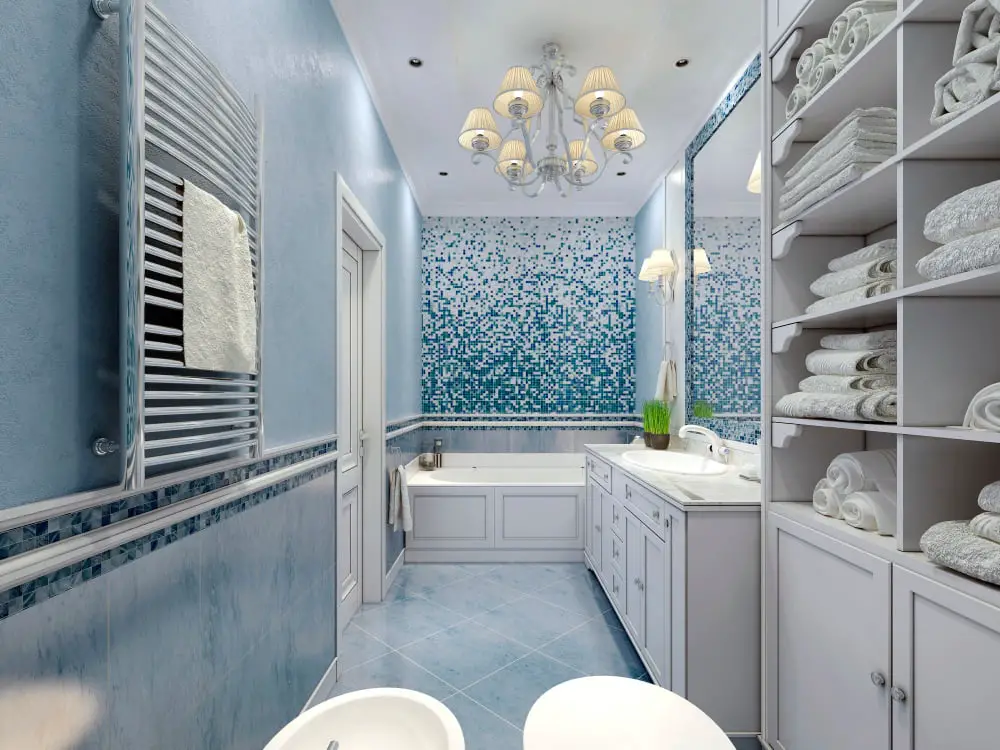 Understanding the profound allure of utilizing metallic silver accents against a regal royal blue backdrop can bring forth exquisite transformation to a bathroom overall aesthetics. Here are the essential elements:
Color Psychology: The royal blue exudes a sense of luxurious calm, while the silver accents add a modern, stylish touch. Prestige and tranquility become intertwined in this palette, helping you start and end your days in a serene environment.
Design Options: Consider incorporating silver fixtures and fittings to contrast with the blue walls. Similarly, a silver-framed mirror or silver wall decals could be interesting focal points.
Complementary Elements: Opt for neutral or white bathroom furniture and cabinetry for a balance. Light-colored fabrics, such as towels or bath mats, are a perfect complement.
Lighting: Silver itself is reflective and can help in creating a bright and vibrant atmosphere when lit properly. Use LED or natural light to accentuate the silver's shine against the royal blue.
In short, the coupling of metallic silver accents with royal blue hue brings about an opulent yet peaceful ambiance in the bathroom setting. Be sure to carefully coordinate each component and enjoy a new level of sophistication.
Soft Chameleon Color Paint
Often fluctuating in character and tone, Soft Chameleon paint will certainly turn your bathroom into a unique oasis. This intriguing color mimics different hues under various lighting conditions, providing the possibility of a dynamical color experience throughout the day.
Key Points:
1. Soft chameleon color paint is characterized by its ability to adapt to different light conditions by reflecting distinct hues.
2. Daylight can produce subtle changes in its shades – bright tones during the morning and darker tones by the end of the day.
3. Its inherent versatility allows it to match a variety of decor styles – from modern and minimalist to rustic and vintage.
4. The ability to change hues helps hide minor imperfections on the wall surface.
5. Its serene and atmospheric effects can create a tranquil bathroom environment, designed for relaxation.
The potential aesthetic effects of chameleon paints are boundless, a perfect choice that adds a layer of sophistication and dynamism to a bathroom setting.
Continue reading: