Last updated on November 24, 2023
Exploring half bathroom decor ideas is vital because it transforms this oft-forgotten tiny space into a stylish, functional gem.
"I am proud of the unique half bathroom decor ideas I've devised for this article, and I sincerely hope they inspire you and bring as much enjoyment as I experienced while creating them."
Sprucing up a half bathroom can be a delightful task when armed with the right ideas. This article offers a treasure trove of ingenious décor solutions, designed to transform your compact space into a stylish haven.
From clever storage hacks to stunning color schemes, and chic fixtures to eye-catching wall art, every detail to elevate your half bathroom's aesthetics is meticulously covered.
So, if you're seeking to give your petite powder room a fashionable makeover, you've stumbled upon the right guide. Let's dive in!
Nautical Themed Decor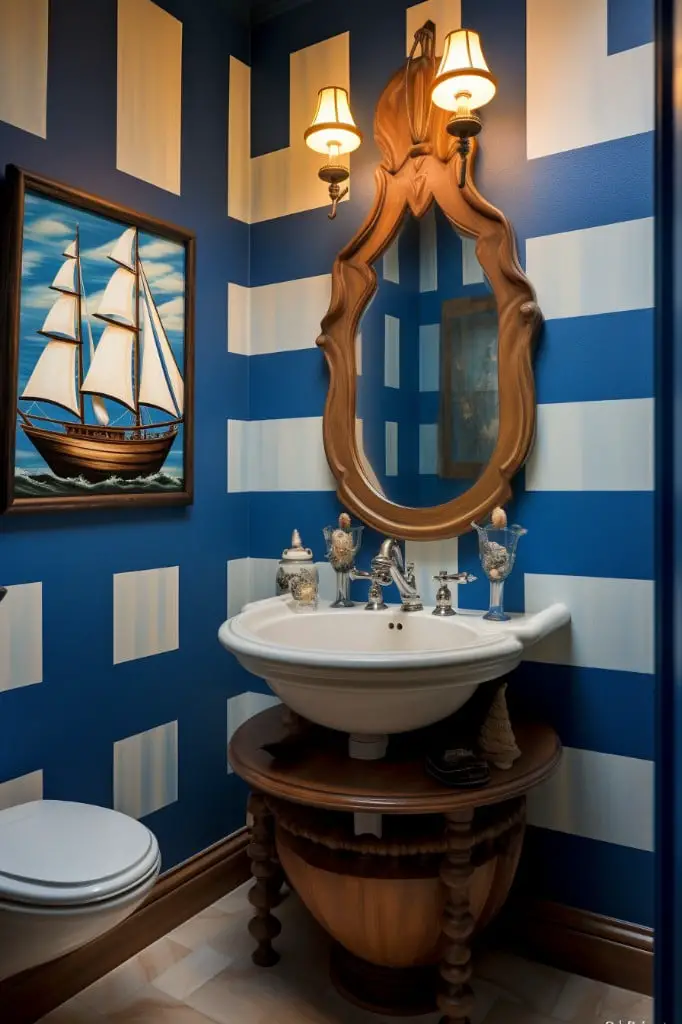 To bring the seaside charm into your half bathroom, start with a color palette inspired by the sea – think blues, whites, and sandy neutrals.
Timber, whether painted distressed white or kept in its natural form, contributes greatly to this style.
Rope accents on storage baskets or as a toilet paper holder can add a playful nautical touch.
For a more subtle approach, consider painting a feature wall with broad navy stripes.
Install ship-inspired light fixtures like lantern pendants.
With the right accessories like seashells, a framed map, or an anchor-themed wall art, you will create an inviting coastal haven without having to set foot outside your home.
Industrial Metal Accents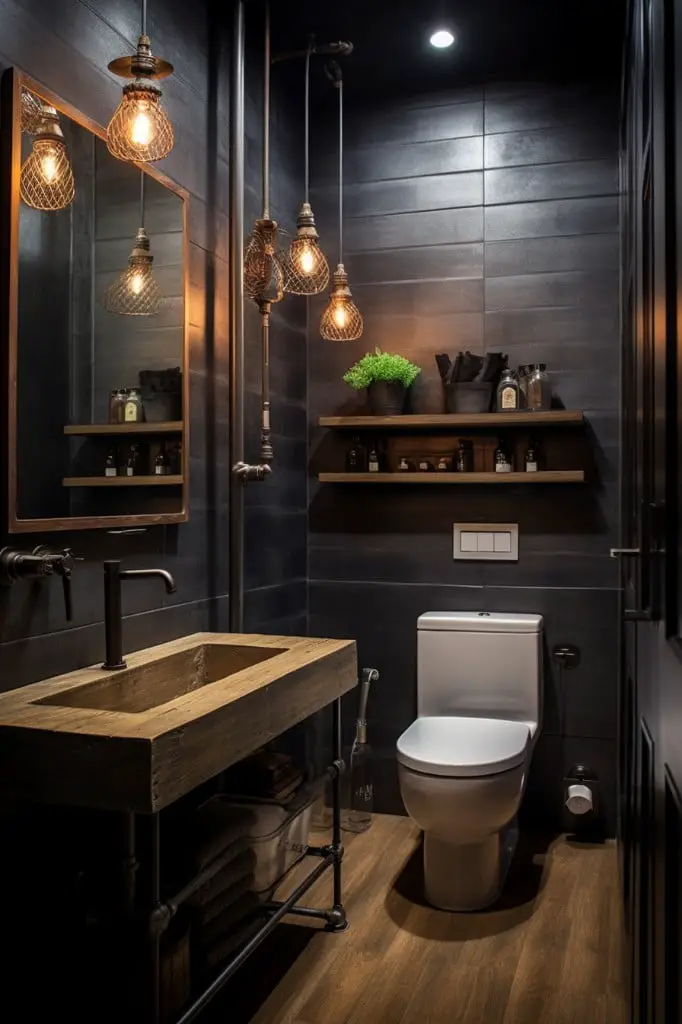 Industrial metal accents can provide a bold, modern touch to your half bathroom. Opt for brushed nickel or wrought iron fixtures such as towel rings, paper holders, or faucets to add a bit of edge.
A metal-framed mirror or wall art can also compliment this aesthetic. Combine it with exposed piping for an authentic feel. But remember, less can be more – fixtures and one or two accents are often enough to create the desired effect.
For an extra touch, try incorporating metal baskets or shelving units for both storage and style. From subtle accents to stand-out pieces, industrial metal décor can transform your half bathroom into a stylishly edgy space.
Vintage Wallpaper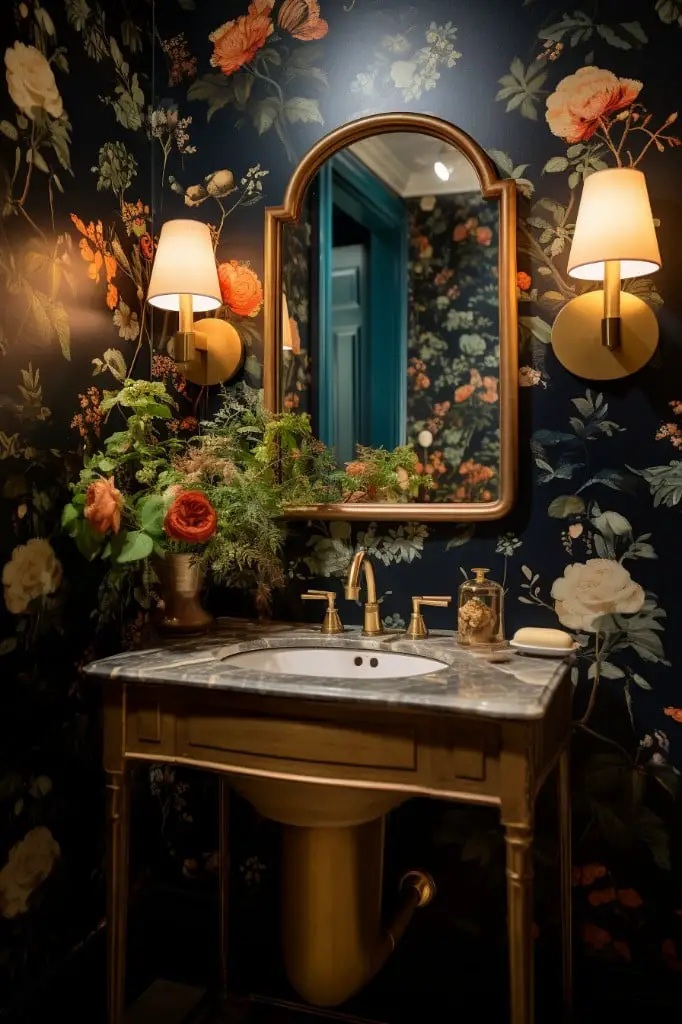 Certain patterns carry a distinct, timeless appeal, and choosing one of these for your half bathroom can lend an air of sophistication. Based on your personal taste, select a design that aligns with the atmosphere you'd like to create – a 1960s geometric print can establish a playful retro vibe, while classic Toile de Jouy brings a more traditional, pastoral charm.
Opt for clean-lined fixtures and minimal accessories to ensure the wallpaper remains as the focus. Keep in mind, smaller scale patterns can make the space look larger, while bigger, bolder designs can create a more intimate, cozy feel.
Wall Murals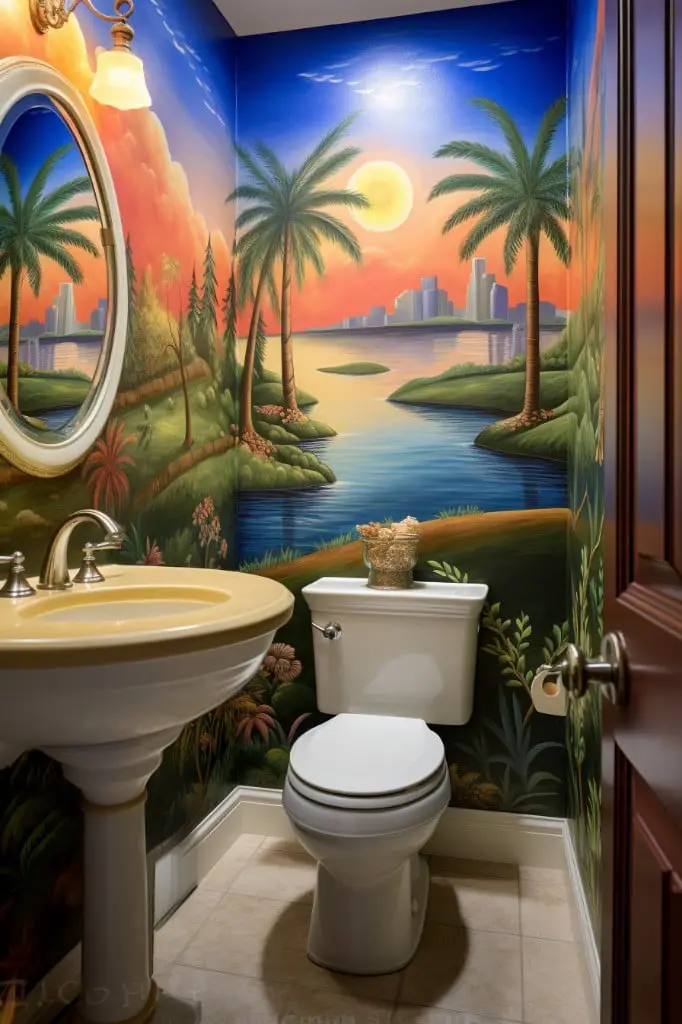 While adding a splash of color is a go-to trick, why not take it a step further? Unleash artistic flair using wall murals. Incorporating murals adds depth and aids in creating a distinctive aesthetic. The designs range from minimalistic to strikingly bold, catering to diverse tastes.
Offline and online stores offer an extensive collection to choose from. Minimalistic line art complements modern designs. Botanical themes introduce a touch of nature, and abstract pieces add dramatic flair.
Don't shy away from creating your own mural if you are artistically inclined. It's a fantastic, personal touch that will certainly draw admiration. Home improvement stores stock a range of stencils and high-quality paint for DIY projects.
Remember that well-chosen lighting highlights murals giving them an additional wow factor. Prioritize natural light, or consider installing soft LED strip lights.
For a small space like a half bath, it's crucial to avoid overwhelming the room. Stick to murals on one wall, creating a focal point, and let the rest of the decor complement it.
Remember, your half bath is a canvas that waits for your creativity. Be an artist and let your imagination flow with wall murals.
Floating Shelves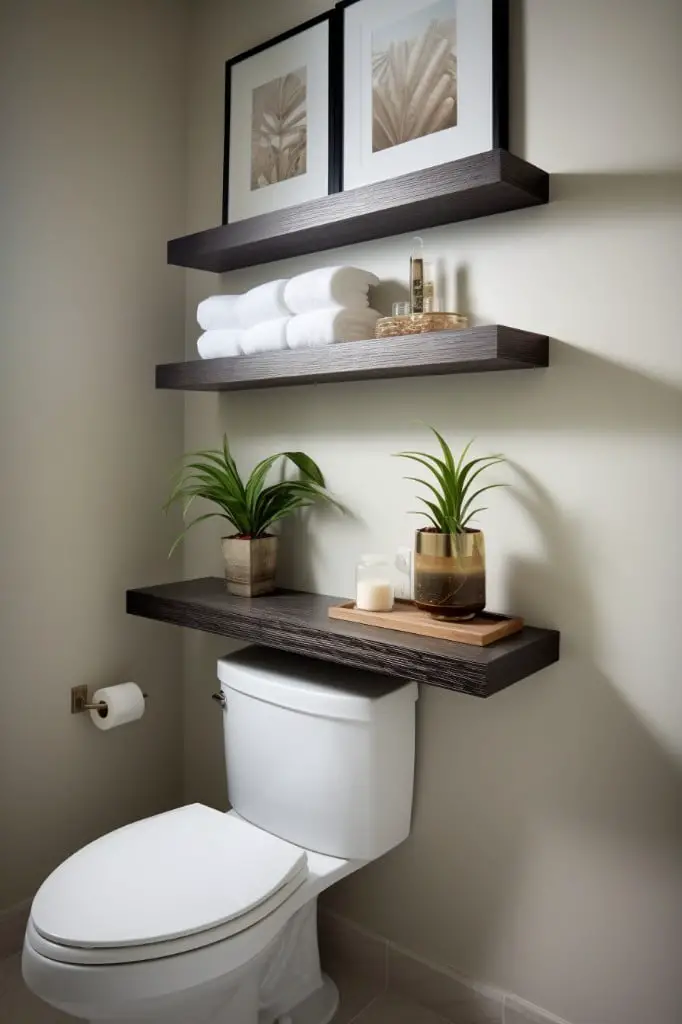 Optimizing for space and style, floating shelves offer an elegant solution to the storage issues in half bathrooms. They work wonders in adding a touch of grace and neatness to your small bathroom.
Firstly, they eliminate the need for bulky storage units, creating a streamlined, modern look. When cleverly arranged, they can also serve as a canvas for showcasing small art pieces, aromatic candles, or even your collection of boutique soaps.
Secondly, they offer customization options. From solid wood to frosted glass, materials and styles are numerous, allowing you to pick what reflects your decor theme best.
Thirdly, easy installation and maintenance make them a favorite among homeowners. All you need is a drill, some screws, and a spirit level to ensure they're straight.
Last but not least, consider installing these shelves around your mirror or above the toilet. These spaces are usually bare, making them perfect spots for adding an extra functional flair with floating shelves.
Elegant Mini Chandelier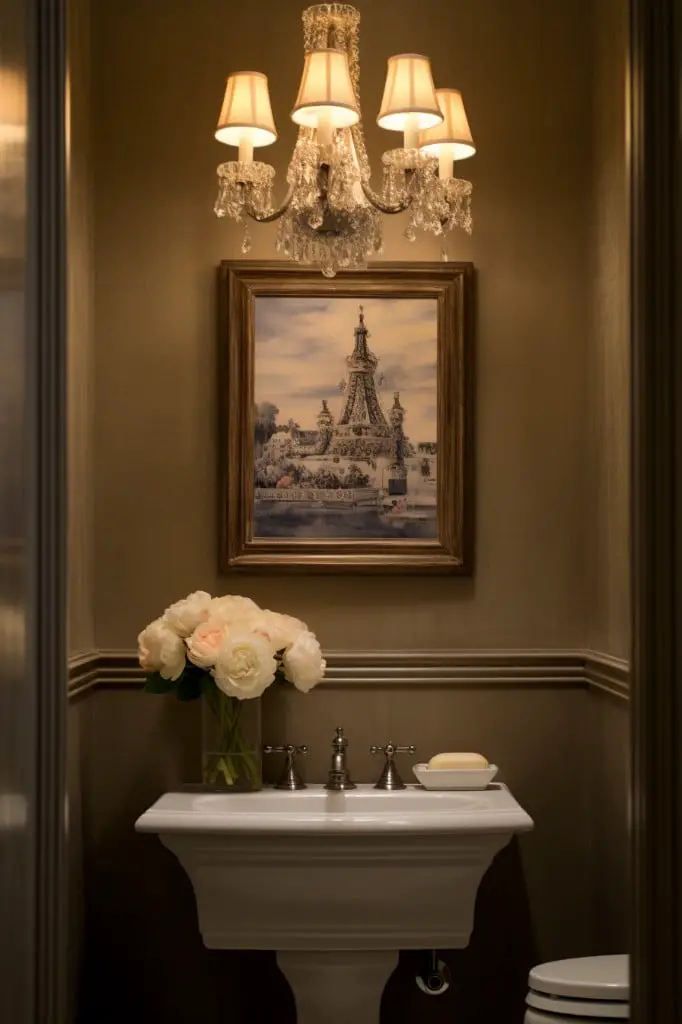 Featuring such a luminary piece can instantly add a dose of sophistication to your half bathroom. A smaller-sized chandelier with crystal ornamentation ties in well with most interior aesthetics and becomes the centerpiece of your décor scheme, radiating the light beautifully.
Choice of finish can vary from more traditional gold or silver to modern black or chrome, dependent on overall bathroom hues. Avoid bulky models, keep in mind the size of the bathroom, the chandelier should complement the space, not overwhelm it.
To ensure it doesn't look out of place, harmonize this feature with other small luxurious touches. A crystal knob for the door, a high-end soap dispenser, or matching towel racks would serve this purpose. Think luxury, but in moderation.
Install it properly and safely. This is not just a decorative feature but a functional piece as well. Consequently, correct installation height should be considered – ideally seven feet above the floor to prevent any accidents or bumps.
So go ahead, surprise your guests with a little sparkle in an unexpected place! This could be the touch of elegance your half bathroom needs.
Corner Sink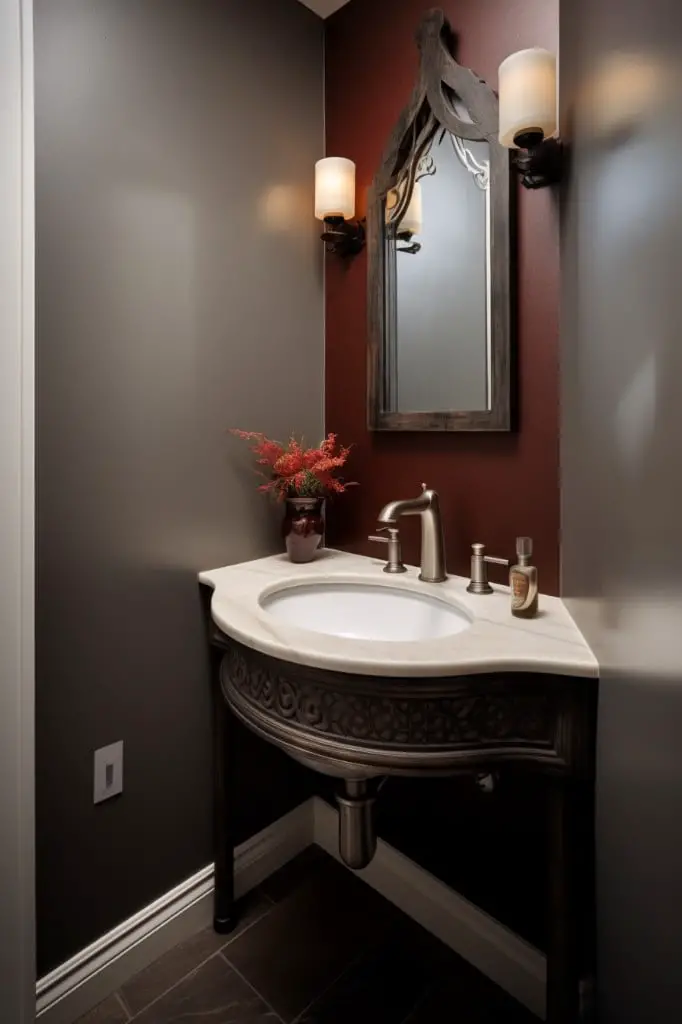 Incorporating this space-saving feature into your half bathroom can cleverly maximize your space. A corner sink doesn't interfere with traffic flow, a real plus for small spaces.
Think pedestal styles for a classic look or choose a countertop model with a vanity for storage below. Both options present an opportunity to experiment with materials – ceramic, resin, or even glass.
Remember to match your faucet and knobs to the sink for a cohesive design aesthetic. To polish off, consider a stone or painted finish to really make it stand out.
Bold Color Paints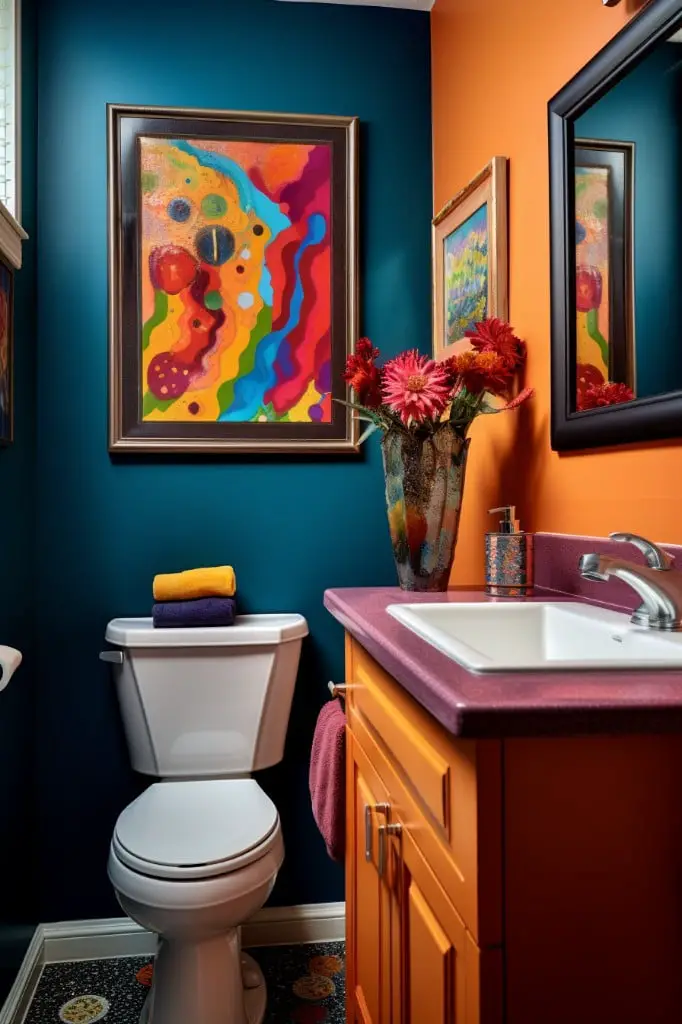 Taking the plunge with daring, intense hues can make a world of difference in any half bathroom. Here's how:
1. Small Space Enhancement: Bold shades can transform an otherwise compact space into one that seems spacious. Try deep blues and emeralds to include a dimension of depth.
2. Mood Setting: Darker tones like charcoal or burgundy can provide a moody, intimate effect that's particularly fitting for guest bathrooms.
3. Impactful Visual Look: Vivid paints such as tangerine, hot pink, or lime green can add a lively, playful touch and a ton of personality.
4. Offset Features: A dramatic splash of maroon or royal blue can also function to highlight white fixtures, making them stand out in an appealing contrast.
5. Easy-Update Feature: Last but not least, the brilliance of paint lies in its flexibility. Tired of your current shade? Just repaint and you've got a brand-new look!
Marble Countertops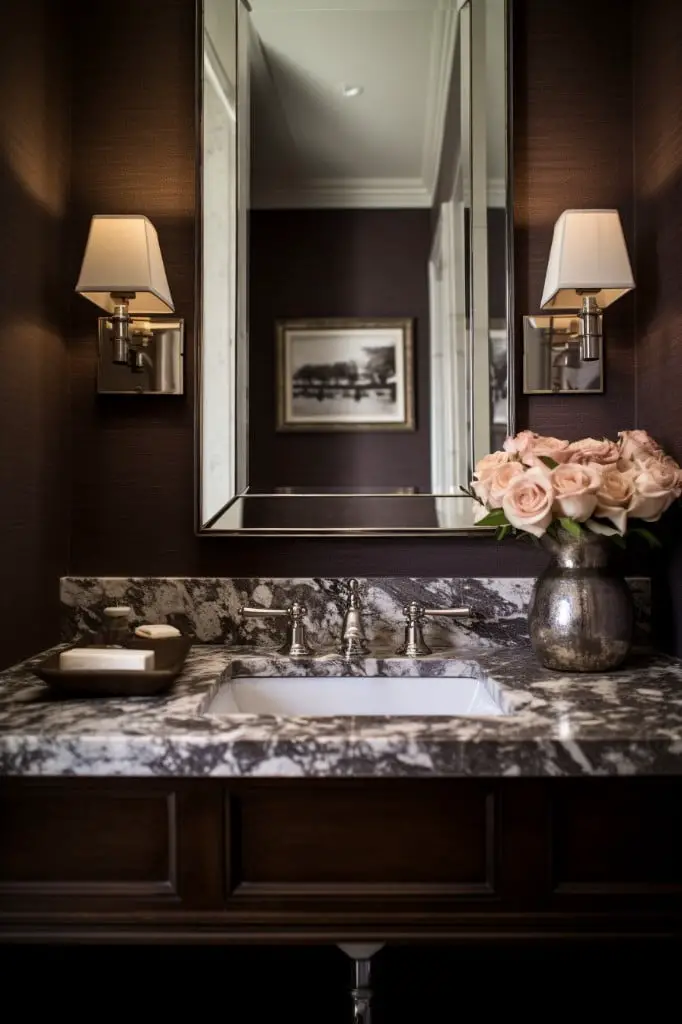 Marble, beyond its undeniable beauty, offers a sleek and clean aesthetic that fits almost any style. Its natural patterns and rich texture can instantly enhance the luxury level in a half bath.
Here come the considerations:
Versatility: marble phenotypically complements both traditional and modern designs.
Durability: it's robust and can stand the test of time.
Value: adds up to the property's worth.
Maintenance: requires routine care, as it can be prone to scratches.
Cost: high-end choice but some low-cost options are also available.
Despite the cost and upkeep, the luxurious appearance it lends is all worth it for those after a high-end, standout appeal. Worth considering if aiming the design towards a sophisticated spectrum.
Floral Accents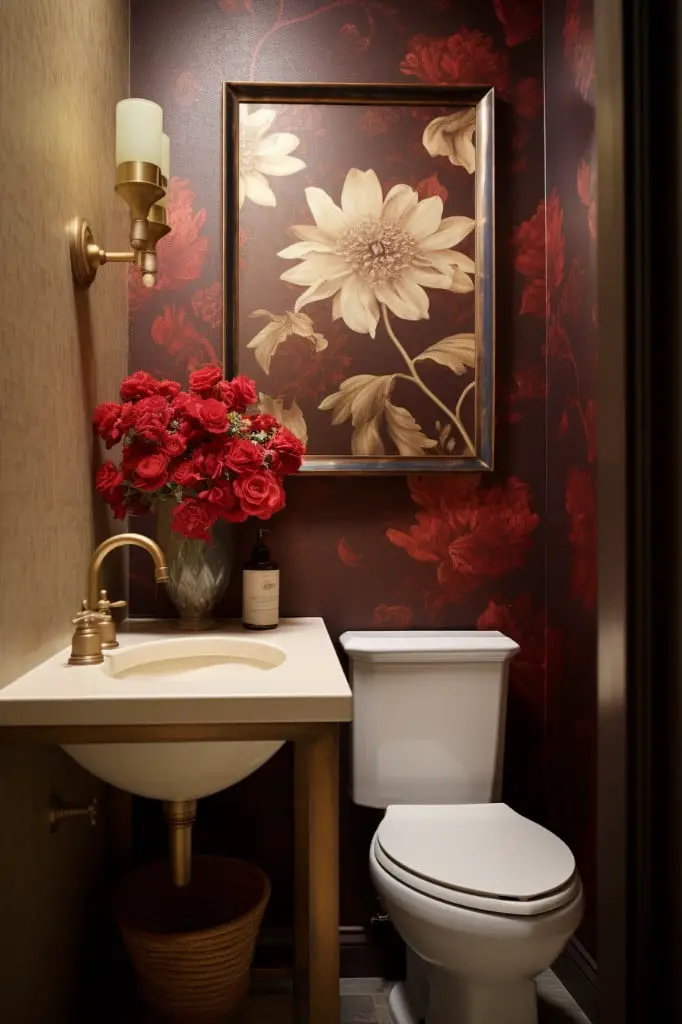 Transform your half bathroom space by breathing life into it with delightful floral accents. It doesn't necessarily mean spreading flowers all around, subtle touches work wonders.
Think floral patterned towels or a shower curtain, select a small yet aromatic flower vase, or even a floral patterned storage box. Complementing these with a scented diffuser with hints of lavender or rose can arouse a sense of freshness.
Wallpaper with delicate floral designs can infuse much-needed vitality. Choosing colors that match the rest of your décor ensures a cohesive feel. Remember, the secret lies in achieving balance, avoiding over-the-top, cluttered appearances.
Rustic Wood Paneling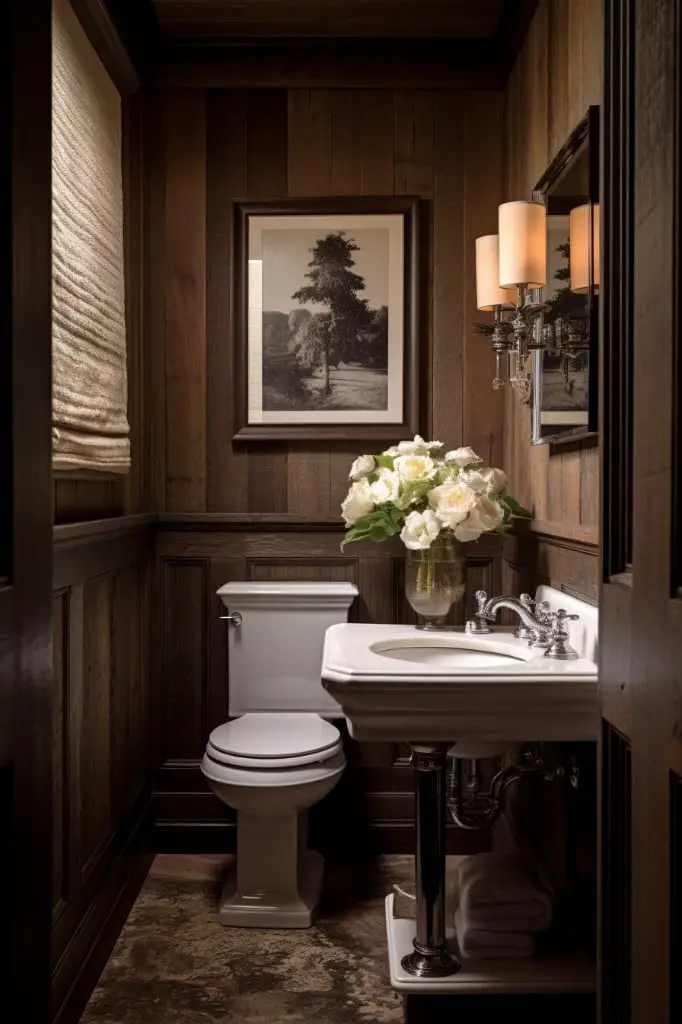 This design trend maintains authenticity with its beautifully rugged materials. By installing reclaimed timber, your bathroom gets a cozy countryside feel.
This natural texture adds warmth and elegance, making the small space inviting.
To create a balanced look, prevent the wood from feeling too dull by pairing it with vibrant elements, such as a colorful rug or bright towels.
Also remember, sealing the wood properly is key to prevent it from warping due to the humidity and ensure it lasts.
Choose between a variety of woods like cedar, pine or hickory for different shades and grains.
This design is perfect for those seeking a cozy ambience without compromising sophistication.
Wicker Baskets for Storage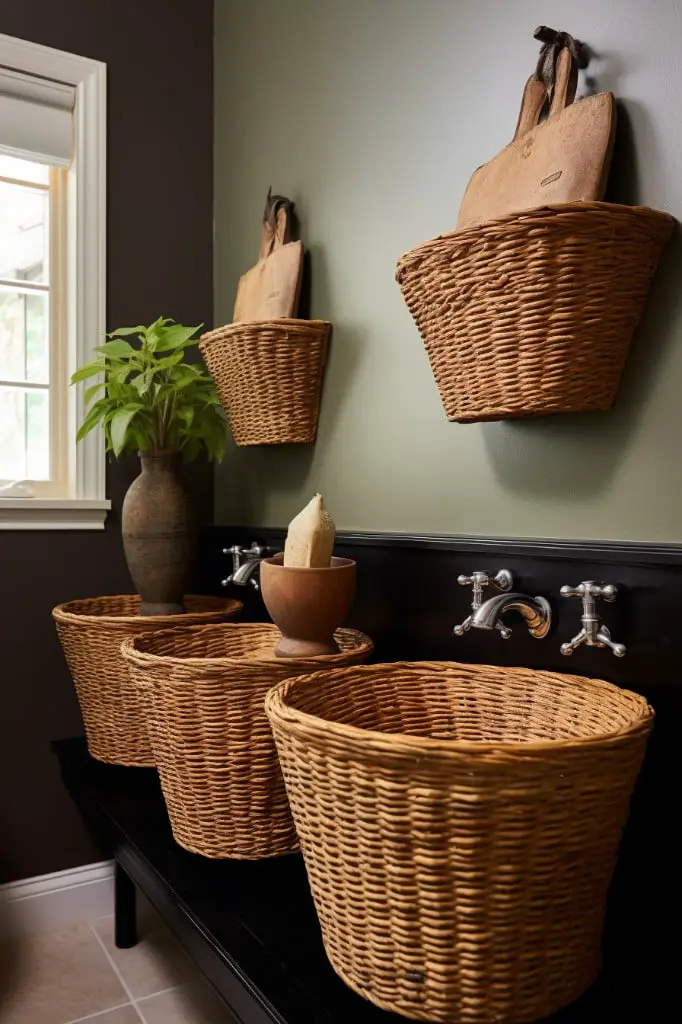 In a small space like a half bathroom, clarity matters. Storing your often-used items in wicker baskets fulfills that purpose while bringing an element of rustic charm.
Perfect for holding towels, toiletries, and cleaning supplies, these baskets can neatly sit under the sink or be hung on walls to save floor space. Opt for lids if you want things out of sight, or go lidless to let your colorful hand towels peep through.
Wire baskets could also bring a similar aesthetic, while a darker finish can impart an antique flair to the room. The choice of basket size can help in functionality – a wider one for spare rolls of toilet paper, and narrower ones for air fresheners or hand lotions.
Ensure the baskets complement the overall decor to make a harmonious design statement.
Garden-inspired Decor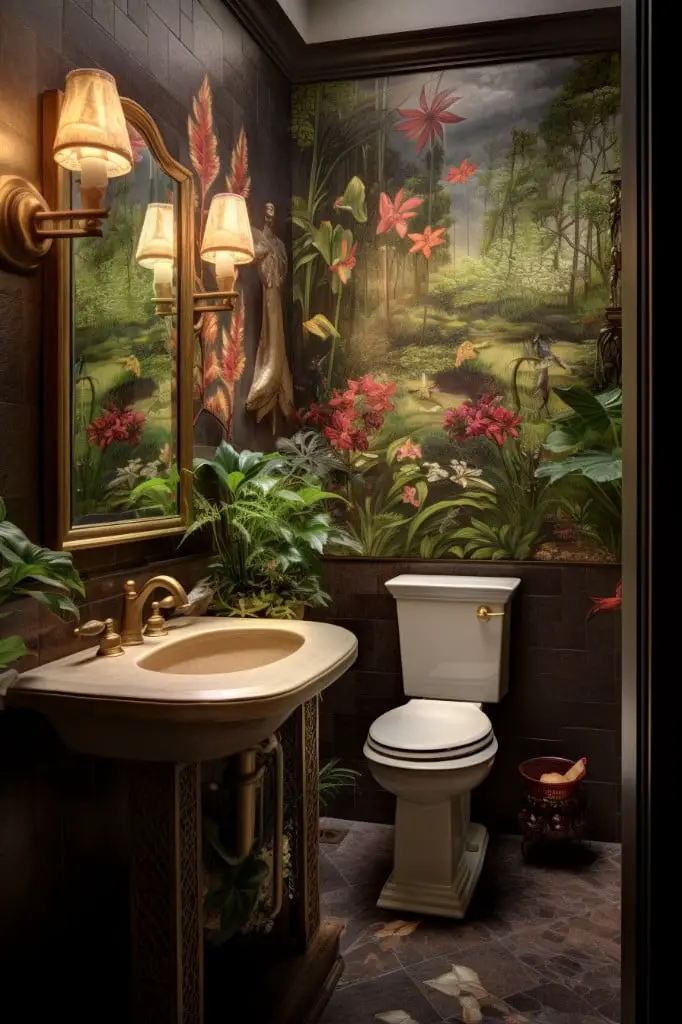 Bringing the outside in is a beautiful way to breathe life into a confined half-bathroom. Think greenery – an indoor plant such as an aloe vera or a Boston fern is perfect for adding lush, rich color and texture. Placing these in terracotta pots will add a rustic touch, while sleek, white ceramics will complement a modern aesthetic.
Consider a floral print for your window treatments or invest in some rose-scented hand wash for a sensory garden experience. A mirror with a floral frame can also bring an element of the garden to the walls.
Try incorporating botanical-themed wallpaper or artwork featuring leafy prints or fluttering butterflies. These flora and fauna touches will offer a refreshing burst of nature. Ceramic accessories featuring leaf patterns can also tie up the theme, doubling as chic soap dishes or toothbrush holders.
Pebbles or river rocks could be placed in a translucent vase or a dish to bring an earthy feel, symbolizing a path in a garden. Remember, it's all about small touches that unify the theme without overpowering the limited space in a half-bath.
Remember, the goal is to create a light and calm atmosphere associated with a garden to provide an invigorating and refreshing experience for anyone using the half-bathroom.
Frameless Mirror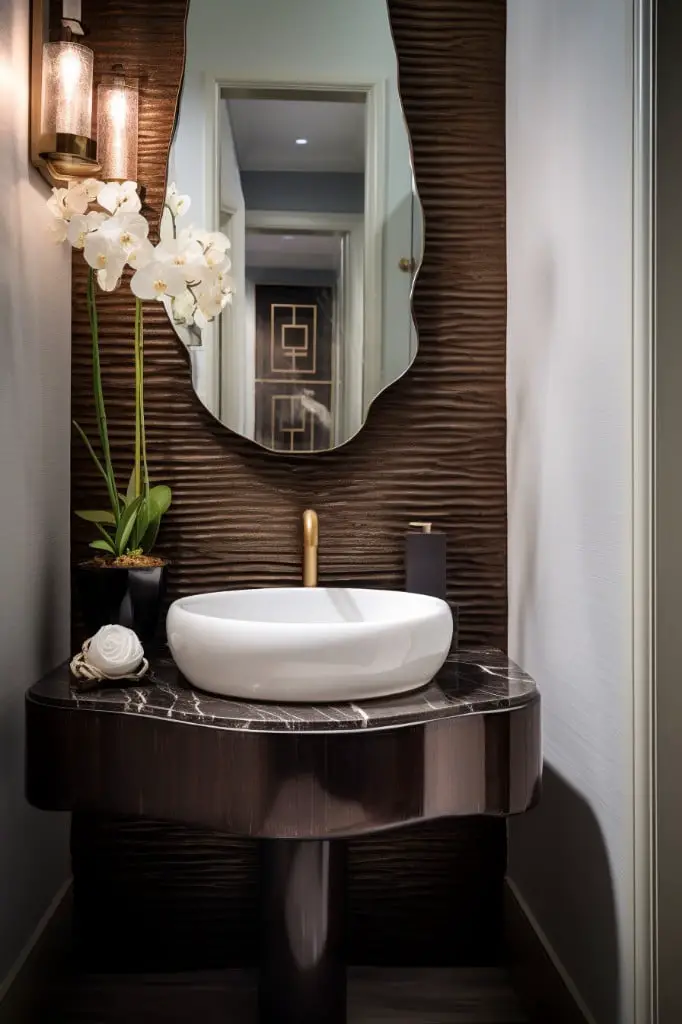 A frameless mirror can be a sleek and modern addition to your half bathroom. Here are a few reasons why it's so on-trend:
Optical Illusion: It creates the illusion of a larger room and allows the focus to solely be on the reflected image, not the frame.
Versatility: Its minimalist design allows it to blend with any color scheme or design style, making it an extremely flexible decor element.
Customization: Frameless mirrors come in various sizes, shapes and finishes, offering endless customization options.
Remember, position is key. The best spot is usually above the sink. This not only maximizes functionality but also adds a design element that brings both light and depth to your space.
Patterned Floor Tiles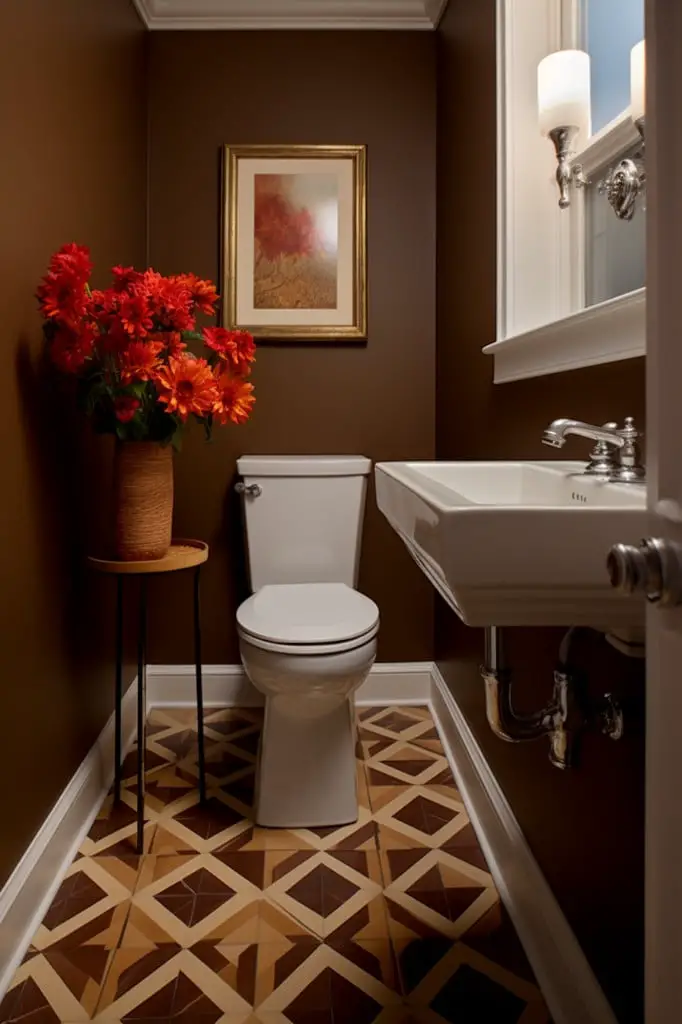 Bringing in an element of surprise at your feet can completely revamp the look of a half bathroom. Patterned tiles, with their myriad designs and colors, play a crucial role. These could be either vibrant Moroccan tiles or monochrome geometric ones that create an eye-catching contrast against simple wall colors.
1. Stylistic versatility: From intricate florals to bold geometric designs, the options are endless.
2. Size matters: Larger tiles make a space feel bigger, while smaller ones add more detail.
3. Lay it right: Decide whether you'd like the pattern to be a focal point or subtly blend in. This can be achieved by the layout, i.e., horizontally, herringbone, or chevron.
4. Color coordination: Ensure they complement other fixtures and fittings in the bathroom. Neutral tones offer a safe choice while bold hues bring drama.
5. Material selection: Depending on the desired look, choose between ceramic, porcelain, or vinyl tiles. Ceramic and porcelain are the most durable, while vinyl, being water-resistant, is easy to install.
Natural Stone Accents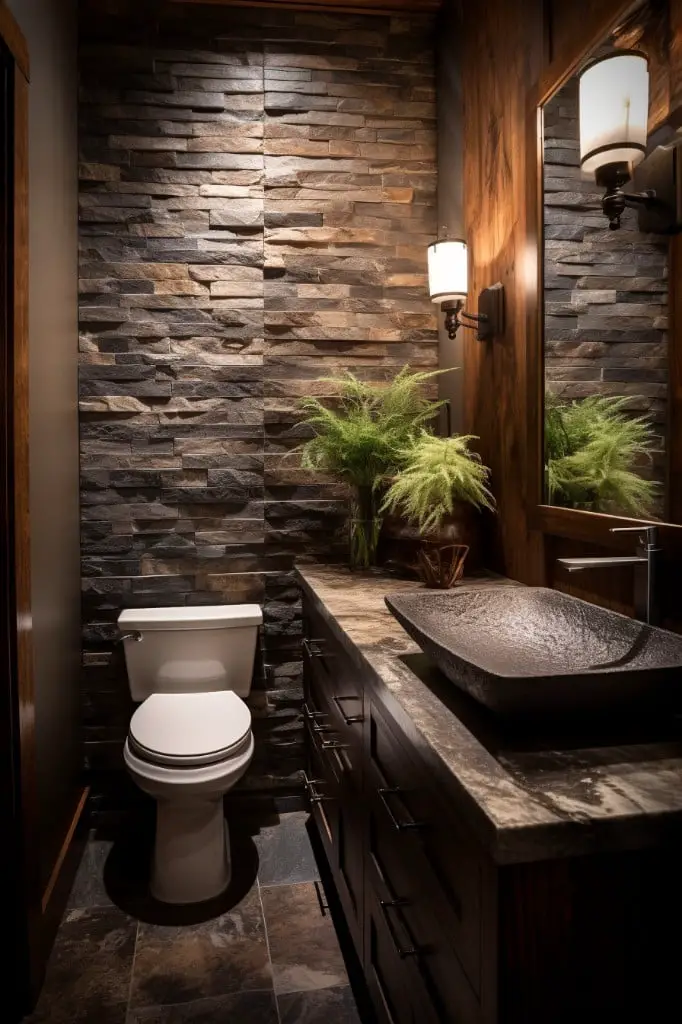 Utilizing natural stone as part of half bathroom decor instantly infuses elegance and timelessness into the space. Whether you choose quartz for its varied tone and intense durability, marble for its high-end appeal, or slate for its unique color variation, the options are vast.
Stone accent wall: Bestowing a pure, vibrant texture that effortlessly catches the eye, it is a striking focal point.
Stone basin: A striking option, bringing an earthy touch to the vanity.
Stone tile backsplash: A subtle yet effective way to introduce this element.
Stone countertops: They enhance the richness and add a feel of luxuriousness to the room.
Choose a style that suits your taste, from rugged and rustic to polished and sleek. The advantage, besides aesthetics, is the added value they give your home due to their longevity. Remember to seal them properly to avoid staining and maintain their natural charm.
LED Strip Lights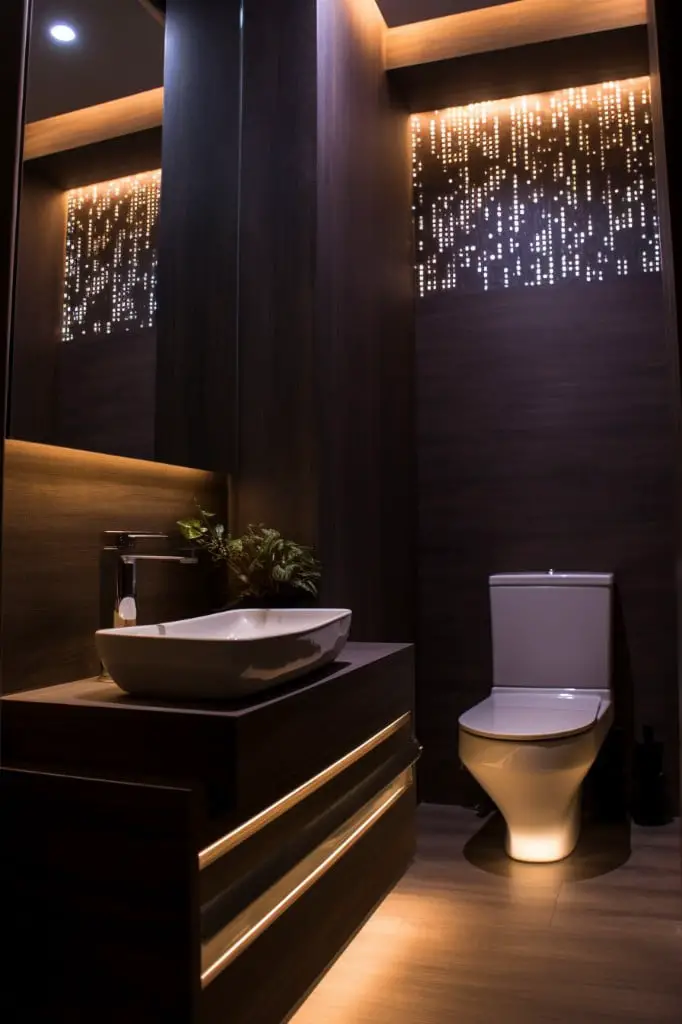 Whether tucked under cabinets or lining the edge of a mirror, these low-profile illuminations add a modern and sleek element. They effectively highlight the bathroom's features while providing needed functional light.
There are a few key consideration points:
Customizable length: You can cut the strip to best fit your space, allowing for a tailored lighting solution.
Color: Available in a spectrum of hues, to create mood and match any aesthetic.
Durability: They're robust, water-resistant, making them perfect for the damp bathroom environment.
Energy-efficient: Consume less power than regular bulbs, a win for sustainability.
Easy Installation: Usually backed with an adhesive, it's a simple peel-and-stick process.
Remember to consider the overall brightness and temperature of the light. Cool or warm white options can greatly affect the ambiance. Use dimmable LED strips if you want to vary the intensity throughout the day. With these points in mind, you can easily integrate LED strip lighting into your half bathroom decor.
Stylish Soap Dispensers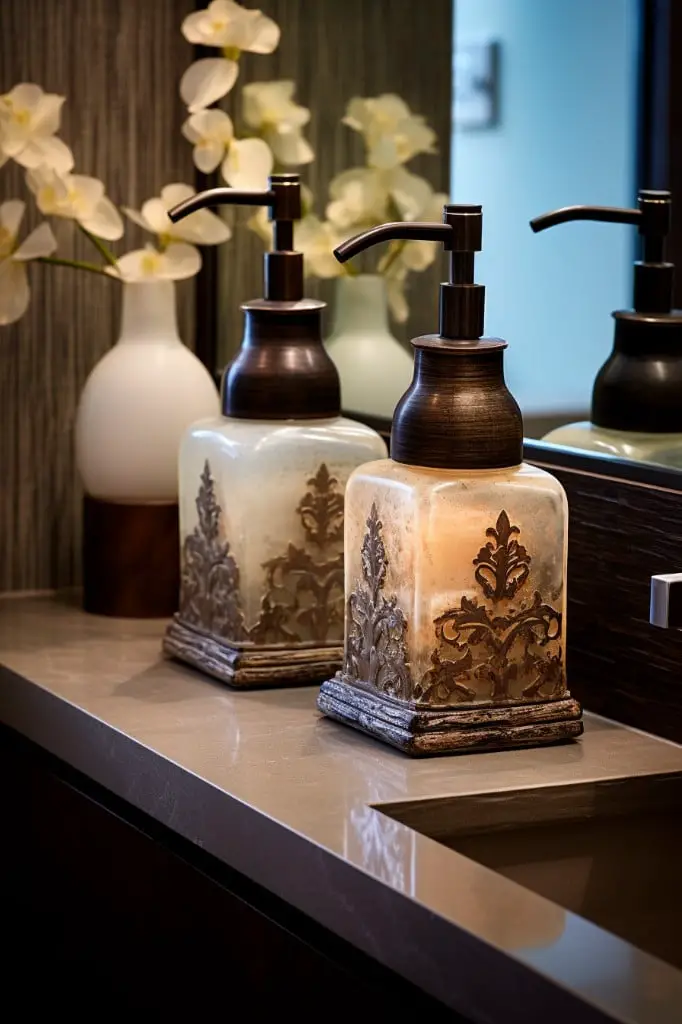 For an unexpected design element in your powder room, consider accessorizing with delightful soaps and their holders. Look for unique shapes, metallic finishes, or sleek glass designs to add an elegant touch to an otherwise mundane object.
The dispenser should ideally match or complement other pieces in the room, adding a seamless visual interest. Repurposing beautiful liquor or perfume bottles can also serve this purpose and lend a personalized touch to your bathroom aesthetics.
Contemporary plastic designs are also a great choice for a kid-friendly, unbreakable option.
Farmhouse Style Vanity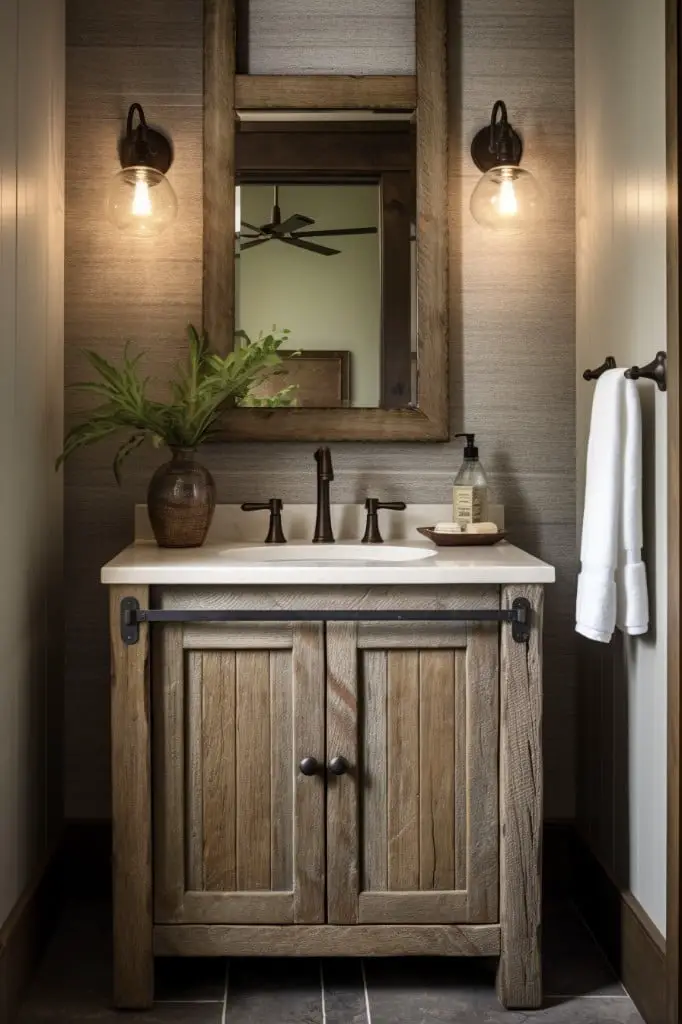 A farmhouse style vanity simultaneously provides function while adding distinct character to your half-bathroom. With its rustic and vintage undertones, it aligns with a cozy, country aesthetic.
Some key points to consider:
Heavy use of wood: Consider rugged, reclaimed wood for a charming, old-world appeal.
Distressed finishes: Whites and light greys with a weathered effect can help evoke an authentic farmhouse feel.
Use of open shelving: Open base vanities are popular in this style, doubling as storage while showcasing neatly folded towels or baskets of toiletries.
Hardware: Elements such as faucet and knobs in brushed nickel or bronze add to the country vibe.
Pairing with a vessel sink: Although not a must, these sinks often complement the aesthetic.
Opt for a simple mirror or one with a wooden frame; the key is to keep the look casual yet thoughtfully curated. Remember to balance rustic elements with modern conveniences for a comfortable, inviting space.
Geometric Wall Decals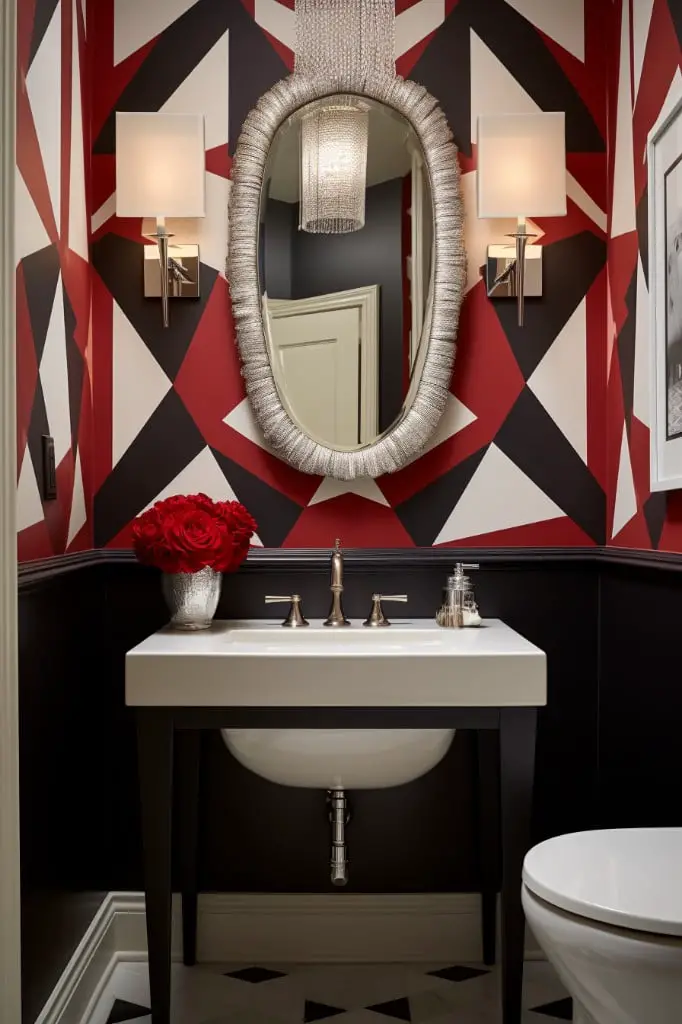 Using their varying shapes and sizes, they can help create an eye-catching feature wall. This is especially useful in a small space where options for large fixtures are limited.
They can be color-matched to any existing decor, allowing seamless integration into any design scheme. Moreover, one of their best attributes is the ease of application and removal. If you tire of the current pattern, swapping it out for a new one is a breeze.
Good quality decals are durable, easy to clean and resistant to bathroom humidity. For a modern, minimalistic half bathroom, choosing geometric designs like circles, triangles, or hexagons can work wonders. Opt for subtler designs if other aspects of your decor already have a bold statement.
Continue reading:
Recap