Last updated on November 22, 2023
Invoke the freshness of spring in your bathroom with floral decor ideas because they can transform an ordinary space into a lush nature-inspired retreat.
I am proud to share my article, '20 Bathroom Floral Decor Ideas: Turn Your Space into a Blooming Oasis', along with the accompanying unique designs I've created; I hope they inspire you and bring as much joy as I had while creating them.
Transforming your bathroom into a floral oasis can be an exciting project. This article will provide you with a variety of floral decor ideas that can help you create a refreshing and stylish bathroom.
Whether you're a fan of bold, vibrant blooms or prefer subtle, pastel petals, you'll find inspiration here.
From floral-themed wallpapers to flower-inspired accessories and fixtures, each idea is designed to enhance your bathroom's aesthetic.
Stick around to explore all the details and make your bathroom bloom with style and elegance.
Flower-patterned Shower Curtains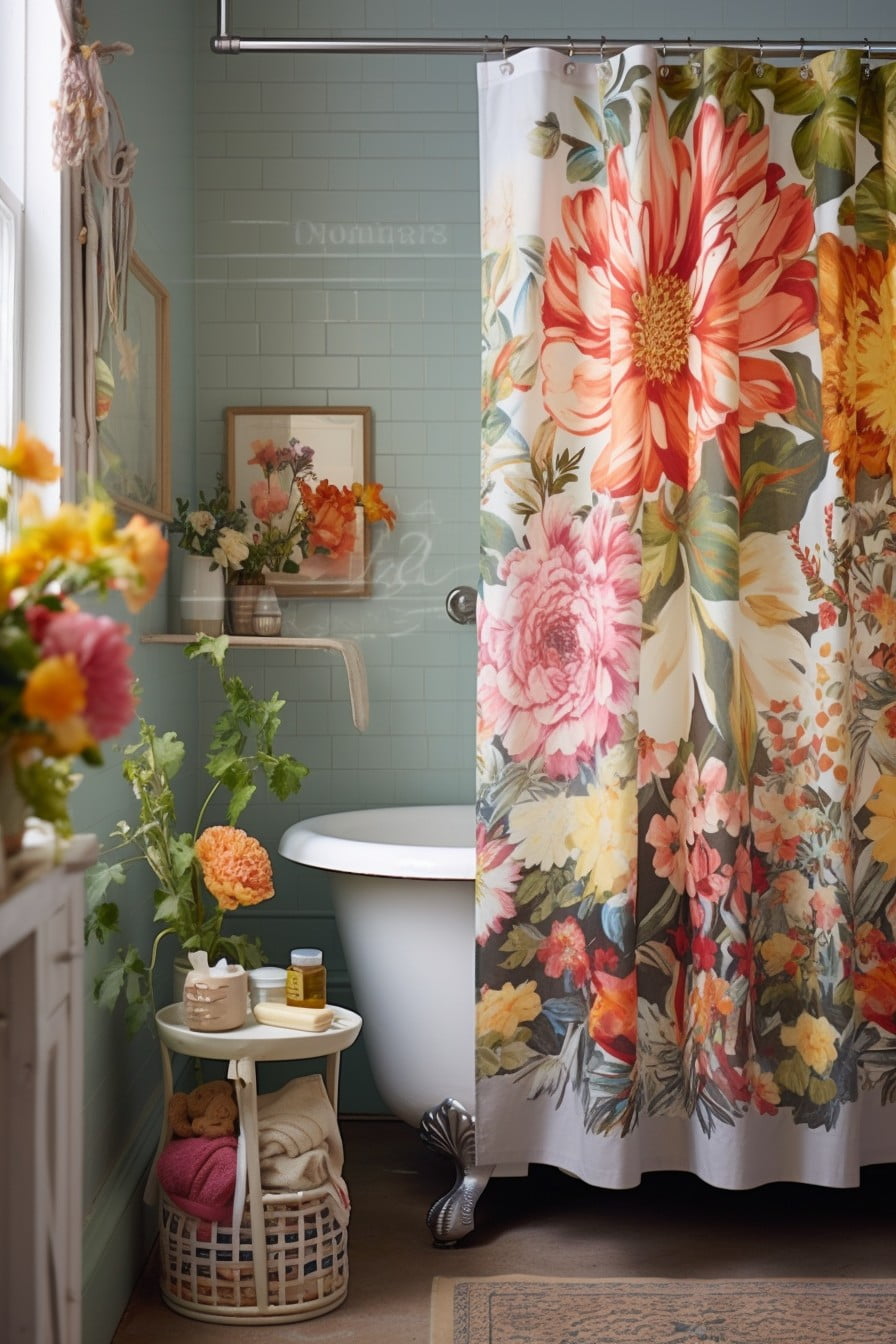 Add a whimsical touch with blooms adorning the shower curtain. Whether you prefer a vibrant pop of color with bright, in-your-face blooms or a more minimal approach with a large, monochrome flower, these curtains bring a splash of nature into your bathroom.
They're not just for appearances either – most of these options are machine washable and made with water-resistant materials, combining form and function. From bold poppies to delicate roses, there's a myriad of options available to suit your overall theme.
Remember that bold patterns may make small spaces feel smaller, but can add interest to a plain or monochromatic scheme. Subtle, small-patterned floral prints work well in smaller bathrooms or more understated décors.
Floral Bath Mats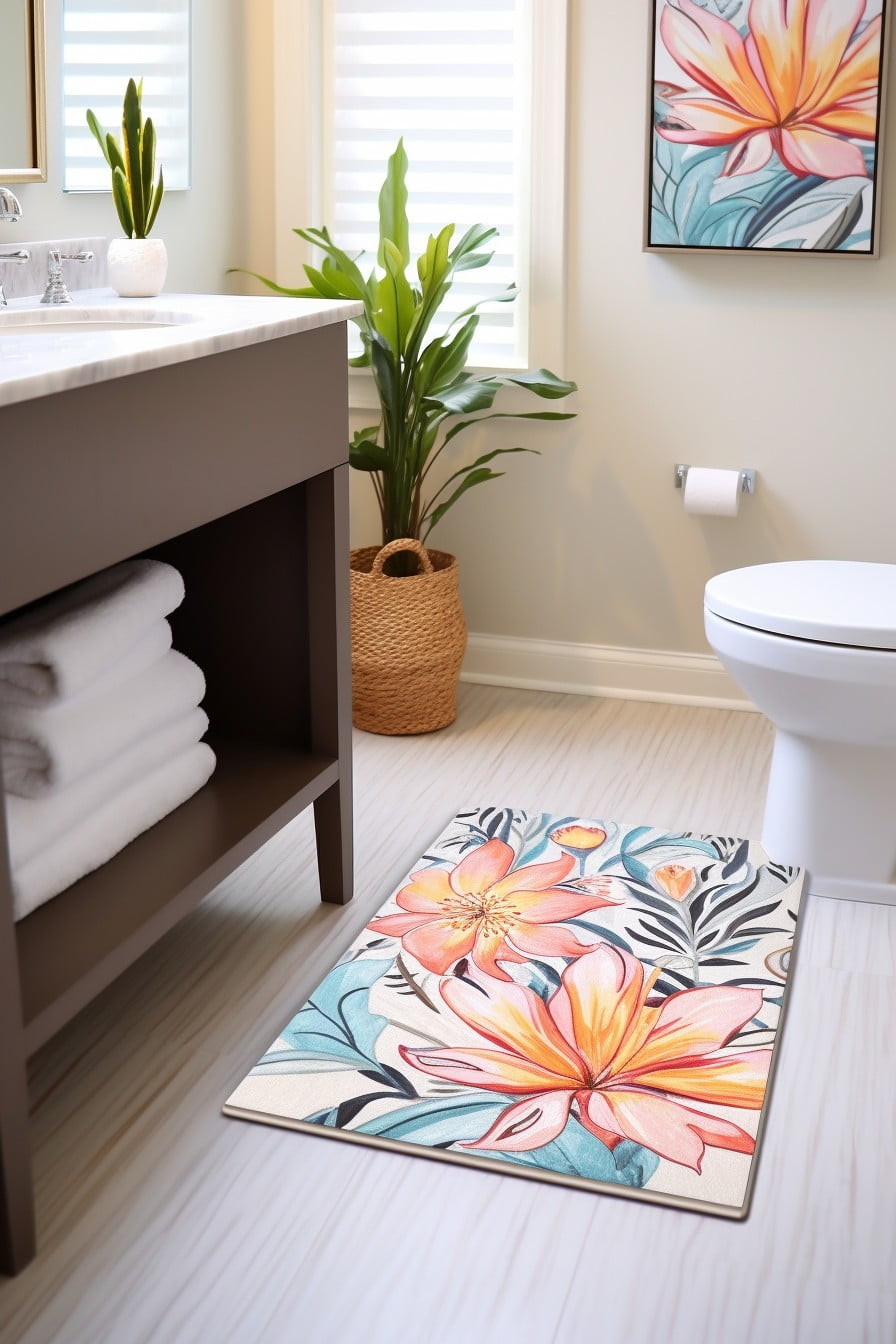 Adding a floral bath mat doesn't just contribute to the pretty aesthetic but also delivers both practicality and comfort. A bath mat with floral print can effortlessly blend with the décor while also preventing slippery surfaces after a shower. You can choose from a vast array of flower patterns that complement your bathroom's color scheme.
From delicate rose prints for a classier look, bold sunflower motifs for a vibrant pop, to tropical hibiscus patterns for summer vibes, your choices can be as diverse as nature itself. Meanwhile, textured designs such as chenille or tufted bath mats, add an extra plush and comfortable feel.
Remember, choosing a bath mat in a material that's machine washable makes cleaning easier and maintains the aesthetic longevity. With this tiny addition, you are one step closer to a fashionable and functional floral bathroom.
Hanging Wall Flower Pots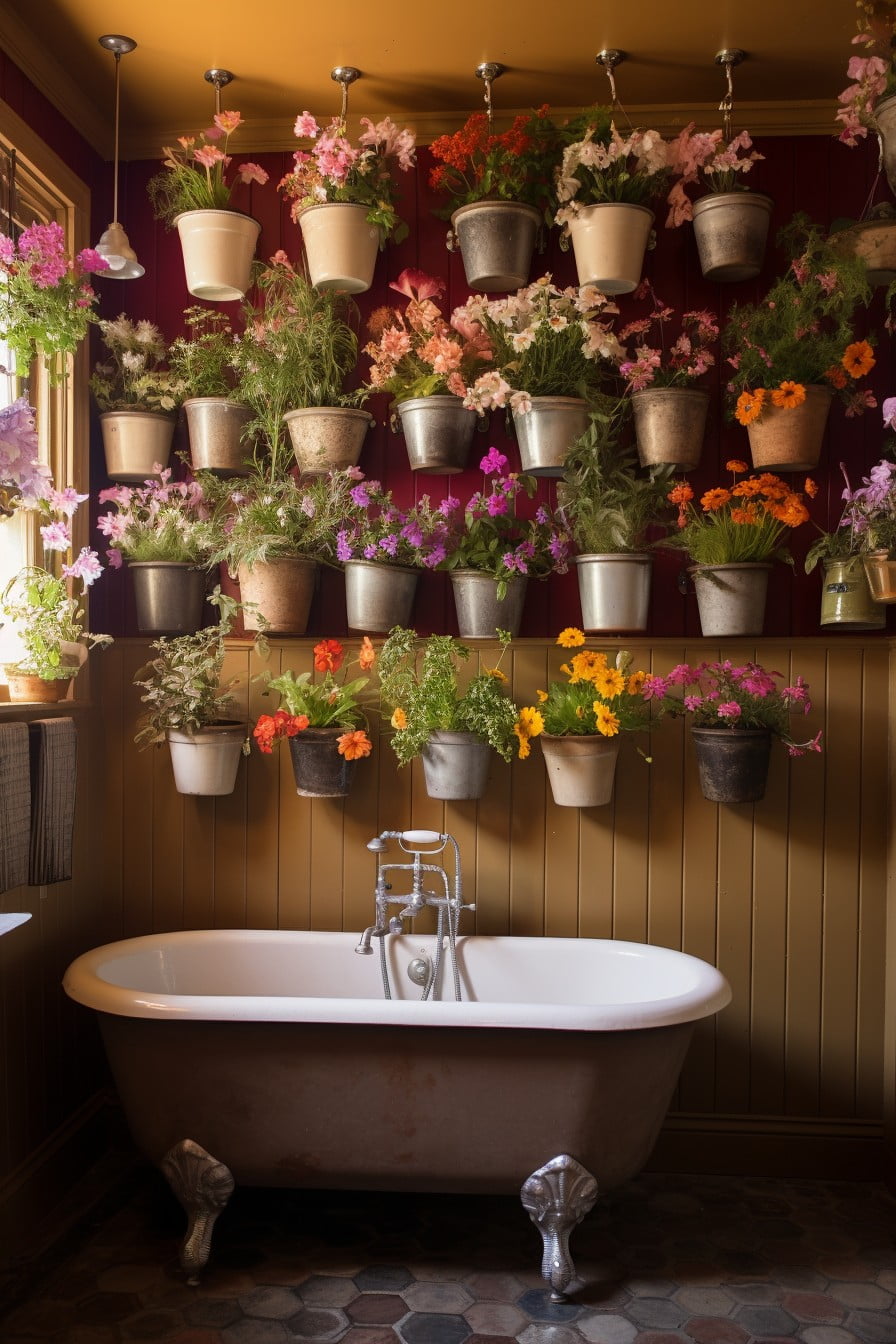 Adopting this concept transforms your bathroom into an oasis. Select small-scale houseplants that love slight moisture and prefer indirect light.
Consider air plants, ferns, or ivy. Vary pot materials- think ceramics, terracotta or glass- for an added element of texture. Use decorative hooks that match your overall design scheme, such as sleek chrome or antique brass.
Play with heights, not just for visual interest but to maximize your underutilized space. Remember to consider the proximity to the shower steam and take care to water your plants appropriately. This green addition will purify the air, creating a refreshing bathroom environment.
Rose-shaped Soap Bars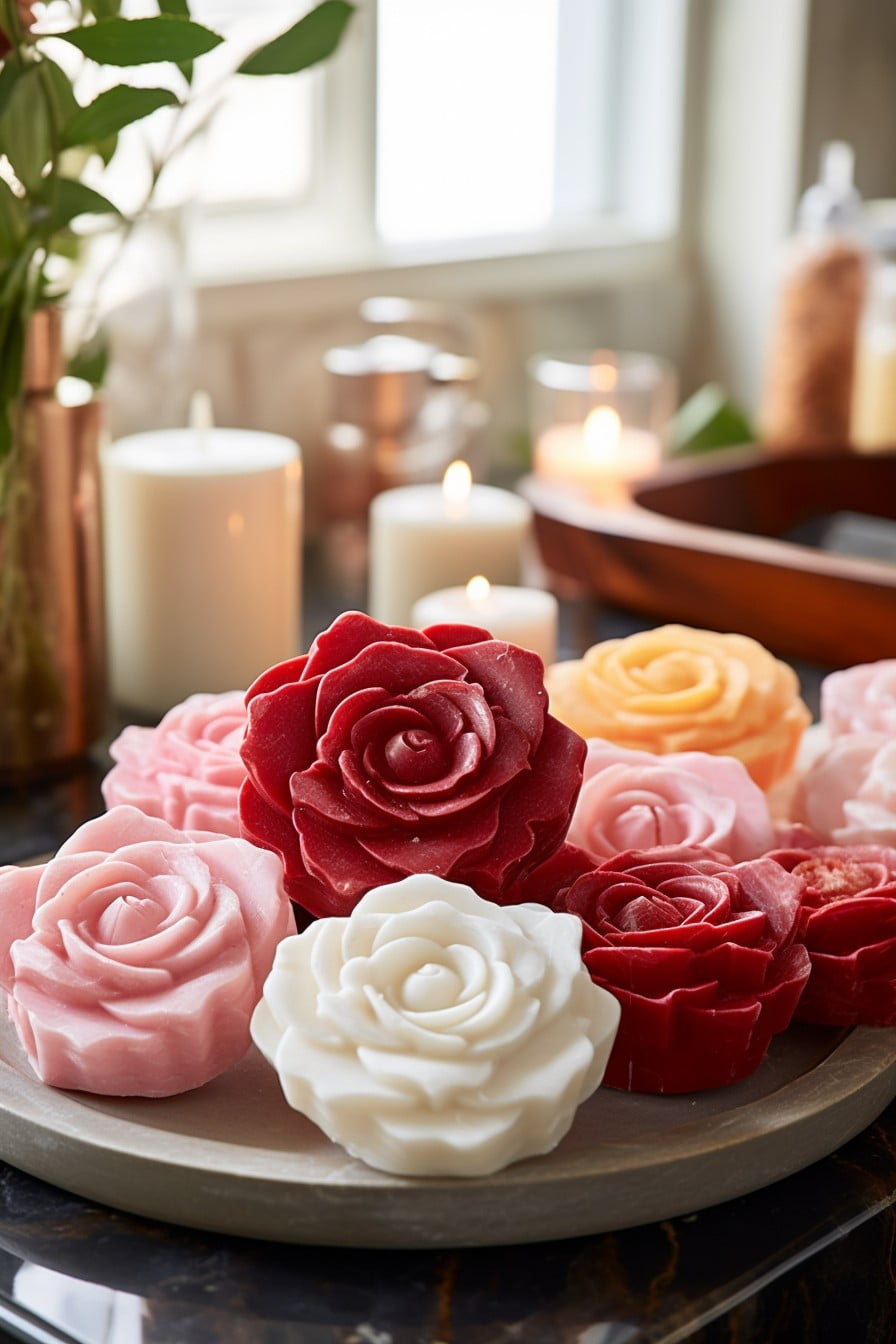 Sculpted in the delicate form of the world's most romantic blossom, these uniquely designed cleansing bars provide not only functionality but also an aesthetic enrichment to your bathroom. They come in a variety of fragrant rose-based scents like fresh rose, rose & lavender, white rose, and spicy rose.
Their intriguing presence adds a touch of class and elegance to any bathroom's ambiance, enhancing the overall decor subtly. They make a luxurious yet practical accessory, doubling as an attractive countertop display when not in use. Plus, they would make as charming gifts for any rose or nature lover.
Opt for those made with natural ingredients, for high-quality cleansing without the toxins. Such details don't just add to the bathroom's fresh and aromatic environment, but also gives an elegant, spa-like feel. No need for additional containers as these soaps serve as decor pieces in their own right, simply place them on a fancy dish or display stand.
Choosing rose-shaped soap bars is an innovative and sophisticated way to intermingle utility and splendor.
Floral Scented Candles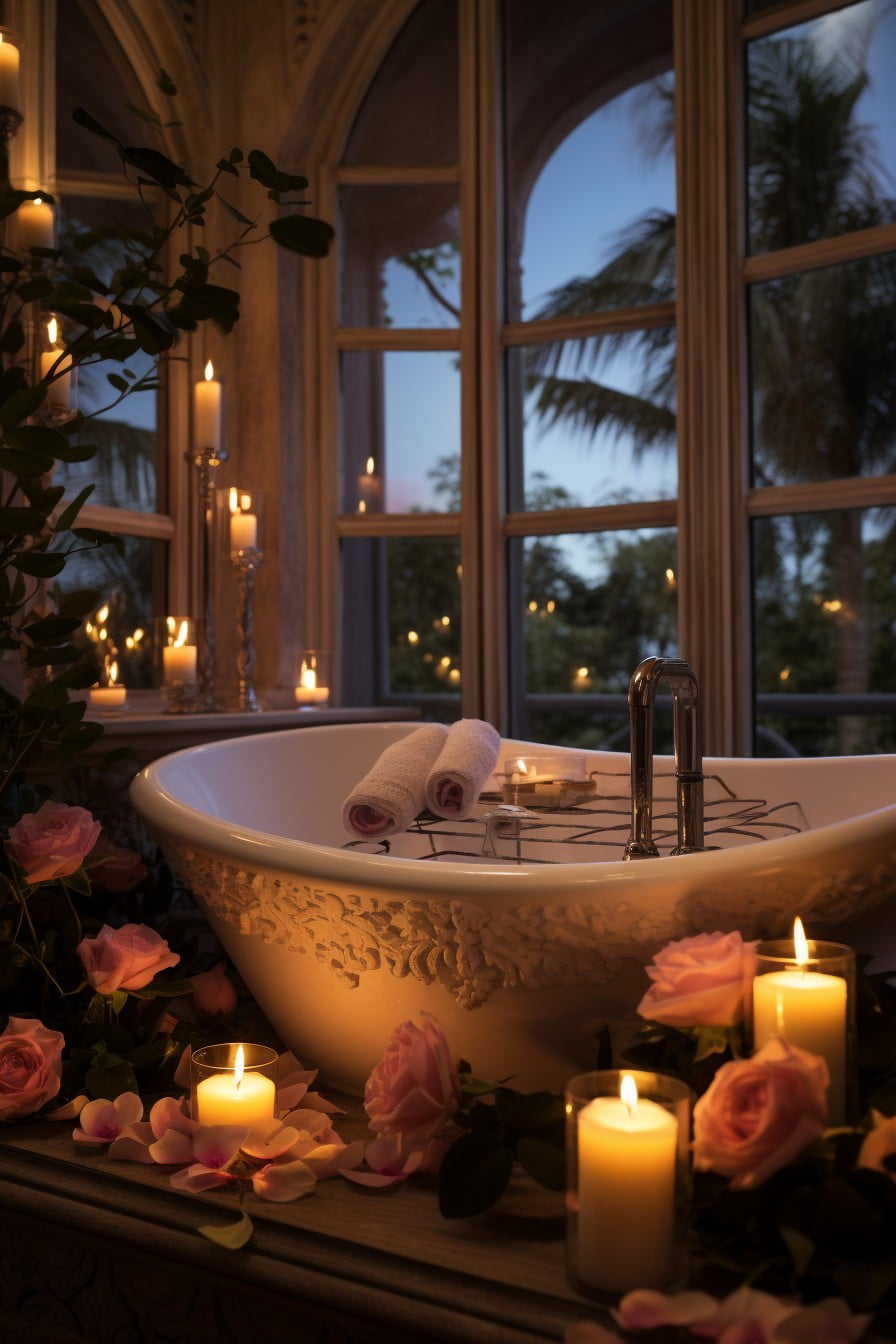 In the quest for a floral sanctuary, scent plays an integral role. Incorporating floral candles can envelope the bathroom with serene fragrances that mirror a fresh garden.
These candles can be artfully arranged around the bathtub, sink, or even on windowsills for an ambient evening glow and tranquil aroma.
Choosing scents such as lavender can promote relaxation while the vibrant scent of citrus blossom energizes the senses.
For a luxury touch, opt for hand-poured wax varieties encased in beautifully designed vessels.
Please remember, safety should be the utmost priority. Always place candles on stable surfaces and away from flammable items such as towels or curtains. Ensure they're fully extinguished after use.
Floral Print Bath Towels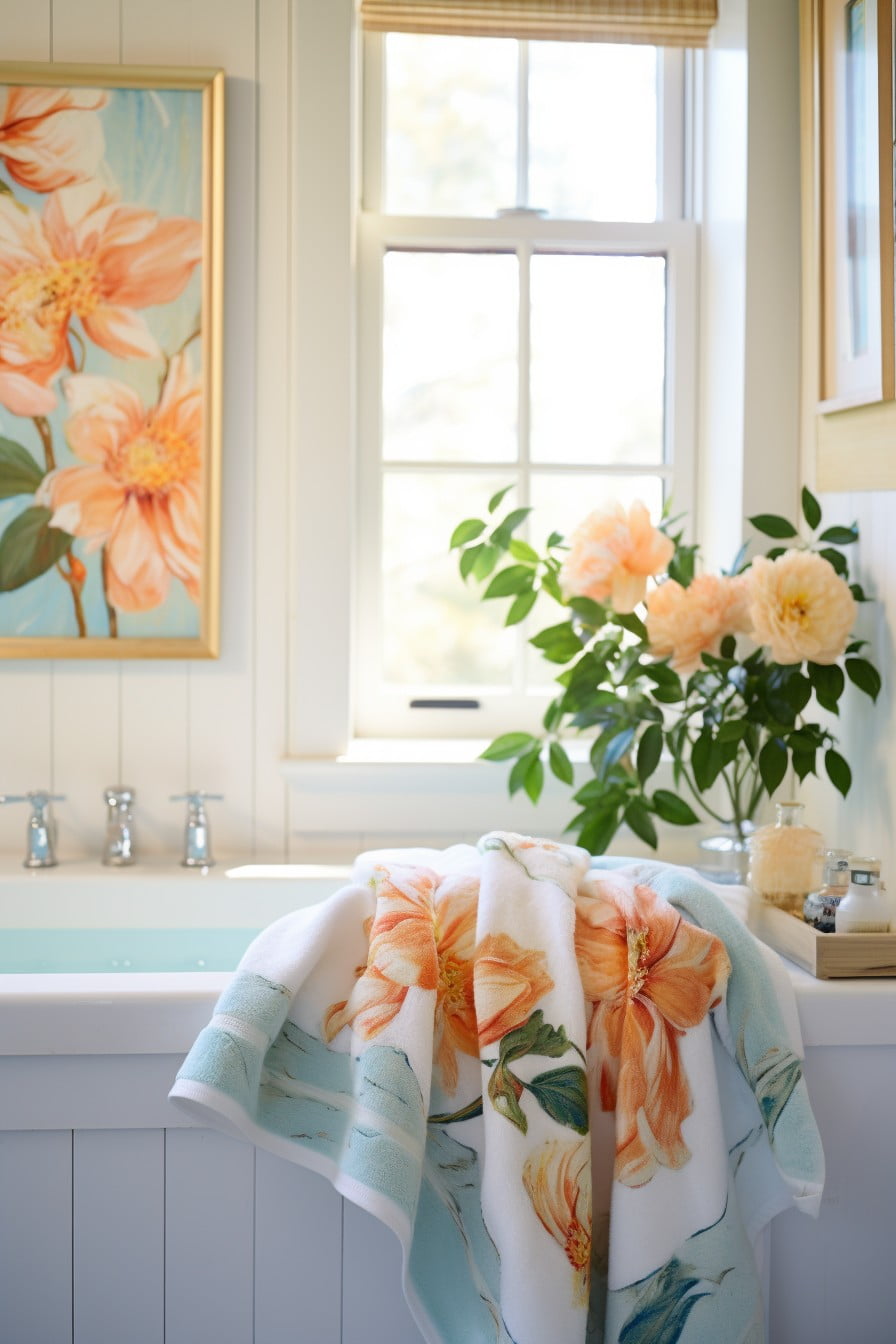 Bath towels are functional, but this doesn't mean they can't contribute to your bathroom's aesthetic. A vibrant floral print can invigorate a dull space, lending an instant splash of personality and color. Consider matching the hue of your towels with a color accent in your bathroom decor. When chosen carefully, this addition can unify your bathroom's design and become a focal point.
Choose towels with prints that resonate with your preferred floral theme. For example, go for a tropical theme with hibiscus prints, or a serene spring scene with gentle watercolor poppies. In achieving this, you subtly infuse your personal style into a necessity. Your guests now have a visual treat every time they visit your restroom. Remember to maintain the quality of your towels – a tattered towel, regardless of how beautiful the print, negates its aesthetic value.
Orchid Vanity Decorations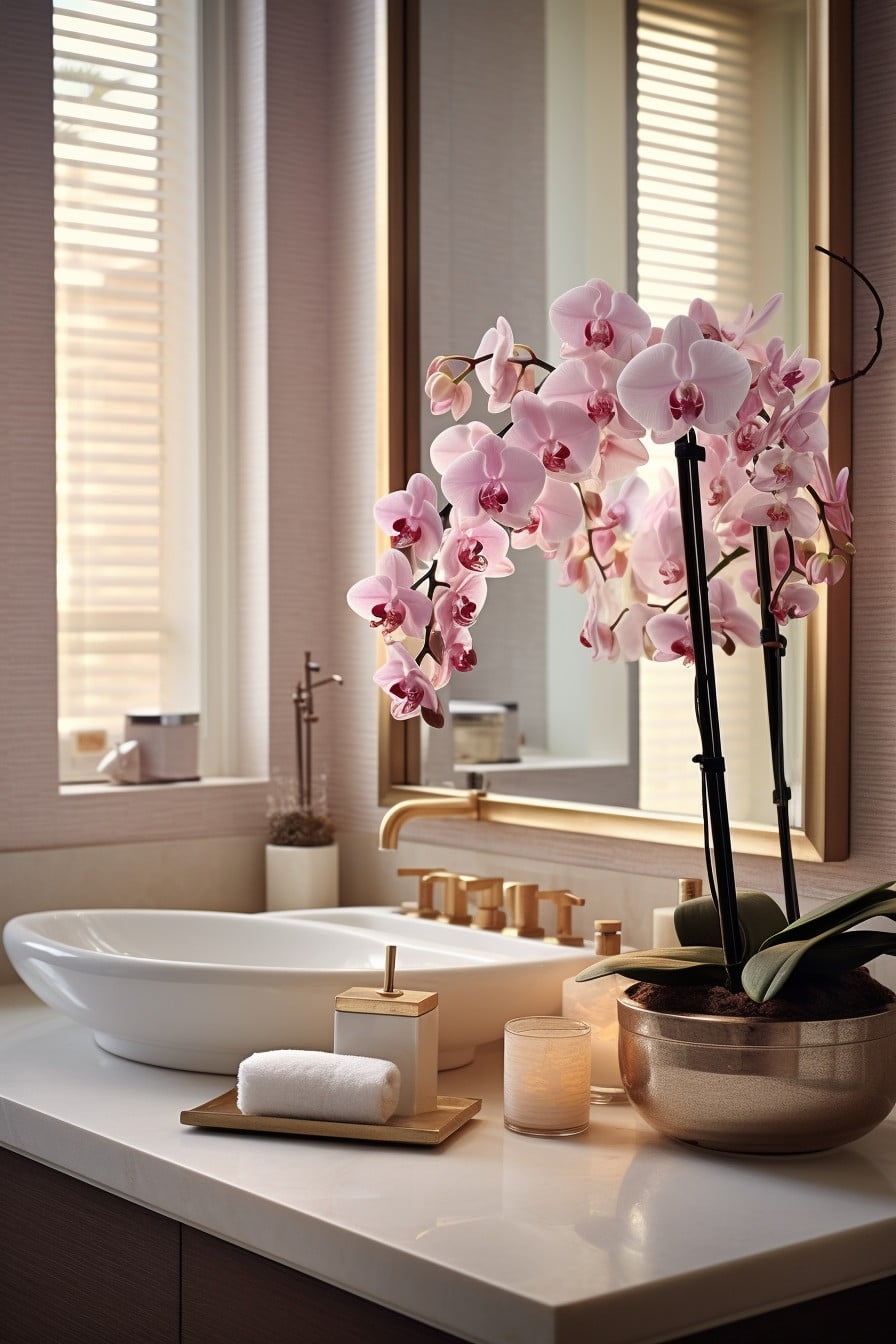 Orchids, with their delicate shape and vibrant colors, are an excellent choice. Their exotic aesthetic adds an element of luxury, immediately elevating the appearance of your vanity.
Here are a few points to help you integrate them effectively:
Size: Choose a small to medium-sized orchid. It won't take much counter space, ensuring it's a visual treat without obstructing your routine.
Type: Opt for silk orchids. They offer the beauty of real flowers but require less care, and they last indefinitely.
Potting: The pot is part of the decor too. Consider a ceramic or glass pot that complements your overall bathroom theme.
Placement: Place the orchid in a spot that does not get excessively wet. Beside the sink, or on a higher shelf would be suitable.
Number: Stick to one orchid. This creates a focal point and allows the flower's beauty to shine without clutter.
Remember, the joy of home decoration is weaving your personal tastes and style into every corner of your home. There's always room for creativity and innovation when you're decorating with orchids.
Floral Framed Bathroom Mirrors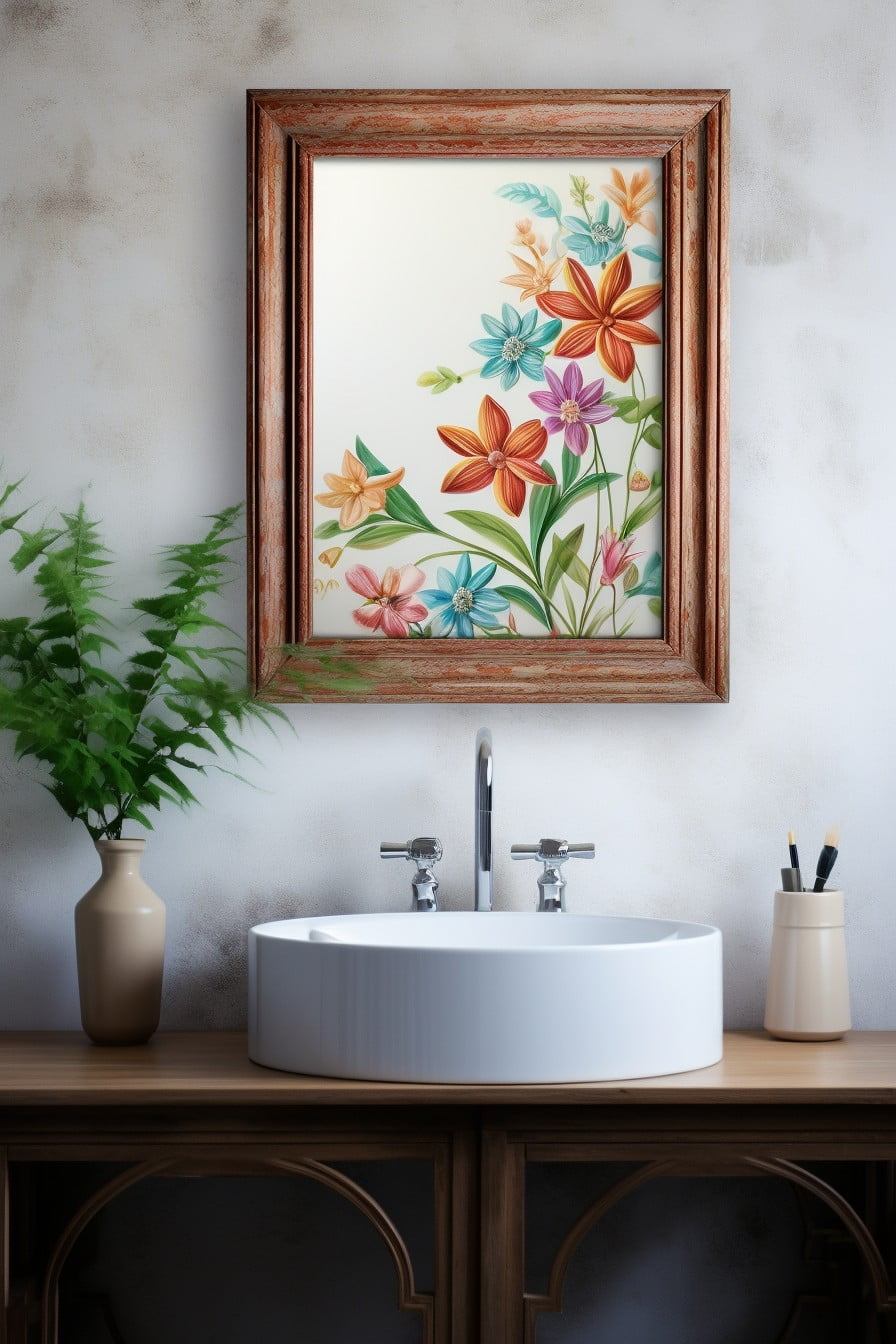 To begin, select mirrors with frames featuring floral embossing or designs. Alternatively, consider DIY options, using faux flowers or floral stickers to enhance a plain mirror frame. Experiment with color, perhaps choosing a monochromatic theme or using bold contrasting hues for a vibrant effect.
Aim to complement the overall bathroom decor when picking your designs. For a more subtle approach, floral etchings in the mirror itself can be striking. Remember, the key to floral decor is balance, so keep your mirror as the focal point, reducing the floral accents elsewhere, hence avoiding an overwhelming effect.
Always consider size and location too. Larger, statement mirrors suit spacious bathrooms, while smaller, finer designs are great for petite spaces or guest bathrooms.
Finally, easy maintenance is crucial. Pick durable materials that can withstand high humidity and be easily cleaned. If opting for a DIY route, sealant can protect homemade embellishments from potential damage. Good functionality should never be sacrificed for the sake of aesthetics.
Floral Bathroom Wallpaper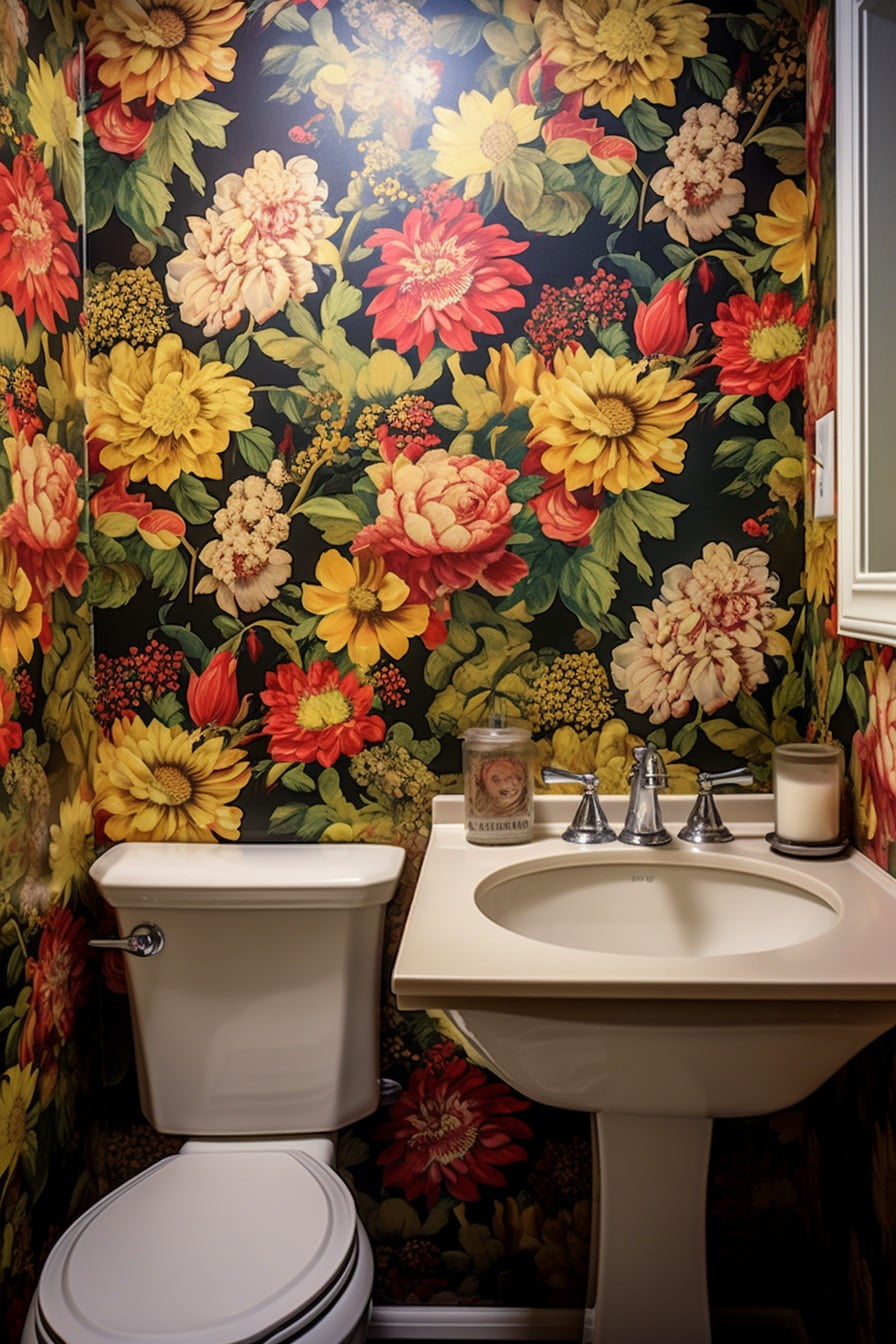 Daring yet delicate, wallpaper can become the centerpiece of your bathroom decor. This not only adds texture and depth to the walls but also offers a myriad of patterns to choose from. Vibrant poppies, serene watercolor washes, or even stylized fern prints – the choice is truly endless.
1. Ensure the use of waterproof or vinyl-coated wallpaper for durability in the damp environment of your bathroom.
2. Opt for smaller, intricate designs in a small bathroom to create the illusion of space.
3. For a larger bathroom, bold, large-scale floral prints can make a strong statement.
4. Using lighter colors helps create a tranquil ambiance, whereas darker colors instill a more dramatic atmosphere.
5. A subtle metallic finish can add a touch of sophistication to the floral design.
6. Match wallpaper with smaller accents like towels or soap dispensers to tie the room together.
Remember, transformation lies in the details. Your floral wallpaper choice can give a facelift to a dull bathroom.
Ceramic Flower Sink Knobs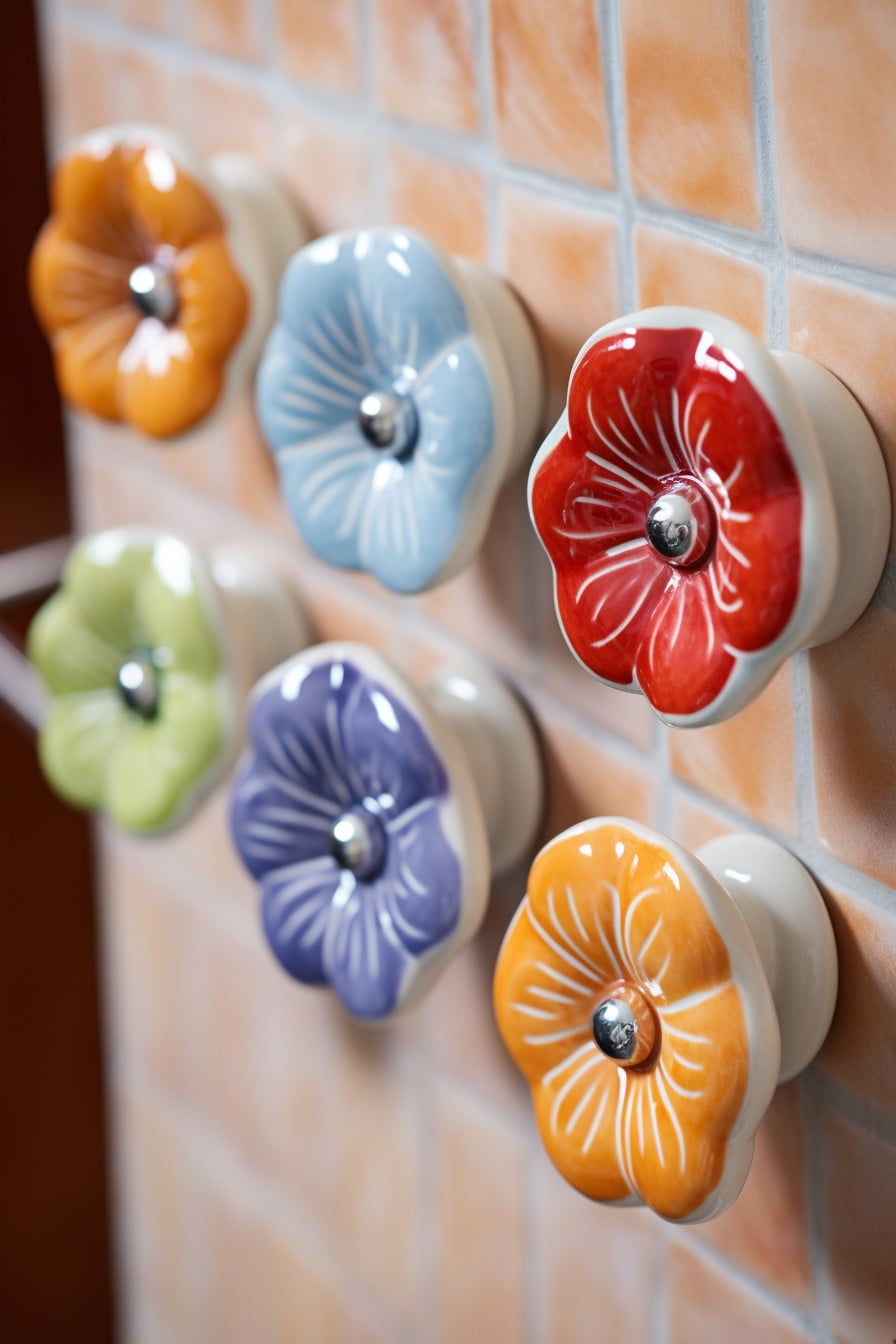 Taking hold of these ornamental pieces, which are delicately detailed to depict various blossoms, can immediately imbue an everyday task with a touch of elegance. Opt for pastel hues for a light, airy feel that's perfect for spring, or darker, richer tones for a deeper, more modern vibe.
1. Shade Selection: Choose colors that complement your interior decor. Soft pastels can give a light, spring-like feel, while rich jewel tones can evoke a moodier, dramatic style.
2. Material Matters: Opt for ceramic – it's durable, resistant to fading, and easy to clean. It also lends a rustic charm to your bathroom.
3. Detailing: Carefully considered designs, from roses in bloom to daisies, can act as delightful visual treats.
4. Size: Consider the size of your sink and ensure the knobs are proportionate. Too large may look outlandish; too small may reduce functionality.
5. Installation: Seek a professional's help if unsure about installation, to prevent damage to your sink or new knobs.
6. Longevity: Regularly clean and maintain your ceramic knobs to ensure their longevity and keep them looking fresh.
Brief yet impactful, a little commitment to these floral features could just bloom into your bathroom's standout feature.
Dried Flower Arrangements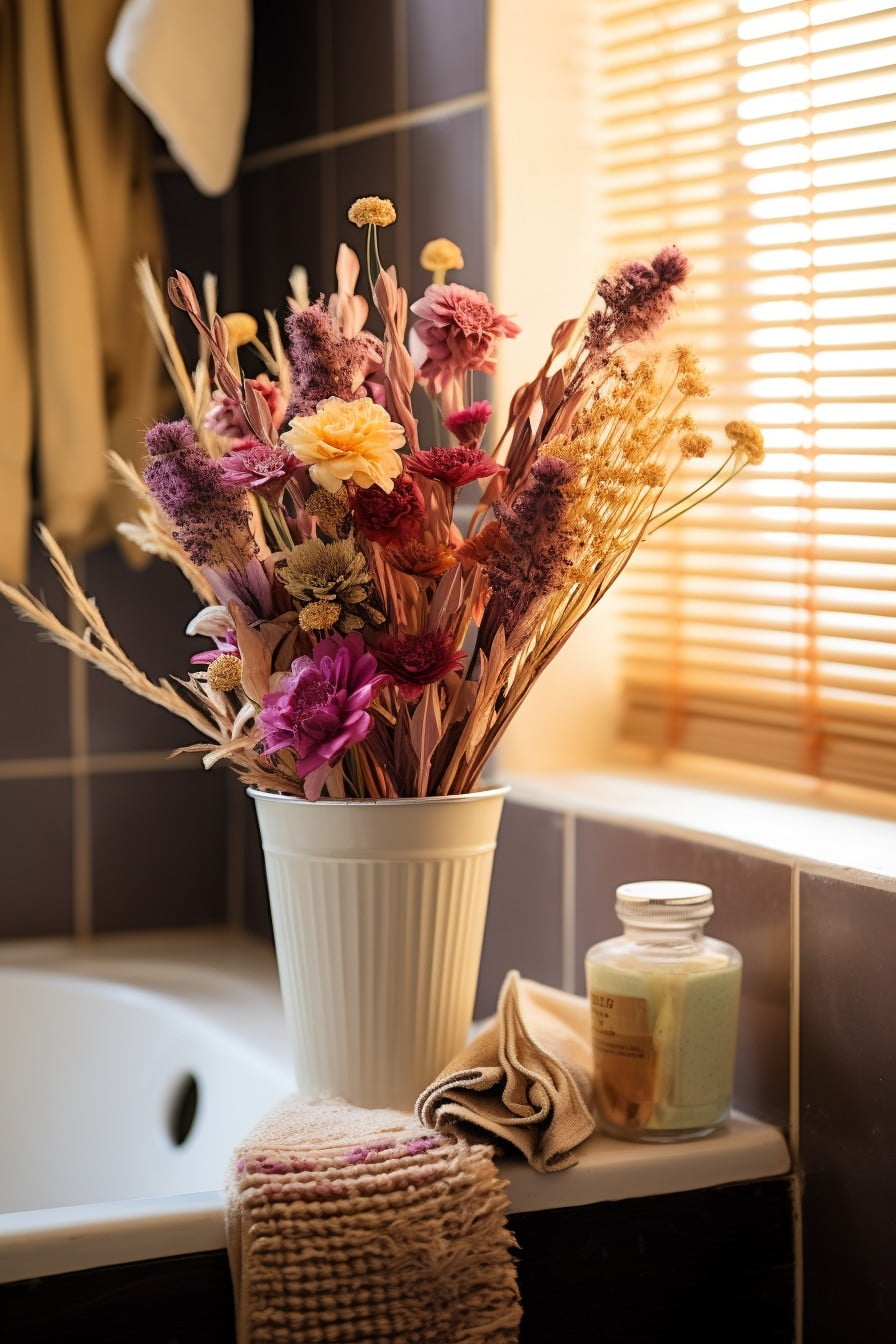 For a timeless aesthetic, incorporate dried flower arrangements into your bathroom decor. The elements are both aesthetically pleasing and sustainable, adding an eco-friendly touch to your home design.
Choose flowers in hues that match your bathroom's color palette. Popular choices include roses, hydrangeas, lavender, or baby's breath — not only do these variations dry beautifully, but they also retain a subtle scent. Arrange them in rustic vases or tie with jute twine for a more boho vibe.
Place smaller arrangements on the vanity or shelves, while larger arrangements can be showcased on a bathroom windowsill or a ledge by the bath. Remember, dried flowers do best in a dry, relatively cool environment, so be mindful of placement to ensure longevity.
To maintain these pieces, regular light dusting is enough. No need to water or worry about sun exposure — these arrangements are as durable as they are charming. This addition in your bathroom connotes a sense of elegance and softens the overall ambiance.
Flower-themed Wall Art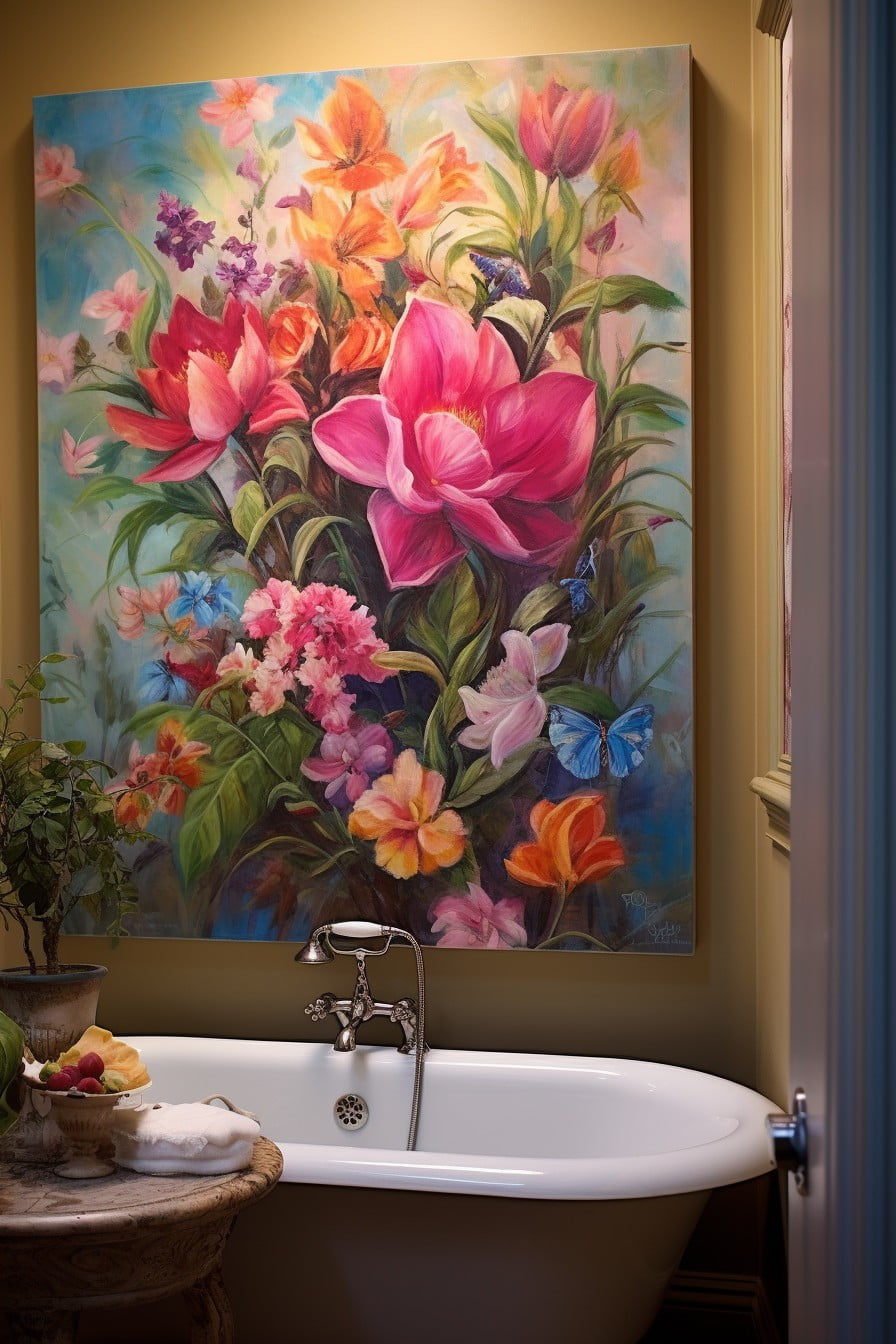 With countless styles available, there's always a floral piece to fit any bathroom decor. Consider soft watercolors for a serene spa-like ambience, or go bold with a modern abstract piece for that trendy edge.
Consider size and placement, a larger piece above the tub for example creates a focal point. Smaller pieces, on the other hand, can be grouped to add interest to the vanity area.
To maintain a cohesive look, choose art that matches your color palette. If going for a gallery wall, mix it up: Pair framed prints with canvases, include illustrations alongside photographs.
Finally, don't shy away from DIY projects. A preserved bouquet from a special occasion adds a personal touch and integrating 3D elements like pressed flowers in shadowboxes enhances visual appeal.
Floral-themed Bathroom Tiles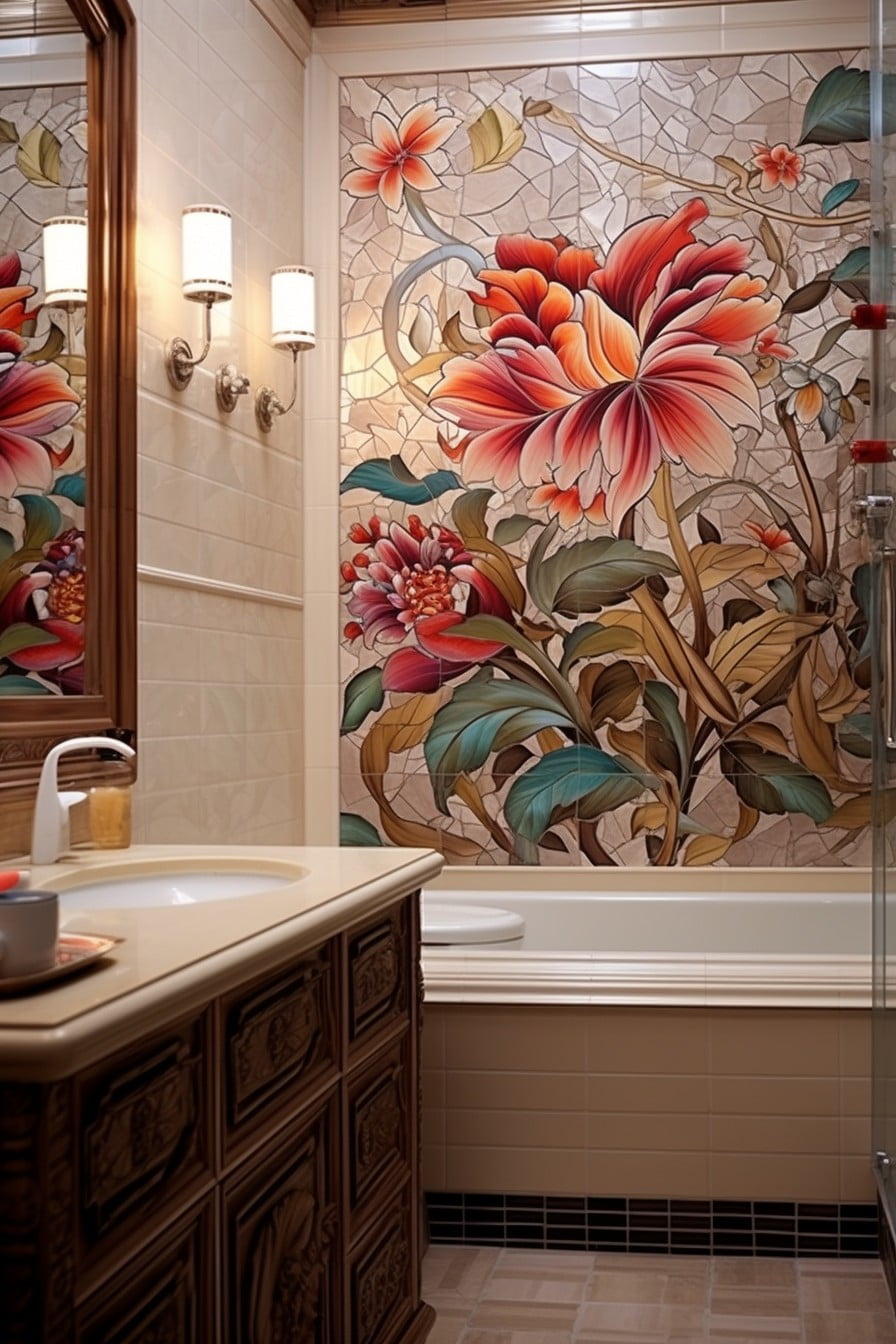 Selecting the correct pattern can add an aesthetically pleasing dimension to your bathroom. Choose subtle pastel flowers for a calming ambience or vibrant shades for an energetic vibe.
1. Porcelain tiles: They are durable, water-resistant, offering an array of floral designs, and a choice between glossy or matte finishes.
2. Ceramic tiles: They offer a vast range of floral designs and colors. They are less expensive than porcelain but offer just as many design options.
3. Mosaic tiles: If you're drawn to detail, mosaic tiles enable intricate floral designs. These provide a unique, eye-catching look.
4. Attention to Grout: Grout color can make your chosen tile pop or blend in. A contrasting color emphasizes individual tiles, whereas matching grout ensures a seamless look.
In essence, there's a variety of materials and styles available to incorporate floral designs in your bathroom tiles. Choose the one that aligns best with your overall bathroom aesthetic and design preference.
Decorative Flower Vases With Fresh Flowers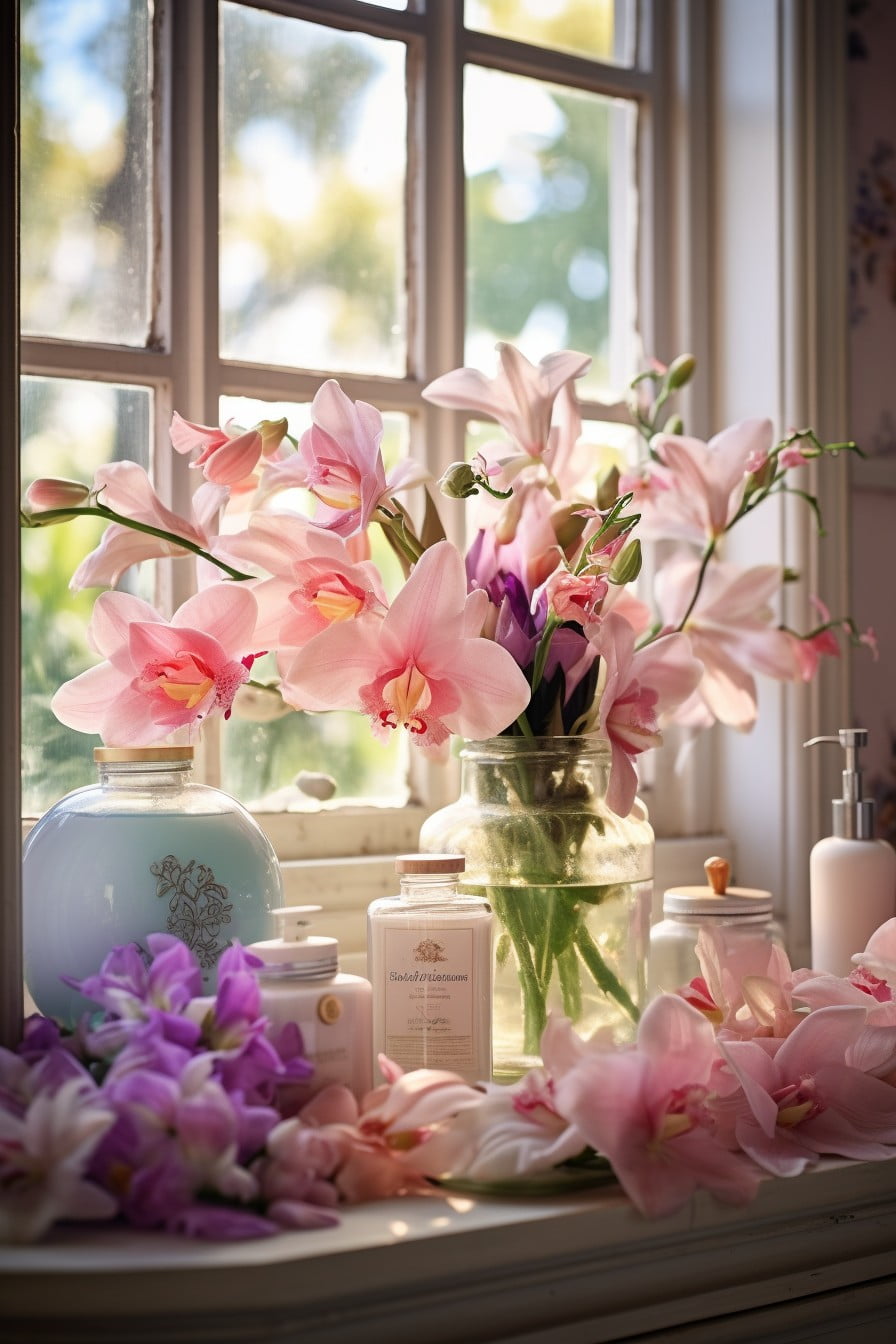 Fresh blooms can instantly brighten any bathroom, boosting its charm and ushering in an element of nature. Whether set on the vanity or on a floating shelf, their natural fragility bursts into an impressive display, offering an unmatched, alluring freshness.
For a minimalistic appeal, consider clear glass vases with single-stemmed flowers like roses or tulips. The simplicity and elegance of this style will subtly complement your bathroom's decor.
A rustic approach might include a dainty arrangement of wildflowers in a mason jar. This touch will bring a cozy homeliness that's perfect for farmhouse style bathrooms.
Large, vibrant flowers like sunflowers or hydrangeas work wonders when placed in a chunky, ceramic vase. These can be a focal point, casting a joyful, sun-drenched essence around the room.
It's key to remember to change the water regularly and trim the stems to prolong the life of the flowers. This small step ensures your bathroom stays fragrant and fresh, maintaining the floral cheerfulness for days on end.
Flower Shaped Storage Containers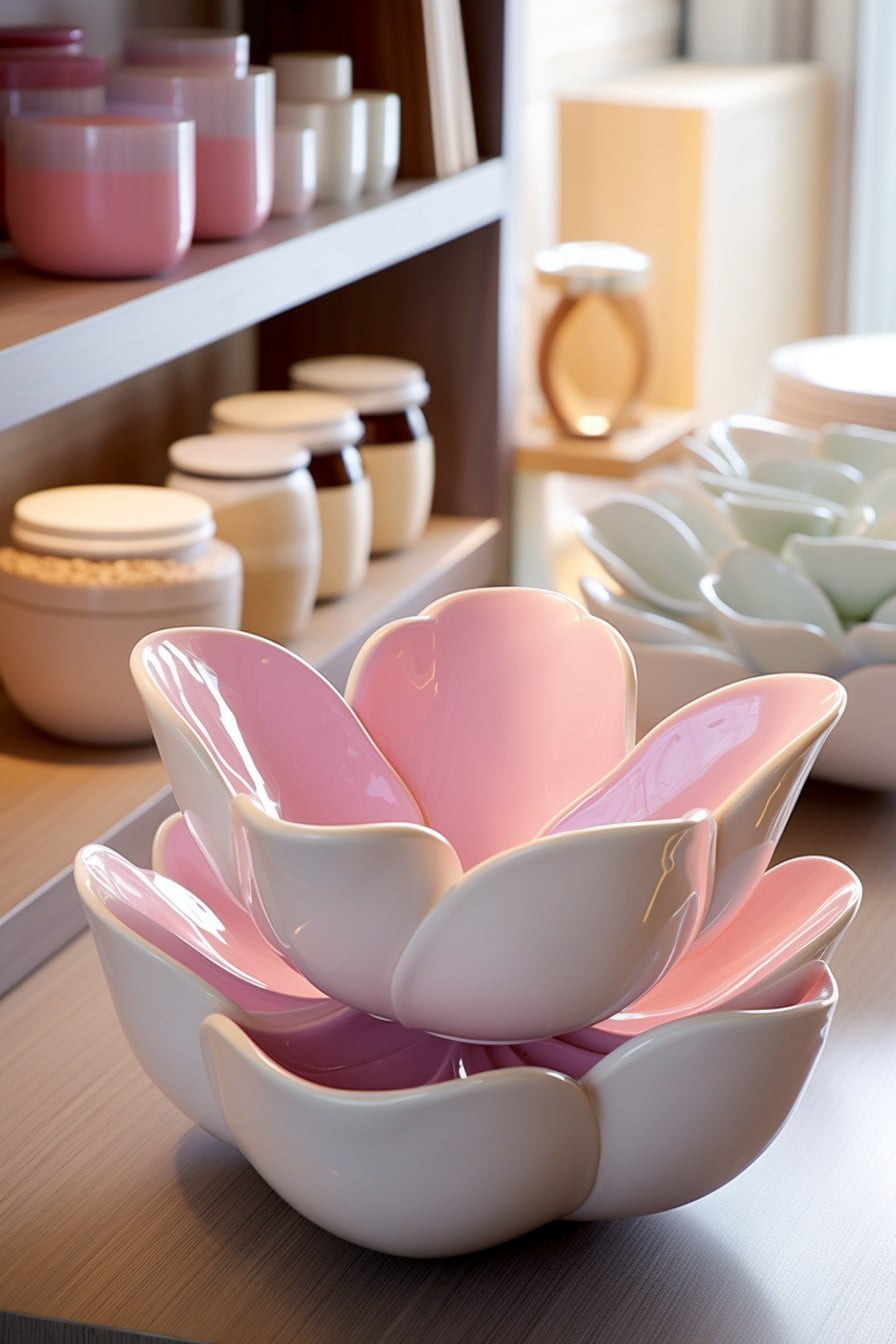 Adopting flower-shaped storage containers will not only provide adequate space for necessary items but also amplify the floral aesthetic significantly.
These containers, easily available in various sizes and designs, can beautifully accommodate a variety of bathroom essentials.
For example, consider petite rosebud pots for storing cotton swabs or sunflower-shaped boxes to corral assorted toiletries.
With a range of materials that these come in, it's easy to match your current decor while adding an extra flourish of botanical charm to the space.
A great strategy is integrating varying sizes, creating a dynamic visual landscape while maximizing functionality.
Remember, not every container has to match; try mixing different floral designs for a wildflower-garden feel.
Floral Toothbrush Holders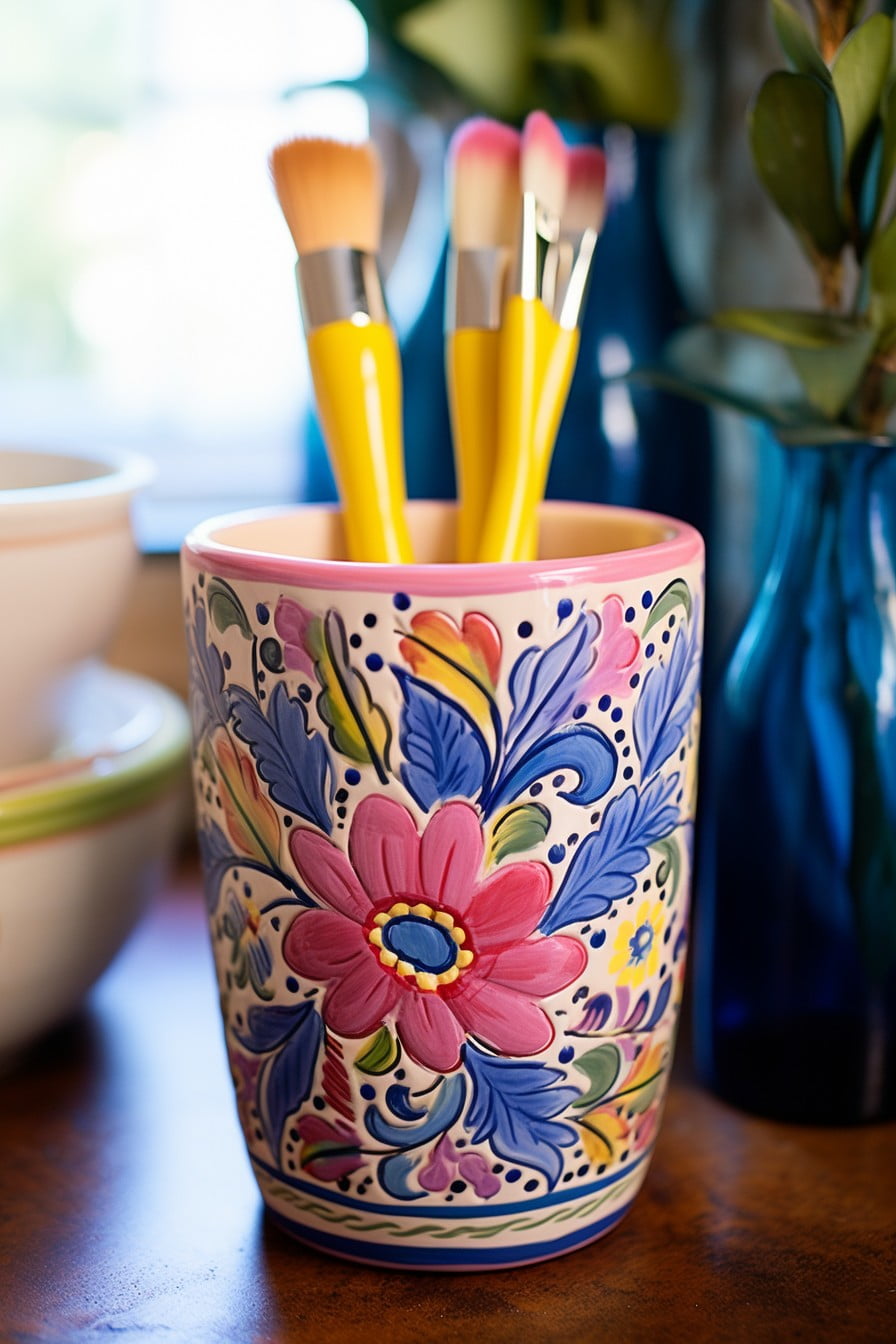 Opting for this unique accessory can be a small yet impactful way to incorporate blooms into your bathroom. Choose a garden-themed holder, perhaps featuring delicate ceramic roses or playful daisy designs.
It's not just about aesthetics though; they're practical too. Toothbrush holders aid in hygiene, preventing toothbrushes from touching each other or unclean surfaces.
Floral designs are available in numerous styles and materials including ceramic, glass, and plastic. Consider the color scheme of your bathroom when choosing one. A vibrant sunflower design can pop in a white-tiled bathroom, while softer petunia pink might suit a more subtly-colored space.
Remember, it's all about harmonizing functionality with design.
Flower-patterned Window Treatments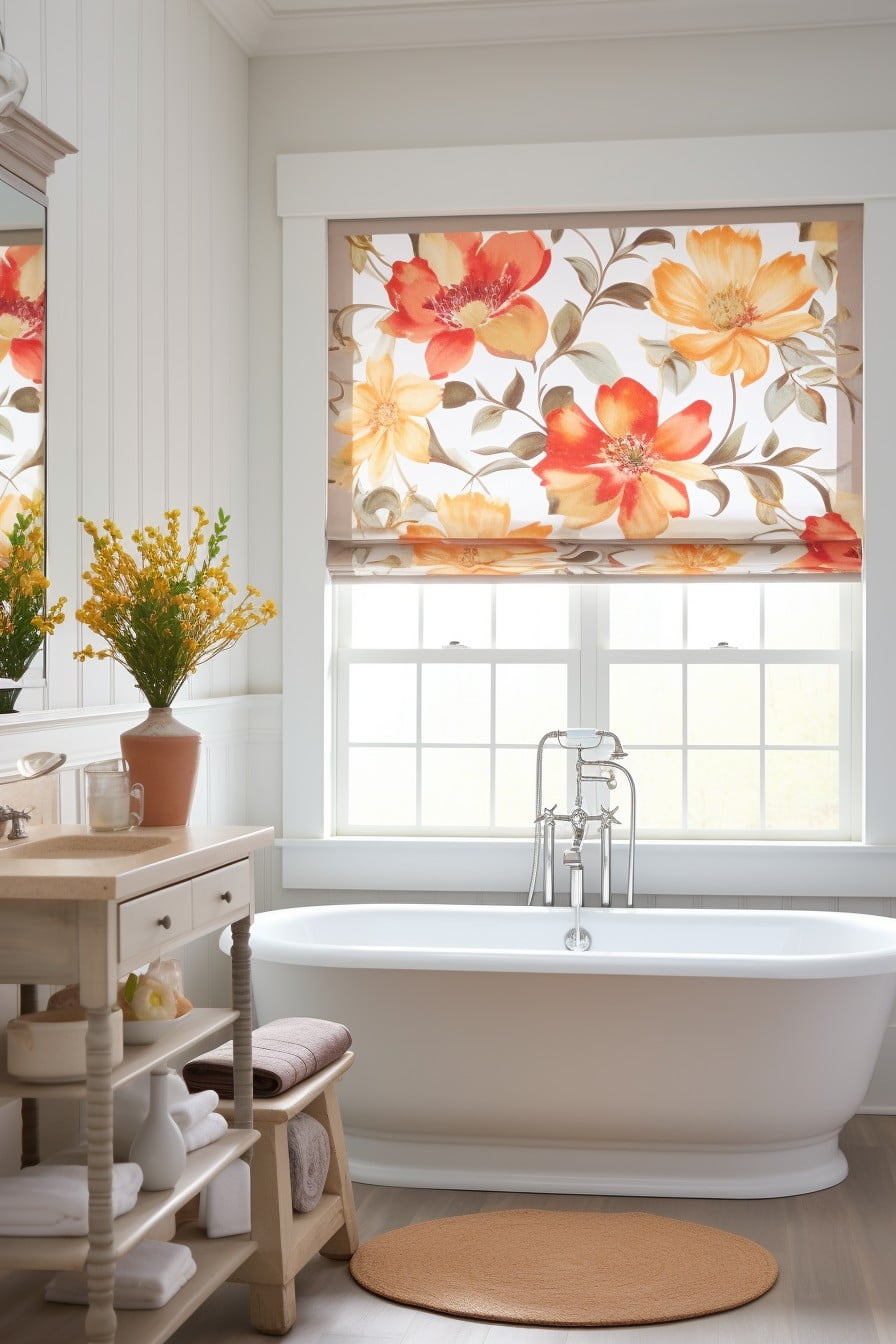 Window treatments are a game-changer in any decor sphere, even more so when they include floral patterns. They offer both aesthetic and functional values. Let's dive into why they are an excellent choice for your bathroom transformation.
Firstly, they provide an unmatched aesthetic appeal. The variety of colors and patterns can cater to any taste and theme. Old-fashioned roses can create a vintage look, while a tropical hibiscus design can transport you to warmer climates.
Secondly, they offer a simple way to change your style. With patterns ranging from intricate to minimalistic, you can switch them out depending on season or mood, creating a whole new look effortlessly.
Lastly, they maintain privacy while still letting light in. So while you soak in the tub gazing out, you're also treated to a comforting veil of warm, diffused light, through your flower-patterned window treatment. Less harsh than direct sunlight, it adds to the calm, soothing ambiance of your bathroom.
Remember, the market is flooded with choices when it comes to materials and designs. From translucent to opaque, from cotton to silk, it's about finding what satisfies your personal preferences and complements your overall bathroom decor.
Hand Painted Flower Light Fixtures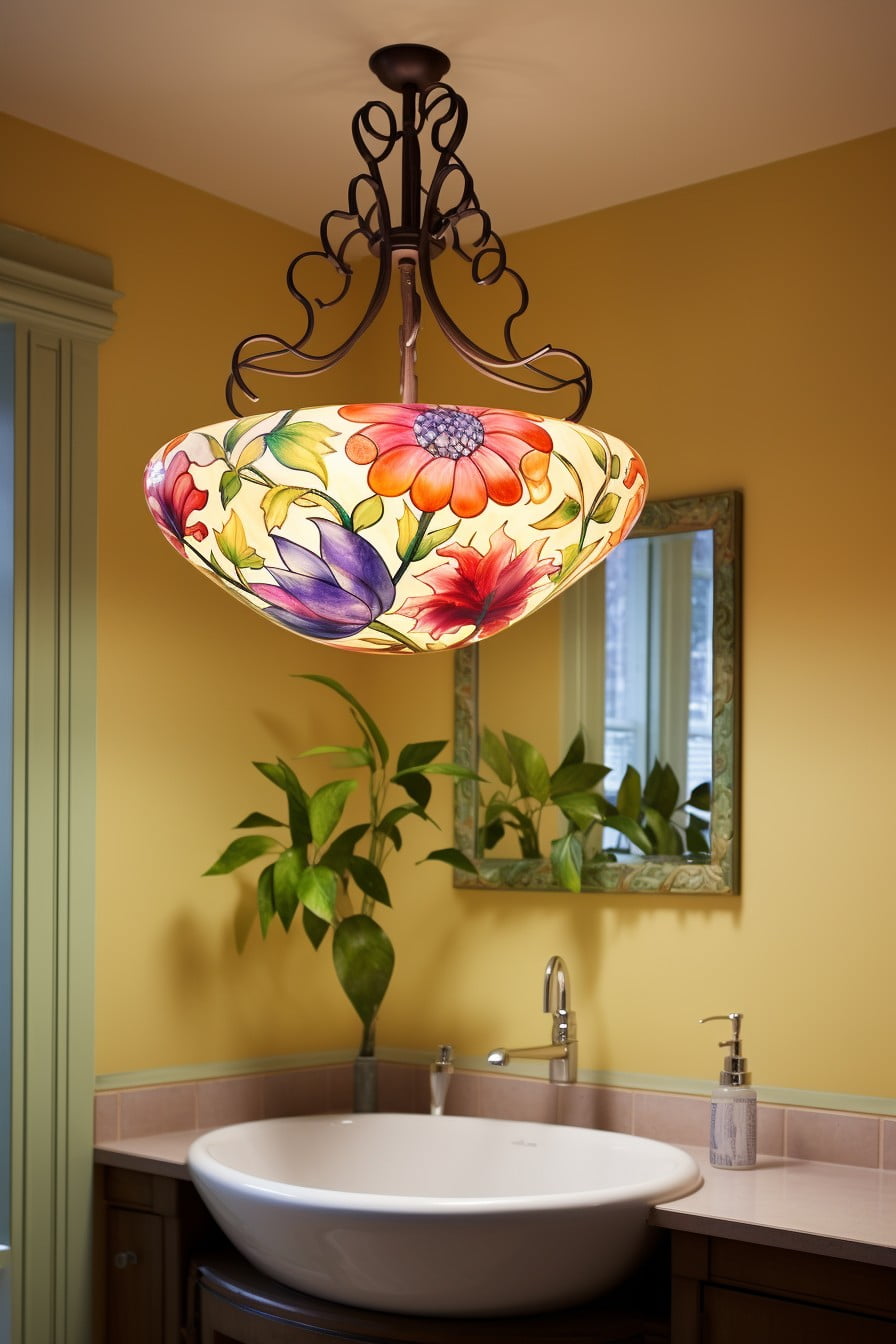 With their unique charm, these light fixtures instantly become conversation starters. Each hand-painted design infuses a burst of color and beauty into your bathroom, helping to create a warm, inviting atmosphere.
1. Uniqueness: No two designs are ever the same, giving your bathroom a distinct aura.
2. Versatility: They can be used as ceiling lights, wall sconces, or vanity lights, offering flexibility in decor.
3. Customizable: Find an artist who can bring your floral vision to life, or dare to DIY and paint the flowers yourself!
4. Materials: Choose fixtures of glass or ceramic for best results.
5. Light Reflection: Painted flowers can beautifully reflect light, enhancing the overall ambiance.
6. Different Styles: Go for intricate floral patterns for a sophisticated look, or simple, bold prints for a more modern feel.
7. Color Schemes: Match or contrast the colors with your existing decor, the choice is yours!
8. Easy to Clean: Use a lightly damp cloth to wipe away any dust accumulated on the fixture.
9. Illuminate: Choose warm toned bulbs for a cozy glow that highlights the flower designs.
10. Long-lasting: With proper care, these fixtures can last for years, continuing to adorn your bathroom.
Floral Themed Toilet Paper Holder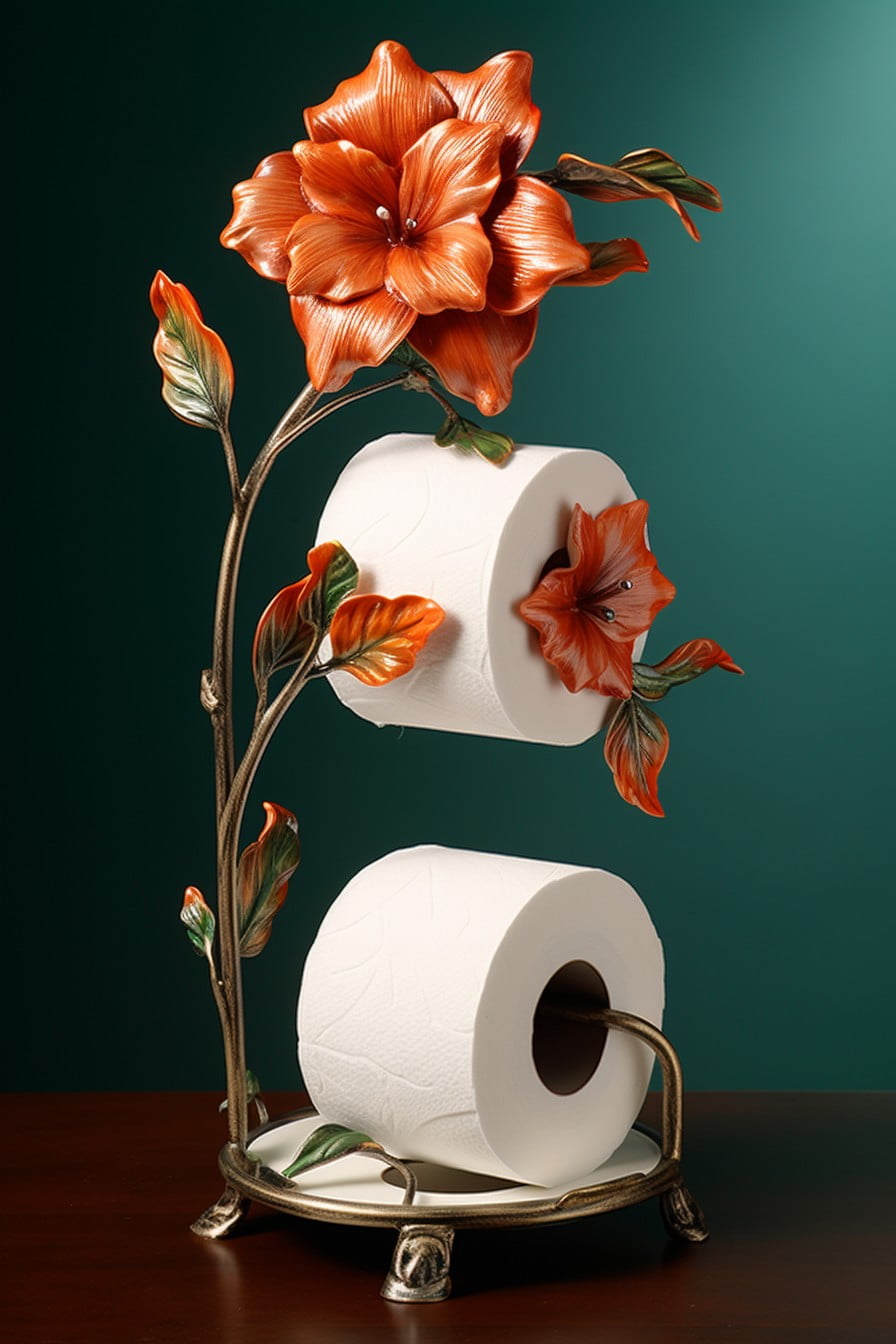 While not the most obvious choice for infusing florals into your bathroom decor, a toilet paper holder can add a surprising charm. Opt for designs featuring delicate roses, exquisite sunflowers, or more abstract floral shapes. Materials can range from wrought iron to ceramics, all offering distinct aesthetics. It's a functional piece that serves its purpose while also elevating your surroundings.
1. Chic metal holders: These typically feature sculpted flowers and vines, adding a rustic touch to your bathroom.
2. Ceramic holders: They often come in subtle patterns and provide a more classic feel.
3. Hanging fabric holders: These dainty, often handmade options, can feature vibrant floral prints.
Remember, it's just as important to coordinate its color and style with your overall floral theme to achieve a harmonious look.
Lily Pad Shaped Bath Rugs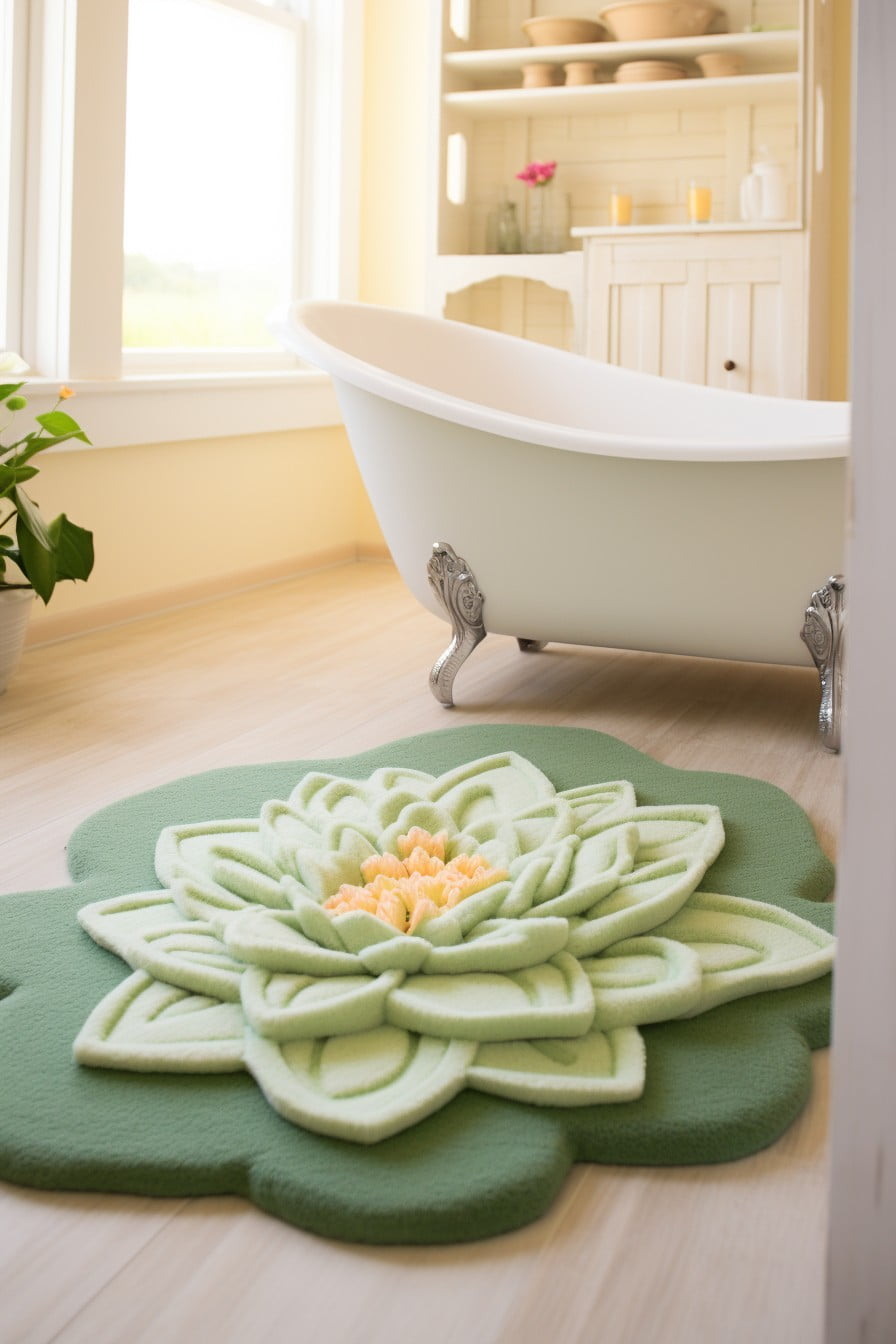 These playful accessories add a pop of color and cheer to the room. They enhance the ambience with their intricate shapes and designs reminding us of a serene pond.
Place one or two in front of your tub or sink, ensuring dry, safe footing even in the wettest conditions. The rugs are both functional and decorative, serving as an effortless way to integrate floral elements into your bathroom design.
They are available in a range of colors and sizes to match any existing decor. Opting for rugs manufactured from quick-drying and easy-to-clean materials ensures they remain vibrant and fresh despite frequent use.
Continue reading:
Recap