Last updated on November 17, 2023
Spruce up your bathroom with unique sconce designs because they not only elevate aesthetics but also enhance functionality in often overlooked spaces.
I am proud to present my personally-crafted article, "20 Elegant Bathroom Sconce Ideas: Home Lighting Inspiration," with unique designs, and I hope you find as much inspiration and enjoyment in it as I had creating them.
Illuminate your bathroom with style and functionality by incorporating sconces into your design scheme. From modern to vintage, minimalist to extravagant, this article has got you covered with a plethora of sconce ideas to suit any bathroom aesthetic.
We'll delve into the details of placement, lighting types, and style options, offering a comprehensive guide to help you choose the perfect sconces for your bathroom. So, if you're looking to enhance your bathroom lighting with sconces, you're in the right place.
Stay tuned for an array of ideas that will transform your bathroom into a well-lit sanctuary.
Minimalist Single Glass Sconce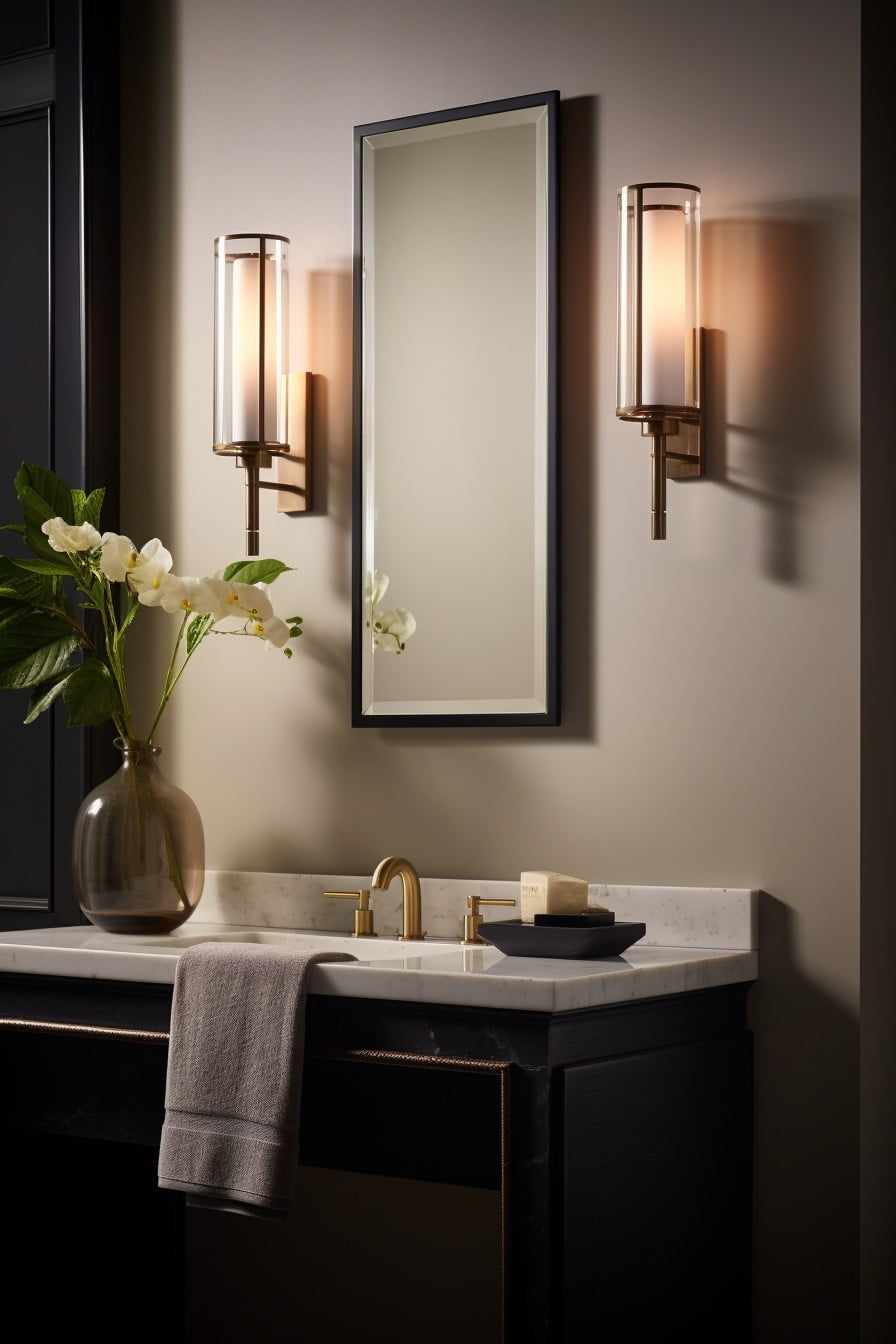 Perfect for those who prefer clean lines and simple aesthetics, this lighting option embodies the concept of "less is more". The single glass shade ensures maximum light dispersion within an area, making it ideal for smaller bathrooms or those with limited natural light.
Choosing a design with clear or frosted glass can influence the type of light and atmosphere your bathroom has. Pair with a sleek metallic finish for a modern look or opt for a warmer bronze for a touch of understated elegance.
This design promotes functionality without sacrificing style.
Vintage Lantern-style Sconces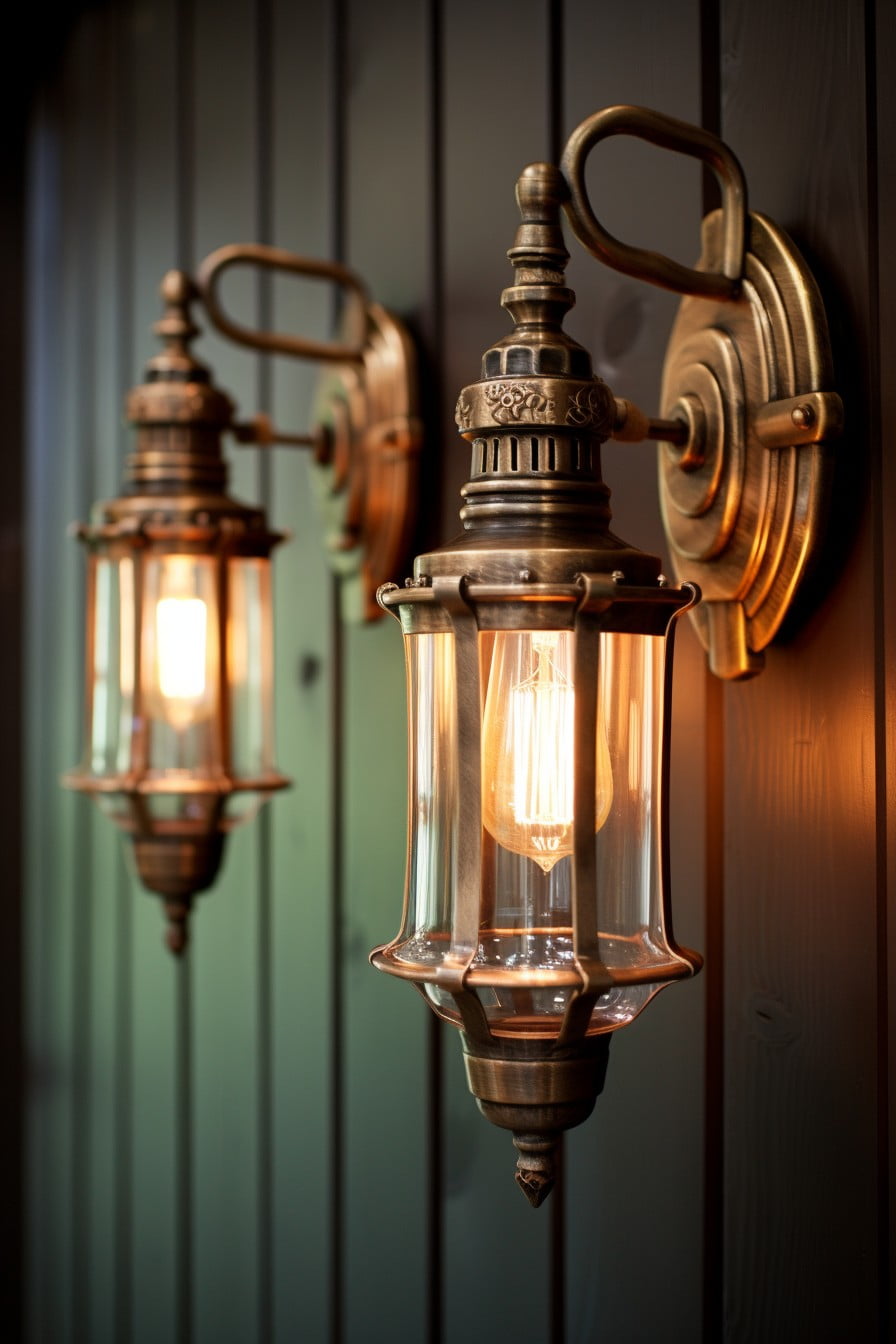 An ideal way to give your bathroom a touch of timeless elegance, these hold their charm in their antiquity and are a guaranteed fit in almost any bathroom decor, from rustic to contemporary. They emit a soft, ambient glow that creates a warm and inviting atmosphere, offering the perfect blend of form and function.
1. Distinctive Design: Their unique cage-style design adds character and allure and becomes a focal point of your bathroom.
2. Versatility: These offer versatility in hanging options – they can be hung with the lantern pointing up for a more traditional look or pointing down for a more modern approach.
3. Variety: They come in a range of finishes like rubbed bronze, brushed nickel, or antiqued brass, providing an array of choices to match your existing decor.
4. Dimmable Light: Many models come with a dimmable feature, allowing you to set the mood and adjust the brightness level according to your needs.
5. Easy to Install: Most lantern-style sconces are easy to install and maintain, making them a practical addition to any bathroom.
Remember, in the right setting, they can turn an ordinary bathroom into a charming and classy space. Opt for vintage lantern-style sconces, and get ready to bathe in the glow of old-world charm.
Industrial Pipe Sconces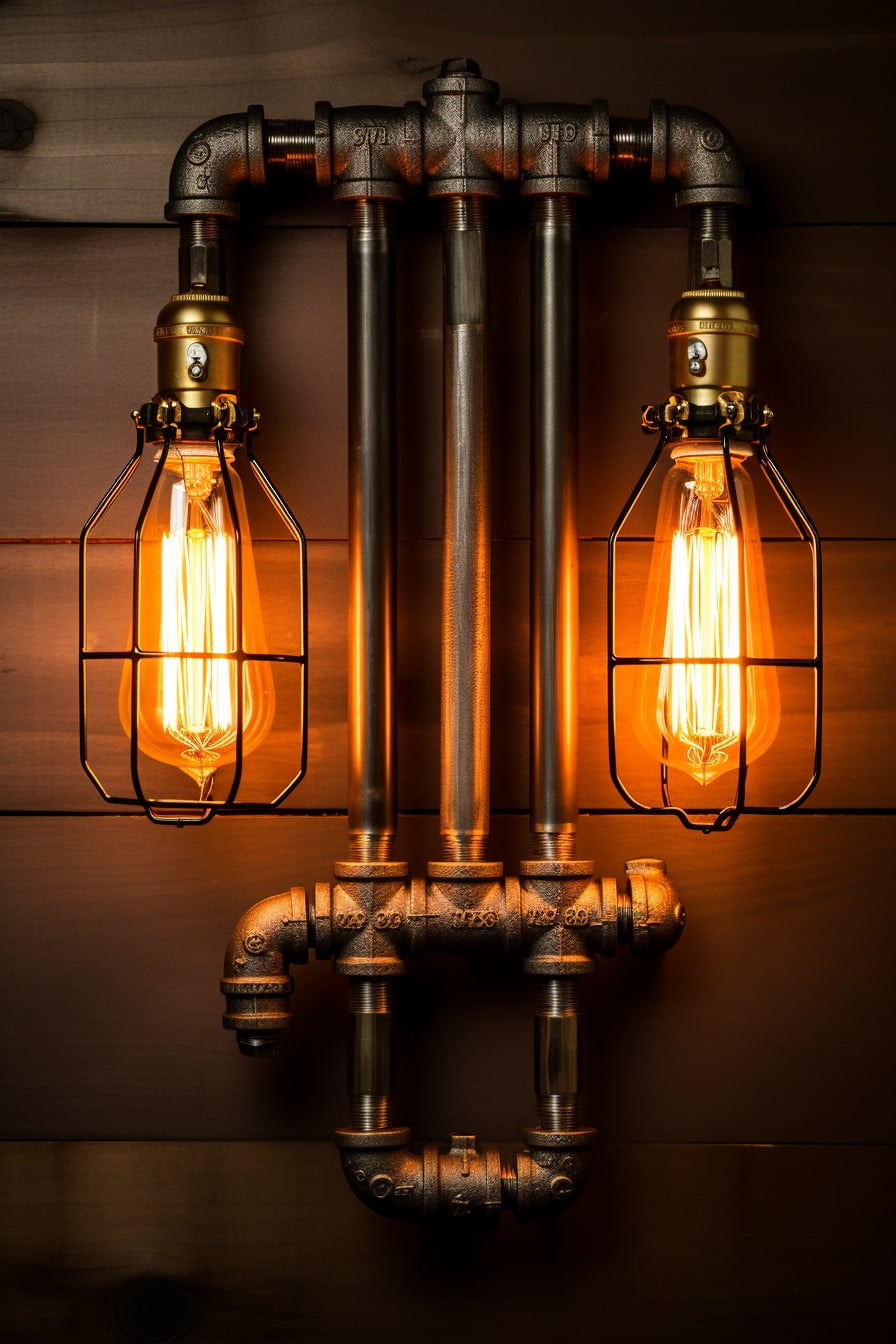 Embracing a rugged aesthetic, these fixtures can add a strong statement to any bathroom set up. Made from metal pipes and often combined with Edison bulbs, they exude a rugged, raw vibes, paying homage to a bygone era.
Here are some details to enhance your understanding:
Material: Primarily crafted with metal pipes, giving a raw yet stylish look.
Look: It offers an authentic, unrefined feel that adds a distinct edge to your space.
Design variety: Units can range from simple one-bulb fixtures to complex, multi-bulb setups.
Fitting: They can be mounted on the wall or the ceiling.
Customizability: Available in several finishes – brushed nickel, oil-rubbed bronze, and more – to match existing decor.
Durability: Being made of metal, they're sturdy, designed to last a long time.
Ideal for: These sconces complement bathrooms that have an industrial-themed decor or a minimalist, monochrome palette.
Remember, placement is key. Flank your mirror with a pair of these sconces to give your bathroom a symmetrical presentation or place one above the mirror for a focused light.
Art Deco Gold Sconces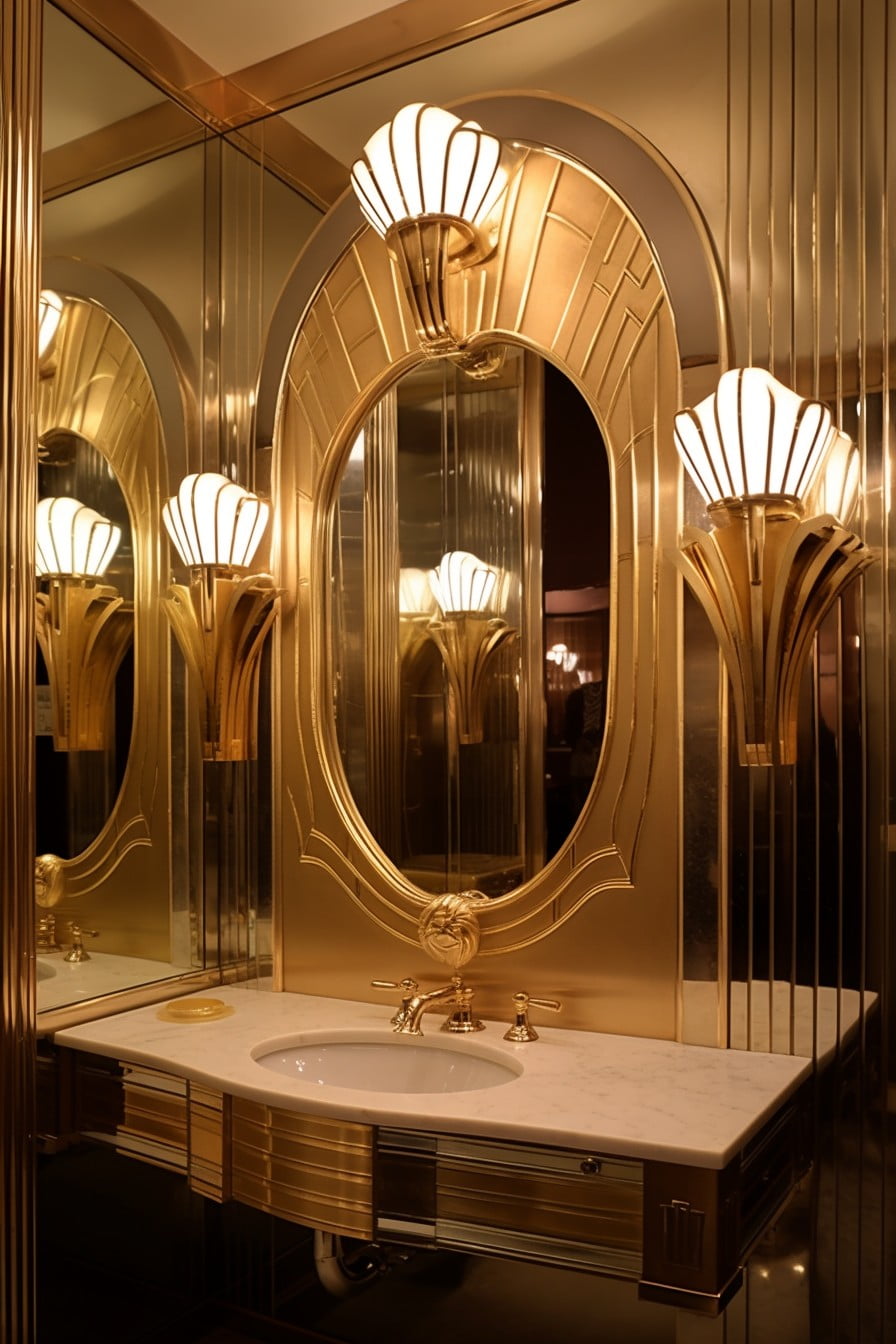 Seamlessly blending ornate detailing with streamlined forms, these bathroom fixtures are a true testament to the Art Deco design era. Finished in a lavish gold hue, they not only offer functional lighting but also act as a room's piece de resistance, turning an ordinary room into a glamorous retreat.
Consider these points.
The gold finish adds a touch of elegance and sophistication, lending a rich and luxurious feel to the bathroom.
Their geometric and symmetrical forms often integrate elements like linear engraving or sunburst design, exhibiting the key aesthetic features of Art Deco.
As bathroom lighting, they can be installed on either side of the mirror, providing balance and flattering illumination.
When selecting bulbs for these sconces, opt for warm light to complement the gold finish and further enhance the ambiance.
Continuity is crucial, so consider other accessories and fixtures in the same finish to create a cohesive look.
Crafted with an eye for design, these sconces charm spectators with their unabashed display of affluence and bold styling.
Crystal and Chrome Sconces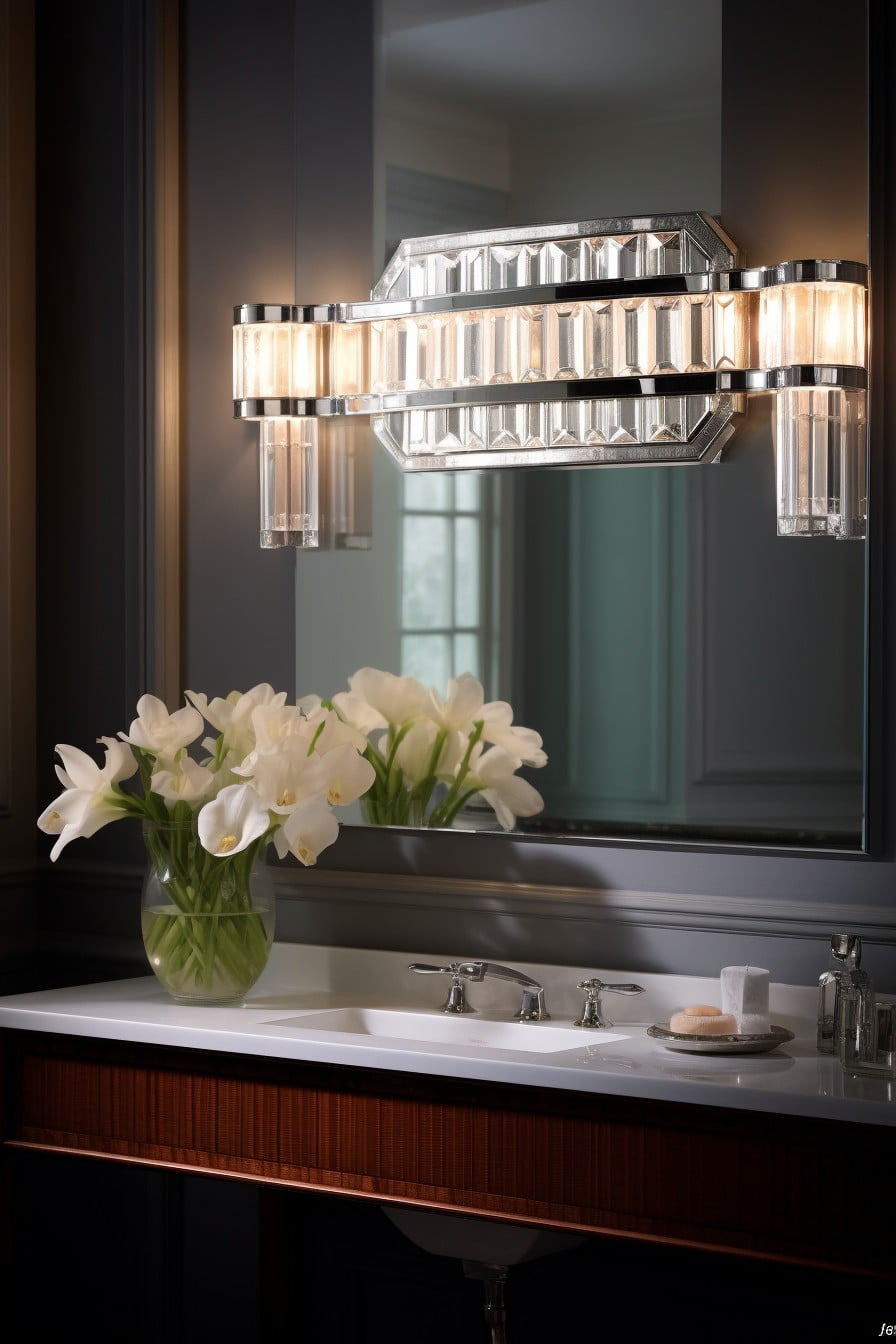 These sconces add a touch of opulence and exude elegance. The crystal component refracts light beautifully, creating a charming ambience. It's an ideal match for the metallic finish of chrome, known for its exceptional brilliance and resistance to corrosion.
Perfectly suitable for a luxurious, modern bathroom, they dazzle with sophistication. Pair them with marble countertops or a freestanding tub for an enviable decor. Available in various designs, from cascading crystal chandeliers to sleek, minimalistic formations, these sconces offer versatility for discerning tastes. Remember, the key here is balance – choose pieces that complement, not overpower, your existing decor.
Mid-century Modern Globe Sconces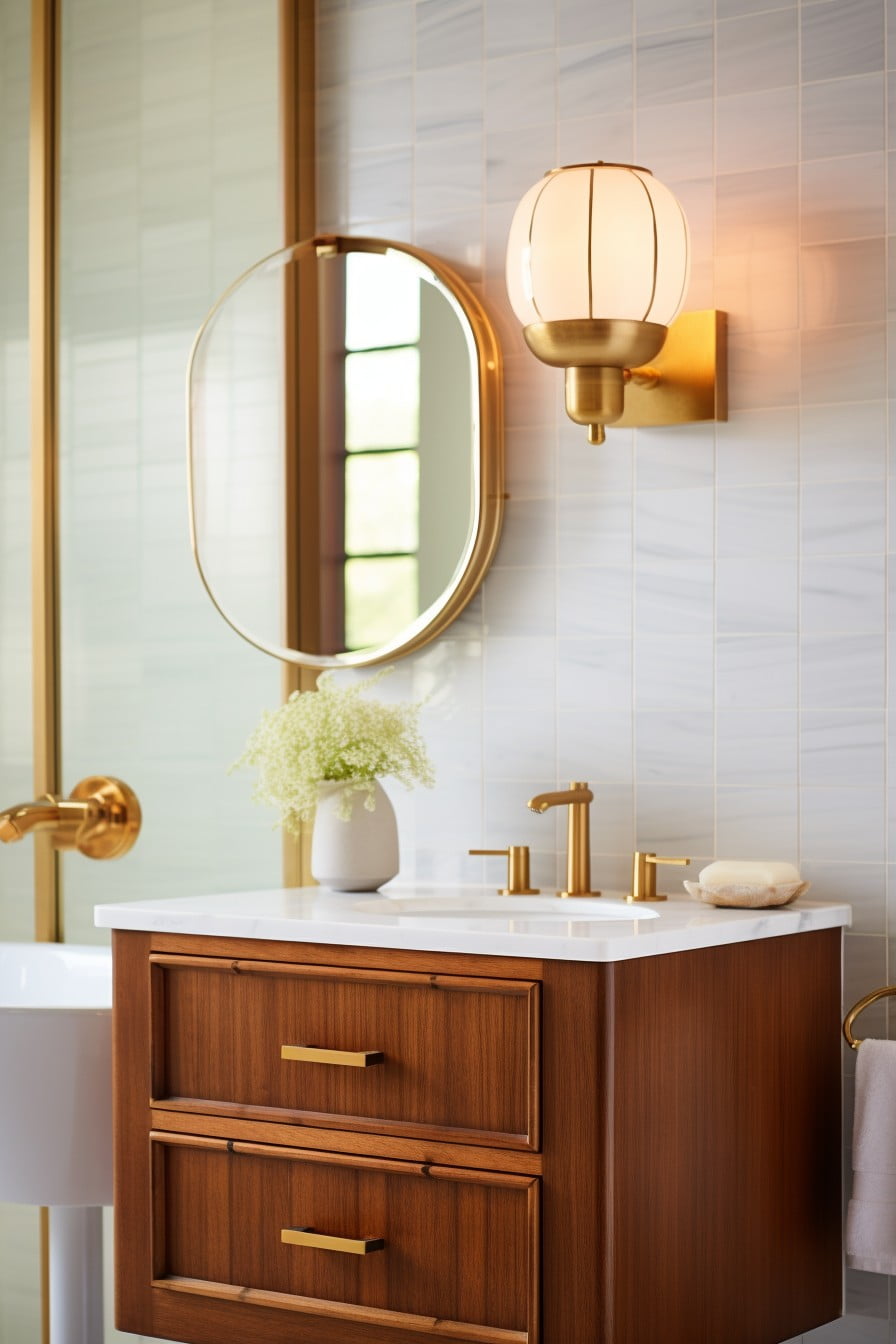 Mid-century modern globe sconces are a favorite for those seeking simple, timeless elegance. They create a distinctive sphere of light, often available in multiple finishes, such as brass, silver, and black iron. Thanks to their clean lines and balanced form, these fixtures don't overpower but subtly complement the bathroom's aesthetic.
Here are a few vital points to mold the concept around.
Harmony with Vital Elements: Ideal for spaces with geometric patterns or angular furniture—these sconces further enhance the room's symmetry.
Varied Material Choice: Depending on your preference, choose from options like metal, glass, or a combination of finishes.
Versatility: These sconces can be positioned upwards or downwards. When placed by the mirror, they provide perfect task lighting.
Easy Maintenance: The simplistic design not only looks clean but is also easier to clean and maintain.
Diverse Complement: Whether your bathroom style is entirely mid-century or a fusion, these globe sconces blend effortlessly, adding a subtle touch of the retro era.
Remember, the key to using mid-century modern globe sconces lies in the balanced integration within your space, aligning with the overall bathroom design while serving a functional role.
Edison Bulb Sconces
Creating a warm, inviting ambiance, these vintage-inspired sconces pay homage to the timeless beauty of Thomas Edison's early bulbs. With the filament on full display, they create a sense of nostalgia and a unique aesthetic.
1. Versatility: This style provides the perfect blend of classic and modern, slotting seamlessly into almost any bathroom design.
2. Filament Focus: The exposed filaments of the bulbs are the star of this design, creating a visually captivating light source.
3. Warm Glow: Ideal for a relaxing bathroom atmosphere, the softer light produced is tinted with gold and softer on the eyes.
4. Array of Styles: Come in diverse shapes such as tear drop, globe, or tubular, each offering a different aesthetic.
5. Statement Bulbs: Since they're meant to be seen, these over-sized bulbs are a standout feature in your bathroom decor.
Remember to pair these sconces with fixtures featuring a similar vintage aesthetic, such as antique copper or brass, for a unified look.
Nautical Rope Sconces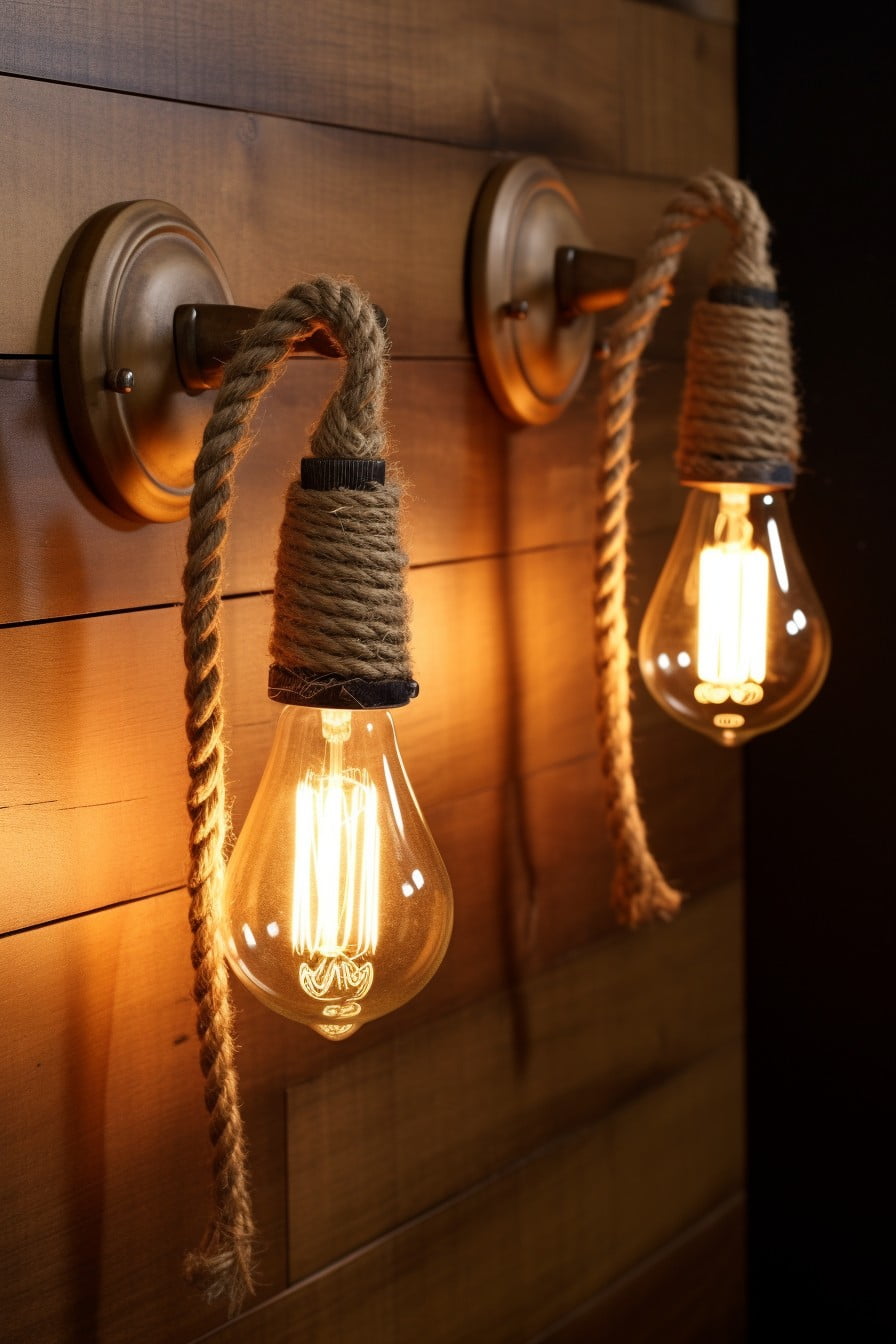 Possessing a unique, sea-inspired charm, these lights are a perfect choice to instill a coastal flair. They incorporate the use of hardy, tactile materials such as ropes, bronzes, or weathered wood, often complemented by clear or frosted glass to diffuse light.
1. Transforms Bathrooms: They instantly switch a bland washroom into a maritime sanctuary.
2. Versatile Styles: Whether thick or slender, weathered or tightly coiled, there's a rope style for any preference.
3. Pairs Well: The texture and color work seamlessly with natural materials, like a wooden vanity or stone countertops.
4. Easy Installation: Despite the intricate appearance, they are affixed to a wall just like any light fixture.
5. Adjustable Intensity: Equip them with a dimming option for full control of the ambiance.
6. Consider Placement: Install over the mirror or beside it, depending on your space and lighting needs. A pro-tip – center your fixture at eye level for optimal luminosity without glare.
Geometric Metal Sconces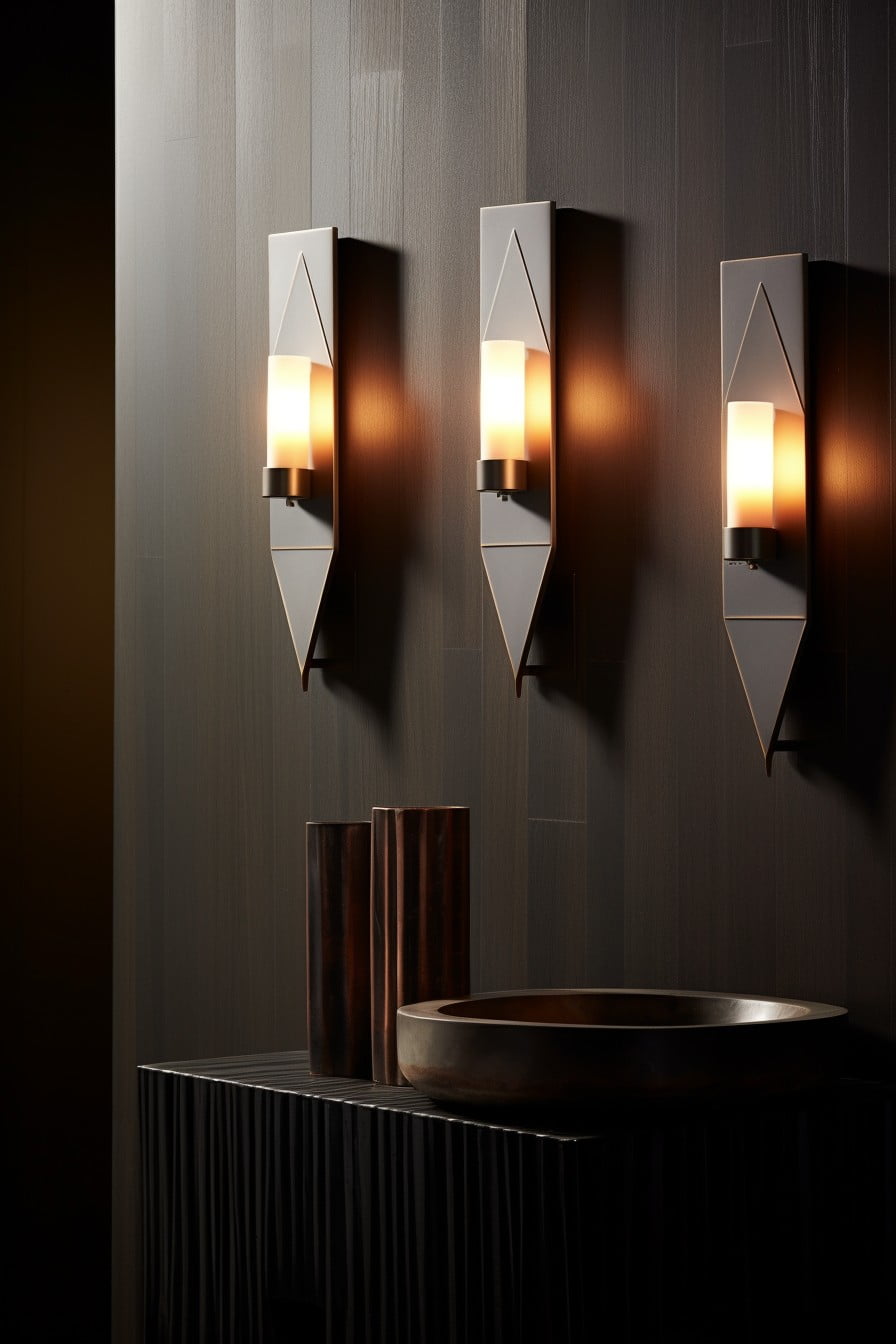 Geometric metal sconces are all about incorporating shape and form into your lighting. They feature angular, structured designs, drawing on the beauty of lines and shapes. Perfect for a modern or minimalist bathroom, they offer a sleek, clean appeal. Consider varieties in brushed nickel or matte black for a contemporary vibe, or copper and gold for a warmer aesthetic. Some models feature arrangements of metal bars forming cubes, hexagons or other polygons, offering not only a source of light but a piece of three-dimensional art.
With geometric sconces, one can experiment with a variety of bulb shapes – globe, tubular, or vintage Edison-style bulbs can add an extra layer of visual interest. They can be installed as single units or in pairs for symmetrical design. Plus, they come in various sizes to suit different spaces, so you're sure to find a design that complements your bathroom perfectly. Remember, modern doesn't have to mean cold and sterile, and these sconces prove it offering warmth and charm despite their sharp aesthetic.
Rustic Wooden Sconces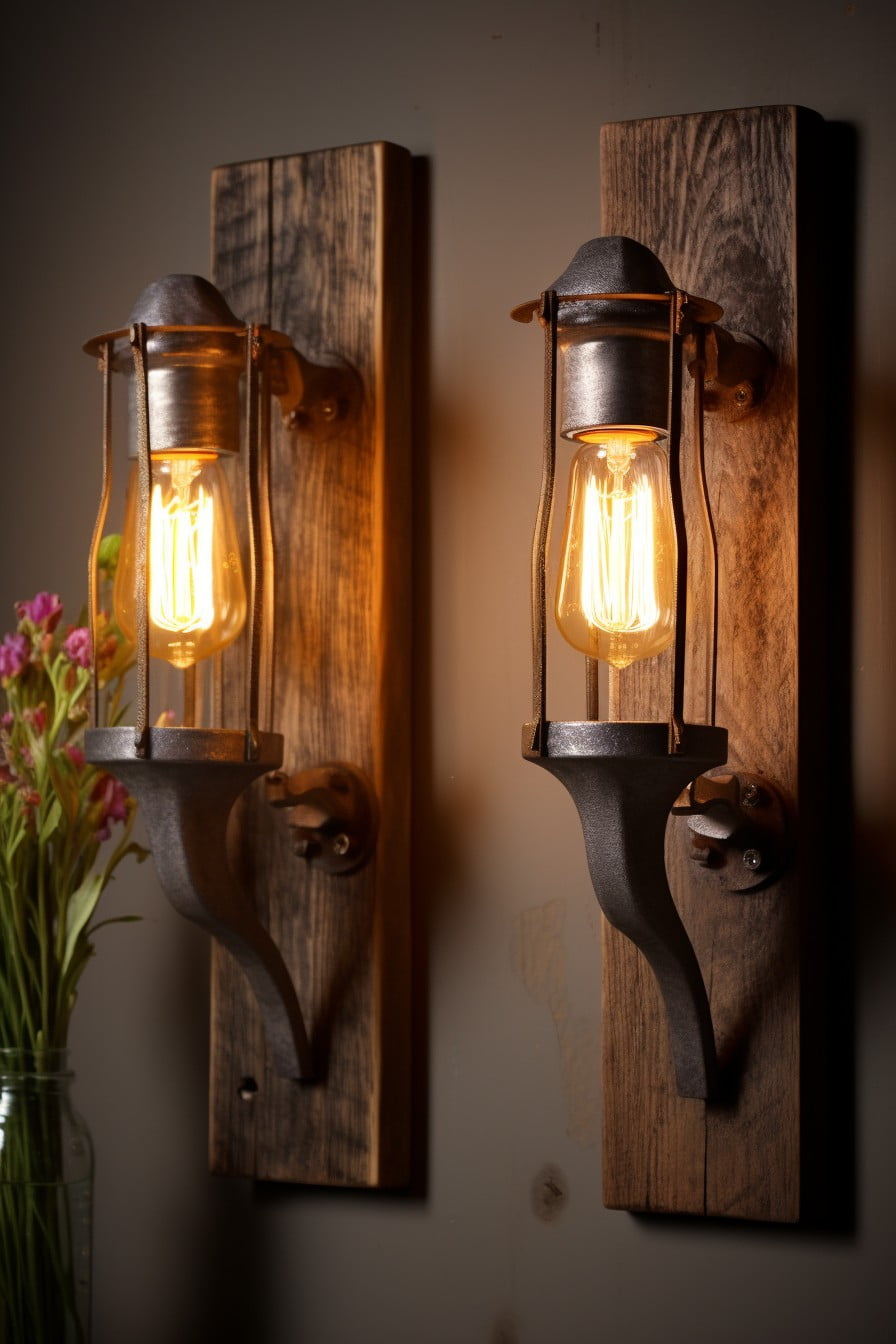 These sconces add a warmth to your bathroom that can't be found in most other materials. They work beautifully with a variety of design styles, from farmhouse to industrial. Their distressed, often hand-carved designs offer a unique aesthetic that adds character and charm.
A few concepts behind this style include:
Raw and Natural: Embracing untreated wood for a more authentic look.
Element of Age: Inclusion of distressed finishing to bring the vintage feel.
Simplicity: Avoid overly intricate designs. The focus is on wood as a material and its natural beauty.
Size: These sconces can be fairly large due to the robustness of wood, so the scale should be considered for balance and harmony in bathroom design.
Perfect Pairing: Given their neutral color, wooden sconces pair well with a plethora of colors and materials.
And remember, the beauty of wood is in its grain – each piece is unique, offering exclusivity and individuality.
Contemporary LED Sconces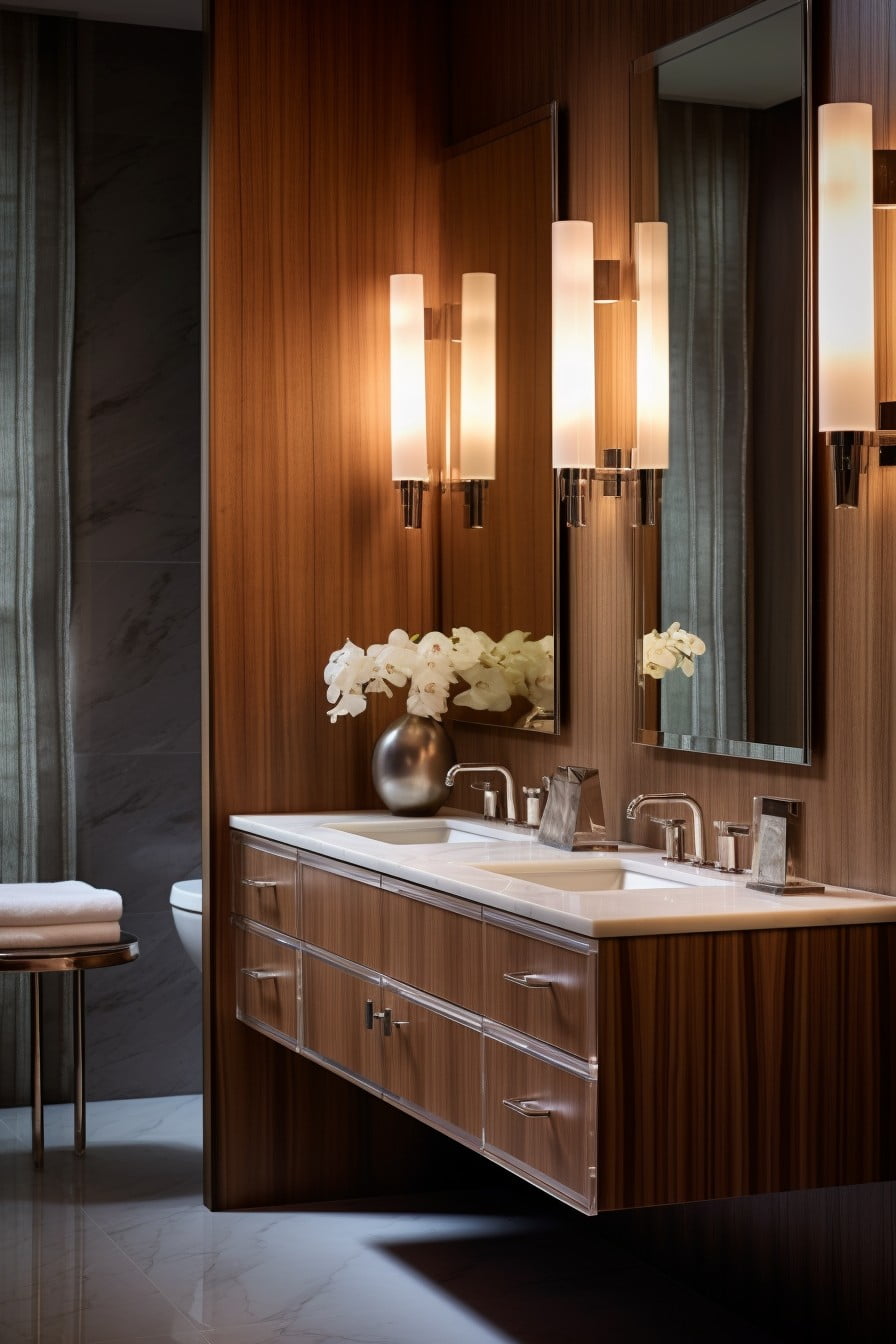 Equipped with the latest technology, these luminous features offer a blend of practicality and aesthetic appeal. Integrating seamlessly with modern, minimalist, or industrial themes, their clean lines and sleek finishes add a touch of sophistication.
1. Versatility: With myriad designs, colors, and shapes on the market, they are endlessly adaptable to any décor.
2. Energy Efficiency: LEDs consume less power and have a longer lifespan, making them an eco-friendly choice.
3. Brightness and Color Control: Many models come with dimmable features and color tuning capabilities, letting you adjust to your mood or task.
4. Safety and Durability: LED lights generate less heat and can withstand extreme conditions, enhancing their safety and longevity.
5. Modern Appeal: Their chic design can instantly elevate the look of your bathroom, offering a futuristic vibe.
From subtle under cabinet lighting to bold vanity fixtures, they play a crucial part in creating functional and inviting bathrooms.
Steampunk Gear Sconces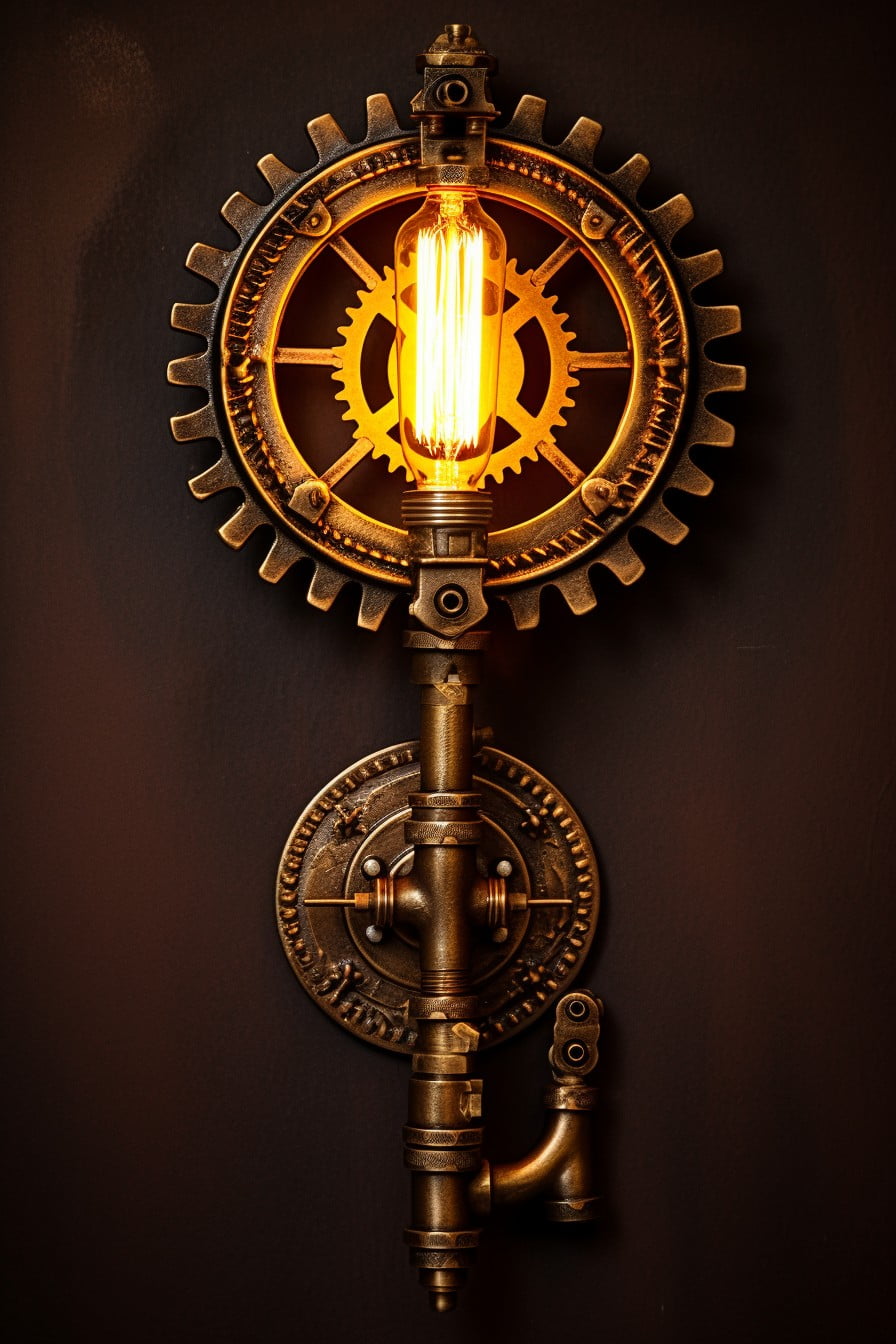 Channeling Victorian elegance with a touch of vintage innovation, these unique light fixtures offer eclectic charm. The key characteristics of these sconces make them unmistakable:
Industrial Charm: With grungy, often oxidized, metalwork and gear-like aesthetics, they capture the mechanical genius of a bygone era.
Innovative Materials: Old-world machinery elements, like cogs and wheels, are repurposed into eye-catching décor.
Ambient Perfection: Exposed Edison bulbs are often paired with these sconces to maintain the antique feel while revealing an illuminating spectacle.
Diverse Interpretation: No two steampunk designs are the same, each piece offers a unique interpretation of the style.
These bold pieces make a fascinating focal point in bathrooms and instantly boost the room's personality.
Copper Pipe Sconces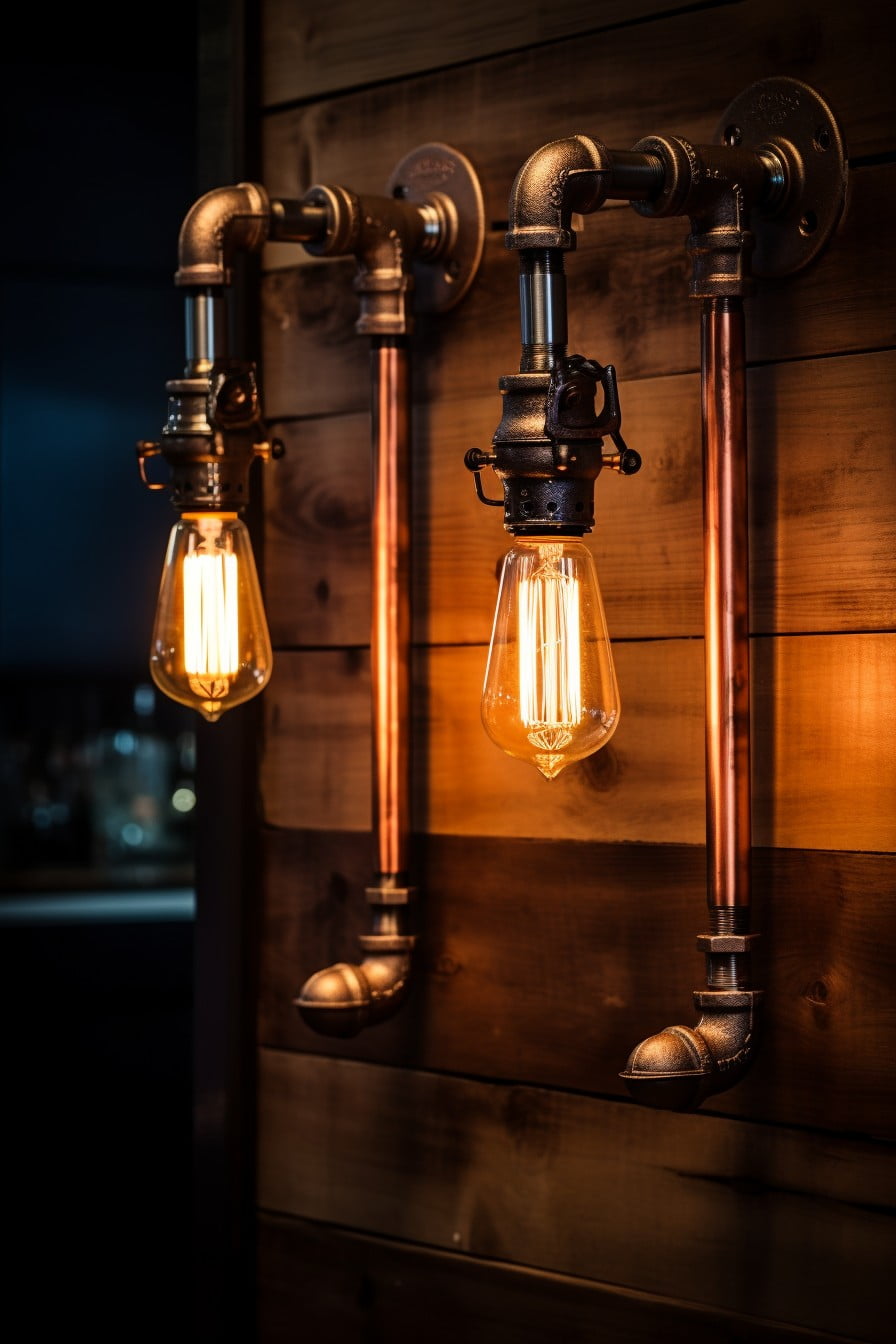 In an industrial or modern-themed bathroom, nothing catches the eye like a shiny, metallic accent. These become especially intriguing when they serve a practical purpose too. Now, let's delve into the allure of Copper pipe sconces.
What sets this style apart is its robust and earthy charm. Copper, with its reddish-brown hues, adds a hearty warmth to the room. Functionally, it's corrosion-resistant, making it an ideal material for a moisture-prone space like a bathroom.
A copper pipe sconce can be a simple curved pipe with a light bulb at the end, a complex geometric arrangement, or anything in between. It pairs excellently with other industrial elements, such as bare brick walls and concrete countertops.
If going for a repurposed vibe, perhaps consider matching the sconce with copper faucets and towel rails. The uniform material also provides a coherence that is pleasing to the eye.
With its durability, versatility, and aesthetic appeal, the copper pipe sconce presents limitless opportunities to light up your bathroom with charisma!
Romantic Candlestick Sconces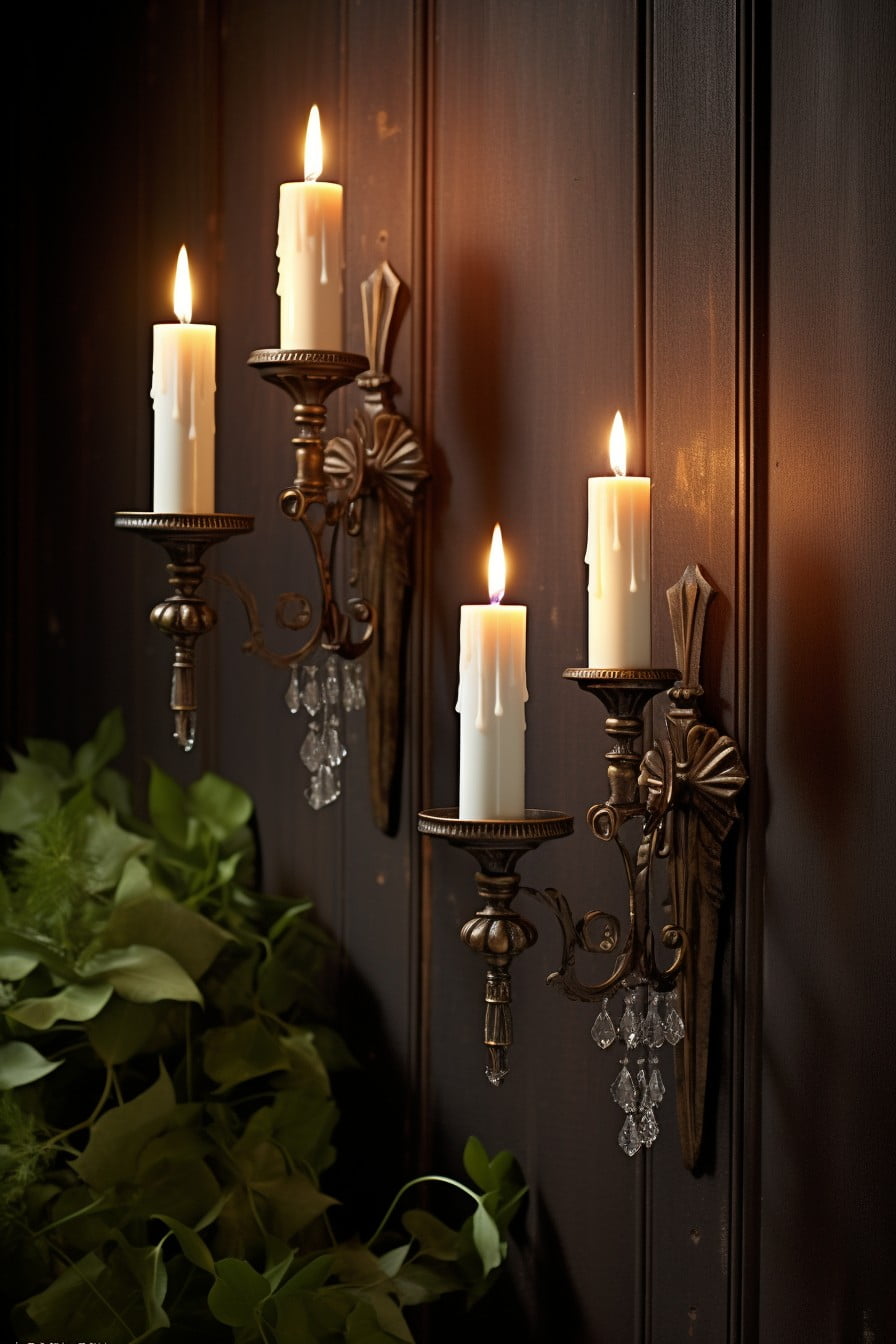 When classic meets contemporary, the outcome is truly remarkable! Just imagine your bathroom engulfed in a warm, enchanting glow as you immerse in a relaxing bath. That's the magic of incorporating these beautiful fixtures.
To elaborate:
Timeless Appeal: Their design harks back to a time of elegance and simplicity, instantly adding a touch of nostalgia to your décor.
Soft Illumination: Emitting a gentle, diffused light, they create an ambience perfect for unwinding after a long day.
Versatility: Whether you opt for a traditional taper style or a more modern votive design, they effortlessly fit into any bathroom aesthetic.
Material Options: From brass to crystal or wrought iron, there's a range of materials to choose from, each offering a unique twist.
Safety: Today's designs come equipped with the latest safety features, offering the charm of real candlelight without any potential risks.
Adds Value: Not only do they transform the visual appeal, but they also add value to your home, enhancing its overall aesthetics.
Choosing these sconces means embracing an elegant, serene and sophisticated aesthetic that can instantly elevate your bathroom's style.
Farmhouse Mason Jar Sconces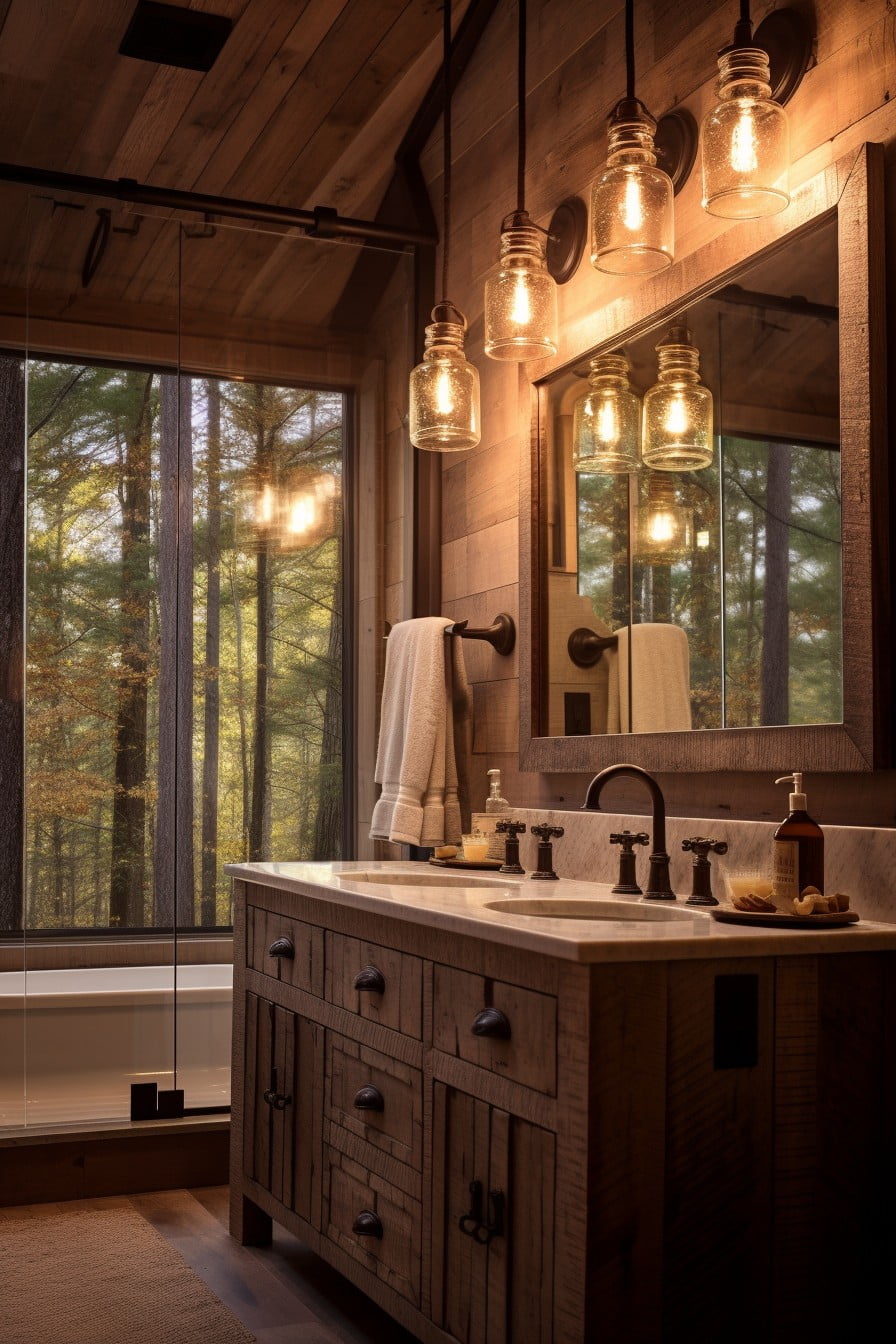 Crafted from vintage-looking mason jars and reclaimed wood, these sconces bring a touch of rustic charm to any bathroom. The simplicity of their design makes them easy to incorporate into various decor styles, while adding that farmhouse feel.
1. Versatility: Stunning on either side of the bathroom mirror, they're perfect for small or large bathrooms.
2. DIY friendly: Create them yourself using old mason jars and salvaged wood.
3. Lighting options: With its clear glass, your choice of light bulb can dramatically change the feel. For warm inviting light, consider Edison bulbs.
4. Easy maintenance: These sconces are not only trendy but easy to clean. Remove the jar, wash, dry, and replace.
5. Style adaptability: Change out the flowers or fillers with the seasons for quick updates.
6. Environmental impact: They are a sustainable and eco-friendly solution with the use of recycled materials.
Traditional Porcelain Sconces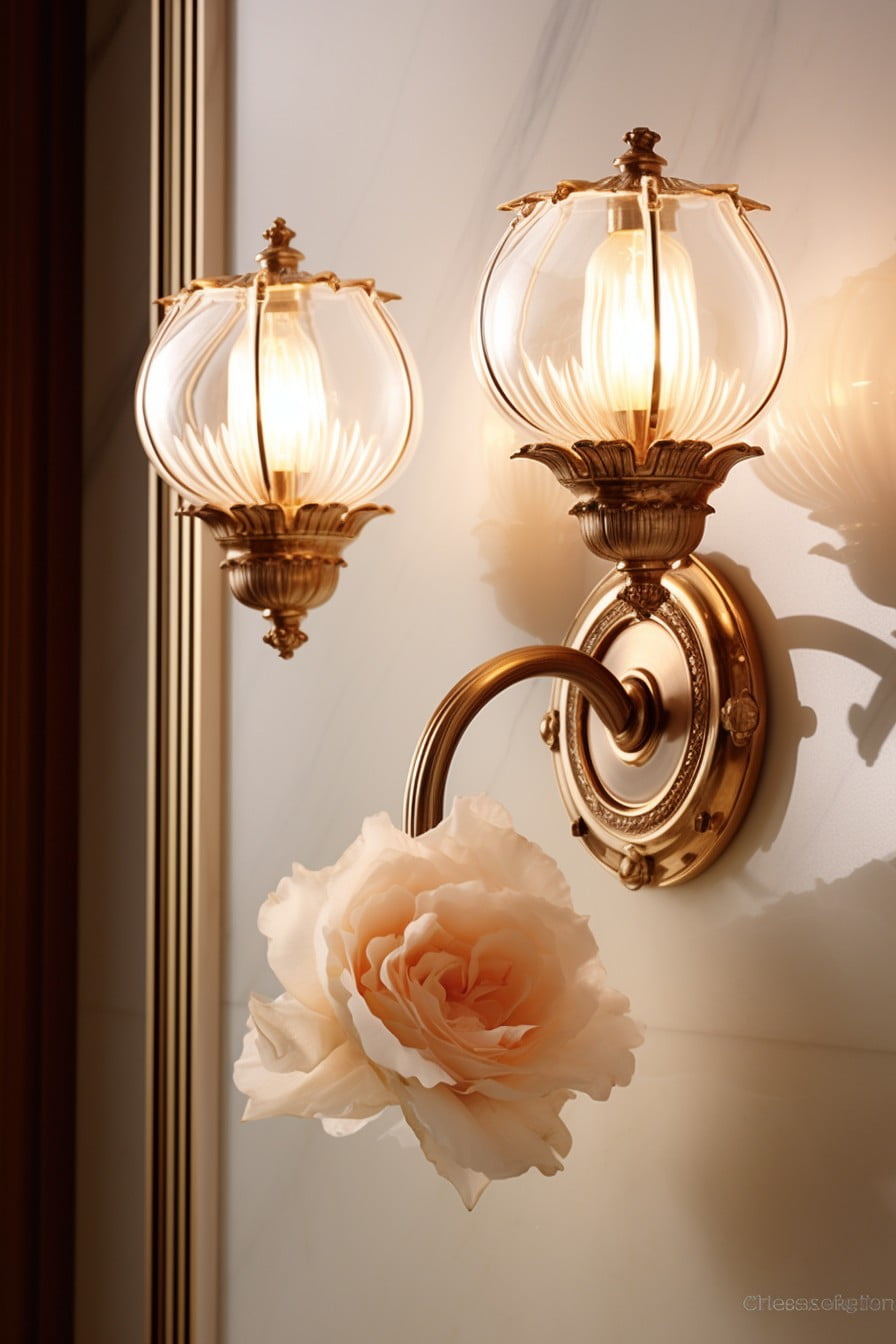 When seeking a timeless piece, a classic porcelain sconce is an elegant choice. Its glossy, durable finish complements any color scheme, making it a highly versatile fixture.
Here are some points to consider:
High-Quality Material: Porcelain is robust, resisting chipping and fading. It can withstand humidity, ensuring longevity.
Versatility: Available in varied designs – some simple, others intricate. Whether you prefer traditional motifs or sleek contemporary forms, there's something for everyone.
Light Dispersion: The white color reflects light efficiently, creating a soft, ambient glow. Perfect for a relaxing bath experience.
Easy Maintenance: Cleaning is a breeze, with just a damp cloth needed to remove dust and maintain the sconce's shine.
Consider these aspects when choosing a porcelain sconce to ensure the best fit for your bathroom.
Whimsical Bird Sconces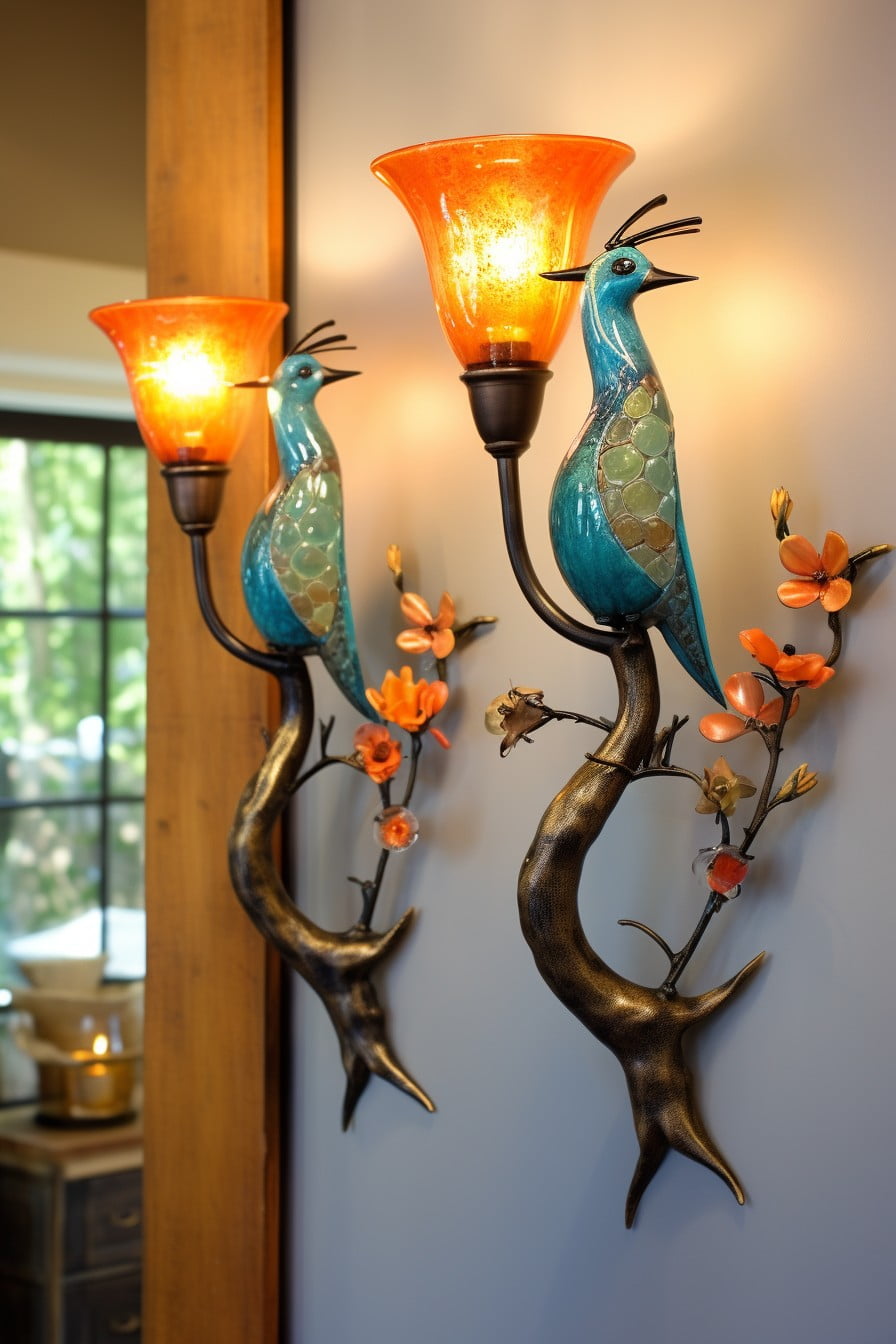 Enhancing a bathroom with a touch of whimsy can be a true game-changer. Bird sconces can be the perfect details contributing to such a transformation. To utilise these playful accents effectively, here are a few insights to consider:
1. Choice of Material: While materials like wrought iron and copper add a rustic touch, ceramic or glass bird sconces provide a contemporary feel.
2. Light Direction: Bird sconces can either emit light upwards to create a soft diffused light or downwards for more focused lighting. The positioning depends on the desired ambiance.
3. Color Scheme: Consider the colour of the sconce match or contrast with the bathroom's colour scheme. Brightly colored bird sconces may act as accent pieces, while muted tones blend in seamlessly.
4. Size and Placement: Depending on the size of the bathroom and the placement of the sconces, their designs and sizes can dramatically affect the overall aesthetic of your bathroom. Large bird sconces can work as focal points whereas smaller ones add subtle whimsical touch.
Remember, whimsical bird sconces are not just lighting fixtures; they are unique design elements that showcase personal style and add narrative charm to your bathroom setting.
Modish Black Matte Sconces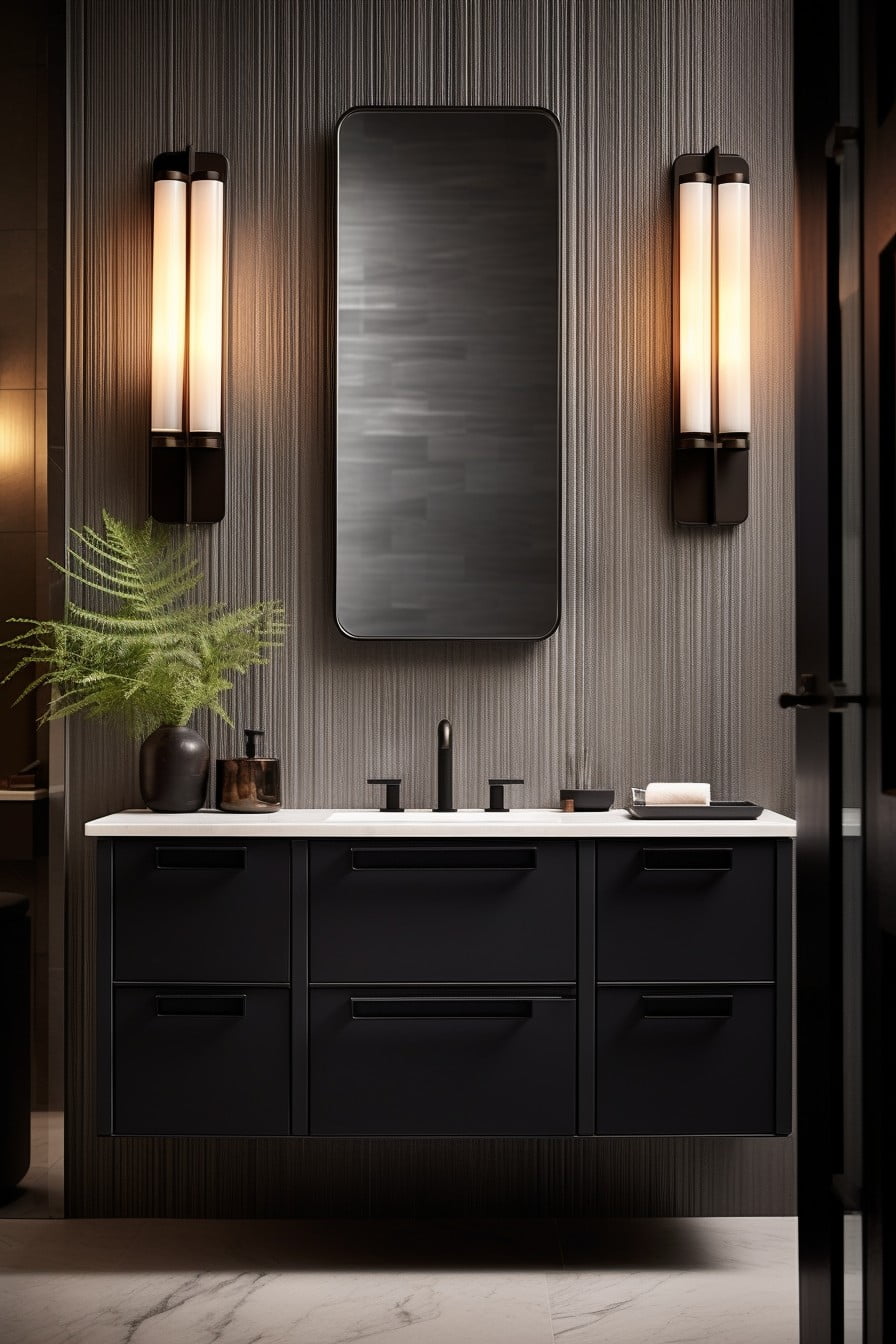 Adding a touch of the avant-garde to your bathroom, these pieces starkly contrast the typical gleam of silver or gold. The allure of their understated elegance lies in being different yet sophisticated. They bioengineer a unique atmosphere, emitting a soft glow that accentuates their sleek design.
Regarded for their versatility, they flawlessly complement varied themes from rustic to contemporary. Pair them with a light-colored wall for a dramatic pop, or settle them on a dark canvas for a more immersive, sultry aura. Also, for a chic, layered effect, consider utilizing them not just over the vanity, but strategically around the bathing area.
They're not just visually stimulating but built to last and easy to clean, resisting fingerprints and water stains. Choose from designs that range from simple straight lines to complex geometric patterns to best suit your style.
Remember, the key is in the detail; choosing the right bulb can drastically affect your experience. Opt for warm, dimmable bulbs for a softer effect or cool white for a crisp, stark contrast.
Explore your options! Don't conform to the conventional; let your bathroom tell a story through the quiet elegance of black matte sconces.
Mirror Integrated Sconces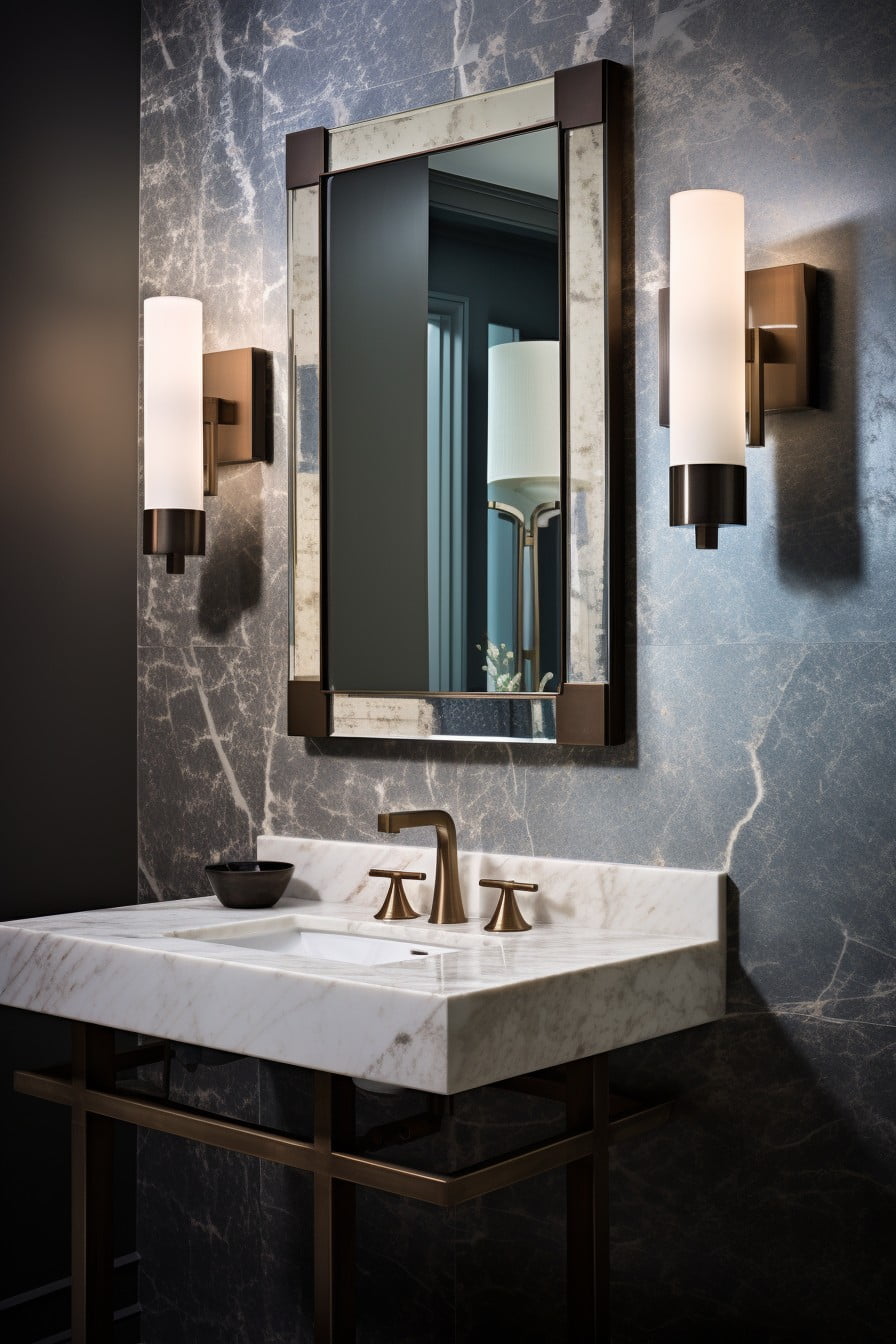 An ingenious solution to many common bathroom lighting issues, these designs cleverly incorporate the light source into the mirror. Not only does this save space and reduce clutter, but it also provides ideal task lighting for grooming activities. By directing light directly towards your face, it can minimize shadows and ensure that you see your reflection clearly.
Finding the right style to match your decor is never a problem – options range from sleek modern designs with LED lighting strips, to more traditional styles subtly incorporating vintage bulbs. This innovation also allows for dimming capabilities, so you can easily adjust the ambiance. Moreover, professional installation is recommended geared towards safety measures in bathroom spaces.
Bear in mind, like any sconce, the height of installation is crucial. Professionals usually recommend placing them at eye level to avoid direct glare into the eyes. Ultimately, these sconces offer a sleek, modern solution to enhance bathroom lighting while contributing significantly to the aesthetics.
Sculptural Ceramic Sconces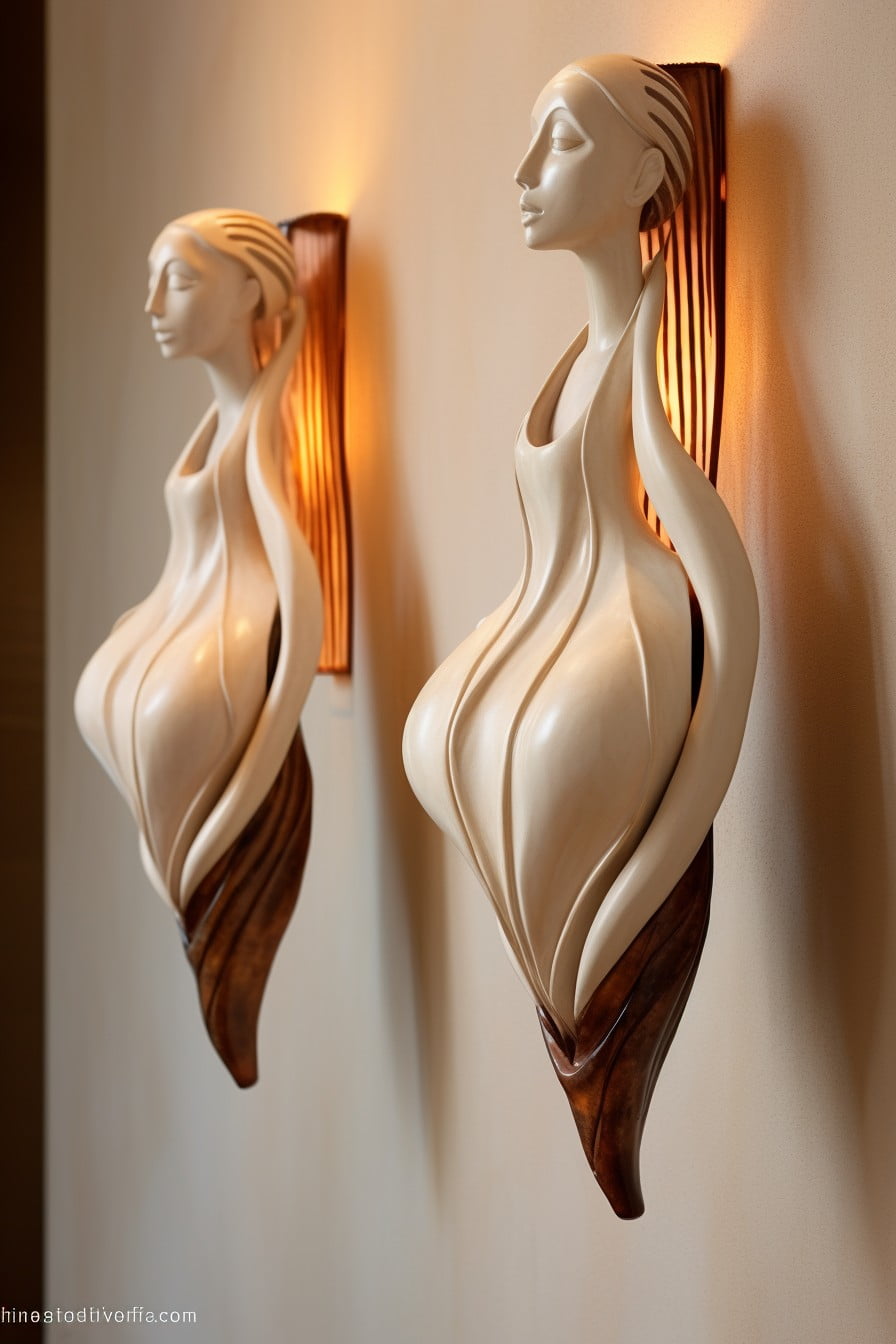 Taking inspiration from art galleries, sculptural ceramic sconces serve as both light source and artistic statement. These fixtures often feature abstract or organic shapes, offering a unique touch of creative expression.
Here are some key points about this style:
Customizable: Many artists and manufacturers can customize designs, allowing you to choose colors, finishes, and sizes that align with your bathroom aesthetic.
Broad Range of Styles: Sculptural ceramic sconces can be sleek and modern, rustic, or even whimsical – offering a wide array of looks to suit any taste.
Versatility: Despite their often bold designs, they work well with various design themes – from contemporary schemes to boho-chic styles.
Functional Art: As lighting fixtures, they are practical, but they can also be akin to functional art pieces on your bathroom wall, demonstrating your unique aesthetic.
Unique Finishes: Matte, glossy, or textured – the final glaze on the ceramic opens up a world of possibilities. Some designs even incorporate metallic accents or color gradients for added visual interest.
Continue reading:
Recap