Last updated on November 17, 2023
Discover innovative solutions for bathroom windows privacy because these chic ideas will transform your space into a secluded oasis.
I hope you find as much inspiration and enjoyment in these 20 top bathroom window privacy ideas, all carefully illustrated by me, as I had creating them.
Bathroom windows can often be a tricky spot when it comes to maintaining privacy without sacrificing natural light. Luckily, there are a plethora of creative solutions to this common problem. From frosting techniques, window films, to stylish blinds and shutters, there are many ways to achieve the perfect balance between privacy and illumination.
This article will guide you through a selection of these ideas, providing comprehensive details about each option. Whether you're after a quick DIY solution or looking to invest in a more permanent feature, you'll find the perfect idea to transform your bathroom window into a stylish, private sanctuary.
Frosted Glass Windows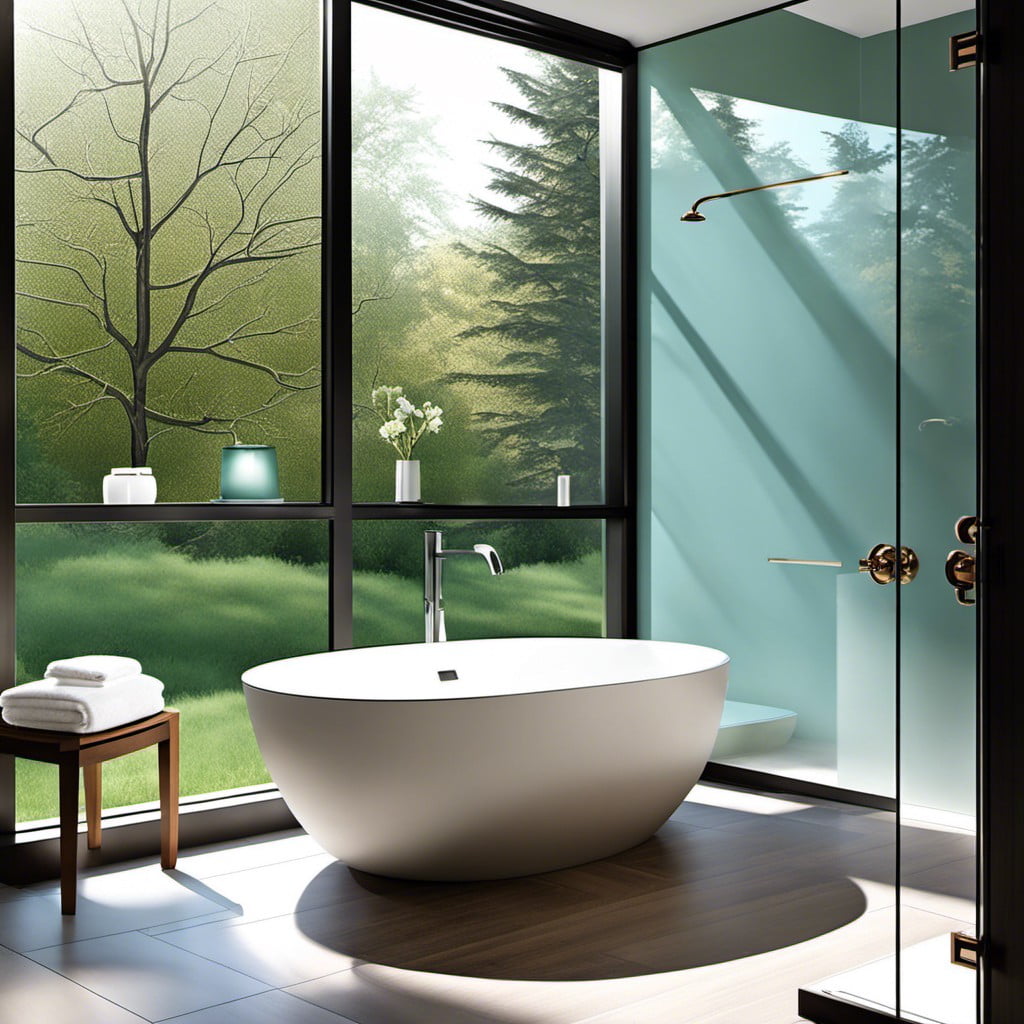 When looking for an effective way to secure privacy without sacrificing natural light, frosted glass offers an excellent solution. It is typically created by blasting clear glass with sand or grit, resulting in a smooth, translucent surface that obscures views while allowing light to pass through.
Perfect for those seeking an elegant, minimalist approach to bathroom window treatments, this option doesn't require any peeling or replacing. Mirroring the effect of icy windows in winter, the frosty feature also serves as a unique decorative element. Advanced methods even allow you to customize with a variety of patterns and frosted effects to perfectly fit your interior design aesthetic.
For homeowners concerned about safety, tempered frosted glass should be on your radar. Its shatter-resistant feature ensures that in the rare event the window breaks, it crumbles into small granular chunks instead of splintering into jagged shards, reducing potential injuries.
Remember though, while it provides visual privacy during the day, frosted glass can be somewhat less effective at night when lights are on. Therefore, you may want to pair it with light-blocking window treatments for complete privacy. All in all, frosted glass windows can act as a stylish permanent solution to bathroom privacy concerns.
Window Film With Patterns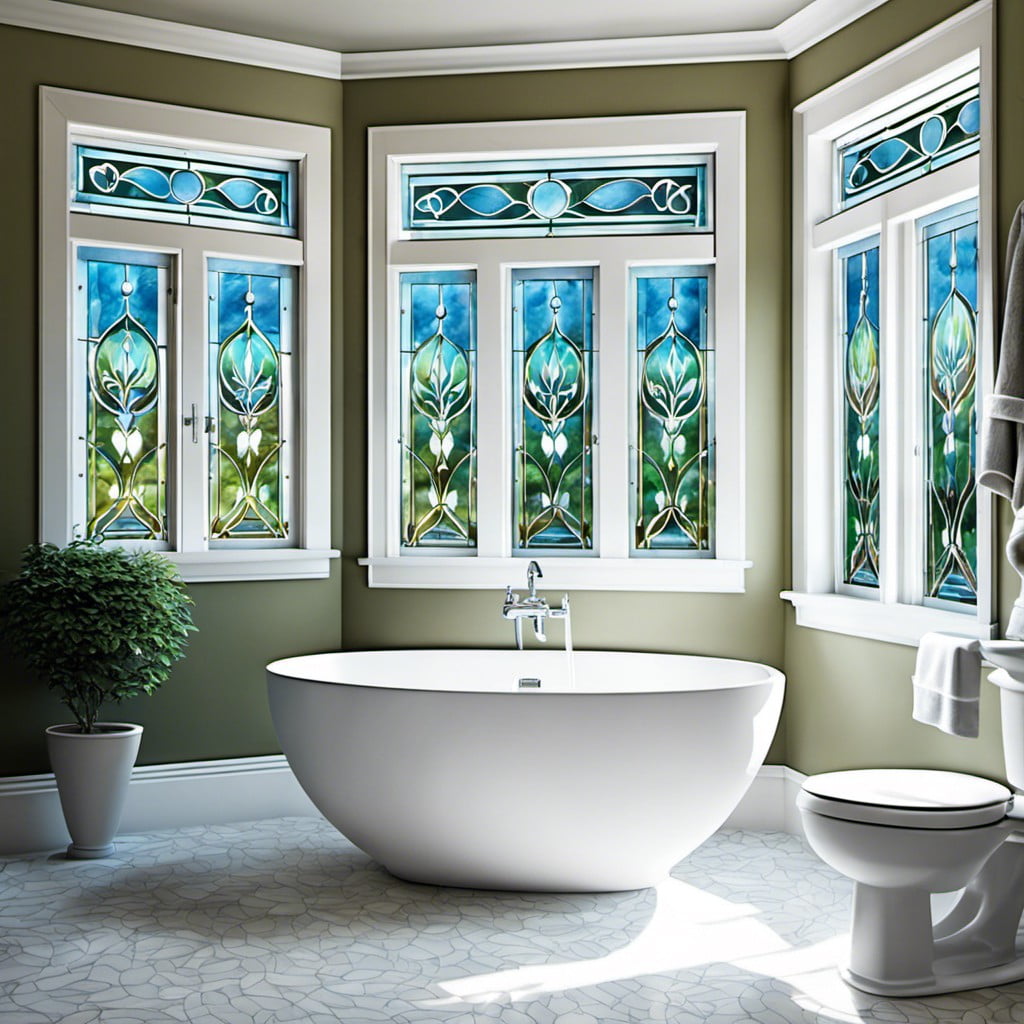 A creativity booster, patterned window film offers unlimited design possibilities. It's simple to apply, budget-friendly, and easily changeable, accommodating all your aesthetic whims. Be it abstract motifs, geometric patterns, or nature-themed designs, they impart both style and seclusion to your bathroom windows.
The most notable attribute is its ability to let in ample daylight while ensuring privacy, thus creating an atmosphere of serenity. The installation process is a breeze, a DIY project you and your family can enjoy. The upkeep is just as effortless. A simple wipe with a damp cloth keeps it as good as new.
Choosing a pattern that complements the overall bathroom decor can enhance visual interest. Abstract designs are versatile and suit most styles. Geometric patterns lend a contemporary feel while natural motifs can lend a relaxing ambience to your bath space. So, let your design sensibility guide your choice towards a bathroom window that captivates all who enter.
Stained Glass Windows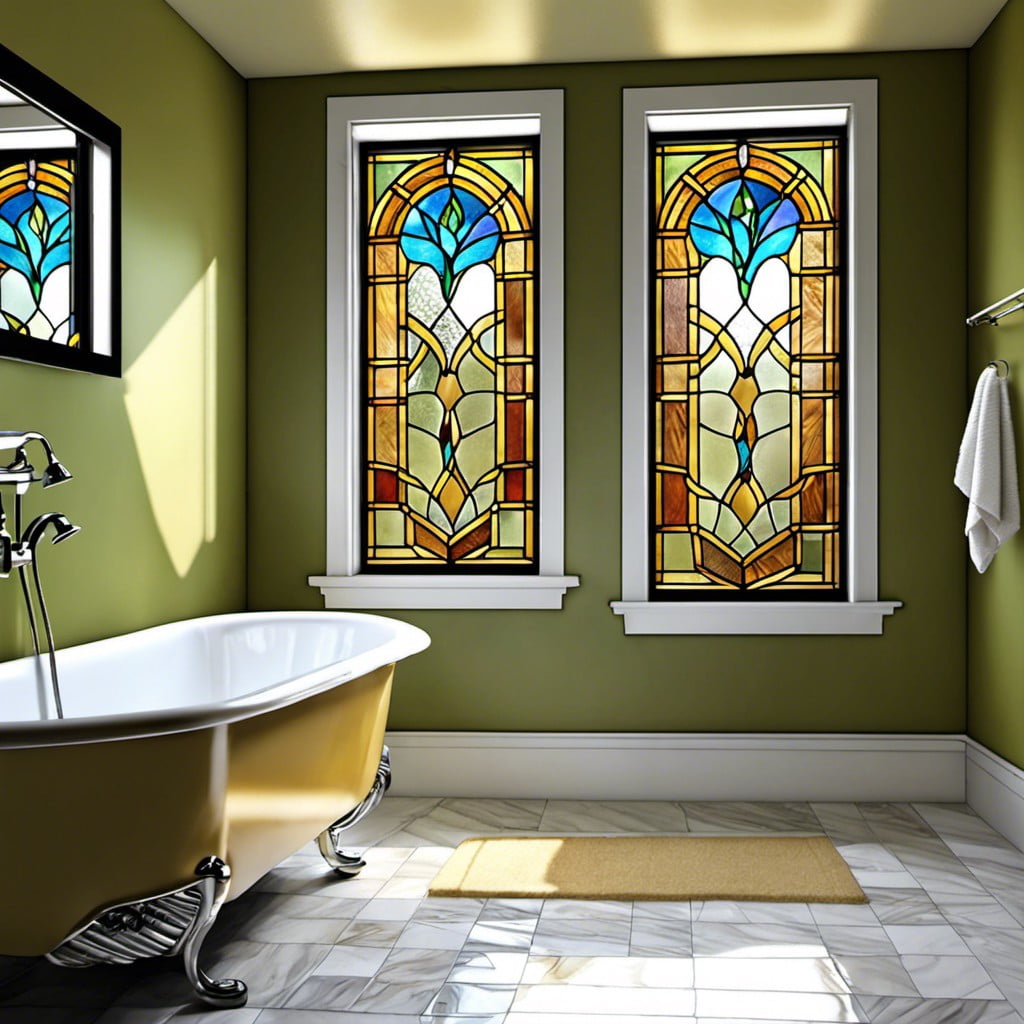 Stained glass, often associated with grand churches and Victorian homes, brings a burst of color and sophistication. When used in a bathroom, its vibrant hues and intricate designs not only add a touch of elegance but also provide the much-needed privacy without blocking out natural light.
1. Light diffusion: The key advantage of stained glass is that it diffuses incoming light, creating a soft, ambient glow in the bathroom.
2. Works for all window sizes: Regardless of how big or small your bathroom window is, stained glass can be custom-made to fit it, thereby offering privacy across the entire pane.
3. Aesthetic appeal: Available in a multitude of designs from abstract to floral, this type of window can become a statement piece, enhancing the overall decor.
4. No additional window treatments: With stained glass, there's typically no need for blinds, curtains, or shades.
5. Privacy: Its non-transparent nature is ideal for a bathroom, effectively shielding you from prying eyes.
Remember, the colors and patterns you choose should complement the overall style of your bathroom to create a cohesive and aesthetically pleasing space.
Roller Blinds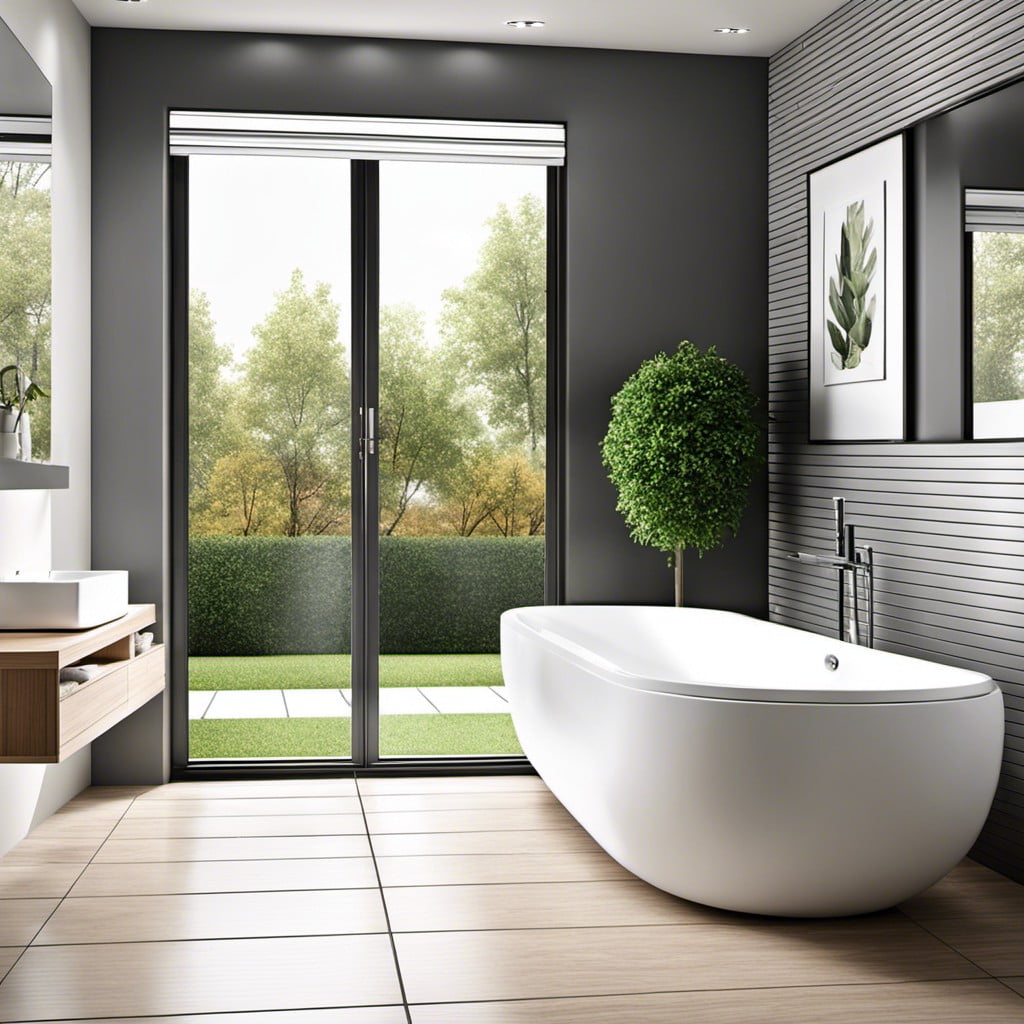 As a popular choice, roller blinds are not only practical but also add a certain aesthetic to your bathroom. Their flexibility in design allows you to customize them to fit any window size. This design versatility is coupled with a broad spectrum of colors, patterns, and materials to select from, making it easy to match your existing decor seamlessly.
Translucent light filtering fabrics provide a sense of openness while maintaining privacy, whereas blackout materials offer maximum privacy, perfect for bathrooms adjacent to neighbours' properties. Adjusting the level of coverage is simple; lower them for privacy or roll them up for a clear outside view.
With the added advantage of moisture resistance, roller blinds can tolerate high humidity environments, making them an ideal choice for bathrooms. Installation and cleaning are pretty straightforward, leading to easy maintenance. Bonus, they don't take up much window space, leaving room for other decorative details if needed.
Remember, a well-chosen roller blind can balance practical needs while enhancing your bathroom's overall look.
Roman Shades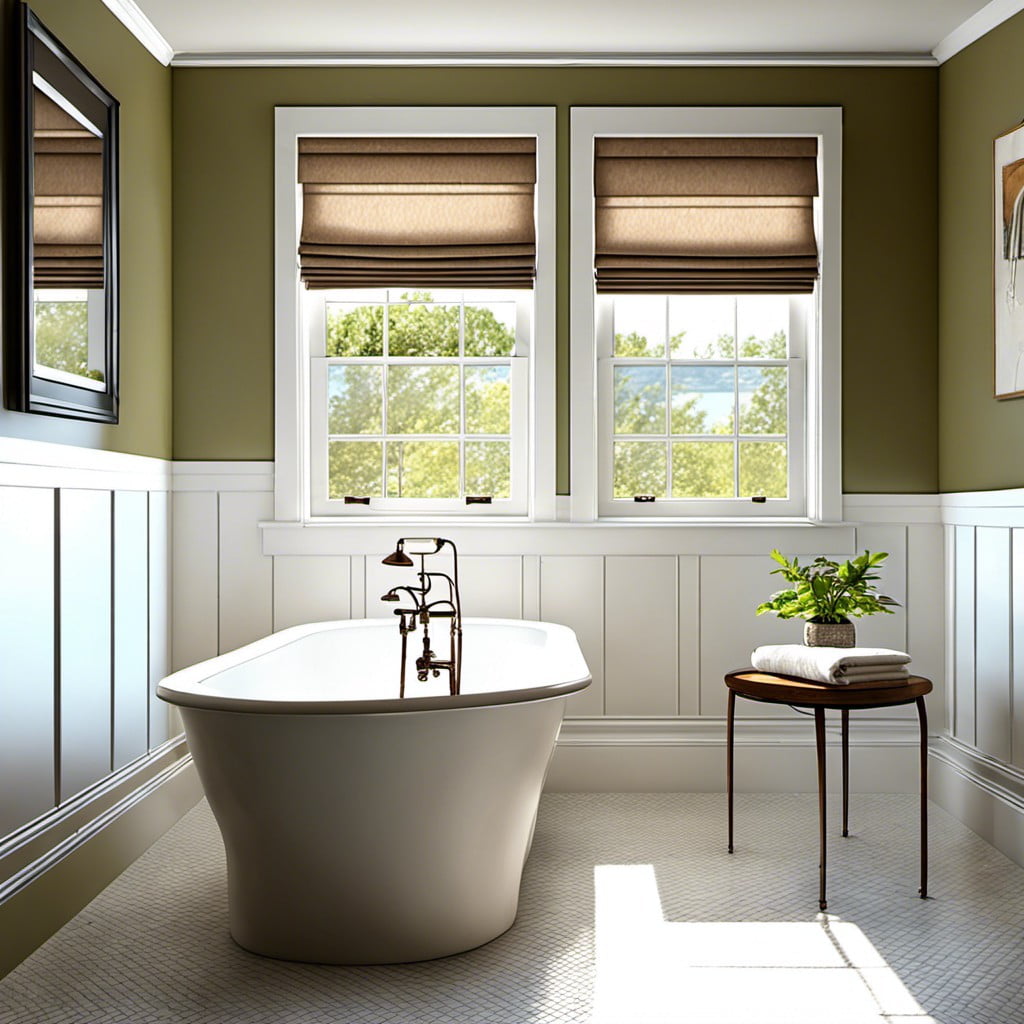 Roman shades offer the perfect blend of function and form. They combine the sleek styling of blinds with the cozy touch of a fabric drape.
Unfolded, you get the light control and privacy needed while the soft folds add an element of class to the overall interior aesthetics.
When choosing Roman shades, consider the fabric choice. Dark, heavyweight materials offer maximum privacy, while lighter, sheer fabrics allow for a beautifully diffused natural light to permeate the room.
Their versatility extends to various fabric patterns and colors to complement any bathroom décor.
For those seeking eco-friendly solutions, some Roman Shades are also made from organic materials.
Furthermore, operating Roman shades are simplified with the modern option of a cordless system, enhancing child and pet safety.
Finally, you may customize the level of fold sections or pleats for your Roman Shades, adding to its appeal and versatility.
Plantation Shutters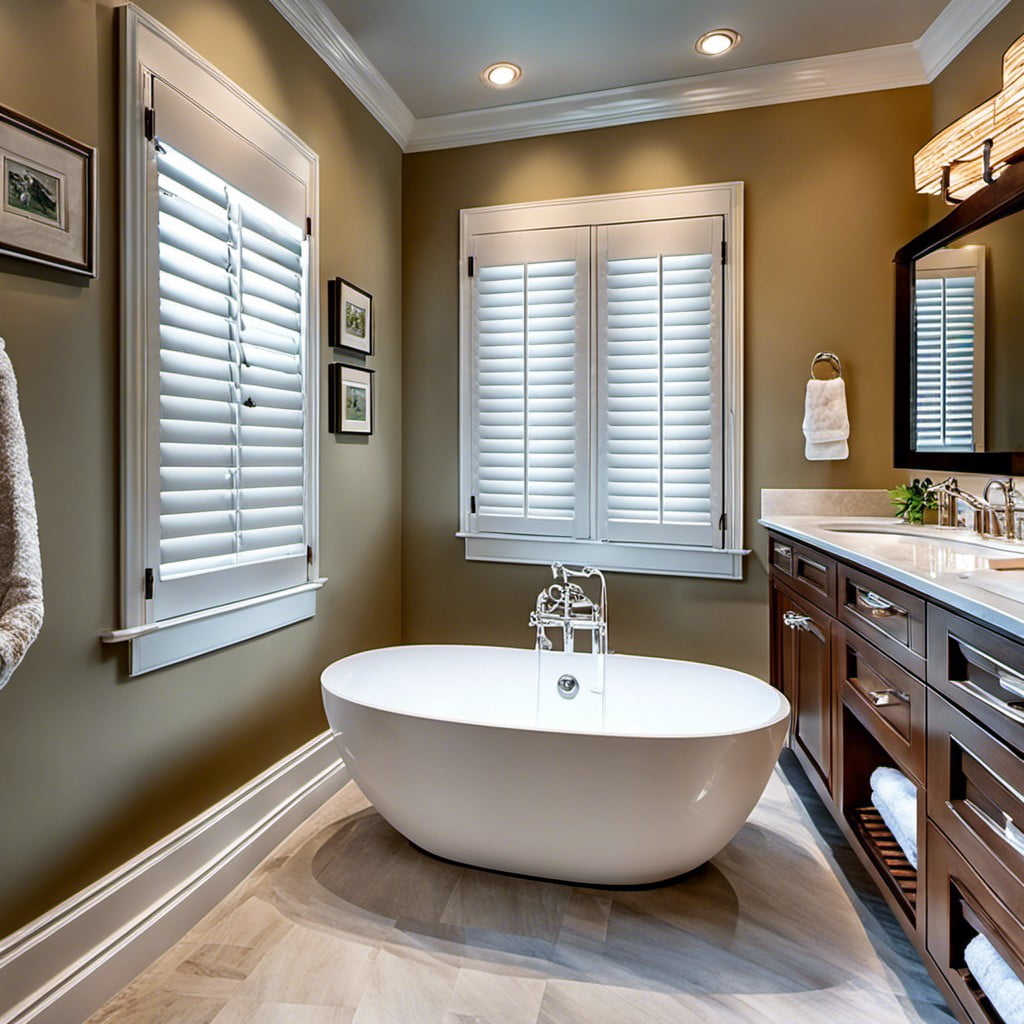 A favored option for their timeless charm, these shutters bear louvered slats that can be adjusted to control the amount of light and gaze entering your bathroom. Made of various materials like wood, faux wood, or vinyl, they are highly resistant to moisture and humidity.
Their main draw is the versatility they bring. By maneuvering the slats, you can opt for an unobstructed view, filtered light, or complete privacy based on your needs at that moment. Additionally, as they cover the entire window, you gain privacy from all angles.
Moreover, they can be customized in a variety of paints and stains, seamlessly integrating with your bathroom aesthetics. With easy maintenance, being a simple wipe down for cleaning, they're as practical as they are stylish. A quick heads up though, their bespoke nature can make them a slightly pricier option. However, the balance of beauty and functionality they bring is worth the investment.
Do remember to enlist a professional installer for the best fit and finish, maximizing the potential of these classic window treatments.
Venetian Blinds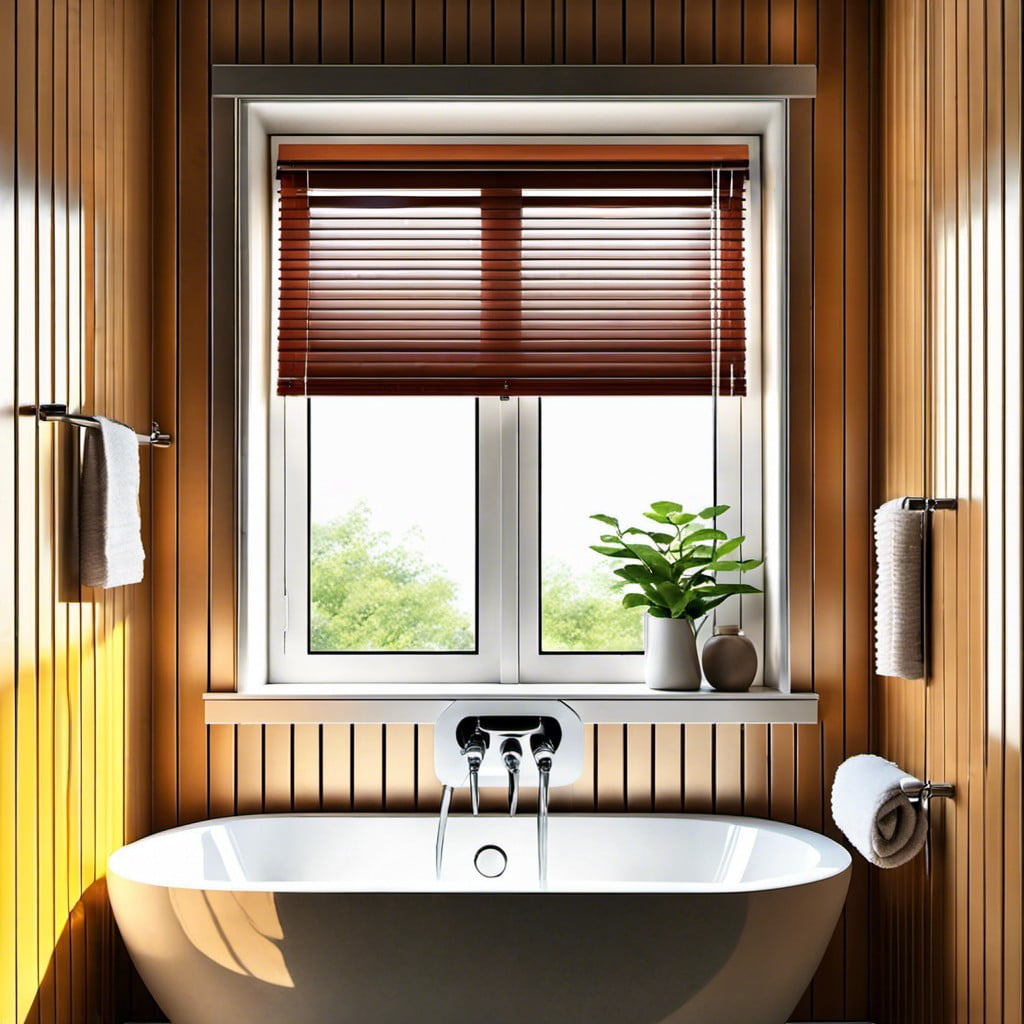 For those seeking an adjustable level of privacy, these are a worthy consideration. These blinds are characterized by horizontal slats that can be tilted to various angles. By adjusting the slats, you command absolute control over the amount of light and visibility offered through the window.
Here are a few essential points about Venetian blinds:
Slats can be made from various materials, including wood, plastic, or metal.
They are user-friendly, with control options to raise, lower, or tilt the slats.
They come in different slat widths and colors to fit any decor style.
Regular dusting is necessary to maintain their appearance.
They provide an efficient way to regulate room temperature by controlling sunlight exposure.
In terms of functionality and aesthetics, Venetian blinds make a compelling case. They are versatile, practical, and visually appealing. A justifiable choice for ensuring your bathroom window's privacy.
Window Valances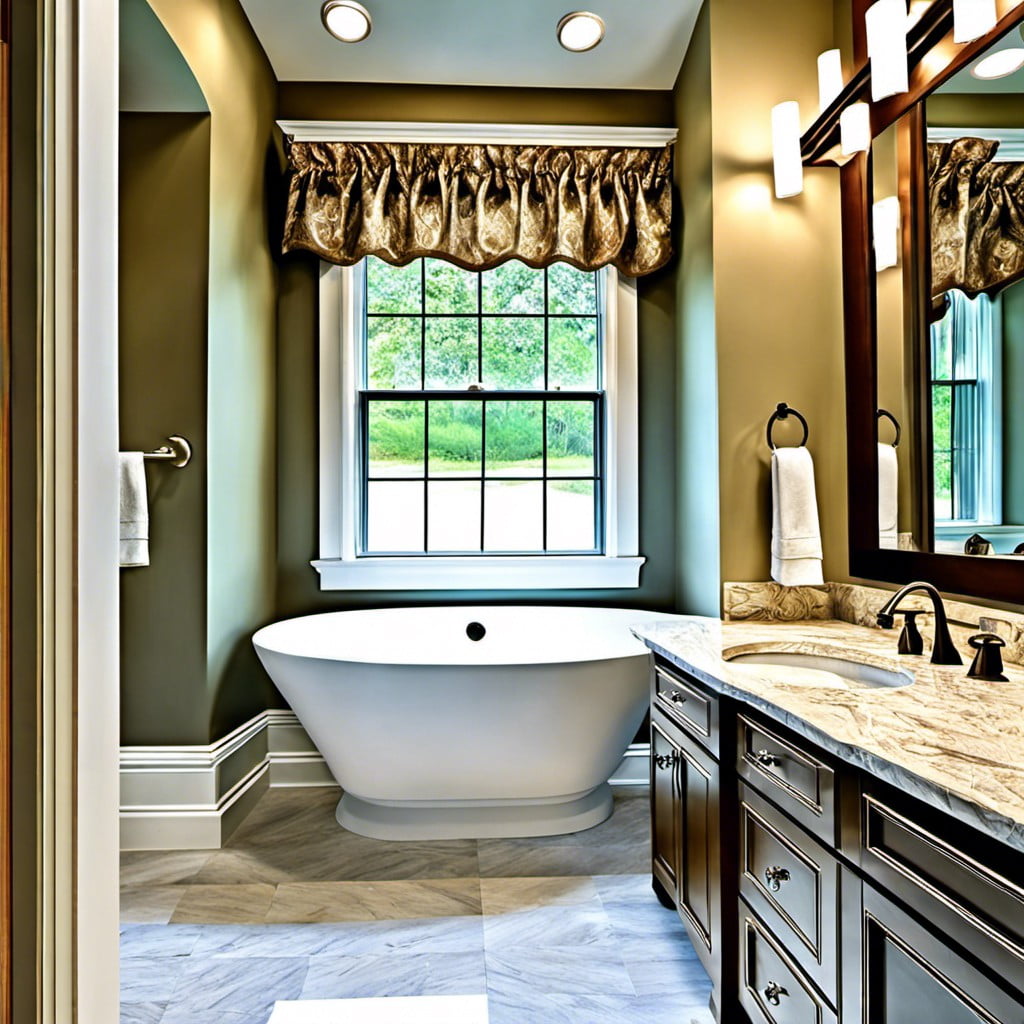 Enhancing bathroom privacy doesn't need to be all about utilitarian elements; it can also offer an aesthetic touch to your interiors. A solution that does just that is valances. These fabric treatments, typically hung at the top of the window, obscure views from the outside, while still allowing a fair amount of sunlight to filter through.
There is a large variety of fabrics to choose from, with possibilities to match any existing decor. Whether you opt for a simple tailored look, a scalloped design, or an ornate box-pleated style, valances instantly spruce up your bathroom, adding a soft, refined feel.
Remember, the longer the valance, the more privacy you have, but keep it proportional to the window size to maintain a harmonious look. Also, check the fabric's care instructions, as the bathroom's humidity can affect certain materials more than others.
Vertical Blinds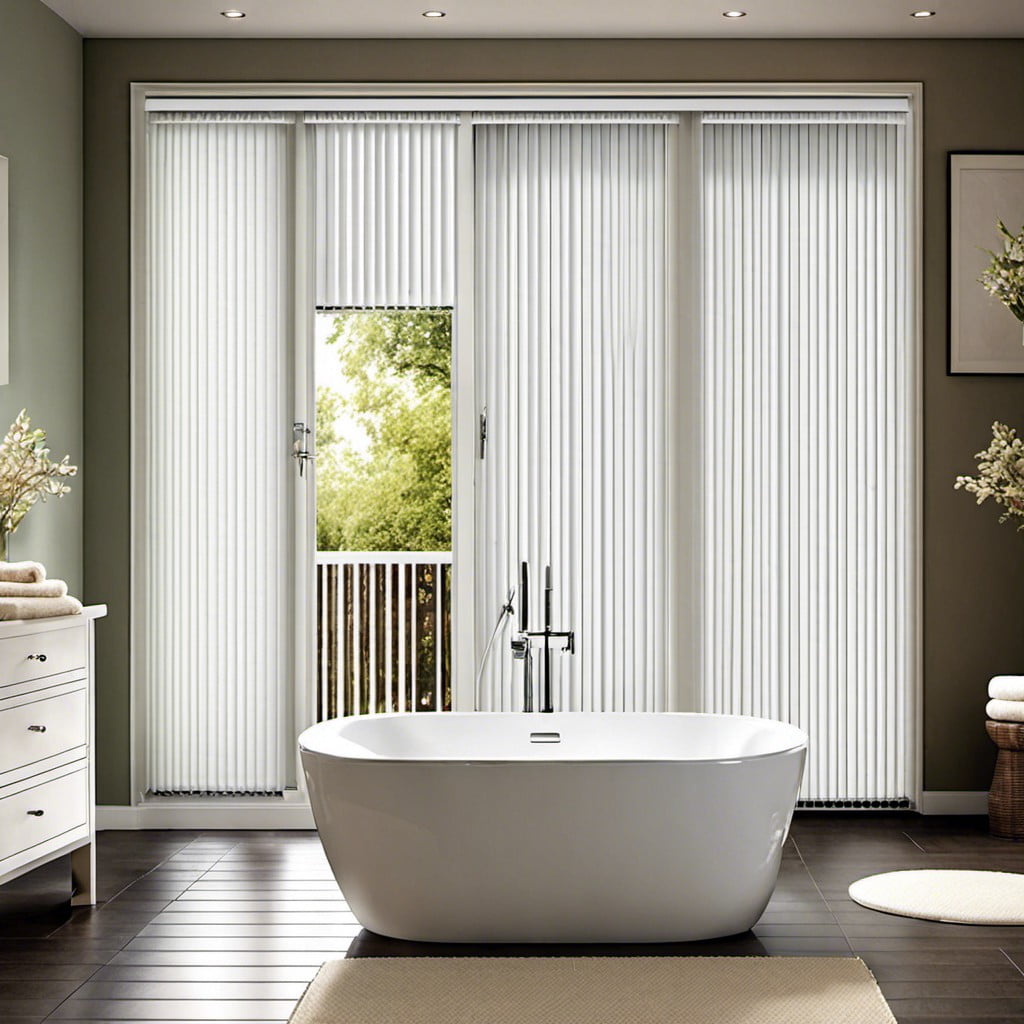 Offering both functionality and style, these blinds are traditionally opted for large windows but have become a popular choice for bathroom settings due to their durability and control over privacy.
Vertical blinds can be pulled aside completely for maximum light exposure or can be closed to provide total privacy. They're made of hardy materials like PVC or faux wood making them a practical choice for damp and steamy bathrooms. Variety in designs and colors allow you to match them with any decor scheme.
For added benefit, choose blinds with washable features or anti-microbial treatments. Designed for easy maintenance, they help fend off bathroom mold and mildew while ensuring optimum privacy.
Mechanized options present in case manual adjustment is inconvenient. This form of automated blinds operation can be controlled remotely, offering the ultimate luxury solution to bathroom privacy.
Top-Down Bottom-Up Shades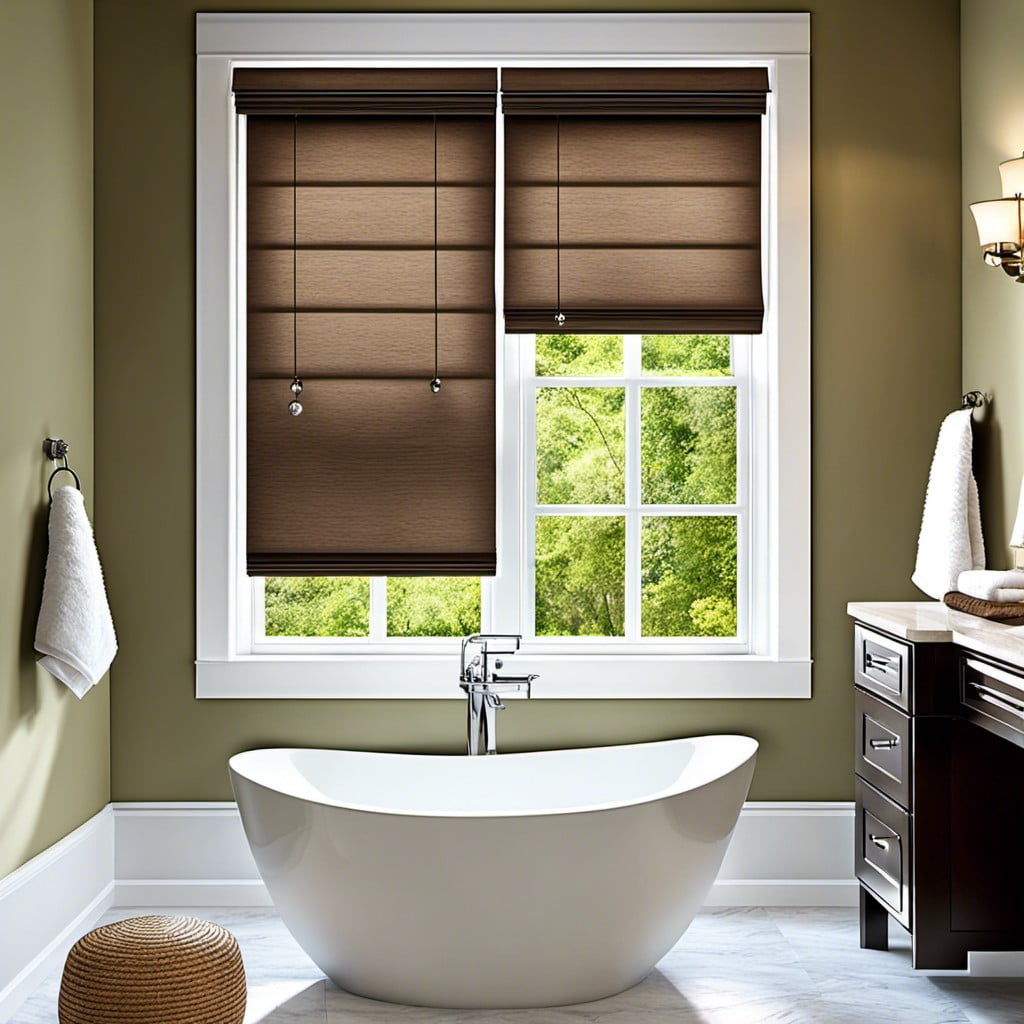 Utilizing a unique mechanism, these shades offer excellent versatility- they can be lowered from the top or raised from the bottom. This dual functionality allows for privacy at the lower window levels while permitting sunlight in from the top. Their design complements various bathroom decor styles, ranging from traditional to contemporary.
Versatile adjustment: The dual light control mechanism offers more adjustment options for light and privacy.
Various styles: This form of window treatment is available in different materials and colors, accommodating a range of design preferences.
Energy-efficient: The shades are generally made of material that provides good insulation, helping regulate the bathroom temperature, especially in extreme climates.
Easy to clean: Typically, a light dusting or vacuuming at low suction is enough to keep these shades clean and refreshing.
This subtle yet creative solution can transform your bathroom experience by offering flexibility in controlling privacy and sunlight.
Decorative Iron Grills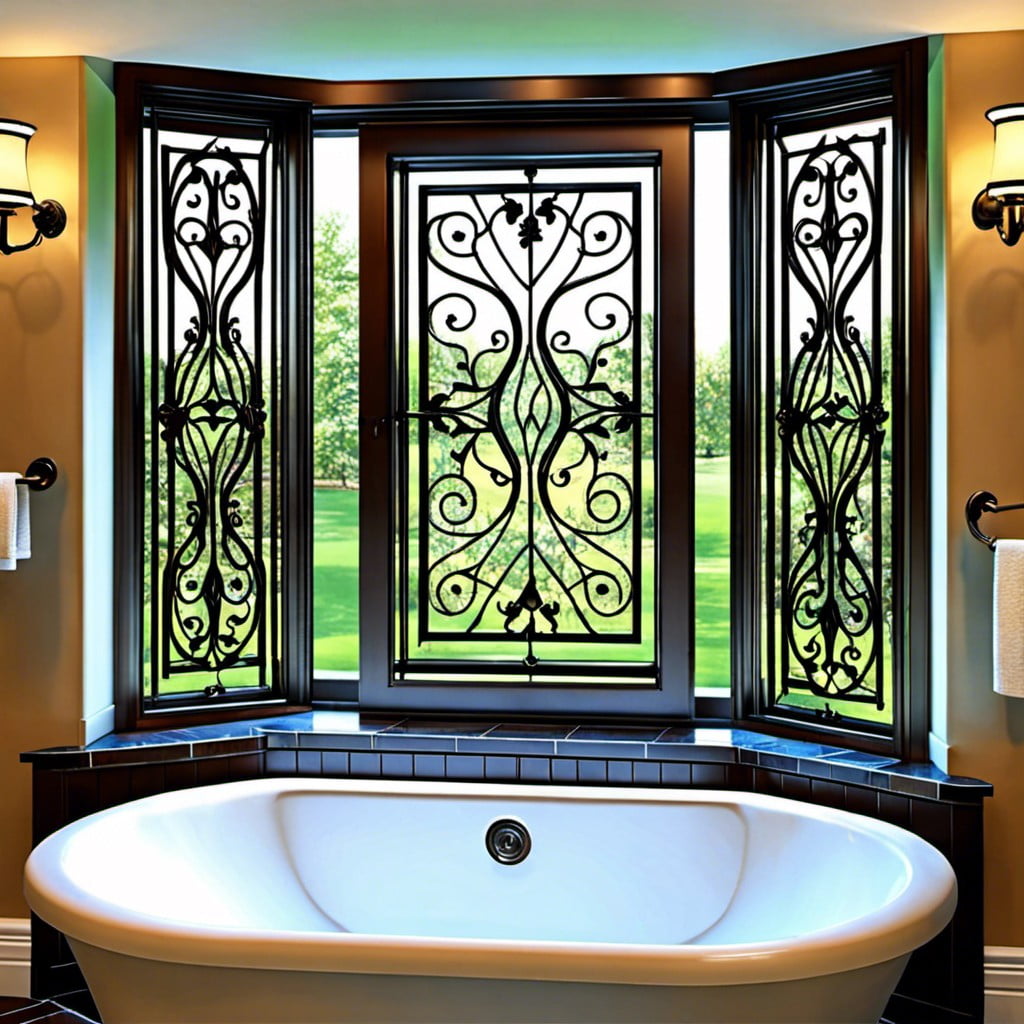 Intricate and ornately designed could add a majestic flair to your bathroom. Let's dive into a few key points that stand out for this choice, shall we?
First, these grills offer a sturdy layer of protection, making your privacy a cakewalk. There's absolutely no need to worry about peeping Toms with these on your window!
Second, if you are into antique or rustic style decors, grills could be the perfect match. They serve as a gorgeous aesthetic enhancement, significantly elevating the overall bathroom style quotient.
Now, let's not forget about natural daylight. Due to open spaces among the ironwork, these grills allow a considerable amount of sunlight to pass through, providing your bathroom with a vibrant, naturally lit feel during daylight hours.
Lastly, when it comes to maintenance, a simple dusting or occasional deep clean is all they need to keep their charm intact over the years.
So, whether it's for the enhanced aesthetics, sturdy protection or the blend of both, surely the grills prove to be a fantastic addition to windows for bathroom privacy. An undeniable balance of brilliance and boldness!
Glass Block Window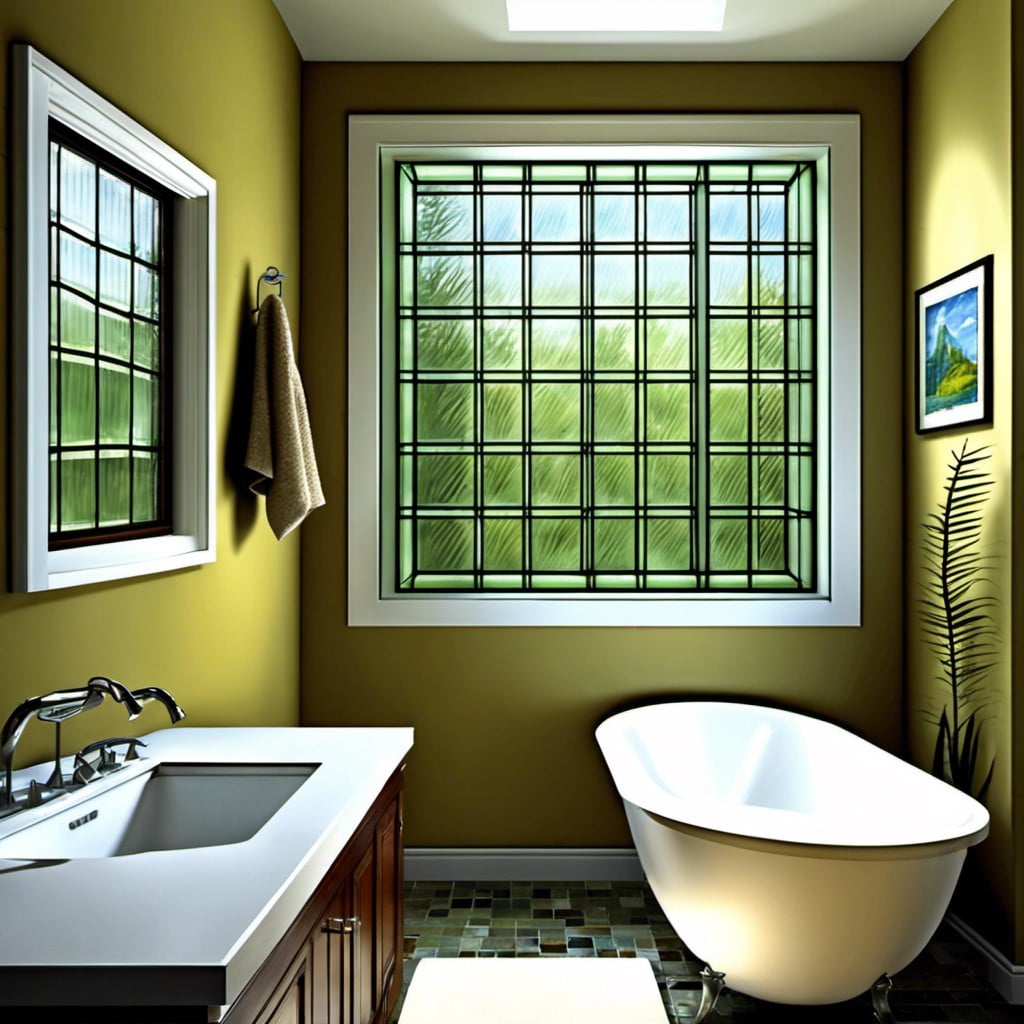 Opting for this option brings numerous benefits to your restroom retreat. These particular window structures are composed of thick, ribbed glass blocks. This material composition guarantees a high level of privacy since the glass blocks have limited transparency, allowing only light to permeate.
While you bask in the illuminated room, take note of the pattern created by sunlight through the individual bricks. Depending on the configuration, you can create a customized ambiance – perhaps casting a whimsical play of lights ideal for your morning unwind or evening detox.
For a more practical approach, consider their robustness. These blocks are sturdy and will not easily shatter upon impact. Coupled with their resistance to weathering and discoloration, this choice provides long-term integrity alongside its stylish allure. Ultimately, glass block windows give unmatched privacy without compromising natural light and durability.
Cellular Shades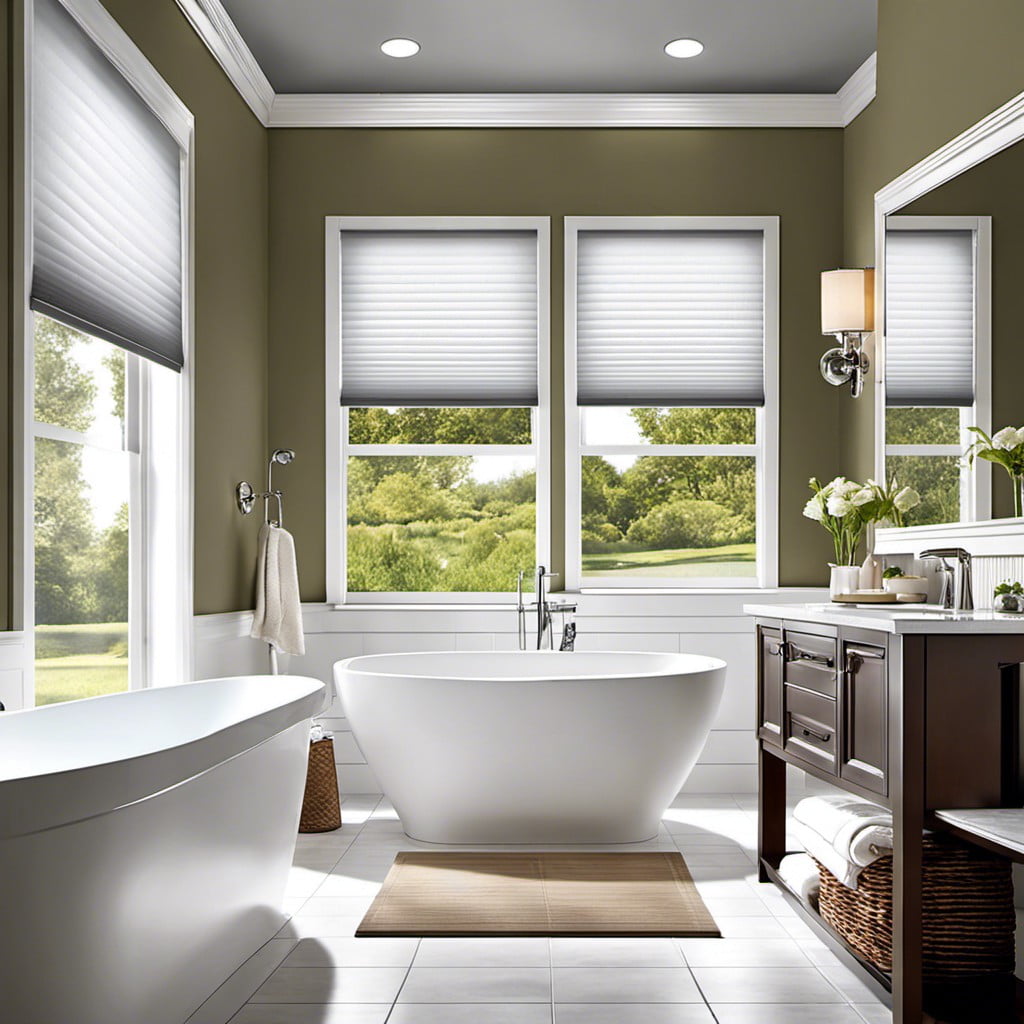 For a product that provides both insulation and privacy, look no further. Often, this option is offered in varying levels of opacity, making it an excellent choice for those seeking complete blackout or mild filtering of natural light.
They can be pulled up to allow a full view or left down for full privacy and light control. A major advantage is their cordless design. This makes them not only aesthetically pleasing but also favorable for homes with children or pets.
Installation is usually simple, and a range of colors and finishes are available to suit every style of décor. They offer a sleek, modern look that complements various interior design styles. Plus, the cells trap air, providing excellent insulation to keep your bathroom warm in winter and cool in summer.
Static Cling Window Film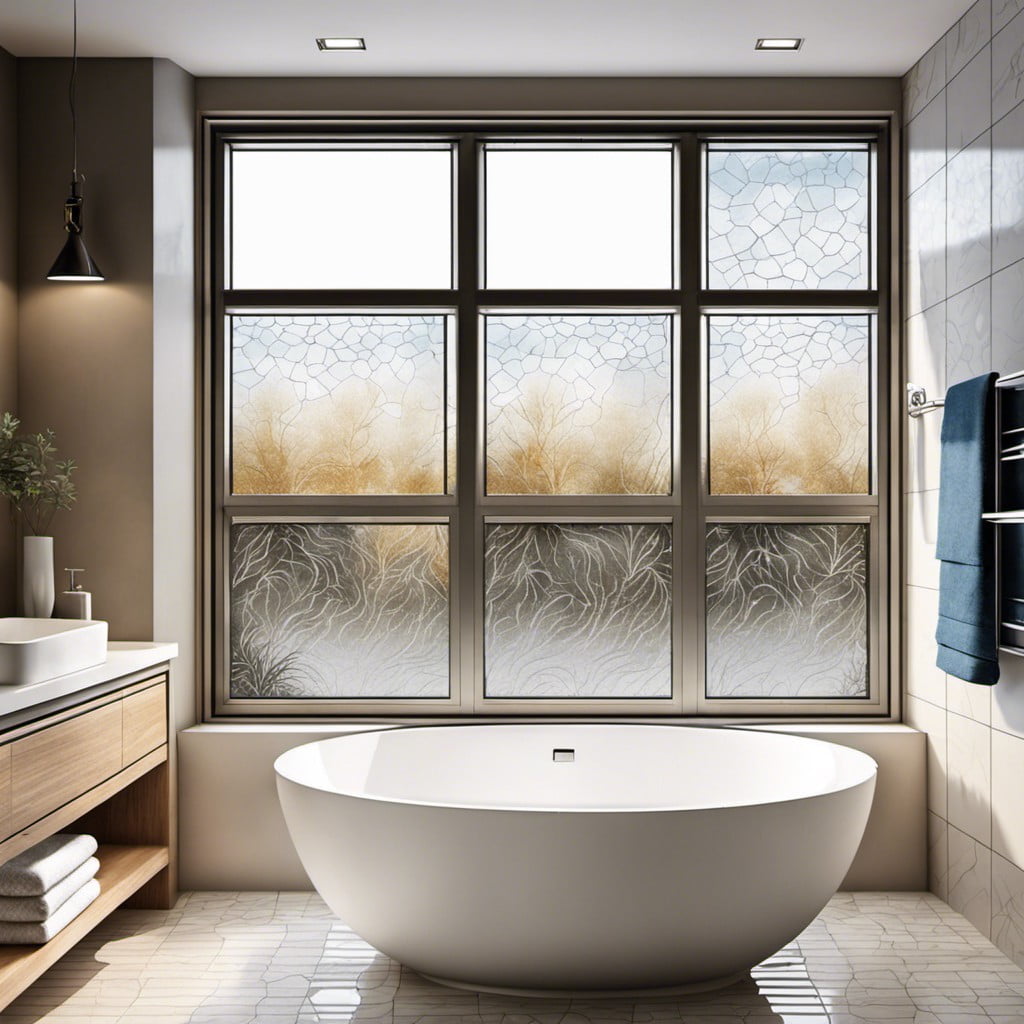 Superb for more than just privacy, Static Cling Window Films offer an accentuated aesthetic appeal. Removable and reusable, these films are a great temporary solution that requires no adhesives, hence pose no risk to the window surfaces.
The installation process is straightforward. Simply cut the film to fit, spray a generous amount of soapy water on both the window surface and the film, and then stick it on. A hard card can be used to smooth out any bubbles.
Available in a wide array of designs, these films offer the flexibility to change up your bathroom vibe as often as you'd like. From simple frosted patterns to intricate stained glass imitations, the design varieties ensure you don't give up natural light for privacy.
One notable advantage – these films insulate your windows, helping to keep your bathroom warmer in the winter and cooler in the summer. Therefore, aside from enhancing your privacy, they could also contribute to energy efficiency.
However, keep in mind that while these films block the view, they don't block light completely. This makes them perfect for all who wish to maintain the level of luminosity in the bathroom while ramping up their privacy.
Bamboo Blinds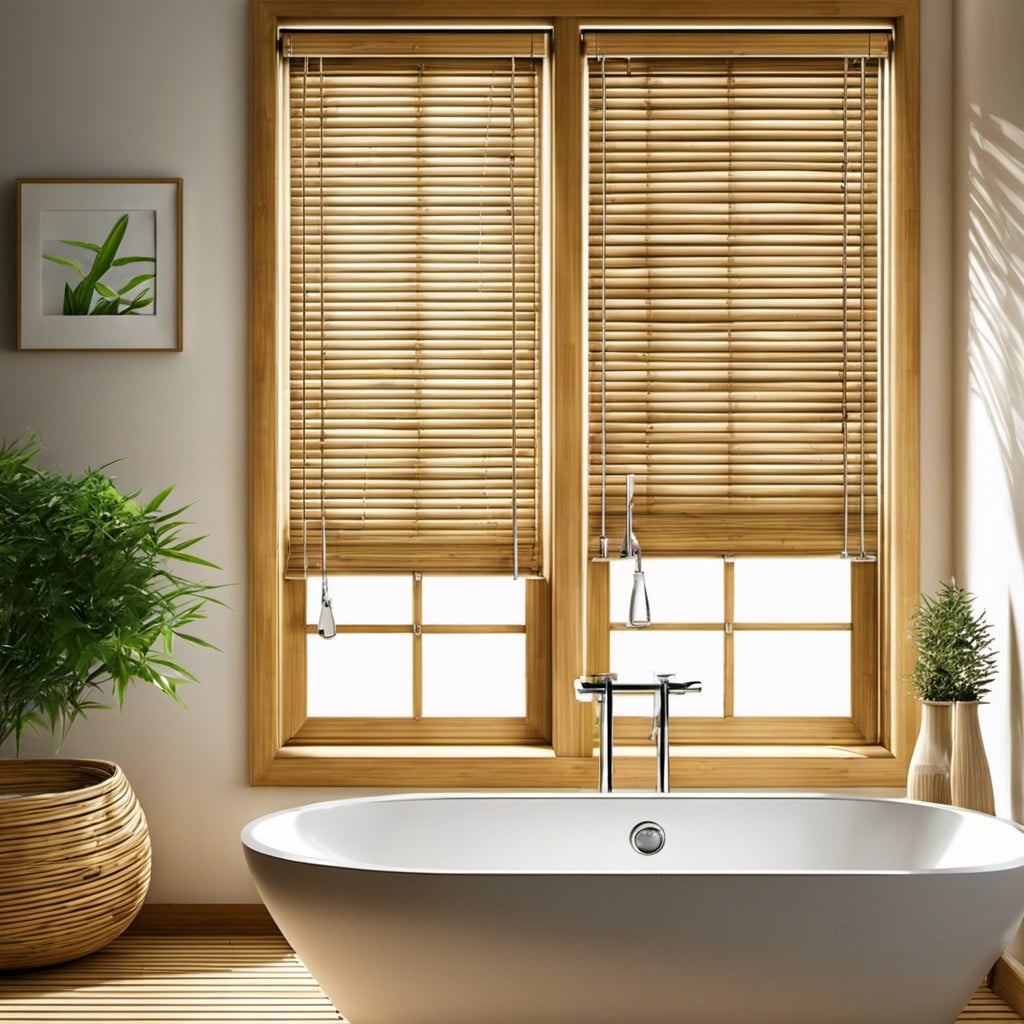 Crafted from natural materials, bamboo blinds offer an ideal blend of light regulation, style, and privacy for your bathroom. Their versatility makes them suitable for various interior design themes ranging from rustic to modern.
1. Light Management: Bamboo blinds softly filter ambient light, illuminating your bathroom while ensuring privacy.
2. Varied Styles: With numerous natural hues and patterns, they infuse aesthetical charm into your bathroom decor.
3. Eco-friendly: Being a rapidly renewable resource, they tick the box for sustainability.
4. Ease of Operation: These blinds are easy-to-use, usually operated through a pull cord control system.
5. Customization: Depending on the window size, bamboo blinds can be tailored to fit perfectly.
6. Durability: Though lightweight, they are sturdy and resilient, effectively withstanding moisture.
In essence, bamboo blinds deliver more than just privacy; they inject a touch of nature into your home and create a serene spa-like ambiance.
Exterior Privacy Screens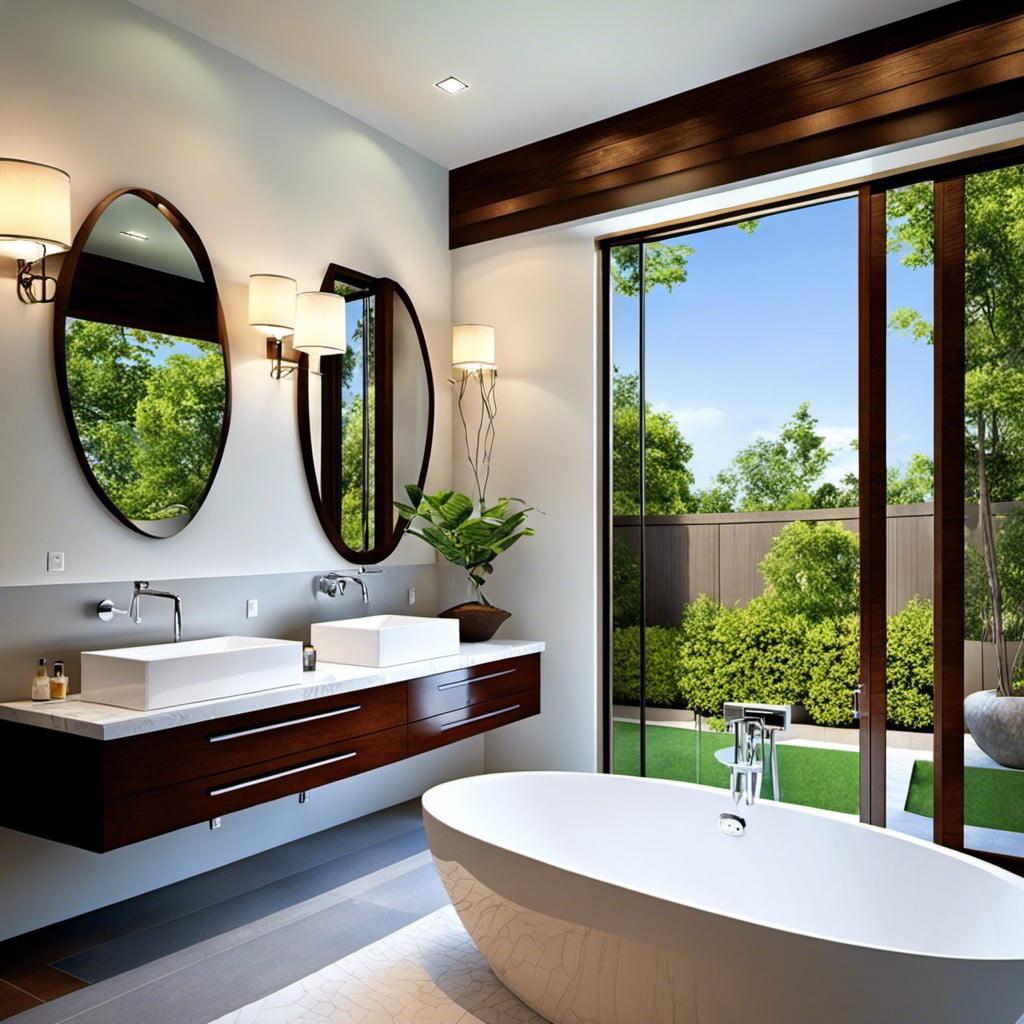 When it comes to creating an effective barrier against intrusive eyes, these outdoor additions have got it covered. They're apart from traditional window treatments and bring an architectural element to the entire setup. Being positioned outside, they not only ensure privacy but also intensify the aesthetic aspect of your home exterior.
Choose screens that are sturdy, weather-resistant, and align with the architectural style of your home. Vinyl, wood, and metal are popular choices for material. Styles range from louver to lattice, panel to pergola, offering the opportunity to customize the look of your home while prioritizing privacy.
Despite their structural advantages, these screens don't entirely inhibit natural light. The right design can filter sunlight into your bathroom, creating a soft ambiance without compromising privacy. And, of course, maintenance is minimal, usually requiring only an occasional cleaning.
Regardless of your design preference, exterior privacy screens provide a stylish yet practical solution to bathroom window privacy concerns. Do not let privacy worries confine your bathroom to mere functionality; introduce an exceptional exterior privacy screen and watch your stylish dwelling come alive.
Internal Window Boxes With Plants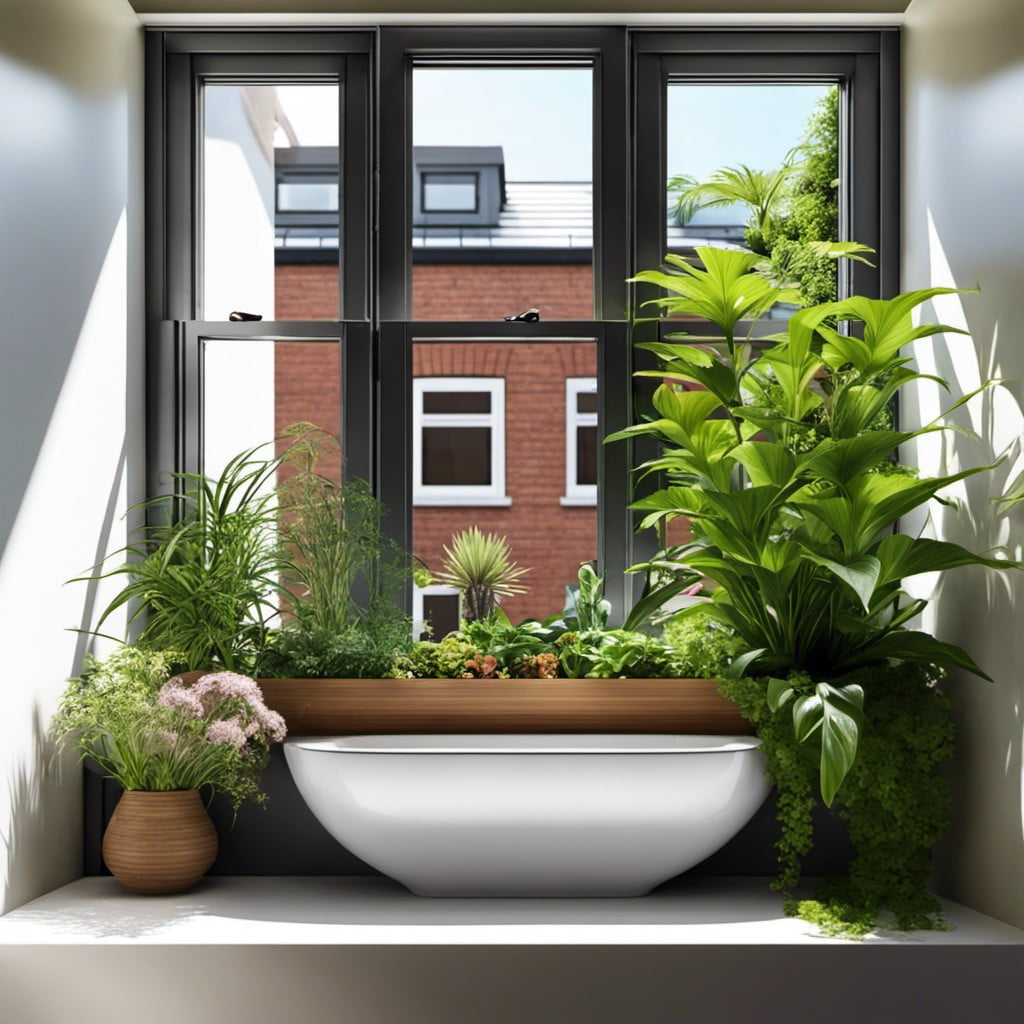 What an effective solution to the often-overlooked privacy issue your bathroom window poses! Not only does this tip serve a functional purpose but it also introduces a touch of nature into your sanctuary. Choose plants based on the amount of sunlight your window receives. Aloe Vera, Bamboo, and Snake plants are excellent for bathrooms as they thrive in high humidity and low light.
The installation process is straightforward. You'll need sturdy window boxes of a size compatible with your window's dimensions. Place the plants in them; remember to ensure the boxes have adequate drainage. Secure the boxes to the inside of the window ledge, and there you have it!
It's important to consider the height and arrangement of the plants. You'd want to ensure they obscure anyone's view from outside but keep as much natural light coming in as possible. Consider tier formations or playful mismatched arrangements for visual interest and practicality.
Window boxes shouldn't obstruct the window's operation, so placement is crucial. Take routine care of the plants to maximize their health and, in turn, longevity. Lastly, rotating the plants occasionally can provide a subtle decor change while ensuring they grow evenly. Transformed bathroom window with an attractive, eco-friendly touch that provides much-needed privacy – impressive, isn't it?
Curtains With Solid Fabrics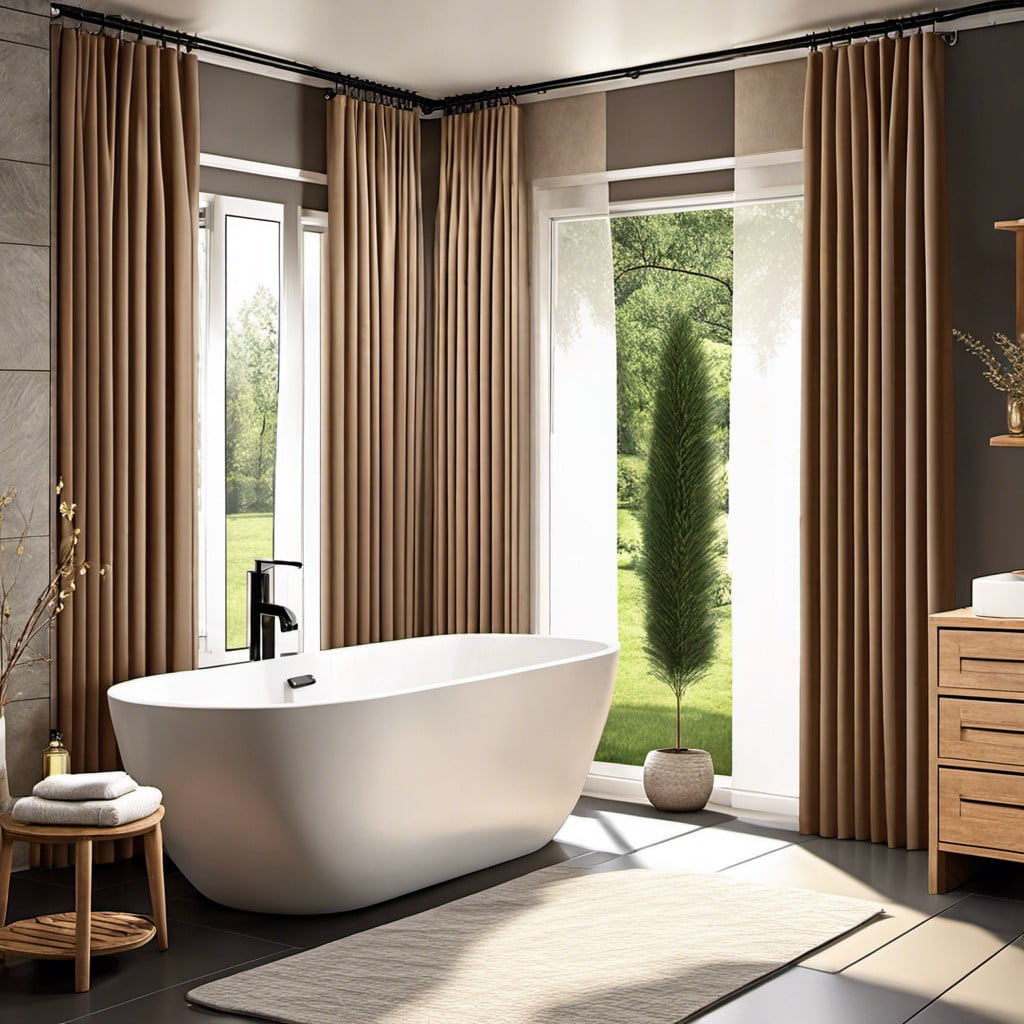 Opting for a fabric that isn't see-through gives you a stylish line of defense against prying eyes without compromising on aesthetics. A darker color can impart a touch of elegance and gravitas to the space, while lighter hues can keep the ambiance airy and inviting. Consider the overall color scheme of the bathroom before making a selection.
Although everyday canvases like cotton and polyester work well, water-resistant materials such as vinyl or outdoor-grade fabric have the added benefit of durability in the damp environment of a bathroom. Additionally, if you prefer a streamlined appearance, solid fabrics allow for a clean, unfussy look.
Choose curtain rods that match the overall decor of your bathroom for cohesion and install them higher, closer to the ceiling line, emphasizing the height of the room and inviting the eye upward. Experiment with different hanging styles like waves, folds or the classic pencil pleat to add an extra layer of interest.
Remember, the width of the curtain should be at least 1.5 times the width of the window for fullness. Ultimately, these curtains not only serve privacy purposes but also add an element of sophistication to your bathroom space.
Hanging Bead Curtains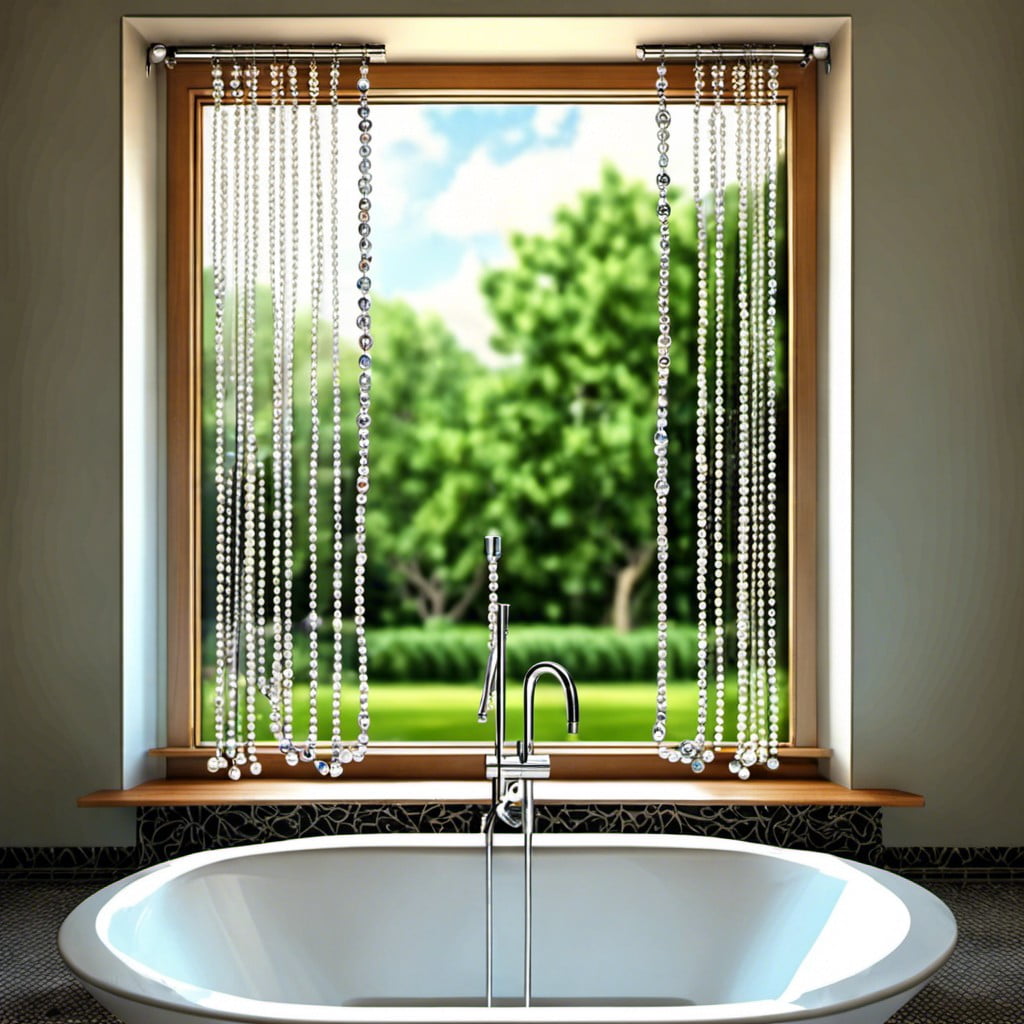 For a bohemian touch to your bathroom, these curtains can be your go-to. They're an excellent option for people looking for an original solution.
You can choose colorful beads or keep it simple with clear beads. As a bonus, they diffuse natural light in an enchanting way, creating a unique decor feature.
Easy to install and remove, they offer a hassle-free yet stylish solution. They are also customizable; you can choose a beaded curtain that suits your personal style and the overall decor of your bathroom.
In terms of maintenance, they're fairly easy to clean, typically requiring just a wipe down. Be aware that these curtains won't provide full privacy, but they do a fantastic job of creating a semi-private space that still lets in light.
Sink into a relaxing bath with soft light diffusing through your bead curtain, and enjoy the show.
Lace Window Screens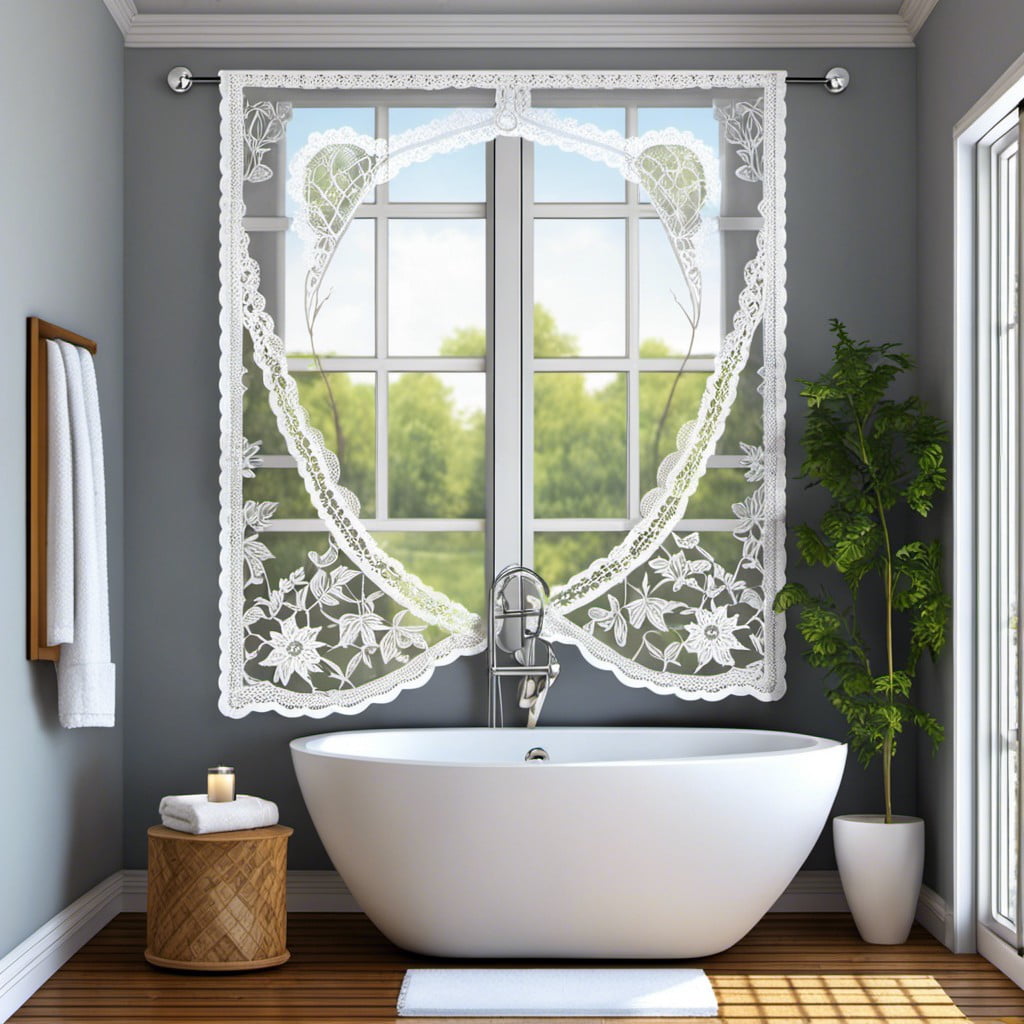 Delicately crafted and subtly enchanting, these screens offer a unique blend of opulence and privacy. Exquisite in detail, they diffuse natural light softly, creating an intimate ambiance. Plus, they're available in a variety of styles, from classic floral to modern geometrics, easily complementing any bathroom decor.
The real star here is their versatility. They can be easily removed for cleaning or when you'd like to enjoy an unobstructed view.
Here's a couple of ideas to consider:
Choose bold patterns: Flaunt your decor flair by choosing screens with bold, intricate designs.
Consider color: While traditional lace is white, these screens can come in shades like beige or ivory for added warmth.
Match with your curtains: For cohesive aesthetics, sync the lace screens with adjacent curtains or towels.
Indulge in the romantic aura of lace window screens while ensuring your privacy remains absolutely uncompromised. It's a chic solution that truly brings the 'wow' factor.
Continue reading:
Recap