Last updated on November 17, 2023
Discover unique and creative small bathroom window curtain ideas because they can dramatically change the appearance and vibe of your little sanctuary.
I am thrilled to share these 20 new small bathroom window curtain ideas, all creatively designed by me, and I sincerely hope they inspire you as much as they did me in creating them.
Struggling to find the perfect curtain ideas for your small bathroom window? This article is packed with creative solutions that are not only stylish but also practical for smaller spaces.
Here, you'll discover a variety of curtain styles, from classic to modern, that will enhance your bathroom's aesthetics while providing the privacy you need.
Whether you're interested in sheer fabrics, blackout materials, or something in between, you'll find the best advice here.
So, let's dive into the world of small bathroom window curtains and transform that tiny window into a stunning focal point.
Floral Print Curtains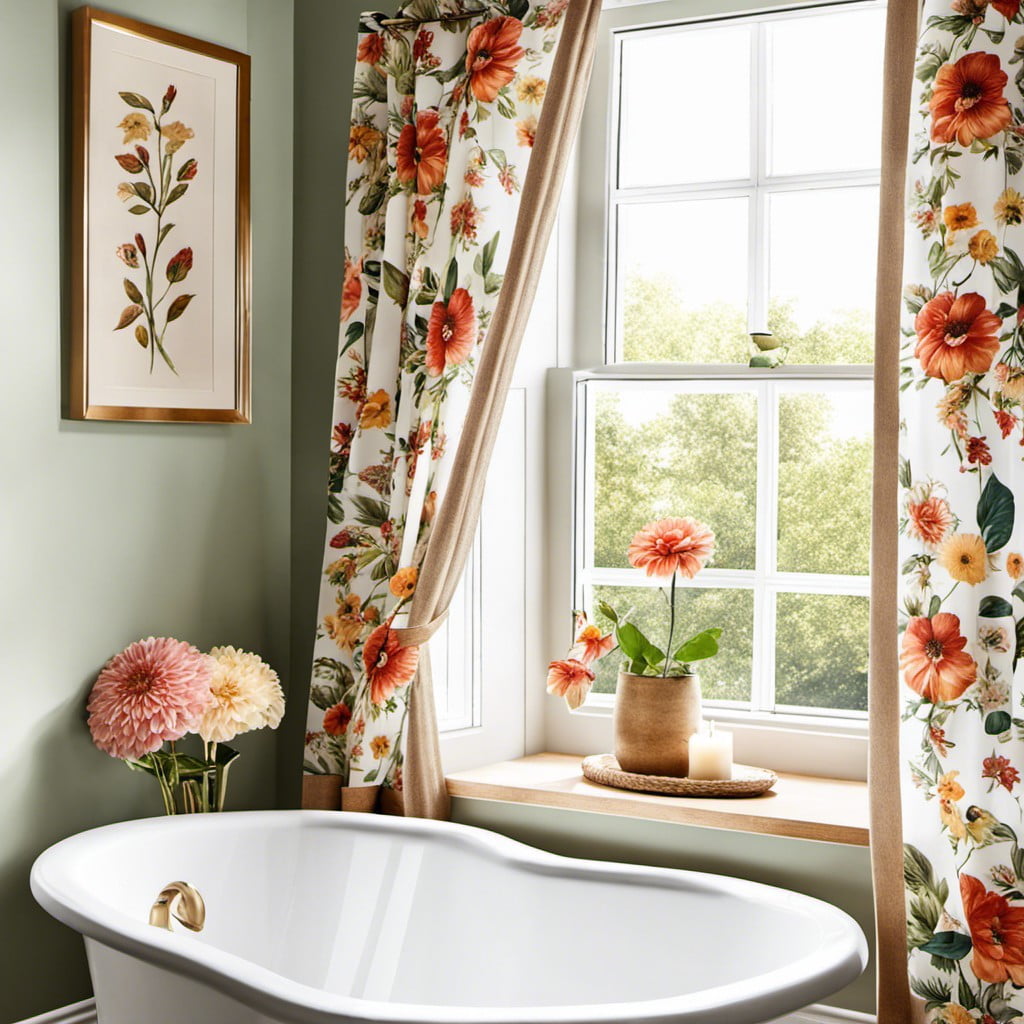 Floral print can bring in a fresh, natural vibe to a small bathroom, serving as an unexpected focus in a usually utilitarian space. Opting for a light background with vibrant pops of color can brighten and visually enlarge the room. Plus, these curtains are easy to change out for different seasons or if you decide to switch up your decor.
Keep in mind, the fabric should be water-resistant or easy-to-clean material like polyester to ward off mold or mildew. Finally, keep the print in scale with the room – too big and it might overwhelm the space, too small and it gets lost. Remember to balance with solid colors in the rest of the room to maximize the effect.
Mini Venetian Blinds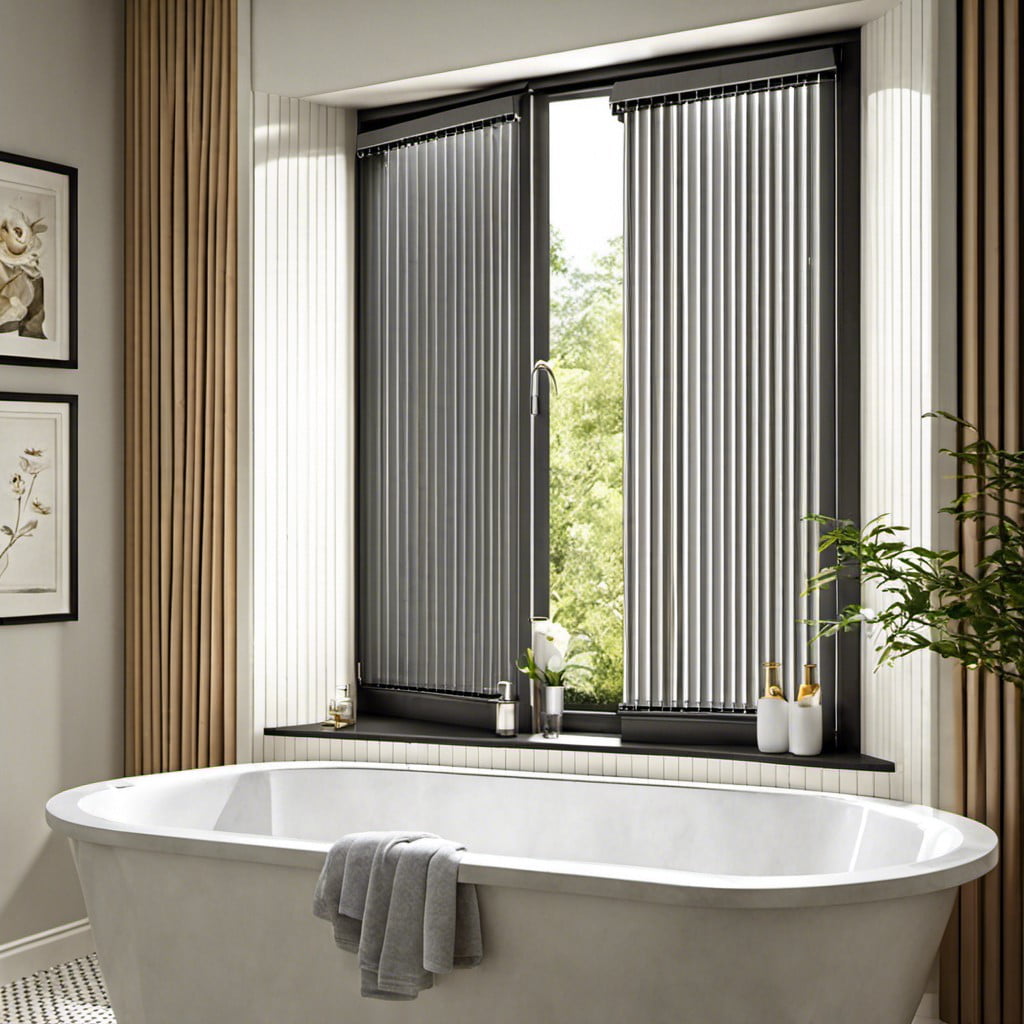 These blinds are an excellent choice for their compact size and ability to control light levels. Their metallic appearance can add a modern touch to the bathroom, while the availability of colors ensures a perfect fit for any decor theme.
Offering both privacy and light control, the adjustable slats can obscure view when needed or be tilted to allow just the right amount of daylight. Easy to clean and resistant to moisture, they are practical additions to the bathroom window.
Installation is relatively straightforward, making them a popular choice for DIY enthusiasts.
Light-colored Linen Drapes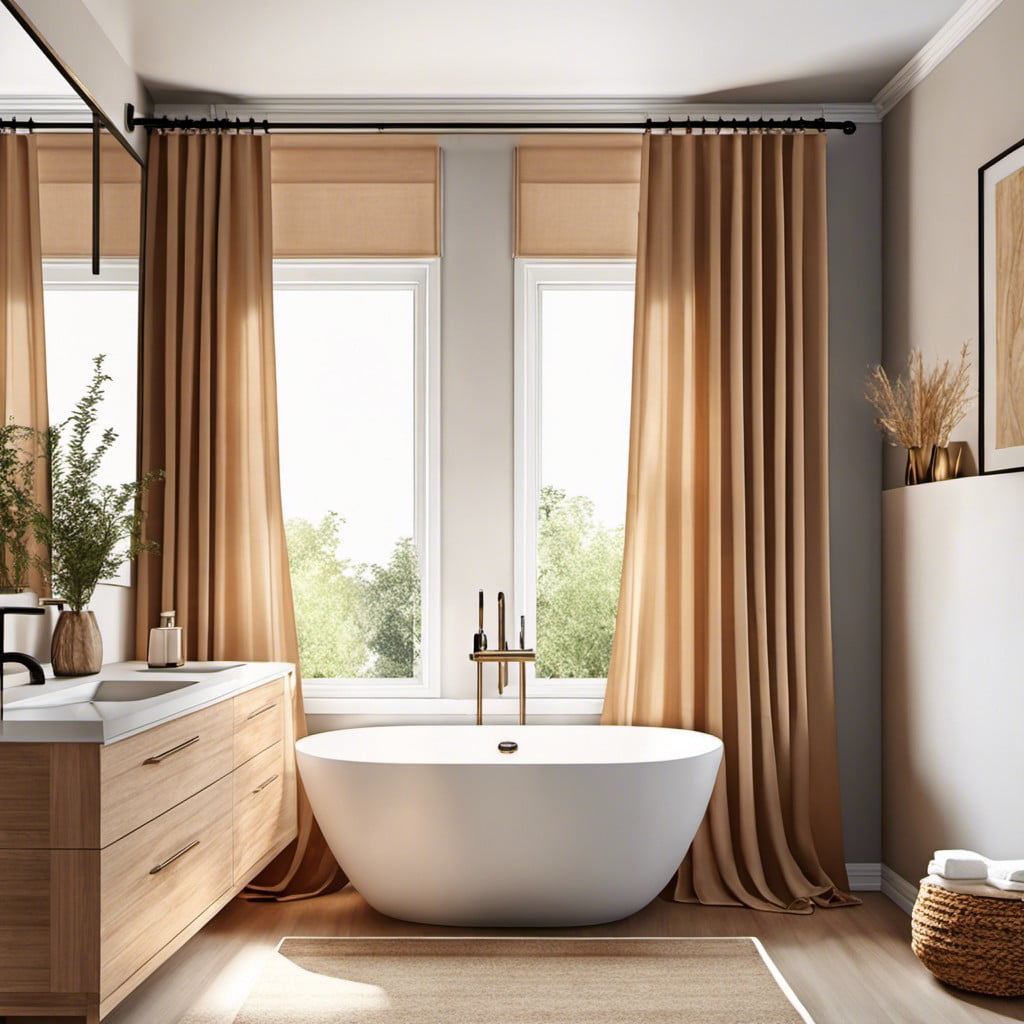 Suited for almost any interior design style, these drapes are a charming choice. Their weightlessness exudes a sense of openness, making your bathroom feel more spacious.
The light fabric filters the sunshine, illuminating the room with a soft glow. Opting for neutral shades such as whites and ivories brings in a calm, serene ambiance.
To maintain privacy, a simple lining can be added. Coupled with their easy maintenance, linen drapes prove to be both practical and stylish.
Frosted Window Film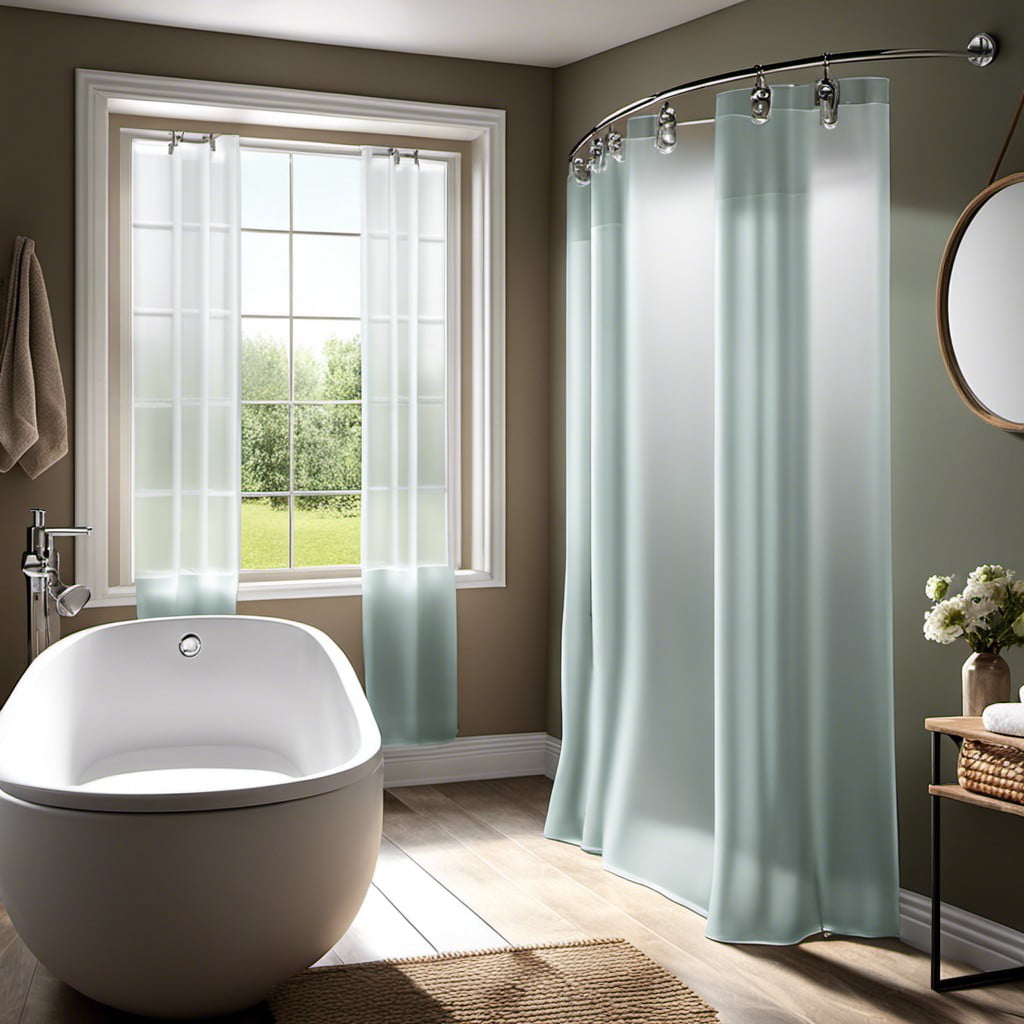 Cut to size and easy to install, frosted window film can transform any bathroom window in short order. This solution adds privacy without blocking the natural light, a key delight in even the smallest of bathrooms.
Several styles are available, from geometric patterns to organic shapes and designs, suitable to complement any decor taste. For those who enjoy frequent refreshing changes, the maintenance is simple – remove the old film and replace it with a new pattern. Best part — no sewing skills or curtain rods are needed, perfect for DIY beginners.
With this practical idea, even the tiniest window will stand out as a stylish element.
Roll-up Bamboo Shades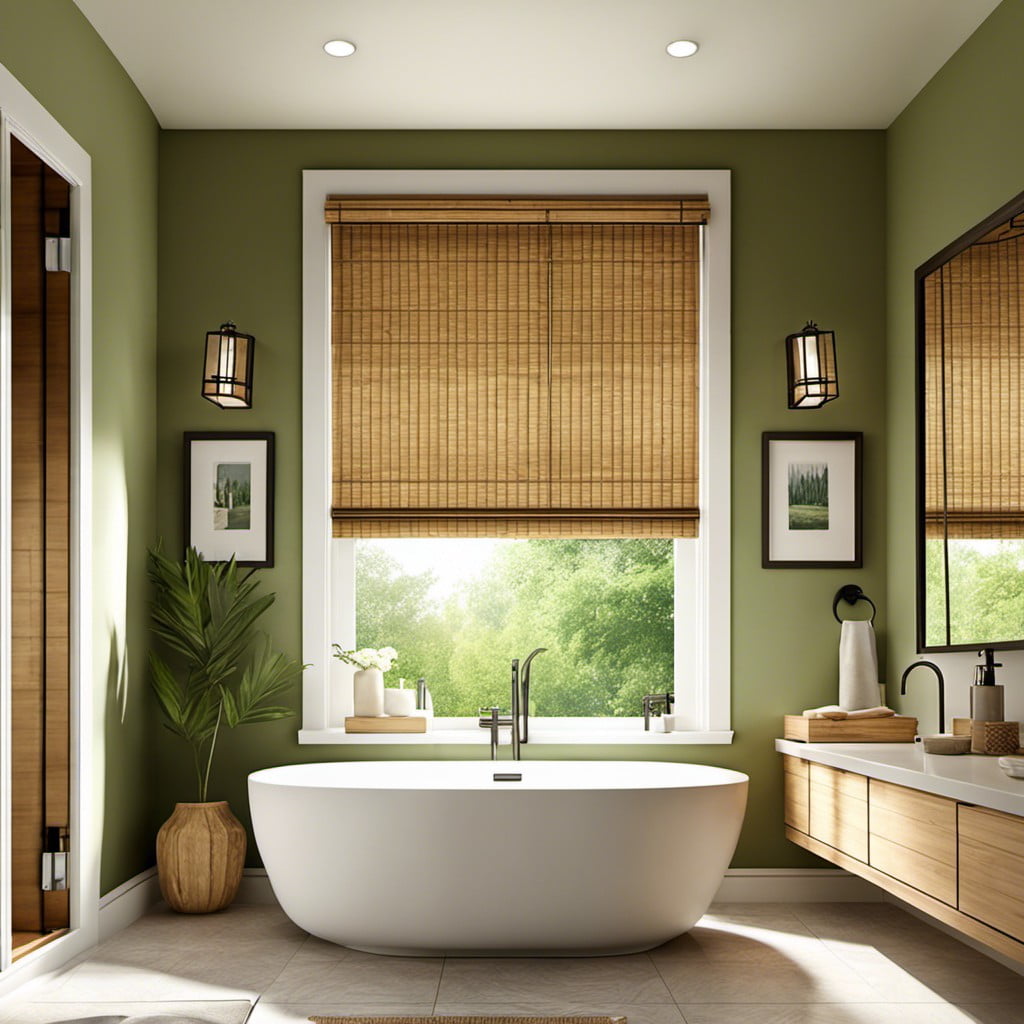 Durable and environment-friendly, these shades offer a unique aesthetic appeal. Their natural wooden tones add warmth and earthiness, effortlessly blending with any color scheme.
They work particularly well in bathrooms with a Zen or spa-like ambience due to their organic feel.
Easy to operate, they simply roll up and down, allowing you to control the amount of light and privacy needed.
They resist moisture, a bonus point for bathroom settings.
Finally, pair them with other bamboo or wooden elements for a unified look.
Roman Shades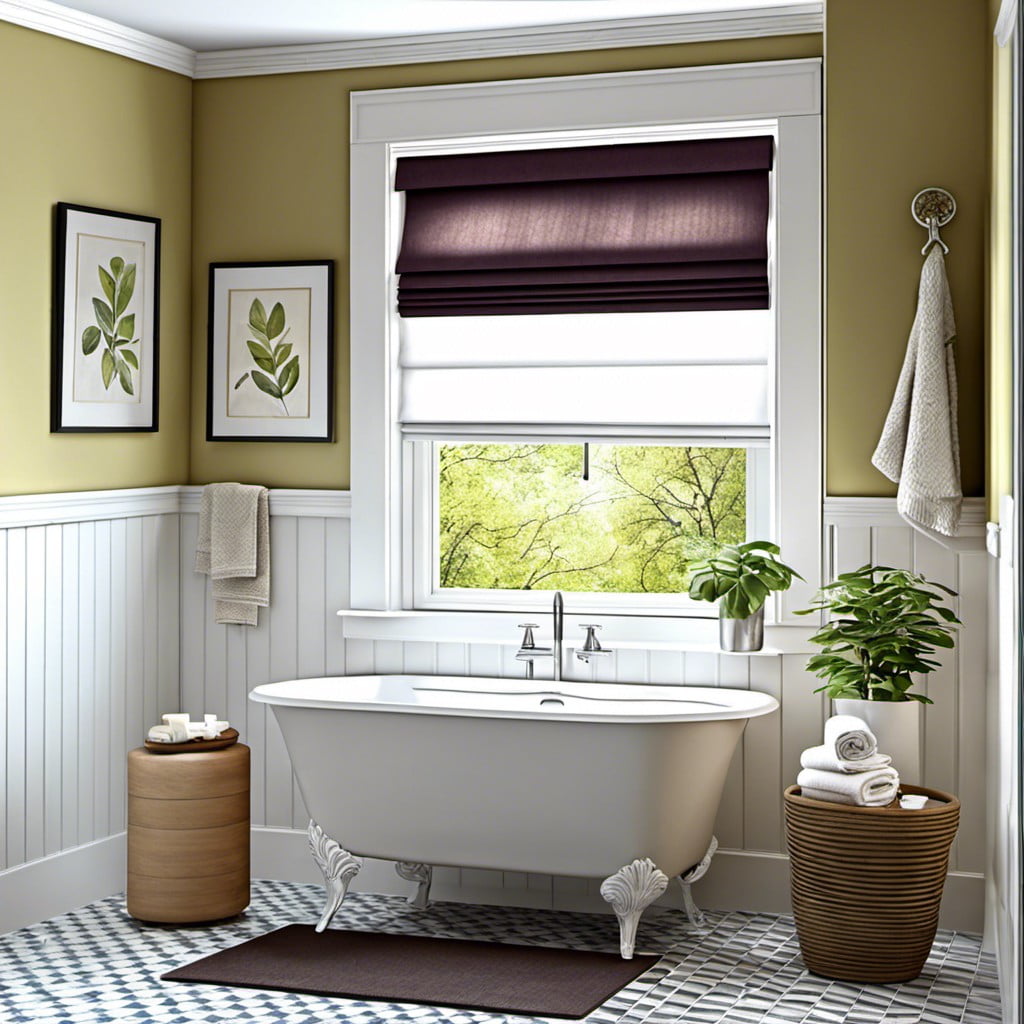 Perfectly suited for small bathrooms, Roman shades add a sophisticated touch without compromising on privacy. These fabric window coverings have a classic clean-cut look, gently folding into themselves when raised.
Choose water-resistant materials to avoid mildew and let in ample light by opting for lighter colors. For a tranquil spa-like ambiance, pastels or neutrals work well. If you seek more pizzazz, go for a patterned fabric that can serve as a statement piece. Remember to keep the pattern subtle so it harmonizes with the rest of the room.
Water-resistant lining is key for longevity, ensuring your shades maintain their aesthetic appeal over time. This chic option is not only practical but also lends a stylishly streamlined appearance to your bathroom windows.
Dramatic Dark-hued Drapes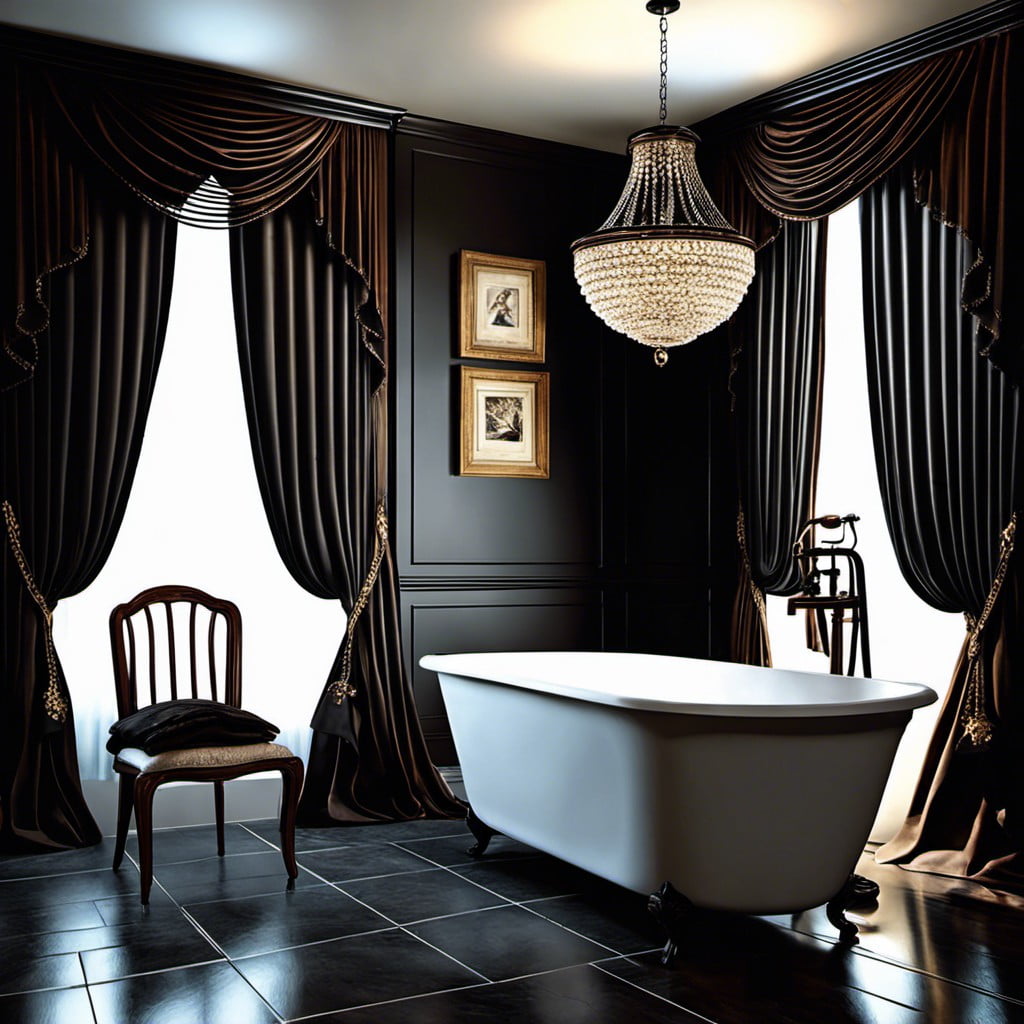 Incorporating dark-toned draperies can add an extra layer of richness and elegance to your bathroom's aesthetic appeal. They can efficiently limit the amount of light coming through, creating an intimate and relaxing atmosphere. Additionally, when paired with light-colored walls, they create a striking visual contrast that can make the space feel more abundant and inviting.
A few points to consider when going for this style include:
Material: Opt for water-resistant fabrics like polyester or nylon to prevent mildew and damage due to humidity.
Length: Floor-length drapes can deliver the best result when seeking drama. However, ensure they don't touch the floor to avoid getting wet.
Tool: Use a tension rod for easy installation and replacement.
Remember – too much darkness can make an already small space feel cramped. So, balance it out with proper artificial lighting.
Lace Mini Curtains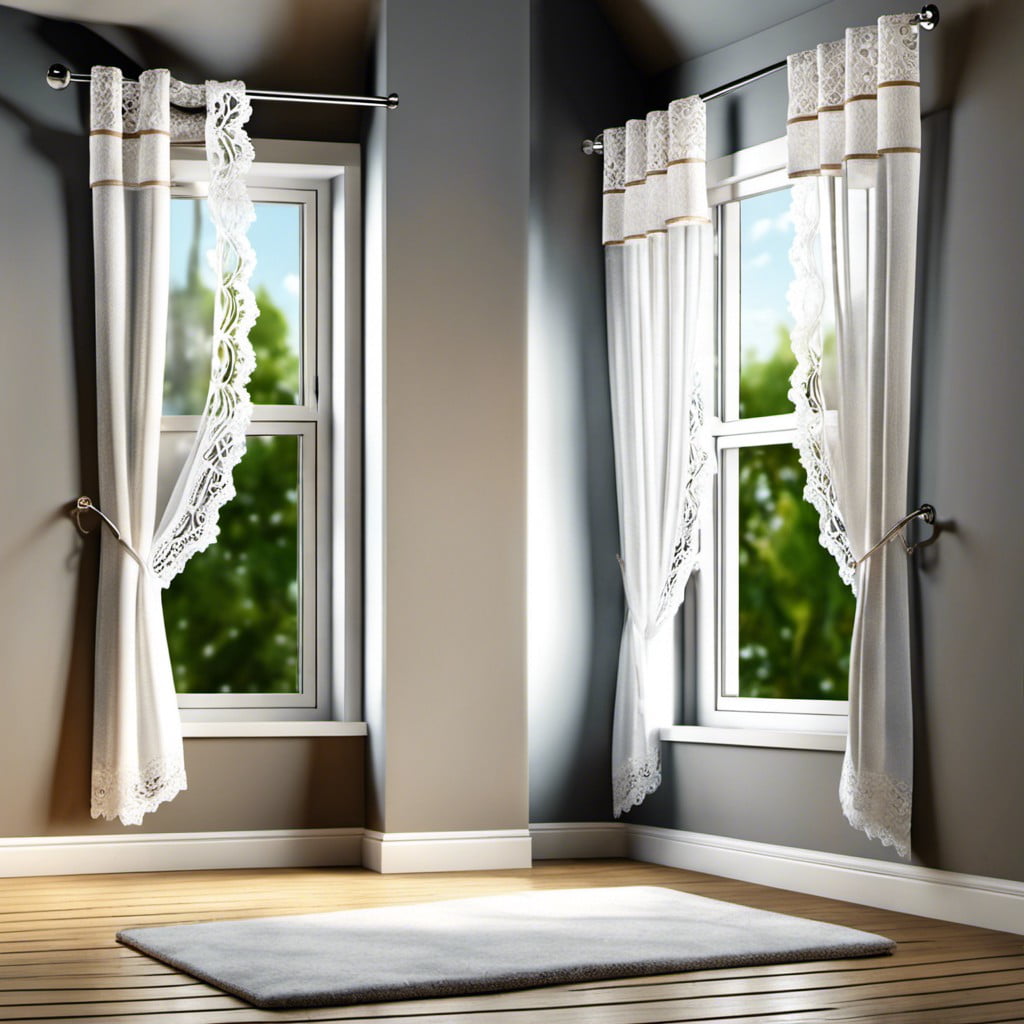 Lace adds a distinct, elegant touch to any decor. Miniature versions strikingly elevate the aesthetic appearance of a bathroom while providing much-needed privacy.
They diffuse light softly, lending an alluring, mystical ambiance to the space. Easy to clean and durable, they are also relatively resistant to moisture and humidity.
Complement the curtains by emphasizing neutral colors and vintage fixtures in your bathroom to bring out that antique charm, or pair with more modern elements for a fusion of design styles.
Choosing this style provides an excellent way to subtly carry on a Victorian or old-world decor theme from other rooms into your bathroom.
Remember, the delicate patterns in the lace are the stars of the show, so keep the rest of your decor simple and let the mini curtains shine.
Cafe Curtains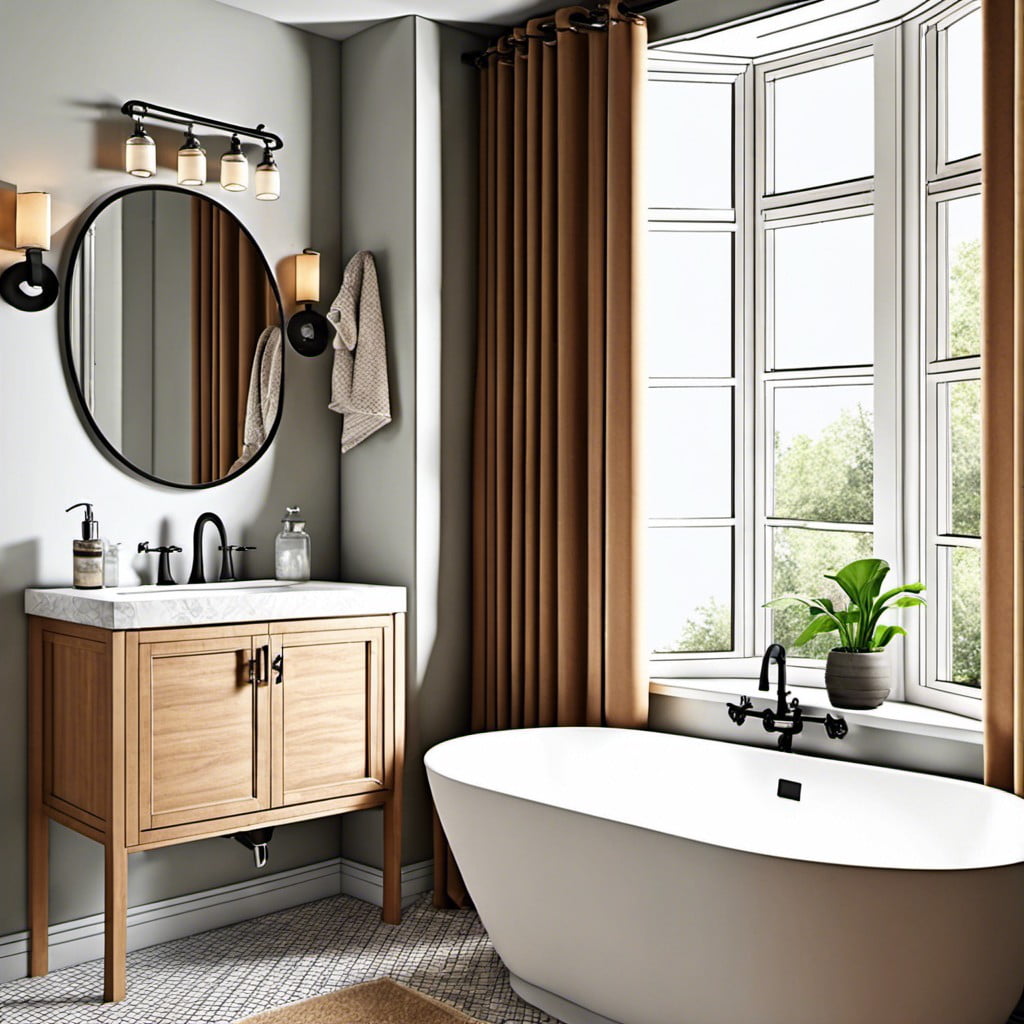 In need of a vintage touch? Opt for this style that only covers the lower part of your window, providing privacy while letting in plenty of natural light.
Traditionally found in kitchens and bathrooms, these easy-to-install wonders offer a flexible way to balance light and privacy.
Enhance functionality by pairing them with roman or roller shades.
For a more aesthetically pleasing look, choose fabrics like cotton, linen, or lace.
Refresh the classic style with modern prints or stick to solid colors for a timeless look.
Be sure to measure your window before selecting curtain length to ensure a perfect fit.
Colorful Fabric Curtains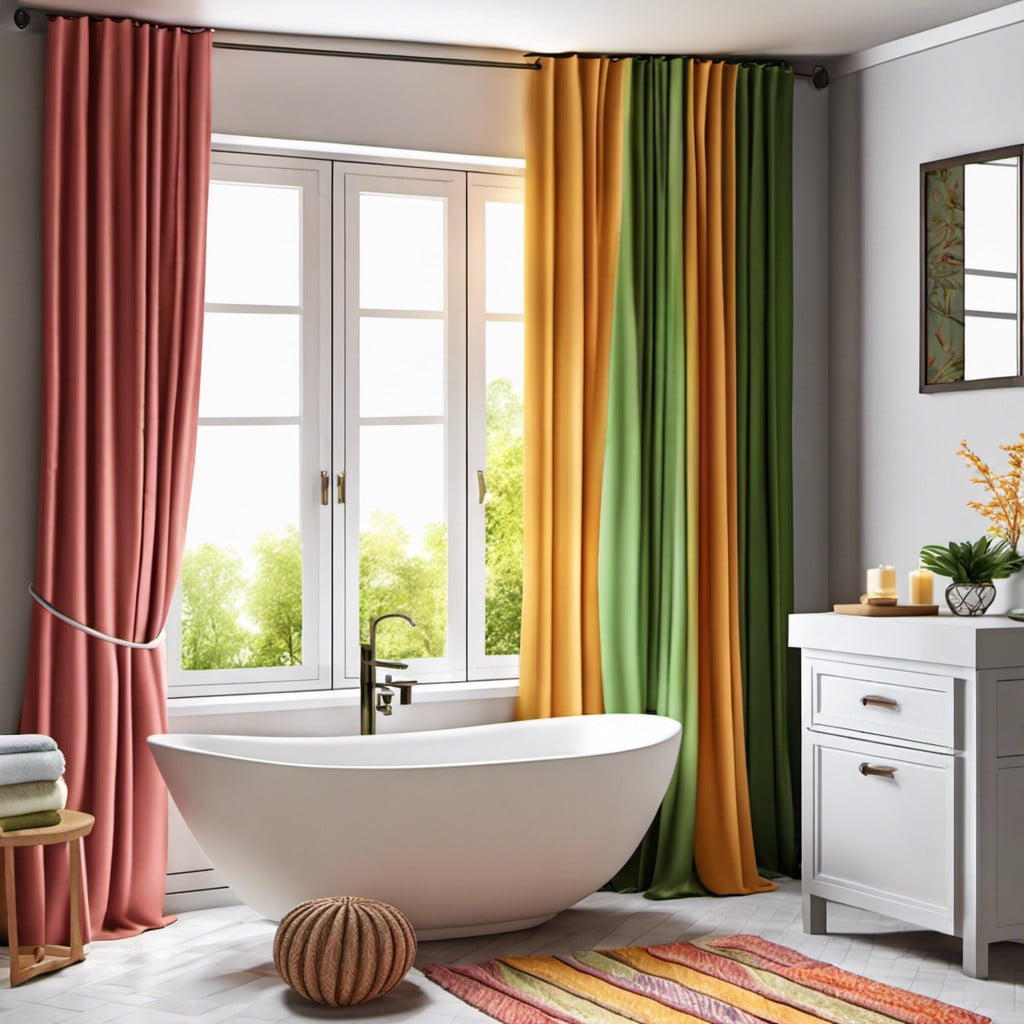 Bringing in a splash of color can make a huge difference in any small bathroom. With fabric curtains, the options are virtually limitless. Opt for vibrant colors and dynamic prints to create an aesthetic that's playful and energizing.
From fiery red to dreamy lavender, the choice of color can set the mood for your entire bathroom. When choosing the fabric, always consider your bathroom's moisture levels. Go for synthetic fabrics like polyester or nylon as they resist mildew better than natural fabrics.
Remember, your fabric curtains don't need to match your bathroom decor precisely, a bold contrast can make a striking statement. Lastly, keep in mind that additional accessories like unique tiebacks or stylish rings can enhance the overall look.
Now, let's explore the use of sheer white drapes.
Sheer White Drapes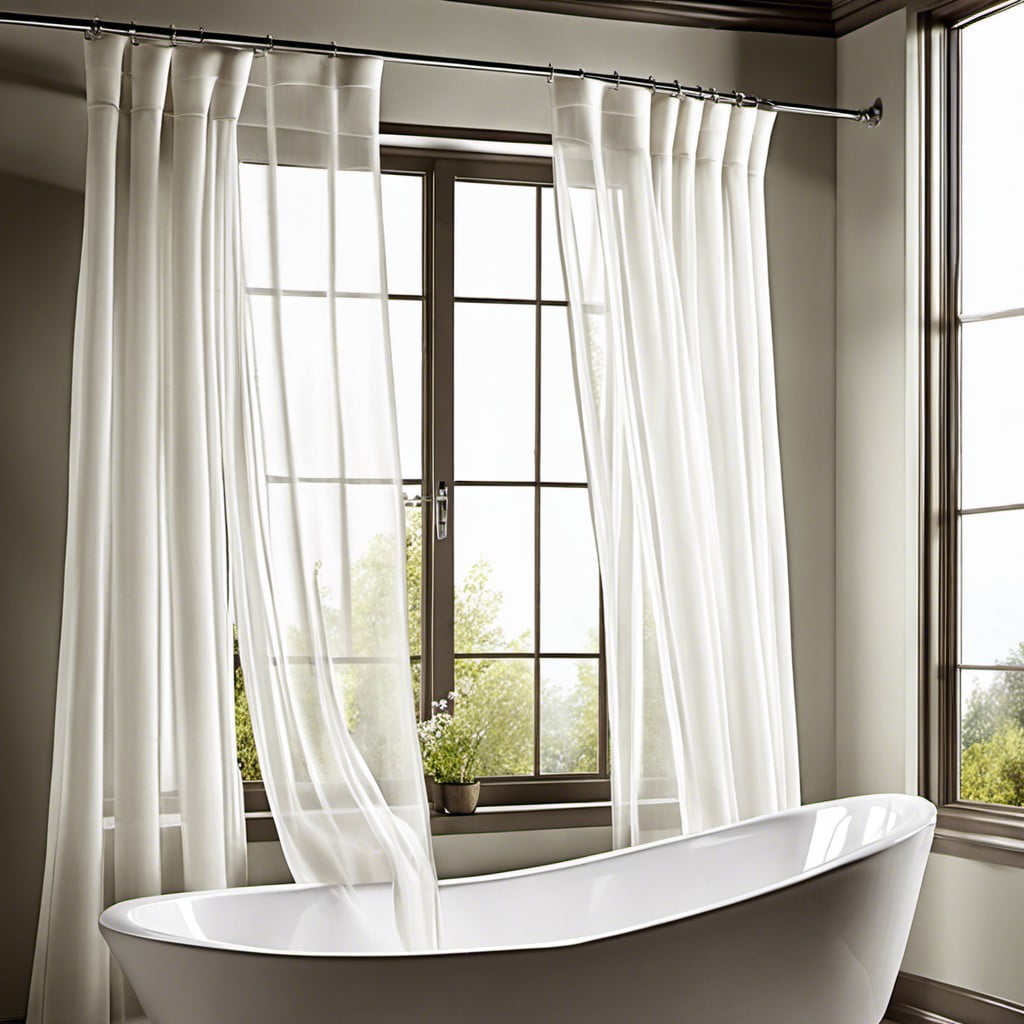 Given their translucent nature, sheer white drapes hold a timeless appeal. They allow ample daylight to flow through while offering enough privacy. The result: a bright, breezy space that feels larger than it actually is.
In addition, the versatile color and style can fit into a variety of aesthetics, from modern to coastal. To spice things up, try combining them with mini blinds or colored drapes. For an easy upkeeping process, opt for materials that are machine-washable. It's a cost-effective solution too, as numerous affordable options are available in online and physical stores.
Remember, the key is to keep it simple and let the sheer drapes work their soft, airy magic.
Mini Wooden Shutters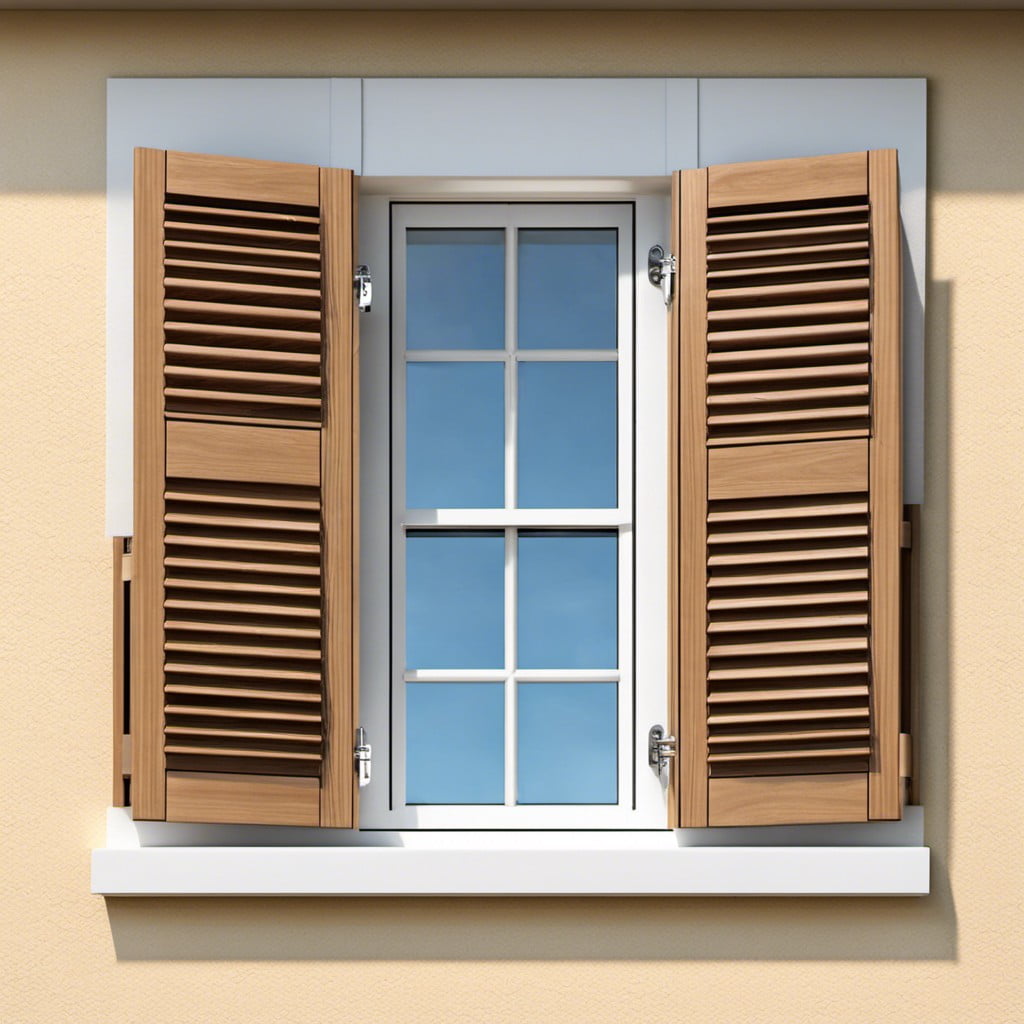 Offering both functionality and fashion, these shutters are wonderful additions to smaller bathrooms. Versatile and timeless, they add a touch of elegance while ensuring your privacy.
Here are a few pointers about these charming features:
Natural Wood: Their warm, rich tone can create an inviting atmosphere, softening the often cold, sterile vibe of bathroom interiors.
Adjustable Slats: They allow you to control the amount of light coming in – perfect for some gentle morning sunshine or a calming afternoon glow.
Durability: High-quality wood and a protective sealant provide longevity, standing up to the hot, humid conditions of your bathroom.
Easy Cleaning: Simply use a dustcloth once every week or so to help keep your shutters looking fresh.
Customizable: Easily paint them to match your bathroom's color scheme or leave them in their natural state for a rustic appeal.
Vinyl Mini Blinds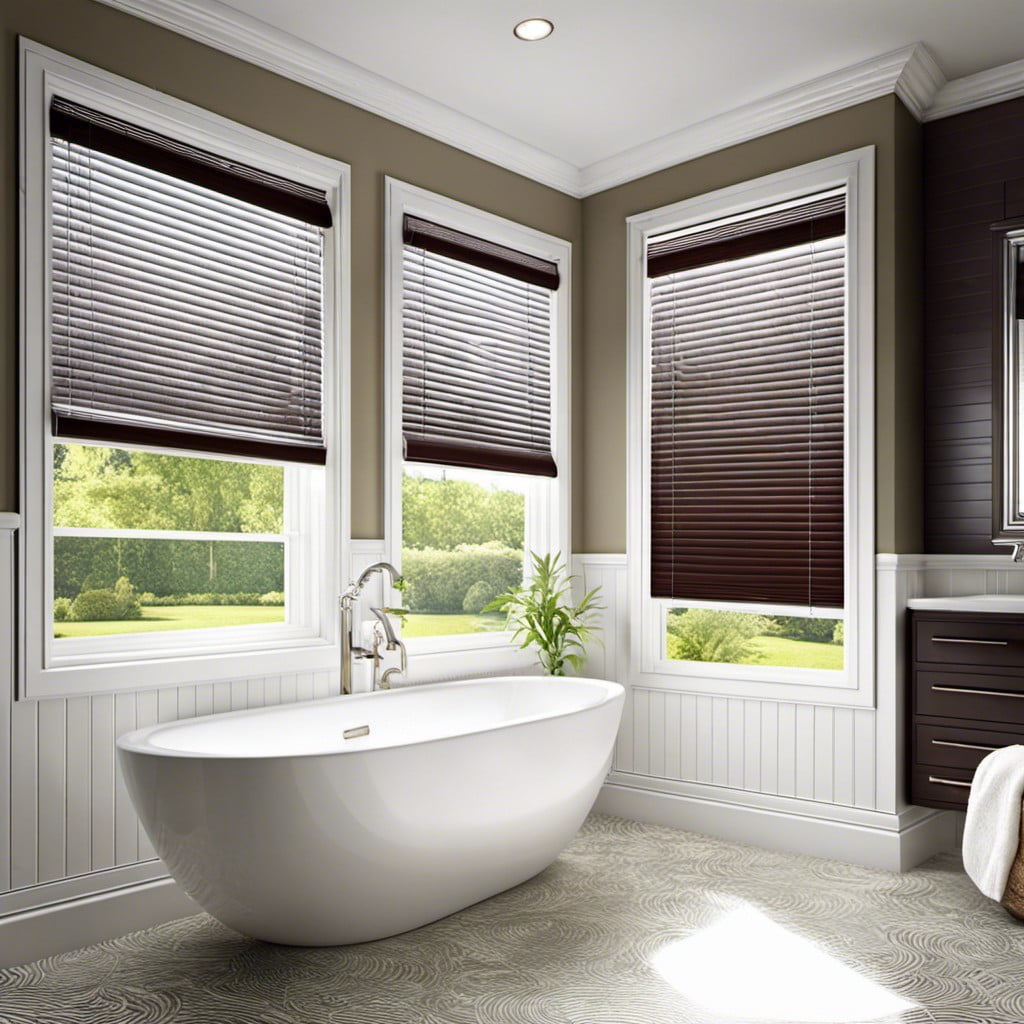 Providing a sleek and modern look, vinyl mini blinds bring a host of benefits to your bathroom window. Firstly, they offer excellent light control, allowing you to adjust the slats to let in just the right amount of sunlight. Simultaneously, they ensure ample privacy, which is particularly important in a bathroom setting.
Another advantage of choosing vinyl is its moisture resistance. Unlike wood or fabric, vinyl will not warp or grow mold when exposed to the steam and humidity inherently present in a bathroom. Lastly, their easy maintenance makes vinyl mini blinds a truly user-friendly option. Wiping them down with a damp cloth occasionally is all it takes to keep them looking as good as new.
Stained Glass Film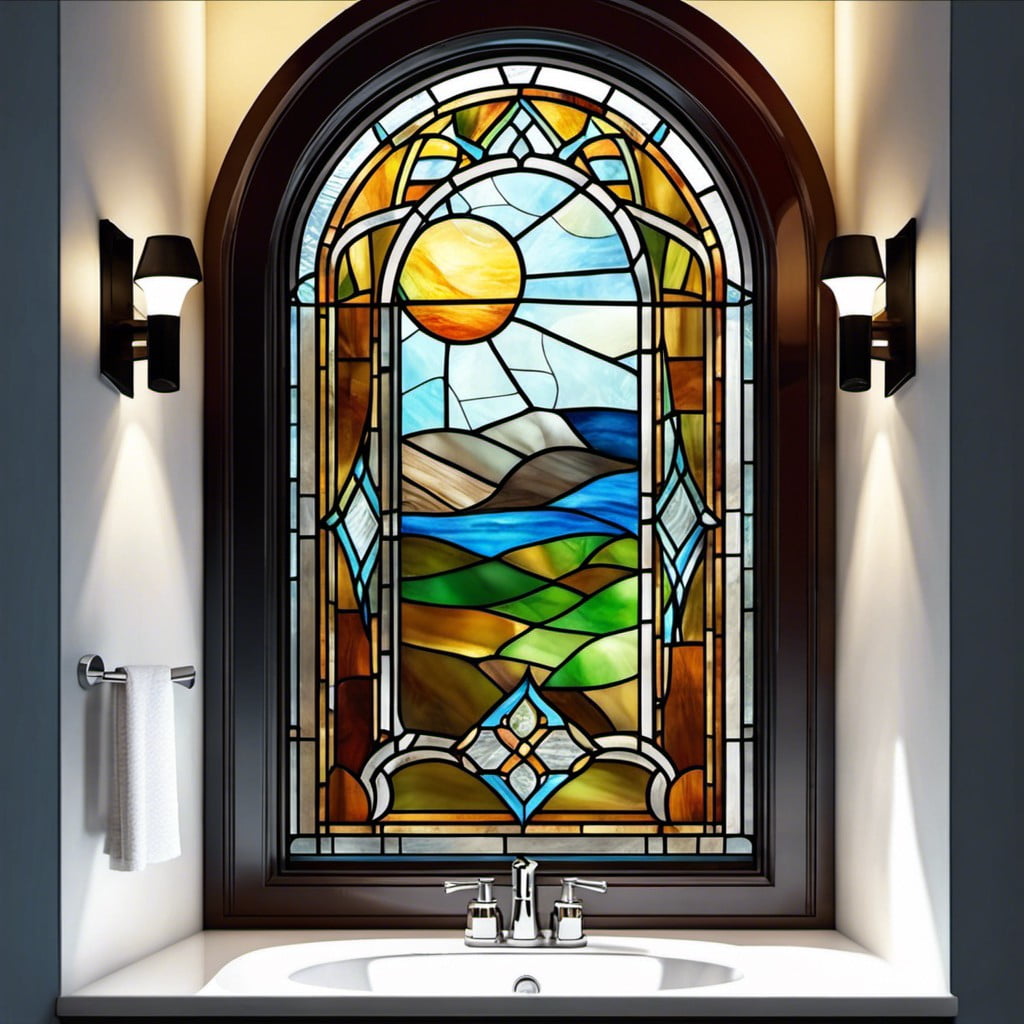 Stained glass film is an unconventional yet artful solution. It offers privacy while adding a dash of elegance to your small bathroom.
This adhesive is easily applied to windows. When sunlight streams in, the colors dance across the room, adding a warmth and vibrancy typical bathrooms can't match.
You can choose from a wide range of designs, from intricate floral patterns to abstract color swashes. The beauty of this idea is its flexibility – you can change it whenever you want a fresh look.
Plus, it's an affordable option that requires no sewing and minimal maintenance. Whether you lean towards traditional or modern design, there is a stained glass film to match your aesthetic.
Tiered Ruffled Curtains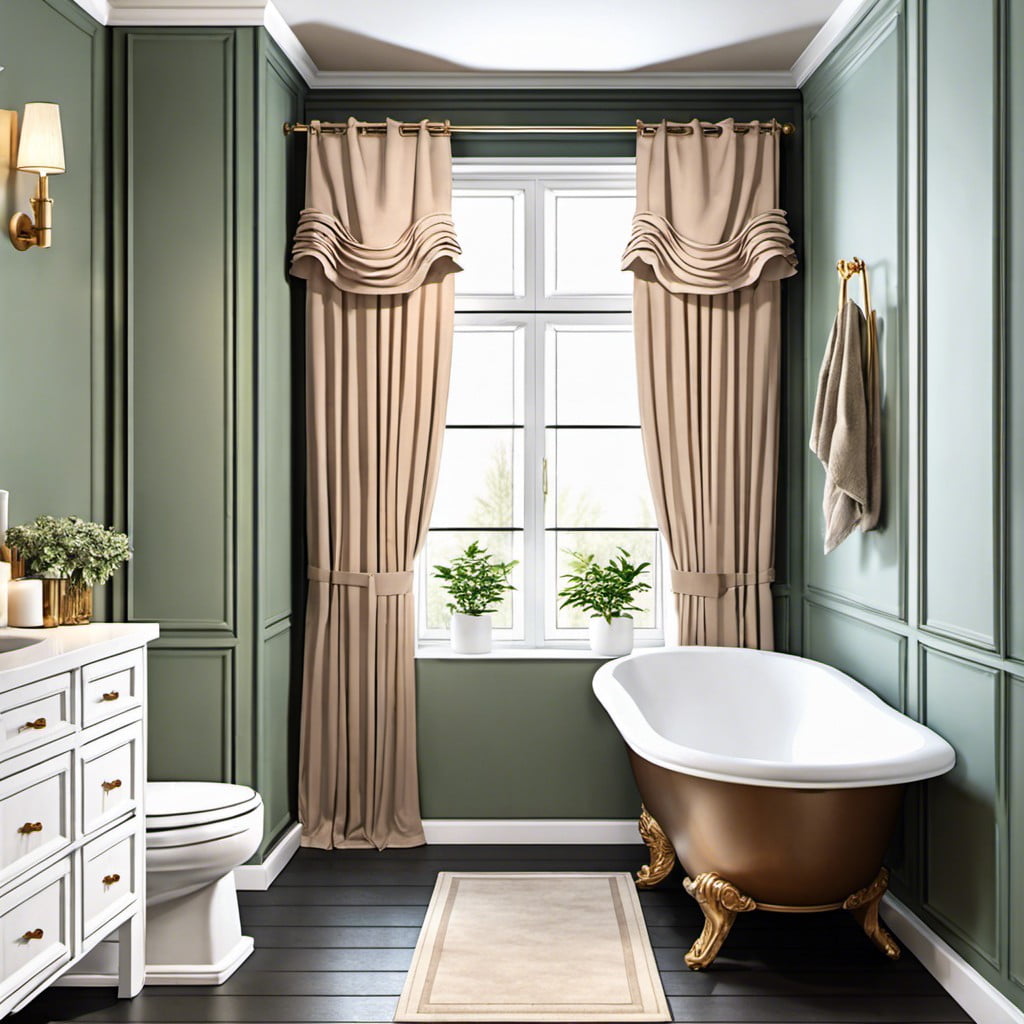 Beautifully textured and perfect for evoking a sense of classic elegance, these decorative additions infuse any space with a romantic touch. They can soften the feeling of a typically hard-edged area, providing an atmosphere of comfort and charm.
Here are some quick suggestions:
Eyelet Fabric: Choose an eyelet design for a delicate feminine aesthetic. It will let light in while still maintaining privacy.
Pastel Shades: Pastel hues can enhance a light and airy feeling, perfect for a small space.
Length: Where the curtain falls can dramatically affect the look. Keep them floor-length for a luxurious touch or just make them window-long for a neat finish.
Layering: Add multiple layers of ruffles for an enhanced depth and luxury feel.
Material: Opt for lightweight materials to prevent an overcrowded feel.
Remember, though the pattern is classic, you should play around with colors and materials to match your overall décor theme.
Nautical-themed Curtains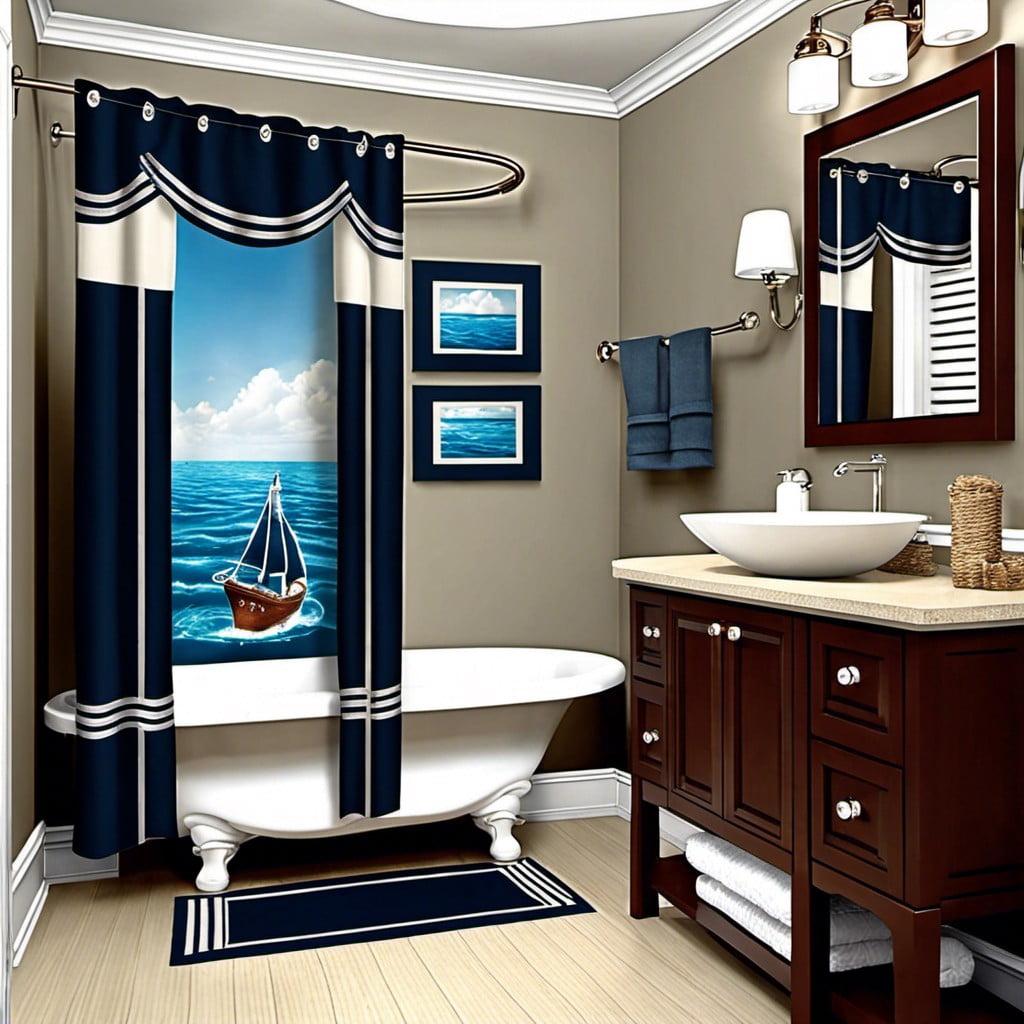 Seafaring motifs and navy blue stripes can instantly evoke a coastal feel in your bathroom. For a minimalist aesthetic, choose white curtains adorned with small navy blue anchors or sailboats.
Those who love a pop of color might prefer vibrant beach hut patterns.
Pair these curtains with white or pastels for a refreshing, airy vibe. A bolder approach could include contrasting accessories such as striped towels or rustic nautical decorations like miniature lighthouses, shells, or boat steering wheels.
Remember, it's all about embracing the maritime spirit without going overboard. A delicate balance between subtlety and theme will lead to a bright, stylish, and unique bathroom that serves as a cheerful start to your day.
Moroccan-style Drapes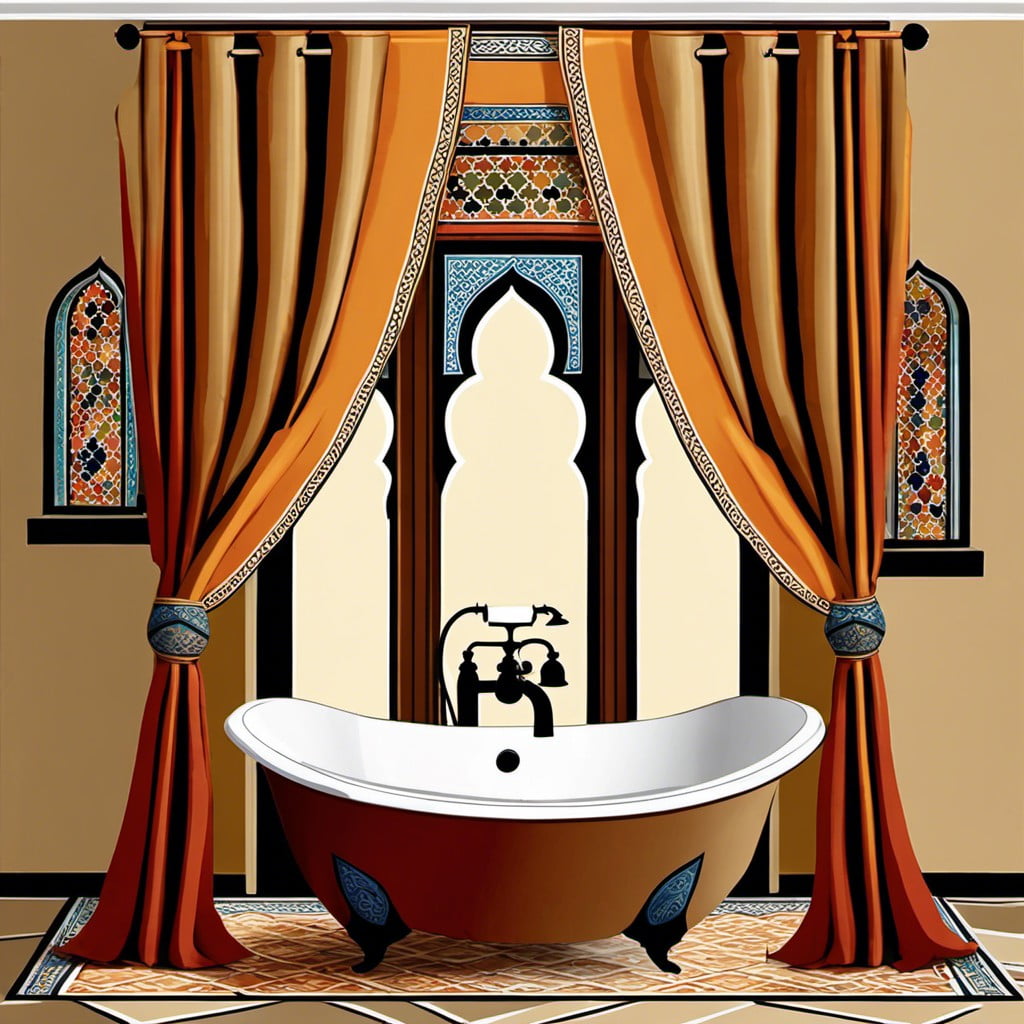 With their vibrant prints and hues, these drapes can infuse a small restroom with vivacity and personality.
Opt for warm tones with geometric patterns for an authentic touch.
A bonus is light-filtering quality: enough to maintain the privacy but allowing natural light in.
These drapes may be used alongside an inside mount to save space but to secure the desired privacy level.
It's okay to only have the curtains halfway down, especially if they're mainly for aesthetics.
Add a bit of allure to your small bathroom by dressing up your window in this exotic print.
Valance Curtains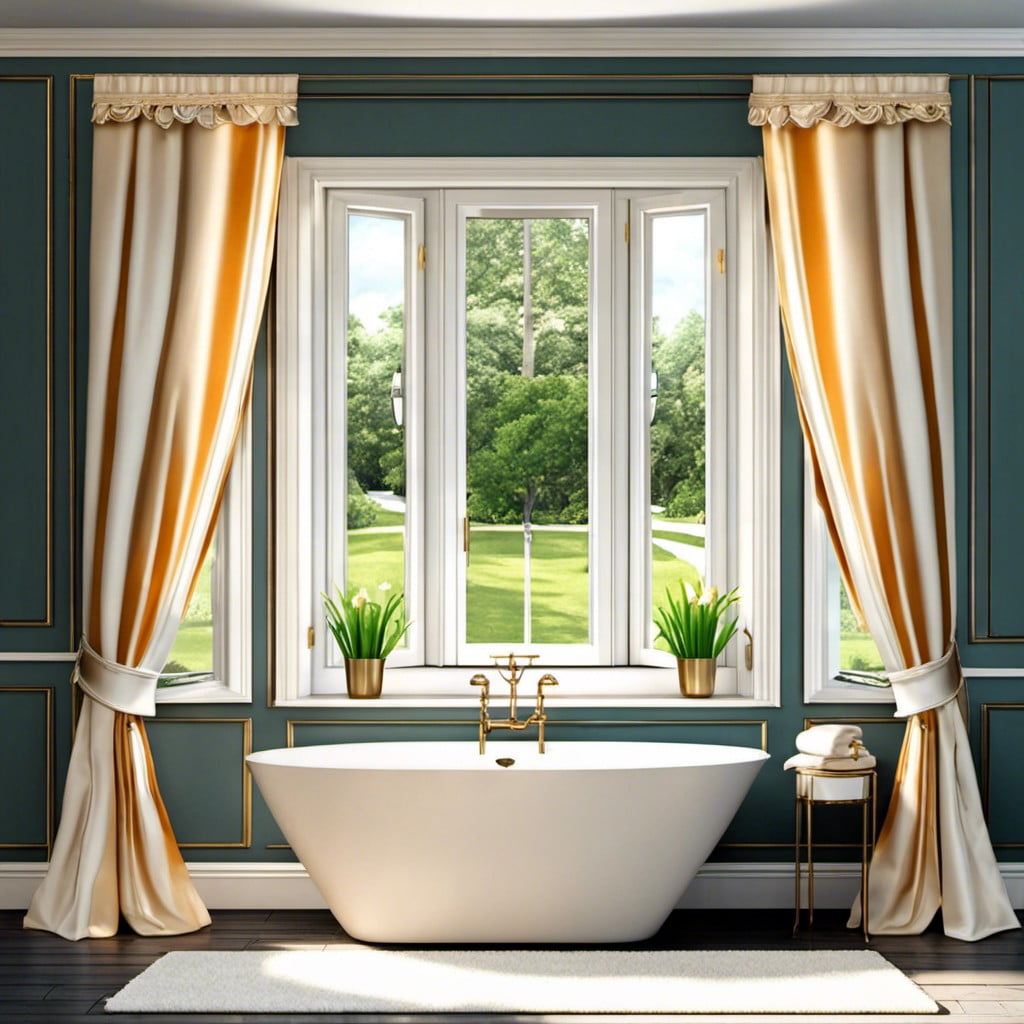 As an eye-catching design feature, valances make a significant impact. They cover only the upper part of the window, allowing for plenty of natural light while providing privacy. Valance curtains are perfect for smaller bathrooms, as they don't weigh down the space visually.
Here are some considerations for valance curtains:
Fabric Choice: Opt for fabric that can withstand moisture like polyester or a poly-cotton blend.
Style: Ruffled, straight, or patterned? The choice of style can dramatically alter the look of your bathroom.
Color: Choose a color that complements your bathroom's palette.
Length: The length of the valance should be 1/3 of the window's total length to maintain balance.
Width: For a richer look, choose a valance that is 2 to 2.5 times the width of the window.
Curtains With Simple Stripes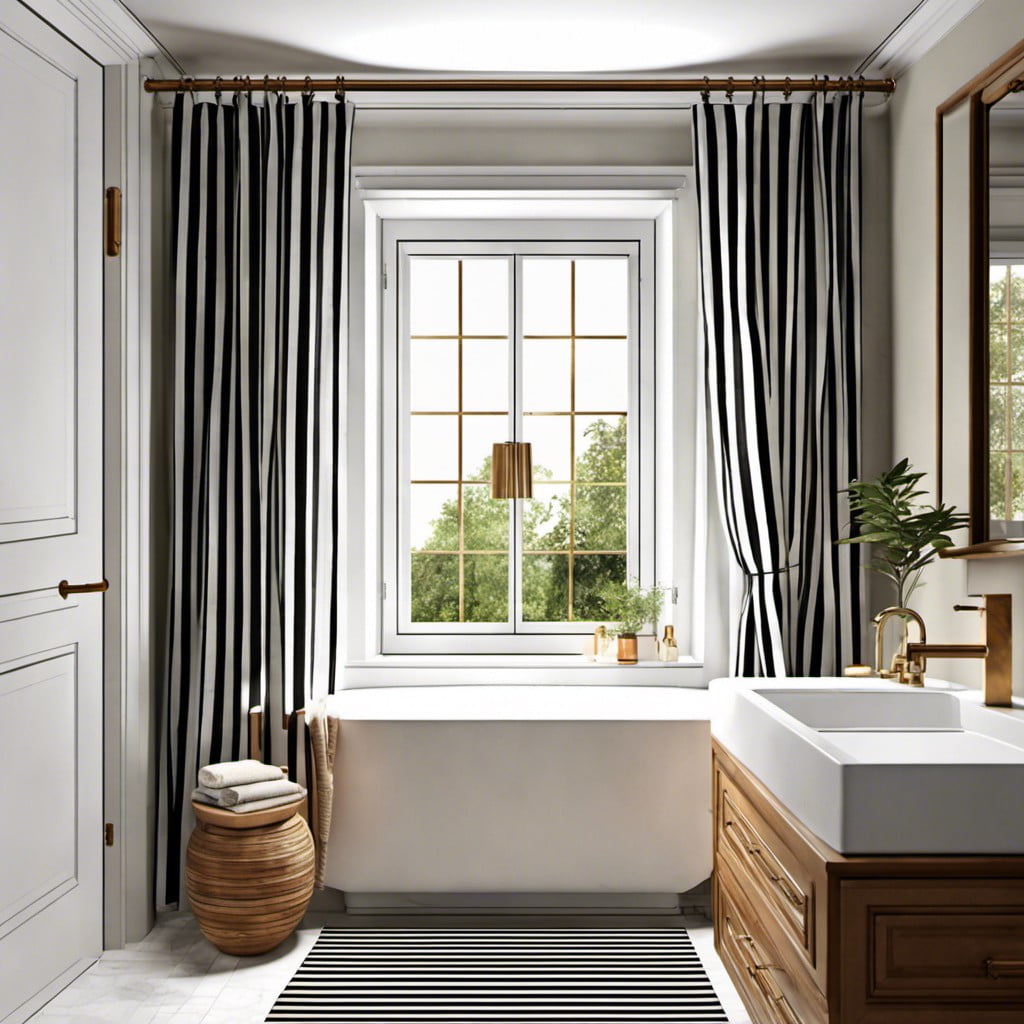 Bold, strong, and clean – these are the attributes of stripe-patterned curtains. Working perfectly with minimalist and modern interiors, they bring a touch of sophistication to a small bathroom.
The orientation of stripes can be a fun aspect to play with as well – consider horizontal stripes to create an illusion of wider space, or vertical stripes for a taller, loftier feel.
When selecting colors, remember to complement your bathroom's existing color scheme. The powerful thing about stripes is their versatility; they effortlessly blend with vibrant hue or play a counterbalance to neutral tones.
Lastly, the width of the stripes can also be a style factor – wide stripes for a daring look, or narrow lines for a subtly elegant feel.
Gingham Print Curtains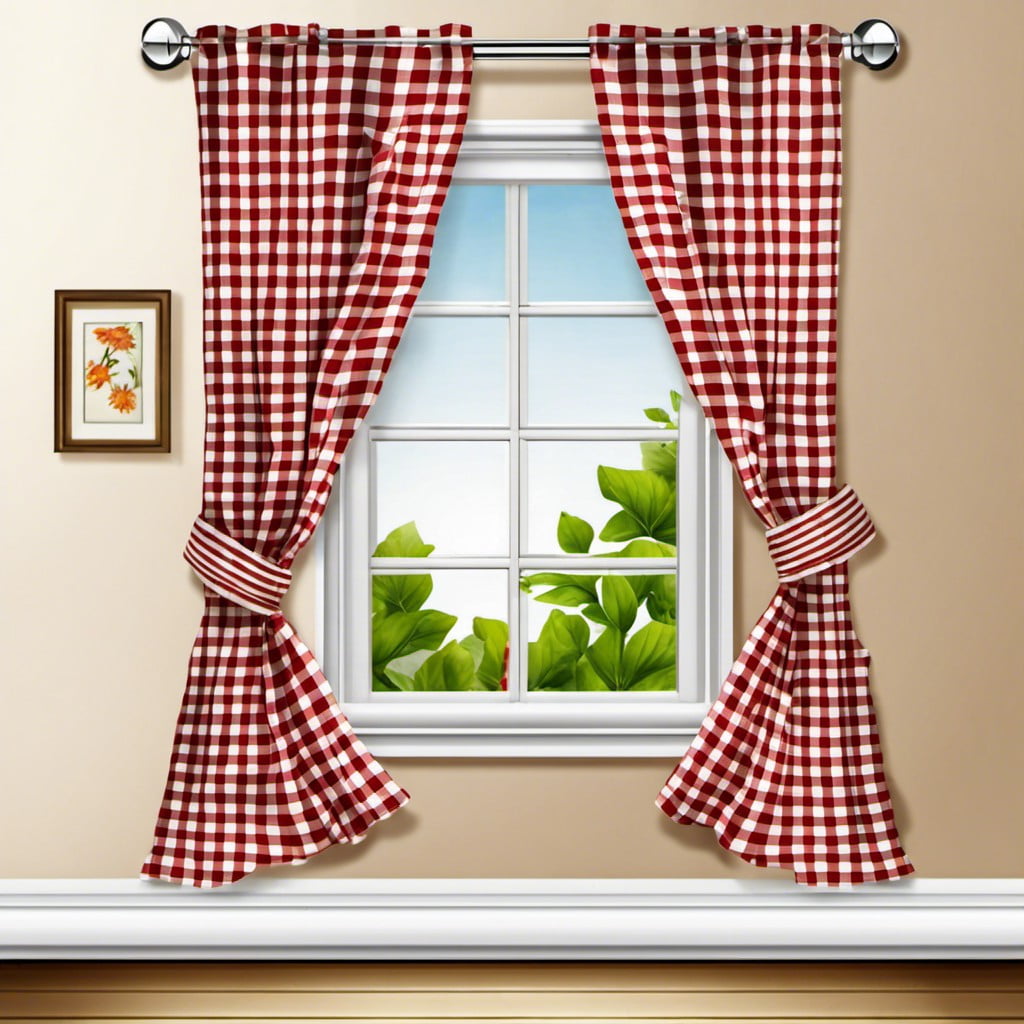 As a timeless choice, Gingham print brings a dash of country charm, perfect for a quaint and cozy atmosphere.
This print comes in various sizes and colors, allowing you to tailor the feel to your specific taste.
Small checks often draw parallels with a traditional decor style, while larger prints offer a more modern twist.
Choose pastels for a soft, vintage look or opt for bold colors to make a spirited statement.
These curtains provide ample light control while also ensuring privacy, a necessity in bathroom spaces.
Their versatility, coupled with their delightful aesthetic charm, makes Gingham print curtains an excellent choice for small bathrooms.
Continue reading:
Recap