Last updated on November 17, 2023
Embrace the refreshing aesthetics of the sea with these innovative small coastal bathroom ideas, because your bathing area deserves a touch of the tranquil ocean vibes.
Embracing the charm of a coastal setting in a small bathroom can be a delightful design challenge. This article is filled with creative ideas to help you transform your petite powder room into a serene seaside escape.
From color palettes inspired by the ocean to clever storage solutions, we'll delve into various ways to incorporate coastal elements into your small bathroom.
Whether you're looking to create a tranquil retreat or a vibrant, beach-themed space, you'll find all the details you need to bring your vision to life.
Small Vanity With Built-in Storage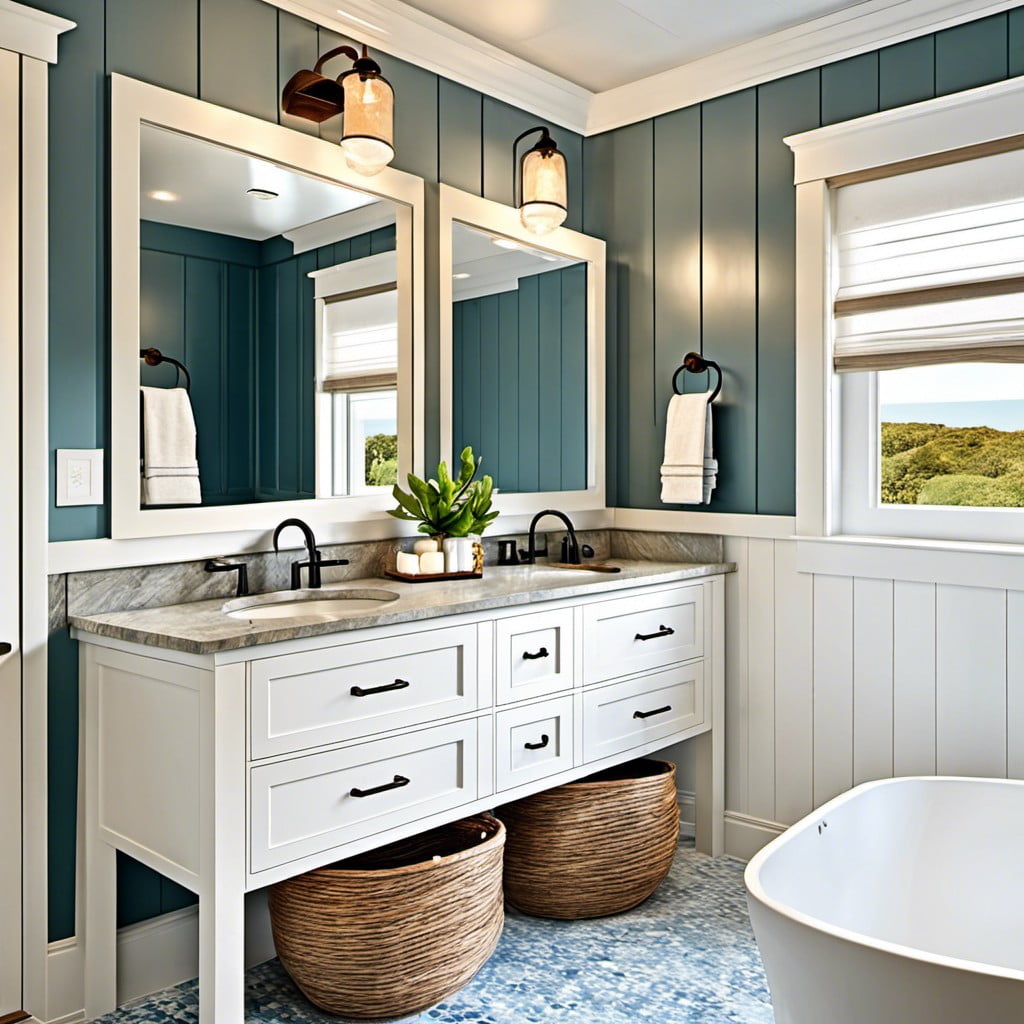 Choosing a petite vanity doesn't mean having to compromise on storage. Many space-smart models come with an assortment of clever solutions to keep your bathroom clutter-free.
Pull-out drawers or doors reveal compartments for stashing everything from soaps to extra toilet paper rolls. Hidden under-sink cabinets provide ample room for stashing less-used items, such as cleaning products and spare towels.
Shelves, perfect for neatly showcasing decorative items, also offer a handy space for storing toiletries. Built-in compartments, on the other hand, can hold smaller necessities like toothbrushes or creams, keeping your countertop clear of mess.
Seashell or Marine Life Decorations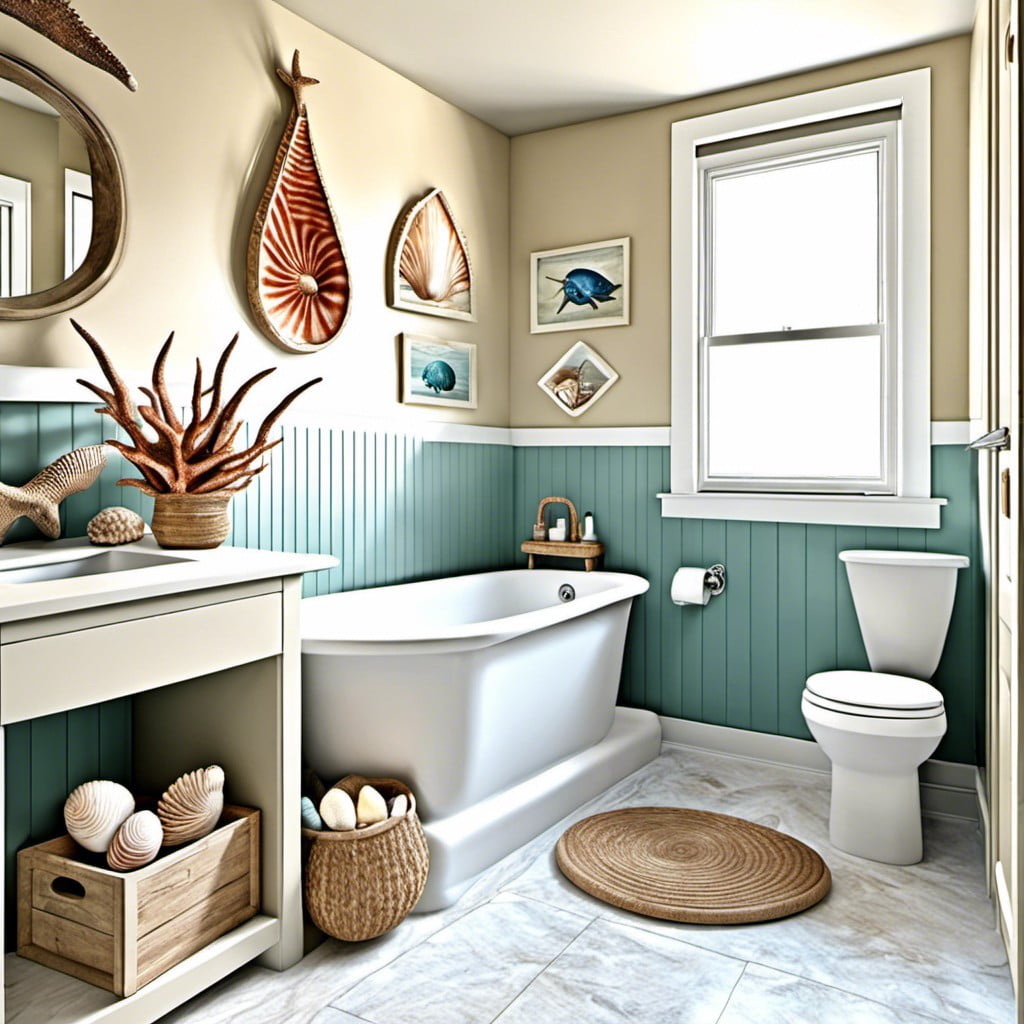 For a truly coastal feel, incorporating elements of marine life offers both charm and authenticity. Go for curated pieces, like tastefully designed seashell soap dispensers, coral-shaped wall hooks, or towel hangers resembling sea creatures. A single, impressive piece such as a starfish or conch chandelier can provide a dramatic focal point. Even small touches, like a collection of beautifully arranged seashells on shelves or a reef motif shower curtain, can evoke powerful seaside memories.
Balancing these decorative items with the general aesthetic of a minimalist bathroom is key to bring harmony in the space. Stick to light and subtle colours so that the accents appear more pronounced.
Light, Coastal Colors Like Blues and Whites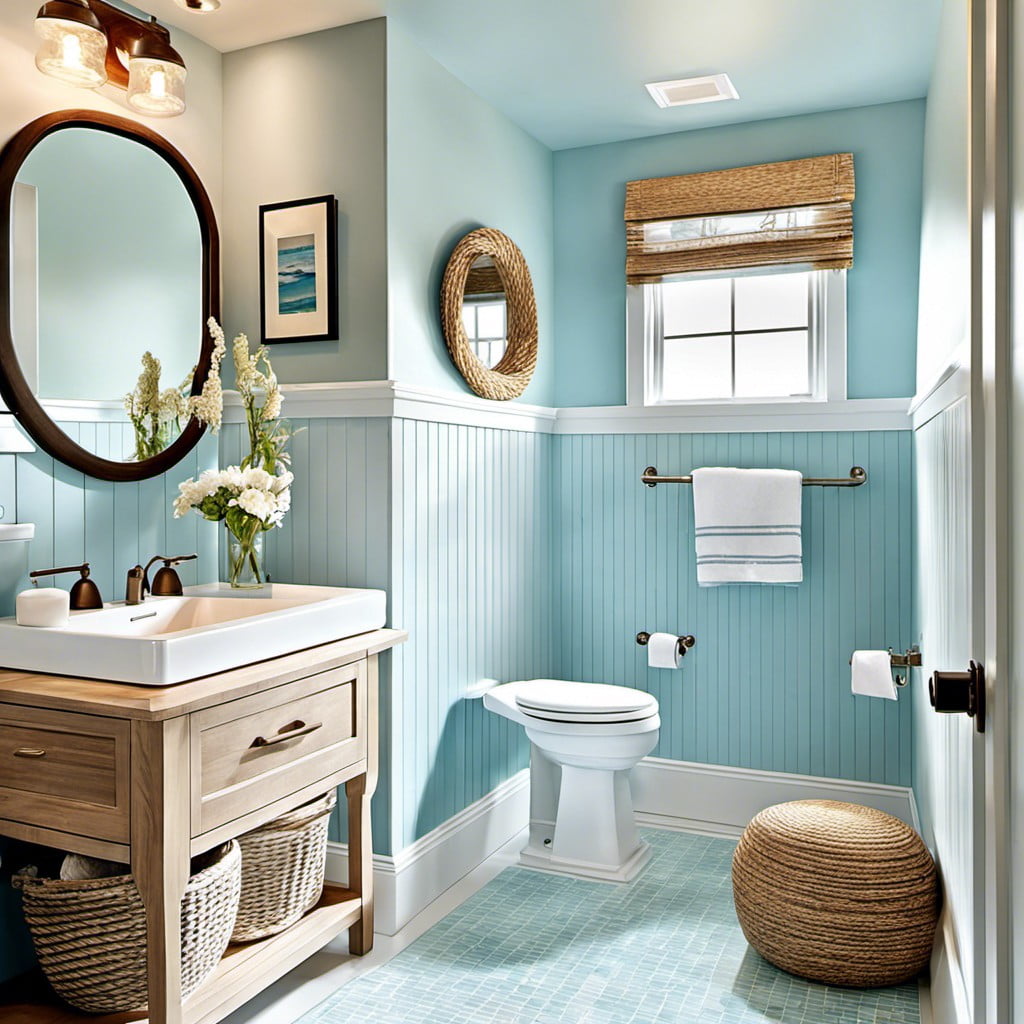 Taking inspiration from the soft hues of the sea and sky, painting your bathroom in serene blues and bright whites can create an inviting coastal charm. Opt for a refreshing turquoise or a calming seafoam green to emulate the ocean's tranquility.
Pair these with a crisp, clean white on your ceiling and trim to enhance the natural light within the space. Paint a feature wall in a deeper nautical blue for a bold, maritime feel. Waterproof, fade-resistant paints are particularly beneficial to uphold the hues in a humidity-prone bathroom environment.
Experimenting with these light coastal colors will transform your small bathroom into a breezy beach retreat!
Mosaic Tile Mirror Reflecting Ocean Themes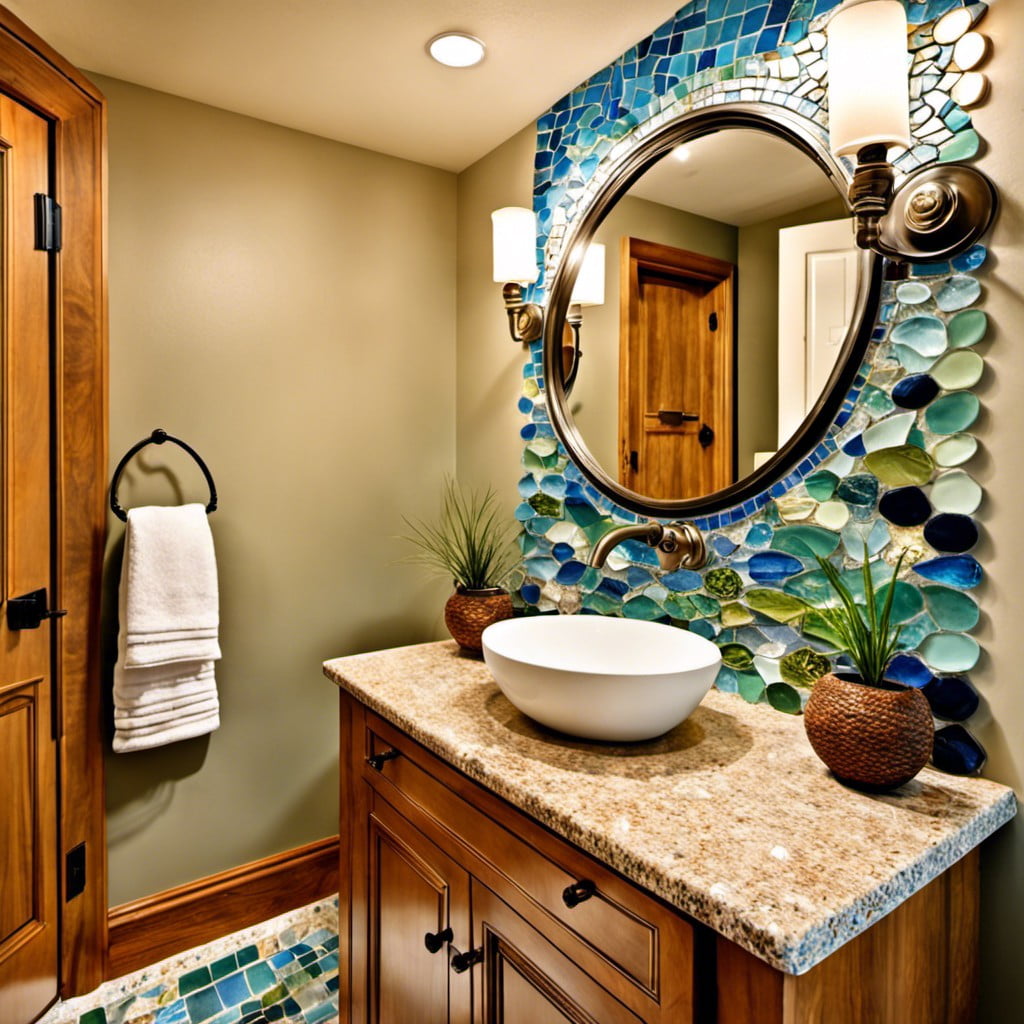 Mosaic tiles give you the freedom to let your creativity run wild. For ocean-inspired themes, consider shades of blue, green, and turquoise to mimic the sea. You can create an underwater scene, complete with marine life, or simply aim for an abstract wave pattern.
This addition not only serves a practical purpose but also becomes a striking piece of art. To catch the light and add some sparkle, you can intersperse some mirrored or metallic tiles. Keep the design flow consistent by using the same color tones in other bathroom features like the backsplash or shower tiles.
Recycled glass tiles are an environmentally-friendly option, adding to the natural, coastal vibe. In a small bathroom, this bright, reflective surface can make the room feel more spacious. Lastly, for a tactile element, consider including some smooth, pebble-like tiles.
Corner Shower to Save Space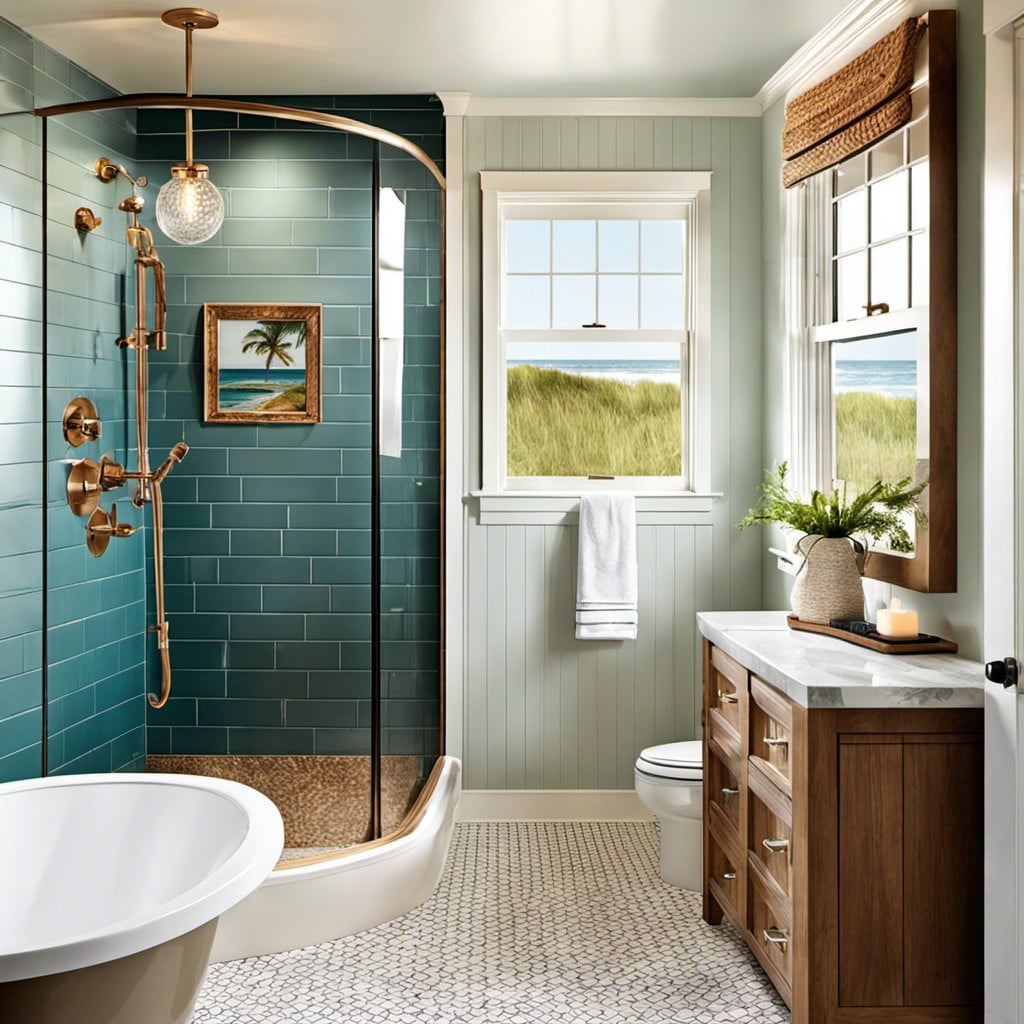 Optimizing your floor plan is vital in a small bathroom – that's where the corner shower steps in. The ideal solution to use every precious square foot, it is more than just a space saver.
1. Tucked away in the corner, it opens up the center of the room, giving more room to maneuver.
2. You can consider a curved quadrant or neo-angle design, both are compact yet capable of offering a spacious showering experience.
3. Pair with a clear glass enclosure to create depth and maintain a light, airy feel. Frosted or patterned glass can also be a charming touch, offering a subtle nod to your coastal theme.
4. Opt for a shower caddy or built-in wall niche to keep essentials handy and avoid clutter within the showering area.
5. Embrace a rainfall shower head installed in the ceiling, saving wall space and adding to the luxury spa feel.
Every inch counts in a compact bathroom, but lacking size doesn't mean sacrificing style or functionality. Remember, keep your design streamlined and clutter-free for a truly serene coastal retreat.
Woven Baskets for Storage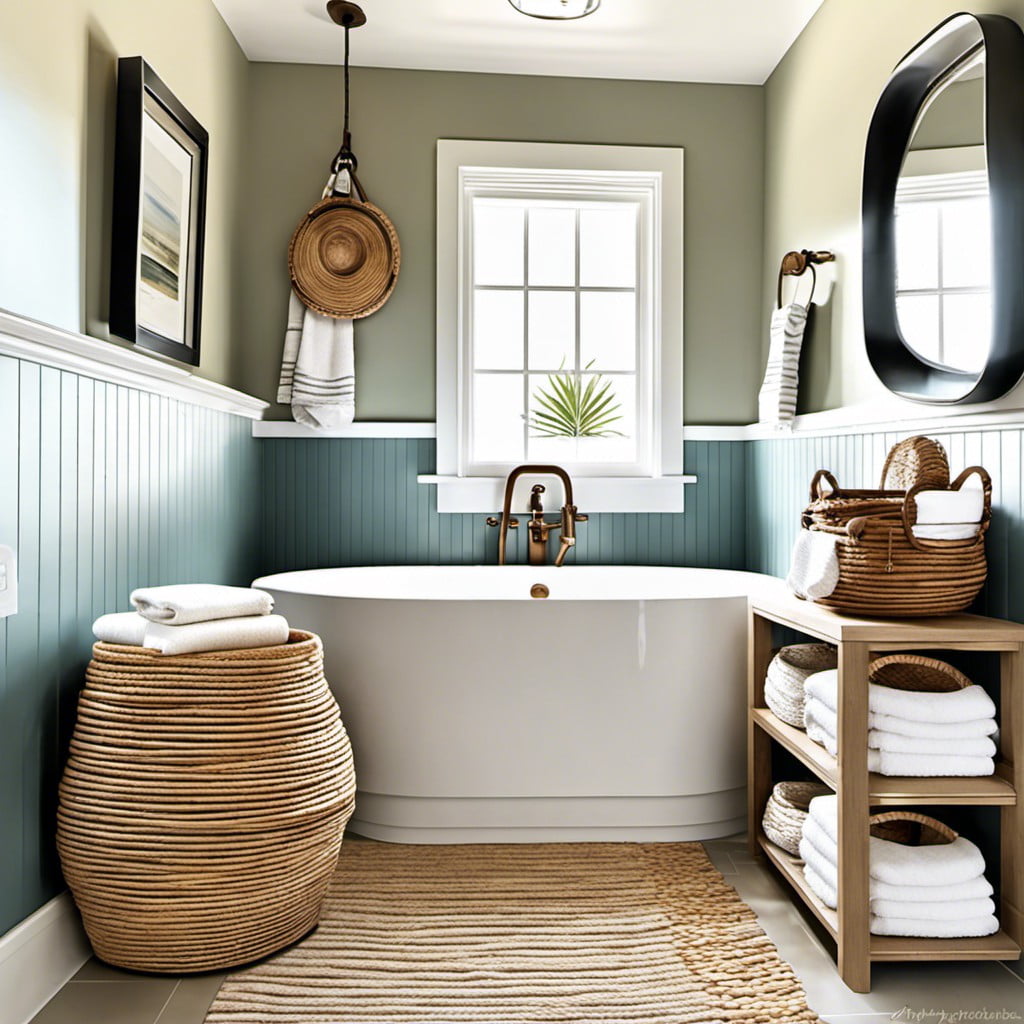 Maximizing your small space for storage can be aesthetically pleasing with the right items. Woven baskets serve dual purposes. Aside from their storage functionality, they bring in a textural touch that resonates with the coastal theme.
Strategically place them under sinks, inside open cabinets, or even stack them up in corners. They are perfect for holding towels, toiletries, and other necessary items. Go for those with lids to maintain a tidy appearance. Additionally, opt for baskets with a natural or weathered look to complement other beachy elements in your bathroom.
This simple addition can make a large difference, marrying practicality and design effortlessly. Remember, the beauty of the coastal theme lies in the details.
Natural-light Maximizing Window Treatments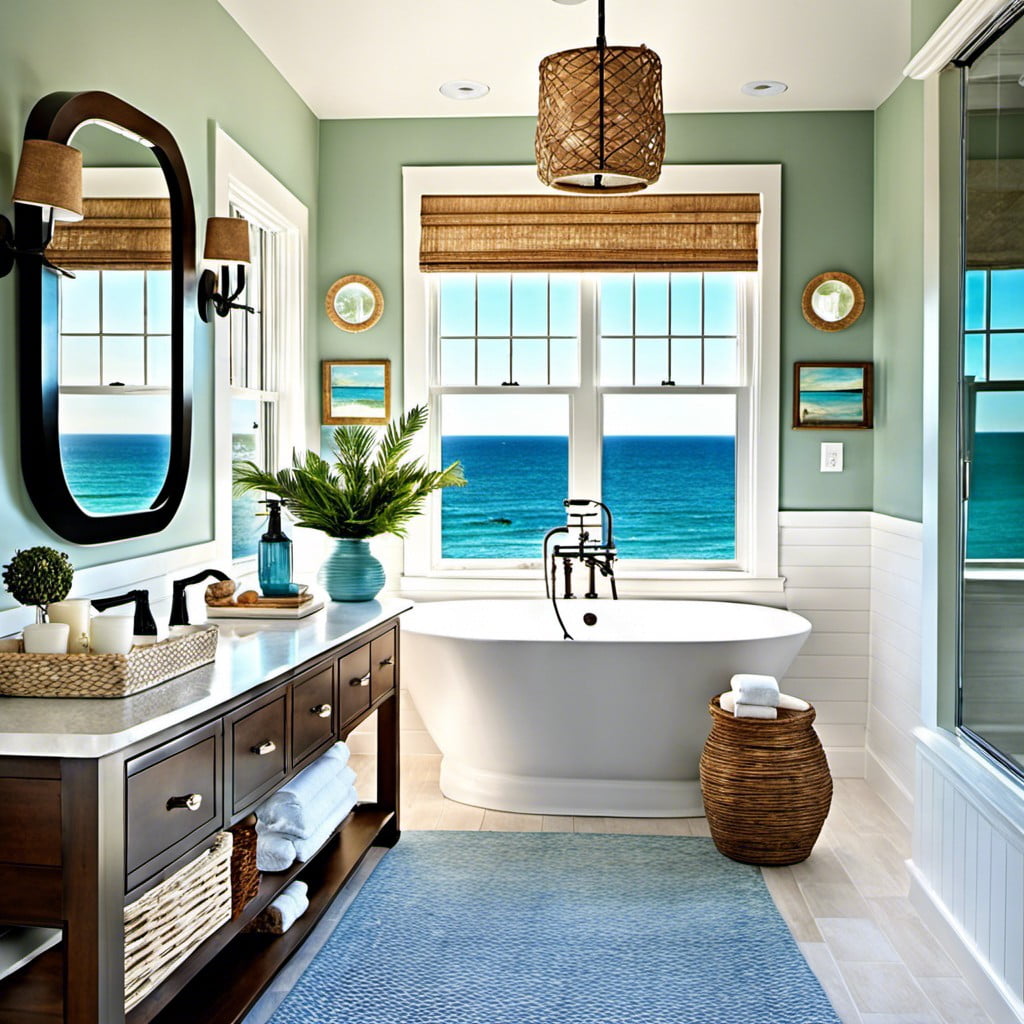 To optimize your bathroom's luminosity, opt for sheer or semi-sheer window treatments. This allows soft natural light to flood in, creating a serene and welcoming environment. Choosing a light, neutral color will maintain the coastal theme, while adding an airy feel.
Privacy not a concern? Consider a clear, frosted window to maximize light while preserving an enclosed environment. Your bathroom will indeed resemble a breezy beach house, no matter the time of day.
Hanging Wall Plants for Fresh Air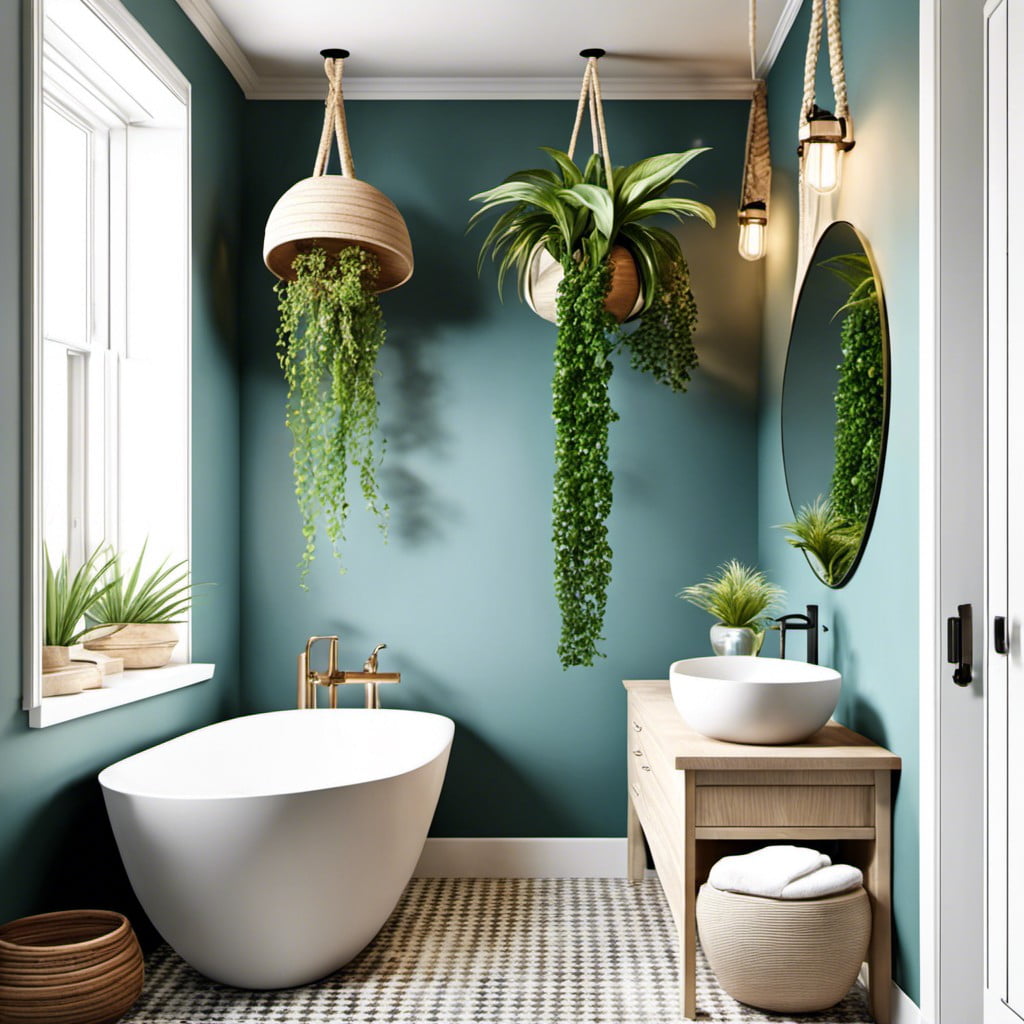 Having live plants in your small bathroom not only adds a pop of color but also purifies the air. Hanging plants such as spider plants, English ivy, or Boston ferns are especially good at fighting pollutants and brightening your space.
Ensure your plants get ample indirect sunlight and water for their survival. Also, hanging plants save floor space and provide a waterfall effect on your wall, adding to the coastal feel.
Arrange the pots in an odd-numbered group for a visually pleasing look. Experiment with different types of pots and hangers, maybe a macrame hanger for that laid back beachy vibe.
Use of Seagrass or Other Natural Mats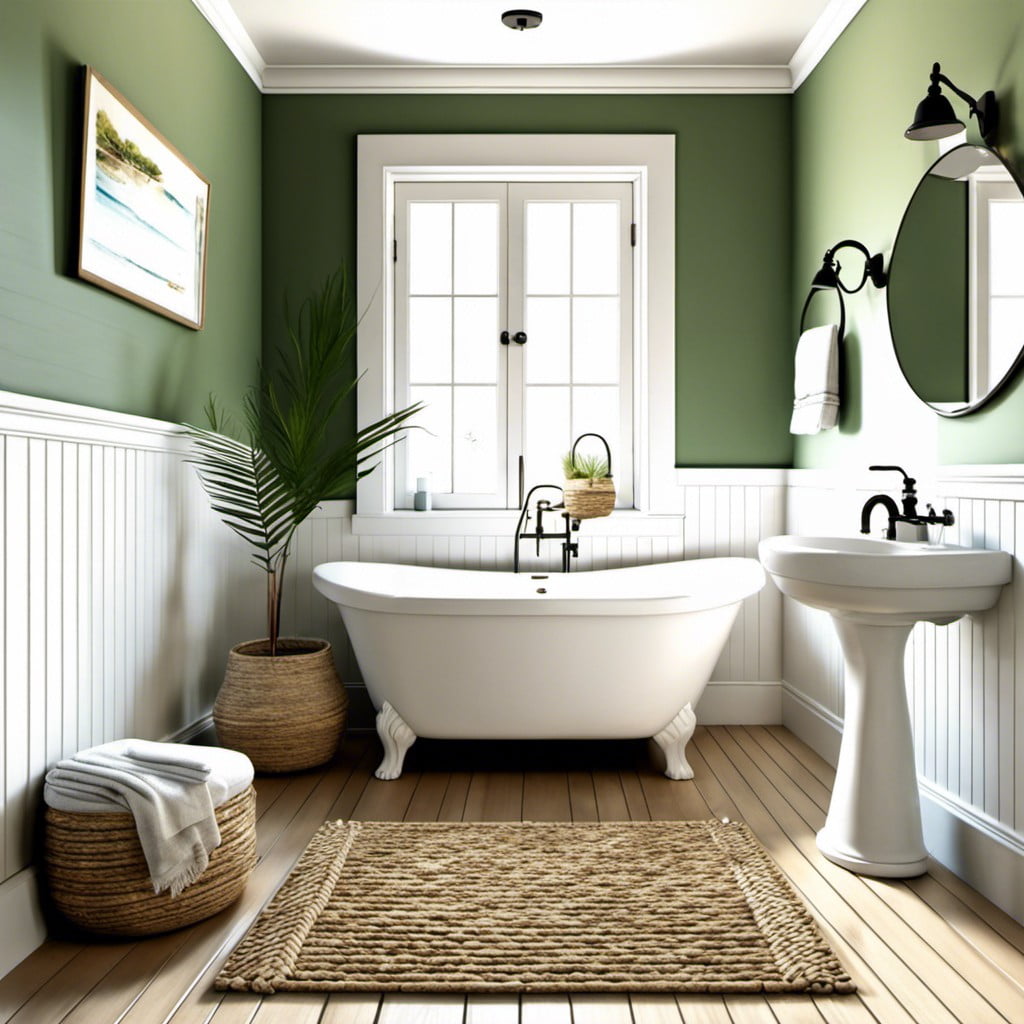 Seagrass mats, along with jute and sisal rugs, bring an organic texture to your coastal bathroom, fostering a soothing, natural atmosphere. Plus, these materials are known for their durability, ideal for a bathroom's high-traffic and damp conditions.
1. Durability: They hold up well against moisture and daily wear and tear.
2. Easy Cleaning: Regular vacuuming or shaking off outdoors makes upkeep simple.
3. Comfort: They are soft underfoot, providing a warm and comfortable surface.
4. Versatility: They blend seamlessly with the coastal decor, enhancing the beach-like vibe.
5. Environmentally Friendly: As plant-derived materials, they are biodegradable and sustainable.
Implementing natural mats is an excellent way to introduce an earthy, coastal texture that's not only visually appealing but practical too.
Glass Shower Doors to Open Up Space
By choosing clear glass for your shower doors, space will seem less closed off, creating an illusion of a greater area. The transparency allows a full, uninterrupted view of the entire bathroom, resulting in a more spacious ambiance.
Firstly, clear glass doors do not obstruct any light, keeping the bathroom bright. Using frosted or patterned glass may give the bathroom an attractive touch but tends to reduce the perceived size.
Secondly, the minimalistic style of clear glass lends itself perfectly to the coastal atmosphere. It can blend seamlessly with the color scheme you've chosen while showcasing your tile selections and shower fixtures.
Finally, the maintenance of clear glass doors is straightforward. Regular squeegeeing post-shower keeps them sparkling and smear-free, contributing to the overall freshness and cleanliness of your bathroom which is crucial in achieving coastal feel.
Remember, including this element not only opens up space visually but also adds a modern and sleek finish to your coastal theme.
Nautical-themed Wallpapers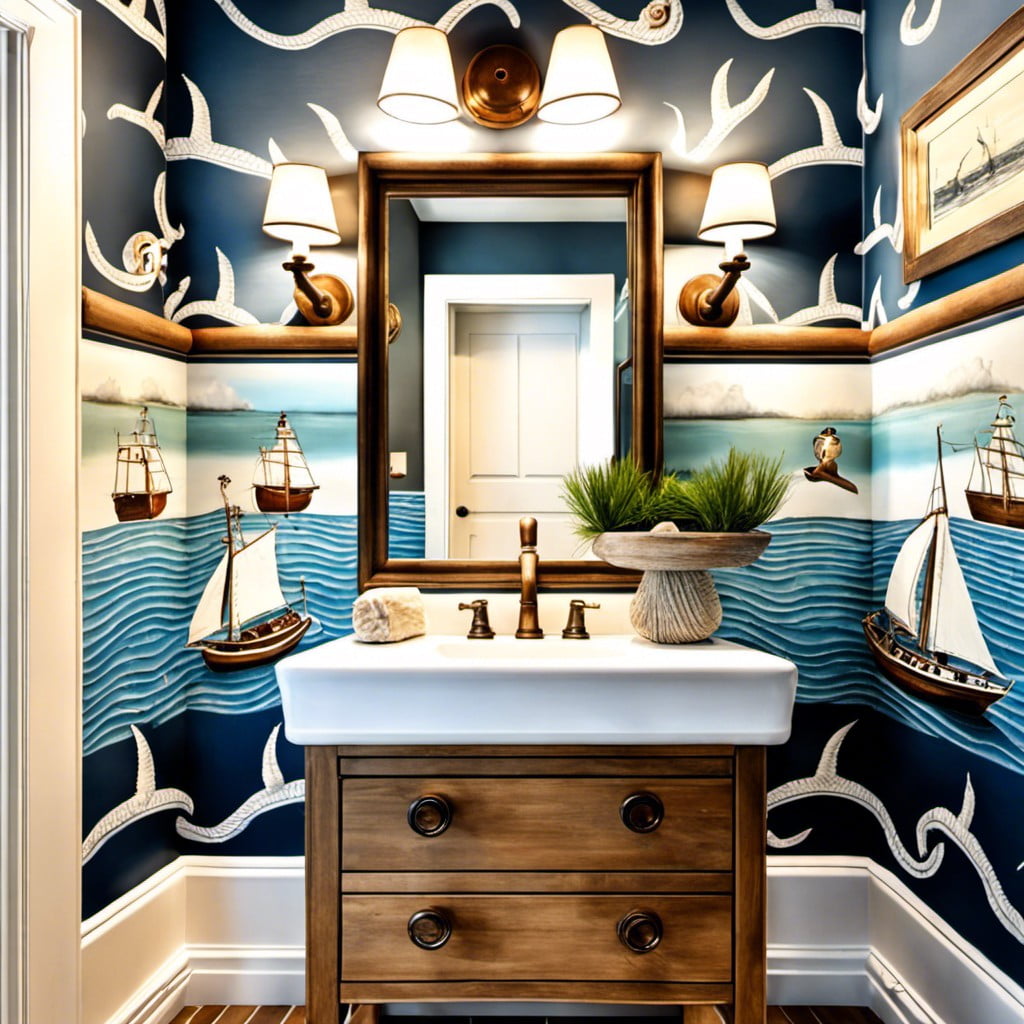 There's nothing like the allure of maritime symbols and patterns that immediately transport your senses to the seaside. Wallpaper designs ranging from delicate seashells, sophisticated ship wheels, to bold anchor prints can instantly infuse that coastal vibe into your bathroom.
For a more subtle approach, you might consider stripes reminiscent of vintage sailor suits or designs that mimic the rippling waves of the sea. This creates a serene, calming environment, perfect for a relaxing soak after a demanding day.
However, when opting for a more vibrant wallpaper, it's advisable to apply it on a single focal wall to avoid overwhelming the small space.
Don't forget the power of texture either, slightly raised, textured wallpaper can mimic the feel of beach sand underfoot, adding another level of sensory detail to your coastal bathroom.
With the variety of designs available today, it's easy to find a nautical-themed wallpaper that not only fits your personal aesthetics but also complements the other elements in your small coastal bathroom. By choosing an appropriate design, your bathroom walls become the canvas to your seaside masterpiece.
Repurposed Driftwood for Shelving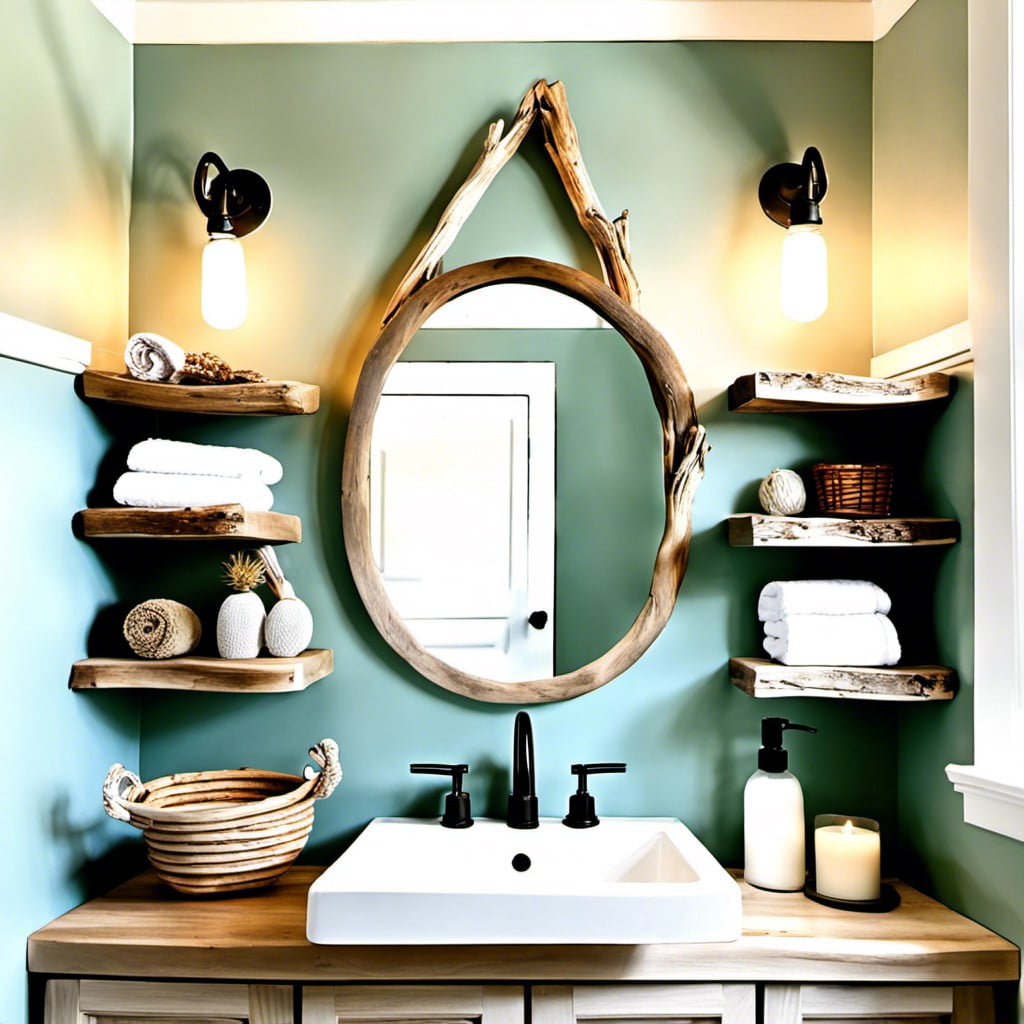 Selecting a piece of driftwood for shelving adds an effortless, organic touch of nature to your bathroom. To create this, simply treat a reclaimed piece of driftwood with a clear, water-resistant finish.
This accent drives home the beach theme and also serves as an eco-friendly option. Remember, aesthetics matter as much as practicality – make sure it's sturdy enough to hold your seaside decor or toiletries.
For a more polished look, try using brushed nickel or brass brackets to mount the shelf. No two pieces of driftwood are the same, so each shelf will lend a unique vibe your coastal bathroom.
Enjoy this addition that truly brings the outdoors in.
Seaside Artwork for Decoration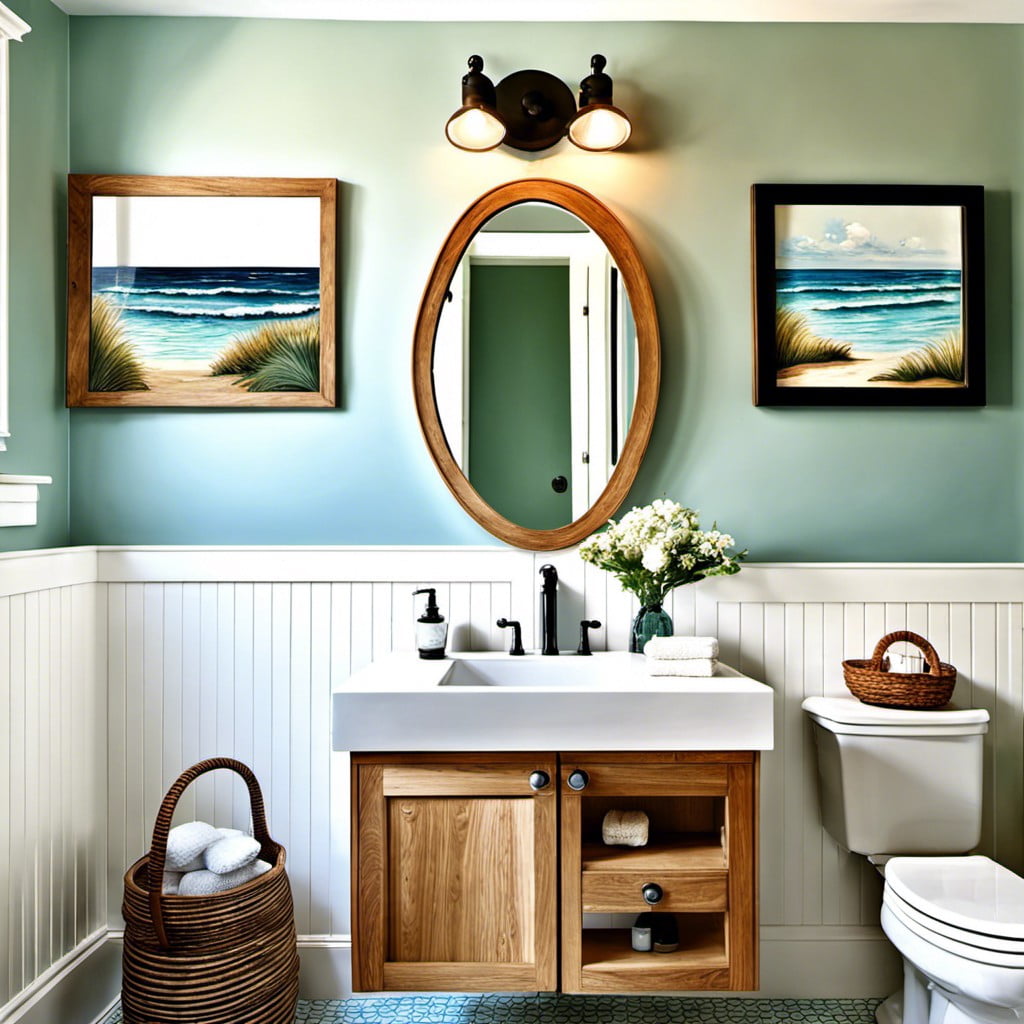 Art is the soul of any room and that includes your little coastal-themed bathroom. A simple way to add that beachy touch is by selecting pieces that emulate shoreline serenity. Watercolor beach scenes or prints of maritime wildlife are excellent choices. Even abstract canvases in tones of blue and green can have a calming, ocean-inspired impact. For added character, consider supporting a local artist who specializes in seaside pieces. If you like a neat theme, look for a triptych of beach-themed prints. But don't worry about getting it perfect. The charm lies in the individuality and the reflected love for the sea.
Your choice in frames is just as important – think distressed wood or a glossy white frame for a clean coastal look. Mix it up with different sizes and orientations. Bigger pieces can act as a focal point while smaller ones can fill in gaps or creatively cover corners. Matching the artwork with other bathroom accessories, like your towels or bath mats, can also tie the space together harmoniously.
Just ensure that all chosen artwork is safely fixed and preferably framed under glass to prevent any moisture damage. Remember, less is more – don't overcrowd the walls but rather highlight specific areas for an instant oceanic uplift.
Beach-themed Accents Like Starfish or Sand Dollars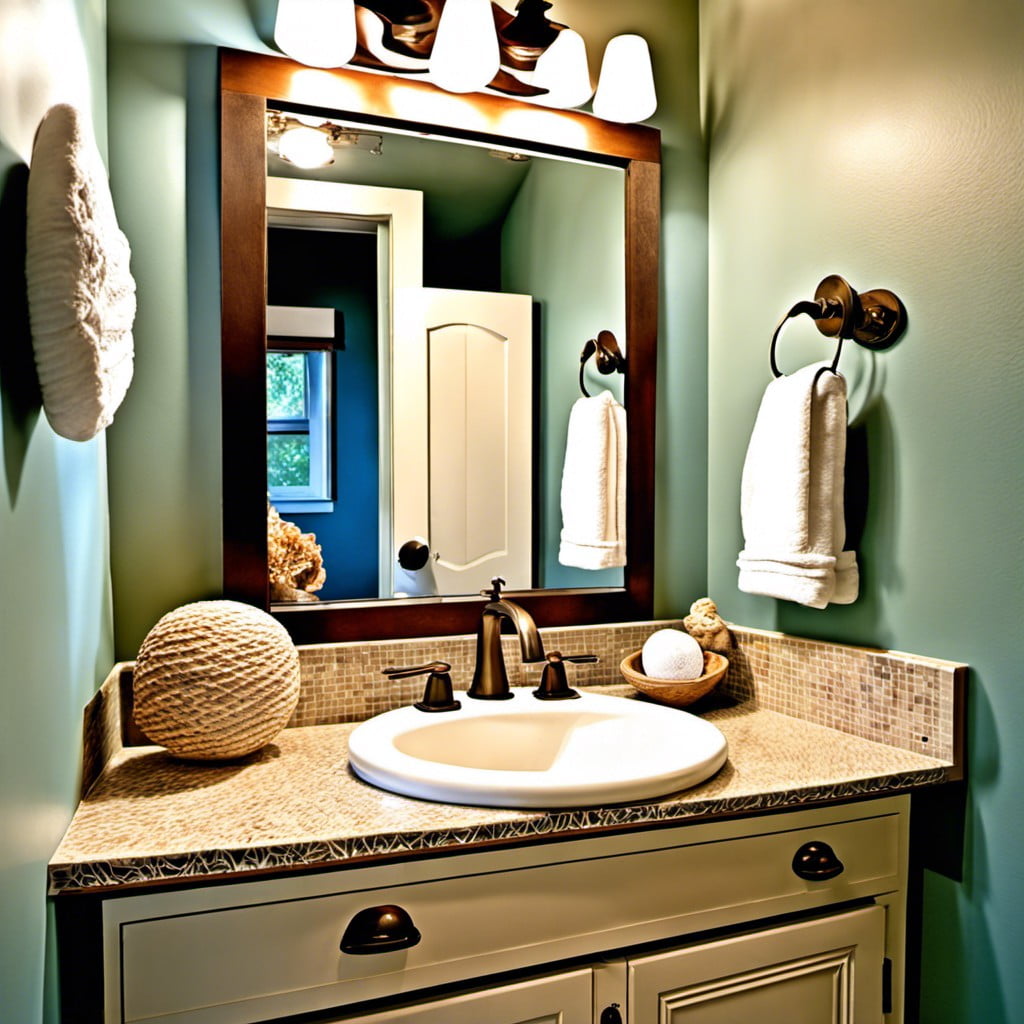 There's nothing like the charm of the ocean treasures to anchor the coastal theme in your bathroom. Integrating items such as starfish and sand dollars is a clever touch.
These can be displayed in clear glass jars or simply scattered on shelves. They create a natural focal point and evoke immediate seaside vibes.
Think beyond traditional decor too – these beachy elements can become functional pieces, like a starfish shaped soap dish or a sand dollar decoupaged onto a light switch cover.
These touches provide an authentic coastal ambiance in a tasteful, unstated way. Keep it tastefully minimal though, because less is more when threading this theme into your space.
Small, Freestanding Tub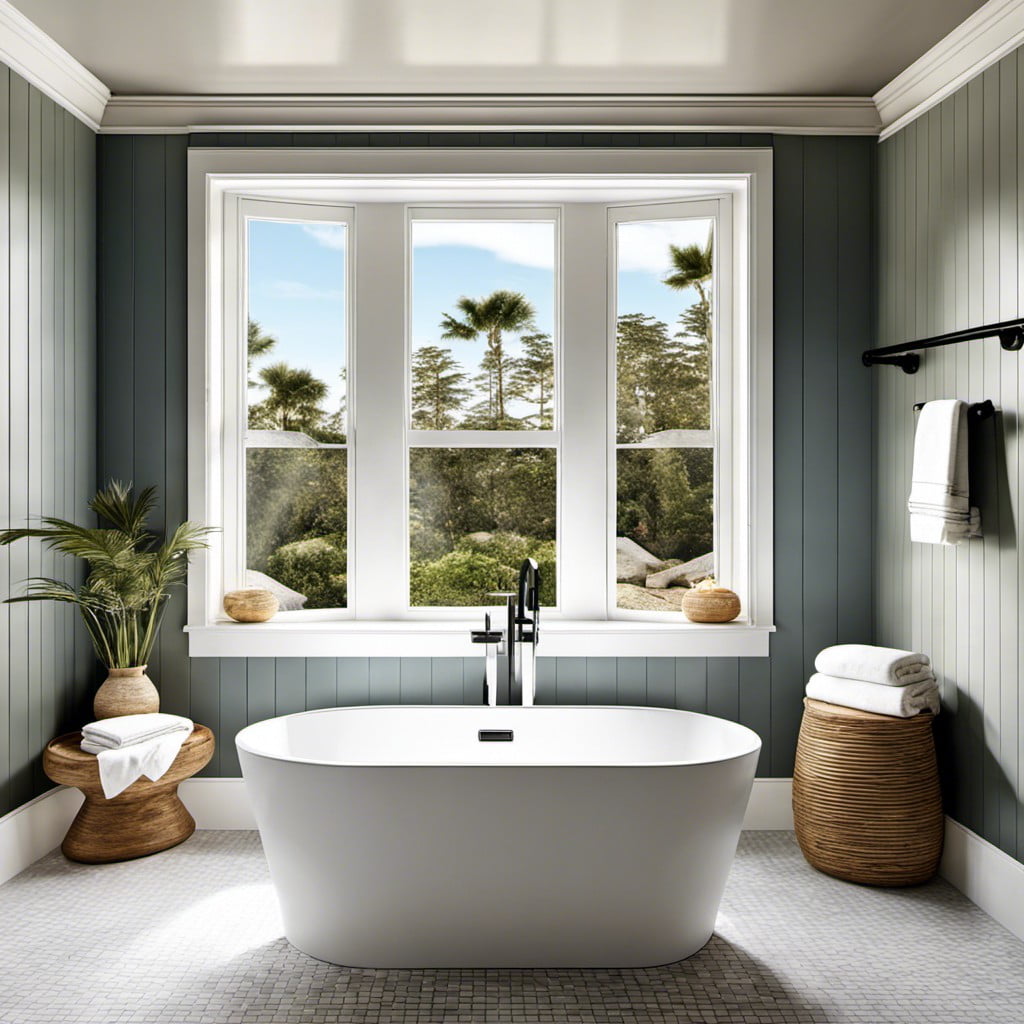 Choosing a freestanding tub with compact dimensions is a surefire way to enhance the aesthetic appeal of the bathroom notably, without compromising the space.
Their versatile design allows for numerous placement options, meaning it can fit seamlessly into your bathroom layout.
Modern versions offer deep soaking experiences, perfect for unwinding after long, salty seaside days.
Opt for models with back support or armrests for added comfort.
Complete the look by nestling a weathered stool or side table, great for holding a good book or wine glass, alongside your tub.
Rope Details for Towel Bars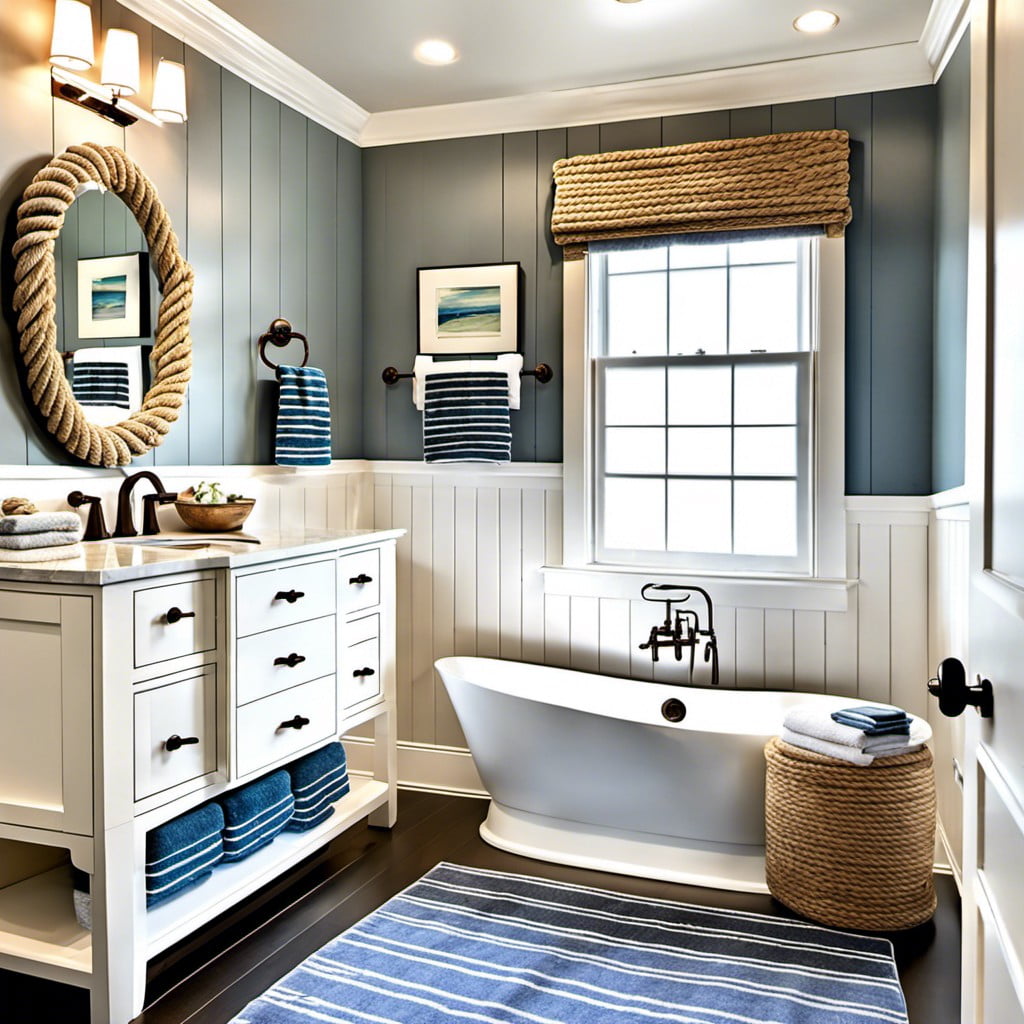 Adding rope into your bathroom decor brings an element of coastal charm. Opt for a chunkier, natural fiber rope such as sisal or jute as these materials are durable and resistant to moisture.
You can create towel bars by securely fixing a length of rope between two wall anchors. For an extra seaside feel, choose anchors made from rustic brass or galvanized iron. Not only will these rope towel bars give your bathroom a nautical touch, but they also provide an excellent texture contrast to painted or tiled walls.
Easy to install and surprisingly sturdy, these details will add a touch of coastal chic to your bathroom space.
Sconce Lighting for a Softer Feel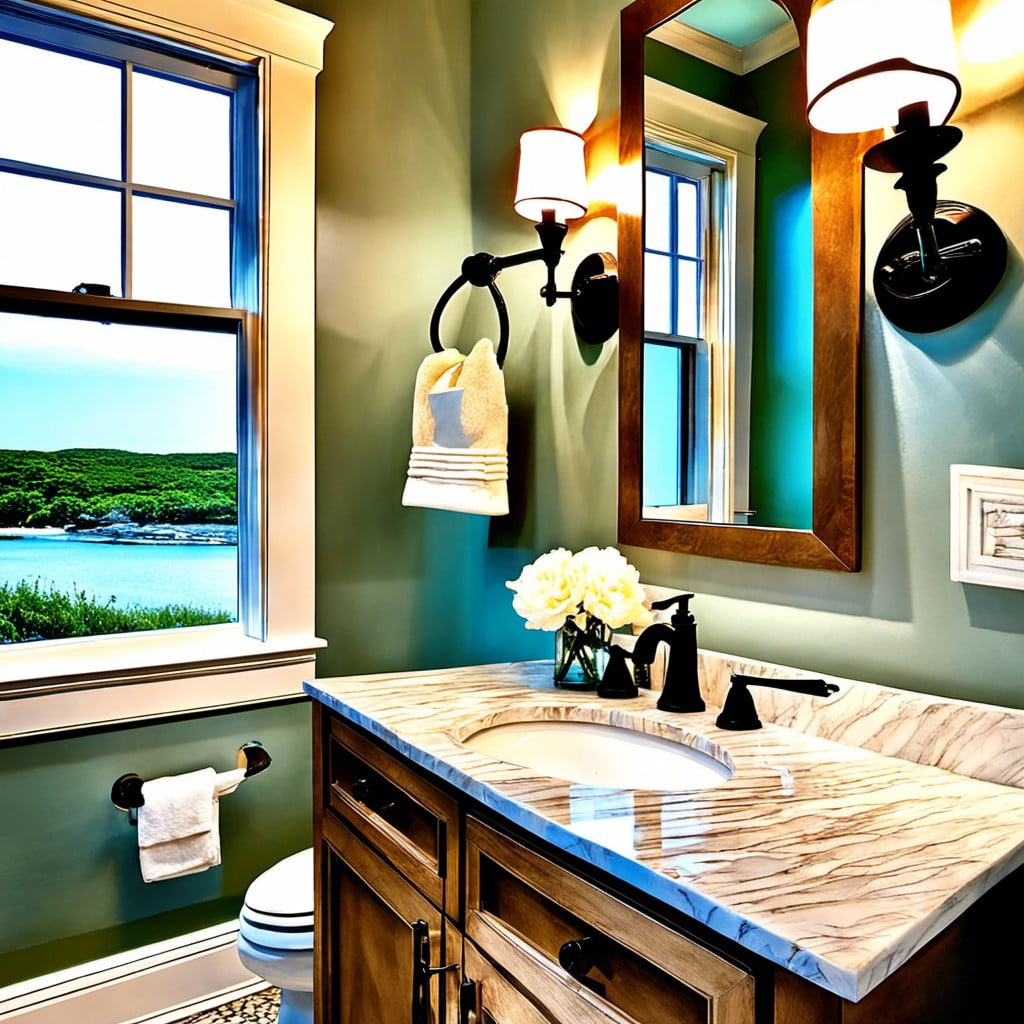 Sconces, positioned at eye-level, diffuse light indirectly, which creates a cozy atmosphere perfect for bath time relaxation. Opting for designs that reflect coastal elements further enhance a seaside ambiance.
For instance, lantern-style sconces nod to the maritime theme. Using LED bulbs ensure energy efficiency. Dimmable switches allow for adjustable brightness, essential for multi-functional spaces.
Do remember proper insulation for safety purposes in wet environments. And, as a final tip, consider placing it on a wall with a mirror to further brighten the space without overpowering it.
Pale, Wood Paneling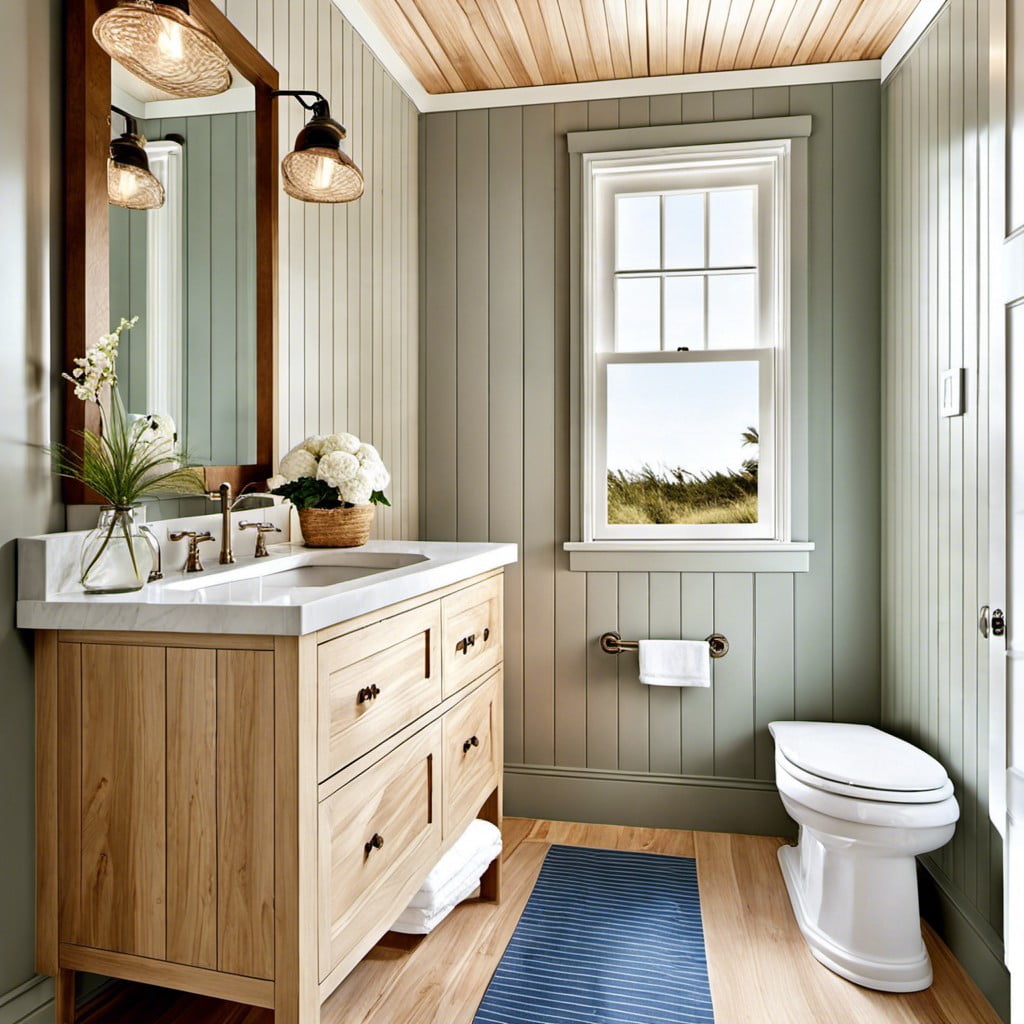 Incorporating pale, wood paneling into your small coastal bathroom can make all the difference. This material embodies a certain charm reminiscent of beach-side cottages, lending a tranquil, laid-back vibe that's key to coastal design.
When selecting your wood paneling, opt for lighter, washed-out tones that evoke an image of sun-bleached driftwood. The pale hues will not only add warmth to the space but also visually enlarge it.
For ultimate effect, consider applying the paneling to a feature wall, or perhaps encasing the lower half of your walls to subtly tie in the beachy aesthetic without overwhelming the entire room.
Keep in mind, the condition of the wood should appear distressed, mimicking the effects of sea and sand. This small detail can transport you straight to the ocean's edge, adding an undeniably authentic touch to your coastal bathroom.
Remember, it's not just about aesthetics—wood paneling also adds an interesting textural element, breaking up the monotony and making your bathroom feel more dynamic. Whichever way you decide to incorporate it, pale wood paneling will bring a stylish, coast-inspired influence to your bathroom space.
Compact, Wall-mounted Sink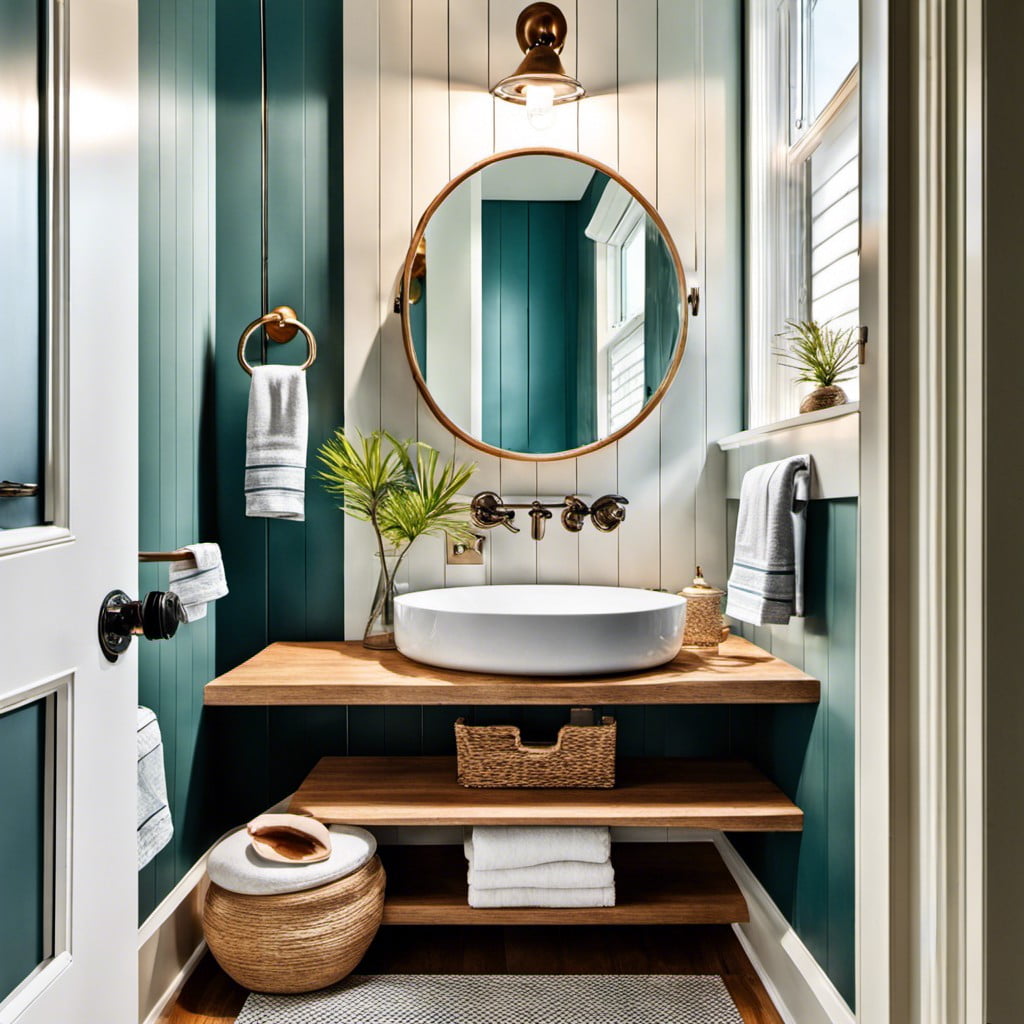 Maximizing floor space is key in petite beach bathrooms. Consider a space-saving, wall-mounted sink. Installed directly into the wall, this option frees up valuable floor space. Its minimalist design syncs well with a coastal theme.
These sinks come in various styles, from modern rectangular shapes to more traditional rounded designs. Opt for a clean white or soft cream hue to keep with the light coastal palette. Pair the sink with a brass or brushed nickel faucet for a touch of seaside charm. Contrastingly, a glass vessel basin offers a water-like aesthetic that beautifully complements the theme.
Storage can be an issue with wall-mounted sinks. To combat this, include hanging baskets or slim shelves beneath the sink. Not only does this solve the storage problem, but it also adds a touch of rustic beach house charm.
Remember, preserving an open, airy feel in your coastal bathroom is crucial. A wall-mounted sink contributes to this effortlessly.
Sliding Barn Door to Save Space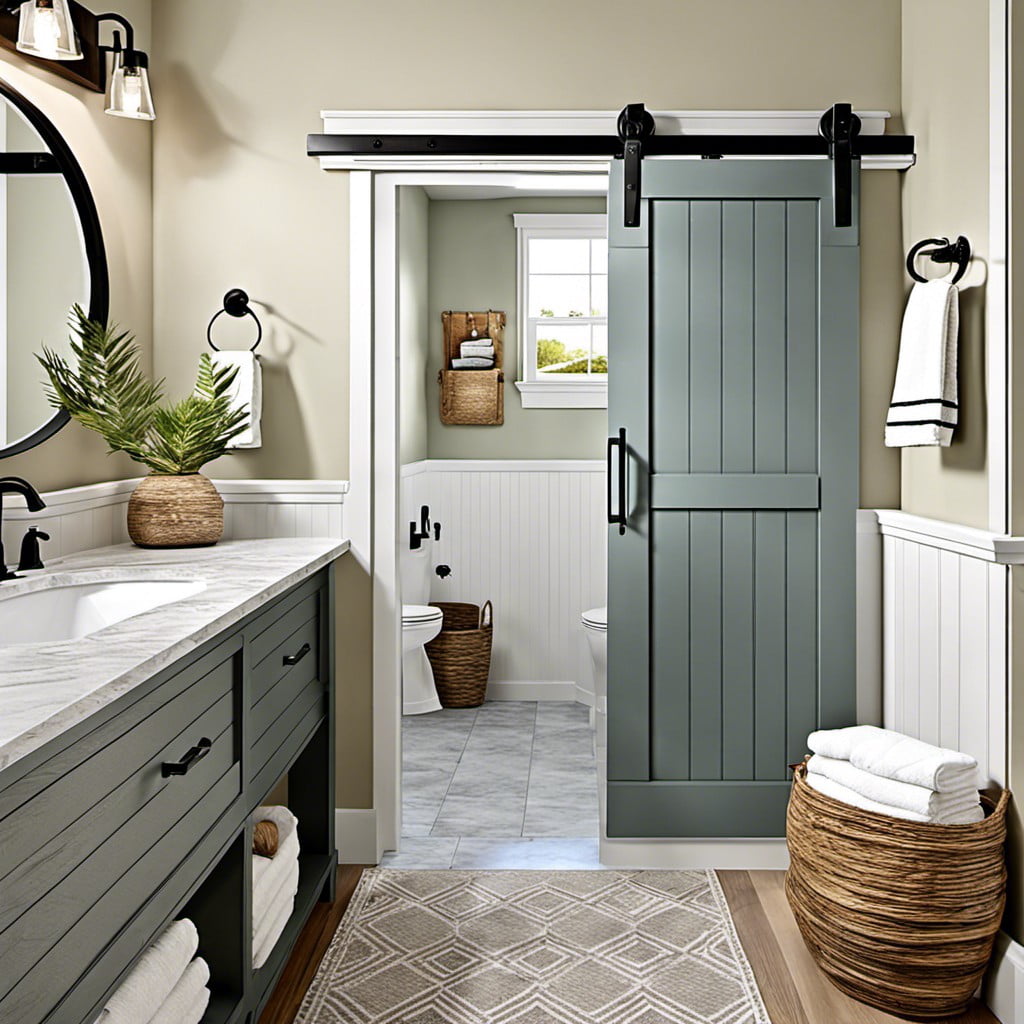 Switching to a sliding barn door can significantly impact the functionality and style of your small coastal bathroom. By sliding horizontally rather than opening outwards, this smart solution boosts space efficiency, making it perfect for cramped quarters. They also add a rustic element matching the relaxed beach-vibe of a coastal theme.
The door's surface can be painted in a beachy color, such as a vibrant turquoise or a calming white, to integrate it smoothly into your bathroom decor. For a more natural look, you might opt for a door with a distressed or reclaimed wood finish. Accessories like brass or stainless steel door hardware could further accentuate the marine theme.
Using opaque or frosted glass panels instead of solid wood can provide privacy while also allowing light to filter through. This feature is a great way to keep your coastal bathroom well-lit and airy.
Moreover, an added bonus: The installation process for these doors is typically relatively straightforward and low mess – an ideal weekend DIY project.
Continue reading:
Recap