Last updated on October 26, 2023
Revamping your bathroom fixtures becomes essential because this slight modification can dramatically alter the style and feel of your space.
I am incredibly proud to present this article on "20 Modern Bathroom Fixture Ideas", along with my uniquely crafted designs, and I sincerely hope you find them as inspiring and fun as I did creating them.
Looking to revamp your bathroom with some creative fixture ideas? This article is the perfect guide for you! It's filled with unique, stylish, and functional bathroom fixture ideas that can transform your space into a spa-like retreat.
From modern faucets to chic shower heads, and from elegant mirrors to innovative lighting solutions, we've got all the inspiration you need to make your bathroom a stylish and comfortable space.
So, get ready to explore a world of bathroom fixtures that not only serve their purpose but also add a dash of style and elegance to your bathroom decor.
Stay tuned for all the details!
Vintage Clawfoot Bathtub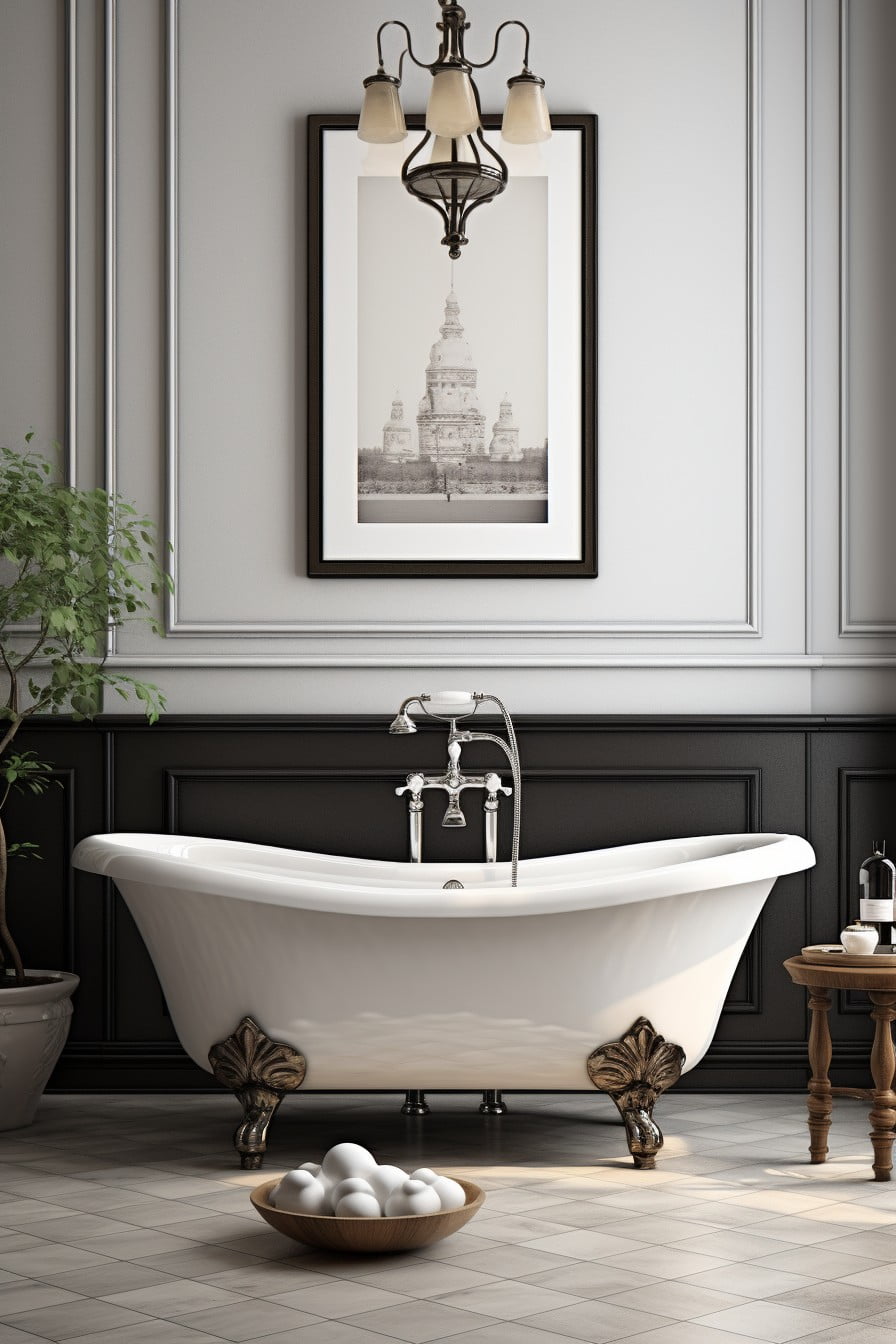 Craftsmanship and charm, these two words perfectly encapsulate the appeal of this regal design element. Not only does it imbue a sense of timeless elegance, but its freestanding feature allows for flexible placement within the room, a boon for unconventional spaces.
Traditionally made from cast iron, modern iterations explore a variety of materials like acrylic or copper. There's also scope to personalize the bathtub's exterior finish – matte or glossy, leap into a color experiment, if you will.
Finally, the distinctive feet can be just as creative, from classic ball-and-claw to contemporary minimalist designs. So, plunge in! Transform your bathroom into a posh retreat with one of these gleaming beauties.
Floating Sink Vanity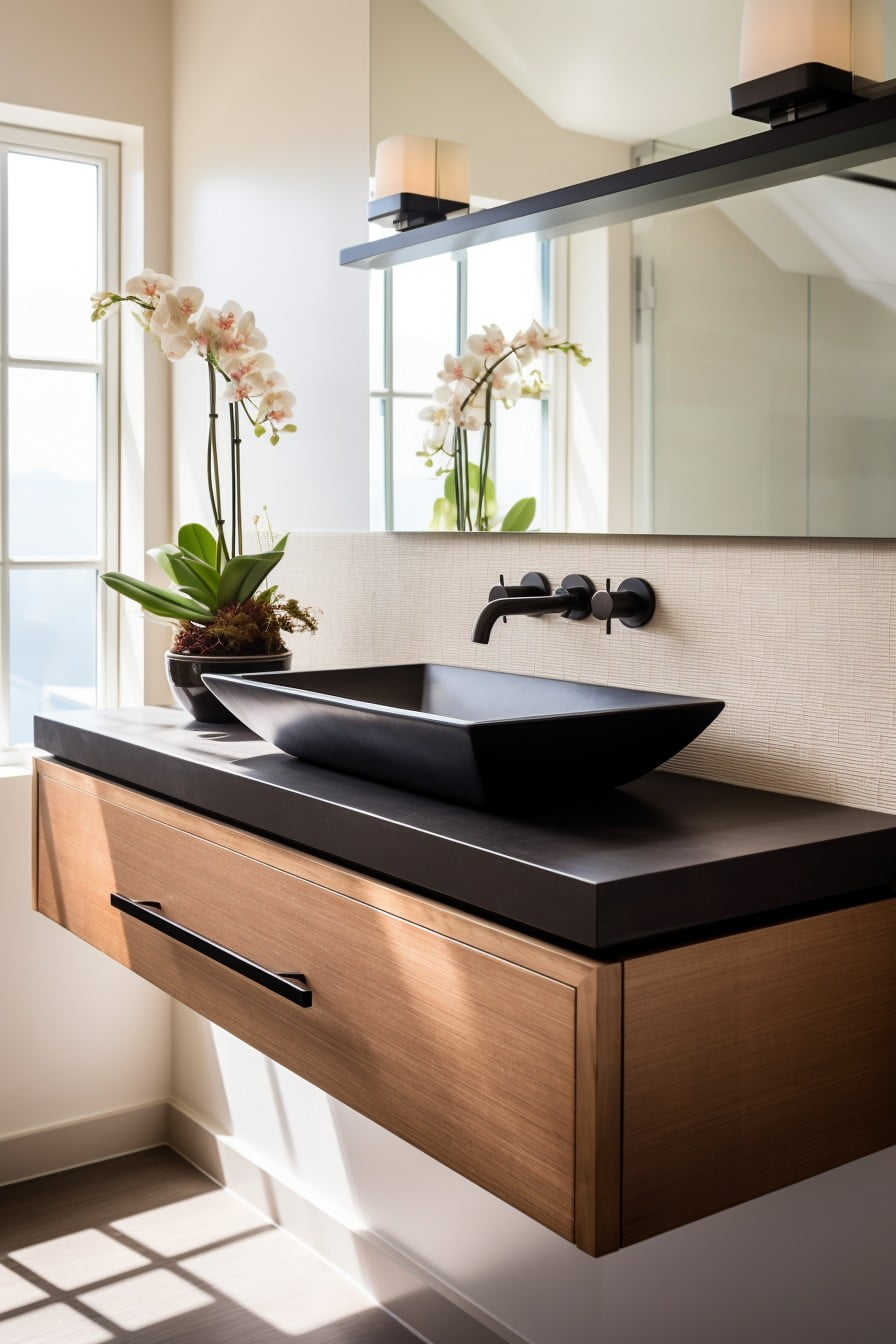 Creating an illusion of more space, this fixture is firmly secured to the wall, removing the need for a traditional pedestal base or cupboard unit. Transforming the perception of your bathroom's size, the added floor visibility lends an air of modern elegance and minimalist charm.
Here are some key points:
More room: Great solution for diminutive bathrooms, it allows for additional storage and decorative touches beneath.
Versatility: Available in a myriad of shapes, sizes, and materials, accommodating any design preference.
Ease of cleaning: With the whole floor surface accessible, it simplifies the cleaning process.
Customizable height: Without traditional floor support, the height can be adjusted to personal comfort.
Remember to ensure proper wall reinforcement during installation, as it carries the entire weight of the sink. With these points, make your bathroom evolve with a sense of modernity and stylish functionality.
LED-lit Mirror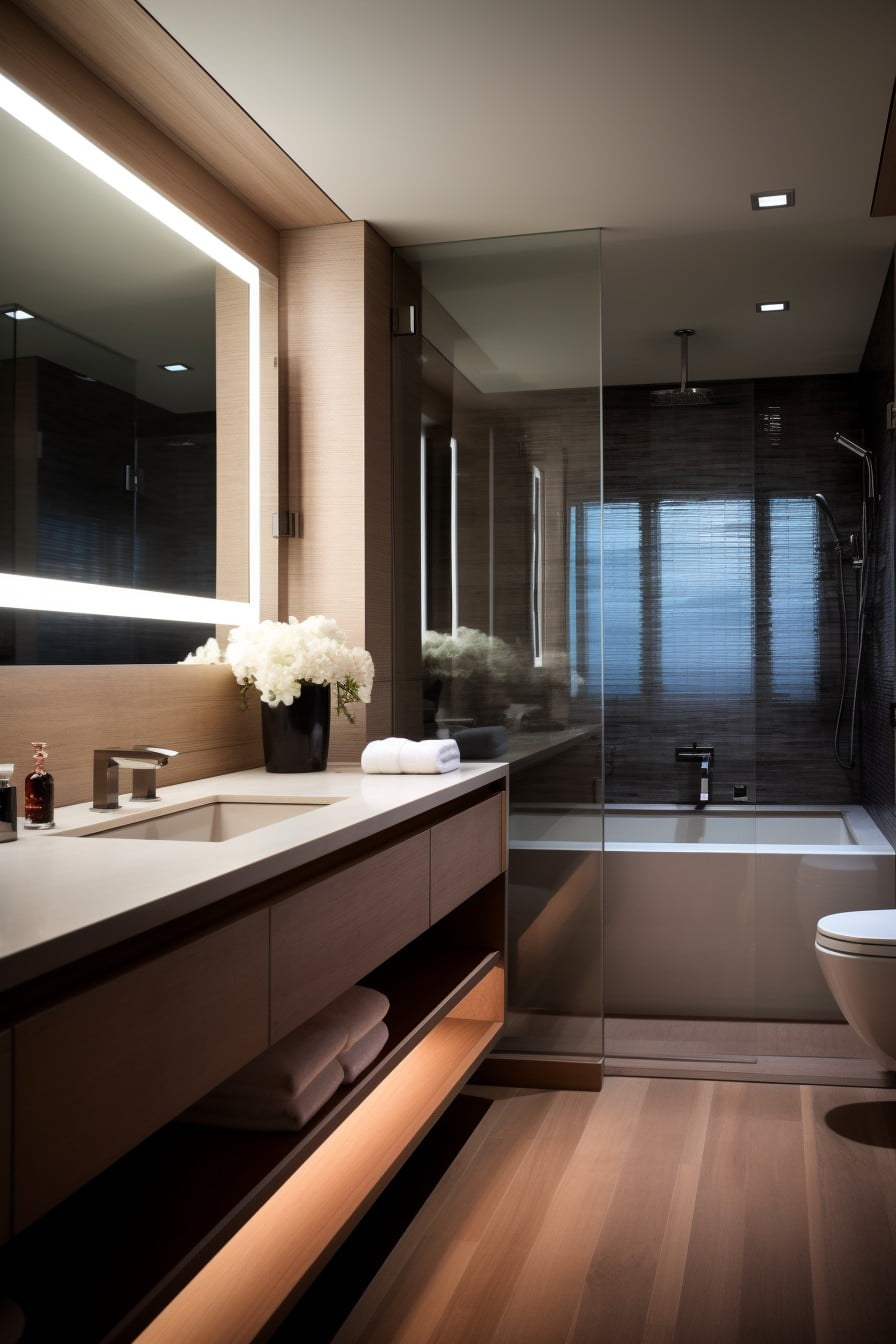 Bright, clear and energy-efficient, LED-lit mirrors become a focal point that subtly elevates the aesthetic appeal of the bathroom. Besides providing well-balanced lighting for grooming tasks, these mirrors help create a charming, tranquil ambience.
Many models even feature extras like anti-fog technology and touch controls, adding a touch of modern sophistication.
Installation is typically straightforward, fitting into the electrical system just like an ordinary light fixture. For those who value eco-friendliness, these mirrors are an excellent choice, as LEDs consume significantly less power than traditional bulbs.
More than a simple reflection, the LED-lit mirror is about combining functionality and style in your bathroom space.
Rainfall Showerhead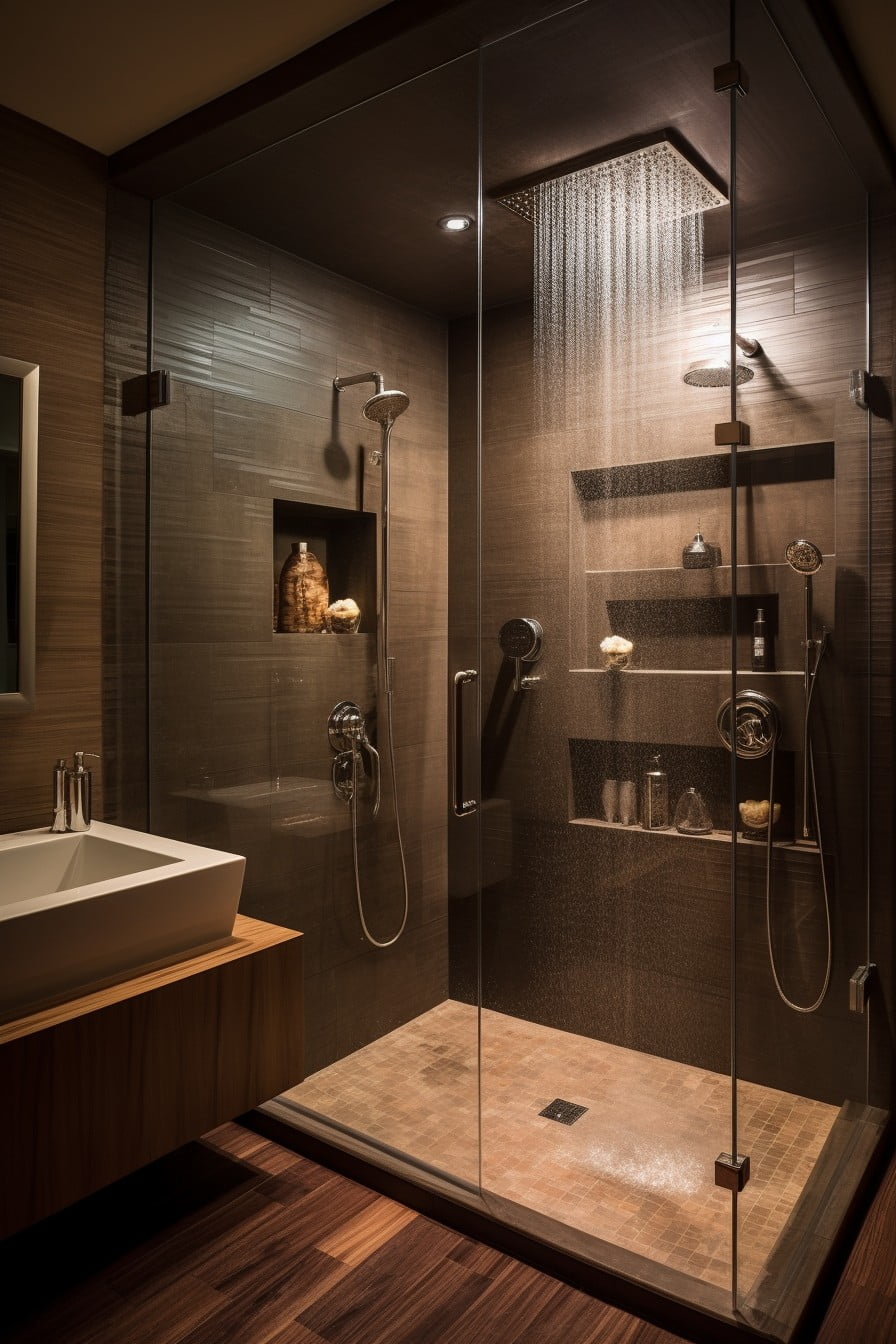 Equipped with a large showerhead that imitates the refreshing feeling of natural rain, this fixture styles up the bathroom while offering a different shower experience. The showerhead's size ensures full-body coverage, which is a definite check for a thorough shower.
A distinct feature is its gravitational water flow, providing a gentle, relaxing sensation contrary to traditional stream blasts. Its positioning directly over your head enhances the rain-mimicking effect which engulfs you in a serene cascade.
One especially appealing facet is its sleek design that enriches any bathroom decor. Choose from an array of finishes – chrome, brushed nickel, oil-rubbed bronze – that best suits your aesthetic.
The installation is as straightforward as any regular showerhead; however, it's crucial to assess your bathroom's water pressure first. Some models may require a minimum water pressure to perform optimally.
Being eco-friendly is another important note. Many models offer water-saving features without compromising that luxurious rainfall feel, thus allowing you to be environmentally responsible while enjoying the experience.
Marble Countertop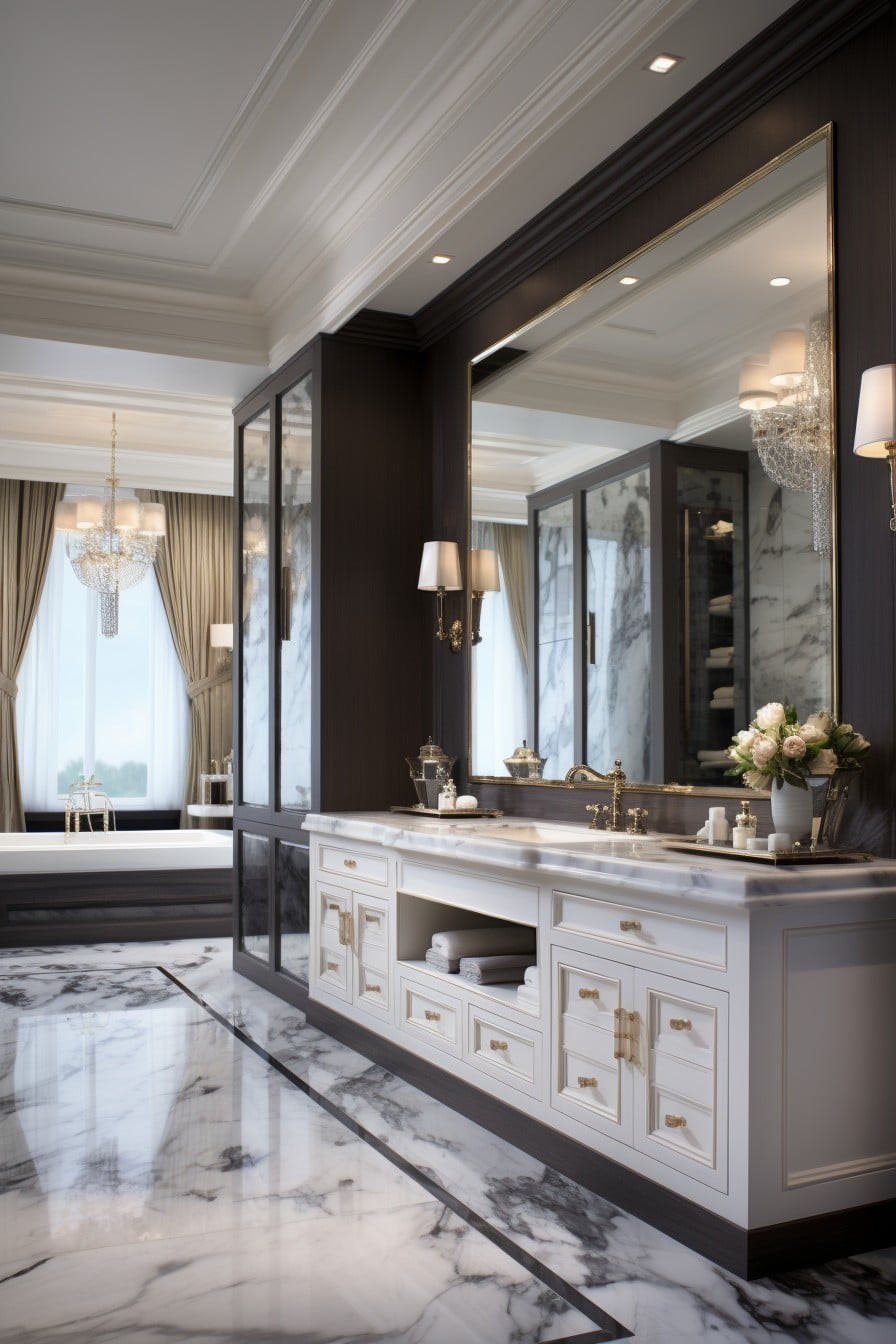 Distinguished by its polished surface and veining patterns, marble has long been synonymous with luxury and elegance. Due to its cool surface, marble is ideal for spaces like the bathroom, bringing a soothing touch to your styling.
The different patterns not only highlight a sophisticated natural beauty but also ensure that no two countertops look exactly alike, guaranteeing you a unique design element.
While the material is undeniably attractive, it's important to remember that it requires a bit more care than other materials. Being a porous stone, marble can stain and etch easily, making it vital to apply a high-quality, penetrant sealer regularly for protection.
Complement your countertop with brass, copper, or matte black fixtures for a striking visual contrast.
Whether you have a contemporary or traditional bathroom design, marble countertops can elevate any space with their classic charm.
Heated Towel Rail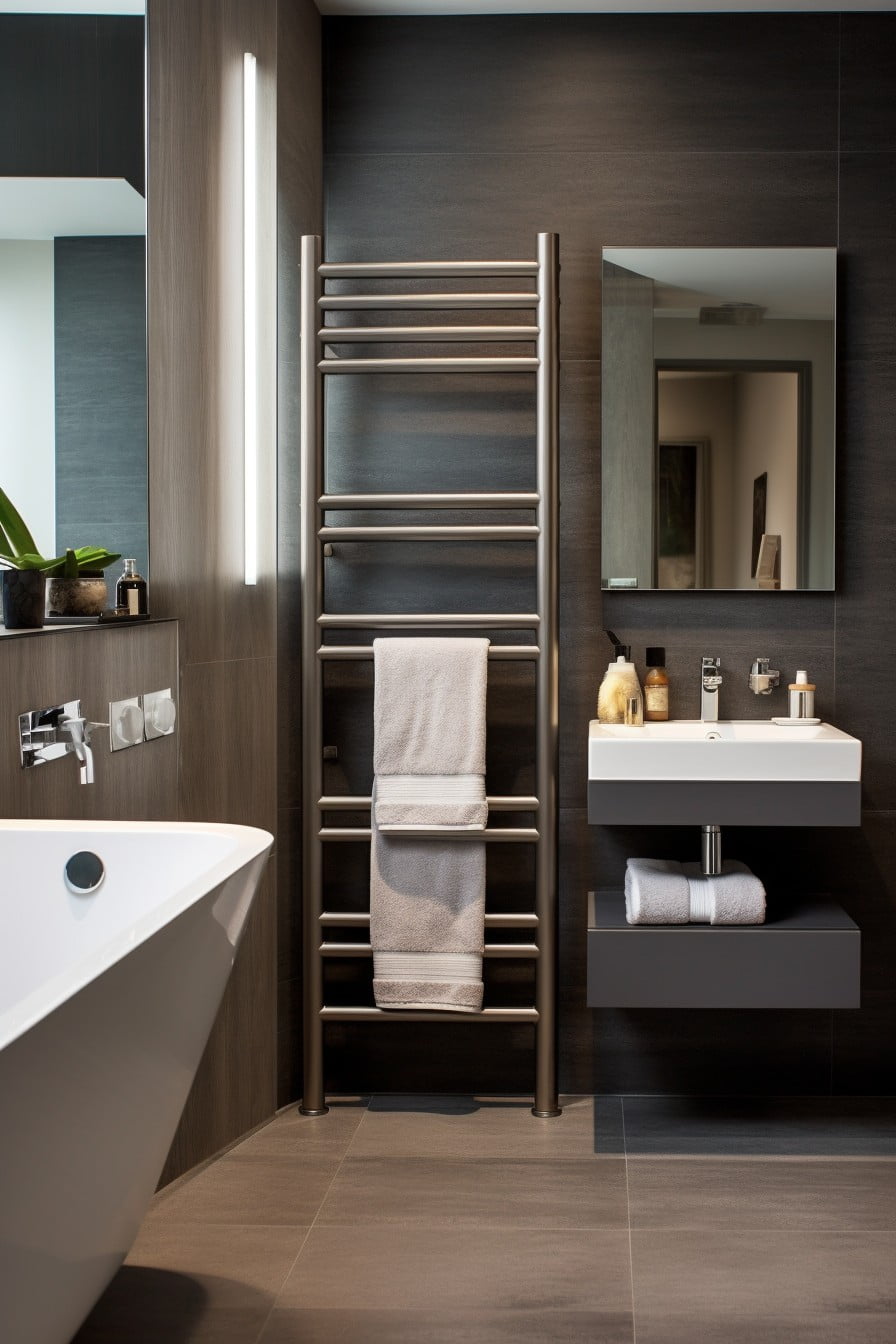 Moving beyond a humble rack, this upgrade infuses a touch of modern luxury into your bathroom. Apart from providing you with toasty towels post-shower, it also serves an essential role in maintaining a mold-free, dry environment.
There are two main types – electric and hydronic. While the former uses electricity to warm your linens, the latter is integrated into your home's hot water supply system. Some models even come with a thermostat for you to adjust the heat.
If practicality meets luxury is your motto, no substitute fits better.
Vessel Sink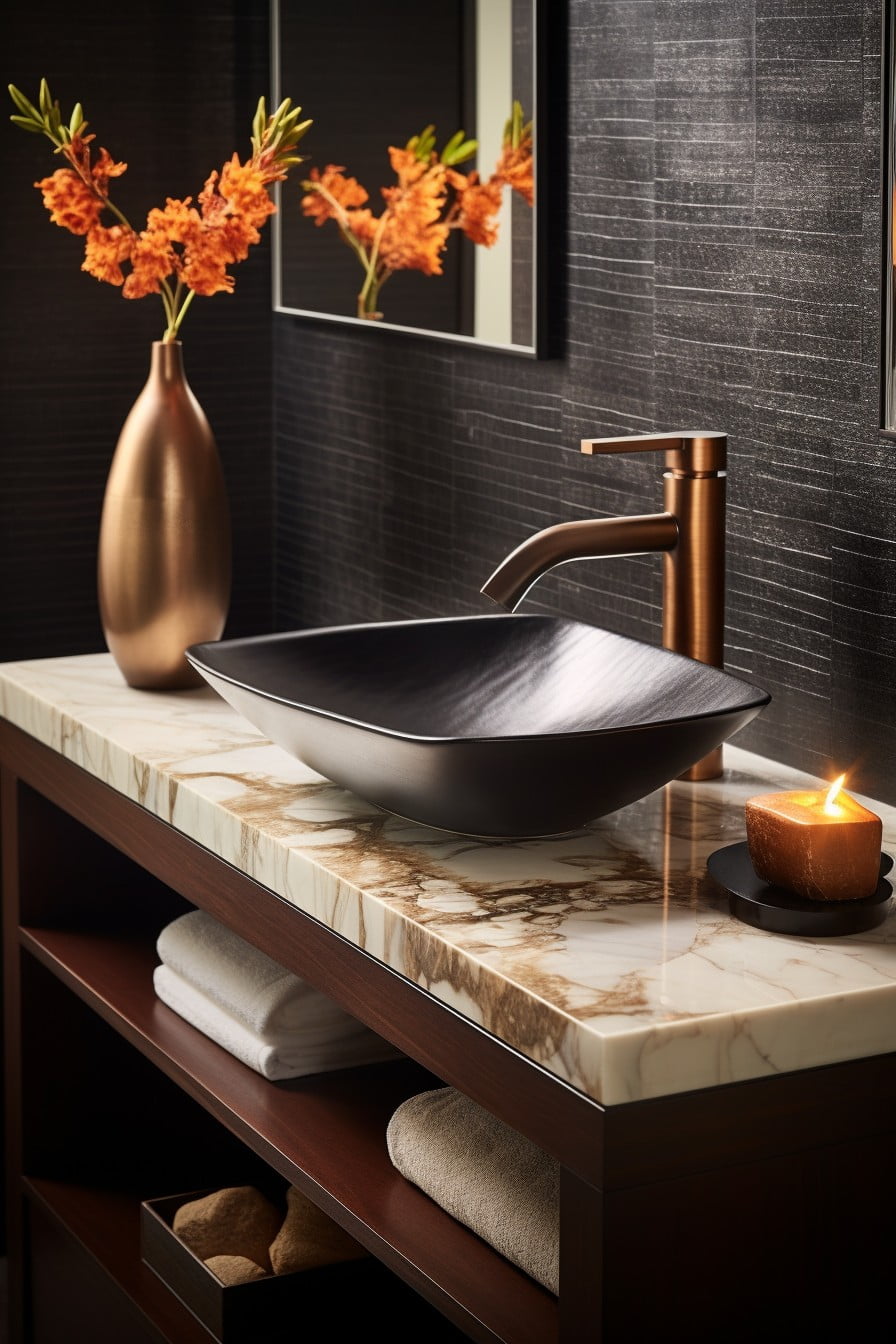 A vessel sink, unique and stylish, can be the focal point of any bathroom. It sits directly on the vanity top or a counter, rather than being inset, creating a heightened visual interest. They come in myriad shapes, sizes, and materials; from stone to glass, from rectangular to curvaceous. This variety allows you to effortlessly blend it with the existing decor or create a striking contrast.
One crucial point to consider is that it requires precise installation. The height and location of the faucet, and even the vanity itself, must be well thought-out to ensure smooth, splash-free use. Also, they can demand a bit more attention in terms of cleaning, especially those higher-sided models.
Lastly, vessel sinks might not be the best option for bathrooms with heavy traffic or for those with young children due to their above-counter presence. However, they surely claim their place in stylish and functional bathrooms where they turn ordinary routines into a hint of luxury.
Wall-mounted Toilet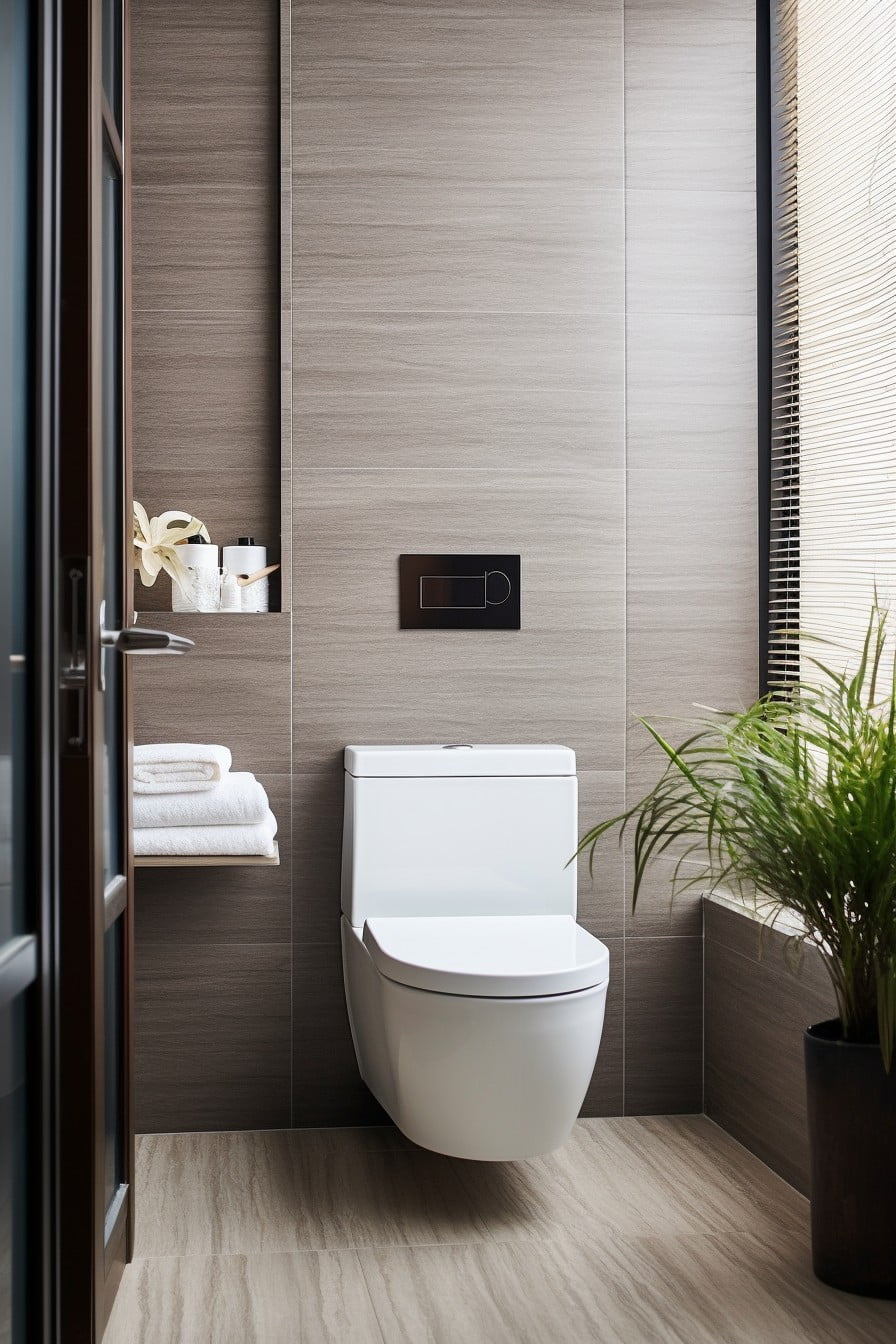 Incorporating a wall-mounted toilet into your bathroom design holds both aesthetic and functional appeal. Suspended fixtures generate a contemporary look and free up valuable floor space, perfect for compact bathrooms. Their streamlined appearance also makes cleaning underneath more effortless.
Remember, these models require a sturdy wall framework to support the weight as the tank is concealed inside the wall. This feature aids to reduce noise, offering added peace and tranquility with each flush. Custom height adjustment is another benefit as you can place it at a level that suits your personal comfort.
Furthermore, they're frequently paired with eco-friendly dual-flush systems. This allows you to conserve water by choosing between a light or heavy flush, aligning your bathroom with sustainable living. Although initial costs might be higher than traditional style toilets, the payoff in aesthetics, functionality, and environmental impact is significant.
Nickel-finished Fixtures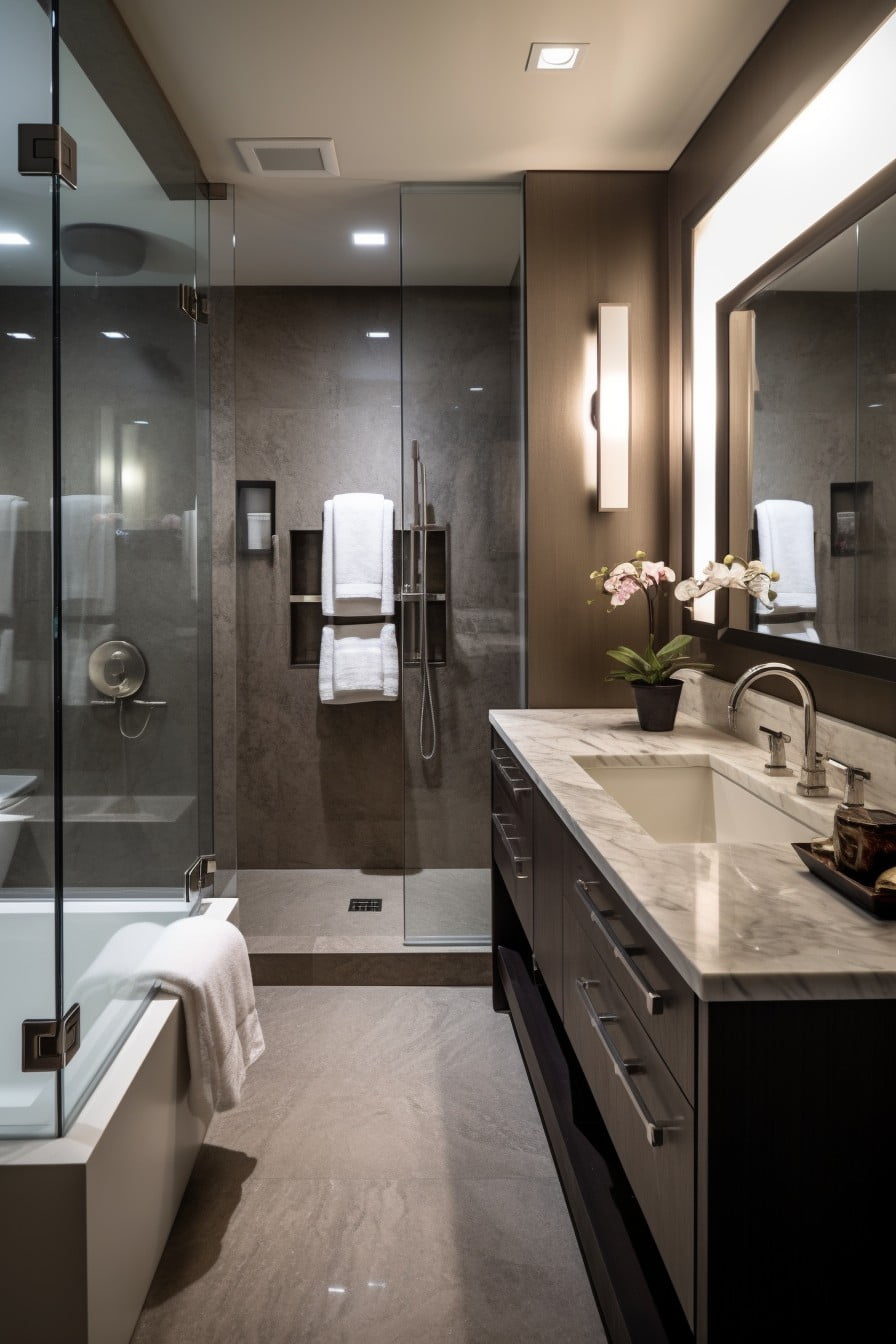 Sprucing up your bathroom doesn't always require a complete overhaul. Sometimes, a subtle shift in hardware can lead to a dramatic impact. Enter, nickel-finished fixtures. Their slightly muted silver tone carries a timeless appeal, effortlessly adding a sense of sophistication.
Here are some valuable points to consider:
Versatile Grace: With its soft shimmer, nickel pairs perfectly with various hues and textures, maximizing your décor options.
Sturdy and Stain-Resistant: These fixtures ward off rust, tarnish, and scratches, ensuring longevity while maintaining their elegant look.
Consistency: Matching all the fixtures (faucets, showerheads, towel bars) ties the room together seamlessly, making it visually appealing.
Easy Maintenance: A mere wipe down with a soft cloth keeps them in pristine condition, eliminating the need for harsh cleaning products.
Warm Atmosphere: The warm undertones of nickel lend a cozy feel, providing a relaxing spa-like ambiance right at home.
Glass Shower Enclosure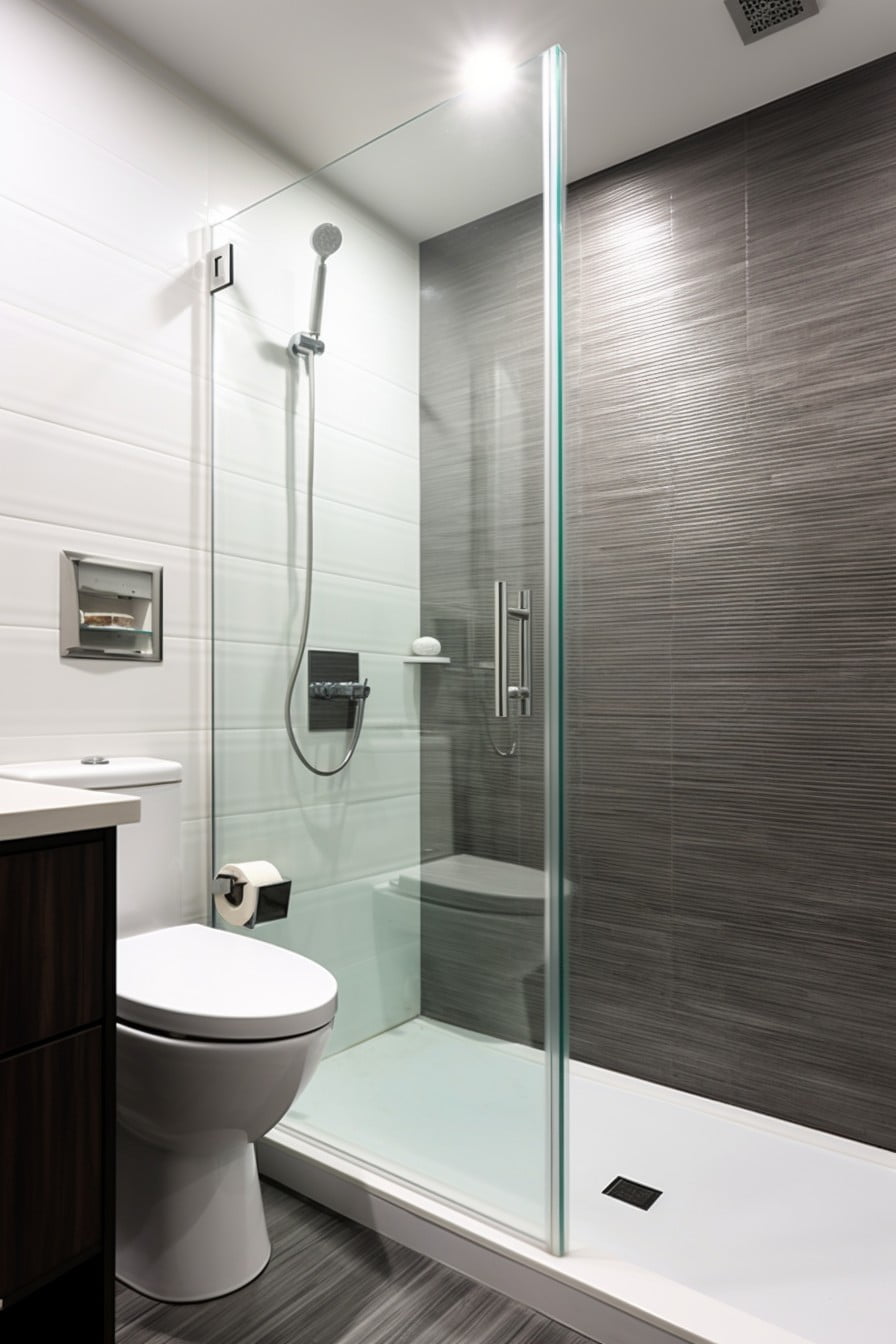 Opting for the right enclosure can completely transform your bathroom. The key selling point? Transparency. It allows for the showcasing of tiles and fixtures within, creating an illusion of space even in tiny bathrooms. Moreover, they facilitate maximum light, enhancing the brightness and openness of the area.
Consider the variety of glass types to suit your privacy comfort: clear, frosted, or tinted. Then, choose the kind of enclosure: framed for a classic touch, semi-framed for durability, or frameless for a seamless, minimalistic look. Maintenance-wise, settle for treated glass to resist watermarks and stains.
In terms of functionality, a sliding door serves compact bathrooms, while doorless or walk-in types mesh well with spacious ones. Concerning shape, rectangular enclosures accommodate larger showers, and quadrant or pentagonal shapes fit well in corners, saving space.
Remember, a well-chosen enclosure not only scores big on aesthetics but also functionality. It ensures the water stays within the confined area, maintaining a dry, slip-free rest of the bathroom floor.
Freestanding Tub Filler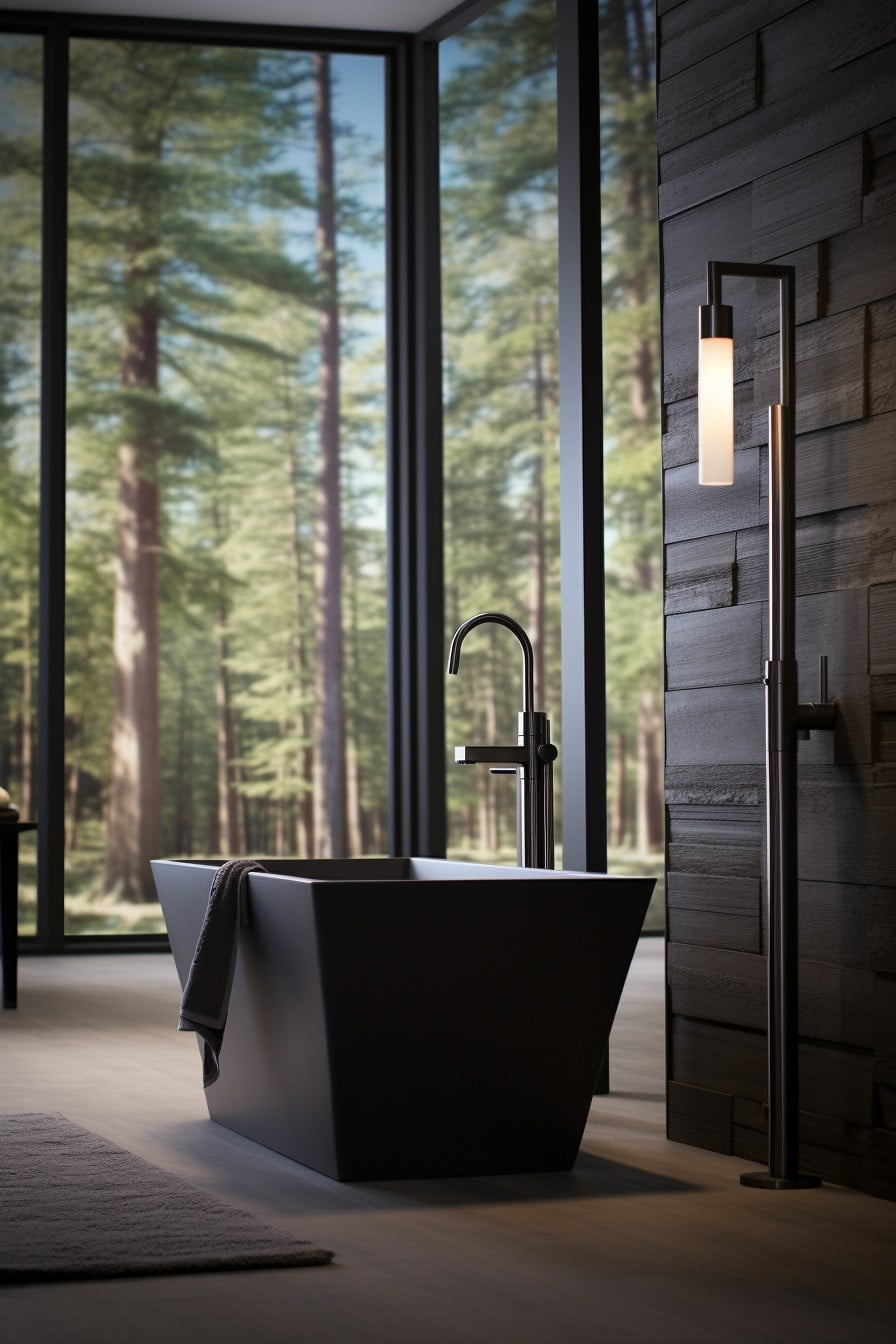 Placing the fixture in the center of the bathroom, as opposed to tucked away in a corner, can elevate the aesthetic appeal of your space. Offering an air of elegance, these tub fillers can range in style from sleek and modern to ornate and vintage, effectively serving as a piece of decorative artwork. Given their standalone function, they also simplify tub installation by eliminating the need to drill holes, thus preserving the rest of your bathroom design.
Consider the following points when contemplating the addition of a freestanding tub filler to your bathroom:
1. Variety of Styles: These fixtures are available in a plethora of designs, finishes, and materials to suit any stylistic preference.
2. Space Elevation: By breaking away from the usual corner placement, it acts as a central feature in the bathroom.
3. Ease of Use: Due to its freestanding nature, it's comfortable to reach and regulate water flow and temperature.
4. Installation Simplicity: Without the need to drill holes in the tub or wall, this option simplifies the installation process.
5. Customizable Height: Depending on your bathroom setup, the height of the tub filler can be tailored to your tub's specific dimensions.
Double Sink Vanity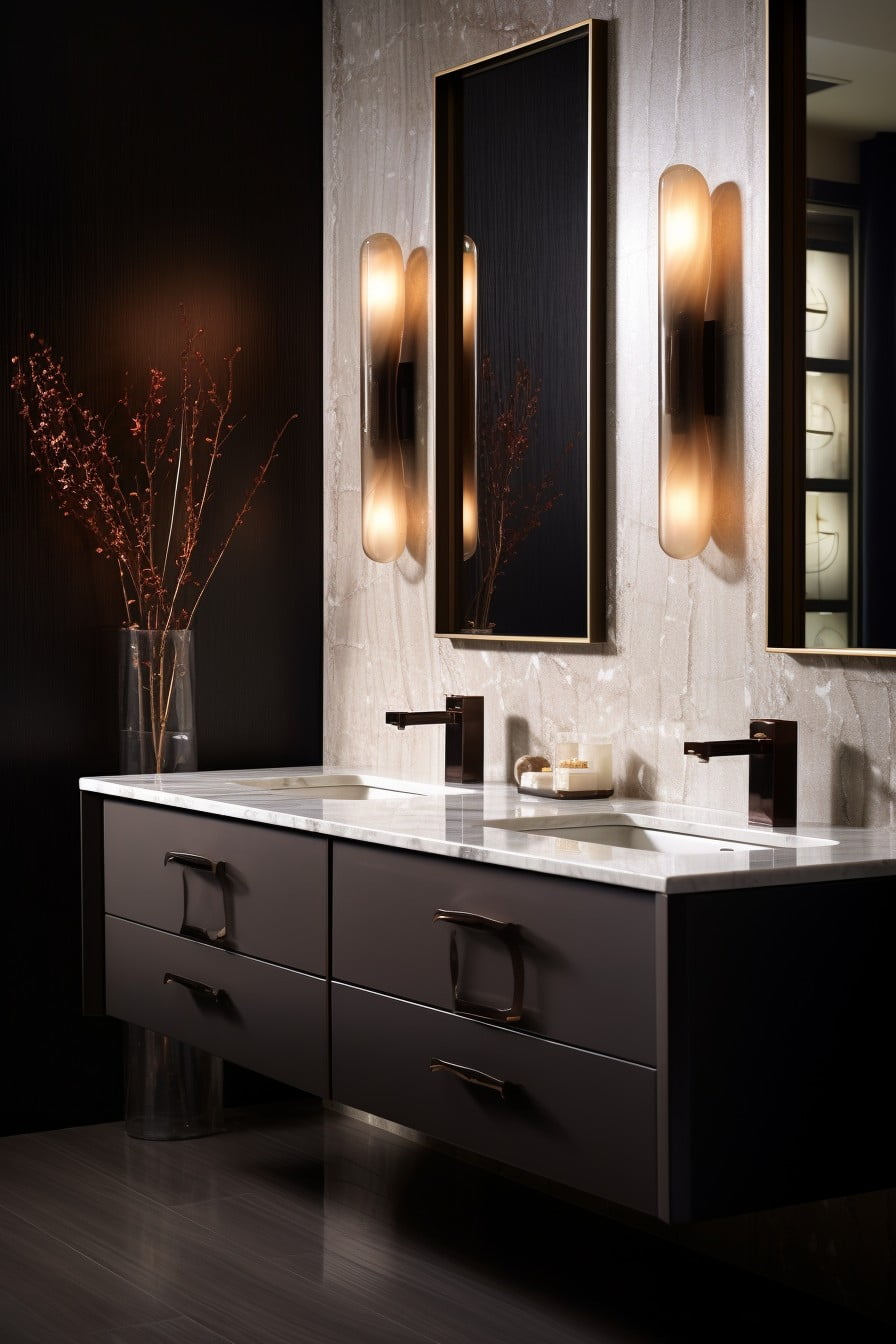 Elevating a bathroom's efficiency and functionality can be achieved seamlessly with this configuration. Think about the morning rush – two people can utilize the space simultaneously without invading each other's personal domain. Moreover, it opens the door to extra storage via multiple cabinets. Plus, the additional countertop surface invites organization and a stylish display of toiletries.
For narrower spaces, minimalist designs with slim profiles are perfect. For larger bathrooms, a countertop extending the room's width with sinks at either end might be splendid. In terms of materials, ceramic, stone, and glass offer variations to suit any aesthetic. For the cabinetry, wood finishes ranging from deep mahogany to washed gray can blend in beautifully with any decor.
Finally, integrating this feature grants an instant boost to real estate value. After all, a slight luxury touch can make the bathroom feel like a private, sophisticated spa.
High-efficiency Toilet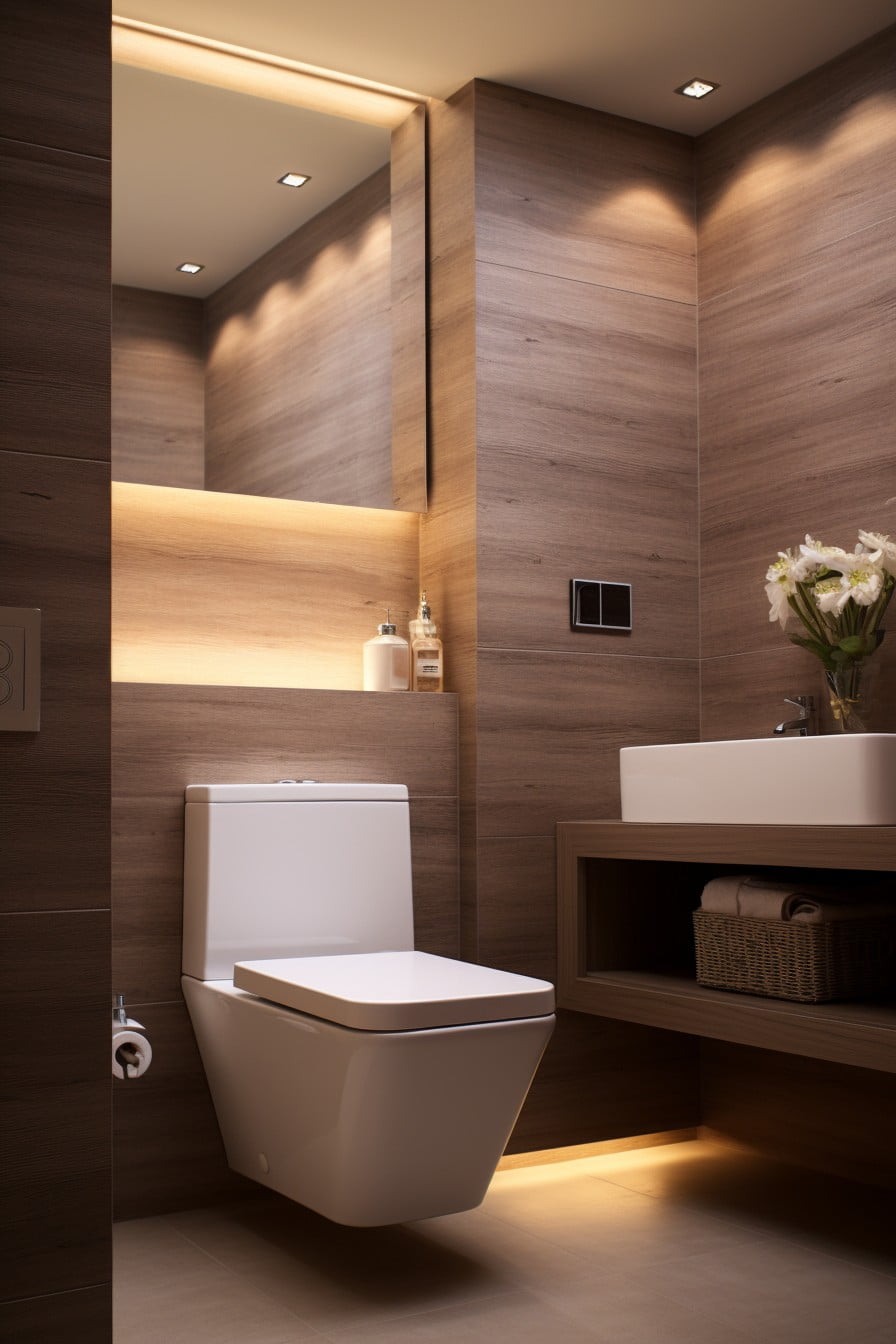 Surveying the current market finds various models offering 20% less water usage than the traditional 1.6 gallon version, providing both environmental conservation and cost-saving benefits. Most notably, dual-flush options give users the ability to control the level of water used per flush, further enhancing the eco-friendly feature.
Design-wise, one wouldn't have to compromise aesthetics for sustainability. It's possible to find styles ranging from minimalist to traditional and materials from porcelain to ceramic, ensuring a suitable fit for any bathroom decor. Also worth noting is that many models now include features like elongated bowls for comfort or even automatic touchless flushing for optimal hygiene.
In terms of installation, they can be wall-mounted or floor-mounted, allowing flexibility based on the layout and size of your bathroom. Understanding your needs, decor style and budget will guide your choice towards the perfect high-efficiency toilet.
Bronze Waterfall Faucet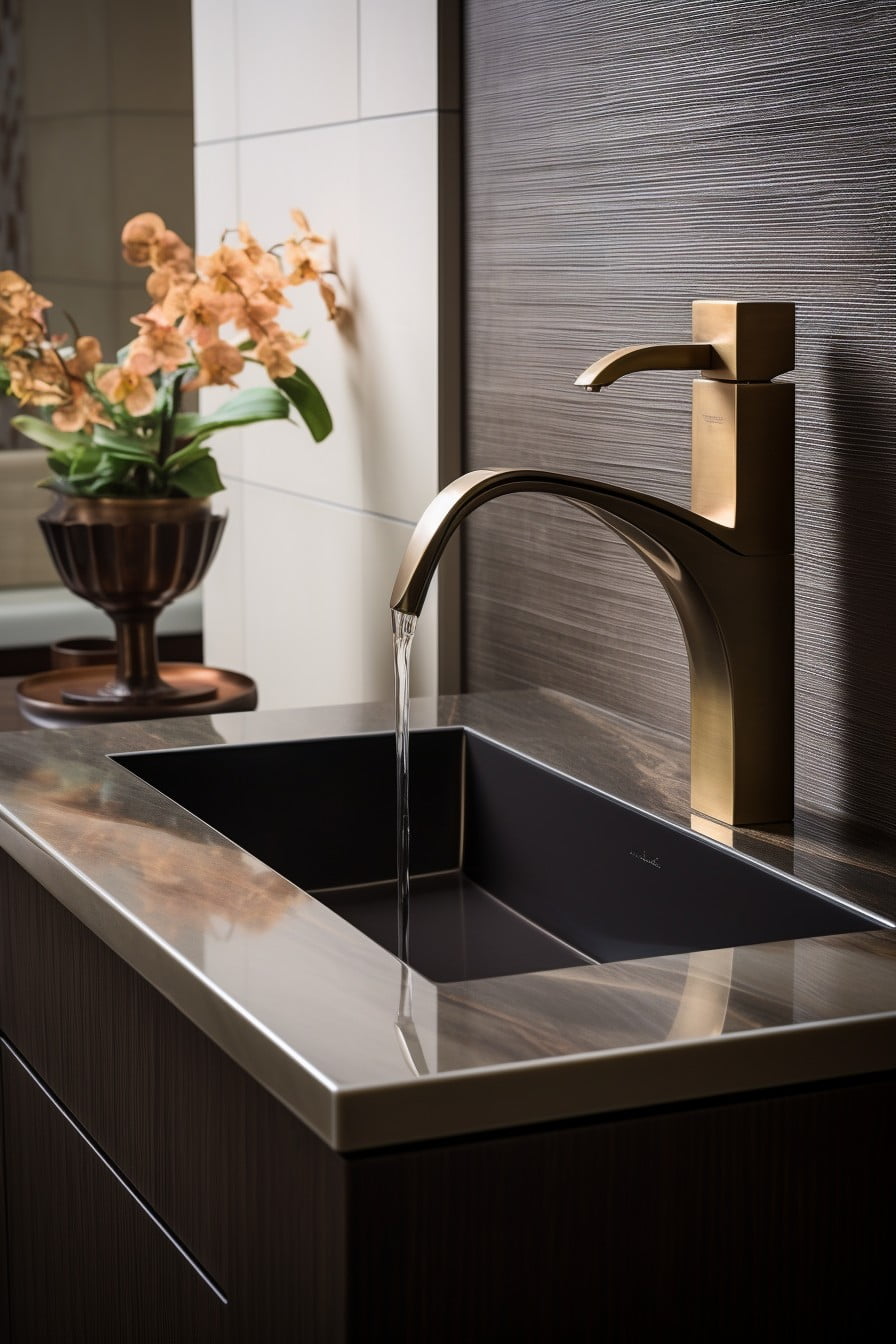 With an aesthetic appeal that's hard to miss, this fixture adds a dash of vintage charm to any bathroom. Regarded for its durability and superb longevity, bronze is a wise investment for the long haul.
Its corrosion resistance ensures that it stays pristine, making your bathroom look polished for years to come. The waterfall design, a unique twist on the traditional tap, elevates your style quotient, making washing hands or brushing teeth intriguingly artistic.
What's more, its sound has a calming effect, reminiscent of a tranquil brook, turning your bathroom into a haven of peace. Be sure to maintain it properly, clean using mild soap and warm water to keep the bronze shining brilliantly.
Marble Pedestal Sink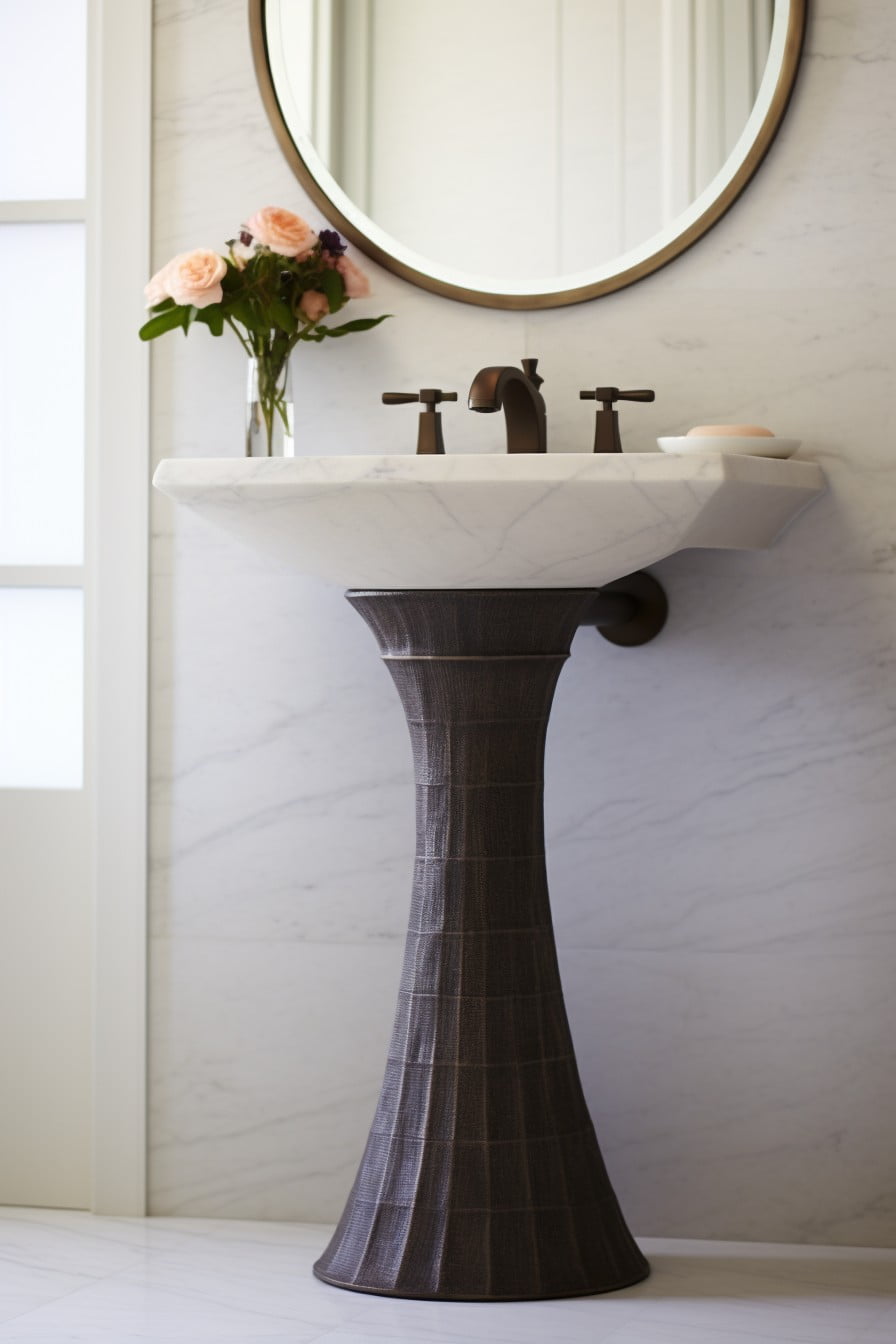 As a staple of elegance spanning from ancient Greece and Rome to modern homes, marble remains an unshakeable choice. When used in a bathroom environment, especially as a pedestal sink, it conveys a statement of refined aesthetics.
With its glossy surface, marble adds an element of chic sophistication. Simultaneously, it is known for its inherent durability, standing up impressively to daily wear and tear. Its unique veining ensures that every piece is one-of-a-kind, offering an exceptional styling opportunity.
Installation flexibility of pedestal sinks is notably advantageous. They do not require a vanity for mounting, leaving room for other decorative or functional elements. The exposed pedestal also amplifies spatial perspective, making it a savvy choice for smaller bathrooms.
Keep in mind, however, marble can stain if it's not well sealed – make sure to use appropriate cleaners. Consulting with a professional can ensure the longevity of this beauty.
From a design perspective, try pairing this sink with a vintage brass faucet for a dash of nostalgia, or a sharp, geometric mirror for a contemporary twist. Either way, a marble pedestal sink promises to infuse your bathroom with allure and grace.
Walk-in Shower With Bench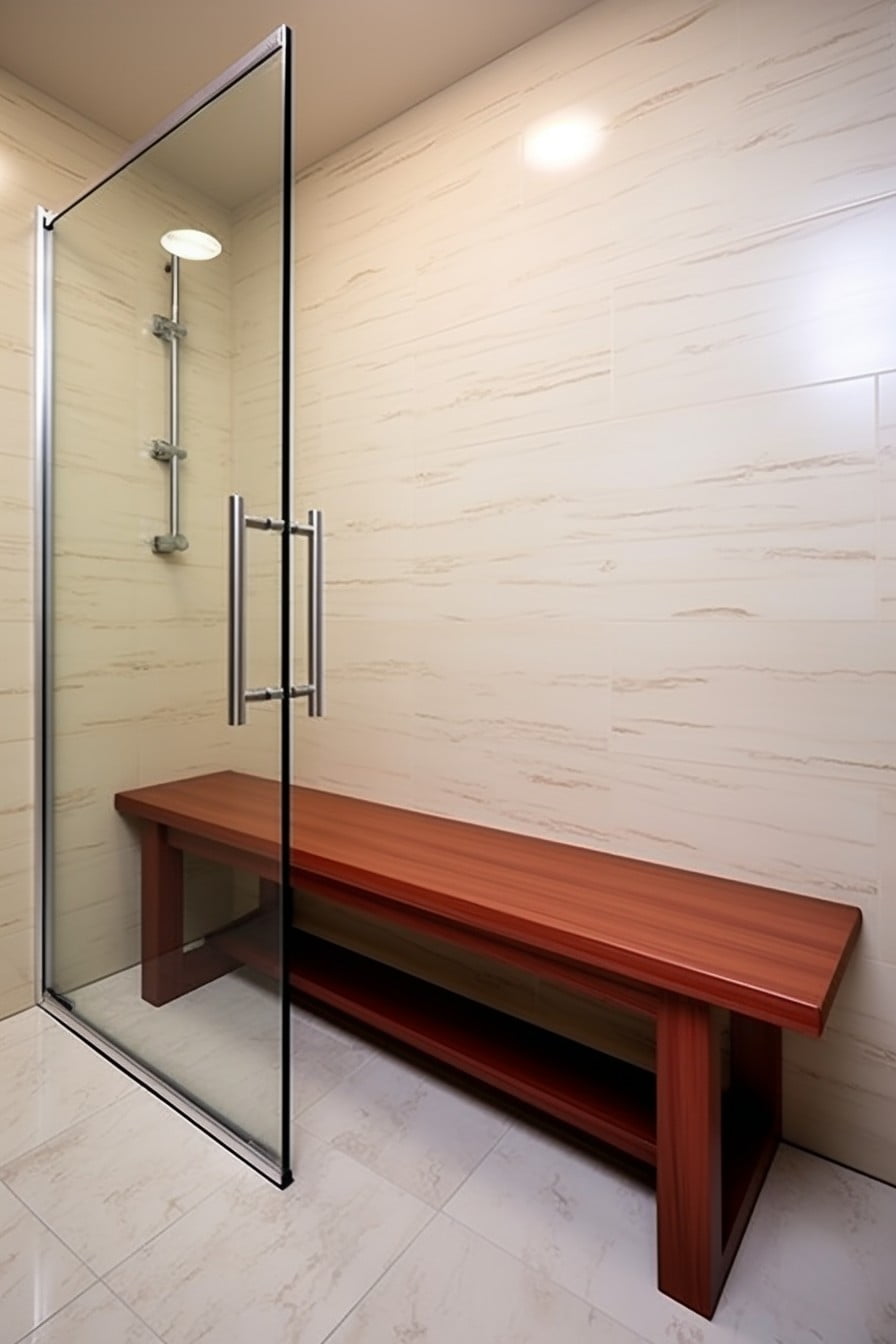 Embracing both design elegance and functionality, this fixture offers considerable benefits. Consider in your decision the practical aspects such as accessibility and ease of cleaning.
1. Comfort: Equipped with a bench, it's possible to sit while showering, a comfortable feature that's appreciated by many.
2. Accessibility: Perfect for those with mobility issues, the bench and the lack of steps make entering and exiting the shower a non-issue.
3. Versatility: The bench can also function as a surface to place toiletries or bath products, ensuring essentials are within reach.
4. Luxury: Emulating high-end spas, the walk-in shower with bench injects a sense of luxuriousness into the bathroom.
All told, when planning a bathroom update, the value of a walk-in shower with bench should not be overlooked! It successfully couples style and accessibility, offering an ideal solution for a multi-generational household.
Tiled Shower Niche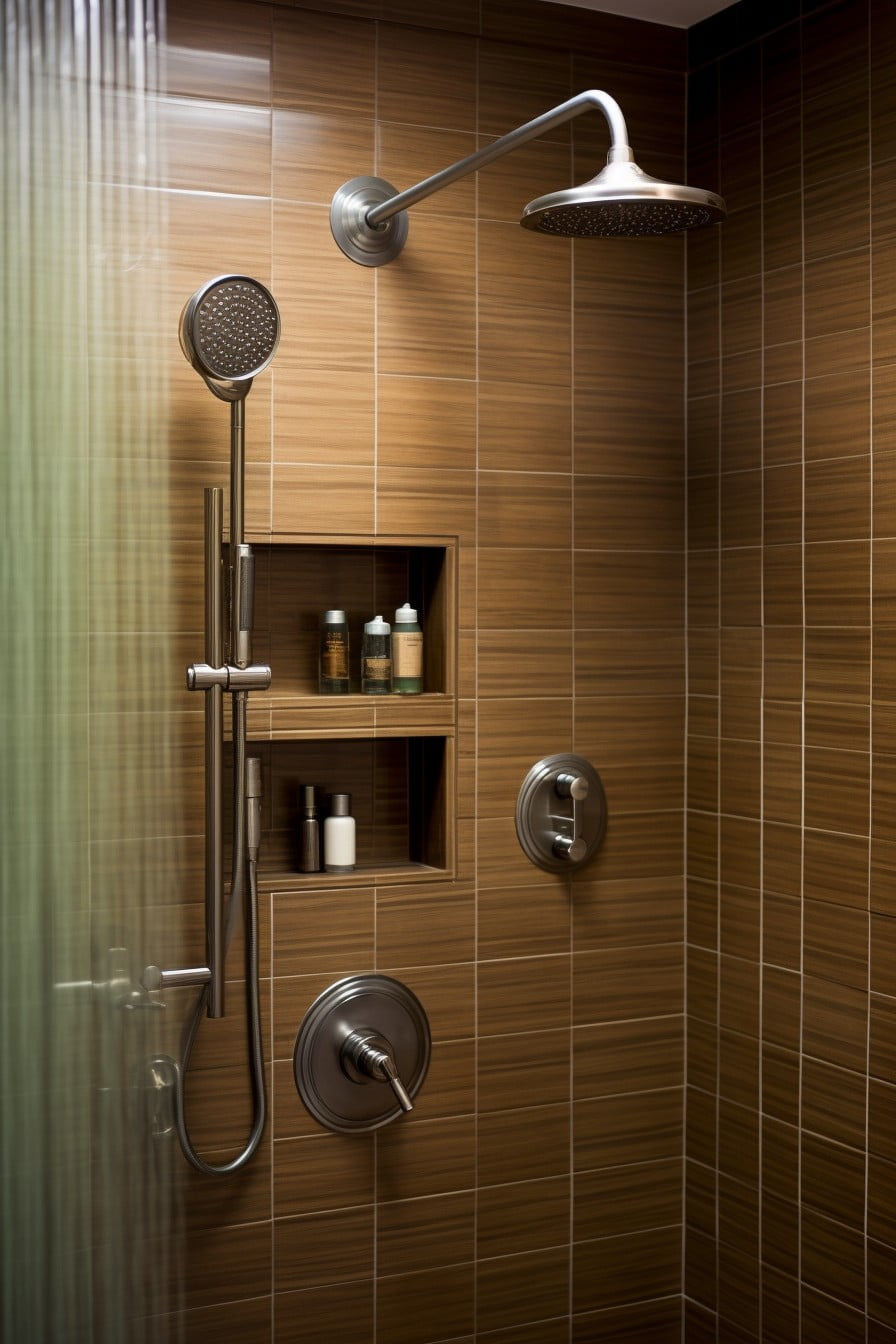 Nestled within the walls, it saves space while providing a cozy and stylish spot for shower products. It's a streamlined solution for shower storage that can have a delightful design impact.
Here are some key points to remember:
Design Customization: Can be lined with mosaic tiles or a contrasting color from the rest of the shower to make a striking visual impact.
Strategic Placement: Installing at chest level will give easy accessibility without having to stoop or stretch.
Size & Shape: Can be long and slim for minimalistic look or large and square for substantial storage.
Multi-tiered: Extra storage can be achieved by carving out two or three niches stacked vertically.
Functionality: Not only for shower products, also a perfect place for candles or plants in a well-ventilated bathroom.
Remember, planning and knowing your needs beforehand always yields the best results.
Bidet Attachment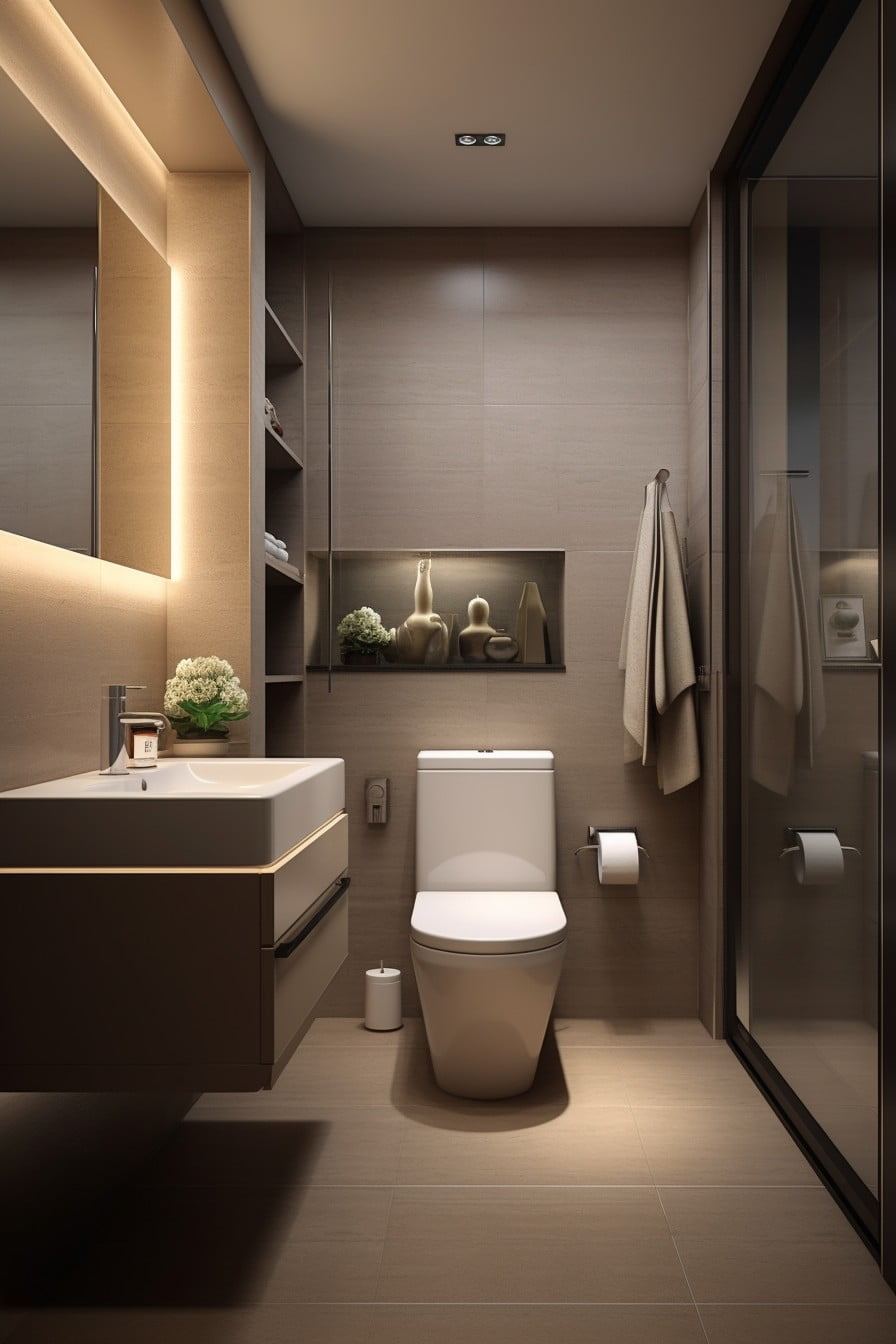 A cutting-edge trend in bathroom fixtures, Bidet attachments transform ordinary toilets into hygienic hubs.
With a simple installation process that doesn't require specialized plumbing skills, these devices are a game-changer for personal sanitation.
Typically, they come with adjustable pressure and temperature controls for personalized comfort.
Moreover, they are an eco-friendly alternative to toilet roll, significantly reducing waste.
Many bidet attachments even feature self-cleaning nozzles, ensuring a clean and healthy experience.
Bright, Energy-saving Vanity Lights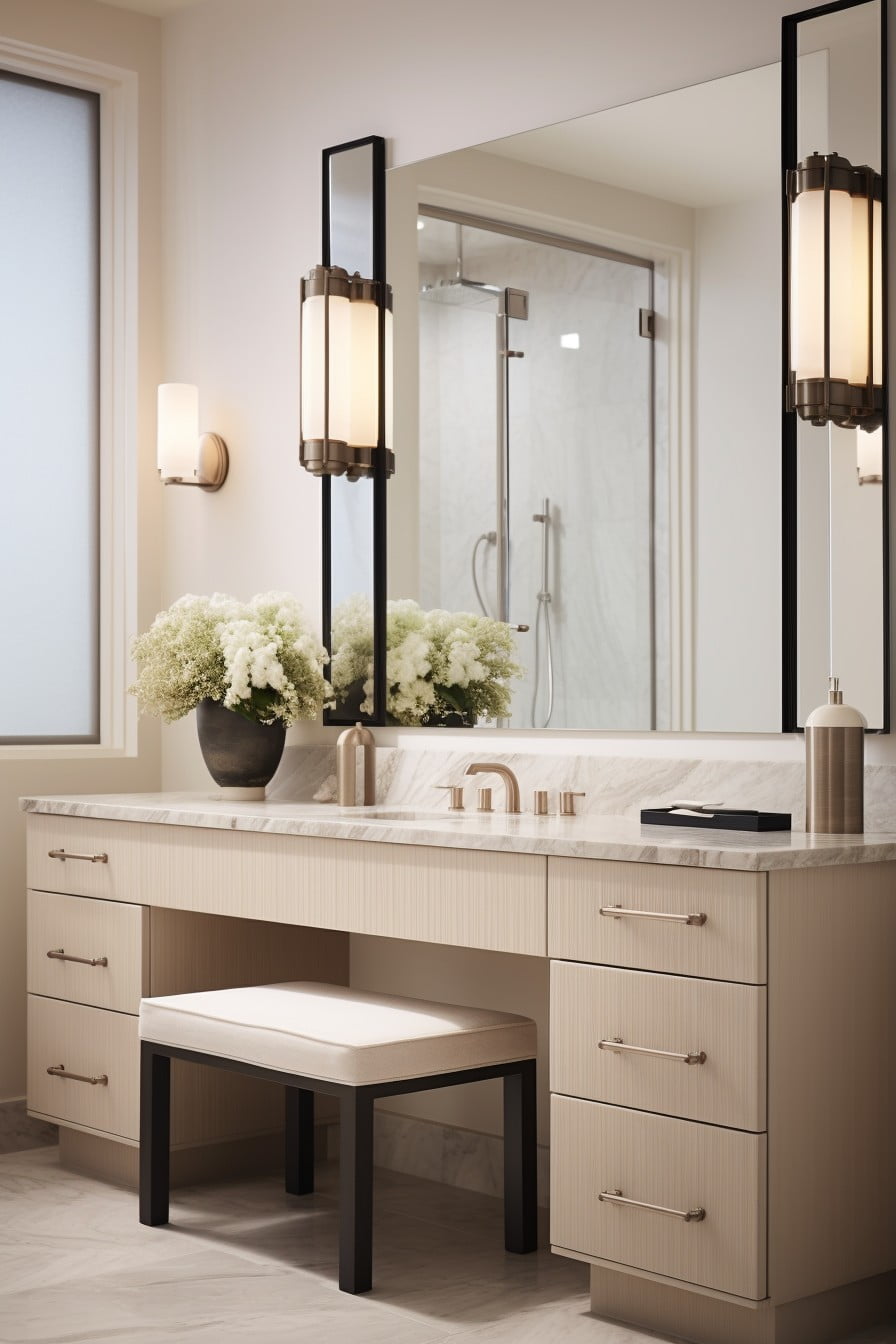 If you've been searching for the perfect way to tie in modern technology with classic design, look no further. These fixtures offer not only superior lighting for your daily grooming routines but also significant energy efficiency. With a range of models featuring different light temperatures, you are sure to find one that perfectly matches the vibe of your bathroom.
When choosing one, consider models with LED technology. It's more energy-efficient than traditional lighting and offers a longer lifespan, saving both money and time on replacement bulbs. Plus, you can opt for dimmable models, allowing you to adjust your lighting according to various tasks or time of day. An automatic model with motion detection could be a perfect fit, illuminating the area only when in use.
Finally, don't overlook the design aspect. Gone are the days of bulky, unappealing fixtures. Choose from a range of sleek, modern designs that align with your bathroom's overall aesthetic. From brushed nickel to antique brass, the finish of your light fixture can significantly contribute to your bathroom's outstanding look.
Shower System With Body Sprays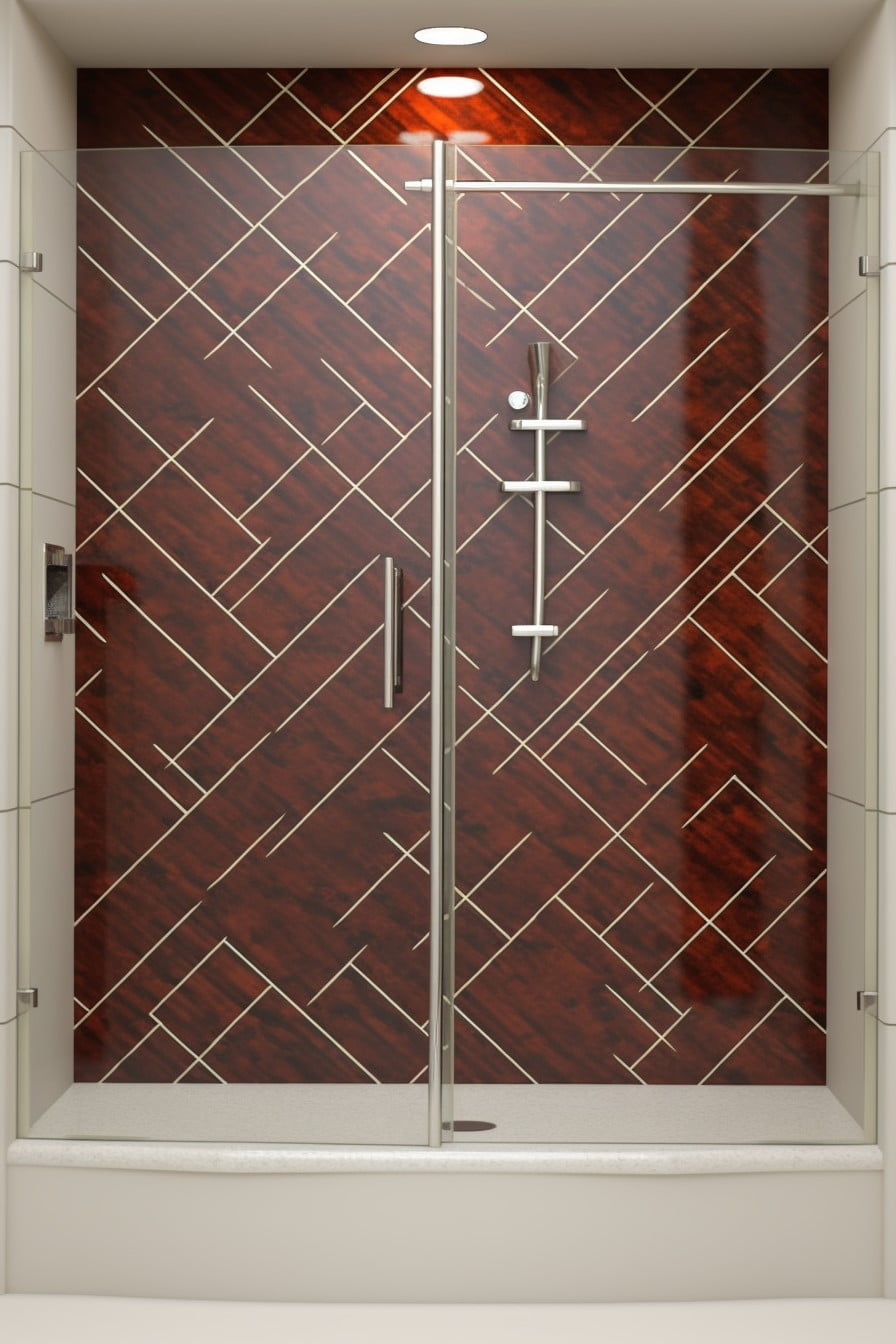 Investing in a body spray shower system might be one of the best choices for ultimate relaxation and rejuvenation. These systems incorporate several jets or sprays embedded into the shower wall to deliver water in addition to the traditional showerhead. Imagine gentle droplets falling from every direction, creating an immersive, spa-like experience right at home.
1. Multiple Stream Options: These systems offer a variety of streams, from gentle mist to intense massage, so you can customize your shower experience to suit your mood or need.
2. Temperature Control: Advanced systems feature thermostatic controls for individual jets, shaping your perfect water temperature mix.
3. Massage Functionality: Many designs have therapeutic massage functionalities, beneficial for stress relief and easing muscle tension.
4. Increased Resale Value: This contemporary feature is sought-after in modern bathrooms, potentially increasing the value of your home.
5. Multi-users Facility: Larger system setups can comfortably accommodate multiple shower users at once, adding convenience for families.
Finally, when planning for such a system, remember – professional installation is highly recommended due to the different water pressures and plumbing complexities involved.
Continue reading:
Recap