Last updated on September 24, 2023
Explore the transformative potential of bathroom niches as we delve into creative ways to enhance storage and aesthetics in your home's most intimate space.
If you're searching for innovative bathroom niche ideas, you've hit the jackpot. This article will guide you through a variety of concepts, from minimalistic recessed shelving to ornate display niches, perfect for transforming your bathroom into a stylish sanctuary.
Get ready to explore a world of unique and functional designs that cater to all tastes and space constraints. Whether you're looking to declutter your bathroom or add an aesthetic touch, this comprehensive guide has got you covered.
So, let's dive in and explore these fantastic bathroom niche ideas together.
Table of Contents
Recessed Shower Shelving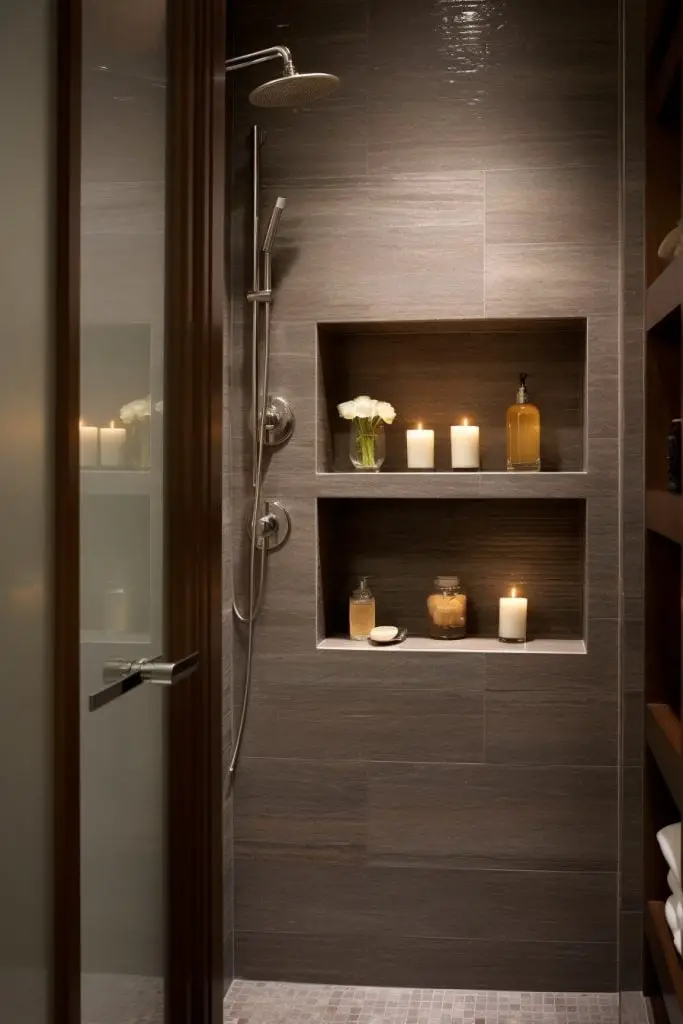 Recessed shelving in the shower combines functionality and style, offering a practical solution for bathroom organization. Align it conveniently at shoulder height for easy access to toiletries during a shower.
Here are key considerations:
Minimizes clutter: Allocates a specific place for each item, thereby reducing the clutter on shower floors and corners.
Multilayered options: Allows for increased storage by incorporating multiple shelves for different sized items.
Waterproof: Essential to prevent water damage, hence materials should be durable and moisture-resistant.
Style enhancement: Can add flair to the bathroom's aesthetic with a variety of tile designs, accents, and surrounding décor.
Proximity to water source: Should be installed near the showerhead yet away from direct spray.
Installation: Can be a DIY project or incorporate a professional for seamless results.
Maintenance: Easy, as the arrangement ensures items are not scattered around the bathroom, thus simplifying cleaning procedures.
Sink-side Metallic Corner Niches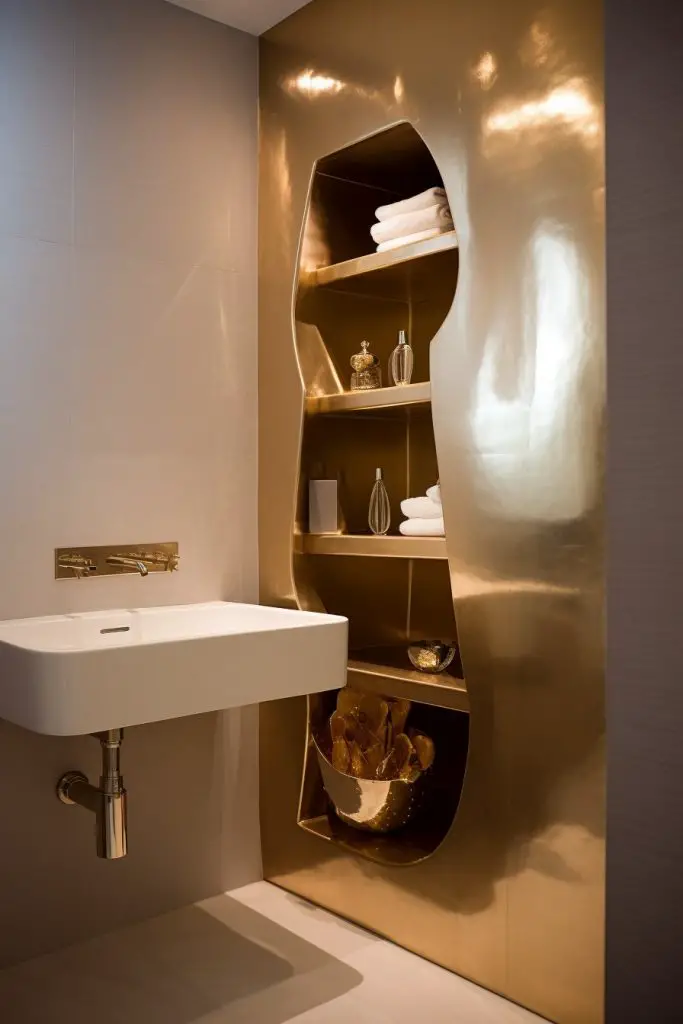 These niches are an efficient use of otherwise redundant corner space beside the sink. Constructed usually from stainless steel or brass, their metallic appeal adds an extra dimension of style to the overall bathroom decor.
Incorporating them can help you manage clutter, ensuring frequently used items like toothbrushes, soap, and skincare products are always within reach.
Being corrosion-resistant, these niches are ideal for damp bathroom conditions.
Efficient use of corner space.
Use of metallic materials (stainless steel, brass) for style and durability.
Clutter management.
Corrosion-resistant, suitable for damp environments.
Niche Above Bathroom Door for Towel Storage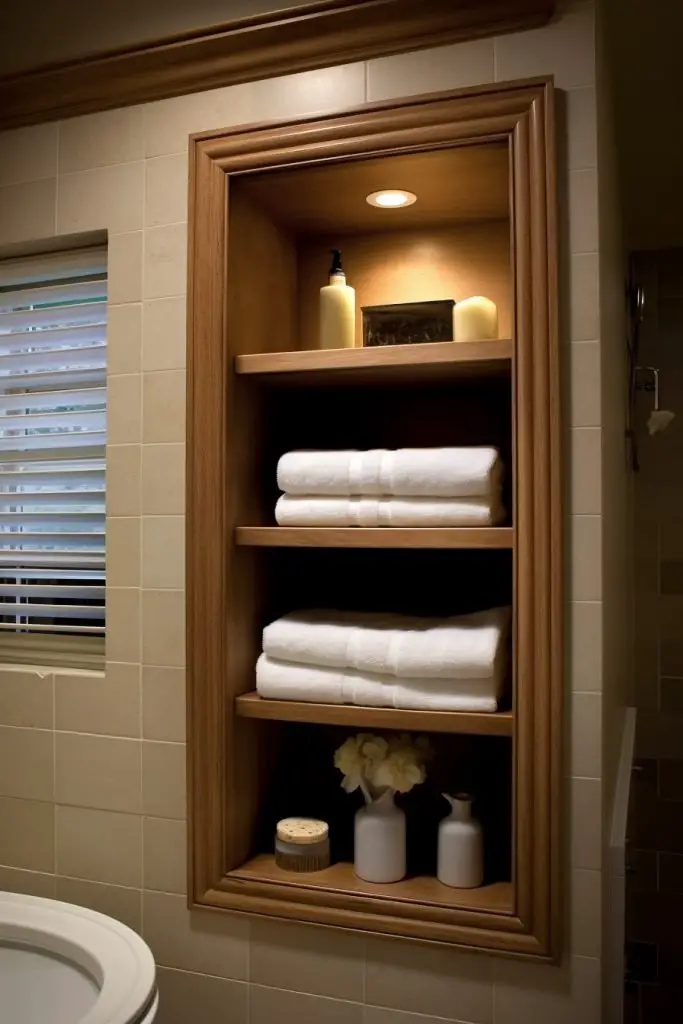 Placing towels above the door is an efficient space-saving approach, adding functionality without compromising style. This storage solution is particularly beneficial for bathrooms with a small floor area, freeing up valuable space that could be better utilized for other necessities.
Key Points:
Measure the door height to ensure appropriate clearance.
Opt for a shelf that matches the bathroom's decor.
Install a towel bar under the shelf for easy accessibility.
Use the shelf to store extra towels and bathroom essentials.
Remember to use sturdy brackets for secure installation.
Spa-inspired Mosaic Tile Niche Bathtub Surround
Adopting a spa-like ambience, this niche design utilizes mosaic tiles to provide an artistic frame around the bathtub, establishing a focal point and adding an aesthetic appeal. Situated just above the deck of the bathtub, the niche is perfect for storing commonly-used bath essentials in a visually pleasing way.
Key Points:
1. Opt for glass or ceramic mosaic tiles for durable and water-resistant quality.
2. Pair with complementary or contrasting grout to enhance the design.
3. Determine ideal size and position for ease of access from the bathtub.
4. Store frequently used items such as bath salts, lotions, or aromatherapy oils.
5. Add in waterproof LED lighting to elevate the ambiance.
Floating Shelves Above the Toilet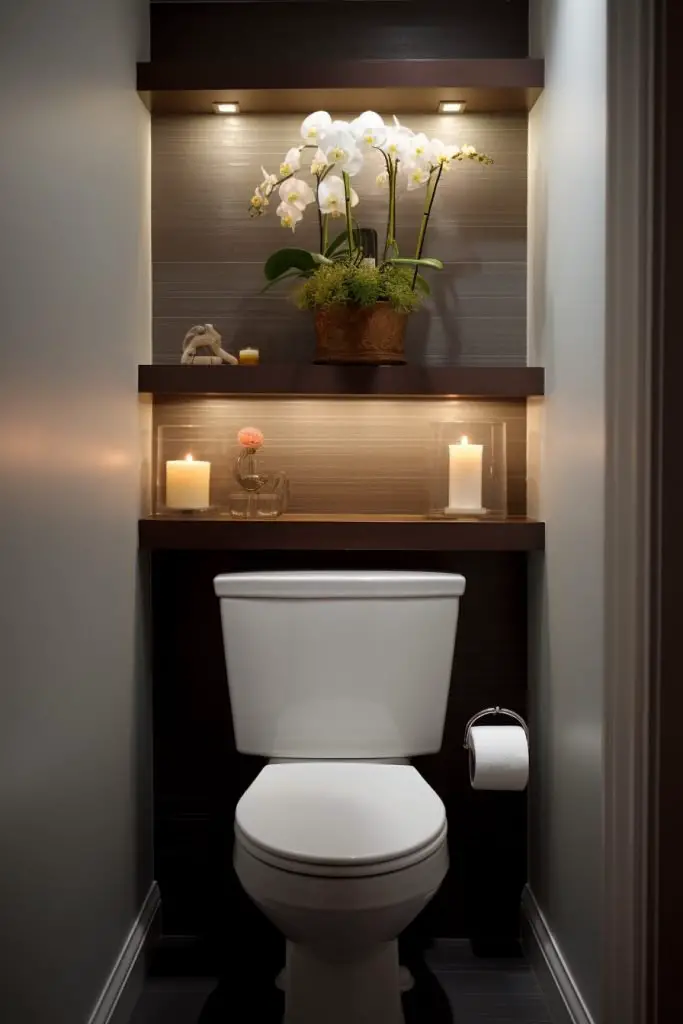 Leverage your vertical space effectively with this design. Placing fixtures above your toilet saves on floor space, while offering high visibility and ease of access. The shelves, either in traditional wooden forms or sleeker glass and metallic designs, can host an array of items from bathroom essentials to tasteful décor.
Key points:
Floor space conservation
High visibility and accessibility
Variety in shelf material selection
Potential for both functional and decorative use
Niche With LED Lighting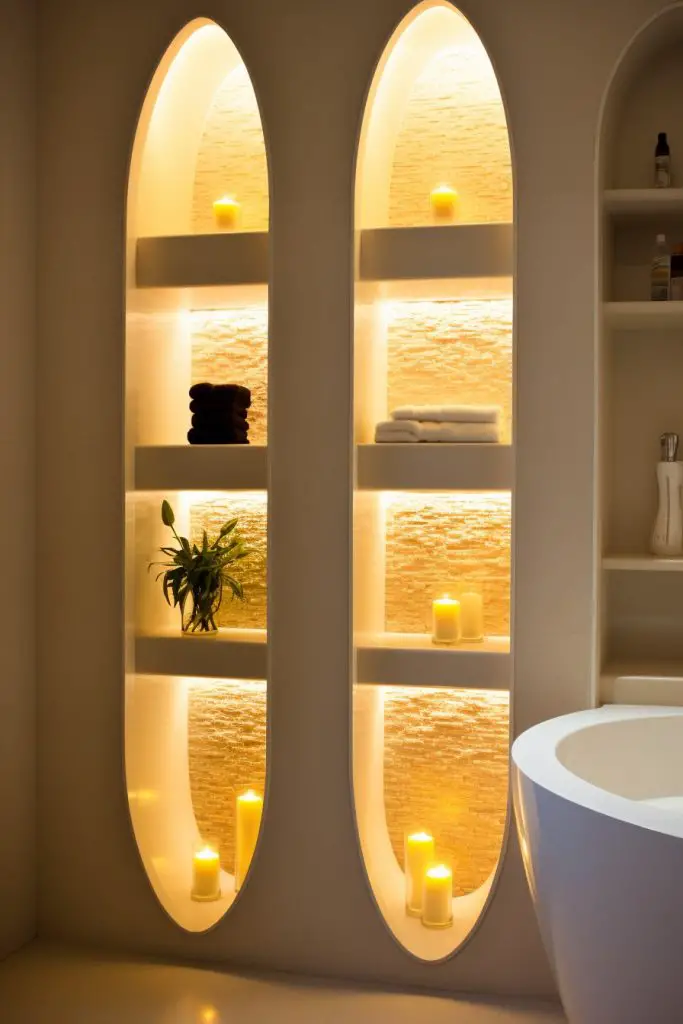 In terms of appearance, LED lighting can magnify the sophistication of niches by highlighting its content and structure. Any style, from modern and minimalistic to classic and ornate, can benefit from such illumination.
Key concepts:
LED lighting: Offers energy efficiency and a high degree of brightness.
Placement: Illuminate from the top, sides, or bottom depending on the desired effect.
Lighting Color: Warm light can create a cozy atmosphere, while cool light can be invigorating.
Dimming Option: Adjustable brightness offers versatility for day and night use.
Waterproofing: Essential for bathroom niches to prevent electricity-related issues.
Vertical Niche for Larger Bathroom Items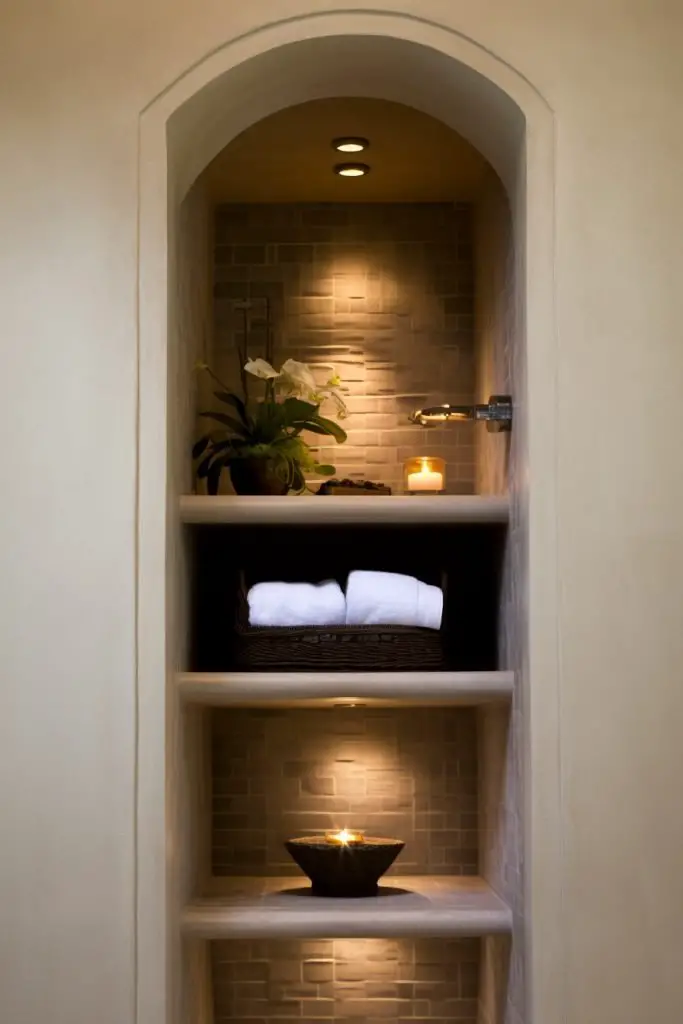 Featuring an impressive combination of practicality and visual appeal, vertical niches underscore sophisticated design ethos while affording generous storage space.
Their height provides adequate room for taller toiletries, such as shampoo and conditioner bottles, bath towels, and even shower caddies.
This inventive solution keeps your bathroom floor free from clutter while maintaining an aesthetically pleasing look.
Here are the key points to remember when implementing the vertical niche concept:
Position appropriately to avoid plumbing lines.
Waterproof carefully – consider the use of backer boards or silicone sealants.
Choose a complementary finish to match bathroom theme.
Adjust shelf heights to accommodate various products.
Ensure proper drainage to prevent standing water.
Mind these to optimize your bathroom environment with vertical niches, efficiently utilizing space without compromising on style.
In-wall Storage Behind the Mirror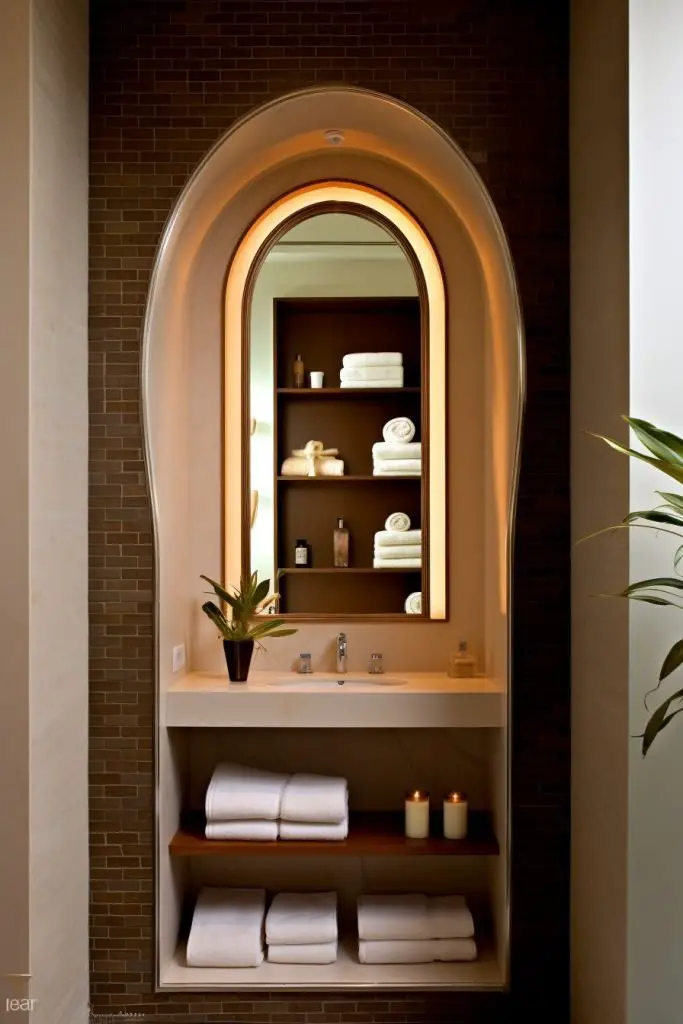 A proper implementation of this concept can yield impressive results:
1. Select a spacious area of the wall to install a mirror that opens up like a cabinet door. This results in a neat, tucked-away storage system.
2. Prioritize frequently used items. Designate the highest shelves for items like toothpaste, floss, and mouthwash.
3. Incorporate adjustable shelving. This allows you to customize the space based on your storage needs.
4. Include a lighting element. The internal space can often become dark, so providing a small light fixture can create convenience.
5. Proper sealing is needed to prevent steam from showers and moisture from affecting the items stored within.
6. To tie in the overall bathroom aesthetic, match the mirror's design and finish to other fixtures. This presents a unified, cohesive look.
Window-replacing Glass Privacy Niches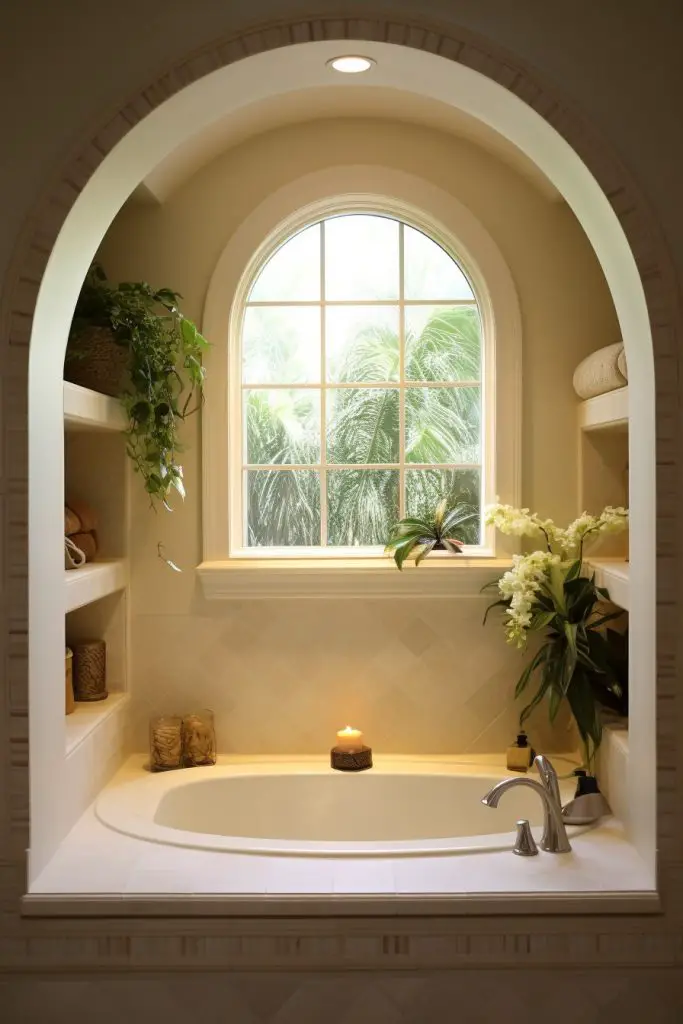 Window-replacing glass privacy niches work wonders in bathrooms that demand privacy while not compromising on daylight.
1. Frosted or tinted glass ensures sunlight seepage while upholding discretion.
2. The incorporable storage option offers a functional twist, perfect for plants, bath essentials.
3. Intensifies the style quotient by offering a contemporary touch.
4. Ideal for bathrooms with exterior-facing walls, favoring natural light flow.
5. Can be customized in terms of design and size as per individual requirements.
Bas-relief Wall Art Niche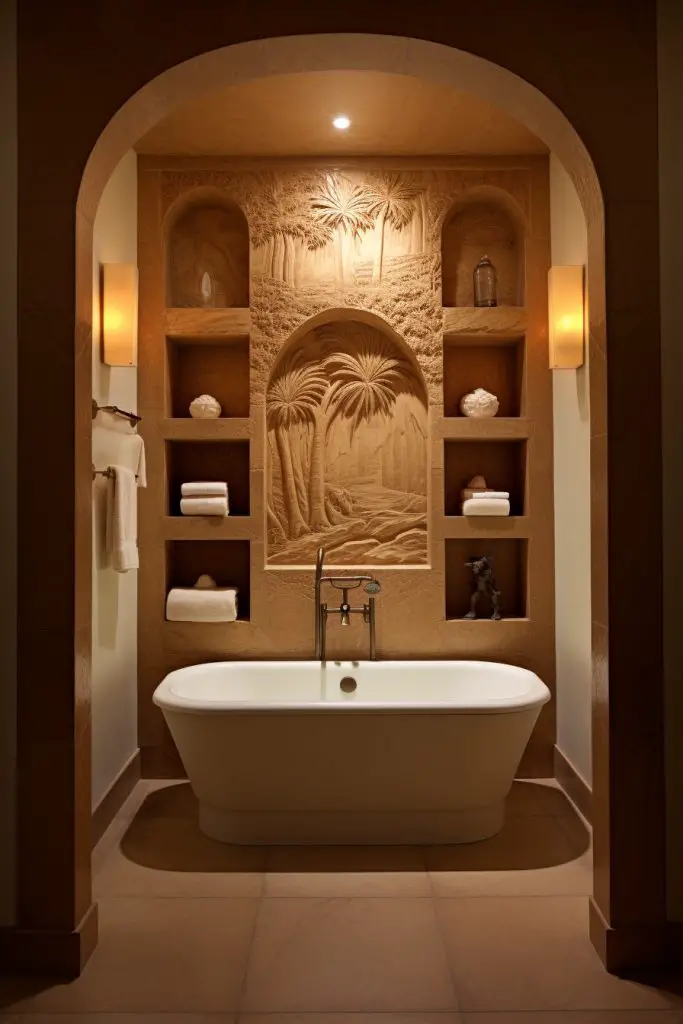 To create a stunning impact and bring artistic aesthetic to your bathroom, a bas-relief wall niche might be the answer.
1. Opt for a slightly oversized design to present a 3D sculptural effect.
2. The design can be minimalist or intricate, depending on your bathroom's decor.
3. It's not just about aesthetics, it serves a purpose, too. Utilize this for placing decorative items, candles, or small plants.
4. Install suitable lighting to highlight the artwork while creating a cozy ambiance.
5. Proper sealing is essential to protect the bas-relief from humidity and water splashes.
6. Customization is important. The size, shape, and design must be cohesive with the room's overall aesthetic.
7. Professional installation is advised due to the complexity of the art and structural considerations.
Marble Backsplash Cosmetic Niches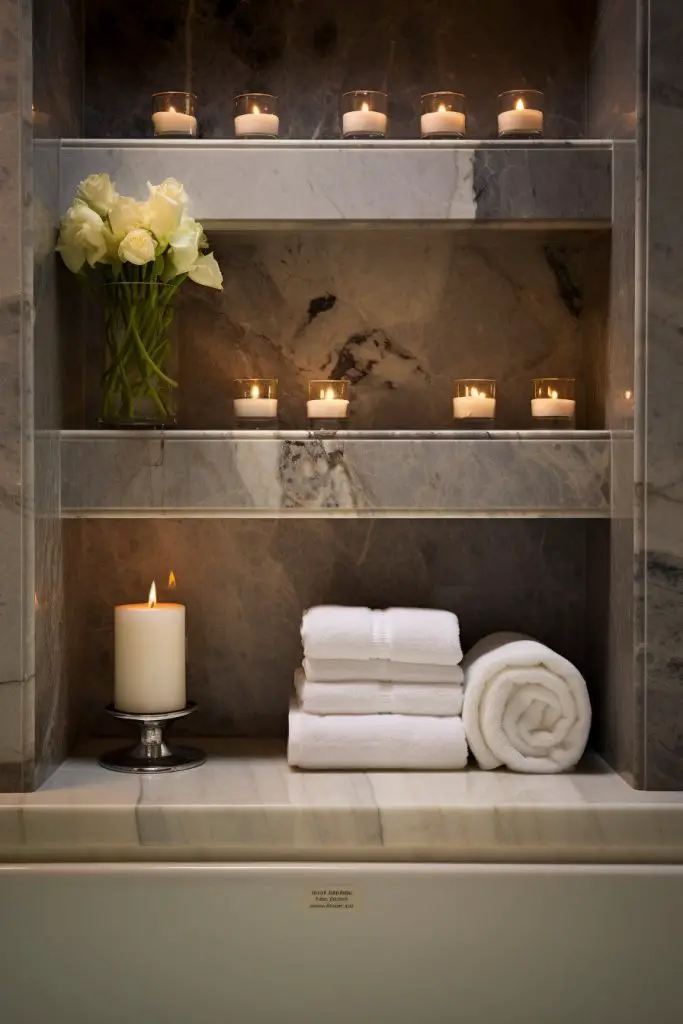 Marble, an evergreen choice in home decor, serves fabulously as cosmetic niches. Its lustrous appeal coupled with durability makes it a designer favorite. By the mirror or sink, it can elevate any bathroom's aesthetics with a refined touch.
Unbeatable luxury: The glossy shine and unique veining of marble play in tandem to give a top-notch luxurious feel.
Durable & Easy to clean: Its hardness shields against potential damages from cosmetics; while its easy-cleaning feature ensures a neat look.
Varied designs: From simple rectangles to abstract shapes, an array of designs can be accommodated.
Added value: Finally, not only does it uplift your bathroom experience, it potentially pushes up your property's worth.
Integrated Soap and Shower Dispenser Niche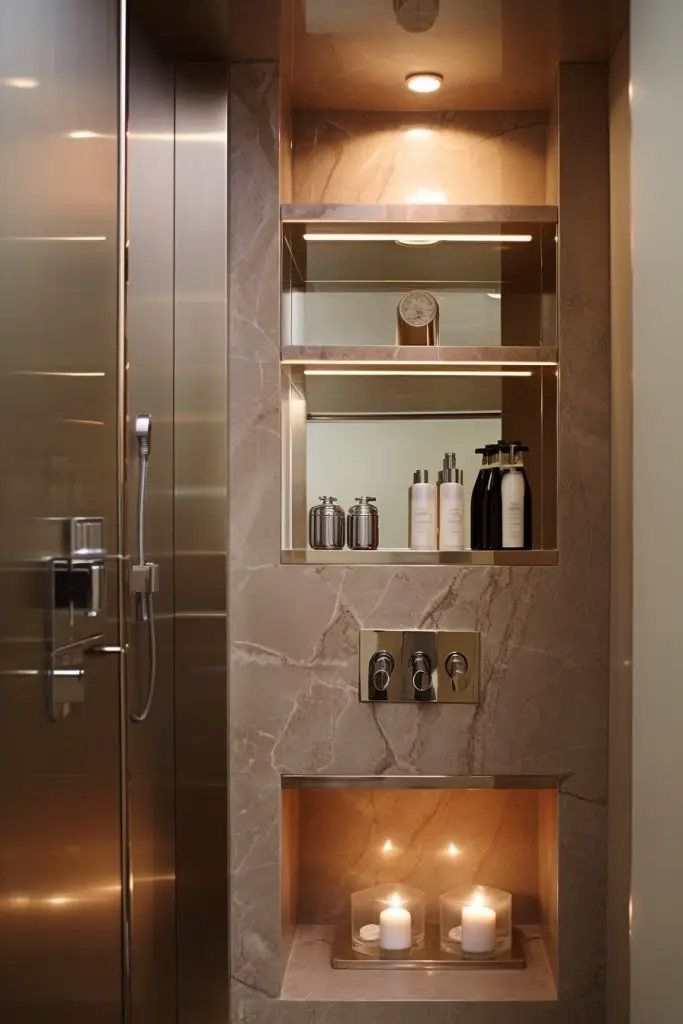 Creating an integrated dispenser niche provides a sleek and modern look, while saving substantial space in the shower cubicle.
1. Choose dispensers that match bathroom decor.
2. Ensure niche is deep enough for easy-access to the dispensers.
3. Position the niche at an appropriate height; ideally within arm's reach from the shower or tub.
4. Waterproofing is critical to prevent moisture damage.
5. Regularly refill dispensers to keep them functional and visually appealing.
6. Select dispensers with labels for clear identification.
7. Maintain the niche with standard bathroom cleaning products.
Multi-shelf Niche Cubby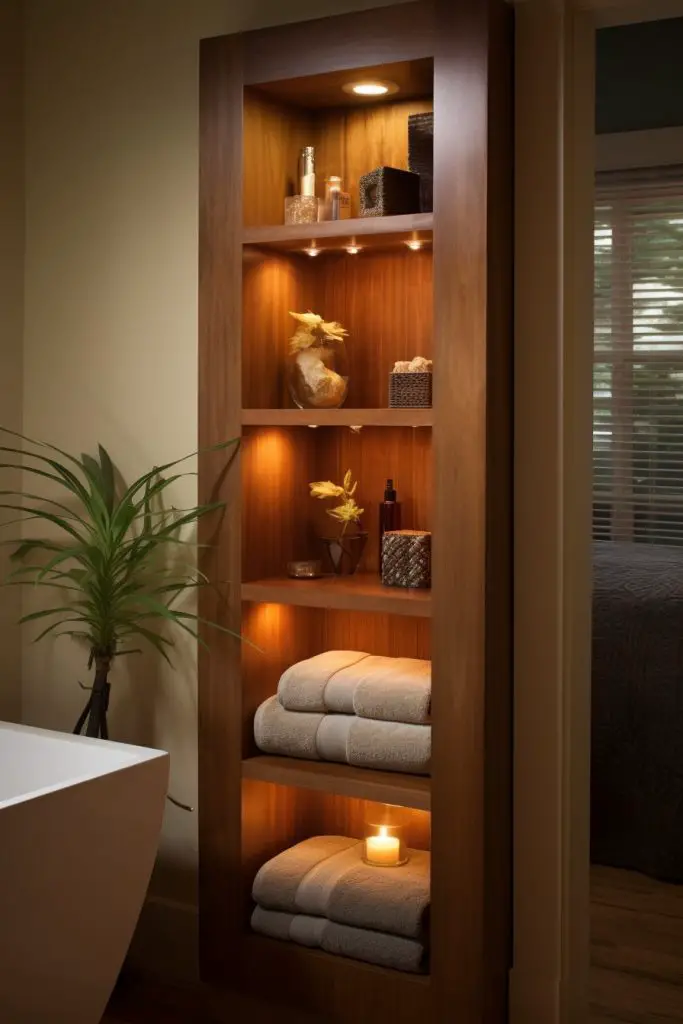 Perfect for family settings or shared bathrooms, a multi-shelf niche cubby offers convenience and style. It enables the categorization of products according to individual needs.
1. Maximizes storage space by utilizing vertical square footage.
2. Provides clear visibility of all bathroom essentials.
3. Easy installation in pre-existing or new walls.
4. Customizable shelf quantity tailored to individual needs.
5. Highly durable depending on material selection, with choices like ceramic, stone, or glass.
6. Can mirror room's aesthetics, with potential for color coordination or contrast designs.
7. Ensures a clutter-free bathroom counter.
8. Extra depth can accommodate larger items.
Tiled Niche Encasement Tub Surround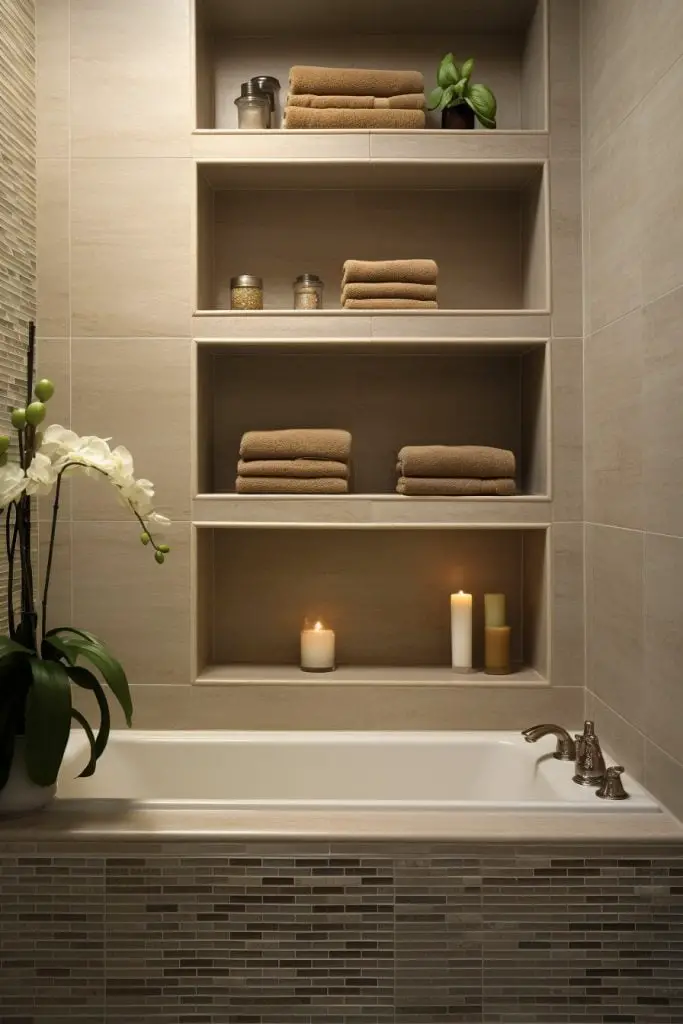 Incorporating such a niche goes beyond aesthetics, enhancing usability and boosting the functional aspects in bathroom design.
Selection of tiles is critical. Slip-resistant options are crucial for safety. Mosaic tiles or natural stone varieties offer a visually appealing choice.
Space optimization is key. The size depends on your usage needs. Sizeable niches accommodate multiple items and serve as a standout design element.
Sealant application enforces water-resistance. Unless sealed professionally, water can seep causing mold and water damage.
Lining up tiles during installation requires precision. You can choose to line the niche with the rest of the wall or make it distinct with a contrasting design.
Thoughtful positioning can enhance the overall experience. Eye level is often most convenient for usability.
Minimalistic Countertop Niches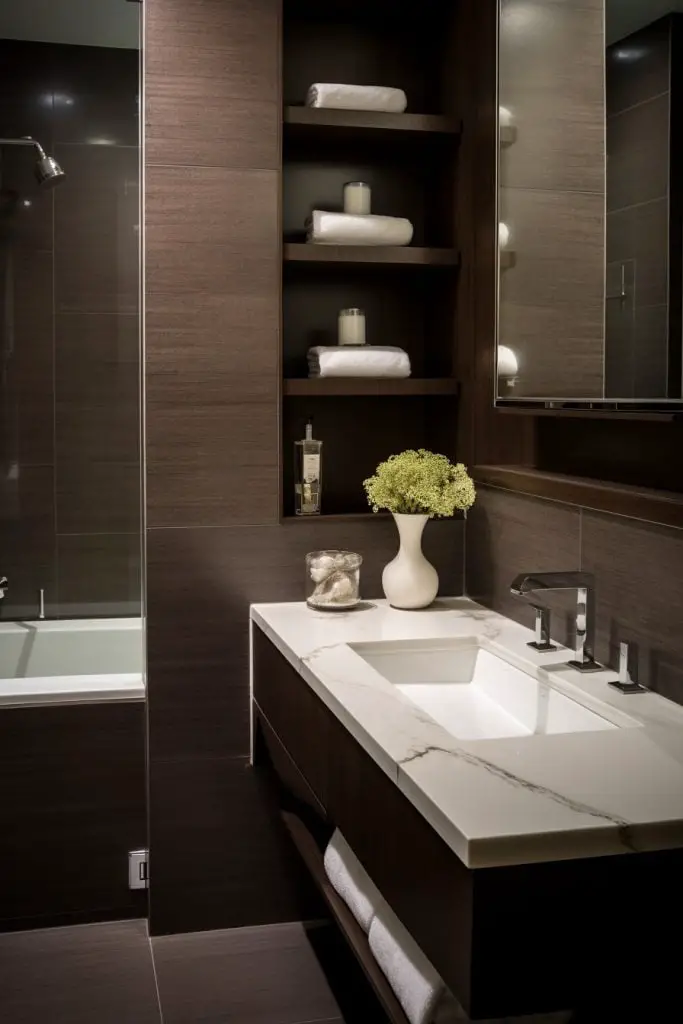 Implementing a minimalistic approach, these niches can efficiently use your countertop space, offering orderly storage without the clutter.
1. Open design: This offers easy access and quick visibility of items, avoiding time wasted rummaging, and adding a subtle design element.
2. Material choice: Using similar material to the countertop or contrasting to compliment overall bathroom aesthetic.
3. Adequate spacing and planning: Sufficient space between the countertop and cabinet below is crucial while also considering the placement in relation to sink or other elements.
4. Featured lighting: Small LED lights can be installed for functionality and to highlight the niche at night.
5. Purpose: Can be customised to store toiletries, towels, decorative items or daily needs like toothbrushes and soap.
Below Sink Storage Niches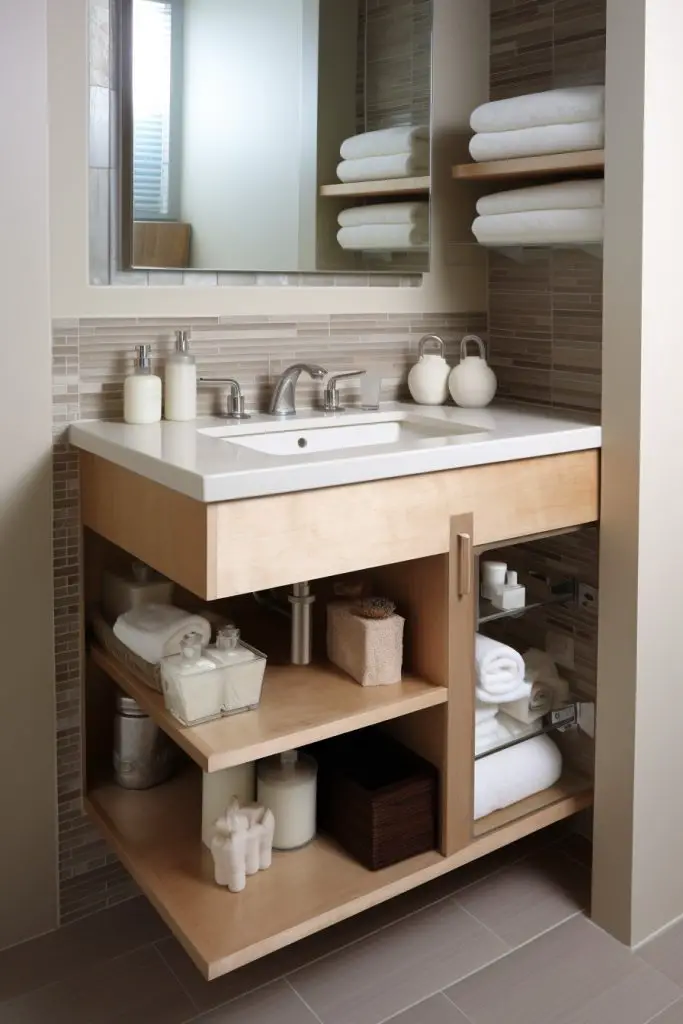 Creating ample room for cleaning products while maintaining an uncluttered look is achievable with these storage units tailored to fit beneath your washbasin. This design not only optimizes the unused space but also organizes essential bathroom items conveniently at your disposal.
Utilizing vertical partitioning to separate cleaning products.
Incorporation of slide-out drawers for easy access to items stored at the back.
Possible inclusion of bin systems for waste management or dirty laundry.
Using waterproof material for durability and easy cleaning.
Consideration of adjustable shelving to cater to items of varying heights.
Applying child lock mechanisms on certain niches for safety.
Customizing dimensions to fit around plumbing fixtures.
Choosing matching designs and finishes to complement your bathroom aesthetics.
Vanity Top Makeup Niche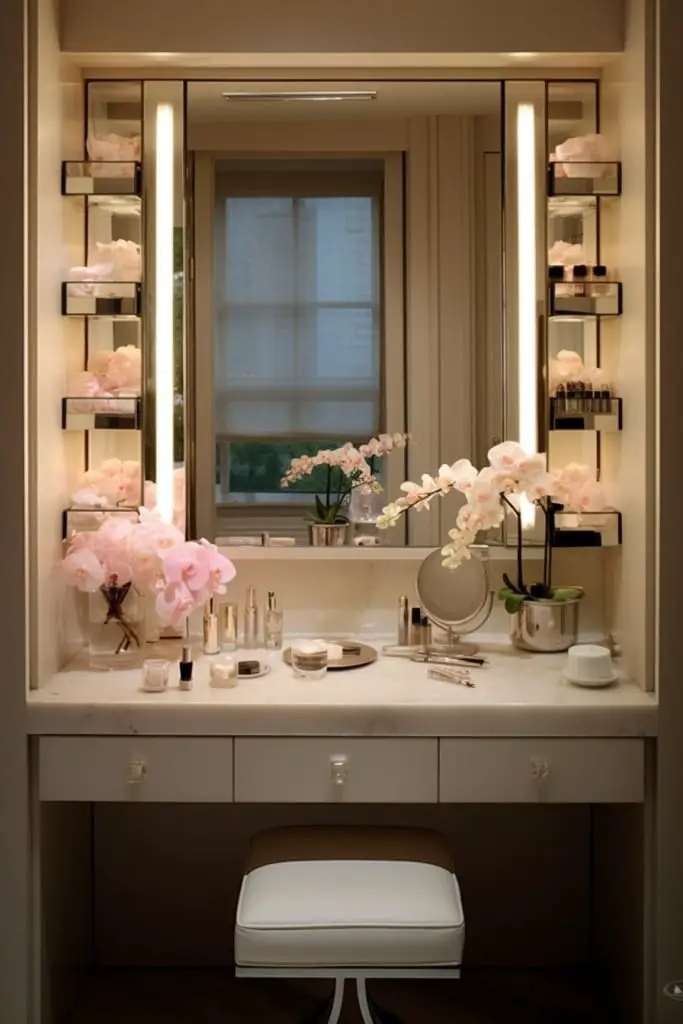 Boasting both functionality and aesthetic appeal, the vanity top makeup niche has become an essential element in modern bathrooms.
1. Versatility: Accommodates makeup essentials of various shapes and sizes, adding practicality to your daily routine.
2. Organization: Keeps your vanity top clutter-free by allowing a designated space for cosmetics.
3. Accessibility: Allows easy access to everyday makeup items without fumbling through drawers.
4. Enhanced Aesthetic: Carved directly into the vanity, it can be designed to match the aesthetic of the bathroom.
5. Lighting: Opting for embedded lighting can illuminate the makeup area, aiding in precision.
6. Customization: You can tailor its size and design according to your individual needs and style preferences.
Floor-to-ceiling Tile Niches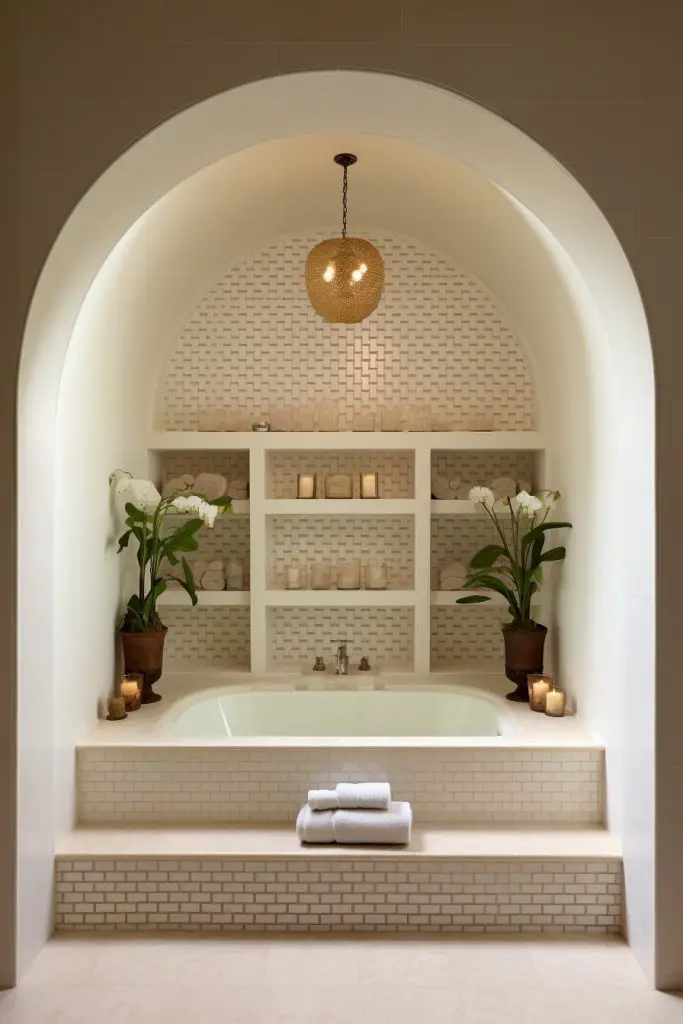 Floor-to-ceiling tile niches function as both a display and storage solution in a bathroom. Incorporating this design provides continuity and an illusion of added height, especially for smaller-sized bathrooms.
Imparts a streamlined, cohesive aesthetic by integrating with the overall bathroom tile scheme.
Enhances the perception of room height, making spaces appear larger.
Versatility in design: Choose from a multitude of tile styles, colors, and textures.
Offers ample storage and display space for bathroom essentials, eliminating clutter.
A cost-effective solution due to tile's durability and low maintenance.
Elegant method to introduce accented, feature, or contrast tiles.
Doesn't compromise overall room space.
Arched Ceiling Niche for Ambient Lighting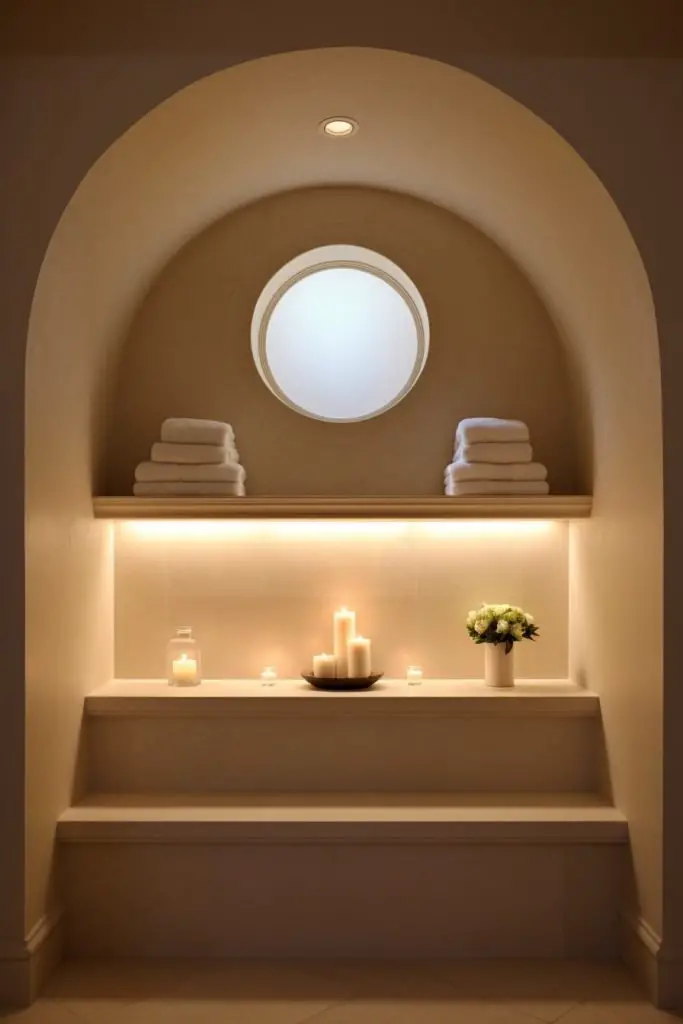 Exploiting the often-unused space available, this alluring niche idea can add a dramatic flare to the bath area while also providing softer ambient lighting.
1. Selection of low-heat LED strip lights suitable for humid conditions.
2. Required dimensions for the arch based on ceiling height and bathroom size.
3. Installation of lighting within the arch, ensuring it's concealed from direct view.
4. Necessary electrical work including proper insulation to prevent steam intrusion.
5. Choice of arch material, typically plasterboard or moisture-resistant drywall.
6. Finishing touches like painting or tiling for aesthetic enhancement in line with overall bathroom decor.
7. Regular cleaning and maintenance protocol for this elevated structure.
Beside-the-vanity Shaving Niche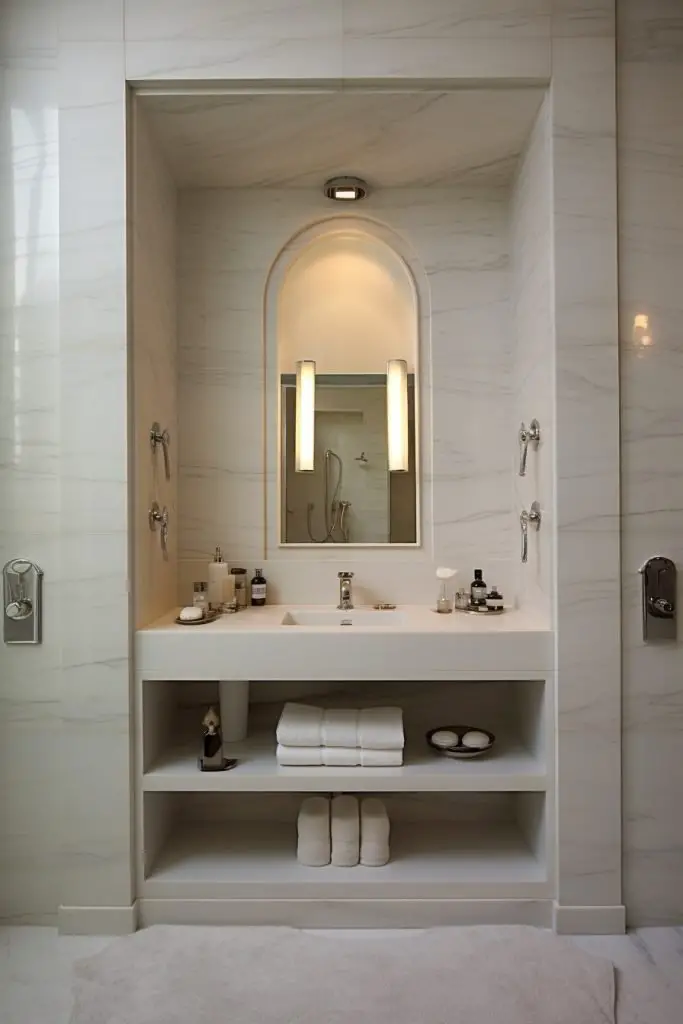 Placing a niche beside the vanity enhances functionality and overall appearance. This niche, tailored for grooming routines, serves as a convenient station for face creams, razors, aftershaves, and more.
Key Points:
Easy access to grooming tools.
Efficient use of wall space.
Enhanced bathroom organization.
Aesthetic improvement.
Increased property value.
Continue reading: