Last updated on September 20, 2023
Explore unique bathroom hardware ideas that can effortlessly elevate your space to new levels of style and functionality.
Transforming your bathroom can be as simple as updating your hardware. Choosing the right pieces can instantly elevate the space, adding style, personality, and functionality. This article is brimming with innovative bathroom hardware ideas to inspire you.
From sleek towel racks to chic cabinet knobs, we'll explore a variety of options that can make a big difference in your bathroom's look. So, whether you're planning a complete overhaul or just looking for a quick refresh, stick around to discover the perfect hardware to suit your style and needs.
Table of Contents
Rainfall Showerheads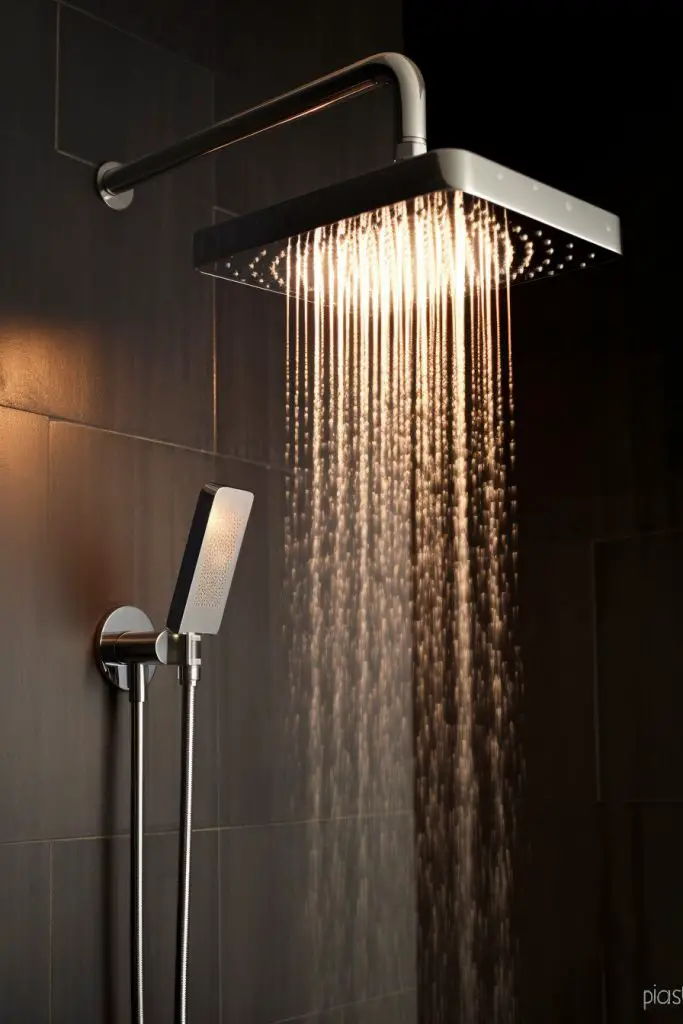 The gentle, enveloping cascade of water, mimicking a serene rain shower, differentiates these showerhead designs from standard models. The whole-body coverage can add a touch of luxury to daily showers, making the experience more spa-like and serene.
Full body coverage: Larger diameter for more extensive water distribution.
Therapeutic benefits: Simulates natural rainfall for relaxation and stress relief.
Aesthetic appeal: Modern, sleek designs enhance bathroom decor.
Versatility: Comes in ceiling-mounted, wall-mounted, or handheld designs.
Water efficiency: Many models have water-saving features that don't compromise the rainfall effect.
Heated Towel Rails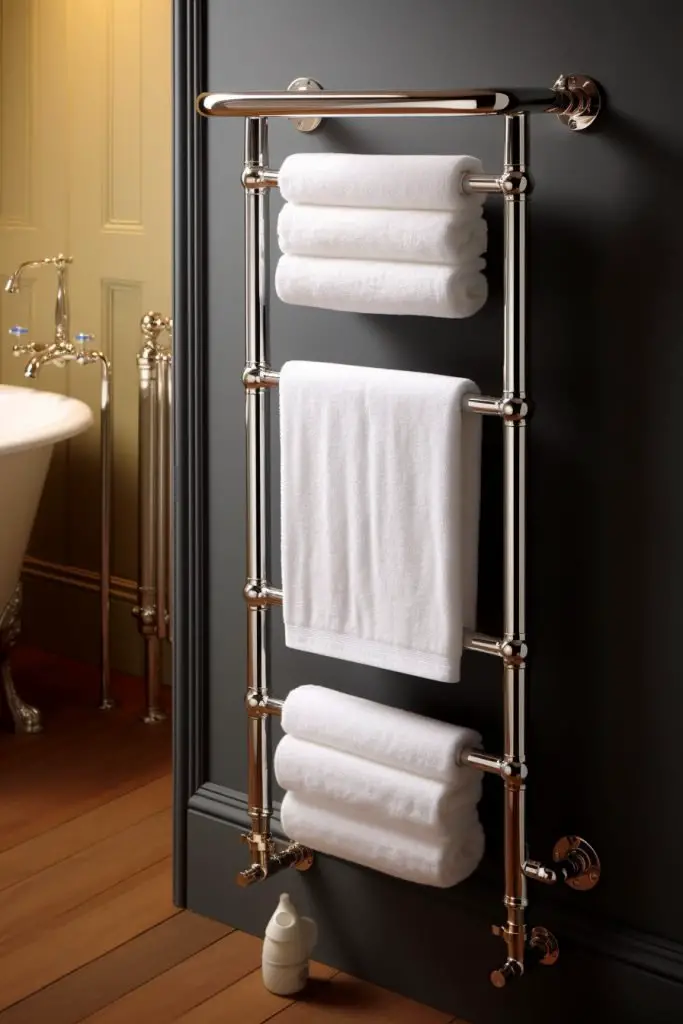 Feeling the warmth of a comforting towel after stepping out from the shower is a luxury everyone deserves. Here's how to achieve it with heated towel rails:
– Energy efficiency: Heated towel rails consume as much electricity as a light bulb. Not only do they bring the spa experience home but they also help save on bills! – Variety of styles: From free-standing, wall-mounted, to traditional and modern designs. Options are available to suit every bathroom aesthetic. – Prevents dampness: They help prevent towels from remaining damp and thus inhibit the growth of mould. – Multifunctional: Not just for towels, they can also warm robes and dry delicate items. – Easy installation: Professional services can install them in a day. Or opt for a plug-in model for a simpler DIY approach.
Remember to consider the power source: electric or hydronic – the decision will impact the installation process and costs.
LED Faucet Lights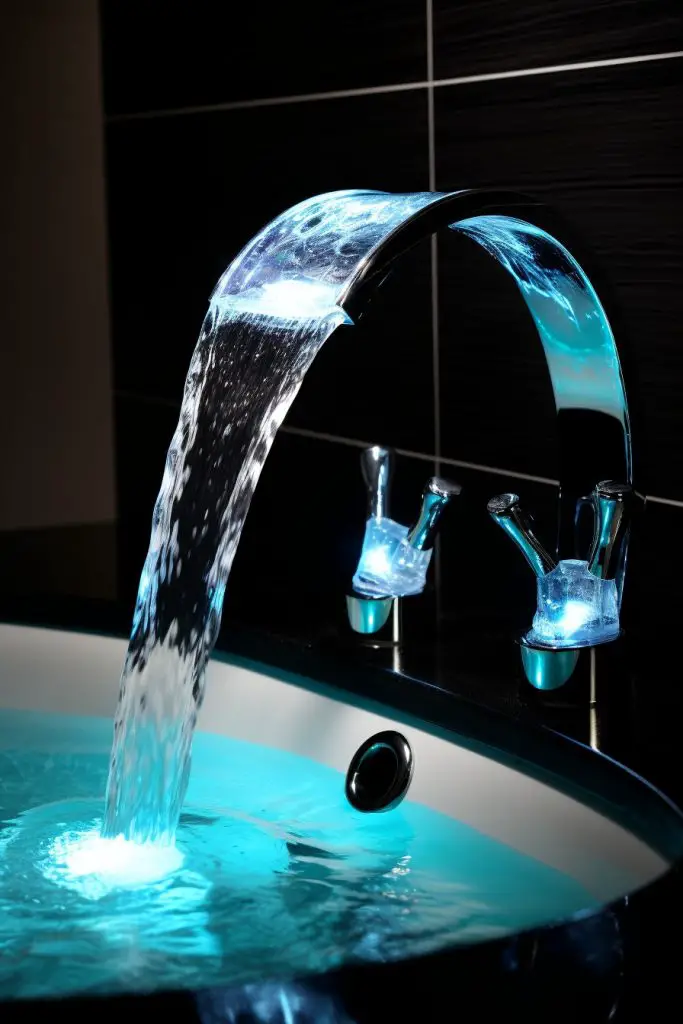 LED faucet lights provide a splash of color and a layer of sophistication to any bathroom setup.
– Transform an everyday routine into a distinctive experience using the play of light and water.
– Driven by water pressure, these lights are energy-efficient and environmentally friendly.
– Installation is generally simple and accessible, making it a viable DIY project.
– They come in different colors and modes, some even change with the water temperature for added safety.
– Beyond aesthetics, they can function as a practical night light, illuminating the water stream, assisting in nighttime usage without fully turning on lights.
– Their sleek and modern design can complement a range of bathroom styles.
– A wide range of price points make them a feasible upgrade, regardless of budget.
Floating Bathroom Shelves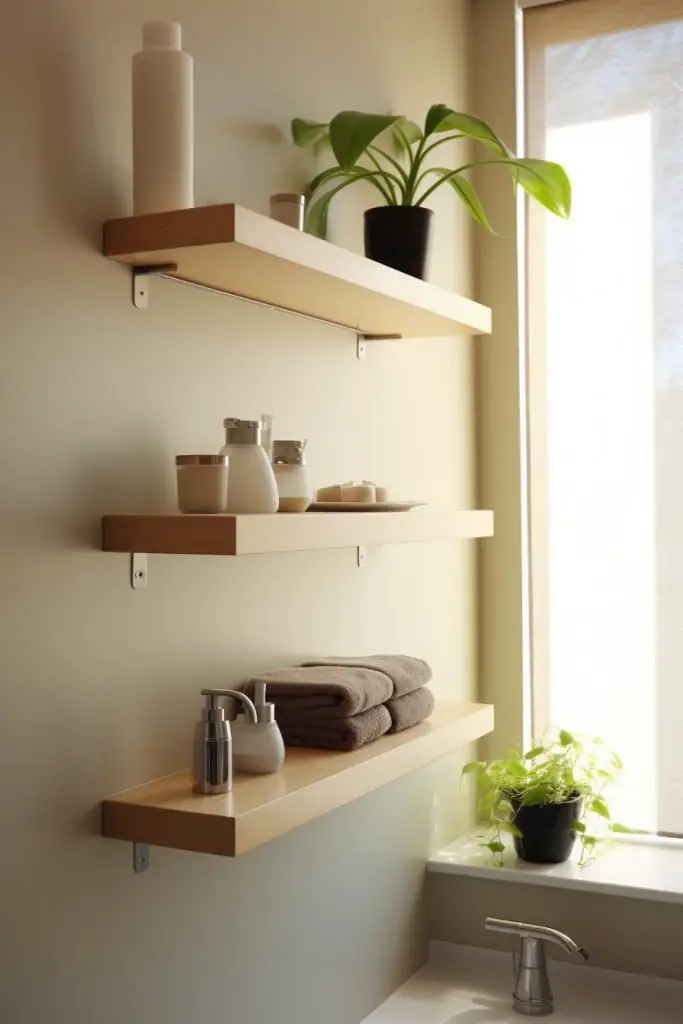 Creating an airy, spacious feel, these shelves minimize clutter while ensuring your essentials are handy.
1. Maximized Space Use: Mount these shelves even in small bathrooms. They occupy wall space which normally goes unused.
2. Organization Made Easy: Group items by function. Soaps, skincare, and hygiene products can each have their dedicated shelf.
3. Decor Display: Aside from functionality, shelves offer an opportunity to display decorative items, framed pictures, or even small indoor plants.
4. Styling Options: Choose from wood for a rustic look, glass for a contemporary one, or metal for industrial charm.
5. Easy Access: Ideal for often-used items that need to be easily reachable.
Under-sink Drawers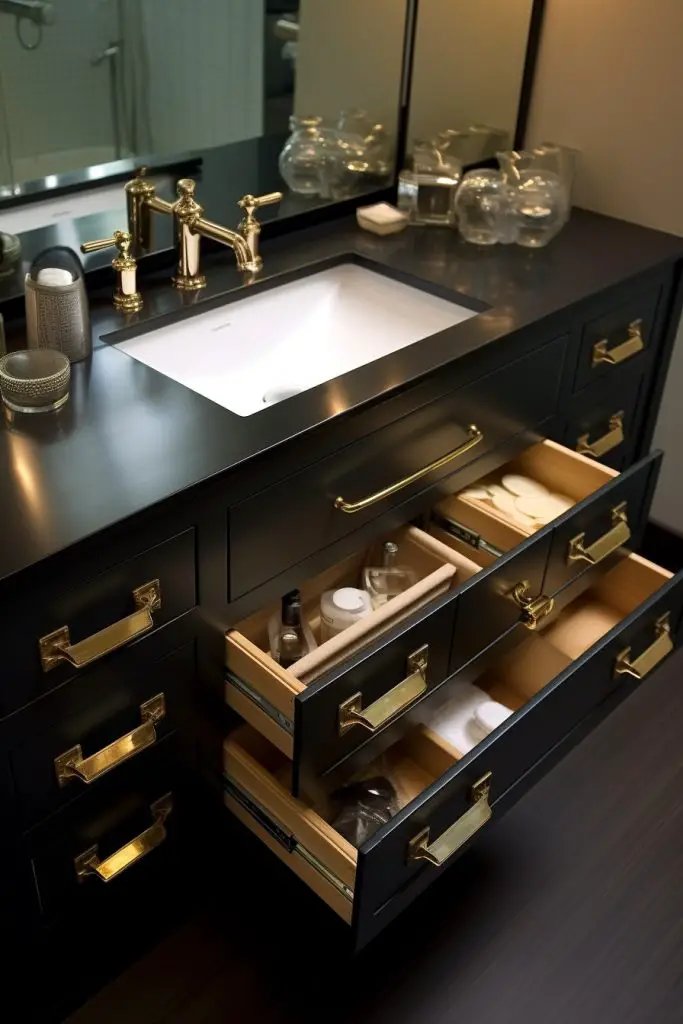 Maximizing storage capacity while maintaining a sleek design, these drawers become an almost invisible solution to bathroom clutter. They tuck perfectly underneath traditional sinks ensuring optimal ease of use.
Key Factors:
Presents organization solution for toiletries, cleaning supplies
Removes unsightly clutter from countertops, simplifies cleaning
Maintains minimalist aesthetic
Respects bathroom's footprint, doesn't impede free movement
Requires simple installation process, can be DIY project
Wall-mounted Toiletry Dispensers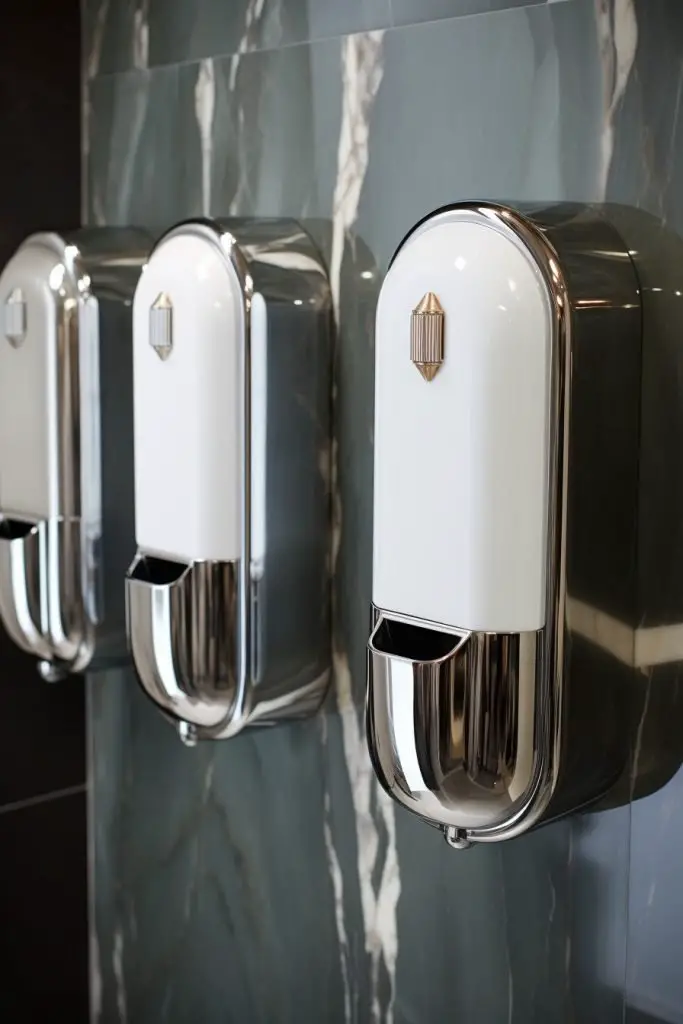 Saving precious countertop space, these dispensers provide neat storage and easy accessibility to cosmetics, toiletries, and other essentials. They could host items like soap dispensers, toothbrush holders, or even tiny shelves for skincare products.
Frees up countertop space
Convenient access
Cosmetic and toiletry organization
Space-efficient design
Versatile use
Tile Inlays for Accent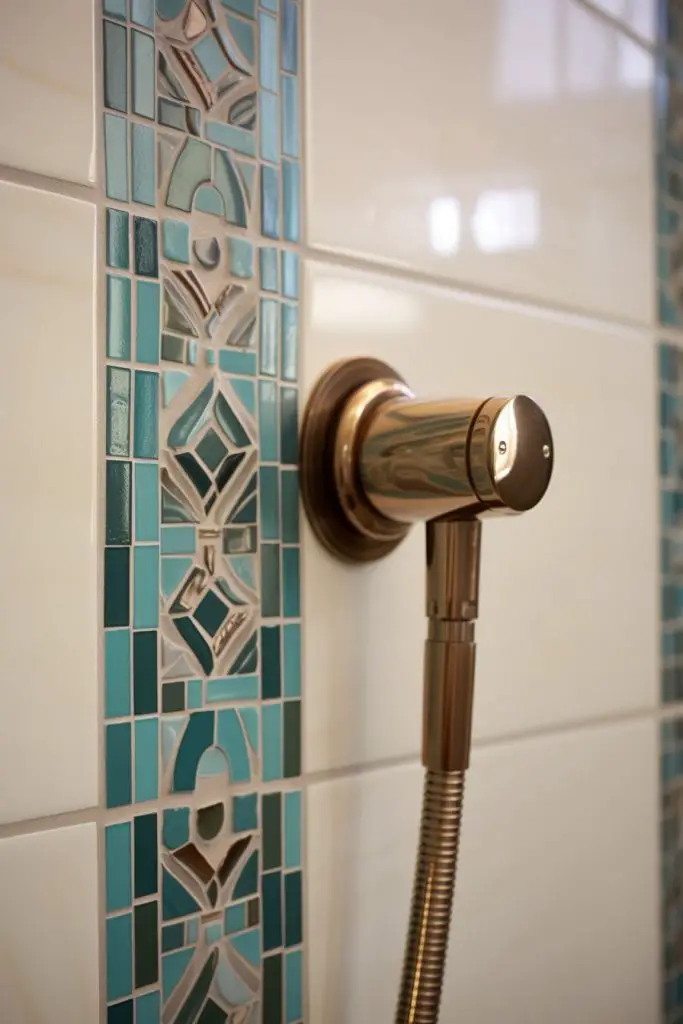 Continuing our exploration of how to transform your bathroom, let's delve into the world of tile inlays.
Create striking patterns
Distinguish different zones
Add a pop of color
Enhance ambiance
Tile inlays can be used to establish attractive patterns on your bathroom walls or floors, lending an artistic touch. A mosaic or geometric design can make a powerful statement. They also prove their worth in separating different areas of the bathroom, such as delineating a shower area from the rest of the room.
Tile inlays can also inject a splash of color into a neutral palette. A vibrant tile inlay against a backdrop of minimalist tiles can bring energy to the room.
Lastly, let's not forget how light interacts with different textures and colors. Tile inlays catch and refract light in various ways, allowing you to manipulate the overall ambiance given the time of day. A carefully chosen and strategically placed tile inlay could produce a calming glow during your evening soak. These simple yet effective strategies can significantly elevate your bathroom's aesthetic.
Vanity Lighting Fixtures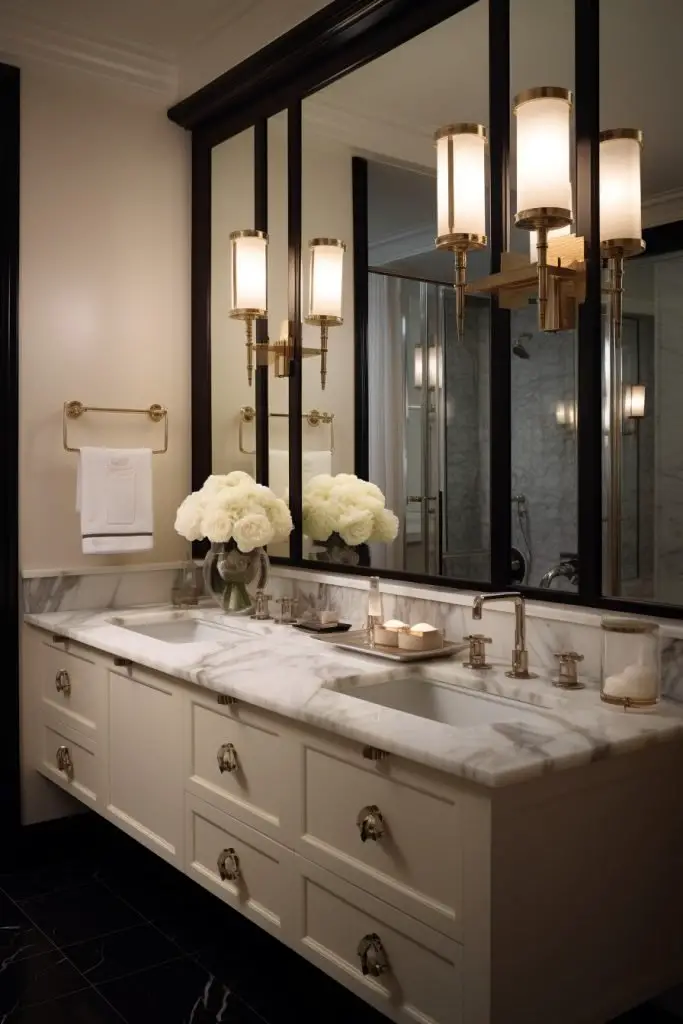 Strategically positioned, vanity lighting fixtures garner an aesthetic appeal while enhancing functionality. Remember:
Favor layered lighting approach to blend ambient, task and accent lighting.
For even illumination free of shadows, go for sconces on either side of the mirror.
Dimmer controls cater to variable light needs, from makeup application to a soothing bath.
LED lights offer energy-efficiency, a wider color spectrum, and extended lifespan.
A distinct fixture style can complement the overall bathroom design, whether modern, rustic or vintage.
Choose your palette wisely: brushed nickel for a sleek look, brass for a traditional appeal, or black matte for an urban edge.
Thermostatic Shower Panels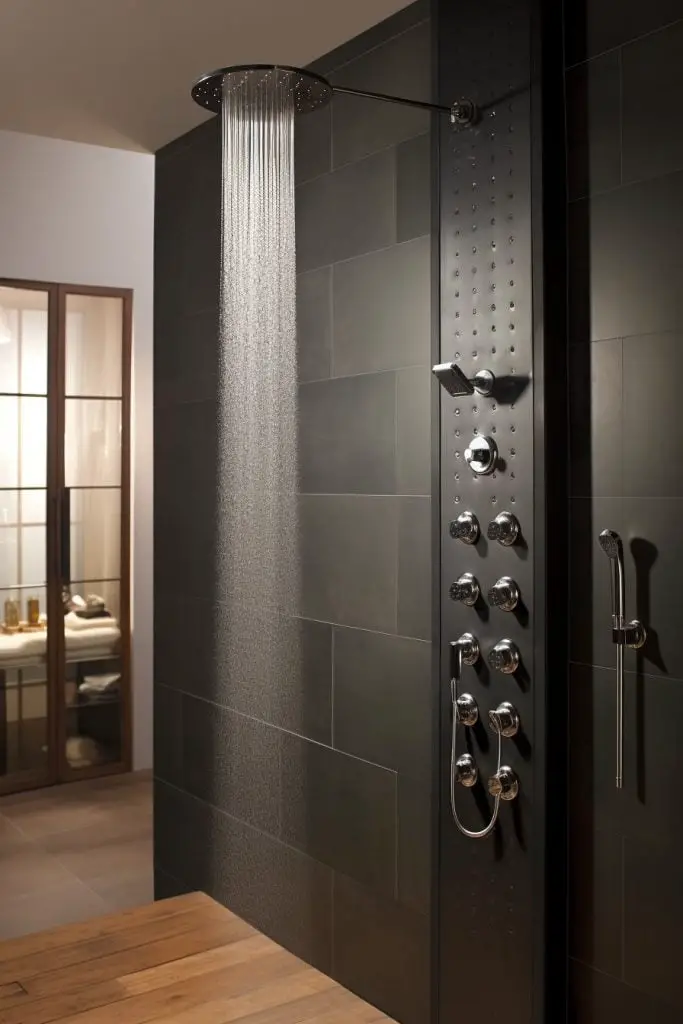 Thermostatic Shower Panels are a cutting-edge addition to your bathroom that not only add a sleek touch but also enhance the functionality of your showering experience.
1. Innate ability to regulate water temperature, preventing scalding or sudden chills.
2. Inclusion of multiple shower options, from overhead rain effect to targeted body jets.
3. Space-saving feature due to its wall-mounted design.
4. Easy to clean and maintain with streamlined control options.
5. Effortless installation, suitable for nearly all types of bathrooms.
Combine aesthetics and practicality with a thermostatic shower panel; it provides a soothing, spa-like experience, right at home. Take showering to the next level of luxury and comfort.
Freestanding Bathtub Filler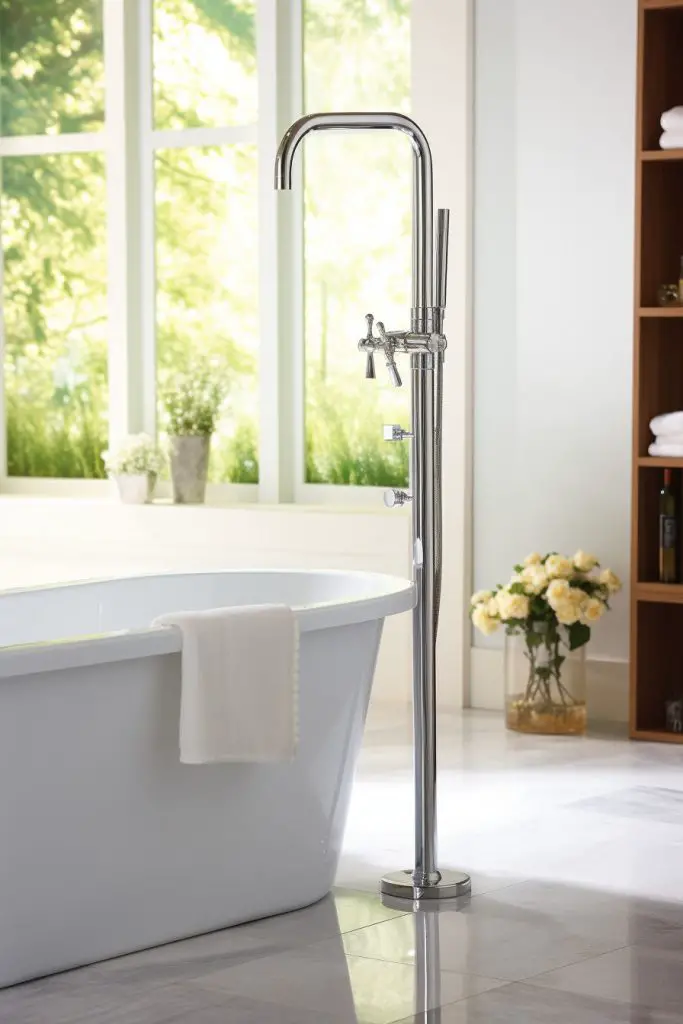 A freestanding bathtub filler, distinguished by its autonomous design, adds a dash of sophistication and appeals to the minimalist aesthetic.
Standing apart from walls or fixtures, its installation requires specific measures, including:
Aligning with the center of the bathtub for optimal reach and functionality.
Accommodating for the filler's height to prevent splashing outside the tub.
Ensuring the water pressure meets the filler's requirements.
Complementing the rest of bath decor for a consistent look.
Remember to consider these factors during the installation process to maximize its elegance and effectiveness.
Recessed Medicine Cabinets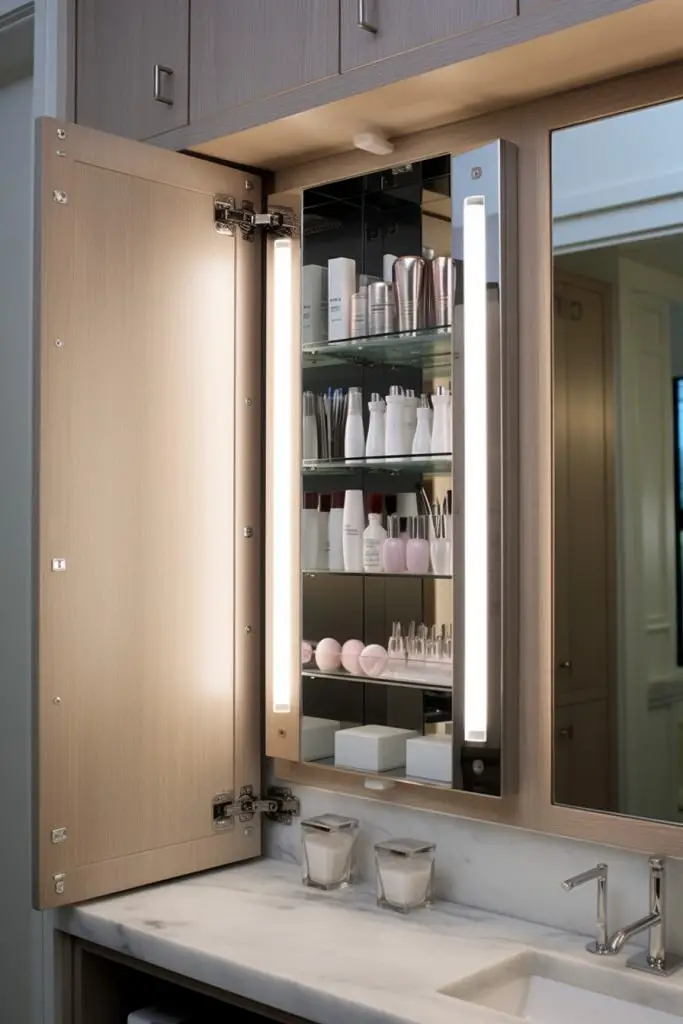 Recessed medicine cabinets provide a sleek, space-saving solution for your bathroom. They disappear into the wall, creating a clean, streamlined look while occupying minimal space.
1. Storage: Guarantees ample space for toiletries, medication, and other essentials.
2. Space-saving: Built into the wall, it leaves more room for maneuver.
3. Clean Look: Seemingly disappears into the wall for a sleek appearance.
4. Customizable: Offers flexibility in design, size, and style, complimenting bathroom aesthetics.
5. Convenience: Easy access to daily care products right where you need them.
Heated Bathroom Floors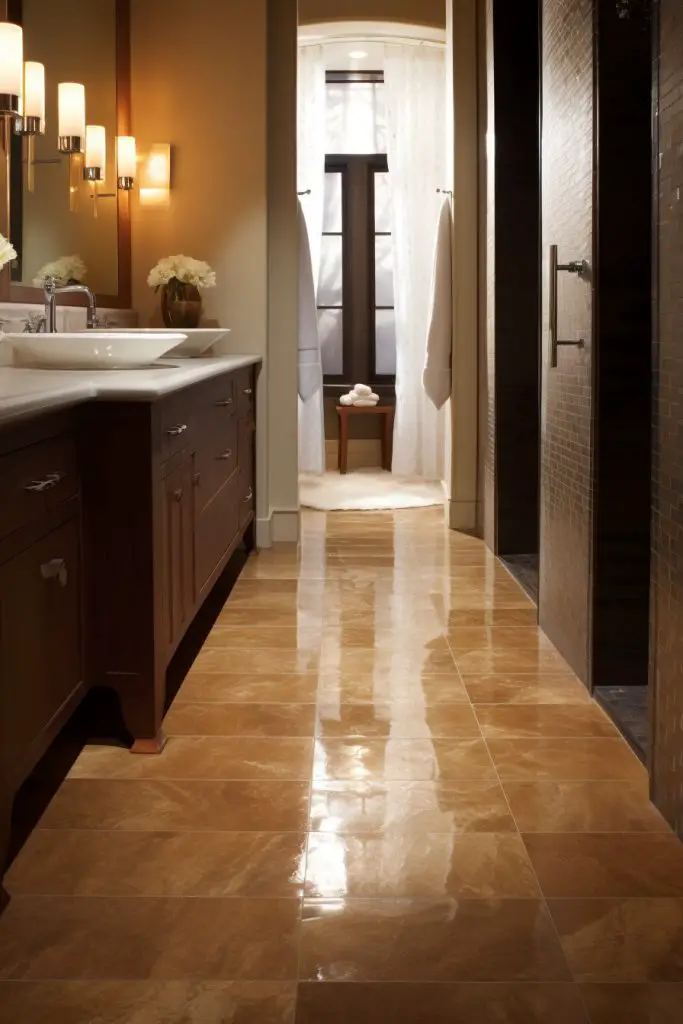 One of the game-changers in modern bathroom technology, heated floors offer warmth and comfort any time of the day or night. These are especially appreciated in colder climates, where tile floors can feel awfully chilly in the morning.
Underfloor Heating System: This involves the installation of electric or water-heated tubing beneath the tiles. It ensures a uniformly heated surface to counter cold winters.
Energy Efficiency: Contrary to popular belief, heated bathroom floors do not hike up energy bills. The thermostatically controlled system allows efficient usage, significantly reducing the need for other heating appliances.
Installation: While a bit more complex than other upgrades, professional installers can seamlessly integrate the system under tiles, wood, or concrete floors. Retrofitting on an existing floor is also possible.
Health Benefits: As a bonus, heated flooring helps to minimize dust and allergens circulating in the room, contributing to a healthier environment.
Value-Add: Apart from the immediate comfort, heated bathroom floors add significant resale value, becoming a potential selling point for your property.
Even though it might seem like a luxury addition, heated bathroom floors indeed are an investment you'll treasure during those frosty winter mornings. High adaptability and effective operation make it a desirable update for any bathroom scene.
Vintage-inspired Hardware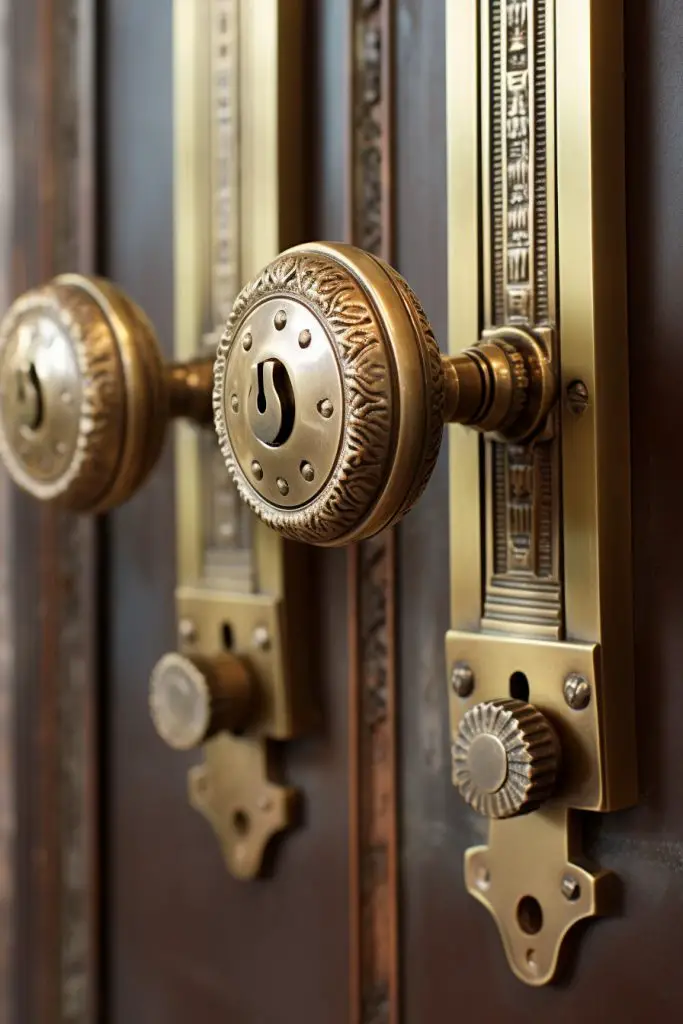 Nostalgic elegance infiltrates your bathroom space with vintage-inspired hardware, offering a blend of old-world charm with modern practicality.
1. Intricate designs on faucets, drawer pulls and towel bars evoke a bygone era.
2. Materials like brass, bronze and porcelain play a significant role in this style.
3. Installation of clawfoot tubs or pedestal sinks amplify the classic touch.
4. Fixtures with patinas or distressed finishes help achieve an authentic vintage look.
5. Incorporating filigree or scrollworks on mirrors or cabinets panels can promote an aesthetic cohesion.
Each piece is a timeless element that enriches your bathroom's character while ensuring usability and quality. With careful selection, these elements can seamlessly integrate with your existing decor, creating a comfort-filled, uniquely stylish sanctuary.
Motion-sensor Sinks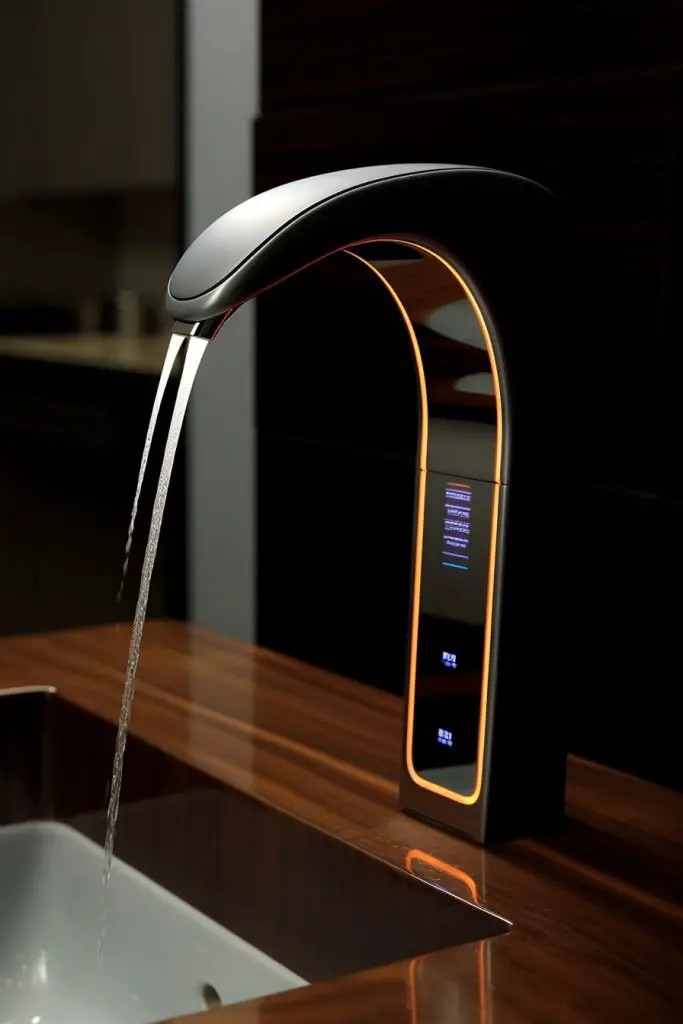 Ideal for hygiene-conscious homeowners, motion-sensor sinks reduce contact with germs significantly. They use infrared technology to detect hand movements, ensuring water only flows when needed. This smart technology not only promotes cleanliness, but also contributes to water conservation.
Key points:
Infrared technology for touchless operation
Enhances hygiene, reduces germ transmission
Contributes to water conservation
Easy to install, fits most faucet models
Adjustable sensor range for customized use
Effective for households with children and elderly, encouraging independent use
Pull-out Storage Bins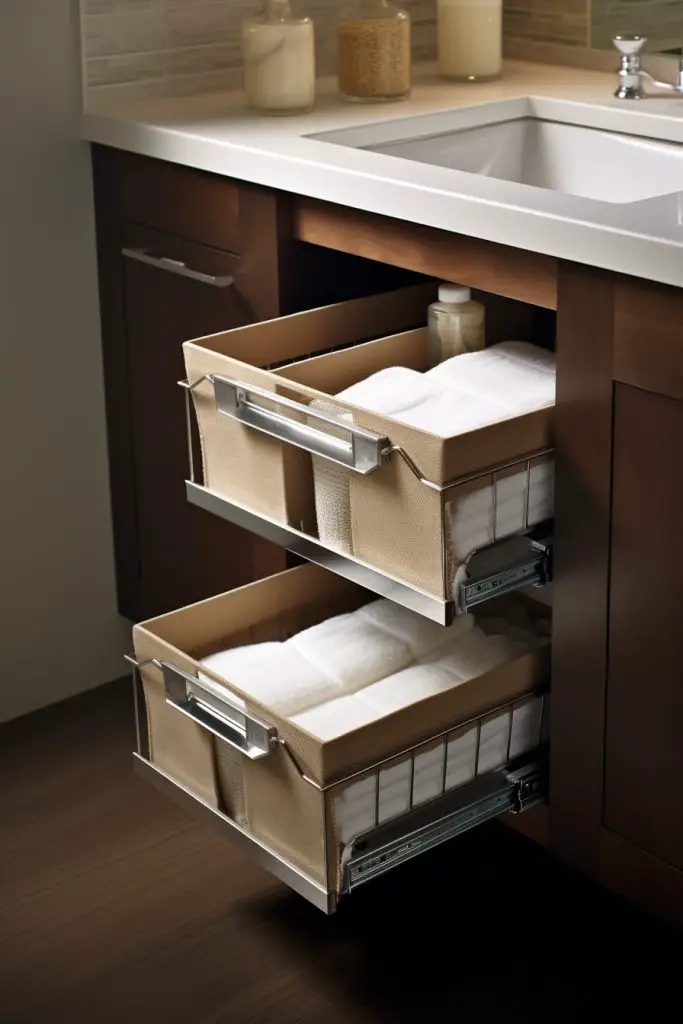 Maximizing space in smaller bathrooms can be a challenge. The solution? Implementing pull-out storage bins.
1. Space Conservation: Tucked away neatly under the vanity or behind cabinet doors, they use the existing area efficiently.
2. Quick Access: Easy pull-out mechanism ensures all toiletries and essentials are within reach.
3. Variety in Size and Designs: Whether for large towels or tiny accessories, there's a bin to fit every need. Choose from a range of stylish designs to match the bathroom decor.
4. Easy Installation: Most models come ready-to-fix, making these bins a simple, quick addition to the bathroom.
5. Organized Look: Keep clutter away from plain sight, providing the bathroom a neat, streamlined look.
Remember, functionality doesn't have to be boring. With a little innovation, your bathroom can be as practical as it is chic!
Bamboo Bath Accessories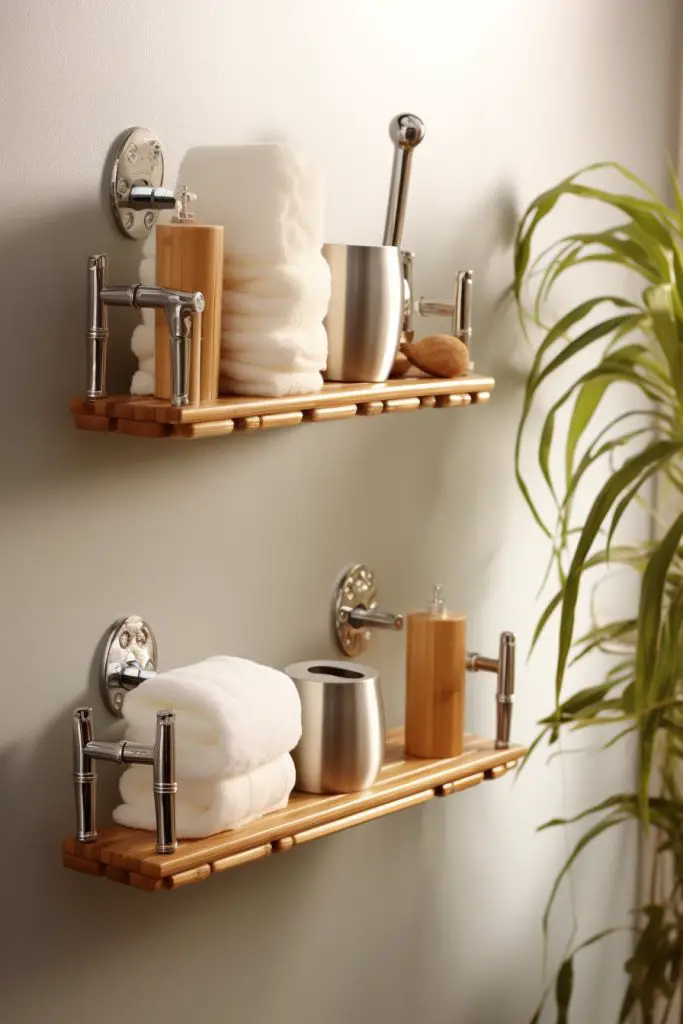 Creating a calming, spa-like ambience, these accessories add a dash of organic elegance:
1. Naturally Water-Resistant: Handles damp conditions well.
2. Functional and Decorative: Adds storage space while enhancing aesthetic appeal.
3. Sustainable: A renewable resource that's environmentally friendly.
4. Versatile Styles: Varied from minimalist to intricately-designed pieces.
5. Resilient: Sturdy and durable, capable of withstanding regular use.
Remember that the level of shine can impact the overall bathroom look. Matte finishes complement a rustic or minimalistic theme while shiny, polished bamboo can sway towards an upscale, luxurious feel.
Mounted Soap Dishes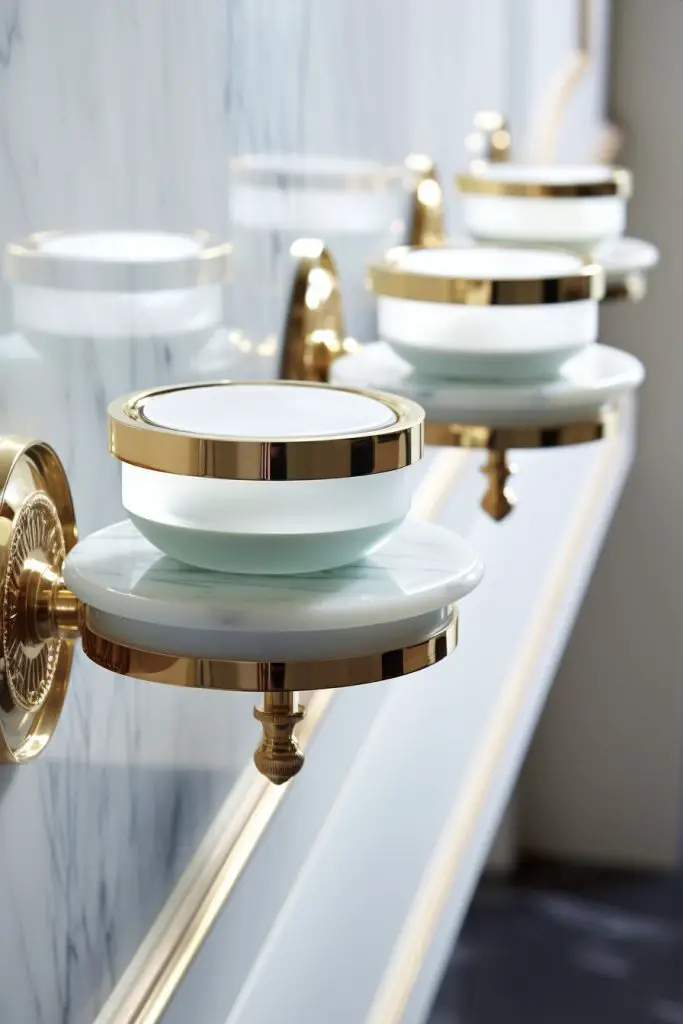 Mounted soap dishes offer a chic alternative to traditional countertop ones.
Utilizing unused wall space, they are an efficient solution for smaller bathrooms.
Variety of styles, such as modern stainless steel or vintage ceramic, they effortlessly match any decor.
Elevated positioning reduces clutter, offering a cleaner bathroom environment.
Effortless to clean and maintain, saving precious time.
Easy installation process making them a practical addition to any bathroom.
Their functionality, combined with their ability to blend seamlessly into the design scheme, makes them a worthwhile consideration when upgrading bathroom hardware.
Dual Function Shower Systems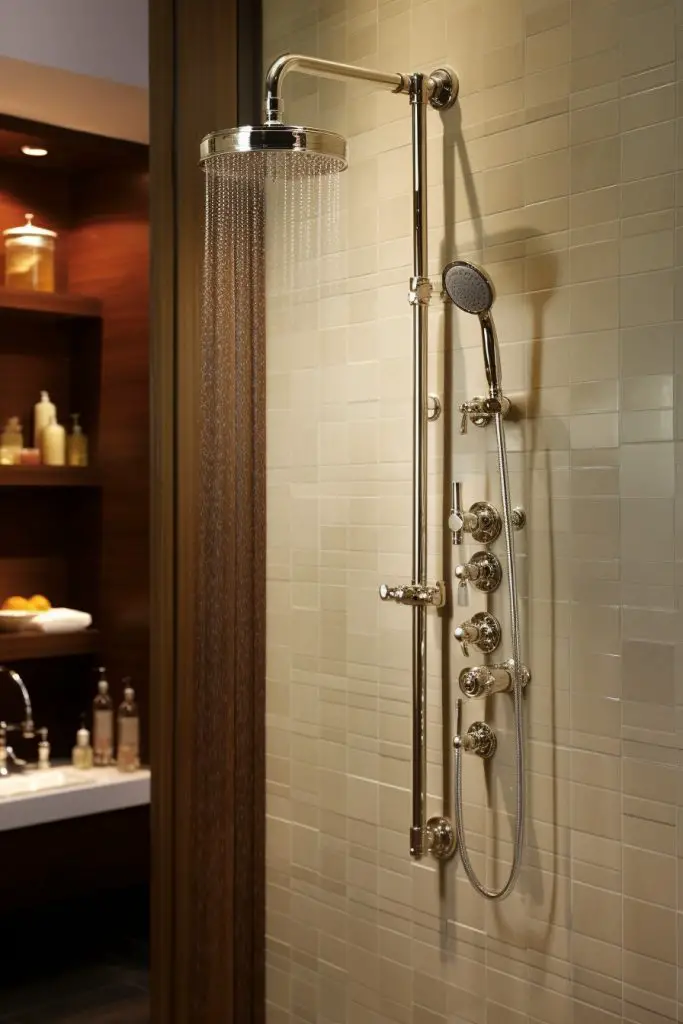 These innovative systems combine the experience of a standard shower and a handheld model, providing versatility. Here are some key considerations:
Flexibility: Either use as an overhead rain shower or detach the handheld component for targeted rinsing.
Space-saver: The dual nature of this device eliminates the need for separate installations, freeing up shower space.
Easy installation: Typically replacing an existing showerhead, they require no extra plumbing.
Variety of styles: Available in an array of designs and finishes to complement existing bathroom decor.
Enhanced shower experience: Diverse spray settings allow to enjoy a spa-like shower at home.
Pivot Mirrors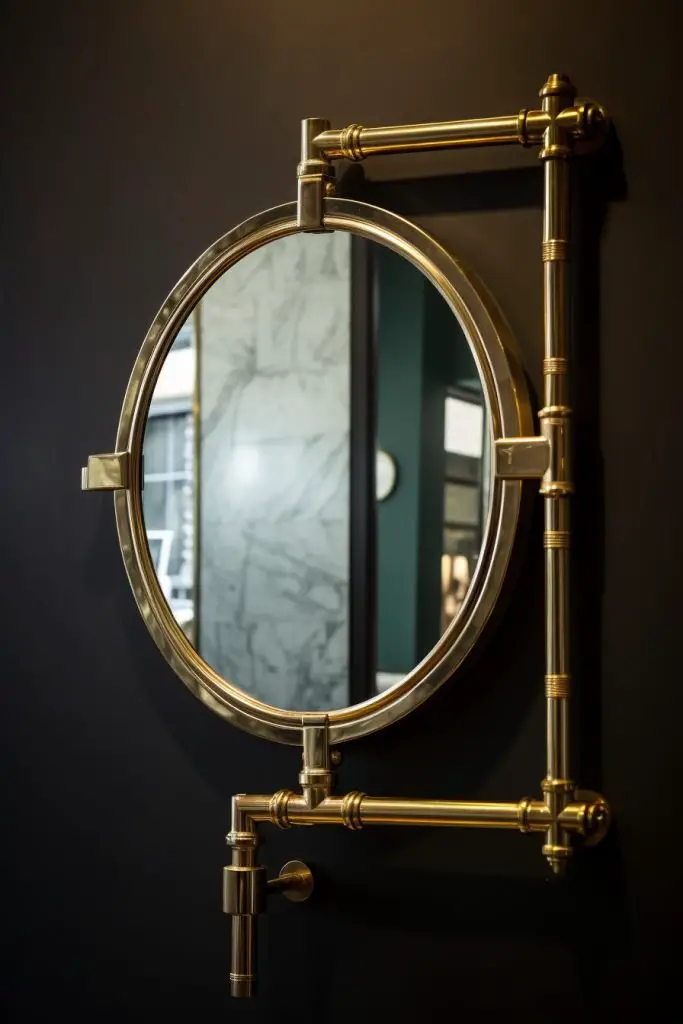 Choosing a pivot mirror offers design flexibility. It tilts to adjust the viewing angle, essential for various height ranges and accessibility needs.
Keep these points in mind:
Position – Install at eye level for optimal use.
Size – Should match the/vanity width to ensure balance.
Shape – Oval or rectangular models tend to suit most interiors.
Style – Nods to vintage charm; modern designs offer sleeker lines and minimalistic appeal.
Frame – Consider frameless for a contemporary look or framed for a more traditional decor.
Finish – Coordinate with other fixtures for a cohesive aesthetic.
Iron Towel Hooks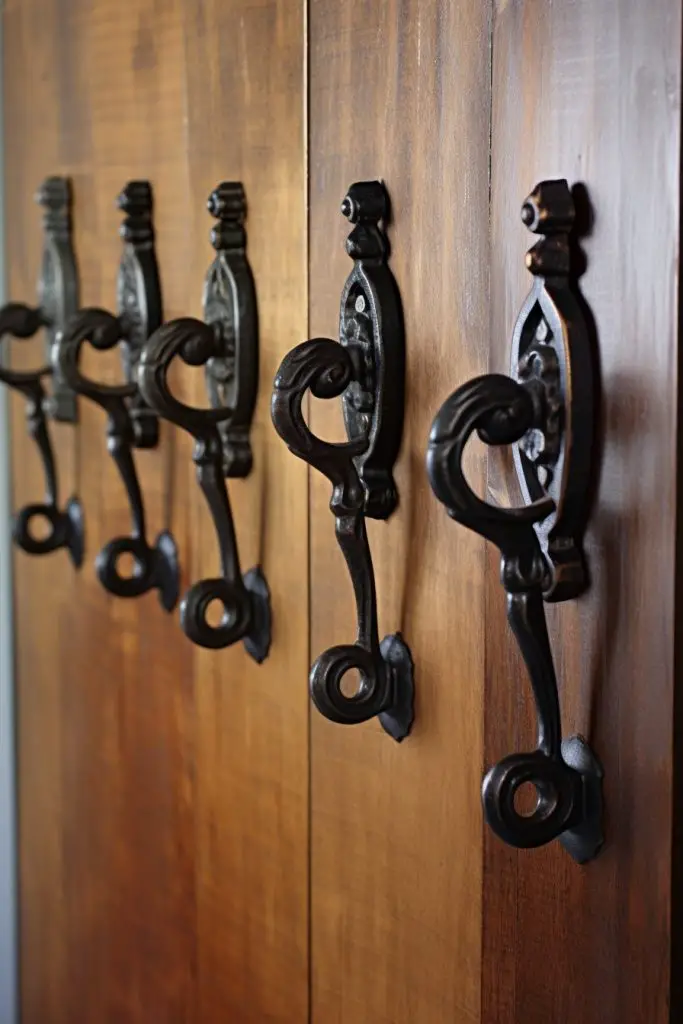 Harnessing the appeal of aged metal, iron towel hooks inject a raw, rustic charm into your bathroom. They come in various shapes and styles, catering to diverse aesthetic inclinations.
Here are the key aspects to consider:
1. Durability: Iron is known for its strength and longevity. Rustproof finishing ensures these hooks last, even in high moisture environments.
2. Design variance: Representing a vast design spectrum, iron hooks range from ornate vintage to minimalist, modern styles.
3. Space-saving: Particularly fit for compact bathrooms, eco-friendly wall-mounted hooks serve as efficient space utilizers.
4. Easy installation: The majority of these hooks come with necessary hardware, simplifying the installation process.
5. Versatility: Not just for towels, use these hooks for robes, clothes, or even hung art pieces.
These essential characteristics make iron towel hooks the perfect combination of practicality and style.
Continue reading: