Last updated on October 21, 2023
Discover innovative and stylish bathroom night light ideas that will illuminate your space while adding a touch of elegance.
I'm delighted to present these uniquely designed 20 bathroom night light ideas that I've personally crafted, hoping they inspire you and bring as much joy to you reading them as they did to me creating them.
Brighten up those nighttime bathroom trips with some innovative night light ideas. From motion sensor lights to color-changing options, there's a world of creative solutions to illuminate your bathroom in a practical yet stylish way.
This article will guide you through a range of options, offering insights into the latest trends, installation tips, and how to choose the right night light to match your bathroom decor.
Whether you're looking for a soft glow or a vibrant splash of color, you'll find all the details you need to transform your bathroom into a radiant sanctuary.
LED Toilet Night Light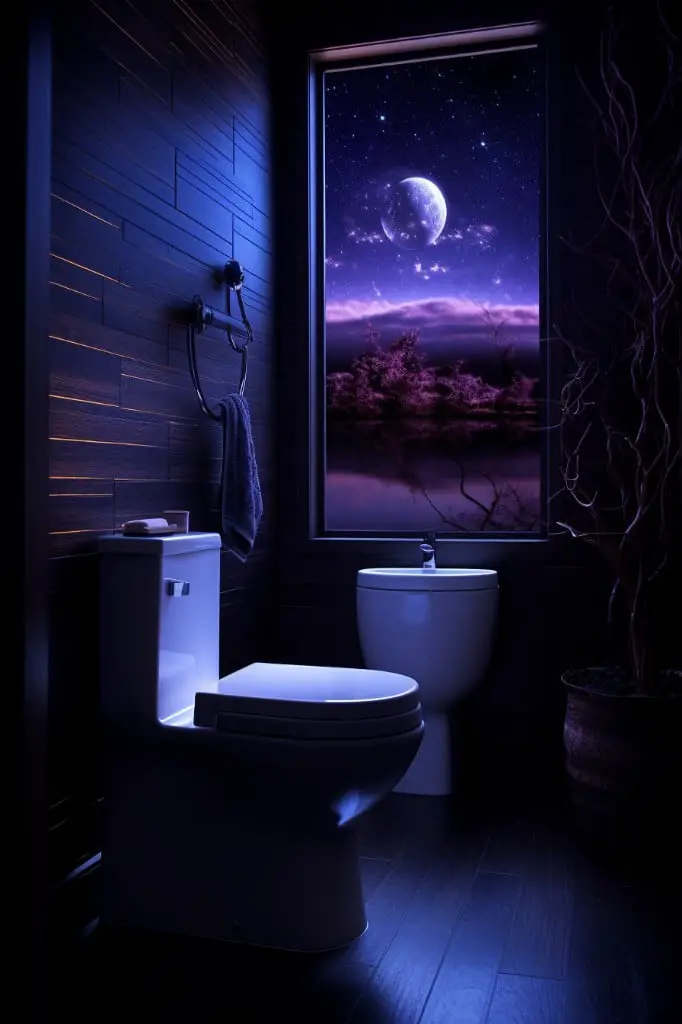 Delving straight into the exceptional features of these LED lights designed specifically for your bathroom convenience, the first notable point would be the integrated motion sensor:
A handy tool which illuminates the bowl only when it's needed, preventing unnecessary energy usage while ensuring a lighted path is available when darkness prevails.
Moving on, an important characteristic of these lights is their customizability:
They often feature a range of colors to choose from that can sync with your mood or the aesthetic of your bathroom.
Lastly, the minimalistic needs of these lights is another point of importance:
LED toilet night lights are generally battery-operated, making them easy to install and manage, without having to fumble with wires or electrical outlets.
These distinct points ensure that an LED toilet night light serves not just as a practical illumination tool, but also a significant enhancement to your bathroom ambiance.
Motion Sensor LED Light Strips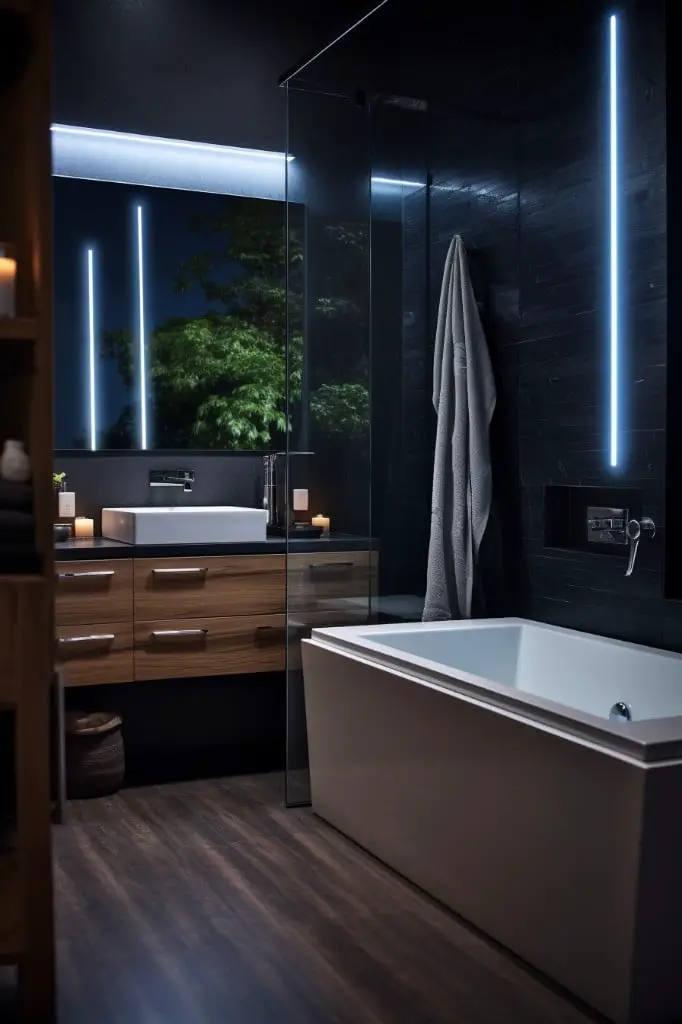 Easily installed under cabinets, along borders, or behind mirrors, motion sensor LED light strips help to illuminate hard-to-reach spaces at necessary moments. Activated only when movement is detected, they conserve energy and provide safety without the need for flipping switches.
Key aspects to consider:
Spectral range: From warm yellow to cool blue.
Length: Multiple sizes available, fitting different spaces.
Energy efficiency: Consumes less power.
Sensor range: Affects response time to movement.
Waterproof rating: Important in a humid environment like a bathroom.
Installation process: Can be self-adhesive or require hardware.
Full Moon Wall Night Light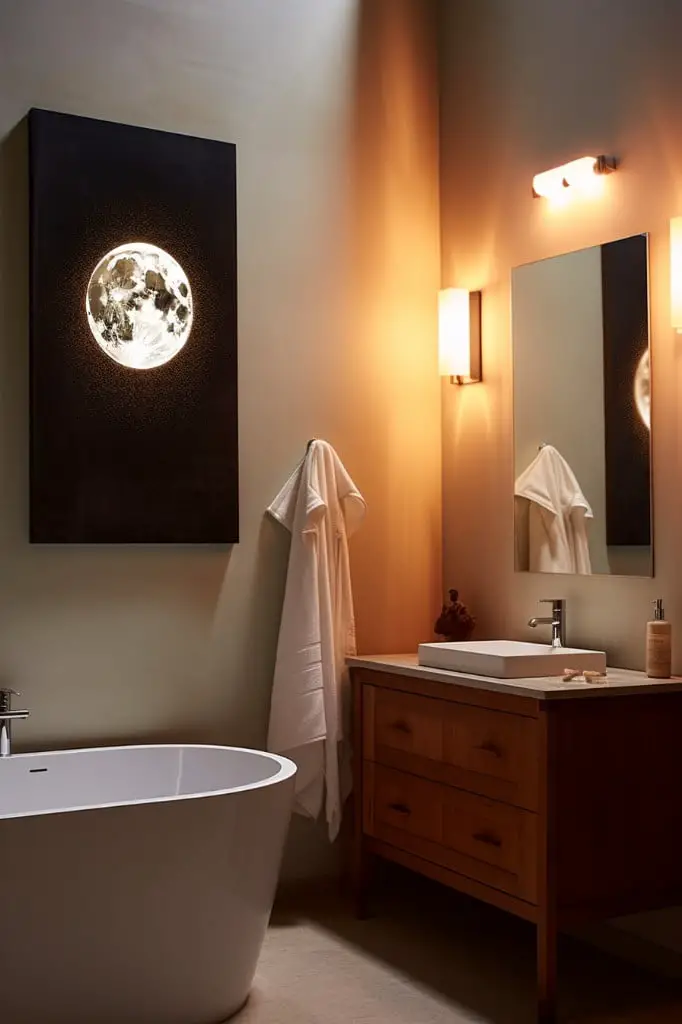 Utilizing the mesmerizing beauty of the celestial body, a full moon wall night light imbues the bathroom with calm, serene vibes – perfect for a soothing nightly routine.
With authentic lunar texture and remote control, you're able to customize brightness and color – perhaps a cool, white glow resembling moonlight or a warm, amber glow for a cosy ambiance.
Key points:
Authentic lunar design
Customizable brightness and color
Controlled by remote
Glow in the Dark Stickers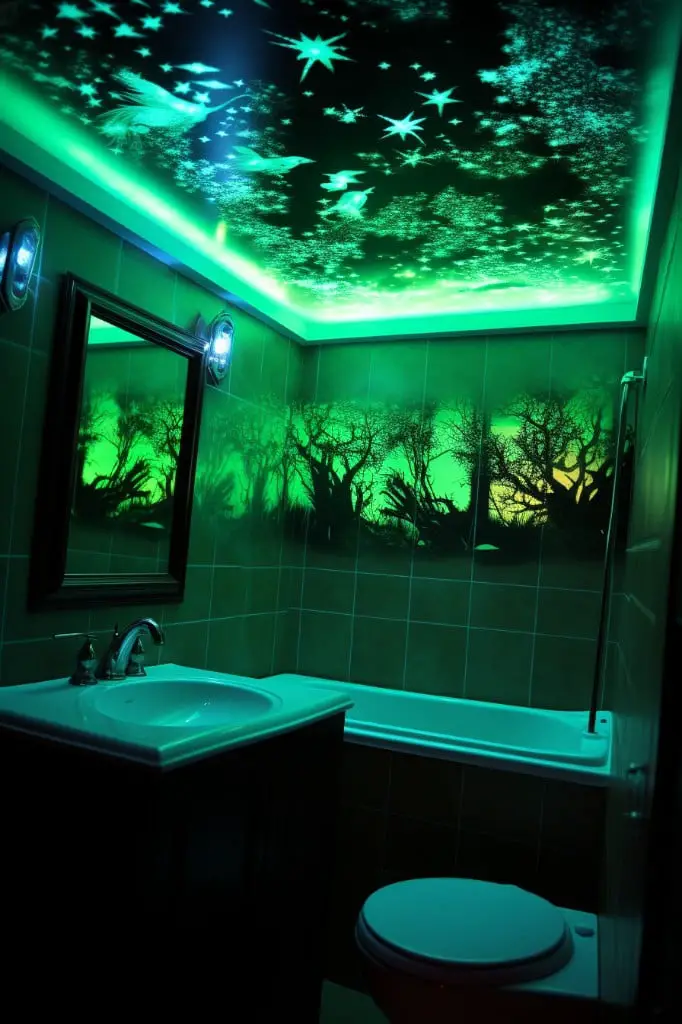 Glow in the dark stickers are an excellent addition to any bathroom, especially for those late-night visits. Here are the key points to understand:
Versatile and easily available. Stick them on walls, ceilings, or around the vanity mirror for a touch of night-time whimsy.
Utilize phosphorescent technology. They absorb daylight and emit soft glow when the lights are off.
User-friendly application. Just peel off the back and stick wherever you want. They're also easily removable.
Wide array of designs. They come in various shapes and sizes like stars, moons, and even aquatic themes.
Safety. Provides a soft glow to navigate through the dark which is ideal for households with kids or elderly who may need to use the bathroom at night.
Energy efficient. No electricity is required as they operate based on light absorption and emission.
This exciting decor idea can add a unique and fun element to your bathroom experience.
Color-changing Bubble Night Light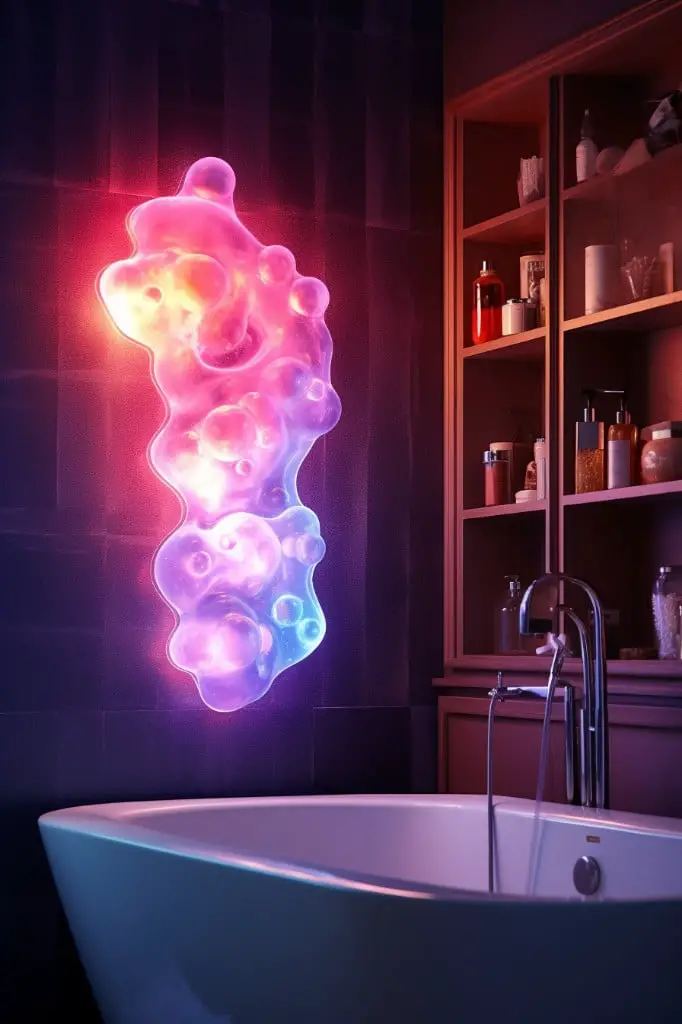 Incorporating this light into your bathroom decor creates an engaging, visual experience. Due to its color-changing feature, the bathroom ambiance dynamically adjusts throughout the night. The light emitted is not too harsh, providing a calming effect ideal for nocturnal visits.
Key considerations while choosing color-changing bubble night lights:
Power source: Most are powered by batteries or a USB cable and plug.
Control mechanism: Usually controlled by a button or remote. Some advanced options offer app control.
Size: Must suit your bathroom space.
Water-resistant: Necessary for humid bathroom environments.
Lifespan: LED lights tend to have a longer life.
Energy consumption: LED lights are also more energy-efficient.
This addition to the bathroom is not only visually appealing but also serves a practical purpose. It makes your late-night visits to the bathroom safer and more comfortable.
Starry Sky Projector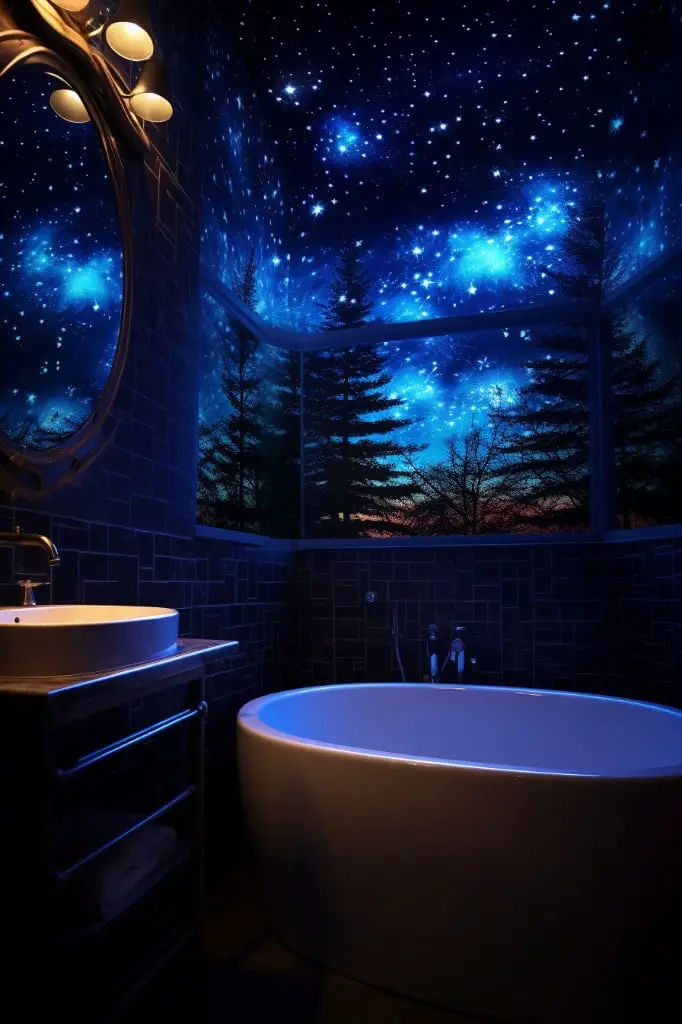 Infusing an ethereal appeal to any ordinary bathroom, the starry sky projector is a unique addition. Using advanced LED lighting, it projects a realistic starry night onto the ceiling and walls.
Key points:
Simple installation process – with a basic setup, it can be mounted on any flat surface.
Variety of color options – often available in different color spectrums to create the desired atmosphere.
Energy-efficient – operates at low wattage, saving on electricity bills.
Customizable settings – features different projection modes, brightness levels, and movement speeds.
Versatility – suitable for both children and adult bathrooms, setting a tranquil ambiance or acting as a night light.
Safety – it's flameless, reducing accident risk.
Portability – compact enough to be moved from one bathroom to another.
This light projector truly elevates ordinary bathroom lighting, transforming it into an immersive, ambient space.
Electric Candle Night Light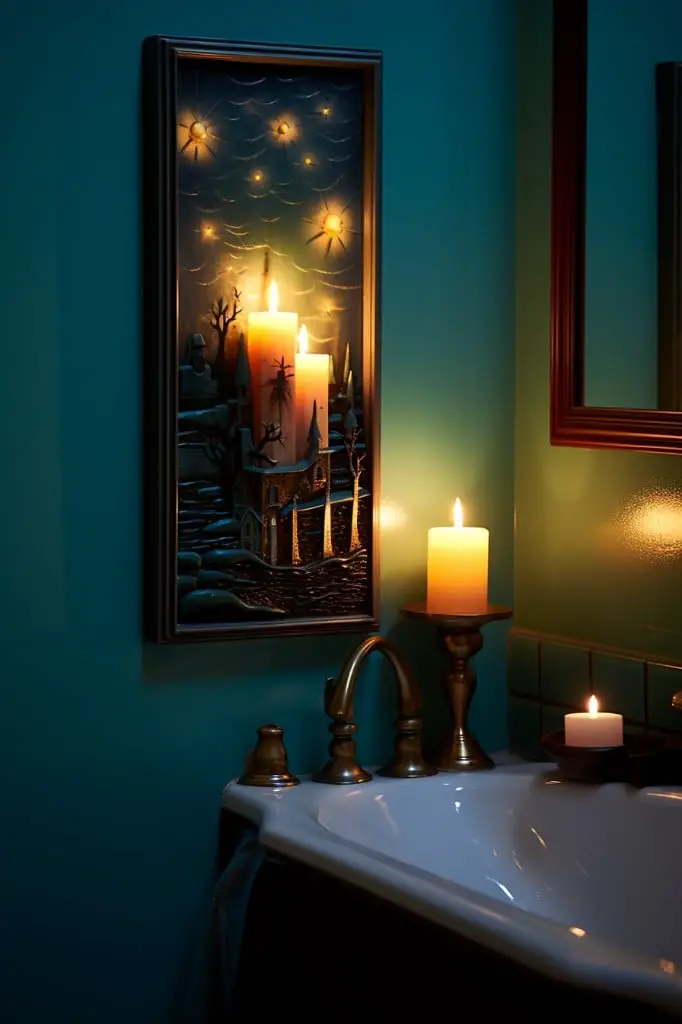 A perfect blend of modern technology and vintage aesthetics, electric candle night lights offer an ambient, flickering glow to transform one's bathroom experience into something truly tranquil.
These devices are designed to mimic the warm appearance of natural candlelight, but without any risk of fire.
This also makes them ideal for bathrooms, which are often damp and not optimal environments for real candles.
Key Points:
Efficiency: Utilises low-energy LED technology, emitting a consistent glow for extended periods.
Safety: Flameless design eliminates the risk of accidental fires in contrast to traditional candles.
Aesthetic appeal: Complements both modern and vintage decors with its timeless design.
Ease of use: Often includes features like remote control, timers, and dimming functions for added convenience.
Versatility: Available in various sizes, shapes, colors, and designs to match individual style preferences.
Rotating Galaxy Light
The rotating galaxy light is more than just a functional night time addition, offering an immersive atmospheric experience. First, it projects a display of stars and nebula clouds across all surfaces of the room, drastically changing the aesthetic. These projections can be modified, allowing variations in color and rotation speed. Powered by a small motor, the light creates a peaceful movement similar to the natural rotation of galaxies. Finally, the energy-efficient technology ensures a long lifespan and low electricity consumption. Not only is it a source of light during the night, but it also serves as a striking bathroom fixture that enhances the overall deco.
Projects star and nebula cloud displays
Offers modification in colors and rotation speed
Energy-efficient and durable
Enhances bathroom deco
3D Illusion Lamp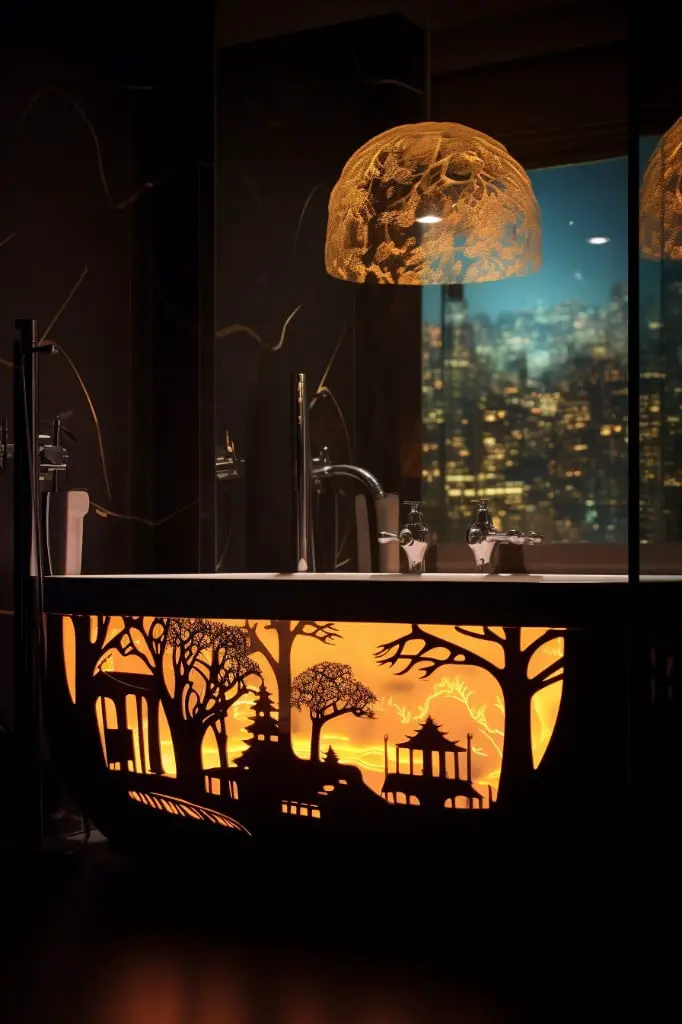 The unique design of the 3D Illusion Lamp adds an artistic touch and a warming ambiance to your bathroom setting. Using LED technology, the lamp creates an optical illusion of a three-dimensional image when viewed from a certain angle.
Consider the following:
Variety in design: 3D illusion lamps come in various graphics, from abstract swirls to more specific shapes like animals or stars. Perfect for personalizing your bathroom.
Brightness control: The built-in feature allows you to adjust the brightness level, providing just the right amount of light during the night.
Safety aspects: The LED lights are not just energy-efficient but also generate less heat, making them safe to use around children and pets.
Easy installation: They are as easy to install as normal lamps and can be placed on counters or mounted on walls.
Remember, a 3D Illusion Lamp can transform your bathroom from ordinary to extraordinary, making nighttime navigation not only simpler but also aesthetically pleasing.
Multi-color LED Shower Head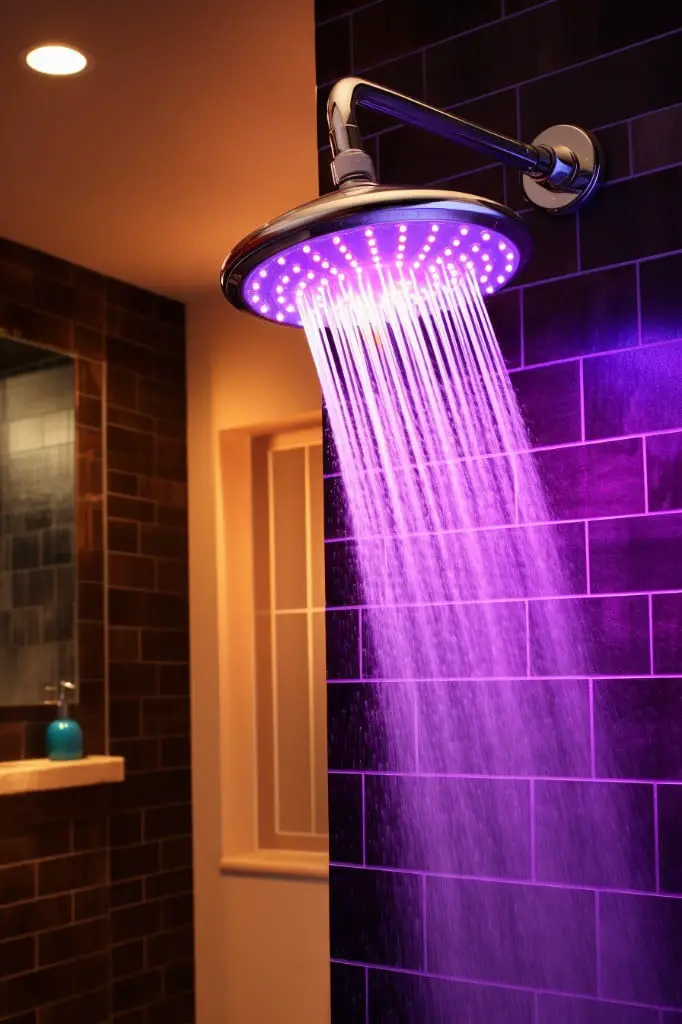 A multi-color LED shower head promises to transform your regular showers into an experience, drawing inspiration from the colors of the rainbow. Its key features are:
Easy installation: Even without plumbing expertise, this device easily replaces your conventional shower head.
Eco-friendly: Most models are powered by water flow, eliminating the need for batteries or electricity.
Color therapy: With the ability to radiate colors such as serene blue, energizing green, or passionate red, you engage in beneficial color therapy every time you take a shower.
Temperature sensor: Many LED showerheads come equipped with temperature sensors, providing a visual cue for water temperature.
Durable and rustproof: Most are manufactured from durable stainless steel, assuring long-lasting use and minimal rust.
Its installation and use are all about giving a colorful aesthetic to your showers while also implementing practical, energy-efficient lighting.
Wall Plug-in Night Light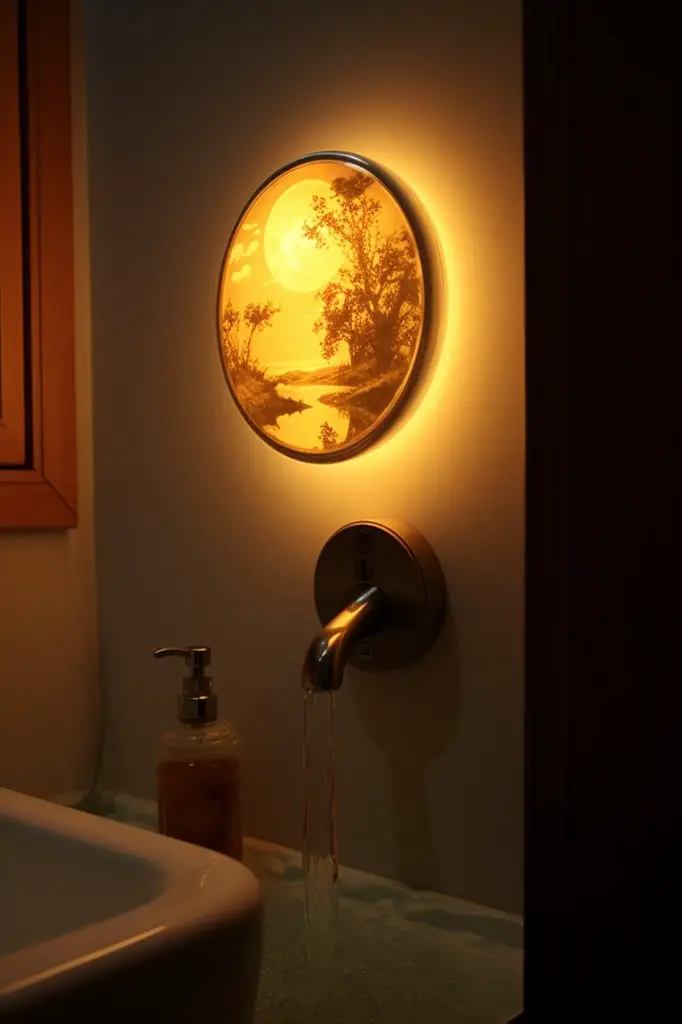 One of the easiest and most efficient ways to add soft illumination to your bathroom is through the use of wall plug-in night lights. There are certain things to consider for maximal impact and functionality:
They come in a vast range of styles and colors, offering versatility for your interior decor.
Being energy-efficient, these lights provide a glow without significantly increasing your electricity bill.
Featuring sensors, they automatically activate once the room gets dark saving time and energy.
Given their compact nature, they won't clutter your bathroom space.
Placement is key; near the doorway or next to the toilet, they provide enough light for use without waking others.
Safe for use, as most models are designed to stay cool, reducing the risk of accidents.
Remember, a night light is not just about functionality but also complements the overall aesthetic of your space. A well-chosen wall plug-in night light can enhance the ambience of your bathroom in a subtle yet transformative way.
Light-up Mirror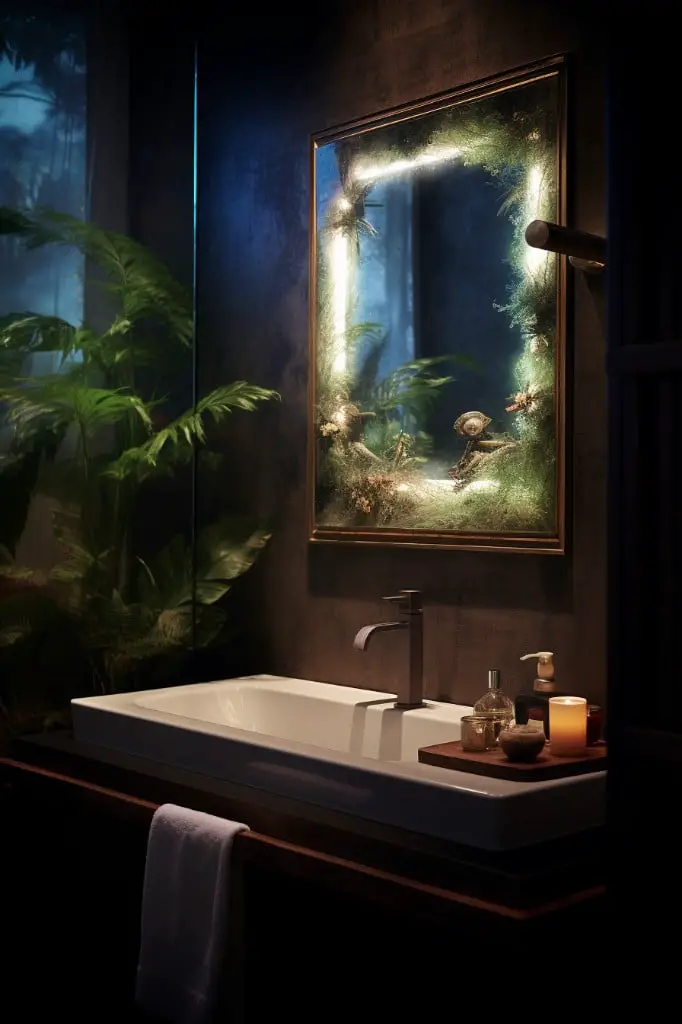 The light-up mirror serves as practical grooming equipment and illuminates the bath area wonderfully. But, its use isn't confined to functionality, it also adds a dazzling visual touch to your bathroom, subtly illuminating your reflection like a backstage makeup mirror.
Variety in Design: With choices ranging from simple rectangular models to ornate round, oval, and even custom shapes.
Easy Installation: Simply affix the mirror to any wall with corresponding mounting installations.
Convenient Use: Integrated touch sensors for easy light adjustments, adding a high-tech element to your bathroom.
Energy Efficiency: LED light usage minimizes energy consumption while giving off clean, bright light.
Safety: Waterproof designs engineered for safe use in damp conditions.
It's a modern, energy-efficient, and stylish solution to brightly lighten up the most essential spot in your bathroom.
LED Tap Faucet Light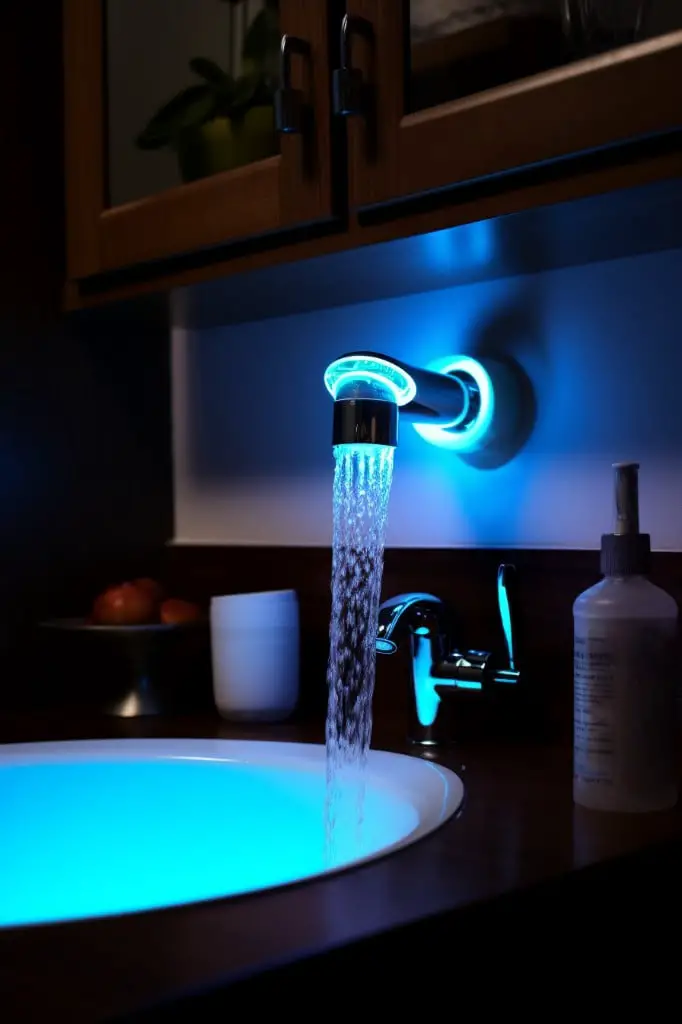 Harnessing the power of water flow, LED tap faucet lights are both functional and entertaining. They offer several key advantages:
No batteries: The flowing water powers the LED light, making them energy-efficient and easy to maintain.
Temperature notification: Some models can change color according to the water temperature. Blue for cold, green for warm, red for hot. It's a fun, yet practical safety feature – especially for homes with children.
Easy installation: Generally, these lights are quick and easy to attach to most common faucet types. Majority of the time, it requires simply screwing them on.
Aesthetic appeal: The LED light adds a surprisingly big visual impact to your bathroom, bringing a modern, stylish aesthetic.
Affordability: Despite their high-tech appearance, LED tap lights are often surprisingly affordable, making them a cost-effective bathroom upgrade.
Faucet Temperature Sensor Light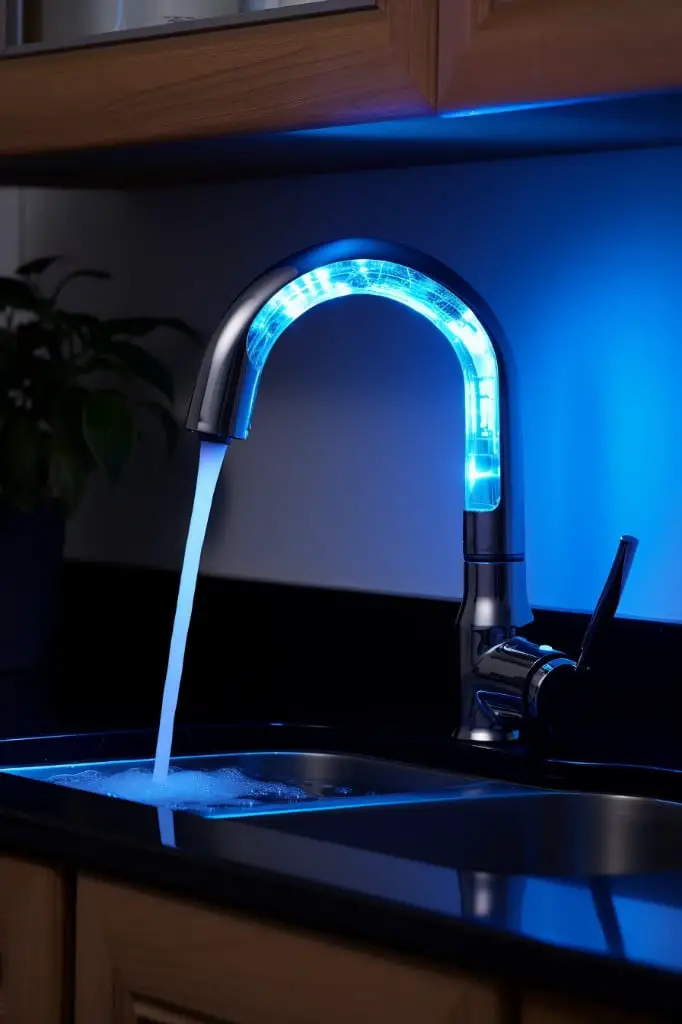 A faucet temperature sensor light adds a flair of modernity to your bathroom, while serving as a unique and functional night light. The product combines practical function and elegant aesthetics.
Equipped with LED lights that change color with water temperature.
The cold water could trigger blue light, whereas hot water could initiate a red light to avoid any scalding incident.
Easy installation process requiring no special tools or parts.
Runs precisely on water power, thus, no batteries or electricity required.
The visually appealing feature enhancing the overall ambience.
Perfect integration of safety, technology, and design.
In essence, it adds not just illumination but interactive experience to your night-time bathroom visits.
Overhead Color Changing Lamp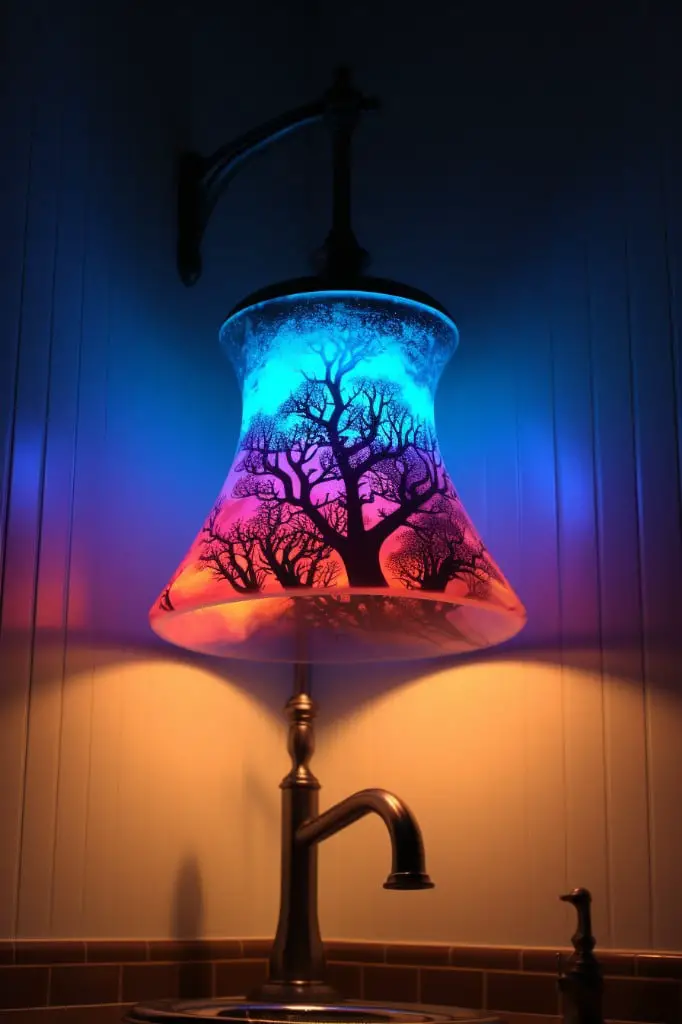 Promising both utility and allure, the overhead color changing lamp is a versatile choice. Its ability to alternate between a spectrum of shades can transform your bathroom's ambiance in an instant, thus making it a perfect fit for any aesthetic preferences you may have.
Wide range of color options available.
Remote-controlled operations for ease.
Alter intensity and hue for personal touch.
Energy-efficient LEDs for long-term use.
Easy installation and minimal maintenance required.
It acts as a mood-setter – vibrant for refreshing mornings or soft for relaxing evenings. With its color-changing feature, it complements any paint color or bathroom accessories you may have, making this a wonderful addition to your space.
Fairy Light Jar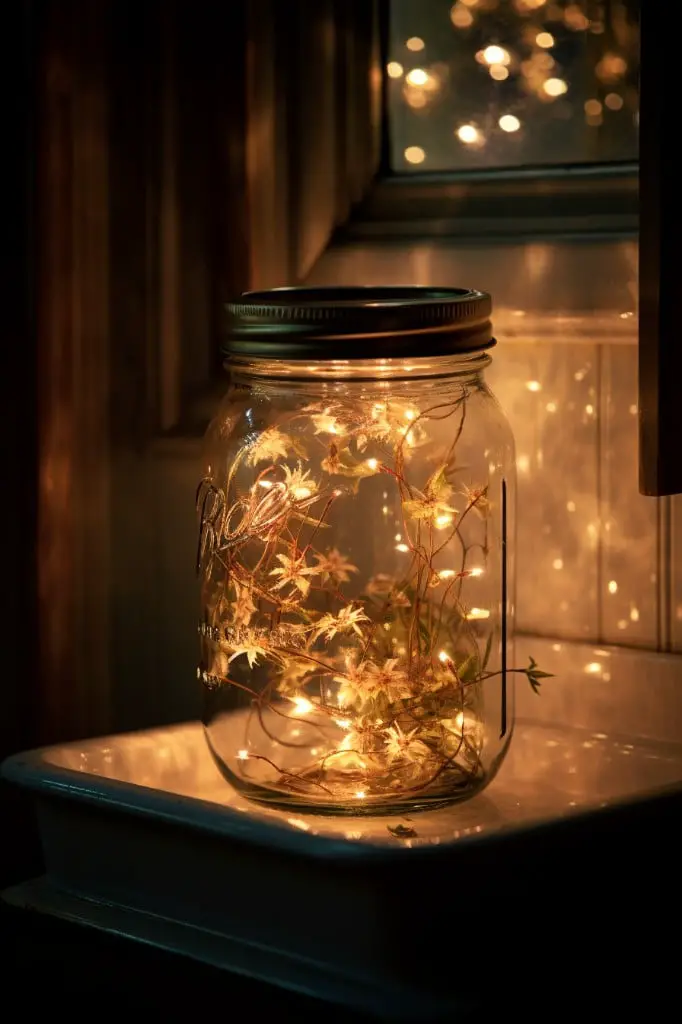 Channel a star-studded night sky indoors with a fairy light jar. This DIY project starts with a simple, clean jar and a string of tiny LED fairy lights.
1. Opt for battery-operated lights for safety and convenience.
2. Coil the string of lights inside the jar, distributing evenly.
3. Control brightness by adjusting the number of lights used.
4. Personalize with different jar styles or light colors.
5. Place strategically in the bathroom for a soft, twinkling glow.
Remember, Fairy light jars aren't just about lighting – they add a charming and magical touch to the decor.
Under Cabinet Lighting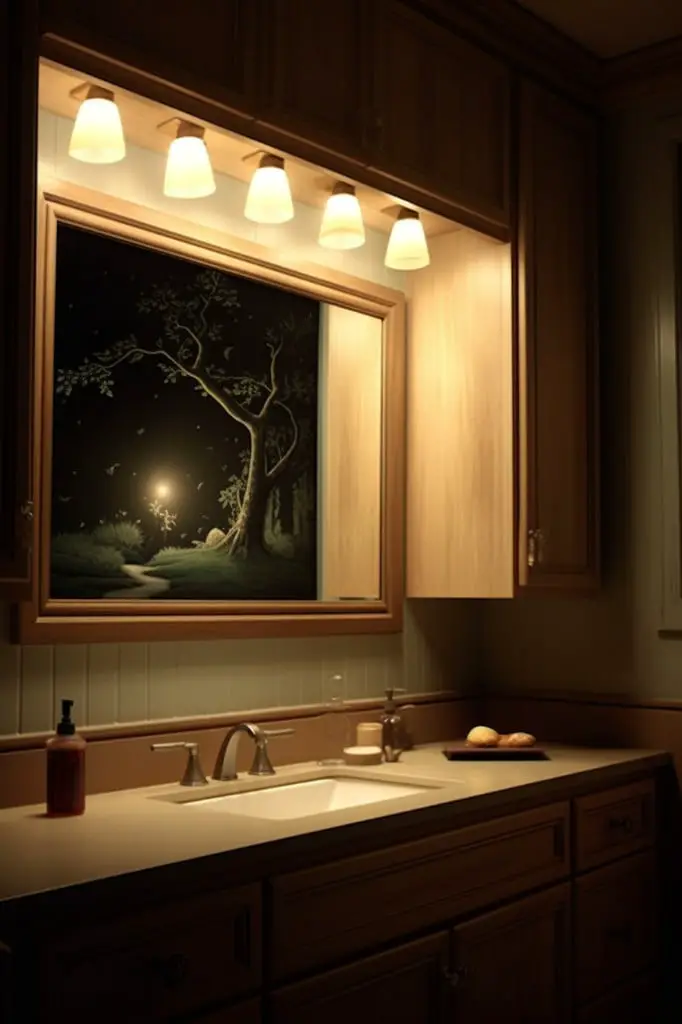 This clever solution not only serves as a night light but also enhances the aesthetics of your bathroom. The variety of available options allows you to choose intensity levels and lighting colors to match the overall style. Moreover, their easy installation doesn't require any electrical skills.
Low-intensity illumination provides enough light for nighttime bathroom visits.
Various color options help in setting a soothing ambiance.
Can serve as accent lighting, spotlighting ornate designs.
Has an easy installation process: most of them are adhesive or screw-in-based.
Low energy consumption due to LED technology.
Generally, possesses motion sensor capabilities for hands-free operations.
Some models offer adjustable light brightness feature.
Can be used as effective task lighting.
Wireless Sconce With Motion Sensor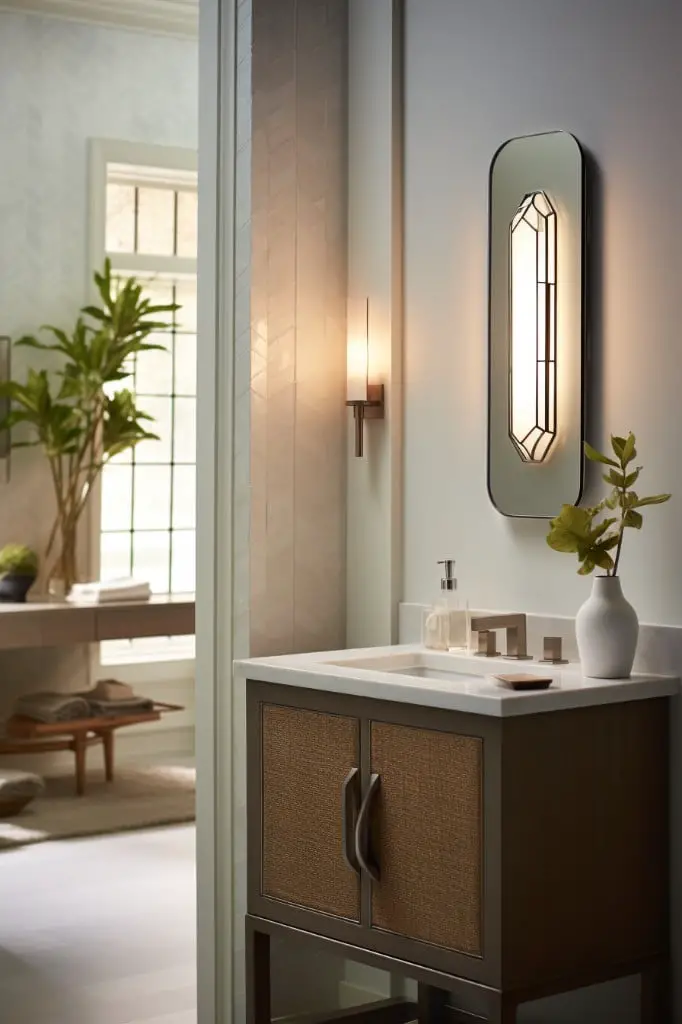 An exceptional choice for an effortless upgrade, the wireless sconce is designed for convenience and flair. Here are a few key elements to contemplate:
Motion sensor feature: Automated lighting, triggered by your movement to provide illumination exactly when needed.
Wireless design: Allows for easy installation anywhere in your bathroom, no drilling or wiring required.
Versatile designs: Available in various styles and finishes, matching every decor from minimalist modern to rustic farmhouse.
Battery-operated: Requires no access to electricity, making it cost-effective and energy-efficient. Ensure to choose models featuring battery longevity.
Visibility and safety: Transforms dark corners, offering safety in nightly visits along with atmospheric illumination.
Eco-friendly: Many models use LED bulbs for lower energy consumption while providing ample light.
A thoughtfully selected wireless sconce serves both practical and decorative purposes, offering a clever fusion of convenience and design.
Japanese Lantern Style Night Light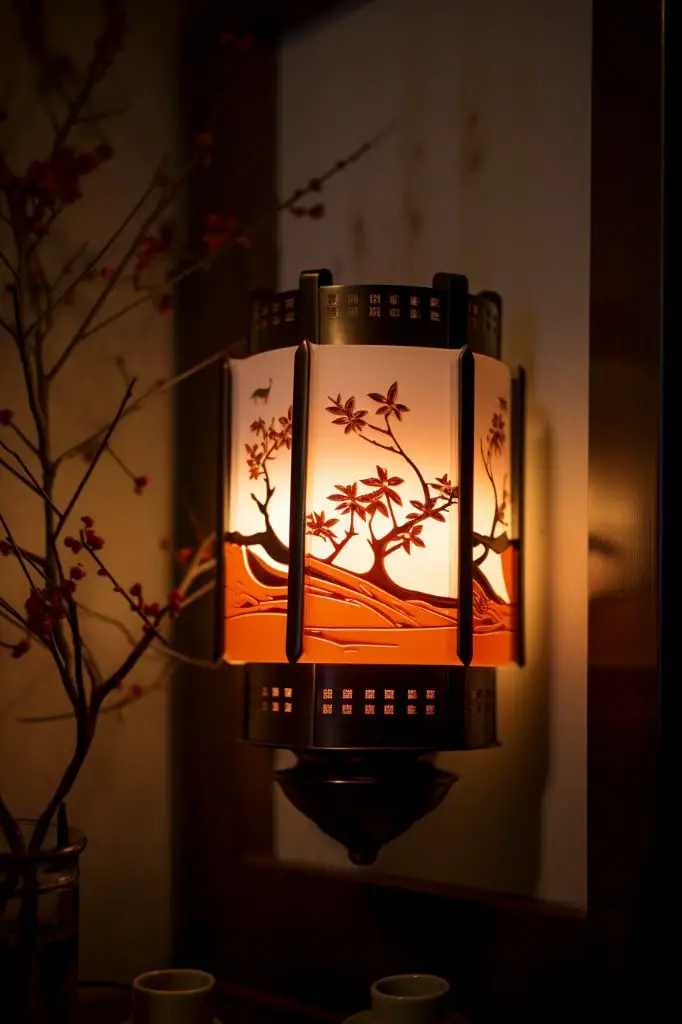 Exuding a warm, ambient glow, this lighting option creates a calming environment. Inspired by authentic Japanese aesthetics, each lantern adds a sense of character to your bathroom.
Here are some key points:
1. Delicate, diffused lighting with adjustable brightness.
2. Choice of corded or battery-operated models for flexibility.
3. Easy to hang or stand depending on design.
4. Range of shapes and sizes to fit your bathroom's space.
5. Crafted from materials like rice paper and bamboo for an organic, earthy touch.
Battery Operated Table Lamp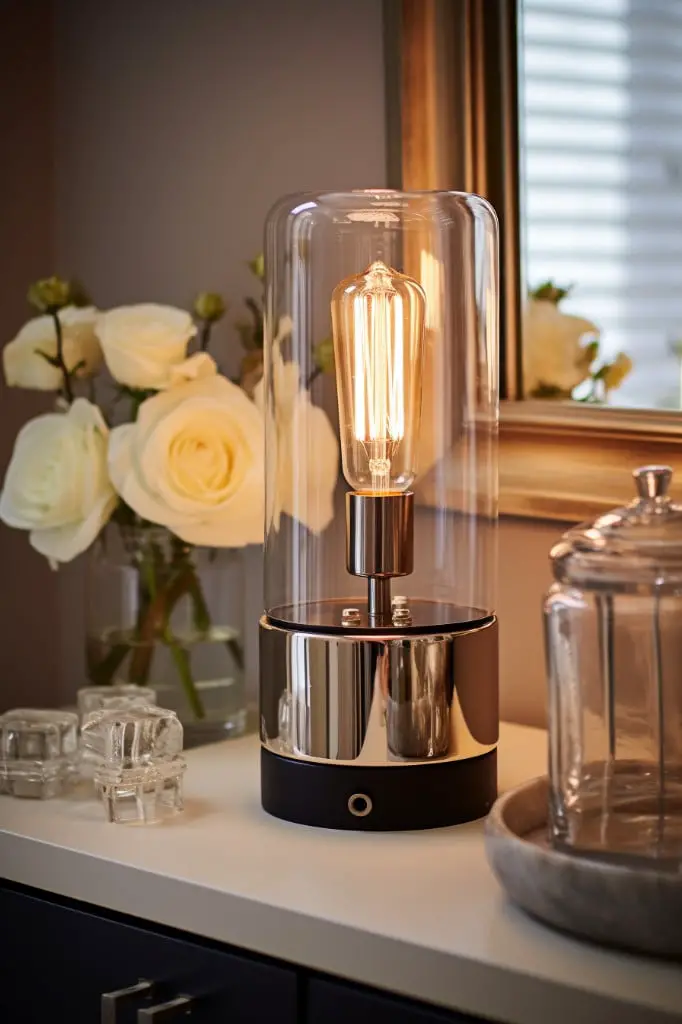 A go-to choice for versatility, portability, and simplicity, battery-operated table lamps even outperform their wired counterparts in several key areas:
Power outages? No problem. Their battery-powered nature ensures they maintain uninterrupted brightness, even during a blackout.
There's also the flexibility to position them as needed without an outlet nearby.
With an array of designs, they add a personal touch to any bathroom decor.
The LED light technology they often use ensures a longer lifespan and energy-saving benefits.
Some designs even include additional features such as dimming options, remote controls, and smart home compatibility.
Lastly, their easy installation and maneuverability are perfect for the bathroom.
Continue reading:
Recap