Last updated on September 27, 2023
Bathroom doors aren't just for opening and closing, they can now be part of the interior design to showcase a home's beauty and value. Here are some of the best bathroom door ideas. Read on!
Bathroom doors have different kinds, shapes, and sizes, and they are all taken into account when building or renovating a home. They can provide lots of things you wouldn't imagine they can like:
More Privacy
Transformation
Spacious look
That's why we've got the best bathroom door ideas to inspire your designer personality inside. Check these out!
Table of Contents
Sliding Bathroom Door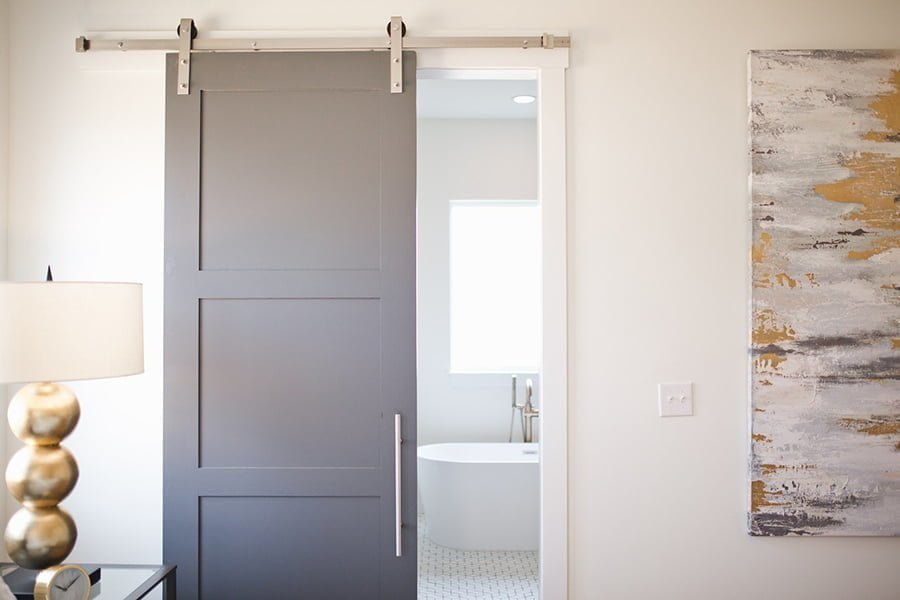 A sliding door is a great option in homes that have a tiny space. It's best used for the bathroom inside the bedroom because of the lesser floor space it occupies. It makes the bathroom look cozy and welcoming at the same time.
Bathroom Barn Door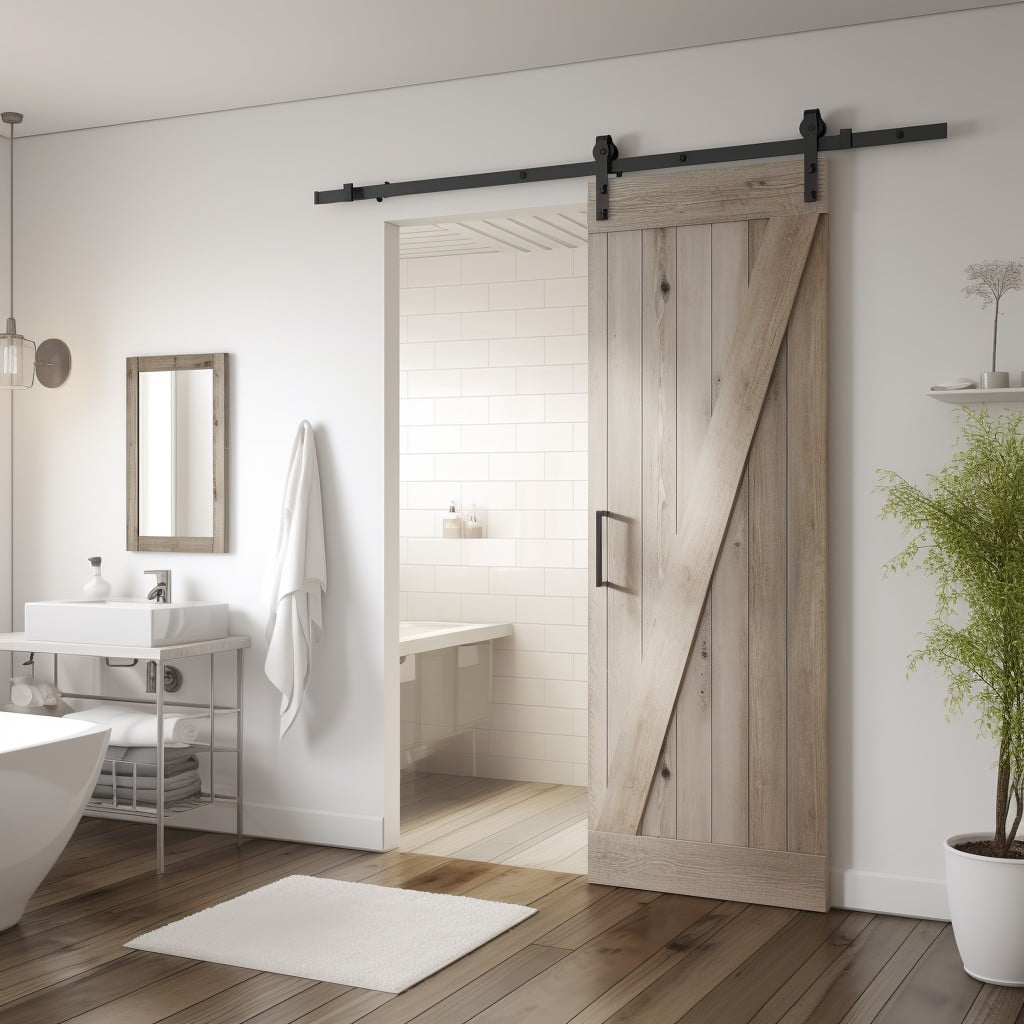 Who would have thought that a barn door is going to be a popular design for bathrooms? It gives that rustic luxury, vintage feeling whenever you see it plus it's not as pricey as you think. It can also be a sliding barn door.
Privacy Bathroom Door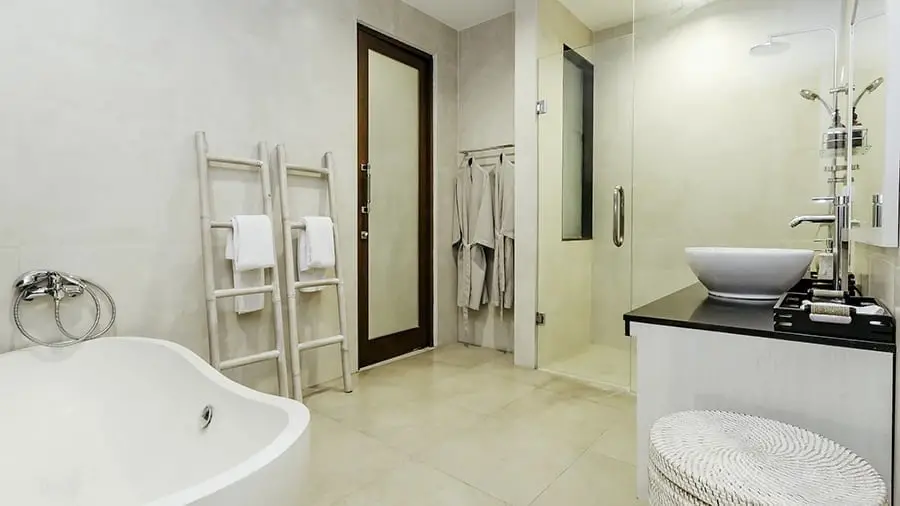 The privacy door is usually made for business purposes and less common at home. It's important to know 3 key elements before getting one, the privacy it can provide, how long it will last, and how secure the lock is. An extra factor would be how easy it is to use the lock.
Bathroom Pocket Door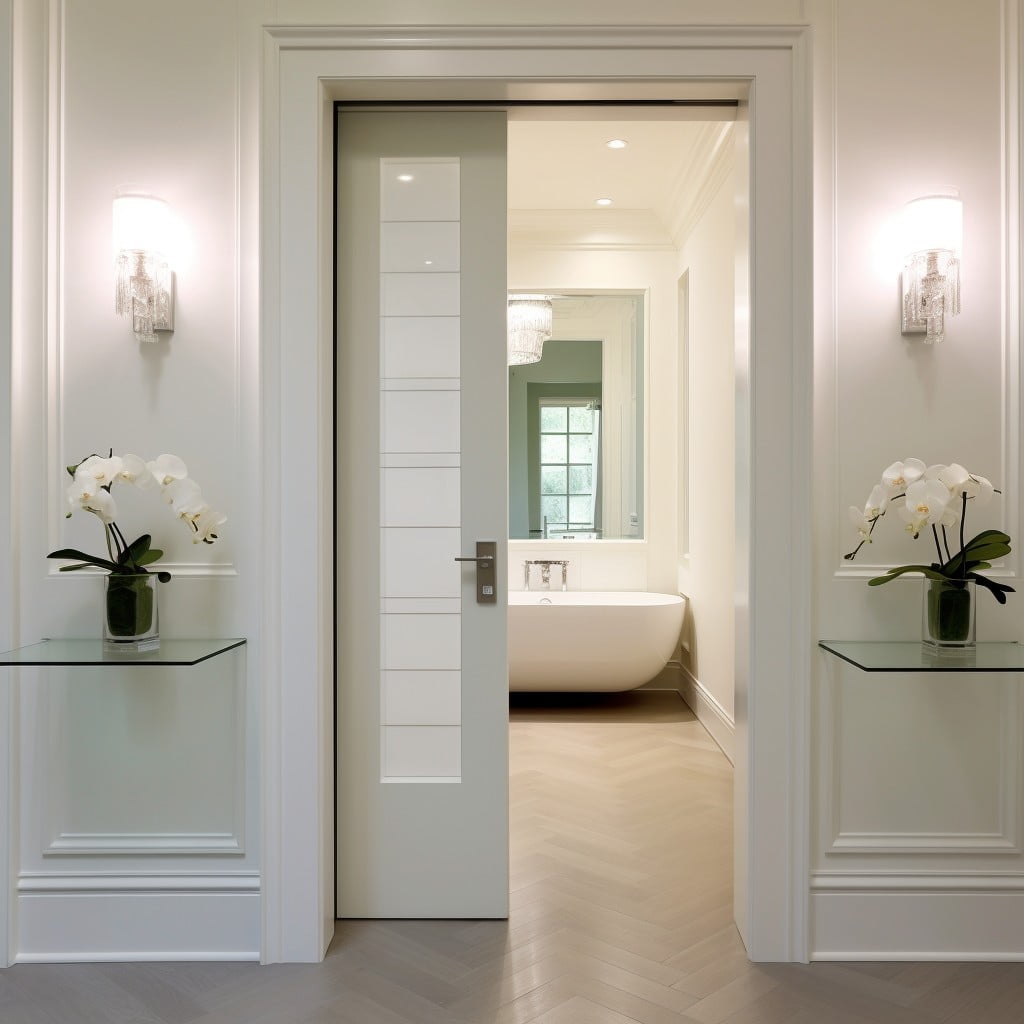 If your bathroom is tight and a full swinging door can't accommodate the wall space, then pocket doors are a very good choice. It can be classic or modern-looking and it adds extra beauty to your home depending on the design.
Bifold Bathroom Door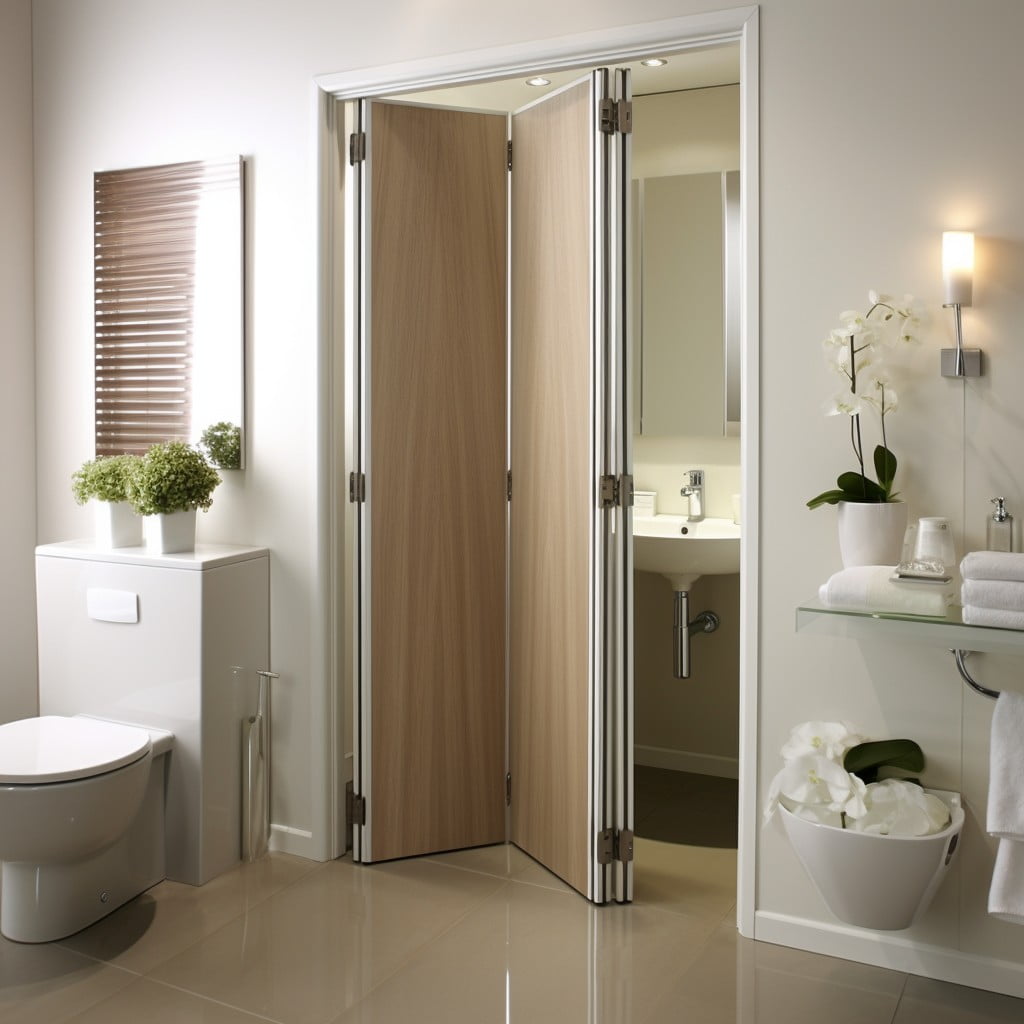 A bifold door is a great option to lessen space usage as it takes half the space when folded. There are many materials to choose from like wood, glass, or mirror, it saves money if you're on a tight budget and you can even design on your own as they are easy to create.
Frosted Glass Bathroom Door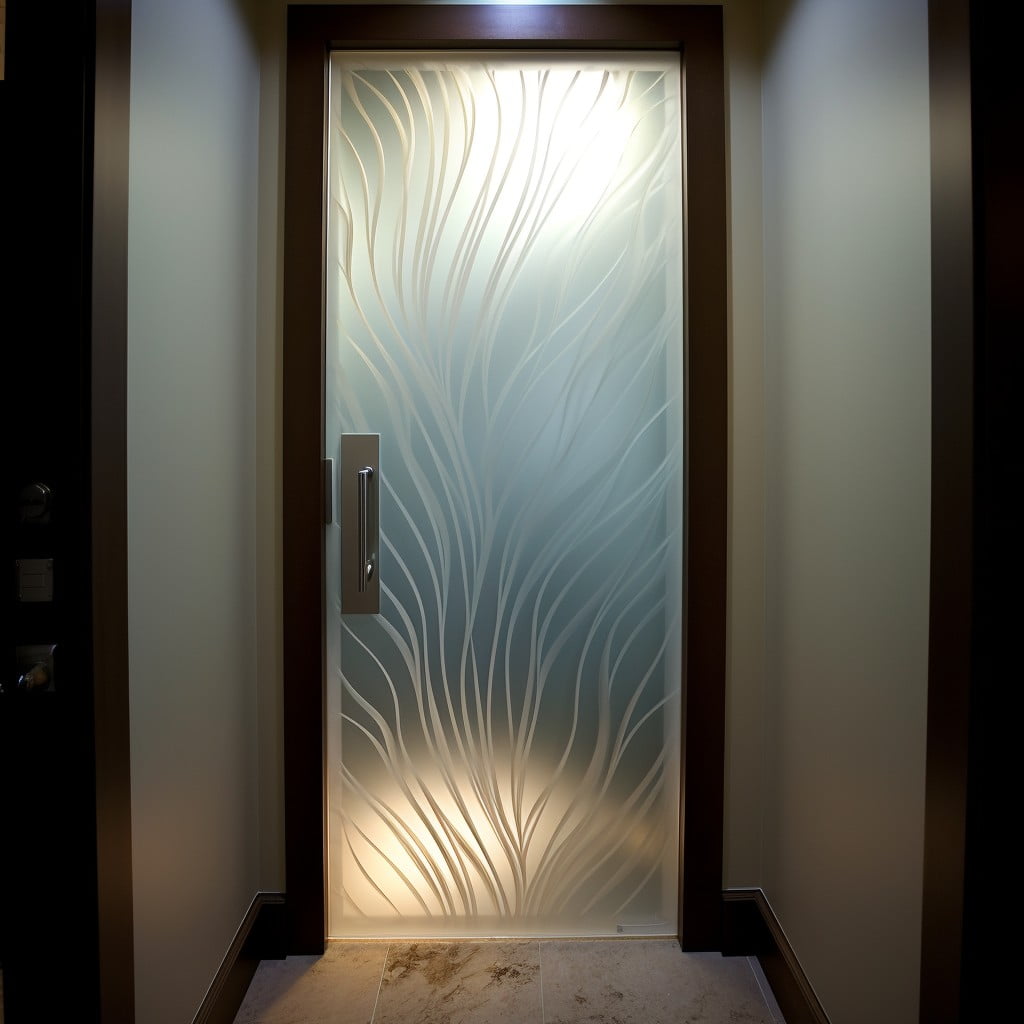 When it comes to versatility, frosted glass doors for the bathroom is a must. It makes the bathroom looks spacious and private and it has plenty of designs. It can even open and close in different ways plus cleaning it is a breeze.
Bathroom Door Ideas for Small Spaces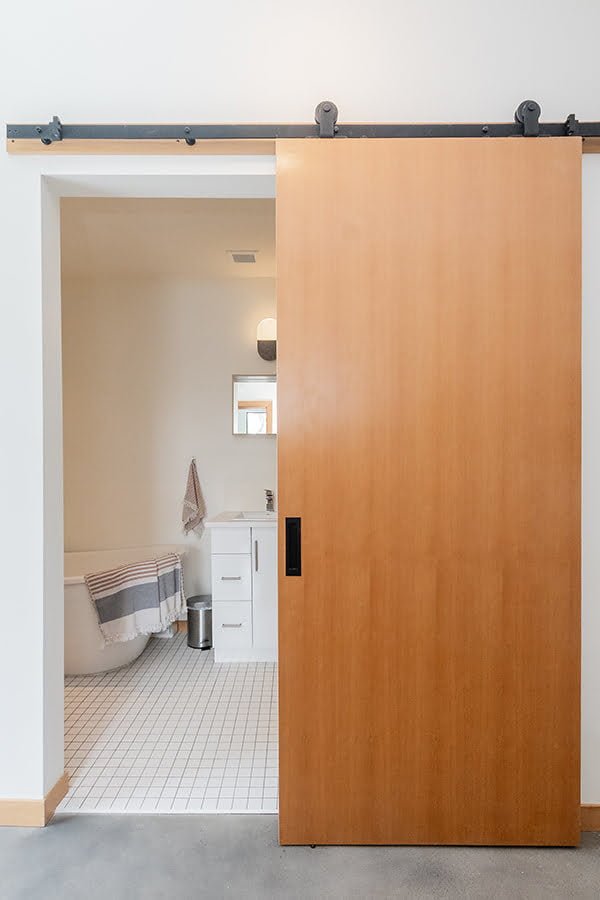 You don't have to limit yourself on traditional bathroom doors especially when you want to save space. There's plenty of small bathroom doors out in the market to accommodate your needs. Some of the best are:
Pocket doors
Barn doors
Bifold doors
Sliding doors
Pivot doors
Glass Panel Bathroom Door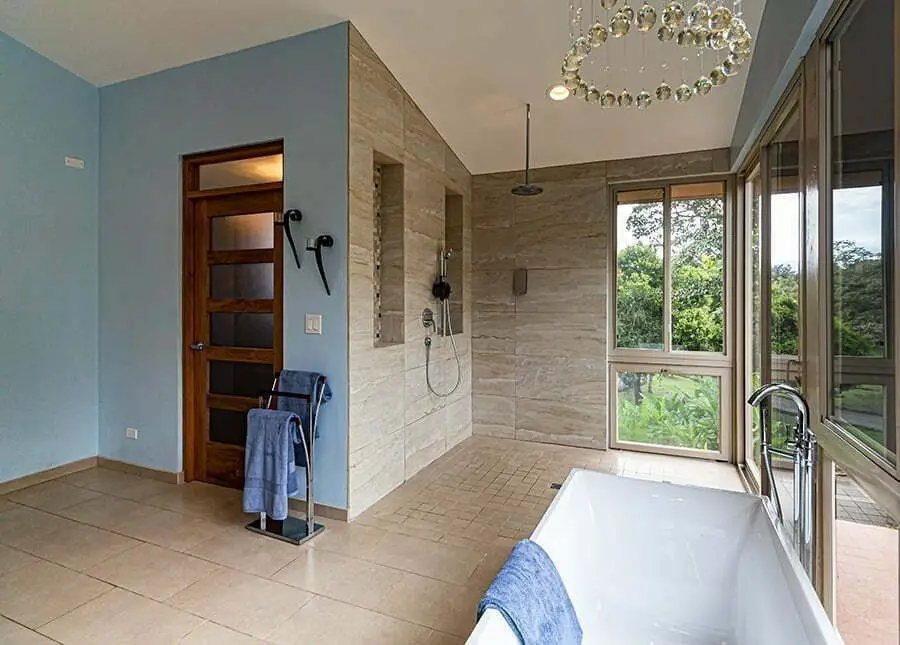 A glass panel door is simply having a single or multiple windows arranged in a pattern. Depending on the design, it can offer more privacy and elegance and adding a curtain to cover the window is also a great addition.
Cool Bathroom Doors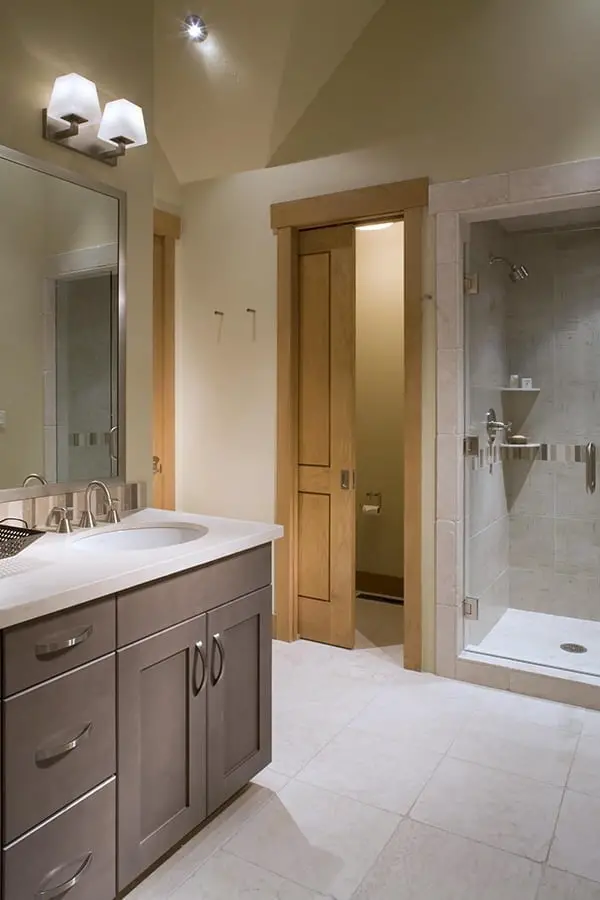 A cool, unique design of a bathroom door leaves an incredible first impression. It shows what they can expect inside your bathroom. It sets the stage of how beautifully made your bathroom is.
Here's a simple list of some of the coolest bathroom doors:
French doors
glass panel doors
frosted glass doors
mirrored glass doors
Bathroom Door with Window
The bathroom door with a window comes in 2 types, clear glass, and frosted glass. The glass can be single that covers the whole door or with several, smaller ones called panels. They can also be designed for whatever you like.
Curtains for Bathroom Door
Adding curtains on your bathroom door is not just for personal reference as it also affects the budget and plans for your home. They add privacy and comes in different fabrics so having a design to your liking will show your personality.
Modern Bathroom Doors
Modern bathroom doors are now the new trend. They're now created with artistic element and practicality in mind and can be made using different materials like glass, wood or steel. They can make create or enhance the atmosphere your bathroom has.
Narrow French Bathroom Doors
French door style can also be applied on a bathroom door and they add elegance to the overall style of the bathroom and home. It allows more light creating a brighter atmosphere of the room and needs less space.
Louvered Door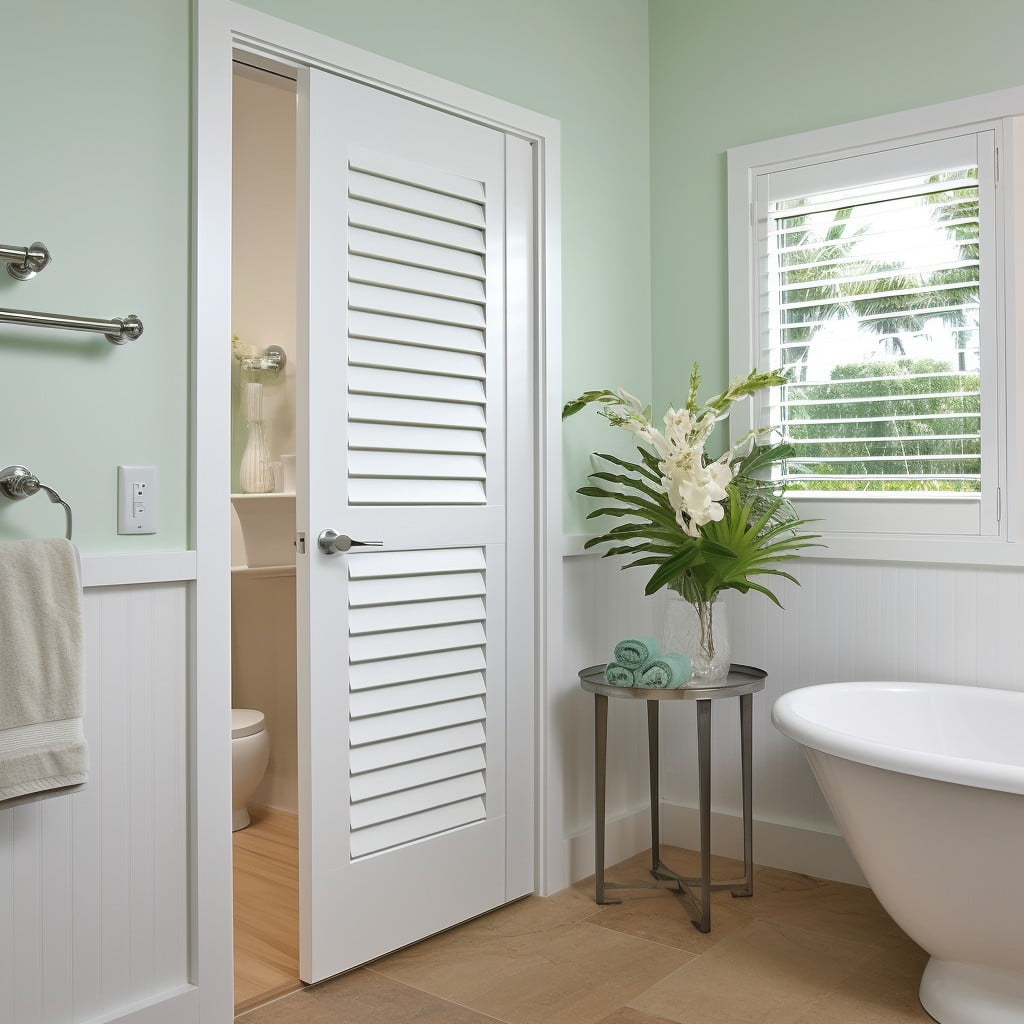 Coming from Spanish colonial architecture, Louvered doors offer timeless functionality coupled with visual charm.
Mirrored Door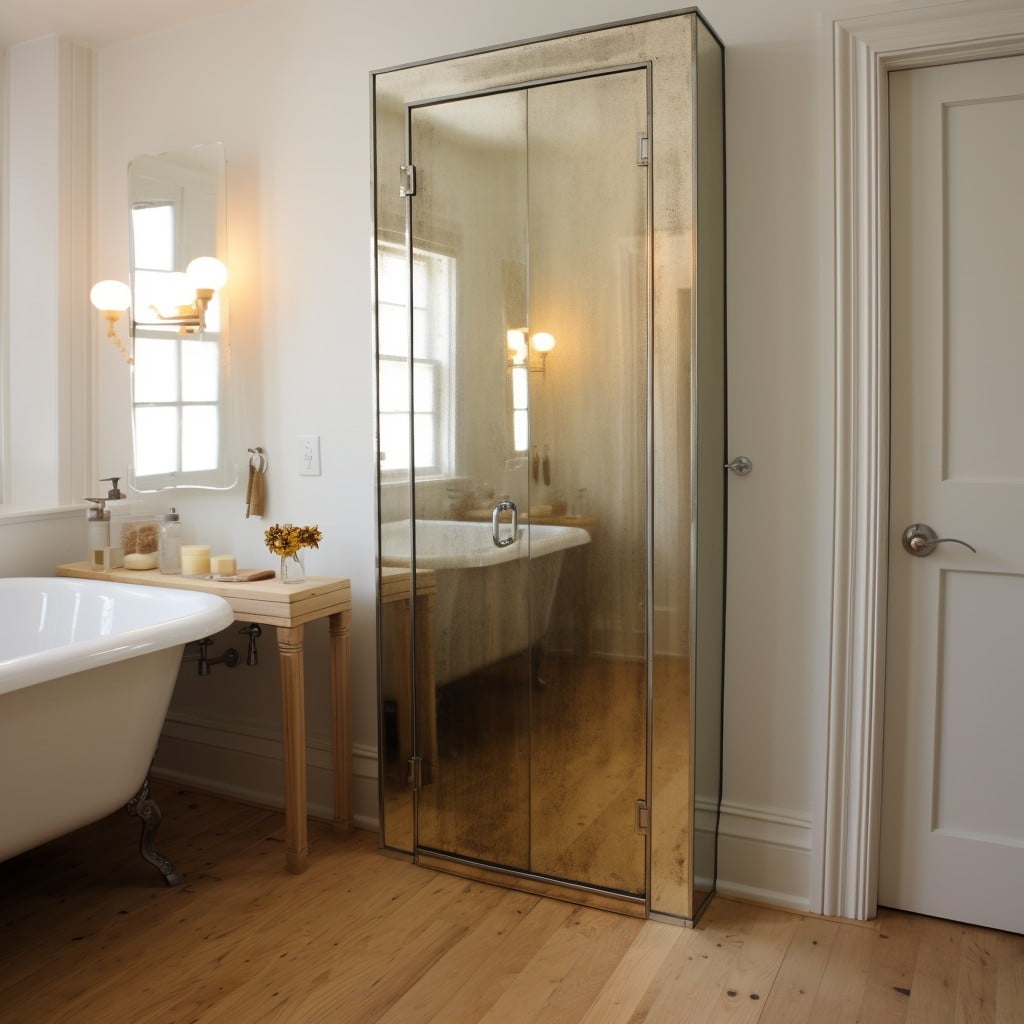 Positioned to add light and dimension, mirrored doors enhance both the utility and aesthetics of your bathroom. Their benefits extend beyond their captivating style.
Full-length Glass Door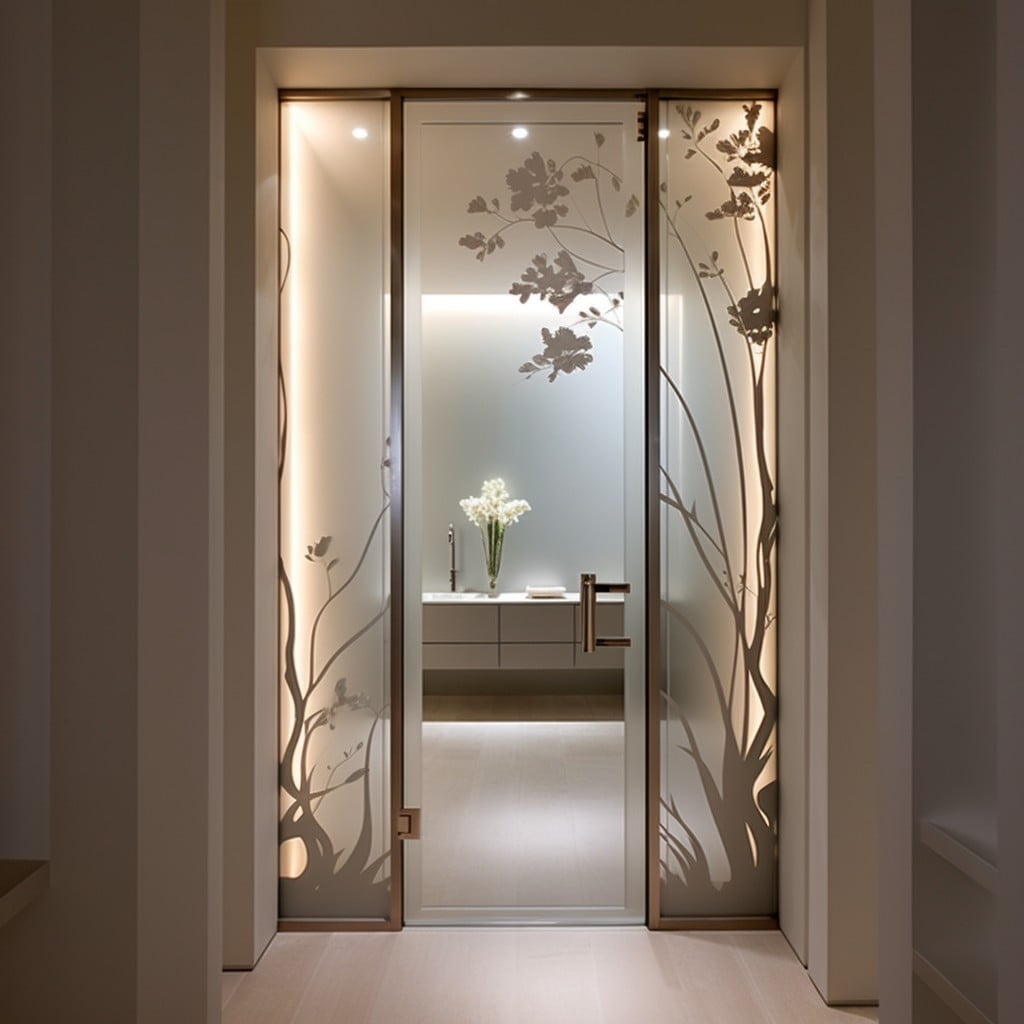 Offering a sleek and contemporary look, a full-length glass door can be an artistic addition to your bathroom. With it, natural light enters freely, giving the illusion of a larger space and providing a sense of openness. This door type enhances your bathroom's design elements and allows a seamless unity between the bathroom interior and the rest of your home.
Colorful Painted Door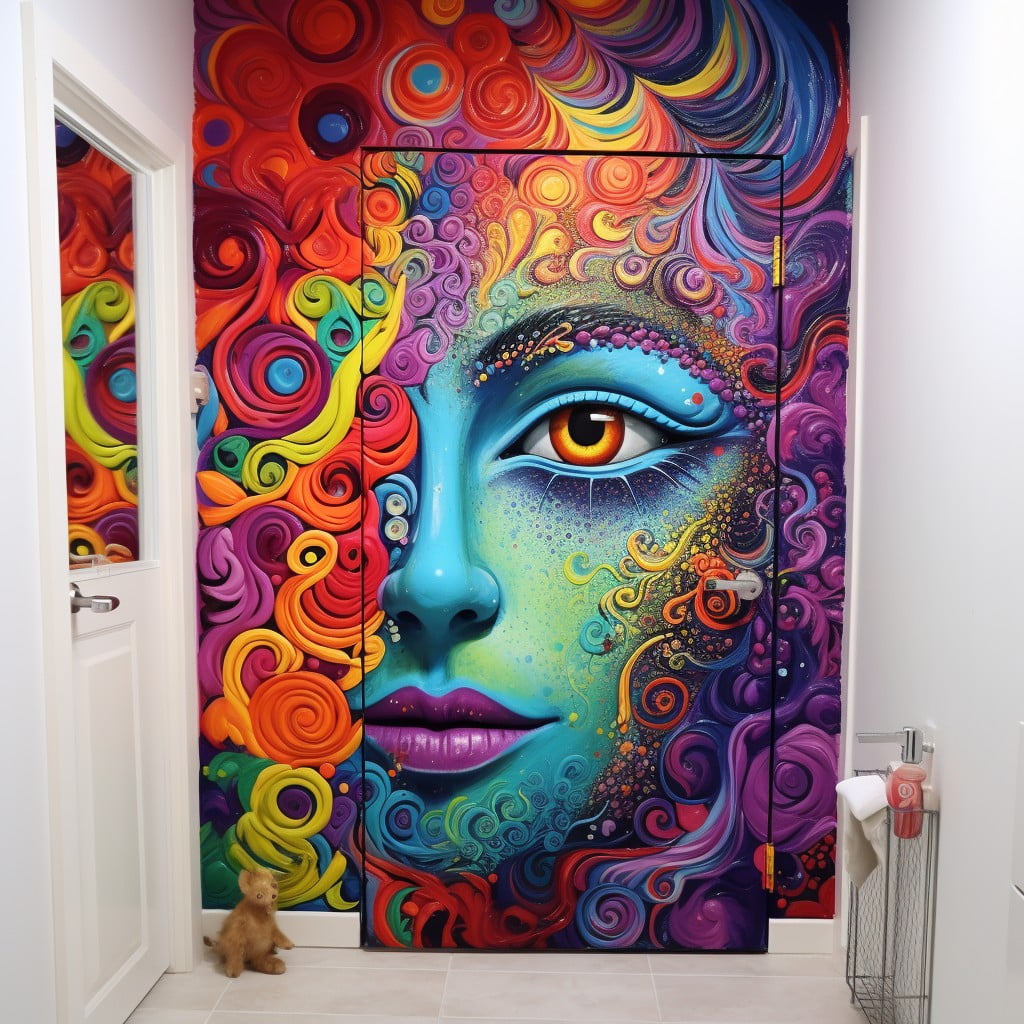 Living in a monotonous environment can get boring. Here's where a pop of color can make a difference. A coat of bright paint adds a distinctive touch and brings the bathroom door to life. It's an affordable alternative that demands minimal effort yet leaves a lasting impact.
Master Bathroom Door Ideas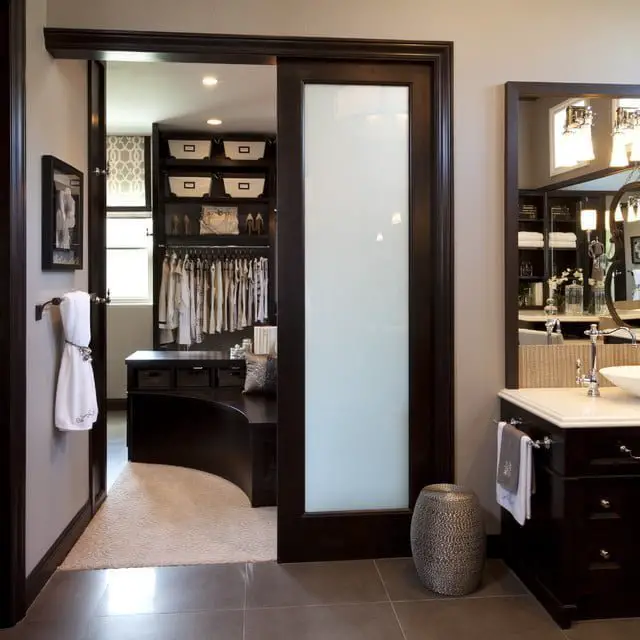 A master bathroom is one of the most considered rooms in a home as they provide a luxurious and relaxing setting. It has many designs but they all fall in almost all the same types.
Some of them are:
Vintage
Nature
Rustic
Modern
Bathroom Door Painting Ideas
Painting your bathroom door is one way to increase its beauty and to know how to incorporate your ideas will make it fun and easy. It's incredible to think that even a $10 paint can dramatically transform your bathroom. Changing the color or using tape are just some examples.
Bathroom Door Threshold Ideas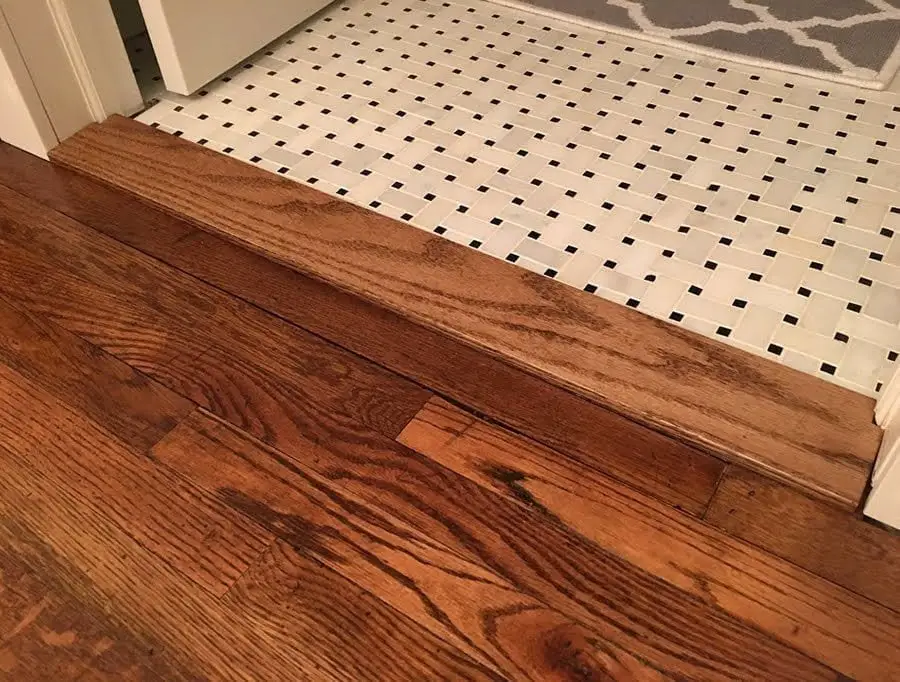 A bathroom threshold is the transition part between the flooring inside and outside of the bathroom. It can make your bathroom look attractive. They come in different designs depending on your purpose like matching 1of the 2 floors or to protect floors from damage.
Here are some of the common types of threshold:
Continue reading: