Last updated on September 24, 2023
Explore these ingenious bathroom closet ideas that maximize storage space while adding a touch of elegance to your home.
Maximizing space and adding a touch of style to your bathroom closet can be a game-changer.
This article will provide you with innovative ideas to transform your bathroom closet into a functional and chic space.
From clever shelving solutions to creative organizational hacks, you'll find all the inspiration you need to revamp your bathroom closet.
Stay tuned for a comprehensive guide on how to make the most out of your bathroom closet space while maintaining an aesthetic appeal.
Table of Contents
Floating Shelves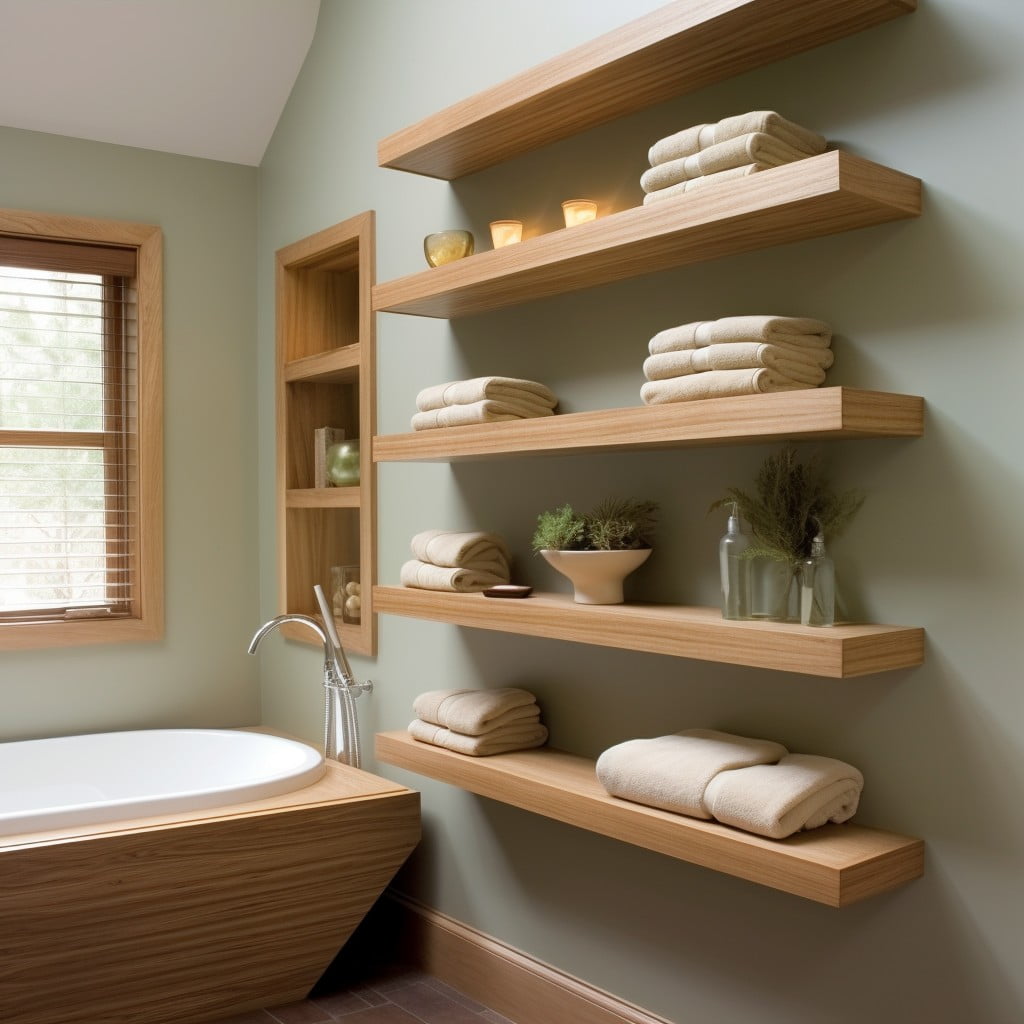 Floating shelves are a versatile storage solution for the bathroom closet. Not only do they keep your necessities within reach but also add a blend of functional and decorative aspects.
Key points:
Selection: Opt for waterproof materials like treated wood or plastic.
Purpose: They serve as a great place for storing often-used items like bath products and towels.
Placement: Install them at various levels to maximize vertical space.
Decor: Can also serve as a display area for decor pieces.
DIY: Simple to install on your own with basic tools and shelves available in various designs.
Efficient: A minimalistic design frees up room, creating an illusion of a wider space.
Versatility: Suitable for bathrooms of all sizes and styles.
Stackable Bins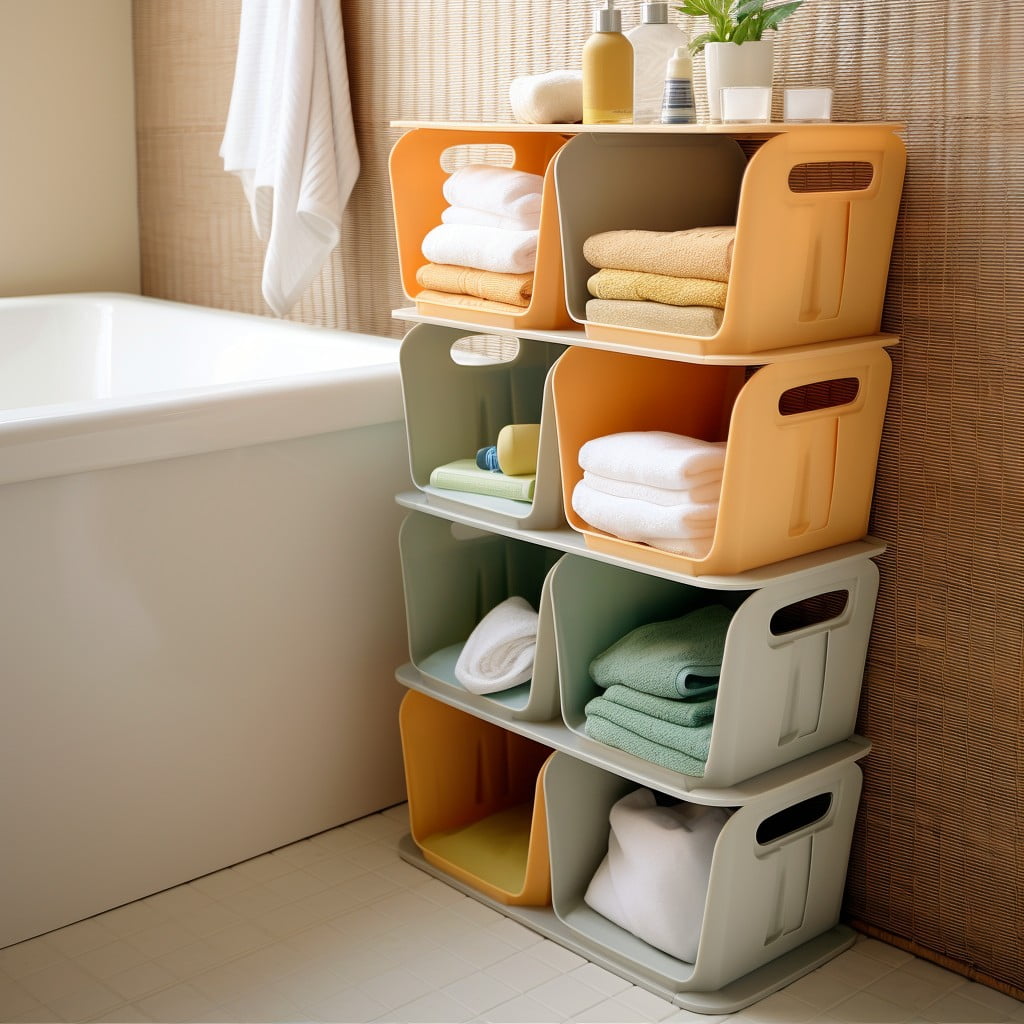 Utilize every vertical inch with the essential asset of stackable bins. Perfect for keeping extra toiletries, cleaning supplies, and bath towels, these bins offer an accessible and organized system. Embrace the functionality by labeling each to make locating items a breeze.
Key Points:
Enhances vertical space usage
Offers neat organization of items
Ideal for storing toiletries, towels, and cleaning supplies
Increased accessibility with labels
Available in varying sizes and designs for aesthetic versatility
Corner Cabinets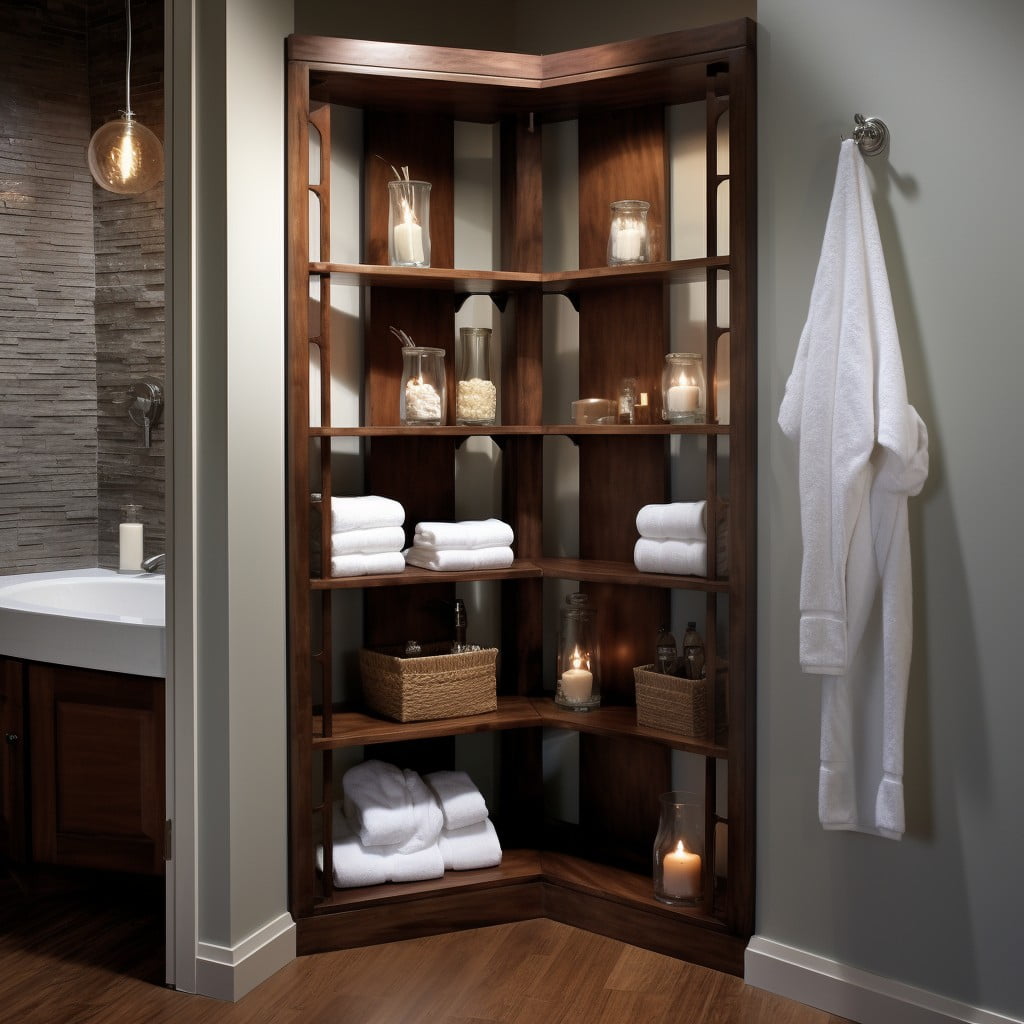 Ideal for squeezing every inch out of your bathroom, corner cabinets offer numerous advantages for organizing your essentials. These units are perfect for making use of awkward spaces while maintaining an elegant aesthetic.
Key Points:
Space-efficient: Tucks away neatly in the corner, utilizing often neglected spaces.
Versatile: Suitable for storing toiletries, towels, or cleaning supplies.
Built-in or freestanding: This flexibility allows for adaptation to the specific layout of your bathroom.
Styles: Come in a range of designs, facilitating a match with your bathroom decor.
Adjustable shelves: Lets you tailor the storage to fit items of varying sizes.
Accessibility: Provides quick and easy access to everyday items.
Keeps essentials hidden: Ensures your bathroom looks tidy and decluttered.
Towel Racks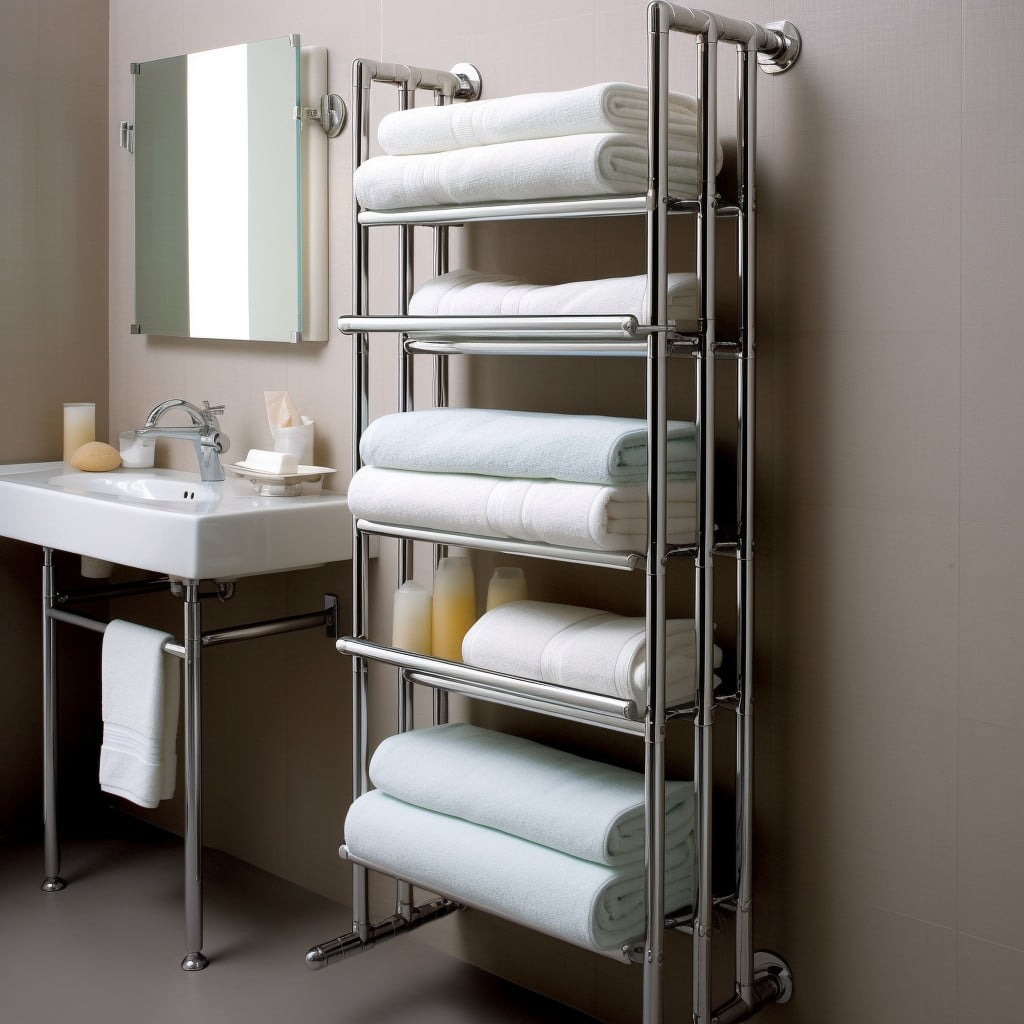 When positioned strategically, these sturdy structures can provide ample drying space for multiple towels while adding visual appeal to your bathroom. Important considerations include:
Material: Stainless steel and wood are durable and can withstand moisture well.
Design: Additional features like swivels or multiple bars increase functionality.
Installation: Consider whether wall-mounted or freestanding options suit your space.
Location: Ideally near shower or sink, ensuring towel access is logical and convenient.
Remember, optimized towel rack placement and selection can transform your bathroom closet into an efficient space while maintaining a sleek, modern aesthetic.
Magnetized Drawer System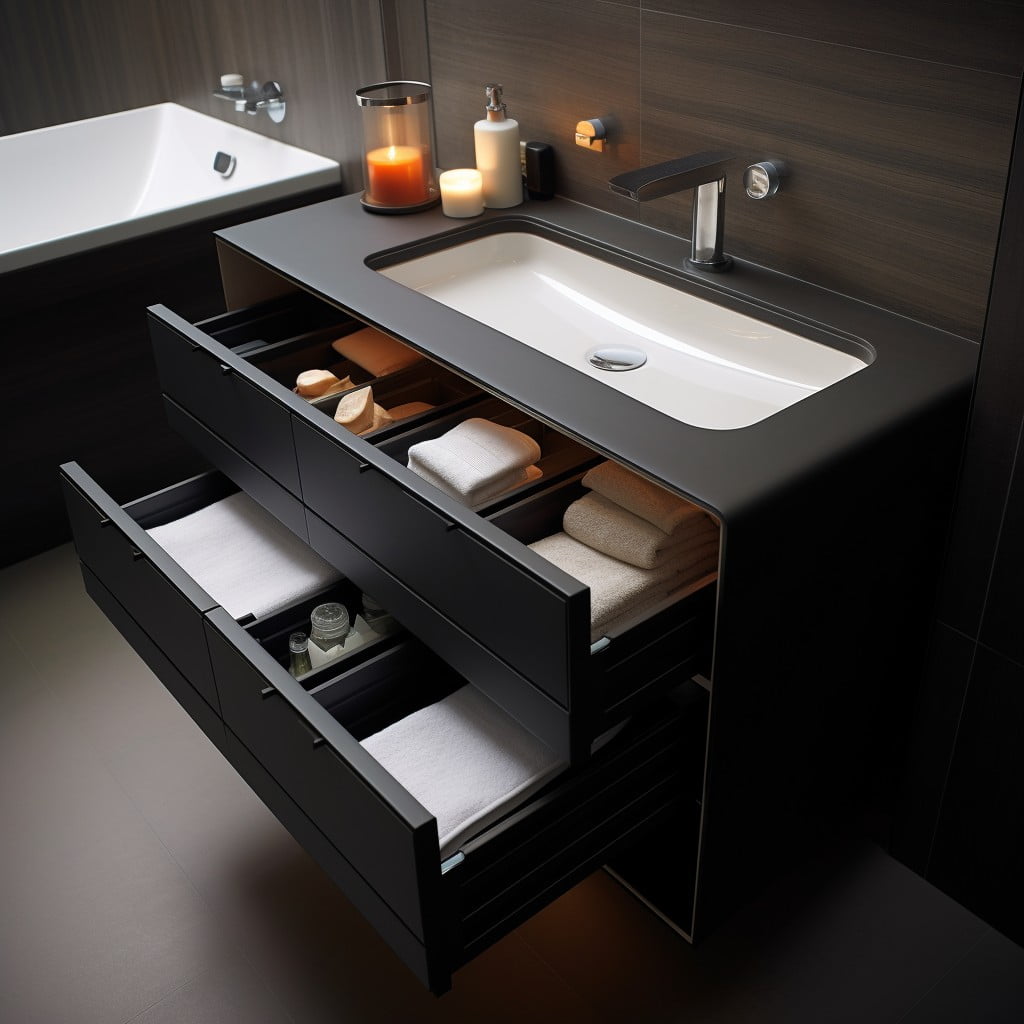 Empowering space-saving efficiency, a magnetized drawer system offers clever contour to your bathroom storage. Specifically crafted for metallic items, this innovative design utilizes magnetic force, creating a tidy environment for small essentials like tweezers, nail clippers, and bobby pins.
Key aspects include:
Reduction of clutter: Keeps small metallic items neatly organized, easy to find.
Space efficiency: It uses minimal space, ideal for cramped bathrooms.
Ease of access: Locate your items at a glance, no rummaging needed.
Customizability: Flexibility to arrange magnets according to personal preference.
Safety: Securely stores sharp items, reducing potential hazards.
This magnetic marvel advances the functionality of your bathroom, encapsulating organization at its finest.
Under-sink Storage Units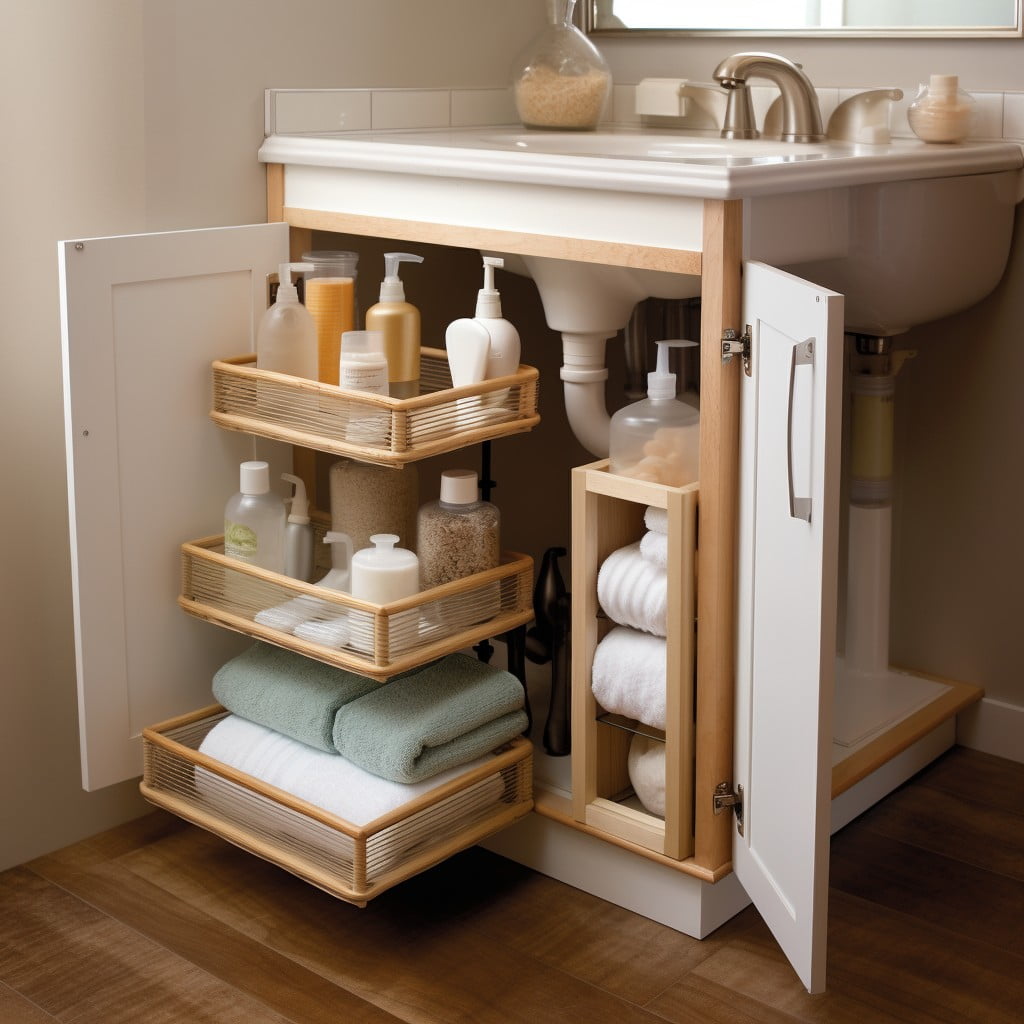 Optimizing the usually unutilized space is key. Utilize sliding drawers or stackable bins under the sink to store toiletries and cleaning supplies. Opt for adjustable shelves for added flexibility. Ensure that they don't interfere with the plumbing installation.
Key points to consider:
Modifying existing cabinet for accessibility
Using fitting storage options
Setting up adjustable shelves
Incorporating pull-out drawers
Exploring stackable bins options
Over-the-toilet Shelves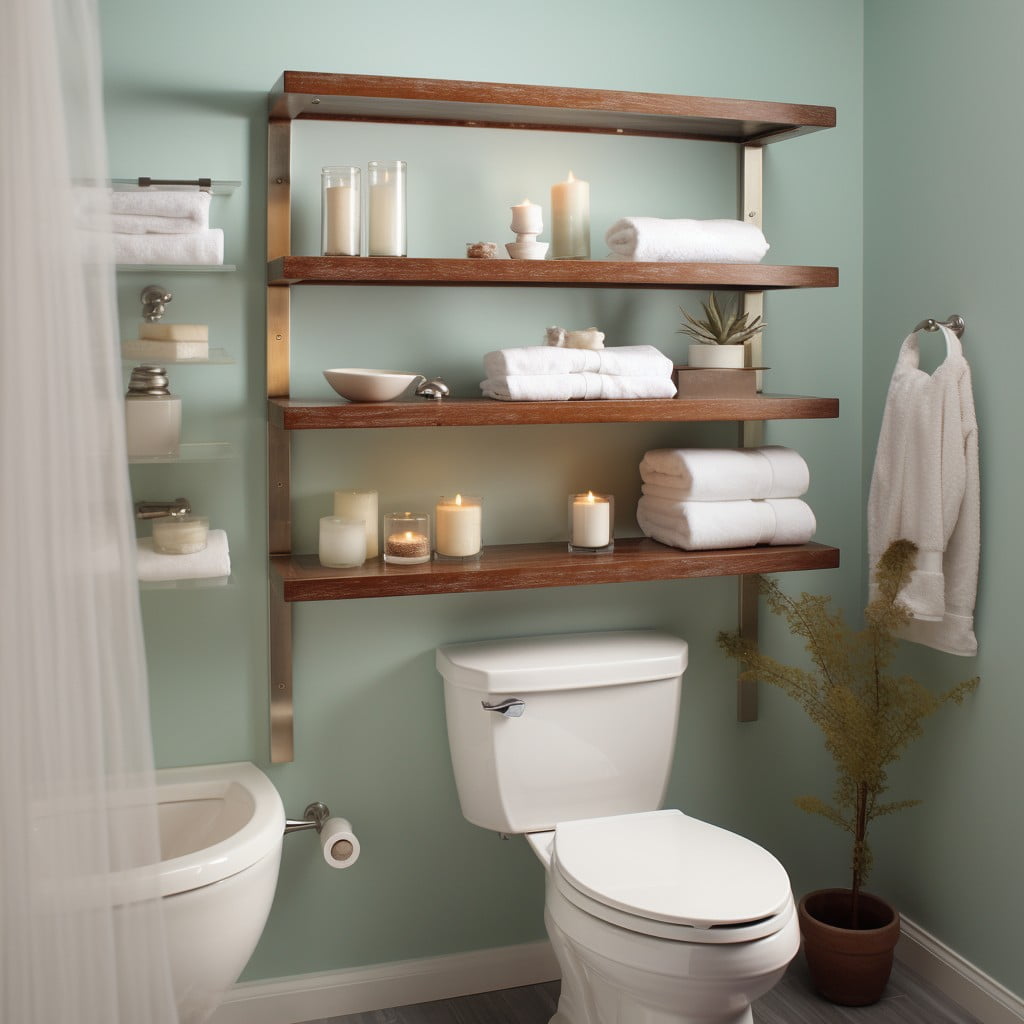 Maximizing the space above your toilet brings practicality and style into your bathroom. The very first rule is to consider the room's overall aesthetics. Choose shelves that fit well with the interior style – whether rustic, modern, or traditional.
Here are some key points to guide you through the process:
Height: Ensure the shelves are high enough so they don't interfere with using the toilet.
Style: Choose a design that complements the rest of the room.
Weight: Consider the load these shelves will bear. Opt for stronger materials if planning to store heavy items.
Size: Opt for wider shelves if you intend to store large items. Smaller shelves are suitable for decorative features or small necessities.
Arrangement: Organize your items neatly. Frequently used items should be at a comfortable height.
Remember, this isn't just about creating extra storage space. It's a chance to showcase your personality through unique pieces, creating a functional yet visually appealing bathroom.
Pull-out Hampers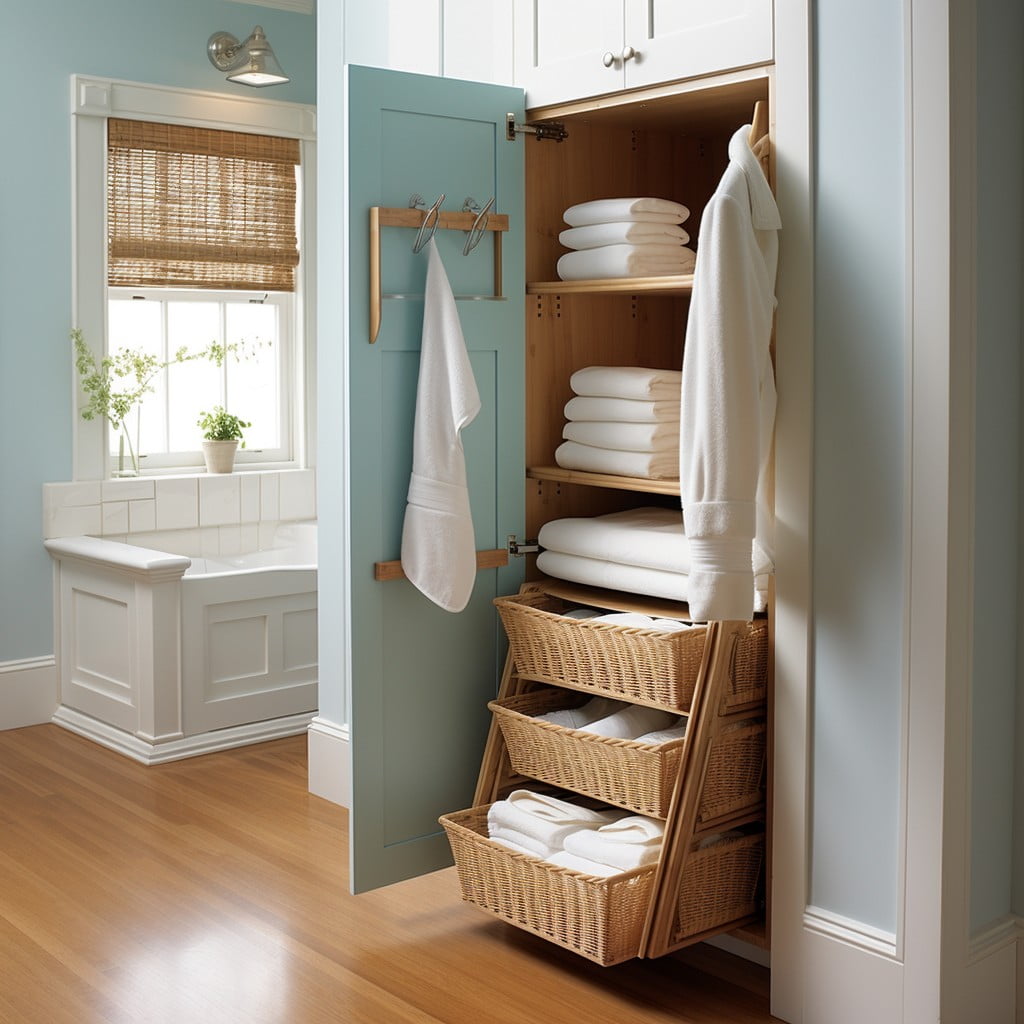 Ideal for clothing or towels, these units streamline the process of sorting laundry and keeping it out of sight.
Key points:
Indispensability: Pull-out hampers are convenient for stashing dirty clothes or used towels, minimizing clutter.
Space-Saver: By employing unused cabinet space, they don't take up additional room.
Sorter: Some hampers come with dual or triple bins for separating lights, darks, and delicates.
Customizable: Available in an array of materials (plastic, wire, or fabric) and designs, they can be chosen to suit the bathroom's aesthetic.
Easy Access: Gliding rails allows for effortless access, and removable bags make laundry day a breeze.
Mounted Spice Racks for Cosmetics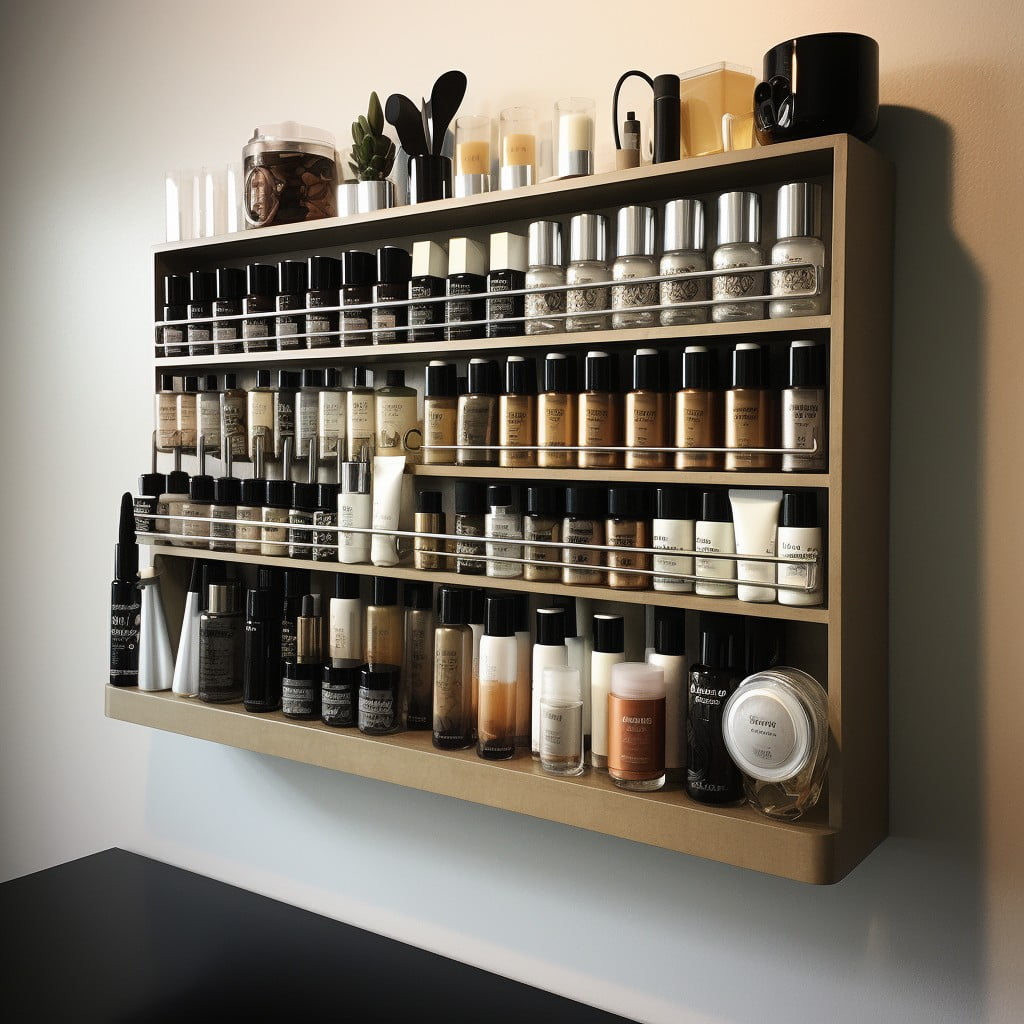 Making the most of vertical space is crucial in small bathrooms, and spice racks can play a big role. Not just for kitchen use, these mountable wonders can store everything from lipsticks to skincare tubes. Implemented correctly, they have the potential to de-clutter your space and keep all essentials conveniently within reach. They're typically affordable, easy to install and incredibly versatile, allowing for customization based on one's unique needs.
Key points:
Spice racks are a perfect fit for small cosmetic items.
Mounting them on the wall maximizes vertical space.
They keep the items organized and within easy reach.
They're affordable and easily customizable.
Easy to install, spice racks require minimal skills and tools for mounting.
Behind-the-door Hooks
Maximizing vertical space is often an overlooked strategy, yet, it's a game-changer. The back of your bathroom door offers substantial untapped real estate. Hooks on this unused surface can work wonders for decluttering.
Key Points:
1. Customizable: Arrange hooks according to your needs.
2. Versatility: Hang towels, robes, or bags.
3. Saves Space: Utilize unused area, reduce floor clutter.
4. Easy Installation: No professional help needed, most hooks only require simple tools.
5. Variety: Available in different designs and materials to match your bathroom décor.
Remember, every empty space is a chance to add storage. So, scrutinize each inch of your bathroom and make the most of it.
Plastic Drawer Organizer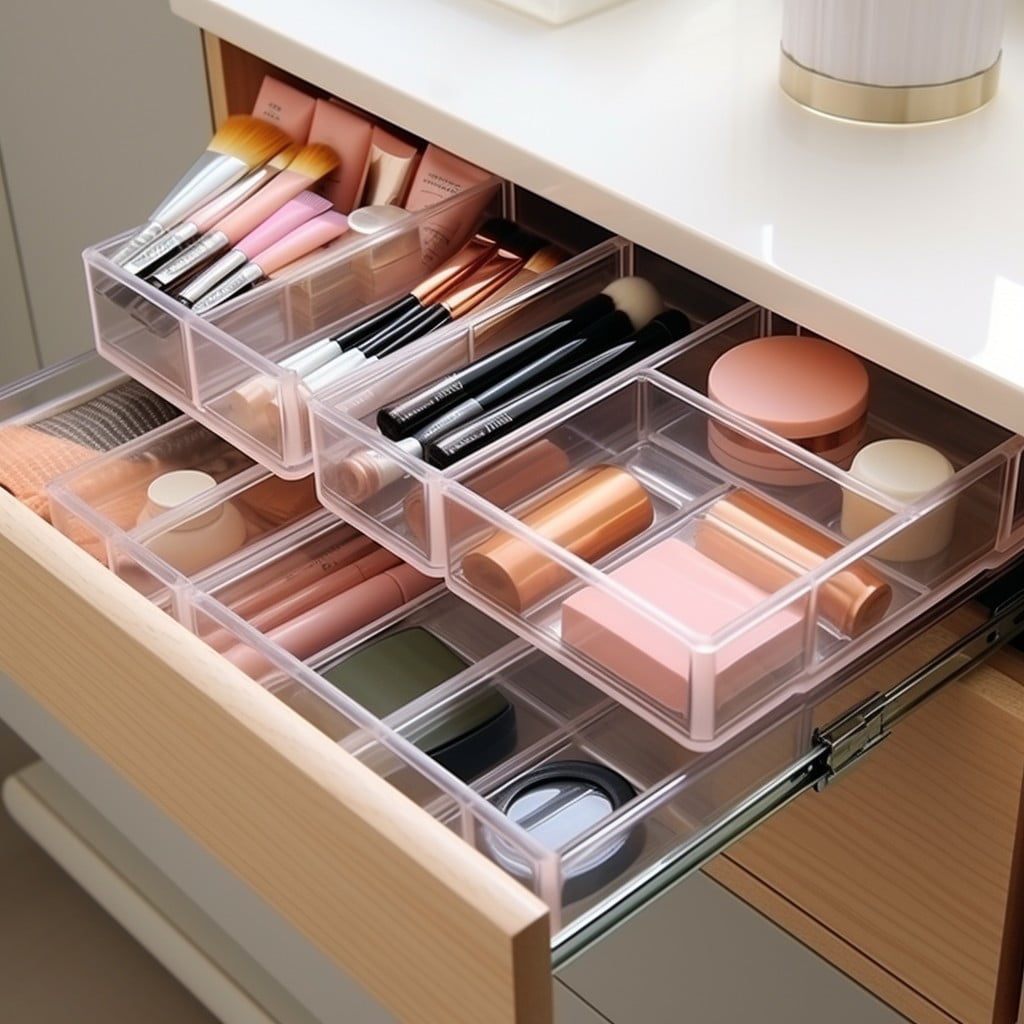 A plastic drawer organizer simplifies the process of sorting smaller items, such as makeup, skincare products, and small toiletries.
Key points to note include:
Versatility: Plastic organizers come in various shapes, sizes and sections, making it easy to tailor to specific needs.
Easy Cleaning: Made of plastic, they offer fuss-free upkeep – simply wipe with a cloth or wash with water.
Visibility: Transparent models let you see what's stored inside, keeping goods accessible.
Space-Efficient: By compartmentalizing items, these organizers maximize drawer space.
Portability: Lightweight and easy to handle, they can be moved as required.
Protection: Prevents items like glass bottles from knocking against one another, reducing risk of breaking.
Try to match the dimensions of your drawer to the organizer for a snug fit. Trays with adjustable compartments are excellent for ever-changing storage needs.
Glass Containers for Cotton Balls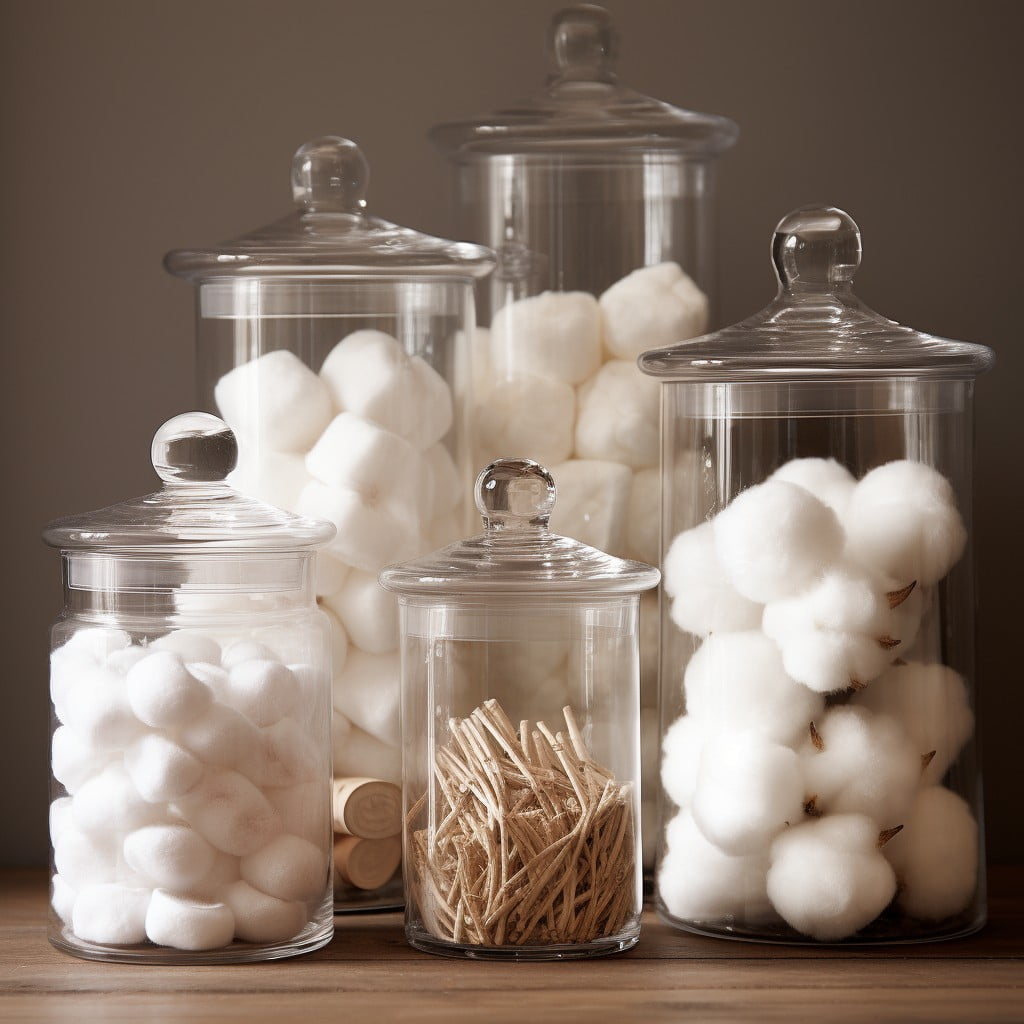 Using clear glass containers is a smart and aesthetically pleasing way to organize and display mundane items like cotton balls, swabs, or bath salts. They offer several advantages:
Visual appeal: Clear containers add a sleek, clean look to your bathroom while offering a spa-like feel.
Easy identification: The transparency allows easy identification of contents, saving you time hunting around for what you need.
Easy replenishment: Since it's simple to see how much is left, you'll never run out of essentials.
Versatility: Available in various shapes and sizes, these containers can fit any bathroom layout or design.
Durability: Made from sturdy glass, these containers will endure the bathroom's damp environment.
Just remember to position them in safe, easy-to-reach areas to avoid any potential mishaps.
Lazy Susan for Toiletries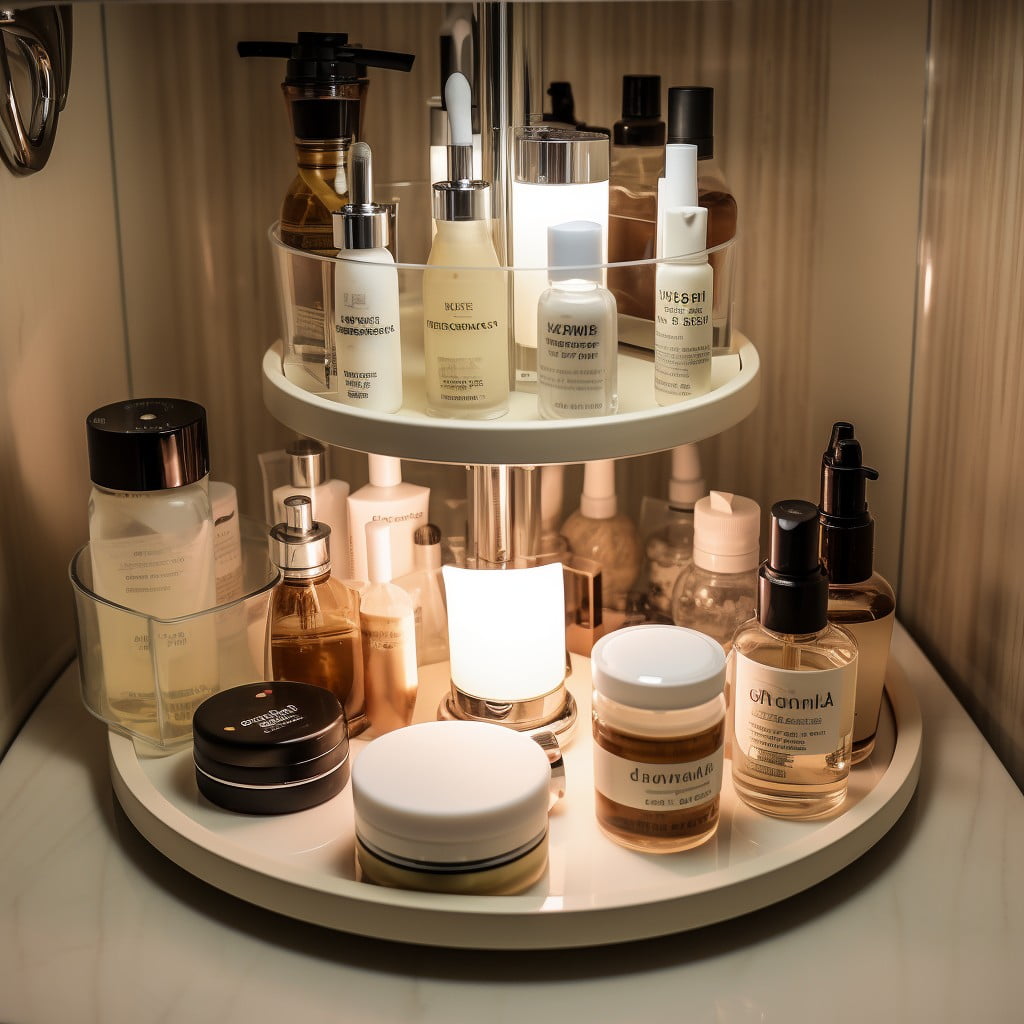 Using a Lazy Susan for toiletries not only optimizes space but also provides easy access to everything, preventing items from getting lost in the back.
Here are some key points:
Efficiency: Rotating trays ensure nothing gets lost or forgotten.
Space Saving: Ideal for small cabinet or counter spaces.
Easy DIY: Many materials, like wood or plastic, can serve as budget-friendly bases.
Versatility: Sizes available for a multitude of containers, be it tiny nail polish bottles or larger shampoo bottles.
Customizable: Styling options are endless, from rustic wood to sleek acrylic, catering to any bathroom decor.
Organization: No more cluttered countertops, as everything has its designated spot.
Wicker Baskets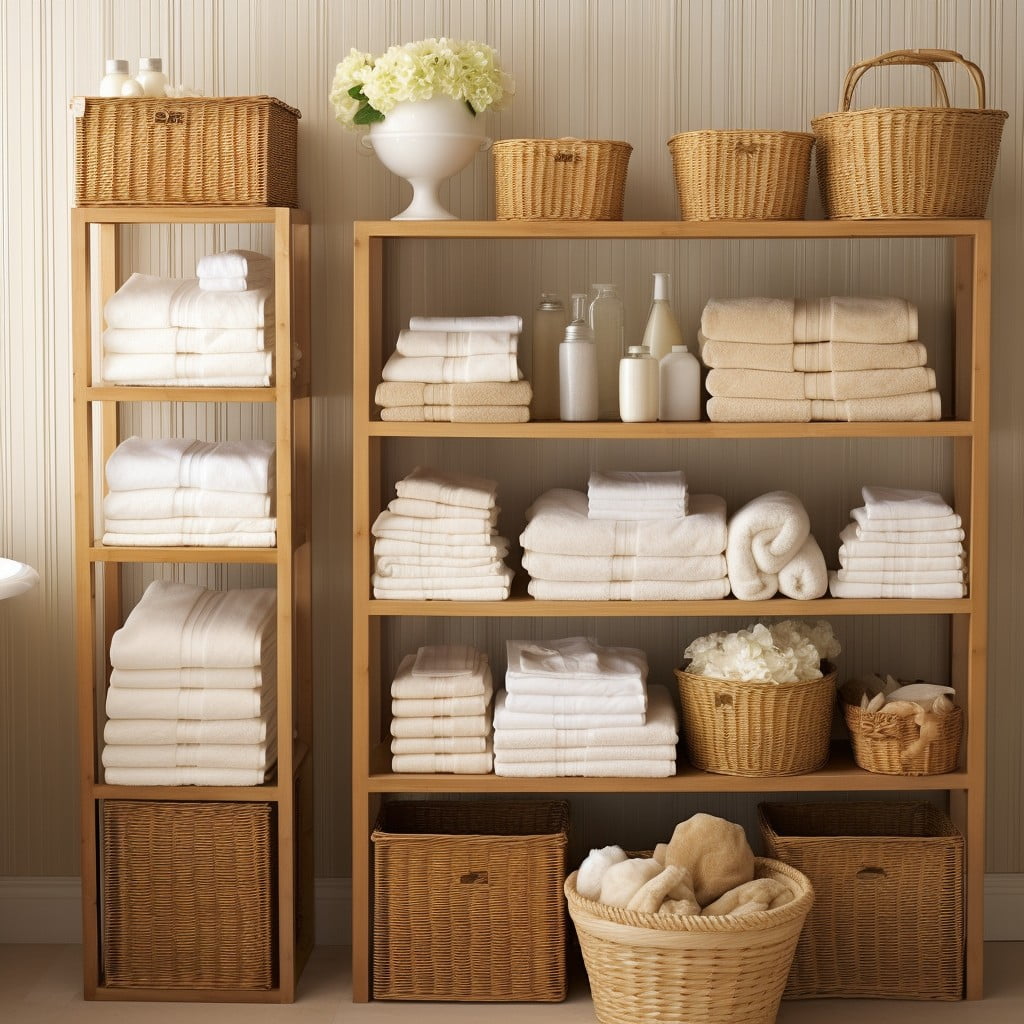 Wicker baskets serve a dual purpose in bathroom organization; they act as decor items while providing functional storage. The variety in size, shape, and color options makes them adaptable for any bathroom theme.
Main advantages of wicker baskets include:
1. Versatility: Suitable for storing towels, toiletries, hair equipment, and more.
2. Portability: Easy to move around, making cleaning and rearranging simple.
3. Durability: Weather-resistant options can withstand high-moisture environments.
4. Style: Synonymous with chic rustic, farmhouse, bohemian, or coastal aesthetics.
Overall, wicker baskets can transform cluttered bathroom closets into stylish, well-organized spaces.
Wine Rack for Towel Storage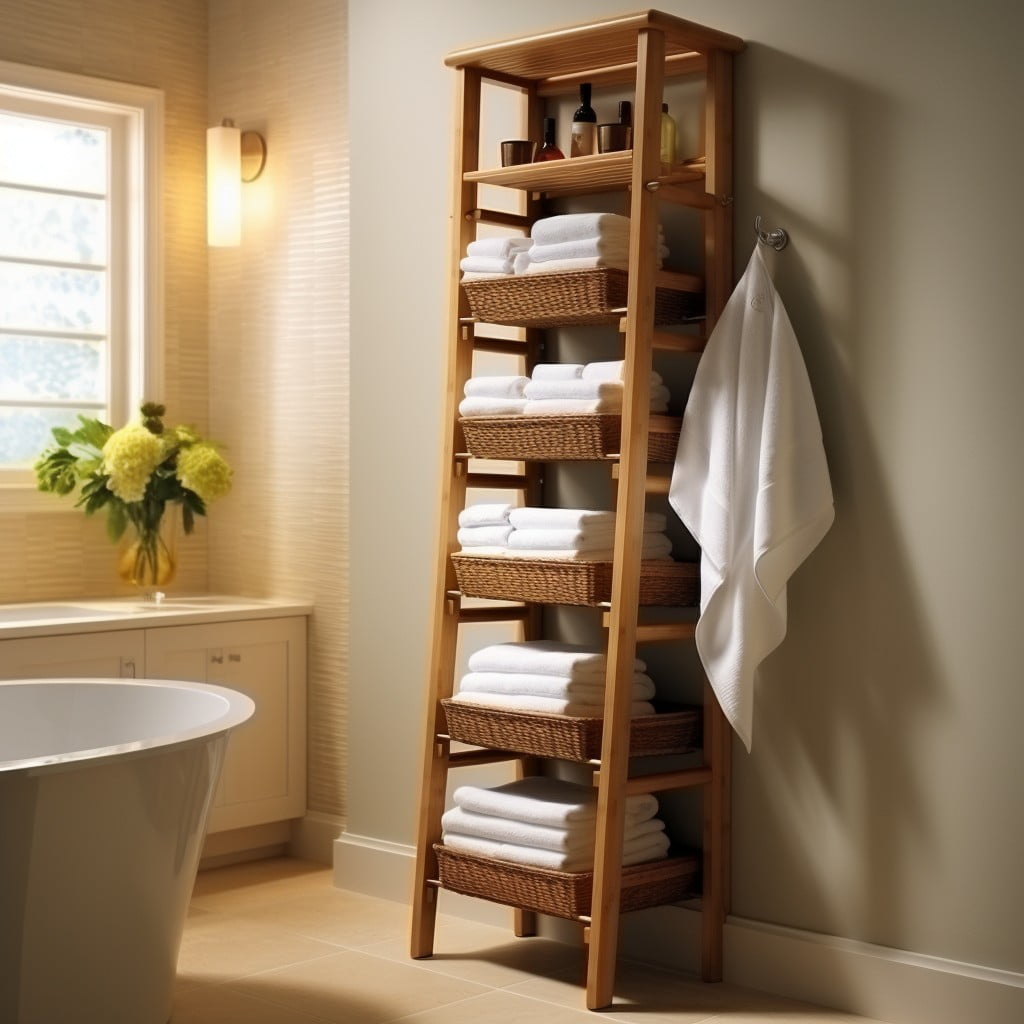 With the right type of wine rack, this can serve as a stylish and unconventional storage solution for towels. Particular designs complement bathroom décor while offering an efficient way to keep towels organized.
Key Points:
1. Wall-Mounted: Make use of vertical space, which remains relatively unused in most bathrooms.
2. Capacity: Depending on the wine rack design, can hold multiple towels at once, which is useful for larger households.
3. Easy-to-Grab: Keeps bath and hand towels within reach, making it convenient for everyday use.
4. Multi-Functional: Not only serves as an organizer, but also a decorative element. Can accommodate different colors, patterns, and sizes of towels to match bathroom aesthetics.
Remember, a wooden wine rack can add a rustic touch, while a sleek, metal design can offer a more modern look. Always choose one that complements your bathroom décor.
Labeled Storage Boxes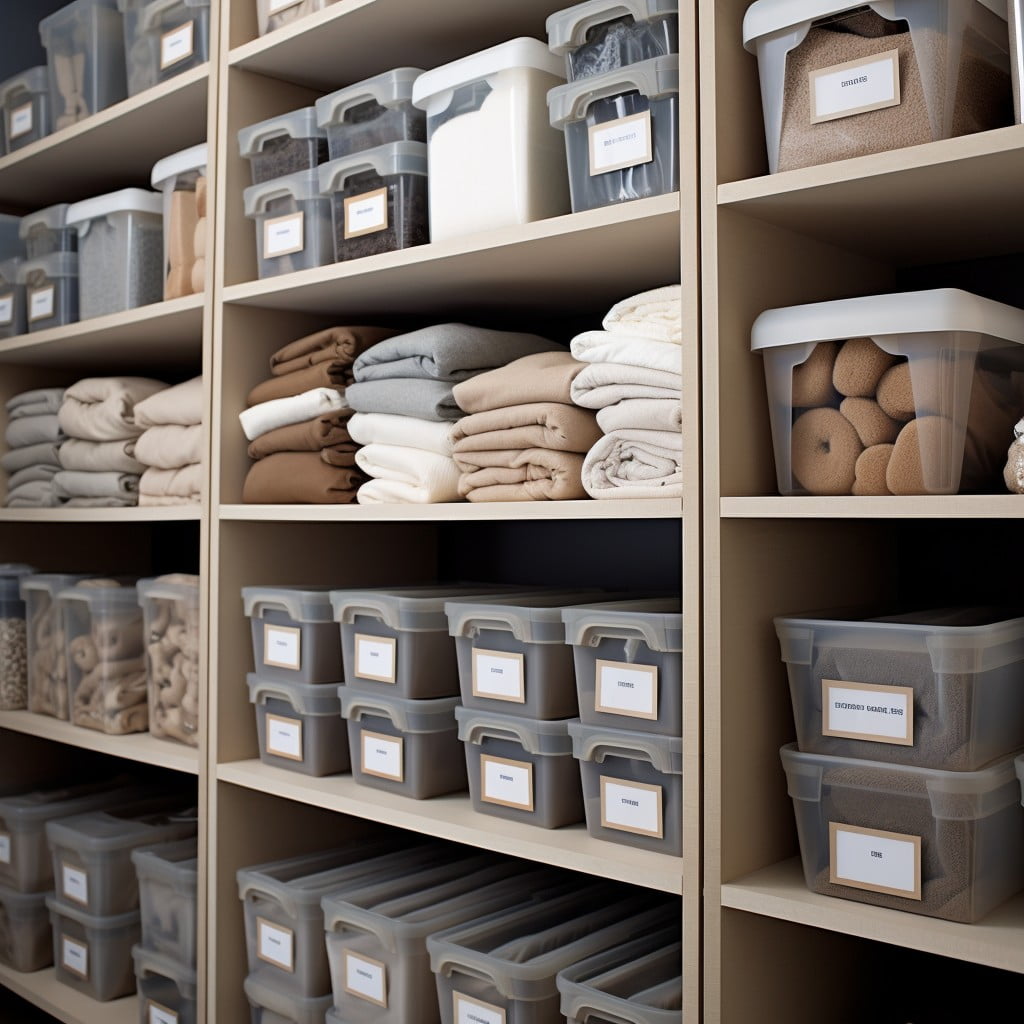 To efficiently utilize labeled storage boxes, keep these points in mind:
1. Assign a specific box for each category of items (e.g., toiletries, cleaning supplies).
2. Use a legible font or handwriting for the labels to ensure easy visibility.
3. Choose boxes of varying sizes to accommodate the diverse range of items in your bathroom.
4. Opt for clear boxes to see the contents without opening them.
With this approach, you can easily spot what you need and reduce clutter, enhancing the overall aesthetics of your bathroom closet.
Vanity Under-cabinet Drawers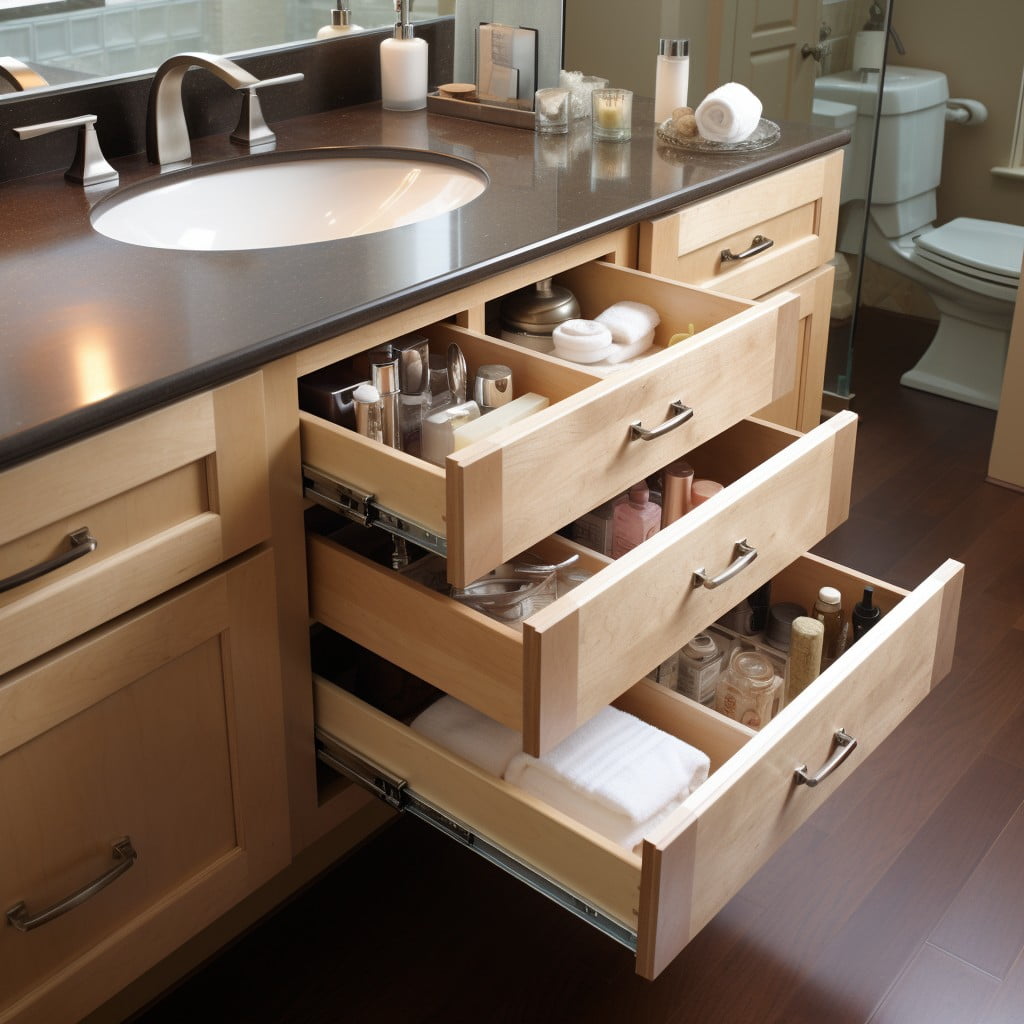 Vanity under-cabinet drawers provide the much-needed extra storage space hidden right within your sink cabinet. Optimizing this part of your bathroom involves a few critical factors:
Measure Carefully: Not all vanities and under-cabinet spaces are created equal. Accurately measure the height, width, and depth to ensure drawers will fit.
Prioritize Accessibility: Install drawers at a comfortable height for easy access to the stored items.
Consider Items to Store: Drawer size and division should align with the items to be stored. Small compartments work for cosmetics and toiletries, while larger ones accommodate cleaning supplies.
Material Matters: Choose materials like plastic or steel that resist damage from moisture and cleaning products.
Added Features: Consider models with soft-close features to prevent slamming, or modular ones that can be rearranged as needed.
Converting your vanity into an organized storage space can transform your total bathroom storage capacity. It's an efficient way to explore underutilized space while keeping essentials hidden yet accessible.
Towel Ladder Rack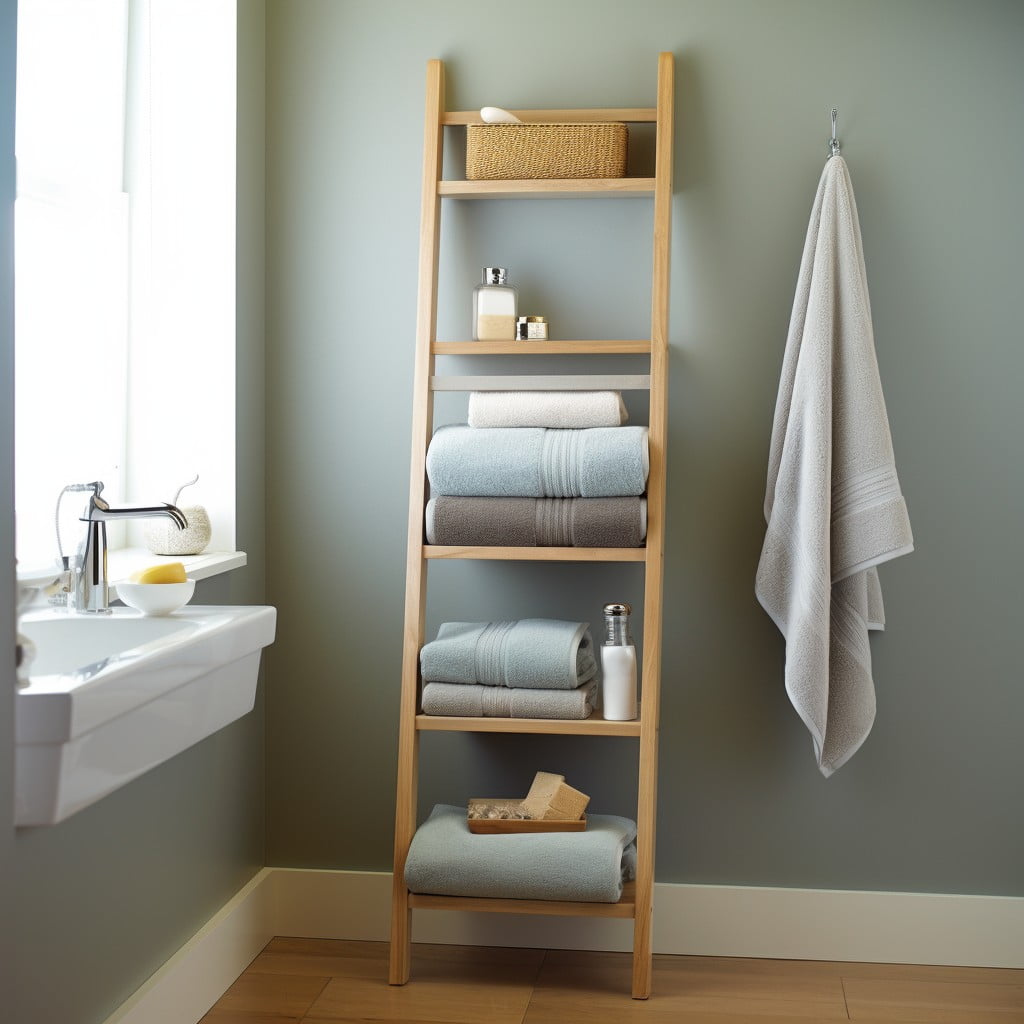 A ladder rack, due to its vertical design, also allows for adequate airflow. Wet towels will dry faster, delaying the onset of any musty smell. Plus, the unique aesthetic of a ladder rack, whether it's sleek chrome or rustic wood, can add a dash of personality to any bathroom.
Key points:
Fast drying: A ladder rack promotes airflow which helps towels dry quicker, reducing dampness and potential mildew.
Space saving: Leaning against a wall takes up less floor space making it practical for smaller bathrooms.
Decorative: From chrome to wood, the variety of designs can complement any bathroom decor.
Easy installation: Typically, it just needs a sturdy wall to lean against.
Multiple Usage: It can also be used for hanging clothing items or bathroom accessories.
Cosmetic Carousels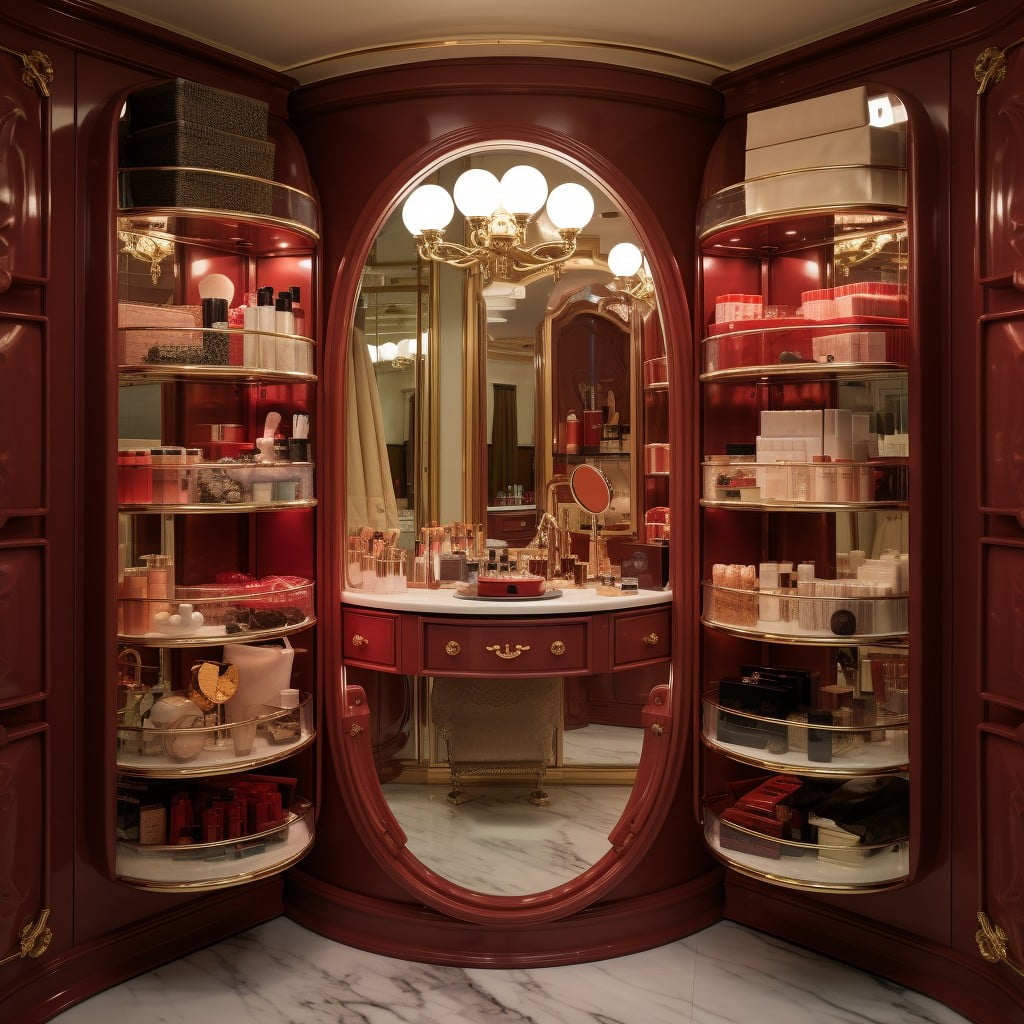 Positioning your cosmetic carousel within reach, such as beside or under your bathroom sink, optimizes convenience during your daily routines. This storage solution efficiently arranges skincare, makeup, and hygiene products in a rotating fashion, providing accessibility.
Key Points:
Space-Saver: Compact yet roomy enough to store various cosmetics.
Easy Access: Items all around are effortlessly visible and graspable by turning the carousel.
Organized: Multiple compartments allow for user-specific categorization.
Portability: Convenient to move around based on preference or necessity.
Durability: Often made with sturdy, water-resistant materials suitable for bathroom conditions.
Versatility: Despite the name, it isn't exclusively for cosmetics. You can store skincare, hygiene products, and even accessories.
Customizable: Heights of tiers can be adjusted based on your product sizes.
Compact Linen Closet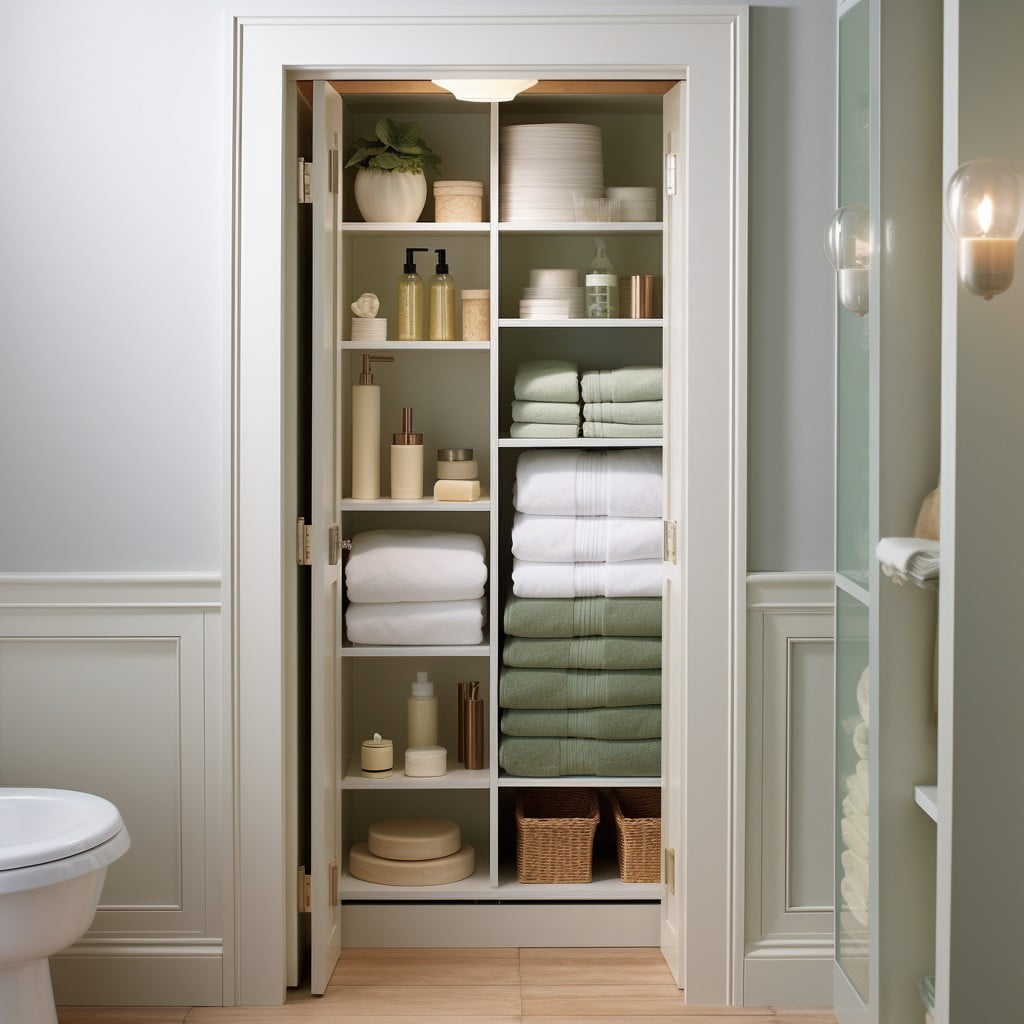 A compact linen closet is an efficient and space-saving solution for storing your excess towels, sheets, and other linens. By optimizing vertical space, these closets help keep your bathroom clutter-free and organized.
Here are a few key points to consider:
Measure precisely: Ensure your closet fits your linen needs and the available space in your bathroom.
Adjustable shelves: Opt for adjustable shelves to cater to different linen sizes.
Breathable material: To prevent moisture buildup, choose closets made from breathable materials like bamboo or coated wire.
Doorless design: To ensure easy access and visual flow, opt for a doorless structure.
Highlighted labels: Utilize labels for neat and easy-to-find linen placing.
Use of Bins/Baskets: For small items, use bins or baskets that easily slide in and out.
Remember, a compact linen closet is about using clever storage techniques to make your bathroom more functional.
Continue reading: