Last updated on October 21, 2023
Explore these creative bathroom hook ideas to add a touch of style and functionality to your personal space.
I'm thrilled to share this article on 20 Creative Bathroom Hook Ideas I've personally written and illustrated, hoping it sparks as much inspiration and fun for you as it did for me while creating them.
When it comes to bathroom organization, hooks can be a game-changer. They're not only practical but can also add a dash of style to your space.
Whether you're looking to hang towels, robes, or your favorite bath sponge, this article offers a plethora of unique and stylish bathroom hook ideas.
From modern minimalist designs to vintage-inspired pieces, there's something here for every aesthetic.
Keep reading to discover how these small additions can make a big impact on your bathroom's functionality and decor.
Over-the-door Hooks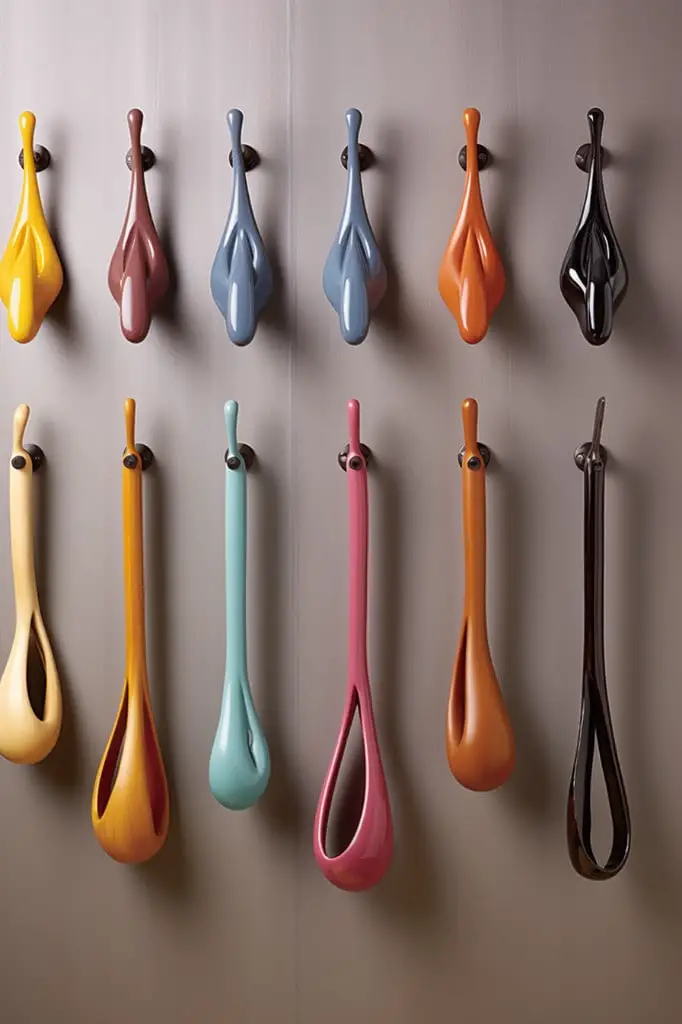 These types of hooks offer a practical and temporary solution for bathrooms with limited space. They're user-friendly as they require no installation – simply hang them over the door. When choosing over-the-door hooks, opt for a design with pads or soft backing to prevent scratches.
Key Points:
Space saving, ideal for small bathrooms
No installation required, just hang it
Versatile, can hang towels, robes, or toiletry bags
Need to choose designs with pads to prevent door damage
Suction Cup Hooks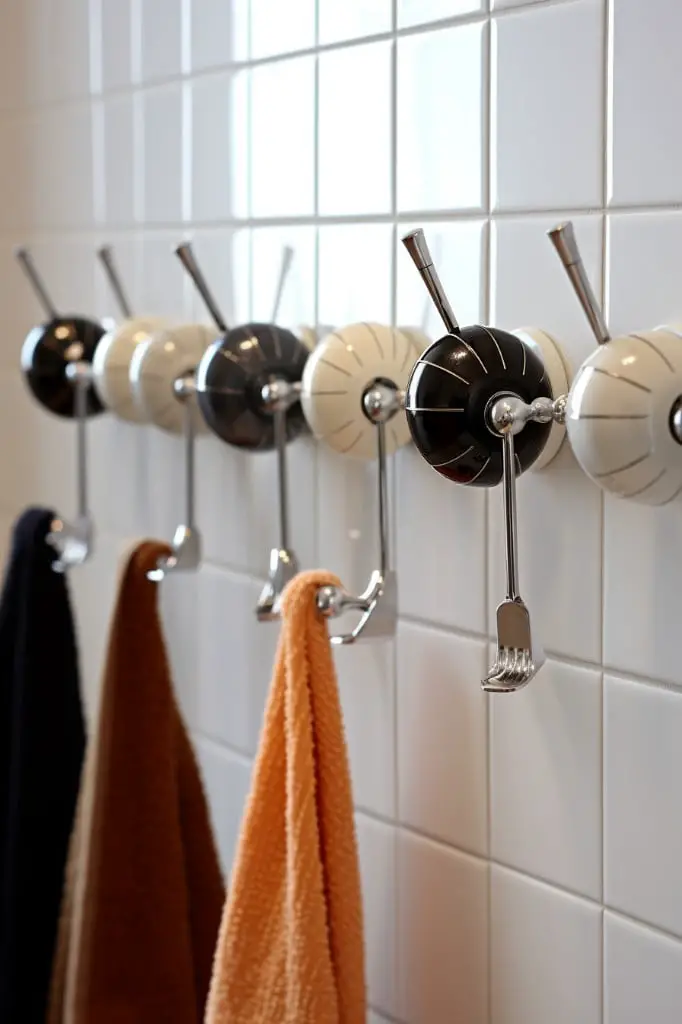 Ideal for tiling, glass, and smooth surfaces, suction cup hooks provide a temporary solution sans the commitment to making holes in your walls. As a versatile choice, they:
Enable quick and easy installation.
Provide damage-free solution due to lack of use of nails or screws.
Offer an option for repositioning without leaving marks or residue behind.
Can support light to medium weight items like small towels, bathrobes, or washcloths.
Come in various shapes, sizes and color, suiting diverse aesthetic preferences.
Adhesive Hooks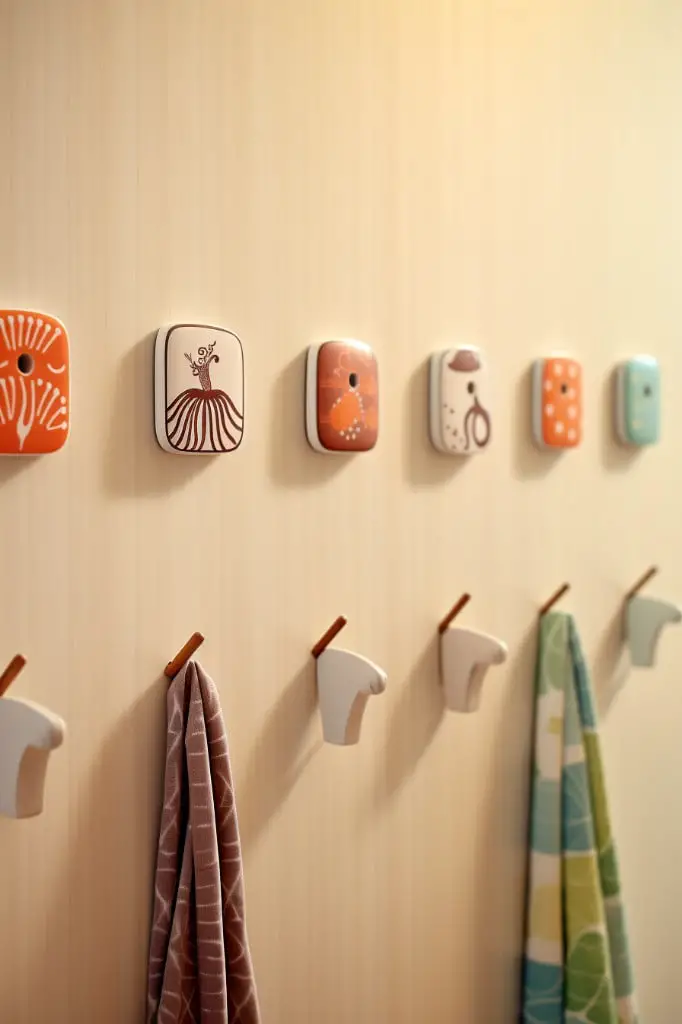 Adhesive hooks provide a tool-free solution that won't damage your bathroom walls. Ideal for renters or commitment-phobes, these easily apply to surfaces and offer decent strength, depending on the brand and type. Their benefits and considerations include:
Easy installation: Simply peel and stick.
Rent-friendly: No holes in the wall.
Versatility: Suitable for a variety of materials including glass, tiles, and even painted walls.
Strength limitations: Not appropriate for heavy items.
Surface Damage: Might peel off paint or finish if improperly removed.
Style Restrictions: Limited styles compared to mounted options.
Consider these factors when planning to revamp your bathroom space with adhesive hooks.
Magnetic Hooks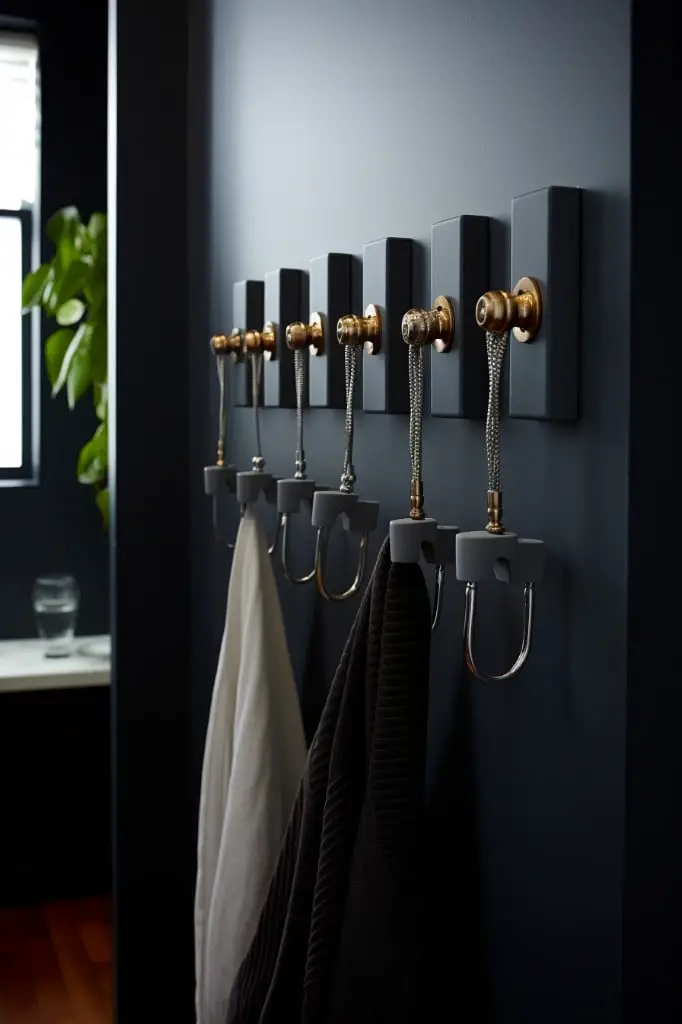 Often used for their strength and easy-installation process, magnetic hooks are a popular choice for bathroom storage solutions.
Easy to install, without need for nails or drill.
Strong magnets hold up objects of varying weight.
Usable on any magnetic surface.
Available in a variety of sizes and shapes.
Can be removed without leaving marks, ideal for renters.
Durable, and resistant to rust and corrosion.
Consider magnetic hooks to optimize bathroom storage. They provide ease of installation, strength in holding capacity, versatility in placement, diversity in styles, and no damage upon removal. Explore the range of these hooks to find the ones best suited to your décor style and storage needs.
Wooden Peg Hooks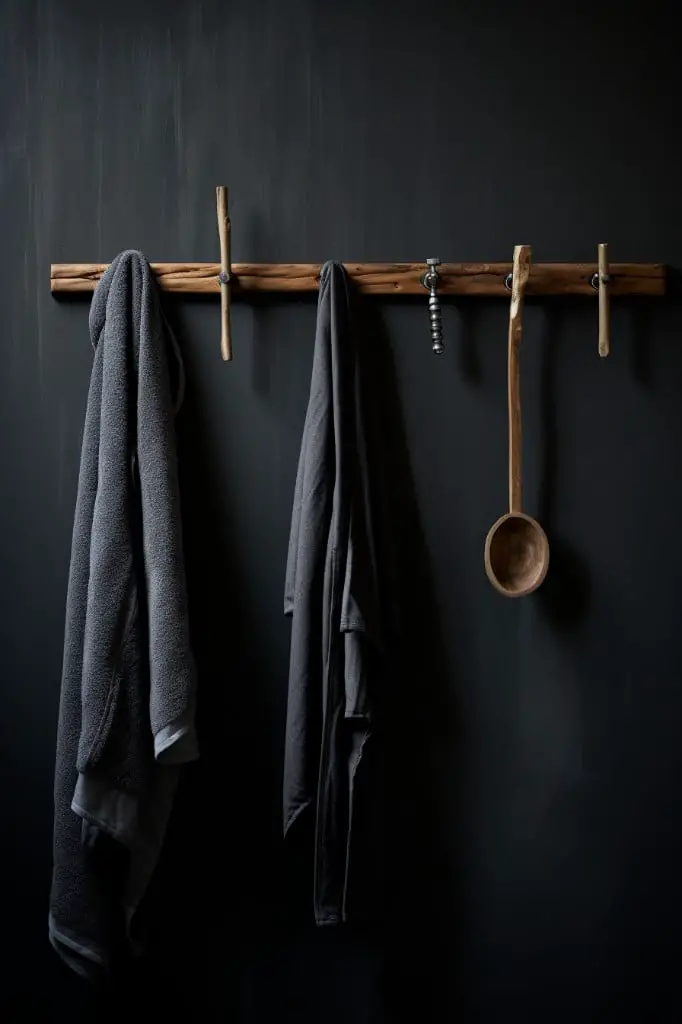 Well known for their simplicity and versatility, these grapple with nearly any style. Ideal for small bathrooms – providing practical storage while adding a classic touch.
1. Available in a variety of woods – oak, pine, mahogany, all offer different aesthetics.
2. Versatile installation – arrange in a row, scatter individually, or design in patterns.
3. DIY possibility – using a wooden dowel and some basic tools.
4. Suitable for hanging anything – towels, robes, even small baskets.
5. Durability depends on wood choice – oak, for instance, is sturdy and long-lasting.
6. Often comes pre-sealed – repels moisture and prevents rot in a humid bathroom environment.
Though an understated choice, its adaptability makes for infinite possibilities, allowing you to use and enjoy your bathroom space more efficiently.
Vintage-style Metal Hooks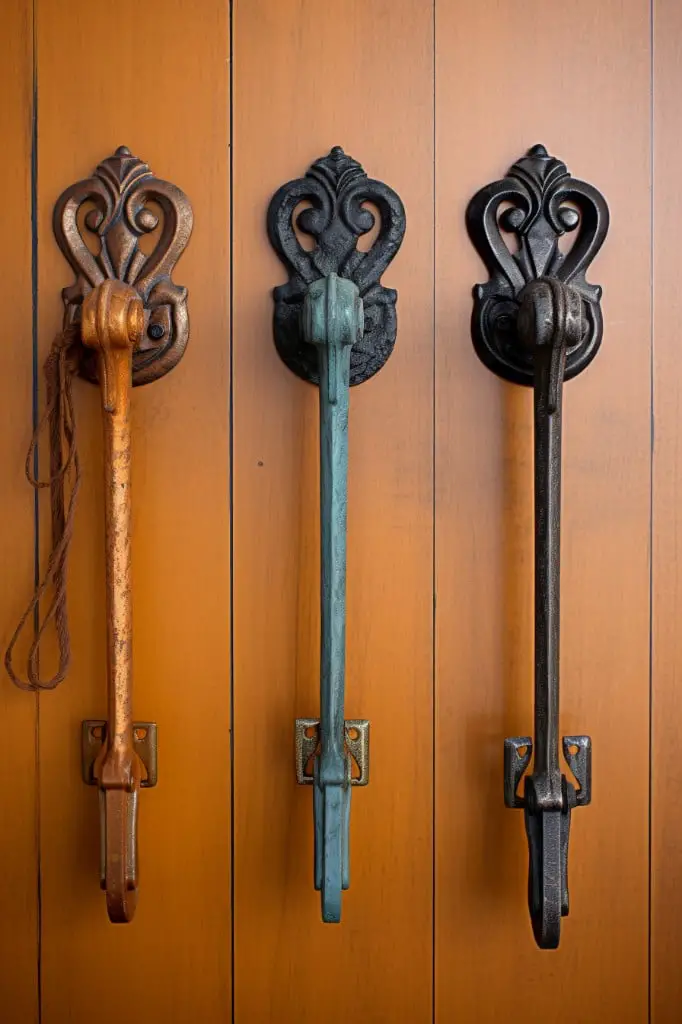 These accent hooks often entail ornate designs, reminiscent of a different era. The sturdy and durable metal ensures longevity while serving as a statement piece. Incorporating this style enhances a sophisticated, classical aesthetic in your bathroom. They pair well with almost any color scheme, ranging from stark whites to moodier, dark shades.
Key Points:
Ornate designs
Sturdy and durable metal
Enhances classical aesthetic
Pairs well with various color schemes
Wall Mounted Multi-hooks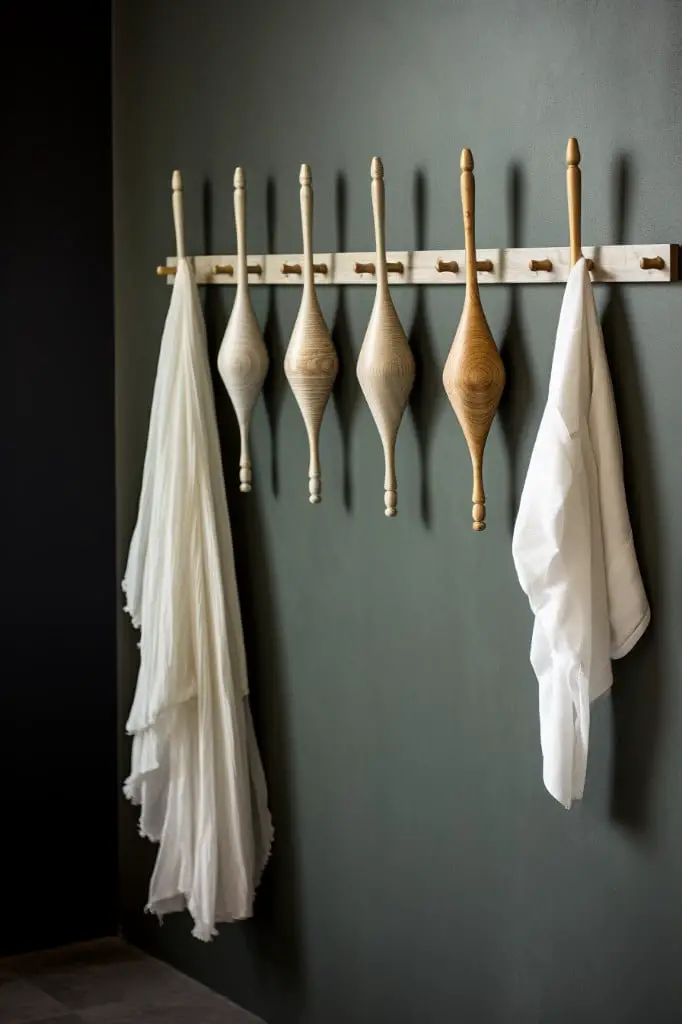 Easy to install, this option offers multiple hanging points in a compact design. Perfect for tidying up towels, robes, and small accessories.
Key points of Wall mounted multi-hooks:
Maximizes bathroom space effectively
Provides multiple storage points
Suits a variety of bathroom styles
Variety of materials: from chrome to brass
Easy installation, typically involving screws or adhesive strips
Towel Bar With Hooks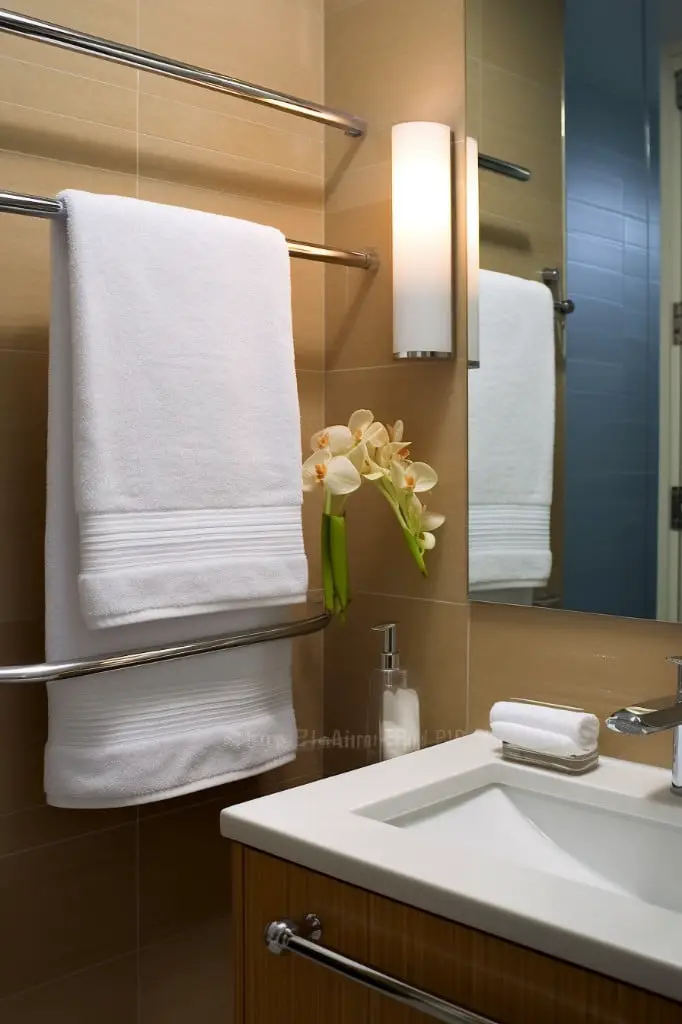 Leveraging dual function, this style adds a convenient, easily accessible place for hanging towels, robes or other bathroom essentials. It can be fixed on either side of the bathroom or behind the door, maximizing storage space.
Dual function: use multiple items without overcrowding.
Space efficient: ideal for smaller bathrooms.
Easy access: hang items at a comfortable height for quick reach.
Versatility: perfect for towels, bathrobes, or skincare products.
Delta Double Robe Hook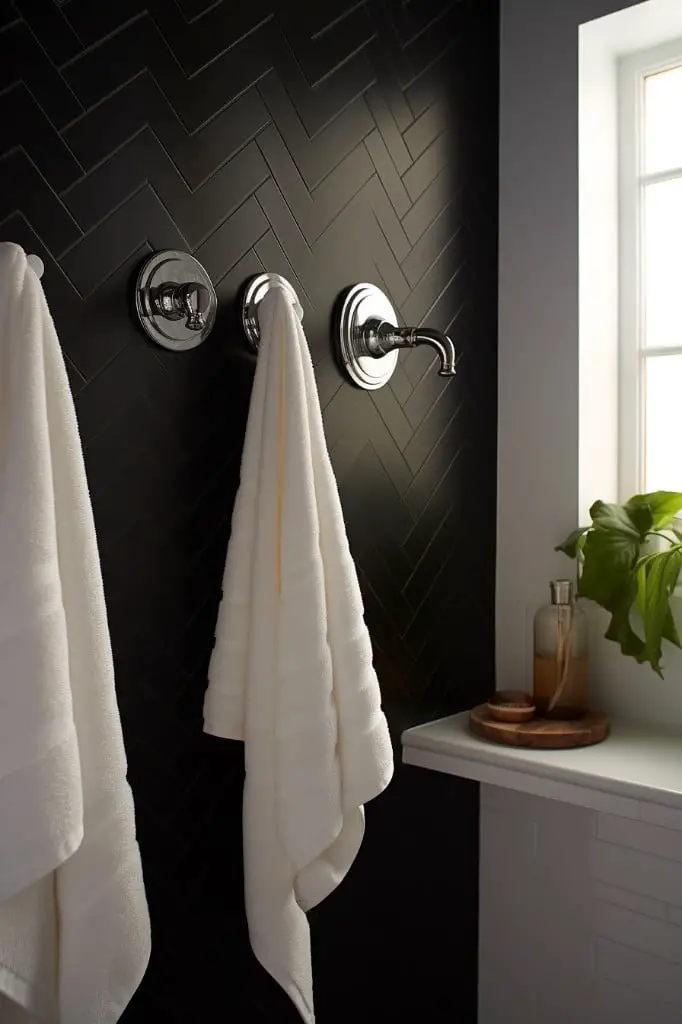 This polished piece is not only aesthetically pleasing but also extremely functional. It's a game-changer for small spaces for its compact design and double-duty functionality.
Here are its strengths:
1. Space Efficiency: Two hooks, one on top of the other, save vertical space and maximize storage potential.
2. Durable Material: Often made of solid brass, these hooks guarantee longevity and resist corrosion.
3. Easy Installation: Just a few screws and it's securely mounted on the wall, ready for use.
4. Versatility: Capable of holding two robes, towels, or other bathroom necessities.
5. Design Appeal: Available in a range of finishes to complement any bathroom decor.
6. Safety: The rounded edges prevent fabric damage.
7. Strong Load Bearing: Can handle weight without pulling away from the wall.
Bird-shaped Decorative Hooks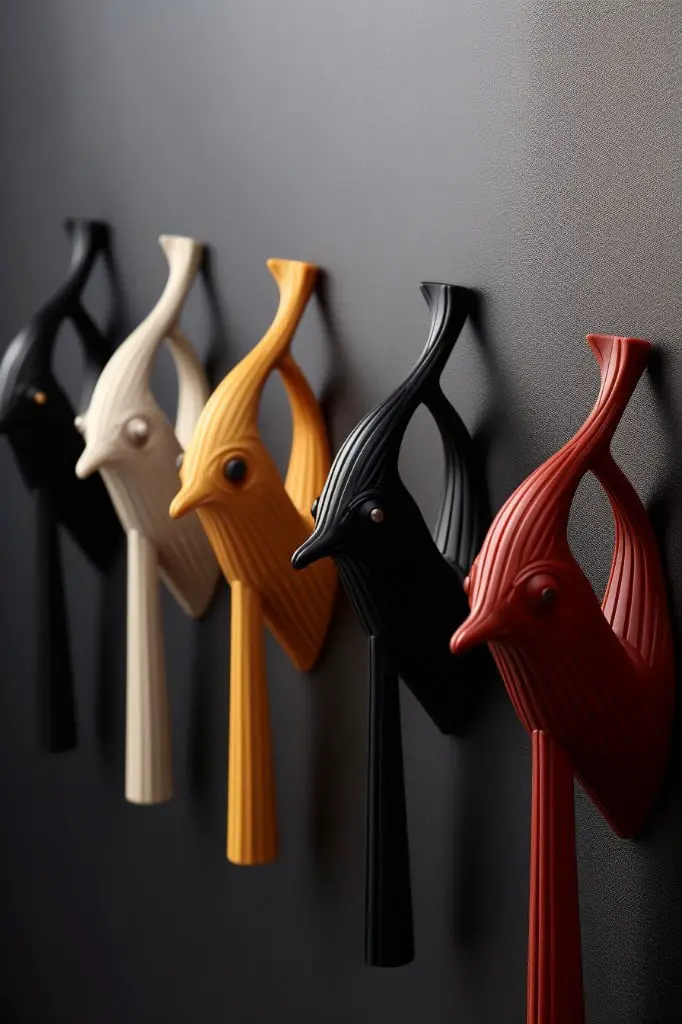 Existing in multiple designs, from flamboyant peacocks to sweet sparrows, these unique hooks serve a dual purpose: achieving aesthetic appeal while providing a storage solution.
Made from a variety of materials such as brass, ceramic or steel, it's easy to find a design that fits within the existing bathroom decor.
Key Points:
Diversity of design options
Dual purpose: decoration and storage
Wide range of material choices
Ambient enhancement feature
Under-cabinet Hooks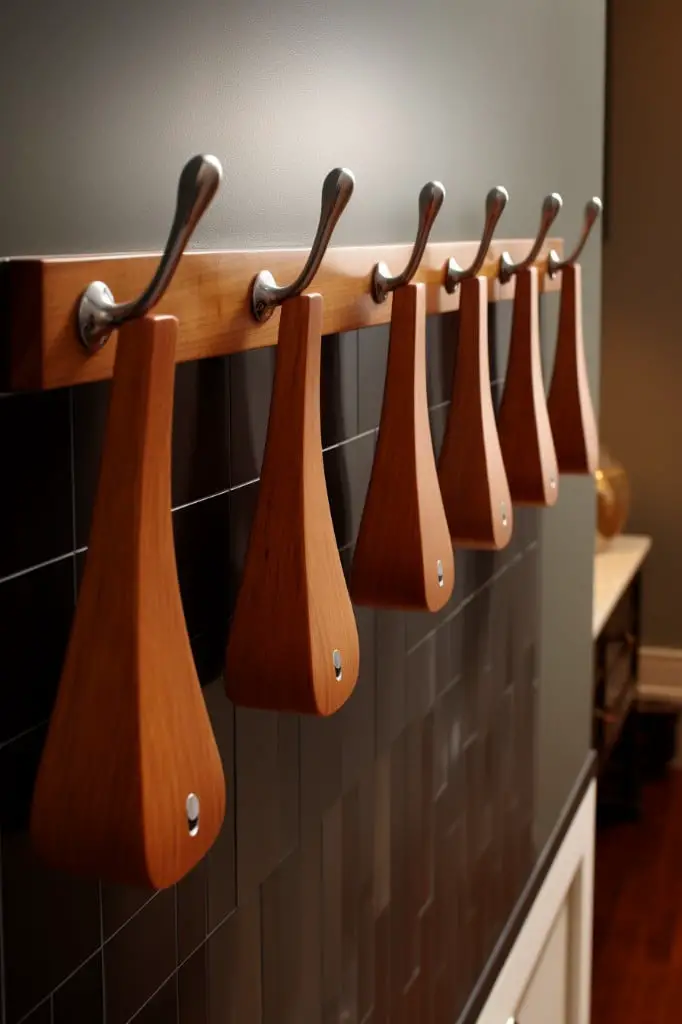 Taking advantage of unused space, under-cabinet hooks boast impeccable practicality. Keep towels, hand towels, and bathrobes at arm's reach, promoting easy access. Particularly suitable for small bathrooms, they free up wall and floor space – a savvy solution to combating clutter.
With a range of styles available, they blend seamlessly with existing decor, ensuring a harmonious aesthetic. Installation varies from adhesive-backed styles to more permanent screw-in designs, catering to both renters and homeowners alike.
1. Unlocks unused space.
2. Convenient storage for towels and robes.
3. Ideal for small bathrooms.
4. Variety of styles to match decor.
5. Range of installation methods available.
Nautical-themed Seashell Hooks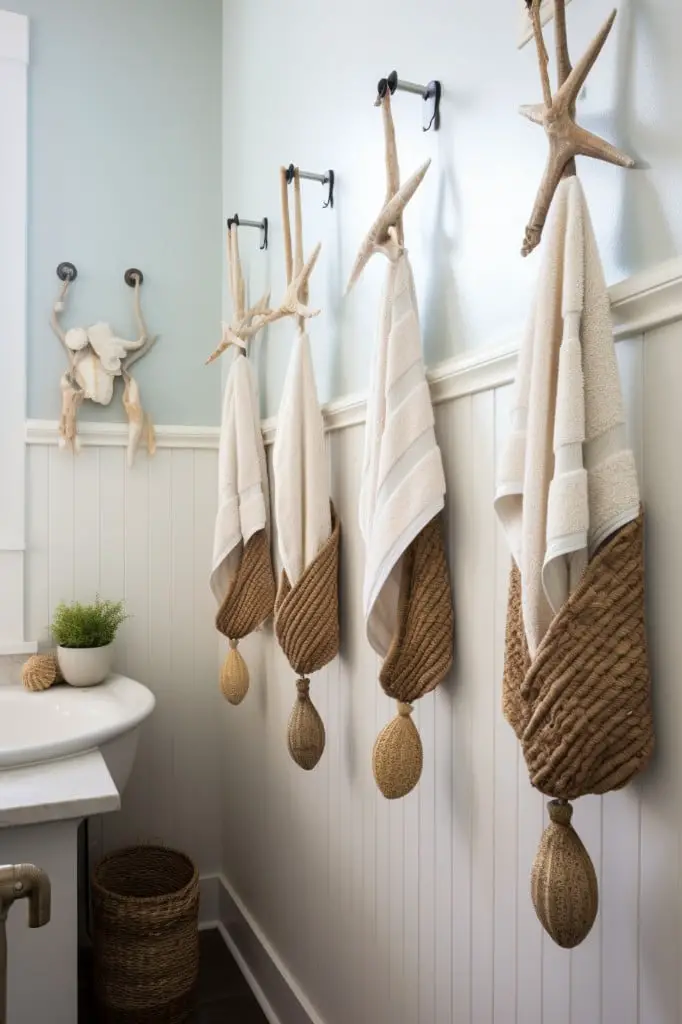 Lending a characteristic coastal vibe to bathrooms, these hooks turn a functional element into a decorative highlight. Made from various materials like resin, metal, or wood, they feature intricate designs inspired by assorted sea-based motifs, predominantly seashells.
Variety of Styles: From realistic to abstract, seashell hooks come in all shapes and sizes, blending seamlessly with most bathroom themes.
High Versatility: Not just for towels, these hooks can hold robes, toiletries bags, or even potted plants, depending on their strength and mounting.
Easy Installation: They typically require a few simple tools for a secure fit on doors, walls, or cabinets.
Durable: Often designed to resist humidity and mildew, ensuring a long life even in hot, often-steamy bathrooms.
Unique Touch: Adds a personalized character to your space, evoking a laid-back, beach holiday mood every time you step into the bathroom.
Animal Head Hooks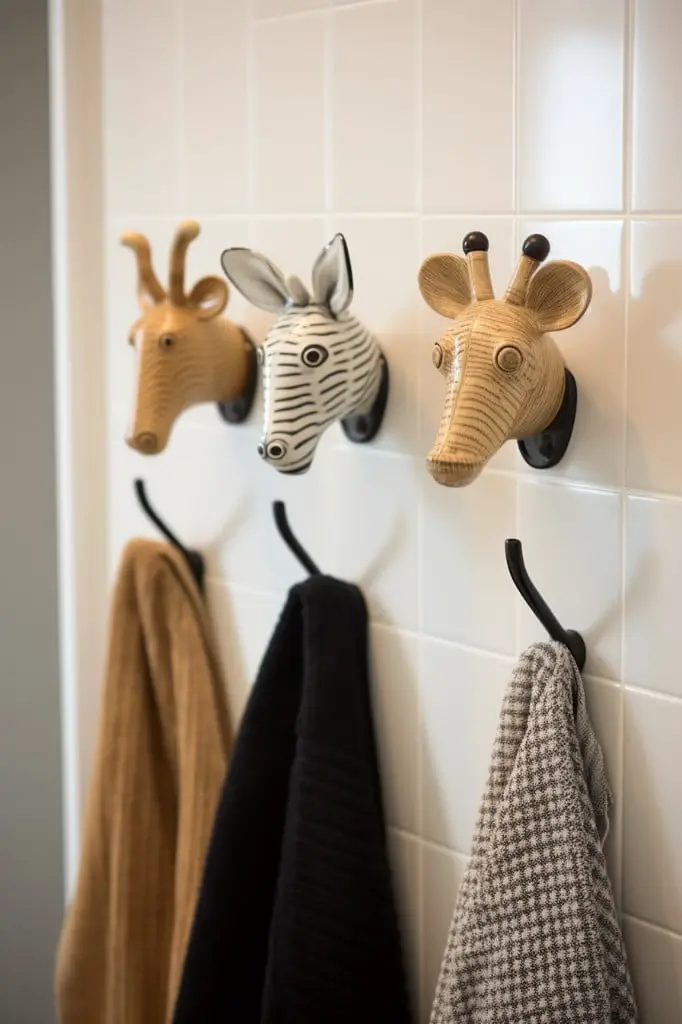 These hooks, often intricately crafted, offer a playful yet stylish addition to your bathroom. An excellent choice for kids' bathrooms or those wishing to add a touch of whimsy to their decor.
Creates an engaging focal point.
Available in a variety of designs such as deer, fox, bear, or elephant heads.
Many are made from durable materials like brass, ceramic, or wood.
Easy installation, often screw-in or adhesive.
Provides practical hanging space for towels or bathrobes.
Can be paired with matching bathroom accessories for a themed look.
Range of sizes to suit different spaces.
Broad price range, suitable for all budgets.
Rustic Branch-style Hooks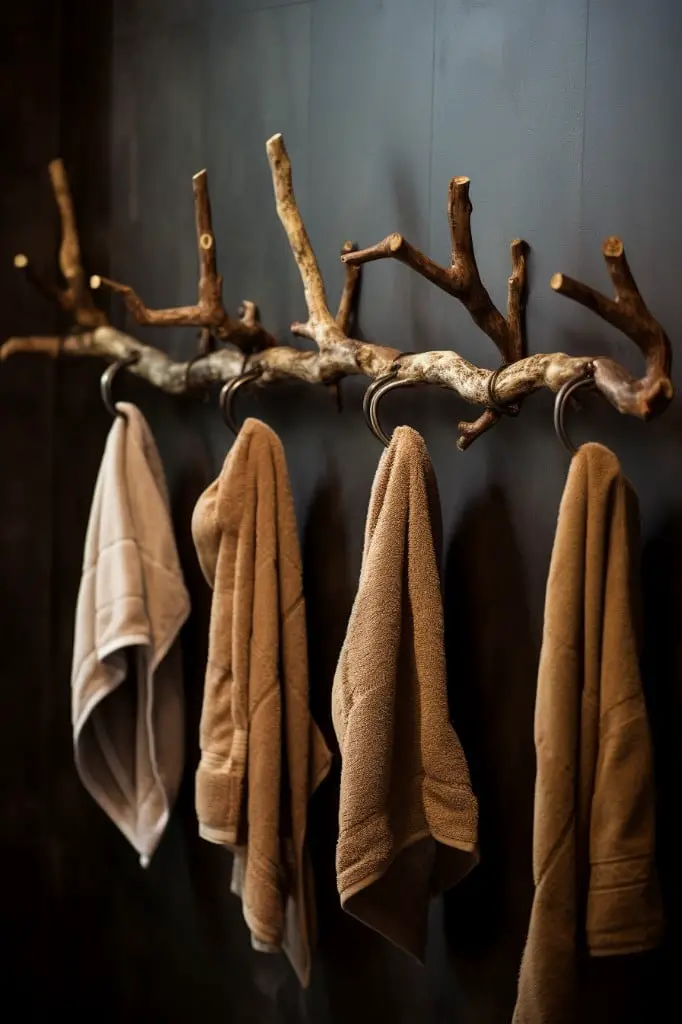 Harnessing the charm of nature, these functional design elements bring an organic touch to your bathroom decor. Ideal for enhancing a farmhouse or shabby chic aesthetic:
Made from real branches, each hook is unique
They're typically designed to hold heavy items like bathrobes and towels
Installation can often be carried out DIY-style using screws
Regular maintenance includes dusting and occasionally treating with wood preservatives
Commonly available from artisans on platforms like Etsy, eBay, or at local craft fairs
Perfect fit for a rustic interior style
Can be combined with modern elements to create a mixed style bathroom
Remember, as with all home decor, symmetry and arrangement can be instrumental in achieving the desired look. So plan out your branch-style hook placements to ensure balance.
Repurposed Door Knob Hooks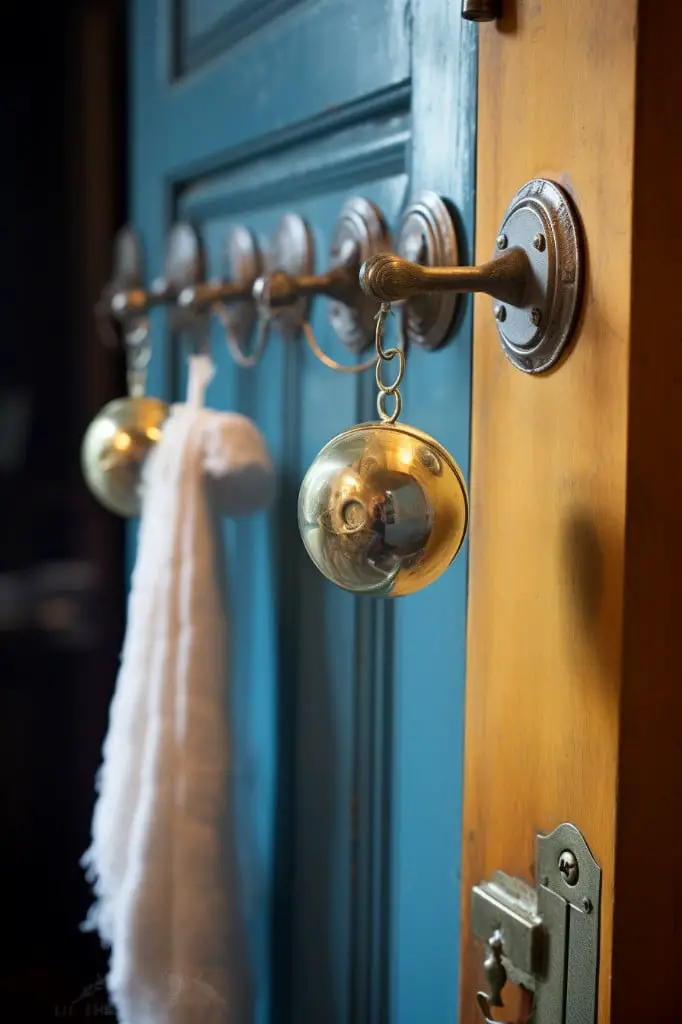 Incorporating this idea into your bathroom has the potential to add a vintage touch and a level of uniqueness. With this type of hook, you not only repurpose old door knobs lying around but also contribute to the reduction of landfill waste.
Suitable knobs can be those removed from old wardrobes, unused doors or antique stores.
Environmentally friendly, reducing waste
One-of-a-kind design, adding character
Opportunity for DIY project
Can match various styles depending on the knob
Suitable for hanging towels, robes, and other bathroom accessories
Industrial Pipe Hooks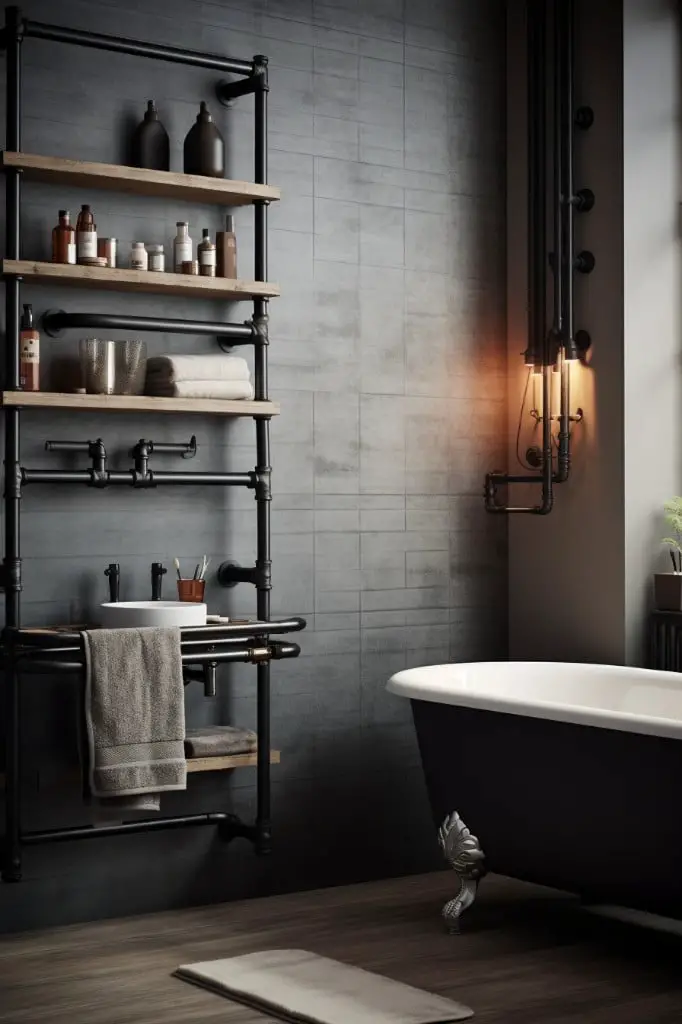 Harnessing the rugged appeal of pipes, these variations bring a raw, rustic charm. Pipes can be polished or left unfinished, paired with a variety of other materials like wood or leather for a unique, standout design.
Installation requires wall brackets, but the sturdy construction adds a notion of safety amidst style.
Mix of chic & durability
Flexible design options
Simple installation requisites
Strong construction for heavy items
Ceramic Hooks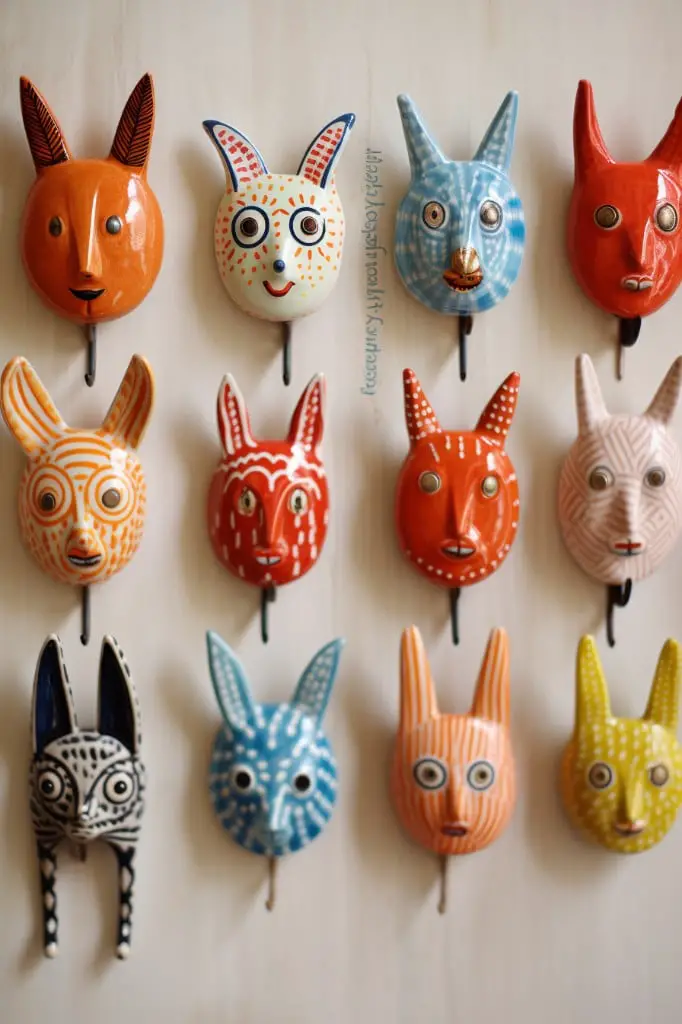 Giving a nod to a traditional aesthetic, these pieces offer a blend of elegance and charm to your bathroom decor.
Many Designs: Available in various shapes, signs, and symbols to create a personalized setting.
Versatile: Suitable for holding light items such as hand towels, bathrobes, or small accessories.
Installation: Typically, they are screwed into the wall or attached using strong adhesives.
Maintenance: Resistant to humidity, simple to clean using a damp cloth.
Unique Aesthetic: Provides an attractive focal point with their rich shades and shiny finish.
Durability: Despite their delicate appearance, ceramic hooks are sturdy and have a long lifespan.
Remember, their position should be at an easily accessible height. Check the hooks regularly to ensure they are secure and stable.
Antique Brass Hooks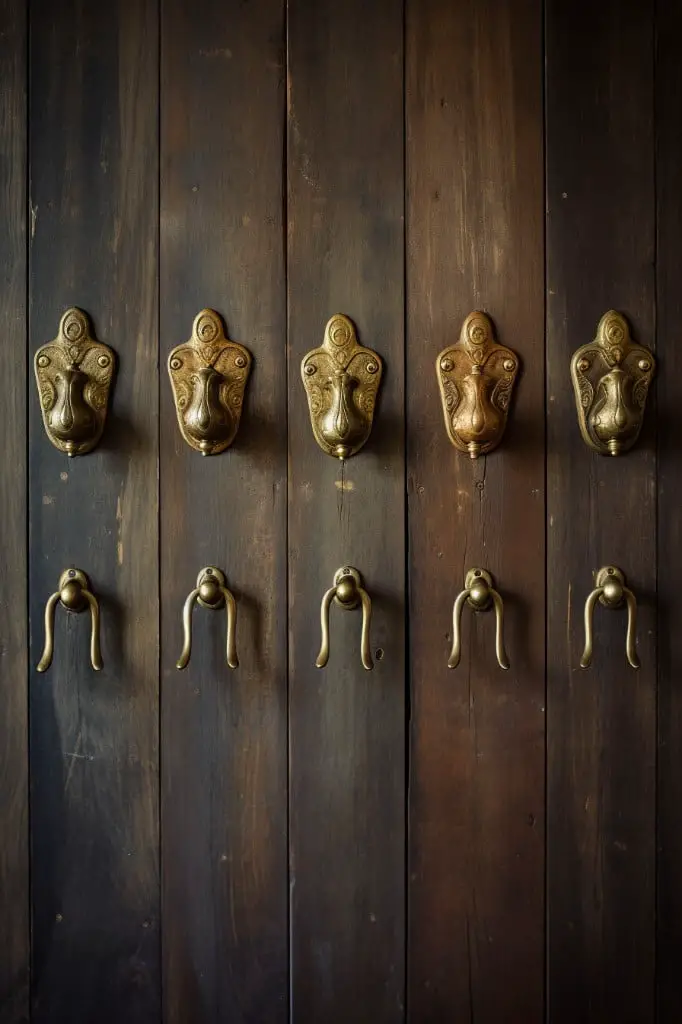 Sporting a rich, warm tone, antique brass hooks ooze an old-world charm into the bathroom space.
1. Their patina mimics age and sophistication, embodying the essence of vintage charm.
2. Slightly distressed shades help in adding character and depth.
3. They are versatile, effortlessly blending with various colour schemes and styles – from rustic to boho chic.
4. Installation is undemanding, often only requiring a few screws.
5. These hooks are robust, ensuring longevity and continued visual appeal.
6. Available in a plethora of designs, they add a touch of personal flair to the area.
Colorful Plastic Hooks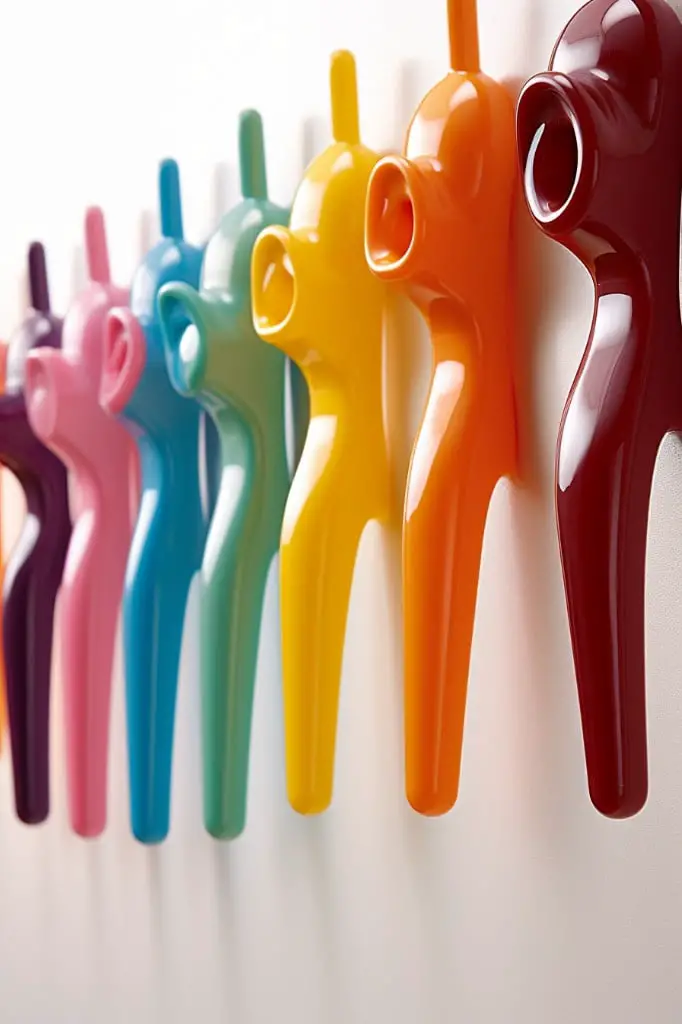 Adding a pop of color to an otherwise monochrome bathroom, these versatile fixtures seamlessly combine utility with aesthetics. Inexpensive and easy to install, they make quick work of hanging towels, robes, or toiletries bags.
Made from high-density plastic, they are resistant to moisture and mold, providing a hygienic solution for bathroom storage.
1. Available in a myriad of colors to match or contrast your décor
2. Designed to hold a substantial weight despite their lightweight nature
3. Holes in the back allow for straightforward installation, requiring only basic equipment
4. Durable material ideal for wet environments
5. Able to mount on diverse surfaces, be it tile, wood, or painted walls
6. Environmentally friendly, often made from recycled material
Crystal Hooks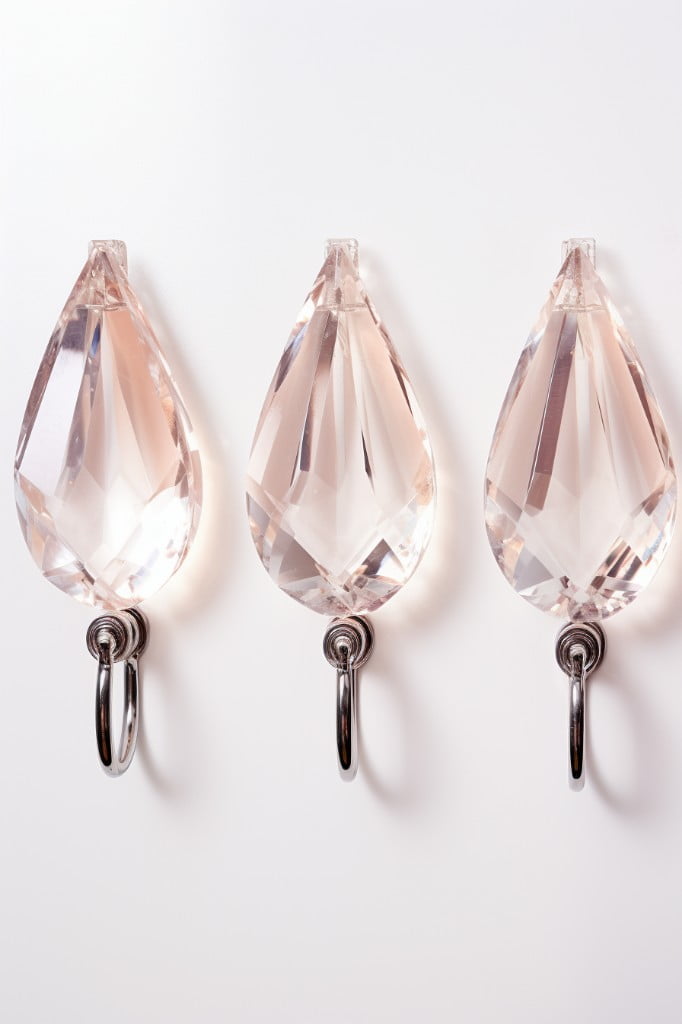 An update from the past, crystal hooks add an element of sophistication and elegance. Considered a high-end choice due to its rich and opulent aesthetics, they serve both utility and decorative purposes.
When used against pastel or dark walls, they can truly pop, casting eye-catching reflections. Crystal hooks are available in various geometric shapes and sizes, thus catering to individual decor needs.
Key points:
Adds elegance and sophistication
Suits high-end decor aesthetics
Provides utility and decoration
Comes in various geometric shapes and sizes
Pops against pastel or dark wall hues
Eye-catching reflections
Continue reading:
Recap