Last updated on January 5, 2023
If you love the laziness and relaxing ambiance of the beach why not make it your bathroom's design? It can make you feel closer to the ocean. And I've got a list of the best coastal bathroom ideas. Read on!
Coastal bathroom ideas would be so wonderful and amazing looking when high-quality materials are used. But even if you're on a budget, it can still be done as there are other alternatives aside from a total renovation.
Wallpapers for instance can be use if wall arts or paintings are out. Just always remember that blue is almost always a necessary color but gray and pink are okay too.
So here are the best coastal bathroom ideas that you can apply to your bathroom to improve your bath experience. Check these out!
Table of Contents
Ocean Themed Bathroom
Since water centers around the bathroom, wouldn't it be great to decorate it with a quiet, relaxing vibe of the ocean life? An ocean themed bathroom is a great idea if you love sea life. It can make your bathroom calming and laid back. A combination of soft blue, whites, or pinks will be perfect for it.
Beach Themed Bathroom
Beach themed bathroom isn't only applicable to vacation homes but to the everyday bathroom too. It may be challenging to do the right interior but making it less cluttered will make it look and feel relaxing. Rustic theme with pastel blue is a great idea.
Wall Decor for Bathroom
Since we always spend our time in the bathroom, why not giving it a design boost by using beautiful decor items. A total remodel is good if you have the funds but if not, even rugs, plants or shelves are a great alternative.
Half Bath Decor
A half bathroom may be small but it doesn't mean you can't decorate a coastal theme on it. Small decors like seashell arts or starfish can be used, wall arts composed of light, blue and white colors are great options too.
Coastal Bathroom Wallpaper
Wallpaper is a great alternative if you don't have the resources to decorate your bathroom and of course it has a coastal theme too. It's easy to install and remove thus updating your bathroom often won't be a hassle.
Coastal Bathroom Vanity
A great way to bring the ocean feeling to your bathroom is by having a coastal bathroom vanity, it also adds functionality. The best colors are white and gray but other colors like khaki, cream, blue, navy, granite, sea green, and coral pink are good alternatives too.
Bathtub Decor
The bathtub shouldn't be left behind as you can also decorate it with an ocean theme. Blue or white shower curtains with sea creatures is a good start then hang some seashells or add natural ocean materials near the window.
Coastal Bathroom Decor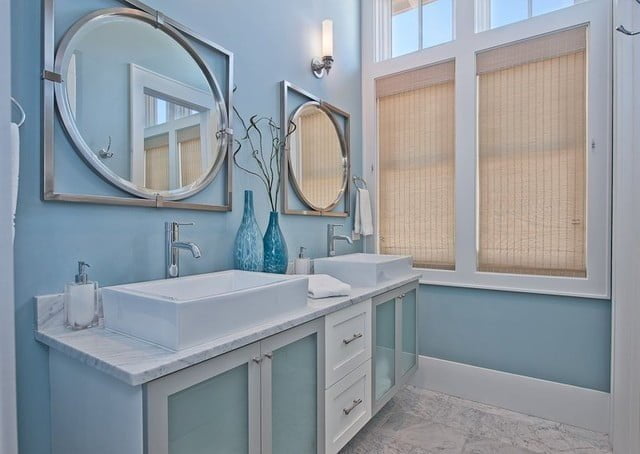 Best examples of coastal decors for your bathroom to use are seafoam green, sunshine coral, and true navy for a soothing ambiance or palm green, bright coral, and cool lime for the island vibe. It evokes feelings of simplicity and relaxation.
Blue and White Bathroom
Blue and white is a crisp and clean combination that will bring your bathroom interior to the next level. Blue is the color of water making it look a natural coastal themed bathroom then adding white will complement the whole design.
Sea Themed Bathroom
Sea themed bathroom, much like ocean themed bathroom emphasizes the relaxing, natural ambiance when you're on a beach. You can make it more fun especially for kids by making it a fish or mermaid themed interior.
Nautical Themed Bathroom
If you're ready to take the plunge, how about making your bathroom a nautical or maritime-themed one? It still has the same vibe as an ocean theme but with more human touch like ships or boat arts, telescopes, maps, or pirate's hat as additional materials.
Tropical Bathroom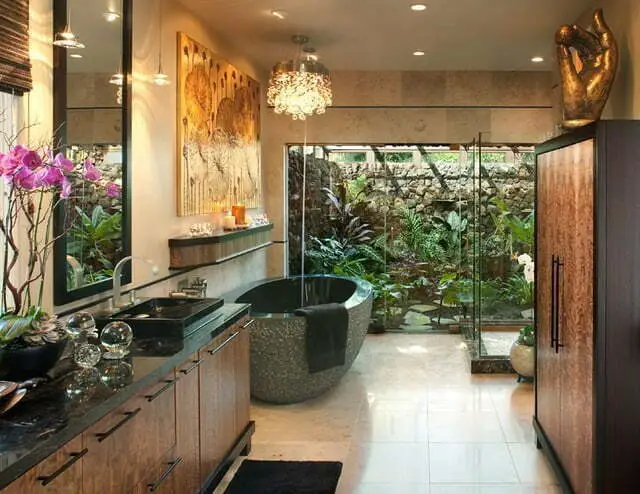 Close to an ocean-themed bathroom is a tropical bathroom that gives a spa-like experience. You'll be needing lots of greenery around it but there are alternatives if you're on a budget like green tiles, bamboo, and stone bathroom appliances.
Beach Tile Bathroom
Of course, an ocean-themed bathroom won't be complete if we don't use beach themed tiles. Ceramics are perfect because they are water-resistant and beautiful at the same time. Dolphins, crabs or sea horses tile are good choices.
Countertop Decor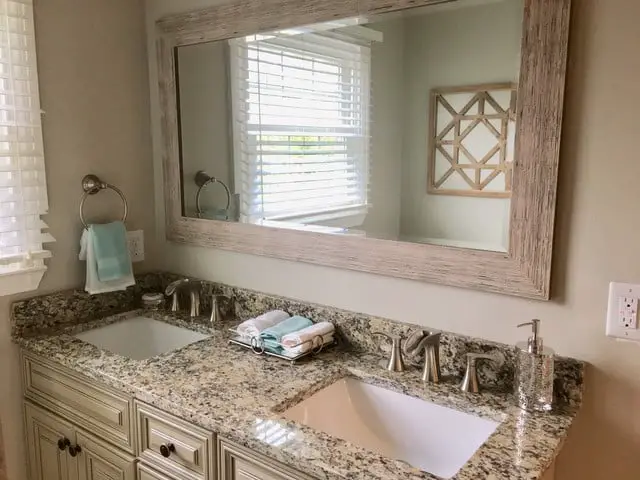 Coastal decors for the bathroom counter top can make it more attractive or maybe even functional. It can be composed of sea shells and see glass for the counter top itself while adding ocean-themed utilities is a great way to add functionalities like a star fish soap holder.
Continue reading: