Last updated on September 26, 2023
If you love the laziness and relaxing ambiance of the beach why not make it your bathroom's design? It can make you feel closer to the ocean. And I've got a list of the best coastal bathroom ideas. Read on!
Coastal bathroom ideas would be so wonderful and amazing looking when high-quality materials are used. But even if you're on a budget, it can still be done as there are other alternatives aside from a total renovation.
Wallpapers for instance can be use if wall arts or paintings are out. Just always remember that blue is almost always a necessary color but gray and pink are okay too.
So here are the best coastal bathroom ideas that you can apply to your bathroom to improve your bath experience. Check these out!
Table of Contents
Stick to Classic Coastal Colors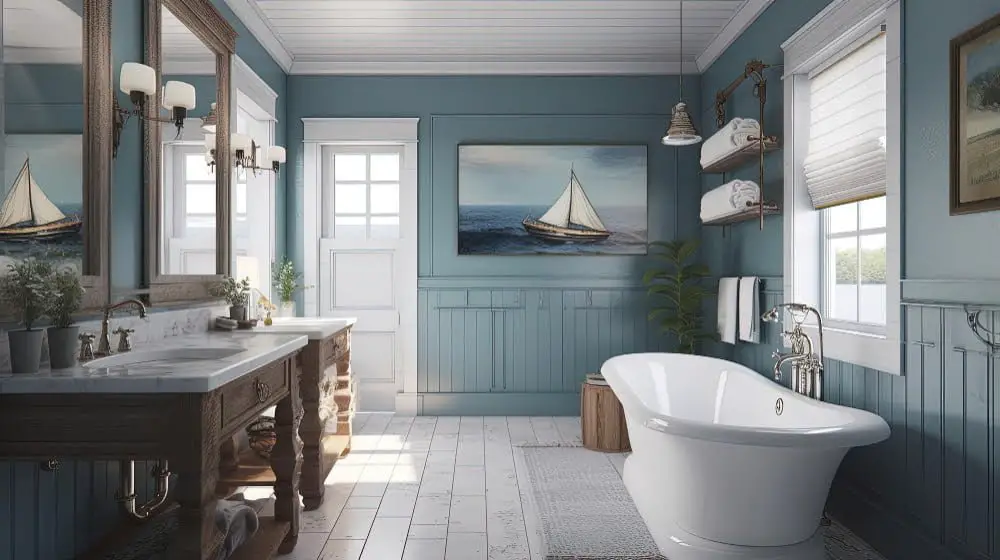 When it comes to coastal bathroom ideas, sticking to classic coastal colors is always a safe bet. Think of shades like white, beige, light blue and green as your base colors.
These hues will create a calming atmosphere that mimics the ocean's natural tones. You can then add pops of brighter blues or greens for an accent color that brings in some fun without overwhelming the space.
Another option is to incorporate sandy browns or driftwood grays for added texture and warmth while still keeping with the overall beachy vibe. By using these classic coastal colors as your foundation, you'll be able to create a timeless look that will never go out of style!
Let the Outdoors In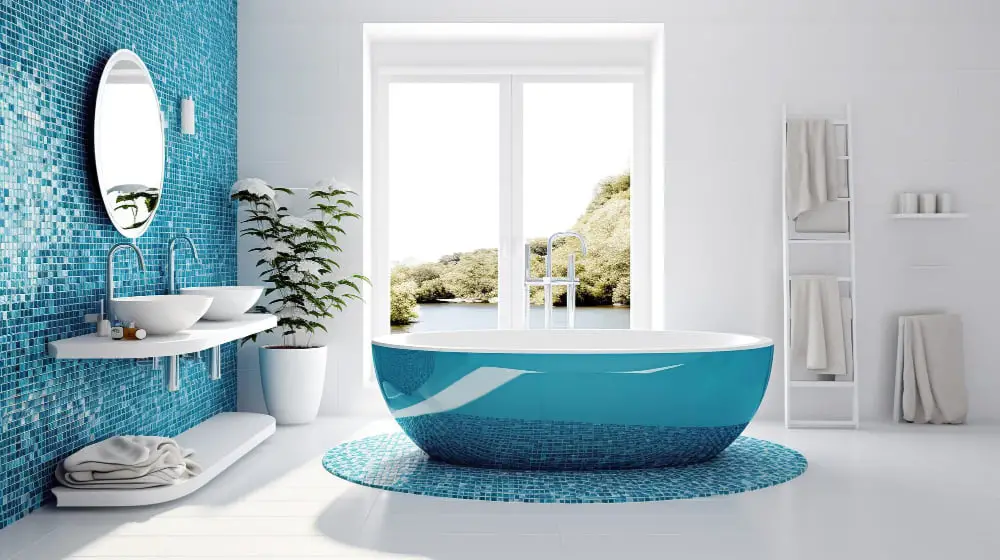 This can be achieved through various means, such as installing large windows that offer stunning views of the ocean or surrounding greenery. If you don't have access to a view, consider adding potted plants or hanging planters filled with succulents and other tropical foliage.
You could also incorporate natural materials like wood and stone into your decor scheme for an earthy feel that mimics nature's beauty. By bringing elements from outside inside, you'll create a calming oasis where you can relax and unwind after a long day at work or play on the beach!
Play With Beach-Inspired Prints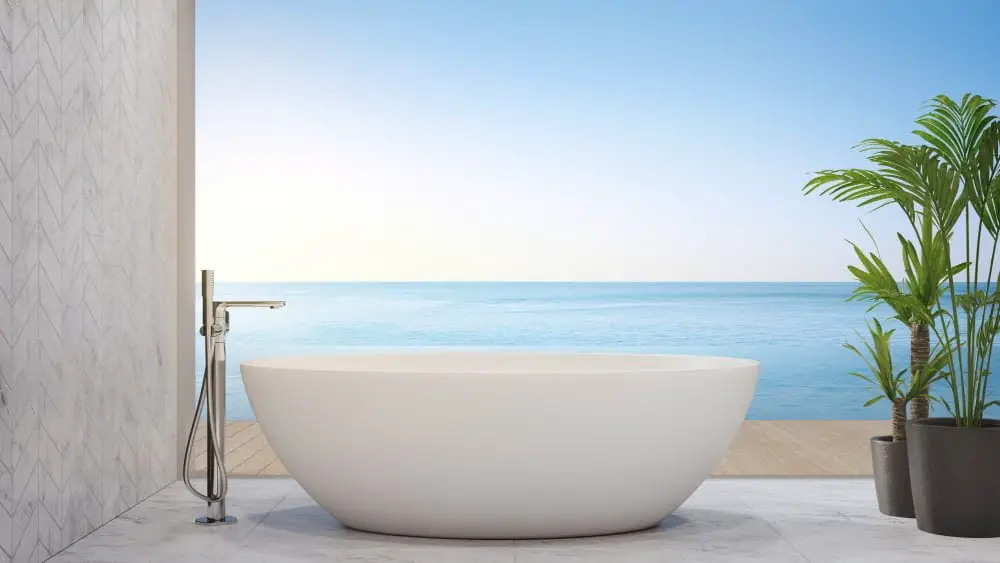 Think seashells, starfish, coral reefs, and ocean waves. You can use these prints on shower curtains, towels or even wallpaper for a bold statement wall.
If you're feeling crafty, try making your own DIY art using shells or driftwood found at the beach. These prints will add a touch of whimsy and fun to any coastal-themed bathroom design while also reminding you of sunny days spent by the shore!
Put an Accent Wall in Your Shower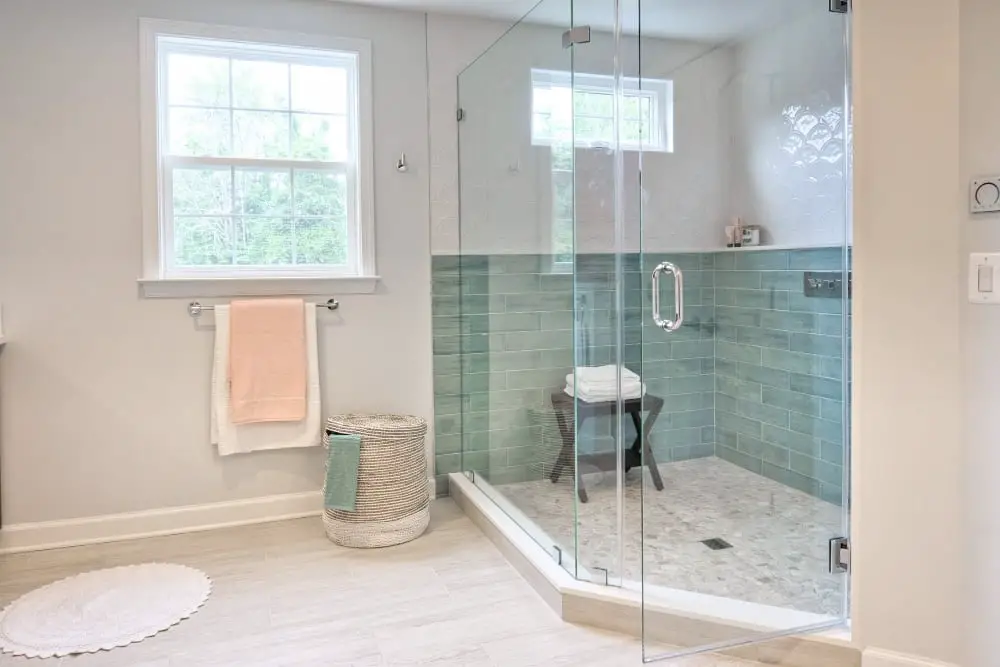 Consider using patterned tiles, bold colors, or even a mural to create a statement piece that will make your shower stand out. Not only does it add visual interest, but it also creates the illusion of depth and dimension in the space.
Plus, with so many options available for materials and designs, you're sure to find something that fits your personal style and taste. Just be sure to choose materials that are waterproof and durable enough for daily use in the shower!
Put Up Some Playful Wallpaper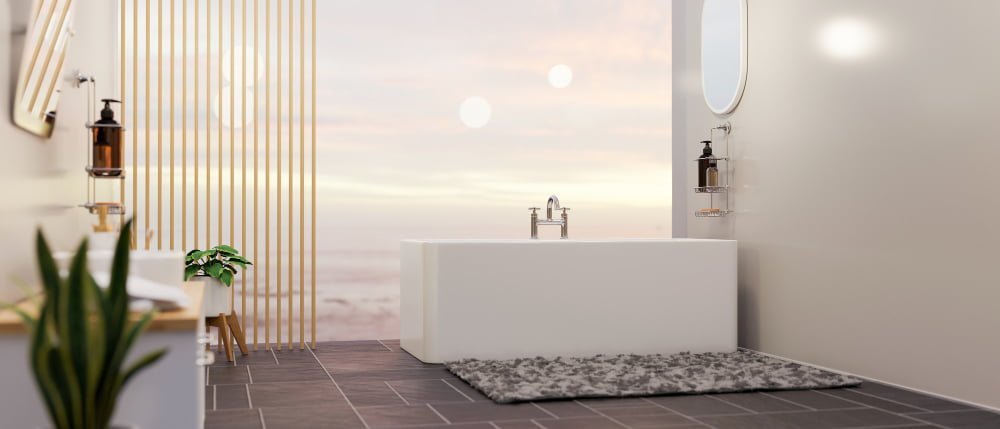 There are so many options available, from bold prints featuring sea creatures or beach scenes, to more subtle patterns in soft blues and greens that evoke the feeling of being by the ocean. Consider using wallpaper on an accent wall behind your vanity or bathtub for maximum impact.
If you're hesitant about committing to a full wall of wallpaper, try adding it inside open shelving units or on the back of built-in cabinets for a pop of color and pattern without overwhelming the space. Whatever you choose, playful wallpaper is sure to bring some joy into your daily routine as you get ready each morning in your stylish coastal oasis!
Timeless Striped Towels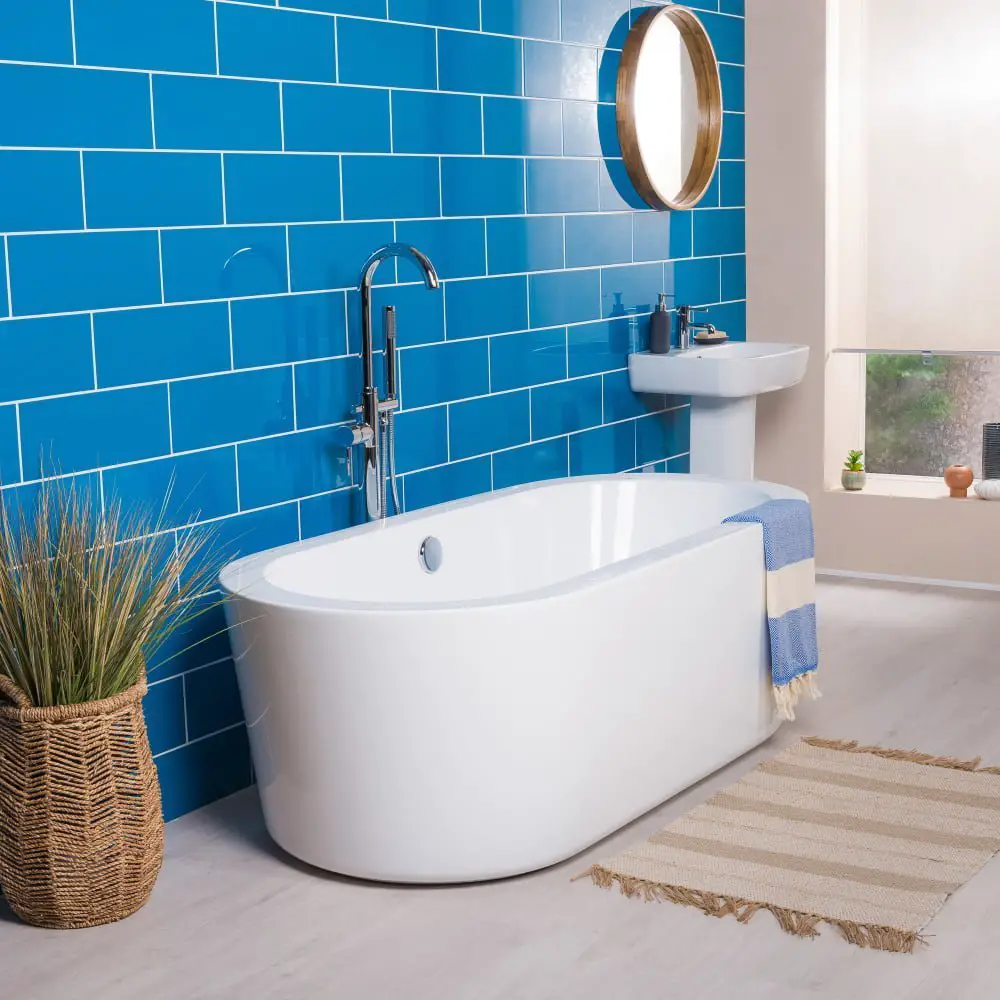 They add a touch of nautical charm and can easily be mixed and matched with other patterns or colors. Opt for towels in shades of blue, white, or even sandy beige to create a cohesive look that complements your beachy decor.
For an extra pop of color, consider adding striped hand towels or washcloths in bright hues like coral or turquoise. Whether you prefer thick terry cloth towels or lightweight linen ones, stripes will always be in style when it comes to coastal bathroom design.
Mix and Match Earthy Materials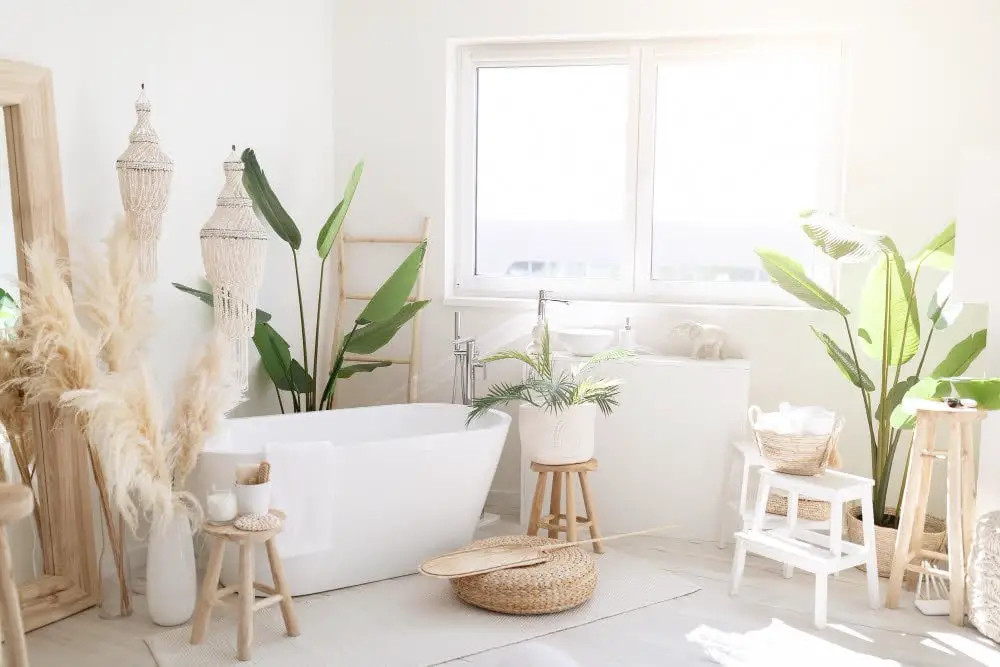 Consider incorporating elements like wood, stone, or woven textures into your design scheme. For example, you might choose a wooden vanity with stone countertops or add some woven baskets for storage.
These materials can help bring the outdoors in while also adding warmth and texture to your space. Don't be afraid to experiment with different combinations until you find the perfect mix of earthy elements for your coastal bathroom design!
Stock Up On Beachy Photographs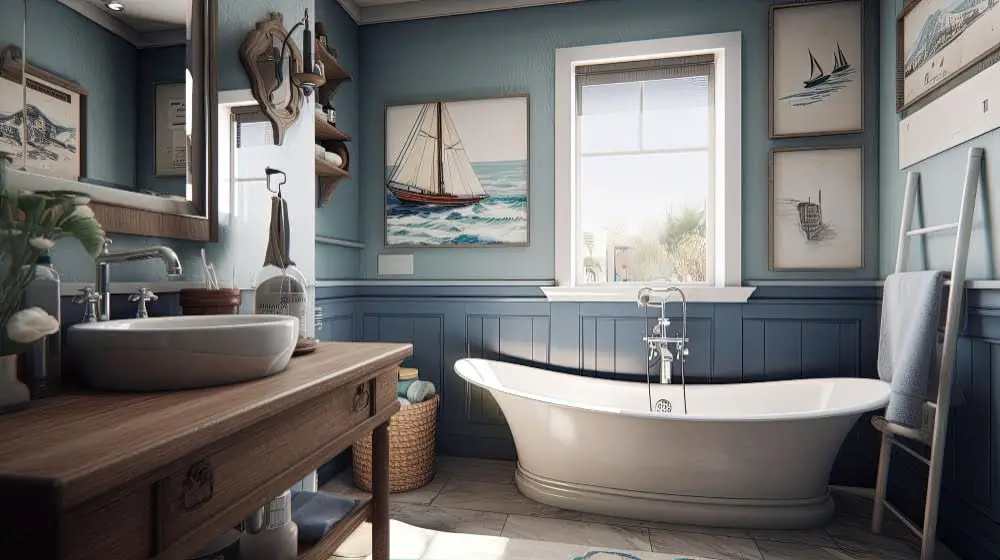 Whether you choose to display pictures of seashells, waves crashing on the shore, or even a lighthouse in the distance, these images can instantly transport you to a relaxing day at the beach. You can print out your own photos from past vacations or purchase prints online from artists who specialize in coastal photography.
Frame them and hang them up on an empty wall space for an easy and affordable way to add some seaside charm into your bathroom decor.
Fun Backsplash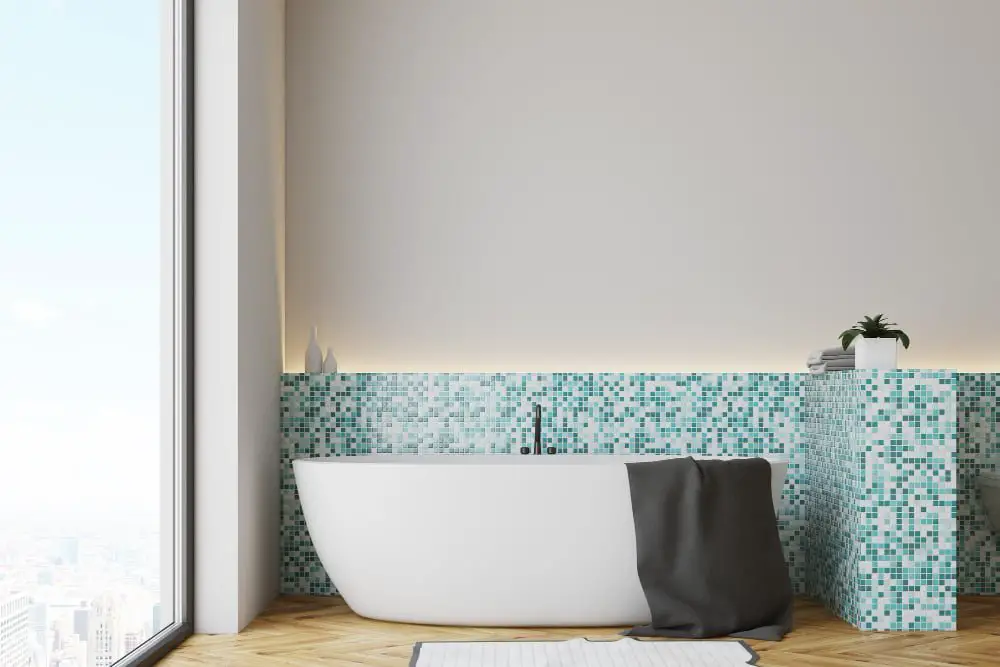 Consider using tiles in shades of blue, green, or even coral for a beachy vibe. You can also opt for patterned tiles with sea-inspired designs like fish scales or waves.
Another option is to use peel-and-stick wallpaper that mimics the look of tile without the hassle of installation. Whatever you choose, a playful backsplash will make your bathroom feel unique and inviting while adding an extra touch of coastal charm.
Airy White Walls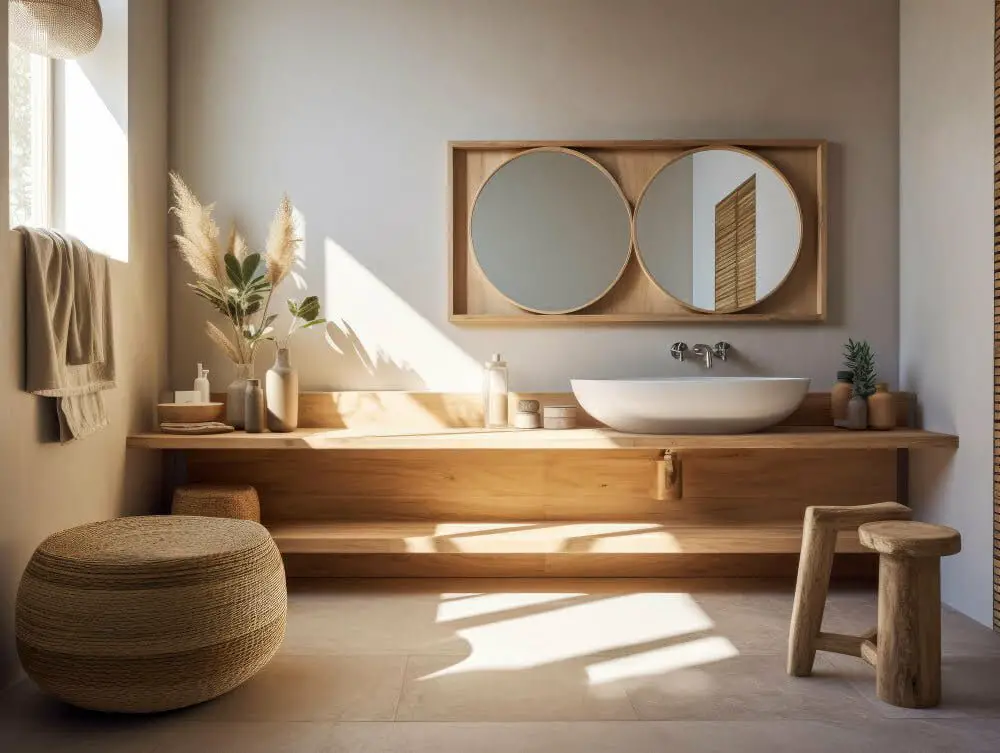 They create a bright and open space that feels fresh and clean, just like the ocean breeze. White walls also provide an excellent backdrop for other design elements in your bathroom, such as colorful towels or beach-inspired artwork.
To add some interest to your white walls, consider adding texture with shiplap or beadboard paneling. You can also incorporate natural materials like wood or rattan to bring warmth and depth to the space while still maintaining its lightness and airiness.
Airy white walls are a timeless choice that will make any coastal bathroom feel inviting and serene.
Statement-Making Structural Beams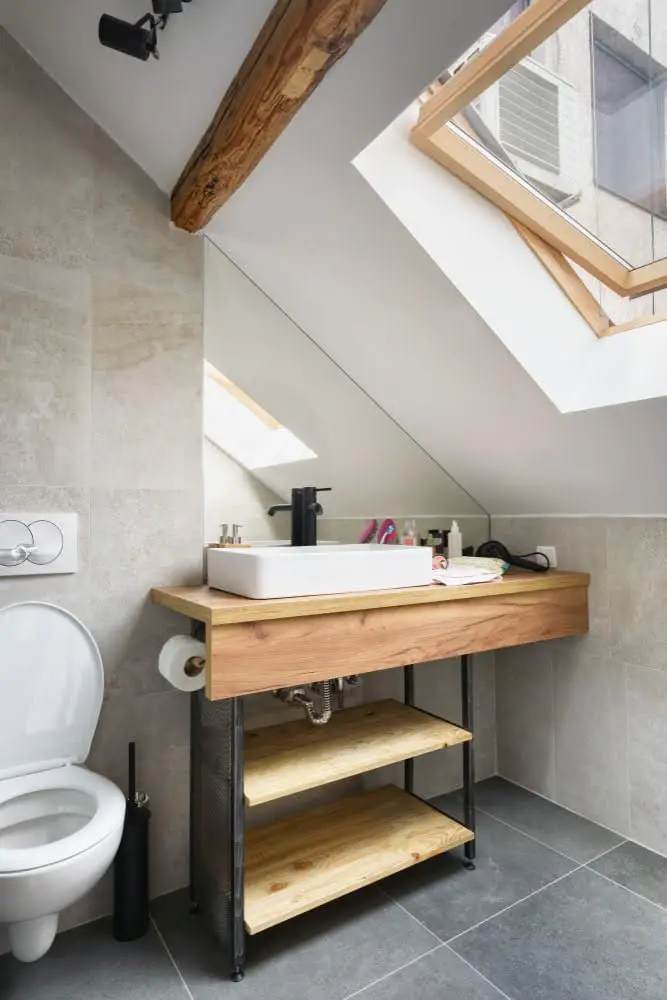 If your coastal bathroom has exposed structural beams, consider highlighting them with a fresh coat of paint or stain to make them stand out. You could also add some decorative elements like hanging plants or woven baskets to draw attention to the beams and create an even more beachy vibe.
Alternatively, if you don't have any existing structural beams in your bathroom, you could install faux ones for added visual interest and texture. Either way, incorporating statement-making structural beams is an easy way to elevate the look of your coastal-inspired space while adding character and charm at the same time!
Pampas Grass Decoration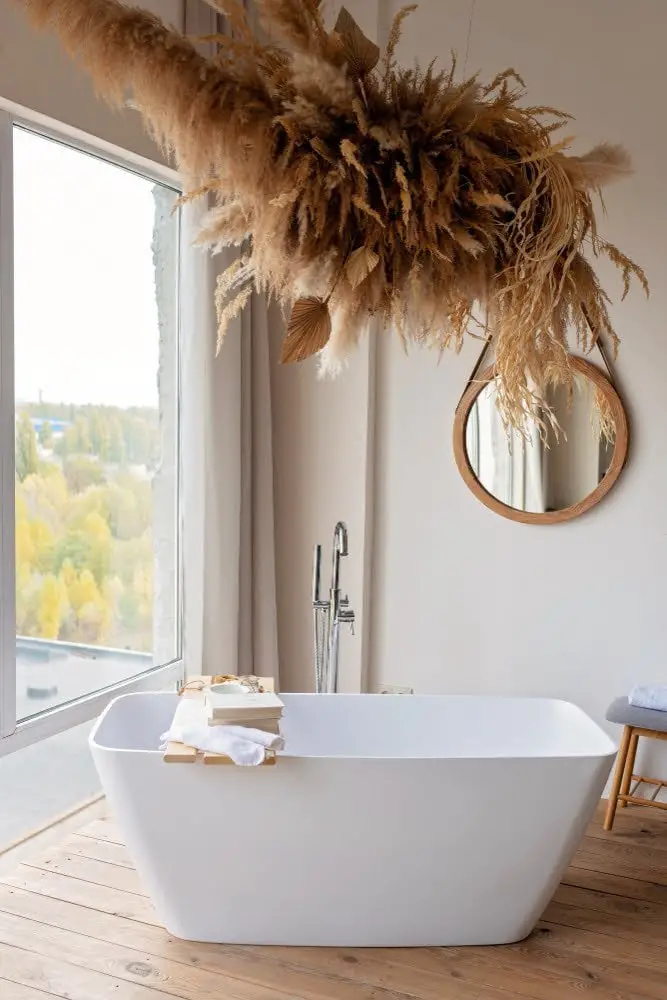 This tall, feathery grass has become increasingly popular in recent years and for good reason. Its neutral color palette and soft texture make it the perfect addition to any coastal-themed space.
To incorporate pampas grass into your bathroom decor, consider placing a few stems in a vase on your countertop or adding them as an accent piece on top of shelves or cabinets. You could also use pampas grass as part of larger floral arrangements or wreaths.
One great thing about using pampas grass is that it requires very little maintenance – simply give it an occasional dusting with a feather duster to keep it looking fresh.
Rustic Bath Stool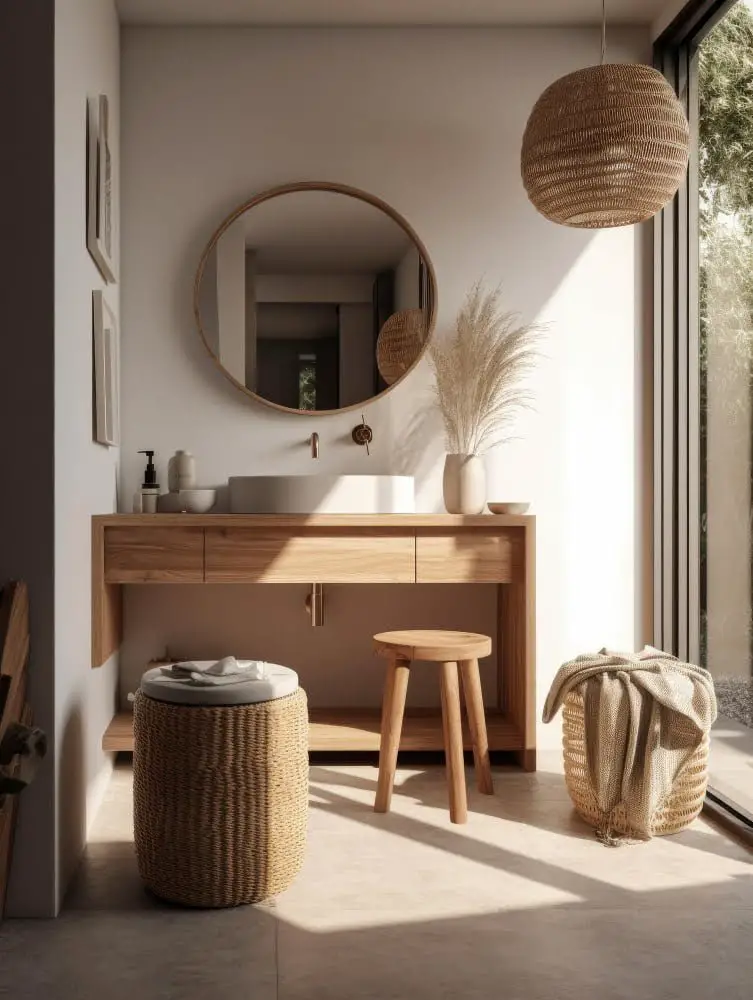 It adds a touch of natural charm and warmth while also being functional. You can use it as a seat or as an extra surface for towels, candles, or other decorative items.
A wooden stool with visible knots and grains will give your bathroom that cozy cabin feel that's so popular in coastal decor right now. Plus, the texture of the wood will contrast beautifully with smooth tiles or glossy surfaces in your bathroom design scheme.
Look for stools made from reclaimed wood if you want to add an eco-friendly element to your space too!
Woven Lampshade Texture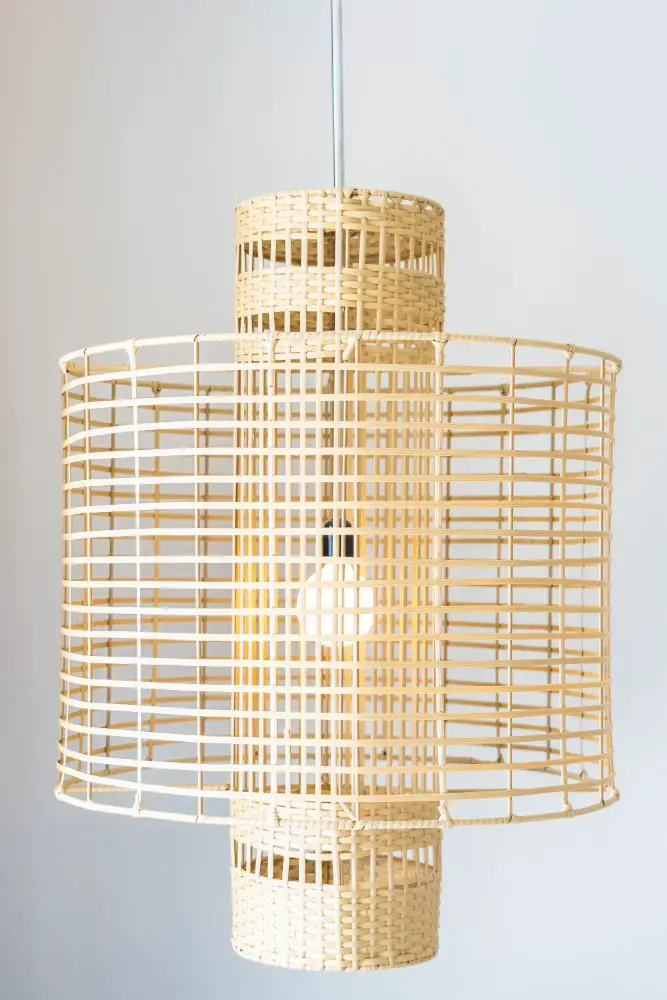 These shades come in various materials such as rattan, wicker, and bamboo. They provide a natural texture that complements the beachy vibe of the space.
Woven lampshades can be used for both ceiling fixtures and table lamps, making them versatile decor pieces that can easily tie together any coastal-themed bathroom design. Whether you opt for an oversized pendant or a small bedside table lamp with woven detailing on its shade, this is one accessory that will bring warmth and character into your space while also providing soft lighting perfect for relaxing baths after long days at the beach!
Painted Cabinets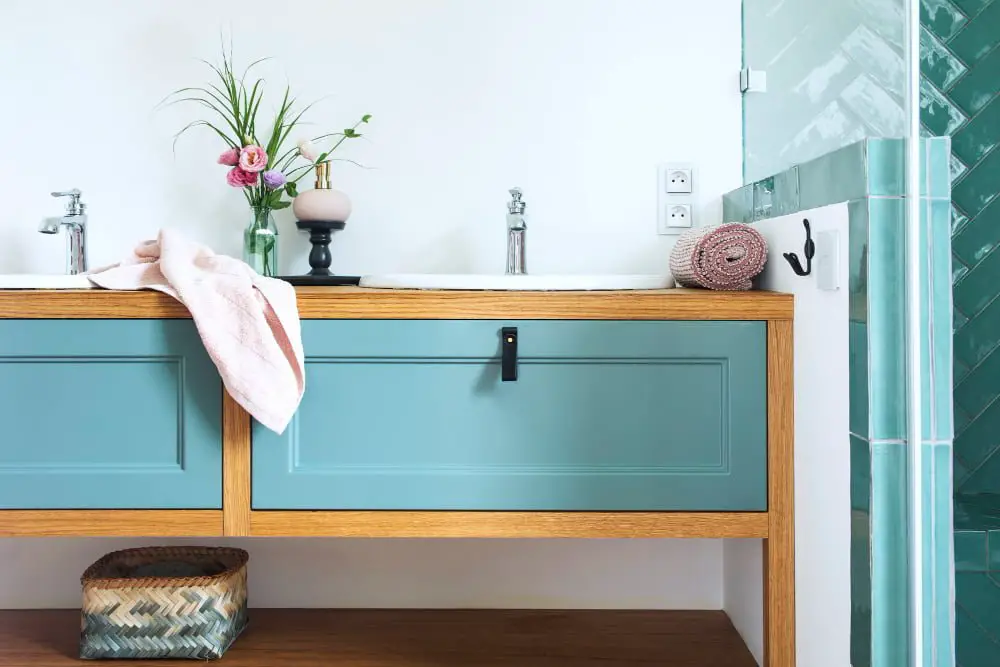 You can choose from a variety of colors, but light blues, greens, and grays work particularly well in this setting. If you have white walls or tiles in your bathroom, painted cabinets can provide the perfect pop of color without overwhelming the space.
Plus, painting existing cabinetry is an affordable alternative to replacing them altogether. For added interest and texture consider using two different shades on upper and lower cabinets or adding some distressing for that beachy vibe!
Woven Basket Storage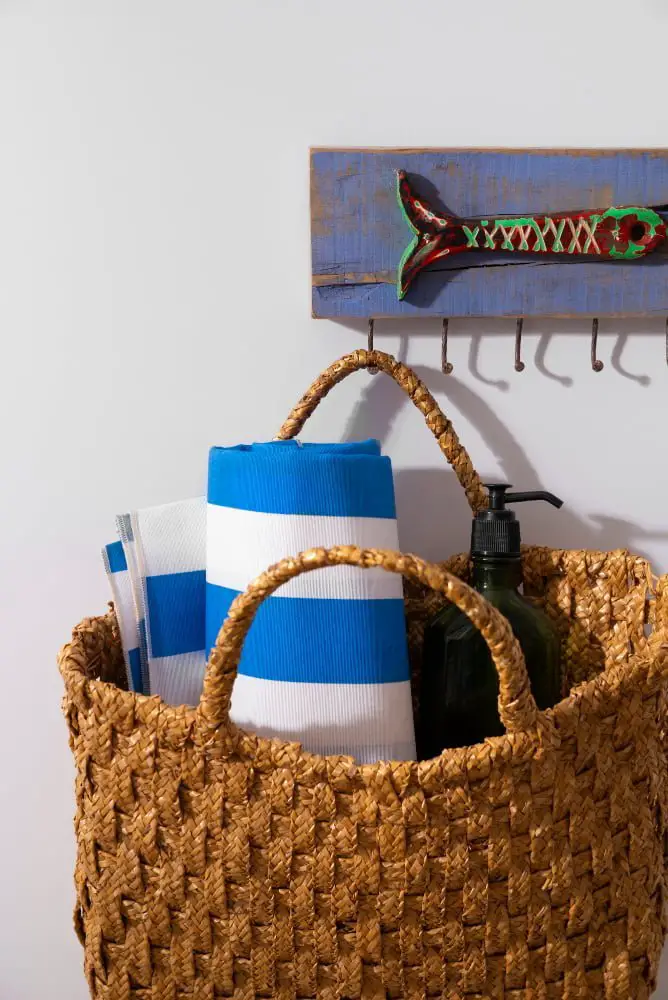 Use them to store towels, toilet paper, or even toiletries. You can find woven baskets in various sizes and shapes that fit perfectly into any corner of your bathroom.
For a cohesive look, choose baskets with similar colors or patterns that match the rest of your decor. Alternatively, mix and match different styles for an eclectic vibe that adds character to the space.
Not only do they provide ample storage space but they also give off beachy vibes which is perfect for a coastal-themed bathroom!
Nautical Sconces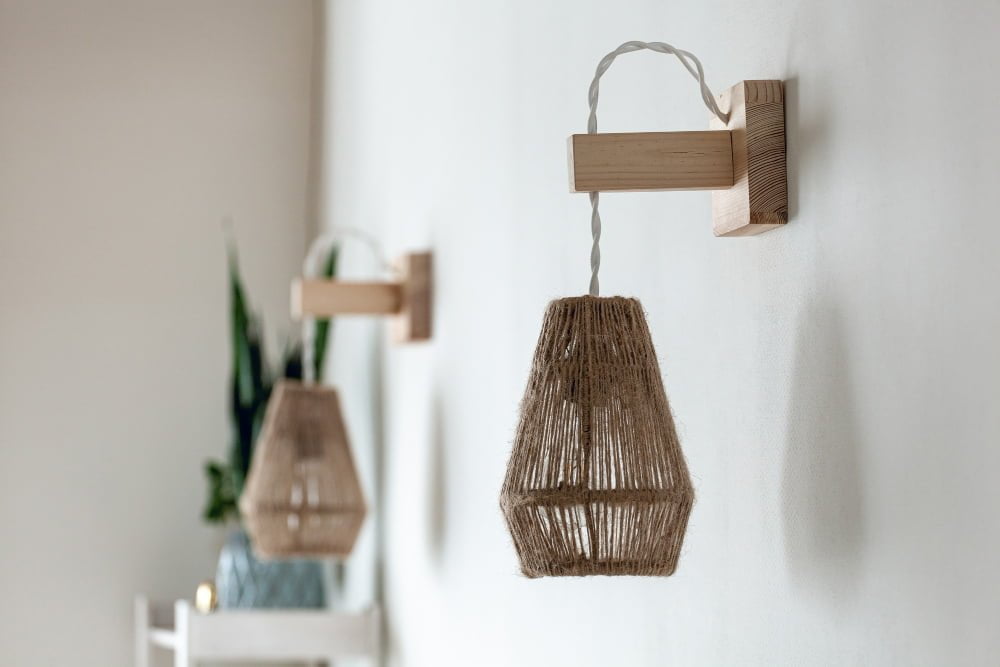 These wall-mounted light fixtures come in various shapes and sizes, from sleek and modern designs to more traditional lantern styles. They can be made of materials like brass, copper or chrome that will withstand the moisture in the bathroom.
When choosing nautical sconces for your coastal-themed bathroom, consider their placement carefully. Sconces on either side of a mirror provide even lighting for grooming tasks while adding symmetry and balance to the space.
Alternatively, you could install them above or beside artwork or other decorative elements as an accent light source.
For an added touch of authenticity, look for nautical sconces with details such as rope accents or porthole-inspired shapes that evoke images of ships at sea.
Cozy Bathroom Rugs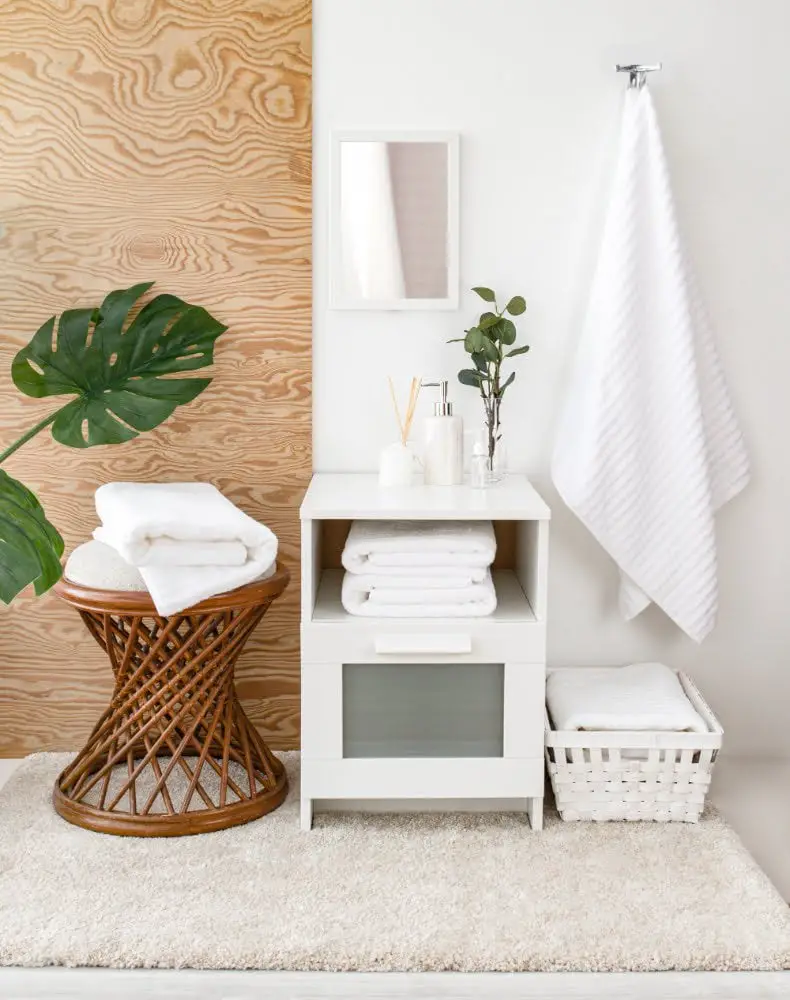 A plush, cozy rug can make stepping out of the shower or bath much more comfortable, especially during colder months. When choosing a bathroom rug, look for one that is absorbent and machine washable for easy cleaning.
You can also play with different textures like shag or woven materials to add interest and depth to your space. Consider incorporating coastal colors like blues, greens, whites or sandy beige tones into the design of your rugs as well!
Kitschy Accents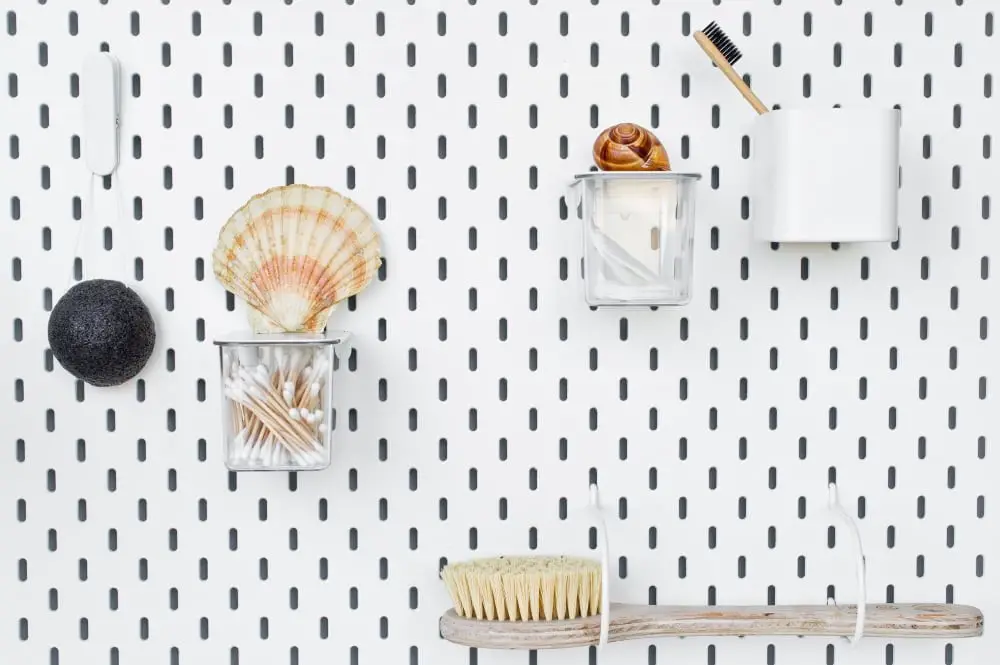 Think vintage beach signs, colorful fish-shaped soap dishes, or even a collection of seashells displayed in an unexpected way. These playful touches can be incorporated into your decor through small accessories like shower curtains, bath mats, or towels with whimsical patterns and designs.
Don't be afraid to mix and match different kitschy elements for an eclectic look that is uniquely yours!
Lighter Wood Tones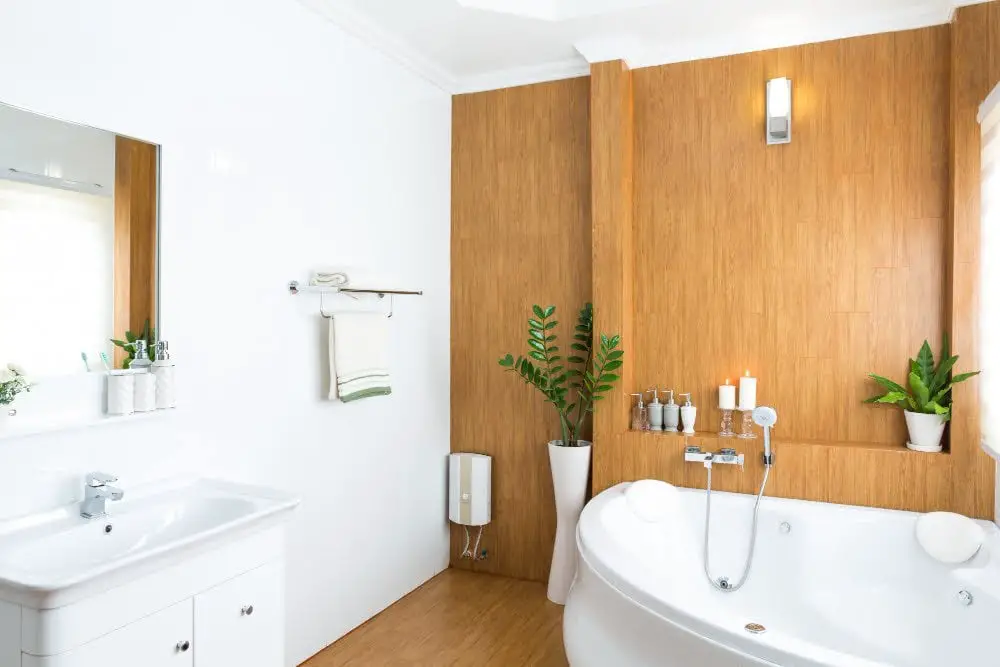 Opt for light-colored woods like pine or oak, which will give your space a natural, beachy vibe. You can incorporate lighter wood tones in various ways such as using wooden shelves or cabinets with light finishes that complement the rest of the decor.
Another idea is adding wooden accents through accessories like soap dishes, toothbrush holders or even towel racks made from bamboo or other similar materials. Lighter wood tones work well with neutral colors and pastel shades that are often used in coastal design schemes so you can easily create an inviting atmosphere by combining these elements together in harmony.
Whether you opt for a driftwood or rope design, this lighting fixture will add an extra touch of seaside charm to your space. A chandelier with natural materials like shells or coral is also an excellent choice if you want to bring in more texture and dimension.
Hang it above your bathtub or in the center of the room to create a focal point that ties everything together. With so many options available, finding one that fits your style and budget should be easy!
Layered Earthy Textures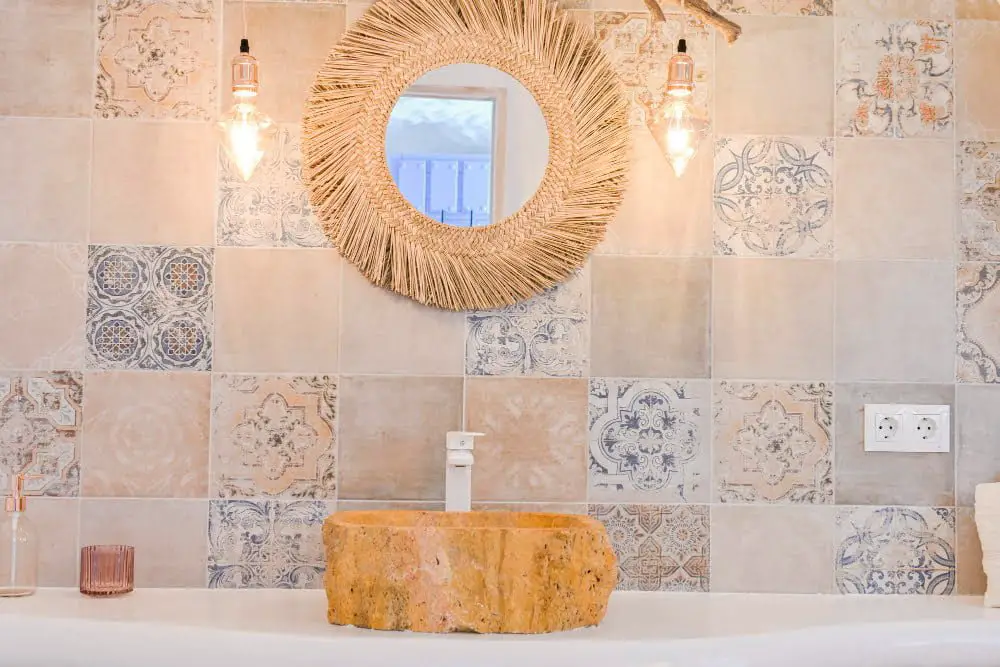 This can be achieved through the use of natural materials such as wood, stone, and woven fibers. For example, you could add a wooden vanity with a stone countertop and accessorize it with woven baskets or towels made from organic cotton.
Another way to incorporate layered earthy textures is by adding plants or greenery into your bathroom decor. Not only do they add texture but also bring in an element of nature that complements the coastal theme perfectly.
To achieve this look without breaking the bank, consider repurposing items like driftwood for shelving or using seagrass rugs on your floors instead of traditional bath mats. The key is to mix and match different elements while keeping them cohesive through color schemes inspired by sandy beaches and ocean blues.
Greenery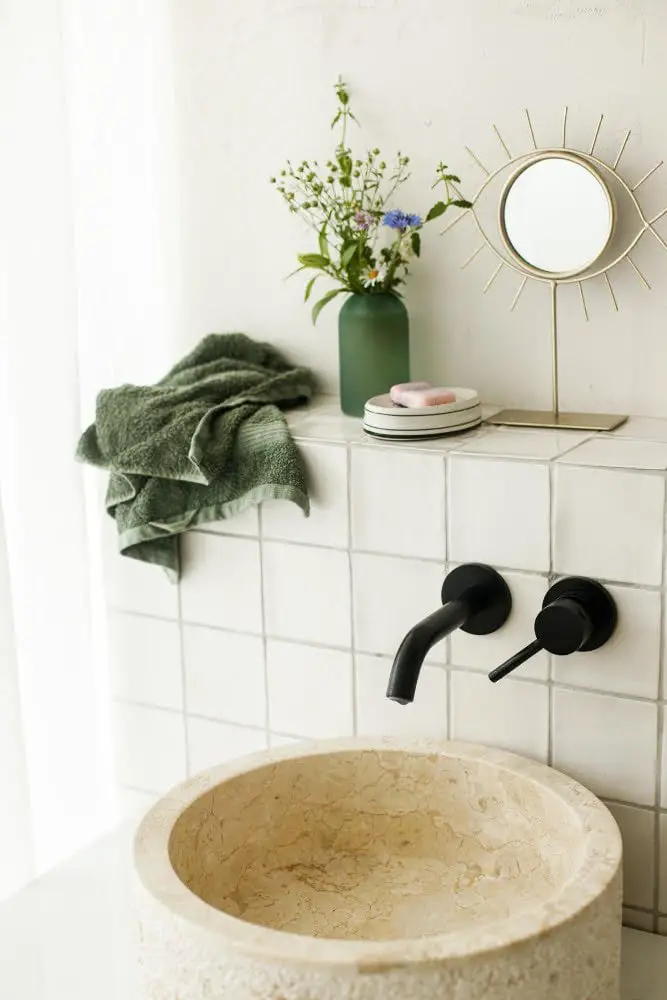 It brings a touch of nature and freshness to the space, making it feel more relaxing and inviting. You can add greenery to your coastal bathroom by placing potted plants on shelves or hanging them from the ceiling.
Succulents, ferns, and air plants are great options that require minimal maintenance but still look beautiful. If you don't have enough natural light in your bathroom for live plants to thrive, consider using artificial ones instead – they can still provide the same aesthetic benefits without needing sunlight or water!
Rope-Lined Mirror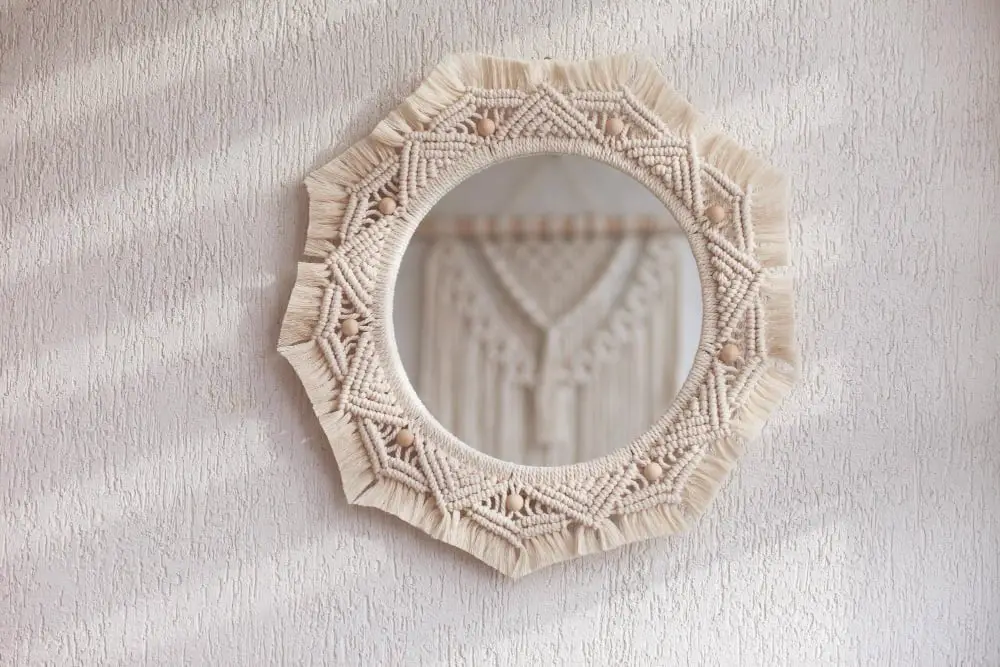 This DIY project involves wrapping thick, natural rope around the edges of a plain mirror and securing it in place with hot glue or adhesive strips. The result is a rustic, nautical-inspired piece that can be hung on the wall or propped up on your vanity for an instant beachy vibe.
You can also experiment with different types of rope and knots to create unique designs that suit your personal style. A rope-lined mirror pairs well with other coastal decor elements like seashells, driftwood accents, and woven baskets for storage.
Warm and Earthy Neutrals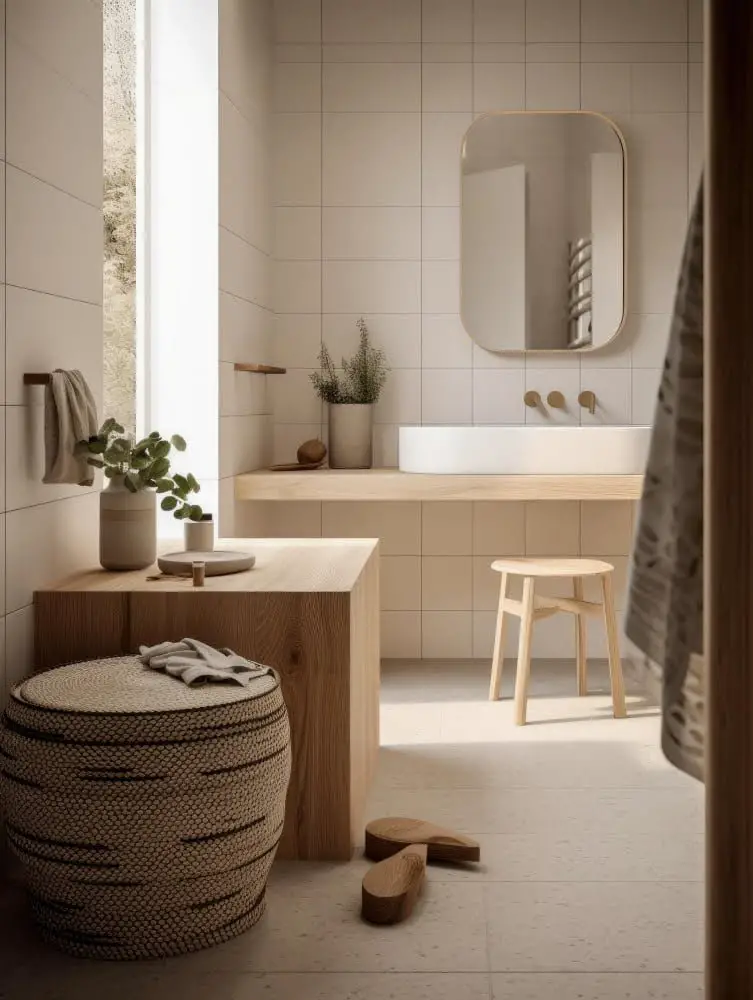 Think about using shades of beige, taupe, and brown for your walls or tiles. These colors will give your space an organic feel that is reminiscent of the beach's natural beauty.
You can also add some texture with woven baskets or rattan accents to bring in more warmth and depth to the room. Consider adding some greenery like potted plants or succulents as well; they'll help break up all those neutral tones while still keeping things grounded in nature-inspired hues!
Fun Floor Tiles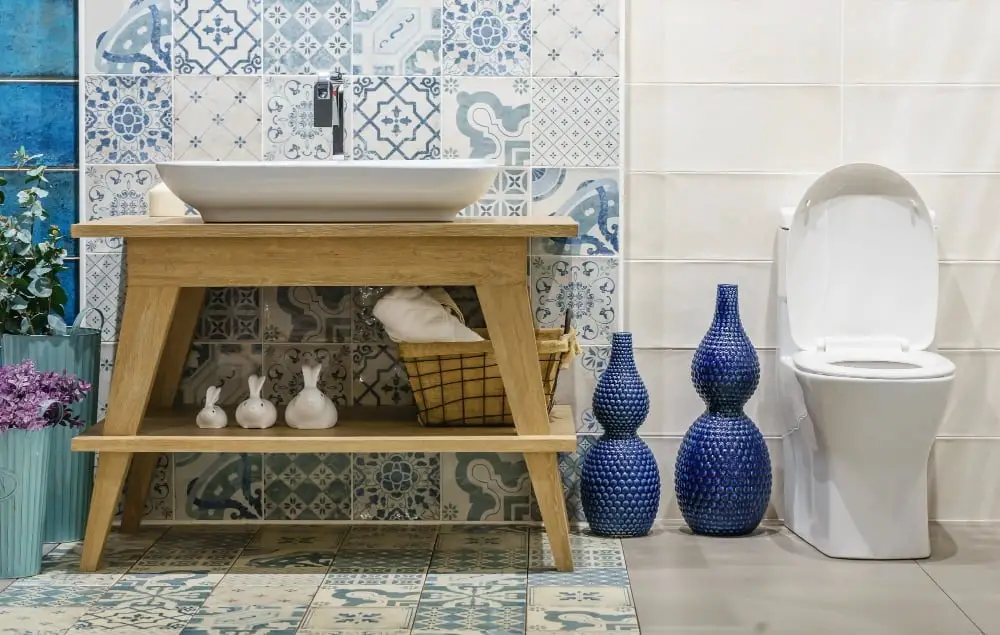 Consider using patterned tiles in shades of blue and green for an ocean-inspired look, or opt for bold geometric shapes in bright colors to create a fun and lively atmosphere. You could also mix and match different tile patterns to create a unique mosaic effect on the floor.
Another option is to use textured tiles that mimic the look of natural materials like wood or stone, adding warmth and depth to your space while still maintaining that beachy vibe. Whatever style you choose, incorporating fun floor tiles into your coastal bathroom design is sure to make it stand out from the rest!
Woven Blinds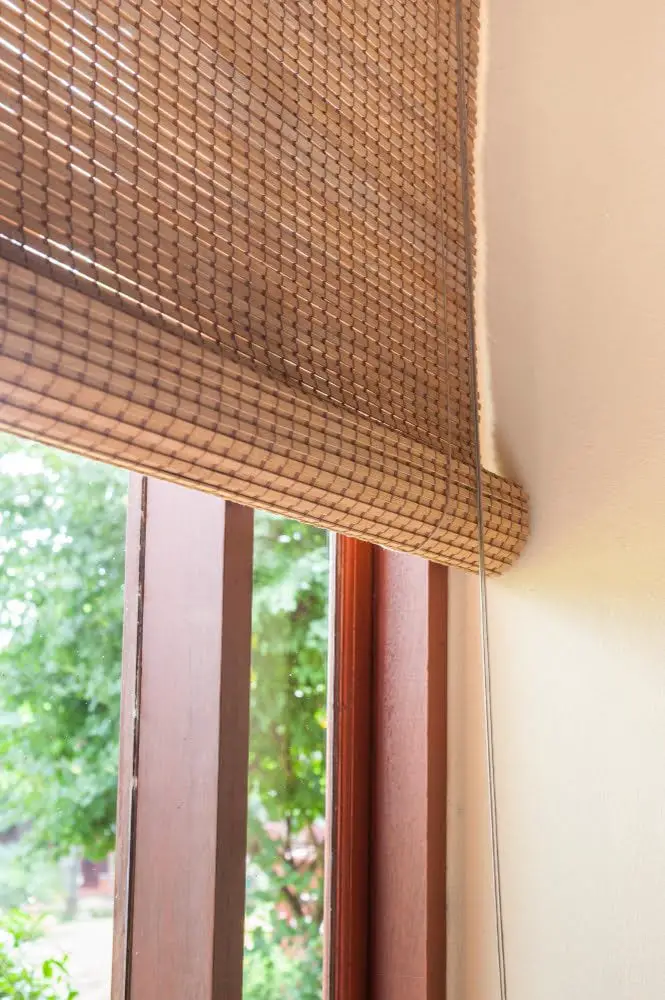 These natural shades come in various materials such as bamboo, rattan, or jute and can be customized to fit any window size. Woven blinds provide privacy while still allowing natural light into the space.
They also pair well with other earthy textures like wood tones or woven baskets for a cohesive look. Consider adding woven blinds to your coastal bathroom for an effortless beachy vibe that will make you feel like you're on vacation every day!
Casual Space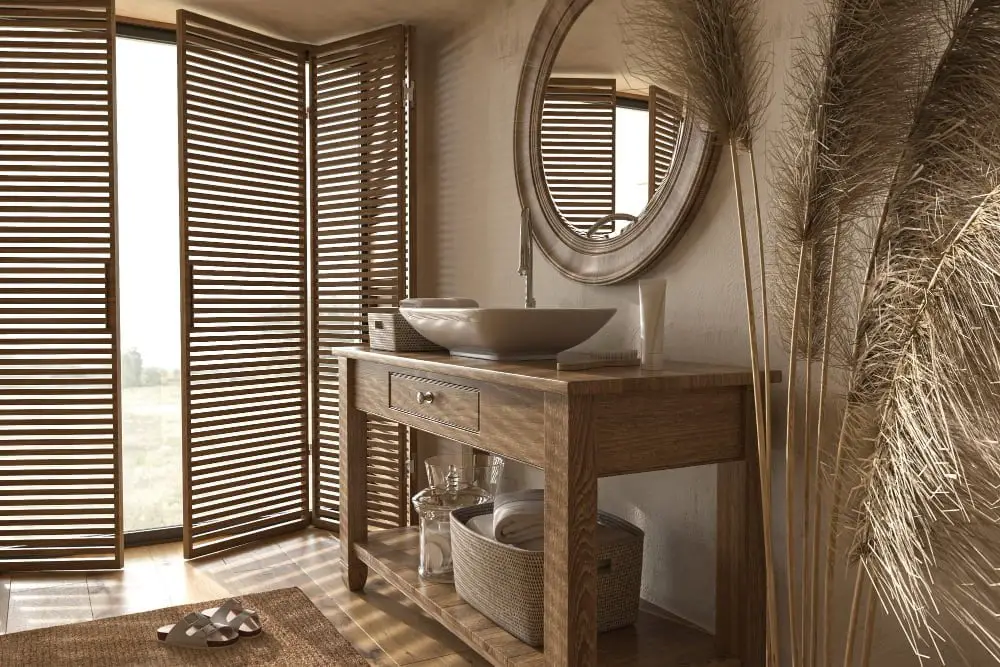 To achieve this, consider incorporating natural materials such as wood, rattan or jute into your decor. A woven basket can serve as storage for towels or toiletries while adding texture to the room.
Use light-colored curtains made from linen or cotton to let in plenty of natural light and create an airy feel. Keep accessories simple with seashells, driftwood pieces, and other found objects from the beach scattered throughout the room for a touch of seaside charm without going overboard on kitschiness.
By creating a casual atmosphere in your coastal bathroom design you'll have an inviting space where you can relax after spending time at the beach!
Pops of Personality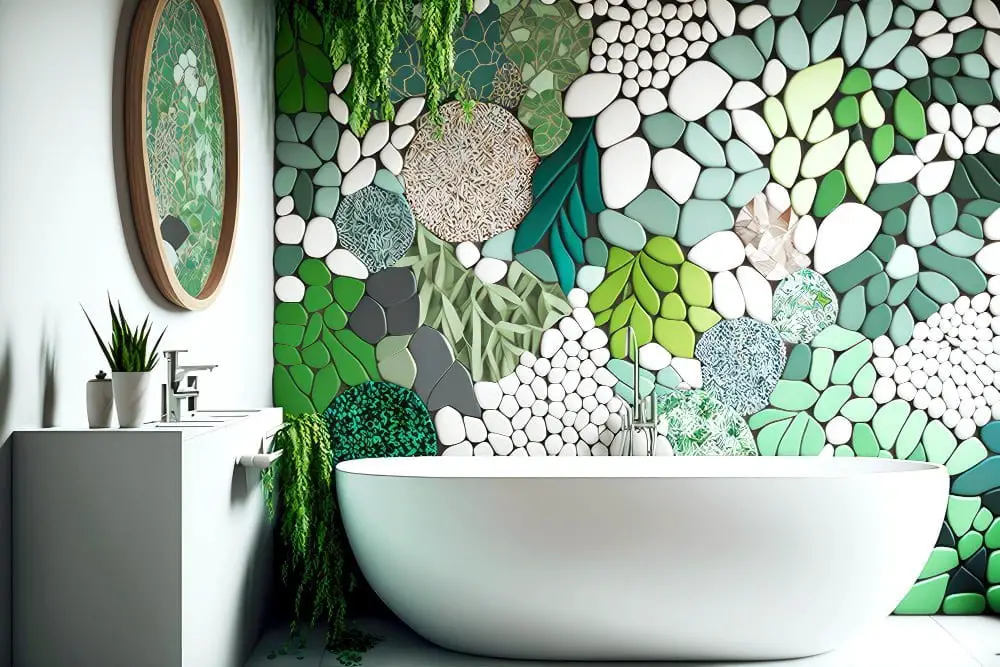 Consider incorporating unexpected elements like vintage surfboards, colorful artwork, or quirky accessories that reflect your personal style. You can also add interest with patterned shower curtains or bold wallpaper in unexpected colors.
Don't be afraid to mix and match different textures and materials for an eclectic look that feels fresh and fun. Remember, the key is to keep things balanced so that the space doesn't become overwhelming – choose one or two statement pieces per room for maximum impact without going overboard on decor!
Driftwood-Inspired Vanity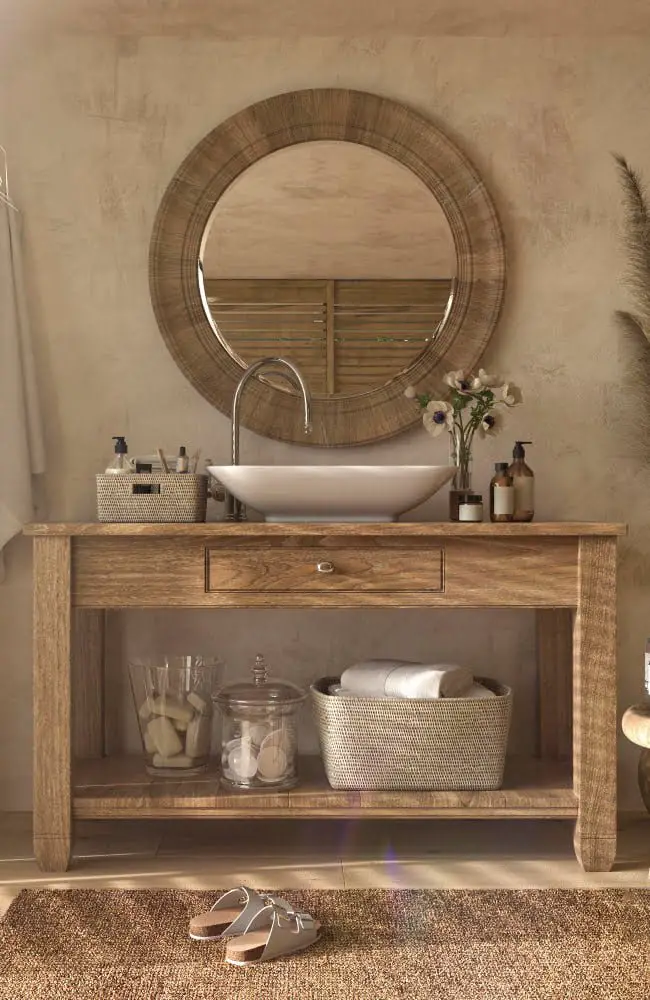 The natural texture and color of the wood bring an organic feel to the space, while still maintaining a sleek and modern look. You can either purchase a pre-made driftwood vanity or create your own by using reclaimed wood planks or even real pieces of driftwood.
Pair it with simple white sinks and fixtures for an understated yet stylish look, or add pops of color with beachy accessories like seashell soap dispensers or turquoise towels. A driftwood-inspired vanity will give your bathroom that relaxed coastal vibe you've been dreaming about!
Mosaic Tiles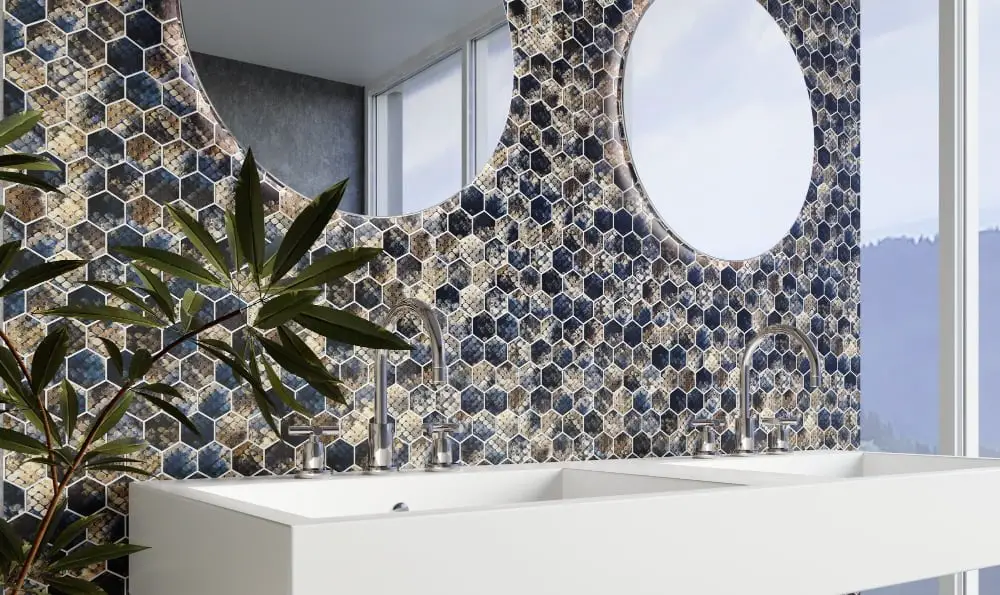 These small, colorful tiles can be used in a variety of ways, from creating an accent wall behind the sink or shower to adding decorative touches around the mirror or vanity. You can choose from a wide range of colors and patterns that evoke the feeling of being by the ocean, such as shades of blue and green or even sandy beige tones.
Mosaic tiles also work well with other natural materials like wood and stone for an earthy yet sophisticated look that will make you feel like you're on vacation every time you step into your bathroom.
DIY Oyster Shell Trinket Dishes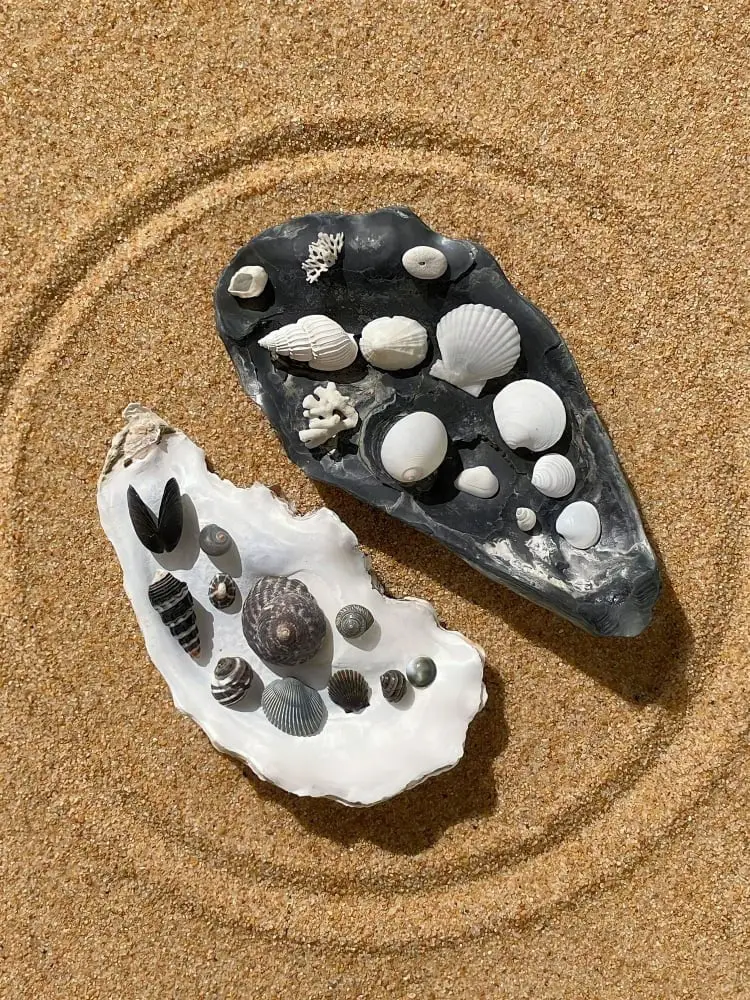 All you need is a few oyster shells, some paint, and a little creativity! Start by cleaning the shells thoroughly with soap and water. Once they're dry, use acrylic paint in shades of blue or green to create an ocean-inspired design on the inside of each shell.
You can also add metallic accents for extra shine.
Once your designs have dried completely, seal them with clear varnish or Mod Podge for durability. These trinket dishes are perfect for holding small items like rings or earrings on your bathroom counter or vanity table.
Beachy Small Bathroom Makeover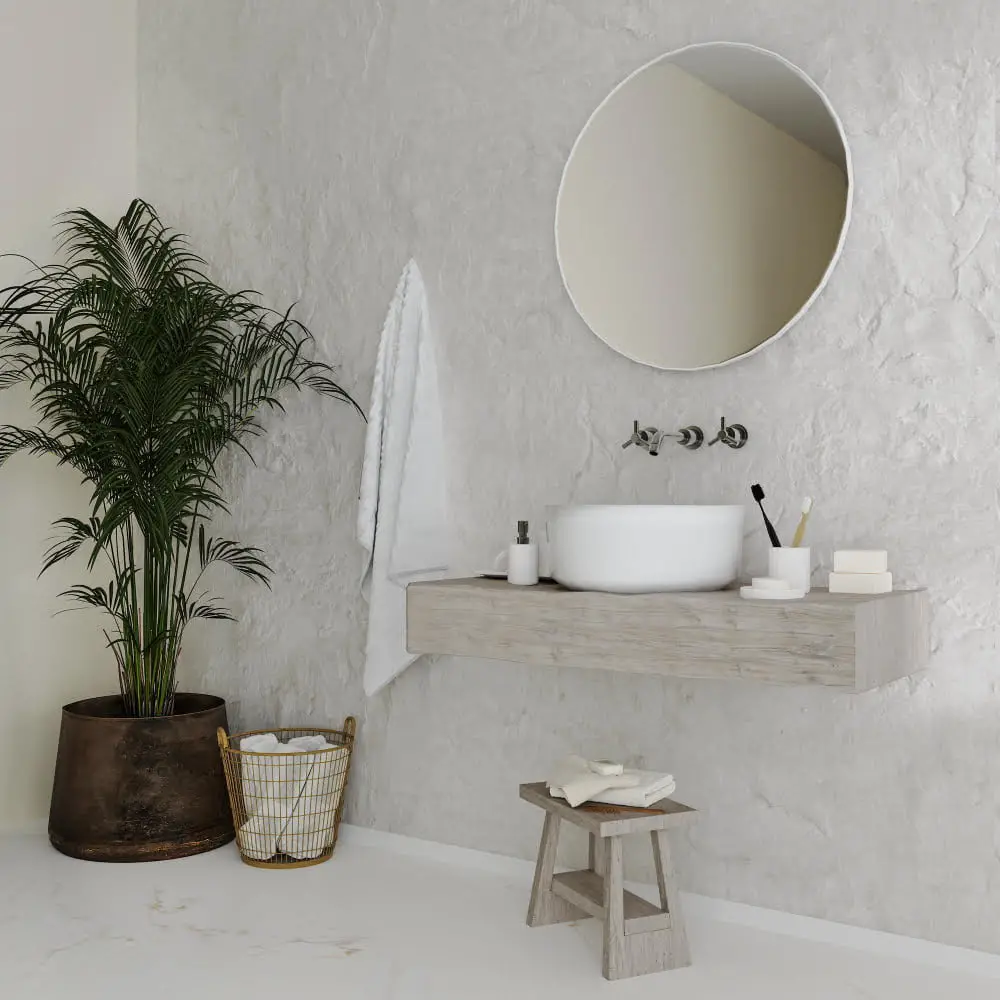 Start by painting the walls in light blue or seafoam green to give it that coastal feel. Add some nautical accents like seashell-shaped soap dishes and anchor hooks for towels.
A woven basket is perfect for storing extra toilet paper or towels while adding texture to the space.
Consider replacing your old shower curtain with one that has a fun beach-inspired print, such as palm trees or waves crashing on shorelines. If you have room, add some floating shelves above the toilet to display decorative items like starfish and coral pieces.
Repurposed Beach-Themed Decor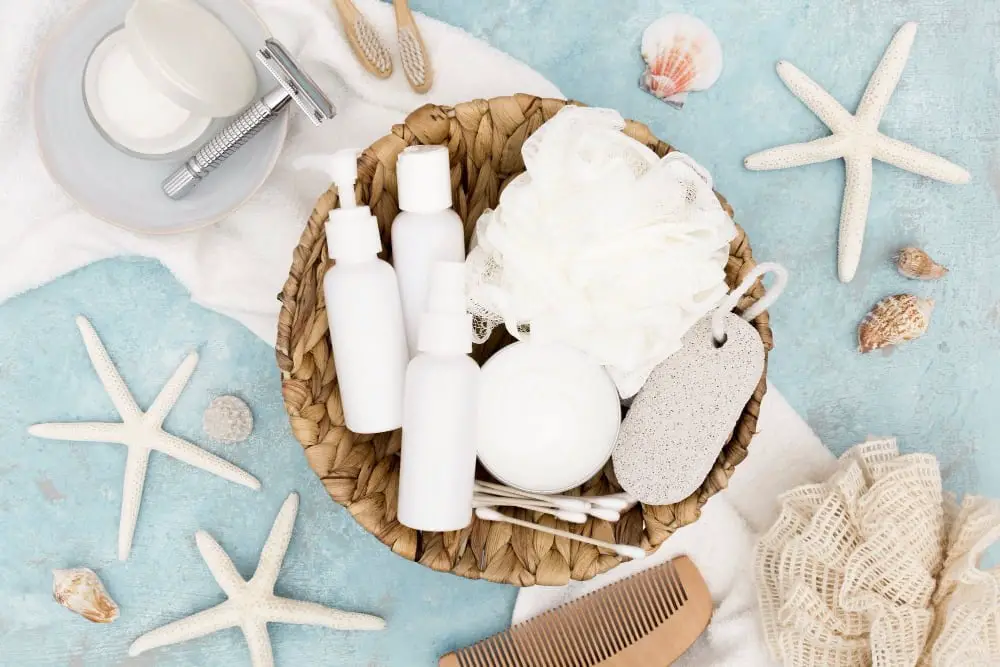 Look for items that can be transformed into beach-themed decor, such as driftwood, seashells, and old fishing nets. For example, you could use an old wooden ladder as a towel rack or hang a collection of vintage oars on the wall.
Another idea is to repurpose glass jars by filling them with sand and shells from your favorite beach destinations. These simple DIY projects not only add personality but also help reduce waste by giving new life to forgotten objects.
Navy Blue and White Bathroom
To achieve this look, consider painting your walls navy blue or using navy blue tiles for the shower or backsplash. White fixtures such as the sink, toilet, and bathtub will provide a clean contrast against the dark walls.
You can also add white towels with navy stripes to tie everything together. For an extra touch of elegance, incorporate gold accents through hardware like faucets and drawer pulls to create a luxurious feel in your bathroom space while still maintaining its coastal charm.
Coastal Farmhouse Bathroom Renovation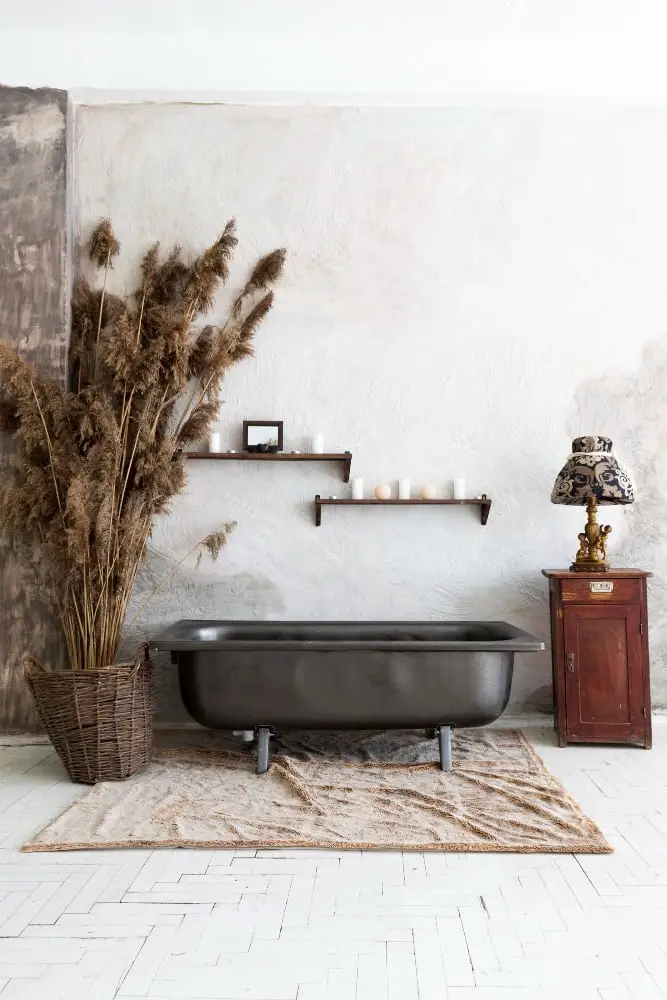 This style is all about creating an inviting and cozy space that feels like home while still incorporating elements inspired by the beach. To achieve this look, consider using natural materials such as wood and stone for your flooring or walls.
You can also add some nautical touches like rope accents or seashell decorations to give it that seaside feel. Don't forget to incorporate plenty of white and blue hues throughout your design scheme for a fresh, airy vibe!
DIY Jute Basket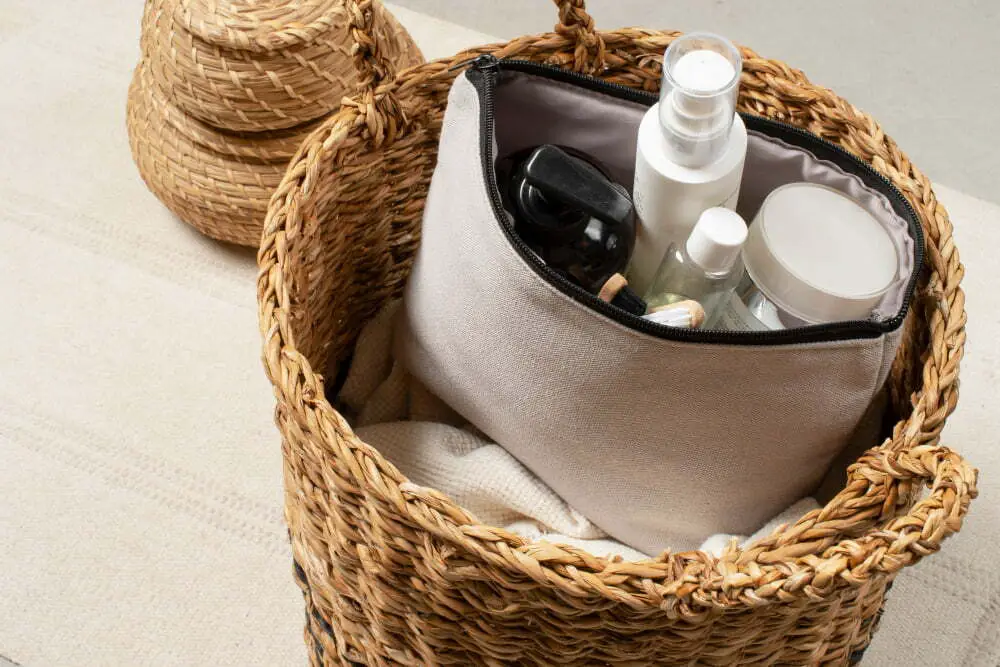 Making your own jute basket is easy and affordable, and it allows you to customize the size and shape of the basket according to your needs. All you need is some jute rope, a hot glue gun, scissors, and a bowl or container that will serve as the mold for shaping the basket.
To start making your DIY jute basket, wrap one end of the rope around itself in a tight coil. Apply hot glue on top of each layer as you go along so that it stays in place.
Once you have created enough coils for the base of your desired size (e.g., 6 inches), start building up by gluing more layers on top until reaching about 3-4 inches high.
Next step involves creating sides by bending up each strand at an angle towards outside while continuing wrapping with new strands until reaching desired height (e.g., 8-10 inches). Finally cut off excess ropes from inside using scissors before tucking them under last row then apply another round or two rows over this edge area with extra care not leaving any gaps between strands.
Budget Makeover With Stencil
Stenciling is an easy and affordable way to add pattern and interest to walls, floors or even cabinets. You can find stencils in various designs that are perfect for creating a beachy vibe such as seashells, starfishes or waves.
To start the project, clean the surface you want to stencil thoroughly and let it dry completely. Then apply painter's tape around the edges of where you'll be working so that paint doesn't bleed onto other surfaces.
Next up is choosing your color palette – think about colors like blues, greens or sandy beige tones which will complement any coastal theme perfectly.
Once everything is prepped and ready-to-go it's time for some fun! Use your stencil brush with light pressure over each section of the design until complete coverage has been achieved. Be sure not to overload too much paint on one area at once as this could cause bleeding under the stencil lines.
When finished painting all areas carefully remove tape from around edges before allowing ample drying time (usually 24 hours) before enjoying your newly transformed space!.
Tile and Shiplap White and Blue Bathroom Renovation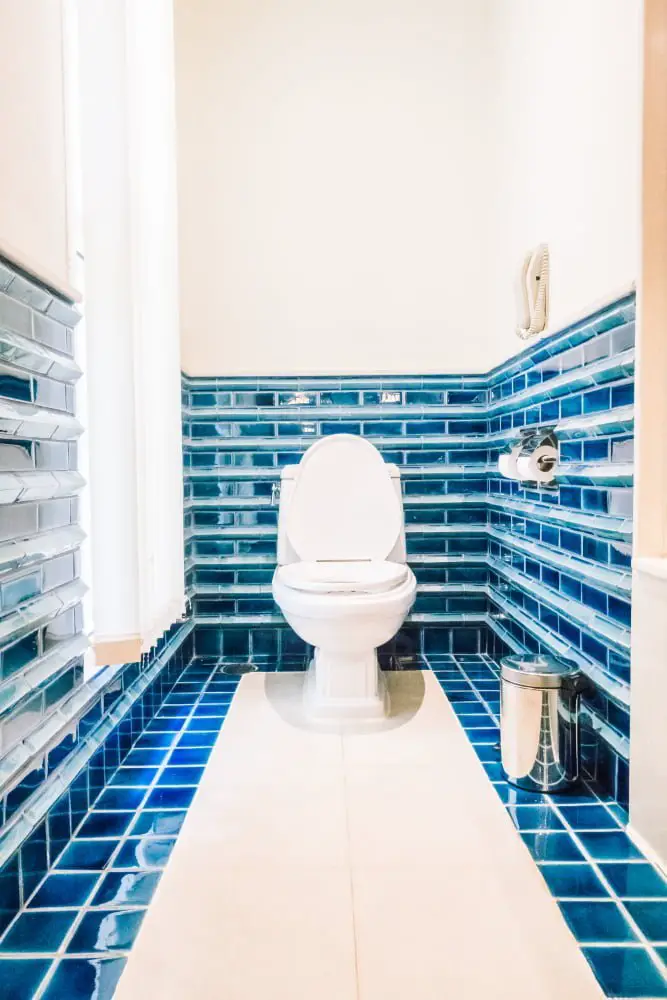 The combination of these elements creates a fresh, clean aesthetic that is perfect for any beach-inspired space. Use large white tiles on the floor and shower walls to create an open feel in the room.
Add smaller blue accent tiles to create interest without overwhelming the space.
To complete this look, install shiplap paneling on one or more of your bathroom walls. This will add texture while keeping things light and airy.
Finish off with simple fixtures in brushed nickel or chrome for a polished touch that won't detract from the overall design scheme.
Ocean Themed Bathroom
Since water centers around the bathroom, wouldn't it be great to decorate it with a quiet, relaxing vibe of the ocean life? An ocean themed bathroom is a great idea if you love sea life. It can make your bathroom calming and laid back. A combination of soft blue, whites, or pinks will be perfect for it.
Beach Themed Bathroom
Beach themed bathroom isn't only applicable to vacation homes but to the everyday bathroom too. It may be challenging to do the right interior but making it less cluttered will make it look and feel relaxing. Rustic theme with pastel blue is a great idea.
Wall Decor for Bathroom
Since we always spend our time in the bathroom, why not giving it a design boost by using beautiful decor items. A total remodel is good if you have the funds but if not, even rugs, plants or shelves are a great alternative.
Half Bath Decor
A half bathroom may be small but it doesn't mean you can't decorate a coastal theme on it. Small decors like seashell arts or starfish can be used, wall arts composed of light, blue and white colors are great options too.
Coastal Bathroom Wallpaper
Wallpaper is a great alternative if you don't have the resources to decorate your bathroom and of course it has a coastal theme too. It's easy to install and remove thus updating your bathroom often won't be a hassle.
Coastal Bathroom Vanity
A great way to bring the ocean feeling to your bathroom is by having a coastal bathroom vanity, it also adds functionality. The best colors are white and gray but other colors like khaki, cream, blue, navy, granite, sea green, and coral pink are good alternatives too.
Bathtub Decor
The bathtub shouldn't be left behind as you can also decorate it with an ocean theme. Blue or white shower curtains with sea creatures is a good start then hang some seashells or add natural ocean materials near the window.
Coastal Bathroom Decor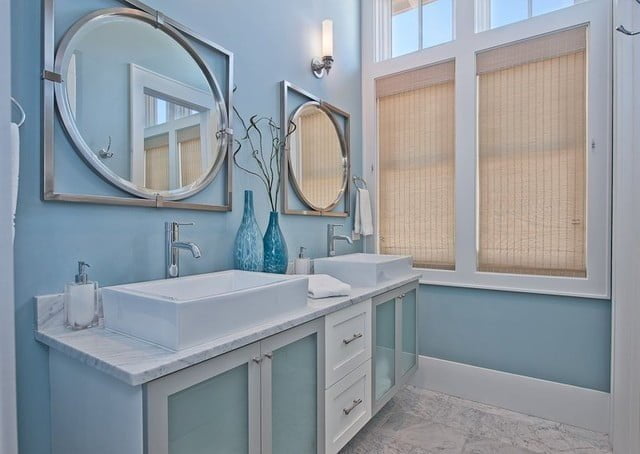 Best examples of coastal decors for your bathroom to use are seafoam green, sunshine coral, and true navy for a soothing ambiance or palm green, bright coral, and cool lime for the island vibe. It evokes feelings of simplicity and relaxation.
Blue and White Bathroom
Blue and white is a crisp and clean combination that will bring your bathroom interior to the next level. Blue is the color of water making it look a natural coastal themed bathroom then adding white will complement the whole design.
Sea Themed Bathroom
Sea themed bathroom, much like ocean themed bathroom emphasizes the relaxing, natural ambiance when you're on a beach. You can make it more fun especially for kids by making it a fish or mermaid themed interior.
Nautical Themed Bathroom
If you're ready to take the plunge, how about making your bathroom a nautical or maritime-themed one? It still has the same vibe as an ocean theme but with more human touch like ships or boat arts, telescopes, maps, or pirate's hat as additional materials.
Tropical Bathroom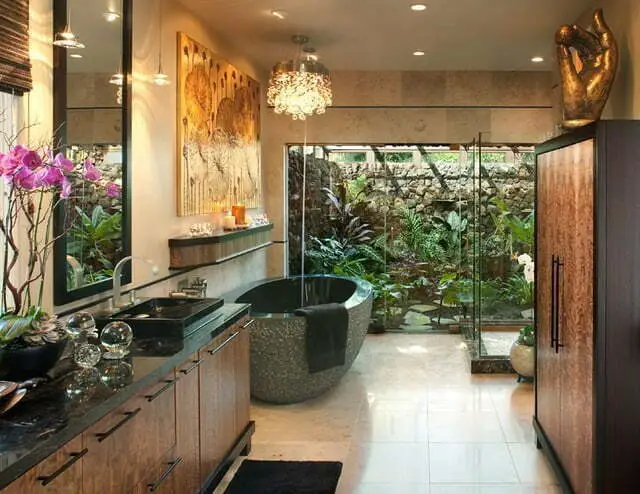 Close to an ocean-themed bathroom is a tropical bathroom that gives a spa-like experience. You'll be needing lots of greenery around it but there are alternatives if you're on a budget like green tiles, bamboo, and stone bathroom appliances.
Beach Tile Bathroom
Of course, an ocean-themed bathroom won't be complete if we don't use beach themed tiles. Ceramics are perfect because they are water-resistant and beautiful at the same time. Dolphins, crabs or sea horses tile are good choices.
Countertop Decor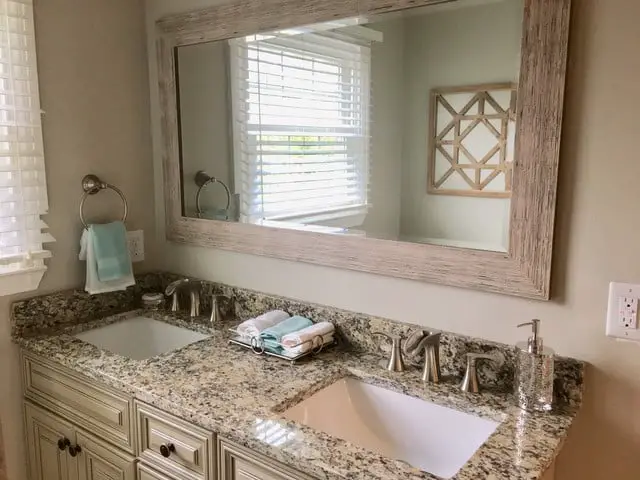 Coastal decors for the bathroom counter top can make it more attractive or maybe even functional. It can be composed of sea shells and see glass for the counter top itself while adding ocean-themed utilities is a great way to add functionalities like a star fish soap holder.
Continue reading: