Last updated on September 29, 2023
Discover a world of creative and functional boys bathroom ideas that will inspire you to design the perfect space for your little one, from playful themes to smart storage solutions.
Are you tired of your boys' bathroom looking dull and uninspiring? Do you want to transform it into a stylish space that your kids will love? Look no further! In this article, we've compiled 20 amazing ideas to help you create the ultimate boys' bathroom. From playful wallpaper to quirky accessories, we've got everything covered.
So get ready to be inspired and let's turn that boring bathroom into a fun and functional space!
Table of Contents
Graffiti Art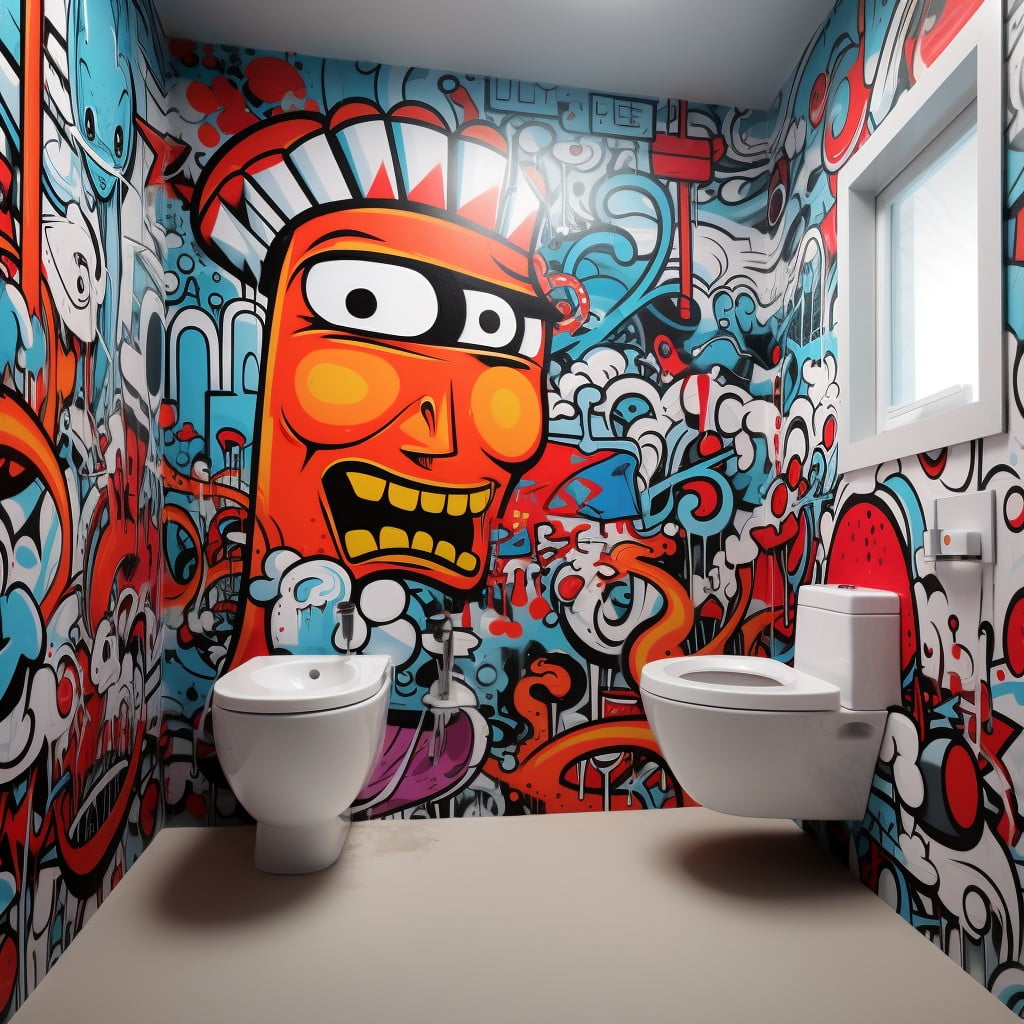 Graffiti art is a great way to add some edginess and personality to a boy's bathroom. You can hire a professional graffiti artist or even create your own DIY graffiti wall with stencils and spray paint.
Choose bold colors, funky fonts, and unique designs that reflect your child's interests or hobbies. From street art-inspired murals to abstract patterns, the possibilities are endless when it comes to incorporating graffiti into your bathroom decor.
Just make sure you use non-toxic paints and sealants for safety reasons!
Sports Theme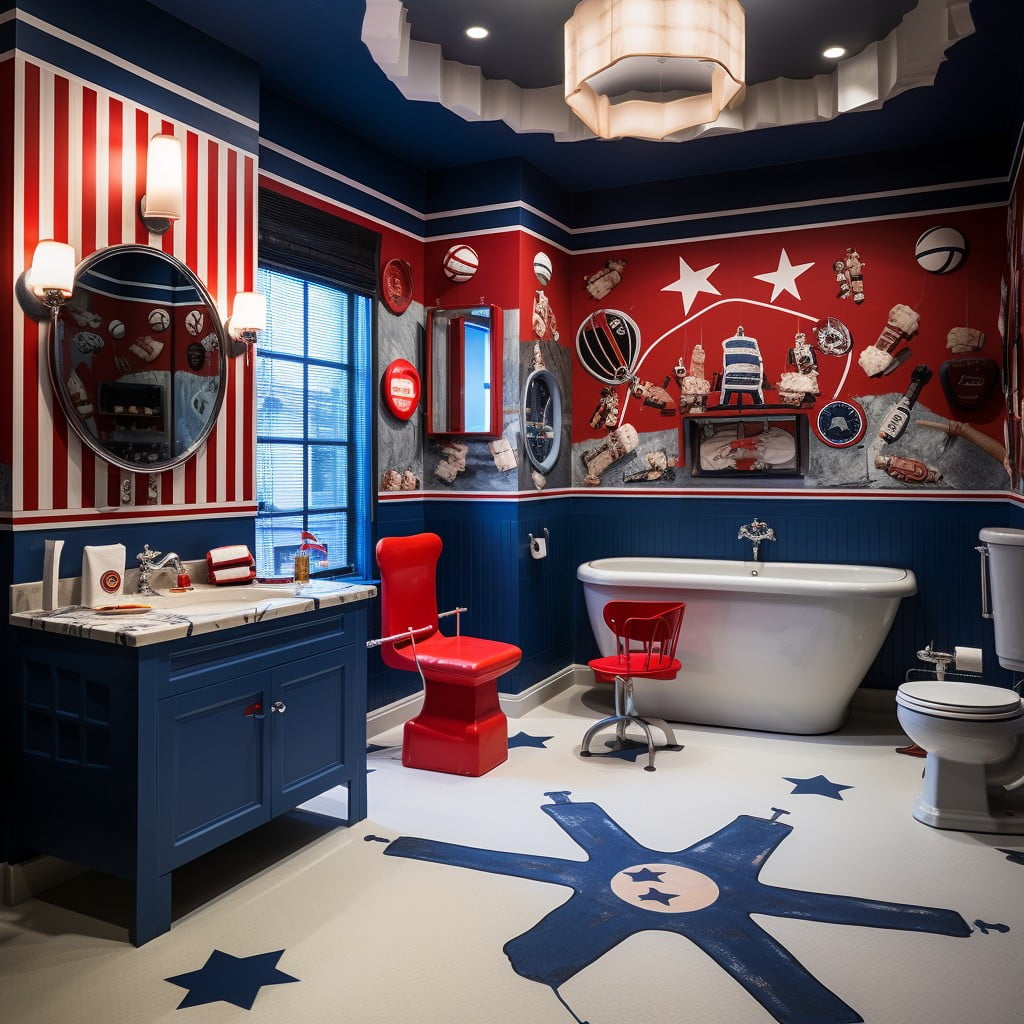 You can choose to focus on one sport or incorporate multiple ones into your design. For example, you could create a basketball court-inspired shower curtain and add basketball hoop hooks for towels.
Alternatively, you could use baseball bat towel racks and decorate the walls with vintage baseball posters.
Another idea is to use team colors as your color scheme or even incorporate memorabilia from your favorite teams into the decor. A football-shaped rug or soccer ball soap dispenser are just some of many options available in stores.
Gamer Zone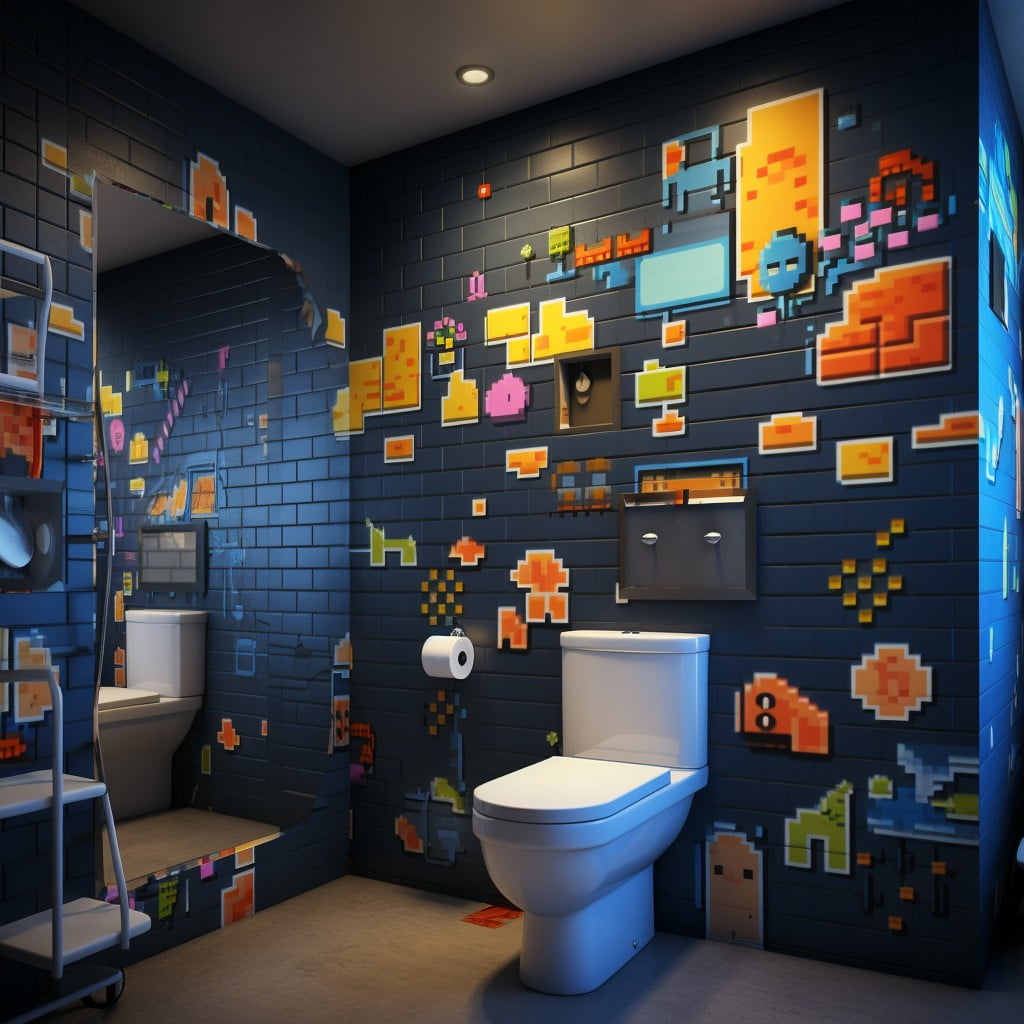 Start by incorporating gaming-inspired decor such as wall art featuring popular game characters or posters of favorite games. Consider adding LED lights to create a futuristic vibe and enhance the gaming experience.
You could also add shelves to display game consoles and controllers, making them easily accessible for use during bath time breaks or while getting ready in the morning. Consider installing speakers so that your child can listen to their favorite soundtracks while they get ready for school or bed!
Superhero Decor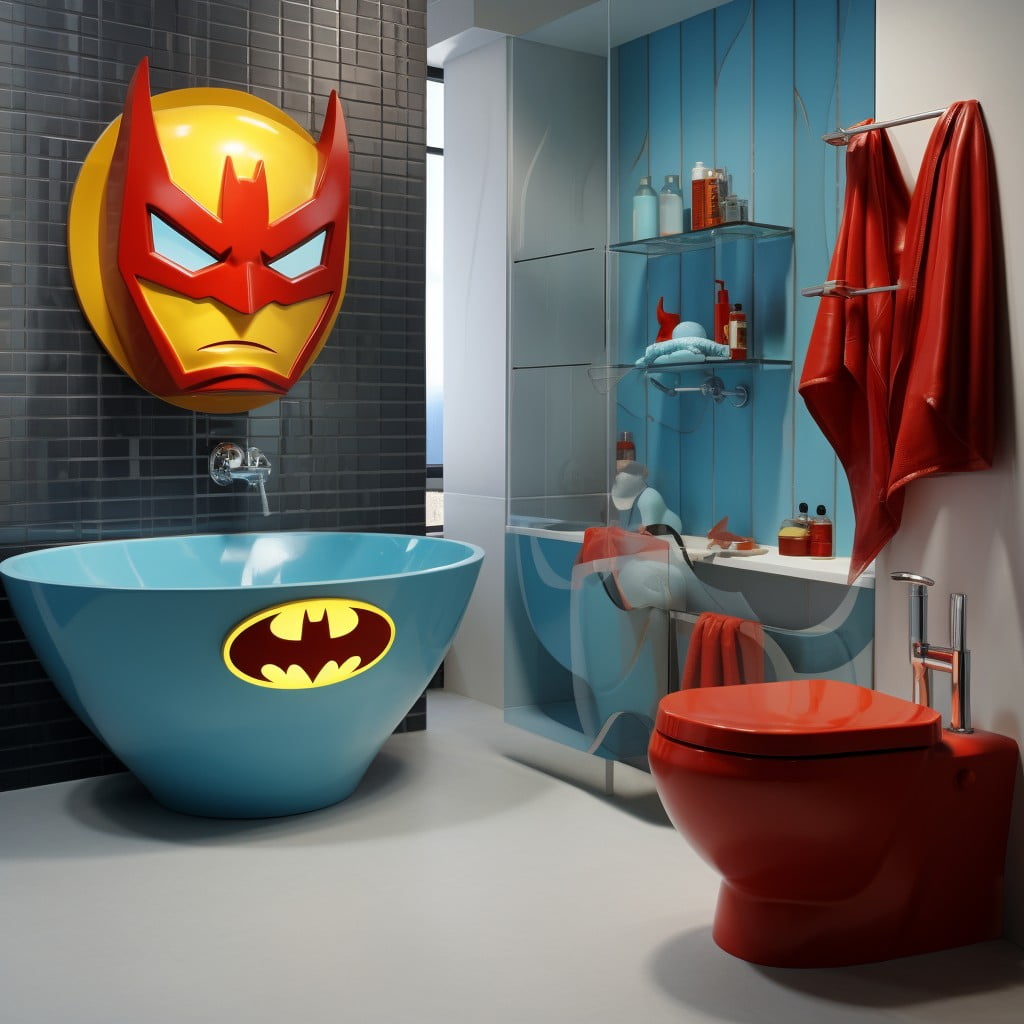 You can choose to focus on one superhero or mix and match different characters. Use comic book pages as wallpaper or create a gallery wall with framed posters of your favorite heroes.
Add some fun touches like superhero-themed soap dispensers, toothbrush holders, and towels to complete the look. For an extra touch of creativity, consider painting the ceiling with stars and planets to give it that "superhero flying through space" vibe!
Music Inspired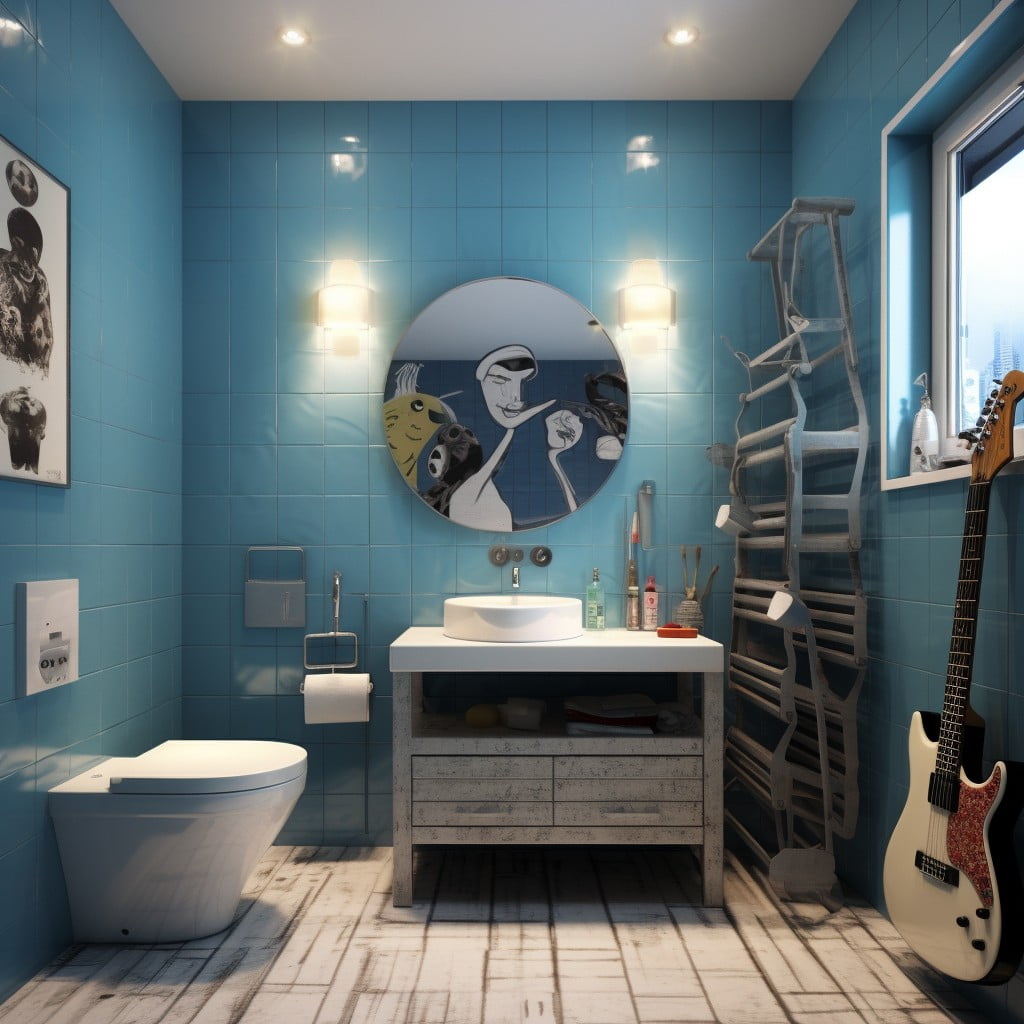 You can create a space that reflects their love for music by incorporating musical instruments, album covers, and lyrics into the design. A simple way to achieve this look is by using vinyl records as wall art or creating a gallery wall with framed concert posters.
You can also add some fun elements like guitar-shaped soap dispensers or drum set toilet seat covers to complete the theme. For an extra touch of creativity, consider adding soundproofing panels on the walls to enhance acoustics and make it feel like they are in their own private recording studio!
Science and Space
To create a science-inspired bathroom, consider adding elements such as beakers, test tubes, and periodic table wall art. You can also incorporate space-themed decor like planets, stars or galaxies to give the room an out-of-this-world feel.
A black-and-white color scheme with pops of bright colors can add a futuristic touch to the design. For lighting options, consider installing LED lights that mimic starry skies or galaxy patterns on the ceiling or walls for an immersive experience that will make your little astronaut excited about bath time!
Car and Racing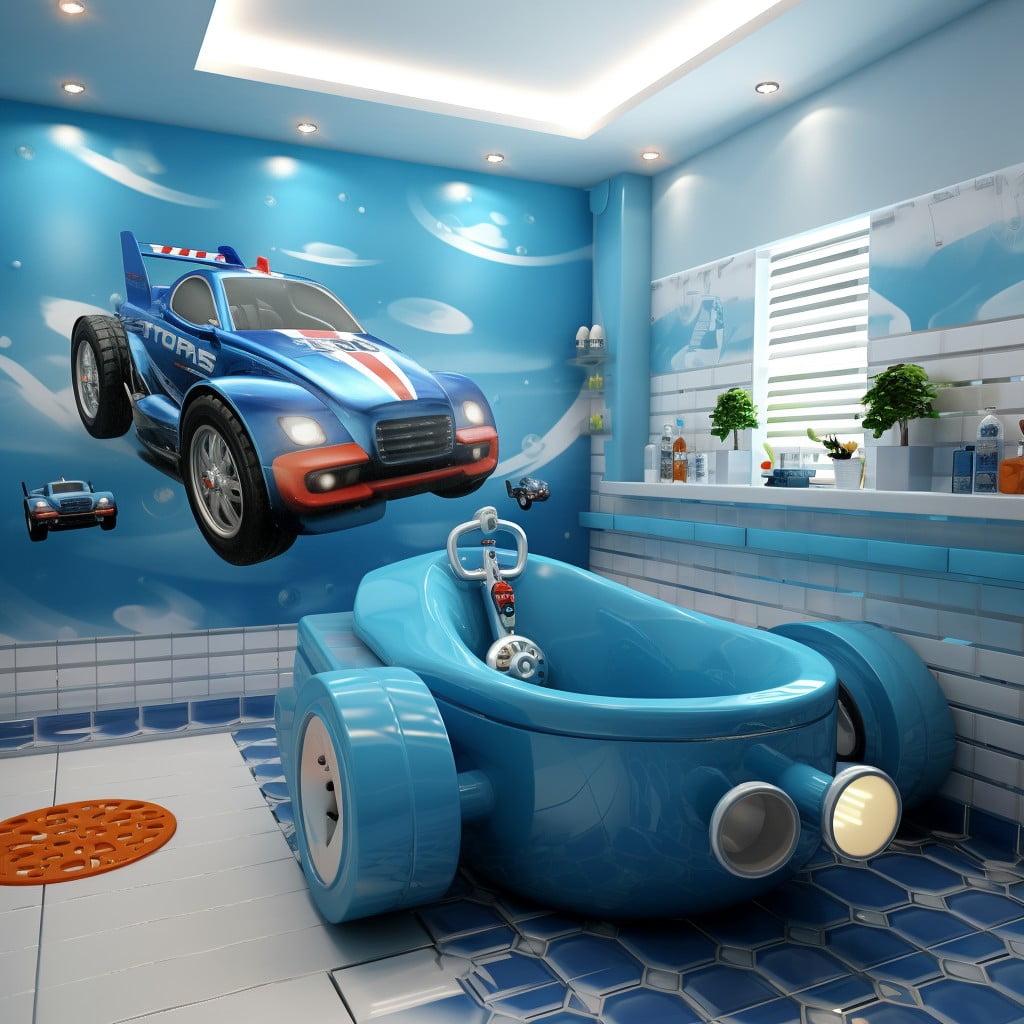 To create this theme, you can start by painting the walls in a checkered flag pattern or using car decals to add some excitement. You can also incorporate elements such as tire-shaped mirrors, steering wheel towel holders, and racecar-inspired shower curtains.
Adding framed posters of famous racers or vintage cars will complete the look perfectly. For an extra touch of fun, consider adding a small toy car collection on display shelves or even creating a custom vanity made from old tires!
Pirate Adventure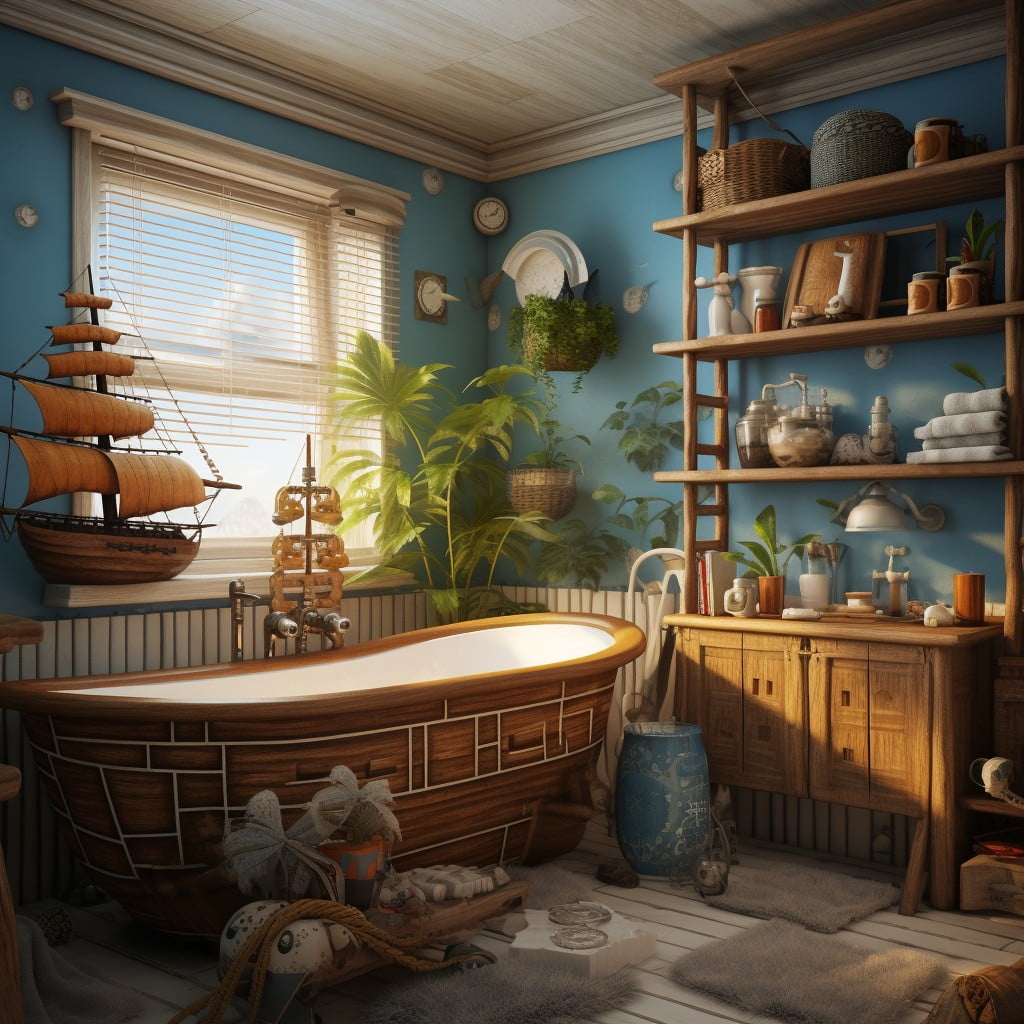 The key to achieving this look is by incorporating elements such as treasure maps, anchors, ships, and of course, the infamous Jolly Roger flag. You can also add some fun details like wooden barrels for storage or even create your own "treasure chest" for storing towels or toiletries.
To complete the theme, consider adding nautical-inspired lighting fixtures and rustic wood accents throughout the space. With these simple additions to your bathroom decor scheme you'll have created an immersive pirate adventure that any young boy will love!
Cartoon Characters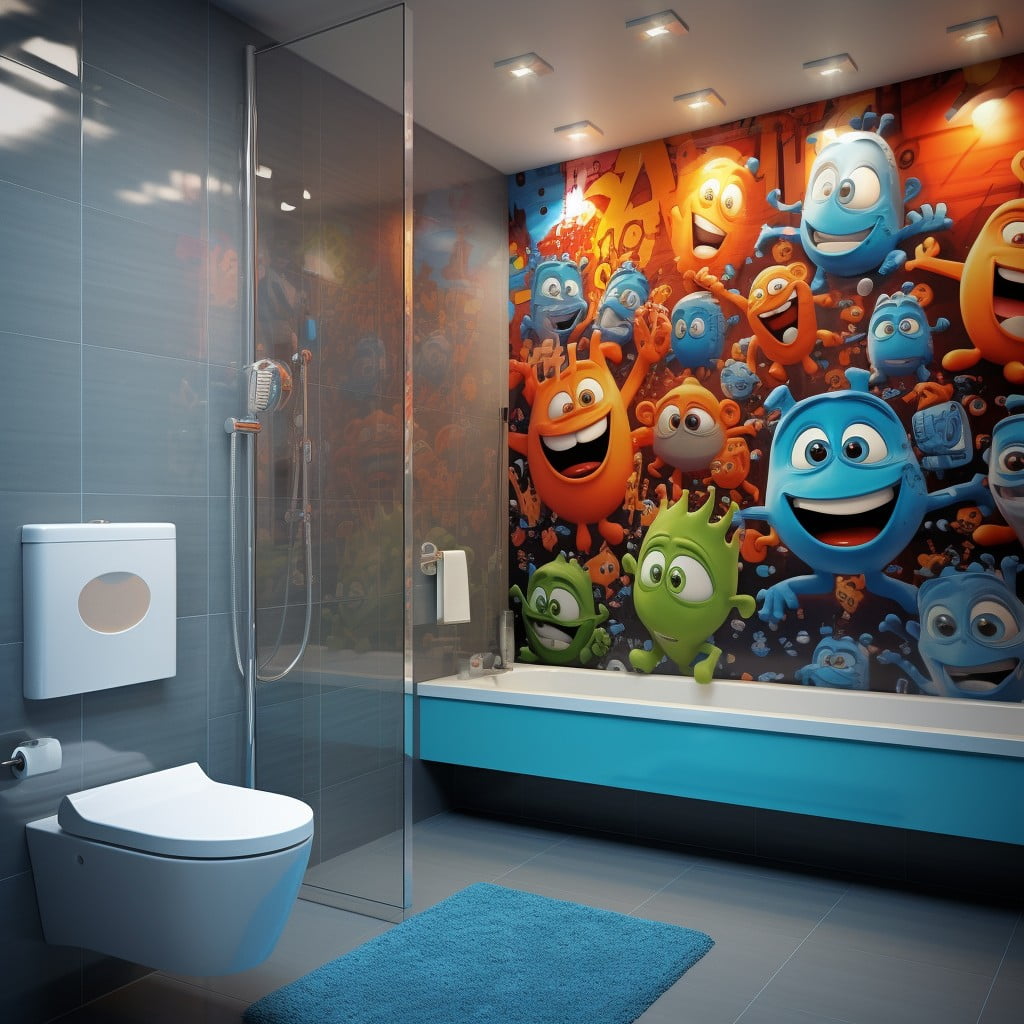 From classic Disney characters to modern superheroes, there is no shortage of options to choose from. You can go all out with a full wall mural or keep it simple with small accents like shower curtains and towels featuring your child's favorite cartoon character.
This theme is perfect for younger children who will love seeing their beloved animated friends in their daily routine, making bath time more fun and enjoyable!
Minimalist Design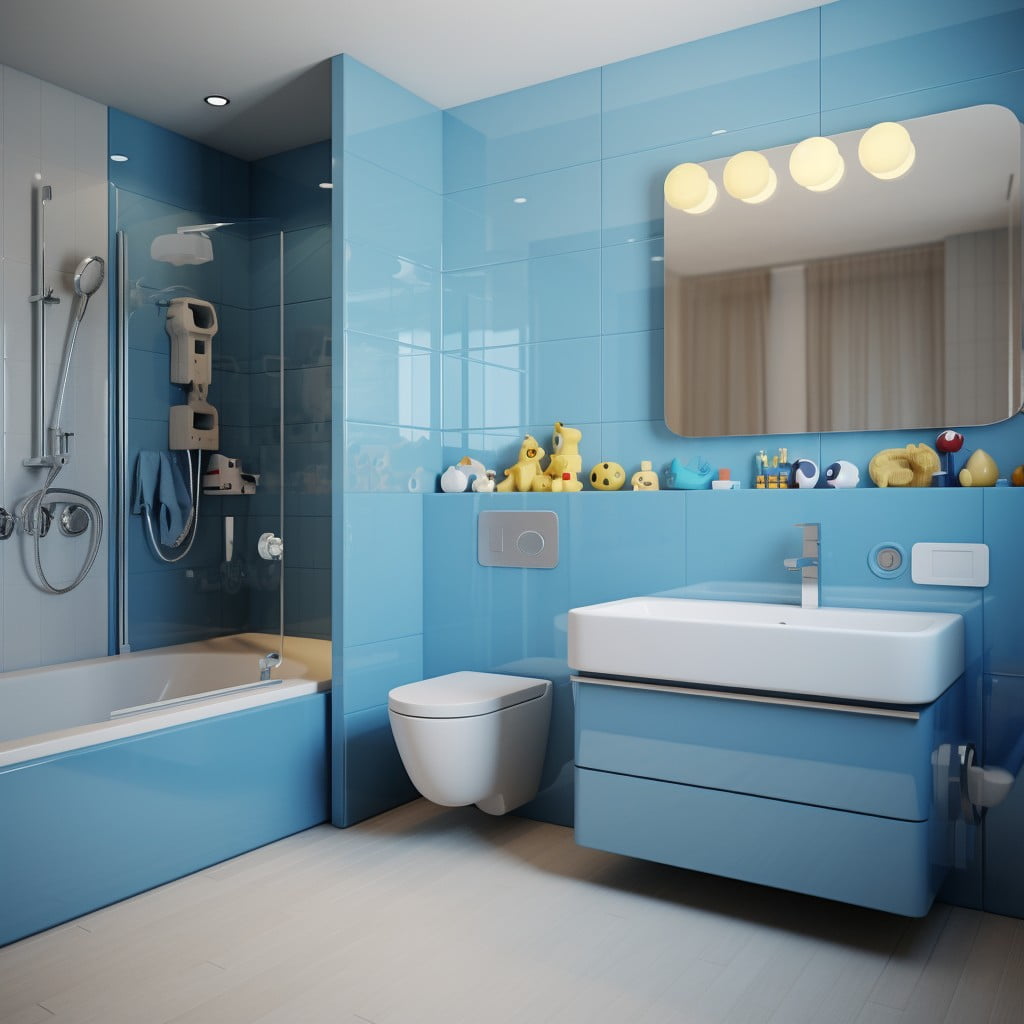 This style focuses on clean lines, neutral colors, and minimal decor. In a boys' bathroom, this can mean using white or gray tiles with black accents to create an elegant yet understated look.
Simple geometric shapes like hexagons or rectangles can add interest without overwhelming the space. A few well-chosen accessories such as sleek soap dispensers or minimalist mirrors complete the look while keeping clutter at bay.
Animal Kingdom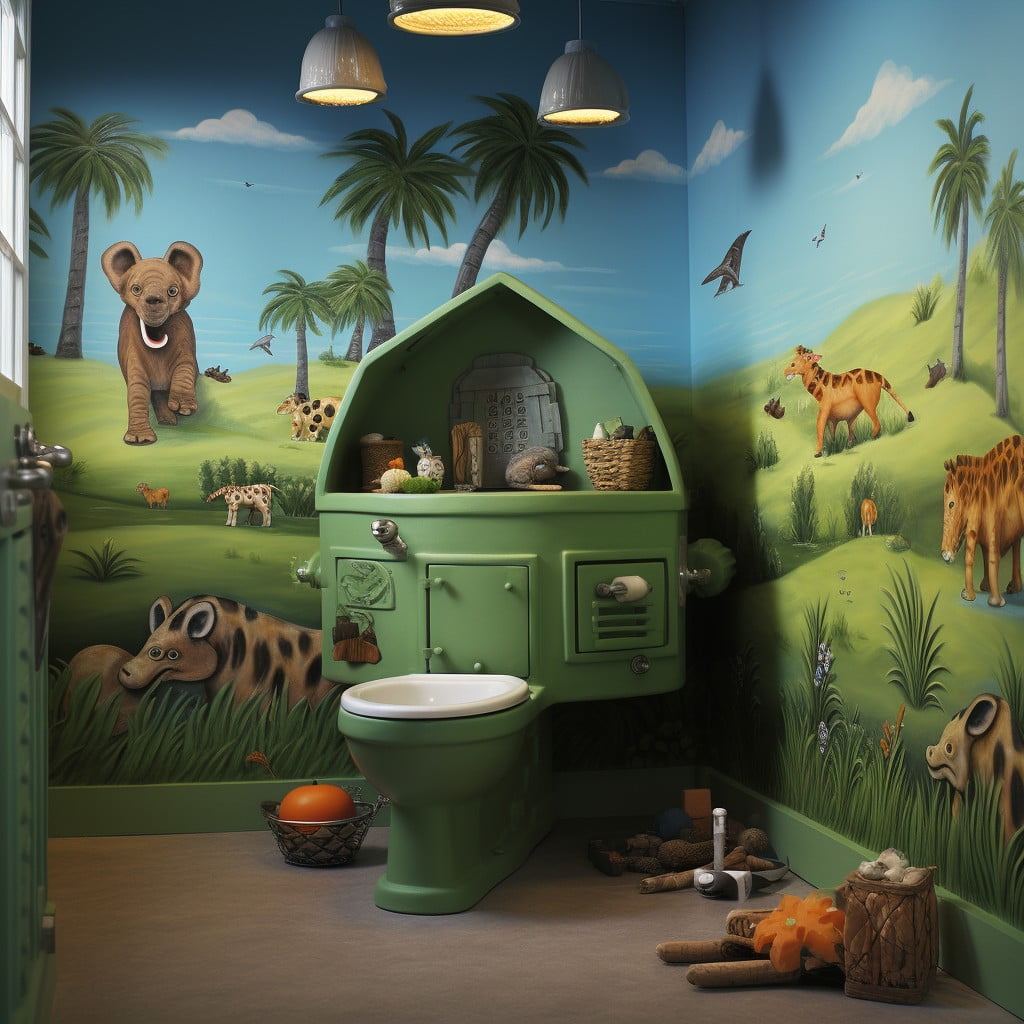 You can use wallpaper or decals to create a jungle-like atmosphere on the walls. Add some greenery and plants to complete the look.
Animal-shaped soap dispensers, toothbrush holders, and towels will add more fun elements to this theme. A shower curtain with animal prints or patterns will also enhance this design style further while keeping water off your floor!
Nautical Style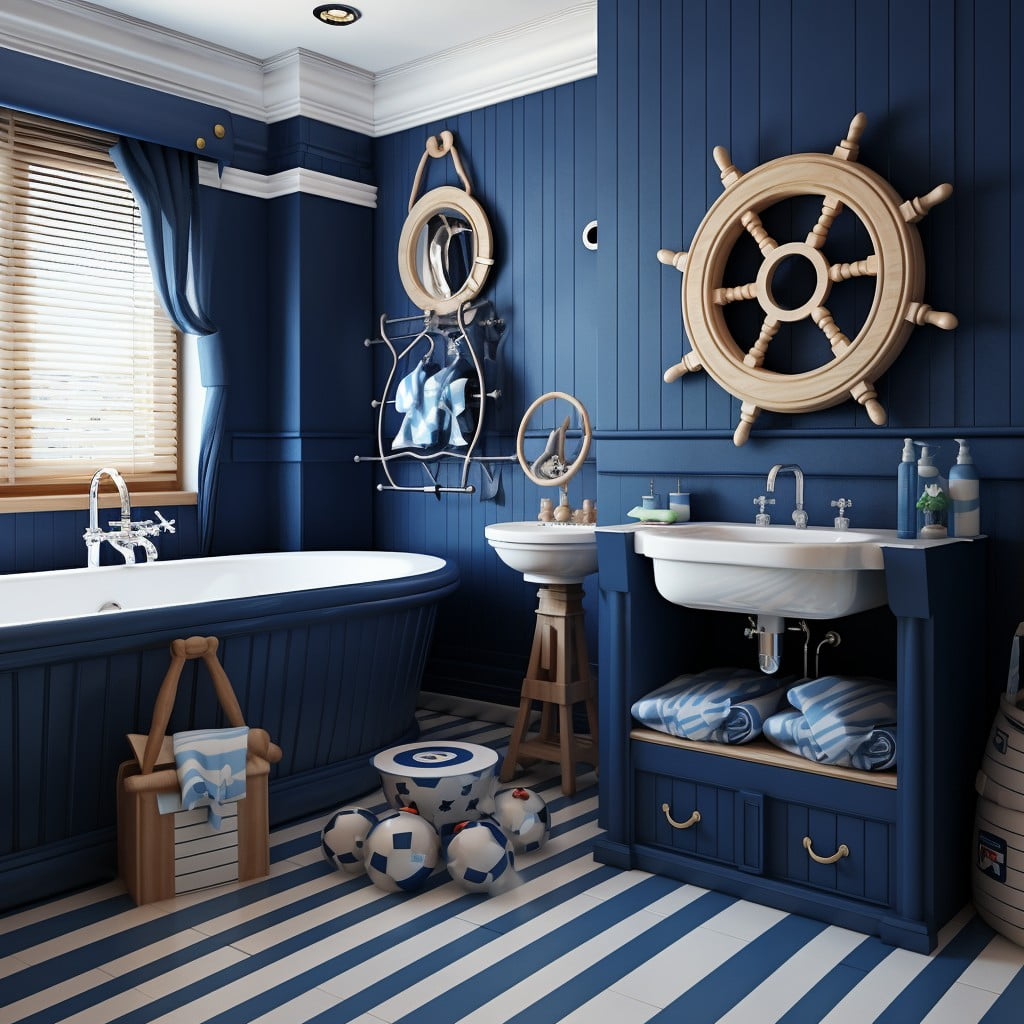 It brings the oceanic vibe into the space and creates a refreshing atmosphere. To achieve this look, you can use navy blue and white color scheme, striped patterns, anchor motifs, rope accents or even sea creature decorations like starfish or seashells.
You can also add some wooden elements to give it an authentic feel of being on board a ship. A nautical-themed bathroom will make your little sailor feel right at home!
LEGO Creations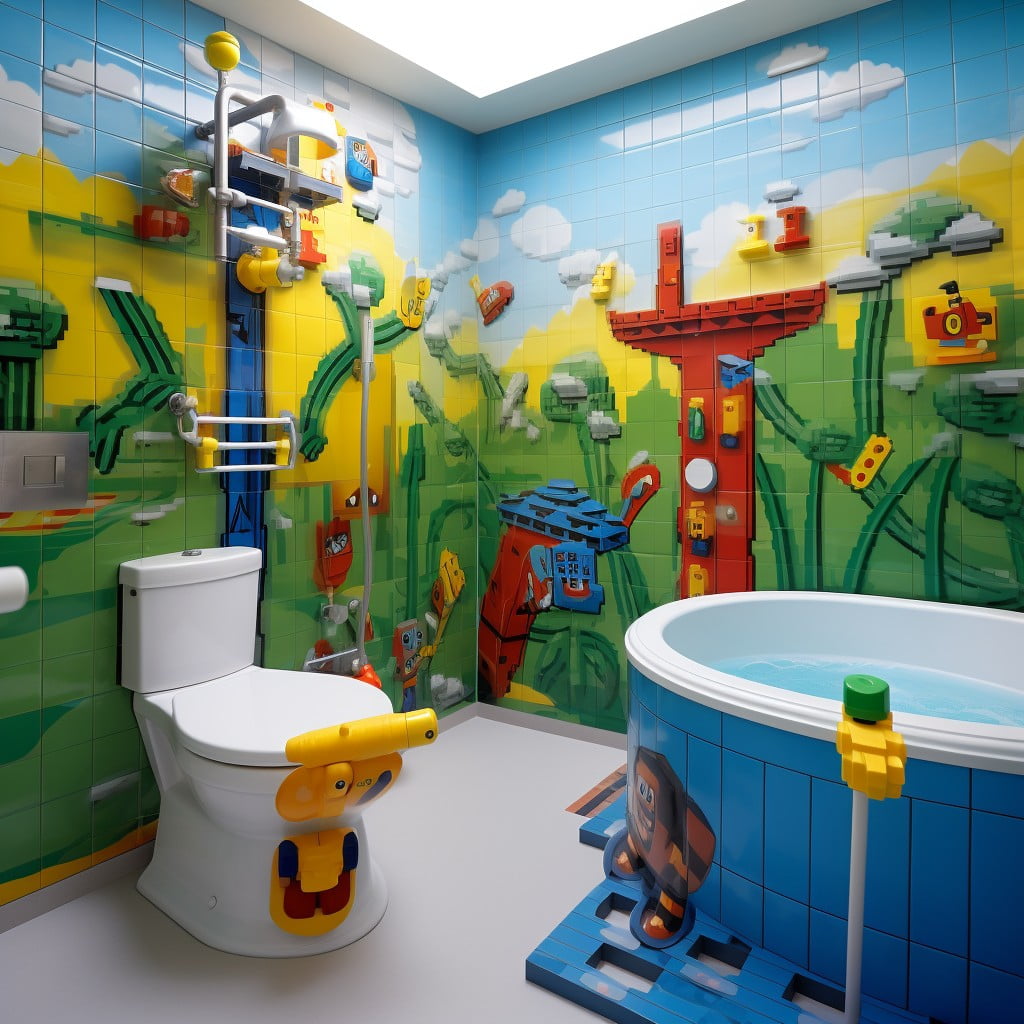 Start with colorful shower curtains that feature the iconic building blocks or add some wall art showcasing popular characters like Batman or Harry Potter. You can also use actual LEGOs to make unique soap dispensers, toothbrush holders, and even towel racks! The possibilities are endless when it comes to creating a bathroom that celebrates your child's love for these timeless toys.
Travel Explorer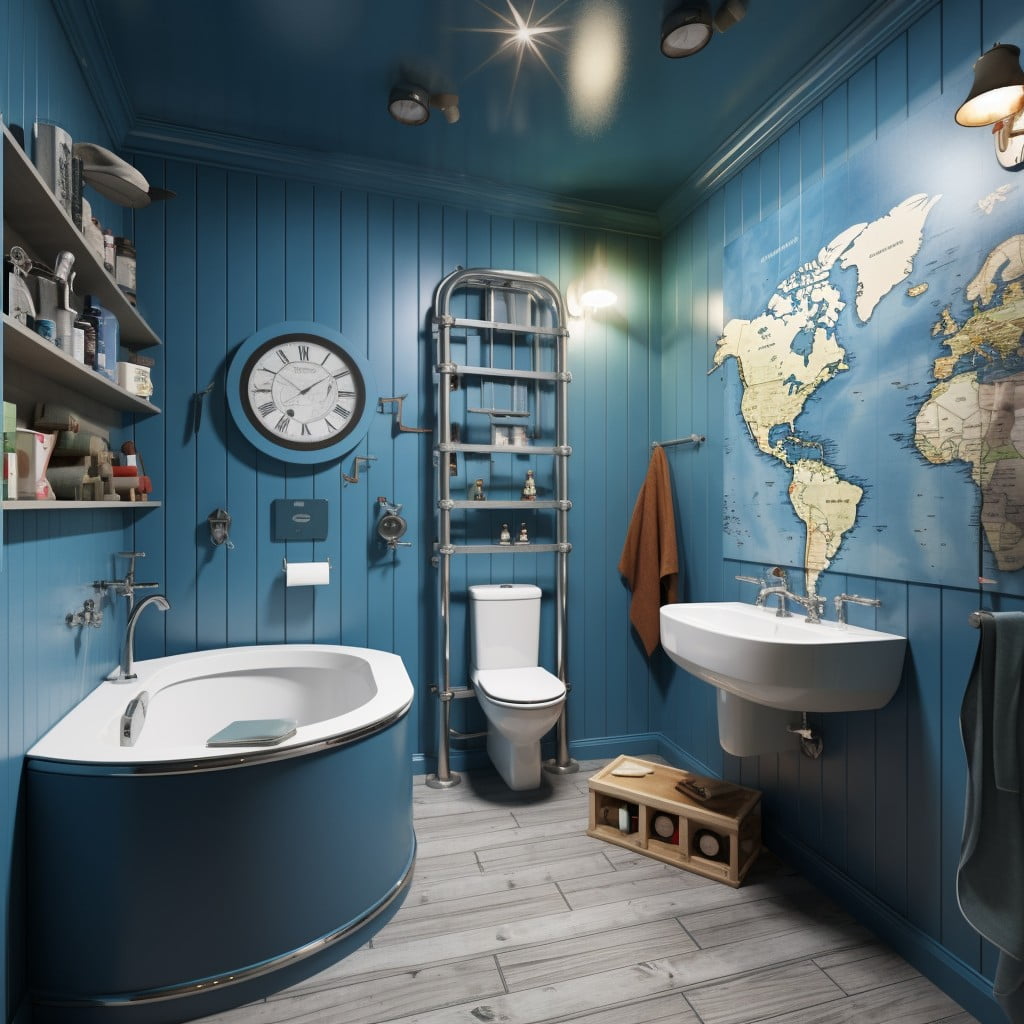 You can decorate the walls with maps and globes or use vintage suitcases as storage units. Hang framed pictures of famous landmarks or create a gallery wall with postcards from different countries.
Use natural materials like wood and stone for accessories such as soap dishes, toothbrush holders, and towel racks to give it an earthy feel. Add some greenery by placing potted plants on shelves or windowsills to complete the look of this wanderlust-inspired bathroom design!
Jungle Safari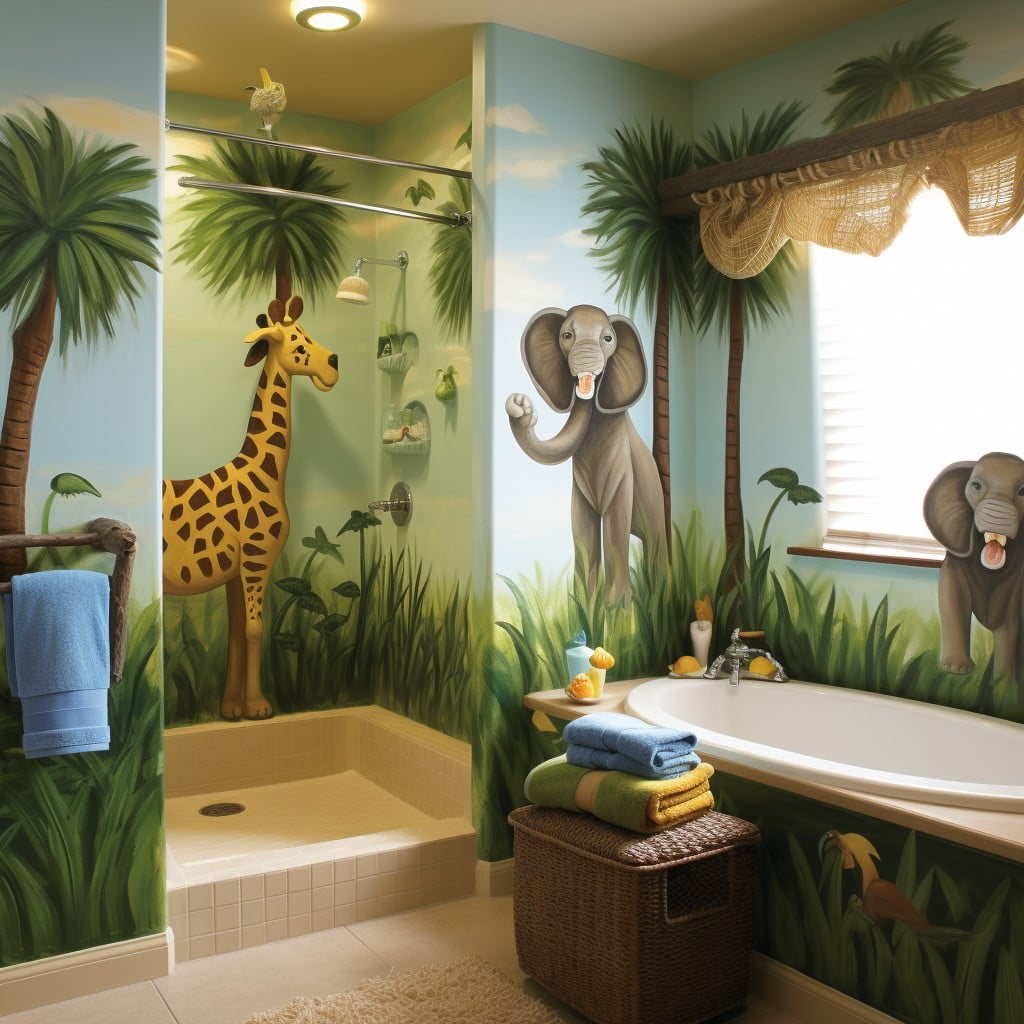 Start by painting the walls in earthy tones like green, brown, or beige to create a natural ambiance. Add some animal prints on towels and shower curtains to bring out the wild side of your little explorer.
You can also incorporate some faux plants or vines around the mirror or sink area for added effect. To complete this theme, consider adding some animal figurines such as elephants, lions, zebras or monkeys on shelves and countertops for that authentic jungle feel!
Skateboard Park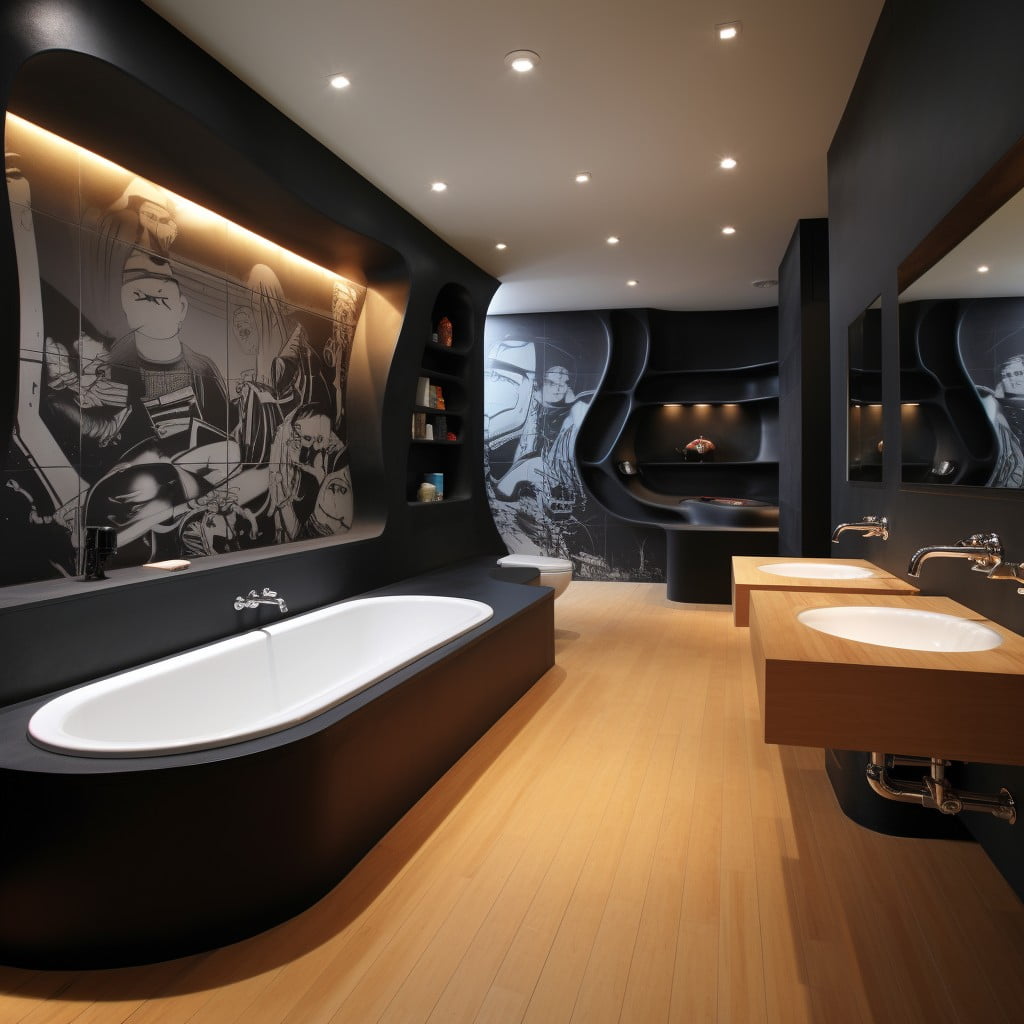 The walls can be painted with graffiti art or covered in skateboard posters. A shower curtain with a skateboarding design and matching towels will complete the look.
To add some extra flair, consider adding shelves made from old skateboard decks or repurposing an old deck as a towel rack. This theme is sure to make any young skater feel right at home in their own bathroom sanctuary!
Robot Workshop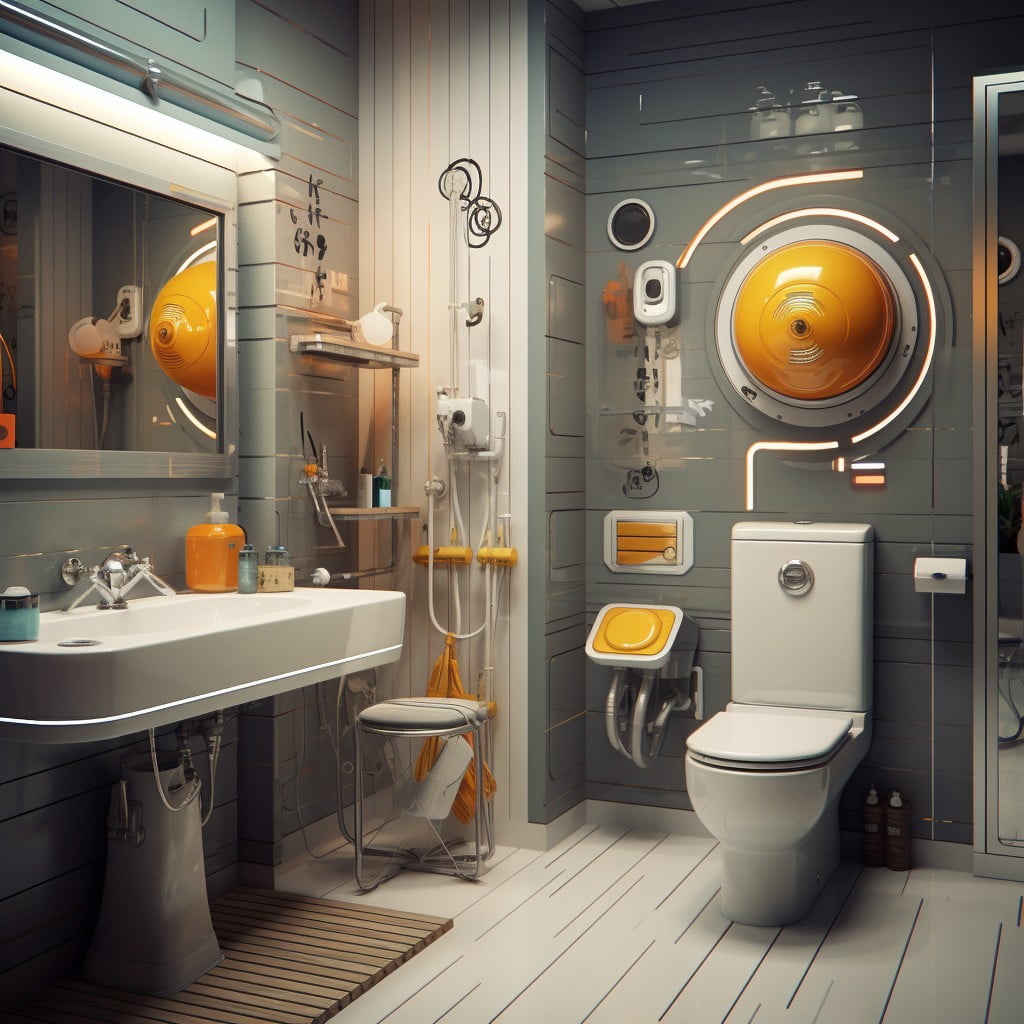 The walls can be painted in metallic colors like silver or grey to give it an industrial look. You can add some robotic decals and posters on the walls to create a futuristic vibe.
A shower curtain with robots printed on it will complete the theme perfectly. To make this theme more interactive, you could even install some gadgets that resemble robotic arms or legs as towel holders and soap dispensers!
Colorful Patterns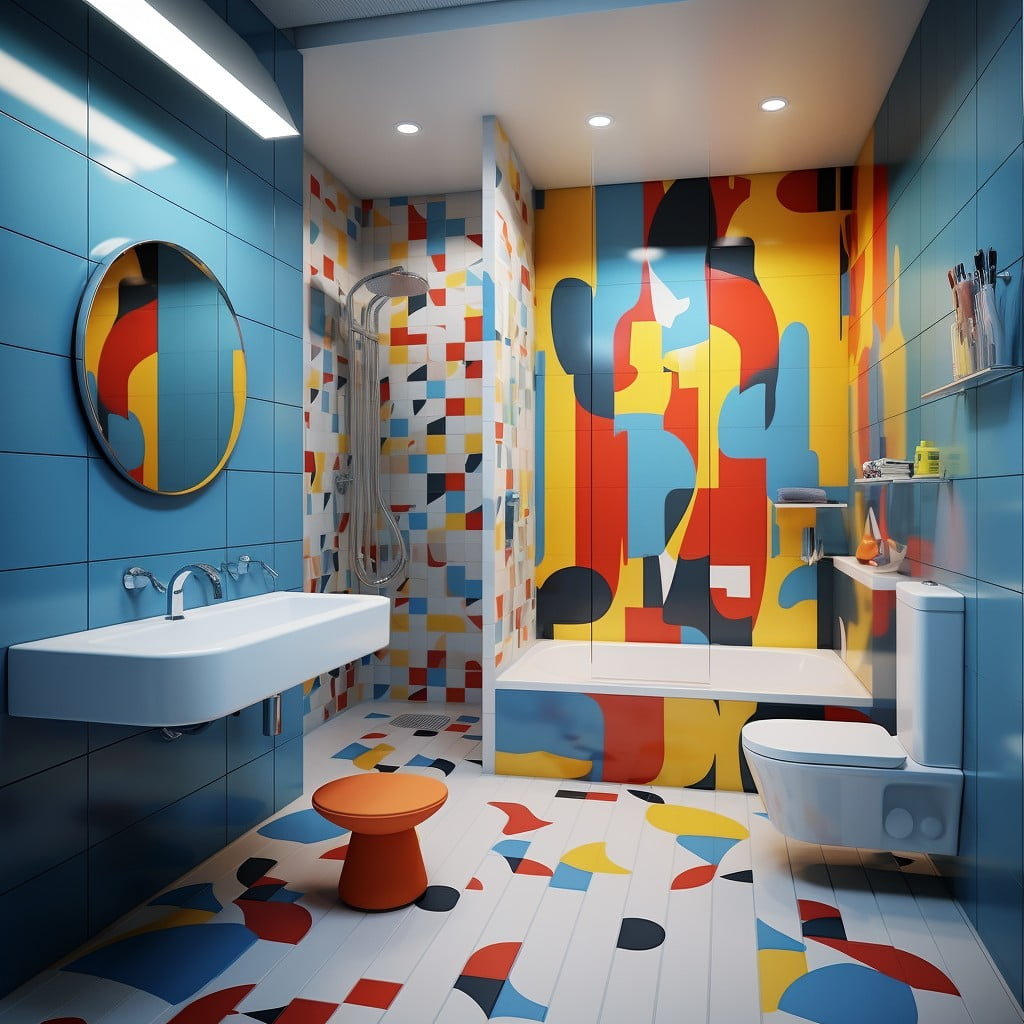 From stripes and polka dots, to chevron and geometric shapes, there are endless options when it comes to incorporating colorful patterns into the space. Consider using patterned wallpaper or tiles on one wall as an accent feature, or mix-and-match different patterns for a playful look.
To balance out the boldness of the patterns, keep other elements in the room simple with neutral-colored towels and accessories. With colorful patterns in your design arsenal, you can create an exciting bathroom that will make any boy feel right at home!
Vintage Nostalgia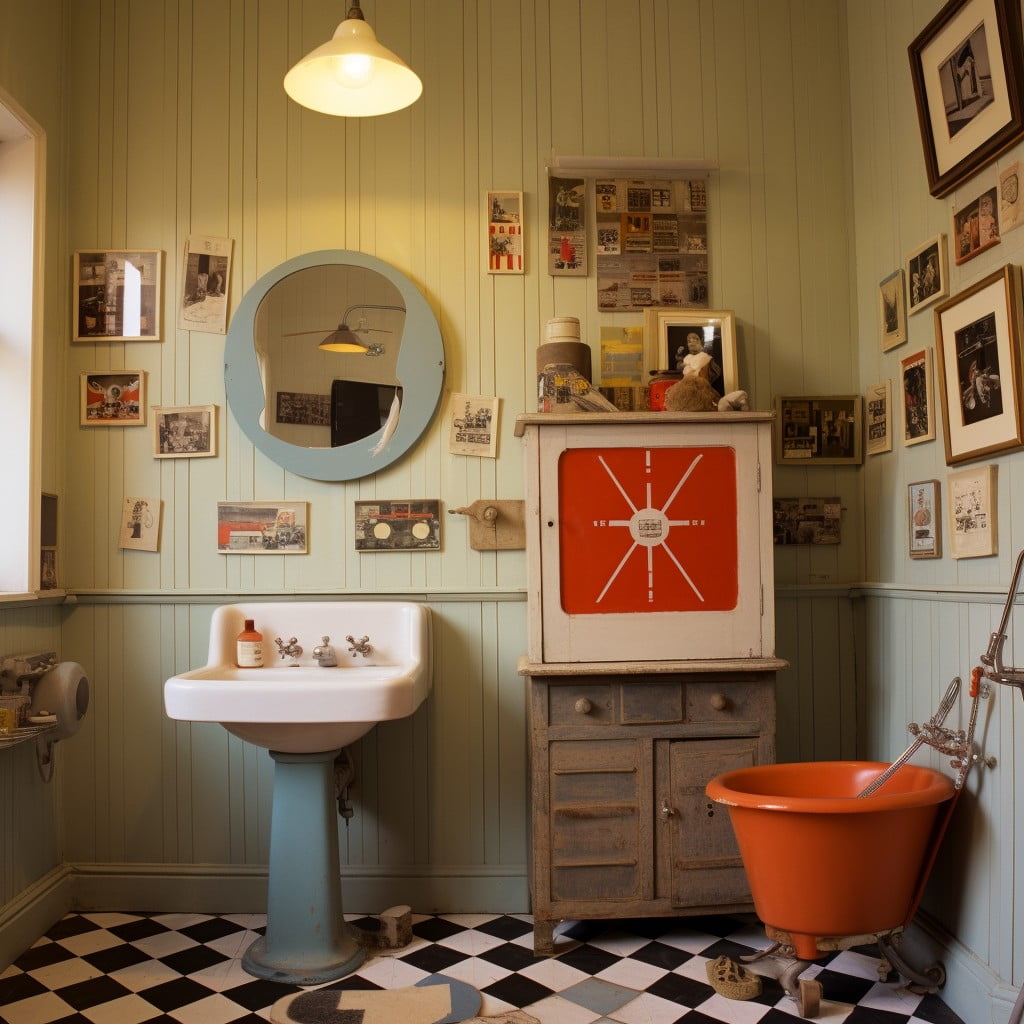 It brings back memories of the past and creates a cozy atmosphere. To achieve this look, consider using vintage-inspired tiles or wallpaper with classic patterns such as stripes or polka dots in muted colors like brown, beige, and cream.
Add antique accessories like an old-fashioned soap dispenser or towel rack to complete the vintage vibe. You can also incorporate rustic elements such as wooden shelves or metal hooks to enhance the nostalgic feel of your bathroom design.
Outdoor-inspired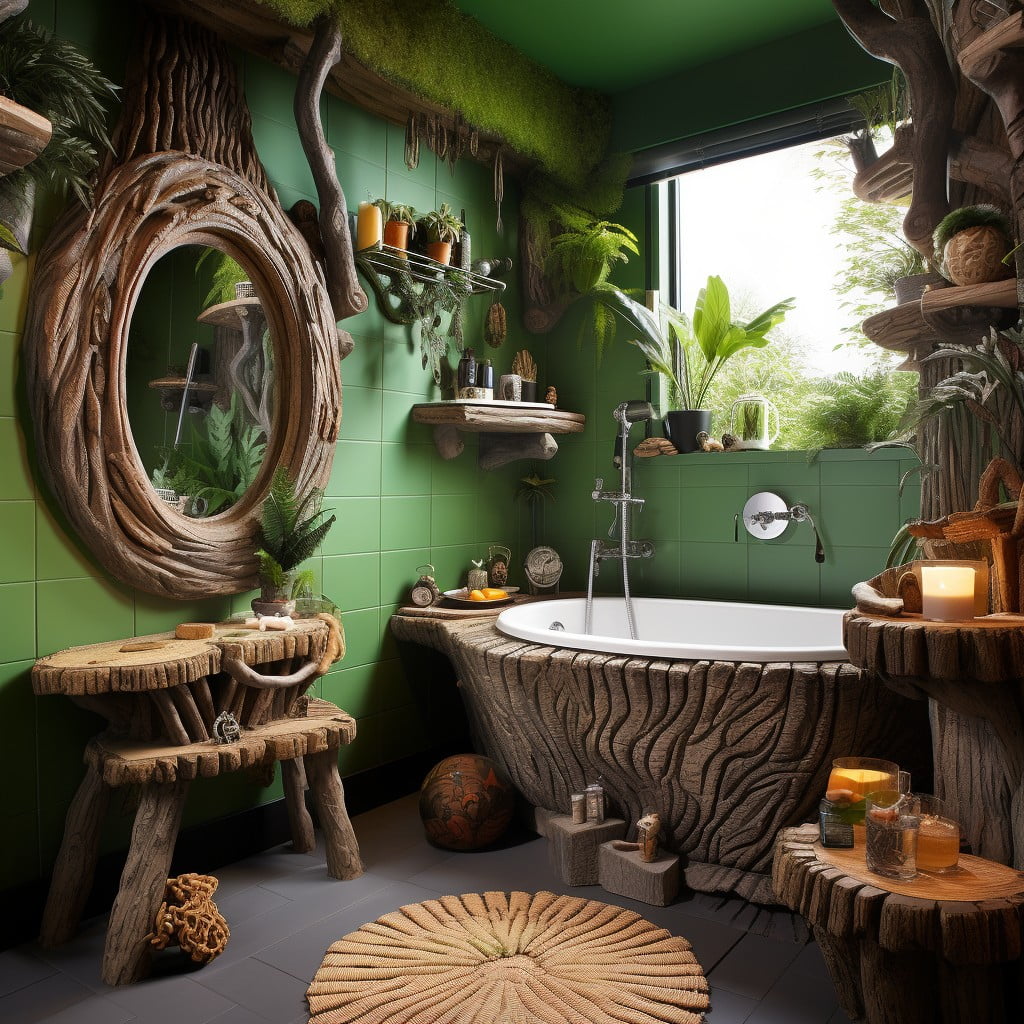 This theme can be achieved by incorporating natural elements such as wood, stone, and plants into the decor. A wooden vanity with a stone countertop can serve as the centerpiece of this design while adding potted plants or hanging ferns will bring life to space.
To complete the look, consider using earthy colors like green and brown on walls or tiles that resemble pebbles or leaves to create an outdoor ambiance in your boy's bathroom.
Continue reading: