Last updated on September 15, 2023
Discover creative and stylish ideas to transform your bathroom baskets into functional, organized, and aesthetic elements of your home décor.
Bathroom baskets are a fantastic way to keep your toiletries well-organized, while adding a stylish touch to your bathroom decor. Whether it's a rustic wicker basket or a sleek metal one, the right choice can turn a simple necessity into a fashionable statement.
This article will guide you through a variety of bathroom basket ideas, each one designed to enhance the functionality and aesthetic appeal of your bathroom space. From space-saving solutions to creative DIY projects, you'll find everything you need to transform your bathroom using baskets.
Stay tuned to explore a world of stylish and practical bathroom basket ideas.
Table of Contents
Spa-themed Basket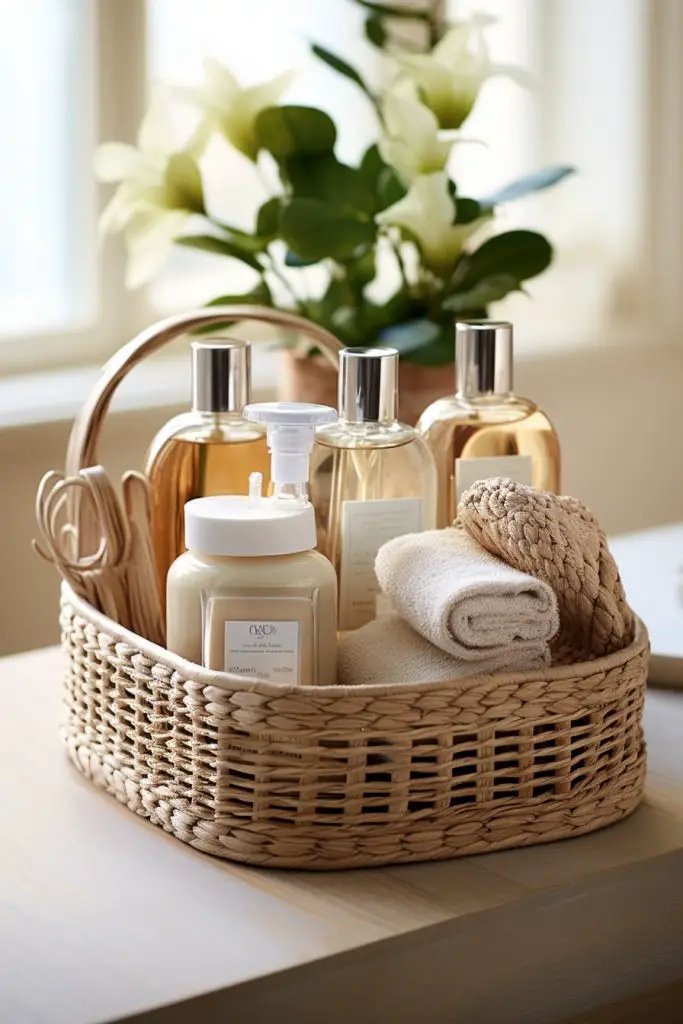 A spa-themed basket capitalizes on the essence of indulgence, luxury, and relaxation. It incorporates meticulously curated items that facilitate a blissful bath experience at home.
High-quality bath salts for a soothing soak.
A loofah or natural sea sponge for gentle exfoliation.
Scented candles to set a relaxing ambiance.
Luxurious body oils to rejuvenate the skin.
Plush, quick-drying bath towel for ultimate comfort.
Indulgent face masks for deep facial cleansing.
A silk robe for an extra luxurious feel post-bath.
Mini Skincare Essentials Basket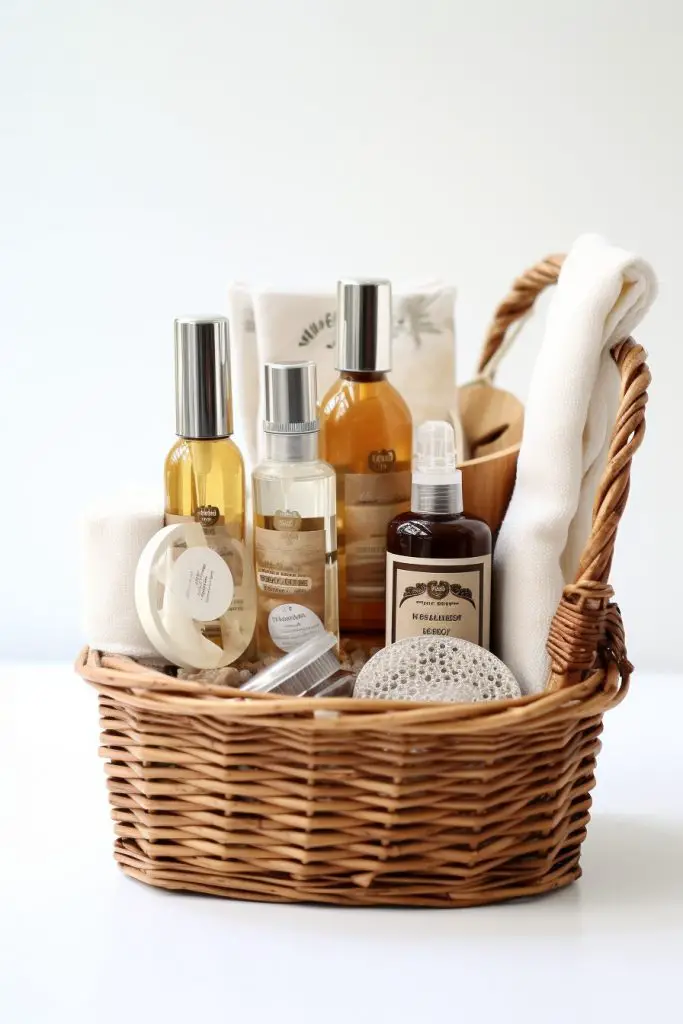 In this type of basket, it's all about balance. Incorporating a variety of small essentials can transform it into a veritable skincare sanctuary.
Start with facial cleansers. Look for travel-sized options or invest in larger quantities and decant them into reusable pots.
Include a range of moisturizers. It's worth having a light lotion for the day and a heavier cream for night use.
Don't forget exfoliants. Remember, a small pot of scrub can go a long way.
Face masks should also be included. Opt for a mix of sheet masks and cream or gel-based ones.
Lastly, remember essentials like lip balm, mini hand sanitizers, and travel-sized hand creams. They come in handy more often than you may think.
Keep in mind, sensitive skin types may react to certain products. Test each product and verify their ingredients. Decide based on your skin's compatibility with the product.
Aromatherapy Basket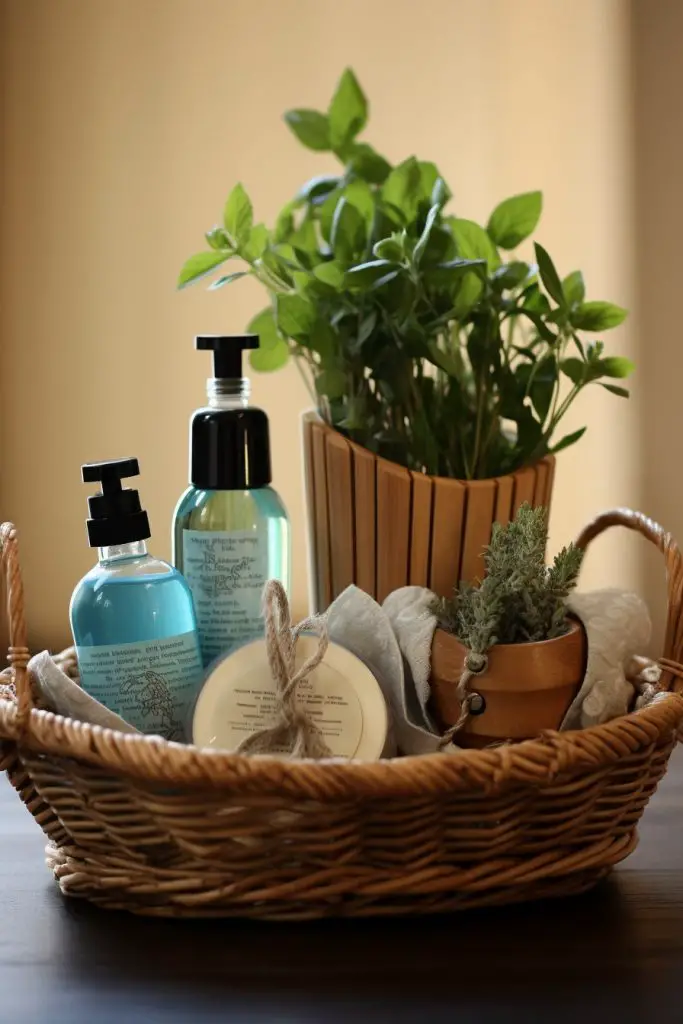 A perfect blend of scented oils and calming herbs can work wonders in promoting relaxation and stress relief. Curating such a basket involves carefully selecting a variety of essential oils, herbal sachets, and a diffuser.
1. Essential oils like lavender, peppermint, eucalyptus, and bergamot provide varying mental benefits from calming to invigorating.
2. Herbal sachets often contain dried lavender, chamomile, and rosemary, which provide solace through their soothing scents when placed under pillows or among bath towels.
3. A compact diffuser not only optimally disperses the chosen scent but also adds visual appeal, making this basket even more attractive.
These components, combined in a stylish basket, bring serenity to the bathroom, turning any routine into a therapeutic experience.
Bath Bomb Collection Basket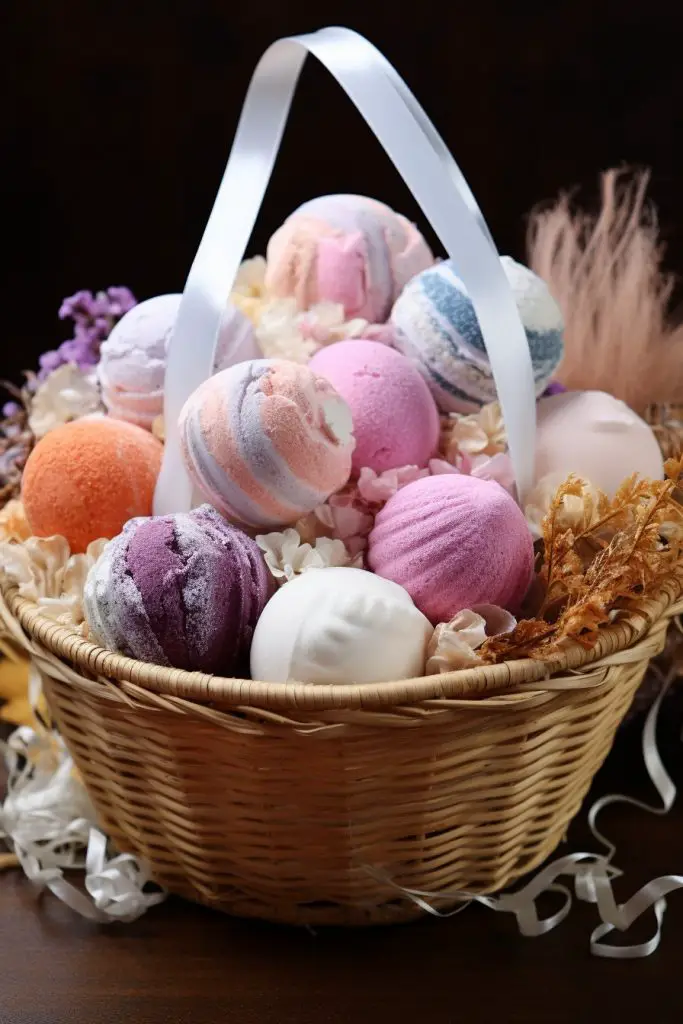 Transform your bathroom into a personal spa with a collection of bath bombs beautifully presented in an elegant wicker basket. This optimal assortment offers a relaxing soak for any mood or preference.
Different scents for showcasing variety: lavender for calming evenings, citrus for morning refreshes, and vanilla for indulgent soaks.
Ingredients are crucial: opt for organic or all-natural bath bombs infused with essential oils and salts for therapeutic benefits.
Visual aesthetics matter: choose bath bombs with visually pleasing designs or colors for superior presentation.
SIZE CONSIDERATIONS: Small-sized bombs for daily indulgences and larger ones for special occasions or weekends.
Placement: Learn the art of effective stacking for both aesthetic appeal and easy access.
These pointers not only provide an attractive visual element to your bathroom but also promise a luxurious bathing experience.
Luxury Towel Basket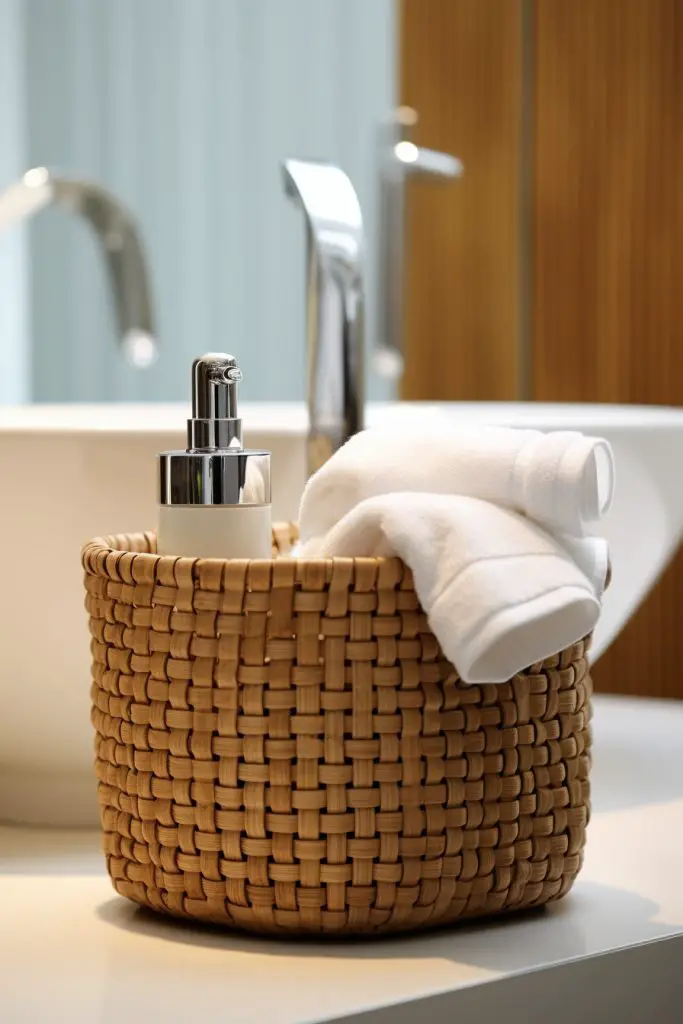 Choosing the finest, high-thread-count cotton or bamboo for an ultimate soft touch.
Opting for oversized bath towels that offer complete coverage.
Including a matching set of hand towels and face washers for a coordinated look.
Adding a bath mat to complete the range.
Choosing a color palette that matches the bathroom decor: pastel shades for a soft look, bright colors for a playful touch, or classic white for a spa-like feel.
Care instructions to maintain their plushness, such as washing in warm water and avoiding fabric softeners that may reduce absorbency.
Consideration for specialty towels, such as quick-dry microfiber, or organic, sustainably sourced options for eco-conscious recipients.
To boost the sense of luxury, incorporate a monogram service for a personal touch.
Essential Oils Basket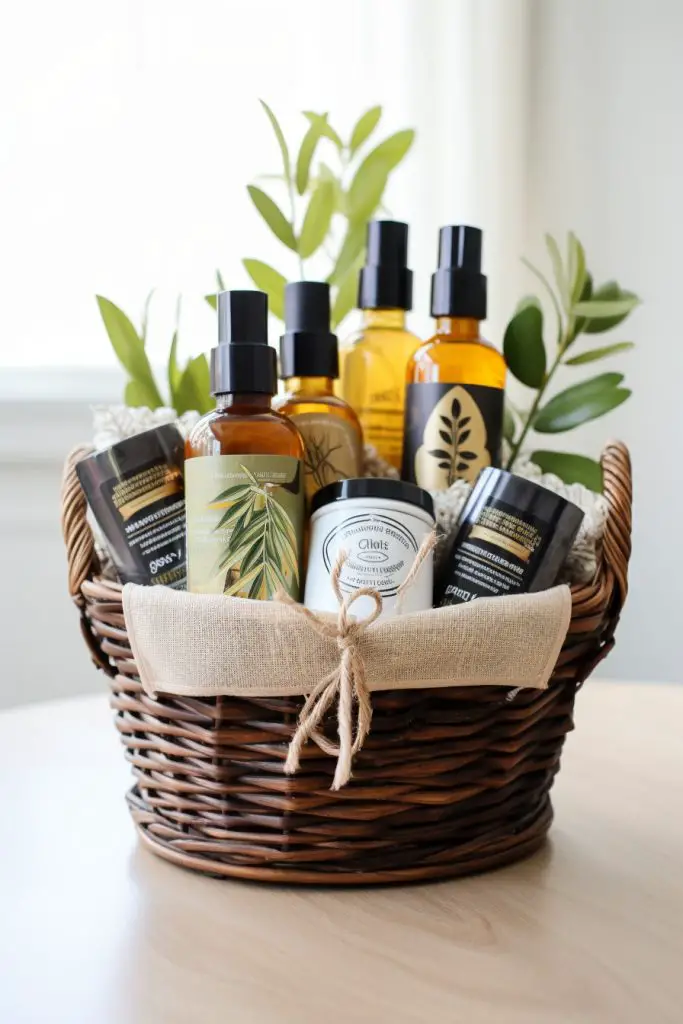 Offering a wealth of wellness benefits, essential oils have a profound impact on our senses. An essential oils basket can be a bouquet of different fragrances tailored to preference or needs.
Lavender oil for relaxation and stress relief.
Peppermint oil to invigorate and refresh.
Eucalyptus oil to improve respiratory health.
Tea Tree oil known for its powerful antiseptic properties.
Lemon oil to boost mood and concentration.
Perfect for a calming bath or used in a diffuser, these oils aid tranquility, invigoration, and overall well-being. Remember, quality matters when choosing oils. Only premium, 100% pure essential oils provide real benefits. Ensure oils come with a dropper for accessible dispensing and less risk of spillage. Organize the basket with smaller, delicate oils in the center, cushioned by heavier ones for protection. Store this basket in a cool, dark, dry place to prolong the life of the oils.
Pedicure Set Basket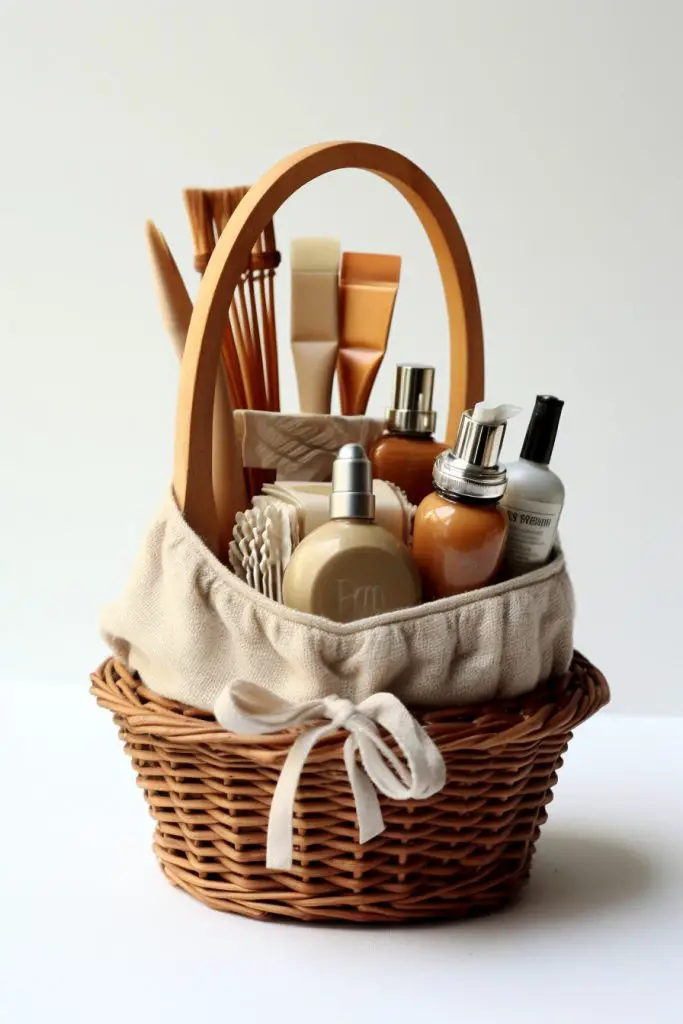 A pedicure set basket serves as a practical and efficient solution for foot care needs.
1. Variety of tools: Include items like nail clippers, cuticle pusher, foot file, and nail brush to cater to all aspects of foot care.
2. Maintenance: Regular usage can contribute to healthy, polished nails, and soft skin.
3. Customization: Personalize the basket for seasonal care or specific concerns like dry skin or calluses.
4. Aesthetics: Select visually pleasing tools, or those with a matching color scheme for an impressive presentation.
5. Economical: Investing in a comprehensive set can be more cost-effective than individual purchases.
6. Luxury: Incorporate high-end products or foot baths for a spa-like experience at home.
7. Accessibility: An ideal gift or essential commodity providing salon-like pedicure at the comfort of the home, reducing trips to a professional salon.
Remember, clean, well-kept feet are not just about beauty, but also about hygiene and comfort.
Herbal Bath Tea Basket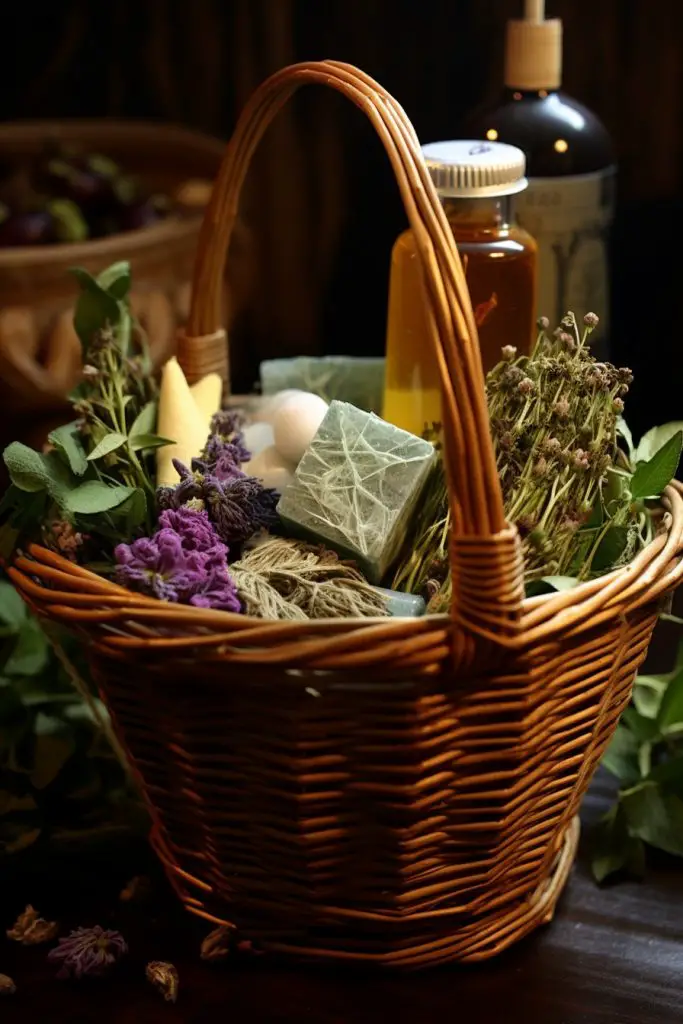 To create an unforgettable relaxing experience at home, bring the allure of nature into your soak with an herbal bath tea basket. The integration of fresh herbs like lavender, chamomile or peppermint can lend a therapeutic touch to your bath. Wrapped in a rustic basket, it can also add a delightful aesthetic enhancement to your bathroom.
Key Points:
Selecting a variety of dried herbs such as rosemary, eucalyptus, and lemongrass.
Combining ingredients in reusable muslin bags for clean and hassle-free infusions.
Adding embellishments like dried flower petals or essential oils for enhanced aroma.
Considering complimentary herbal combinations for different therapeutic benefits.
Using a beautiful wicker or bamboo basket for stylish, eco-friendly storage.
Incorporating a small instruction card on how to use the bath teas.
Candle Assortment Basket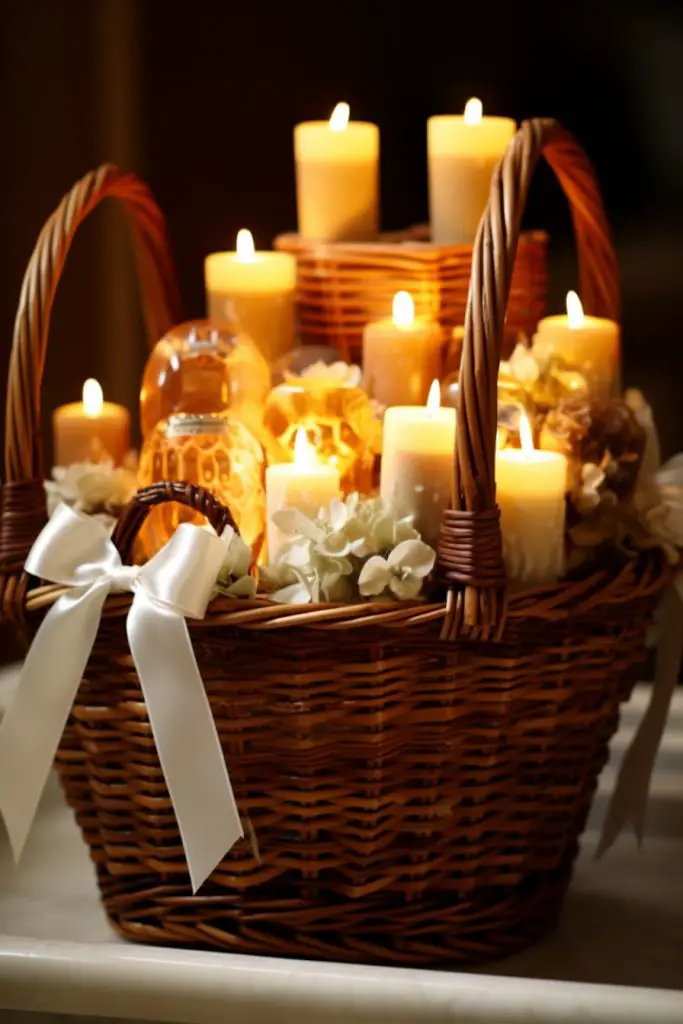 This unique idea delivers an array of visual appeal and ambience. Making a selection from various sizes, shapes, hues, and fragrances can create an eclectic yet cohesive assortment.
Here are a few points to guide the creation process:
Prioritize varying heights and diameters for visual intrigue.
Opt for a color palette that complements your bathroom decor.
Mix classic unscented candles with a few select fragrances for diversity without overpowering the scent.
Select candles made from different materials, like beeswax, soy, or paraffin, for a diverse look.
Implement safety measures like placing them on a non-flammable surface or in a clear hurricane glass candleholder.
Consider seasonality changes, swapping out warmer scents for lighter ones as seasons shift.
Remember, the main aim is to create a sensory delight that furnishes your bathroom with relaxing illumination.
Fragrant Soap Sampler Basket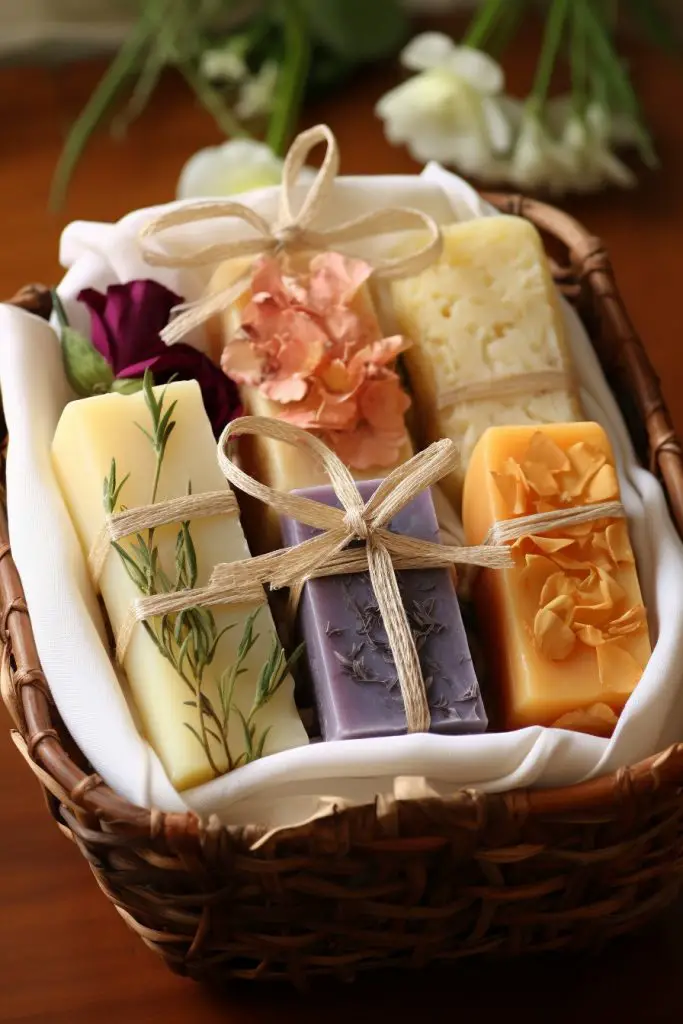 Fragrant soap sampling represents both, an olfactory delight and functional hand hygienics. Its appeal lies in discovering an array of scents sourced from across the globe, promising an indulgent lather and lasting freshness.
Mastering the perfect ensemble often involves:
Varied Scents: From lavender to sandalwood, citrus to cinnamon, opt for a versatile mix.
Natural Ingredients: Prioritize soaps showcasing organic elements and essential oils.
Ethnic Elements: Include soap varieties representing various cultural influences.
Pictorial Wraps: Choose those wrapped attractively often featuring vibrant artworks.
Size and Shape: Include regular bars along with smaller, decorative ones for visual variety.
Eco-Friendly: Consciously select soaps that emphasize sustainability in packaging and production.
Shower Gel Variety Basket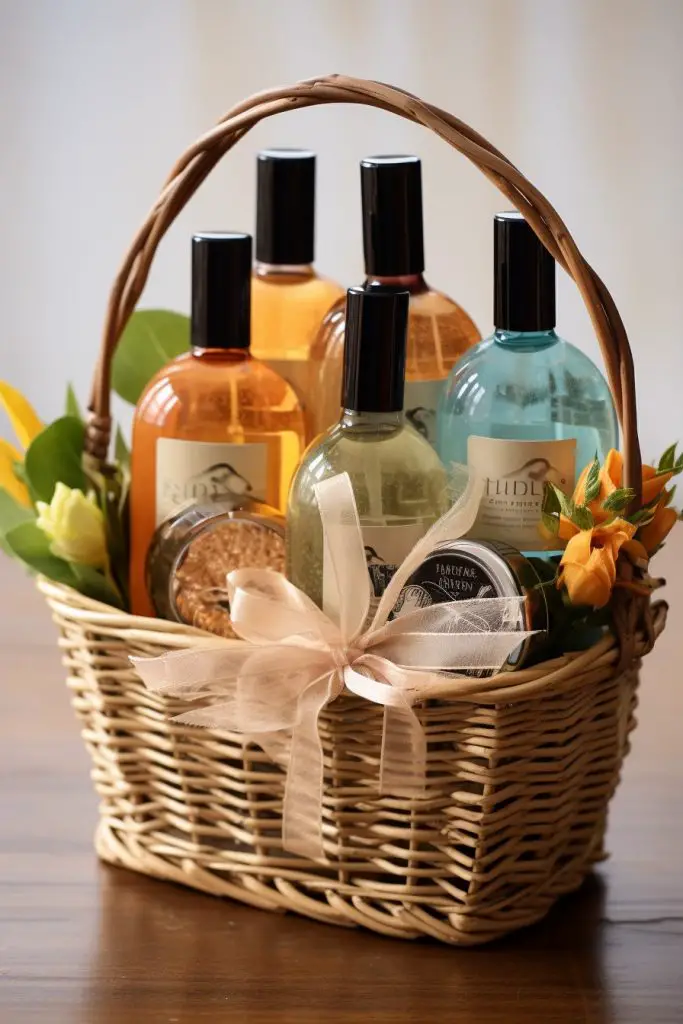 Showcasing a range of fragrances and skin benefits, the shower gel variety basket graces your bathroom with options, adding a touch of luxury to a daily routine. This carefully curated set can include:
Moisturizing gels enriched with aloe vera or shea butter, ideal for dry skin.
Energizing citrus or peppy mint scented gels to uplift the mood early in the morning.
Soothing lavender or chamomile infusions for a calming night-time cleanse.
Detoxifying gels containing activated charcoal or tea tree oil, perfect for deep cleansing.
Gels laced with jojoba or almond oil, leaving a soft and nourished skin post-shower.
Properly organized, such a basket can offer the indulgence of a spa-like experience right at home.
Men's Grooming Basket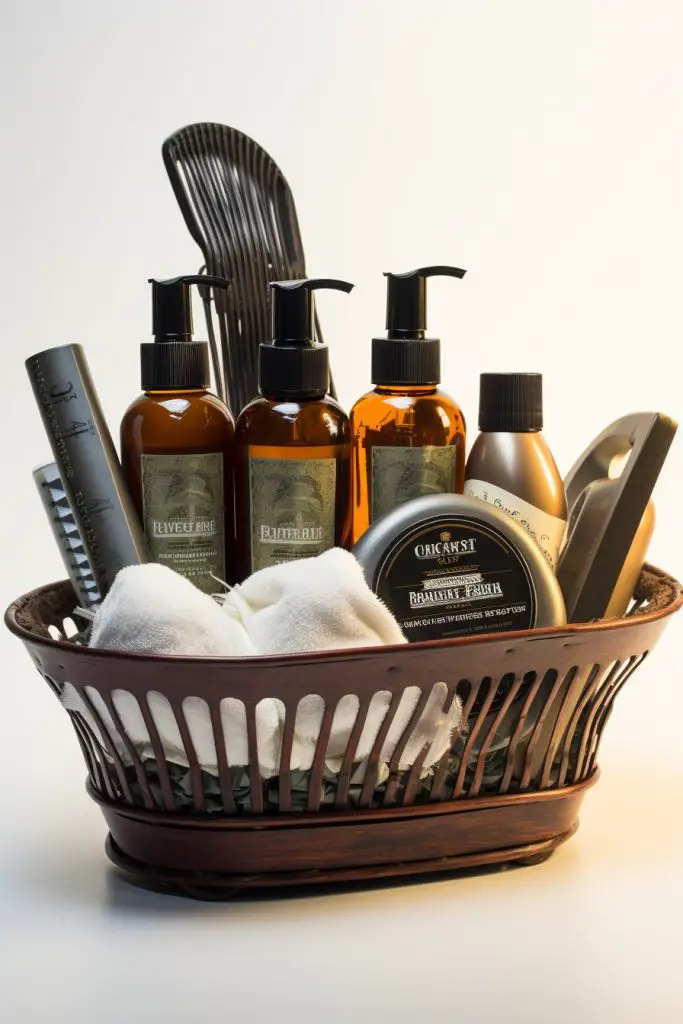 Filled with essentials for a clean and elegant look, a men's grooming basket is a must-have. It is a practical solution that can be placed strategically to level up your bathroom's aesthetics while keeping essential items within hand's reach.
High-quality shave products: This makes the routine not only smoother but more nourishing with lubricant oils, shaving creams, and post-shave balms that soothe the skin.
Haircare essentials: A good shampoo and conditioner tailored for men, a premium hair gel or wax, and a fine-toothed comb or brush can help in maintaining hair health.
Skincare offerings: SPF-rich moisturizer, face cleanser, and lip balm for a daily skincare regimen.
Oral hygiene items: A sleek toothbrush, toothpaste, and mouthwash can make the basket complete.
Toilet Paper Storage Basket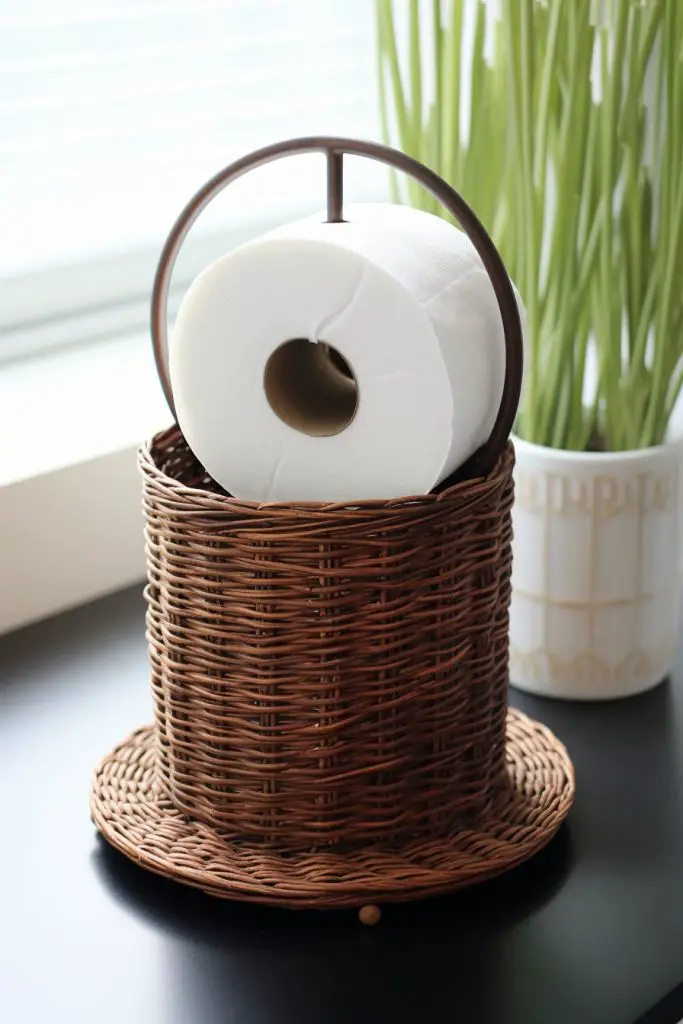 A stylish and functional solution, this option maximizes unused space while keeping bathroom essentials handy.
Space-efficient alternative to traditional cabinets
Concealed storage for keeping the bathroom clutter-free
Optimal humidity control helps to maintain the integrity of toilet paper rolls
Can serve as a decorative element adding to the overall bathroom décor
Easy to reach, especially in smaller bathrooms
Wide variety of styles available, including wicker, metal, or fabric covered baskets
Cost-effective and easy DIY project option
Bamboo Bath Tray Basket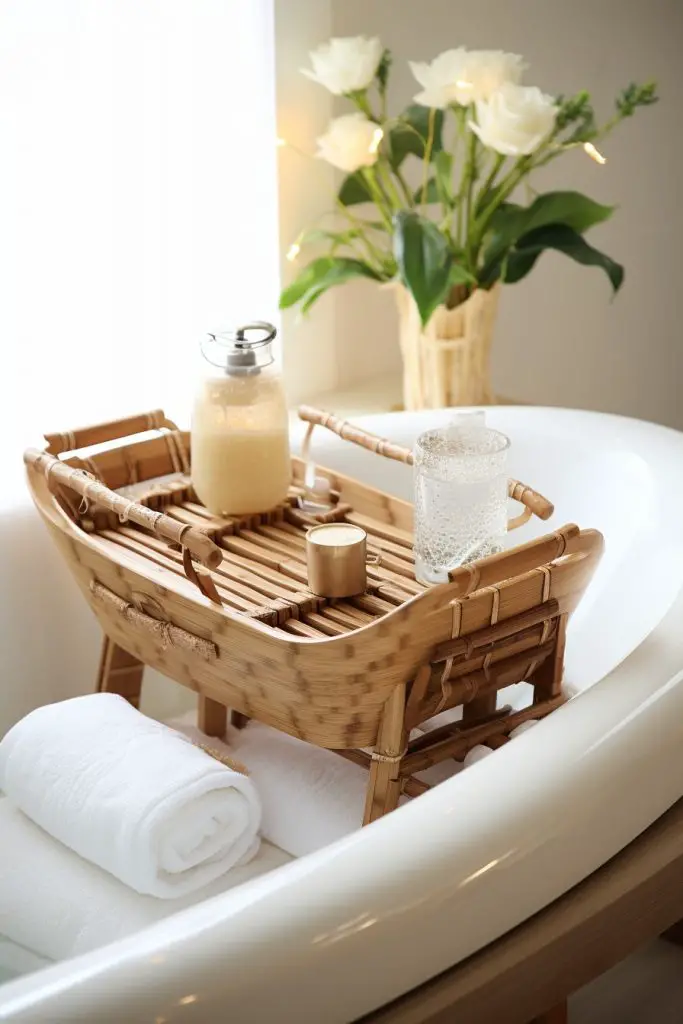 A bamboo bath tray can masterfully unify style and function.
Sustainable and elegant: Crafted from 100% natural bamboo, these trays promise both longevity and a sleek aesthetic for your bathroom.
Spacious design: They often feature spaces to accommodate everything from a glass of wine or cup of tea to a good book or tablet.
Relaxation elevated: With everything in arm's reach, the bath experience is made more relaxing and immersive.
Adjustable and versatile: Most bamboo bath trays are adjustable to fit various tub sizes and can double as a serving tray or a stylish space organizer when not used in the bath.
Easy to clean: Simply wipe down with a damp cloth to maintain its fresh look.
Plush Robe and Slippers Basket
A plush robe and slippers basket brings a delightful touch of luxury to your bathroom. The following key points are significant:
A high-quality, soft robe that wraps comfort around.
Matching slippers that provide ultimate relaxation while maintaining hygiene.
Consider adding a complimentary eye mask to enhance the pampering experience.
Opt for robes and slippers that are easy to wash and quick to dry.
Select neutral or universally liked color themes like white, beige, or grey.
Look for earth-friendly materials such as organic cotton, bamboo or microfiber for a sustainable choice.
Make sure the package presentation is aesthetically pleasing, which can elevate the overall bathroom ambiance.
Plush robes and slippers of varying sizes cater to all family members, enhancing inclusivity.
Keeping an extra pair for guests is a thoughtful touch, projecting your keen sense to detail.
Remember the aim is not to just fill up the basket, but to curate an inviting and warm bathroom experience for anyone who steps in.
Bubble Bath Set Basket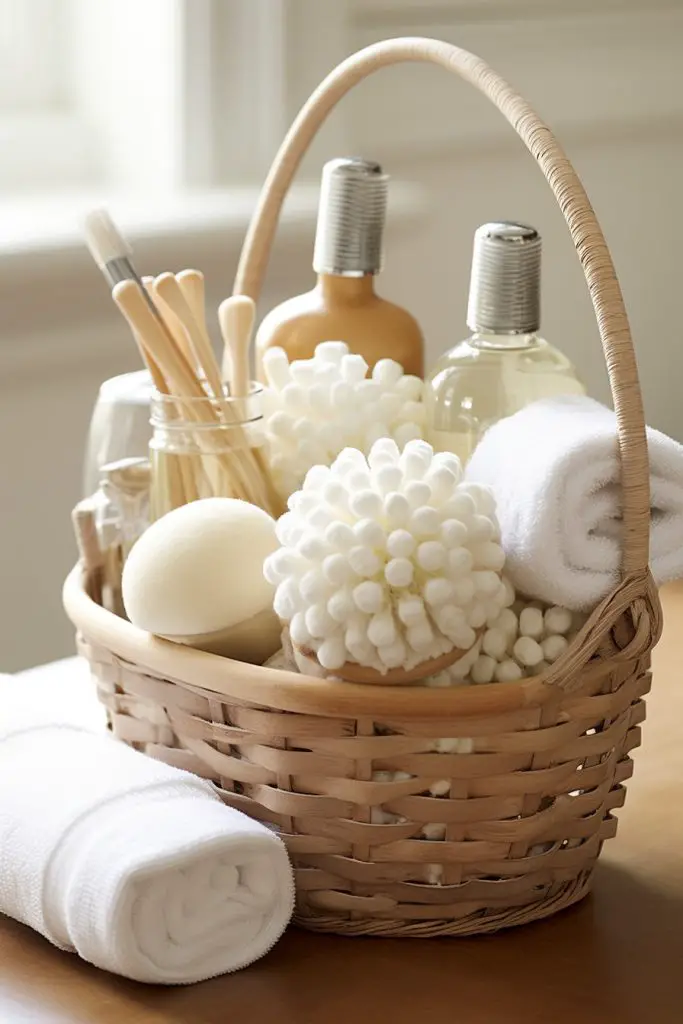 Submerge into an enticing world with the inclusions of a bubble bath set basket— providing joy, relaxation, and a reinvigorating sensation right in the comfort of your home.
1. Selection of bubbles: Provide range to suit any mood, from relaxing lavender to invigorating citrus scents.
2. Quality lathers: Ensure a gentle, skin-friendly formulation, that doesn't strip the skin of moisture.
3. Sponges or loofahs: Enhance the bathing experience by supplementing with bath tools that help lather up and exfoliate.
4. Bath pillow: An important accessory to help you rest and enjoy the bath.
5. Bubble wand or mesh sieve: A unique tool that helps maximise bubble creation.
6. Relaxing accompanying product: Add a mini bottle of champagne or a book for an added touch of indulgence.
7. Aesthetic container: The basket itself can also serve as a stylish bathroom decoration. Use a waterproof, durable, and easy-to-clean basket.
Organic Face Mask Basket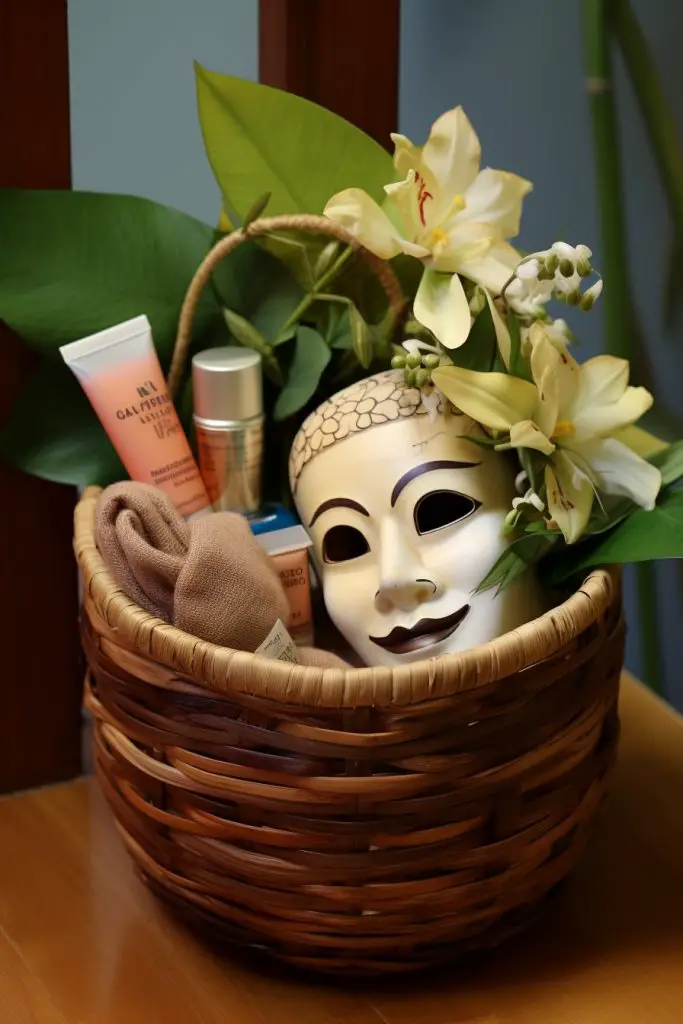 The organic face mask basket is a dream come true for those passionate about nature-infused skincare.
1. Essential for different skin types: Includes a variety of masks for concerns like dryness, oiliness, and sensitive skin.
2. Natural ingredients: Masks are composed of plant-based elements such as aloe vera, chamomile, and green tea.
3. Boosts skincare routine: Each mask has unique benefits, adding moisture, reducing wrinkles or brightening skin.
4. Promotes wellness: Natural ingredients are beneficial for overall well-being too, not just skin health.
5. Recyclable packaging: Emphasis on sustainability to reduce waste.
6. Usable for both genders: Crafted with skin-friendly ingredients to suit all skin types irrespective of gender.
7. Returns a youthful glow: Frequent use can help restore skin's natural luminosity.
Hand Cream Collection Basket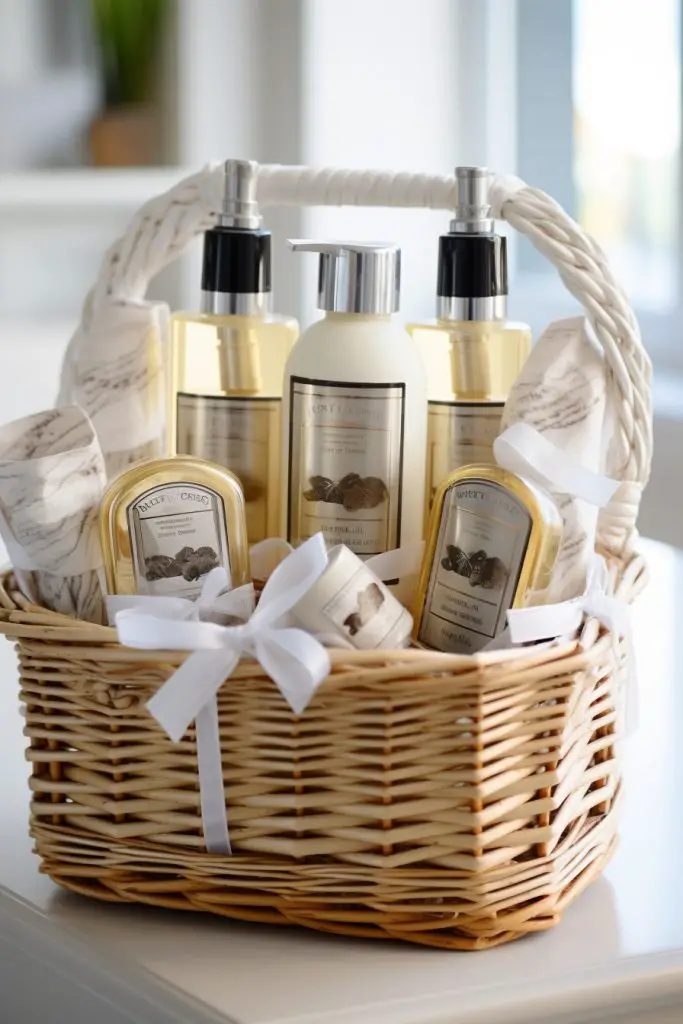 Curate a variety of hand creams to add an element of novelty in the bathroom.
Select from a range of different brands known for their high-quality moisturizers.
Incorporate an assortment of luxurious scents and textures.
Consider specific hand issues like dryness, age spots, or winter skin, and offer hand creams that address those concerns.
Include creams that contain nourishing constituents like aloe vera, shea butter, and essential oils.
Pay attention to presentation, perhaps arranging the creams in a visually-pleasing basket to enhance aesthetic appeal.
Such an enriching, visually appealing, and thoughtful hand cream collection can add a touch of indulgence in your bathroom, making each hand washing experience more enjoyable and therapeutic.
Luxury Shampoo and Conditioner Basket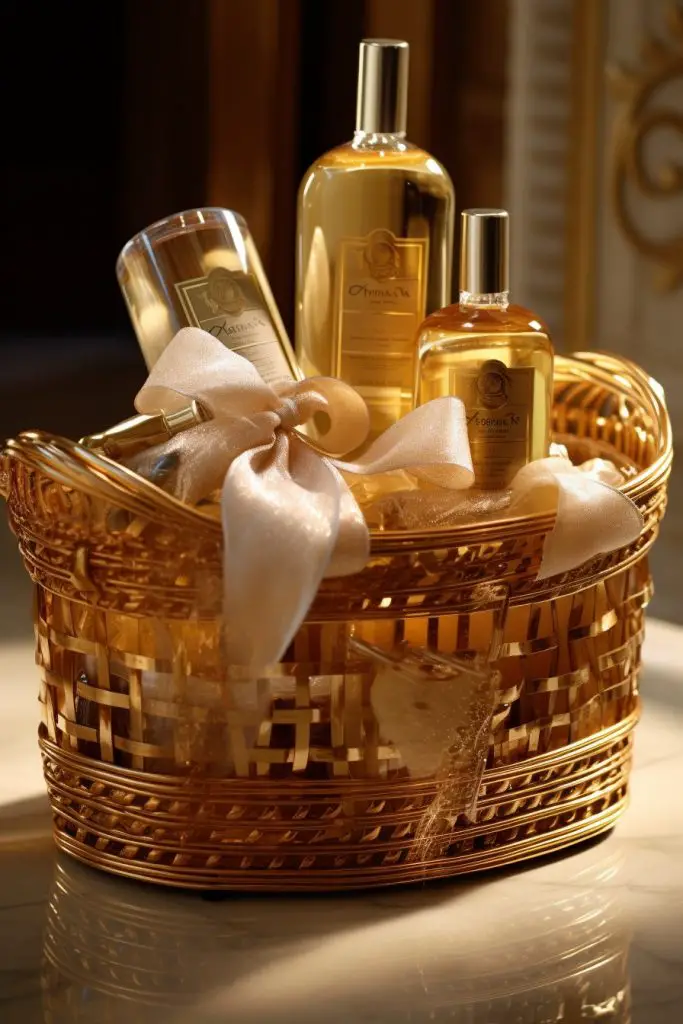 Discover the opulence of a great hair day, every day, with a beautiful range of indulgent shampoos and conditioners added to your bathroom basket.
Here are some key elements to consider:
High-quality natural ingredients make these products luxurious, ensuring proper nourishment of the hair.
Select a shampoo and conditioner pair that suits your hair type, be it dry, oily, colored, or chemically treated.
Scent can significantly enhance your bathing experience. Opt for fragrances like lavender, bergamot or mango butter for a sensorial treat.
Choose products from top brands such as Aveda, Kerastase or Olaplex for the ultimate experience in hair care luxury.
Always consider the packaging. Brands often offer beautifully packaged miniatures that will make for a stylish addition to your bathroom.
Kids Bath Toy Basket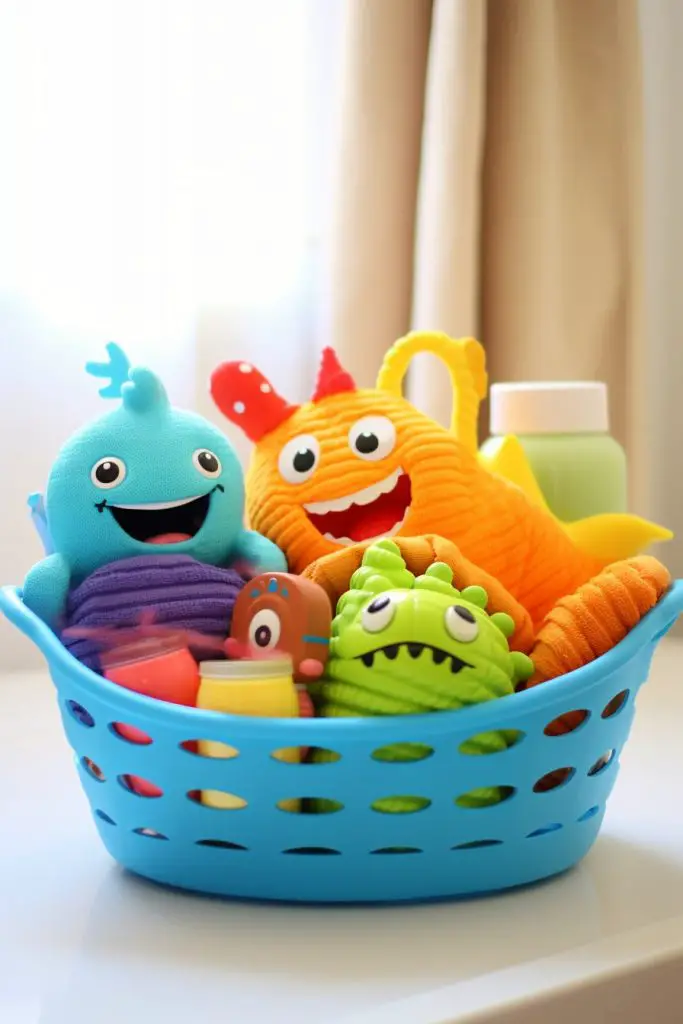 A well-chosen selection of entertaining, educational, and durable toys forms an exhilarating bath-time experience for the child. The criteria for selection include:
Water-resistant and easy-to-clean toys
Non-toxic materials such as BPA-free plastics
Engaging features: interactive lights, sounds, or movement
Developmentally appropriate toys: stackable items, water pourers, and squirty toys
Remember to regularly switch toys to keep bath-time exciting and fresh. Create a rotation schedule each week or month to maintain an ever-evolving collection. Regularly clean and dry the toys to prevent mold and mildew growth.
A creative approach could be assigning themes to the basket such as ocean animals, boating, or seasons. This stimulates the child's imagination, allowing them to create endless narratives while having their bath. Finally, consider a waterproof, easy-to-mount storage solution in the shower area, making clean up a breeze.
Continue reading: