Last updated on October 20, 2023
Elevate the art of gifting with thoughtfully curated bathroom gift baskets; not because they're expected, but because they encapsulate care, indulgence, and personal touch in every item.
I'm quite proud of the unique Bathroom Gift Basket Ideas I've put together in this article and hope that you'll find them as inspiring and fun as I did during their creation.
Creating a bathroom gift basket can be a thoughtful and personalized present for any occasion. Whether it's a housewarming gift, a birthday present, or a simple 'thinking of you' gesture, a well-curated bathroom gift basket can bring comfort and luxury into someone's everyday routine.
This article will guide you through a variety of unique and stylish ideas to create the perfect bathroom gift basket. From choosing the right basket to selecting high-quality bath products, to adding those extra special touches, you'll find all the details here to craft a gift that is both practical and indulgent.
Shower Gel Set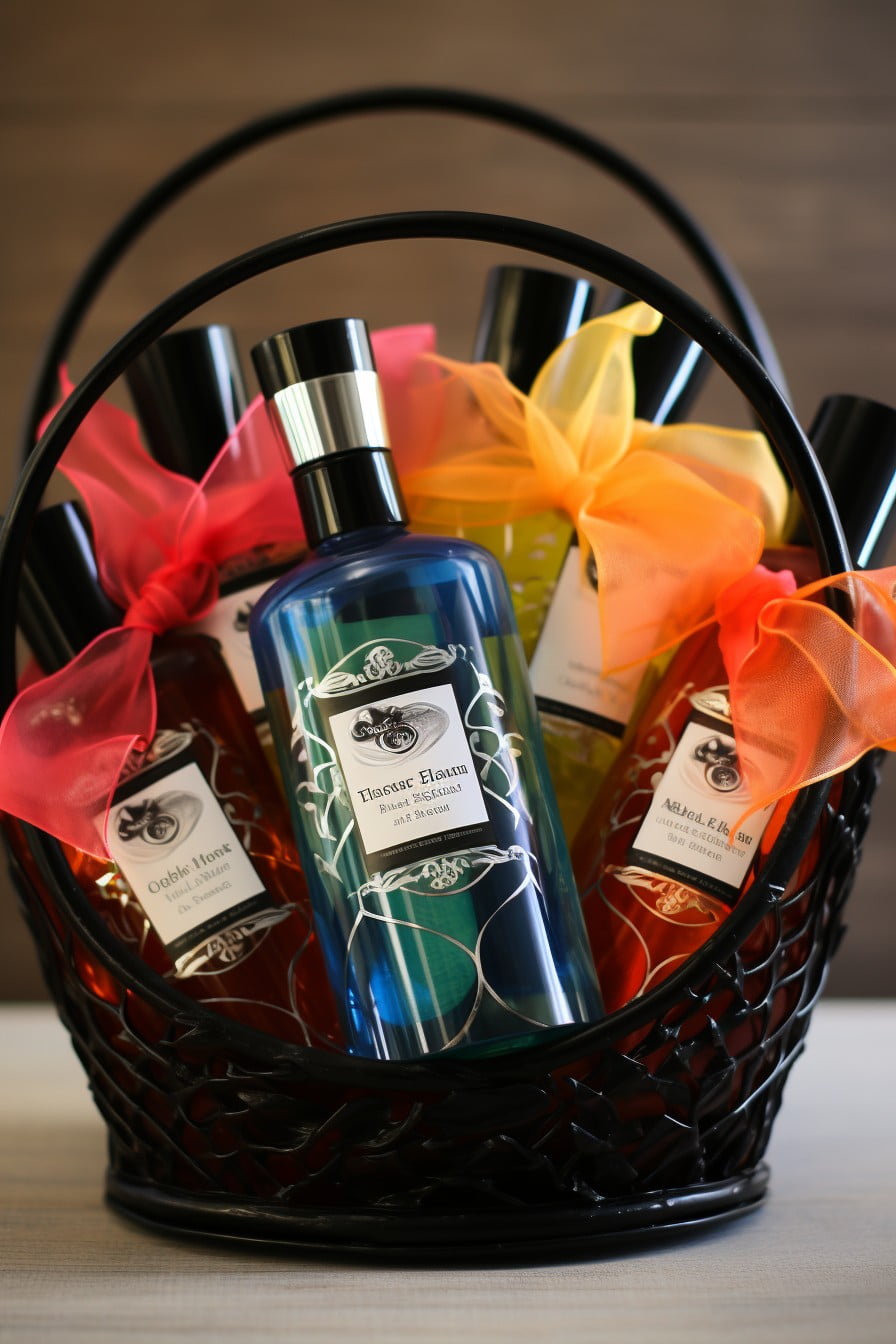 Offering a variety of fragrances, shower gel sets are a delightful addition to any bathroom gift basket. With choices ranging from calming lavender to energizing citrus, there's a scent to suit everyone's preference. Opting for a set ensures a multitude of aromatic experiences, turning every bath time into a luxurious, spa-like moment.
Additionally, you may select a set featuring different formulas, such as moisturizing, exfoliating, or energizing gels, allowing the recipient to choose their custom bathing routine.
Bath Bomb Collection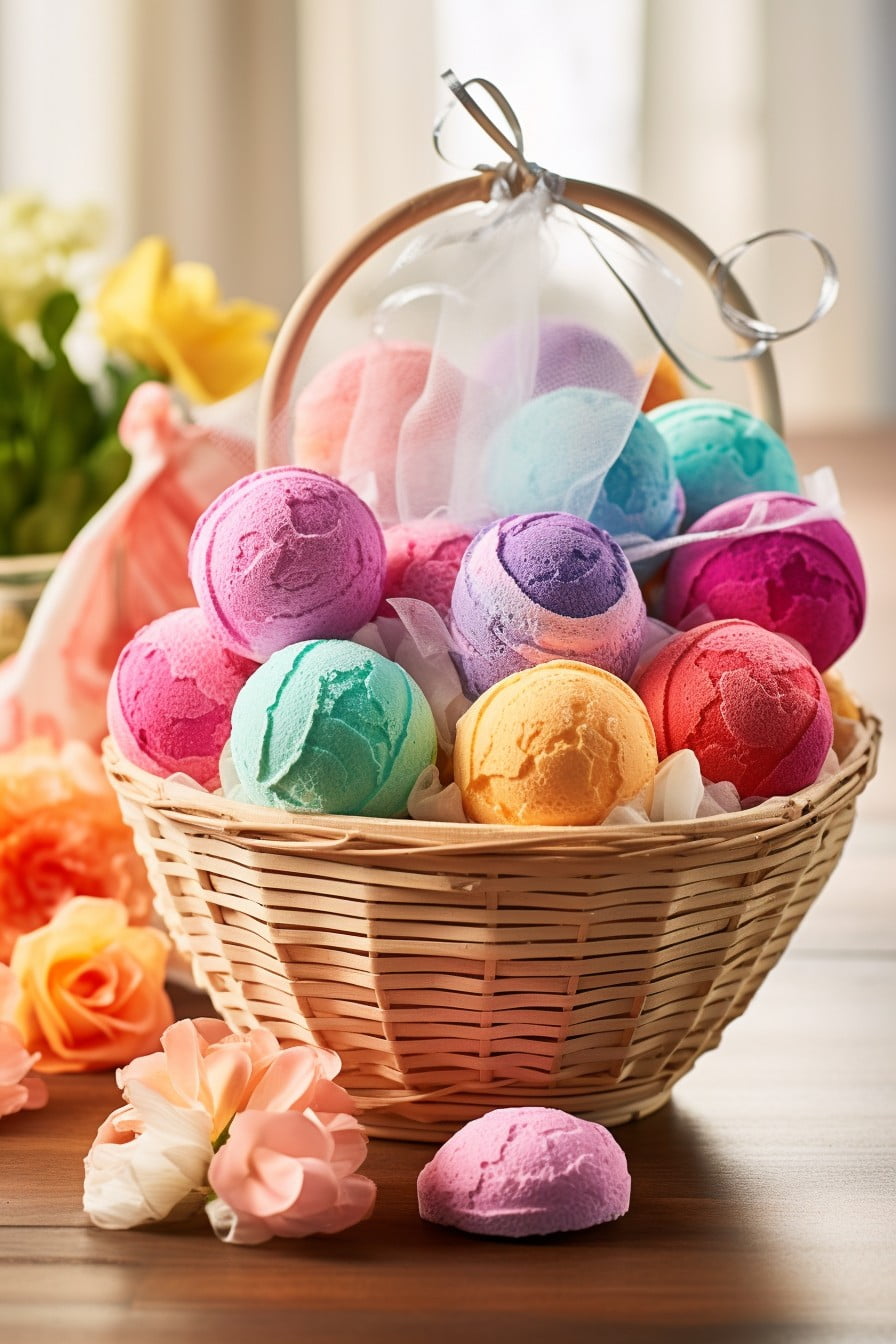 Adding a luxurious touch to your soak, bath bombs are the epitome of indulgence. They come in a myriad of colors, scents, and often contain skin-nourishing ingredients like essential oils, butter, and salts. Some variants offer extra experiences, like the effervescent fizzing, floating flowers, or hidden surprises within.
Opt for a collection that includes a variety of essences to suit every mood. From calming lavender for a soothing late-night bath to invigorating citrus for an energizing morning soak, a collection provides plenty of choices. In gift terms, it's like offering multiple mini presents neatly packed in one, making it an ideal bathroom gift basket item.
For a more eco-conscious selection, look for bath bombs made from organic and natural ingredients, and packaged in biodegradable or recyclable materials. Such gestures show not just thoughtfulness for the recipient's self-care routine but also consideration for the planet.
Remember, though visually appealing, bath bombs shouldn't be all about the aesthetics. The quality of ingredients matters too. Premium bath bombs hydrate, detoxify, and soften the skin while providing a fragrant and restorative bath experience. Always check the ingredient list to ensure they're skin-friendly and free from harsh chemicals.
Luxury Towel Set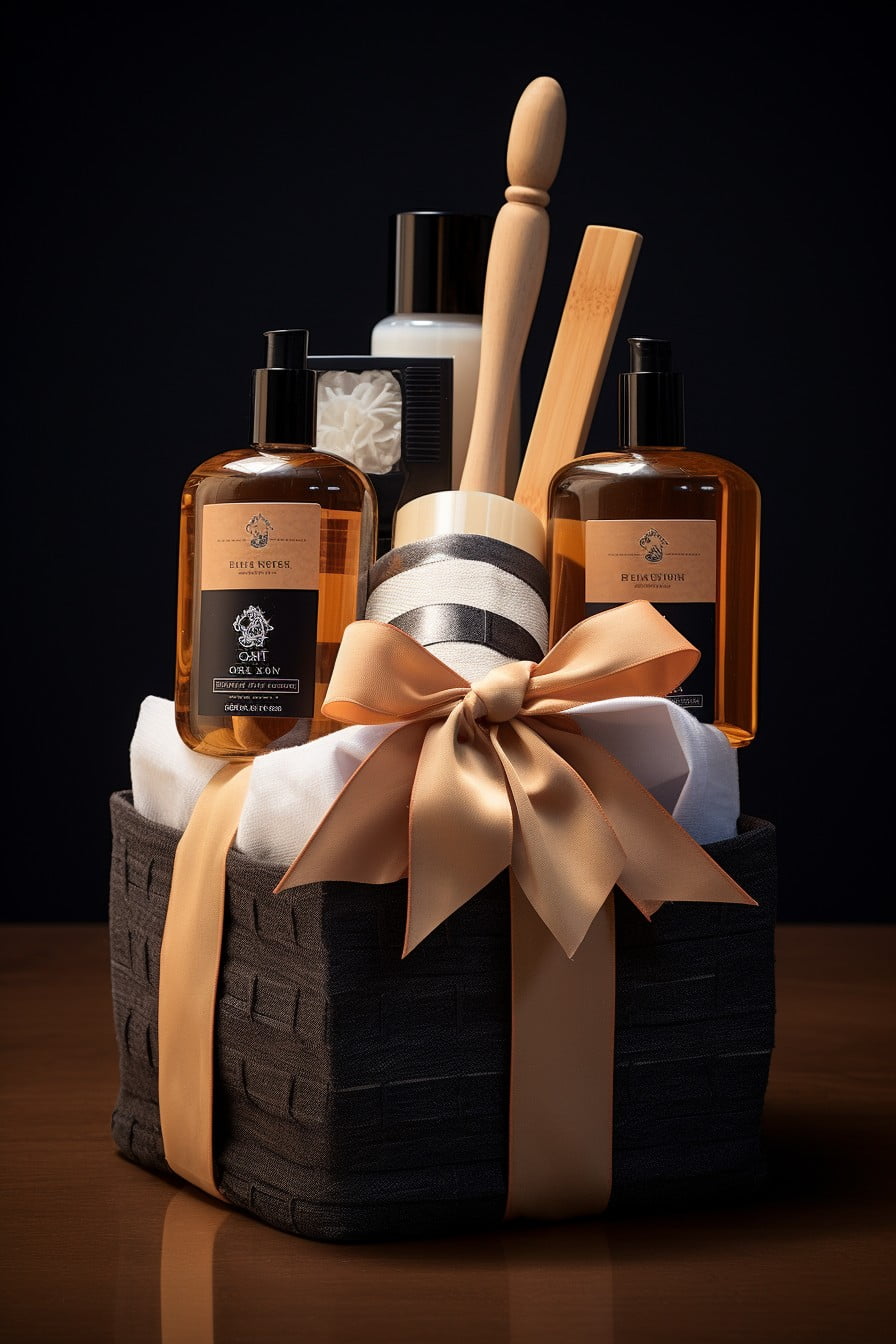 Elevate the day-to-day experience with an opulent set. Crafting the perfect feel and absorbency, Turkish or Egyptian cotton are often used for high-end pieces, noted for their durability and long fibers.
Sets might boast double sewn hemlines for an added touch, a plush finish ensures maximum comfort. Remember to consider darker tones to conceal unavoidable stains.
A three-piece collection usually features a bath towel, hand towel, and washcloth, catering to all personal needs.
Finally, through matching, uniform colors an instant, simple upgrade to the room's aesthetics is achieved.
Bamboo Bath Tray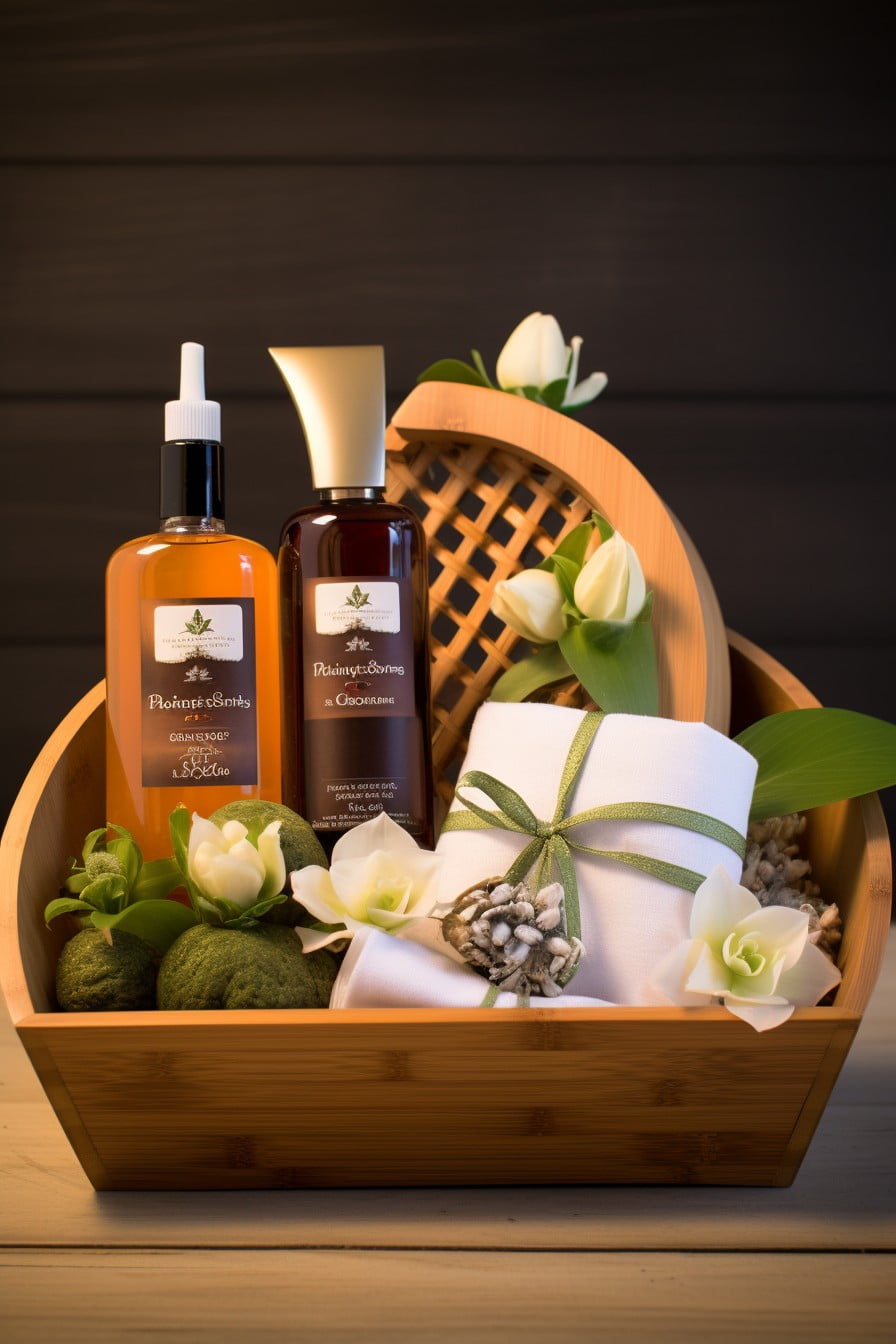 The charm of a bamboo bath tray lies in its versatility, functionality, and the aura of tranquility it can bring to your bathroom. With its water-resistant properties, it is ideal for a damp environment. It can hold your favorite book, tablet, or even a glass of wine securely while you soak in the tub.
The compact design of these trays allows easy storage and fits in various tub sizes. Similarly, its eco-friendly nature presents a green choice, aligning with many modern lifestyle trends. To add, the durability of bamboo compared to standard wood makes it a long-lasting asset for a bathroom setting.
In a gift basket, this could signify offering a moment of luxury enabling one's personal sanctuary. Its aesthetically pleasing design also adds class and sophistication, elevating your bathroom's ambiance.
Aromatherapy Candles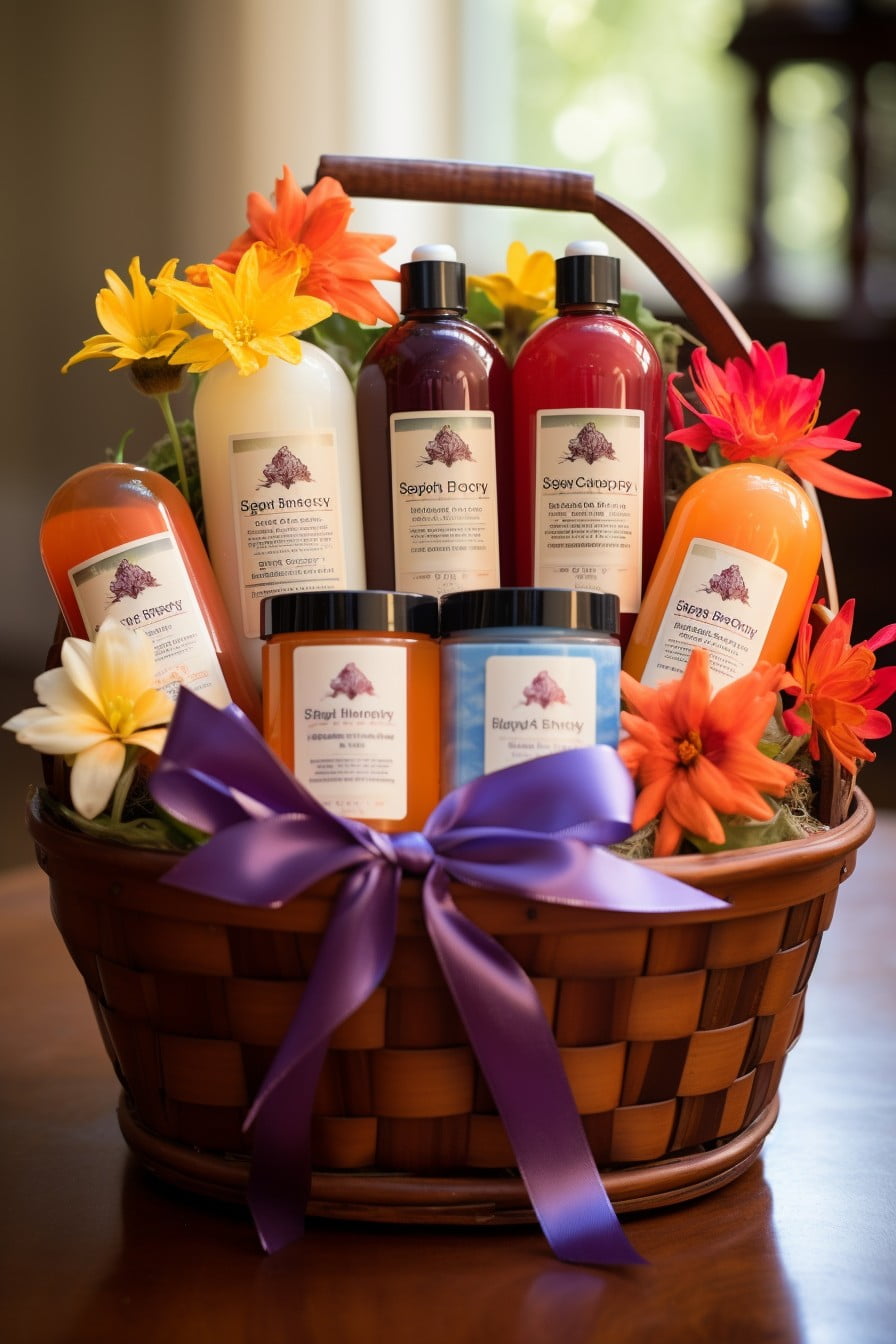 To begin, think about an array of scents to cater to different moods and preferences. The sweet smell of vanilla can evoke a sense of comfort, while the crisp scent of citrus fruits can energize. Eucalyptus and spearmint, on the other hand, can alleviate stress after a long day. Don't forget lavender for promoting relaxation before sleep.
Remember, quality is important. Look for candles made from beeswax or soy wax, as they emit little to no black smoke and burn cleaner compared to paraffin counterparts. Also, those with non-artificial scents derived from essential oils would be more beneficial for health.
Aesthetically, candles nestled in chic, ornate or minimalist containers can also double as a decorative item, adding a touch of elegance to the bathroom. For safety, choose ones with a lid to isolate the smell when not in use and protect the surface from dust.
Finally, multiple candles can be arranged thoughtfully in the basket to create a pleasing design. A good tip is to mix different sizes, shapes, and colors to increase visual interest. Just be sure to place them securely to prevent damage.
Spa Slippers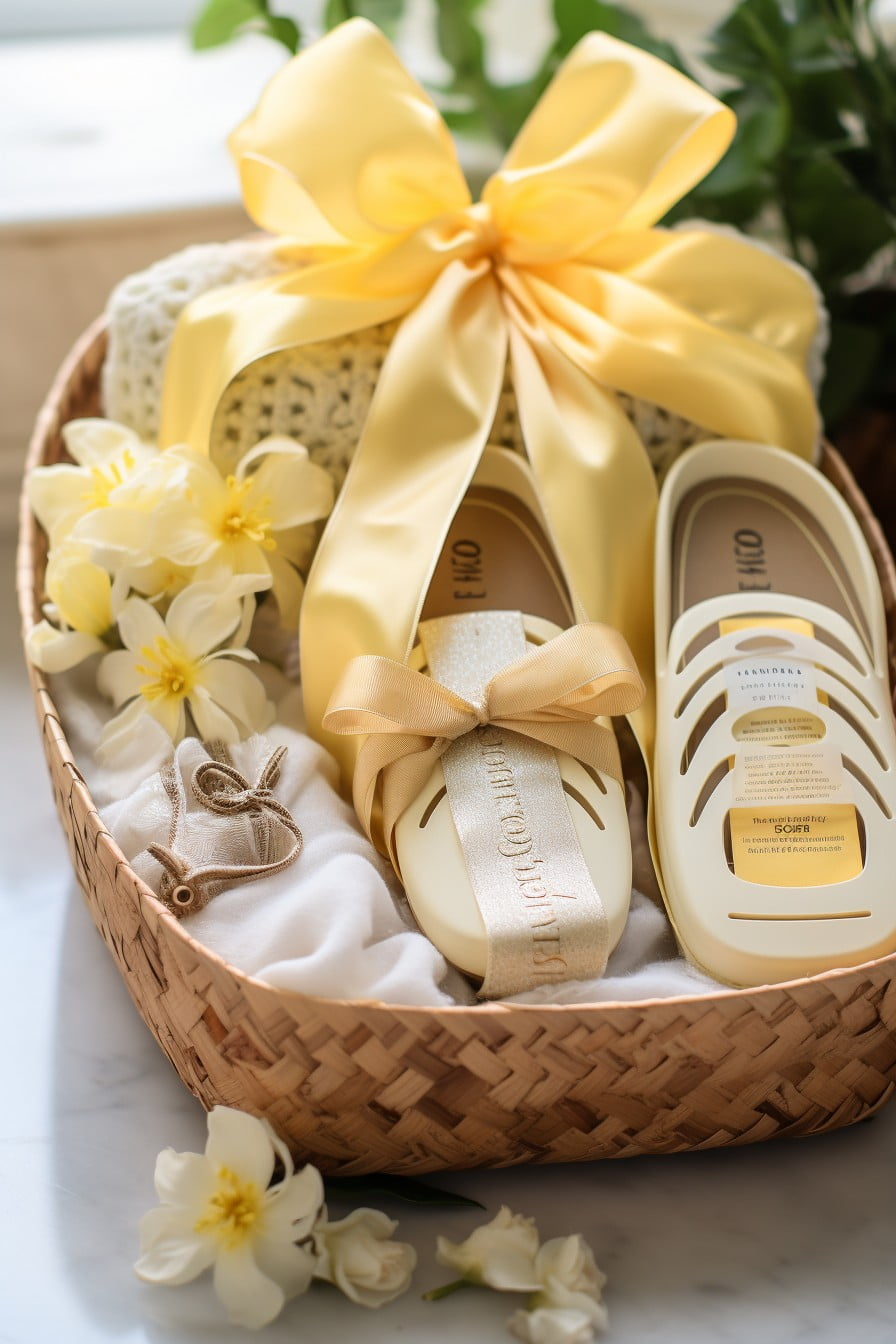 Providing the luxury of a spa at home, these cozy foot-huggers are an optimal choice. Often made from plush materials such as memory foam or terry cloth, they offer comfort and warmth, mimicking the relaxing atmosphere of a spa.
Some varieties even include non-slip soles for safe journeying around the bathroom. For easy cleaning, opt for machine-washable pairs. Available in various colors and sizes, they can be a thoughtful gift catering to the recipient's taste and needs.
Enhancing the bathroom experience, spa slippers embody the essence of self-pampering and relaxation. A simple addition to a bathroom gift basket, yet they certainly contribute to a luxury spa experience right at home.
Exfoliating Bath Sponge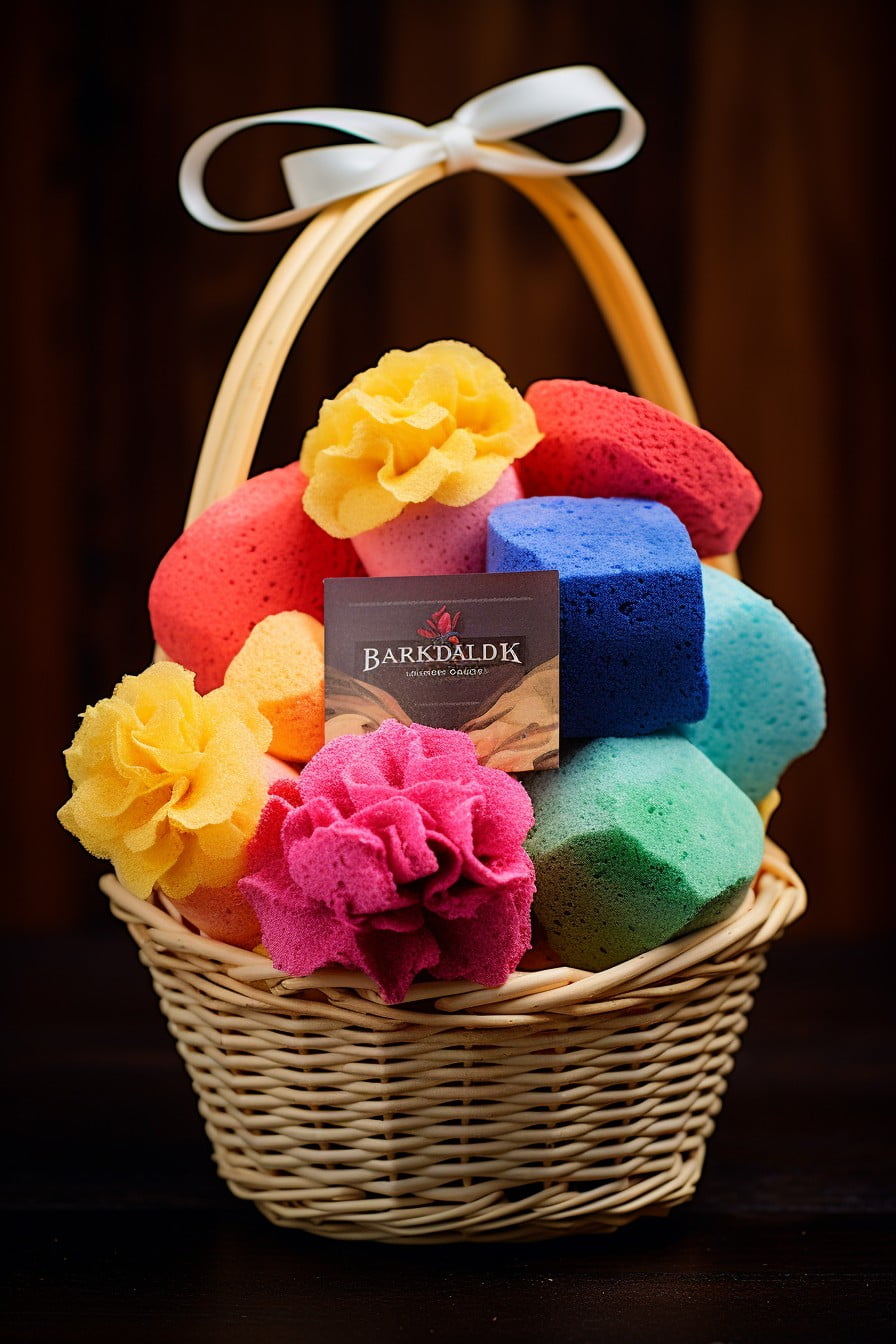 Rich in texture and designed to scrub away dead skin cells, an exfoliating bath sponge is a must-have item for any bathroom gift basket. When it comes in contact with warm water, it softens up to create a luxurious lather with your soap, helping not only to cleanse but also to rejuvenate your skin.
Some noteworthy aspects include:
Ideal for removing dry patches on elbows, knees, and feet
Promotes healthier-looking skin by increasing blood flow
Useful in preparing skin for further treatments like moisturizers or body oils
Available in various colors and shapes to suit personal aesthetic
Often made from natural materials making them eco-friendly
Remember, it's not just a cleaning tool, it's part of an at-home spa experience.
Scented Soap Set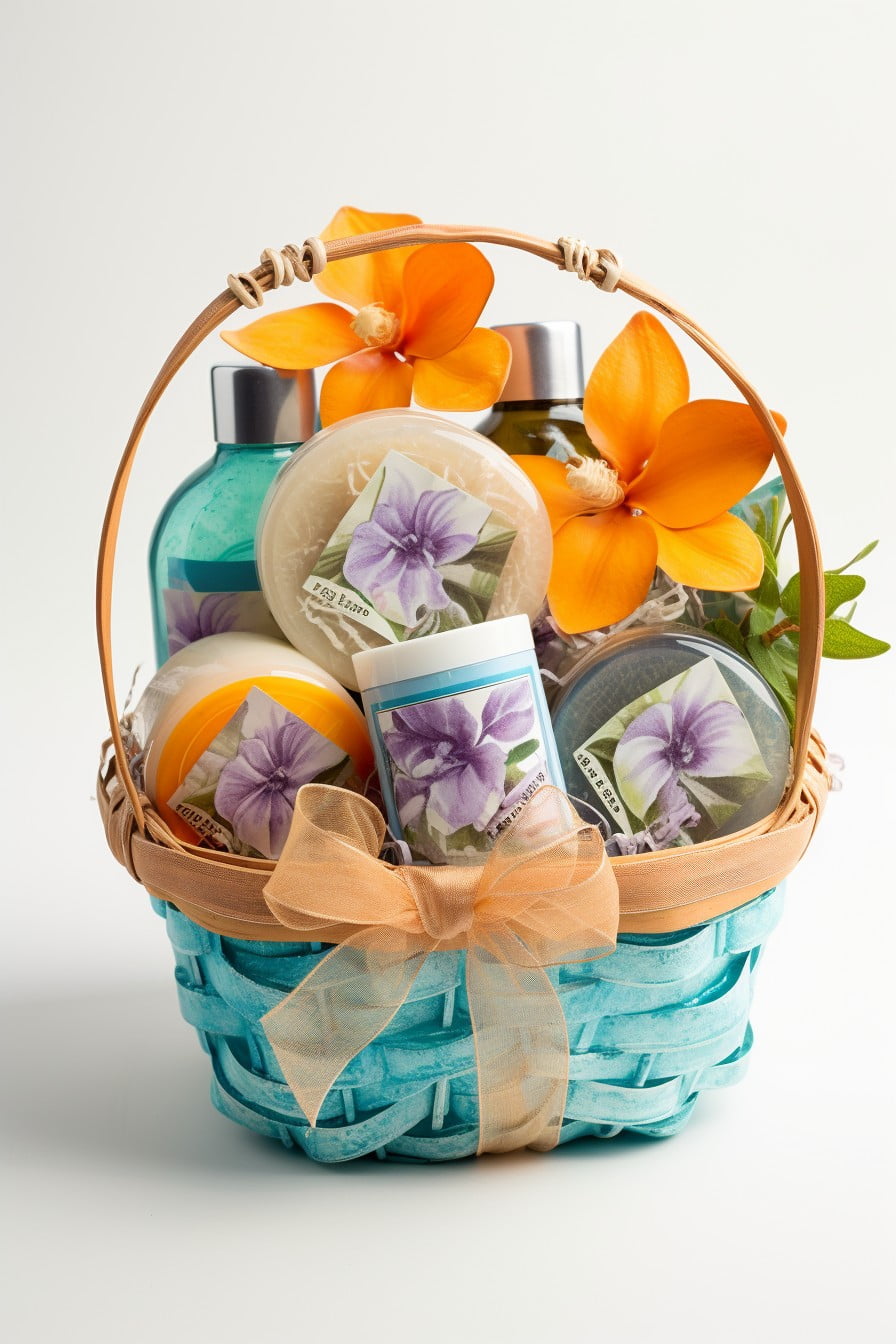 Delightful to the senses and gentle on the skin, these bars come in an array of unique fragrances. From calming lavender to invigorating citrus, there's an option for every mood.
Many artisanal soap makers create these using natural, organic ingredients, ensuring they're free from harsh chemicals. An added perk is the charming packaging often incorporated, which can serve as a pleasant piece of decor in your bathroom.
Cedarwood and sage, peppermint and eucalyptus, or vanilla and almond; the choices are endless. Opt for a diverse set to offer the gift recipient a chance to discover their perfect aroma match.
This makes an excellent choice for those who appreciate a touch of everyday luxury.
Bathroom Robe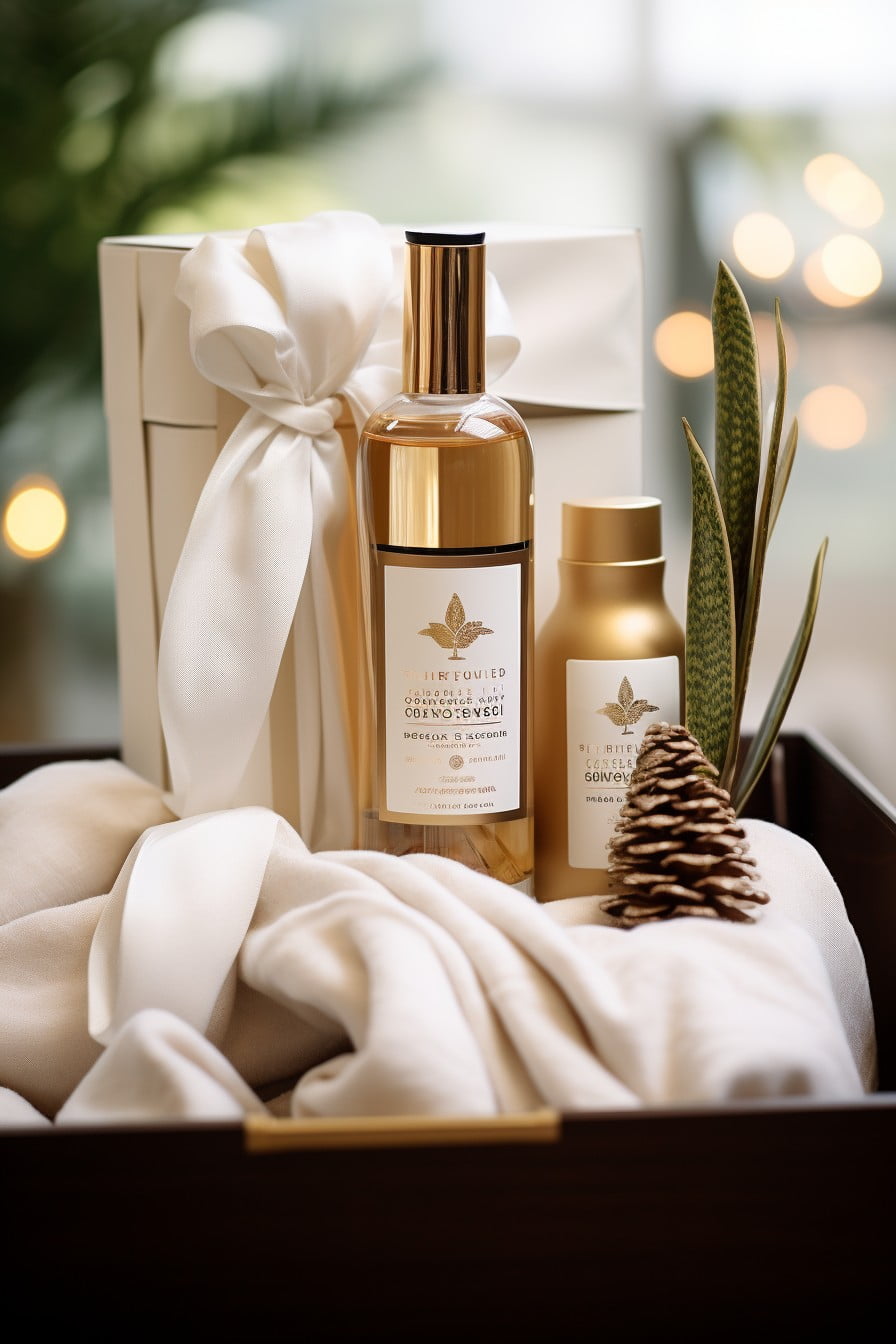 If you're considering a fabric for comfort, a plush cotton robe is hard to beat. They are absorbent, making them perfect for post-shower. Alternatively, a sleek satin or silk robe would work well, adding a touch of elegance while keeping the wearer comfortably cool.
A trendy waffle weave robe is another great option. It's lightweight, allowing the skin to breath, and fits the spa atmosphere perfectly.
For a hint of luxury, opt for robes with extra features. Ones with a hood, or those offering oversized pockets or a shawl collar, add a touch of spa-like luxury. Think about the length too. Gravitate towards knee-length or longer for an added feeling of warmth and comfort.
Mind the color and pattern selection. Neutral solid colors or simple patterns resonate well with the bathroom theme. However, if you know the recipient's color preferences, that information is a goldmine. A robe in their favorite color or print personalizes your gift and shows thoughtful consideration.
Essential Oil Set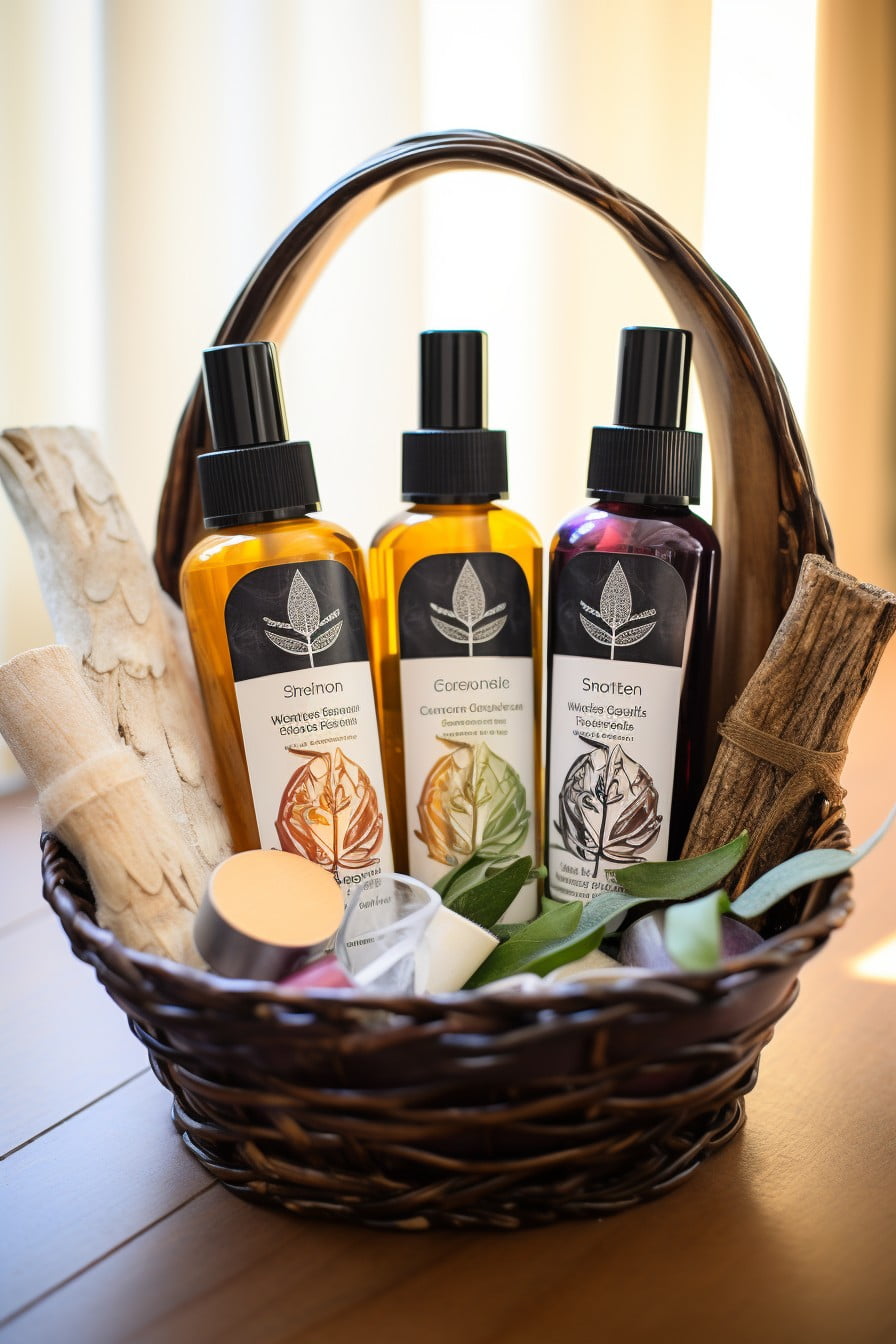 An essential oil set offers a multitude of benefits for overall wellbeing, making it a perfect addition to your bathroom gift basket.
With a wide range of scents like lavender for relaxation, lemon for invigoration, and tea tree for its antibacterial properties, the recipient can create their own home spa experience.
It's important to consider the quality of the oils; opt for pure, undiluted oils for maximum benefits.
Utilizing a diffuser with these oils can transform a bathroom into an aromatic oasis, aiding in relief of stress or simply setting a calming atmosphere.
Remember, essential oils can also be added to baths or used for massage, providing versatile uses for this thoughtful gift.
Bath Salts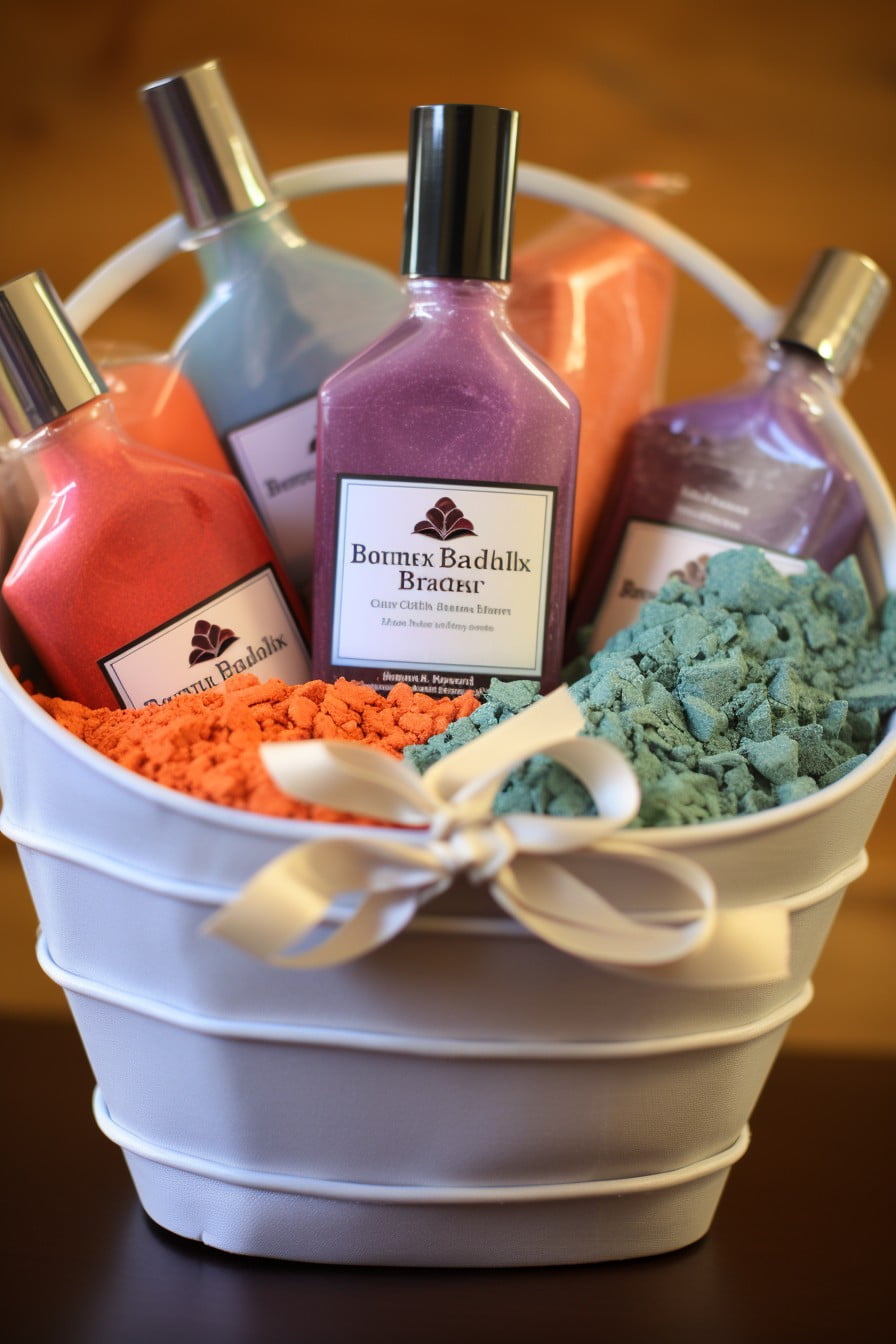 Bath salts are much more than an aesthetic addition to your bathroom gift basket. Infused with minerals like magnesium, calcium, and potassium, they help detoxify the skin and relax muscles.
A soak in bath salts is extremely rejuvenating after a long tiring day. Opt for ones with essential oils for a mild fragrance and colorants for a beautiful tint to the water.
Try looking for varieties in pretty packaging or glass jars, as they can serve a dual purpose as decor items too.
Bath Pillow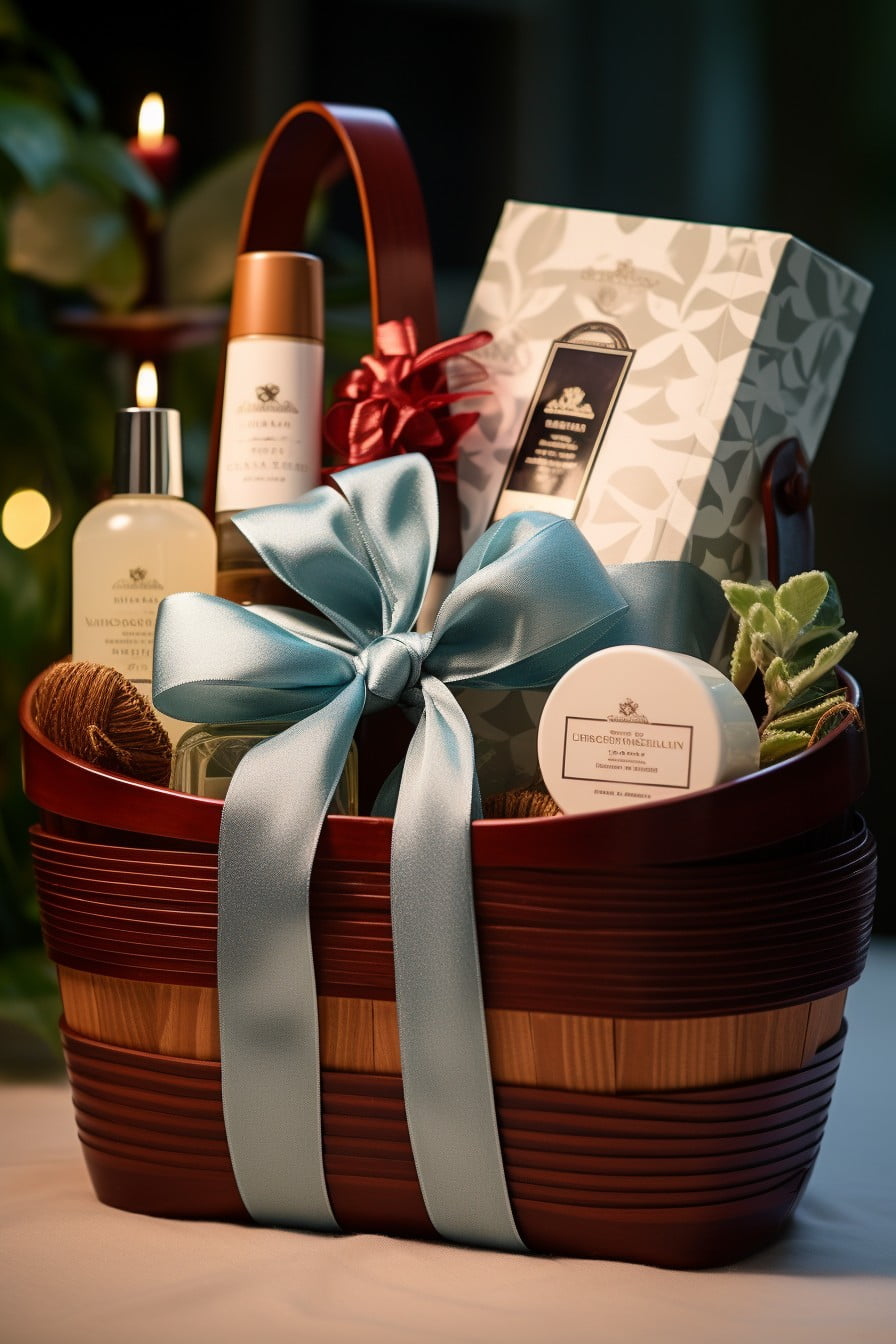 The appeal of a bath pillow extends beyond mere comfort. A quality bath pillow can elevate your bathing experience by providing much needed support for your neck and shoulders, allowing you to de-stress in tranquillity.
When making your selection, seek out options that are:
Non-slip: A non-slip design ensures the pillow stays in place, providing stability as you relax.
Quick-drying: A quick-dry feature aids in preventing any build-up of mildew, making maintenance a breeze.
Waterproof: Pillows with waterproof design are fantastic at repelling water, ensuring the pillow stays dry and comfortable throughout your bath.
Ergonomic: An ergonomically designed pillow will cradle your neck and head, reducing the strain often associated with long soaking sessions.
Remember, it's not just an accessory, it's a tool for true relaxation. With thoughtful selection, a bath pillow can transform even the simplest bathroom into a personal spa.
Skincare Kit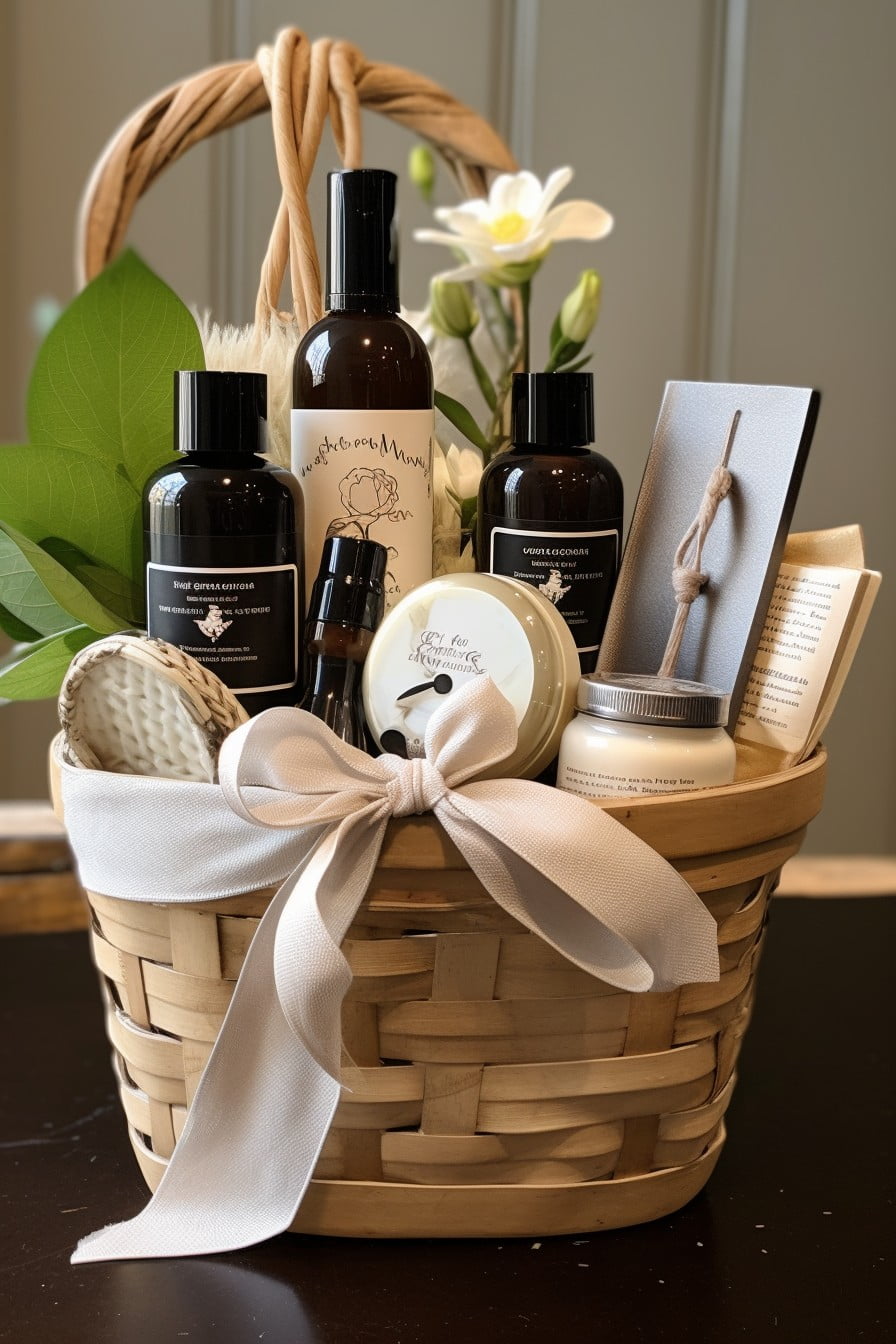 Diving into the details, the skincare kit is a gift that encompasses practicality and luxurious self-care. It can be custom-made to fit individual needs, whether it involves fighting off acne, combating dry skin, or simply maintaining healthy skin.
Preferrably opt for a set that includes a cleanser, toner, moisturizer, and a rejuvenating serum. Remember to look for kits that contain natural ingredients, as these tend to be softer on the skin and more eco-friendly.
A weekly mask or exfoliator can be a great addition. These kits usually come beautifully packaged, making them an aesthetically pleasing gift as well as a practical one. They are simple yet thoughtful, promoting comfort and self-love, and are a wonderful addition to any bathroom gift basket.
Toilet Paper Holder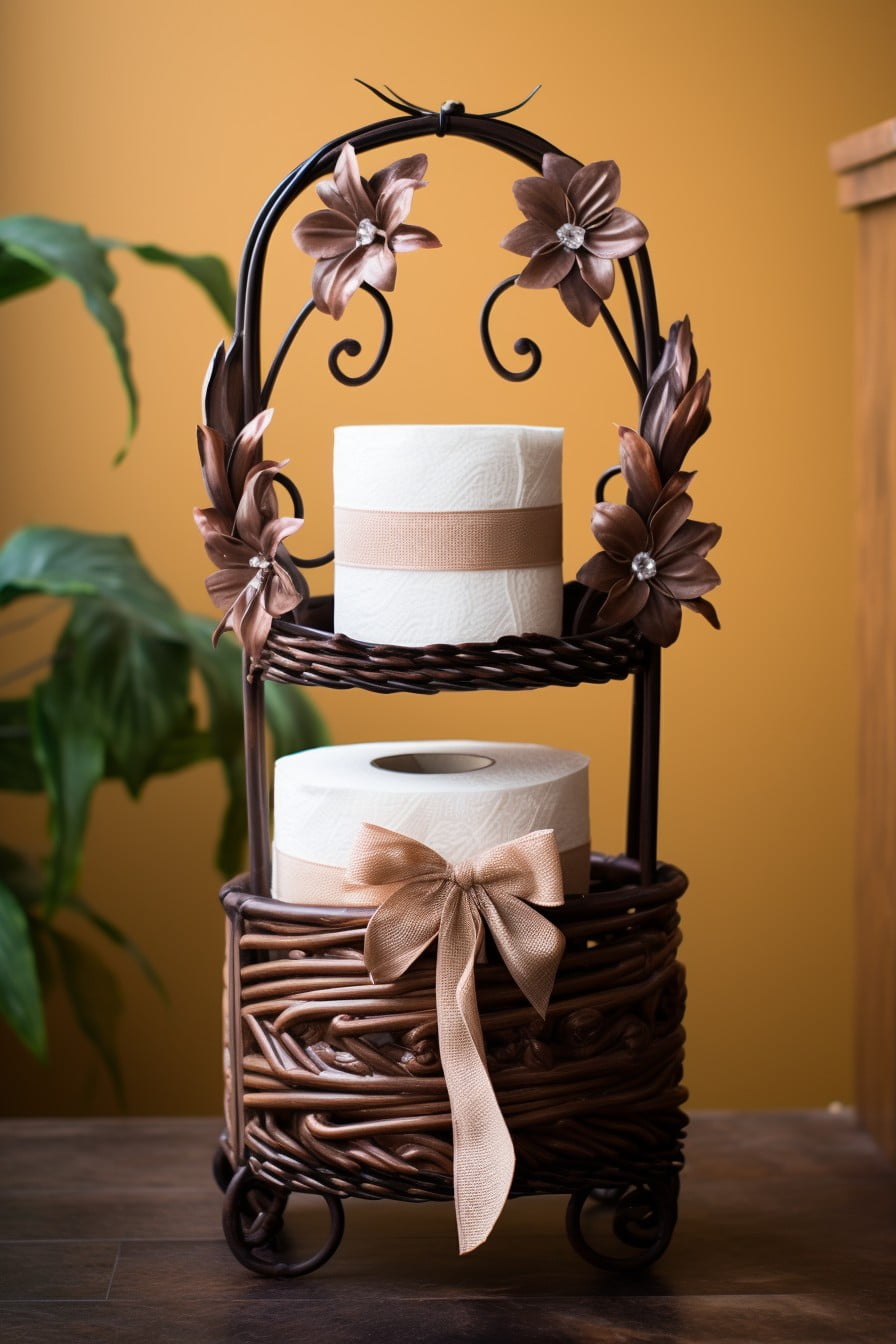 Practical yet stylish, these items can elevate any bathroom's aesthetic. One such essential find is a bespoke holder – beyond its functional purpose, it serves as an interesting visual element. A chic brass design or a fun, pop culture-inspired version can serve as a conversation starter.
Add a bit of personality to even the most ordinary daily routine with this inexpensive update. Plus, with an easily accessible location, you won't have to scramble for a spare roll again! It is purely a merge of convenience and visual appeal.
Reed Diffuser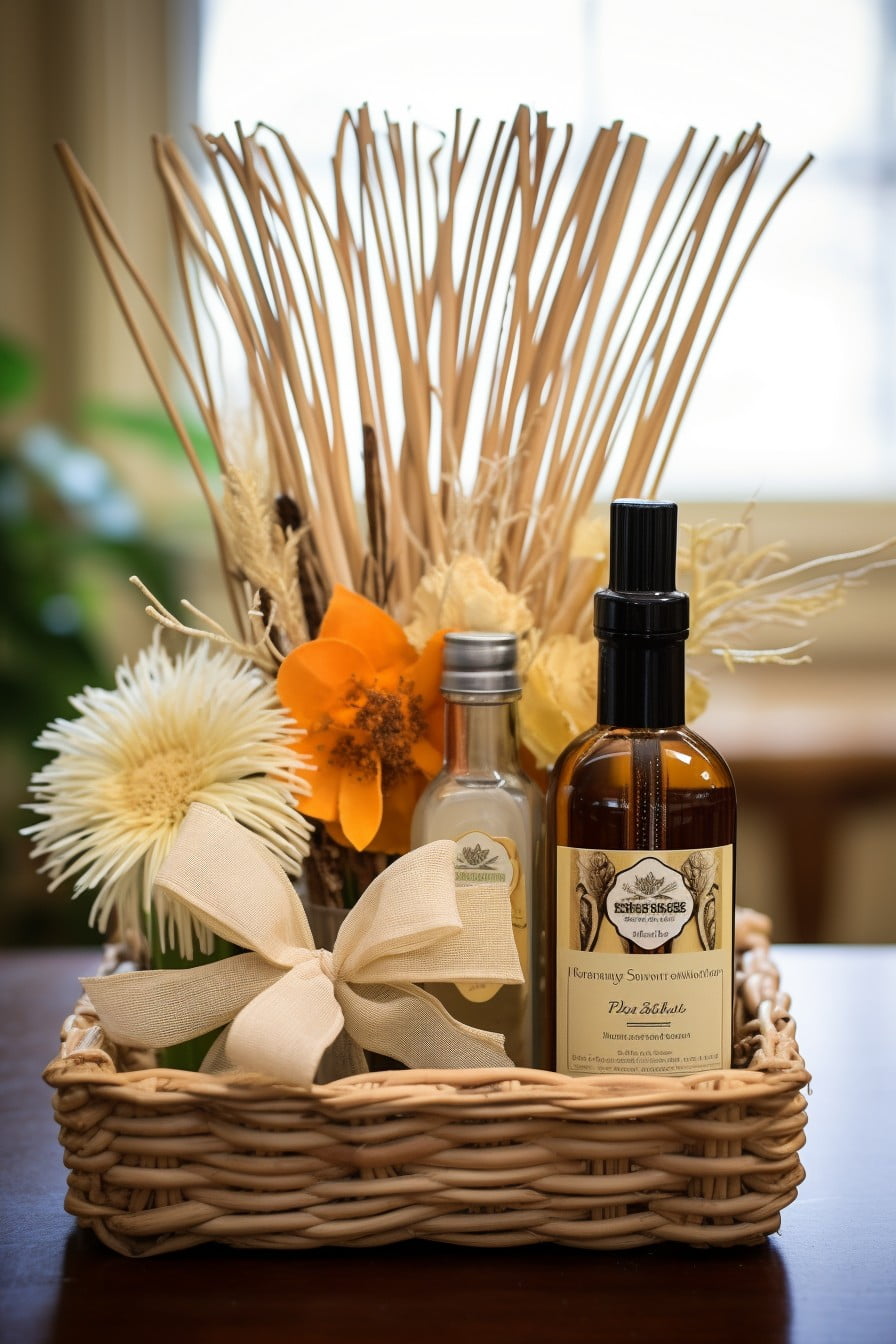 Designed to subtly permeate a space with delightful aromas, these unique tools work through a process of evaporation, as fragrance-infused liquid travels up a bundle of porous reeds and then disperses into the air.
Here are some essential points:
Continuous Fragrance: They provide a constant aroma, making your bathroom smell lovely all day long.
Easy to Use: No power source required; just flip the reeds every few weeks to refresh the scent.
Variety: Available in a plethora of scents, there is certainly one to suit your preference.
Decorative: The glass vessels are often aesthetically pleasing and can be a stylish addition to your bathroom decor.
Remember, it's best to place your reed diffuser on a stable surface and avoid direct sunlight to prolong the fragrance lifespan.
Bath Caddy Organizer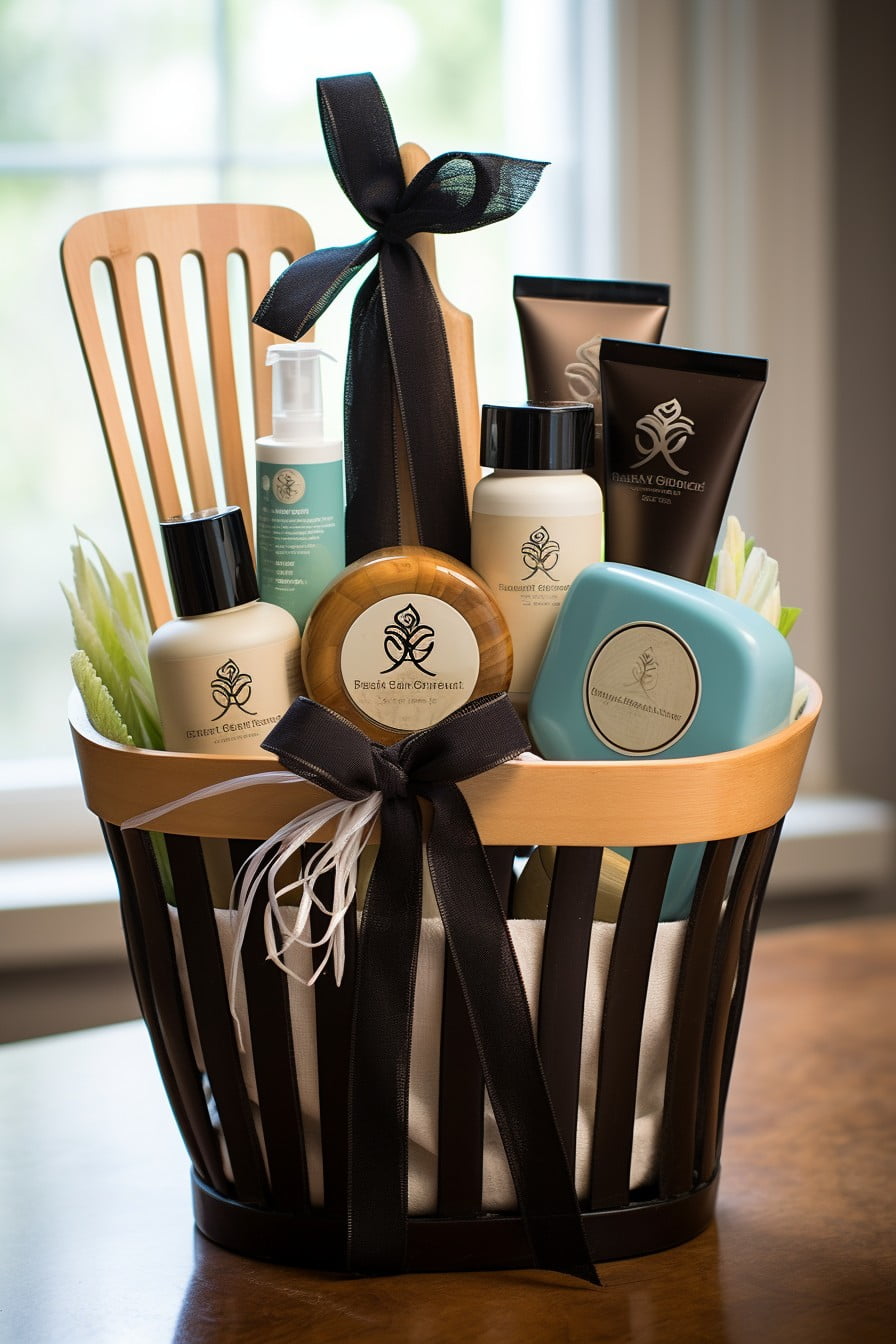 Allowing for efficient storage and a spa-like experience, a bath caddy organizer is a stylish addition that offers convenience.
In its multiple slots, compartments, and holders, it accommodates bath essentials such as soap, shampoo, conditioner, a good book, or even a glass of wine.
It fits right over the bath, keeping everything within easy reach during a soak.
Consider materials that resist moisture damage such as bamboo or stainless steel when choosing a bath caddy organizer.
Decorative Soap Dispenser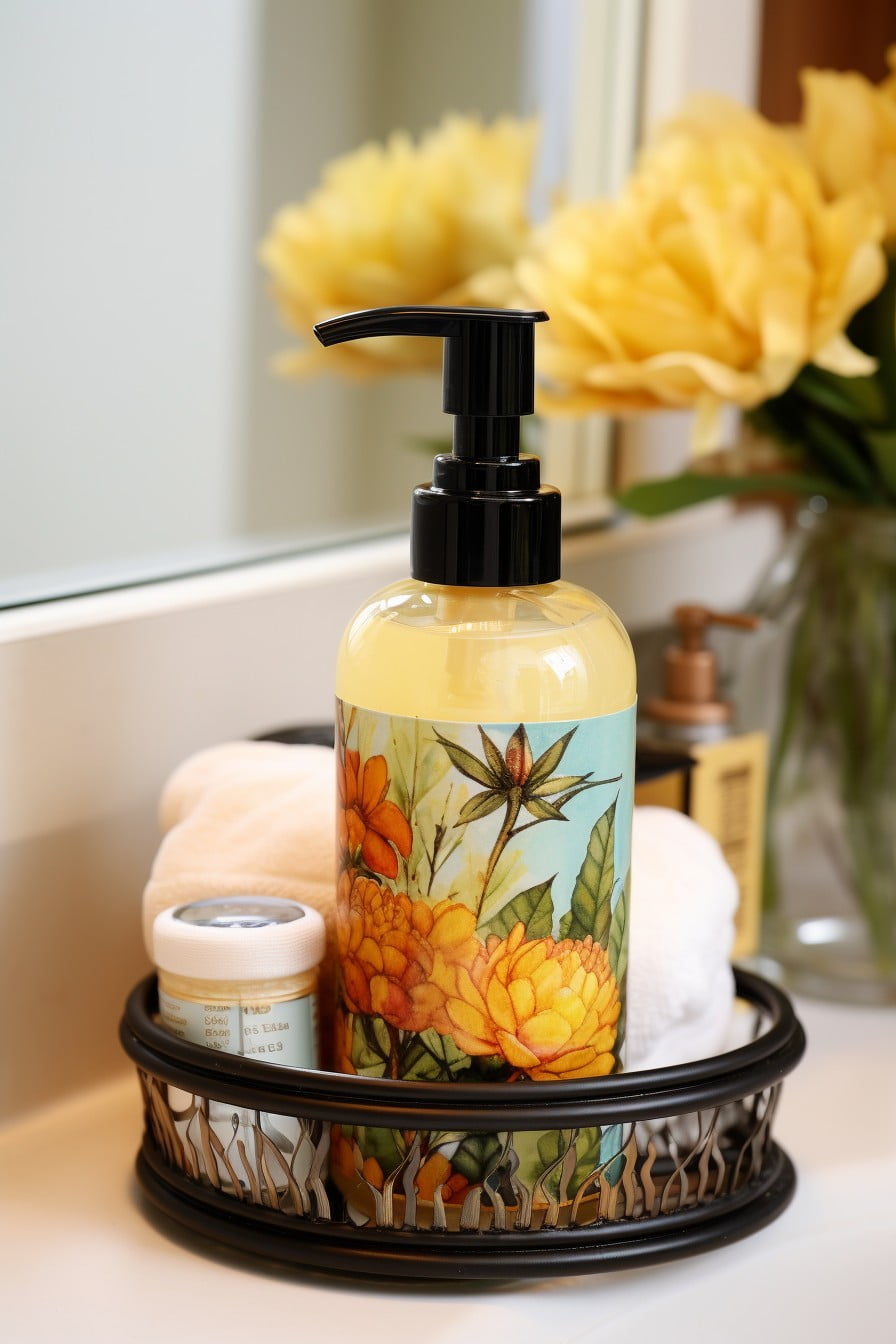 Offering both functionality and visual appeal, the role of a decorative soap dispenser in a bathroom gift basket should not be underestimated. Classy and practical, it becomes an essential tool while adding an aesthetic element to the bathroom decor.
Having a wide array of styles, colors and designs available in the market, selection can be made according to the receiver's preference. From vintage glass to modern metallic, rustic ceramic to fun and quirky designs, options are plentiful.
Remember, it's not only about the look but also the utility. Ensure a dispenser is easy to use, doesn't leak, and has a smooth pump action.
Whether it's filled with a luxurious hand soap or a budget-friendly option, this decorative item is sure to impress the receiver. And the best part? It's environmentally friendly, as it reduces the use of single-use plastic soap bottles.
Turkish Bath Towels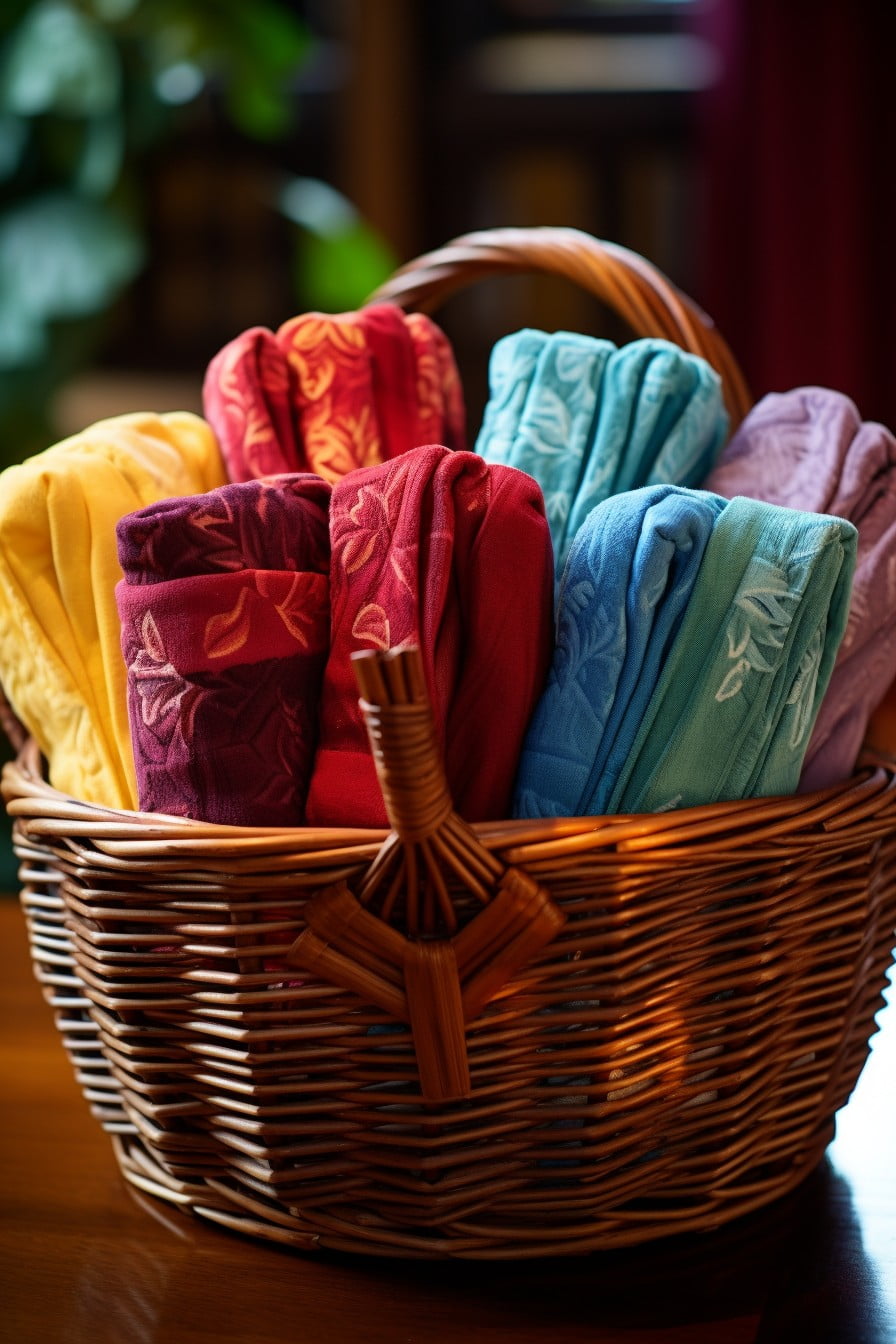 Crafted from pure, absorbent cotton, these lightweight gems are a bathroom must. They quickly wick away moisture, making them ideal for bath and beach use.
Their flat weave design ensures they fold up compactly – perfect for tucking into a gift basket without hogging all the room.
Coming in various colors and styles, they can either blend in with existing decor or add a pop of color.
Moreover, they age gracefully, offering comfort and function that only improves with years of use.
Loofah Set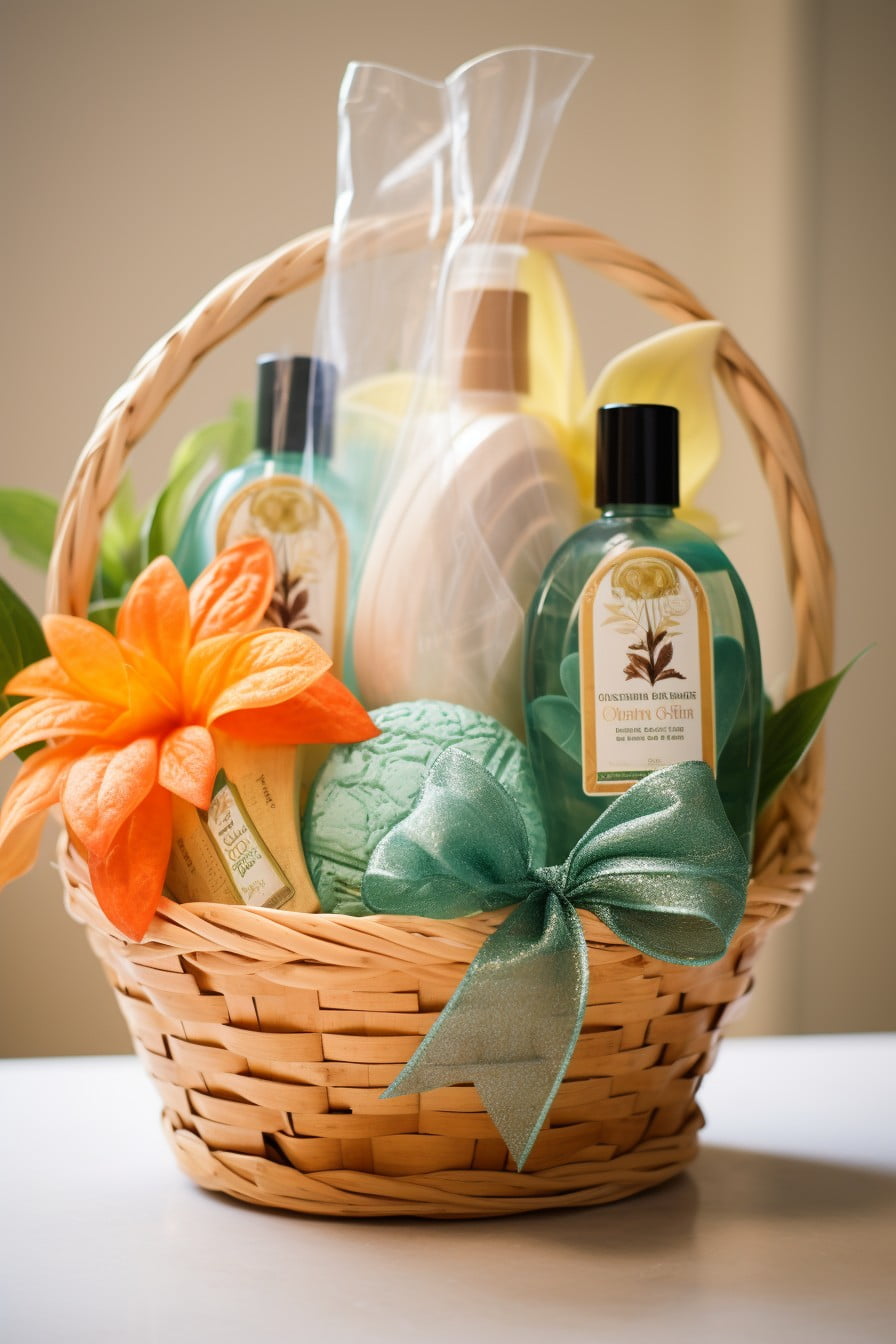 A quality loofah set might be just the thing to enhance your bathing routine. Scrub off the day's stress by utilizing different textured loofahs – from rough to extra soft.
More than just a tool for cleaning, it can also help promote circulation and exfoliate, revealing a refreshed and glowing skin.
Depending on preference, you can select from natural or synthetic loofahs, or even those infused with soothing scents.
Some sets even come with hooks for easy hanging – a simple touch that can contribute to a well-organized bathroom.
For a personal touch, consider sets in a variety of colors to match the bathroom's decor.
Lavender Sleep Spray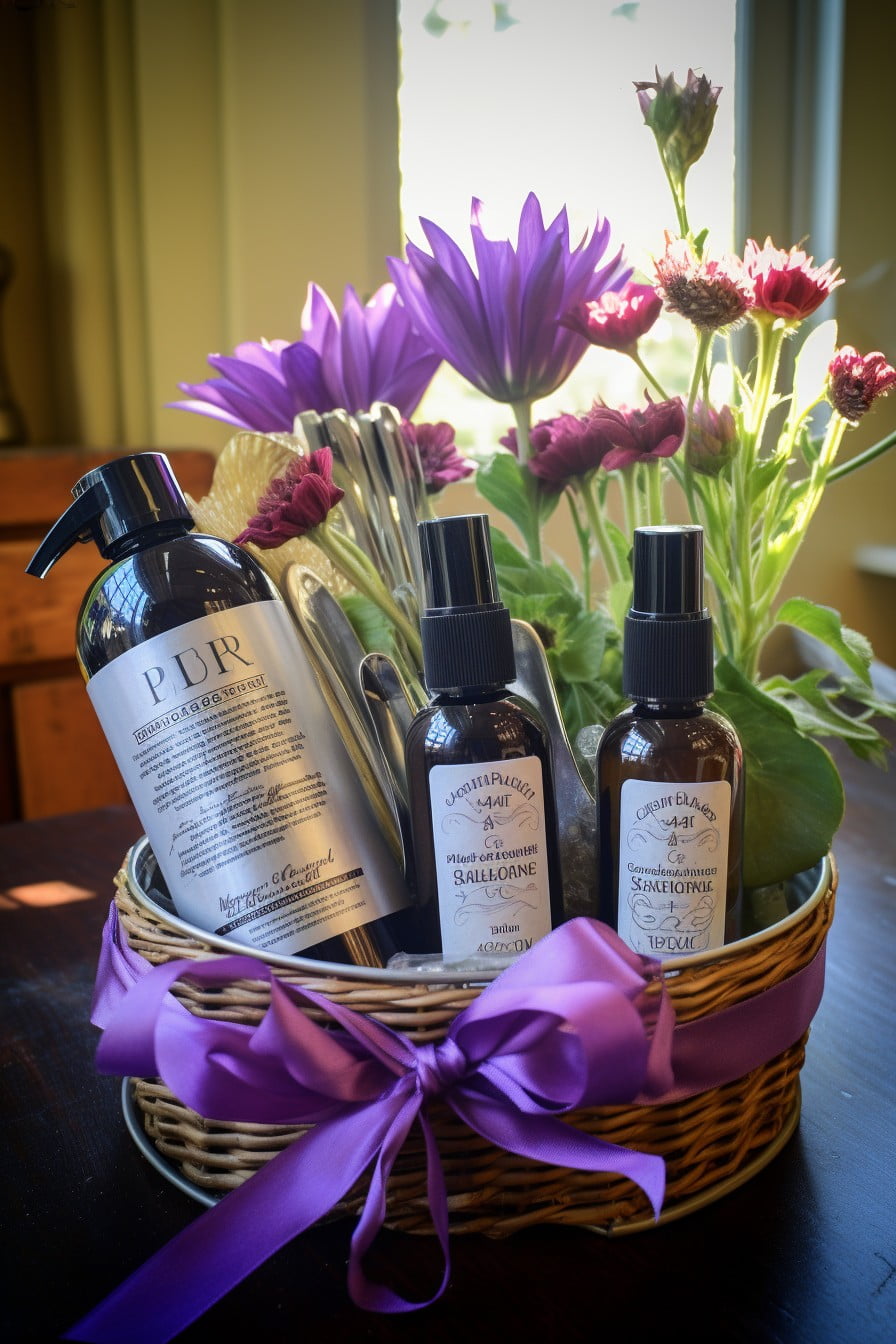 Bask in the soothing aroma of this floral wonder to drape the senses in relaxation. A spritz of lavender sleep spray on the pillows and sheets just before bed enhances sleep quality, owing to lavender's well-known calming properties.
It's not just a gift but an experience, offering a peaceful night's sleep that can help to reduce stress. Even a bathroom guest can appreciate this thoughtful touch, transforming their stay into a spa-like experience.
Key points to consider:
Enhances sleep quality
Lavender has calming properties
Transforms a regular night sleep into a spa-like experience
Ideal for guest use to provide added comfort
Perfect for promoting relaxation and reducing stress
Continue reading:
Recap