Last updated on October 21, 2023
Explore these innovative bathroom table ideas that can bring both functionality and style to your space.
As the author and designer of these 20 stylish bathroom table ideas for versatile spaces, I hope you find as much inspiration and enjoyment in them as I had creating them.
Transforming your bathroom into a stylish and functional space is easy with the right table ideas. Whether you're looking for a place to store towels, display decorative items, or keep your beauty essentials, this article has got you covered.
From classic wooden designs to modern metal pieces, you'll find a variety of table ideas to suit your bathroom's aesthetic. Plus, you'll learn how to maximize your space, regardless of the size of your bathroom.
So, get ready to dive into a world of bathroom table ideas that are both practical and chic.
Wall-mounted Bathroom Table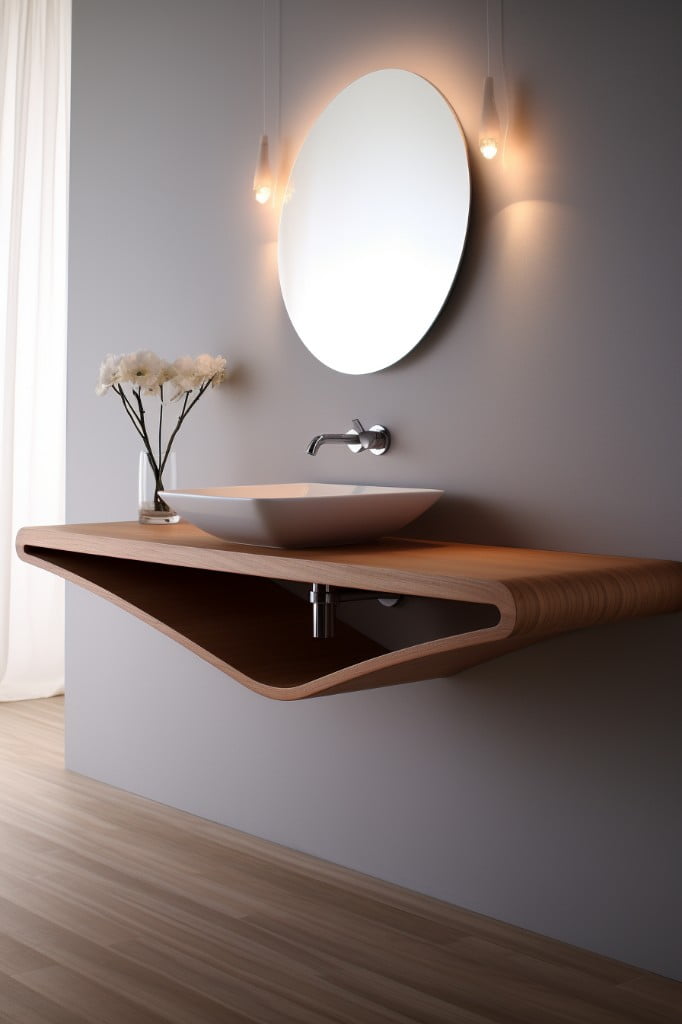 Ease of access, best utilization of minimal space, and aesthetic appeal are some of the major attributes of a wall-mounted bathroom table. With its installation, you can free up floor space, allowing for a less cluttered and more spacious look. They come in varied designs and materials, which allows you to match them with the rest of your interior.
Space-saving feature due to its wall-mount design.
Flexibility in sizing and design: From mini single shelf units to large vanity-size installations.
High adaptability: Can work with trendy modern to rustic farmhouse interiors.
Customizable height: Decide how high or low it should be based on your specific needs.
Less dust and easy cleaning: Elevated from the ground, it avoids dust collection and is simpler to clean.
Creative storage solutions: Comes with drawers or under table compartments.
It's important to note that wall-mount tables require firm, well-anchored installation, especially if it's going to bear considerable weight. When done correctly, it adds a visually pleasing touch and functional elegance to your bathroom.
Floating Shelves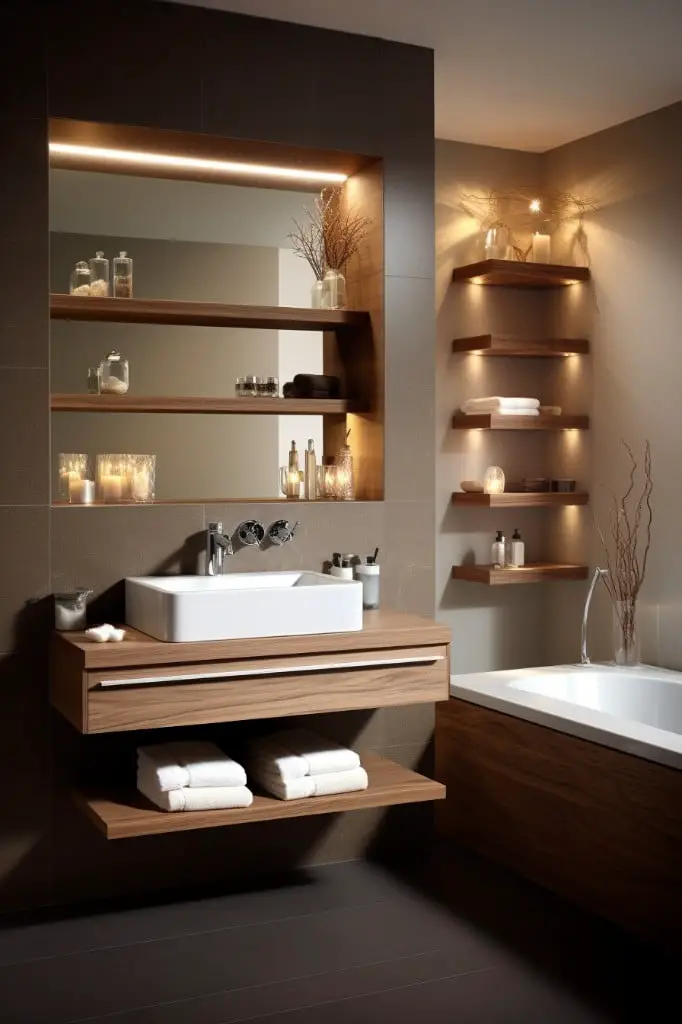 Emphasizing their versatility, floating shelves effectively utilize vertical space and offer flexible storage options. They appear to hang on the wall, with no visible supports, adding a clean, elegant aesthetic. Here's why they're a great choice:
Maximizes Space: Ideal for small bathroom areas, they take up no floor pace, providing room to store essentials or display decor.
Easy Installation: All you need are brackets and a level for a solid, secure fit.
Customizable: Comes in various materials and finishes like wood, glass or metal, suiting any bathroom style.
Accessibility: Provides easy access to commonly used items, especially when placed near the sink or shower.
Economical: They are typically less expensive than traditional cabinets or tables, making them a budget-friendly option.
Practicality: Easy to clean and maintain, reducing the risk of clutter.
Glass Top Table With Chrome Stand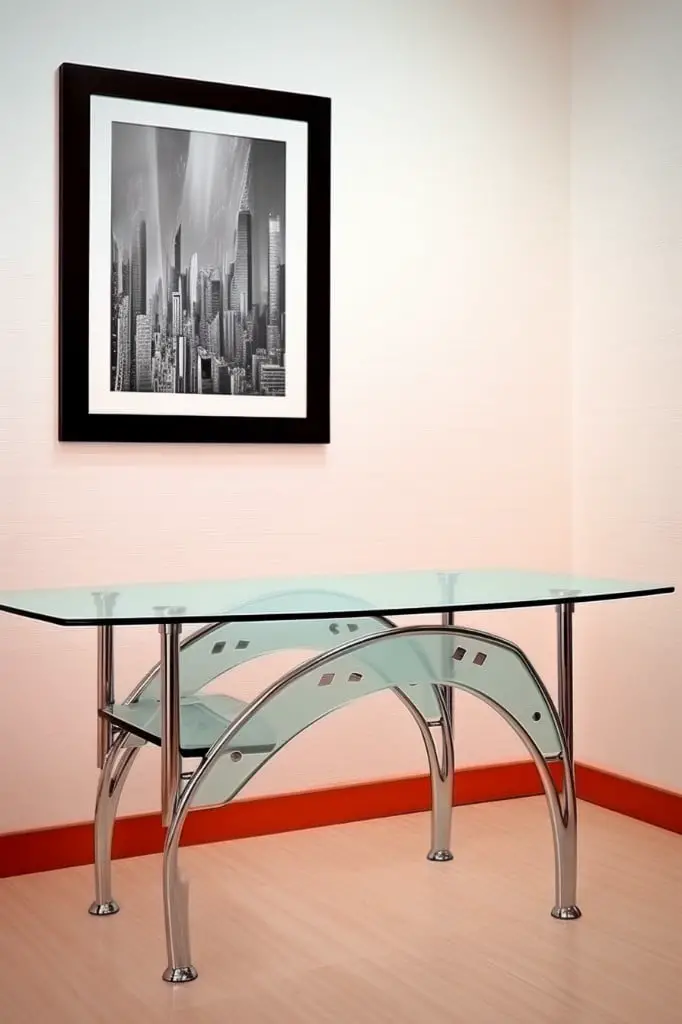 A glass top table with chrome stand presents a sleek, modern aesthetic. Here are its unique features:
Durability: Chrome is known for its strength, so you can expect this table to last.
Reflective: The chrome base reflects light, adding brightness to your bathroom.
Easy maintenance: Glass tops are simple to clean, only requiring a simple wipe to remain spotless.
Versatility: Complements any bathroom color scheme and doesn't clash with other materials.
Space-enhancing: The transparency of the glass top creates an illusion of more space, ideal for smaller bathrooms.
Remember that while chic, this table might show water spots or fingerprints more readily, so regular cleaning will be needed to maintain its sparkle.
Marble Countertop Vanity Table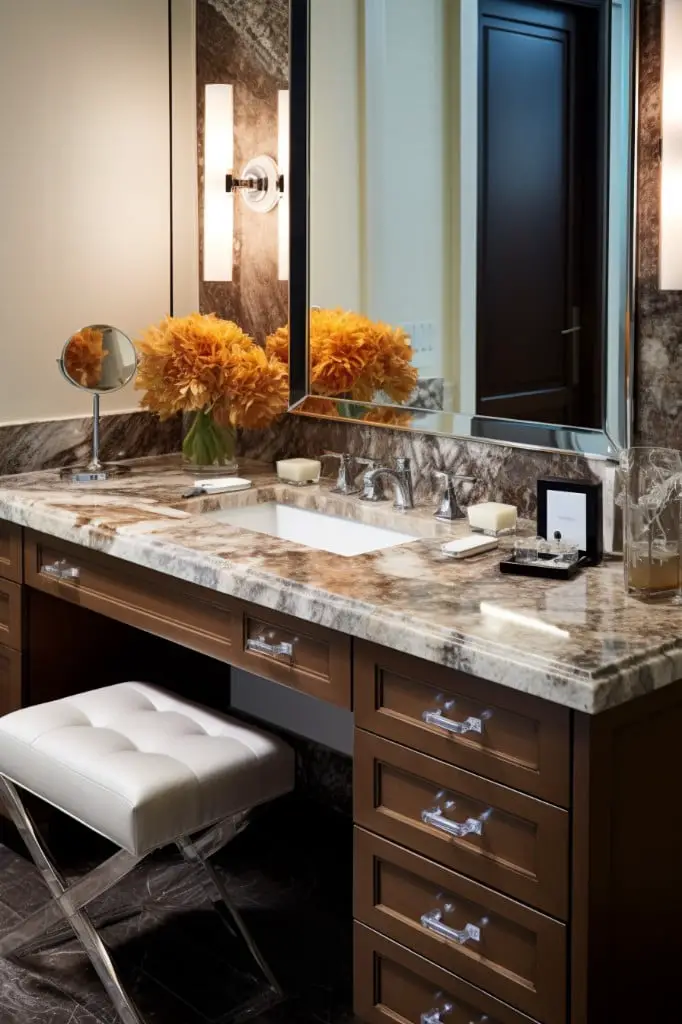 Lustrous and polished, the marble countertop vanity table adds an air of sophistication to any bathroom. It's the perfect surface for daily beauty routines, while also providing an elegant display for the precious bathroom essentials.
Here are key reasons to consider this stylish addition:
1. Enhances aesthetic appeal, elevating bathroom décor with its natural patterns and hues.
2. Ensures durability and longevity, withstanding the test of time even in humid bathroom conditions.
3. Promotes cleanliness, thanks to the smooth surface that is easy to clean and maintain.
4. Can be customized to match existing bathroom design, from classic to modern.
5. Offers ample storage space for cosmetics, toiletries, and other personal items, often with built-in drawers.
Remember the choice of marble can greatly affect the look and feel of the bathroom, from pristine white Carrara marble for a chic, minimalist appeal, to dark Emperador marble for a more striking, luxurious touch. Keep the bathroom size and décor style in mind while making a decision.
Care instructions include avoiding acidic cleaners, wiping spills immediately, and sealing the marble surface annually to protect its natural beauty.
Antique Rustic Wooden Table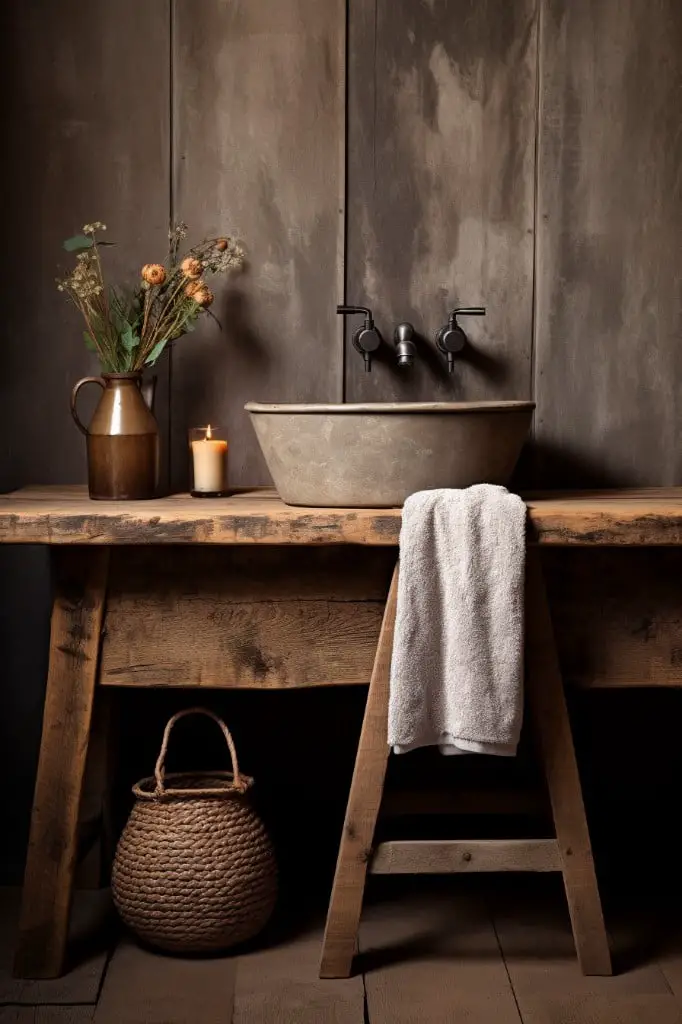 An antique rustic wooden table incorporates a unique aesthetic into your bathroom design, exuding a charm that is both elegant and homely.
Here are a few points to enhance understanding of this concept:
1. Handcrafted or distressed finishes capture an authentic vintage feel.
2. A protective sealant ensures durability and water resistance.
3. Fitted with functional elements such as a sink or shelves.
4. Styled with vintage-inspired accessories for harmony.
5. Ancient wood types like cherry, oak, or mahogany enhance authenticity.
6. Customization options range from the number of drawers to variation in wood stains.
7. Ideal for bathrooms where a warm, evocative atmosphere is desired.
8. Effective contrast when paired with modern bathroom fixtures.
9. Space permitting, larger pieces add substantial storage.
10. Careful maintenance of wood prolongs life and retains character.
Remember not to limit your creativity when incorporating this piece into your bathroom, as each antique rustic table offers a unique narrative and aesthetic appeal.
Wicker Basket Storage Table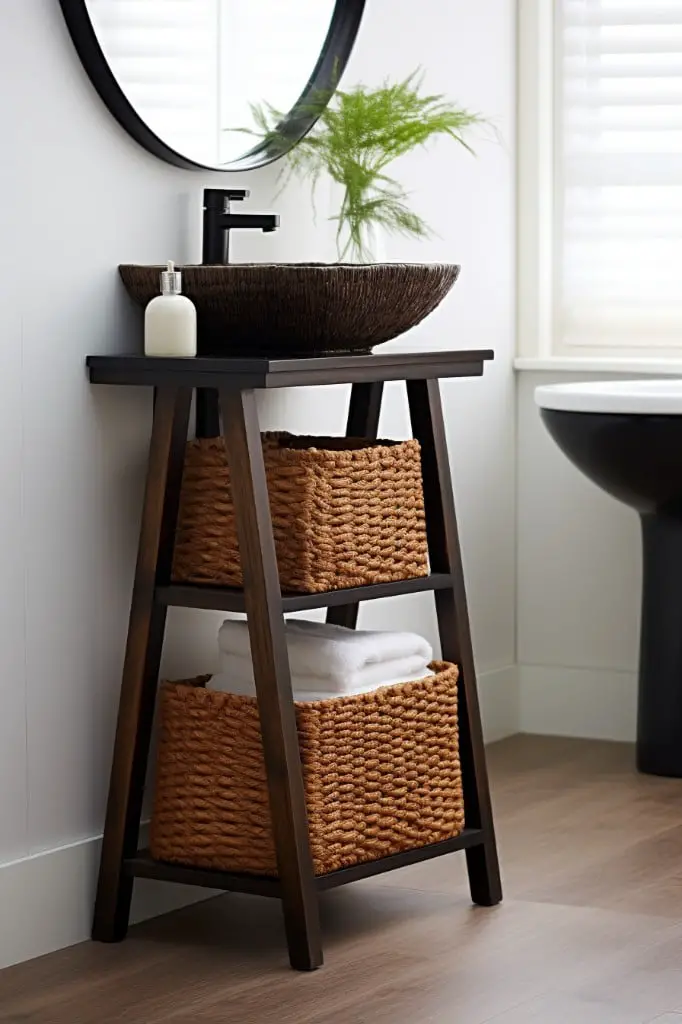 The wicker basket storage table combines elegance and convenience in a unique style suitable for bathrooms.
1. Ideal for compact bathrooms: Its size adapts perfectly to limited space.
2. Functional storage: Baskets can hold towels, toiletries and cleaning supplies.
3. Style: It imparts a rustic and natural ambiance.
4. Durability: Wicker withstands a high degree of humidity.
5. Ease of handling: Lightweight and easy to rearrange when cleaning or redecorating.
6. Versatility: Suitable for various interior designs, from minimalist to tropical.
7. Customization: Baskets can be switched out to match changing decor trends or seasons.
Remember, the essential key to your stylish bathroom lies not only in a table's functionality but also its ability to blend seamlessly with your aesthetics.
Pedestal Sink Table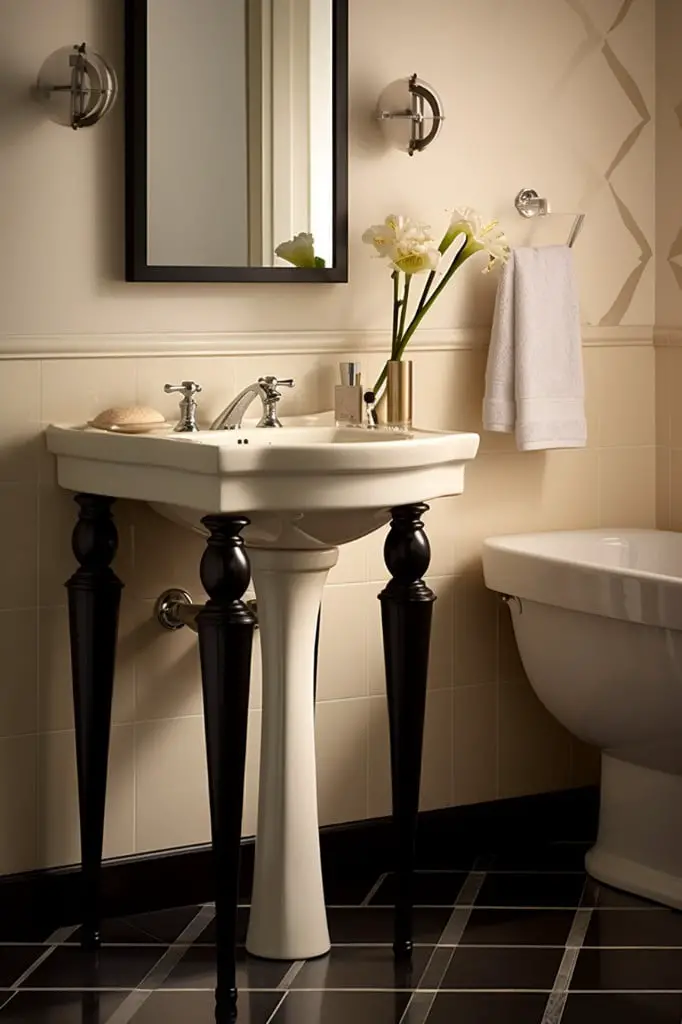 The pedestal sink table is an elegant, space-saving solution for small bathrooms. This design principle enhances the aesthetics while providing essential functionality.
1. Maximization of Small Spaces: Designed to fit snuggly around the base of the sink, it provides a handy platform for bathroom accessories without crowding the room.
2. Flexibility and Versatility: The pedestal design allows for aesthetic customization. Choices can range from modern sleek lines to chic vintage styles.
3. Smart Storage Solution: Going vertical; consider adding shelves or drawers to the pedestal design to house toiletries, towels, and other bathroom essentials.
4. Easy Installation: Most pedestal sink tables can be installed without professional help. Basic tools and hardware are usually all that's required.
5. Hygiene: The open design allows for easy cleaning and reduces the risk of accumulating dust and mold in hard-to-reach areas.
Remember, for more luxurious feel, materials like marble or granite might be considered. For budget-friendly options, consider good quality PVC or tempered glass.
Steel Bathroom Table With Towel Rack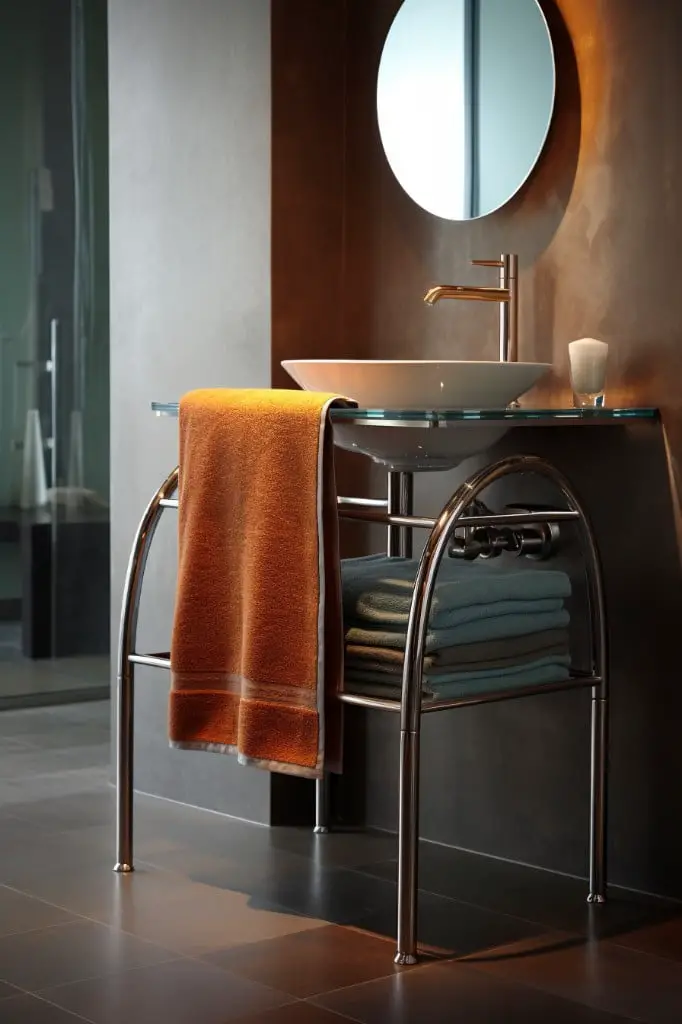 This practical solution combines functionality and sophistication. Crafted from durable and water-resistant steel material, it ensures longevity and resistance to rust.
Provides ample space for your toiletries, skincare products, and other essential bathroom items.
Includes a towel rack, offering convenient access to your bath linens.
Achieves an industrial yet chic aesthetic due to the stark combination of steel and other materials.
Can be perfectly integrated into a variety of design schemes, from modern minimalistic to farmhouse rustic.
Offers under-table storage for larger items or baskets, utilizing the floor space effectively.
Maintenance involves a simple wipe-down with a damp cloth.
Ensures a clutter-free countertop, making the whole bathroom look tidy and well-organized.
Compact Corner Table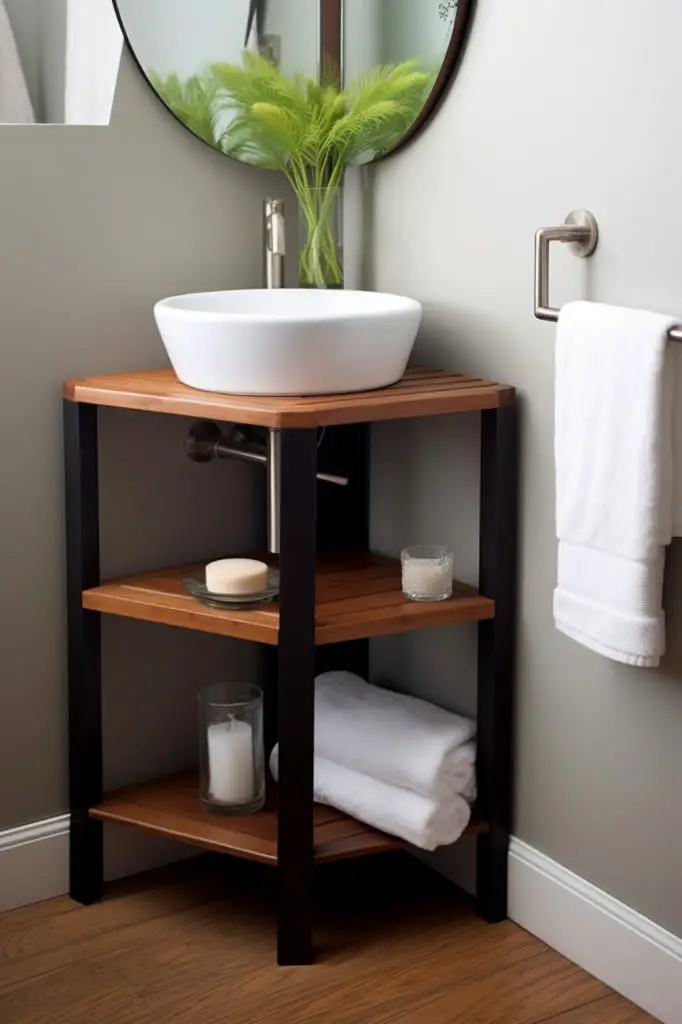 Optimized for minimal spaces, this stylish solution seamlessly fits into corners. Key pointers:
Maximizes unused corner space
Ideal for smaller bathrooms lacking space
Can be customized with tiered storage and drawers
Perfect for storing toiletries, towels, or decorative items
Available in various materials and finishes matching the existing decor
Can incorporate a built-in sink, enhancing functionality
Easy to clean and maintain due to its compact design
Freestanding or wall-mounted options depending on preference and available space
Adds a touch of elegance, transforming an otherwise drab corner into a focal point
Vintage Dresser Repurposed As a Bathroom Table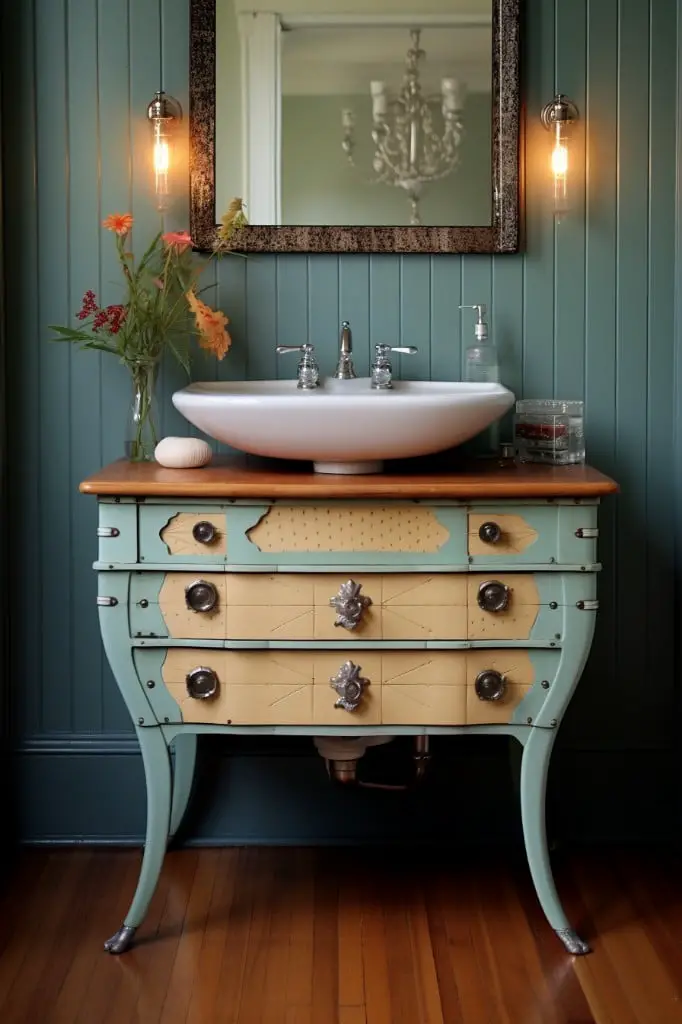 Investing in this concept will lend a distinct character to your bathroom while providing an efficient use of an old piece, saving on waste.
1. Selecting a dresser: Opt for sturdy wood types that can withstand moisture and humidity. Antiques or thrift store finds can offer uniqueness and charm.
2. Waterproofing: Essential for longevity. Perform this with a high-quality varnish or sealant for the wood.
3. Sink Installation: Consult a plumbing guide or professional to ensure proper set-up. Cut an opening for sink and faucet, and install.
4. Storage: Utilize the existing drawers for storing towels, toiletries, cleaning supplies.
5. Customization: Paint, stain, or accessorize according to the bathroom's aesthetics. Drawer knobs, for example, can offer a refresh or thematic touch.
Ladder-style Shelf Table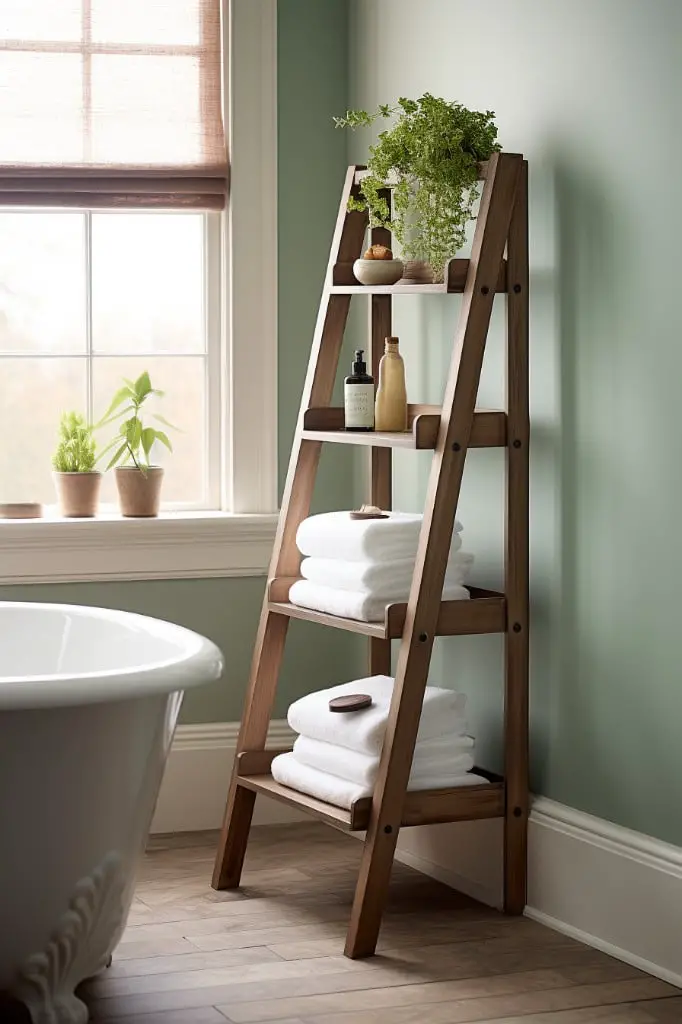 Offering multiple levels for storage, the ladder-style shelf table exudes an air of contemporary minimalism. Perfect for small spaces, it provides an efficient way to organize bathroom necessities.
1. Easy installation against any wall.
2. Requires minimum floor space.
3. Offers multi-tiered surfaces for storage.
4. Showcases a visually appealing, vertical design.
5. Provides an open, airy look, maximizing small spaces.
6. Accommodates a variety of items, from towels to decorative elements.
7. Available in a plethora of materials, including wood and metal.
8. Simple to clean due to its open structure.
Mirrored Bathroom Vanity Table
Mirrored tables not only serve their typical function but also amplify the perceived size of your bathroom due to reflections. Particularly beneficial for smaller spaces, these furnishings evoke a modern, sleek aesthetic and provide excellent lighting opportunities for makeup application or impression management tasks.
Choose between extensive options: full mirrored tables or single mirrored panel designs for subtlety.
Light and luminosity: ability to reflect existing light enhances room brightness.
Space illusion: mirrors make your bathroom appear larger, giving an optical illusion of increased square footage.
Easy cleaning: mirrors, being water and dust-resistant, need only a quick swipe for optimal shine.
Upgrade aesthetics: they add a touch of class, instantly upgrading the overall look of the bathroom.
Versatility: whether your bathroom design is rustic, minimalistic, or baroque, a mirrored table fits seamlessly.
Counter and storage: while providing counter space, many mirrored tables come with storage, combined functionality.
Bathroom Table With Built-in Sink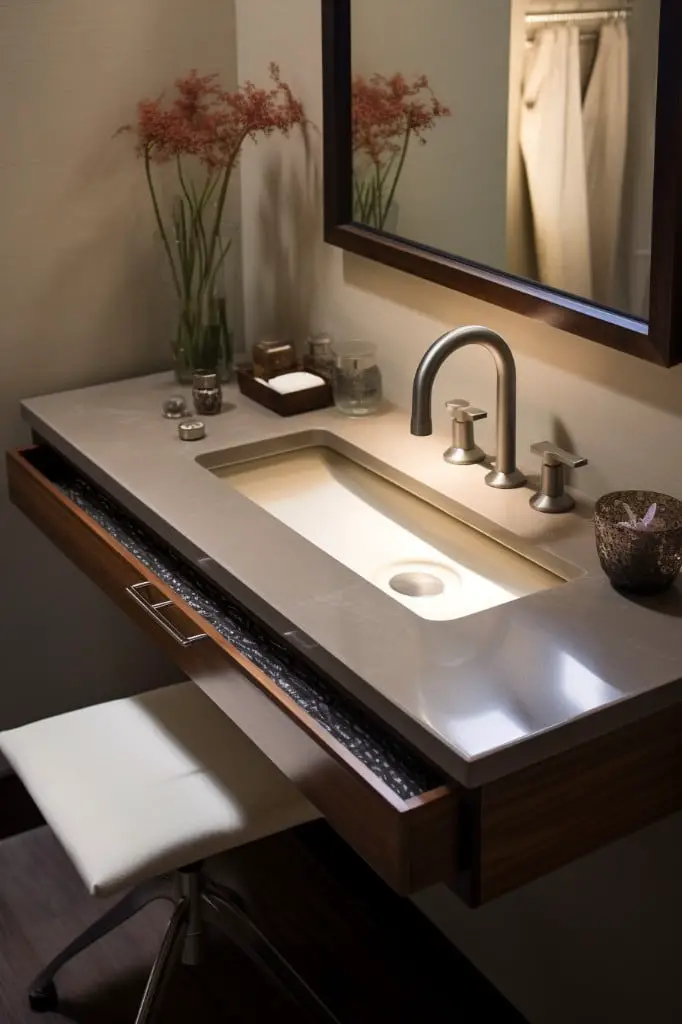 Creating a harmonious blend of function and beauty, the integration of your sink into the table provides a fluid, minimalist aesthetic. This setup often features:
A tabletop seamlessly transitioning into a sink basin, offering a unified, clean look.
The use of various materials such as stone, glass, or quartz – each adding its own unique charm.
Ample space for toiletry storage and everyday grooming tasks.
The convenience of a one-piece design, ensuring easier cleaning.
An architectural focus point, intensifying the overall bathroom design.
Investing in a bathroom table with a built-in sink is a worthwhile consideration for those seeking to save space while adding a touch of sophistication.
Rolling Cart Bathroom Table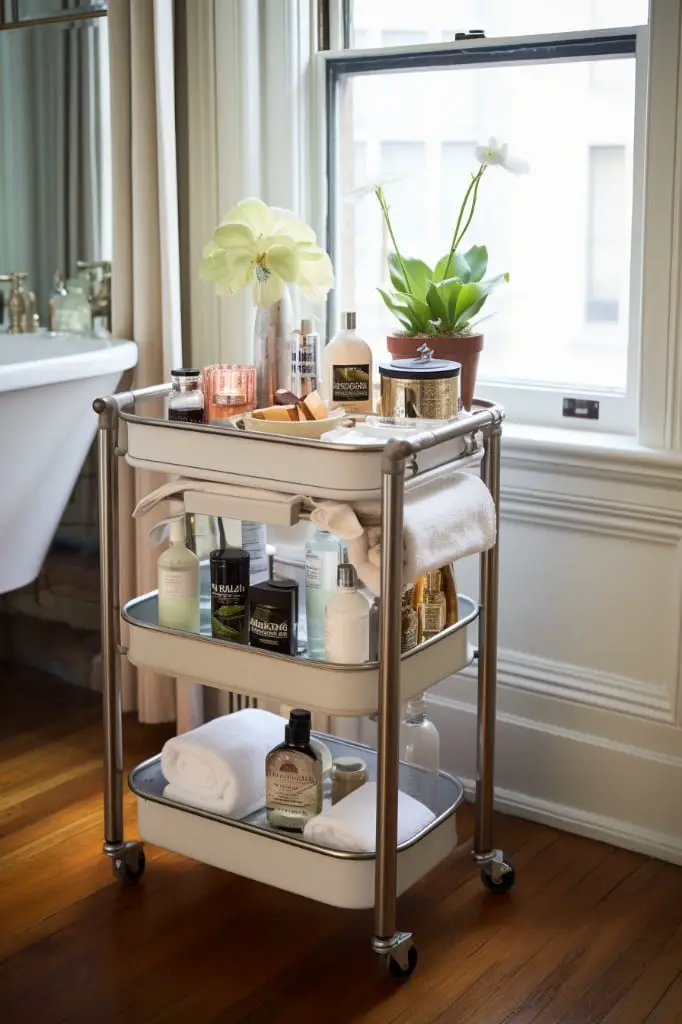 Shifting arrangements will be a breeze with a versatile rolling cart. Known for mobility, it's perfect for accommodating intermittent changes in your bathroom setup.
Primarily:
Easy Maneuverability: Built-in wheels enable quick movement and repositioning.
Storage Options: Facilitates organizing toiletries and miscellaneous items. Open shelves or closed drawers provide options based on your preference.
Material Variety: Be it metal, wood, or plastic.
Fits Any Design: A chameleon in terms of adapting to various interior styles – minimalistic, vintage, modern.
Temporary or Permanent: Serves as a robust permanent fixture or a temporary utility stand during guests' visit.
Its versatility brings a dynamic element to your bathroom, ensuring practicality never compromises on style.
Specially Designed Make-up Tables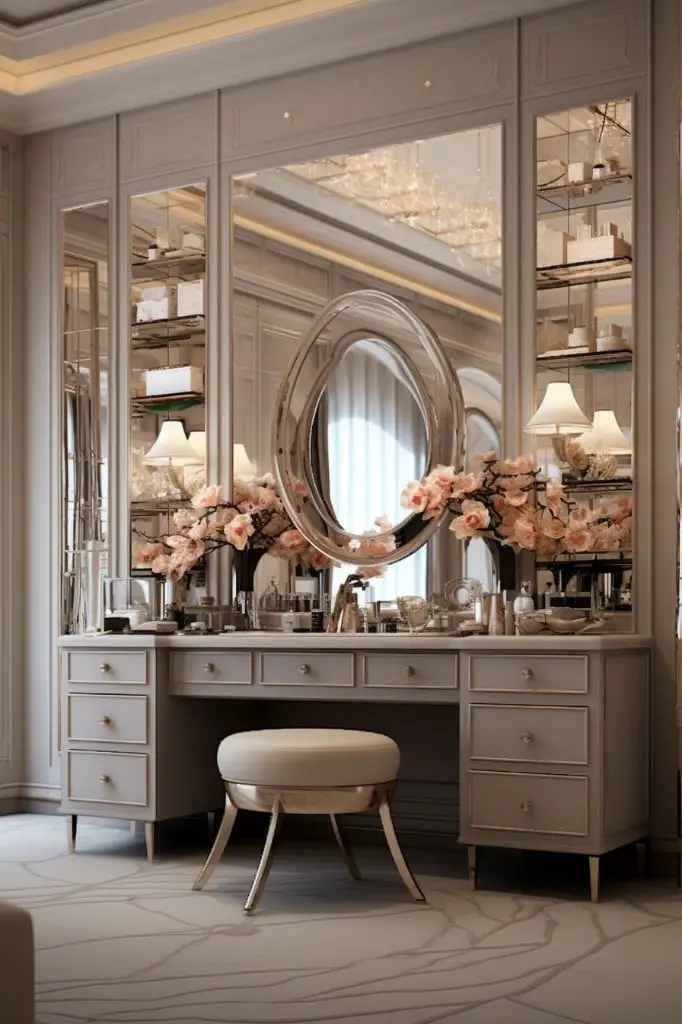 Specially devised tables take into account the specific needs of makeup application.
Integrated mirrors: Essential for an accurate and detailed makeup application, these built-in features eliminate the need for a separate mirror.
Adequate lighting: Many designs incorporate built-in lighting, ensuring an even, accurate shade and application.
Organized storage: Compartments for different makeup elements like lipsticks, brushes, eyeshadows, facilitate easy access and prevent mess.
Adjustable aspects: Many offer height or angle adjustments for personalized comfort and precision.
Durable material: Typically, they're constructed from easy-to-clean and moisture-resistant materials like wood, metal, or glass to withstand the humid bathroom environment.
Compact design: Despite multiple features, they are often compact to fit snugly into bathroom spaces without hindering mobility.
Small Bathroom Table With Drawers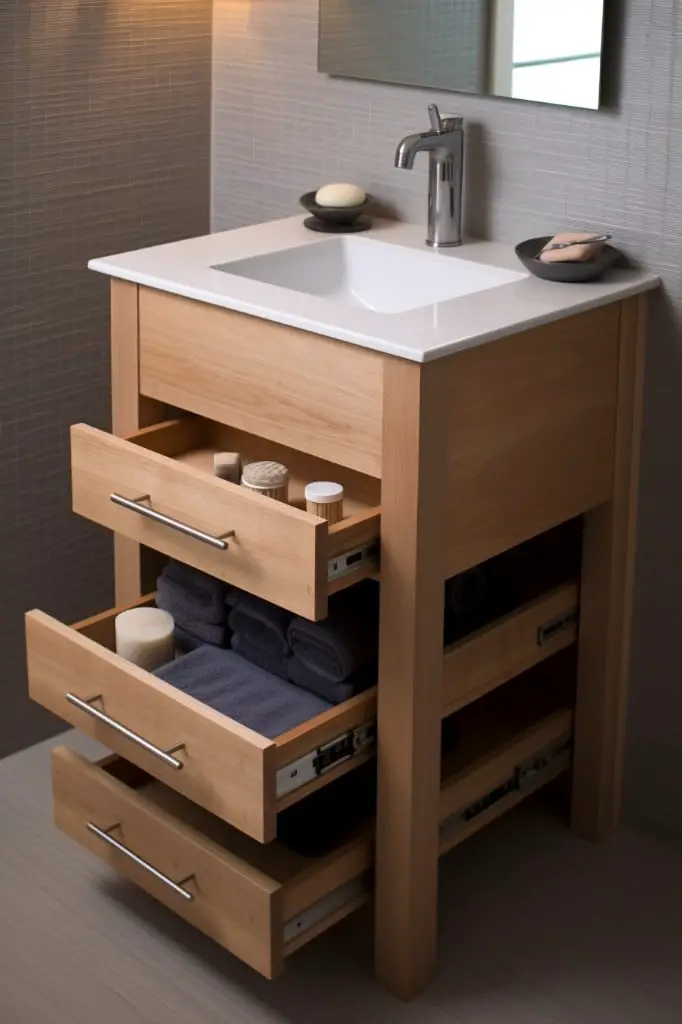 Maximizing compact spaces with meticulous design and functional components can create an impressive outcome. Incorporating a mini table that features multiple drawers can be quite effective.
Intelligent use of limited space.
Integrated storage to declutter and organize essentials.
Customizable designs to suit specific styles and preferences.
Enhancing the aesthetics without compromising on functionality.
Compact yet spacious to store a variety of items.
For instance, styles can vary from sleek modern designs, cozy rustic themes, or even a classic wooden finish. The added drawers serve a dual function; they hide bathroom essentials from plain view, creating a cleaner, less cluttered appearance, while also ensuring they are easily accessible when needed. The versatility of such tables is unquestionable, contributing not just as a practical storage solution but also as a pivotal design element enhancing any bathroom's overall ambiance.
Bathroom Table With Open Steel Shelves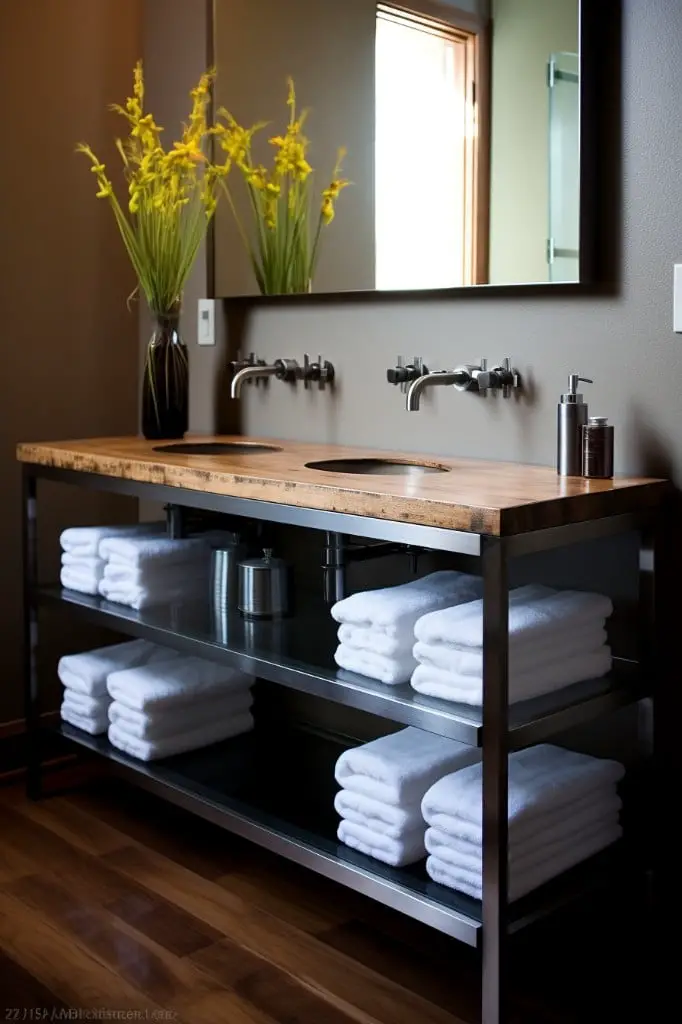 Sleek and polished, open steel shelves are an optimal solution for a modern or industrial style bathroom. The structure is sturdy and guarantees long-term use despite high moisture levels.
1. Ideal for lighter space and minimalist aesthetic.
2. High resistance to rust, corrosion, scratches or stain.
3. Easy to clean maintaining a stainless appearance.
4. Adjustable shelving units that allow customization according to storage needs.
5. Stability and load-bearing strength to hold bathroom essentials safely.
6. Allows excellent visibility and access to stored items.
7. Versatility to work well with complementary materials such as wood or glass for combined shelving solutions.
8. Free setup guide available from manufacturers or an easy DIY project with basic tools.
Stone Bathroom Table With Matching Sink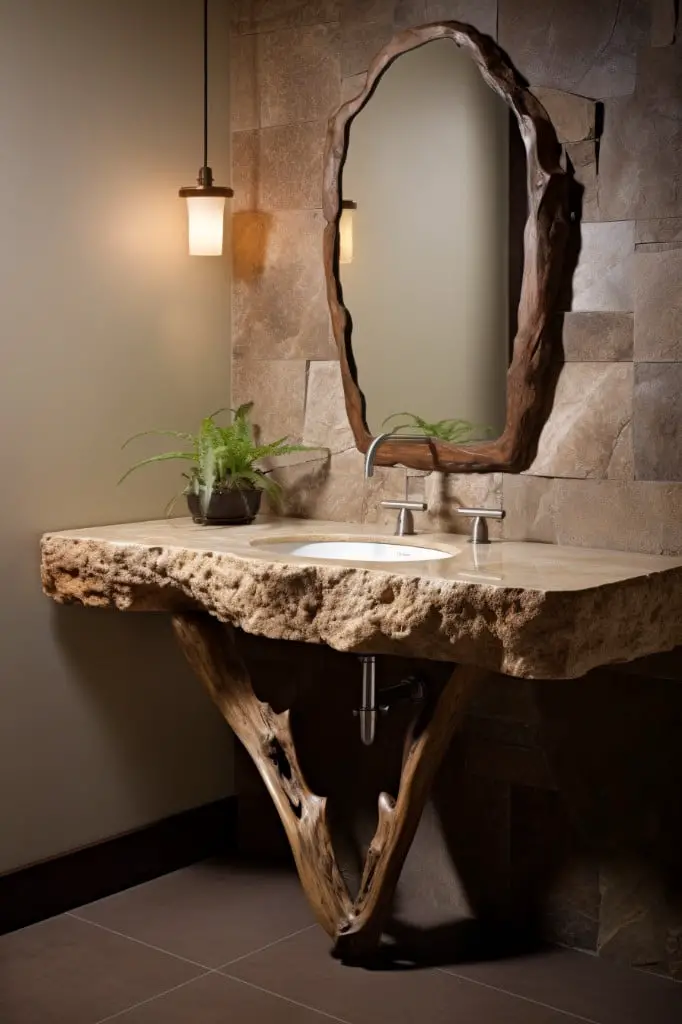 Achieving a natural, luxurious ambience is simple with a unique fusion of stone elements for your bathroom table and sink. Here's how to make it work effectively:
1. Selection of the right stone: Granite and marble lead in durability and opulence, while travertine and soapstone offer warmth and a touch of the exotic.
2. Maintenance is crucial: Regular sealing helps repel stains and damage, while daily wiping preserves the shine.
3. Customization options: Local artisans or online platforms can help design bespoke sinks to mirror your countertop, ensuring consistency.
4. Placement strategies: Even distribution of items is critical to avoid overbearing on one area, which can lead to earlier degradation.
5. Accompaniments: Opt for minimalist faucets and neutral toned accessories to emphasize the stone's natural beauty without distraction.
Under-sink Curtain-covered Table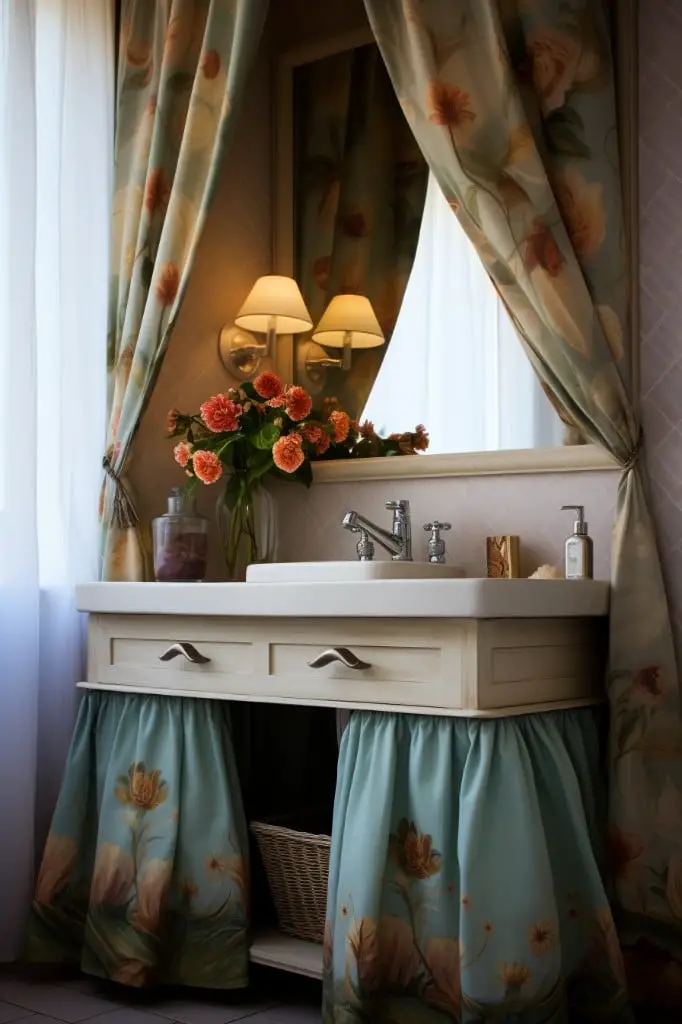 Under-sink curtain-covered tables add a touch of vintage charm to modern bathrooms. They aren't just visually appealing but also practical. Savvy homeowners choose them for their:
Space efficiency: Fit snuggly under the sink to maximize the available space.
Easy DIY installation: Only a piece of fabric and curtain rod needed.
Versatile design: Suitable for traditional, farmhouse-style, and modern bathrooms.
Customizable: Choose fabric colors and patterns to match the bathroom's theme.
Cost-effectiveness: Inexpensive solution to store bathroom essentials out of sight.
Quick access to items: Pull the curtain to easily grab what's stored behind.
Potential to hide old plumbing: Hide unsightly pipes for a cleaner look.
Cube Storage Bathroom Table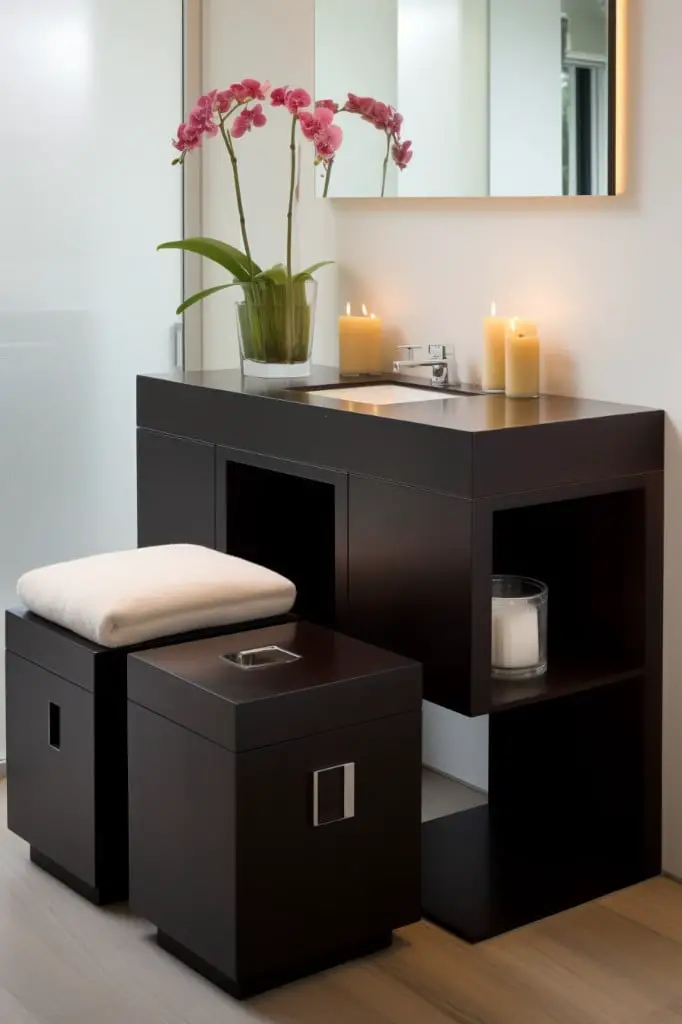 Availing a smart solution for tiny bathrooms, cube storage tables provide multi-purpose utility. Tailor them to your personal needs by filling the geometric compartments with toiletries or towels.
Their minimalistic design complements sleek, modern decor and tucks away clutter, optimizing space. These tables can be spruced up using fabric cube bins or woven baskets.
Key Points:
Space optimizing.
Personalized storage adjustments.
Simplistic design enhancing modern decor.
Concealing clutter.
Continue reading:
Recap