Last updated on September 2, 2023
Discover a paradise within your home with these twenty refreshing tropical bathroom ideas that will transport you to an exotic oasis every time you step inside.
Looking to add a touch of paradise to your home? Why not start with the bathroom? A tropical-inspired bathroom can transport you to a lush oasis every time you step inside. From vibrant greens and blues to natural textures and materials, there are plenty of ways to infuse your bathroom with a tropical vibe.
In this article, we've rounded up 20 ideas for creating the ultimate tropical bathroom retreat. Get ready for some serious inspiration that will have you dreaming of sunny beaches and swaying palm trees in no time!
Table of Contents
Bamboo Towel Racks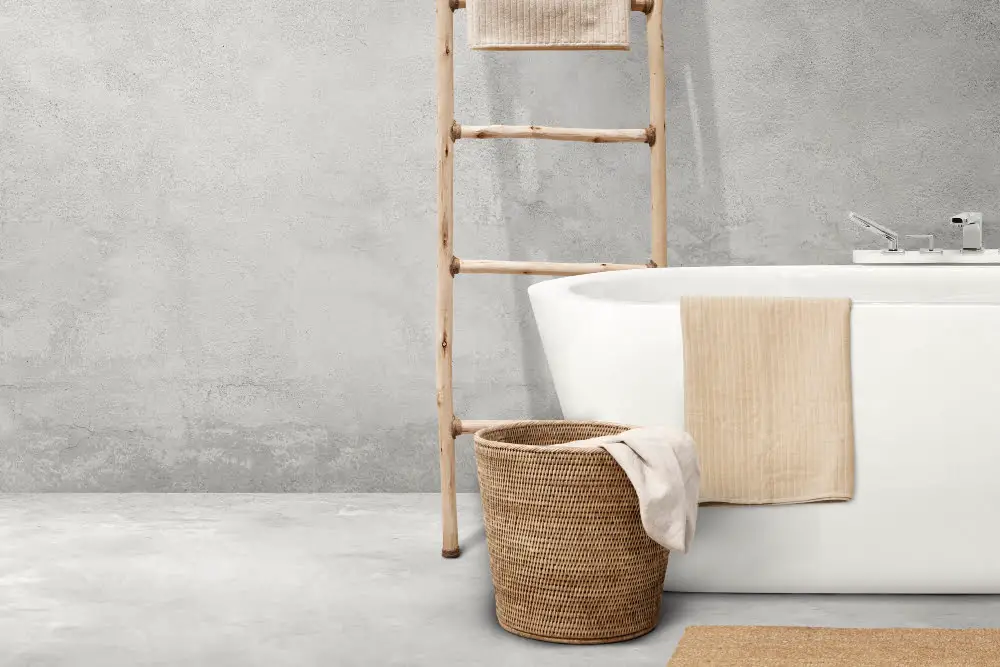 Bamboo towel racks are a great addition to any tropical bathroom. Not only do they add a natural element, but they also provide functional storage for towels and washcloths.
Bamboo is eco-friendly and sustainable, making it an excellent choice for those who want to reduce their environmental impact. Plus, bamboo has a unique texture that adds visual interest to the space.
You can find bamboo towel racks in various sizes and styles, from wall-mounted options to freestanding models with multiple tiers of shelves or hooks. Consider pairing your bamboo towel rack with other natural elements like stone accents or woven baskets for a cohesive look in your tropical bathroom design scheme!
Rainforest Showerhead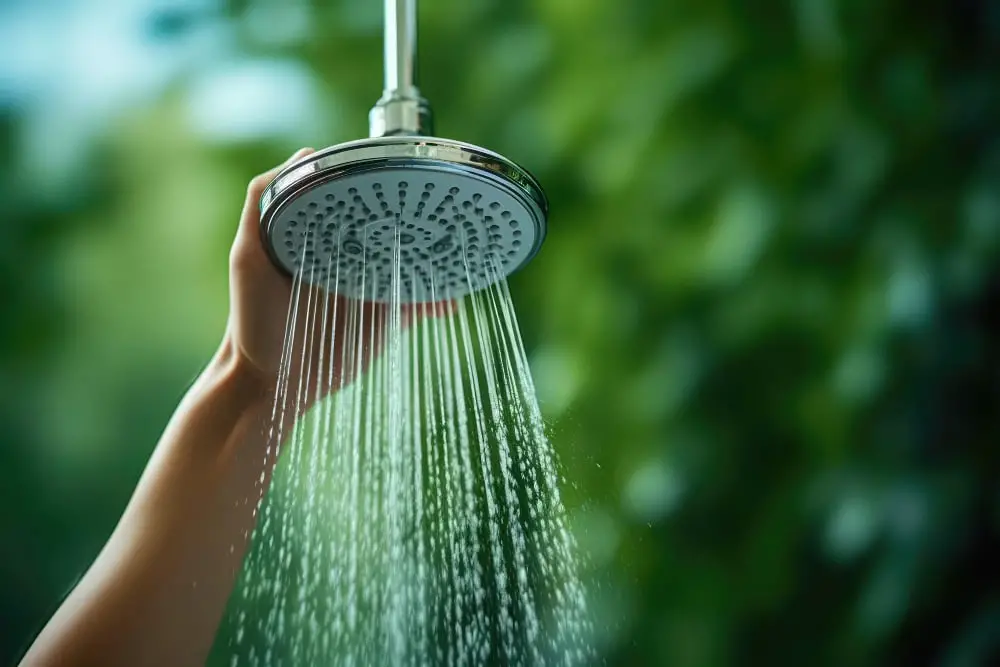 This type of showerhead mimics the sensation of standing under a waterfall in the middle of a lush rainforest. The water flows out in wide streams, providing full coverage and an immersive experience that will make you feel like you're on vacation every time you step into your bathroom.
Plus, it's eco-friendly as it uses less water than traditional showerheads while still delivering an invigorating flow. Upgrade your daily routine with this luxurious touch that will transport you to paradise every morning!
Palm Leaf Wallpaper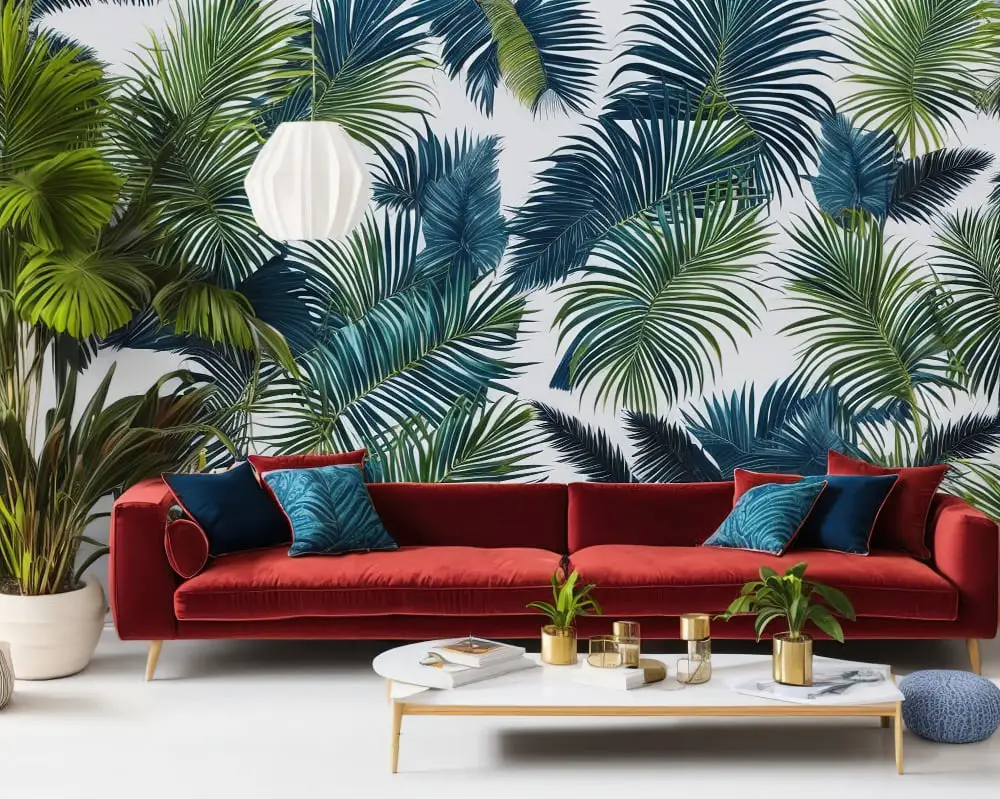 This type of wallpaper features large, lush palm leaves in shades of green and brown, creating an exotic and relaxing atmosphere. You can choose from different styles such as realistic or abstract designs depending on your preference.
Palm leaf wallpapers are easy to install and maintain, making them a popular choice for many homeowners who want to add some personality to their bathrooms without breaking the bank. Pair it with natural wood accents like bamboo towel racks or jute bath mats for a cohesive look that will transport you straight into paradise!
Rattan Storage Baskets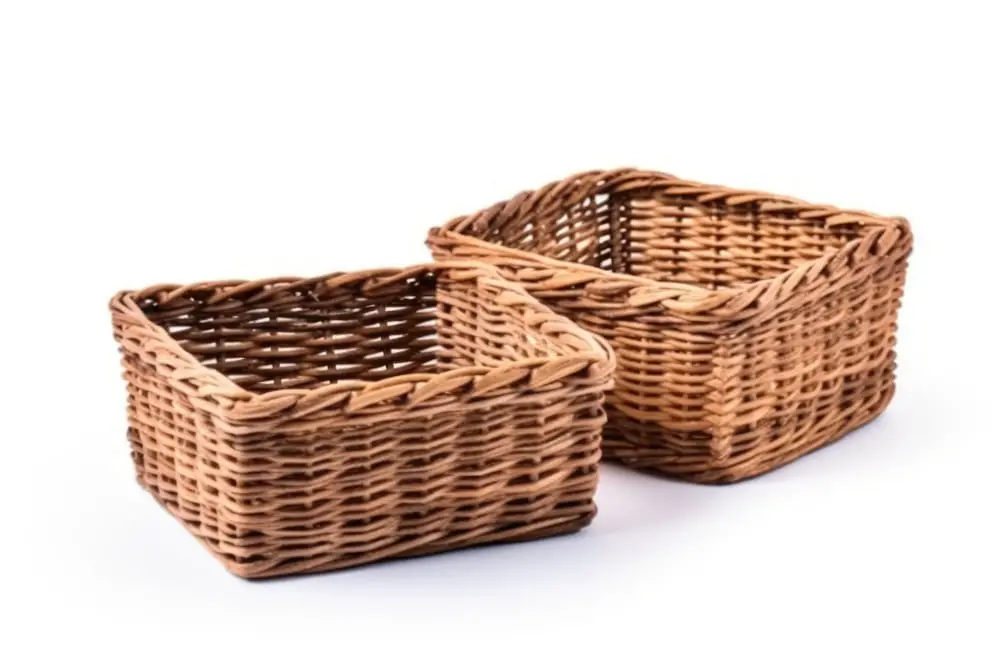 These baskets come in various sizes, shapes, and designs that can complement any decor theme. They are perfect for storing towels, toiletries, or even laundry items.
The natural texture of rattan adds warmth and depth to the space while keeping it organized at the same time. You can place them on shelves or under the sink for easy access while maintaining a clutter-free environment in your bathroom.
Rattan storage baskets not only serve as practical solutions but also enhance the overall aesthetic appeal of your tropical oasis!
Tropical Plant Accents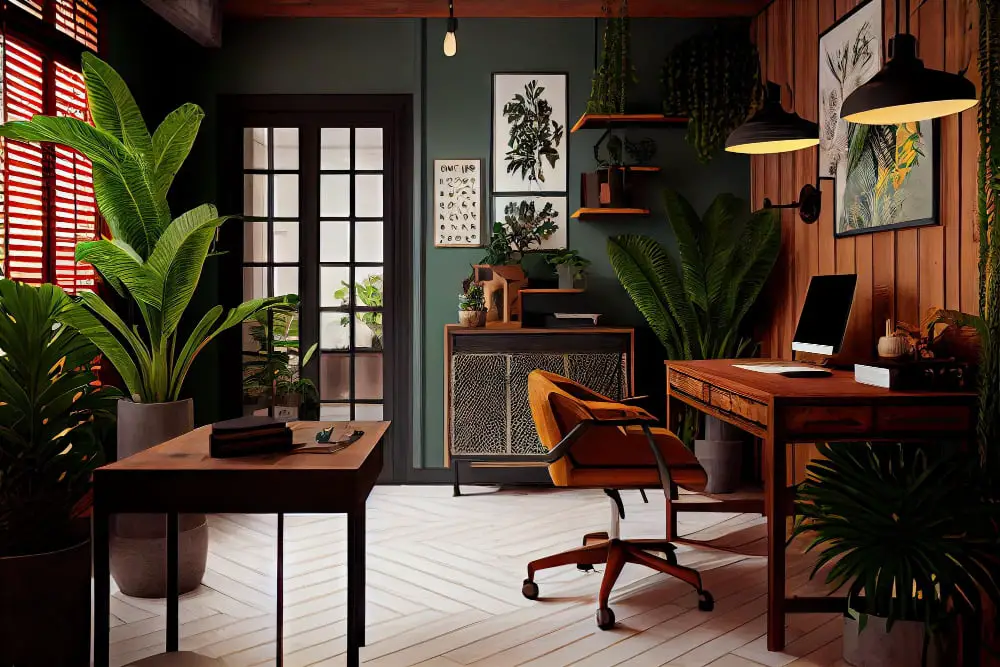 They add a touch of greenery and freshness to the space, making it feel like an oasis. Some great options include ferns, palms, and orchids.
These plants thrive in humid environments so they're perfect for the bathroom! You can place them on shelves or hang them from the ceiling using macrame hangers to create a bohemian vibe. If you don't have much natural light in your bathroom, consider getting some artificial plants that look just as good without needing sunlight or water!
Seashell Soap Dish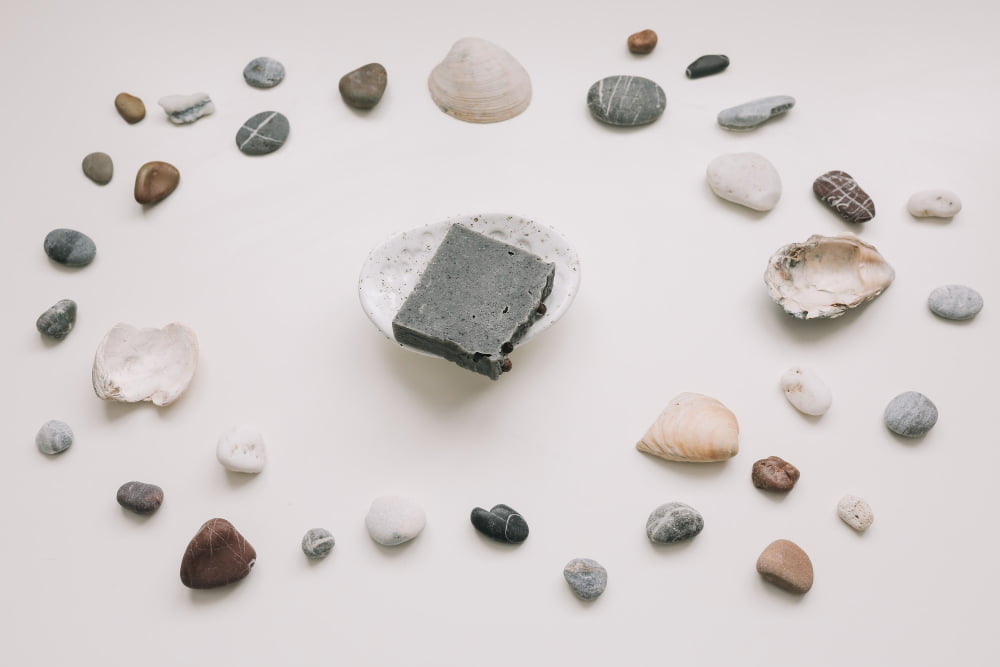 Not only does it provide a practical place for your soap, but it also adds an element of natural beauty. You can find seashell soap dishes in various sizes and styles, from small individual dishes to larger ones that hold multiple bars of soap.
They are often made from real shells or molded resin with realistic shell designs. A seashell dish pairs well with other beachy accents like sand dollars or starfish decorations and can be easily incorporated into any tropical-themed bathroom design scheme.
Jute Bath Mat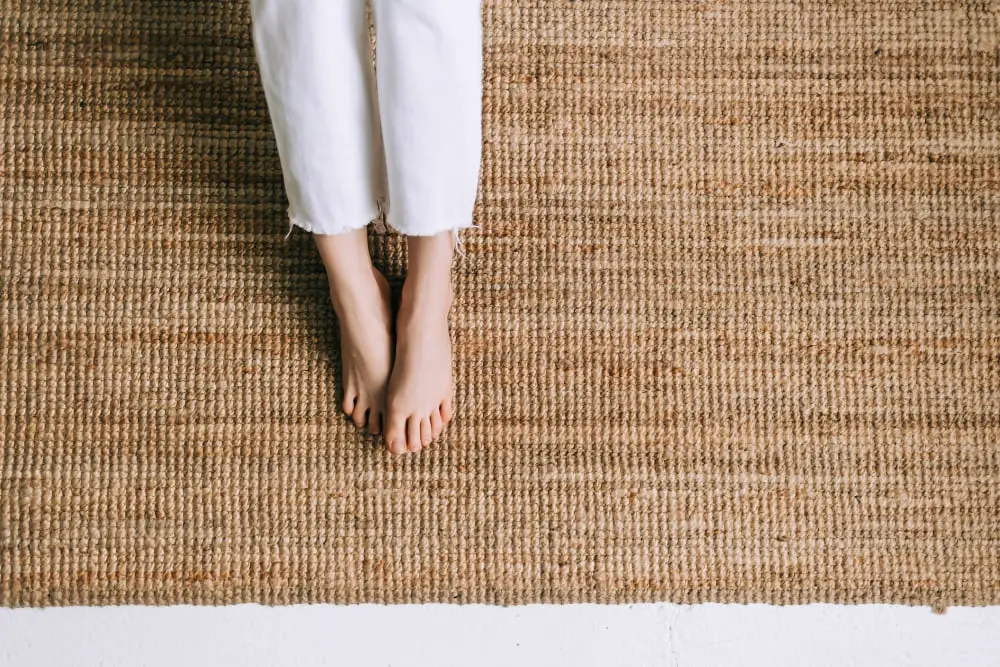 Not only do they add texture and warmth, but they also have natural antibacterial properties that make them perfect for use in damp environments. Jute is a sustainable material that is grown without the use of pesticides or fertilizers, making it an eco-friendly choice for your home decor.
Plus, jute bath mats are easy to clean and maintain – simply shake out any dirt or debris and spot clean as needed with mild soap and water. With their neutral color palette and organic feel, jute bath mats can complement a variety of tropical bathroom styles from bohemian chic to coastal cool.
Pineapple Light Fixtures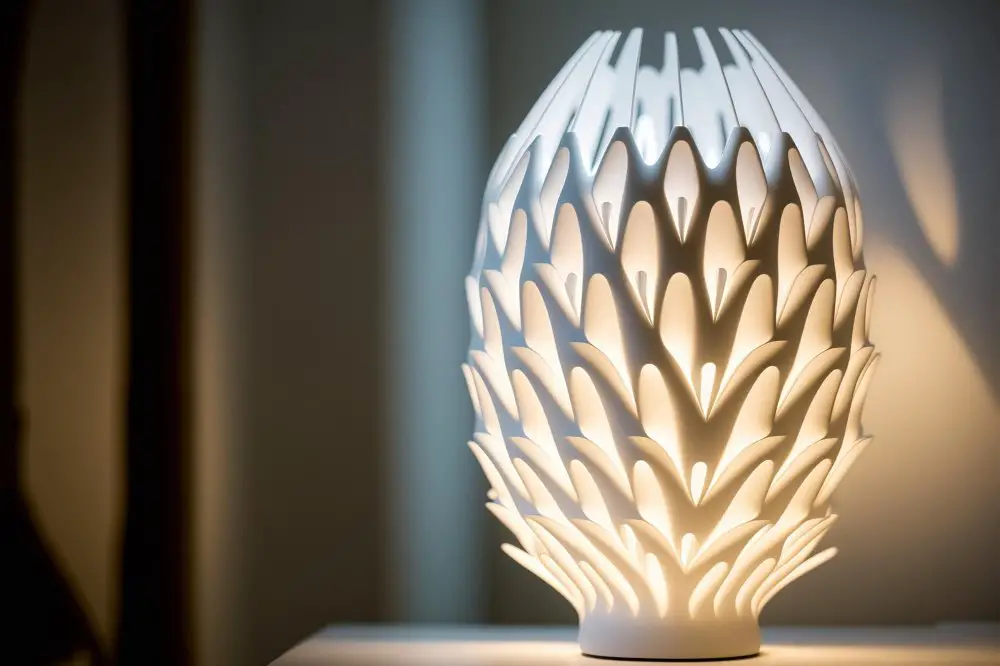 These fixtures come in a variety of styles, from sleek and modern to more whimsical designs. A pineapple-shaped pendant light can be hung above the vanity or bathtub for an eye-catching statement piece.
Alternatively, wall sconces with pineapple accents can add a touch of charm without being too overwhelming. Pineapple lights also work well as nightlights or accent lighting on shelves or countertops.
With their bright color and unique shape, these fixtures are sure to bring some tropical flair into your bathroom design scheme!
Teak Vanity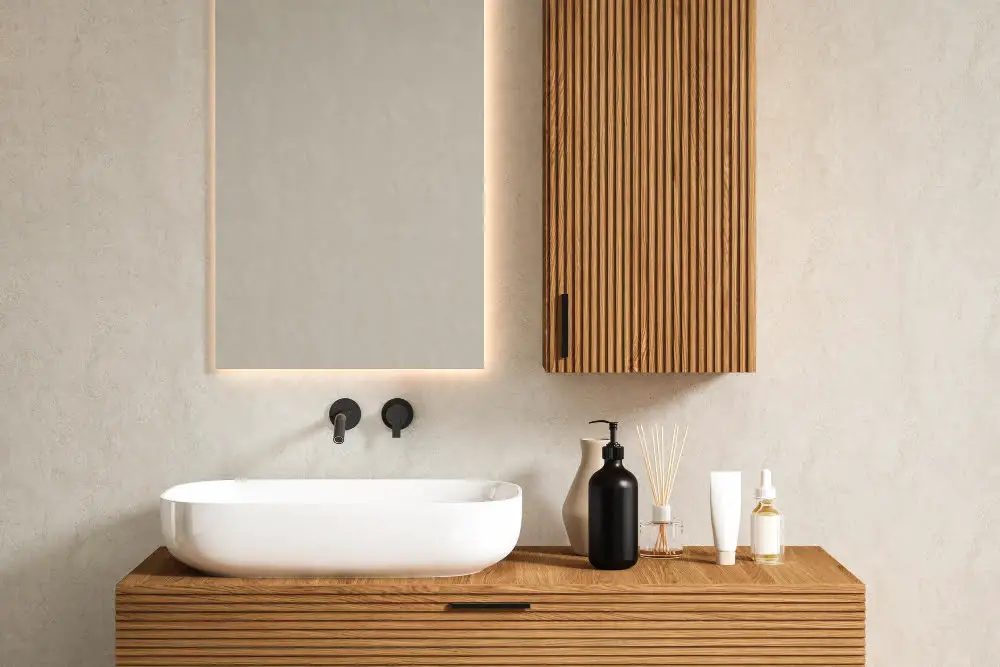 Teak wood is known for its durability and resistance to moisture, making it an ideal material for bathroom furniture. A teak vanity can add warmth and natural beauty to the space while providing ample storage for towels, toiletries, and other essentials.
The warm tones of teak wood complement the bright colors often found in tropical decor schemes. To keep your teak vanity looking its best, be sure to clean it regularly with a mild soap solution and apply oil or sealant as needed to protect against water damage over time.
Coral-inspired Decorations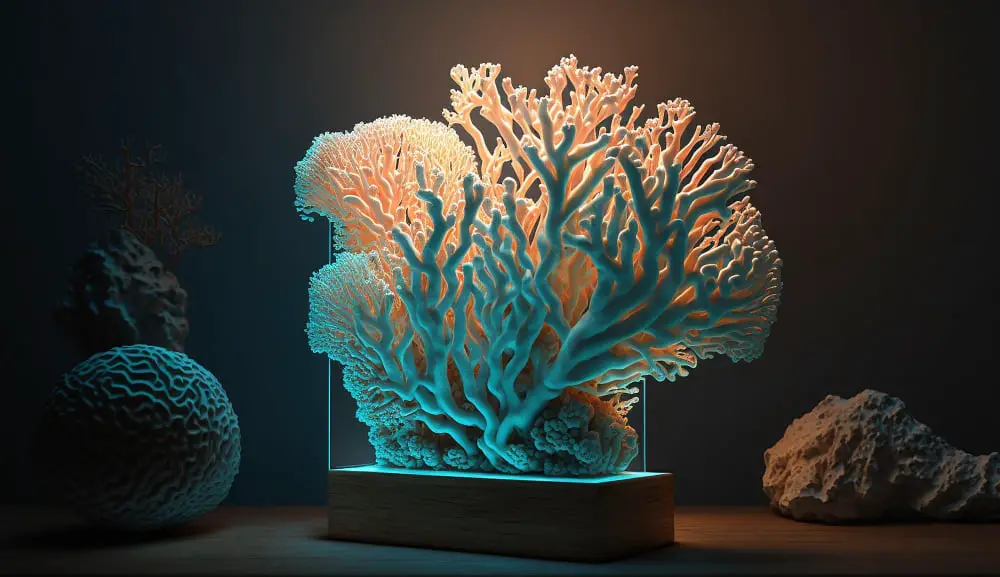 You can find coral-shaped decor in a variety of materials, such as ceramic, resin or even real dried coral pieces. Coral accents can be incorporated in many ways: as wall art, soap dishes or toothbrush holders.
They add texture and visual interest to any space while staying true to the tropical theme. Just make sure that if you choose real dried coral pieces they come from sustainable sources and have been ethically harvested so that you don't contribute to harming marine life ecosystems!
Bright Tropical Color Palette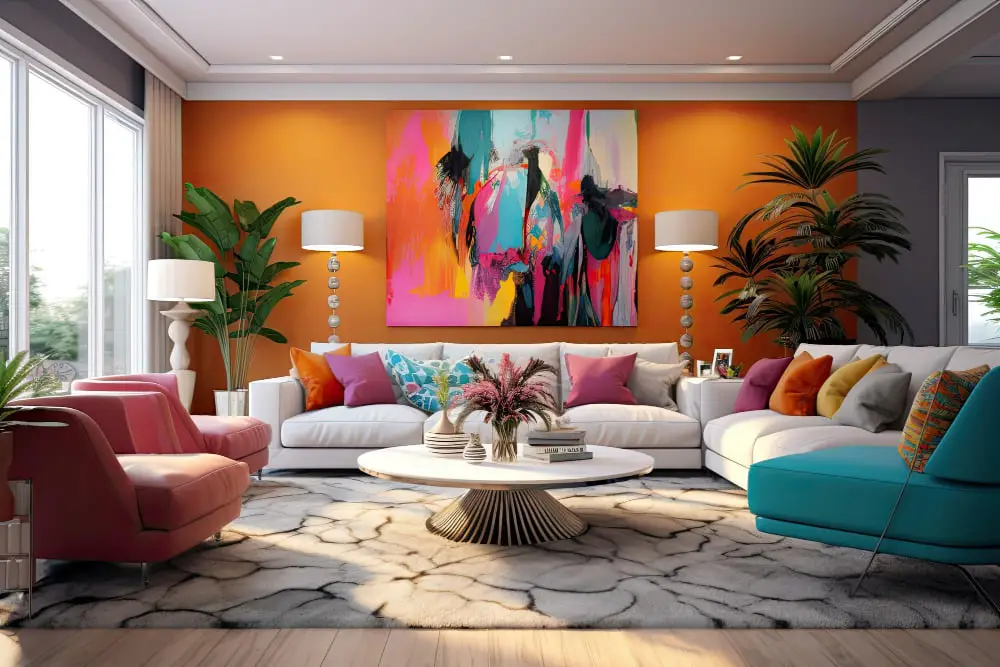 Think about using colors like coral, turquoise, and yellow to create an energetic and lively atmosphere. You can incorporate these colors through accessories such as towels or bath mats, or even by painting an accent wall in one of these shades.
If you're feeling bold, consider using colorful tiles for your shower walls or backsplash. Just be sure not to overdo it – too many bright colors can quickly become overwhelming!
Beachy Scented Candles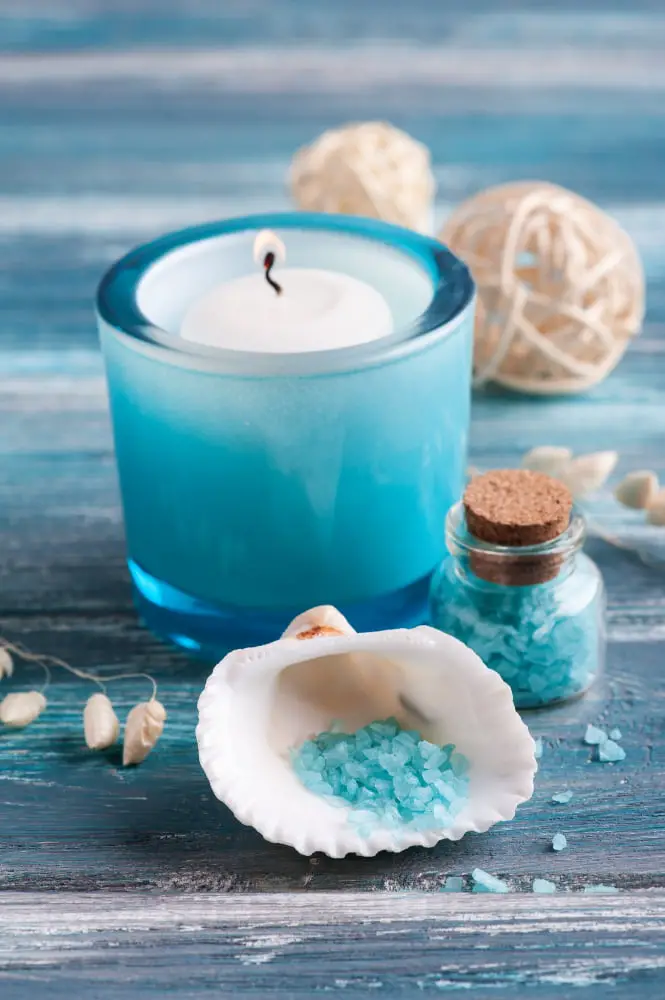 The scent of coconut, sea salt, and ocean breeze can transport you to a relaxing day at the beach. Choose candles with natural ingredients like soy wax and essential oils for an eco-friendly option that also smells amazing.
Place them on your vanity or near your bathtub for a spa-like experience every time you take a bath or shower. Just be sure to never leave burning candles unattended!
Natural Stone Sink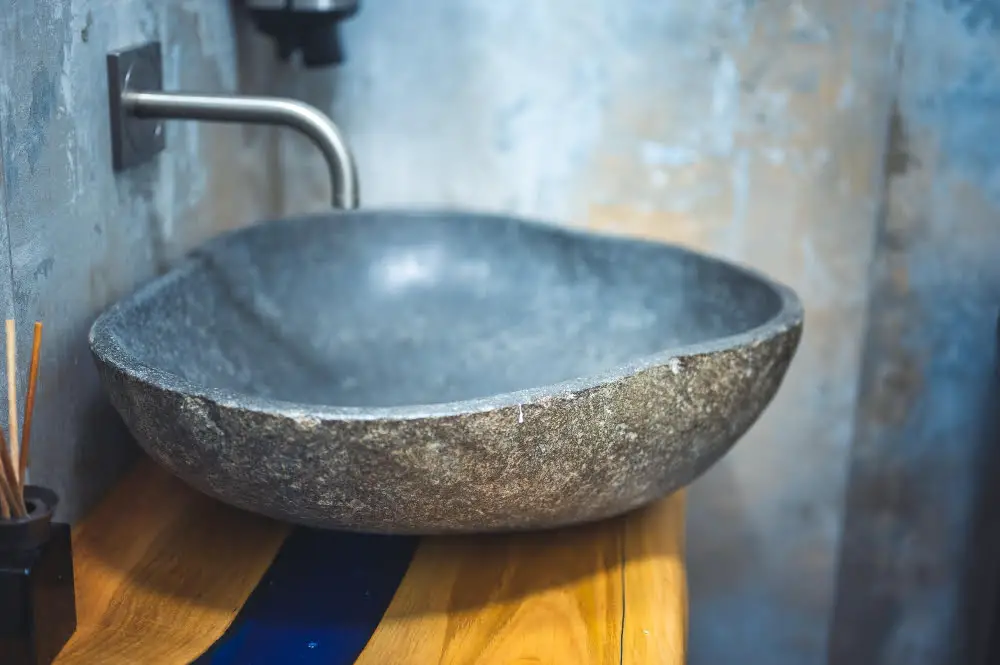 It adds an earthy and organic feel that complements the lush greenery and vibrant colors of the tropics. Natural stone sinks come in various types, including granite, marble, limestone, and travertine.
Each type has its unique texture and color variations that add character to your bathroom.
One of the benefits of using a natural stone sink is its durability; it can withstand daily use without showing signs of wear or tear quickly. It's easy to clean with just soap water or mild cleaners.
When choosing a natural stone sink for your tropical bathroom makeover project, consider factors such as size (to fit into your vanity), shape (round or rectangular), color (to match other elements in your space), finish (polished or honed) among others.
Glass Mosaic Tiles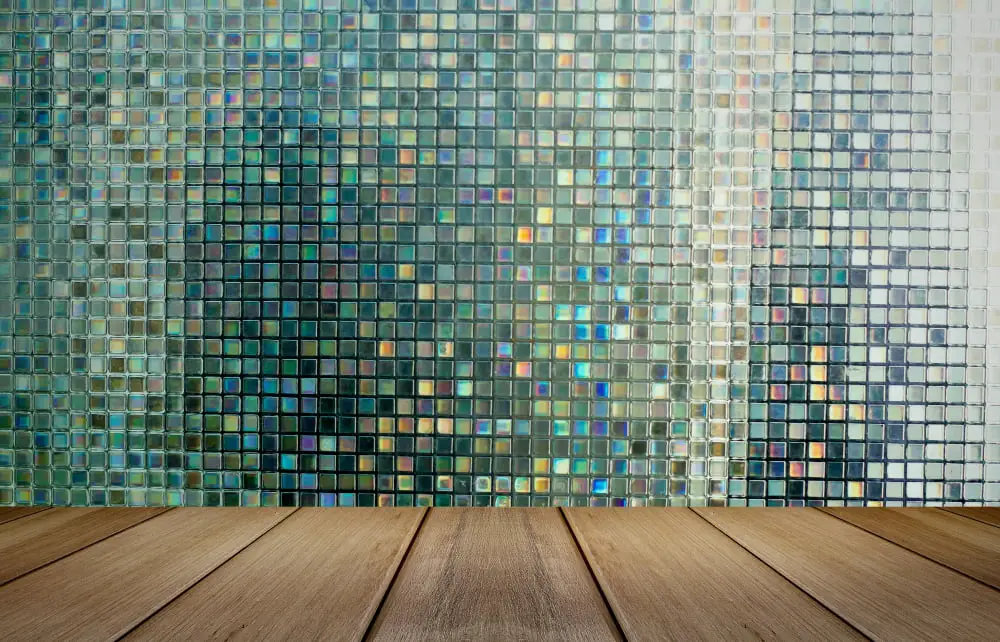 These small, colorful tiles can be used as an accent on the shower wall or as a backsplash behind the sink. They come in various shades of blue, green, and yellow that mimic the colors of the ocean and lush foliage found in tropical regions.
Glass mosaic tiles also reflect light beautifully which adds depth to your bathroom design. You can choose from different patterns such as waves or fish scales for an even more beachy vibe!
Ocean Blue Bath Towels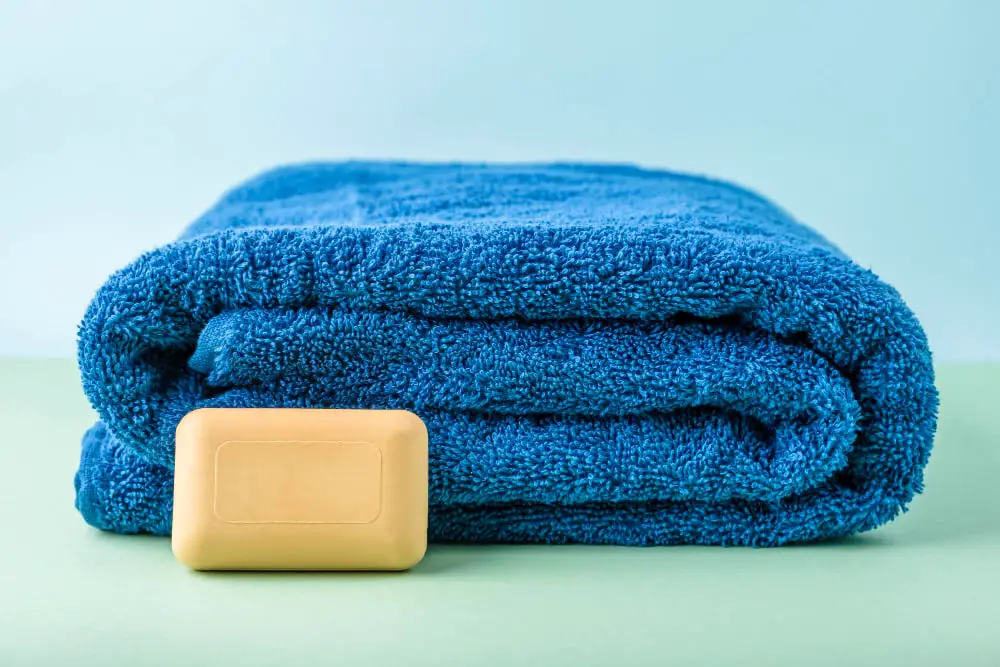 These towels not only bring in the calming and refreshing vibes of the sea but also create a cohesive look when paired with other tropical decor elements. Opt for plush, high-quality cotton towels that are both functional and stylish.
You can choose from solid shades or patterns like stripes or waves, depending on your preference. Ocean blue bath towels will make you feel like you're at a luxurious beach resort every time you step out of the shower!
Monstera Leaf Mirror Frame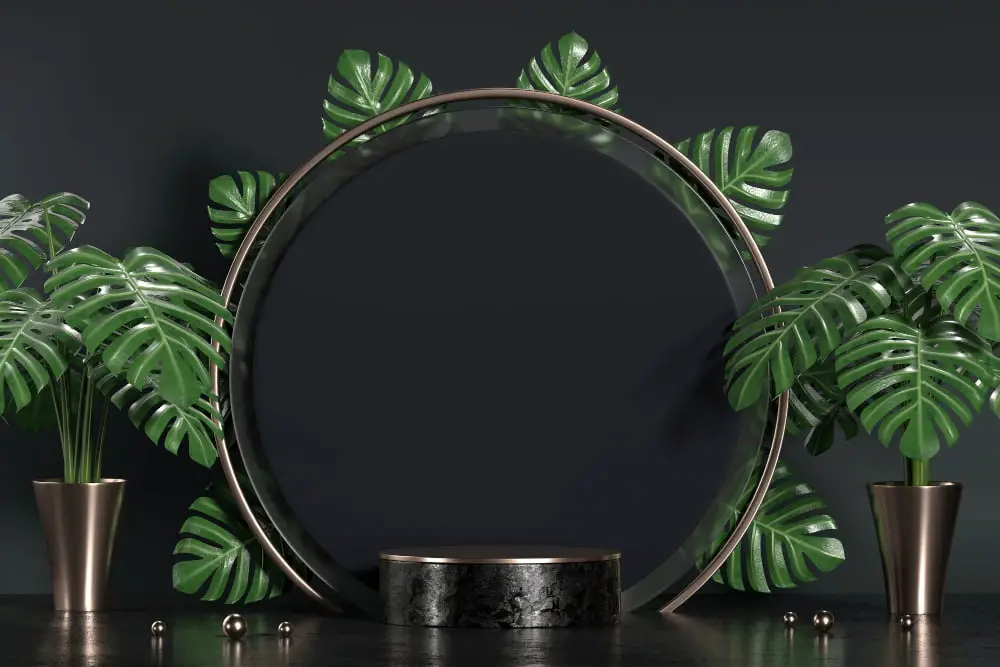 This unique and stylish design adds a touch of nature to your space, creating an exotic atmosphere that will make you feel like you're on vacation every time you step into the room. The large leaves of the Monstera plant are instantly recognizable and add an interesting texture to your decor.
You can find these frames in various sizes, so whether you have a small or large mirror, there's sure to be one that fits perfectly. The best part about this accessory is that it's easy to install – simply attach it around your existing mirror with adhesive strips or screws for added stability.
With its natural beauty and simplicity, the Monstera leaf mirror frame is definitely worth considering when designing your tropical bathroom oasis!
Sea-inspired Art Prints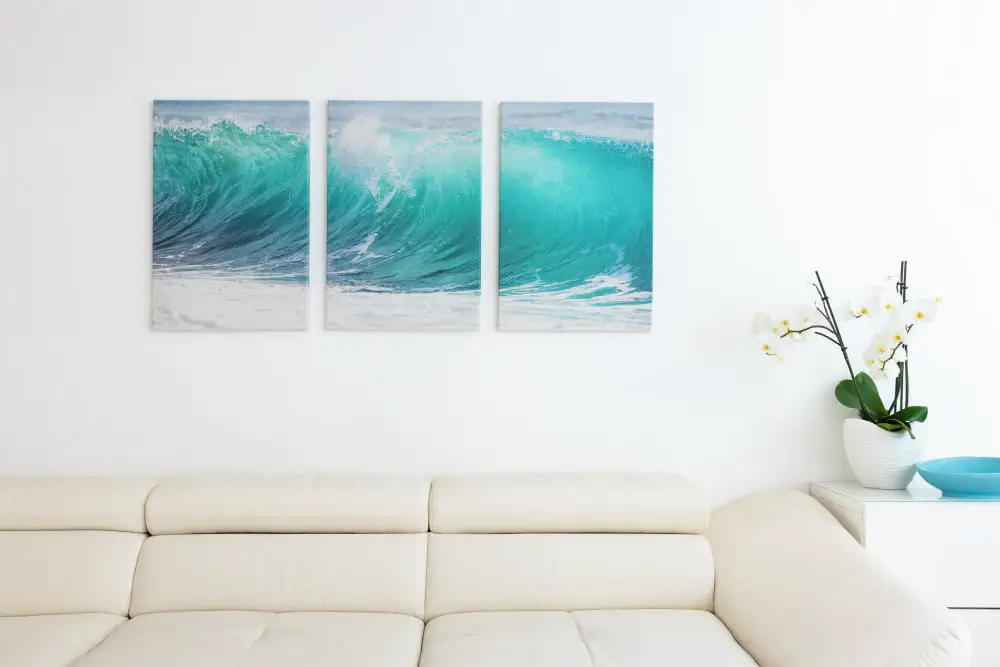 These prints can feature anything from seashells and starfish to ocean waves and sea creatures. You can choose one large print as a statement piece or create a gallery wall with several smaller ones.
Look for prints that incorporate the colors of the ocean, such as blues, greens, and sandy beige tones. You could also opt for black-and-white photography of beach scenes or vintage illustrations of marine life for an eclectic touch.
Whatever you choose, sea-inspired art will bring an element of relaxation and tranquility into your tropical bathroom design scheme!
Woven Window Shades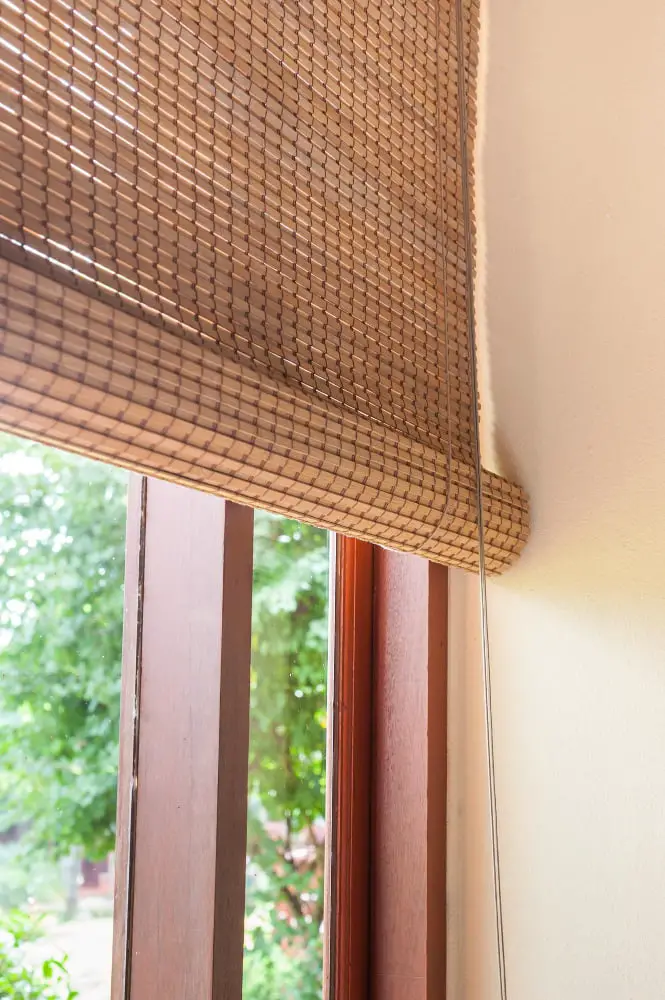 These shades come in various materials such as bamboo, rattan, or jute and can be customized to fit any window size. Not only do they provide privacy but also allow natural light into the space while still maintaining a cozy atmosphere.
Woven shades are easy to install and maintain making them an affordable option for those looking for a quick update in their bathroom decor. Choose from different colors that complement your overall theme or go with natural tones that blend seamlessly with the rest of your tropical-inspired elements.
Coconut Shell Bowls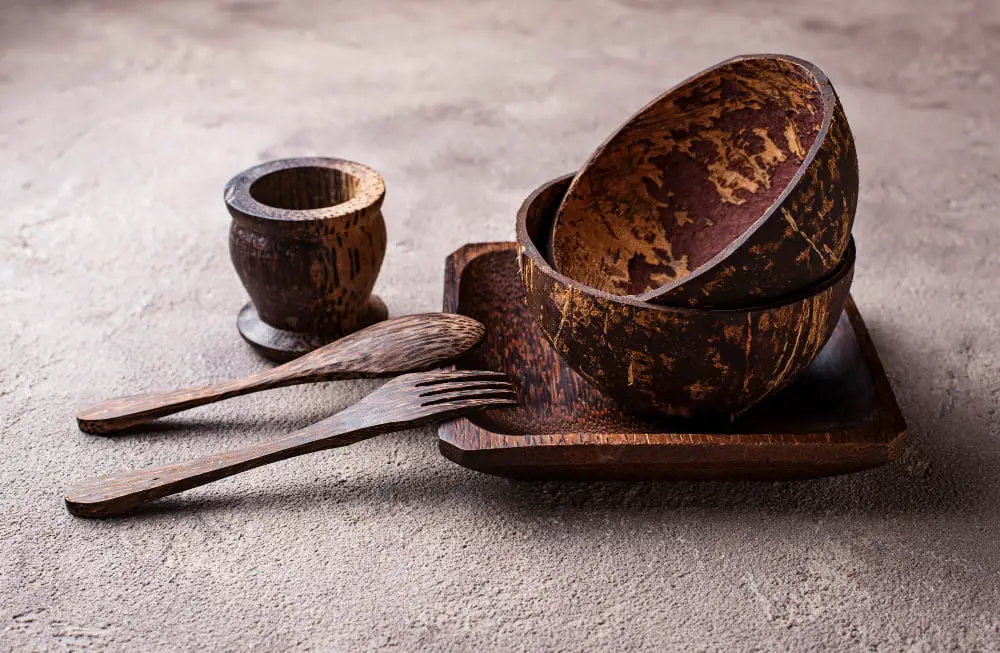 These eco-friendly bowls are made from discarded coconut shells and can be used as soap dishes or for storing small items like jewelry or cotton balls. They add a natural touch to the space and complement other tropical decor elements such as bamboo, rattan, and palm leaves.
Coconut shell bowls come in various sizes and shapes, so you can choose the ones that fit your bathroom's style best. Plus, they're easy to clean – just rinse them with water!
Tropical Fish Shower Curtain
These curtains feature colorful fish designs that can add a pop of color to an otherwise neutral space. They come in various sizes, so you can choose one that fits your shower perfectly.
Some even have matching accessories like bath mats or towels for a cohesive look throughout the room. A tropical fish shower curtain is an easy way to bring some personality into your bathroom without breaking the bank on expensive decor items.
Continue reading: