Last updated on November 24, 2023
Because every square inch matters in your home, this article enlightens you on innovative ideas to convert your closet space into a chic bathroom.
As the author and designer of the "20 Closet Bathroom Ideas: Making Compact Spaces Functional and Stylish", I hope you find as much inspiration and enjoyment in them as I relished in their creation.
Transforming a closet into a bathroom can be an innovative solution for adding an extra bathroom to your home without much structural change. This article will guide you through this transformation process, offering practical tips, design ideas, and space-saving solutions.
Whether you're dealing with a small closet or a walk-in wardrobe, you'll find all the necessary details here to create a functional, stylish, and cozy bathroom out of your unused closet space.
Stay tuned to discover how to make the best use of every inch, select the right fixtures, and add finishing touches that elevate the overall aesthetics.
Compact Corner Sink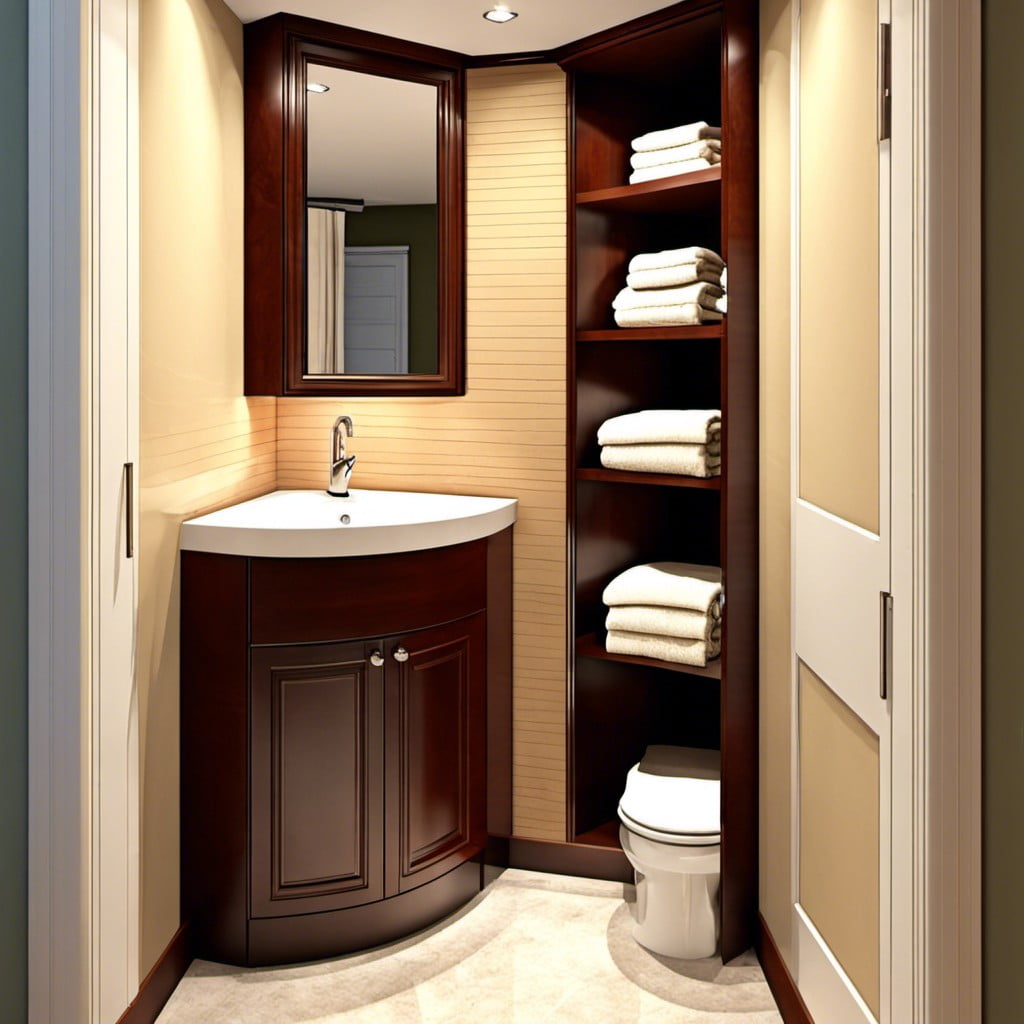 Ensuring functionality in intimate spaces hinges heavily on smart use of corners. This is where a compact, corner-fitted sink works wonders. Its triangular design allows it to easily blend into any corner, freeing up more room in the center.
This allows for better circulation and overall space optimization, which is essential in a closet bathroom. Sturdiness shouldn't be compromised though! Consider ceramic or vitreous china materials known for their strength and longevity. For an added touch, opt for a model with built-in storage beneath or unobtrusive towel bars to boost practicality.
While Corner sinks come in various styles, a wall-mounted design liberates floor space and gives an illusion of a larger space. Remember, every inch counts!
Overhead Storage Shelves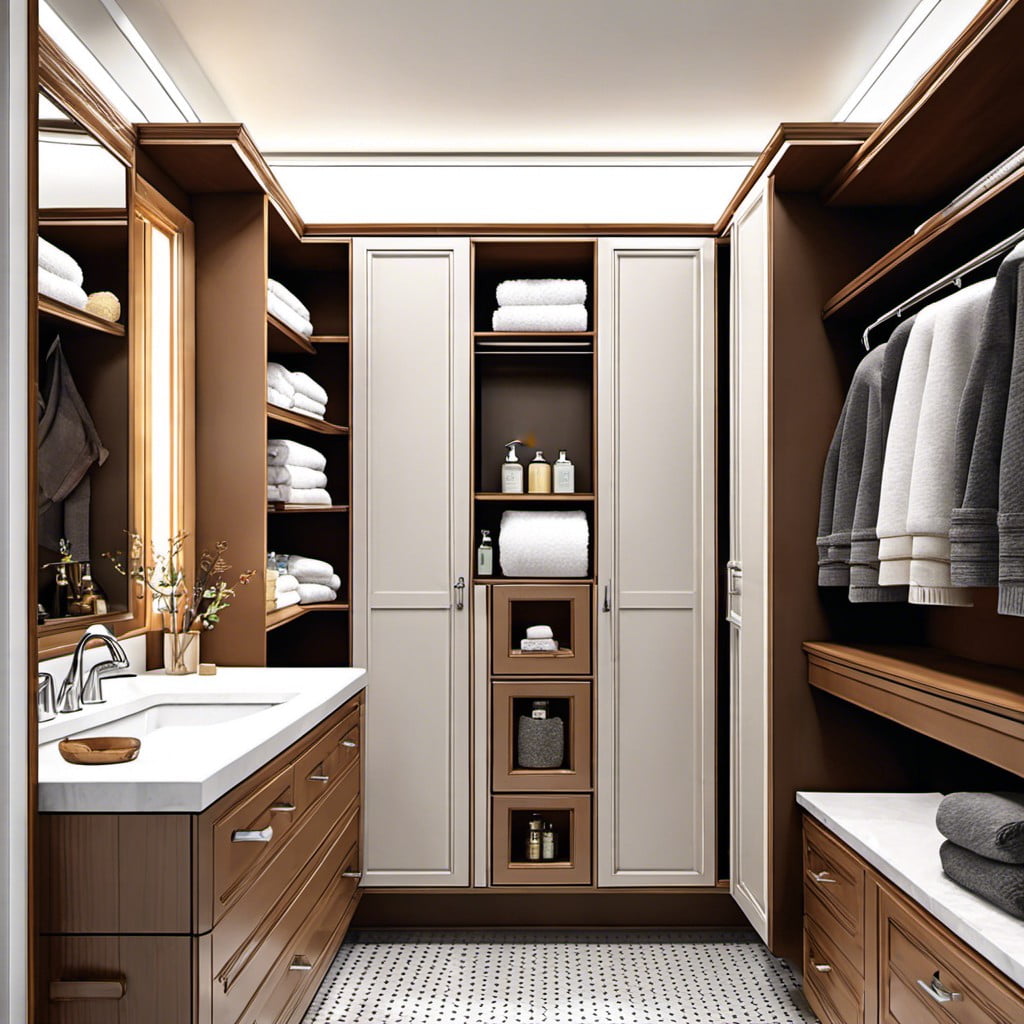 Overhead shelves take advantage of your bathroom's vertical space, optimizing it for storage. Think higher than the usual eye-level shelves. The tops of your walls can be lined with sleek, floating shelves. They're out of the way, preserving valuable space for maneuvering while keeping your necessities within reach.
Store towels, bath products, or pretty decor to create a visually appealing area. For compliance with regulations and safety, assure there's appropriate clearance between the overhead shelves and fixtures. Glass or acrylic options may keep the space feeling open and light, while solid wood or metal choices can inject a sense of style and character. With a simple addition, your small bathroom's storage can increase dramatically and stylishly.
Sliding Door for Space Saving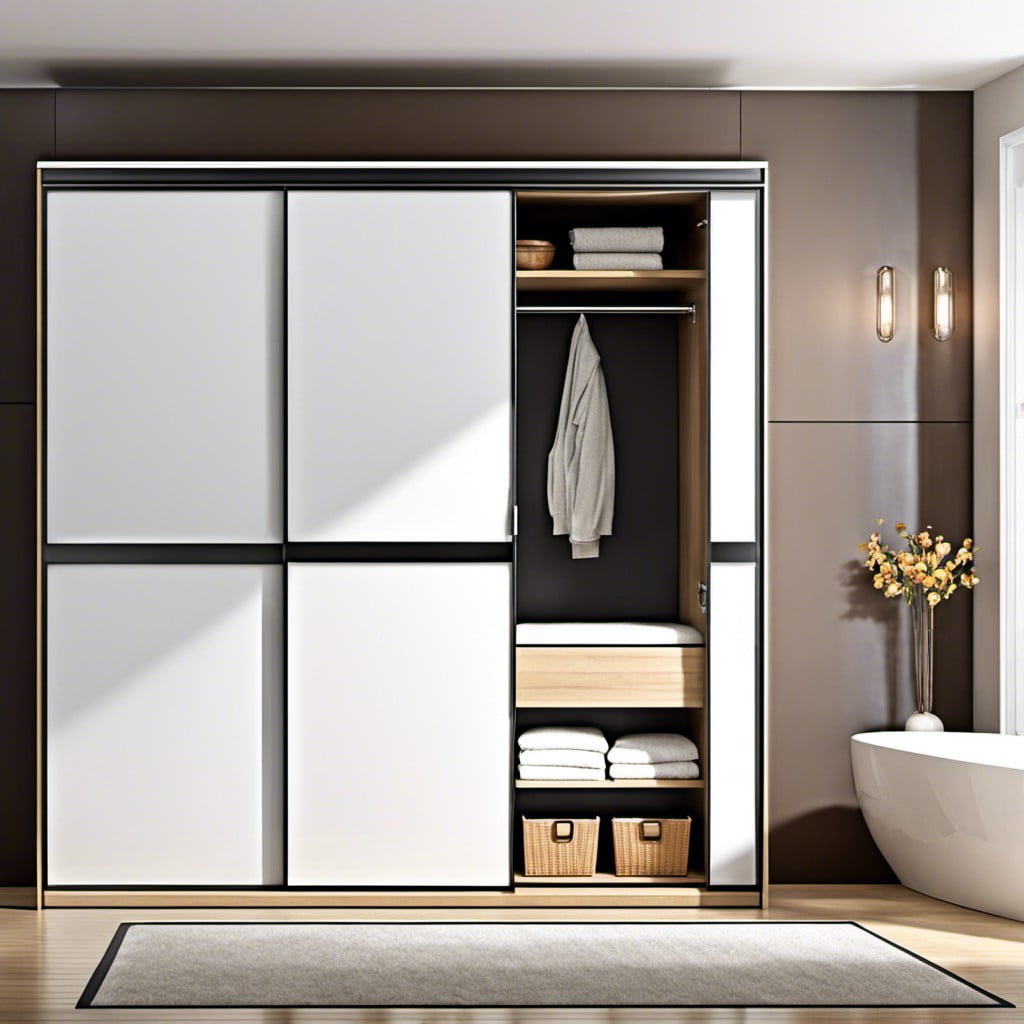 Crafted from a range of materials like wood, glass or metal, they provide a smooth glide into your closet bathroom, maximizing every inch of available space. Their sleek design caters to cramped places, opening up your room significantly without consuming any extra floor area.
They can also blend seamlessly with your decor, offering a clean, contemporary look. Additionally, a sliding mirror door offers the dual functionality of a full-length mirror, further enhancing the sense of space.
Sliding doors can easily adapt to suit showers, sink cabinets, toilet compartments or the overall entry. A valuable hack is to install an overhead track for the door, ensuring a smooth, silent glide. This could become extremely beneficial if you want an undisturbed, seamless transition into your bathroom from your bedroom or hallway.
Wall-mounted Toilet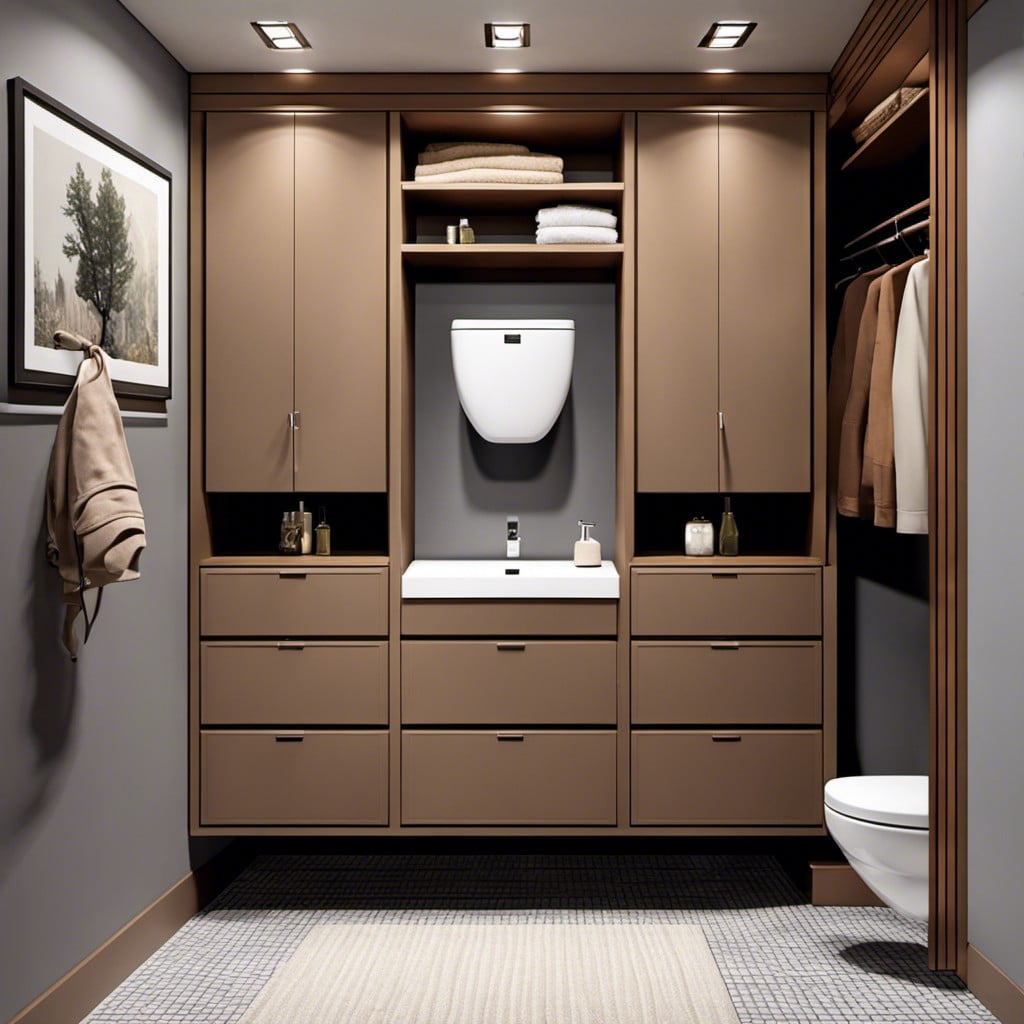 Taking advantage of vertical spaces is key in compact bathrooms. A wall-mounted toilet does just that. By being anchored to the wall, it frees up the floor space, making your bathroom visually larger and easier to clean. The hidden tank system contributes to a clean and streamlined look that is incredibly modern and sleek.
As a bonus, many wall-hung toilets offer a dual-flush system. This feature helps conserve water by giving you the option to use a reduced amount of water for liquid waste. Plus, they allow you to choose height during installation, promoting better bathroom ergonomics. Just a friendly reminder to engage professional help for installation as it can get quite complex.
Recessed Lighting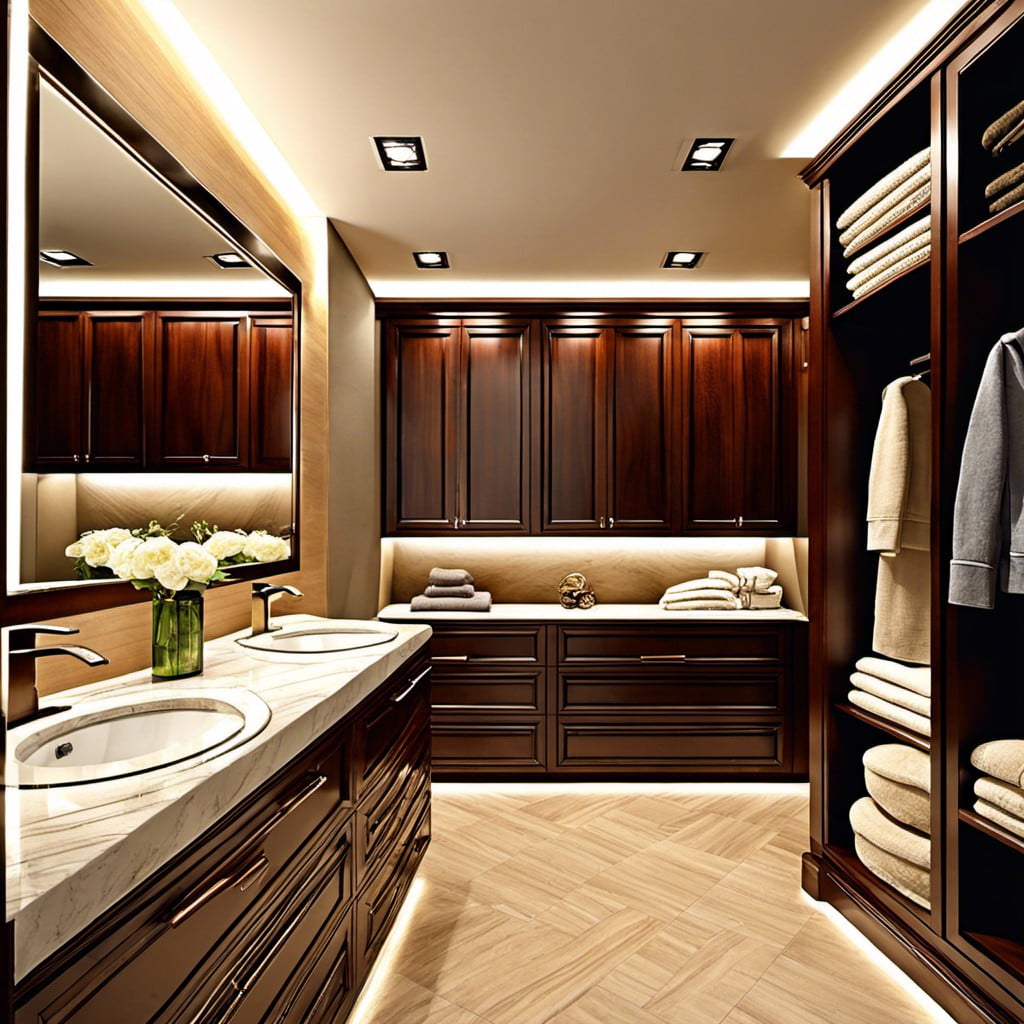 Utilizing every crevice, you're well on your way to converting that closet into a sleek bathroom. Now, on to lighting solutions. For a small space, bulky fixtures are a no-go. Instead, think unobtrusive and efficient recessed lighting.
Firstly, recessed lights, also known as can lights, fit into the ceiling, preserving that precious headroom. These are fantastic at bathing your entire space in a uniform, natural light, eliminating stark shadows that standard fixtures might create.
Secondly, a key benefit is flexibility. Recessed lights can easily be adjusted to direct light where it's needed most. Regardless of whether you're applying makeup or scrubbing the tub, a well-lit area makes every task less daunting.
Lastly, consider LEDs for your recessed lights. Not only do they consume less power, but they're also cool to the touch, a definite win in intimate quarters. Plus, these give off a bright light that's perfect for illuminifying the smallest of bathrooms.
So, forget dim bathrooms. With recessed lighting, your tiny bathroom can rival any spacious spa. Here's to brightness that doesn't compromise space!
Extended Countertop for Extra Storage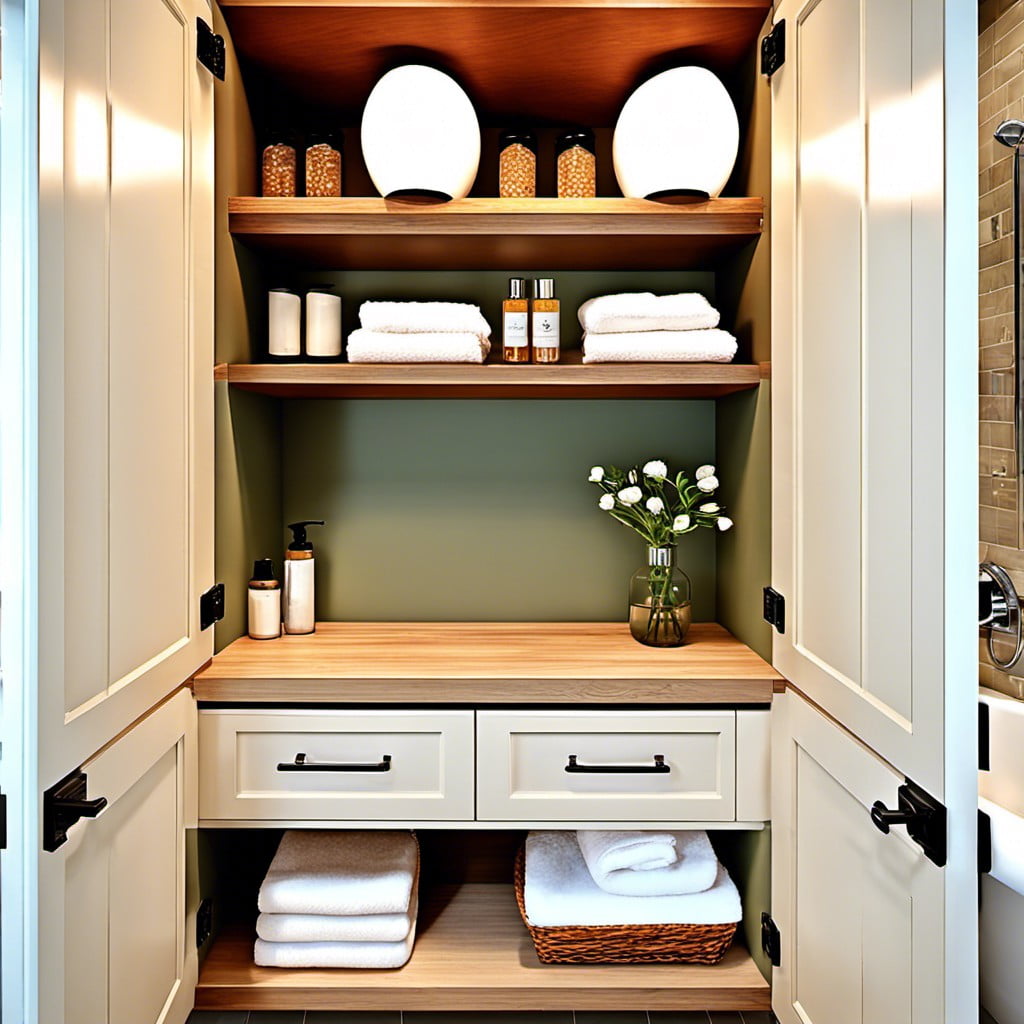 To make the most of your limited space, making an extended countertop is key. It effortlessly provides ample storage space without encroaching on your bathroom's precious square footage. It's the perfect spot to keep daily essentials like toiletries and towels within easy reach.
1. A countertop extension can run along an entire wall, providing extra room for necessities.
2. It can double as a vanity top with countertop basins, thus serving two functions concurrently.
3. Materials like stone or marble add a luxurious touch without sacrificing functionality.
4. If your bathroom is narrow, consider a thinner profile countertop to maintain a streamlined design.
5. Opt for open shelving underneath or consider a cabinetry design for concealed storage.
6. For a unique centerpiece, incorporate integrated sinks which blend into the countertop, offering a seamless appearance.
Remember, the key is to harmonize the practical need for storage with stylish aesthetics. Get creative and let your countertop be more than just a countertop.
Mirror Cabinet for Toiletries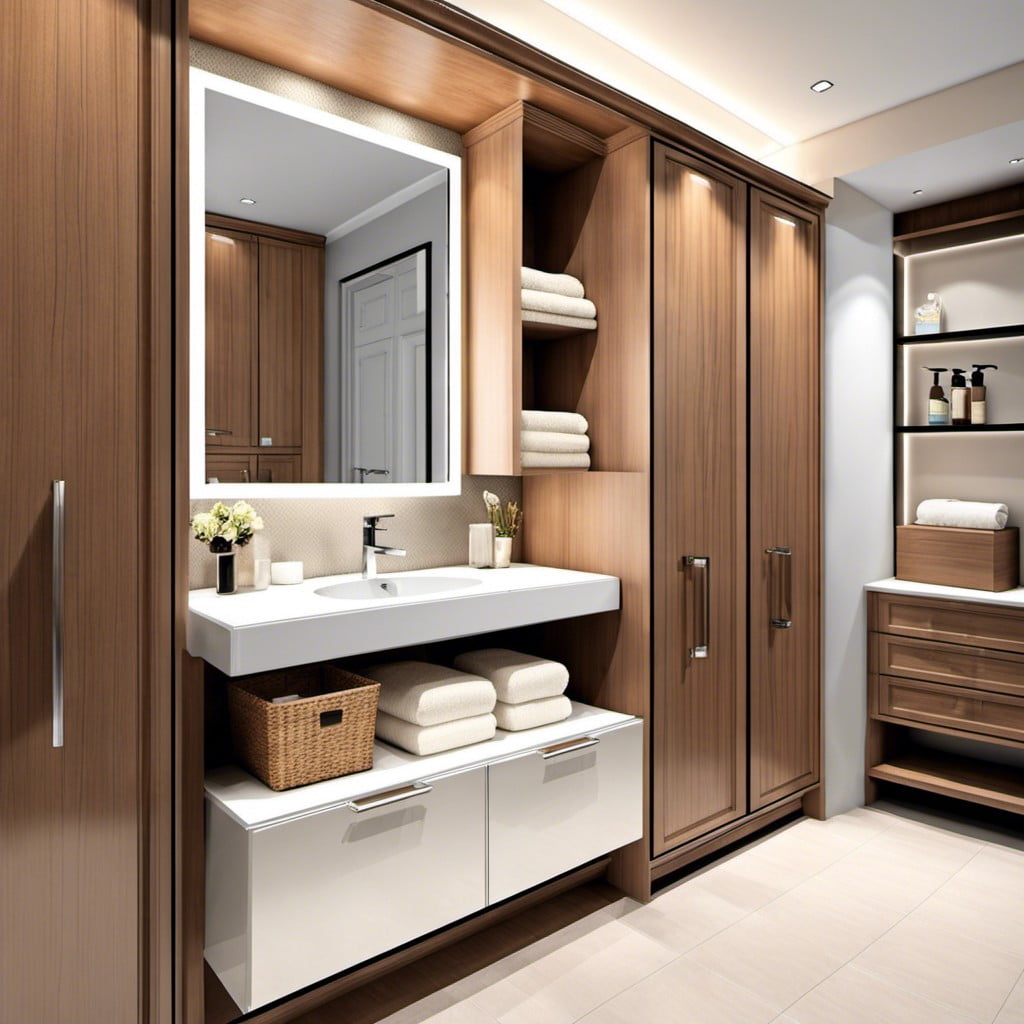 Mirrored cabinets are a brilliant addition to a closet bathroom. In small spaces, they serve dual purpose – reflective surfaces make a space appear larger, and discreet storage eliminates unnecessary clutter on countertops.
These cabinets tick off aesthetics and practicality without any compromise. When selecting a mirrored cabinet, ensure that it is moisture-resistant to withstand the heat and steam from your daily shower. And for the sake of convenience, consider a model with adjustable shelves to accommodate toiletries of different sizes.
Lastlly, consider ones with built-in lighting for that extra functionality when it gets dark. This way you optimize space, functionality, and beauty, all while promoting a neat and organized bathroom experience.
Foldable Shower Cabin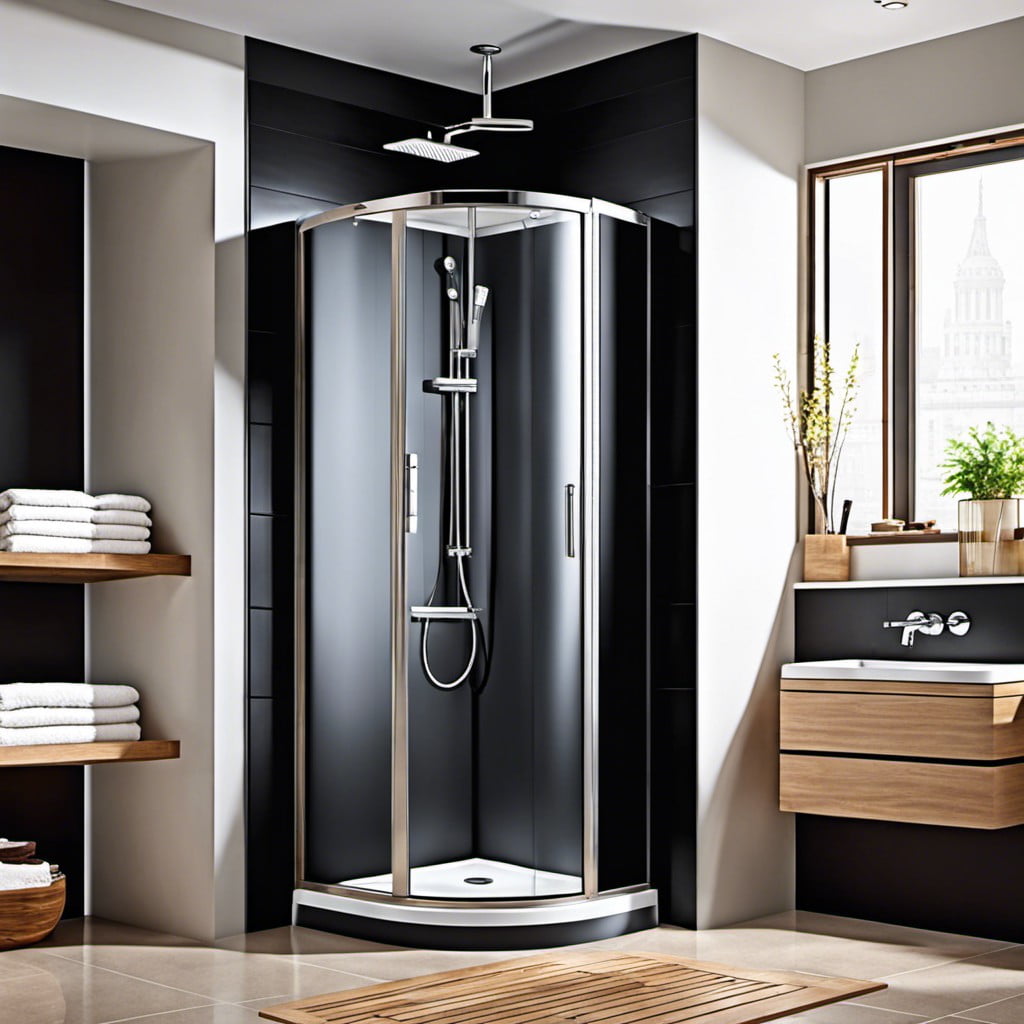 In smaller spaces, traditional showers can make your bathroom feel crowded. That's where foldable shower cabins come into play. Lightweight, functional, and aesthetically pleasing, these structures prove superior for spatial challenges in closet bathrooms. They bring two significant benefits.
First, their foldability allows for a clear floor space when not in use. This offers flexibility for other functions of the bathroom: an added feeling of spaciousness or room for a laundry basket or vanity chair.
Second, they provide a full-size shower experience when unfolded. No need to compromise your comfort for a smaller footprint. Foldable shower cabins come in a range of sizes and styles to match your bathroom aesthetic – from minimalist glass to classic stone designs, ensuring you never have to sacrifice design for space.
Are they hard to maintain? No. In fact, cleaning a foldable cabin is as easy as wiping down a flat surface. Their sleek lines lack nooks and crannies where grime could build up, making them a hygienic choice as well.
Remember, plan carefully and seek professional installation advice to ensure the best possible fit in your closet bathroom. With thoughtful selection and good care, your foldable shower cabin can last just as long as traditional ones.
Tall, Slim Cabinet Designs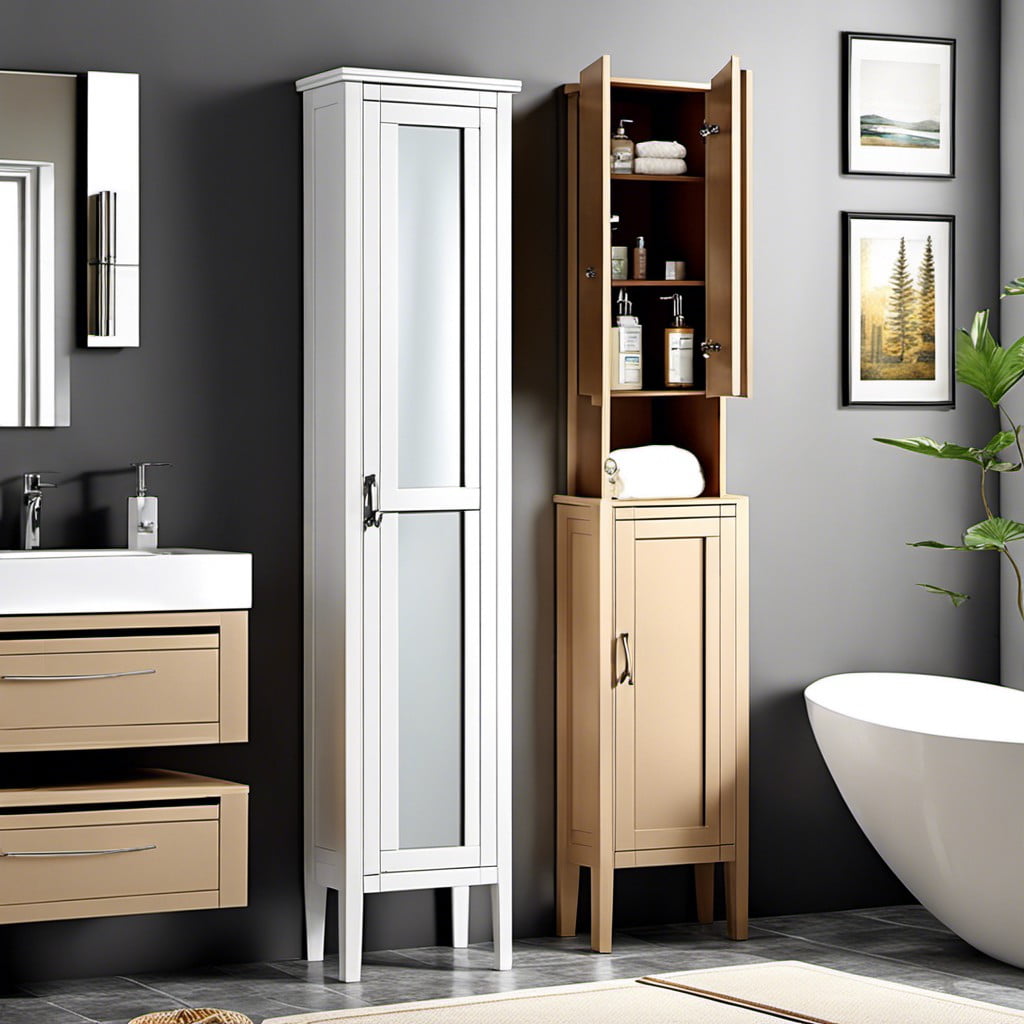 These towering pieces of furniture, with their sleek and slender profiles, are an ideal solution to expand storage capacity without encroaching on precious floor space. Their vertical orientation draws the eye upwards, creating an illusion of more height, which can make the bathroom feel larger.
1. Choose a unit that reaches nearly to the ceiling to maximise storage.
2. Opt for adjustable shelves to adapt to your ever-changing storage needs.
3. Use the top shelves for less frequently used items, and lower ones for daily essentials.
4. Opt for frosted or tinted glass doors for a classy look while hiding clutter.
5. Slim cabinets can also serve as a stylish separator if the bathroom shares space with a laundry area.
6. For a cohesive look, match the cabinet finish to other furniture in the room.
7. Consider models with built-in-towel racks for added functionality.
Remember, a tall slim cabinet can bring not only elegance but also practicality to any closet bathroom, regardless of the size.
Retractable Clothes Line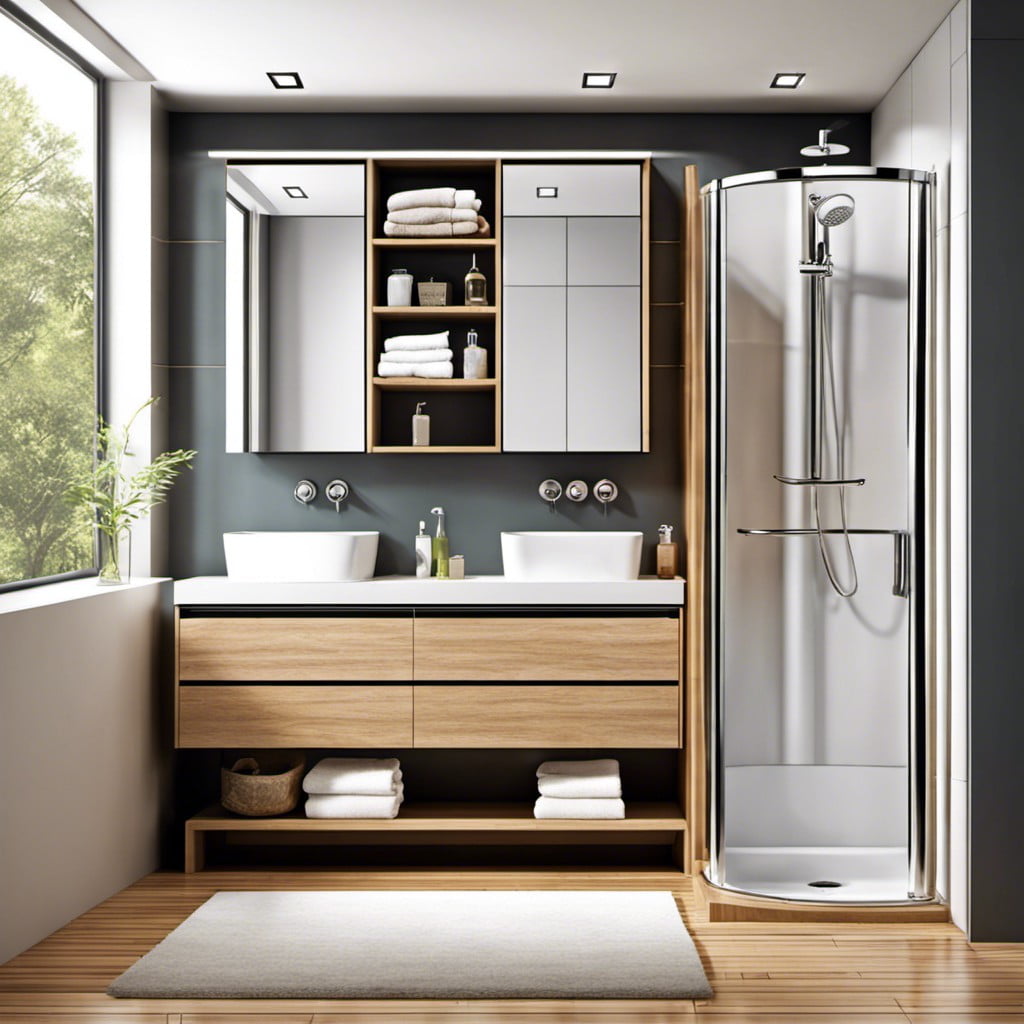 To maximize every inch of your closet bathroom, a clever solution would be to install a retractable clothes line. Its beauty is in its discretion; it's there when you need it and blends seamlessly into your decor when you don't. This fantastic feature not only provides practical drying space but also maintains the tidiness of your area.
Typically, this fixture is affixed to opposing walls, ensuring it doesn't disrupt the flow or functionality when not in use. Just pull it out for wet towels and laundry, and retract it as soon as you're done, simple as that.
Additionally, it's user-friendly and cost-effective. Given the variety of designs and materials available – from stainless steel lines for a sleek, modern look to subtly stylish nylon lines – there's one to suit every aesthetic. Plus, installation is typically a breeze, making it an easy, effective way to enhance your room's usability. And although small, this feature can significantly assist in maintaining a clutter-free closet bathroom.
All-in-one Washing Machine and Dryer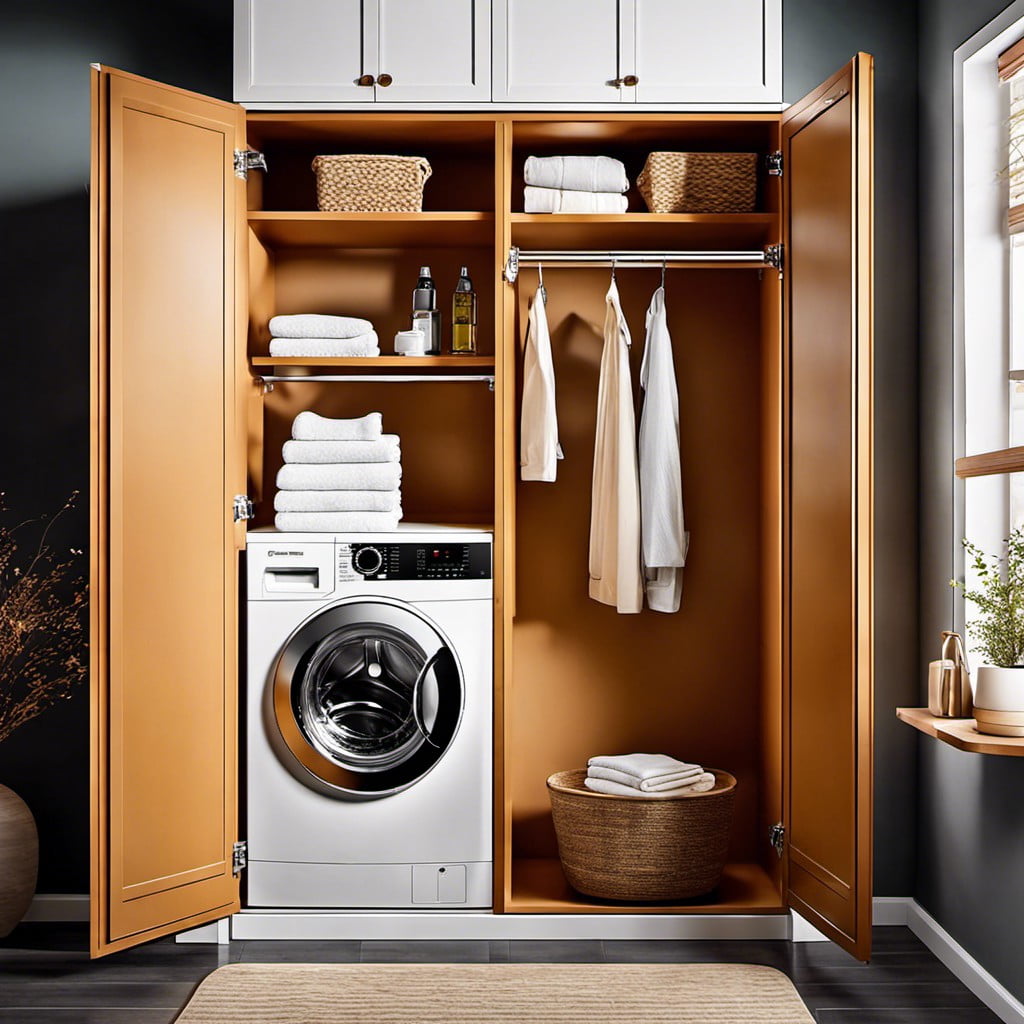 Opting for a unit that combines a washing machine and dryer can be a game-changer in a closet-sized bathroom. Not only does this clever appliance free up floor space, but it also eliminates the need for an extra laundry area. These all-in-ones come in various sizes to suit your specific needs, making them an essential consideration for your compact bathroom.
Here are few key points to note:
1. Versatility: These units wash and dry clothes in the same drum, offering excellent convenience.
2. Space-saving: They take up less room than standalone washing machines and dryers, perfect for limited square footage.
3. Energy efficiency: Many all-in-ones are built with energy-saving features, which can aid in lowering utility bills.
4. Design options: Many models blend seamlessly into cabinetry, ensuring the aesthetics of your bathroom won't be compromised.
An all-in-one washing machine and dryer can truly maximize closet bathroom functionality without sacrificing style.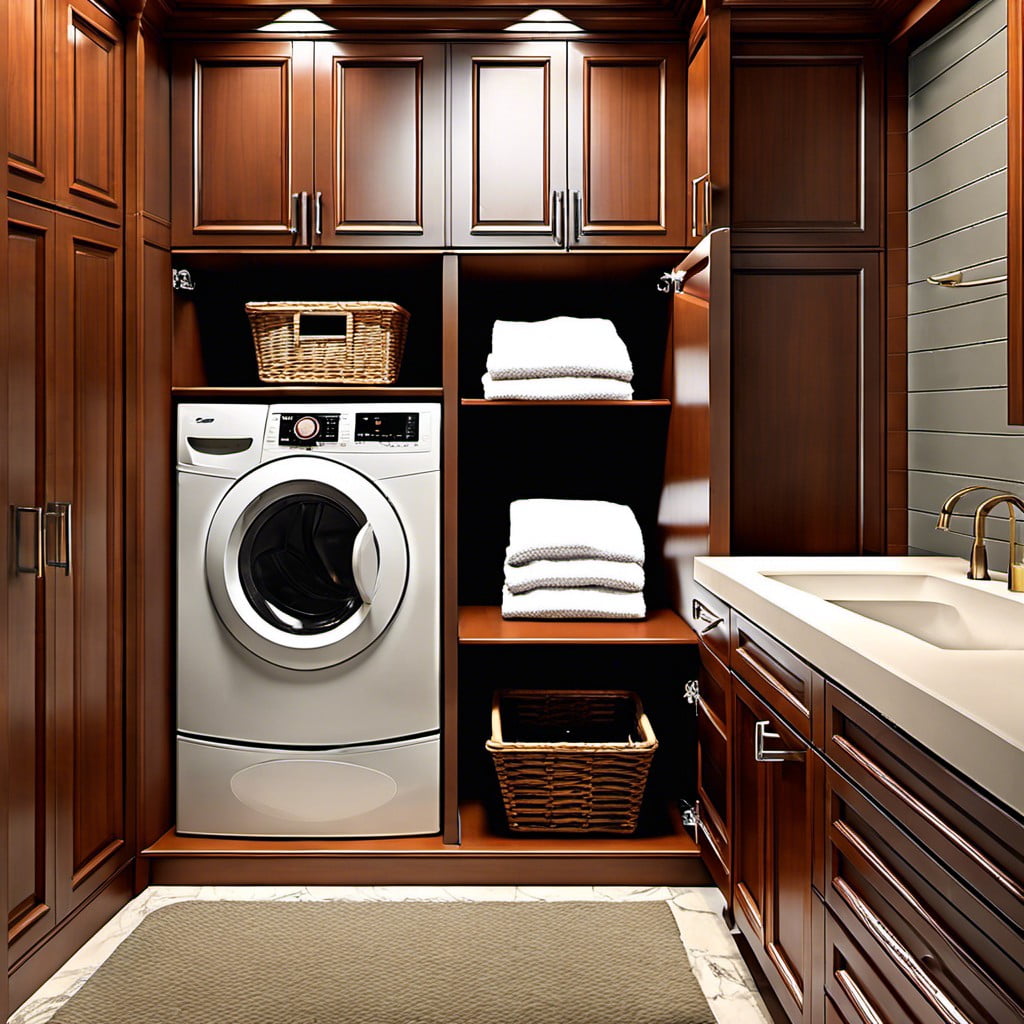 Beneath a built-in countertop or even inside an elegant dresser, incorporating a laundry hamper maximizes efficiency. It also ensures dirty laundry stays contained and out of sight.
This can be achieved with a simple tilt-out door system. A removable, washable liner is a practical feature to consider for easy laundry transportation.
A dual-compartment hamper can help separate lights from darks right from the start.
Pro Tip: Mesh bags could be used within the compartments for delicate items, saving time and effort on laundry sorting.
Bi-fold Doors for Privacy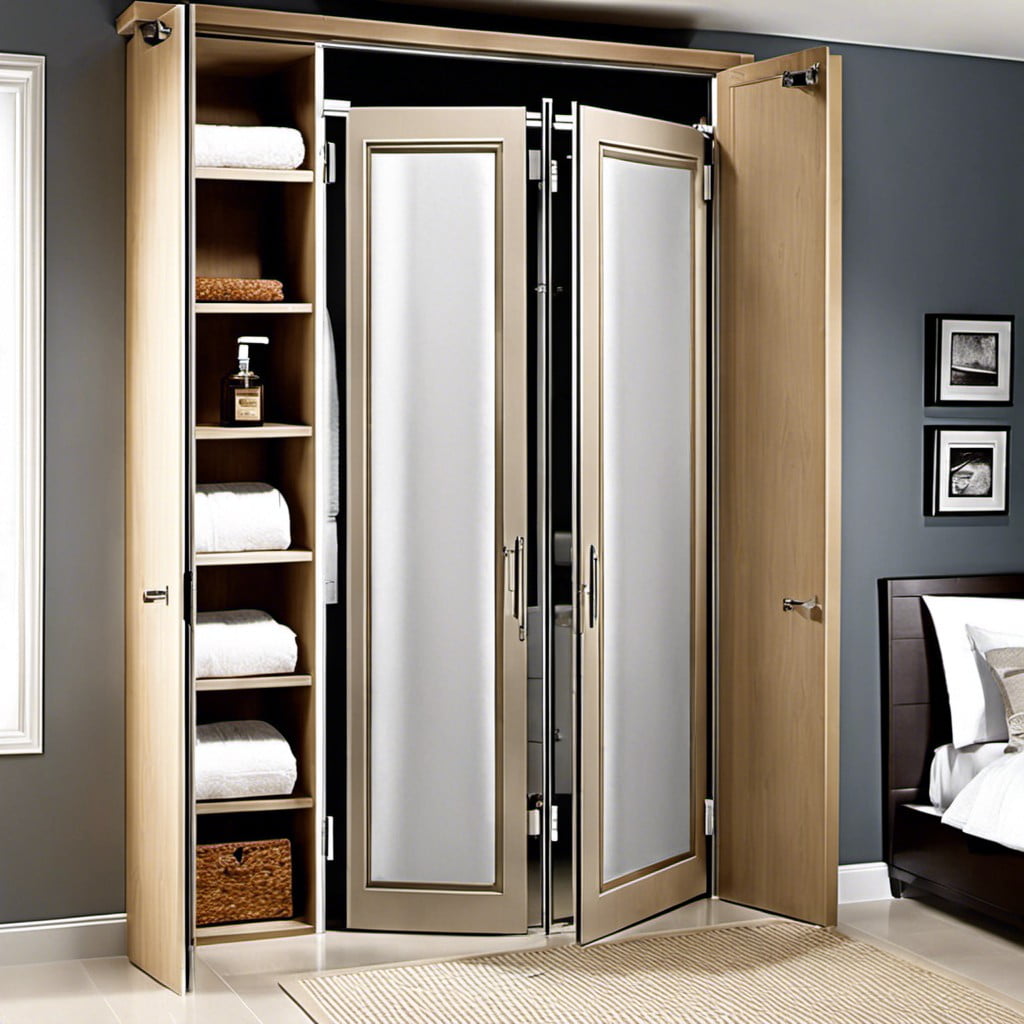 With their unique opening mechanism, these doors are a fantastic choice for compact spaces. Each panel folds onto the next, forming a neat package to the side of the opening. This leaves the doorway clear, maximizing convenience and accessibility. And the best part? They also provide full single-panel door privacy when closed.
Think about customizing your design. Choose materials, colors, and finishes that complement the rest of your decor. From traditional woods to sleek modern metals, the variety is endless.
Remember, your bi-fold door can also be more than just a door. Incorporate mirrors on panels to create the illusion of extra space and lighten your room, or add a touch of elegance with frosted or textured glass panels. All while ensuring paramount privacy – an all-rounder solution.
Under-sink Curtain for Added Storage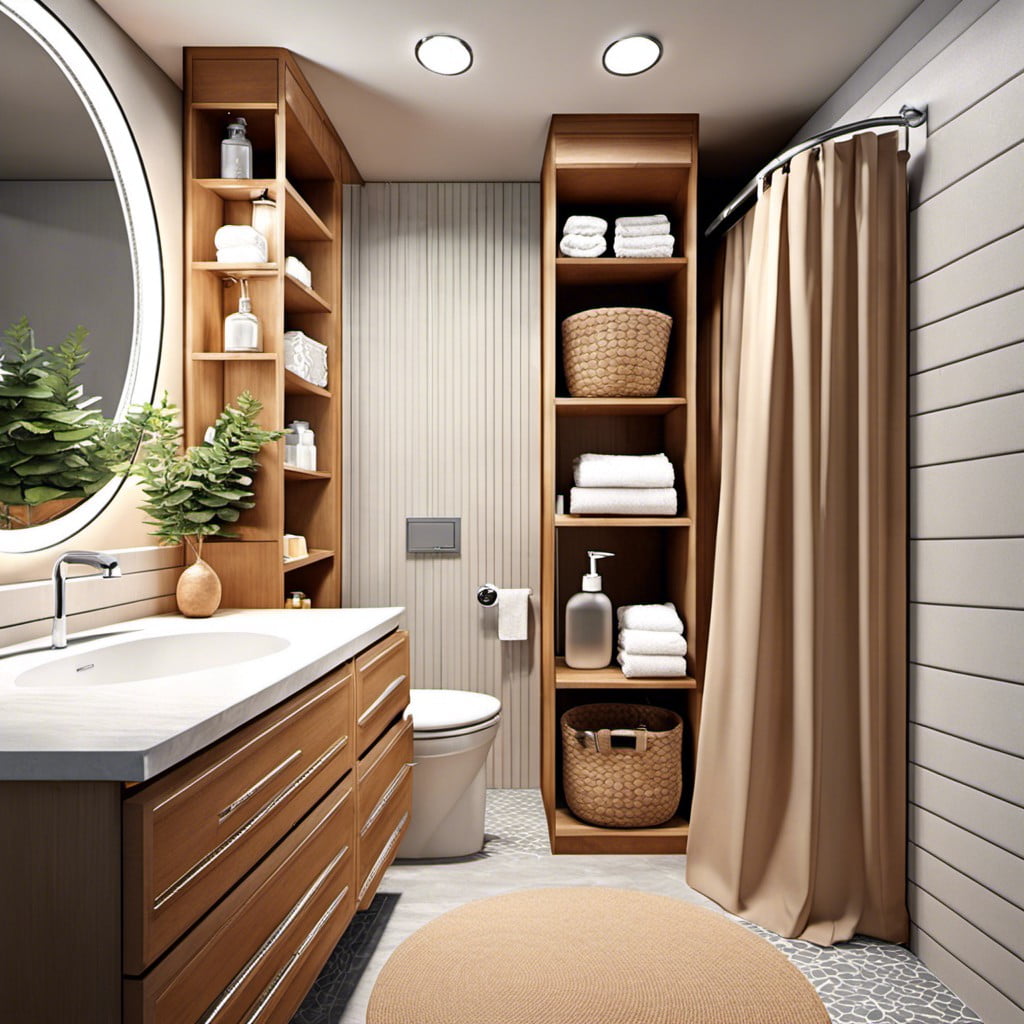 Utilizing the hidden area below your sink can indeed unfold a mini haven of storage. Choosing a stylish curtain to hide unsightly cleaning products can effortlessly boost the aesthetic of your closet bathroom. Added bonus? This method is both affordable and DIY-friendly.
Select a fabric that complements the color scheme of your bathroom, ensuring it's resistant to moisture and easy to wash. When installing the curtain rod, consider a tension rod for its ease of adjustability and non-permanent option. Step up the efficiency by adding a simple shelf inside, making sorting and accessing your items a breeze.
Remember, this concealed storage does more than just hide clutter. It blends functionality with style, making the most of your compact space without compromising on design. Choose a design that suits your personality – go for bold patterns to add a pop of excitement or pick neutral tones for a soothing, minimalist look. Enjoy this effortless way to spruce up your closet bathroom!
Heated Towel Rack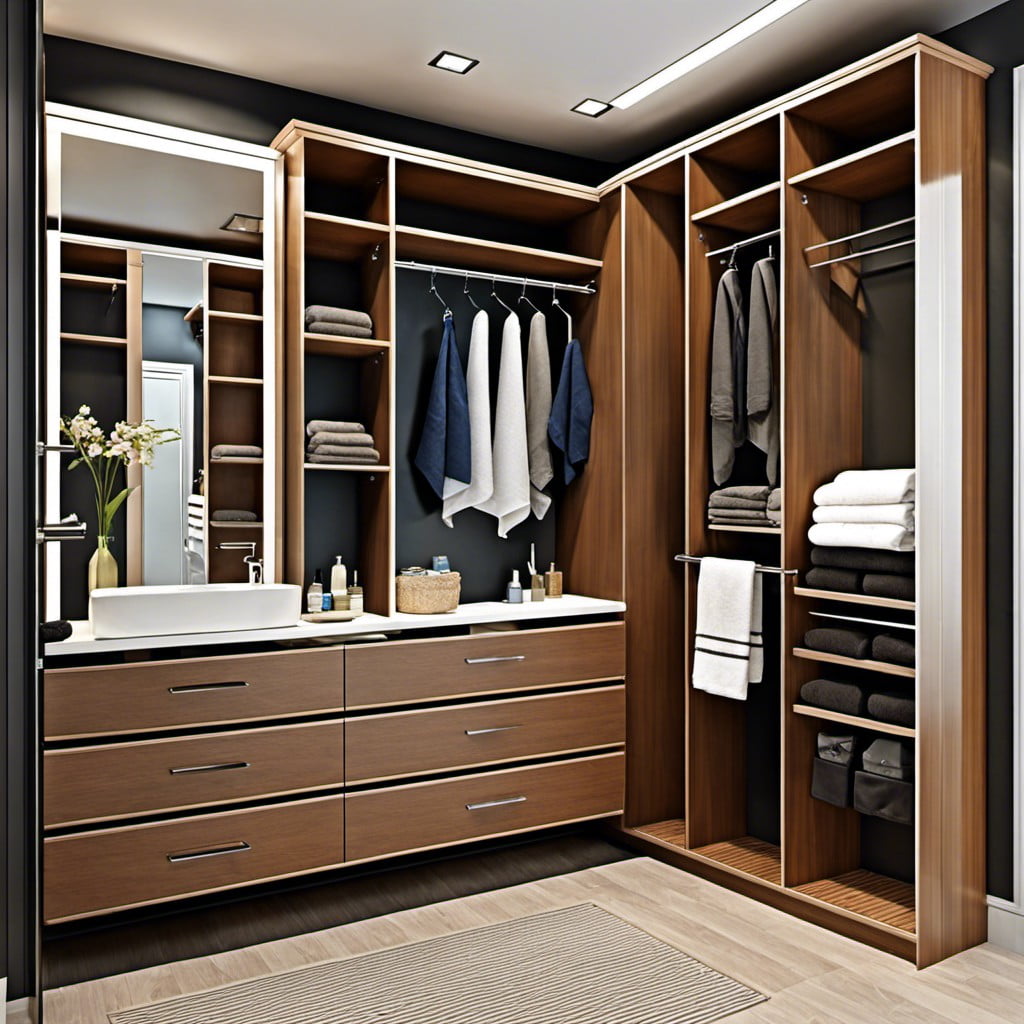 Implementing a heated towel rack is not just about luxury, but also about practicality. It works wonders, ensuring you have a warm towel ready after a soothing bath or quick shower. This functional feature makes use of minimal space, suited even for the coziest of bathrooms.
Installation can be either freestanding or wall-mounted, offering flexibility in terms of placement. Seek a design that complements your bathroom decor, from sleek chrome to classic vintage brass.
Aside from providing comfort, this feature helps maintain towel hygiene. It aids in quick drying of damp towels, reducing the chances of bacterial growth.
Remember, safety is paramount. Ensure professional installation that adheres to electrical codes. Consider models with in-built thermostats for regulating temperature, and timers for added safety and energy efficiency.
Think creatively and you can also use it for drying delicate clothing items, making it a multipurpose addition to your closet bathroom. Keep these pointers in mind, and enjoy the dual benefits of warmth and wellness with your heated towel rack.
Stackable Storage Boxes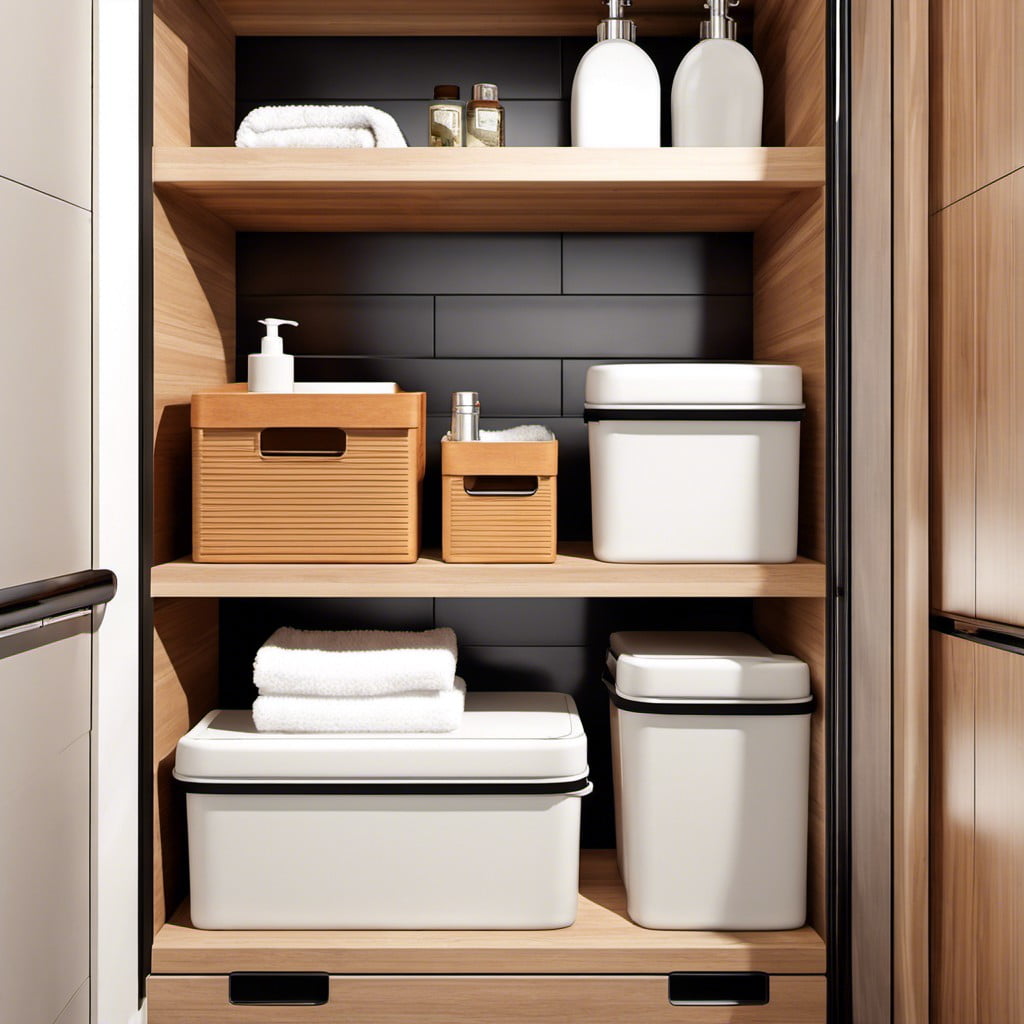 Why let empty vertical space go to waste when you can tap into its potential with stackable storage boxes? Available in a variety of sizes, designs, and materials, these unassuming boxes can work wonders in organizing toiletries, towels, cleaning products, and other bathroom essentials.
Vertical Expansion: Designed to stack vertically, the boxes take advantage of unused space, increasing storage options without compromising the floor area.
Customizable: Cater to your personal needs by choosing boxes of different sizes, shapes, and styles.
Portable: Need to move items around? These boxes are easy to unstack and transport, making rearranging a breeze.
Strong and Durable: Made from sturdy materials, these boxes can withstand moist bathroom conditions and carry significant weight.
A practical addition to your closet bathroom, stackable storage boxes streamline your personal space while adding an element of style.
Shower+tub Combination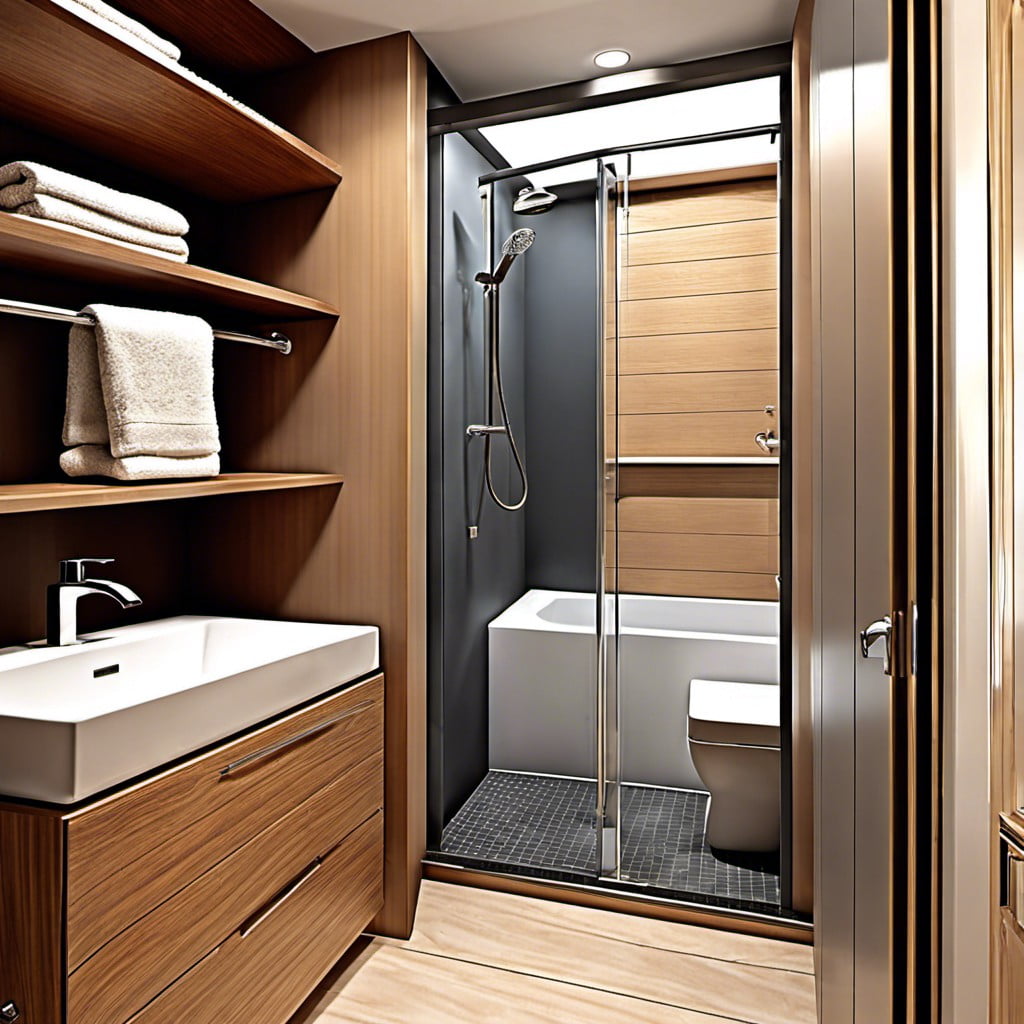 Smartly incorporating both a shower and tub into a tight closet bathroom can be a game-changer, maximizing functionality with style. Here's how:
1. Go Vertical: Utilize height, not floor space. A standing shower over a compact tub makes for an efficient setup.
2. Material Choice: Opt for a clear glass partition to maintain a spacious visual appeal, reducing the bulky appearance.
3. Fitting in Comfort: Consider a tub with a steeply sloped back, providing comfort for long soaks without requiring excess space.
4. Showerhead Selection: Choose a handheld, adjustable showerhead that can be effortlessly used in a small tub.
5. Smart Storage: Install recessed niches in the shower wall for toiletries – it's neat, handy, and space-efficient.
Remember, combining elements doesn't mean you have to sacrifice comfort or aesthetics; it's about finding the balance and making modifications that suit your space best!
Space-saving Vanity Station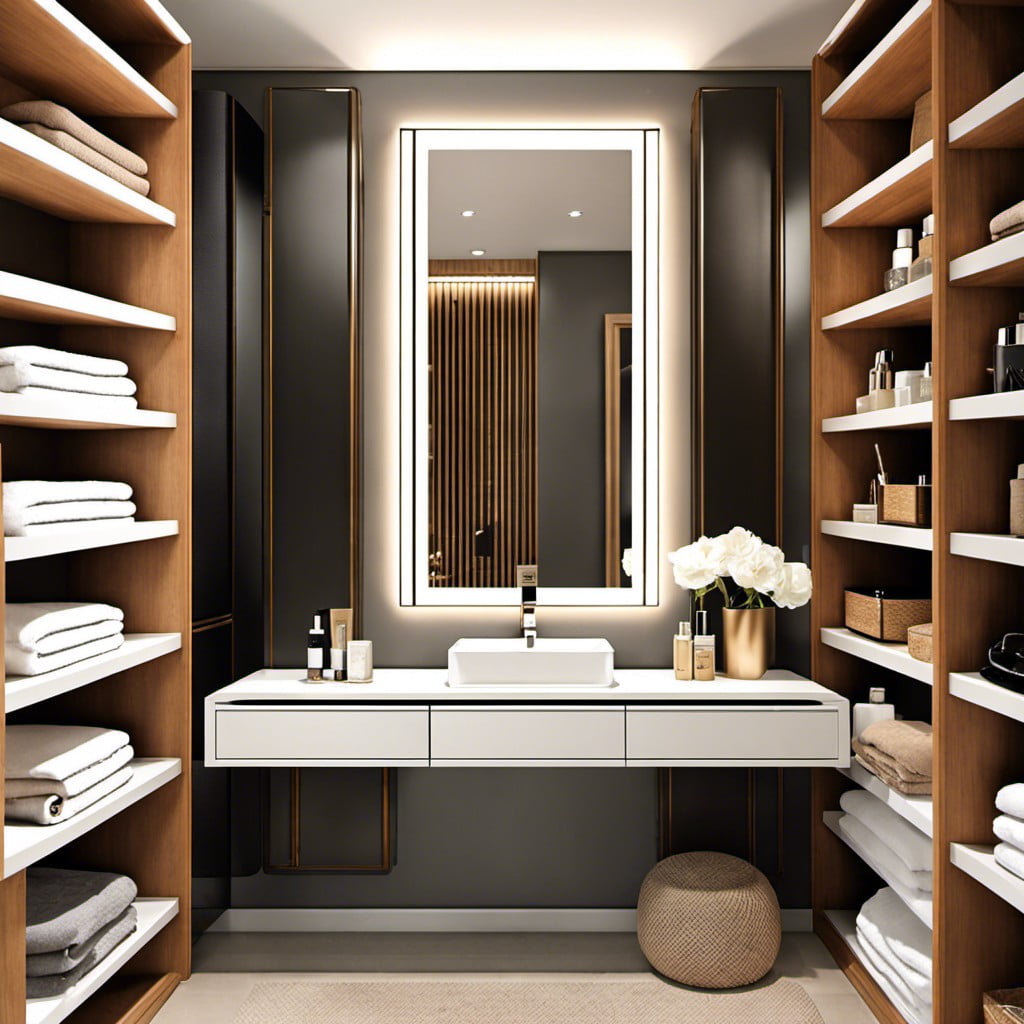 Having a compact area doesn't mean sacrificing style or essentials. Design your cosmetic space creatively. Opt for a wall-mounted vanity table, clearing up the floor gives the illusion of more space.
A small, stylish stool tucked beneath when not in use won't impede traffic. Choose functional pieces, such as a mirror with hidden storage for your brushes, makeup, and jewelries. Illuminate the area with bright, energy-saving lights, creating a cozy and glamorous atmosphere.
Minimalistic designs with clean lines often work best in small spaces. Lastly, use matching containers or trays to keep things orderly and easy to find. Harness vertical space and keep essentials within reach—the perfect blend of function, fashion, and clever utilisation of space.
Understated and uncluttered, your vanity station will become an oasis of orderly tranquility in your bathroom.
Vertical Towel Storage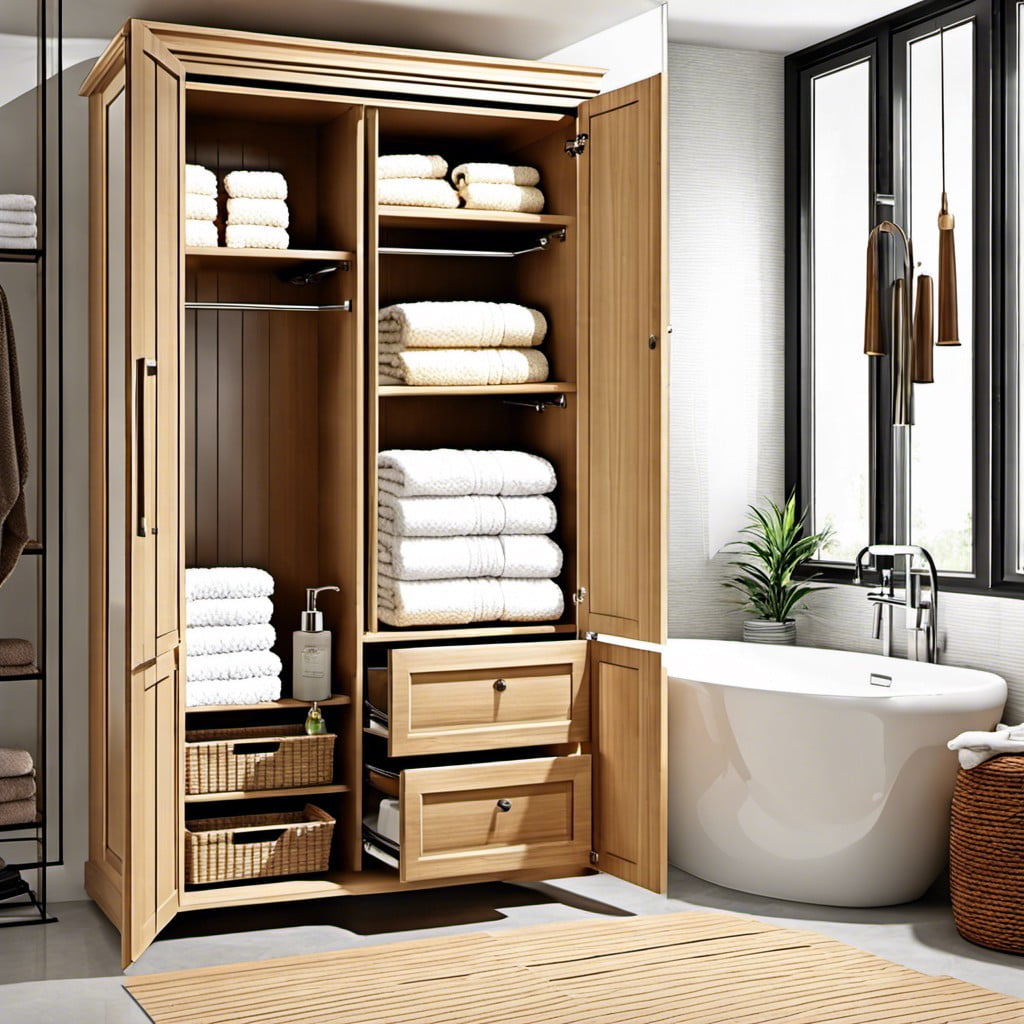 To fully use your limited bathroom closet space, make use of height. If you've got free wall area above your toilet or beside your shower, take advantage. With vertical towel storage, your clean towels are easily accessible and can also serve as decor.
Consider tall, free-standing racks or mounted units with ample rungs. Opt for ones with a minimalist design that complements the interior, and will not overcrowd the area. If you prefer not to drill holes, leaning ladders are equally practical and require zero installation. Plus, your towels will dry faster when hung vertically!
Hanging Planters for Fresh Touch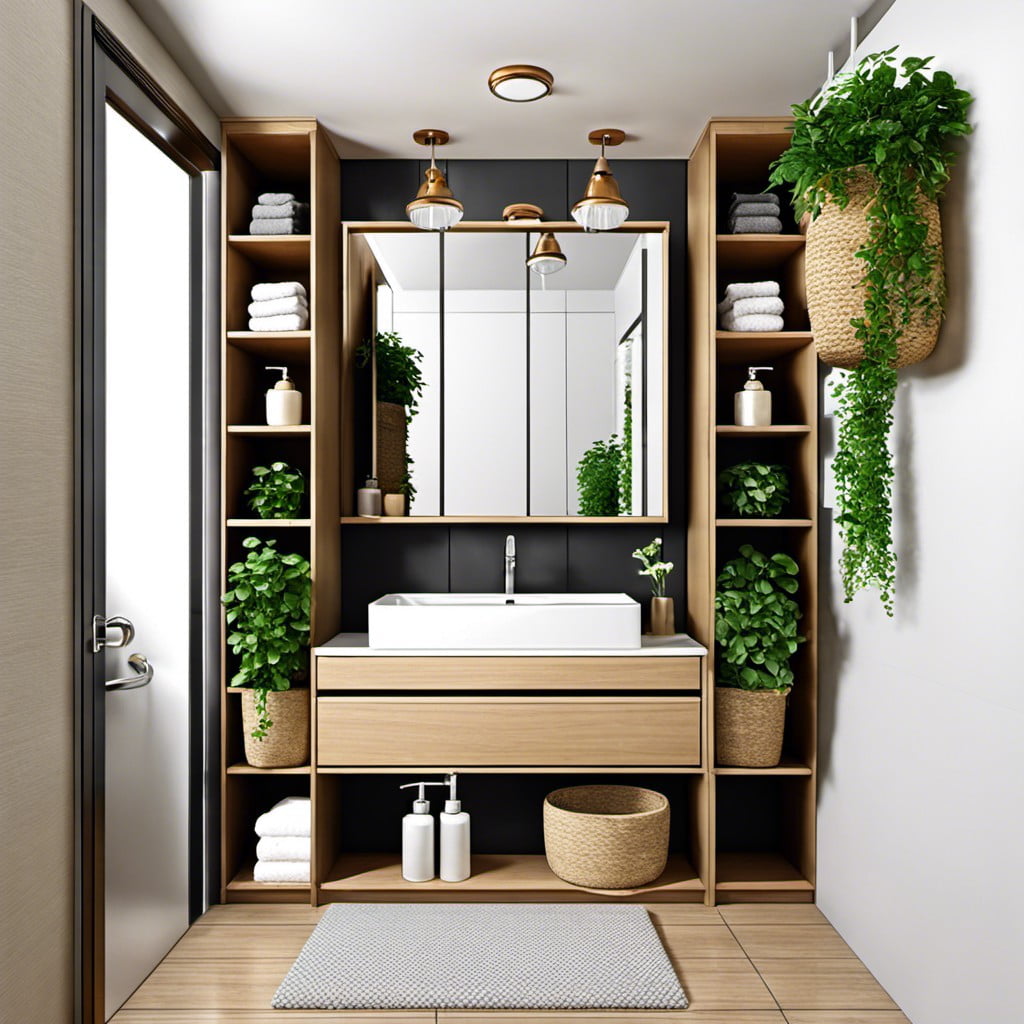 Incorporating greenery breathes life into your closet bathroom and injects a sense of freshness. Select plants that thrive in high humidity, like spider plants, pothos, or lilies – their lush green leaves add a vibrant splash of color.
Hang them in pots from the ceiling or mount them on the wall. Low-maintenance species are best if you're not particularly green-thumbed. Ensure they get indirect sunlight and don't forget to water them according to their needs.
These natural elements create an organic, spa-like atmosphere. Take it a step further by choosing planters that match your bathroom's color scheme or aesthetic.
Continue reading:
Recap