Last updated on September 21, 2023
Discover a world of creativity and style with these unique bathroom tray ideas that will instantly elevate your space.
Bathroom trays are not just functional; they can also be a stylish addition to your bathroom decor. Whether you're looking to organize your toiletries, create a relaxing spa-like atmosphere, or simply add a touch of elegance, a well-curated bathroom tray can do the trick.
This article will provide a plethora of creative and practical bathroom tray ideas, from repurposing vintage items to using sleek modern designs. You'll also discover tips on how to style your bathroom tray to enhance its visual appeal.
So, let's dive into the world of bathroom trays and transform your space into a chic and organized haven.
Table of Contents
Marble Slab Organizer
Among the myriad of bathroom organizers, marble slab organizers stand out due to their unmatched elegance. This luxurious bathroom accessory is not only functional but also adds an aesthetic appeal.
1. Scintillating Sheen: The natural sheen of marble enhances the look of the bathroom with a touch of opulence.
2. Durability: Marble is incredibly resilient, making it ideal for a bathroom's humid conditions.
3. Versatility: They can hold a mix of items, from toiletries to plants, without losing their sophisticated look.
4. Easy Maintenance: Cleaning is straightforward, a wet cloth is enough to restore its gleam.
5. Unique Patterns: Each slab comes with unique veins, adding a personalized touch to your bathroom.
A marble slab organizer uniquely blends form and function, transforming both the organization and presentation of your bathroom decor.
Succulent and Candle Combo Tray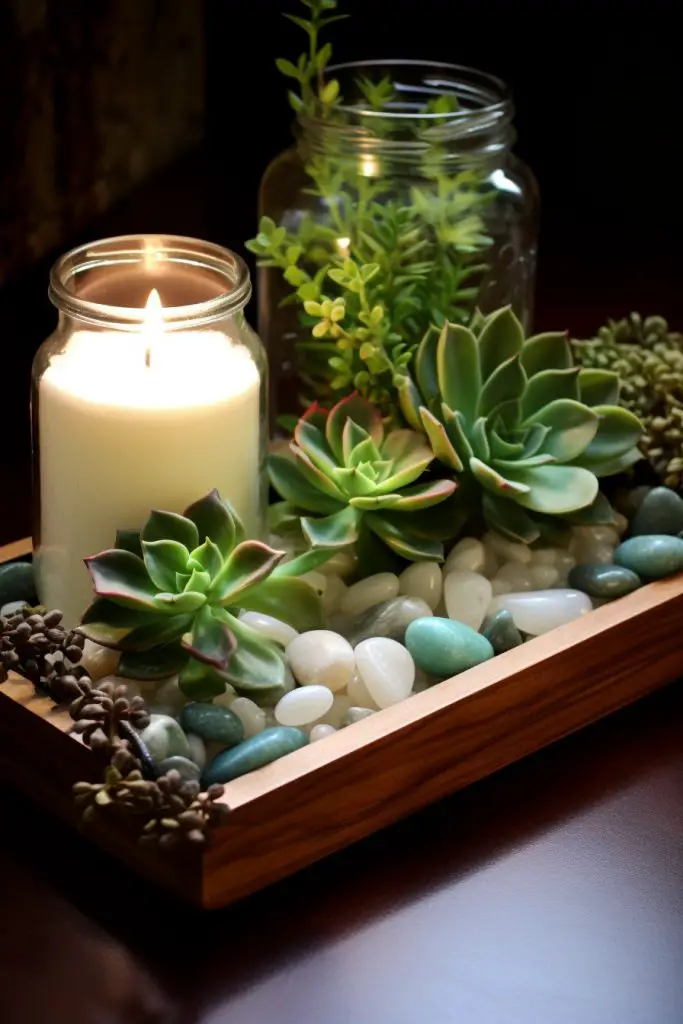 This harmonious blend of plant life and ambient lighting serves well as space optimization.
1. Select compact, low-maintenance succulents – ideal for bathroom conditions.
2. Accompany plants with small, scented candles of your choice, enhancing the ambience.
3. A neutral colored or wooden tray works best – aligning with the natural theme.
4. Incorporate small decorative stones around the base of the plants – adds to the overall appeal.
5. Position this tray on a surface exposed to natural light – ensuring succulent growth but not total sun exposure.
6. Care for the plant life is minimal, with irregular watering – facilitating ease of maintenance.
Remember, function and aesthetics should coexist in every corner of your setting.
Bamboo Bathtub Caddy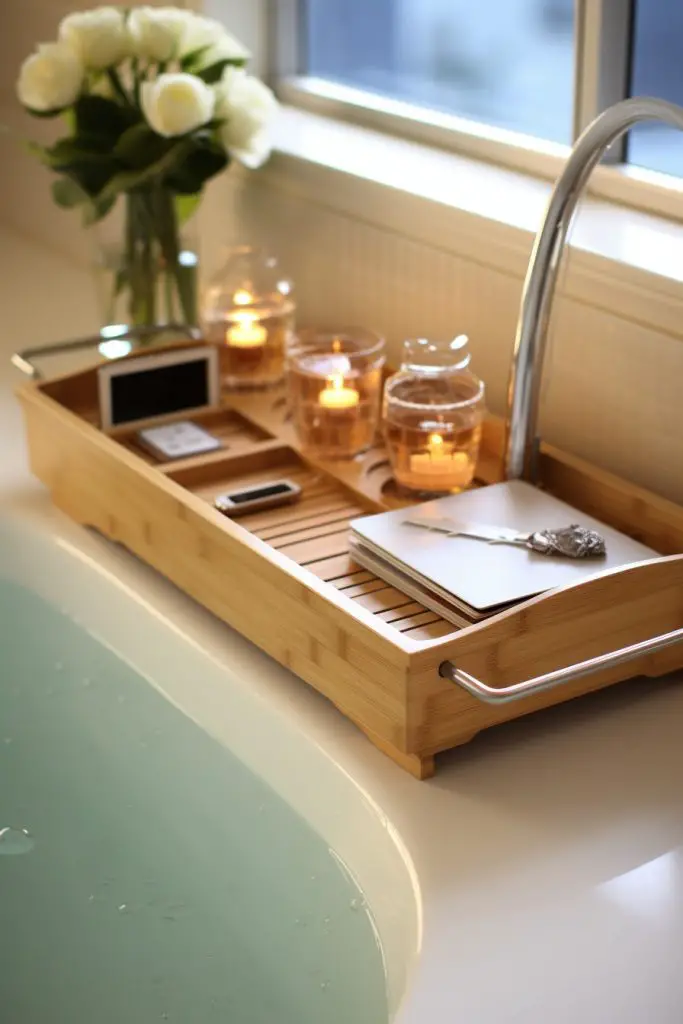 Crafted from naturally resistant material, this tray can withstand exposure to steam and water. Two expandable sides allow for versatile use across different tub widths.
Noteworthy features include a book or tablet stand for enjoying a good read or your favorite show, spaces dedicated to safely hold a wine glass and a coffee cup, and small compartments for personal care items.
This convenient accessory proves useful for those seeking to introduce a spa-like atmosphere in their bathroom.
Steam and water resilient material.
Adjustable width.
Book/tablet stand.
Dedicated drink holders.
Compartments for personal care items.
Ceramic Dish Set for Toiletries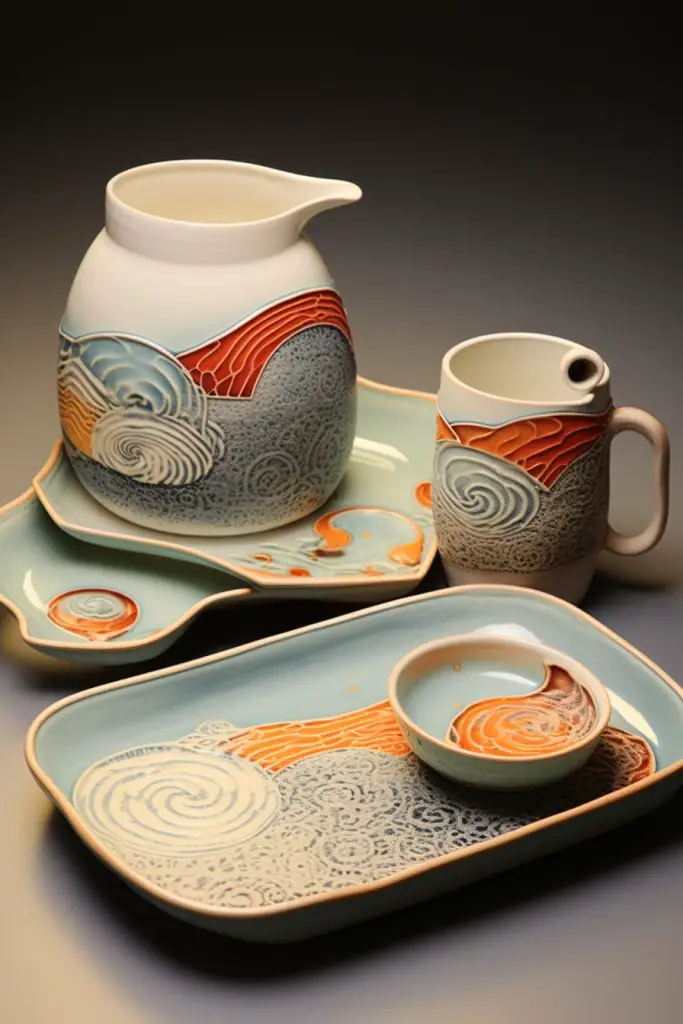 Choosing ceramic dishes adds a touch of elegance and organizes items in a stylish manner. Their sleek, polished surfaces can easily handle bathroom condensation without getting damaged.
A set might typically include soap dispensers, toothbrush holders, and miscellaneous containers.
Consider these factors:
Variety in sizes and shapes for different items.
Matching color and pattern with bathroom decor.
Pottery style for a more rustic appeal.
Maintenance, being dishwasher safe or requiring hand cleaning.
Opting for sets with drainage holes.
Glazed finishing for added waterproofing.
Vintage Engraved Metal Tray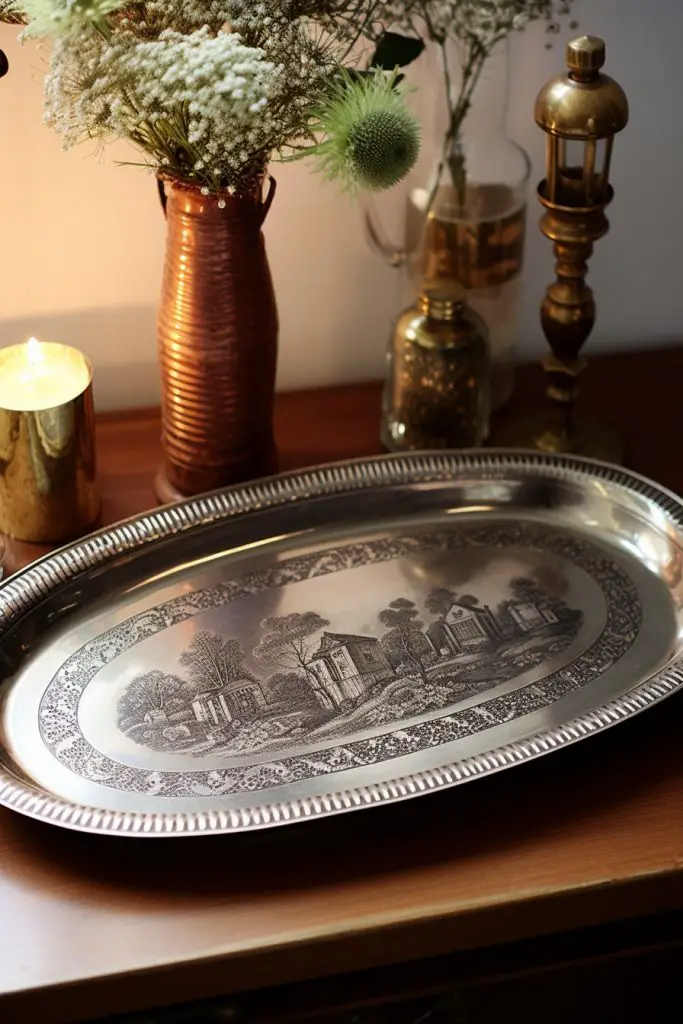 Incorporating a vintage engraved metal tray into your bathroom decor delivers a classic touch. It can hold fragrances, cosmetics, or personal care items, doubling as a practical storage space and an element of aesthetic allure.
Consider these core concepts:
Rich historic aesthetics: Seeing swirling designs and intricate patterns, the eye is drawn, adding an air of sophistication.
Uniqueness: Scouring vintage markets or antique shops, finding a one-of-a-kind piece that speaks to your personal style is a joy.
Durability: Typically built of sturdy metal, it's resistant to wear and tear, lasting years if properly cared for.
Easy maintenance: Simply wipe it down with a clean, soft cloth to keep it looking shiny and new.
Tiered Display for Cosmetics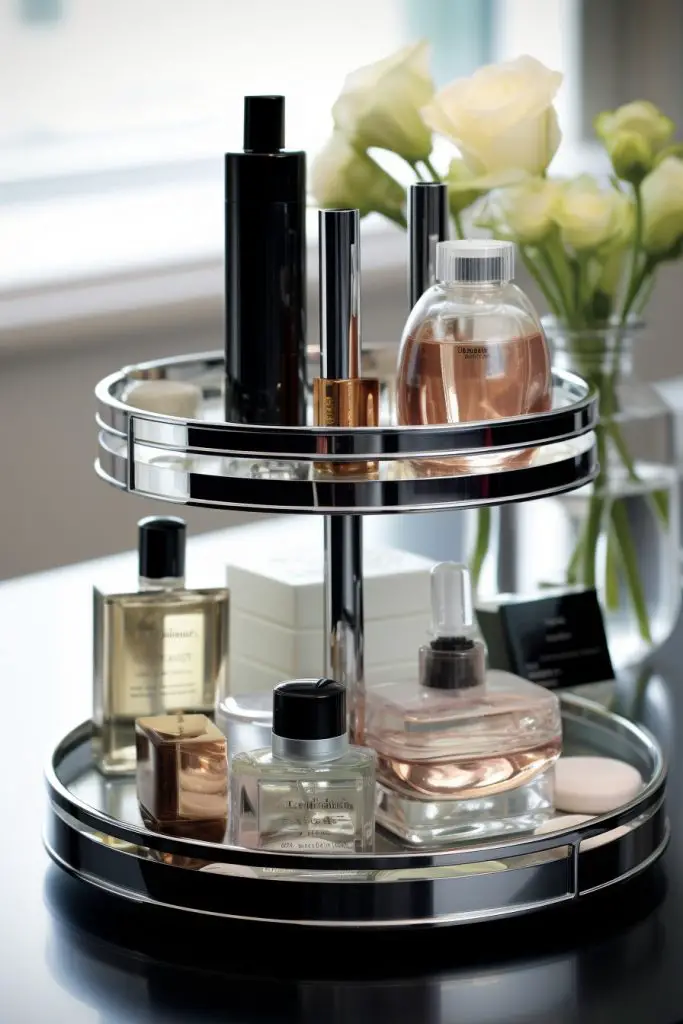 A well-chosen tiered display ensures beauty essentials are visible, accessible, and conveniently sorted. As well as being extremely functional, they also add a decorative element to your overall bathroom decor.
Here's how to get started:
Choose a size and style that fits your bathroom decor and needs.
Use the different tiers to segregate your products: skincare on one, makeup on another, and perfumes on the top.
Keep often-used cosmetics on the higher levels for easier reach.
Incorporate design elements like a mirror or backlit display to enhance their aesthetic and ease of use.
Remember to regularly clean your display to keep your cosmetics hygienic and prolonged. Replace items that are expired or used up to ensure it stays decluttered and appealing.
Glass Tray With Gold Accents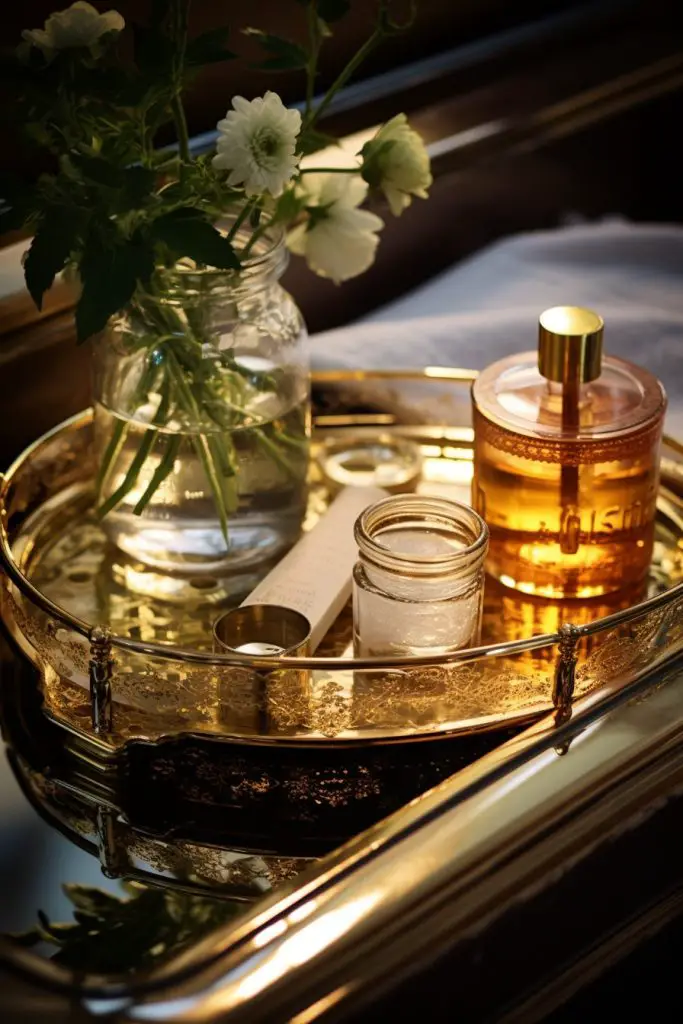 A translucent glass tray accented with delicate gold trimmings serves as a focal point in your bathroom decor. The lightness of glass coupled with gold contours delivers refined elegance.
Blending of transparency with metallic accents.
All-purpose utility: Ideal for cosmetics, perfumes, and toiletries.
Style compatibility: Fits nicely in modern, vintage, and luxe aesthetics.
Cleaning ease: Can be effortlessly wiped down with a soft cloth.
Versatility: Suitable for countertop, vanity, or cabinet use.
DIY option: Upcycle an old glass dish by adding self-adhesive gold leaf trim.
Remember, even if the tray gets a splash or two from the sink, its inherent water resistance is an added bonus. This fusion of practicality and style makes it a must-consider in your bathroom tray consideration list.
Rustic Wooden Tray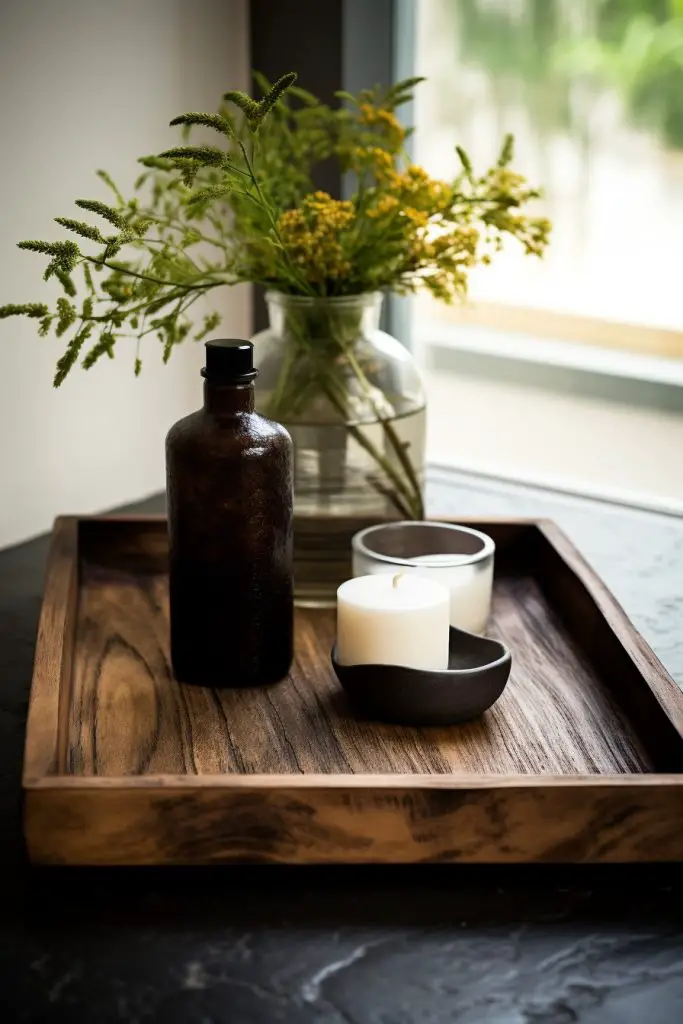 There's nothing quite like the natural, warm ambiance that raw wood brings. A rustic wooden tray, often made from reclaimed or distressed wood, integrates well into most bathroom decors. The untreated finish serves to highlight the wood's natural grain, knots, and imperfections for a rugged aesthetic.
Key points:
High compatibility: It blends with various styles from modern to farmhouse.
Customizable: Stain or paint to match your color scheme.
Practical: Often comes with handles for portability.
Quirkiness: Each wooden piece has a unique pattern, offering a one-of-a-kind accessory.
Easy to clean: A quick wipe-down with a damp cloth will suffice.
Eco-friendly: Using reclaimed wood supports responsible sourcing.
Mirror-trimmed Tray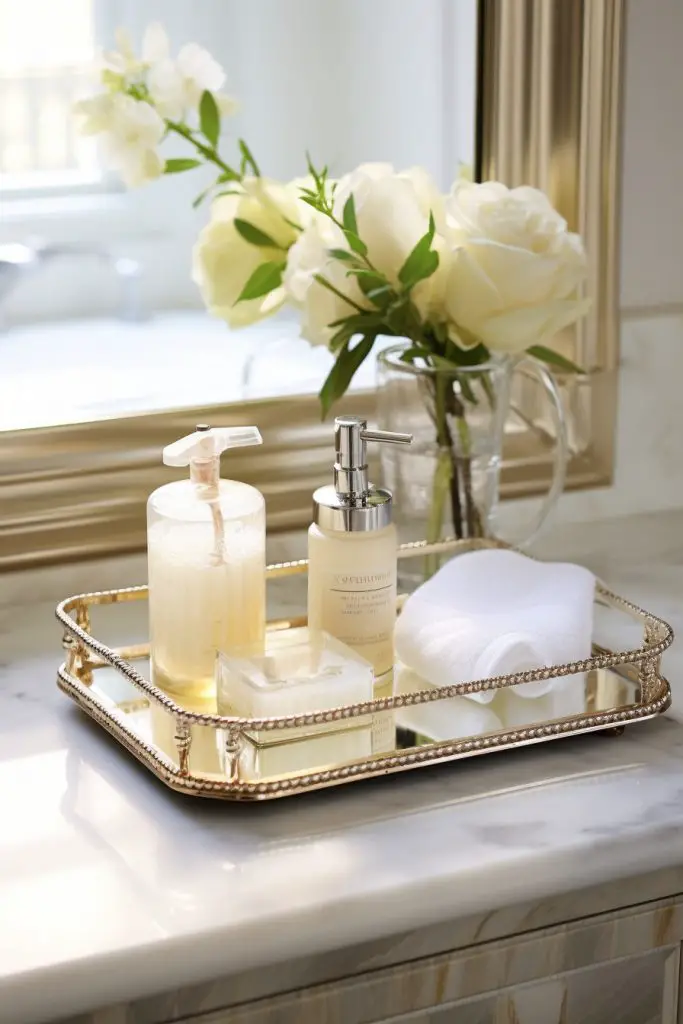 Incorporating a mirror-trimmed tray in your bathroom space brings a touch of luxury and elegance. Its reflective properties amplify light, making the room appear larger. It's particularly suitable for minimalist or modern decors and excellent for displaying perfume bottles, cosmetics, or decorative items subtly.
Key Points:
Amplifies light for a larger space illusion.
Suits minimalist or modern decors.
Ideal for display of perfumes, cosmetics, or decorative items.
Floating Bathroom Tray
This trendy accessory boasts its practicality and style. The floating tray creates an illusion of space, an ideal fix for small bathrooms.
Enhancing neatness, it replaces unnecessary clutter with a sophisticated appeal.
Key Points:
Enhanced visual space – creates a floating effect.
Ideal for small bathrooms – maximizes available surface area.
Style meets function – adds a modern aesthetic while providing storage.
Versatile use – perfect for soaps, candles, or even a book.
Easy installation – typically comes with suction cups or adhesive attachments for immediate use.
Wide range of materials – wood, acrylic, glass, to suit your bathroom theme.
Corner Shower Tray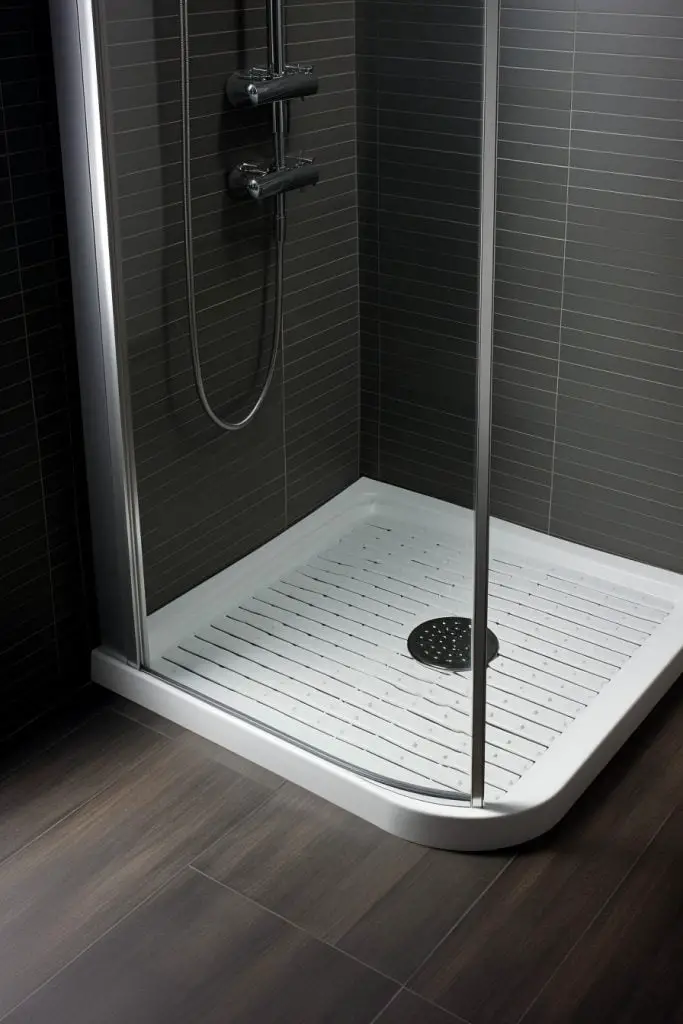 Offering an ideal solution for space preservation and organization, the Corner shower tray is a must-try for any bathroom design.
Space Efficiency: Such trays take advantage of an often underutilized area – the shower corner – allowing you to maximize your bathroom's overall space.
Practical Design: Primary function is for holding toiletries, but can also be utilized for bathing essentials like loofahs and washcloths.
Array of Materials: Select from a range of materials like stainless steel, plastic or ceramic to match your bathroom's aesthetics.
Easy Installation: Mounting styles are inclusive of tension-mount caddies, which require no tools to install, as well as drilling ones that provide a more permanent solution.
Height Adjustments: Some designs offer adjustable shelves, making it convenient to accommodate products of varying sizes.
Industrial Iron Pipe Tray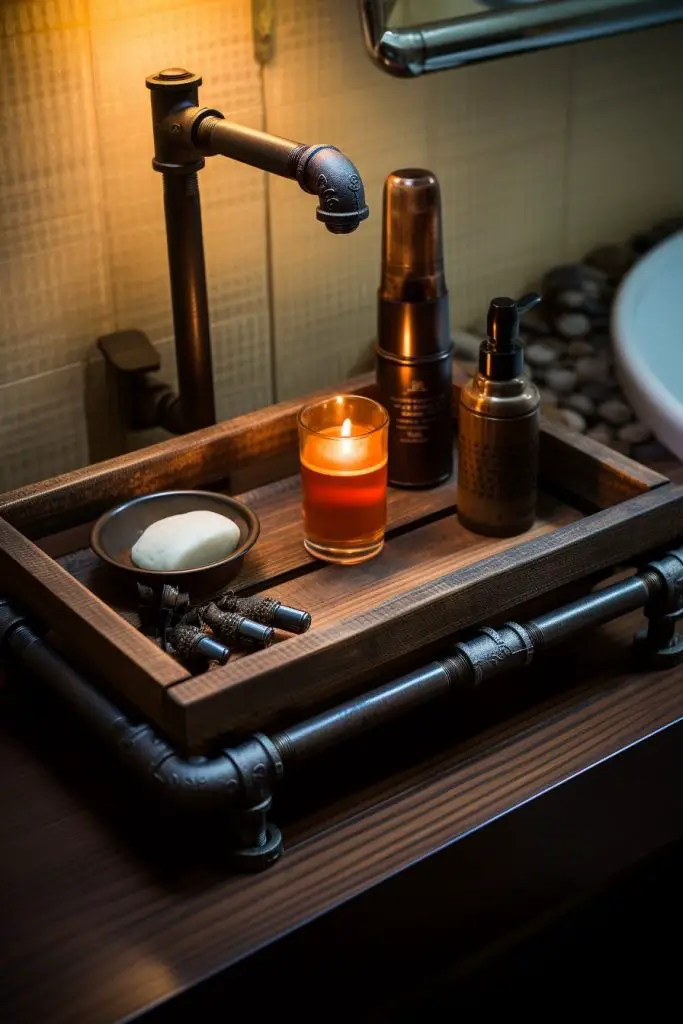 Industrial iron pipe trays provide a unique and practical solution for bathroom storage needs. Robust and sturdy, they can safely carry heavy and often used items such as shampoo bottles, soap dispensers, and razors.
Strong industrial aesthetic: This style adds a distinct and stylish look to your bathroom. It's perfect for anyone wanting to introduce an urban loft feel.
Durable: Made from iron pipes, these trays are designed to last. They're resistant to rust and moisture – ideal for a bathroom setting.
Custom sizes: Iron pipe trays can be made to fit any size bathroom or placement location. You can even commission bespoke pieces tailored to specific dimensions.
Easy to install: These trays typically come with secured fittings. It means you can fasten it anywhere – on the wall, beside the sink, or even above the bathtub.
Minimal maintenance: A simple wipe down is all that's needed. The pipes can also be easily repainted or refurbished if necessary.
Acrylic Makeup Organizer Tray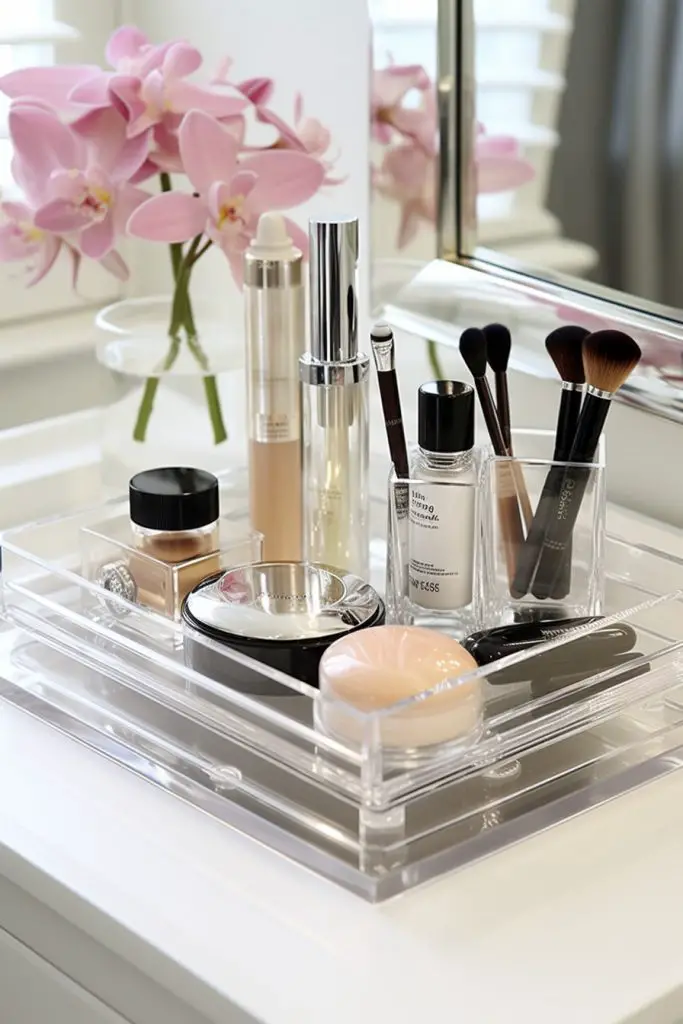 Incorporating the transparency of the material and the versatility of the design, this serves a dual function. It not only keeps your cosmetics neatly arranged but also acts as an aesthetic addition to your bathroom. Its multiple compartments of varying sizes can hold lipstick, mascara, brushes, and more.
Key Features:
Clear, sleek appearance fits into any decor
Various compartment sizes for diverse makeup items
Lightweight and easy to clean
Durable, long-lasting material
Space saver with a large storage capacity
Woven Rattan Basket Tray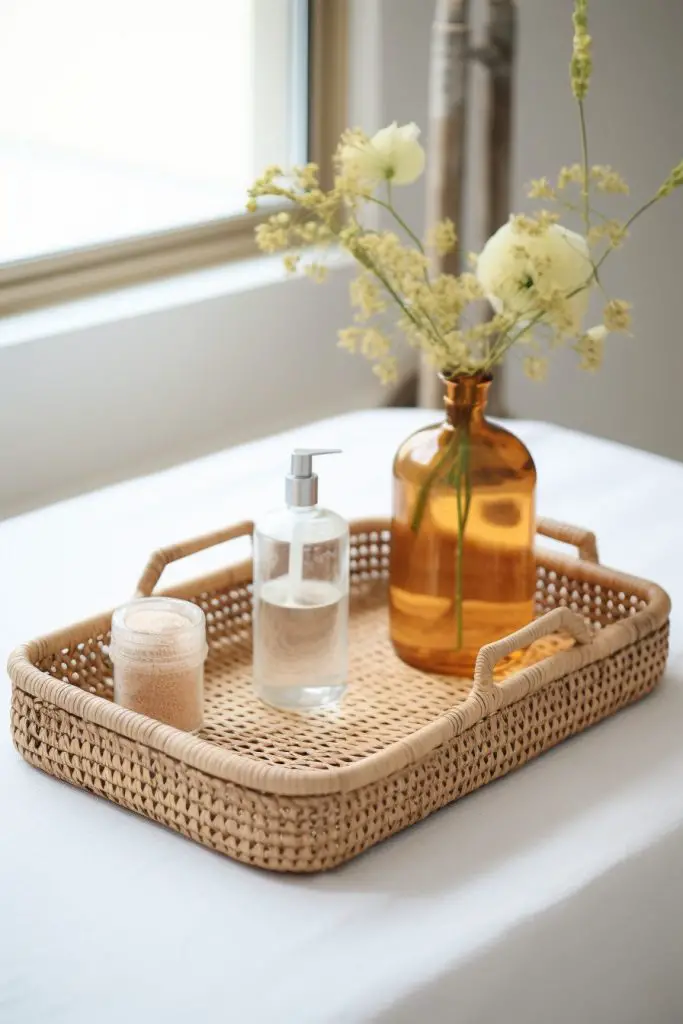 Rattan, a flexible yet sturdy material, is naturally water-resistant, making it perfect for bathroom use. The casual, Bohemian flair it injects into any space is undeniably charming.
1. Versatility: Suitable for holding toiletries, towels, or decorative items.
2. Durability: Can withstand the occasional water splash.
3. Look: Lends a beachy, Bohemian vibe.
4. Care: Easy to clean – does not require special maintenance.
5. Weight: Light and easily movable.
6. Styles: Comes in different shapes and sizes to fit any bathroom decor.
While it's typically affordable, remember quality often influences the price. Keep in mind the preferred functionality when choosing – a small one can work great as a minimalist countertop organizer while a larger size can effectively store bathroom towels and robes.
Adjustable Slide Tub Tray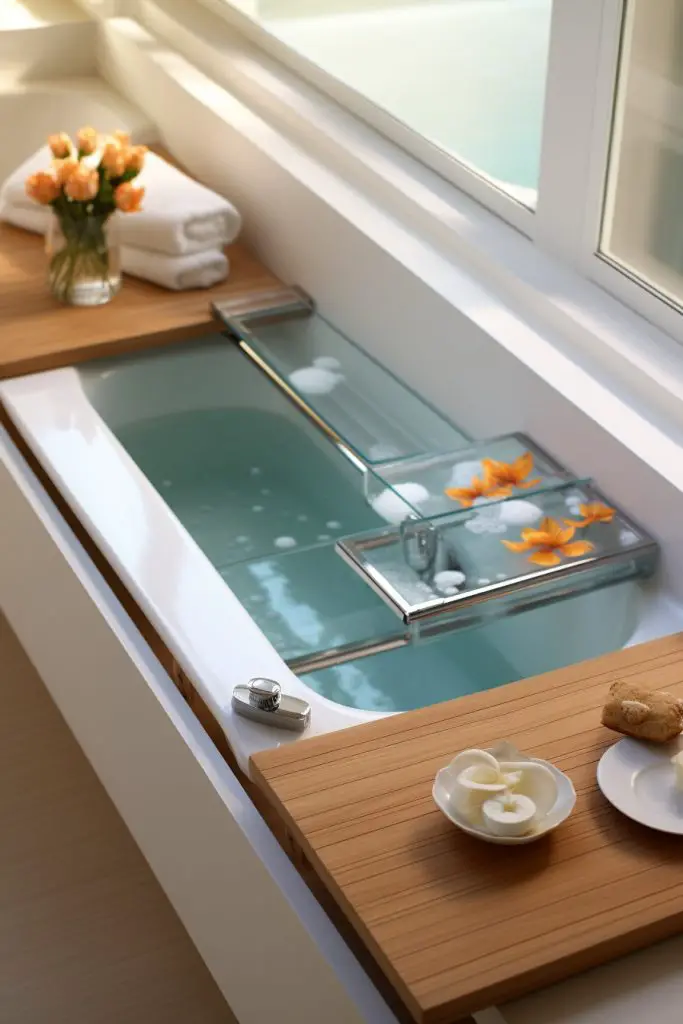 An adjustable slide tub tray is an ideal solution for those seeking versatility in their bathroom setup. Its key features include:
Customizable width to fit any tub size.
Slots for holding a book, tablet, or e-reader for a relaxing read.
A supportive tray area for toiletries or drinks.
Safer materials like sturdy, water-resistant wood or rust-proof metal.
Easy to adjust, install, and store away.
Moreover, consider options with a non-slip underside to prevent the tray from sliding, ensuring a secure, worry-free bath session. Use your tray as a haven of relaxation, or create an efficient organization system for your bath products. Organizing your essentials in an attractive, accessible way contributes to a soothing and streamlined bathroom environment.
Slate Stone Tray With Brass Handles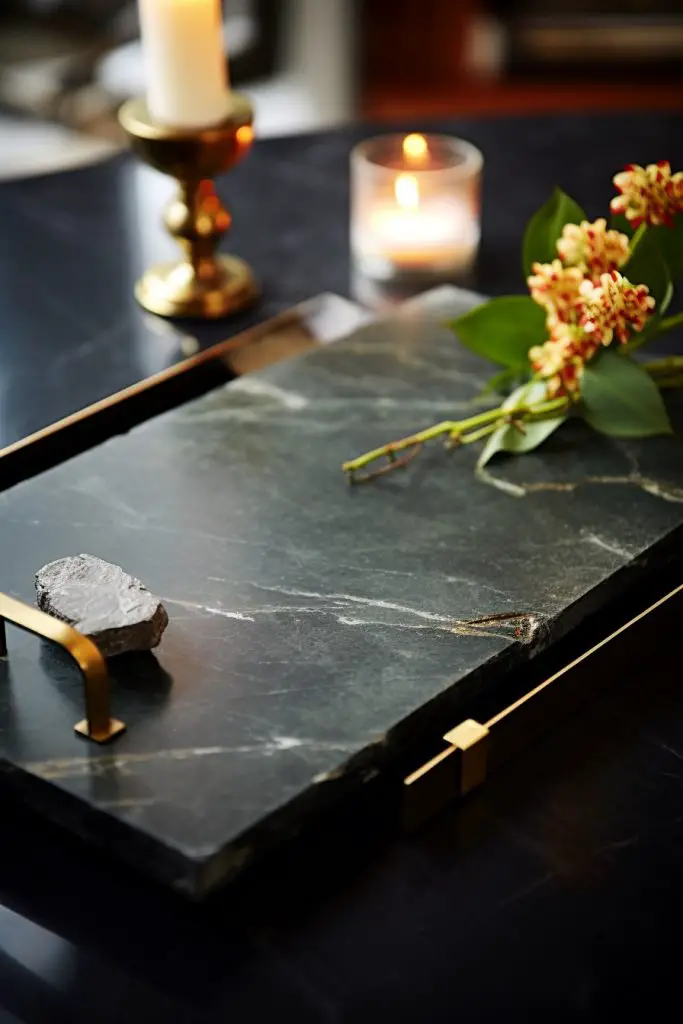 Effortlessly chic and ruggedly handsome, slate stone exhibits a raw natural element that can add understated elegance to any bathroom decor. Its grey, earthy hues blend seamlessly with brass handles, creating a visually captivating display.
1. Unique Pattern: Every slab has distinctive, one-of-a-kind natural lines, patterns and textures, giving your bathroom a personal touch.
2. Durability: As a stone, it is resistant to water, humidity, and wear and tear typical in a bathroom setting.
3. Easy Maintenance: Requires simple and occasional wiping to keep clean.
4. Versatility: Despite its stone nature, it blends well with other materials such as wood or glass.
5. Elegance: The brass handles add a hint of vintage luxury to your space while providing an easy way to move the tray.
6. Customizable: Available in various sizes and shapes to fit your specific needs or preferences.
Minimalist White Porcelain Tray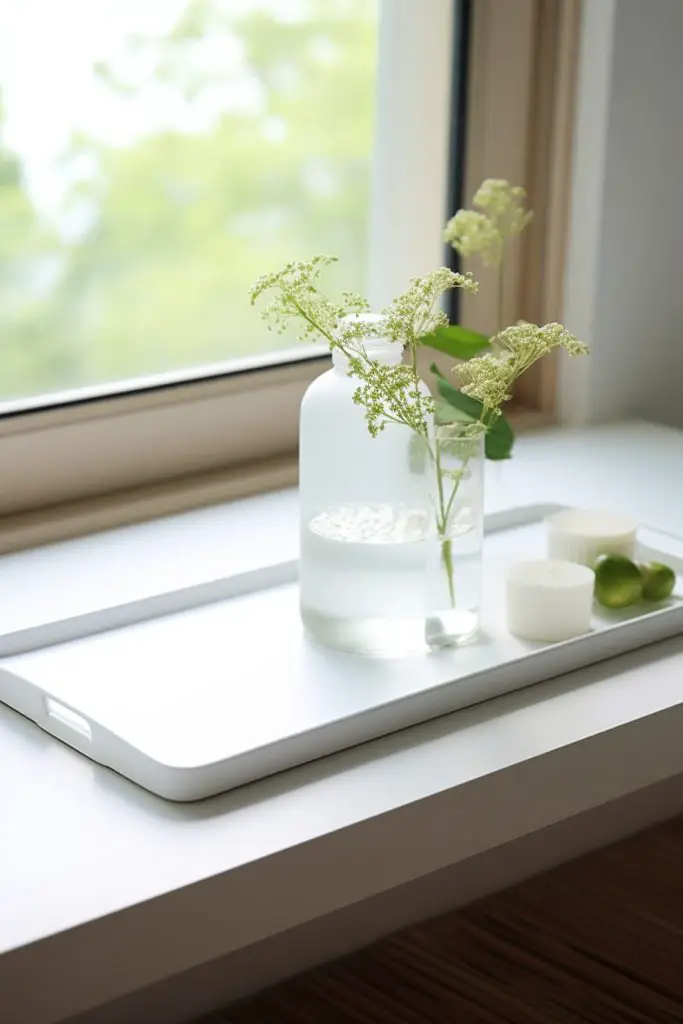 Porcelain trays are synonymous with clean aesthetics and functional design. The white shade enhances the perception of cleanliness, crucial in a bathroom setting. When adorned with select toiletries or accents, these trays reflect a sophisticated vibe with a tinge of minimalism.
Clean and refined look.
Enhances the feeling of cleanliness.
Adds sophistication to bathroom decor.
Supports mindful minimalist decluttering.
Versatile usage – holds toiletries, accents, etc.
Easy to clean and maintain.
Ideal for modern or Scandinavian-style bathrooms.
DIY Repurposed Drawer Bathroom Tray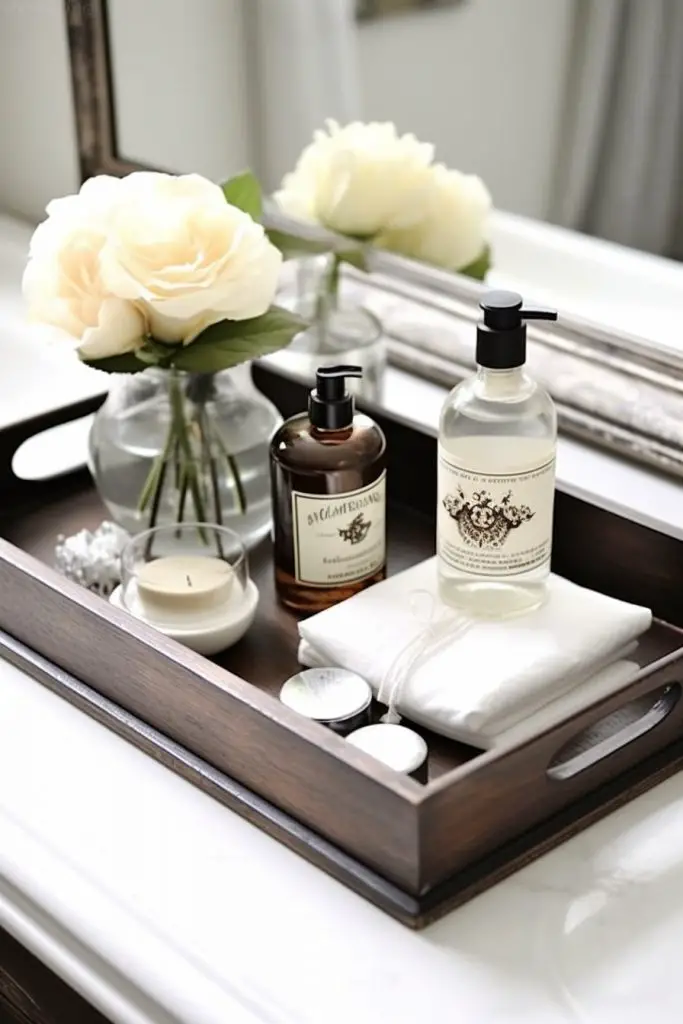 Effectively using an old, desired drawer, deep enough to store items and wide enough to fit the bathroom counter, can be transformed into a unique and practical bathroom tray.
Here's how:
1. Clean and sand the drawer to get rid of old paint or varnish.
2. Apply a fresh coat of waterproof paint or a natural wood stain to match your bathroom decor.
3. Attach rubber feet or nonslip pads to the bottom of the drawer to prevent sliding.
4. Use acrylic or glass dividers to separate sections in the drawer for organizing toiletries.
This customized storage solution can accommodate everything from makeup brushes to soap bars, bringing a touch of personal style to your bathroom without compromising functionality.
Over-the-toilet Ladder Tray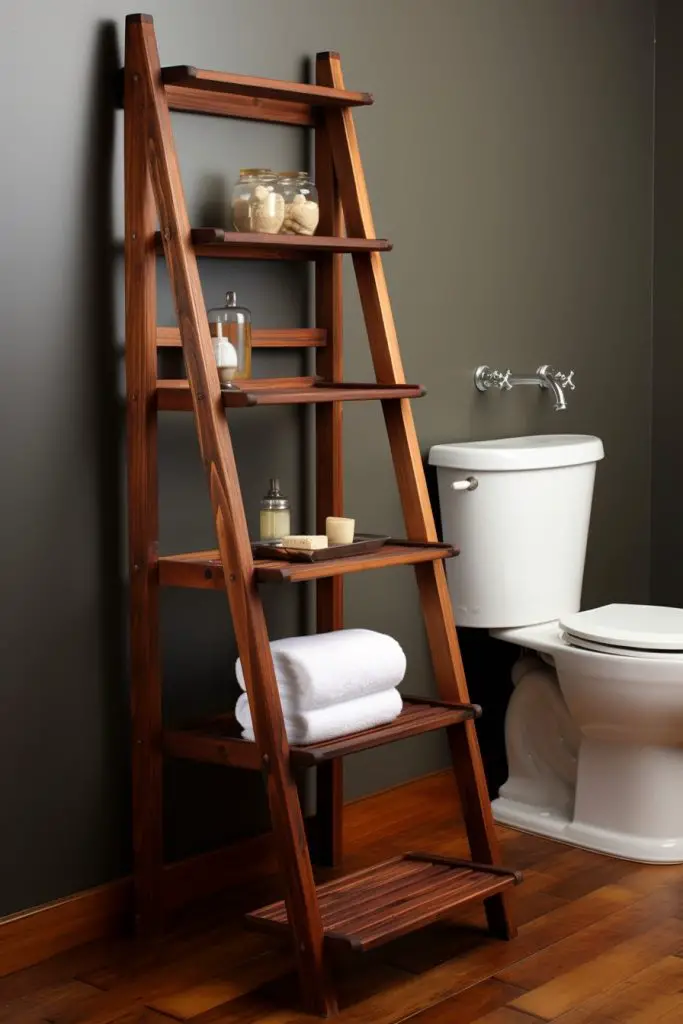 Creating extra storage and presenting decorative elements has never been easier:
Made of durable materials like teak or bamboo that withstand moisture.
Multifunctional; utilize shelves for toiletries, decorative elements, or combination.
Size-adjustable designs available to fit various toilet widths.
Assembly is typically tool-free and takes less than 10 minutes.
Encourages vertical storage, maximizing space.
Freestanding design avoids wall damage.
Available in diverse aesthetics ranging from rustic to modern.
Some models come with shelf guards to prevent items from falling off.
Suitable for renters with limited modification permission.
Increases bathroom organization and efficiency.
Wall Mounted Magnetic Strip Tray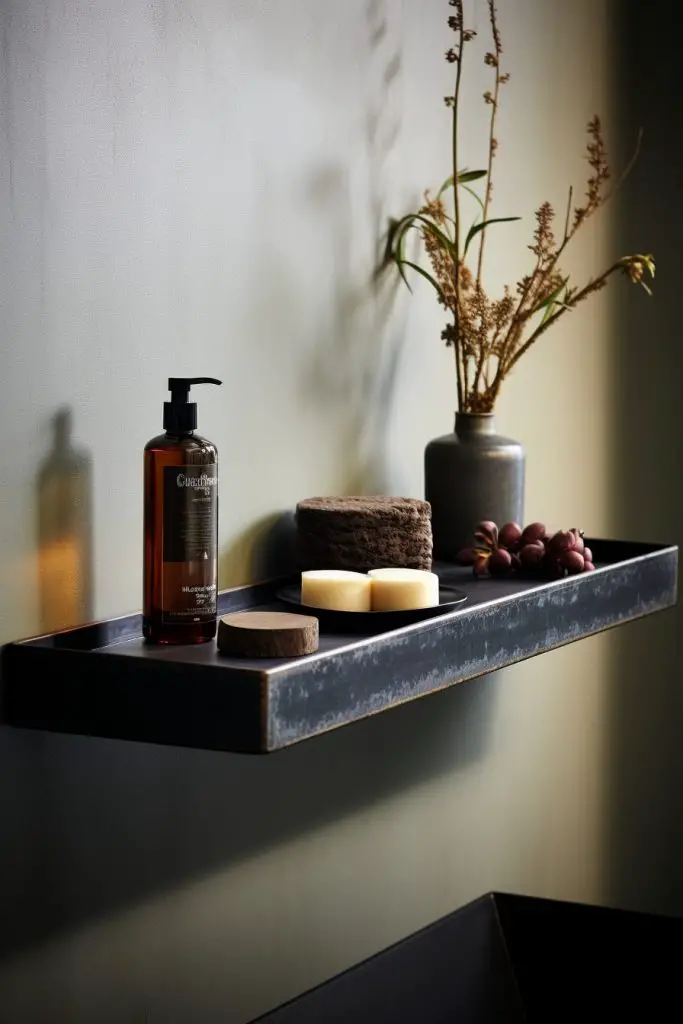 The beauty of the wall mounted magnetic strip lies in its convenience and modern appeal. It requires minimal space, is easy to install, and can hold a range of metallic items.
Frees up countertop space.
Easy access to frequently used tools like tweezers, nail clippers.
Clean, contemporary look.
Ideal for smaller bathrooms with limited storage.
Easy to install with basic DIY skills.
Customizable strip lengths cater for different wall sizes.
Potential for creative arrangement of items.
Strong magnetic hold prevents items from falling.
This ingenious solution brings an element of innovation to bathroom organization, blending functionality with trends.
Continue reading: