Last updated on November 20, 2023
Transform your bathroom into a relaxing coastal oasis, because everyone deserves an everyday escape to the beachside tranquility.
I'm thrilled to share this article about 20 Beach Themed Bathroom Ideas, all uniquely designed by myself, and hope you find them as inspiring and enjoyable to explore as I did creating them.
Dive into the calming ambiance of a beach-themed bathroom, a perfect escape from the daily hustle and bustle. This article will guide you through a collection of innovative ideas to transform your bathroom into a coastal haven.
From color schemes to accessories, we'll explore all aspects to create a beach-inspired sanctuary. Whether it's seashell-shaped soap dispensers, oceanic wall art, or sandy-toned tiles, each detail will be covered to help you achieve a bathroom that exudes a serene, seaside vibe.
Let's embark on this journey to design a bathroom that mirrors the tranquility of a beach vacation.
Seashell Soap Dispenser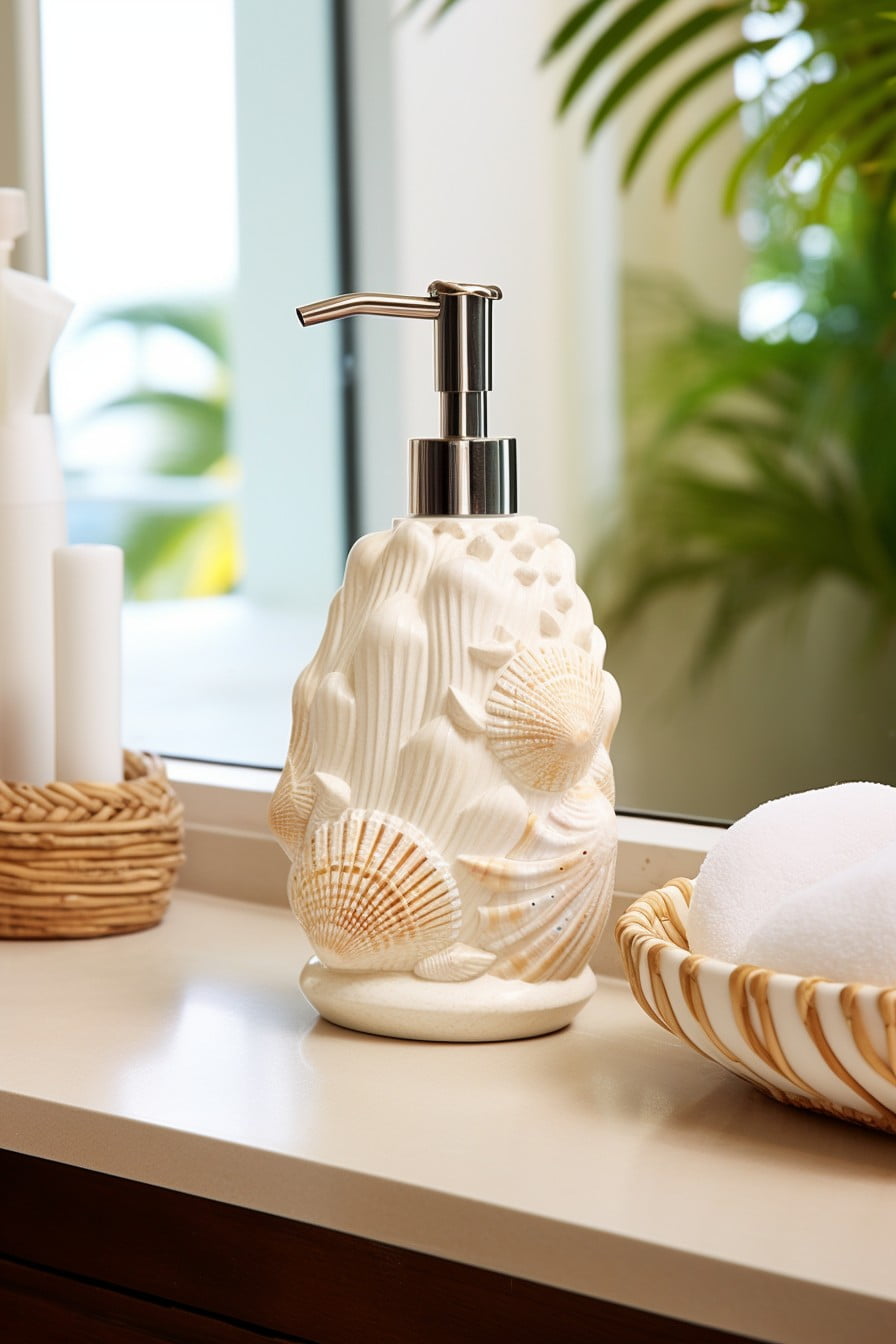 Incorporating this piece into your bathroom can set the tone for an overall beach theme. When choosing your soap dispenser, look for one with realistic shell detailing. This not only enhances the overall aesthetic but also adds a touch of nature to your space.
Opt for a dispenser in a neutral color palette to complement other elements in the room. You can also pick a shell-designed soap dispenser that features a bit of color, such as light blue or seafoam green, for a refreshing surprise to the neutral tones. Remember, the idea is to immerse yourself in the beach environment every time you step into the bathroom.
It's all about the details, and a seashell soap dispenser is a great starting point.
Driftwood Mirror Frame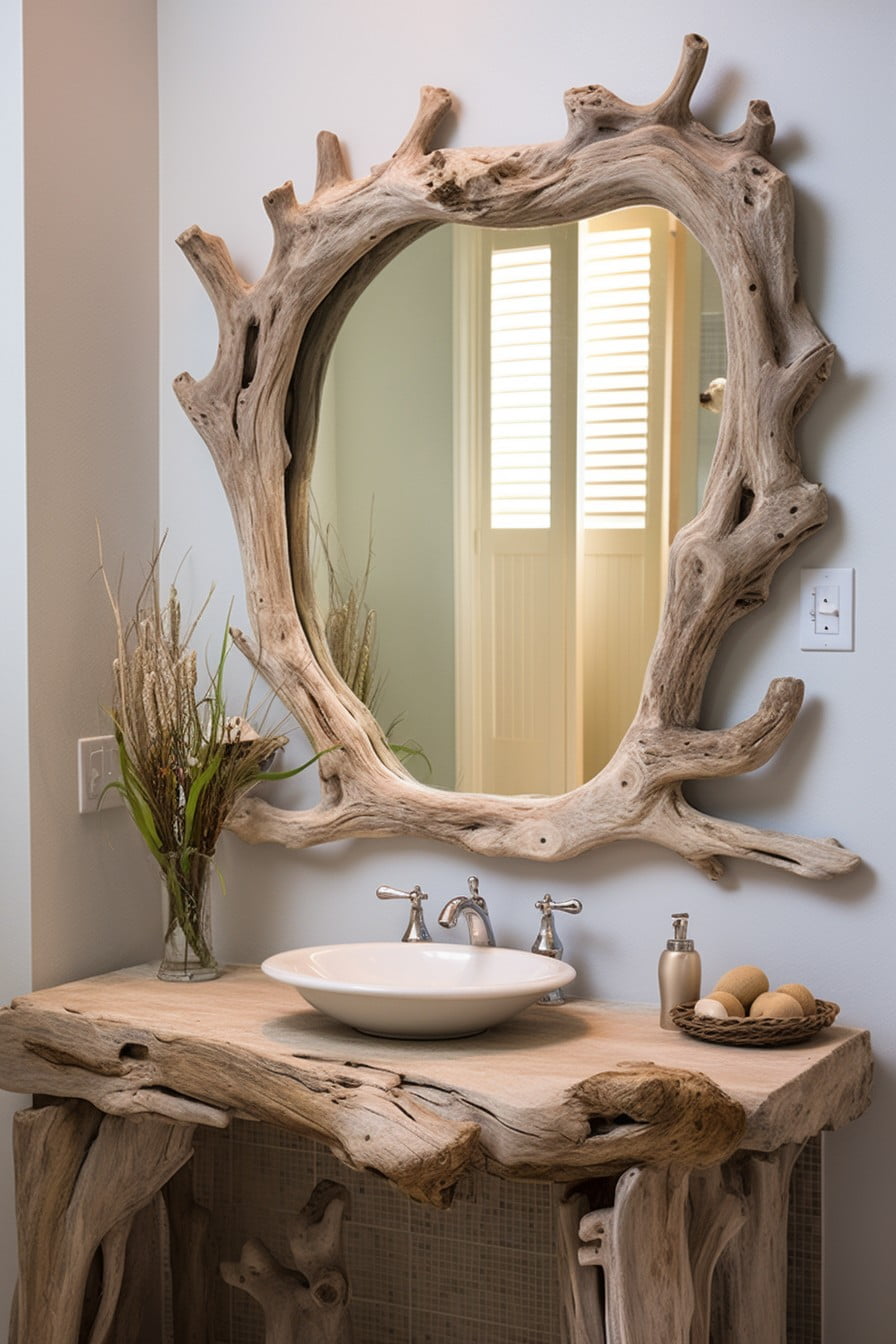 Floating effortlessly between rustic charm and coastal elegance, a frame made from reclaimed driftwood can immediately elevate the aesthetics of your bathroom mirror.
As a practical DIY project, start by selecting well-seasoned pieces, ideally worn smooth by waves and sun.
Lay out the driftwood around the mirror in a pattern of your choosing before securing with adhesive.
For a touch more seaside character, intertwine pieces of seashell or sea glass into your frame design.
Nautical Stripe Shower Curtain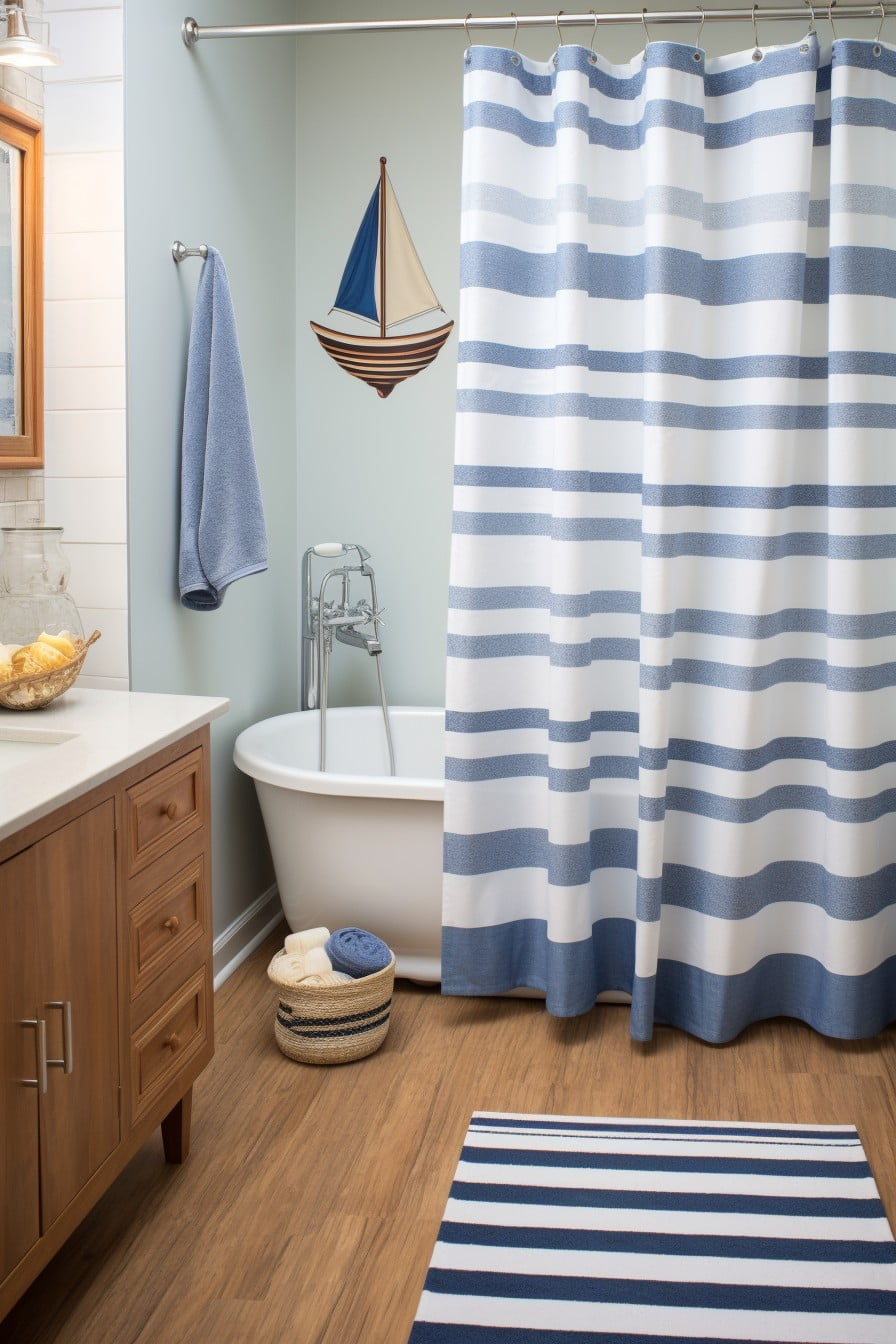 A perfectly selected shower curtain can elevate your decor to new levels. Take your pick from broad stripes or thinner lines; stick to classic marine blue and white, or surprise with reds and oranges for that sunset-on-the-horizon feel.
Remember, when selecting your curtain, consider its transparency and how it will impact the overall light in your bathroom.
The best part is flexibility. Unlike tiles or paint, changing your shower curtain is fuss-free. If you decide to shift away from the nautical theme, it's easy to replace. This is also a budget-friendly addition that doesn't require major renovations or commitments.
For an added touch, consider matching striped towels or bath mats. The cohesiveness will subtly amplify the beach vibe.
Finally, there's functionality to consider. Opt for mold-resistant and easily washable materials to ensure long durability besides aesthetic appeal. Breathe new life into your bathroom with this marine-inspired decision.
Sand-colored Bath Mats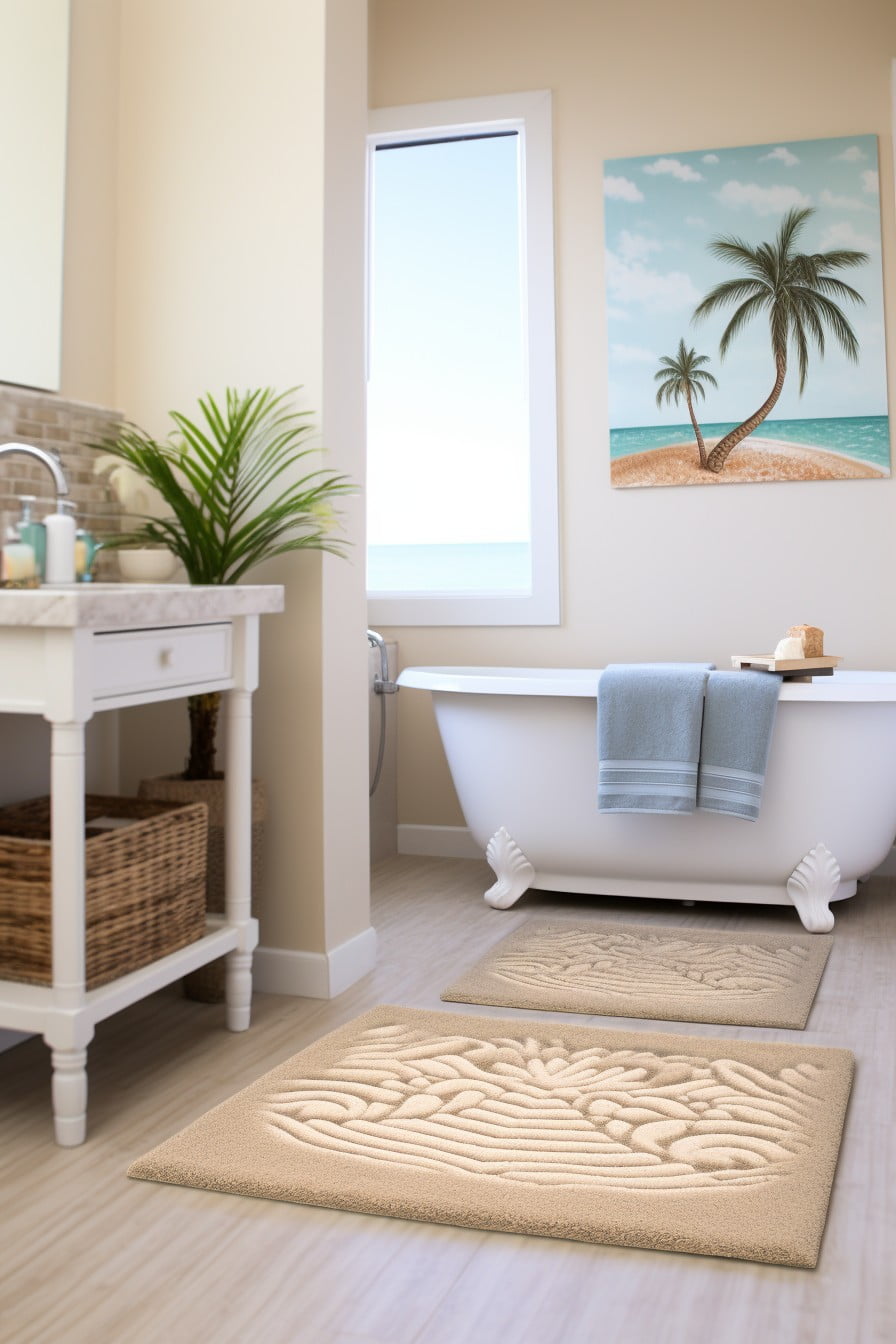 Opting for sandy hues underfoot not only heightens the beach aesthetic but also hides any dirt tracked in.
Consider adding bath mats with wave patterns for more visual appeal.
Seek out mats with soft textures, emulating the sensation of stepping onto a warm, serene beach.
For a touch of luxury, heated mats are also available, ensuring a cozy feel.
Aim to bring an overall calm, beach-side element to your bathroom decor.
Integrating sustainable materials like bamboo or organic cotton can result into hearing the ocean whispers, even in your home.
Beachy Scented Candles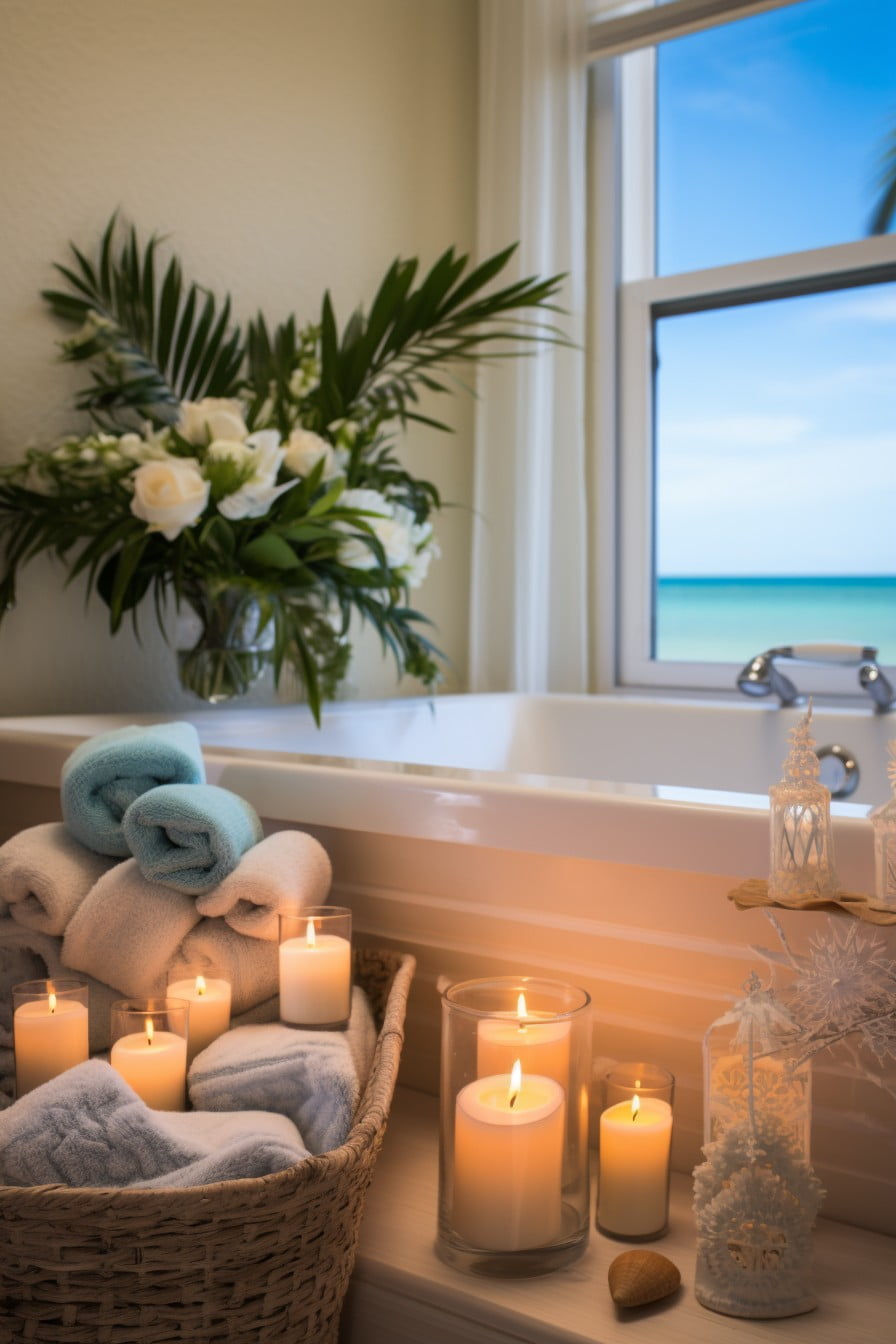 Unleashing delightful aromas can truly transport you to the sun-dappled shore. Select scents which evoke memories of salty sea air, coconut-infused sunscreen, or the tang of fresh citrus.
Spray-type room fragrances can also add to the overall beach feel. Yet, consider the elegance and ambiance of a flickering candle, enhancing the aesthetic along with the scent. With options ranging from ocean breeze, seaside escape, to tropical fruit mix, the choice is yours.
But always ensure the scent complements the overall design and doesn't overpower the space. Remember, a light fragrance can help maintain the freshness of your beach-themed bathroom, mimicking a gentle sea breeze. It's all about balance.
Incorporate these candles on your vanity or tub corners — they are practical, attractive, and boost the relaxing beach vibes.
Ship Wheel Wall Art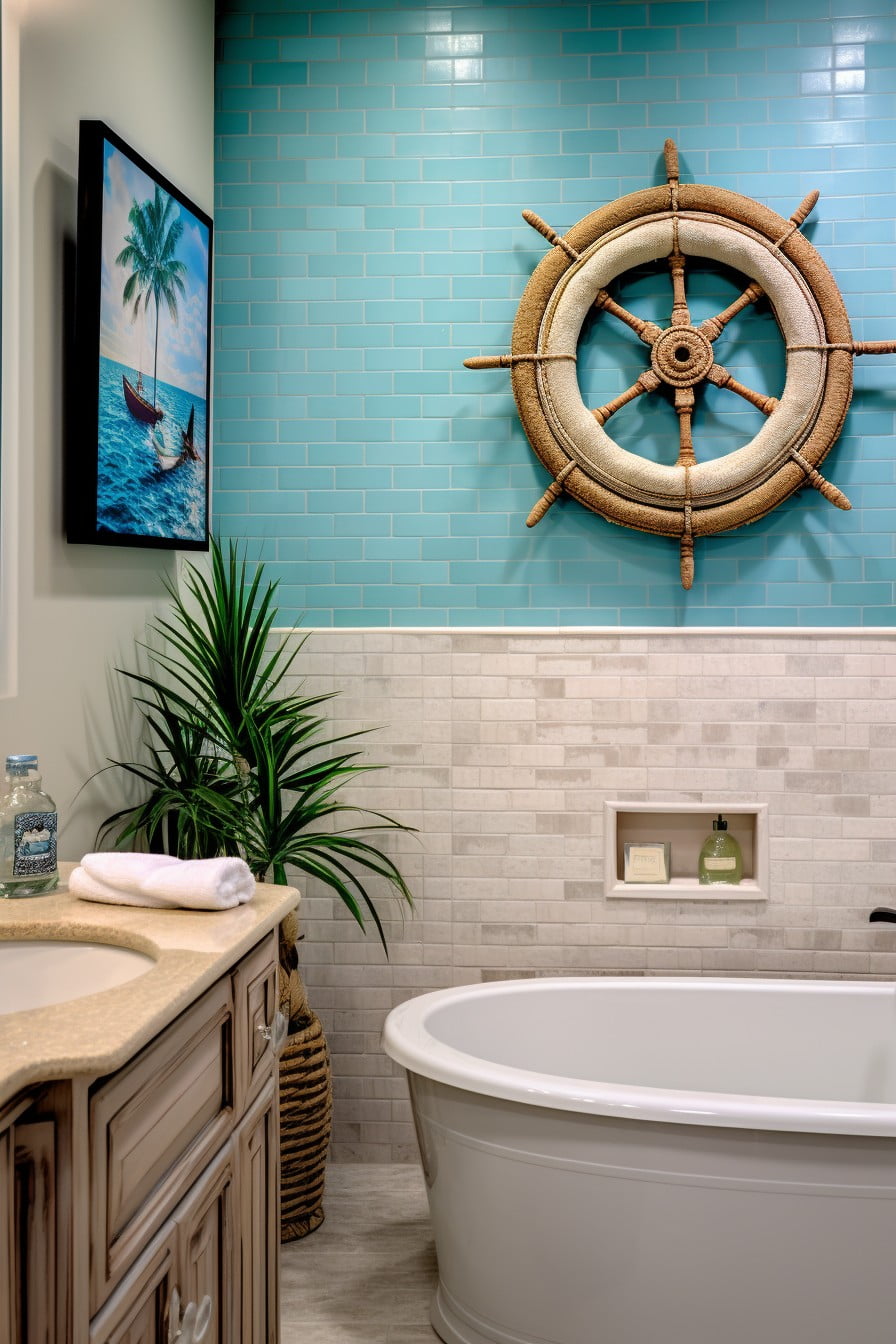 Crafted from wood with an antique or rustic finish, this decor piece brings an instant maritime charm. It's ideal for placement above the sink or next to a bathroom window.
You can also add nautical charms like nets or miniature lighthouses around the ship wheel for a more comprehensive seafaring look.
To avoid overcrowding, keep other wall art in the room minimized so the focus remains on the ship wheel.
This creative touch effortlessly echoes the tranquility and adventure of the sea, right in the comfort of your bathroom.
Coral-shaped Towel Hooks
Adding these unique pieces immediately enhances the bathroom with a touch of the ocean. Beyond aesthetic appeal, they provide a functional purpose. Made in various materials from ceramic to metal, their durability and versatility cannot be overstated.
The design options are diverse with a choice from cartoonish to life-like implications. Whether a vibrant coral hue or subtle earthy tone, they can match any color scheme, pulling the whole room together.
Additionally, their installation is straightforward, making it a simple upgrade. They have the power to transform mundane tasks into visual seaside relaxation. Have you considered the shape and how it can cleverly disguise the hooks while keeping towels in place? This kind of exploration in design truly reflects the theme.
Blue and White Palette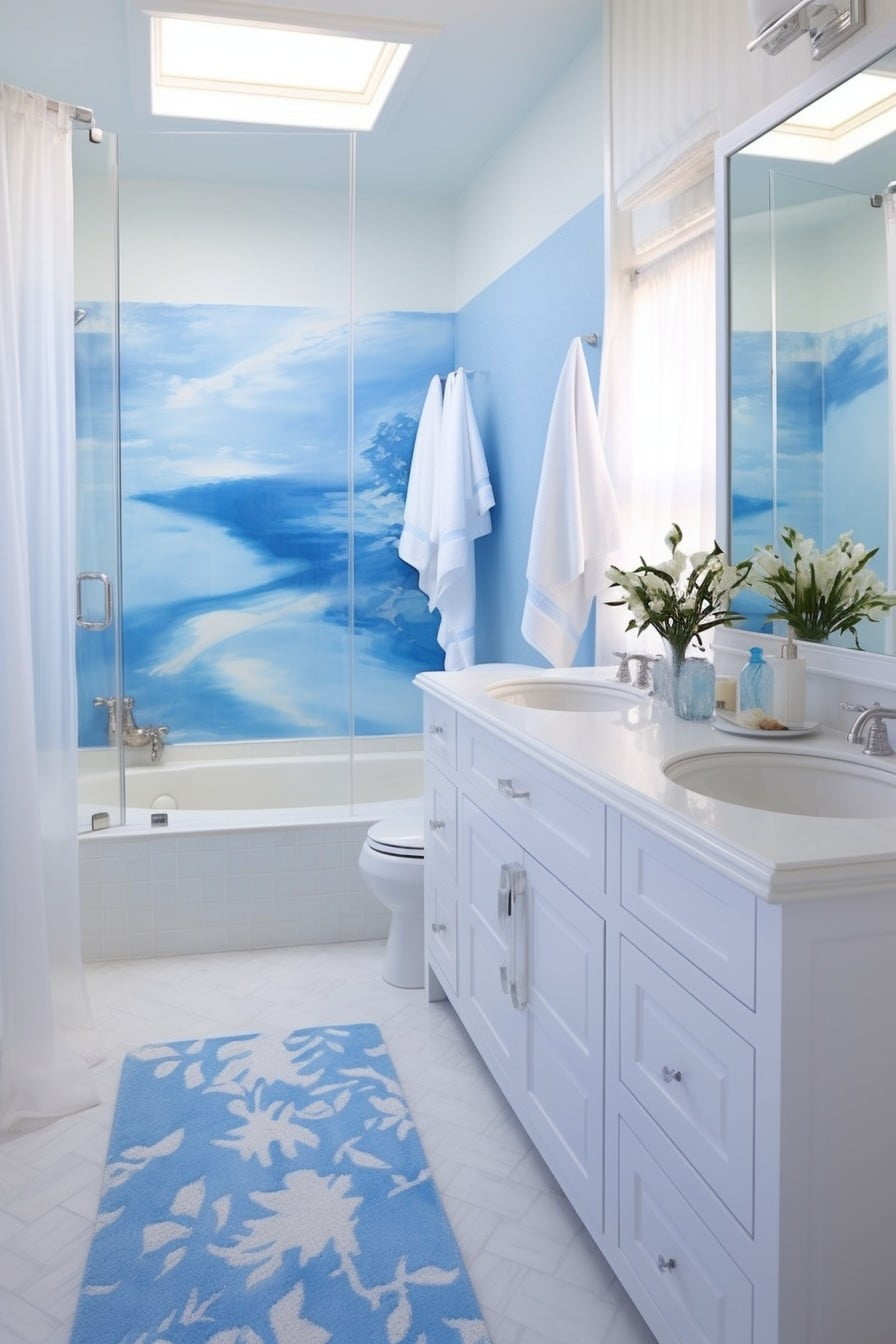 Choosing the right hues is pivotal to achieving a beach-themed look. Doing so will not only guarantee that all elements blend well, but it will also bring about a serene, calming atmosphere. In this case, a blue and white palette stands out; it is the epitome of coastal elegance.
Here are a few concepts to consider:
Lighter tones of blue are great for creating a soft, tranquil setting. They mimic the hues of sky and ocean, instilling a sense of peace and relaxation.
Darker blues, on the other hand, are excellent for adding depth and sophistication. They can be used in subtle pops, such as accent walls, framed art, or in accessories like towels and bath mats.
White serves as the perfect contrast to any shade of blue. It acts as a balance to the room's theme, replicating the look of crashing waves and fluffy clouds. It brings out the energy of blue, adds brightness, makes the space feel larger, and is always a classic, clean choice for a bathroom color.
Whether painting the walls, picking out shower curtains, or selecting towels, keeping a balance and a clear contrast between blue and white is key to conveying the beach theme convincingly.
Consider different textures to make the combination stand out even more, such as white shiplap walls paired with soft blue towels or a nautical stripe shower curtain. This can evoke a rustic, rugged, beach house-esque feel.
Remember, your goal is to capture the relaxing and refreshing essence of the beach, where the white sandy beaches meet the beautiful blue sea.
Fish Scale Tiles
For a touch of whimsy and a nod to mythical mermaids, consider incorporating this design element into your bathroom. Choose soft ocean blues, seafoam greens, or even iridescent hues for a touch of sparkle, capturing the underwater charm right in your home.
These tiles are not only aesthetically pleasing but also durable, making them perfect for areas exposed to water. They can be used on the walls for a standout feature or on the floor to mimic the look of a sandy beach underfoot.
To harness the full beach vibe, stick with a matte finish that will subtly reflect natural light, similar to how real fish scales would in their aquatic environment.
Ocean Wave Shower Curtain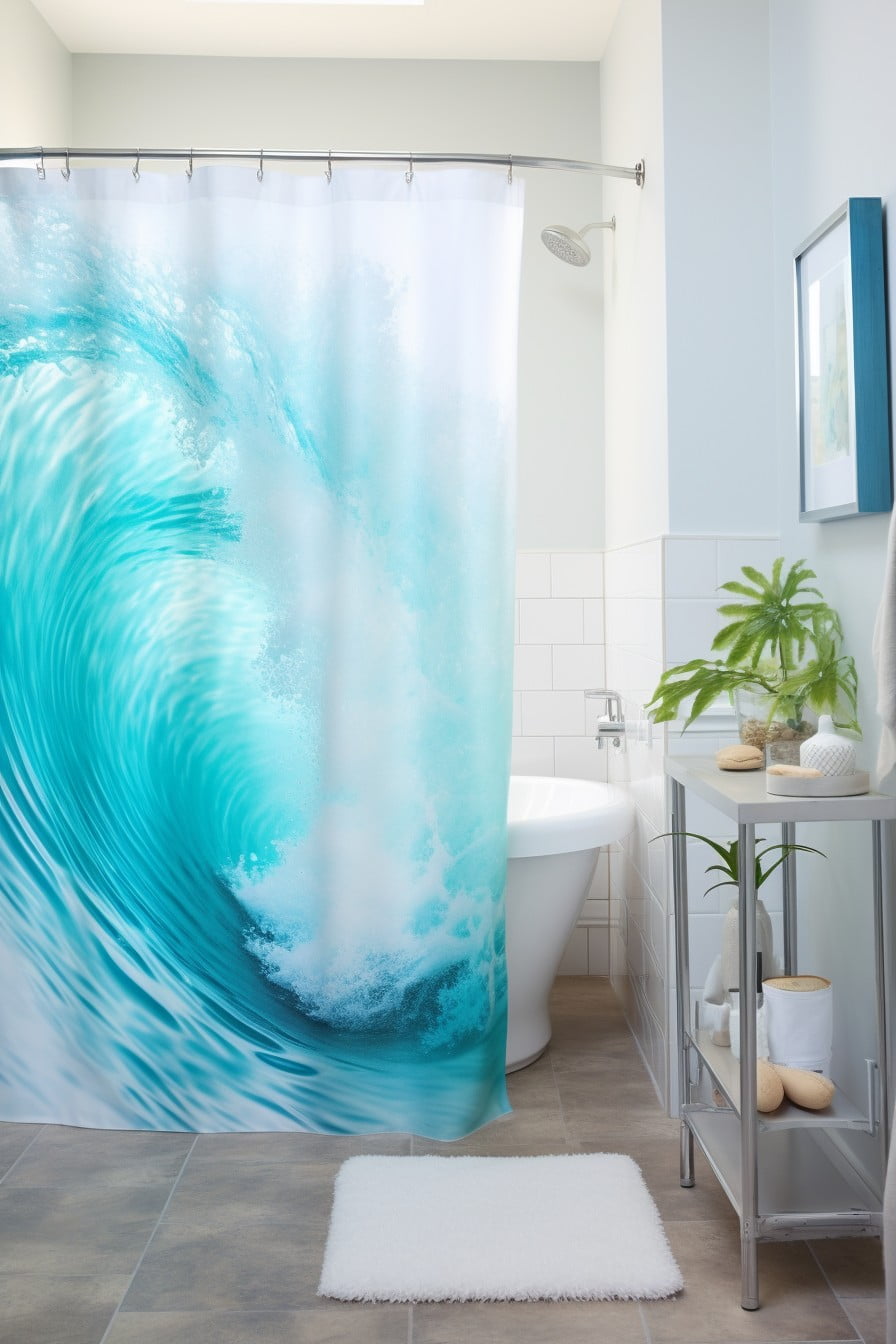 With its clean and rhythmic design, this item is a wonderful way to bring the majesty of the sea right into the bathroom. When picking the right one, consider the different types of wave patterns, their color, and size.
From gentle swell patterns in calming blues and greys to dramatic crashing wave designs in vibrant hues, each style exudes a unique ambience. The curtain's fabric quality is equally important. A water-resistant, easy-to-clean material like polyester is ideal.
Matching hooks with decorative nautical motifs can further amplify the beachy theme. Plus, the versatility allows it to pair well with various bathroom decors, from minimalist to rustic. And the best part? Changing a shower curtain is a breeze, making it a fantastic low-commitment, high-impact decor choice.
Seaside Wall Stickers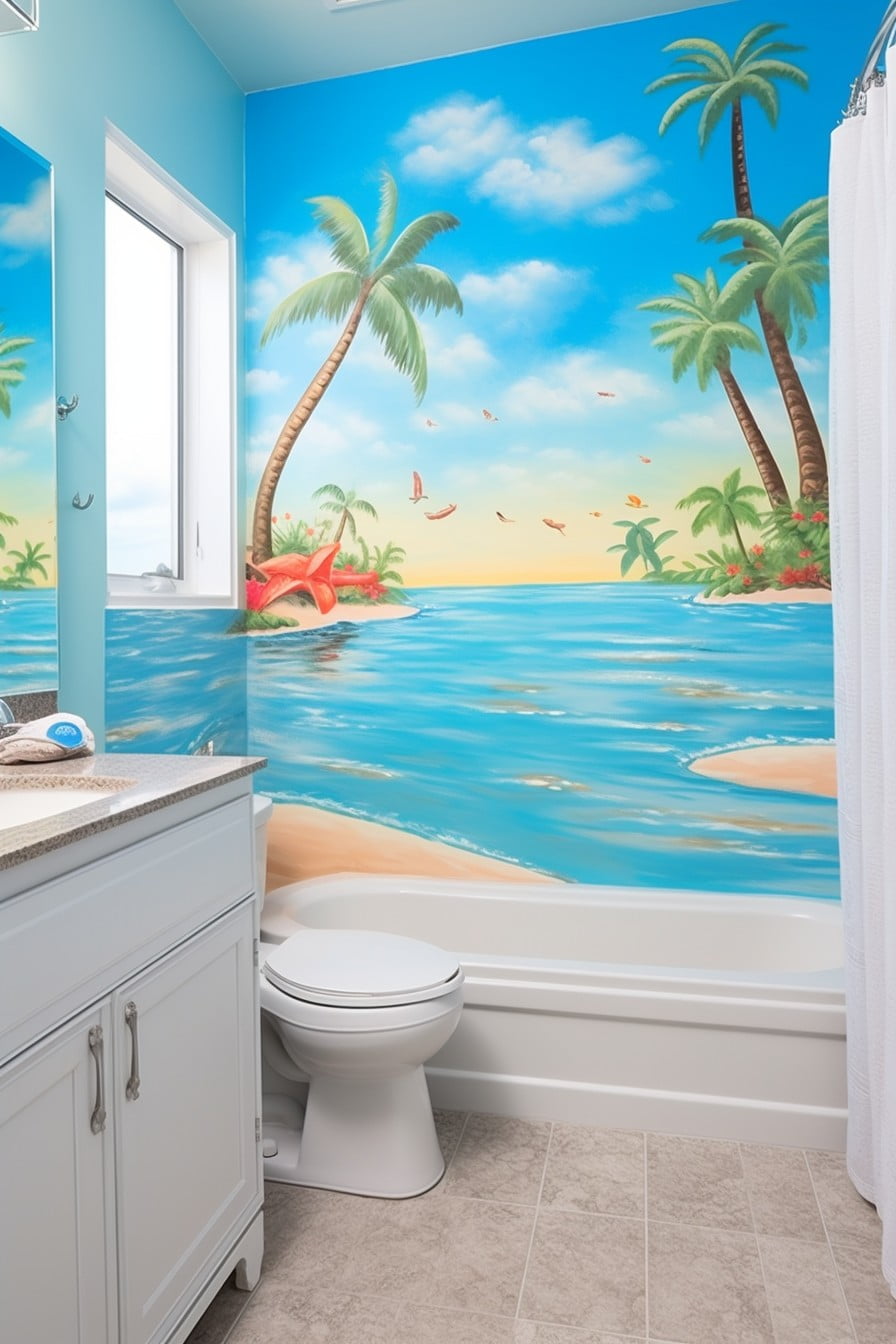 For a quick and easy transformation, wall stickers offer versatility with minimal effort. Opt for designs that capture the serenity of the seaside, showcasing palm trees, seagulls, or beach chairs.
Position them behind your sink or around your mirror for a fun visual element that's as temporary as a tide washing ashore. High-quality adhesive designs can recreate the fairy tale of the vast ocean right on your bathroom walls.
Keep in mind, less is often more – overdoing it may overshadow the simplicity that beach decor demands. For maximum impact, strategize the placement based on the natural movement of the eye in your bathroom.
Stick to a complimentary color palette to the rest of your decor to generate a harmonious aesthetic. With such a wide variety of decals available, a charming maritime escape is moment's work away.
Beach Glass Bath Accessories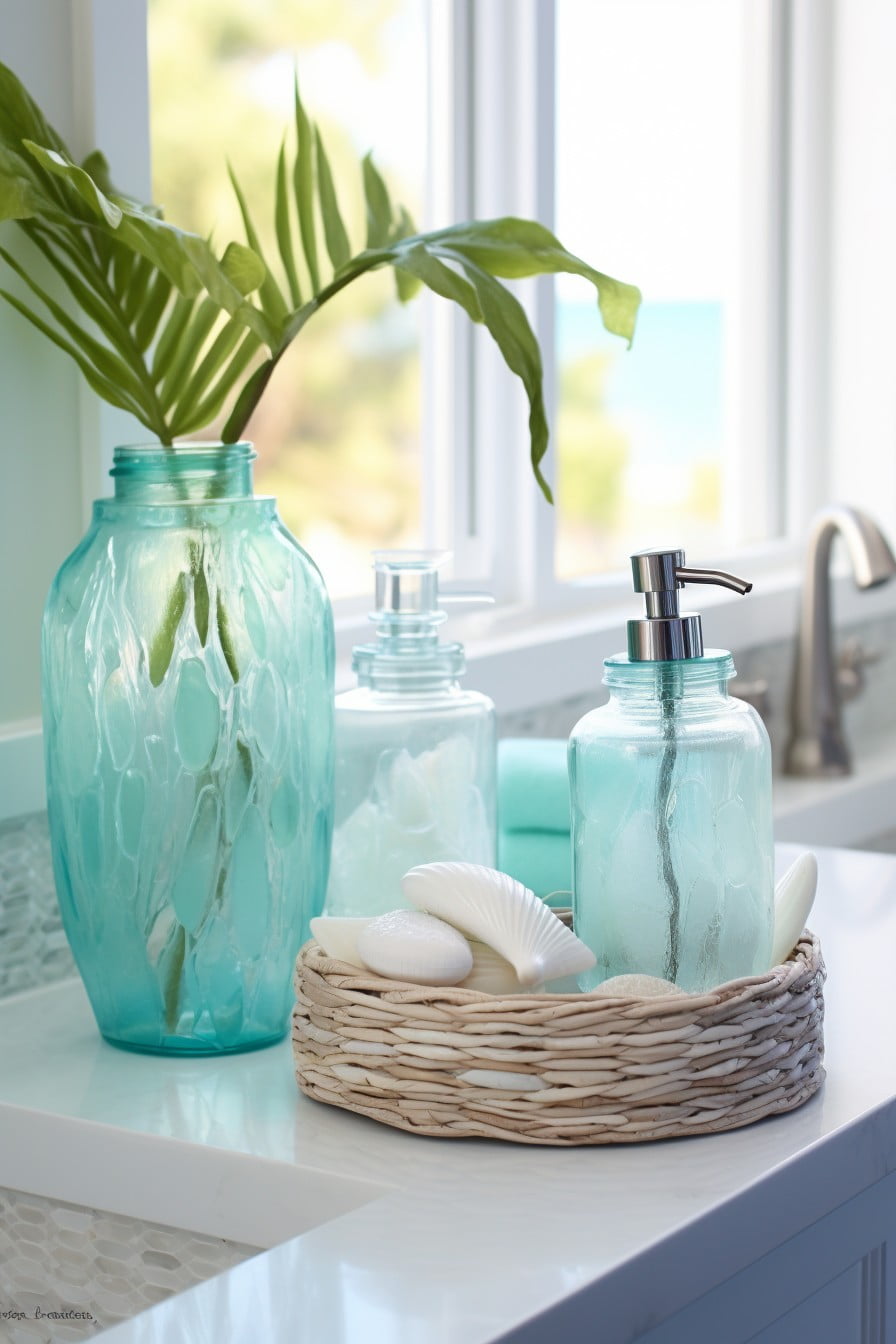 Relaying the gentle hues of sun-lit shores, these accessories add a touch of calm elegance. Imagine lustrous tumblers, soap dispensers, or toothbrush holders, with colors reminiscent of sea glass tumbled smooth by waves.
They complement a neutral-hued bathroom and also pop beautifully against darker shades, mirroring the vibrant green, blue, and white tones found along the coast.
For cohesion, consider a set of matching pieces. Mix and match different shades of the same color or go for a multi-color set. One can find these charming pieces in various designs to suit their taste.
An added advantage is the easy cleanup; wipedown with a damp cloth is usually enough. Opt for those with rubber padding to prevent slipping off wet counters.
Such accessories can instantly lift the ambiance, adding an air of serene beachside charm.
Anchors-themed Soap Dish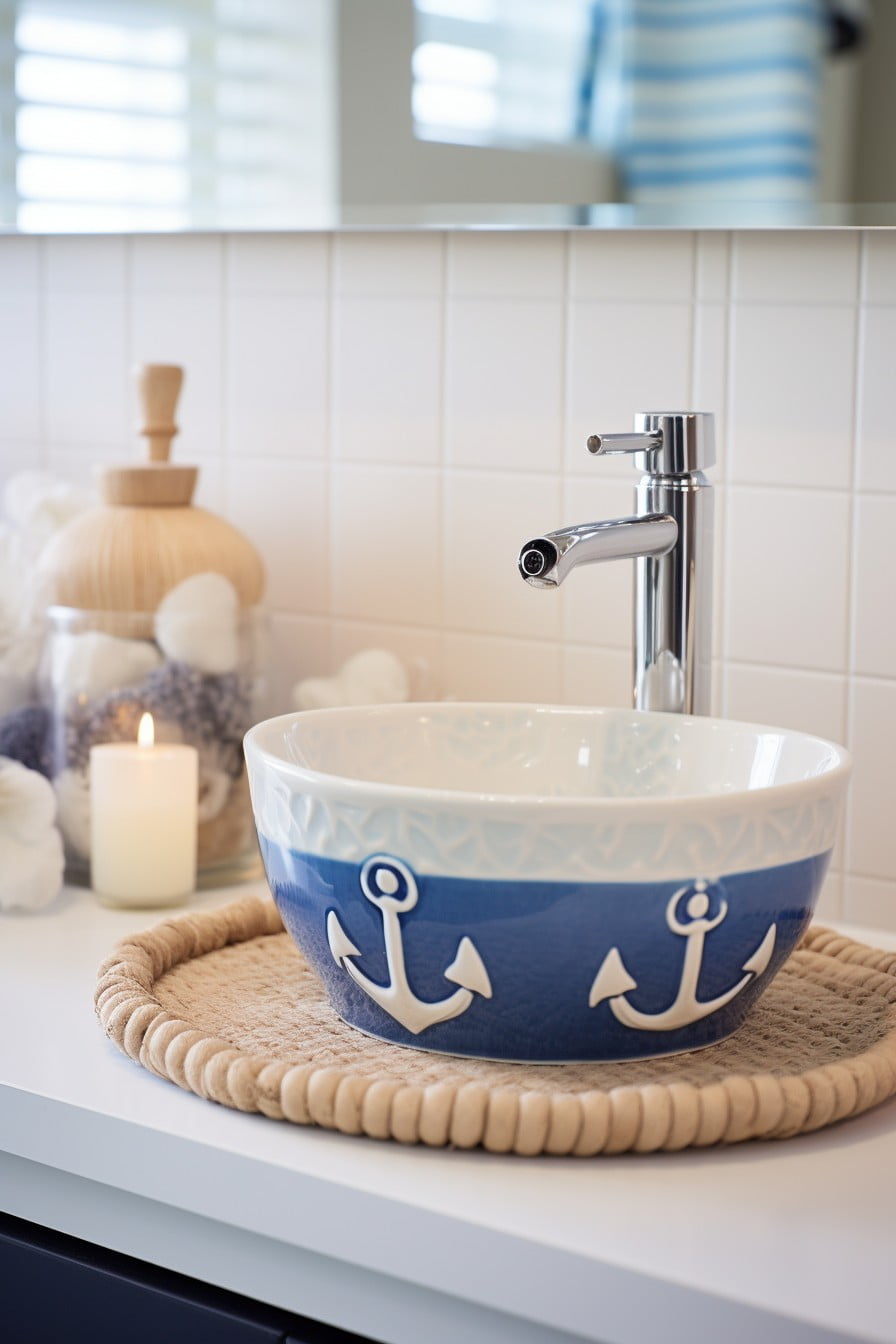 The charm of an anchors-themed soap dish lies in its ability to infuse a subtle touch of maritime flair into your bathroom décor.
Opting for a piece cast in a rustic bronze or a polished silver can complement other fixtures in the space.
Consider positioning it near the sink for practical use and constant visibility.
Be sure to select a durable material, such as ceramic or cast iron, to withstand the frequent water exposure.
The anchor design can also serve as a launching point for other nautical decor items, creating a cohesive look throughout your bathroom.
Further, store-bought or DIY, it can make a great addition to any beach-themed bathroom.
Wicker Storage Baskets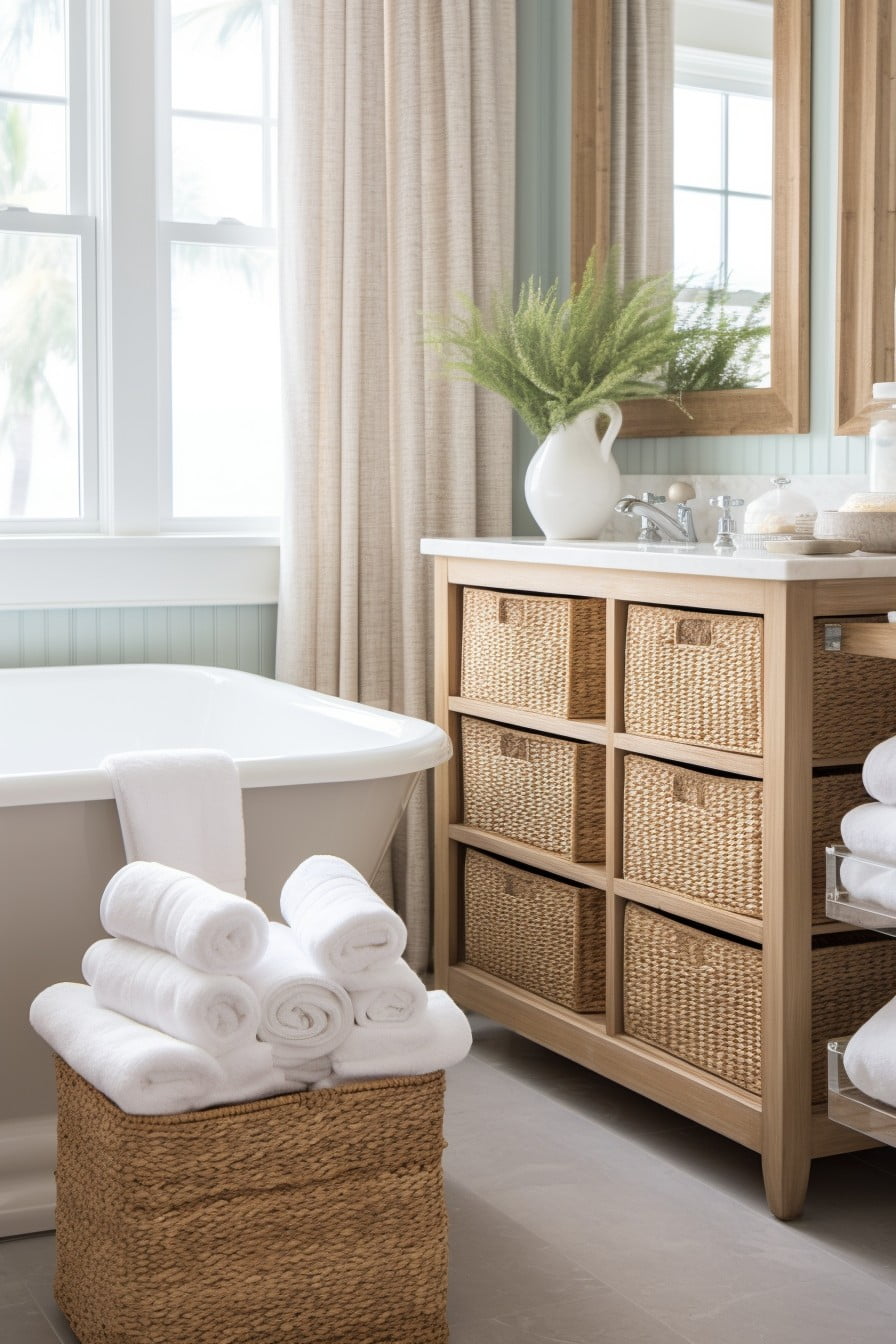 Lining your bathroom shelves with these gives the space an instant beach vibe. They not only add a subtle coastal touch but also provide a practical storage solution.
Consider filling them with spare towels, toiletries, or even toilet rolls. Remember to opt for ones with a rough texture for that authentic seaside feel.
If you're aiming for a bit more color, seek out baskets with a touch of sea blue or a soft sand hue. This way, even your storage contributes to the overall beach thumbnail of your bathroom.
Porthole Bathroom Mirror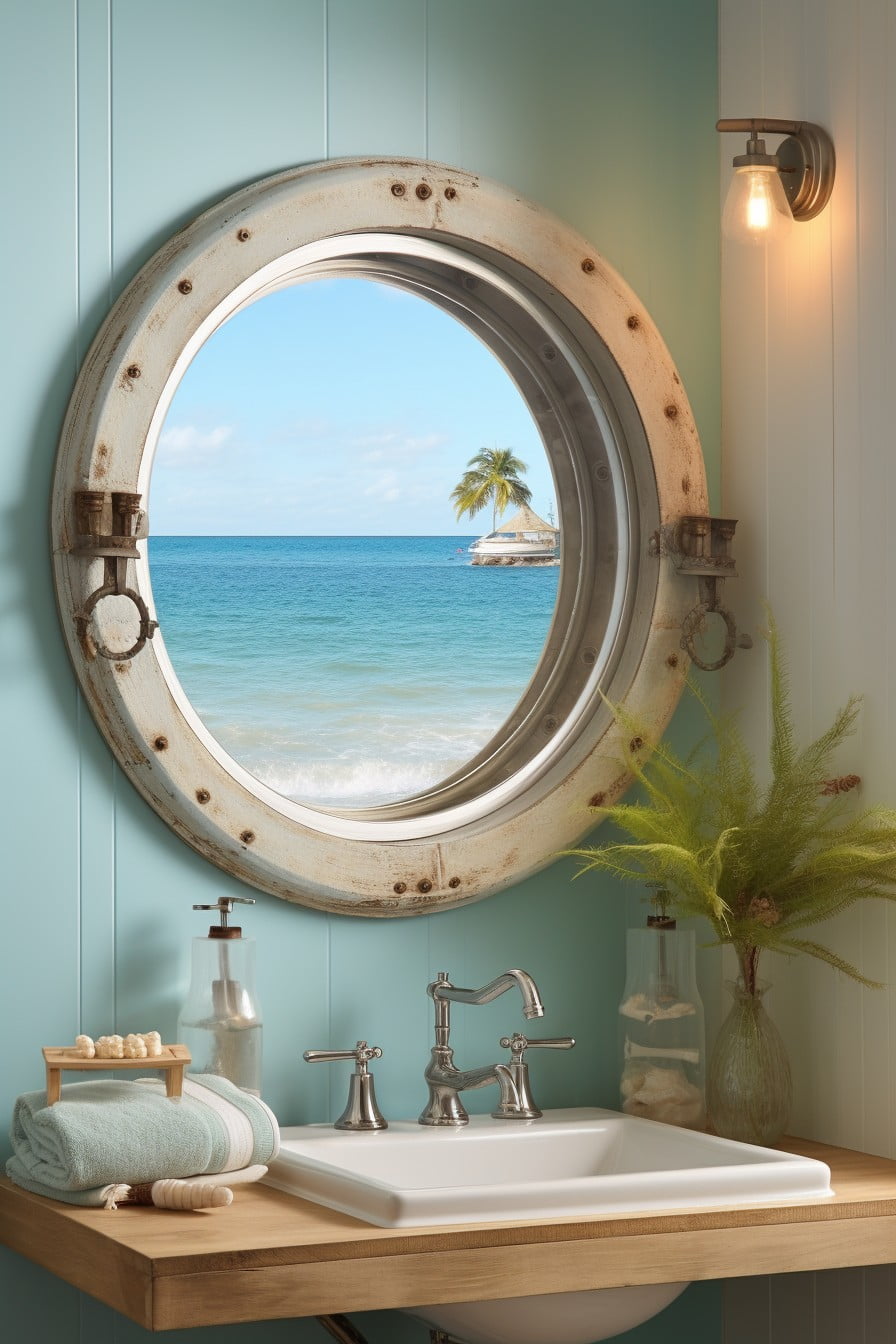 A striking feature with a hint of maritime charm, the porthole mirror instantly brings a nautical vibe to your bathroom space. Made of high-quality metal or wood, these mirrors usually feature fastenings synonymous with those found on ships, creating a stronger seafaring allure.
They can be found in a variety of sizes and finishes, allowing you to select one that suits your aesthetic. Antique brass or weathered wood adds a vintage touch; sleek chrome or painted white evoke a more modern feel.
Installing this ocean-inspired accent is uncomplicated, resembling the fixing of any traditional mirror. However, its placement significantly influences the room's look and feel. Positioning it above the sink provides practicality, while placing it opposite a window or a source of light can give your bathroom an expanded, brighter look.
For cohesive design, consider matching the frame's material or color with other elements like towel racks, faucets, or even trimmings on your bathmat or shower curtain. Proving that small details can effortlessly transform a bathroom into a stylish coastal retreat, porthole mirrors embody the essence of beach-centric design.
Starfish Toilet Paper Holder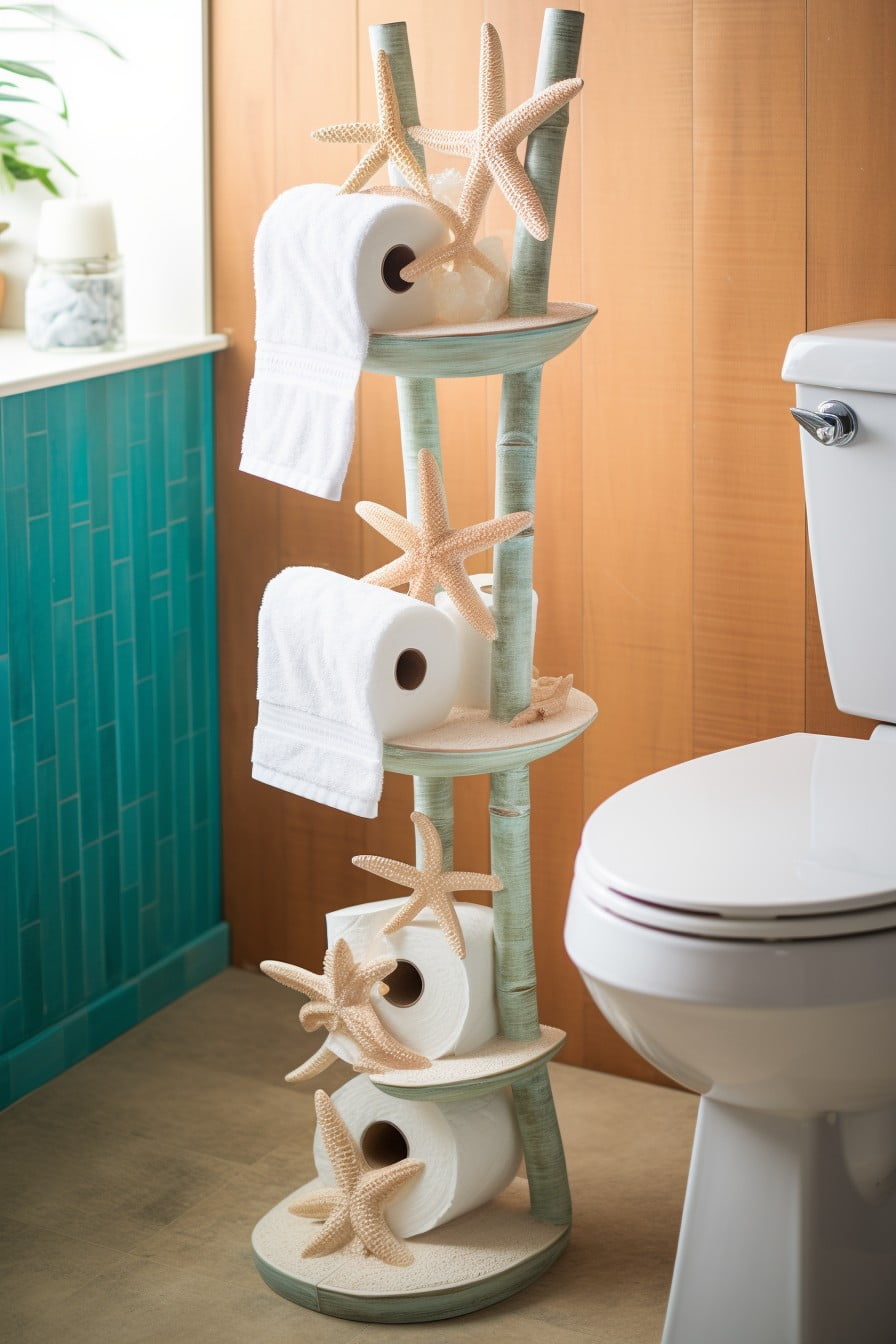 To truly capture the delightful beach vibe, embellishing smaller details can make all the difference. A toilet paper holder, seemingly mundane, can become a charming accent point with just a hint of creativity. For instance, consider using a piece that imitates a starfish clinging onto a rock – not only practical, but it adds a touch of whimsy.
To successfully incorporate this idea, consider the following:
Material: Opt for a rust-resistant metal, such as brass or stainless steel to ensure longevity and maintain bathroom hygiene.
Design: Keep it authentic-looking, but subtle enough not to overwhelm the bathroom's overall design. The starfish can either serve as the holder itself or a decorative element on the wall mount.
Installation: Think about the best location. It should be easily accessible yet not intrusive.
Matching Accessories: Pair it up with other starfish-themed elements, such as towel hooks or soap dispensers, to create cohesion.
Remember, every small detail is a chance to add character and depth to your beach-themed bathroom, so don't overlook these opportunities!
Stone Pebble Floor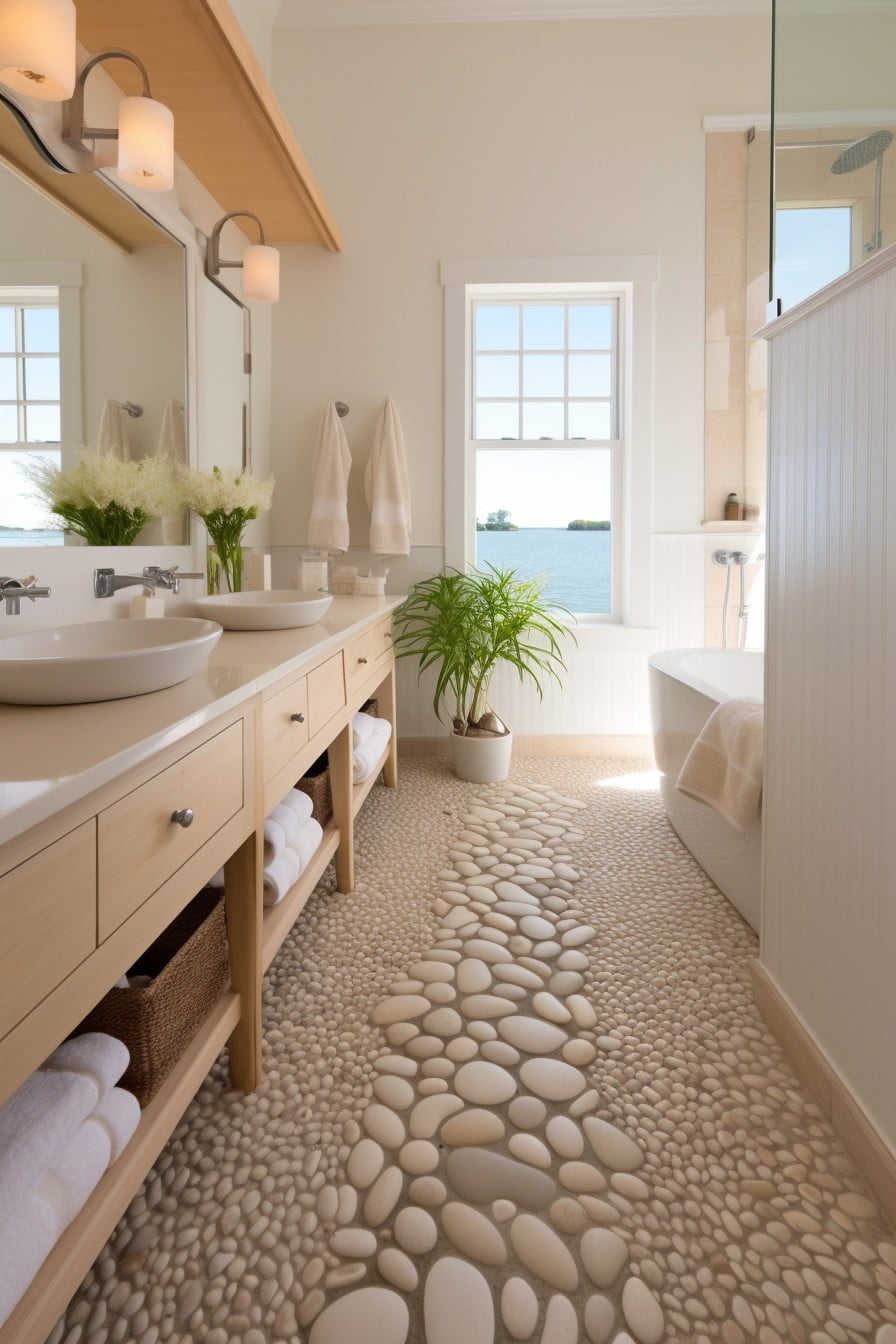 Incorporating this feature brings a riveting rugged element typical to the natural beach scene into your personal space. To make it all fun, go for smooth pebbles – they are comfortable beneath bare feet and offer a massage-like feel.
1. Choosing Flat Pebbles: Opt for flat stones–they provide more comfort underfoot. Remember, the key is to balance aesthetics and practicality.
2. Implement Drain Solutions: Pebbles require solid draining solutions. Consider using a hidden or linear shower drain to avoid waterlogged surfaces.
3. Sealer Application: To enhance longevity, apply a sealer post-installation. It keeps the pebbles vibrant, repellent to water, and easy to clean.
4. Visual Continuity: Extend the pebble floor beyond the shower space onto the bathroom floor for visual continuity, mimicking a beach scene.
5. Contrasting Grout: Use dark grout to contrast with the pebbles, making them pop, just like they would on a beach sand.
Remember, stone pebble floors bring an outdoorsy, raw feel into the bathroom, replicating the relaxing sensation of a beach stroll, right in the comfort of your own bathroom.
Sailboat Printed Towels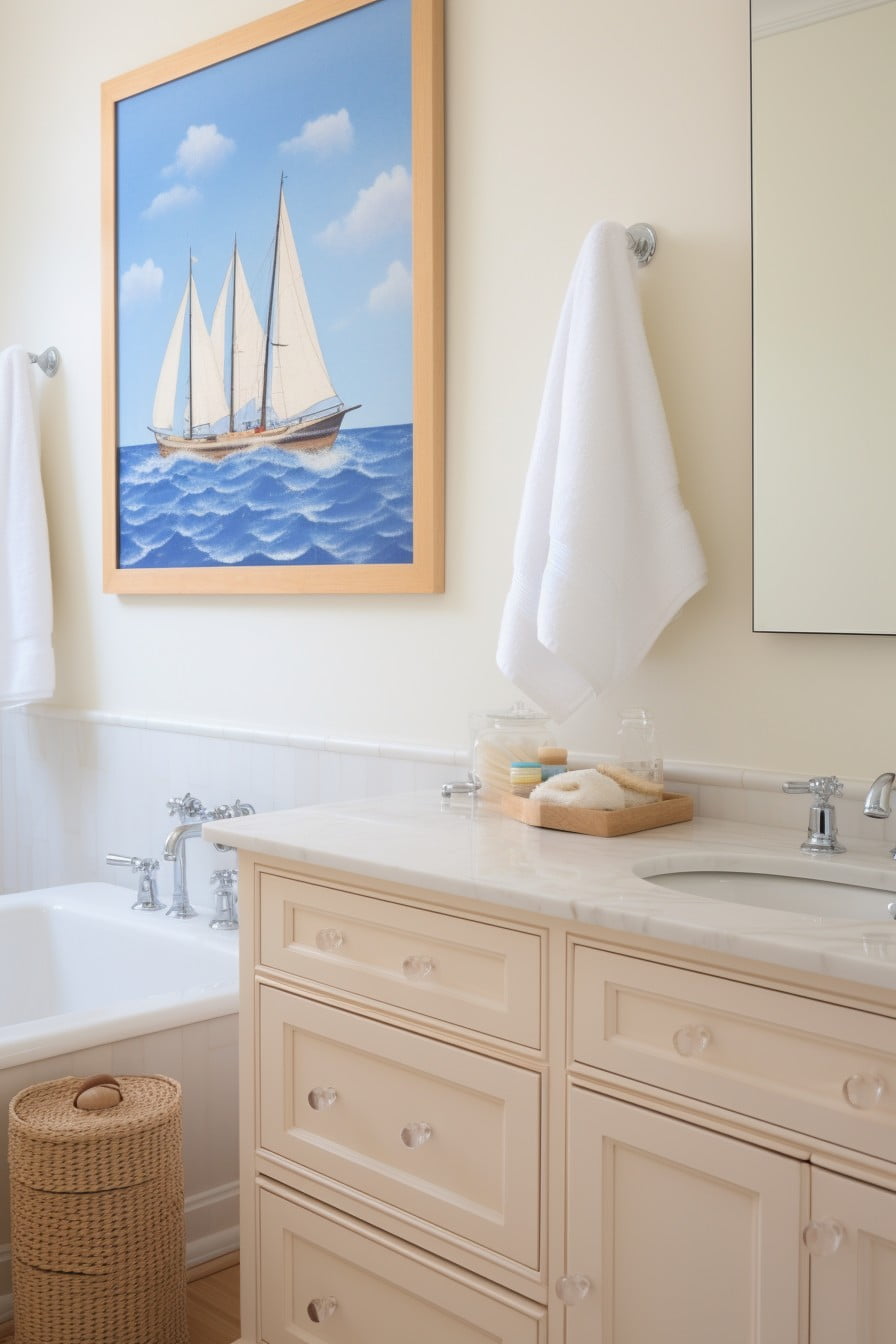 Taking cues from sailing adventures, bring a dose of maritime charm to your bathroom with towels showcasing intricate sailboat prints. Consider the primary color palette of your space when choosing these – blues, whites, and hints of red can seamlessly blend with a beach-themed decor or act as an interesting accent in minimalist bathrooms.
Additionally, mixing different sizes of towels, from hand towels to bath sheets, all featuring sailboat designs, can subtly reinforce the theme without becoming overpowering. Remember, not all prints need to be identical; play around with various boat designs to keep things interesting, yet harmonious.
Finally, consider the fabric. Opt for 100% cotton — it not only absorbs water quickly, but it also adds to the coastal mood with its pleasant, plush texture.
Seascape Wall Mural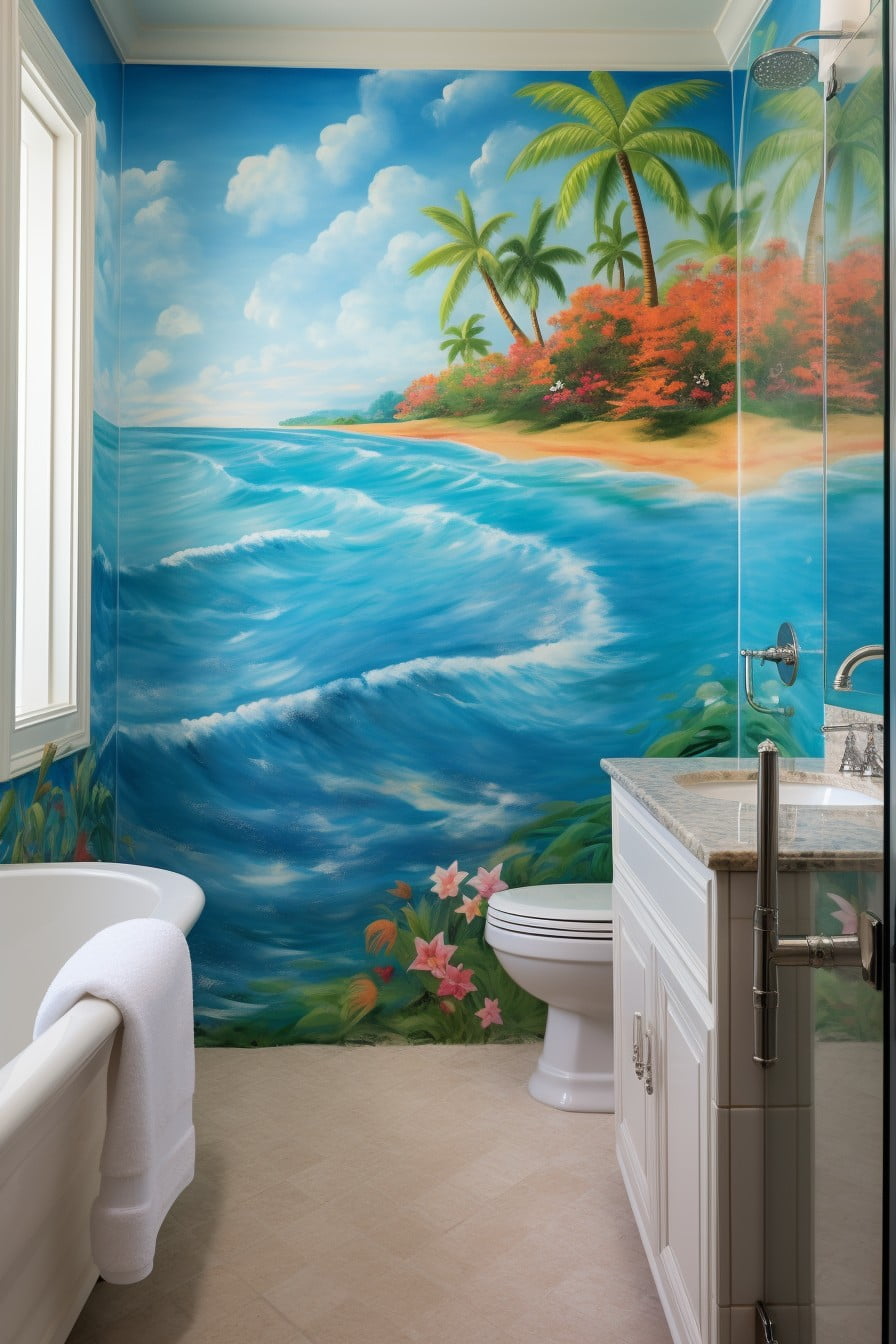 A captivating seascape wall mural can elevate the theme of a beach-themed bathroom. When chosen carefully, it evokes the serene feelings of being on a seashore and adds depth to a small bathroom.
Here are a few key considerations when incorporating a mural:
Size: Consider the proportions of the wall so the mural doesn't overwhelm the space. Smaller bathrooms may benefit from a mural on just one feature wall.
Colors: Opt for tranquil sea colors like soft blues, sandy beiges, or gentle greens to maintain a soothing atmosphere.
Theme: From a tropical beach sunset to an undersea coral paradise, choose a scene that resonates with your personal love for the sea and complements the room.
Material: Vinyl murals are durable, water-resistant and are easy to clean, an ideal choice for a bathroom setting.
Remember, the mural should harmonize with the overall beach theme and color scheme of the bathroom. An ideally chosen mural can tie the bathroom decor together and transport you to your dream beach destination.
Sea Creature Drawer Pulls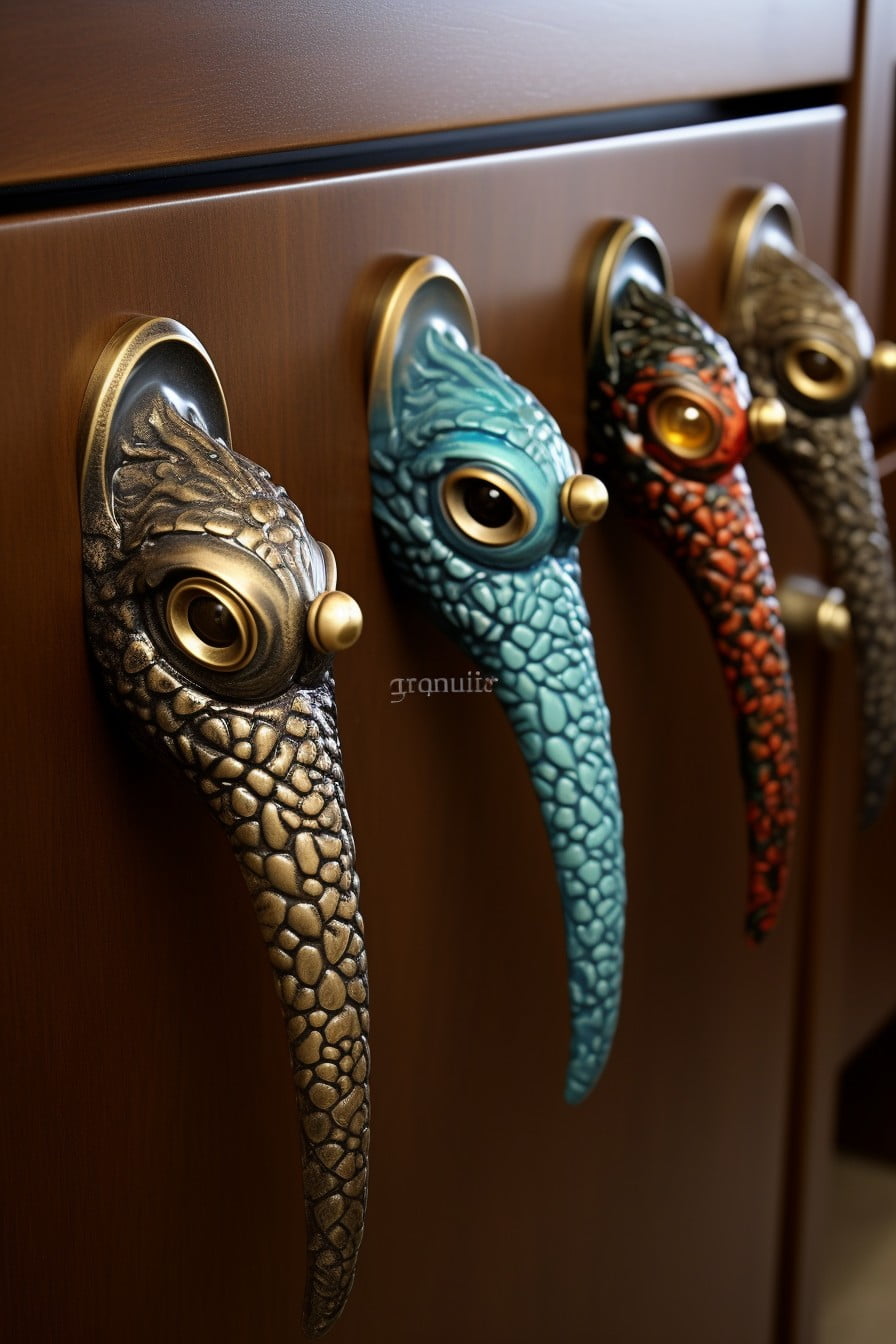 Adding small yet creative touches like sea creature drawer pulls can boost the coastal charm of your bathroom.
Made from materials such as brass, porcelain, or glass, these cute little accessories, shaped like turtles, starfish, or seahorses can become the highlight of your cabinet or vanity.
Not only do they serve a practical purpose, but they also add a whimsical feel, engaging both kids and adults alike.
You can find them in various colors from vintage brass to more vibrant hues.
Each offers a unique personality to brighten your space.
Continue reading:
Recap