Last updated on October 30, 2023
Burnt orange, a cozy and vibrant color, is becoming a popular choice for bathrooms because it infuses both energy and warmth to your morning and evening routines.
I am thrilled to share this article and unique burnt orange bathroom remodeling ideas, all creatively designed by me, in the hope that you will find them as inspiring and enjoyable as I found creating them.
Dive into the warm, inviting tones of burnt orange to transform your bathroom into a chic and cozy retreat.
This article provides a plethora of ideas, from wall colors to accessories, to give your bathroom a stylish and vibrant makeover.
With burnt orange, you can create a modern, rustic, or even vintage aesthetic, depending on your preference.
Keep reading to uncover all the details on how to perfectly incorporate this rich, earthy color into your bathroom decor.
Burnt Orange Shower Curtains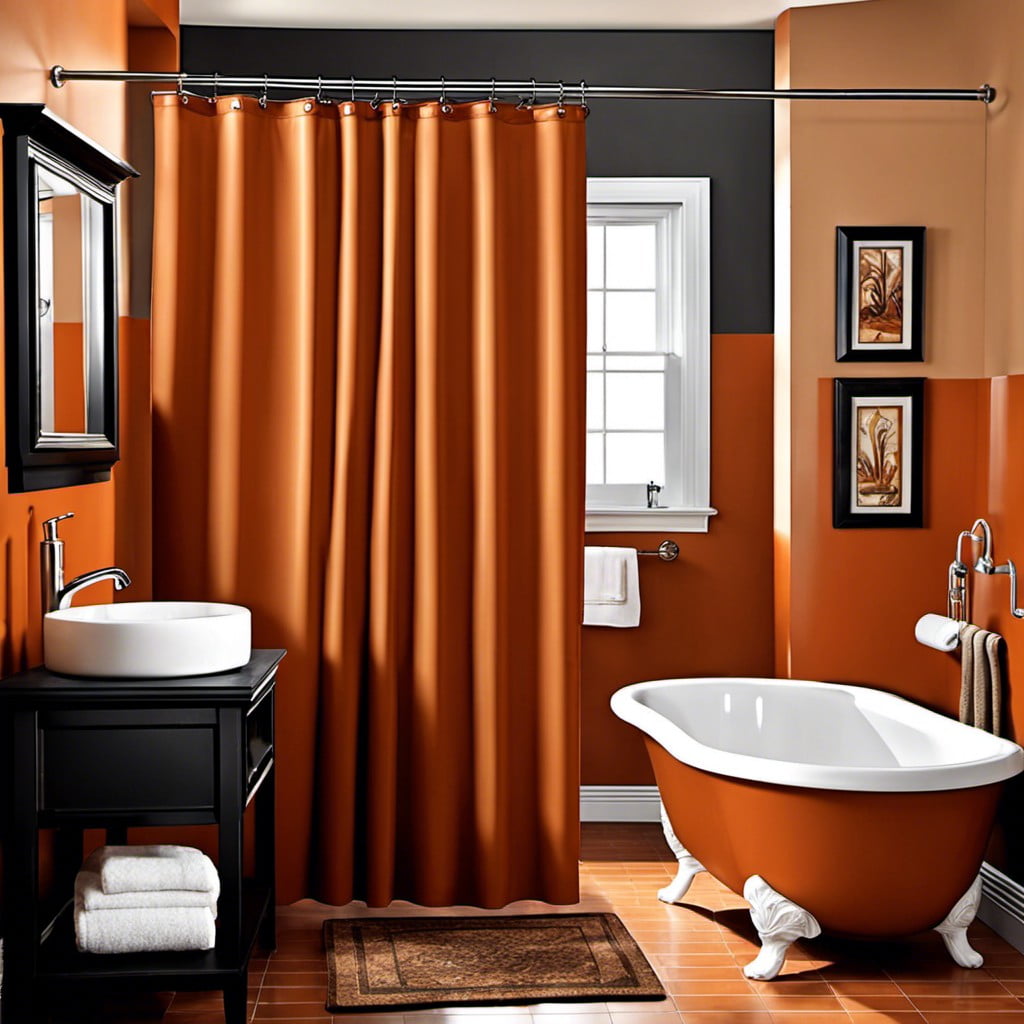 A quick, captivating way to inject that striking burnt orange tone into your bathroom is with a shower curtain. They are economical, easy to install, and instantly add a pop of color.
Choose a solid curtain for a bold, monochrome look or opt for a patterned curtain for added depth and dimension. Floral, geometric, or abstract prints complement the burnt orange color beautifully.
Remember, a plastic liner will protect your curtain from getting wet and ensure its longevity. Additionally, the curtain's hooks or hangers offer an opportunity to incorporate copper or bronze finishes to tie in with the color scheme.
Choosing a fabric curtain over a plastic one can give a more high-end and satisfyingly textured aesthetic. Fabrics such as polyester and cotton are preferable due to their durability in humid conditions.
Copper-toned Bathroom Fixtures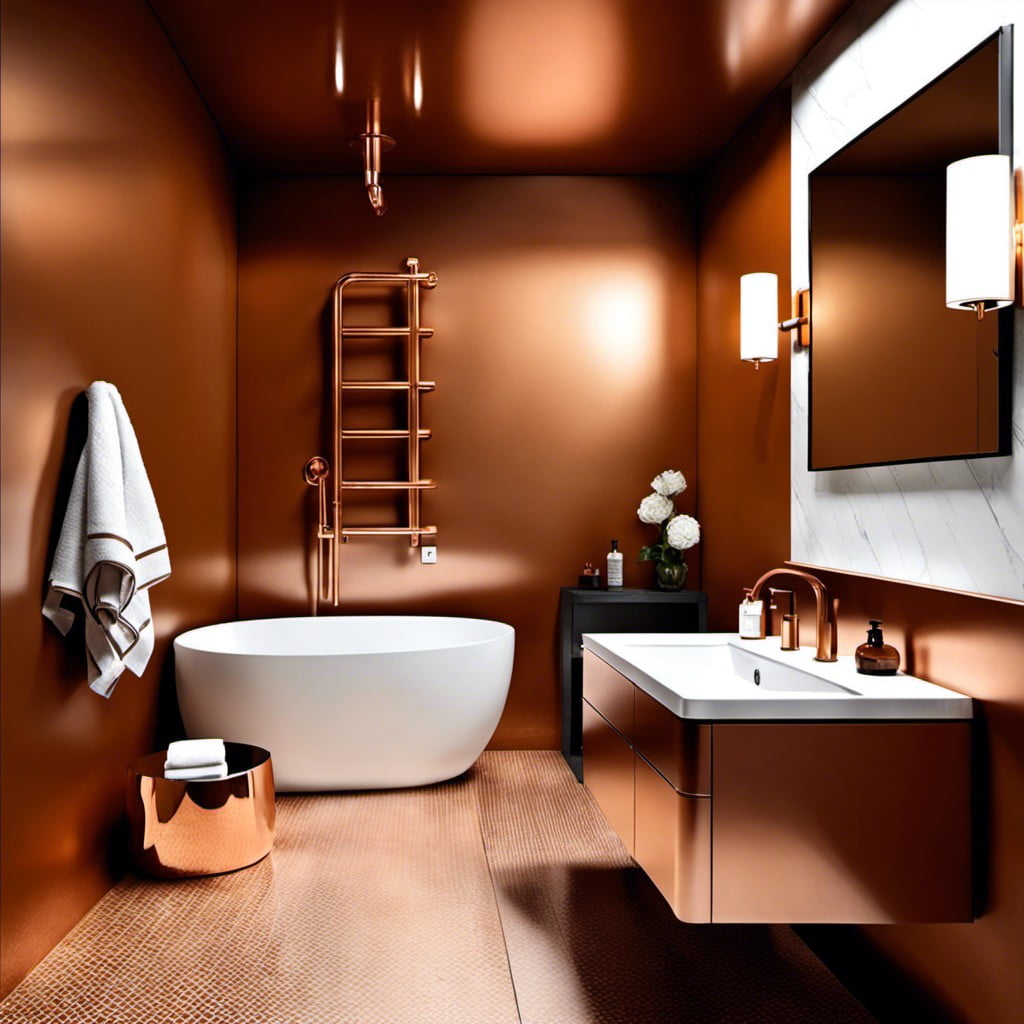 Transitioning your existing chrome or stainless-steel fixtures to copper-toned ones can truly make a statement in a burnt orange bathroom. It brings warmth, depth, and an exotic feel while perfectly teaming with the vivacious hue.
1. Look for copper fixtures such as faucets, showerheads, or towel racks to bring an opulent touch.
2. Concentrate on the small details, such as light switch plates, doorknobs, or drawer handles.
3. Layer your copper tones. For instance, a copper-toned sink can elegantly pair with similar hued fixtures.
4. Balance copper-toned fixtures with neutral elements, like a white vanity, to prevent overpowering the space.
5. Maintain the finish of your copper fixtures. Over time, they mellow into a rich patina which lends an added charm.
6. Mix and match. Don't shy away from combining copper with other metal tones like bronze or gold for a layered, eclectic look.
Incorporating copper-toned bathroom fixtures helps to elevate the bold burnt orange ambiance by adding a metallic warmth while also contributing an undeniable dose of luxury to your space. Remember, less is more when it comes to accessorizing your bathroom with copper-toned fixtures.
Burnt Orange Feature Wall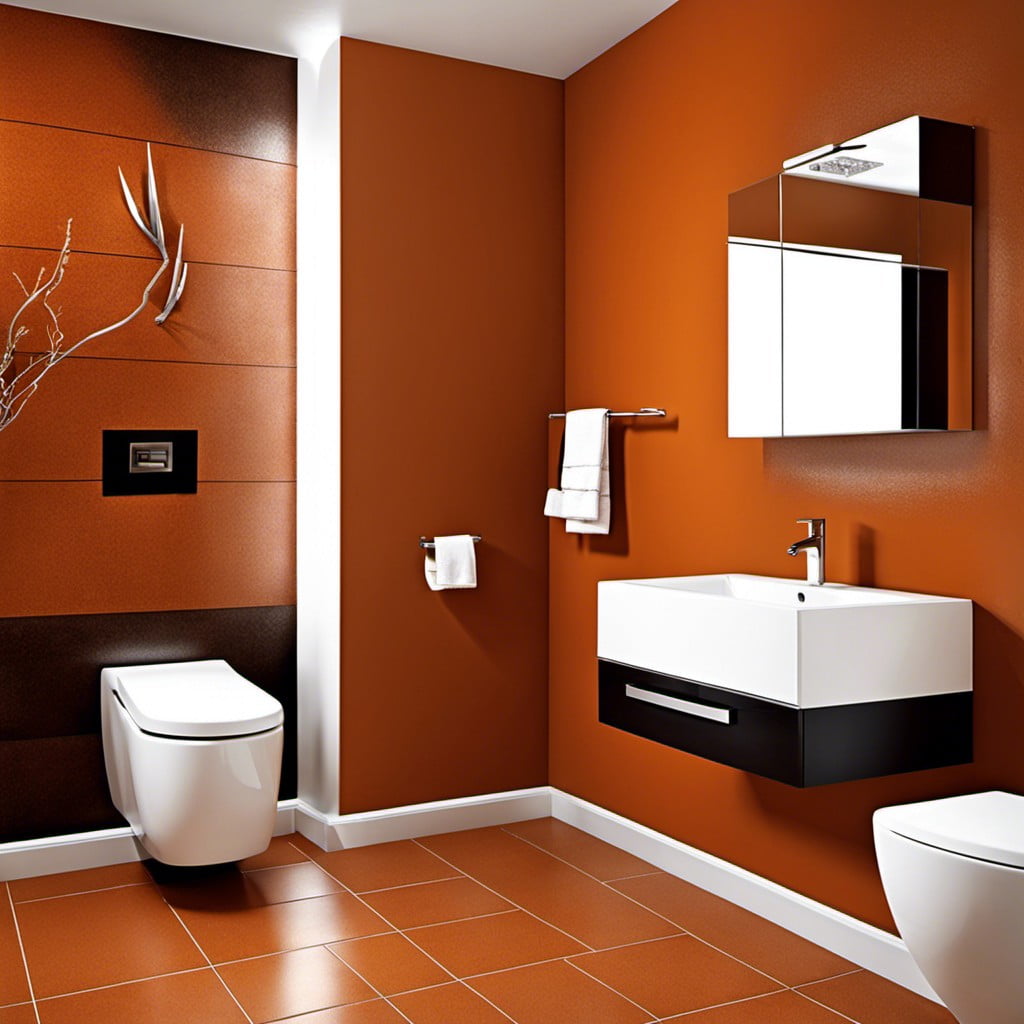 A surprising yet elegant choice for your bathroom is a feature wall, painted in a rich, earthy burnt orange tone. Aside from the visually stunning element it adds, breaking the monotony of a bland bathroom, it stimulates creativity and brings forth energy.
Painting Techniques: Use sponge painting or color washing for a more textured look. It'll add depth and create an intriguing visual dynamic.
Accentuating the Wall: Balance the intensity of the orange by using light, neutral tones on the adjacent walls. This ensures an inviting rather than overwhelming ambiance.
Coordinate: Infuse small bursts of the same hue elsewhere in the bathroom. Consider a matching towel set or a rug for creating visual harmony.
Lighting: Illuminate the wall with soft, warm lights. It will create a beautiful glow, enhancing the burnt orange color even further.
Remember, gaining the desired outcome involves mixing and matching different elements. So, let your creativity run wild and transform your bathroom with this exciting new canvas!
Burnt Orange Bath Towels and Mats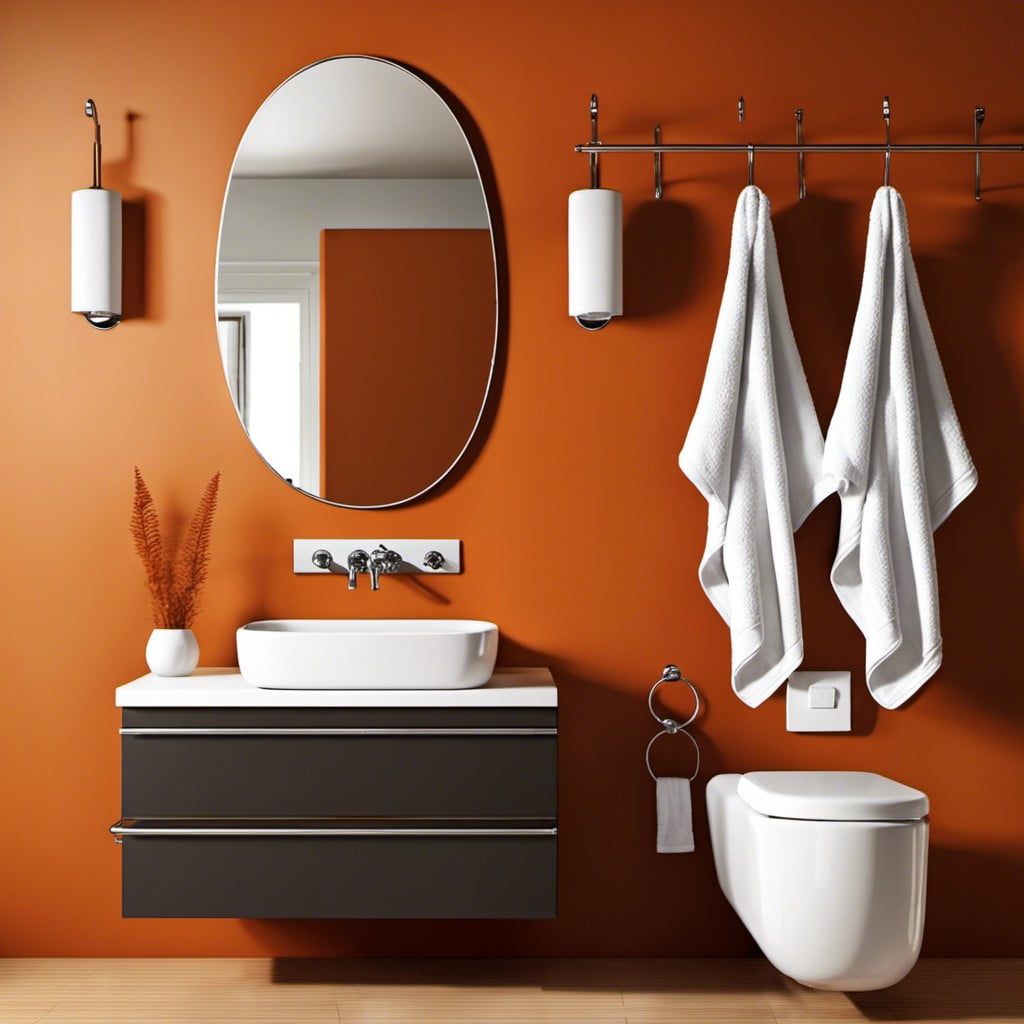 Choosing the right towels and mats can instantly uplift your bathroom aesthetics. Select those draped in breathtaking shades of burnt orange to echo the overall decor. Deep, rich hues offer a warm, inviting ambiance, while softer, faded tones can exude a calm, serene atmosphere.
1. Material: Opt for fluffy, cotton textiles or luxurious, velvety microfiber for a spa-like feel under your feet and against your skin.
2. Size: Be mindful of dimensions. A large bathmat might be a perfect fit for spacious bathrooms, but for smaller spaces, opt for a size that does not overwhelm the area.
3. Pattern: Play with patterns to add more depth. Geometric, floral, or abstract prints can bring a playful spin to your bathroom.
4. Maintenance: Ensure your chosen items are machine washable and colorfast, retaining their vibrant shade even after multiple washes.
Lastly, consider harmonizing your towel and mat selection with other bathroom accessories for a cohesive look.
Ceramic or Porcelain Tiles in Burnt Orange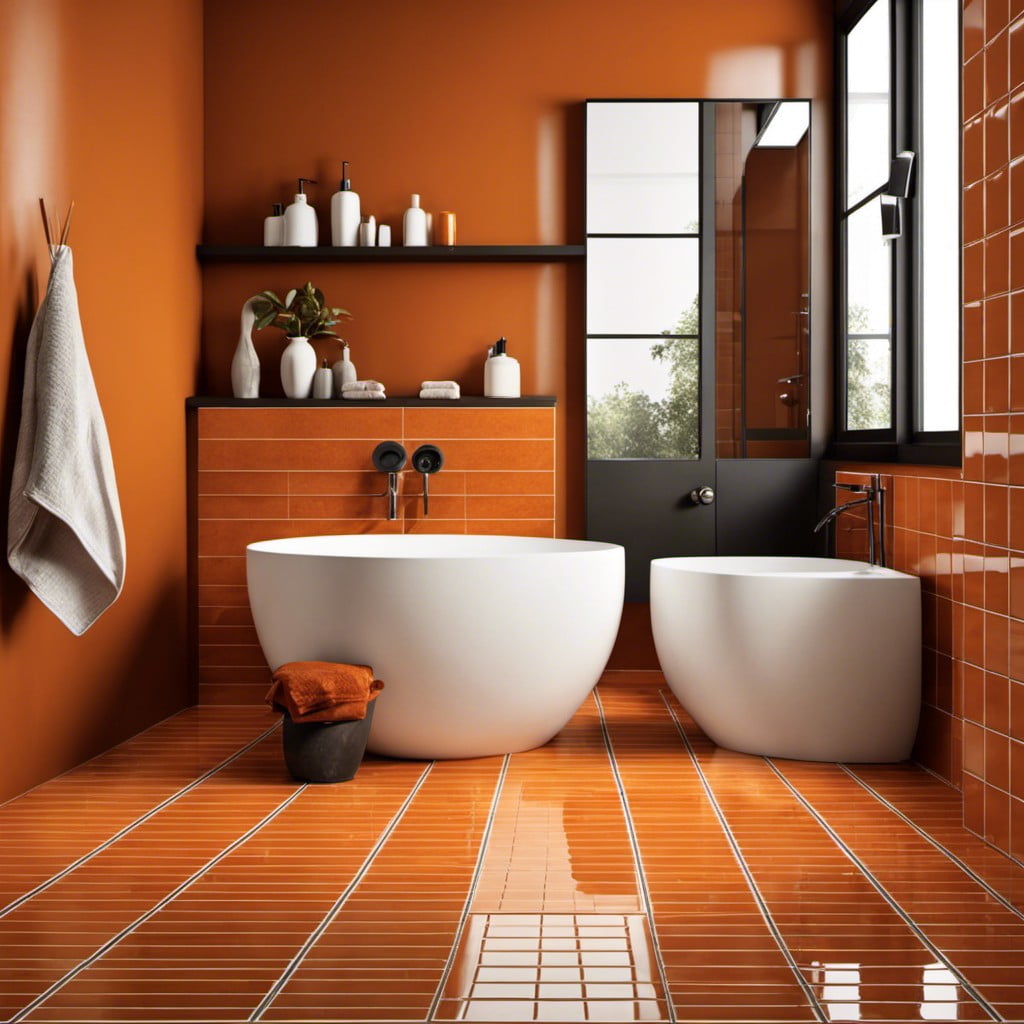 When it comes to working with a compelling shade like burnt orange, few things pack as pivotal a punch as ceramic or porcelain tiles. Engineered for endurance, these vibrant options infuse the space with warmth and vitality.
Cladding the entire bathroom might be a bold move, but it's one that guarantees an impressive payoff. For the more conservative decorator, a partial application, say to the shower recess or as a backsplash above the vanity, can deliver just the right amount of drama. Opt for glossy finishes to reflect light and give the room some brightness, enhancing its overall appeal.
Mix and match with softer hues or neutral tones to break up the expanse of color. You can even explore different shapes – hexagonal or chevron patterns can add an extra layer of interest and can visually enlarge the space.
Now, remember to factor in the maintenance. Fortunately, both ceramic and porcelain are hygienic and easy to clean, yet another argument for their case as the perfect bathroom companion.
Burnt Orange Vanity Unit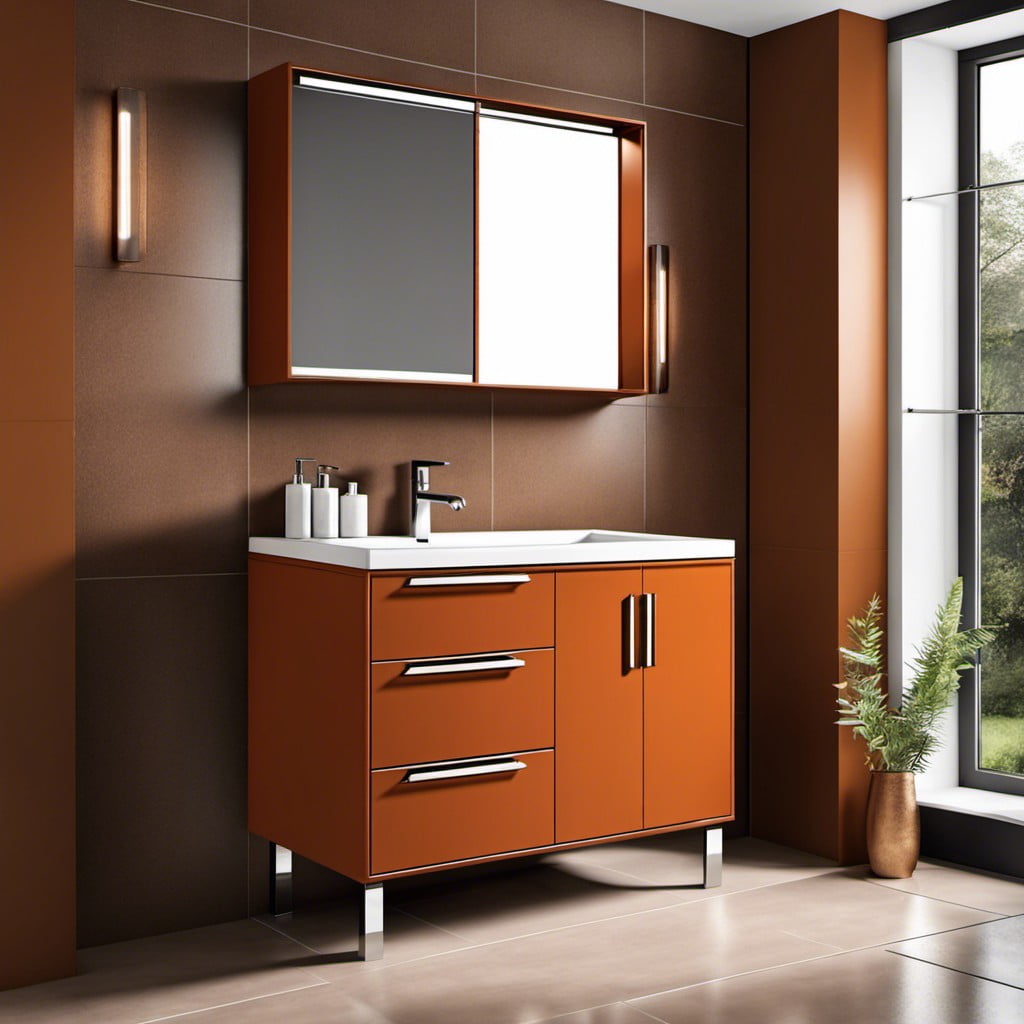 Selecting a vanity unit in the hue of burnt orange can become the focal point of your bathroom. A vibrant piece will not only offer practical storage solutions but also introduce a warm, inviting tone into the space.
For a more timeless look, consider a distressed or antique finish, especially if the overall bathroom aesthetic leans traditional. Alternatively, a high gloss unit can levitate a modern, sleek design. Pair it with a neutral countertop to balance the boldness and bring the design elements together.
Remember, choose a finish that matches your fixtures to create a cohesive look. Don't forget about the hardware; copper or bronze handles can add a nice touch.
Wall Art With Burnt Orange Accents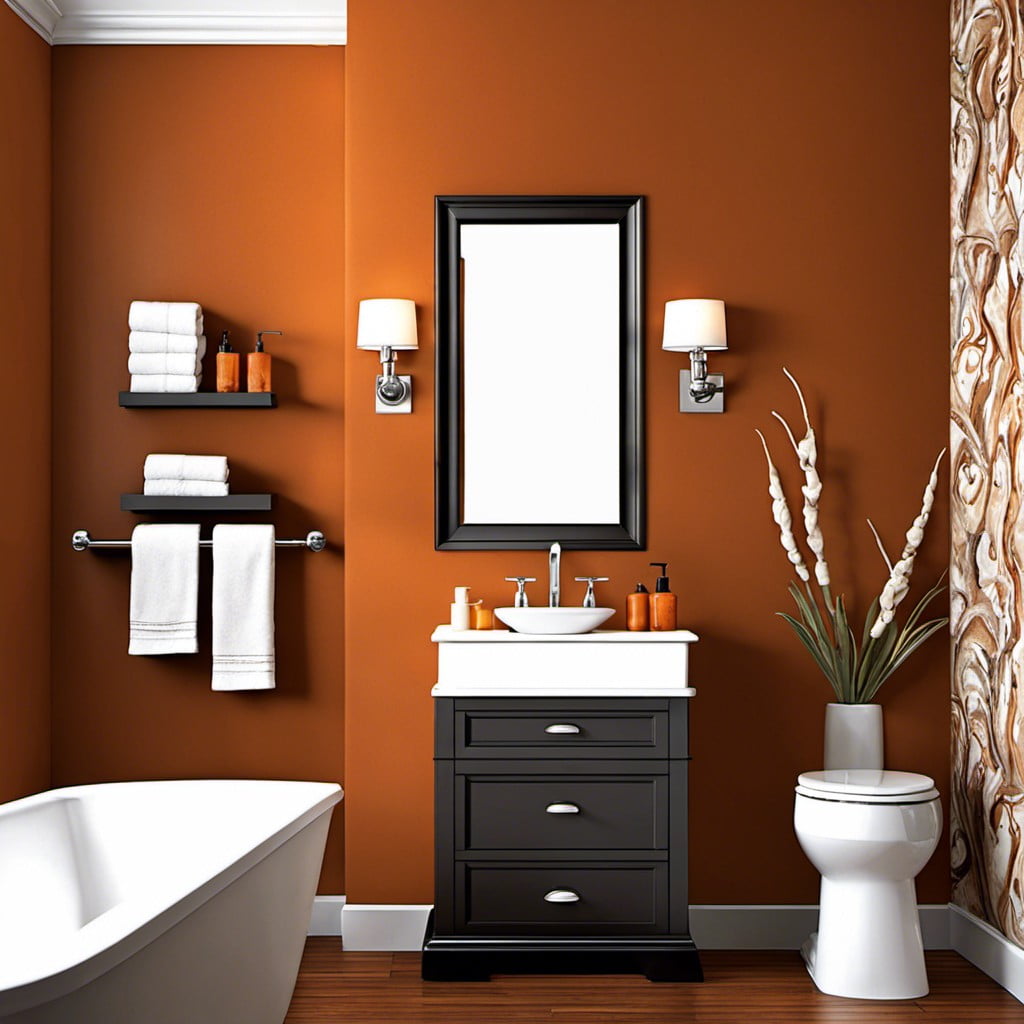 Choosing the right artwork can significantly amplify the visual appeal of your bathroom. If you're inclined towards a more modern and abstract style, opt for pieces that sport geometric shapes or minimalist brush strokes in burnt orange tones.
Alternatively, nature-themed paintings or prints featuring autumnal scenes or terracotta desert landscapes can bring a wonderfully warm, organic touch. Whichever style suits your fancy, just ensure the piece aligns with the rest of your burnt orange theme.
Paired with a sleek, copper-accented frame, this striking wall art provides an active focal point in your bathroom. Remember, these vivid pieces should enhance, not overwhelm the overall aesthetic. So, play with different sizes and placements. Your copper-toned fixtures and other orange elements will benefit greatly from this artistic touch.
Potted Indoor Plants Against an Orange Background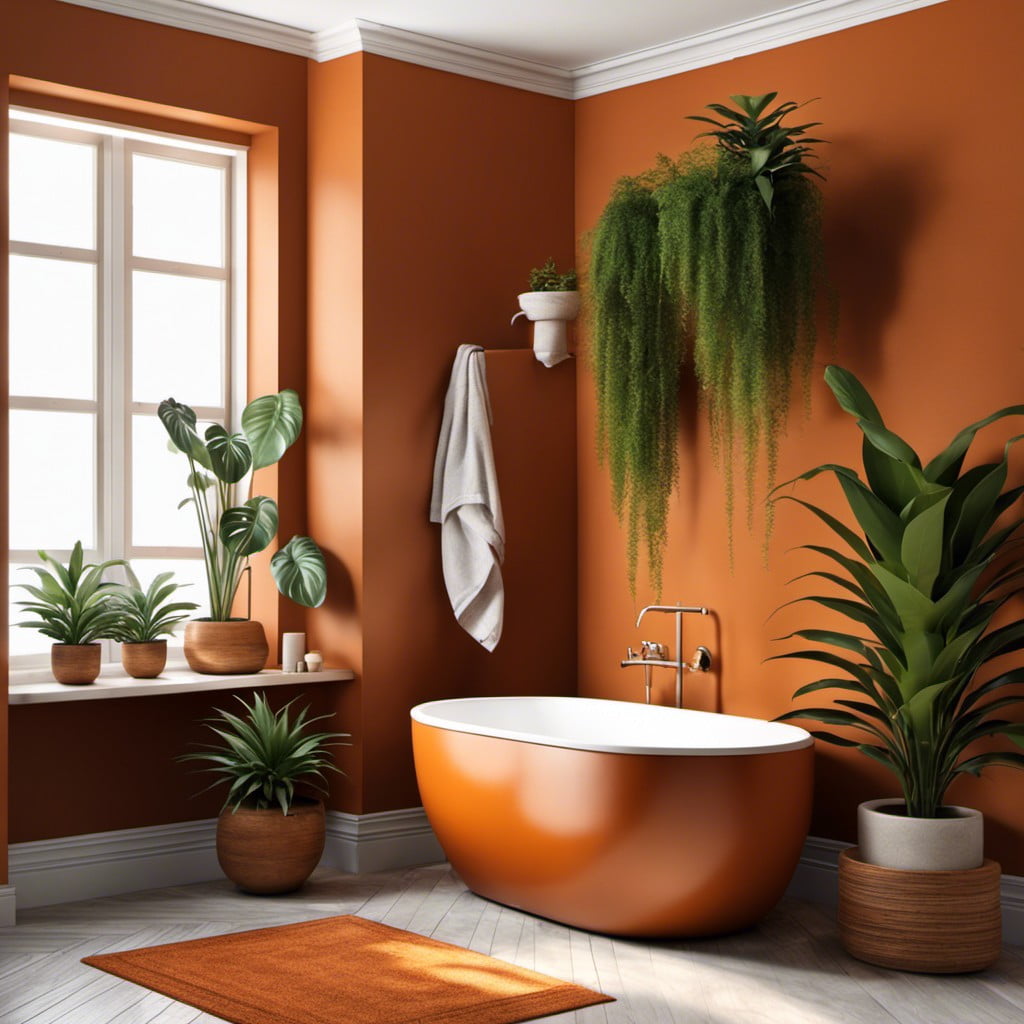 Choosing a variety of indoor plants can effectively contrast the vivid burnt orange backdrop, creating a tropical oasis right in your bathroom.
1. Miniature potted palms or spider plants work perfectly in maintaining a natural green colour scheme.
Consider sturdy succulents or aloe vera, which thrive in humid conditions and infuse a desert-inspired feeling.
3. Flowering plants like begonias offer a splash of additional color.
4. Ferns, with their lush green leaves, bring a tranquil rainforest vibe to space.
5. Snake plants, known for their hardiness and low light requirements, could spruce up even the dullest corner.
Remember to pick pots that match or complement the burnt orange color scheme, such as natural terra cotta or even a contrasting turquoise, to achieve a vibrant aesthetic synergy. Place plants strategically for a visual feast that keeps the eyes engaged while freshening the air and adding a soothing touch.
Amber Glass Bathroom Accessories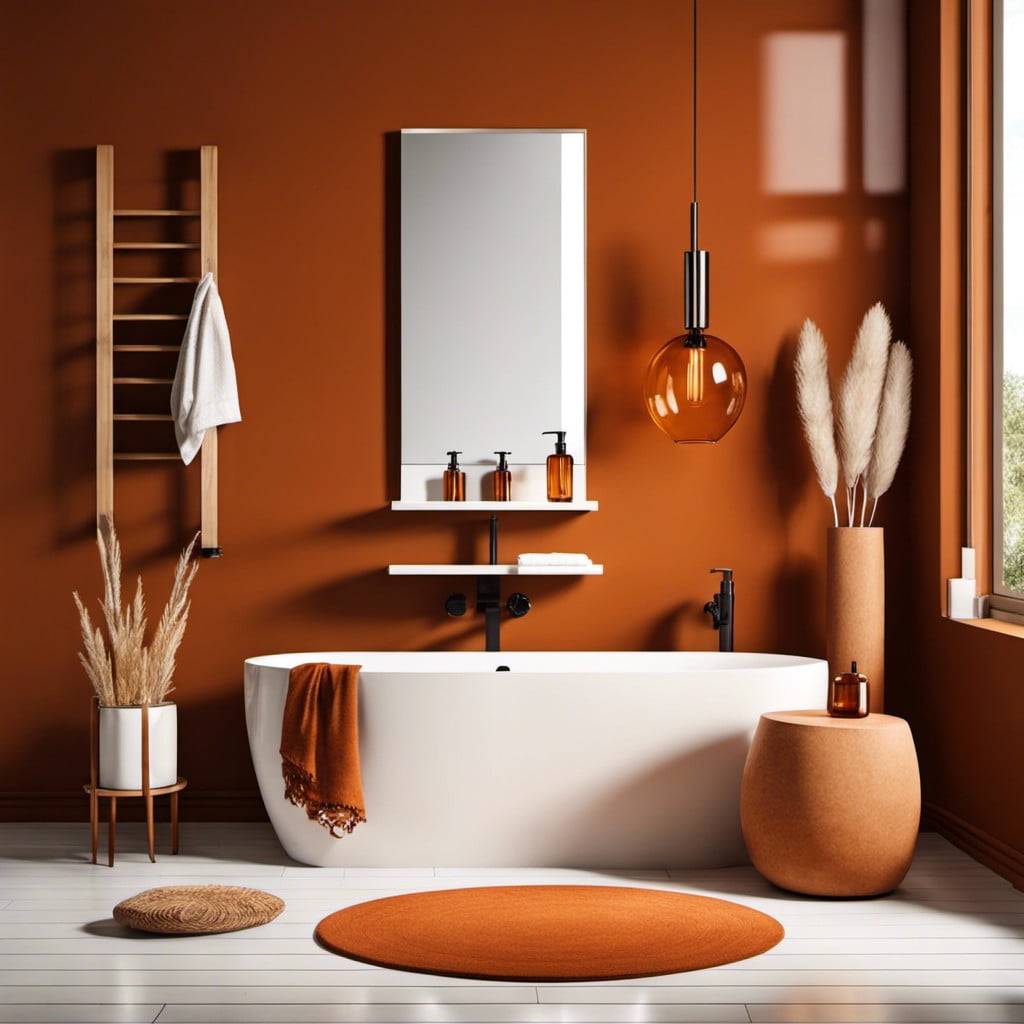 What makes amber glass accessories a remarkable addition to the burnt orange theme is their translucent yet nuanced hue, effectively radiating a warm glow when the light catches them.
Not just for show, they also serve a practical purpose. So here's what you can consider:
Soap dispensers: A practical choice, while adding a touch of class and sophistication.
Jars: Not only are they great for storing cotton balls or q-tips, but they also add to the overall aesthetic of your bathroom.
Bottles: Perfect for storage, adding an artistic flair and decluttering the counter space.
Vases: Small amber glass vases can house flora bringing a spot of nature to your burnt orange decor.
Each piece of amber glass accessory elevates the room, enhancing the overall decor while aligning perfectly with the burnt orange theme.
The similar color palette creates unity and cohesion in the design, making every detail feel intentional and well thought out.
Burnt Orange Soap Dispenser and Toothbrush Holder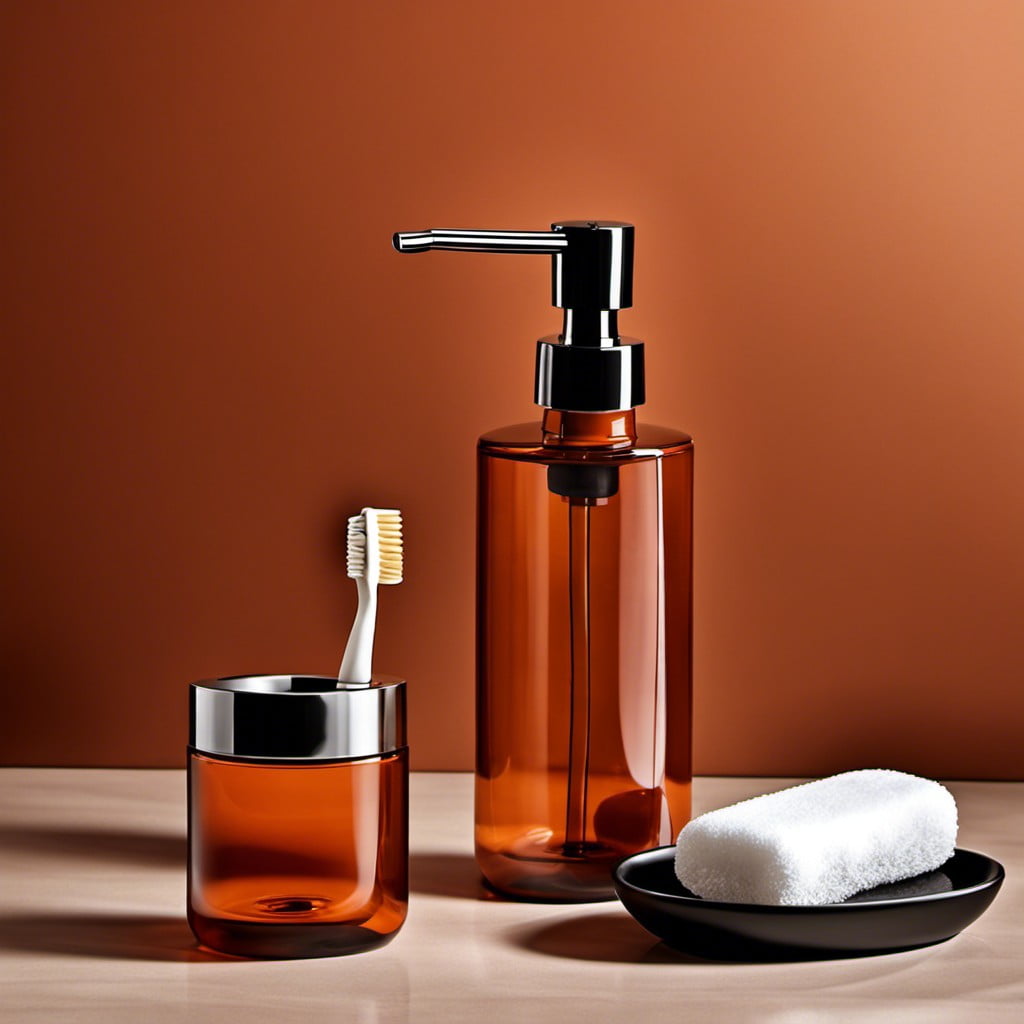 Inject an element of warmth and vitality with these essential fixtures. Selecting soap dispensers and toothbrush holders in the captivating shade transforms mundane items into bold design elements.
Consider robust materials, like stoneware or pottery, that lend texture and depth, further enhancing the aesthetic appeal. Complement the look with copper-toned lids or metal bits – it pairs perfectly with the burnt orange.
A minimalist design can accentuate a clean and modern look, while intricate patterns or folk-inspired motifs reveal a touch of eclectic charm.
Note – these accessories are not only visually pleasing but upgrade your bathroom's functionality, keeping countertops uncluttered and easy to clean.
Copper Bathtub With Burnt Orange Bath Bomb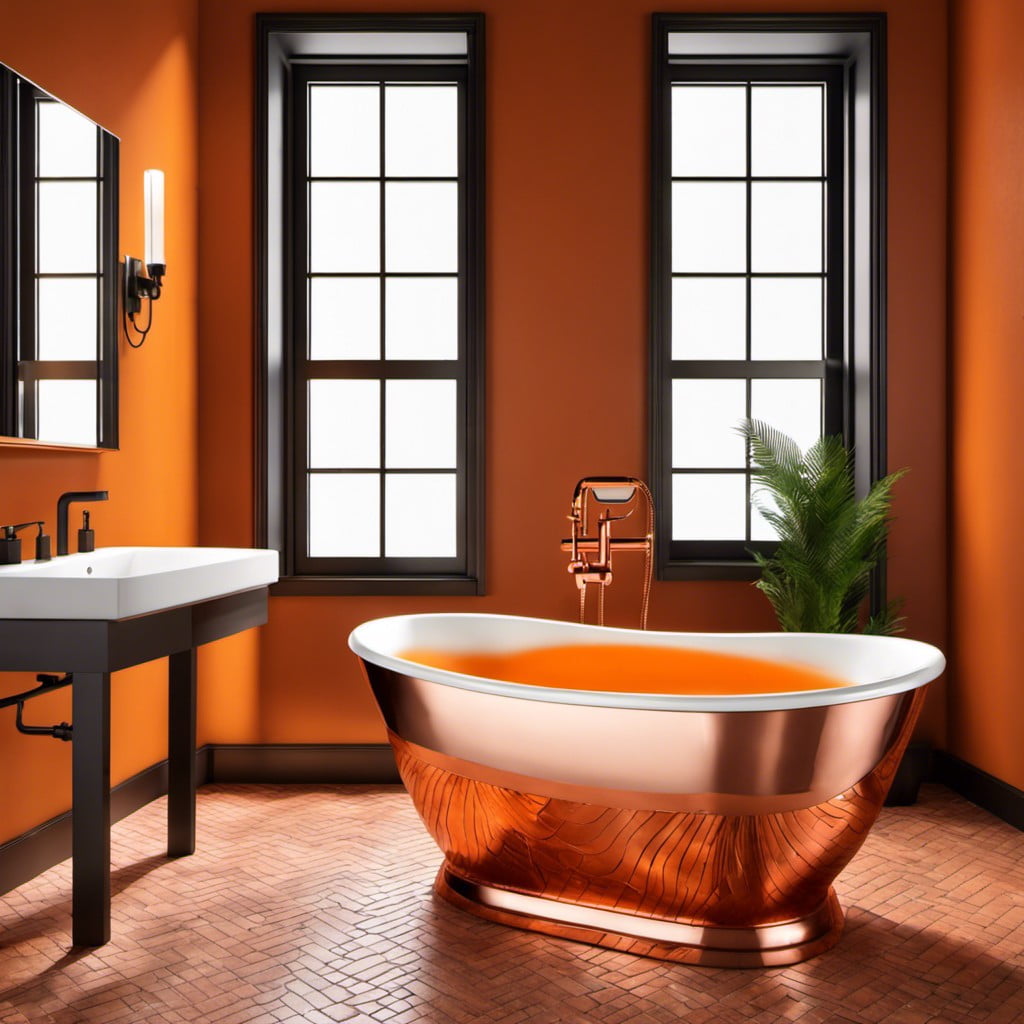 Imagine soaking in a lustrous copper tub, watching as a burnt orange bath bomb fizzes out, tinting the water an autumnal hue. Furthermore, a copper bathtub adds an exquisite vintage touch, emitting a warm glow that matches the burnt orange color palette. And it's not just about the aesthetics; copper tubs also boast beneficial properties, such as being antibacterial and retaining heat for lengthy soaks.
To amplify the wonderful sensory experience, select a bath bomb with a lush scent like bergamot or sandalwood. Essential oils in bath bombs often offer additional skincare benefits and enhance mood.
Match the copper and burnt orange theme with other bathroom accessories for a perfectly harmonized appearance. Remember to keep balance in mind: too much of any one color or material can override the style. Feel free to experiment and adjust until the ambiance is just right. As a tip, adding in some complimentary cool-toned accents or neutral tones can help moderate the warm intensity of the copper and burnt orange.
In terms of maintenance, copper tubs require some specific care to retain their glow and fight tarnish. Using warm soapy water and a soft cloth for cleaning is generally enough, avoiding harsh chemicals. The bath bomb residue shouldn't pose a problem, but it is advisable to give your bathtub a quick rinse after the fragrant fizz has dissolved.
Though a larger investment than other bathroom fixtures, a copper tub with burnt orange accents can transform your bathroom into an inviting retreat, imbibing it with warm, rustic, and earthy vibes. It's an ideal concept for those favoring a bold yet cozy style statement.
Burnt Orange and Cream Striped Wallpaper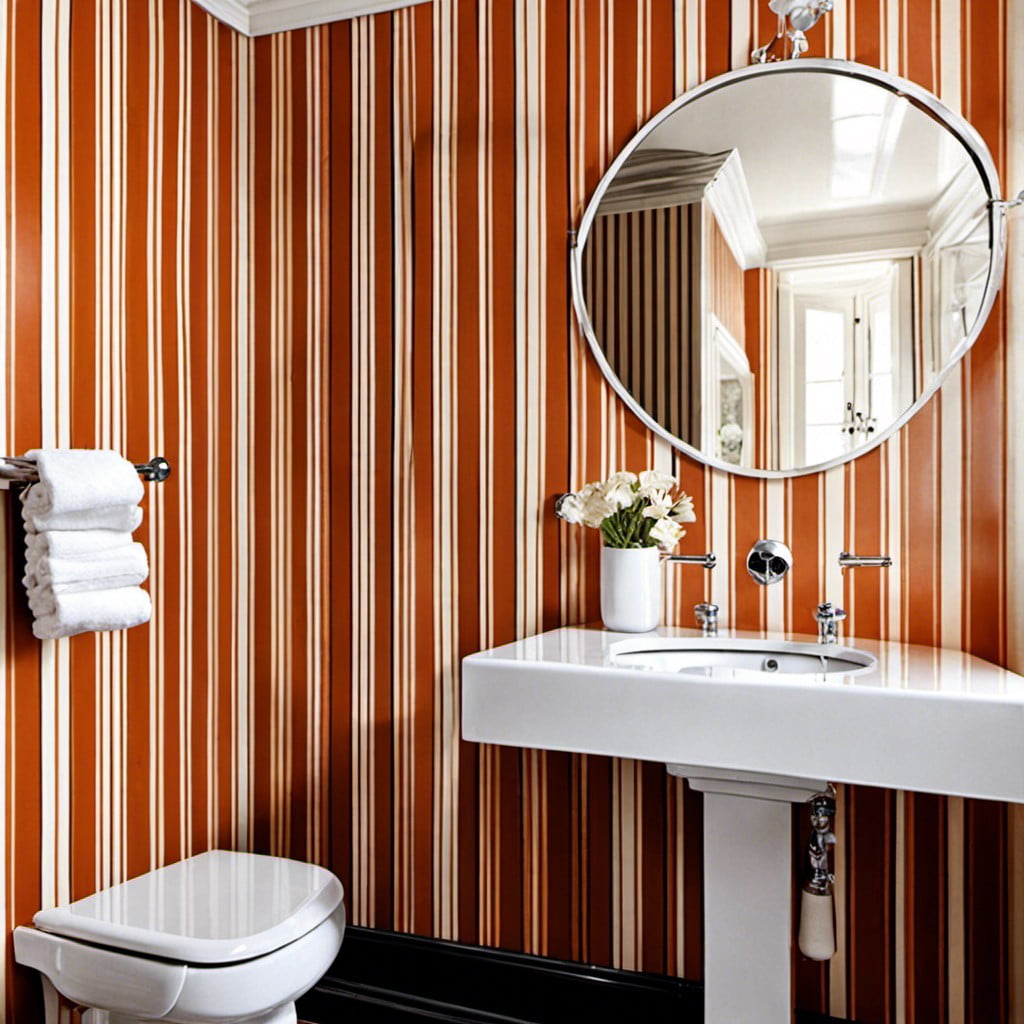 Pairing this vibrant shade with classic cream stripes brings a balance and adds a dash of gilded charm. This combination not only amplifies the originality of the walls but also accentuates the brightness of the bathroom by reflecting light. Consider these options for a tasteful execution.
1. Vertical Stripes: They add height to your bathroom, instantly drawing the eye upwards.
2. Horizontal Stripes: A good choice for turning an extensive wall into a stunning feature.
3. Varied Width Stripes: A contemporary spin on traditional stripes, perfect for a boho-chic vibe.
4. Satin Finish: Exuding a subtle sheen, this finish makes the orange tones pop.
Remember to complement the stripes with neutral or metallic accents, for a harmonious blend. Also, proper lighting will ensure maximum impact, letting your wallpaper genuinely shine.
Installing a Rust-colored Countertop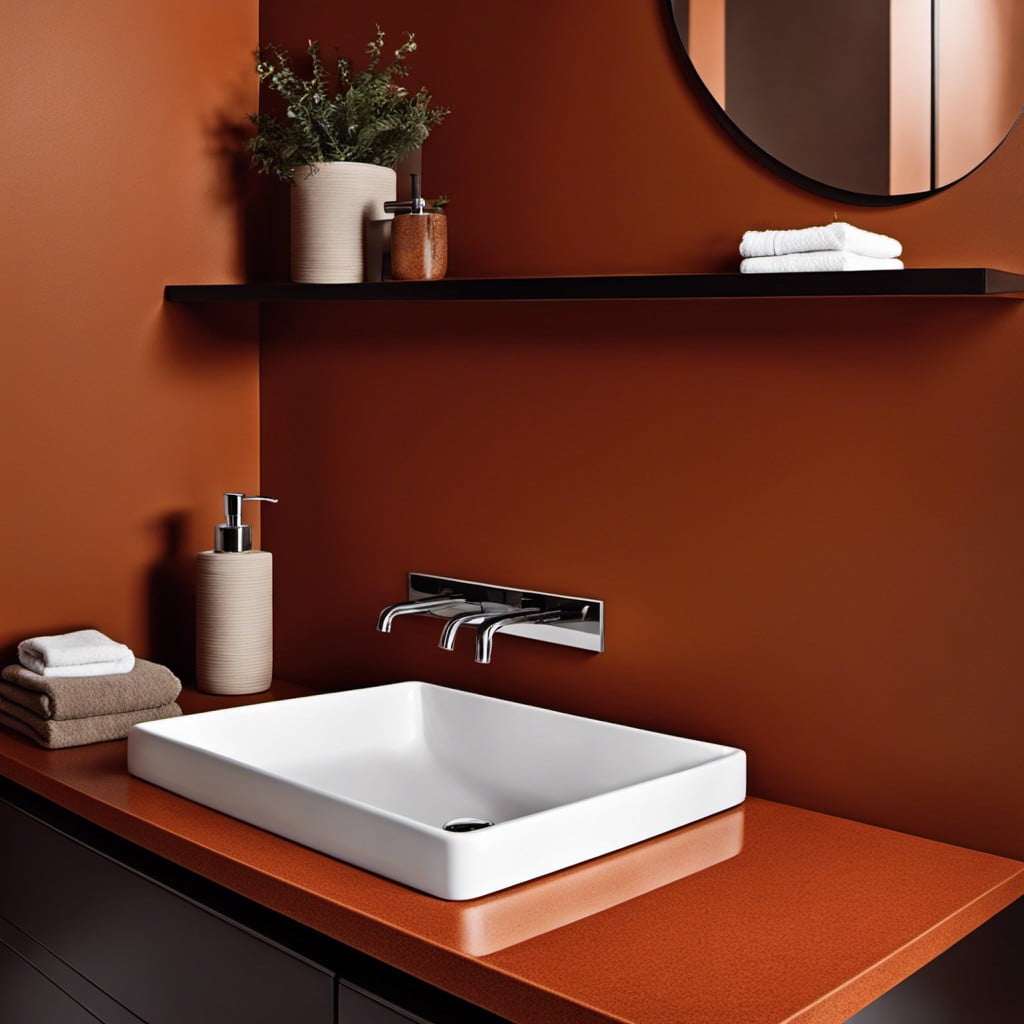 A rust-colored countertop breathes an earthy energy into the heart of a bathroom. It beautifully mirrors the rich tones of the burnt orange theme. Opt for a material like quartz or granite, as they are both highly durable and easy to maintain – practical essentials for a bathroom surface. The rust color promises a stylish compromise between the warmth of burnt orange and the modern elegance of darker tones, achieving a comfortable balance for your bathroom ambiance.
If you prefer softer accents, coordinate the rust countertop with a pale cream or off-white sink and fixtures for a contrast. Or, for a bold statement, pair it with copper or dark, burnished fixtures. This decision depends on personal taste and the overall design vision for your bathroom space. Regardless, the rust-colored countertop will underscore the burnt orange-themed bathroom impressively. It's a unique, impactful choice that adds depth to the color palette.
Terracotta Floor Tiles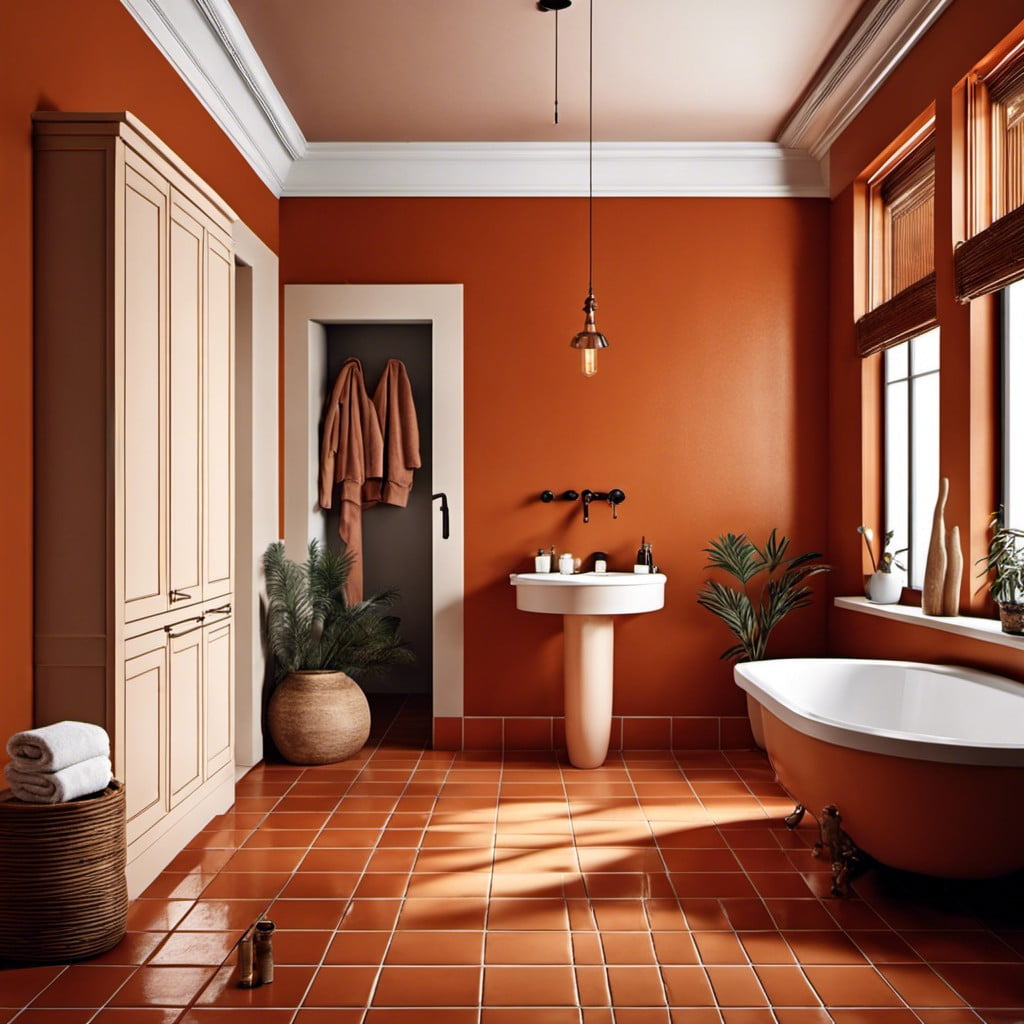 Firstly, terracotta, naturally being in the orange palette, complements the burnt orange theme perfectly. It offers a rustic and warm charm to your bathroom floor, creating a calming and inviting atmosphere.
These tiles are also highly durable and can withstand heavy traffic, which makes them an excellent choice for a frequently used space like the bathroom. Easy to maintain, you can simply clean them with a damp mop, and they'll retain their appealing look.
Finally, in terms of foundational décor, terracotta tiles present versatile style options. For a contemporary look, you might opt for large, square tiles, while a more traditional aesthetic can be achieved with smaller, hexagonal tiles. However, uniform or mixed sizes can also create a visually appealing pattern. Terracotta's natural hue variations add an extra layer of dimension to your bathroom, making it look unique and stylish.
Burnt Orange and Grey Shower Tile Pattern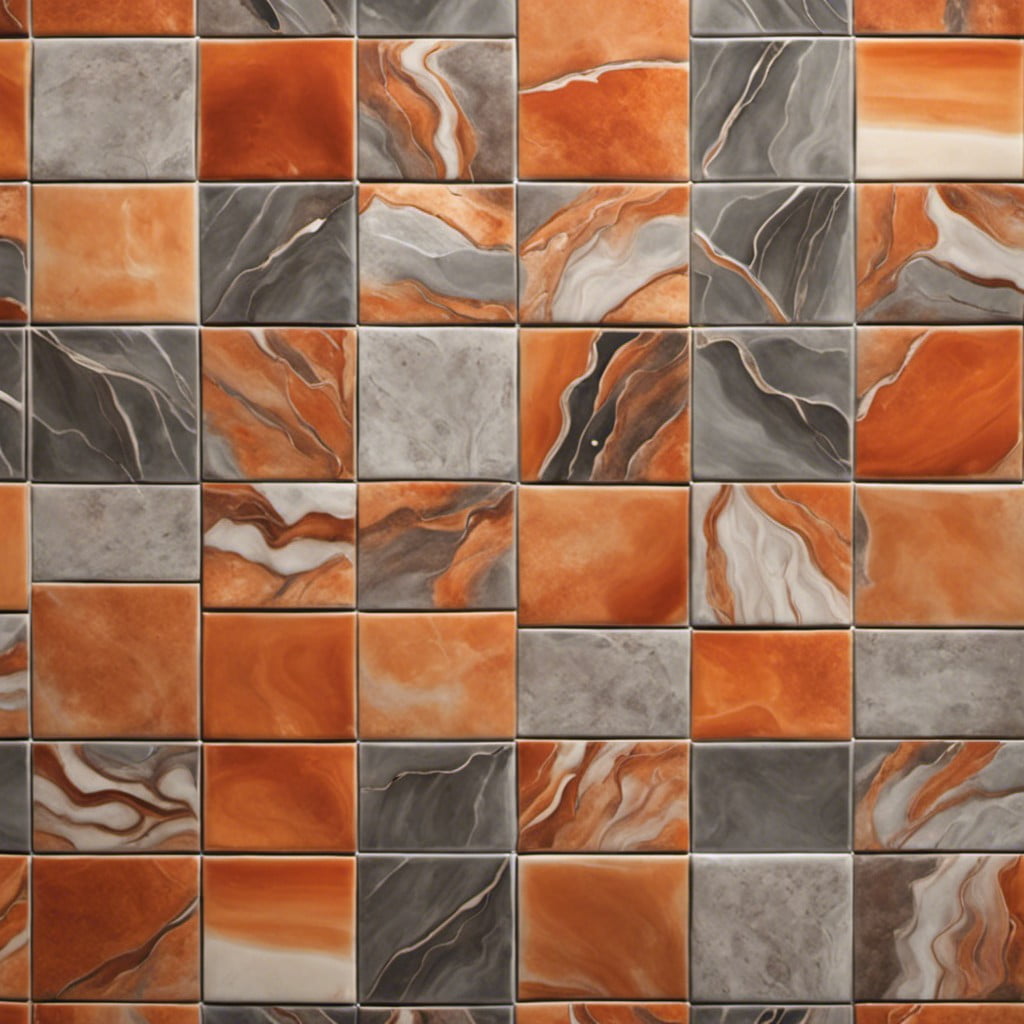 Opting for a two-tone palette can add depth to your design without overwhelming the space. Using a light shade, like grey, breaks up the intensity of the burnt orange, making it a sophisticated choice.
Here's how to achieve the look:
1. Choose a Tile: Opt for either a solid grey and burnt orange tile or find a patterned option that incorporates both colors. Larger tiles often make a space look bigger, while smaller ones add texture.
2. Design the Layout: You could alternate between the two colors for an eye-catching contrast, or use grey as the predominant color with burnt orange accents.
3. Finish Details: Enhance the look with matching grout. If you're feeling bold, choose a burnt orange grout for grey tiles or vice versa.
Remember, it's all about balance. A ratio of about 70% grey to 30% burnt orange usually works well. The grey serves as a neutral base, letting the burnt orange take center stage as the room's vibrant focal point.
Small Accent Details Like Orange-scented Candles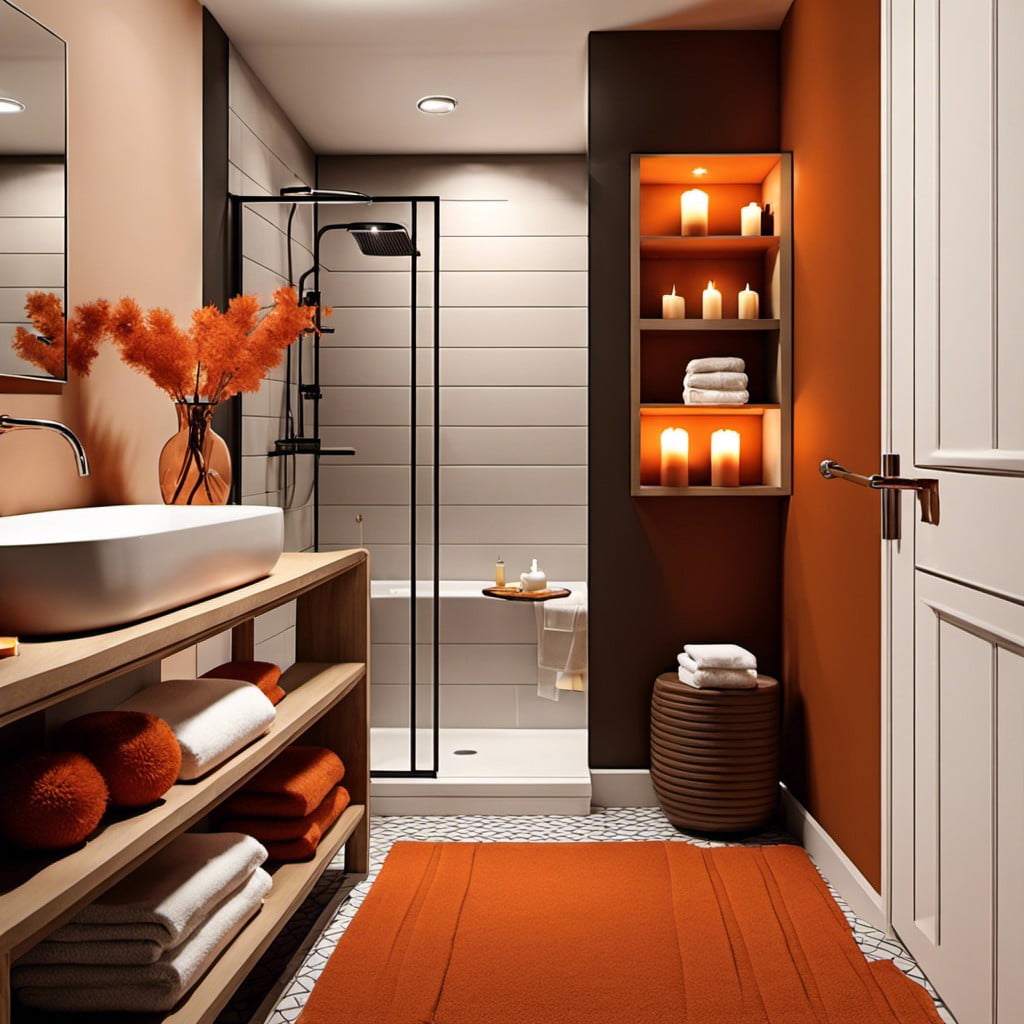 Incorporating scent into your bathroom design is a brilliant strategy. Place a selection of orange-scented candles strategically around the room. The warm, citrusy scent not only complements the color scheme but also makes for an invigorating, yet relaxing atmosphere.
Whether lit or not, these candles serve a dual purpose. When unlit, they can serve as eye-catching adornments on your vanity or window sill, doubling as exciting pops of color. Additionally, try to choose candles with varying shades of orange to create depth and texture. Stick to natural, soy-based candles for a healthier option.
Burnt Orange Printed Rug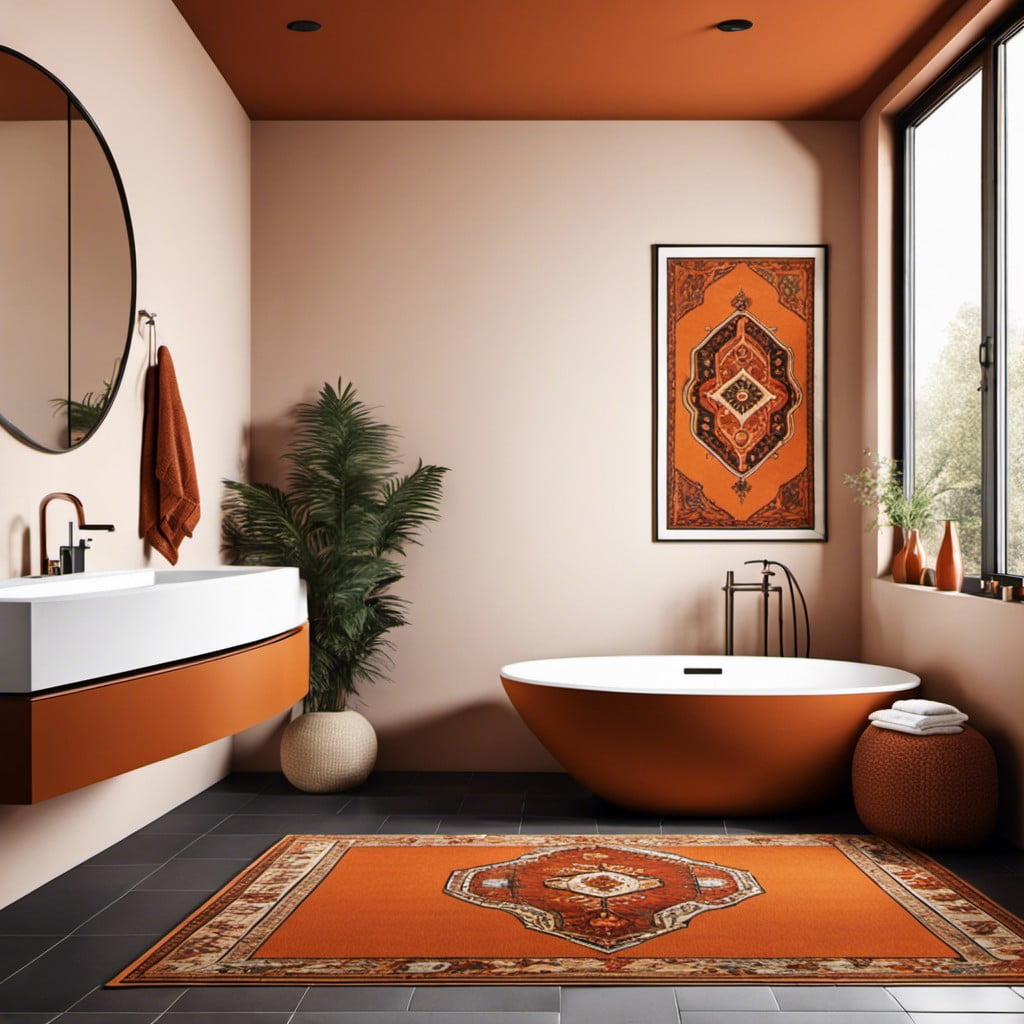 A well-chosen rug can pull a room together, and when it boasts a burnt orange motif, it will accentuate your bathroom's color scheme perfectly.
Opt for intricate designs or geometric patterns to add a layer of interest and break up the solidity of the color.
You could also introduce a range of textures with materials like wool or cotton.
Additionally, a plush rug can provide a warm, cozy underfoot feeling – a delight on chilly mornings.
Remember, the size should be proportionate to your space; a too-small rug can look lost, so go larger for an impact.
Lastly, consider a non-slip underside for safety in this wet space.
Decorative Burnt Orange Backlight for the Mirror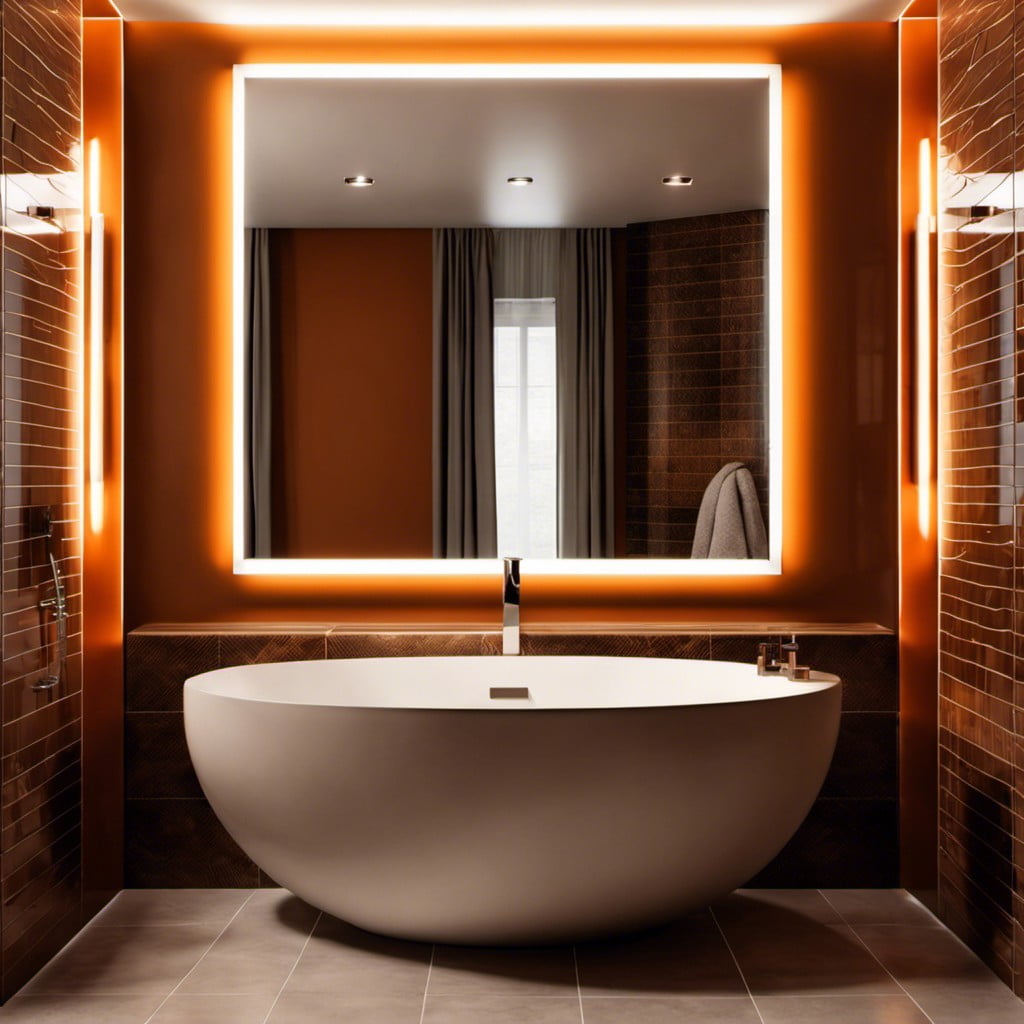 A backlight glowing with burnt orange hue can totally transform your bathroom mirror, adding a warm, welcoming glow to your morning routine. The soft light emanating from the mirror's periphery creates a spa-like ambience and also brilliantly enhances the orange theme.
1. Choose a Soft LED Light Strip:
Opt for LED light strips that allow you to adjust the color to burnt orange. They are energy efficient, and their lifespan is much longer than regular bulbs.
2. Installation:
No need to worry about professional installation. Just peel off the backing, stick your LED strip to the mirror's rear side, and plug it in. Ensure it traces the mirror edge for uniform glow.
3. Safety:
As a safety precaution, remember to pick LED lights rated for use in humid conditions and always stick to lower voltage options.
This lighting trick adds a soothing glow and truly elevates your mirror into an art piece while boosting the overall look of your bathroom.
Dried Orange Slices As Decoration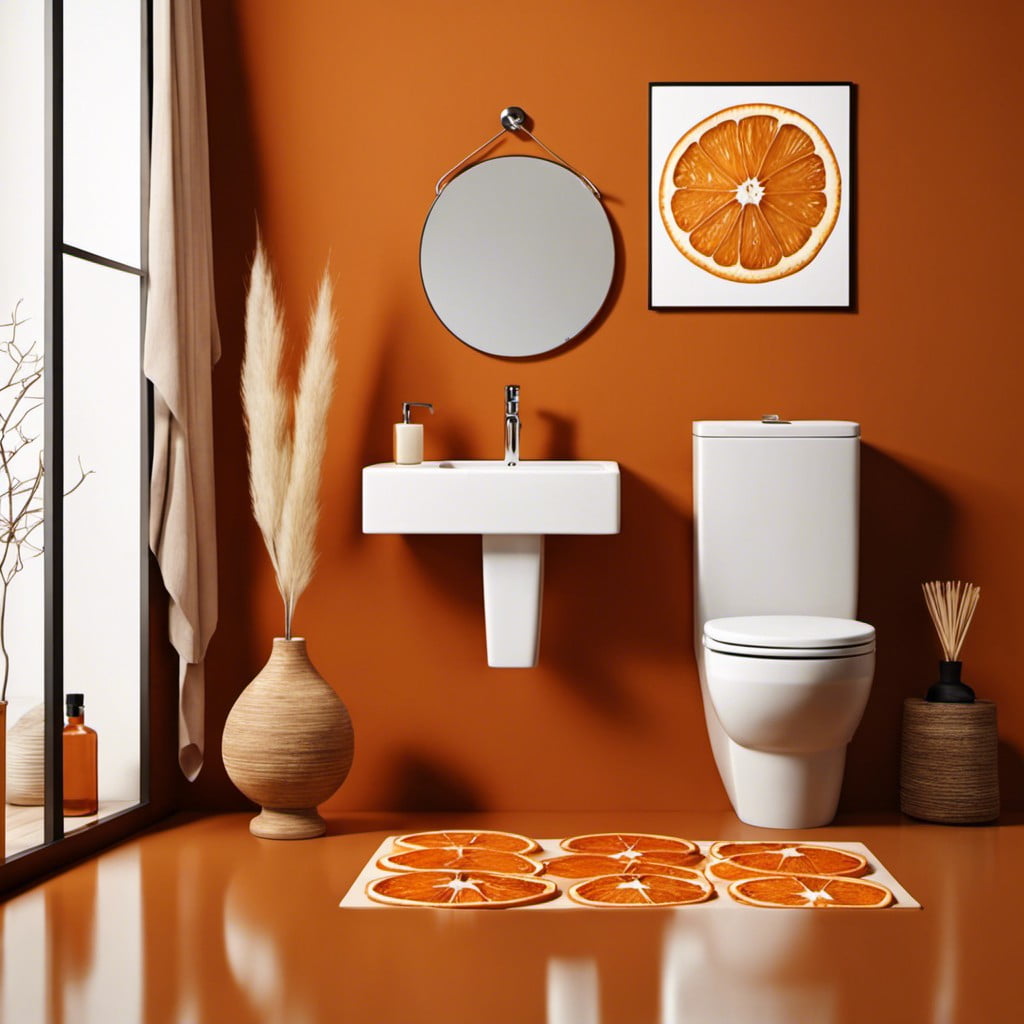 Crafting your own dried orange slices is a simple and fun DIY project. Just slice up some oranges, bake them at a low temperature until they're completely dry, and voila! You now have unique decorative elements to use throughout your bathroom.
These attractive pieces add a rustic touch while introducing a pop of color. Place them in a glass jar for a centerpiece or string them together to create a garland to hang on your window or mirror for a subtle scent boost.
Consider complementing the slices with cinnamon sticks or star anise for added visual interest and a delightful aroma. This easy decor idea adds a homely and cozy ambiance to your bathroom with minimal effort.
Burnt Orange Light Fixtures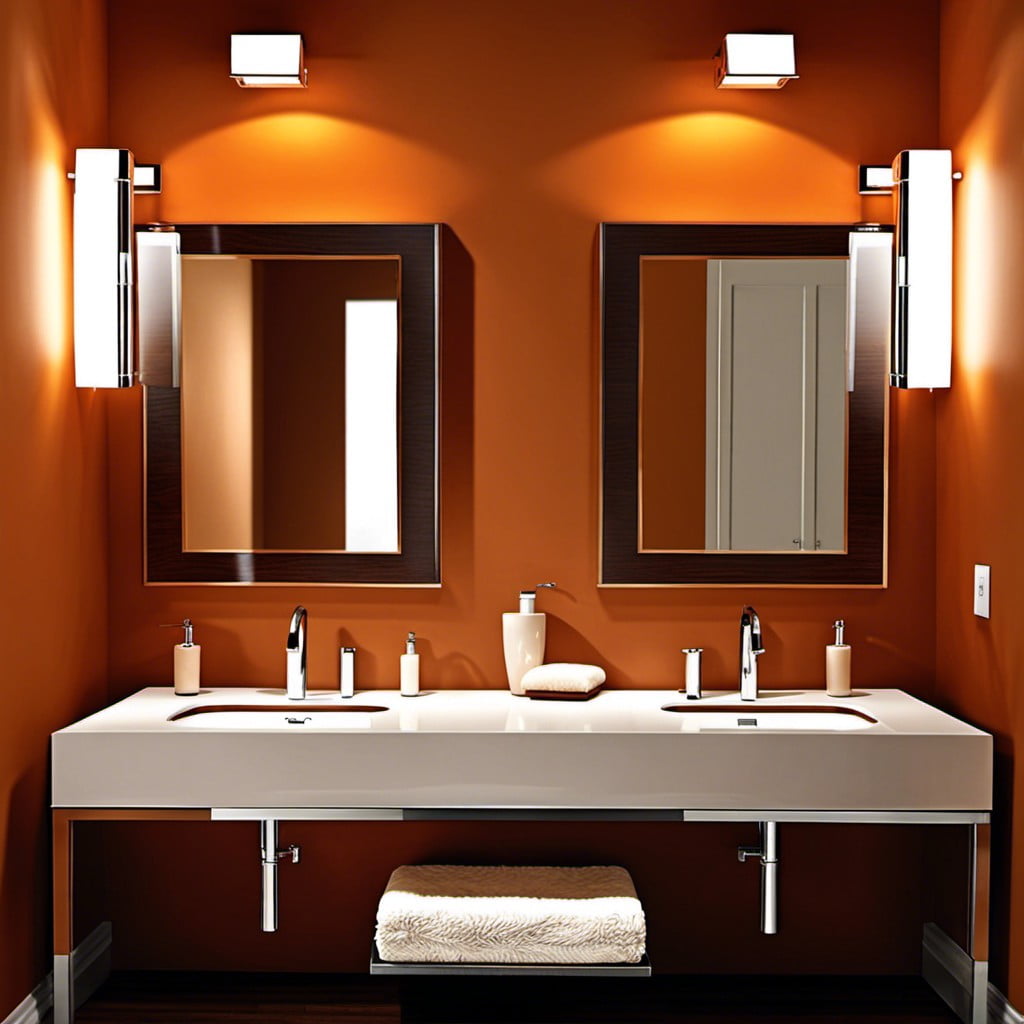 Having vibrantly colored light fixtures can invigorate a room, providing a beautiful contrast against neutral hues. Implementing these in your bathroom can add a touch of warmth and stimulating visuals.
Consider:
Pendant lights: These can be hung near the vanity or in other functional areas, creating an atmosphere of chic sophistication while delivering functional illumination.
Wall sconces: Placed on either side of the mirror, they can cast a lovely, even glow on your face, making tasks like applying makeup or shaving easier.
Recessed lighting: Hidden away, these fixtures provide soft, diffused light – perfect for relaxing baths.
Lampshades: Add a pop of color to the bathroom by having standout lampshades on your tabletop lamps. Not only do they provide attractive ambient lighting, but they also readily catch the eye.
Whichever option you choose, ensure it complements the existing bathroom decor and other orange elements for a harmonious design. Remember, go for warm white bulbs that enhance the burnt orange color for a comforting ambiance.
Continue reading:
Recap