Last updated on September 25, 2023
Explore a variety of bathroom wallpaper ideas that can instantly elevate the look and feel of your space.
Bathroom wallpapers can instantly elevate the look of your space, transforming it from ordinary to extraordinary. This article delves into a variety of wallpaper ideas, from bold and vibrant patterns to subtle and soothing textures, to help you decide on the perfect fit for your bathroom.
Whether you're looking to create a spa-like retreat, an energetic powder room, or a timeless classic style, these bathroom wallpaper ideas will guide you through. The details provided will ensure you make an informed decision, resulting in a bathroom that's not only functional but also a reflection of your personal style.
Table of Contents
Tropical Themed Wallpaper
Tropical wallpaper, admittedly bold, can be the perfect solution to transform a mundane bathroom into an exotic getaway. Draw heavily from lush rainforest scenery and bright tropical fruits for inspiration.
Here are the key points:
Feature Species: Use palms, hibiscus, or flamingos for bold statements.
Color Palette: Vivid greens, yellows, and pinks can immediately transport you to a warm beach.
Foliage: Choose large-leaf motifs to capture the authenticity of the tropics.
Accent Walls: To prevent overwhelm, apply paper to just one wall. This allows for dramatic impact without overcrowding.
Balance: Incorporate a tropical print with a more neutral color for balance. Avoid turning your bathroom into a chaotic jungle.
Lighting: Complement the wallpaper with warm light to enhance the tropical vibe.
Remember, tropical wallpaper is quite a daring choice, so carefully consider your decision before committing.
Floral Print Wallpaper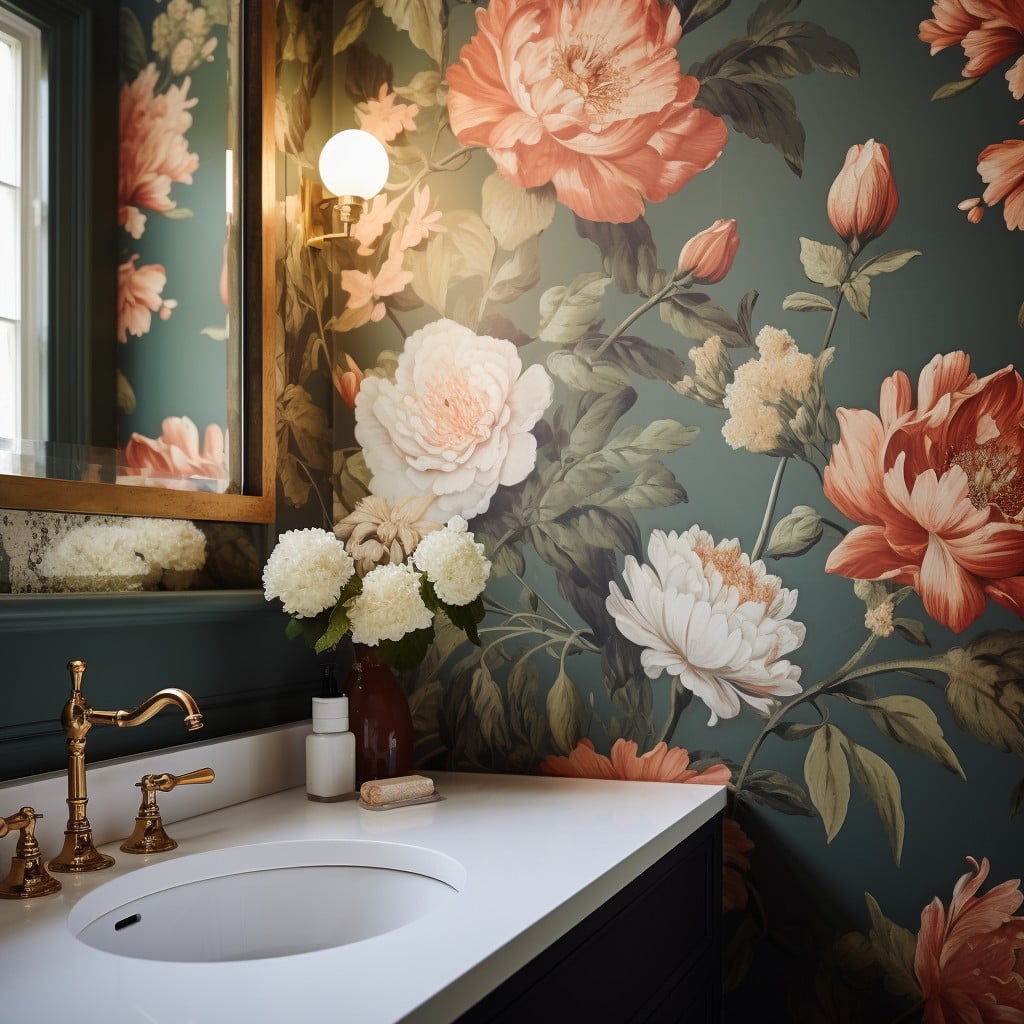 Floral prints, vibrant and whimsical, easily infuse a sense of natural beauty into your bathroom. From larger-than-life blooms to delicate, subtle sprigs, they cater to a wide range of aesthetic preferences.
Key points:
Versatility: Provides options for both bold, dramatic looks and soft, elegant styles.
Mood Enhancement: Flower motifs can enliven the bathroom atmosphere.
Color Choices: Offers a broad palette, from soft pastels to intense, rich tones.
Variable Sizes: Print size can be adjusted according to personal taste.
Texture Enhancement: Gives a depth and texture that paints might miss.
Easy to update: Changing the wallpaper can quickly freshen up the look.
Floral wallpapers can not only work in harmony with the other design elements but also become the star of the bathroom. Whether you choose roses, lilies, or chrysanthemums, the end result is always a cheerful, fresh space.
Monochrome Striped Wallpaper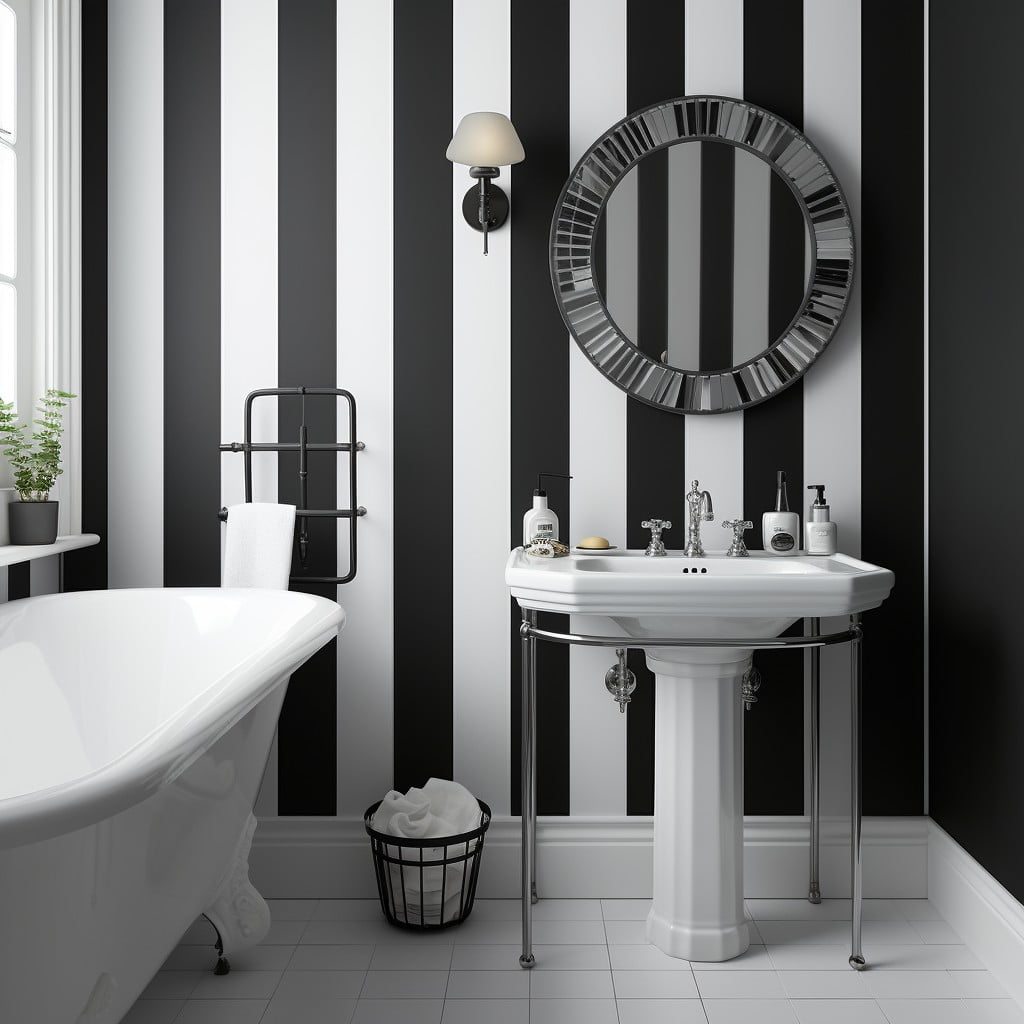 Monochrome stripes offer a striking contrast that can visually enlarge your bathroom space. Vertical stripes add height to rooms with lower ceilings, while horizontal stripes can elongate a narrow room. Their timeless appeal ensures they remain stylish and relevant regardless of current trends. Moreover, with monochromatic palettes being versatile, it is easy to match other decor elements.
Key points to consider with monochrome striped wallpaper:
Stripe Orientation: Vertical can enhance height, horizontal increases perceived room width.
Color Contrast: Choose between stark black and white for drama, or softer shades of gray for subtlety.
Accessorizing: Black and white theme allows for bold color accents in towels and decor.
Relevance: This style remains trendy over years.
Versatility: Easy match with existing bathroom elements.
Beach-themed Wallpaper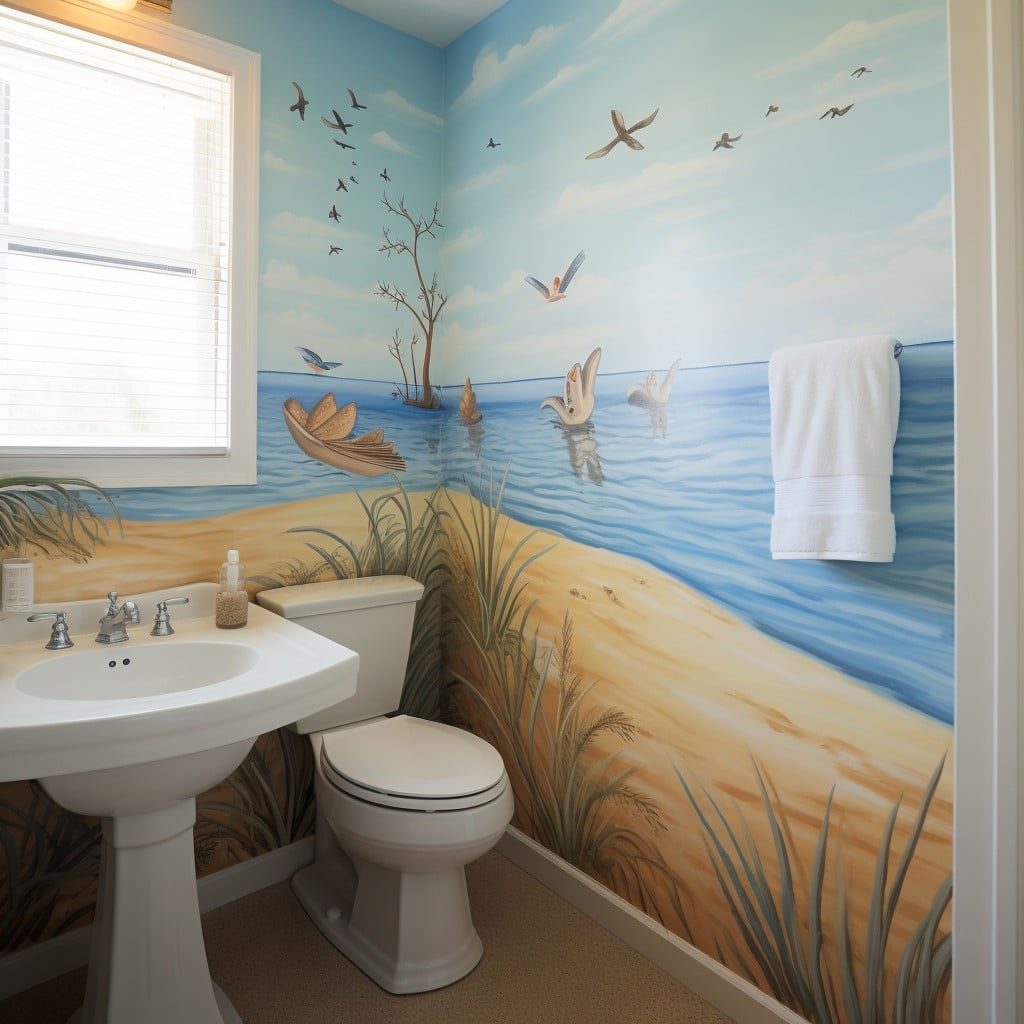 Channeling the vibe of a serene coastal retreat into your bathroom is easily achievable with a careful selection of beach-themed wallpaper. Think elements like starfish, seashells, marine life, beach huts, or nautical stripes.
Key Points:
Color Palette: Stick to calming shades like sandy neutrals, sea blues, and sun-bleached yellows.
Pattern: Look for patterns that imitate elements from the beach such as seashells, fish, coral reefs, or even beach landscape scenes.
Material: Vinyl is the preferred material, given its durability and resistance to humidity.
Accessories: Enhance the overall look by using bathroom accessories and linen in coordinating hues.
Lighting: Opt for lighting solutions that complement the wallpaper and create an ambience of a serene beach retreat.
To make it perfect, coordinate with accessories like a starfish-shaped soap dish or beach print shower curtains to complete the look. The key is consistency throughout the design, without overdoing it.
Geometric Patterned Wallpaper
In the realm of geometric patterned wallpaper, the possibilities are extensive. Ranging from simple chevron patterns to complex tessellation designs, the style offers a wide spectrum of aesthetics.
Key points:
Versatility: Suits both traditional and contemporary interiors.
Focal Point Creation: Introduces eye-catching designs.
Size Alteration: Can make rooms appear larger or smaller, relying on the pattern size.
Mood Setting: Evoke different moods based on colors and designs. Bright geometrics can instill energy while cool-toned patterns promote relaxation.
Long-lasting Trends: The enduring popularity ensures the room remains stylish for years.
Strategic Use: Apply on one wall for a statement look or cover the entire room for a complete transformation.
Complementary Styles: Pair with minimalist furniture for balance or with eclectic decor for a visually dynamic space.
Both captivating and functional, geometric wallpaper can effectively update your bathroom's appeal.
Vintage Inspired Wallpaper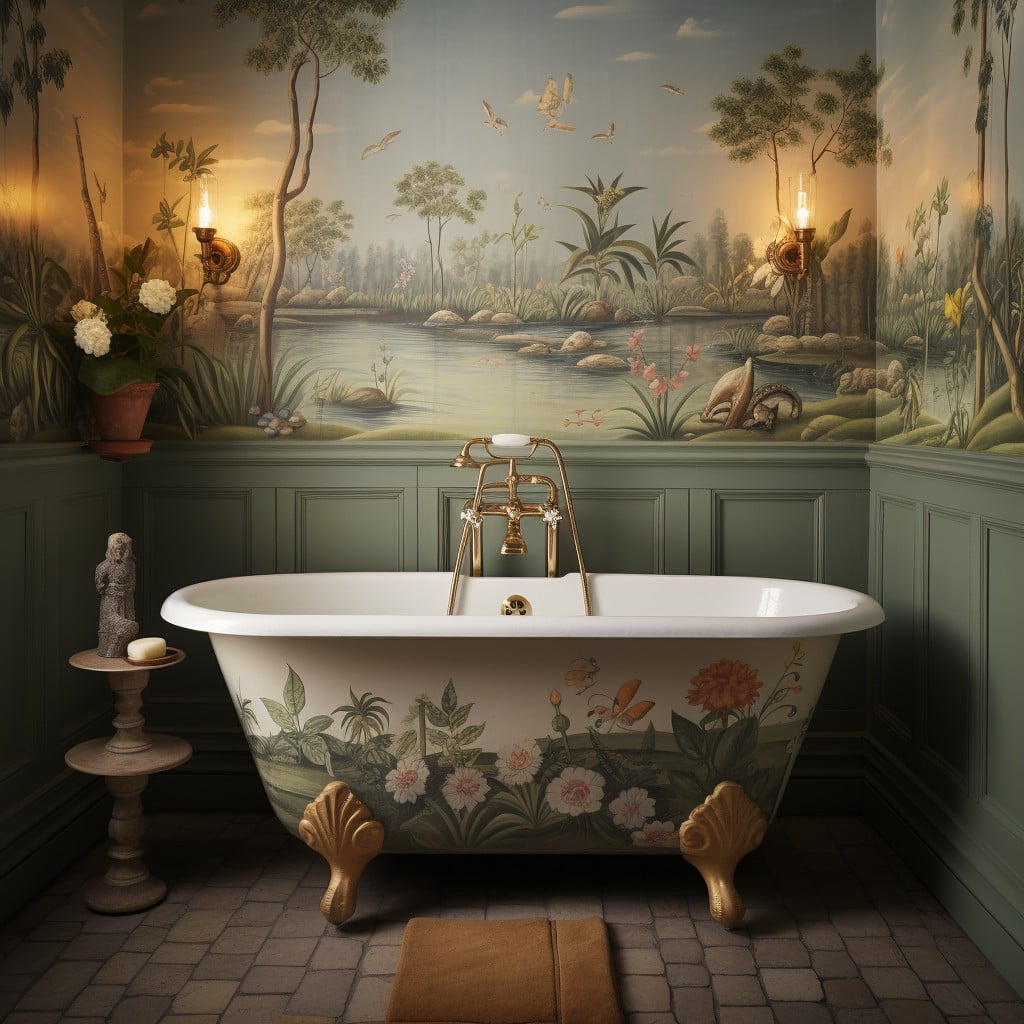 Perfectly suited for creating an elegant aura, vintage-inspired wallpaper can span various style genres, from classic Victorian motifs to the simplistic designs of the Art Deco era.
Here are some key principles to consider:
Influences: Styles usually hark back to bygone eras, embracing the charm and sophistication of times like the roaring 20s or swirling 60s.
Design: These tend to favor intricate designs, floral patterns, muted pastels, and nostalgic motifs characteristic of the selected era.
Materials: Often designed to mimic traditional printing techniques or materials, many featuring a textured or tactile element.
Compatibility: They work best with antique and vintage furniture, emphasizing style cohesion in bathroom décor.
Impact: They instantly confer a unique, timeless feel to the space, enhancing its personality.
Customization: Plenty of options available to match every style, from muted pastel colors to rich, deep hues, and from simple repetitive patterns to complex art-inspired scenes.
Remember, it's not about reproducing a specific era in your bathroom; it's about borrowing elements to create a space that feels cozy, stylish, and distinctly yours.
Animal Print Wallpaper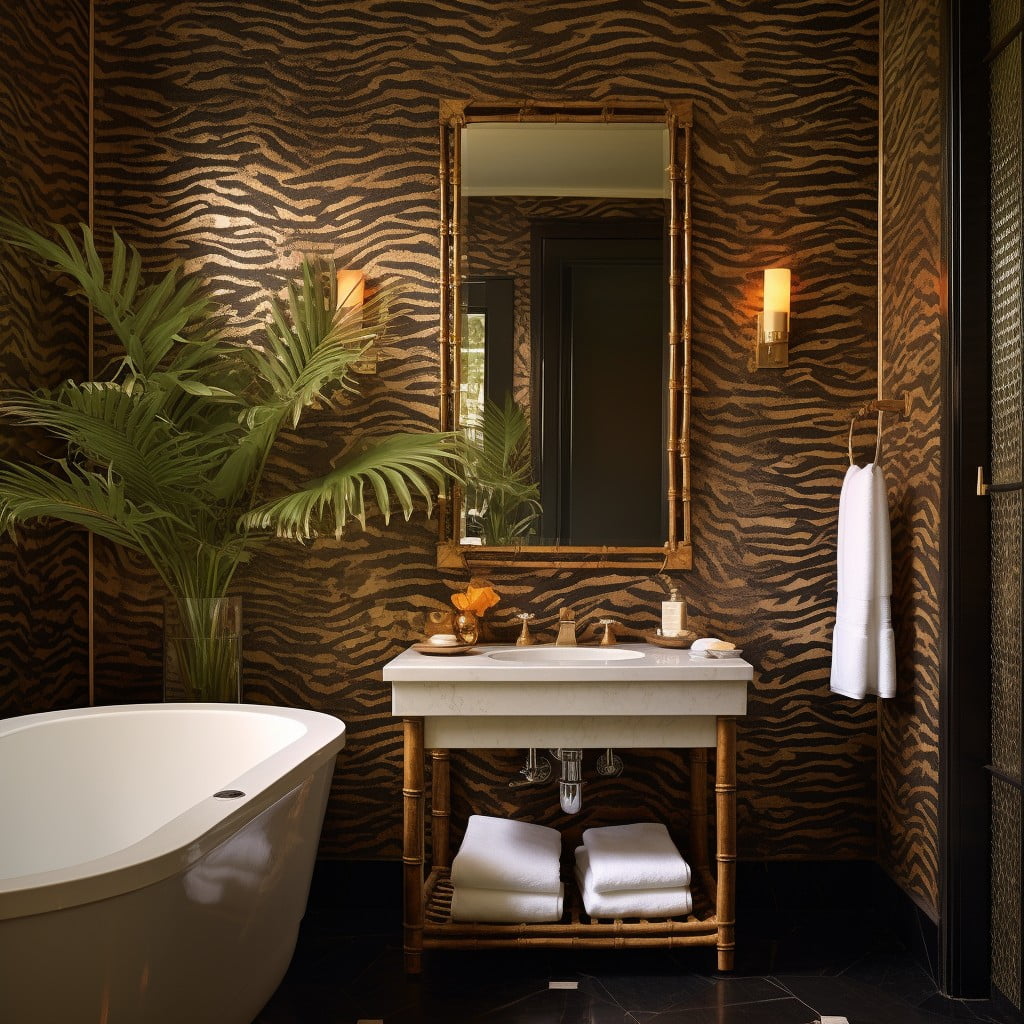 Breathing vitality into any space, animal print designs have a timeless appeal. Their bold nature serves as a distinctive focal point, ideal for creating a statement in bathrooms.
Here's how you can make the most of this trend:
Versatility: From a leopard spot's grace to zebra stripes' elegance, options abound.
Boldness: Instantly increasing visual interest, they add a dramatic flair effortlessly.
Pairing: Benefit from pairing with clean, minimalistic elements to balance the audacity.
Durability: Opt for vinyl variants for moisture-prone areas ensuring longevity.
Remember, use sparingly to prevent an overwhelming feel.
Modern Minimalist Wallpaper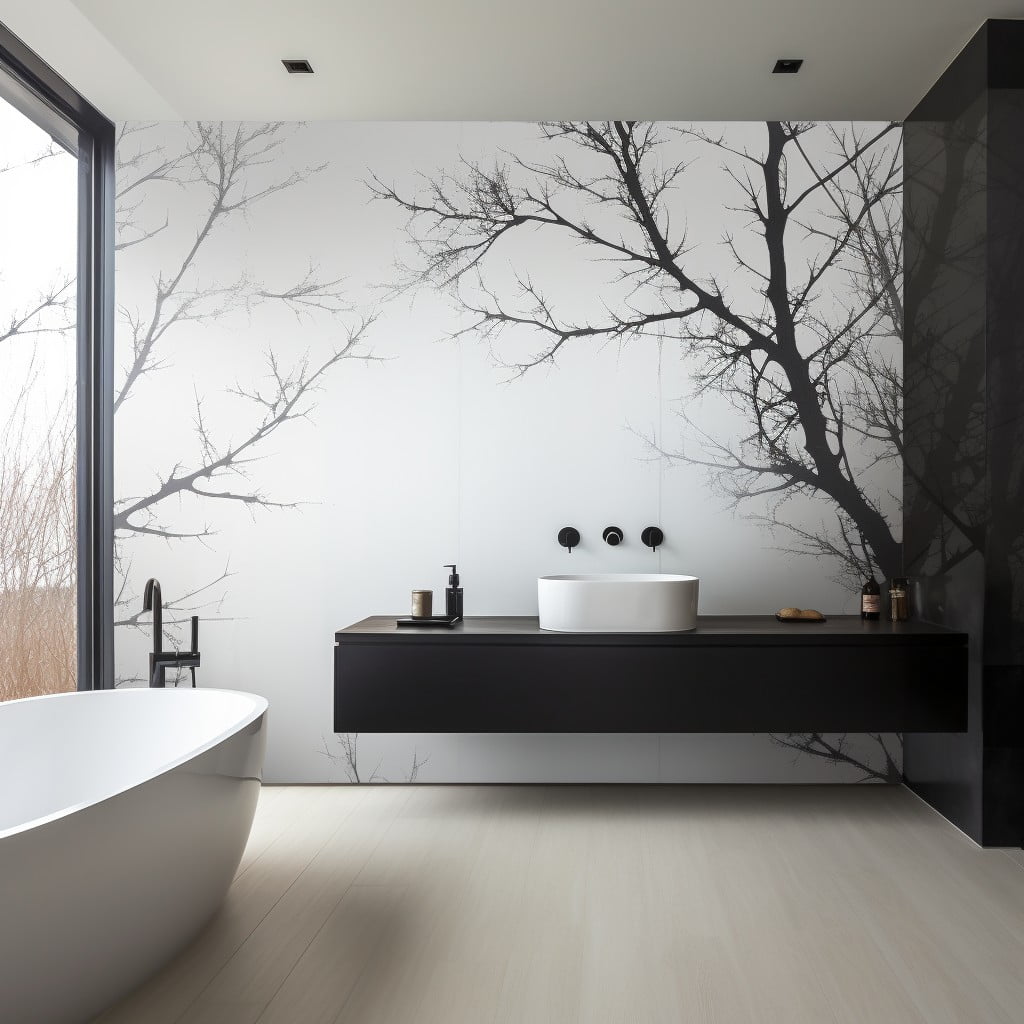 The simplicity and elegance of modern minimalist wallpaper are undeniable. It is not cluttered with intricate patterns or vibrant colors. Instead, it embraces muted hues and clean lines to create a tranquil and composed setting.
Key Points:
1. Minimalist wallpaper encourages simplicity with a less-is-more approach.
2. The color palette typically consists of neutral earth tones, soft pastels, or monochrome schemes.
3. Designs often feature clean lines, geometric shapes, or subtle textures.
4. Its understated beauty complements modern fixtures and streamlined designs prevalent in a bathroom.
5. Provides a serene backdrop, allowing other decorative elements in the bathroom to take the spotlight.
6. Ideal for small bathrooms, making the space appear larger and more open.
7. Easy to pair with a wide range of color schemes and decor styles, providing a versatile choice for any bathroom design.
8. Requires lower maintenance compared to more elaborate designs.
Chinoiserie Wallpaper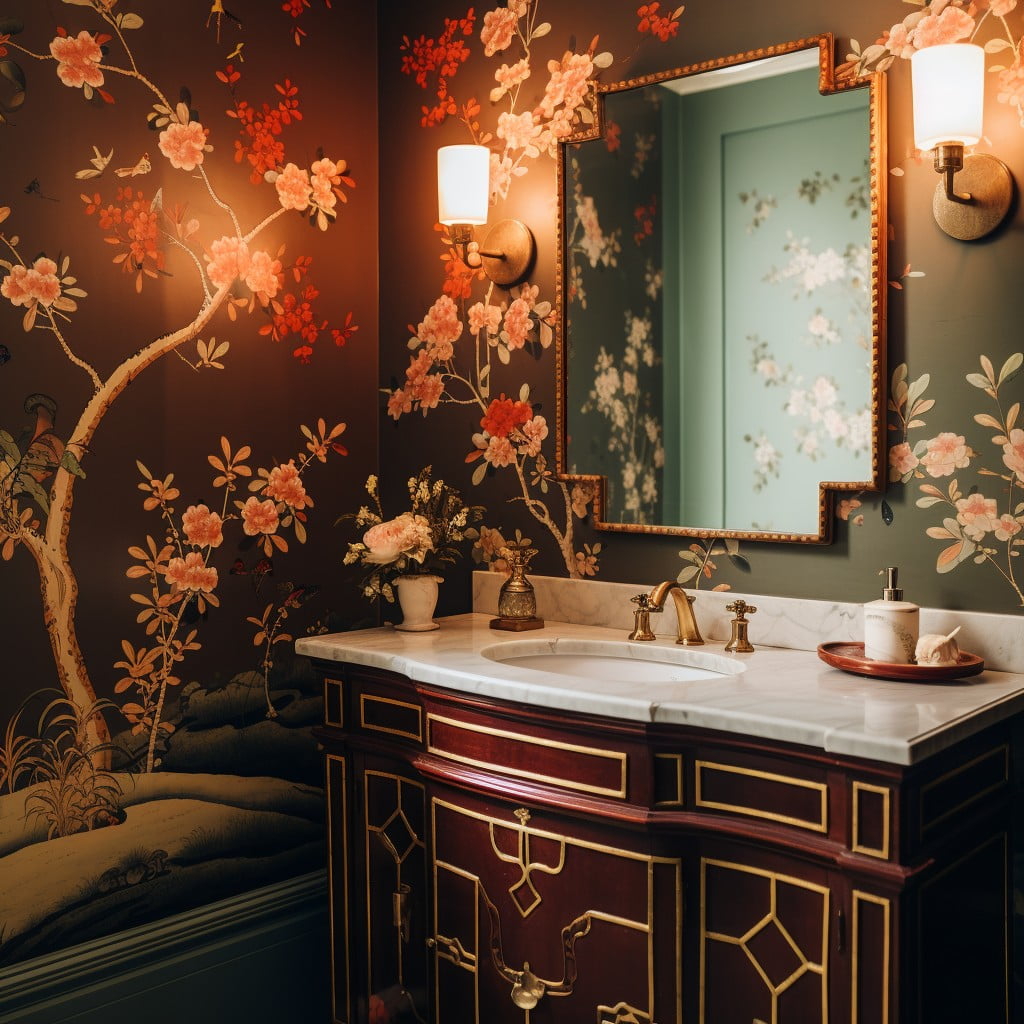 Chinoiserie wallpaper offers an artistic fusion of Eastern and Western stylistic elements. Known for its intricate, hand-painted designs, it typically entails a vibrant palette along with natural motifs.
Key points:
Unique, elaborate designs: Each piece is a work of art influenced by Asian culture, typically featuring birds, flowers, and fantastical scenes.
Rich, vibrant colors: From Asian-inspired reds and golds to lush greens and blues.
Natural motifs: This style often includes elements like peonies, pagodas, and plum trees.
Versatility: Suitable for both classic and contemporary interiors. Can be used to create a statement wall or an immersive, all-around effect.
Emotional Impact: The depth and details in these wallpapers evoke a sense of luxury and sophistication.
Nautical Themed Wallpaper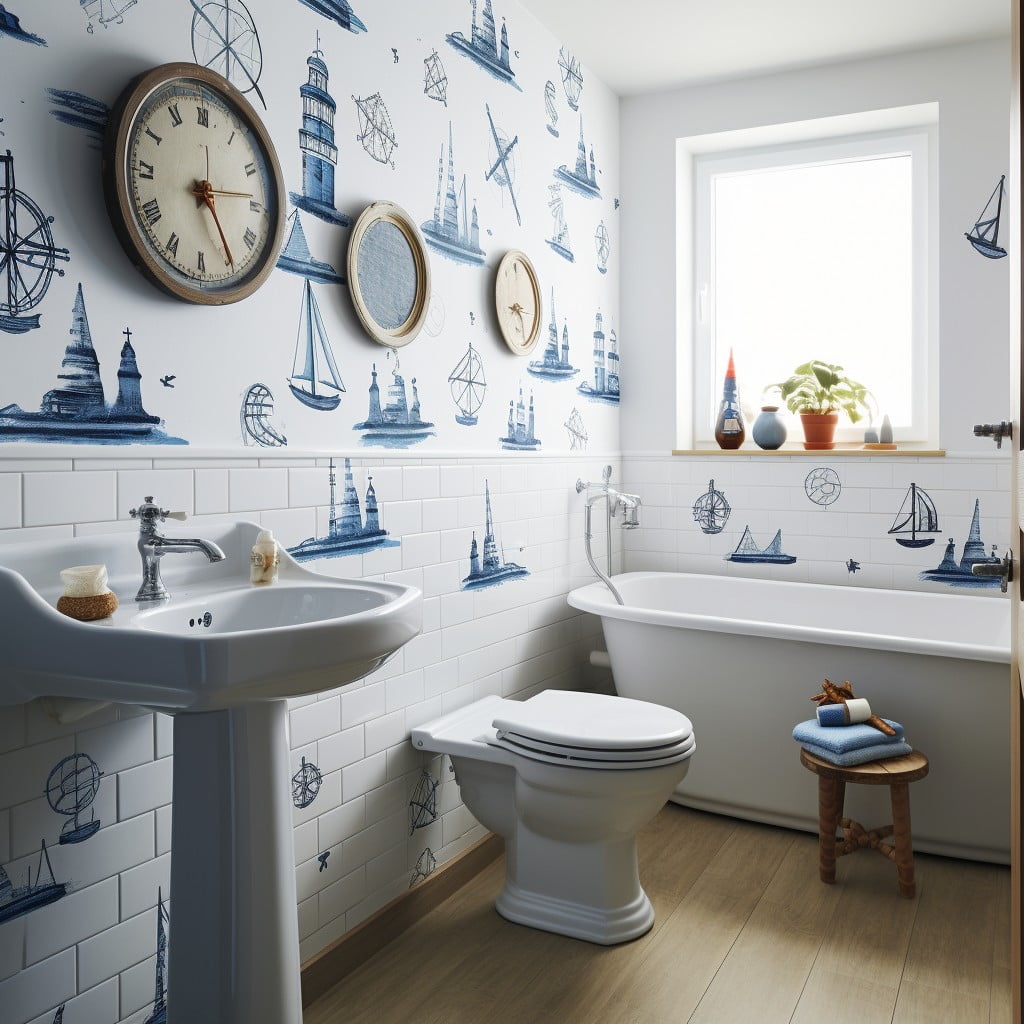 With its distinctive design, nautical wallpaper can create a fresh and relaxing atmosphere synonymous with coastal living. Typically characterized by shades of blue, stripes, anchors, ships, and oceanic elements, it transports you to the heart of the sea in the confines of your bathroom.
Key points to consider:
Shades: Navy, turquoise, and white are common choices, often paired in stripes or wave patterns.
Imagery: Look for prints featuring anchors, seashells, sea creatures, or lighthouses.
Application: Consider wallpapering a single feature wall for a less intense nautical feel.
Complimentary Decor: Wooden or wicker accessories enhance the seaside aesthetic.
Style: Options range from subtle tone-on-tone prints to bold, highly graphic designs.
Cleaning: Always opt for a waterproof or moisture-resistant version for bathroom use.
Textured Faux Wood Wallpaper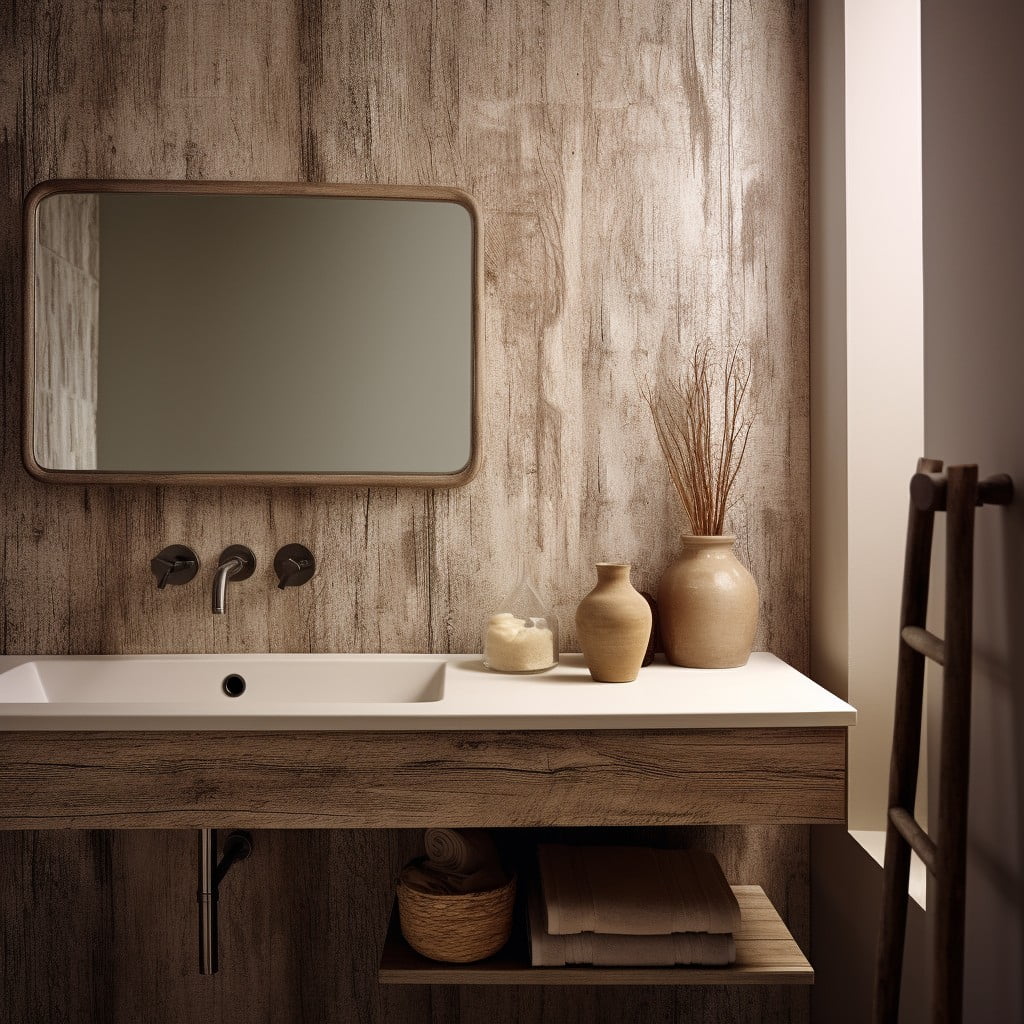 This option offers an aura of nature, warmth, and a dash of rustic charm. Not to be mistaken for actual timber, its appeal lies in the convenience and aesthetics it offers without the cost and maintenance real wood demands.
Key points:
Affordability: Less expensive than real wood, it's a great way to add a touch of class without breaking the bank.
Durability: Resistant to humidity typically present in bathrooms, unlike real wood.
Maintenance: Easily cleaned and doesn't stain as readily as actual wood.
Versatility: Available in varieties to match your preferred wood grain and color.
Eco-friendly: Faux wood material is often sourced responsibly, minimizing environmental impact.
Installation: Easier than actual wooden panels, it takes less time and no specialized skills.
Aesthetic appeal: Provides a warm, natural look that can complement blinds and furniture.
Botanical Wallpaper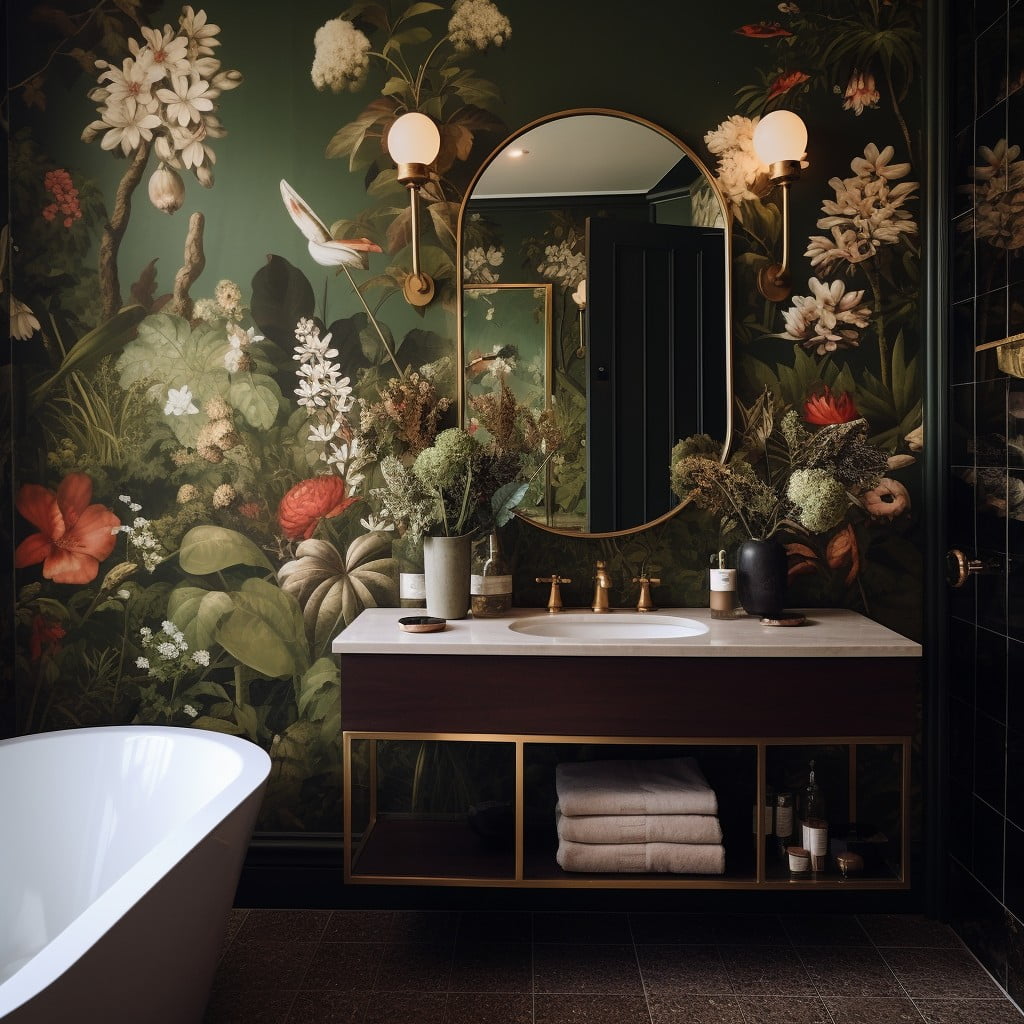 Harnessing the power of Mother Nature, botanical wallpapers inject an exuberant vitality into any bathroom. Here are some key points to keep in mind when considering this style:
1. Versatility: The sheer variety of botanical designs ensures that something will suit your unique aesthetic. From palms to ferns, and blooms and leaves in every color, there is definitely a design to match your preference.
2. Create a Feature Wall: A wall adorned entirely with botanical wallpaper could serve as the room's focal point. Strategically placing the paper will keep the look from overtaken the entire space.
3. Varying Scales: Larger, bolder prints can make a modern and dramatic statement. On the contrary, more delicate, intricate designs tend to lend a traditional, classic feel.
4. Match fixtures: Metallic fixtures can beautifully complement botanical wallpaper. For instance, copper or gold tones can play off green hues splendidly.
5. Refreshing: Botanical wallpapers, especially with green hues can breathe life into a space, making it feel more calming and rejuvenating.
Remember, always order samples to see how the wallpaper looks and feels in your own bathroom environment and lighting. Choosing the perfect wallpaper for your bathroom can drastically change its appearance, adding a much-valued touch of nature in your daily routines.
Mosaic Tile Wallpaper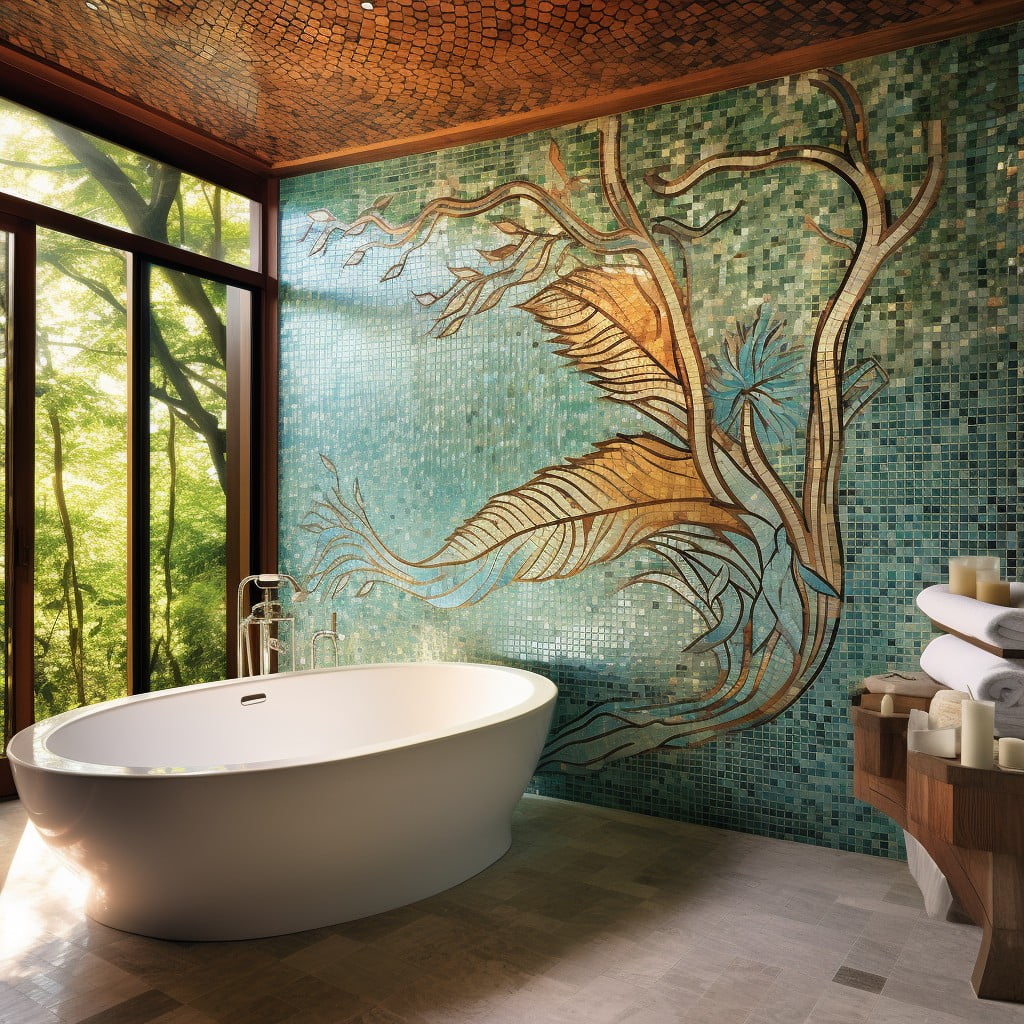 Mosaic tile wallpaper offers an affordable alternative to traditional ceramic and stone tiles, providing an opportunity to experiment with intricate patterns and bright hues. The three main benefits include:
1. Simplicity: No need for adhesives, grout, or sealants. It's as easy as pasting the wallpaper onto the desired wall.
2. Variety: Choose from a range of colors, patterns, and finishes – glossy, matte, or metallic.
3. Flexibility: Versatile enough for use in any part of the bathroom, whether it's around the sink, the shower area, or the entire wall.
Remember, it's best to use a water-resistant version specially designed for bathrooms. This will prevent peeling and ensure longevity.
Wallpaper With 3D Patterns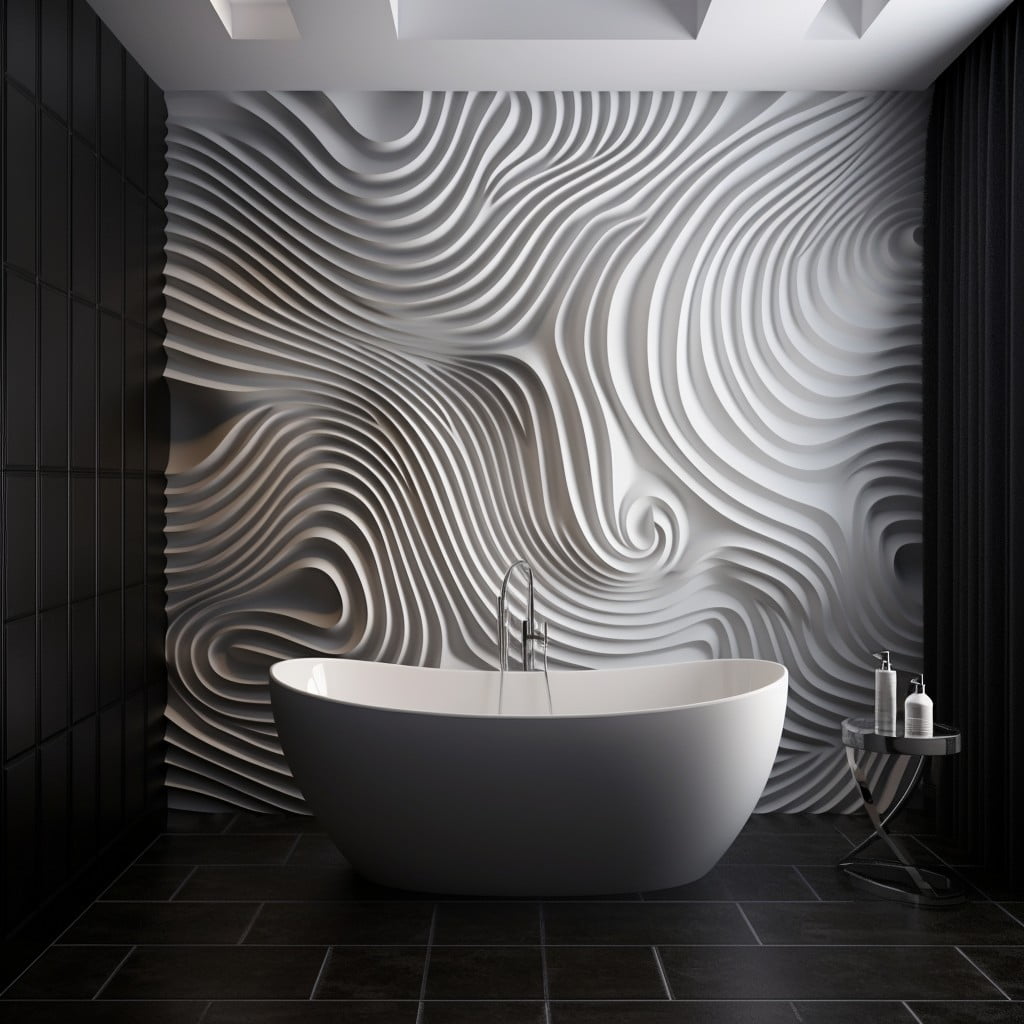 This design approach brings life to any powder room, evoking a sense of depth and movement. 3D patterns, as the name suggests, give the illusion of three-dimensionality on a flat surface. Depending on your preference, they range from subtle geometric patterns to exuberant floral motifs.
Key Points:
1. Creates a sense of depth – adds volume to smaller bathrooms.
2. Variety of designs – choices include geometric shapes, textures, and surrealistic patterns.
3. Practical considerations – better suited for larger, well-ventilated bathrooms as moisture could affect the 3D effect.
4. Lighting – works exceptionally well with good lighting, emphasizing the 3D effect.
5. Application – can be used on a feature wall or all over the room, depending on how adventurous you feel with the design.
6. Pairing with fixtures – works well with minimalist fixtures and fittings to avoid visual clutter.
Eastern Inspired Wallpaper Designs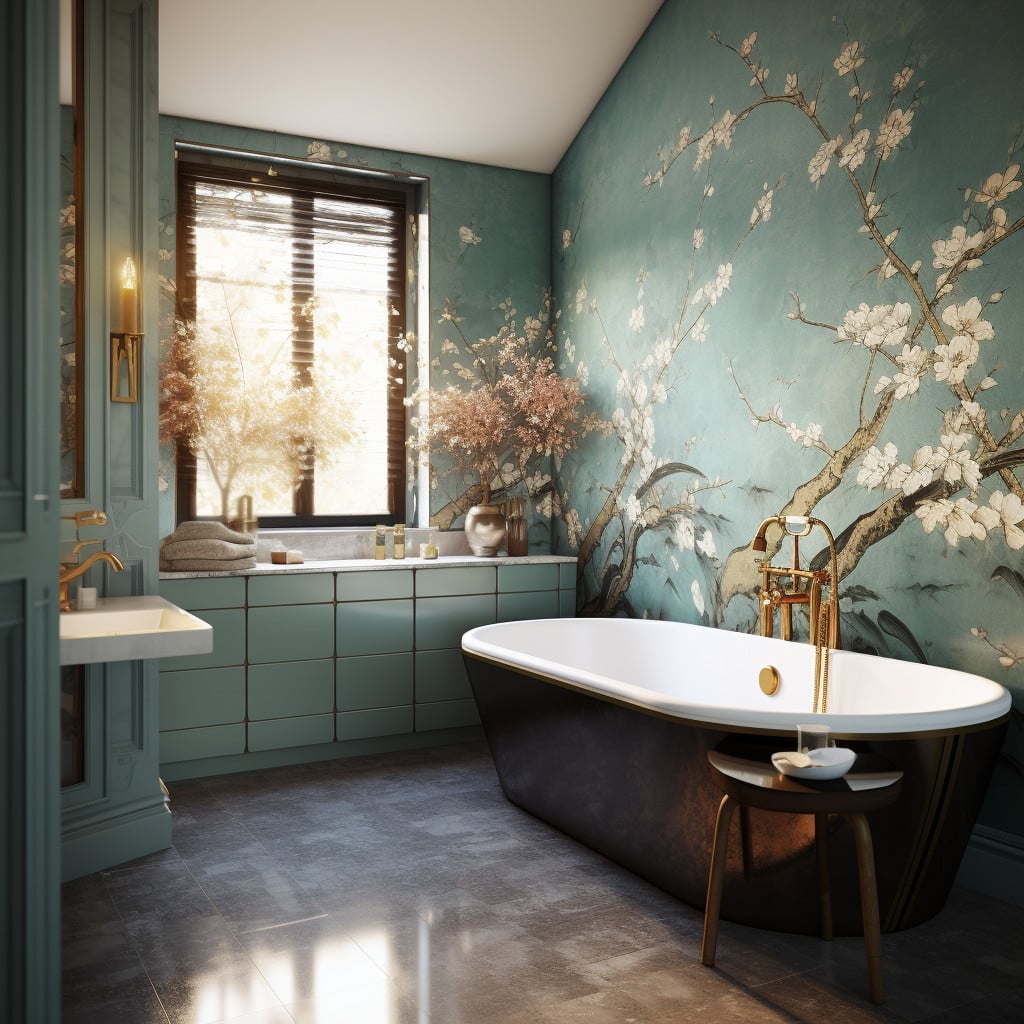 Eastern designs blend traditional inspiration with modern appeal, creating a unique balance. They charm with intricate patterns, vibrant color palettes, and extensive symbolism.
Key Characteristics:
Intricate patterns: Typically, these designs feature detailed geometric or floral patterns. These can bring a luxurious, exotic feel to your bathroom without it being overwhelming.
Vibrant colors: Eastern designs are known for their use of bold, vivid colors. This can breathe life into a dull space, making it feel more engaging and invigorating.
Symbolism: Many Eastern patterns have deep meanings behind them, adding cultural richness to your bathroom's aesthetic. From chinoiserie to paisley, the range is quite extensive.
Fusion: The blend between traditional Eastern patterns and contemporary style provides a unique look that can harmonize with various aesthetics.
Choosing an Eastern inspired wallpaper can infuse your bathroom with a rich tapestry of color, pattern, and symbolism. It offers an innovative approach, adding a splash of cultural charm to any space.
Deep Jewel Toned Wallpaper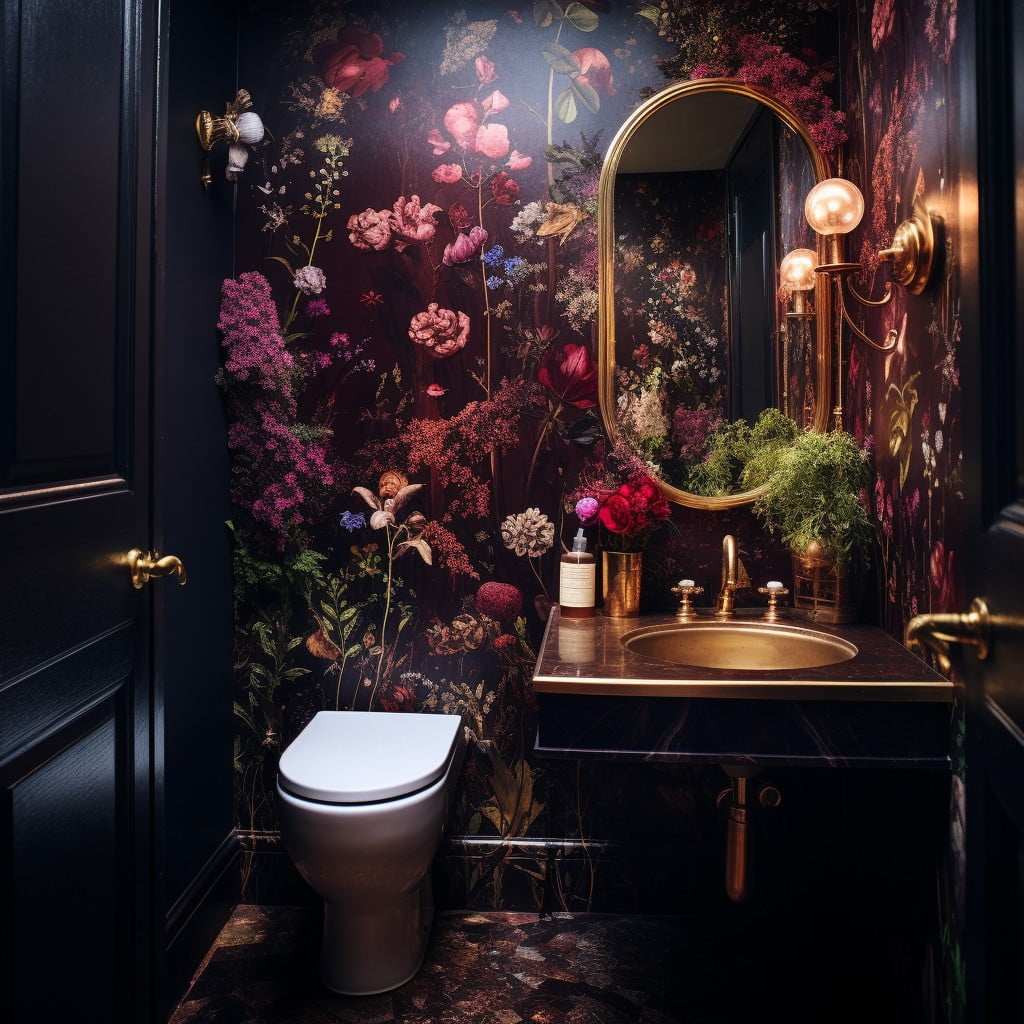 Deep jewel tones can transform bathroom spaces into luxurious retreats. These shades draw inspiration from precious gemstones like emeralds, sapphires, rubies, or amethyst, creating a rich and royal ambience.
Key Points:
1. Creates a luxurious ambience: The deep, rich colors impart an element of luxury and sophistication, similar to a spa-like atmosphere.
2. Versatility: These wallpapers can complement a variety of styles, whether traditional or contemporary, due to their timeless appeal.
3. Mood-setting: The strong color palettes create dramatic, bold aesthetics that can set the mood and character of the bathroom.
4. Combinations: Can be paired with metallic accents or white sanitary ware for a striking contrast, enhancing the opulence of the space.
5. Different patterns: Available in various designs and patterns, allowing customization while maintaining the posh aura.
To achieve optimal results with this theme, consider the overall design scheme, available lighting, and other bathroom fixtures.
Metallic Accent Wallpaper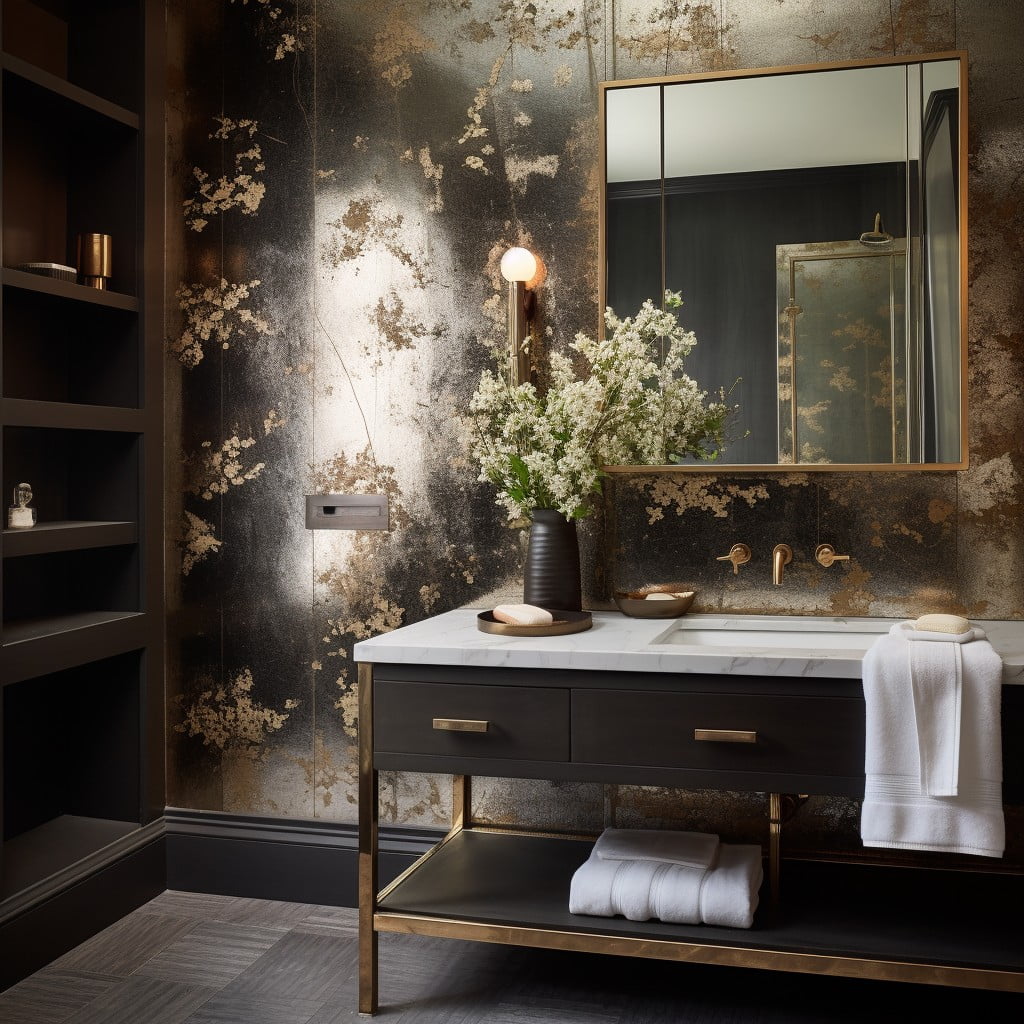 Adding a metallic accent to your wallpapers can instantly uplift the aesthetics of the bathroom. This variety showcases a wide spectrum – from subtle sheens to bolder, shinier finishes.
Key points:
Versatility: Metallic wallpapers come in several designs, such as damasks, florals, and geometric patterns. Each design acts as a unique form of art.
Luxury: Owing to their glittery accent, they lend an opulent flair to the room.
Illusion of space: The reflective quality of metallic wallpapers can give a sense of depth, making the bathroom appear more spacious.
Easy to pair: Complementing metallic walls with matching fixtures and fittings can create a cohesive look.
Diverse colour options: Available in a range of color tones, from silver and gold to copper and rose gold.
Remember, it's crucial to use wallpaper intended for bathrooms; these are typically vinyl or have a protective coating to resist moisture and humidity. Also, proper installation and care can help prolong the lifespan of your metallic accent wallpaper.
Pastel Colored Wallpaper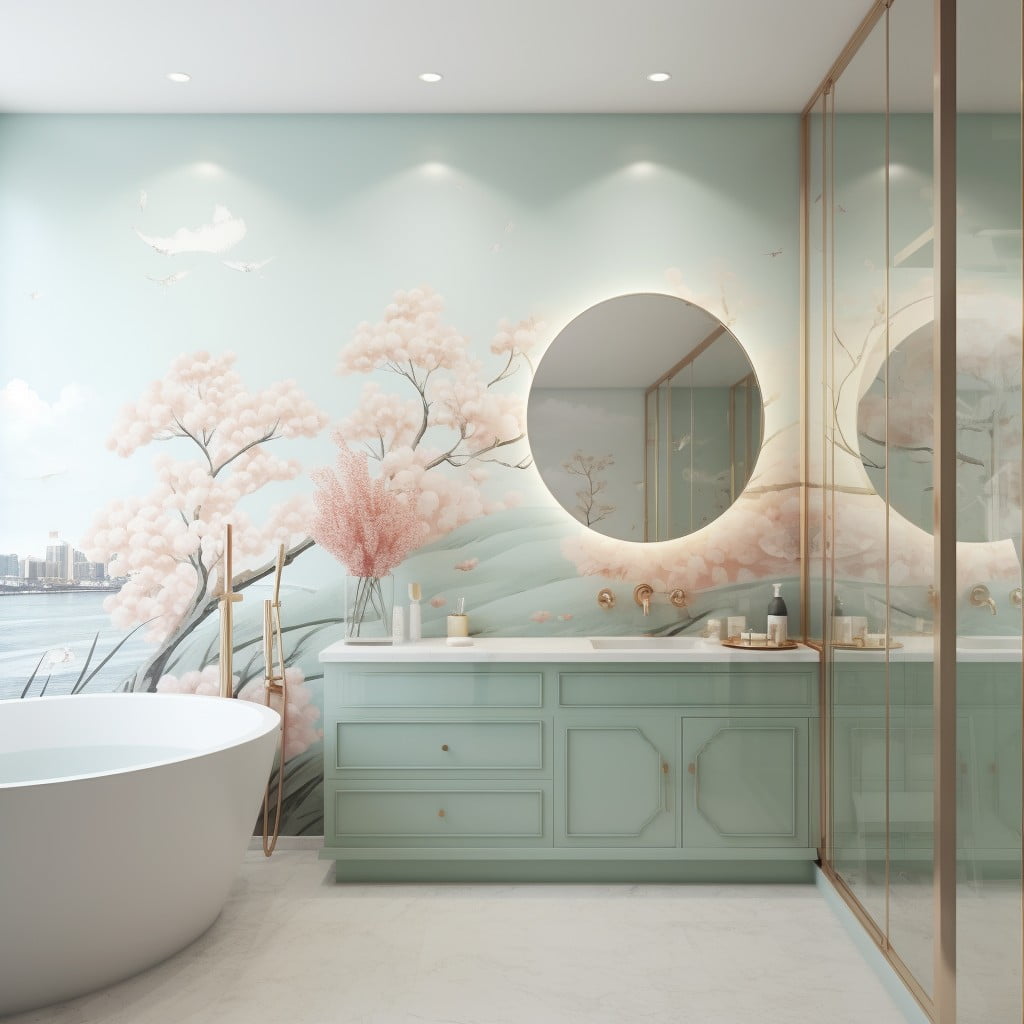 Offering a calming atmosphere, pastel wallpapers add subtle blends of color to the bathroom. They're ideal for creating a soft and relaxing environment, highly suitable for experimentation with contrasting bold accessories. Less stark than darker or brighter designs, pastels provide a gentle touch to your décor.
Key points:
Using pastel wallpapers aids in keeping the bathroom light and spacious.
Their appealing design combines well with different styles, from vintage to modern.
They harmonize well with various fixtures and fittings.
Pastel wallpapers additionally offer a charming canvas for adding vibrant towels, soap dispensers, and artworks.
Achieving an elegant look is possible by coordinating the wall color with similar shades in the pastel spectrum.
They are versatile and widely available in different designs such as stripes, florals, patterns, and textures.
Polka Dot Wallpaper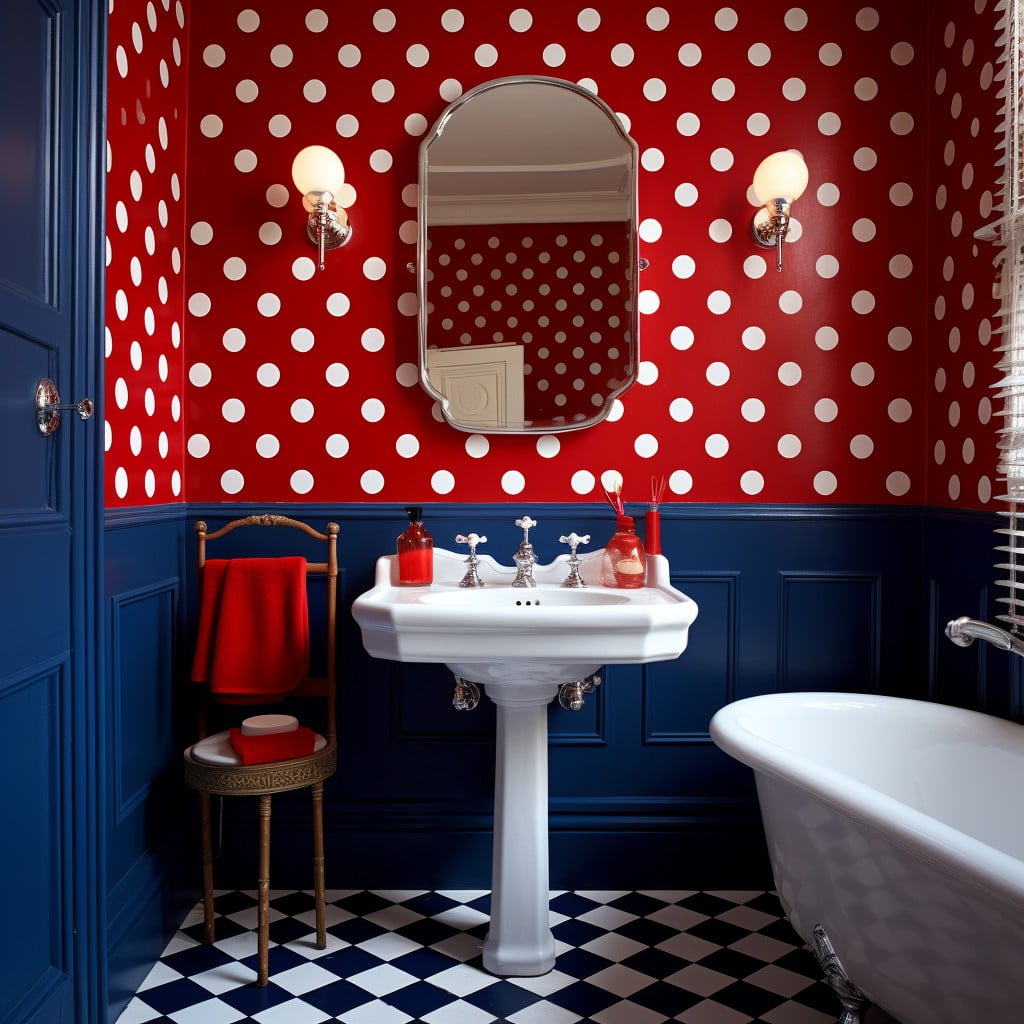 Polka dot wallpaper opens avenues for a classic yet playful spin on bathroom decor. Harness the power of periods and bring a sense of whimsy to the room.
Below are a few key points to explore this understated charm.
Size Matters: Opt for smaller dots to create the illusion of a bigger bathroom, larger dots for a fun, audacious look.
Color Contrast: White on black or black on white offers a traditional feel. Pastel dots on a white background evoke freshness, perfect for a bathroom feel.
Walls or Accents: Cover the entire room or a single wall, even the ceiling if you're feeling adventurous.
Pairings: Polka dot wallpaper pairs well with vintage fittings for a retro vibe, or sleek, modern fixtures for a bold contrast.
Material: Vinyl wallpapers are great for withstanding the humidity typical of bathrooms.
Remember, polka dot wallpaper injects a room with personality and fun – perfect for starting the day on a cheerful note.
Abstract Art Wallpaper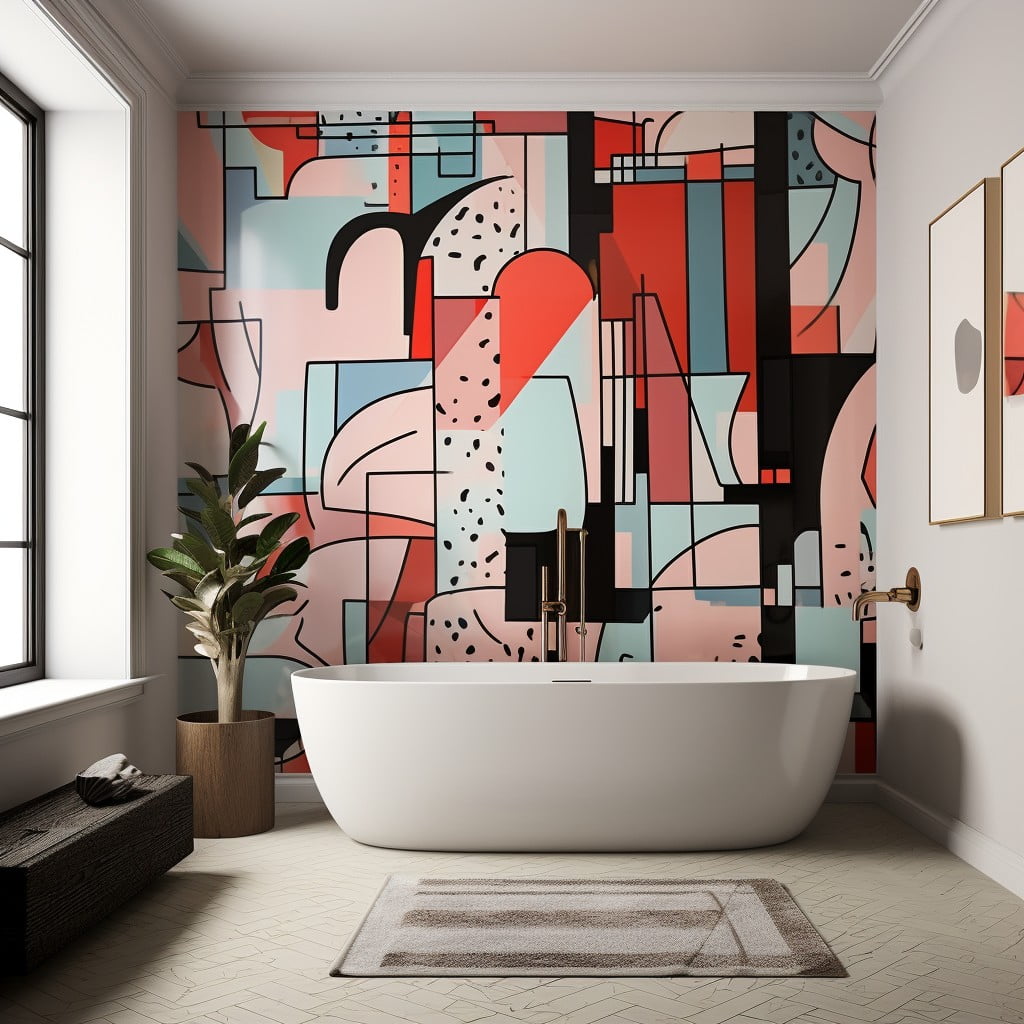 Taking a rather artistic approach to bathroom décor, abstract wallpapers offer a delightful splash of unpredictability. With their natural inclination to diverge from conventional design lines, these prints can easily establish your bathroom as a standout space.
Key Points:
1. Freedom of Interpretation: Abstract art allows personal interpretation, making your bathroom truly unique.
2. Variety: With countless patterns and color schemes, you can cater to your aesthetic preferences, whether they lean towards gentle pastels or striking, vibrant hues.
3. Mood Setting: The abstract form can help set various moods according to its design – a serenely calm atmosphere with soft, undulating patterns, or a more dynamic, energized feel with sharper, disjointed designs.
4. Size Flexibility: Abstract wallpapers fit well in bathrooms of any size, making your space appear larger or cozier depending on your choice of design.
5. Easy to Pair: These wallpapers can easily be paired with a multitude of bathroom fixtures and accessories due to their versatile nature.
Continue reading: