Last updated on September 24, 2023
Discover a plethora of creative bathroom trim ideas that can transform your space into an elegant and stylish oasis.
Revamping your bathroom doesn't necessarily require a complete overhaul, sometimes a simple trim update can make a world of difference. Whether it's adding a pop of color or introducing a new material, bathroom trims can significantly enhance the overall aesthetics of your space.
This article will guide you through a variety of bathroom trim ideas, from choosing the perfect color and material to the best installation techniques. So, if you're looking to give your bathroom a stylish facelift, stick around for some unique and innovative trim ideas that will transform your space into a chic and elegant retreat.
Table of Contents
Glossy White Baseboards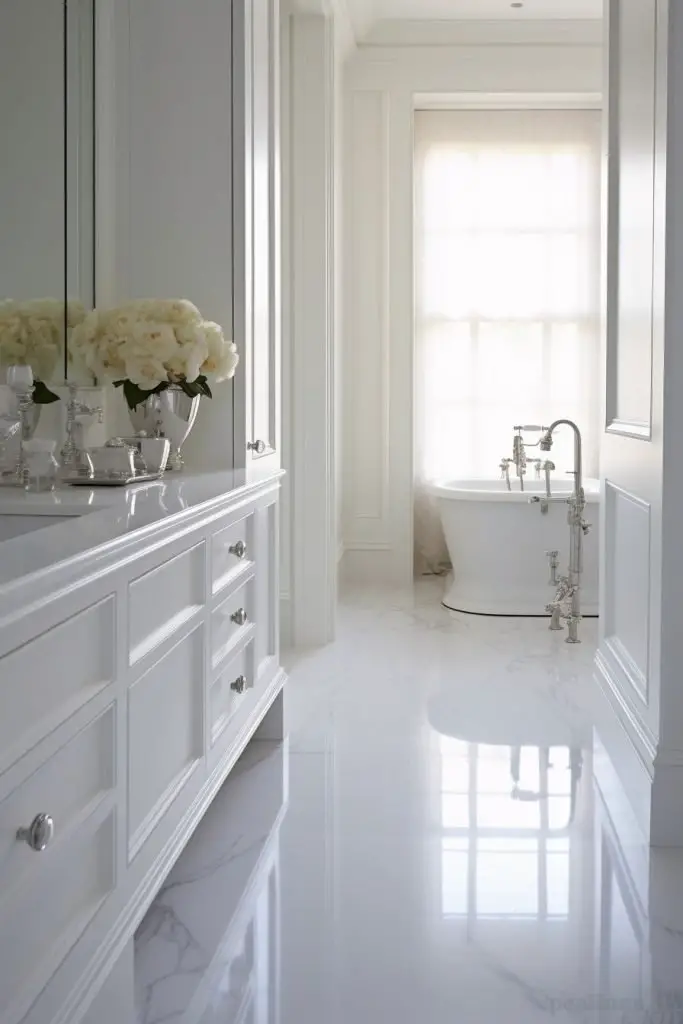 Optimal for reflecting natural light back into the room, they add a clean, crisp finish to your bathroom. Pair them best with light colored walls for an open, airy feel.
Enhances light, making a small bathroom appear larger
Provides a seamless transition between the wall and floor
Works well with most interior design styles
Easy to clean and maintain
Durable and water-resistant
Stone Trimming for Rustic Look
Lending an earthy appeal to your bathroom, this style involves the use of natural or faux stone materials and often complements wooden accents or bronze fixtures. It's ideal for those paying homage to nature-inspired themes, focusing on raw, unrefined aesthetics.
Preference for materials such as limestone, granite, or slate
Opt for either standard uniform blocks or irregular shapes to suit individual styles
Consider the color of the stone versus the overall bathroom color scheme
Balance it with the rest of the bathroom decor to avoid overpowering the space
Use a sealant to enhance durability and longevity
Match stone trim with earth-tone accessories and fixtures for a complete look
Remember, the aim is to emphasize a sense of rugged harmony, a nod to the great outdoors within your bathroom space.
Stained Wood Trim for a Vintage Appeal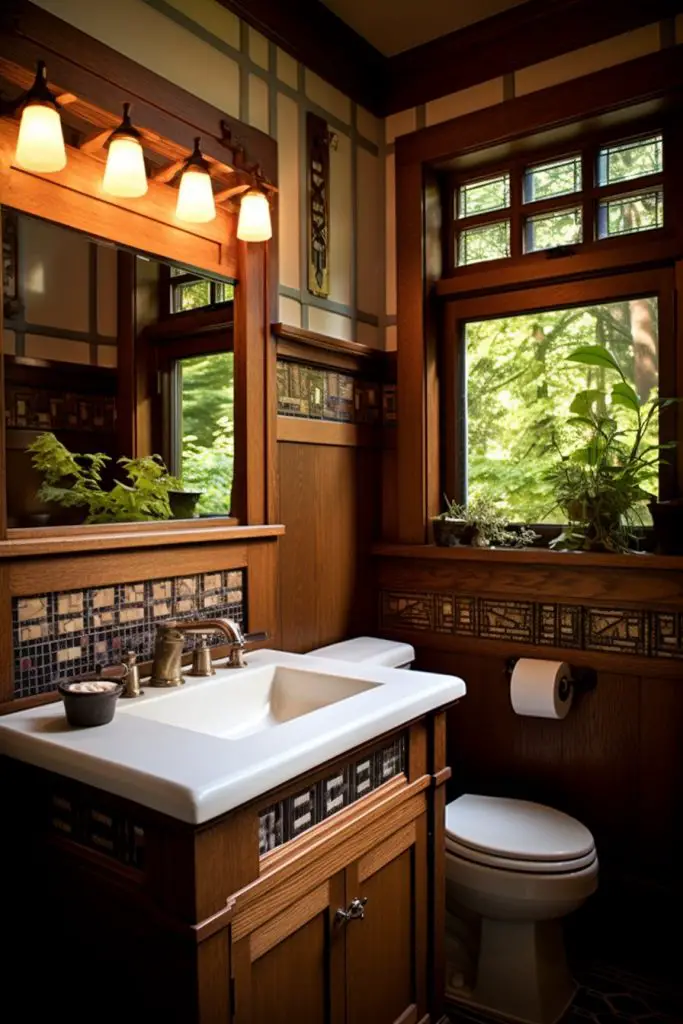 Employing this rustic yet timeless style involves:
Selecting the type of wood such as pine, oak, or cherry. Each carries its unique stain absorption characteristics which can significantly influence the final look.
Choosing the stain color. From subtle honey tones to deep mahogany hues, decide which best complements the bathroom's overall color scheme.
Applying the stain evenly to avoid blotchy or inconsistent results. A uniform coat enhances the natural grain of the wood for that authentic, antique-like look.
Sealing the wood. Use a top-coat of clear varnish or polyurethane to protect the stained wood from moisture and enhance its durability.
Incorporating matching elements. To amplify the vintage appeal, consider matching wooden towel racks, mirror frames, or cabinetry with the same stain color.
Beadboard Trims for a Cottage Look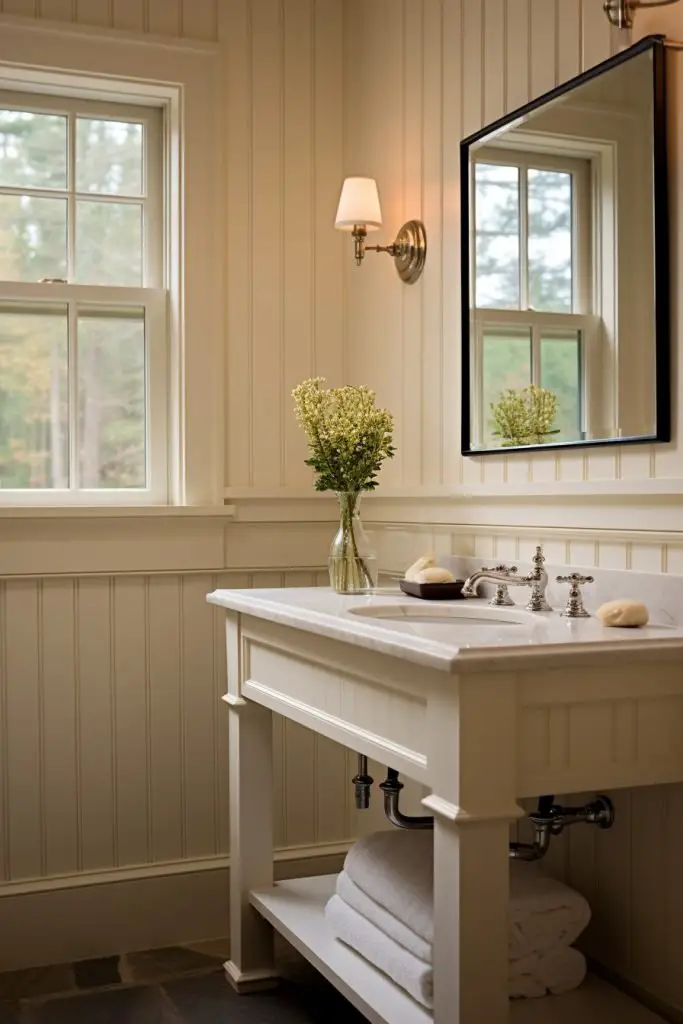 Perfect for those who love the charm of a seaside cottage, beadboard trims offer a delightful touch of elegance. The key attributes are:
Vertical lines that add height perception.
Two-piece nature allowing diversity in colors and finishes.
Low-maintenance requirements, ideal for high-moisture areas like bathrooms.
Simple installation process; a DIY opportunity.
Casual and comforting aesthetic, ideal for cozy interiors.
Beadboard trims can literally raise the look of the bathroom, while providing a low-maintenance, easy-to-install design solution. Infusing colors or finishes lifts the design immensely, promoting a relaxed and comfortable aura.
Metallic Finish Trims for a Sleek, Modern Edge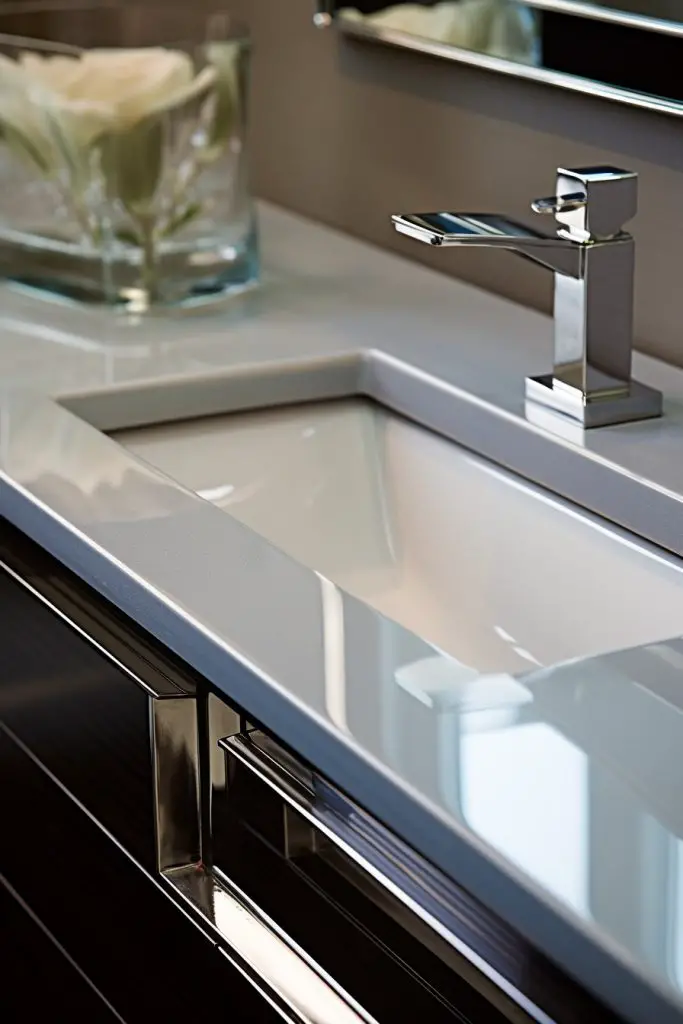 Metallic finish trims can breathe life into a typical bathroom with their reflective surfaces that add drama and sophistication. They make for an impressive design detail, especially when paired with a monochromatic color scheme, giving the space a sleek, modern edge.
Reflective properties accentuate light, enhancing the space.
Corrosion-resistant, suitable for damp bathroom conditions.
Various tones available, such as brass, chrome, and copper, for matching with other fixtures.
Delivers modern aesthetic, perfect for contemporary designs.
Can serve as a unique design element, creating architectural interest.
Easy to clean, generally needing just a damp cloth and mild soap.
Durable option for high-traffic bathrooms.
Helps highlight art, mirrors, and other focal points.
Crown Molding for Added Elegance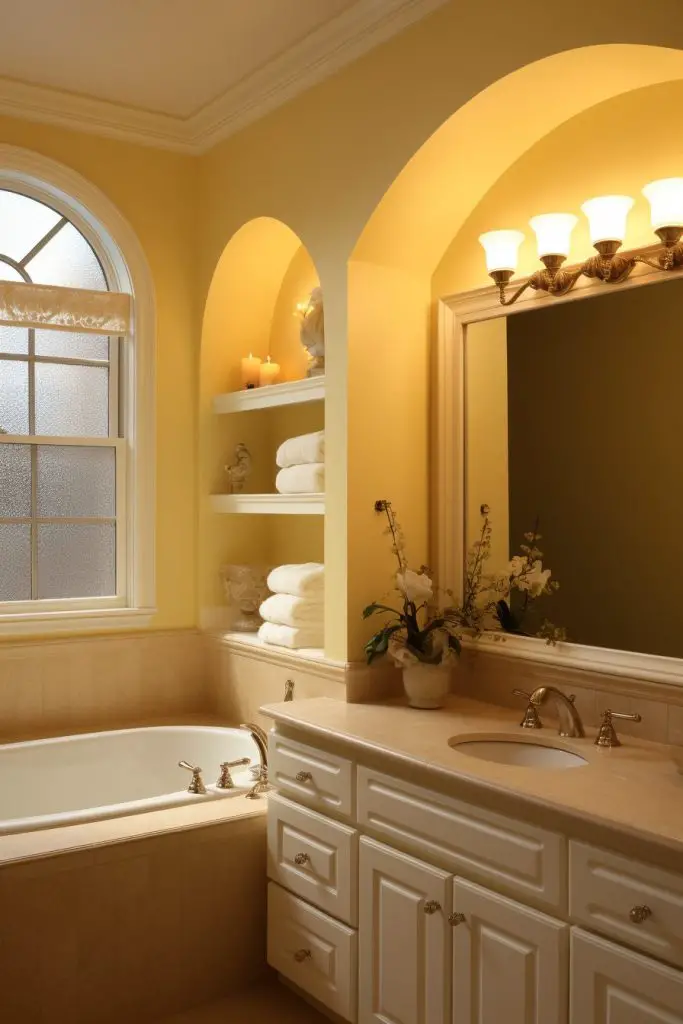 Crown molding serves not only as a decorative accent but also introduces a sense of hierarchy to bathroom spaces by subtly drawing the eye upward towards the ceiling. Its installation adds an aristocratic touch, steeped in tradition and history, to any type of bathroom decor.
Key points:
Consider the size and style: Larger bathrooms can accommodate elaborate designs, while smaller ones suit simpler, streamlined moldings.
Material options: Choose from solid wood, plaster, or flexible polyurethane to fit your budget and needs.
Colors and finishes: Generally, moldings match the ceiling for a cohesive look but a contrasting color can add drama.
Professional installation for precision: Due to the complexity, it's advisable to opt for professional installation for perfect corners and a seamless look.
Maintenance: Regular painting and cleaning maintain its longevity and beauty.
Painted Ceramic Tile Trim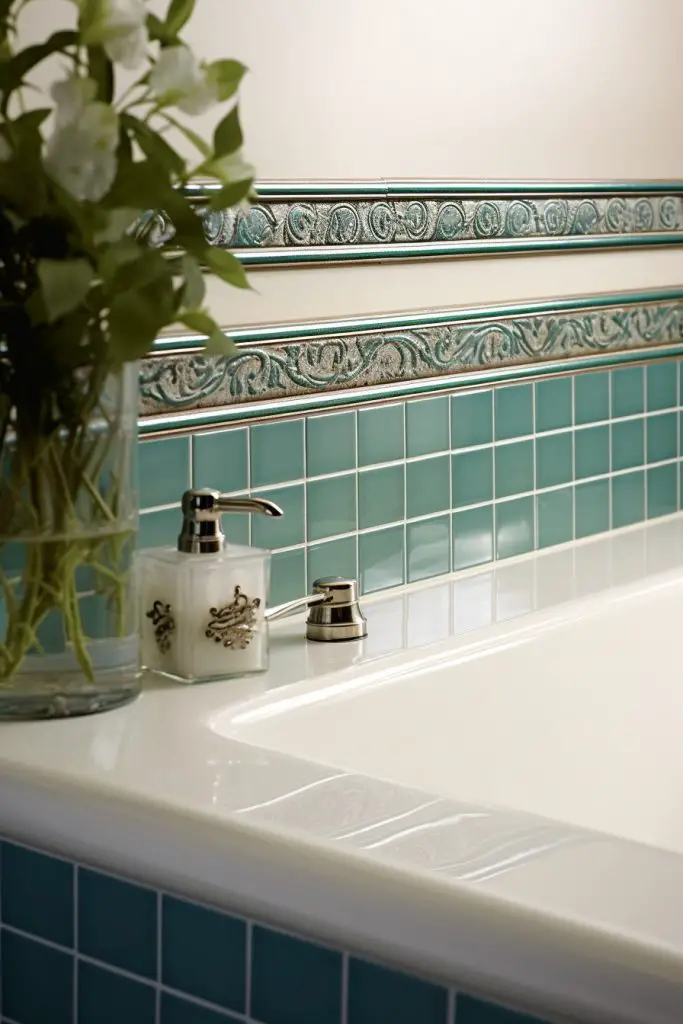 Painted ceramic tile trim provides versatility and vibrance, lending itself to a multitude of design possibilities for an intricate, yet tasteful touch to the bathroom.
1. Wide array of colors: This aesthetic flexibility opens the floor to creativity – think bold reds or calming blues for various moods and styles.
2. Detailing options: Floral patterns or geometric designs add an extra touch of sophistication.
3. High durability: Ceramic can withstand water, heat, and cleaning products, ensuring a long lifetime for the trim.
4. Easy Maintenance: Simply wipe the surfaces clean, keeping your bathroom looking fresh and neat.
5. Enhances aesthetic: Integrating the designs with the bathroom's overall theme, boosts the character of the room.
Nautical Themed Trim With Braided Rope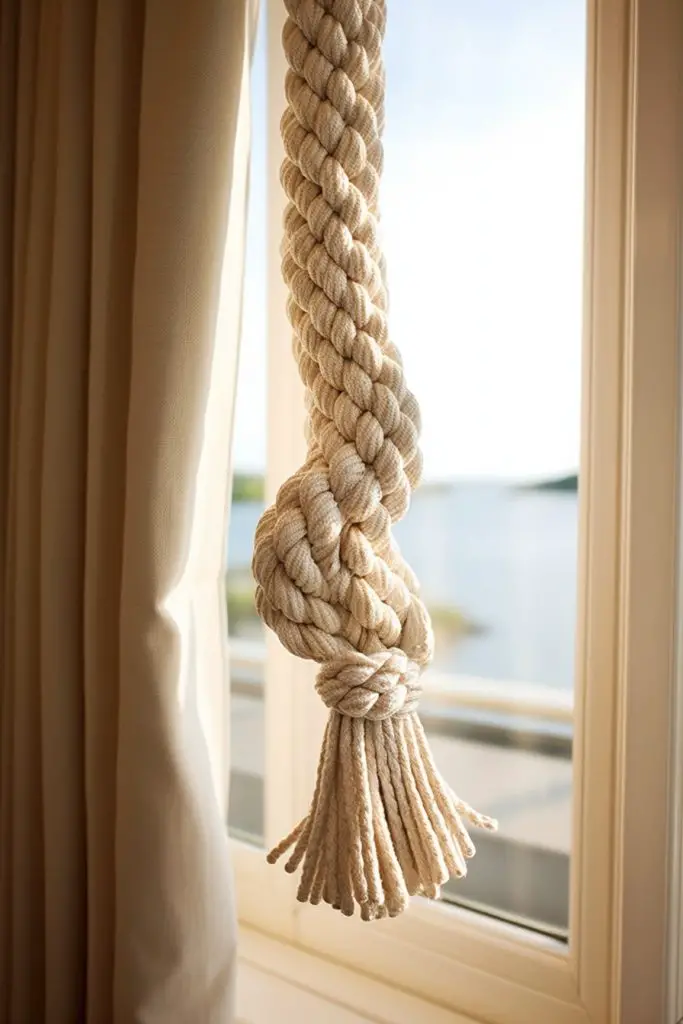 Braided rope brings that quintessential seaside vibe right into your space. The key factors behind this stylish trim idea are:
Maritime Charm: Symbolizes your love for the open sea and adds a unique, aquatic charisma to the room.
Versatility: Works wonders with a variety of color schemes, particularly those featuring blues, whites, or sandy tones.
Texture: Introduces a tactile element which underscores the nautical theme.
Easy Installation: The flexibility of rope allows easy fittings around corners and curves.
Cost Effectiveness: Less expensive than traditional wooden or stone trims, making it a budget-friendly choice.
Eco-friendly Bamboo Trims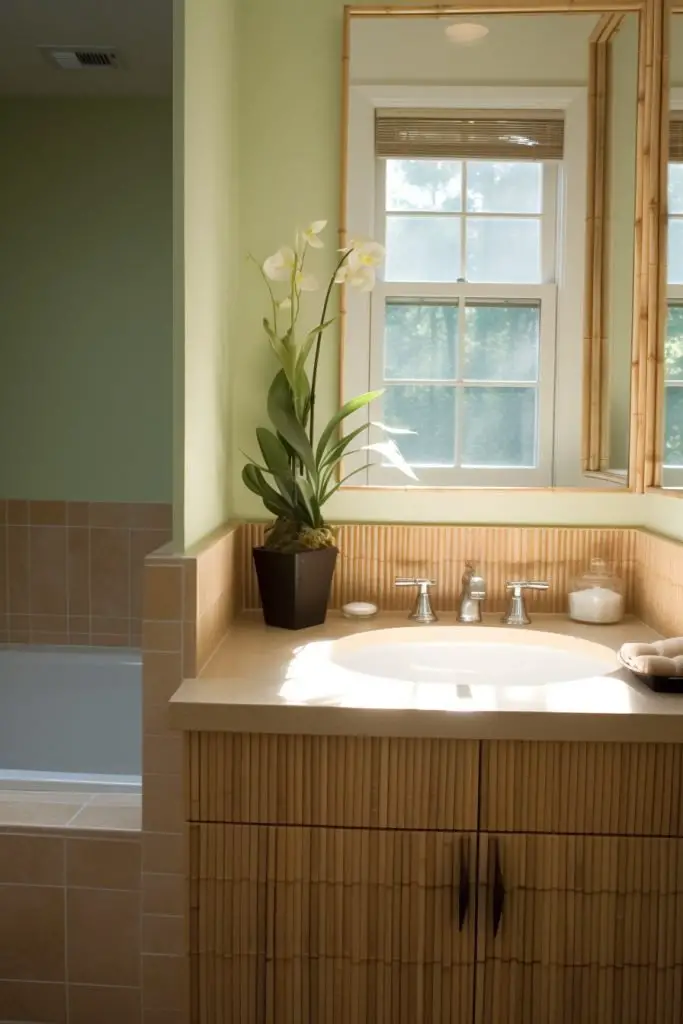 Bamboo trims add a natural touch while also proving to be a sustainable choice. Their popularity stems from the following key attributes:
1. Bamboo grows rapidly, making it highly renewable.
2. Exceptional hardness gives it durability similar to traditional wood trims.
3. An array of shades, from light pale tones to dark amber hues, are available.
4. It can be easily shaped into intricate designs, lending a bespoke look to your bathroom.
5. Due to its natural anti-microbial property, it is hygienic and easy to maintain.
Thus, with bamboo trims, you get an extra peace of mind knowing that you're making an environmentally responsible choice that doesn't compromise on style and durability.
Victorian Style High Baseboards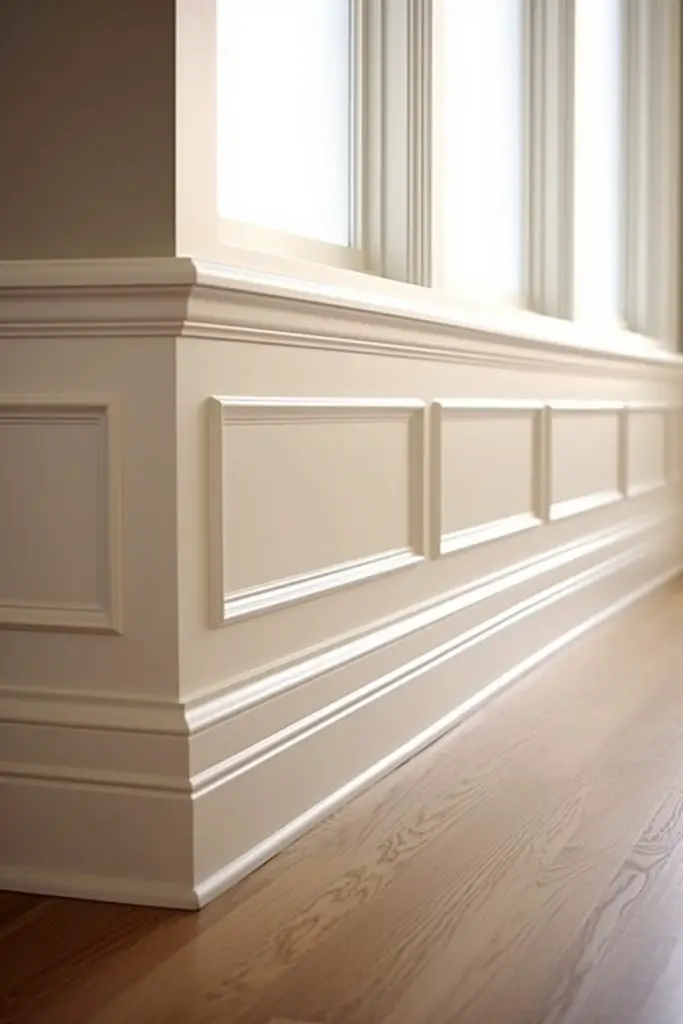 Expressing a time-honored aesthetic, this trim option resonates with old-world charm. They are usually broader and include more detailed designs than conventional trim, providing an excellent way to incorporate intricate details into your bathroom decor.
Statement-making: The increased height of Victorian baseboards makes a bold statement, commanding attention and creating architectural interest.
Period-authentic: Takes design cues from 19th-century architecture. Perfect for a traditional or historic home.
Detailed Design: Often involves intricate carvings or moldings, offering plenty of visual interest.
Comfortable Contrast: Pairs well with both bold, wallpapered walls or a more subtle color scheme due to versatile design.
Size and Scale: Harmonizes with high-ceiling spaces, making the room feel more proportionate.
Remember, while Victorian baseboards can elevate your bathroom's overall look, the key to achieving a balanced design lies in ensuring the trim syncs well with the rest of the room's decor.
Shiplap Trim for Farmhouse Style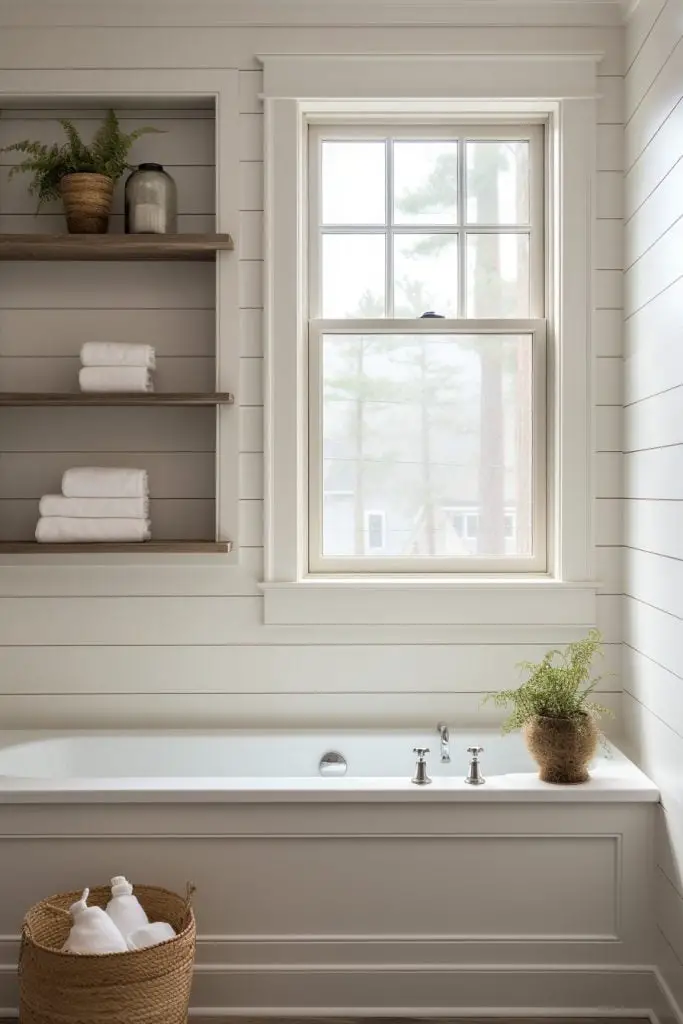 Shiplap, popular for its characteristic rabbets that allow the boards to fit together snugly, creates a distinctive pattern of horizontal or vertical lines. Traditionally used in the construction of barns and older homes, it's now a sought-after trimming in modern interior design.
Key Aspects:
Unique simplicity: Shiplap trim brings a simple, yet fresh twist to the bathroom decor. It succeeds in making a statement without overwhelming the space.
Versatility: Though typically found in white, they can be painted in any color to match your overall bathroom theme.
Easy installation: Compared to other trims, shiplap is relatively easy to install and can also be a suitable project for DIY enthusiasts.
Enduring appeal: This type of trim never goes out of style, lending your bathroom a timeless farmhouse charm. Besides, it's durability ensures long-lasting appeal.
Trimming With Integrated LED Lighting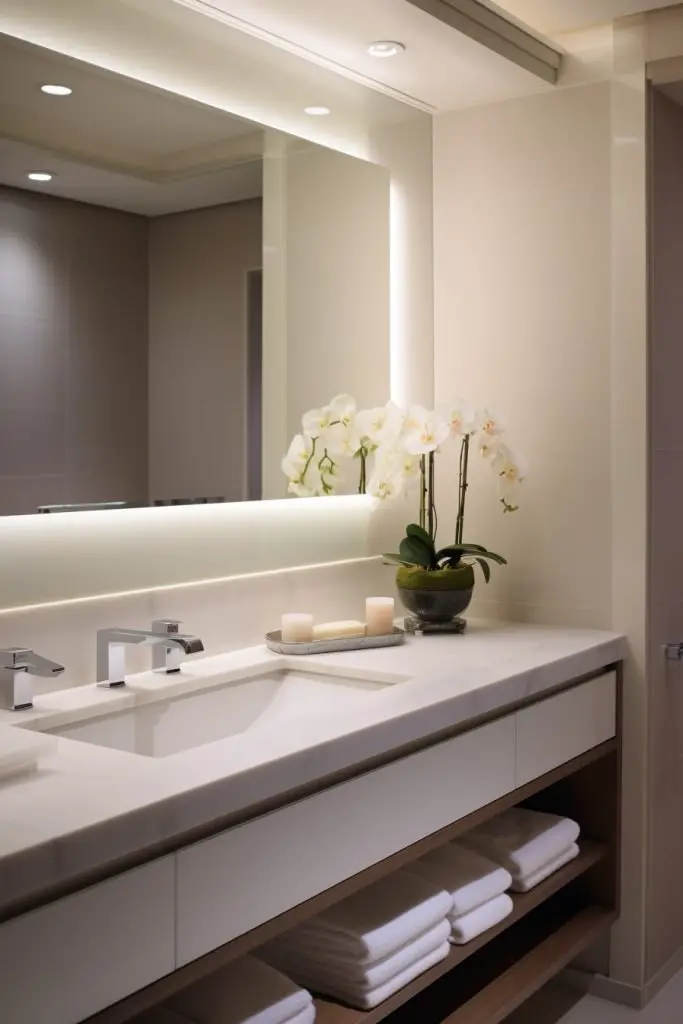 Incorporating this bright feature into your bathroom offers abundant practical and aesthetic benefits.
1. Enhanced Visibility: Offers clear and focused light, important for tasks like makeup application and shaving. It can also increase safety by lighting up dim areas to avoid slips and falls.
2. Energy efficient: LEDs consume less power and tend to last longer than traditional lighting.
3. Style flexibility: Available in numerous colors and sizes, fitting assorted decor schemes and helping create eye-catching focal points.
4. Accessibility: Installed on any trim such as baseboards, molding, above mirrors or shower stalls, depending on your needs.
5. Contemporary feel: The clean and minimalist look of lighting seamlessly integrated into trims is a hallmark of modern design.
6. Mood Control: Dimmable options available, allowing personalized ambiance control.
7. Low maintenance: Requires minimal upkeep with dusting and occasional bulb changes.
Consider the integration of LED lighting in your trimming for a combination of style and practicality.
Two-tone Trim Design for Depth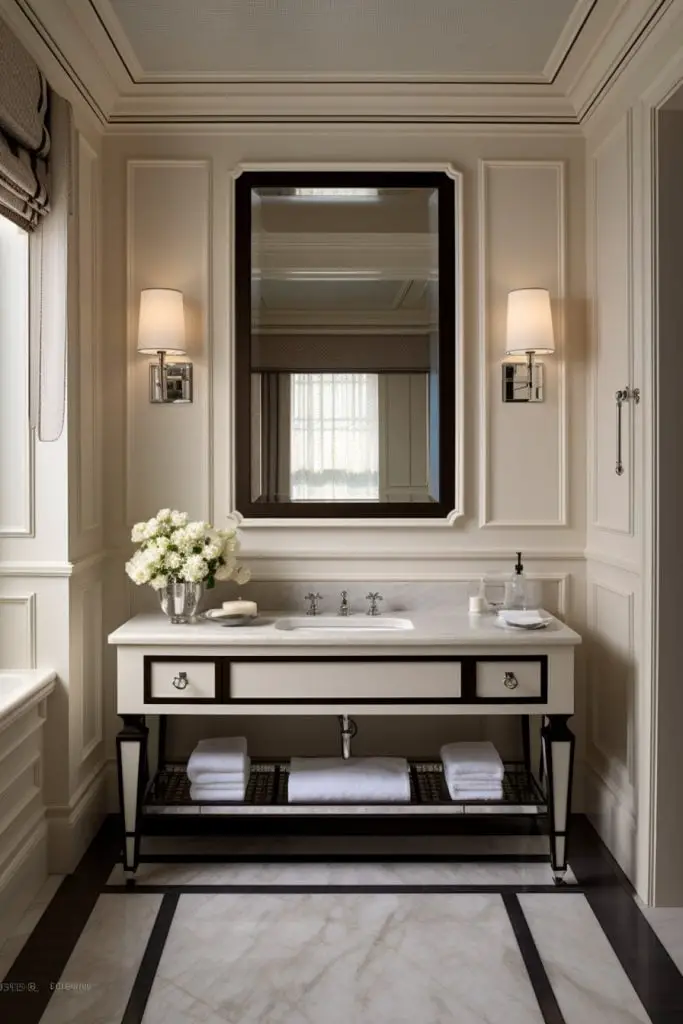 Two-tone trim works by pairing two distinct colors–typically one lighter and one darker. It's an affordable method that can add a considerable amount of depth and interest to your bathroom, irrespective of its size.
1. Selection of colors – Light and dark shades from the same color family or contrasting colors for a vibrant effect.
2. Placement – Decide whether to place the lighter or darker color on top, based on lighting and desired visual effect.
3. Technical application – Paint lower trim first. Allow it to dry before applying painter's tape and painting upper trim.
4. Usage of semi-gloss or satin finish – This type of finish ensures durability and makes cleaning easier, especially against moisture-heavy bathrooms.
5. Room size and effect – Lighter upper trim creates illusion of height, darker lower trim provides grounding effect in bigger bathrooms.
Wainscoting Trim for Classic Feel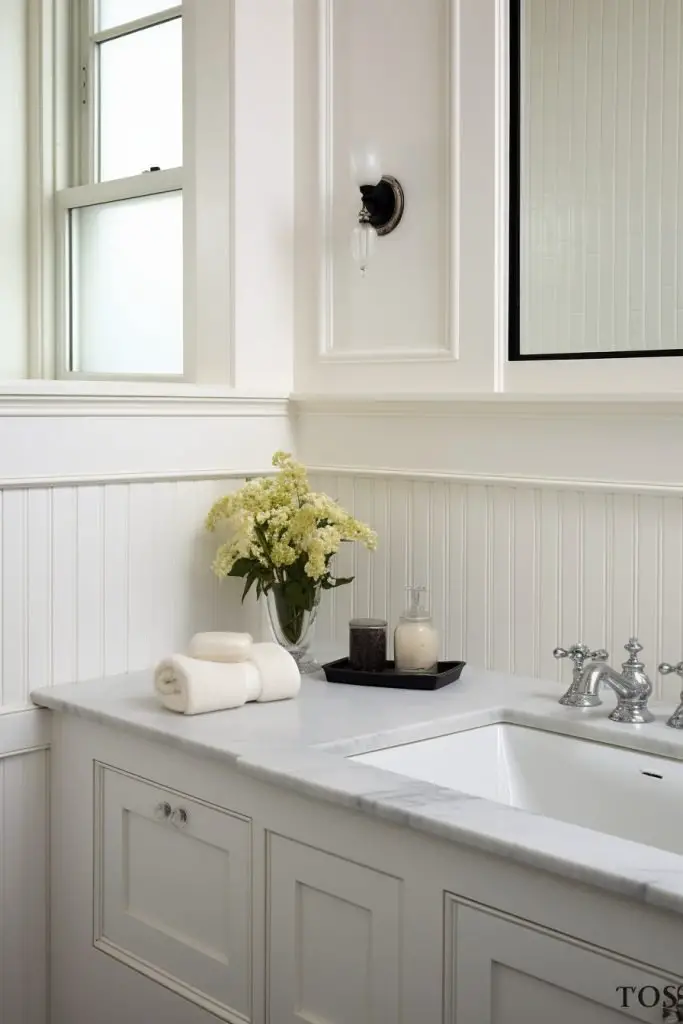 Wainscoting, a staple of traditional English décor, adds a thoughtful homeliness to any bathroom. This charming trim style typically includes wooden paneling capped with a chair rail, extending partway up the room's wall.
1. Installs at lower part of the wall, usually one-third the total height.
2. Involves paneling, chair rail, and sometimes a baseboard.
3. Commonly made of wood, but available in other materials like MDF.
4. Various styles available – Beadboard, Raised, Flat, Overlay.
5. Enhances architectural interest by adding a three-dimensional element.
6. Offers wall protection from scuffs and dents in high-traffic areas.
7. Can be painted or stained to match bathroom's color scheme.
Black Trim for Contrast Against White Walls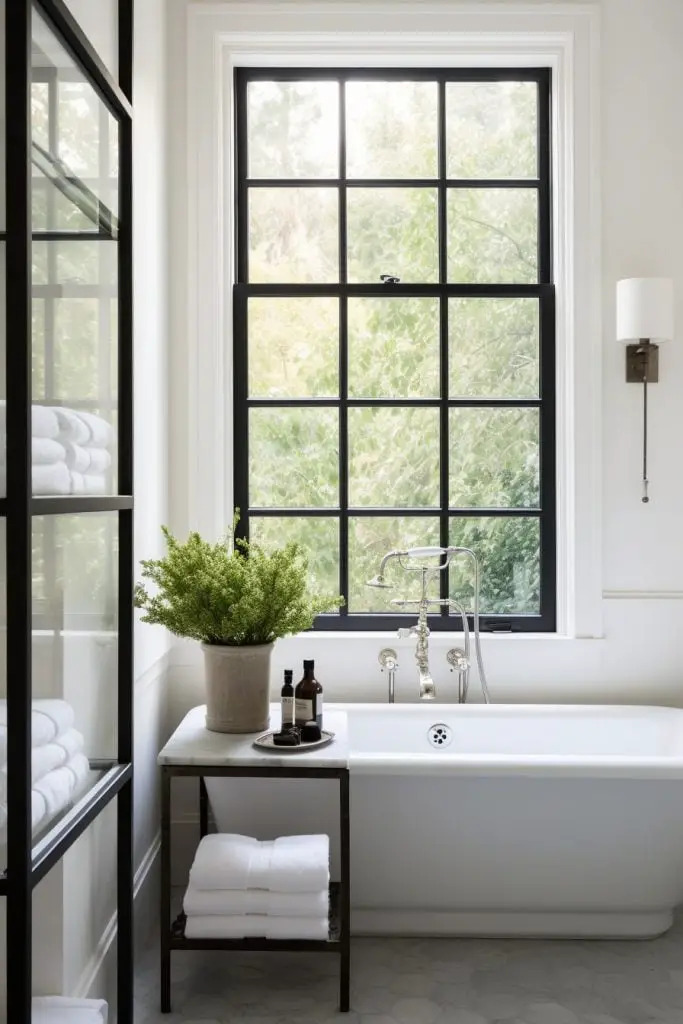 Striking and bold, the black trim provides a stunning counterbalance to white walls. An unconventional approach, it encapsulates the versatility of monochrome designs, elevating the bathroom aesthetics to new heights.
Here are the key elements to consider:
Use matte black to imbue a modern and chic vibe.
Consider glossy black for a glamorous, shiny touch.
Pair with bright white walls to maximize contrast.
Opt for slender or chunky black trims based on the bathroom size and style.
Ensure sufficient light to keep the room from feeling closed in.
Keep other accessories and fixtures minimalistic for the trim to shine.
Combine with metallic touches, such as brass or gold, for added elegance.
Reclaimed Wood Trim for an Industrial Look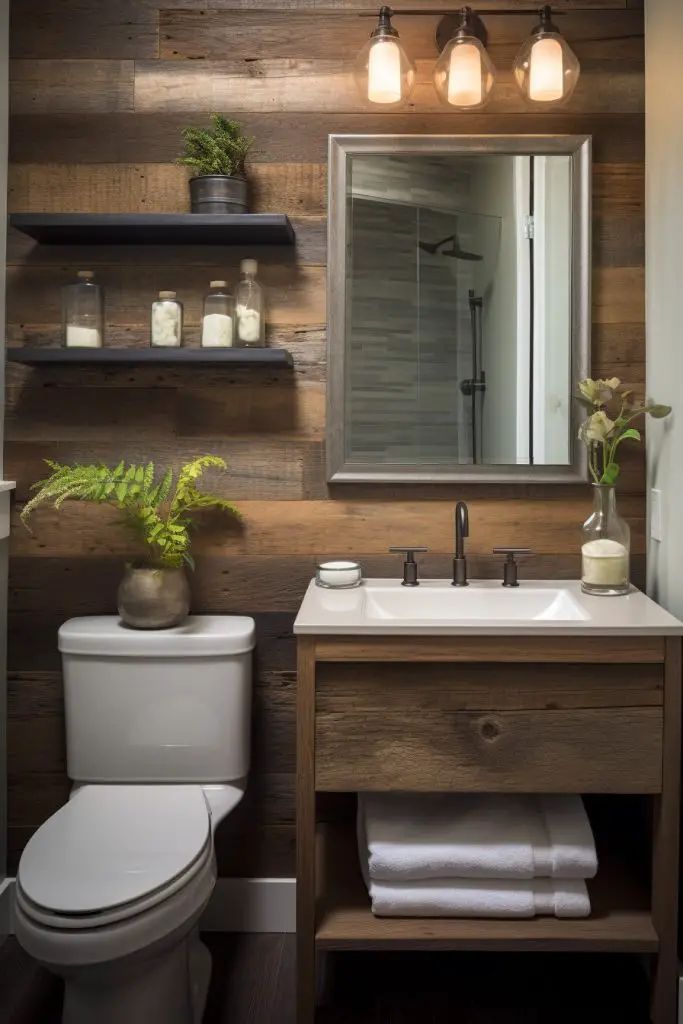 Integrating reclaimed wood trim gives the bathroom an edgy, vintage aura, suited for those desiring an urban industrial motif.
– Resilient, weathered appeal: aged wood preserves hard-wearing characteristics while offering unique textures and patterns. Every piece tells a story, thus adding personality to your space.
– Versatility: suits both light and dark color palettes, complements varied design elements such as metal sinks, concrete walls, and vintage bathtubs.
– Sustainability: contributes to conserving natural resources, aligning with environmentally responsible design approaches.
– DIY potential: with some carpentry skills, sourcing and fitting reclaimed wood can be a hands-on project, offering a bespoke aesthetic to your bathroom.
Pairing this distinctive trim design with fixtures like exposed plumbing and filament light fixtures further amplifies the industrial vibe. Ensure professional installation to guarantee sealant and moisture preventatives make the trim bathroom-friendly.
Wallpapered Trim Matching With Walls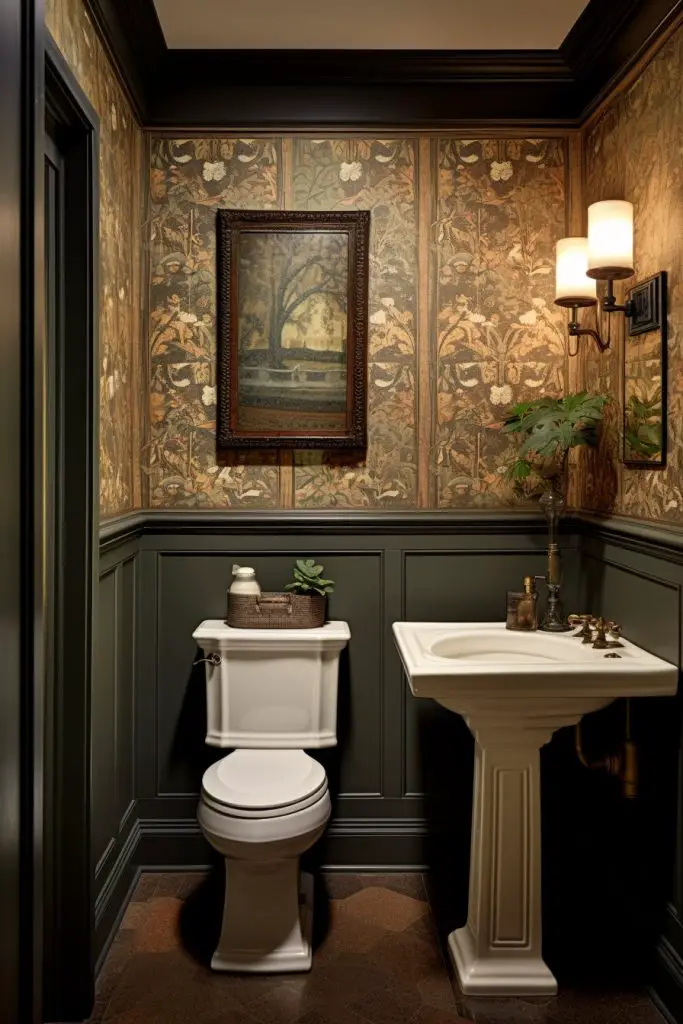 Opt for a harmonizing effect in your bathroom with this creative approach. Here are the main points to focus on:
Cohesion: By extending the wallpaper design onto the trim, you create a smooth, unified look. It's ideal for florals, stripes, and geometric patterns.
Illusion of Space: This technique can also give the impression of a larger, seamless space, particularly advantageous for smaller bathrooms.
Techniques: There are two main approaches – either paper over the trim as part of the wall, or meticulously cut and match pieces specifically for the trim.
Durability: Use vinyl wallpapers as they can withstand the moisture in the bathroom.
Maintenance: Wipe clean with a damp cloth regularly to keep it looking fresh.
Herringbone Design Trim for a Modern Twist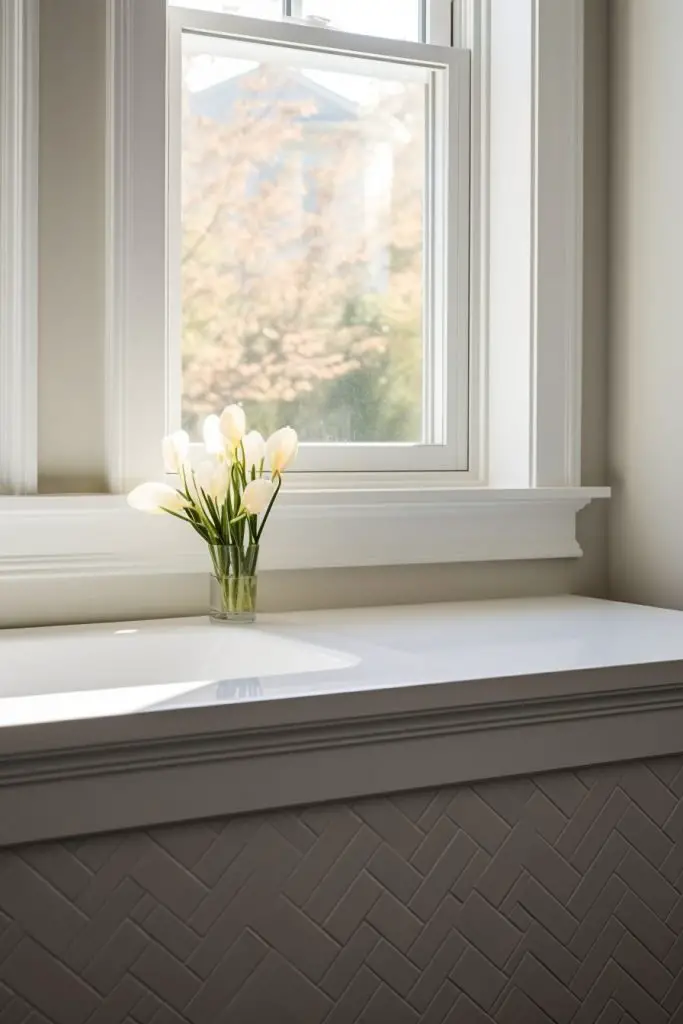 Adopting the herringbone design with your bathroom trim is an incredible way to achieve a modern and distinguished style. Here are the essential points:
The herringbone design is distinguished by a zigzag pattern usually created from materials like wood, marble, or porcelain.
The use of herringbone design draws the eye and adds dimension to the room.
The pattern can be used on a single wall as a focal point.
Suitable for both large and small bathrooms, with scale of pattern adjustable accordingly.
Though often used in neutral tones, adding color can bring vibrancy.
It offers a tactile, three-dimensional element to enhance visual interest.
With a variety of materials suitable, you can tailor to both budget and aesthetic needs.
Its versatile design makes it compatible with various bathroom styles from minimalistic to industrial.
The design requires careful planning and precise execution for proper alignment.
Maintenance is straightforward with regular cleaning, ensuring the design maintains its charm over time.
Bold Colored Trim for a Pop of Color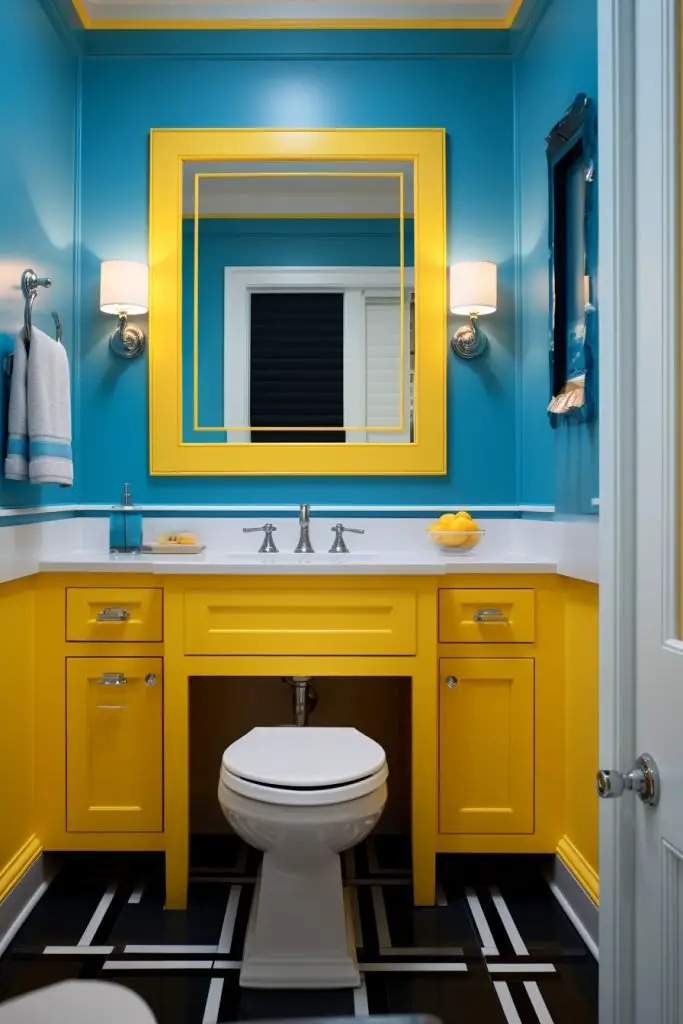 Executed in moderation, a bold-colored trim can add a lively and individualistic statement to any bathroom.
1. Selection: The color choice should reflect the desired mood. Warm hues like reds or oranges can create an invigorating atmosphere, while cooler shades like blues or greens incite calmness.
2. Balance: To avoid overwhelming the space, opt for neutral tones for the primary wall color. This way, the bold trims get to stand out but still remain in harmony with the rest of the room.
3. Material Type: Be it wood, metal, or ceramic, consider also the material of the trim, as it will influence the paint's appearance and durability.
4. Application: Use high-quality paint and brushes to achieve a pristine finish and ensure longevity.
5. Care: Maintain vibrant trim with periodic touch-ups and cleaning to retain shine.
Remember, there's no right or wrong in choice of color – it's entirely a matter of personal preference and aesthetics. Be bold, be brave with your choices, and experiment until the perfect color trim is found.
Geometric Patterning Trim for a Contemporary Style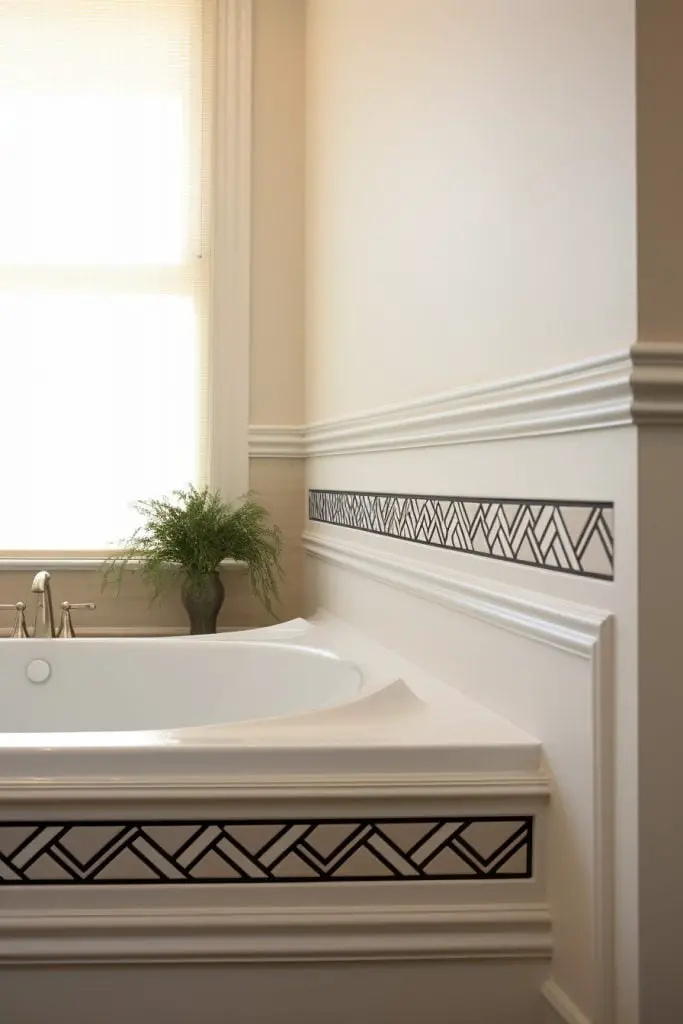 Seamlessly integrating geometric trim could transform your bathroom into a chic, contemporary sanctuary. This approach allows for the creation of captivating designs and patterns using simple geometric shapes.
Follow these key fundamentals:
Stick to Regular Shapes: Circles, squares, triangles, rectangles. Use their simple forms to create sophisticated patterns.
Balance is Key: Overwhelming the space with complex designs could be visually intrusive. Striking a balance between bold geometrics and minimal aesthetics is beneficial.
Consider Material: Metal? Ceramic? Wooden? Each material offers its unique texture and look, select based on the overall feel of your bathroom.
Match with Tiles: If your bathroom features geometric tiles, ensure your trim echoes the same style for continuity.
Keep It Tonal: If you're going for a bold pattern, consider picking a single shade for uniformity.
Mix Shapes: Who says you're limited to one? Mix circles with squares, triangles with rectangles. Experiment for surprising results.
Be Consistent: Ensure the trim runs consistently across the room to avoid a haphazard look.
Continue reading: