Last updated on August 13, 2023
Discover a world of elegance and sophistication with these twenty stunning blue and gold bathroom ideas that'll inspire you to transform your personal oasis into a luxurious retreat.
Looking to add a touch of luxury to your bathroom? Look no further than the classic color combination of blue and gold. This timeless pairing can elevate any bathroom from ordinary to extraordinary with just a few simple tweaks.
From bold wallpaper to elegant fixtures, there are countless ways to incorporate blue and gold into your space. In this article, we'll explore 20 inspiring ideas for creating a stunning blue and gold bathroom that will leave you feeling like royalty every time you step inside.
So grab your paintbrushes and let's get started!
Table of Contents
Gold-accented Fixtures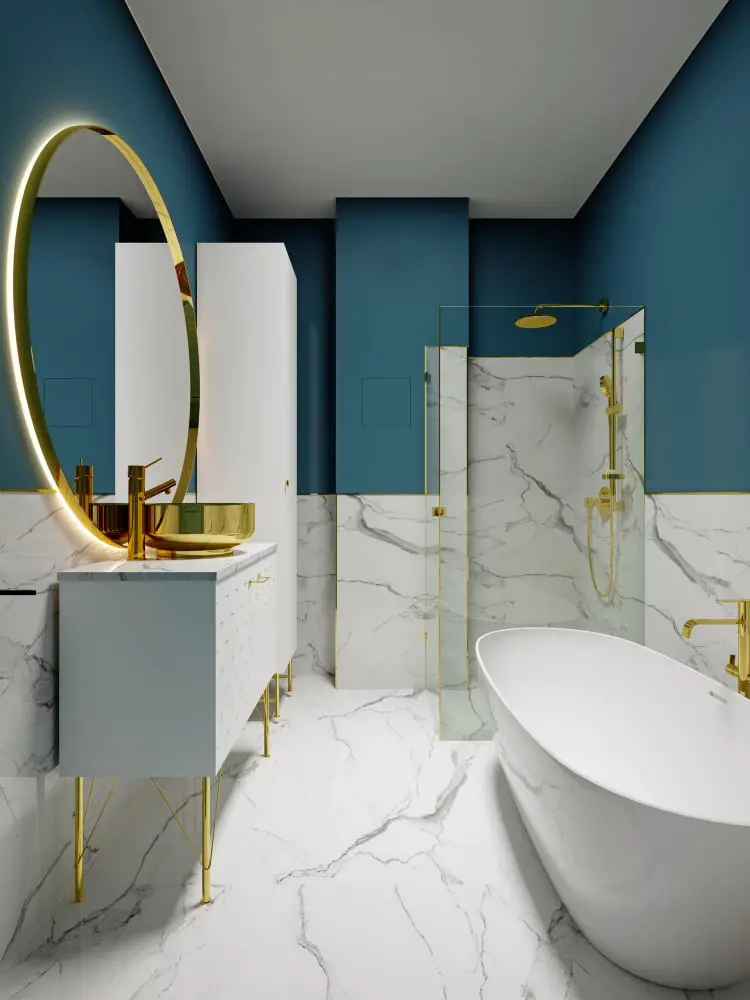 Gold-accented fixtures are a great way to add some glamour and sophistication to your blue and gold bathroom. From faucets to showerheads, adding a touch of gold can elevate the overall look of the space.
Consider installing a sleek, modern faucet with golden handles or swapping out your old showerhead for one with beautiful golden accents. You could also opt for gold towel racks or toilet paper holders that will complement other metallic elements in the room such as light fixtures or cabinet knobs.
Whatever you choose, be sure not to overdo it – too much gold can quickly become overwhelming!
Blue Mosaic Tiles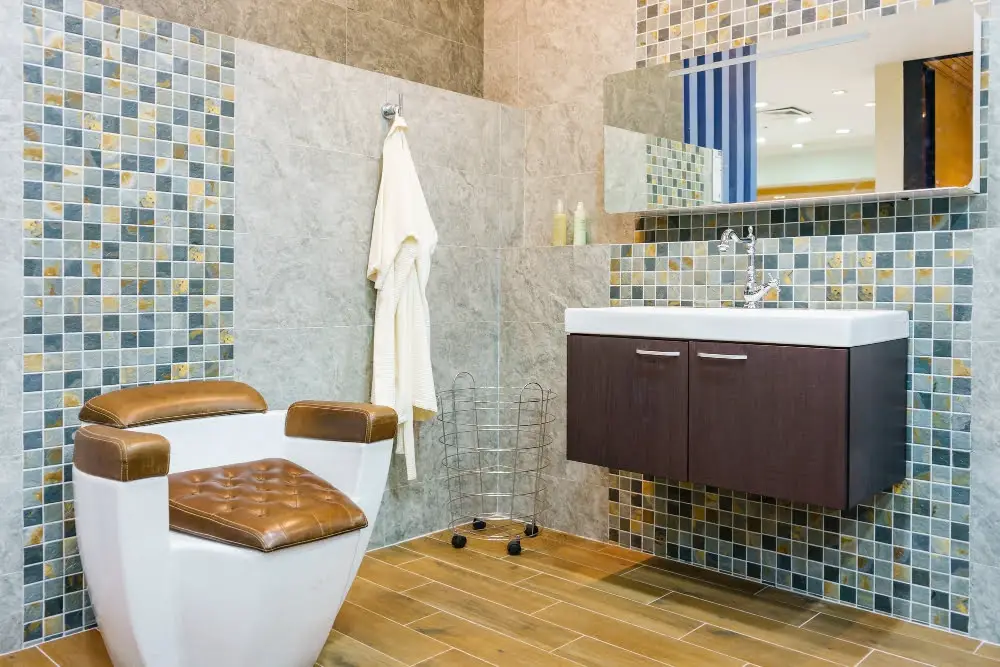 They come in various shades of blue, from light aqua to deep navy, and can be arranged in different patterns for a unique look. Mosaic tiles also work well as an accent wall or backsplash behind the sink or bathtub.
For a cohesive design, consider pairing blue mosaic tiles with gold accents such as fixtures or accessories. The combination of these two colors creates an elegant and sophisticated atmosphere that will make your bathroom feel like a luxurious spa retreat.
Metallic Gold Accessories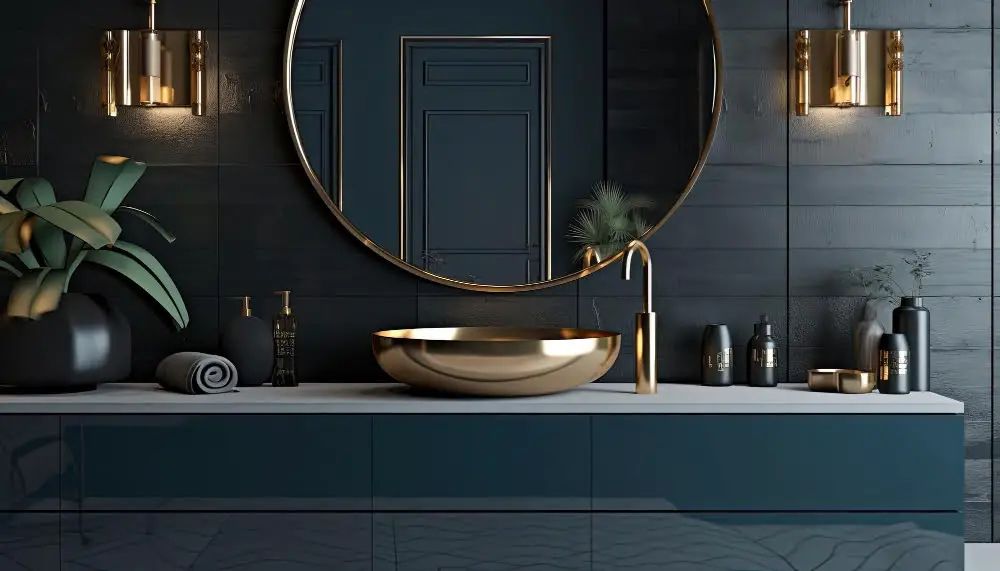 These can include items such as soap dispensers, toothbrush holders, tissue box covers, or even decorative trays. The key is not to overdo it – too many metallic accents can be overwhelming.
Instead, choose a few carefully curated pieces that will complement the other elements in the room without overpowering them. For example, you might pair a simple blue soap dish with a gleaming gold tray for an elegant touch of luxury on your vanity countertop.
Or consider adding some shimmering golden hooks or towel bars for both form and function – they'll keep your towels off the floor while also catching the light beautifully!
Blue and Gold Wallpaper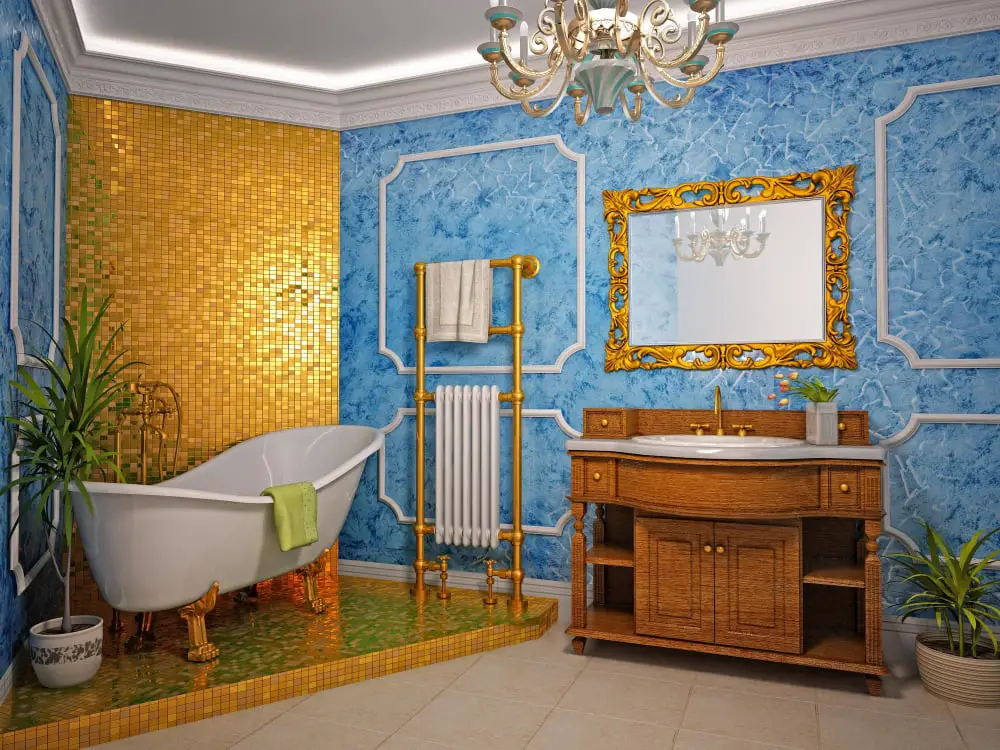 Whether you choose a bold geometric print or something more subtle like stripes or damask, blue and gold wallpaper can instantly transform the look of your space. Consider using it on an accent wall behind the vanity or bathtub for maximum impact.
To balance out the boldness of the wallpaper, keep other elements in the room simple with white fixtures and accessories in shades of blue or gold.
Gold-framed Mirror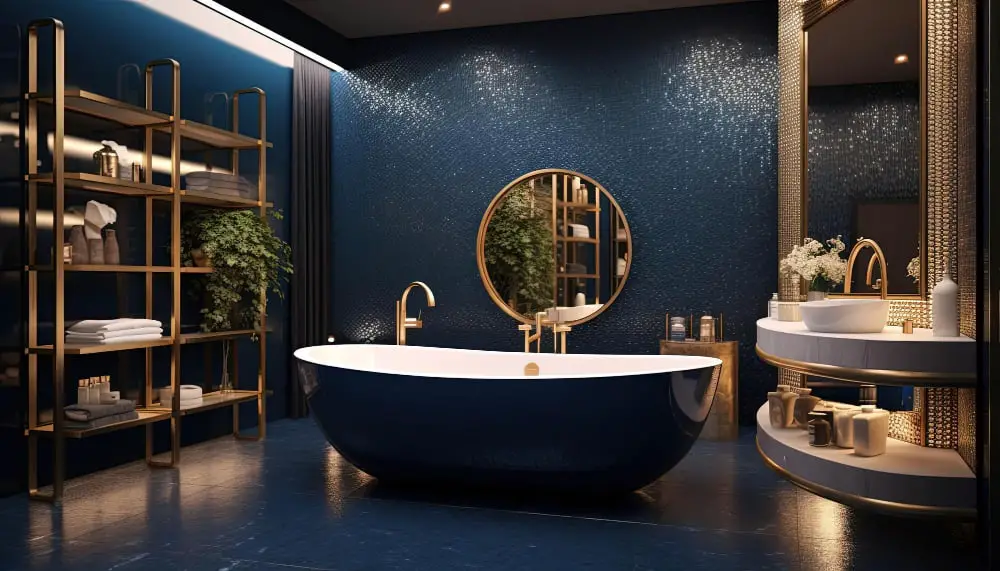 It adds elegance and sophistication to the space while also reflecting light, making the room appear brighter. A large rectangular or oval-shaped mirror with a thin or thick gold frame can be hung above the sink or vanity for practical use, as well as aesthetic appeal.
Alternatively, smaller decorative mirrors with intricate gold frames can be placed on shelves or walls throughout the bathroom for added visual interest. The options are endless when it comes to incorporating a beautiful golden-framed mirror into your blue and gold bathroom design scheme!
Blue Painted Walls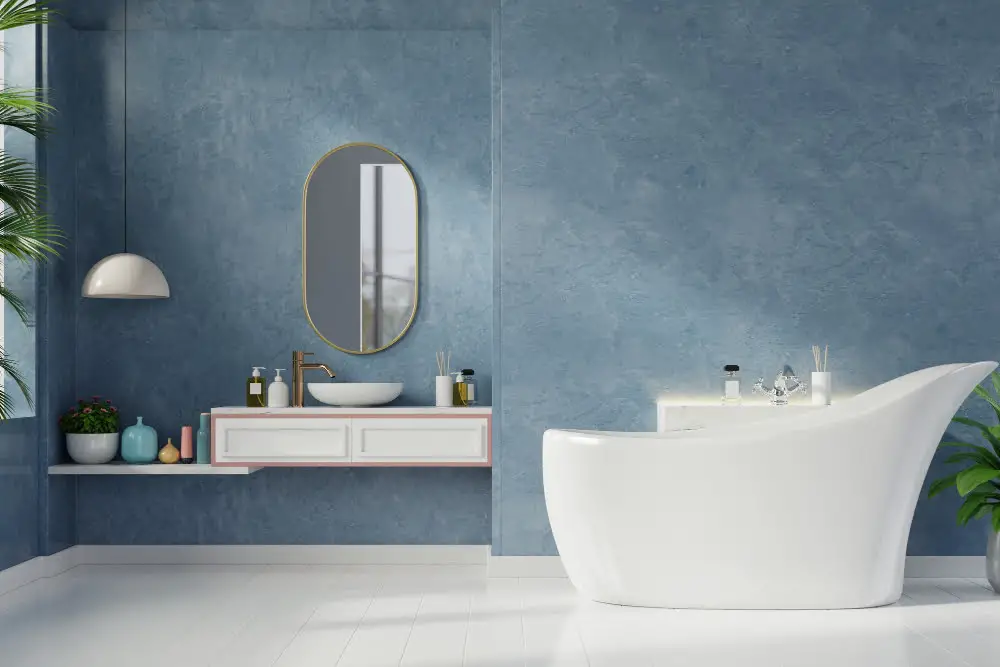 The color blue is known to create a calming and relaxing atmosphere, making it perfect for unwinding after a long day. When paired with gold accents, the blue walls can add an elegant touch to your bathroom decor.
For smaller bathrooms, consider using lighter shades of blue to make the space feel more open and airy. Darker blues work well in larger bathrooms or as an accent wall behind the vanity or bathtub area.
To complete the look, add gold-framed mirrors or artwork on top of your blue painted walls for added sophistication and style.
Gold Towel Racks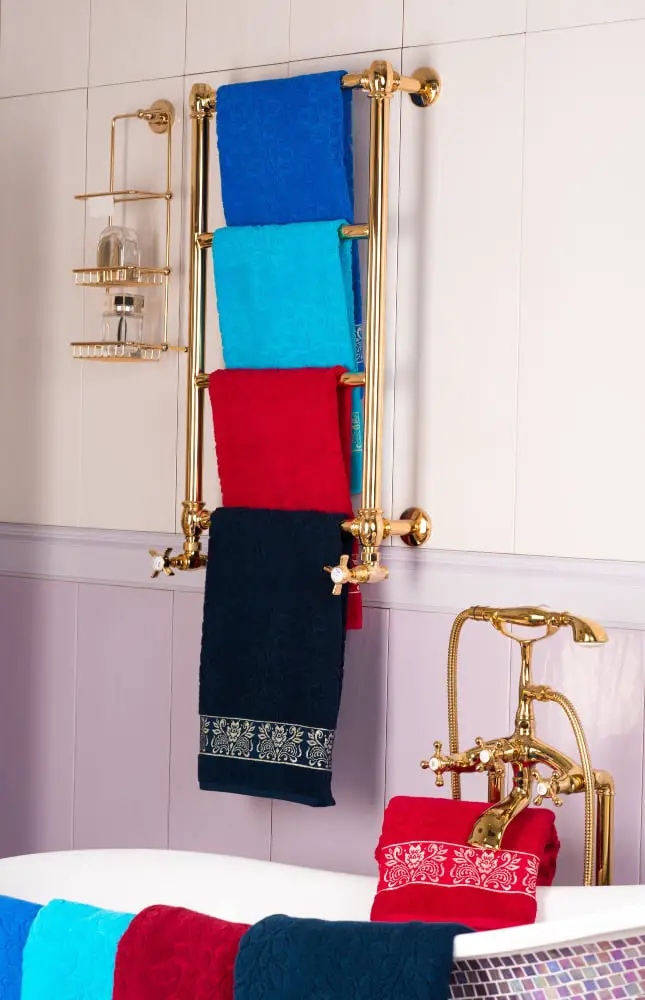 They come in various styles, from sleek and modern to ornate and vintage-inspired. A simple gold towel rack can complement the overall design of the bathroom without being too overpowering, while an intricate one can serve as a statement piece that adds character to the space.
Opting for gold instead of traditional silver or chrome finishes will make your bathroom stand out with its unique color scheme. Whether you choose wall-mounted or freestanding options, incorporating gold towel racks into your blue and gold bathroom is sure to elevate its style factor while also providing practical storage for towels.
Blue and Gold Vanity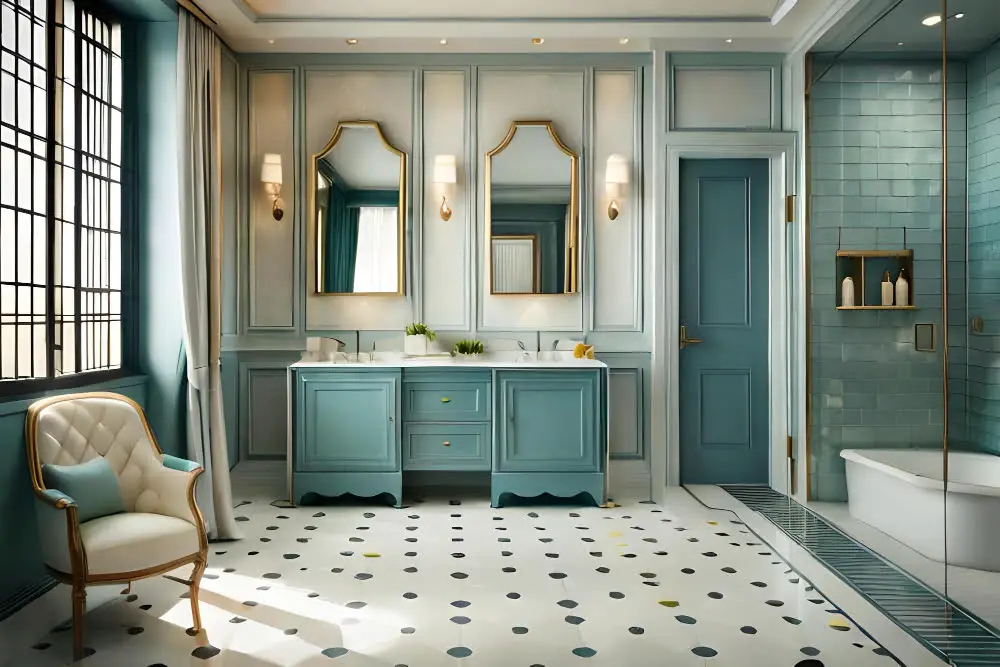 The combination of these two colors creates an elegant and luxurious look that will make your space feel like a high-end spa. You can choose from various shades of blue, such as navy or powder blue, depending on the overall style you want to achieve.
Pairing it with gold hardware or accents adds warmth and sophistication to the design. A simple way to incorporate this color scheme into your bathroom is by painting an existing vanity in shades of blue then adding golden knobs or handles for contrast.
Alternatively, you can purchase a pre-made vanity with both colors already incorporated into its design for convenience sake if DIY isn't your thing!
Gold-detailed Shower Curtain
Whether you opt for a solid-colored curtain with gold accents or one that features an intricate pattern, this simple addition can elevate the entire space. Pair it with blue walls and metallic accessories for a cohesive look, or use it as the focal point in an otherwise neutral bathroom.
A gold-detailed shower curtain is also versatile enough to work in both modern and traditional bathrooms alike, making it an easy way to update your decor without committing to a complete overhaul.
Blue Accent Lighting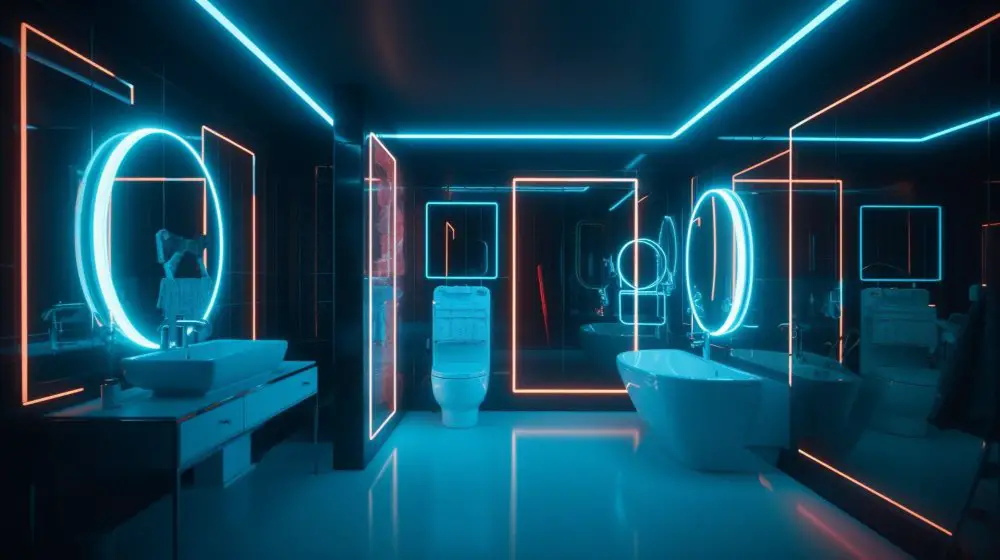 Whether you choose LED strips or individual fixtures, the soft glow of blue light can create a calming atmosphere that's perfect for relaxing baths or getting ready in the morning. Consider placing lights under cabinets, behind mirrors, or along the baseboards for an added touch of luxury.
You can also experiment with different shades of blue to find one that complements your overall color scheme best. With just a few simple additions like this, you'll be able to transform your bathroom into an elegant oasis in no time!
Gold Cabinet Knobs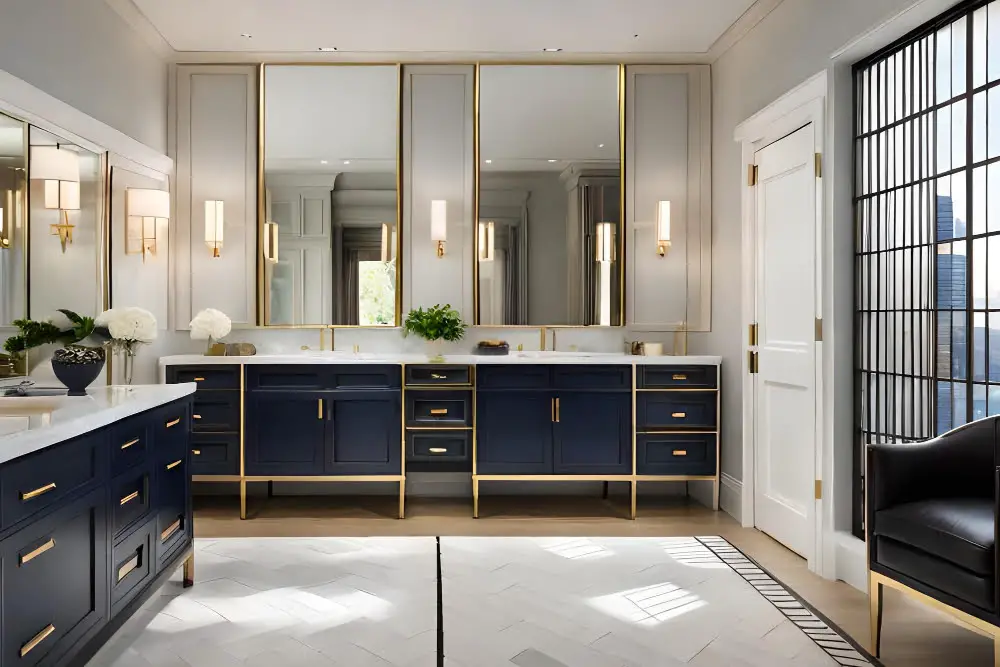 They can instantly transform plain cabinets into stylish statement pieces. Opt for sleek, modern designs or intricate vintage-inspired styles depending on the overall aesthetic of your bathroom.
Gold cabinet knobs also pair well with various shades of blue, from navy to powder blue, making them versatile additions to any color scheme. Upgrade your cabinetry with these elegant accents and elevate the look of your entire space in an instant!
Blue Bath Rugs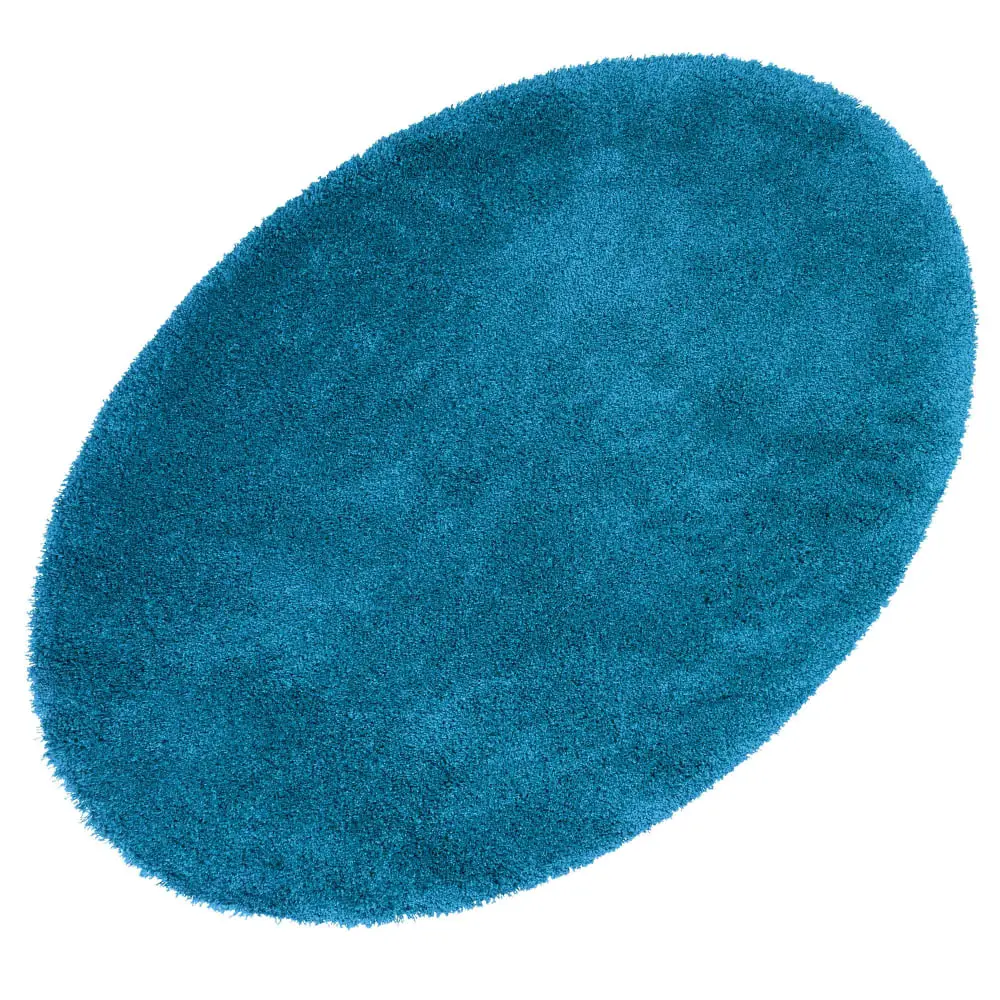 They add texture, warmth, and comfort underfoot while also tying the color scheme together. When choosing a blue bath rug for your bathroom, consider the shade of blue you want to use – whether it's navy or baby blue – as well as the size and shape that will best fit your space.
A plush shag rug can create a cozy feel in larger bathrooms while smaller rectangular mats work well in more compact spaces like powder rooms or half baths. Don't be afraid to mix textures by pairing a fluffy white towel with your new blue bath mat for an added touch of luxury!
Gold Patterned Tiles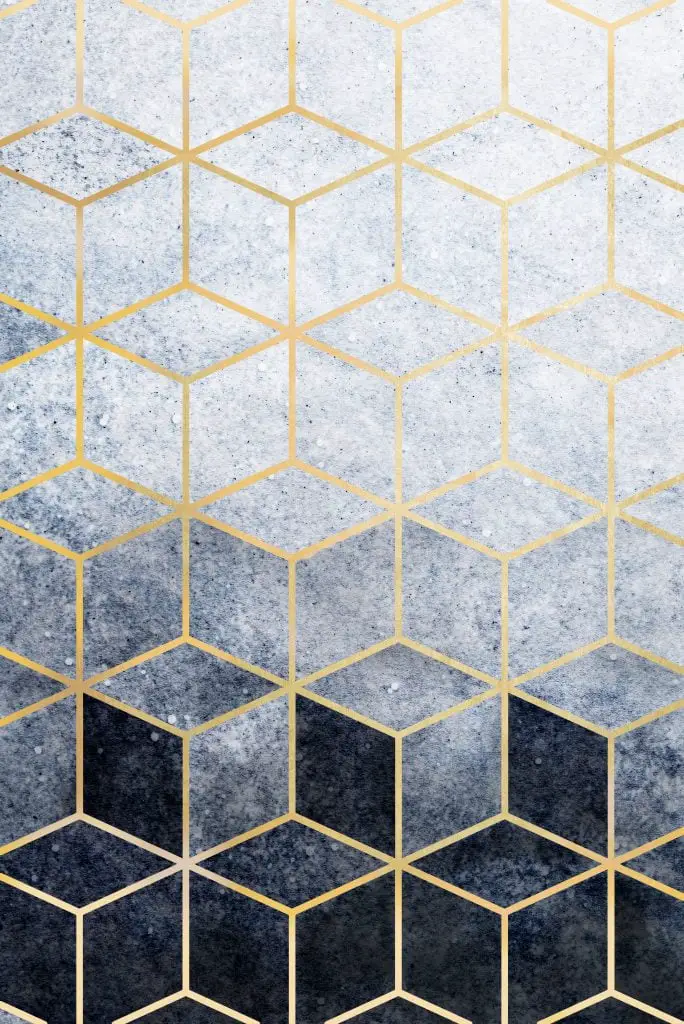 These tiles come in a variety of patterns, from geometric shapes to floral designs, allowing you to choose the perfect style for your space. Consider using these tiles as an accent wall or backsplash behind the sink or bathtub.
You can also use them on the floor for added drama and elegance. Pairing gold patterned tiles with blue walls or accessories will create a cohesive look that is both stylish and sophisticated.
Blue and Gold Storage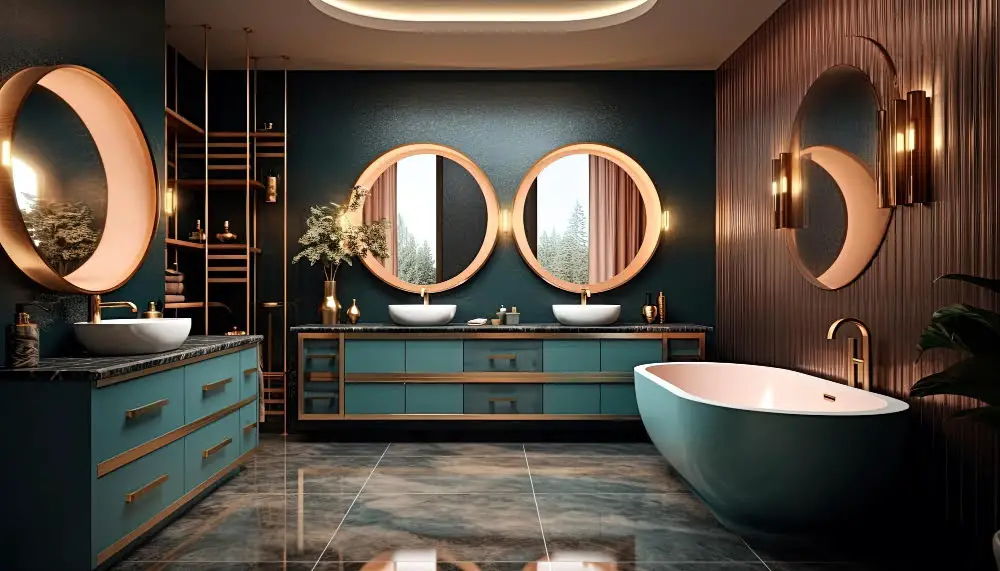 Incorporating blue and gold storage solutions can add both functionality and style to the space. Consider installing floating shelves with gold brackets or opting for a navy-blue cabinet with golden hardware.
You could also use woven baskets in shades of blue and metallic tones for storing towels or toiletries on open shelving units. Another idea is to use glass jars with golden lids for organizing cotton balls, Q-tips, or bath salts on your vanity countertop while adding some sparkle to the decor at the same time!
Gold Light Fixtures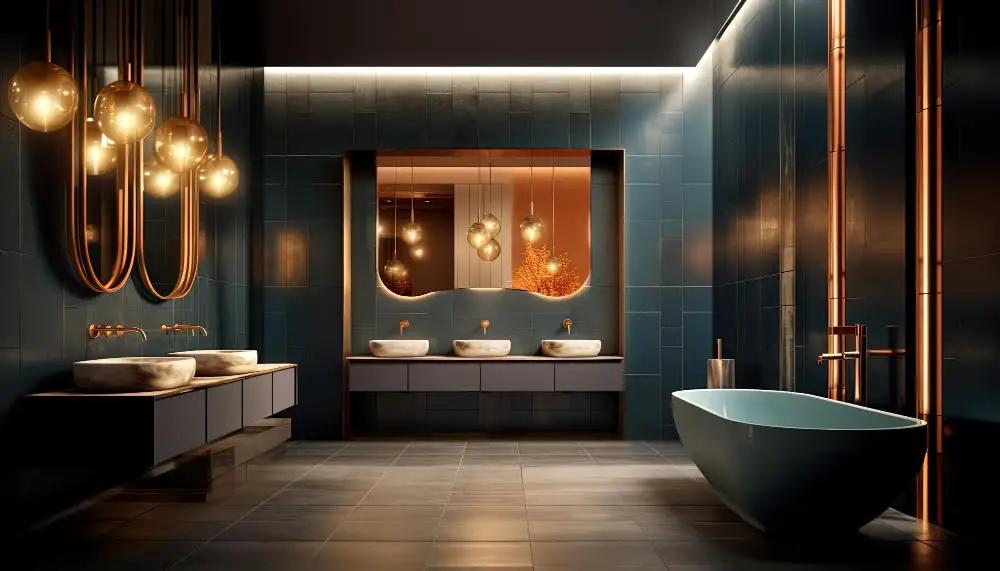 Whether you choose a chandelier, pendant lights or wall sconces, the warm glow of gold will complement the cool tones of blue perfectly. For an extra touch of luxury, consider adding crystal accents or shades with metallic finishes.
Gold light fixtures can also be paired with other gold accessories in the room such as towel racks and cabinet knobs for a cohesive look that ties everything together beautifully.
Blue Glass Accents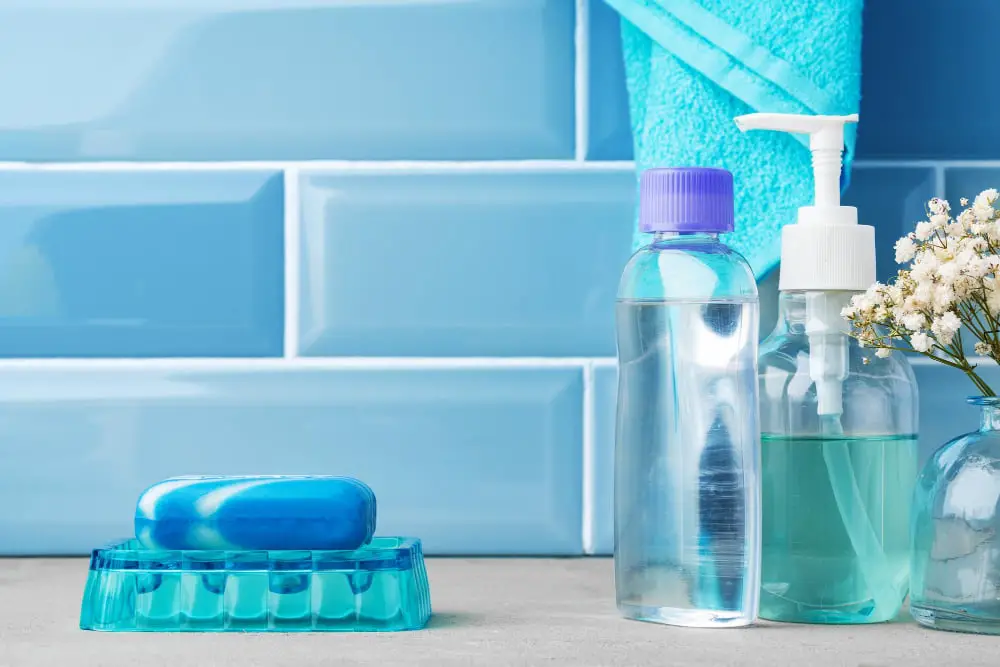 Whether it's a set of blue glass soap dispensers, a vase filled with blue sea glass, or even just some decorative bottles in varying shades of blue, these pieces can really tie the room together. You could also consider incorporating some stained-glass elements into the space for an added touch of elegance.
Blue is already such a calming color on its own, but when paired with shimmering glass accents in various shades and textures it creates an even more serene atmosphere that will make you feel like you're relaxing at the spa every time you step into your bathroom.
Gold Faucet and Handles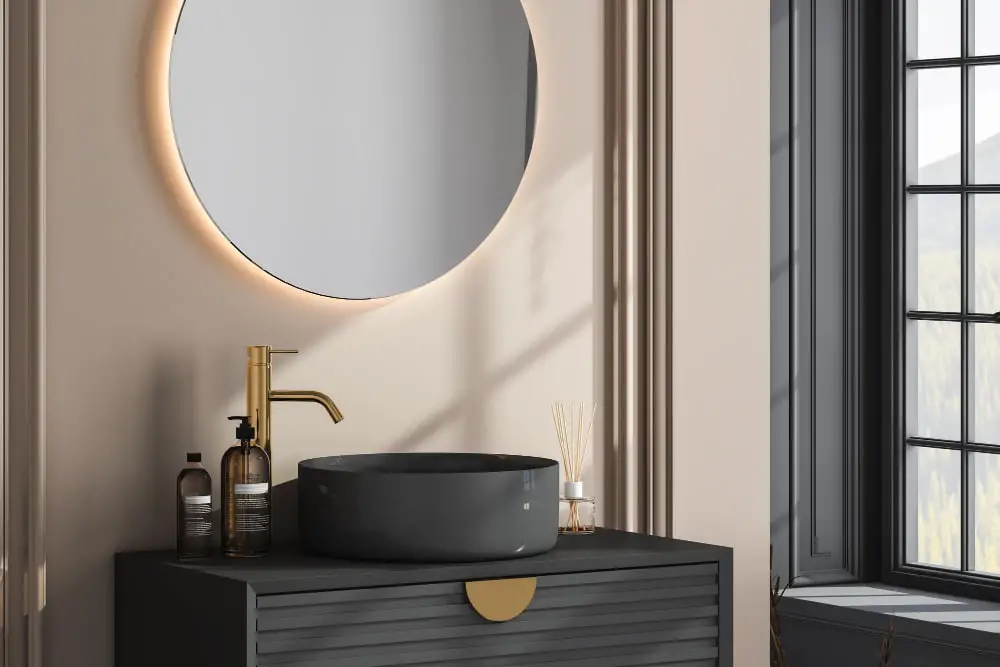 They can be the perfect complement to other gold accents in the room, such as towel racks or light fixtures. A sleek, modern design can give your bathroom an updated look while still maintaining its classic elegance.
Gold faucets and handles come in various finishes from brushed gold for a more subtle effect, or polished for maximum shine. When paired with blue tiles or walls, they create an eye-catching contrast that will make any guest envious of your stylish taste!
Blue and Gold Textiles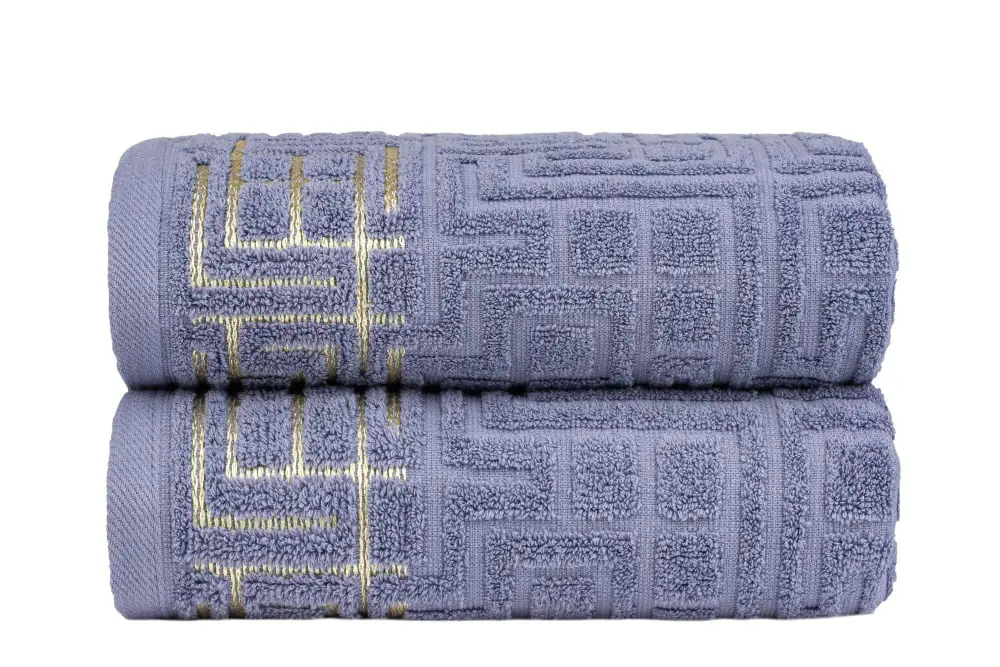 Consider incorporating blue and gold towels, bath mats, shower curtains or window treatments into your design scheme. A plush blue rug with metallic gold accents can make a statement in front of the vanity or bathtub.
Blue and gold patterned shower curtains can add visual interest while also providing privacy. Don't be afraid to mix different shades of blue with various tones of gold for an eclectic look that is both stylish and sophisticated.
When choosing textiles, opt for high-quality materials that will stand up well against moisture over time so you don't have to replace them frequently due to wear-and-tear from daily use in the bathroom environment.
Gold Decorative Items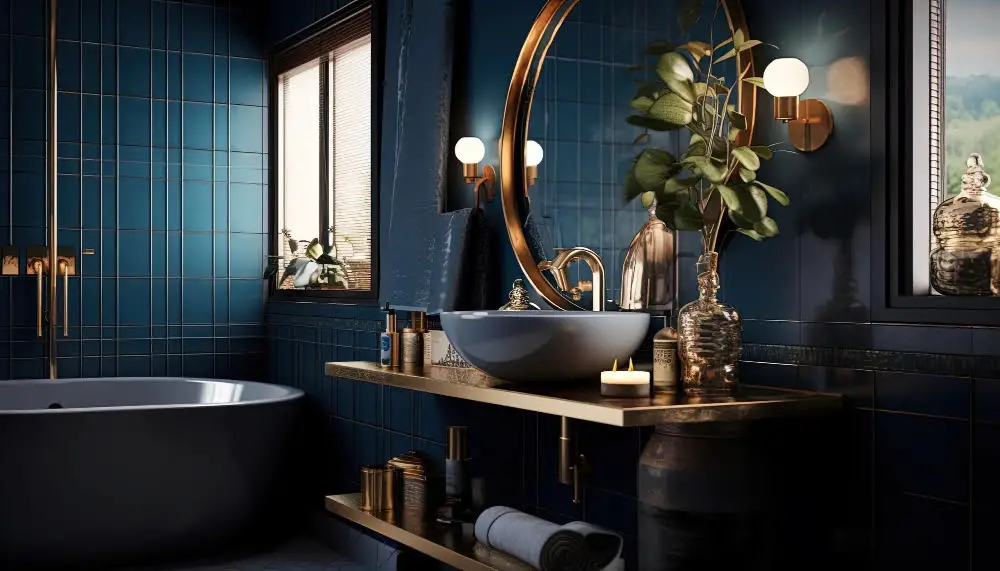 Consider adding a gold-framed artwork or mirror, golden candle holders, or even small golden sculptures on the vanity countertop. These items will not only elevate the overall look of your bathroom but also create an inviting atmosphere that is perfect for relaxation after a long day.
Just be careful not to overdo it with too many decorative pieces as this can make the space feel cluttered instead of stylishly put together.
Blue and Gold Tile Mix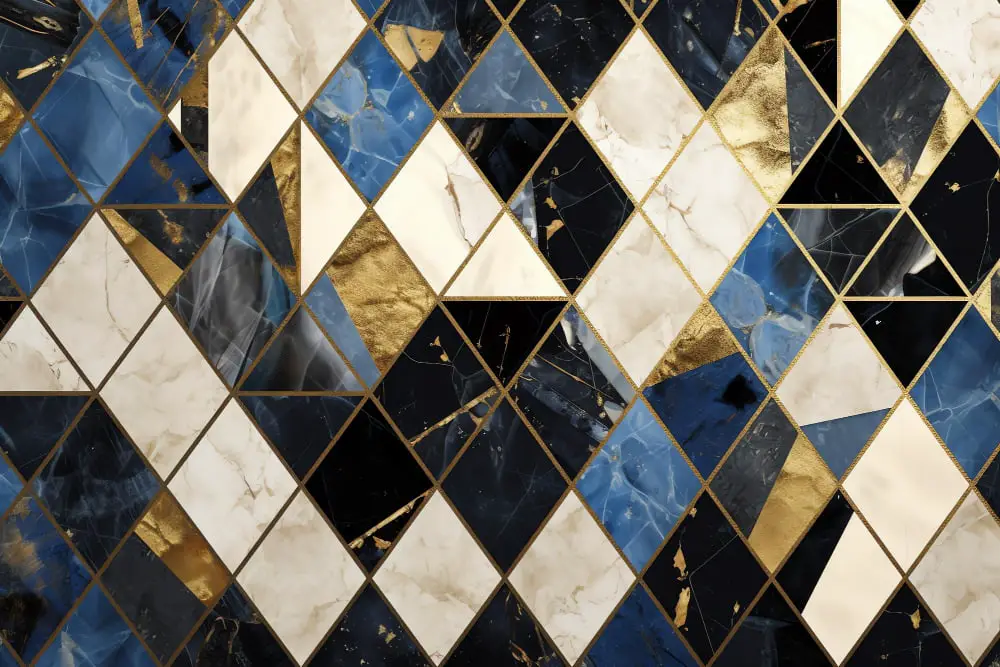 Mixing different shades of blue with metallic gold tiles can create a stunning effect that will make your bathroom stand out. You can use the tiles as an accent on one wall or incorporate them into the entire space for a cohesive look.
Consider using larger, patterned tiles in shades of blue with smaller, solid-colored gold tiles for contrast. Another option is to use mosaic-style sheets that combine both colors in intricate patterns.
Whatever you choose, incorporating a blue and gold tile mix into your bathroom design will give it an elegant touch while still being playful and unique!
Continue reading: