Last updated on September 26, 2023
Get ready to transform your small bathroom into a stylish and functional space with these 20 creative design ideas that will maximize every inch of your room.
Whether you're dealing with a tiny powder room or a compact en-suite, creating an inviting and practical bathroom can be challenging.
From clever storage solutions to eye-catching decor accents, these small bathroom design ideas are sure to inspire you to take your space from drab to fab!
So let's dive in and discover how you can make every inch count in your small but mighty bathroom.
Table of Contents
Floating Shelves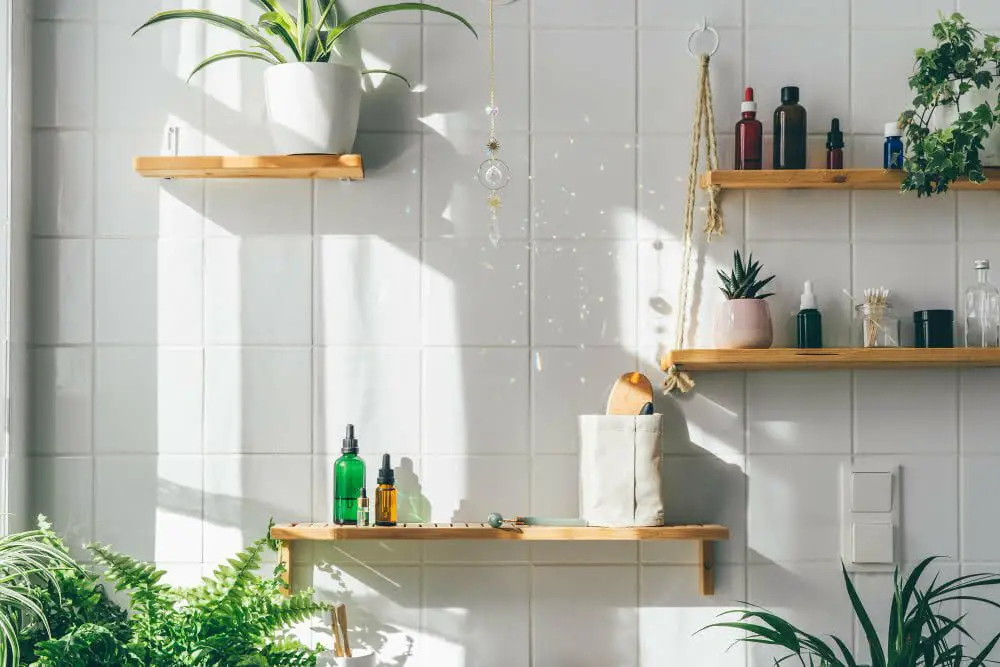 Floating shelves are a great addition to any small bathroom. They provide extra storage space without taking up valuable floor space, making them perfect for storing towels, toiletries and other essentials.
Floating shelves come in various sizes and materials such as wood or glass, allowing you to choose the one that best suits your style and needs. You can also use floating shelves as a decorative element by displaying plants or candles on them.
When installing floating shelves in your bathroom make sure they are securely attached to the wall using appropriate hardware so that they can hold the weight of your items safely over time.
Corner Sink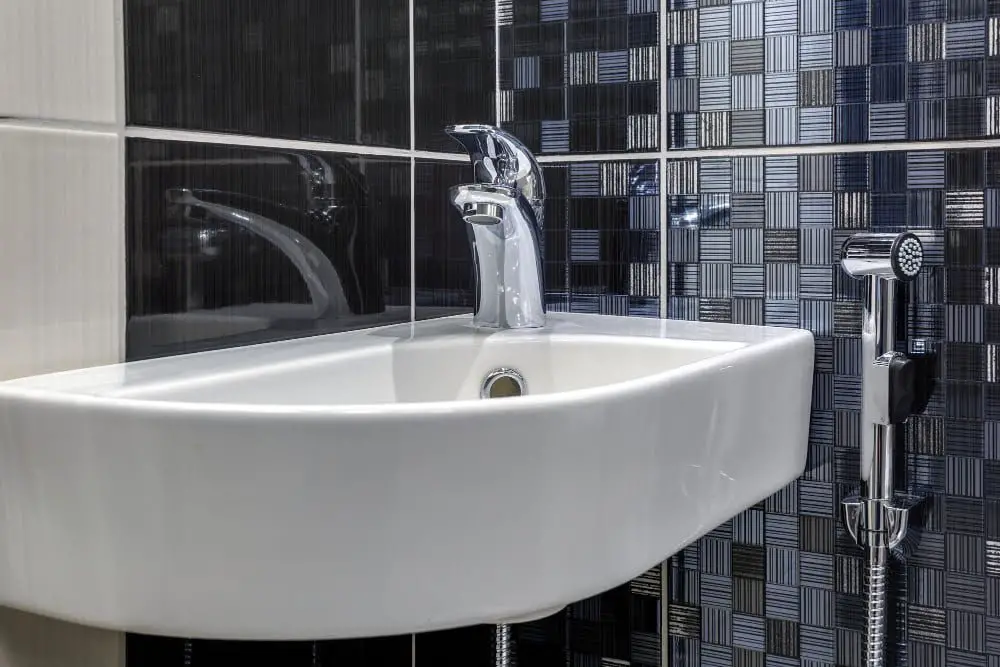 When it comes to small bathroom design, every inch counts. That's why a corner sink can be an excellent option for maximizing space in your bathroom.
A corner sink is designed to fit snugly into the corner of your bathroom, which frees up valuable floor space and makes the room feel more open.
Corner sinks come in a variety of styles and sizes, so you're sure to find one that fits both your aesthetic preferences and practical needs. Some models even have built-in storage underneath or around them for added functionality.
One thing to keep in mind when installing a corner sink is that plumbing may need some adjustments since it will be placed at an angle rather than straight against the wall like traditional sinks. However, with proper planning and installation by professionals if necessary, this should not pose any significant issues.
If you're looking for ways to make the most out of limited square footage in your small bathroom design project while still maintaining style and functionality – consider incorporating a sleek new corner sink!
Wall-mounted Toilet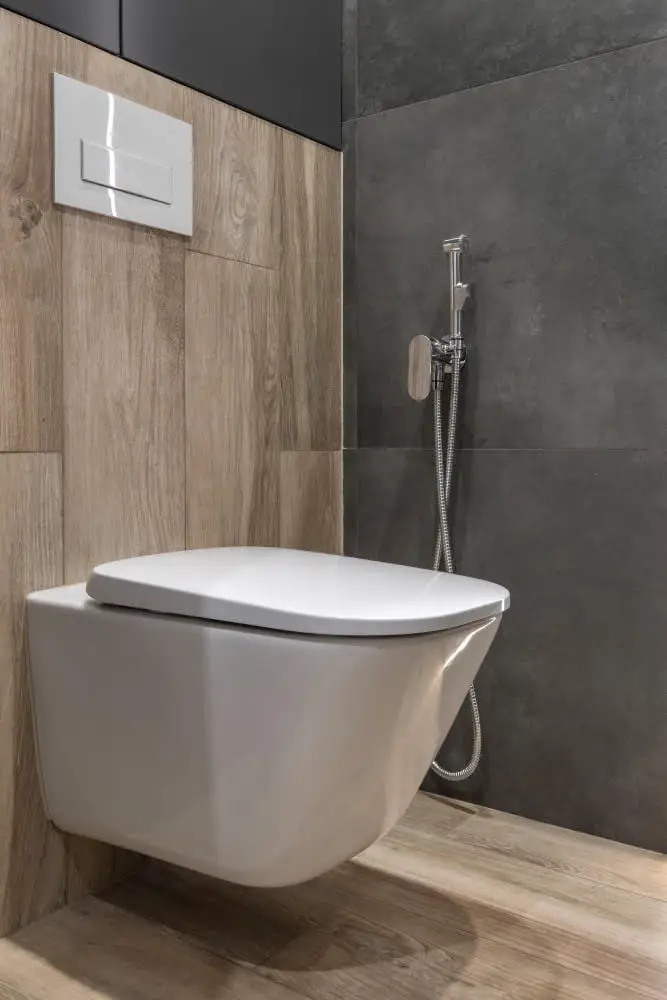 Wall-mounted toilets are a great option for small bathrooms as they take up less floor space and create a sleek, modern look. These toilets are mounted directly onto the wall, which means that the tank is hidden behind it.
This design not only saves space but also makes cleaning easier since there is no need to clean around the base of the toilet. Wall-mounted toilets can be adjusted to different heights according to your preference or needs making them more comfortable than traditional ones.
However, installation may require some extra work and professional help due to their unique mounting system and plumbing requirements. If you're looking for an elegant solution that maximizes your bathroom's square footage while adding functionality and style at once – consider installing a wall-mounted toilet!
Frameless Mirror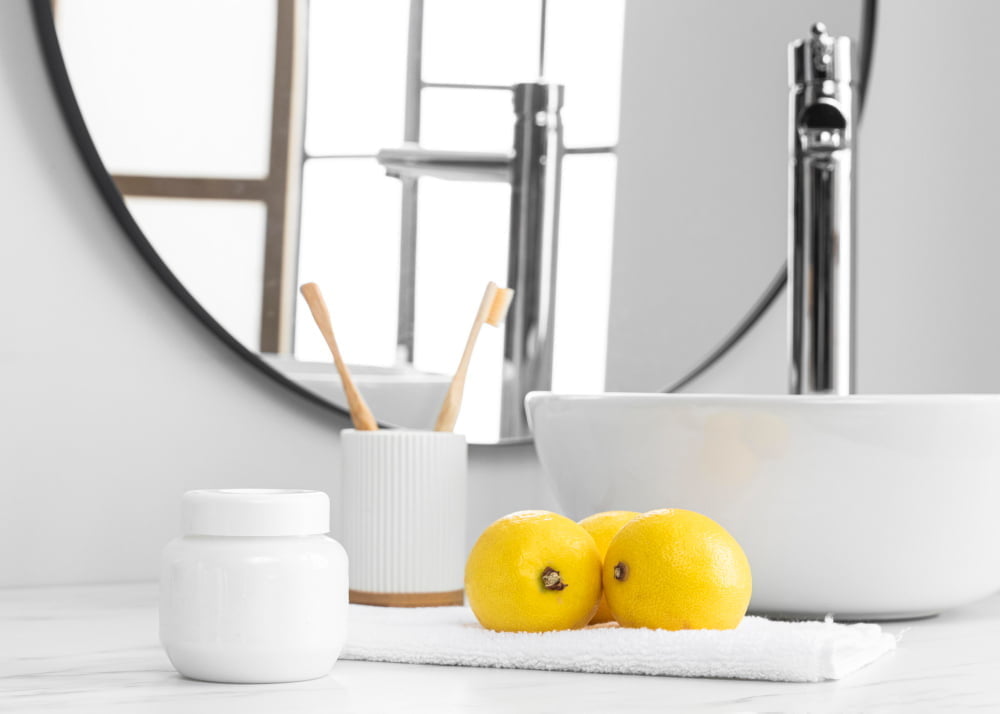 Frameless mirrors are a great addition to any small bathroom design. They create an illusion of more space and reflect light, making the room brighter.
A frameless mirror can be hung on the wall or installed as a medicine cabinet above the sink. It is also easy to clean and maintain since there are no frames that collect dust or moisture.
Frameless mirrors come in various shapes and sizes, so you can choose one that fits your style and needs perfectly. Whether you opt for a large rectangular mirror or several smaller ones arranged in an interesting pattern, it will surely make your bathroom look bigger than it actually is!
Glass Shower Door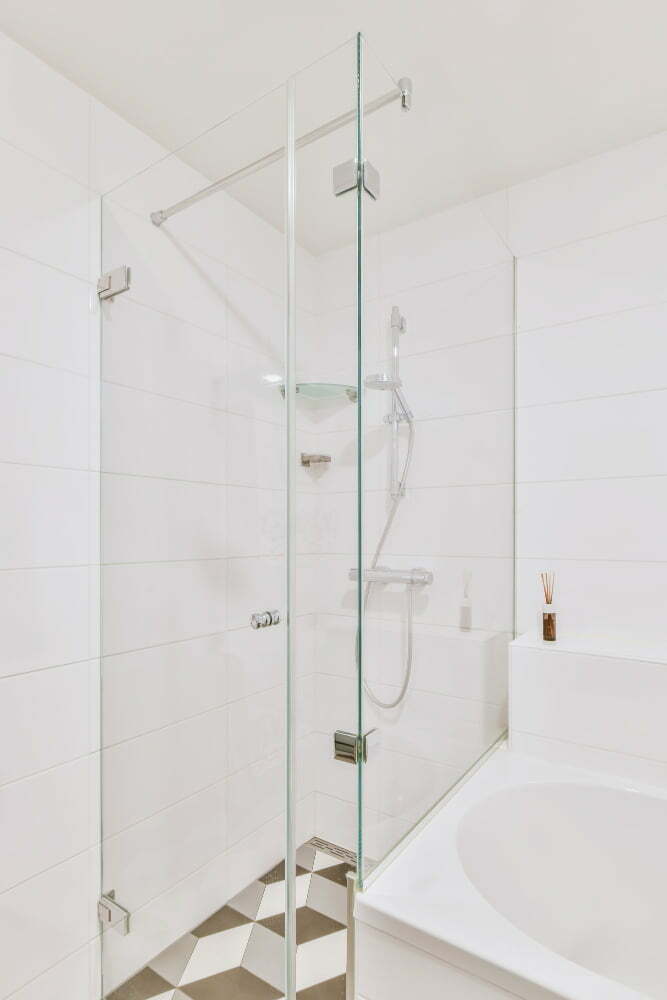 Glass shower doors are a great way to make a small bathroom feel more spacious. They allow natural light to flow through the space, making it appear brighter and larger.
Glass shower doors can be customized in various styles and sizes to fit any bathroom design. For example, you can choose from clear or frosted glass for privacy or opt for textured patterns that add visual interest while still maintaining functionality.
Another benefit of using glass shower doors is that they are easy to clean and maintain compared with traditional curtains or opaque materials which tend to accumulate mold over time due to moisture buildup in the bathroom environment. Installing a glass shower door is an excellent investment if you want your small bathroom remodel project not only stylish but also practical!
Light Color Scheme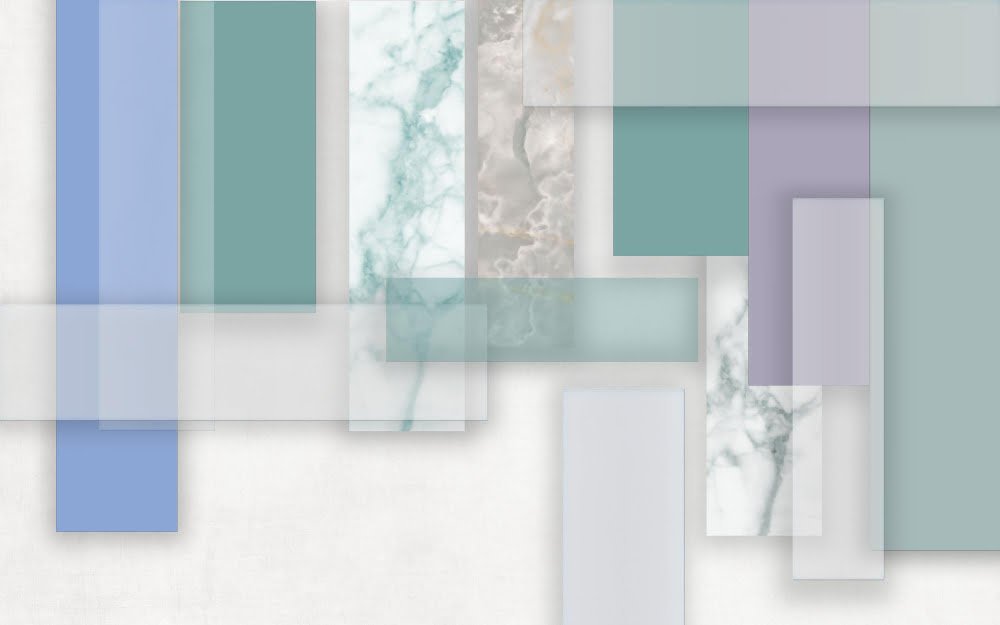 One of the easiest ways to make a small bathroom feel more spacious is by using light colors. Lighter shades reflect natural and artificial light, making the room brighter and airier.
White, cream, beige or pastel hues are great options for walls, tiles or even fixtures like sinks and toilets. You can also add pops of color with accessories such as towels or shower curtains to create a cohesive look that feels fresh and inviting.
A monochromatic palette in different shades of white can be particularly effective in creating an elegant yet understated atmosphere that maximizes space while still feeling cozy and comfortable.
Vertical Storage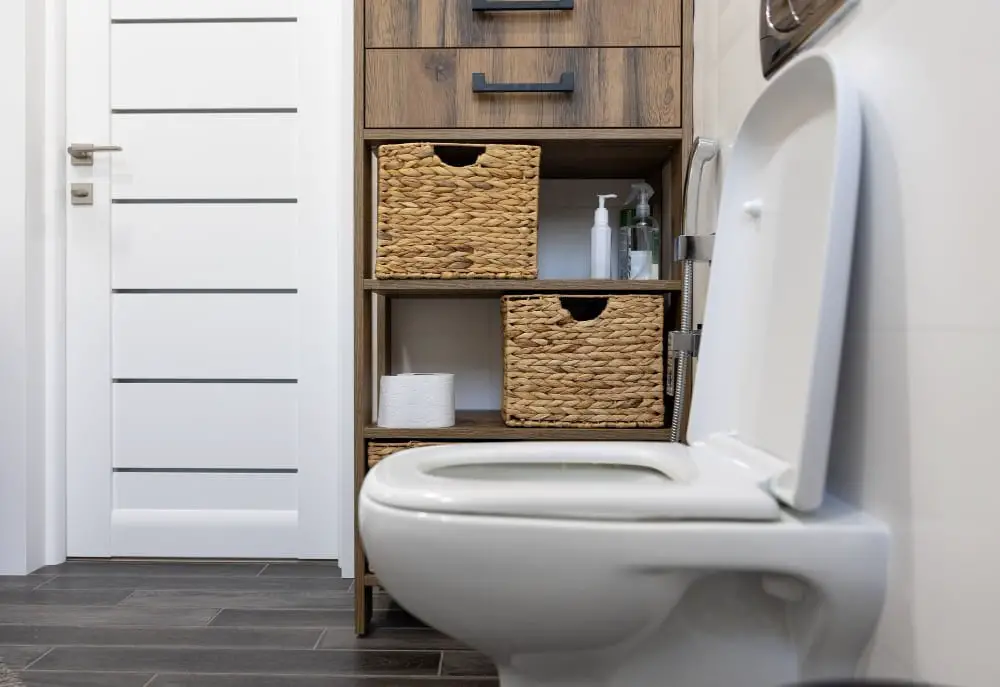 Vertical storage is a great solution for small bathrooms with limited floor space. By utilizing the walls, you can create more storage without sacrificing valuable square footage.
Install shelves or cabinets above the toilet or sink to keep toiletries and towels within reach. You can also add hooks on the wall to hang towels, robes, and other items that would otherwise take up precious counter space.
Another option is to install a tall cabinet with multiple shelves that goes all the way up to the ceiling for maximum storage capacity while taking up minimal floor area. Vertical storage not only helps declutter your bathroom but also adds visual interest by drawing attention upward towards your beautiful decor elements!
Recessed Lighting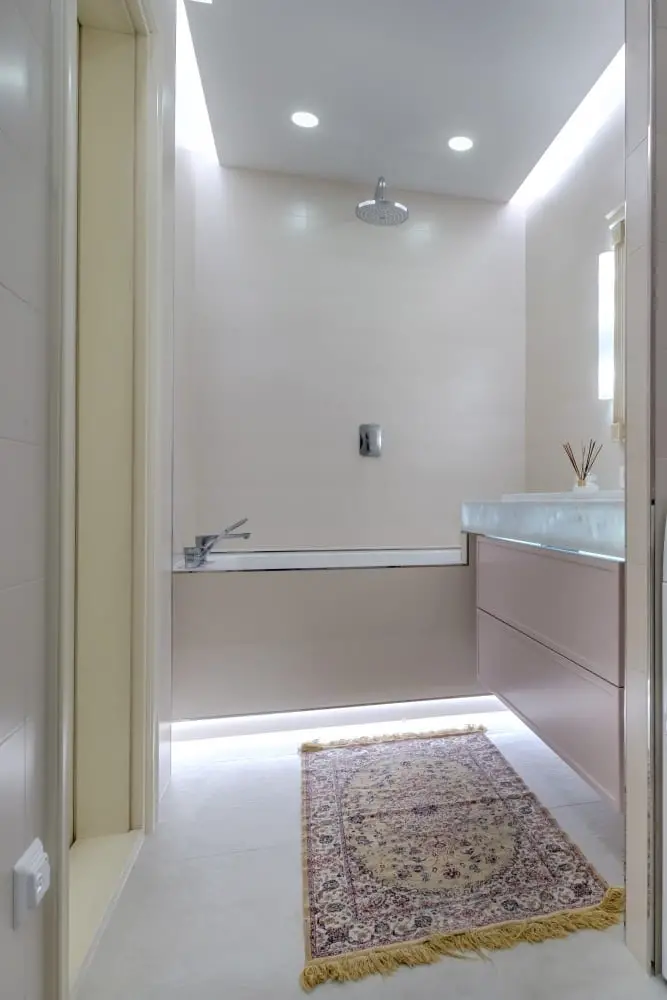 Recessed lighting is a great way to add brightness and depth to a small bathroom. By installing recessed lights in the ceiling, you can create an illusion of more space while also providing ample light for grooming tasks.
Consider placing the lights strategically around the room, such as above or beside mirrors, near shower stalls or bathtubs, and over any artwork or decorative features you may have on display. You can also choose from different types of bulbs depending on your preference for warm or cool lighting tones.
With recessed lighting in place, your small bathroom will feel brighter and more inviting than ever before!
Towel Ladder Rack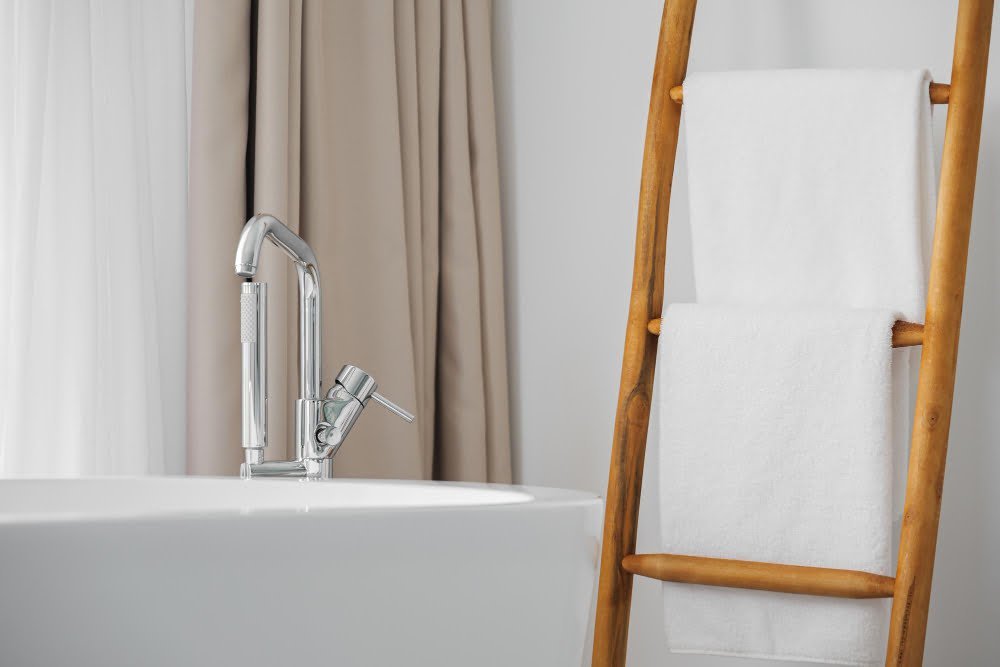 Towel Ladder Rack: A towel ladder rack is a great addition to any small bathroom. It provides an easy and stylish way to store towels without taking up too much space.
The ladder design allows for multiple towels to be hung at once, making it perfect for families or shared bathrooms. Plus, the open design of the rack means that air can circulate around your towels, helping them dry faster and stay fresher longer.
You can find towel ladder racks in a variety of materials such as wood or metal, so you're sure to find one that matches your bathroom's decor style perfectly!
Pocket Doors
Pocket doors are a great solution for small bathrooms that lack space. These doors slide into the wall, freeing up valuable floor space and making the room feel more open.
Pocket doors come in various styles and materials, from traditional wood to modern glass panels. They can also be customized with different finishes or hardware to match your bathroom's decor style.
One thing to keep in mind when installing pocket doors is that they require a bit of extra work during construction as they need an opening within the wall where they can slide into when opened. However, if you're looking for a sleek and functional way to save space in your small bathroom design, pocket doors might just be what you need!
Skylight Installation
Skylight installation is a great way to bring natural light into a small bathroom. It not only brightens up the space but also creates an illusion of more room.
Skylights can be installed in different shapes and sizes, depending on your preference and the size of your bathroom. A popular option is a rectangular skylight that runs along the ceiling, providing ample light throughout the day without compromising privacy.
If you have limited roof space or live in an apartment building, consider installing tubular skylights that capture sunlight from outside and reflect it into your bathroom through reflective tubes. With proper installation by professionals, skylights are energy-efficient additions to any small bathroom design plan!
Round Vanity Mirror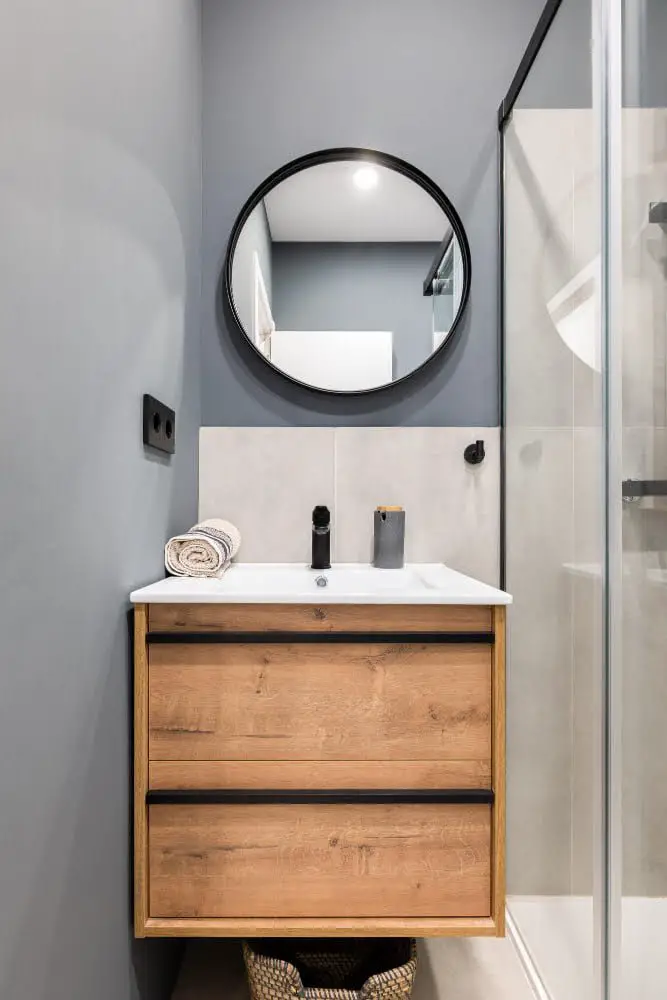 Round vanity mirrors are a great addition to small bathrooms as they can create an illusion of more space. They also add a touch of elegance and sophistication to the overall design.
A round mirror with a thin frame or no frame at all will take up less visual space than its rectangular counterpart, making it perfect for smaller rooms. Placing the mirror in front of natural light sources such as windows or skylights can help reflect light throughout the room and make it feel brighter and airier.
Round vanity mirrors come in various sizes, so you can choose one that fits your bathroom's dimensions perfectly while still adding style and functionality to your daily routine.
Built-in Niches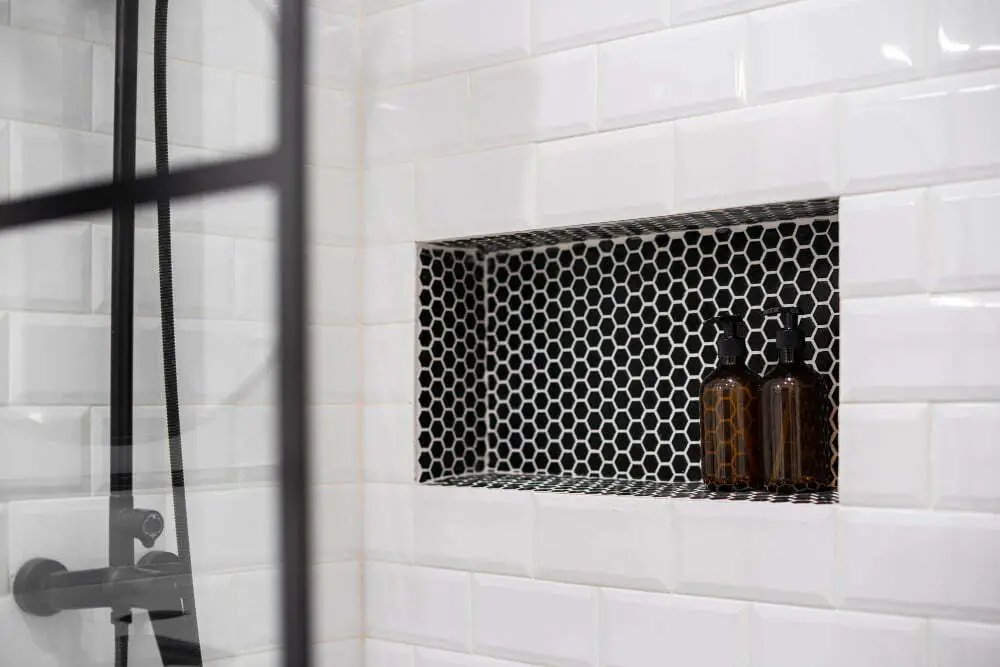 Built-in niches are a great way to add storage and style to a small bathroom. These recessed shelves can be installed in the shower area or above the toilet, providing extra space for toiletries, towels, and decorative items.
You can choose from various materials such as tile or stone to create an eye-catching accent wall that complements your bathroom's design scheme. Built-in niches also help keep clutter off countertops and floors while adding depth and dimensionality to your space.
Whether you opt for one large niche or several smaller ones, this feature is sure to make your small bathroom feel more spacious while keeping everything organized at arm's reach.
Extended Counter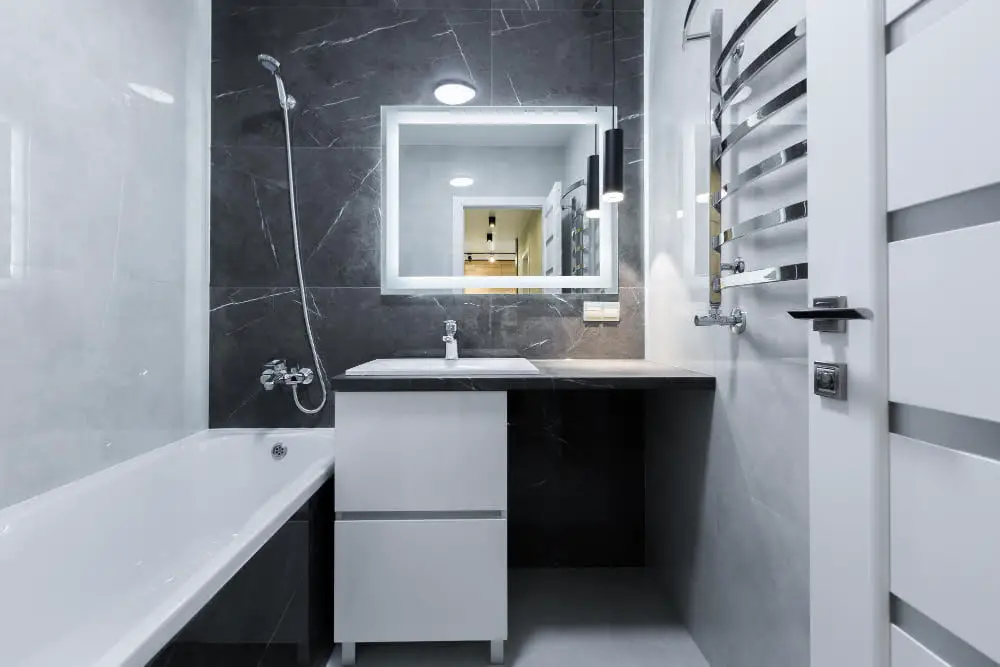 If you have a small bathroom, it's likely that counter space is limited. However, an extended counter can make all the difference in terms of functionality and style.
By extending your countertop over the toilet or adding a floating shelf underneath, you'll create more surface area for storage and decor. Plus, an extended counter can give your bathroom a sleek modern look that will impress guests! Consider using materials like marble or quartz to elevate the design even further.
Wall-hung Cabinets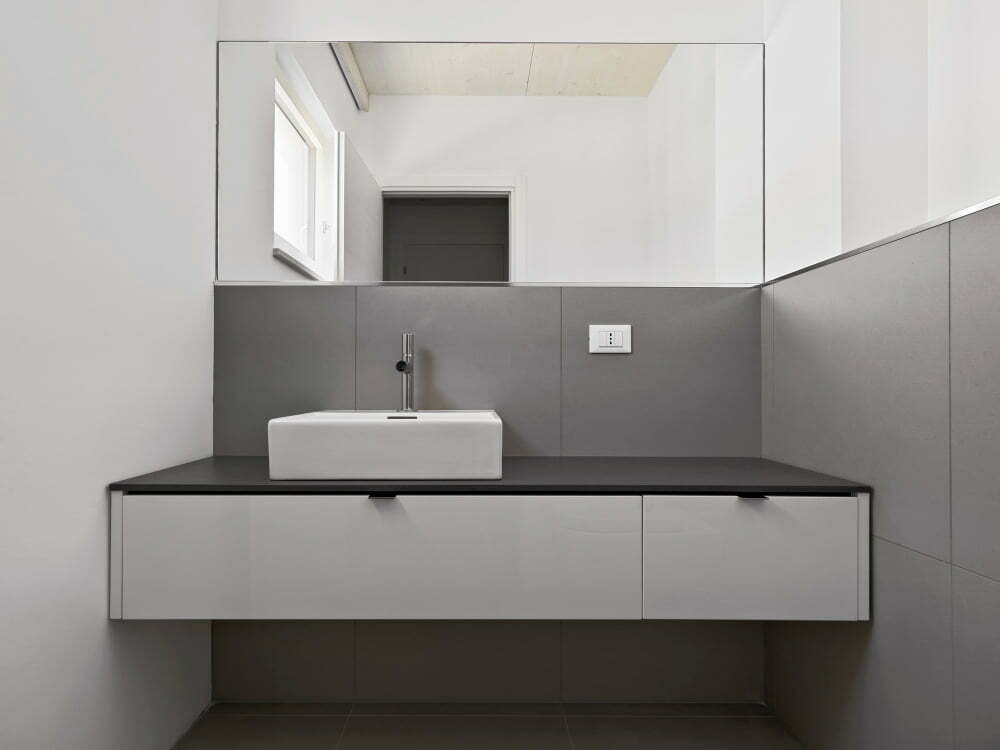 Wall-hung cabinets are a great option for small bathrooms as they provide extra storage space without taking up valuable floor area. These cabinets can be installed above the toilet or sink, or even on an empty wall.
Opting for a cabinet with mirrored doors can also help to create the illusion of more space in your bathroom while providing you with a convenient spot to get ready in the morning. When choosing wall-hung cabinets, make sure that they match your overall design scheme and don't overwhelm the room visually.
Consider installing lighting underneath them to add some ambiance and functionality at night-time when using your bathroom mirror is essential!
Bold Wallpaper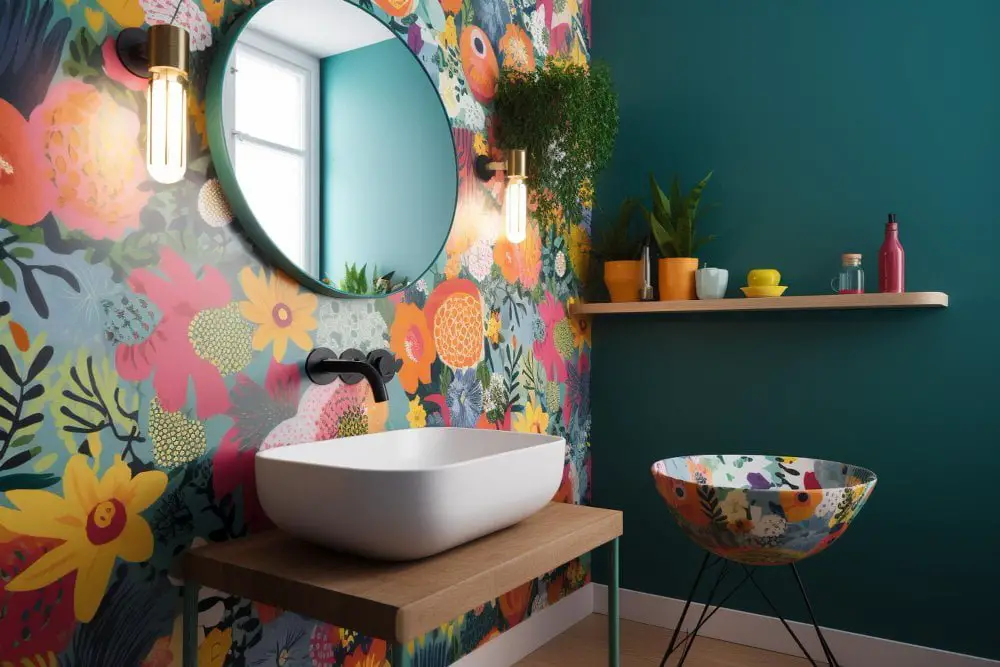 Bold wallpaper can be a great way to add personality and style to a small bathroom. While it may seem counterintuitive, using a bold pattern or color can actually make the space feel larger by drawing the eye upward.
Consider using wallpaper on just one wall as an accent, or go all out and cover every surface for maximum impact. Just be sure to choose moisture-resistant options that are designed specifically for use in bathrooms.
Some popular choices include graphic prints, floral patterns, and geometric designs in bright colors like navy blue or emerald green. Pair with simple fixtures and accessories in neutral tones for balance so that your statement-making walls don't overwhelm the space visually!
Plants for Decor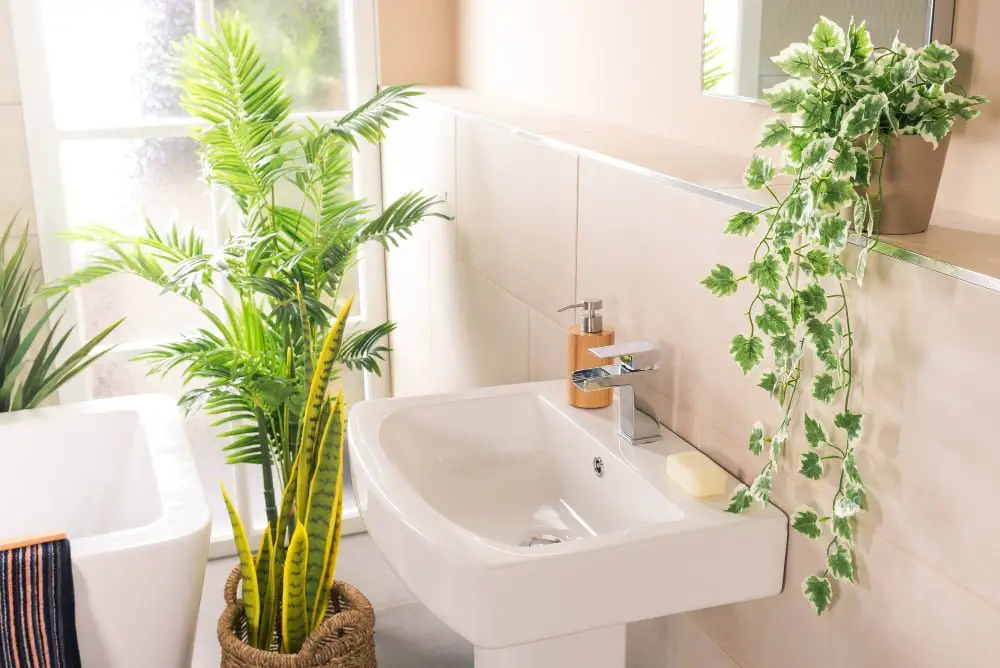 Plants are a great way to add life and color to any small bathroom. They not only improve air quality but also create a calming atmosphere.
However, it's important to choose plants that thrive in humid environments with low light conditions such as ferns, spider plants or peace lilies. Hanging planters or wall-mounted pots can be used if there is limited counter space available.
Alternatively, placing potted plants on shelves or window sills can also work well for adding greenery into the bathroom decor scheme without taking up too much floor space.
Multi-functional Furniture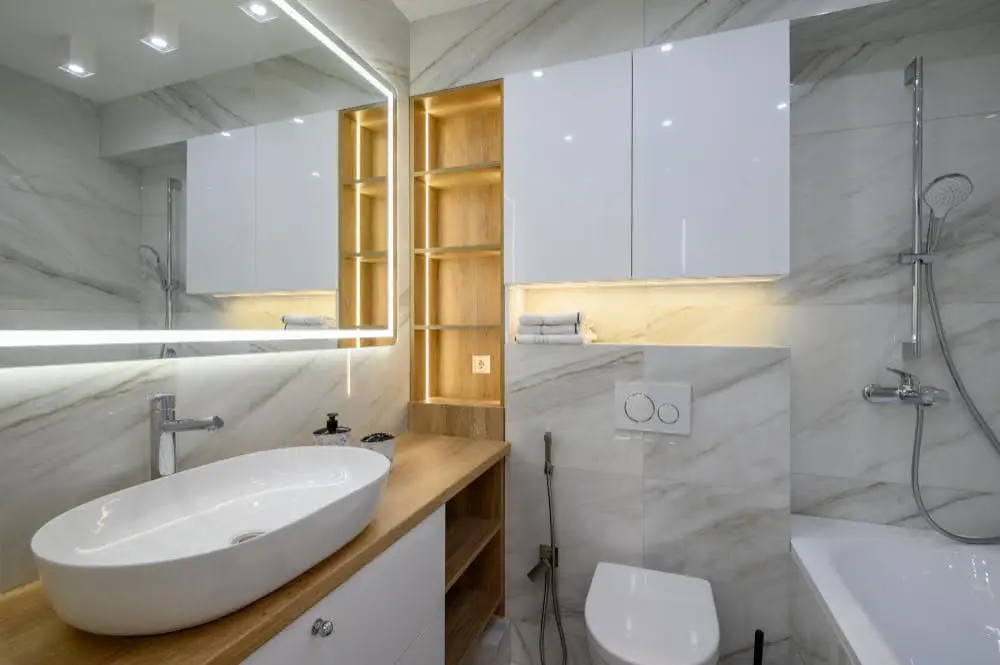 Multi-functional furniture is a great way to maximize space in a small bathroom. Consider investing in pieces that serve more than one purpose, such as an ottoman with hidden storage or a vanity with built-in drawers and shelves.
A bench can also double as towel storage or even provide extra seating for guests. Another option is to install floating shelves above the toilet that can hold towels, toiletries, and decorative items all at once.
By incorporating multi-functional furniture into your small bathroom design, you'll be able to make the most of every inch of space while keeping clutter at bay.
Geometric Tiles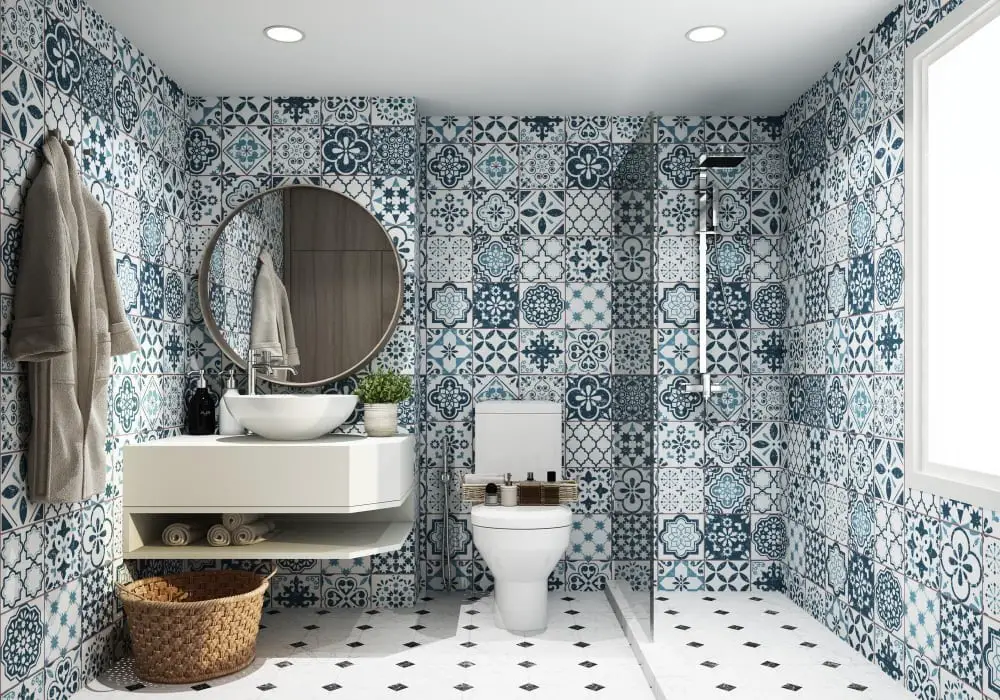 Geometric tiles are a great way to add visual interest and depth to a small bathroom. These tiles come in various shapes, sizes, and colors that can be arranged in different patterns such as herringbone or chevron.
A popular trend is using hexagonal-shaped tiles for the floor or walls of the shower area. The geometric pattern creates an illusion of space by drawing the eye towards it while adding texture to your bathroom design.
When choosing geometric tiles for your small bathroom, consider using light-colored ones with subtle patterns if you want a minimalist look. Alternatively, bold-colored ones with intricate designs will make your space stand out and create an energetic atmosphere.
Geometric tile installation requires precision; therefore hiring professionals is recommended unless you have experience working with tiling tools yourself. With proper installation techniques and creative use of color schemes, geometric tile designs can transform any small bathroom into an elegant oasis that reflects personal style preferences while maximizing functionality within limited square footage constraints!
Mirrored Wall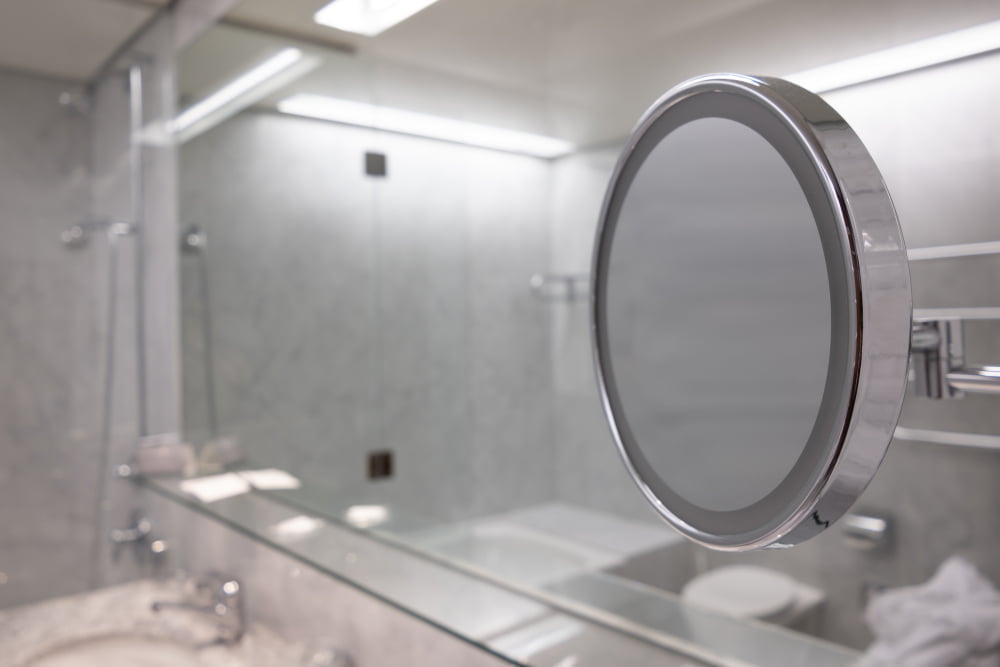 Mirrored walls are a great way to make a small bathroom feel larger and more spacious. By reflecting light, they can also brighten up the space and create an illusion of depth.
A mirrored wall behind the vanity or sink area is particularly effective as it allows you to see yourself from different angles while getting ready in the morning. However, be mindful not to overdo it with mirrors as too much reflection can be overwhelming and disorienting.
Consider using frosted glass or other materials for some areas of your bathroom design instead of mirrors if you want to balance out their effect on your overall decor scheme.
Continue reading: