Last updated on October 1, 2023
Get ready to transform your bathroom into a chic vintage oasis with these 20 creative and affordable ideas that will impress even the most discerning design enthusiasts.
Welcome to my latest blog post where I'll be sharing with you some of the most creative and stylish vintage bathroom design ideas. If you're looking for ways to add a touch of nostalgia and charm to your bathroom, then this post is perfect for you! Whether it's a complete overhaul or just a few simple tweaks, these 20 ideas will inspire you to create a space that's both functional and beautiful.
From clawfoot tubs and antique mirrors to vintage-inspired wallpaper and accessories, there are so many ways to achieve the vintage look in your bathroom. So, let's dive in!
Clawfoot Bathtub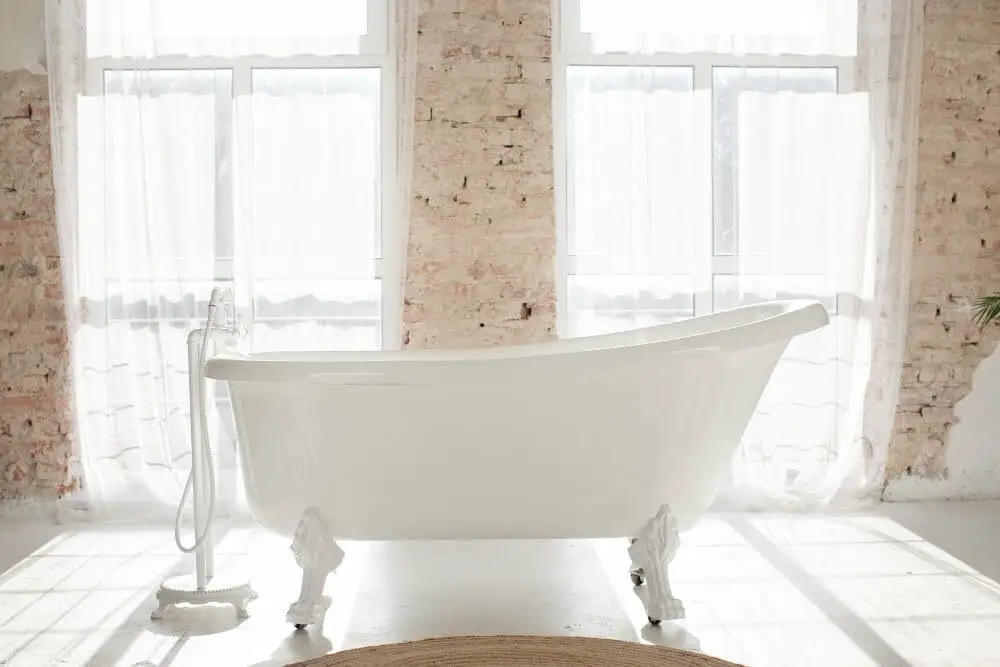 A clawfoot bathtub is a classic vintage element that can add charm and elegance to any bathroom. These freestanding tubs are typically made of cast iron or acrylic, with feet that come in various styles such as ball-and-claw or lion's paw.
They are perfect for creating a relaxing spa-like atmosphere in your bathroom while also serving as the focal point of the space. To complete the vintage look, consider pairing it with brass fixtures and subway tiles on the walls.
A clawfoot bathtub is not only functional but also adds character to your home decor, making it an excellent investment for those who love timeless design elements.
Pedestal Sink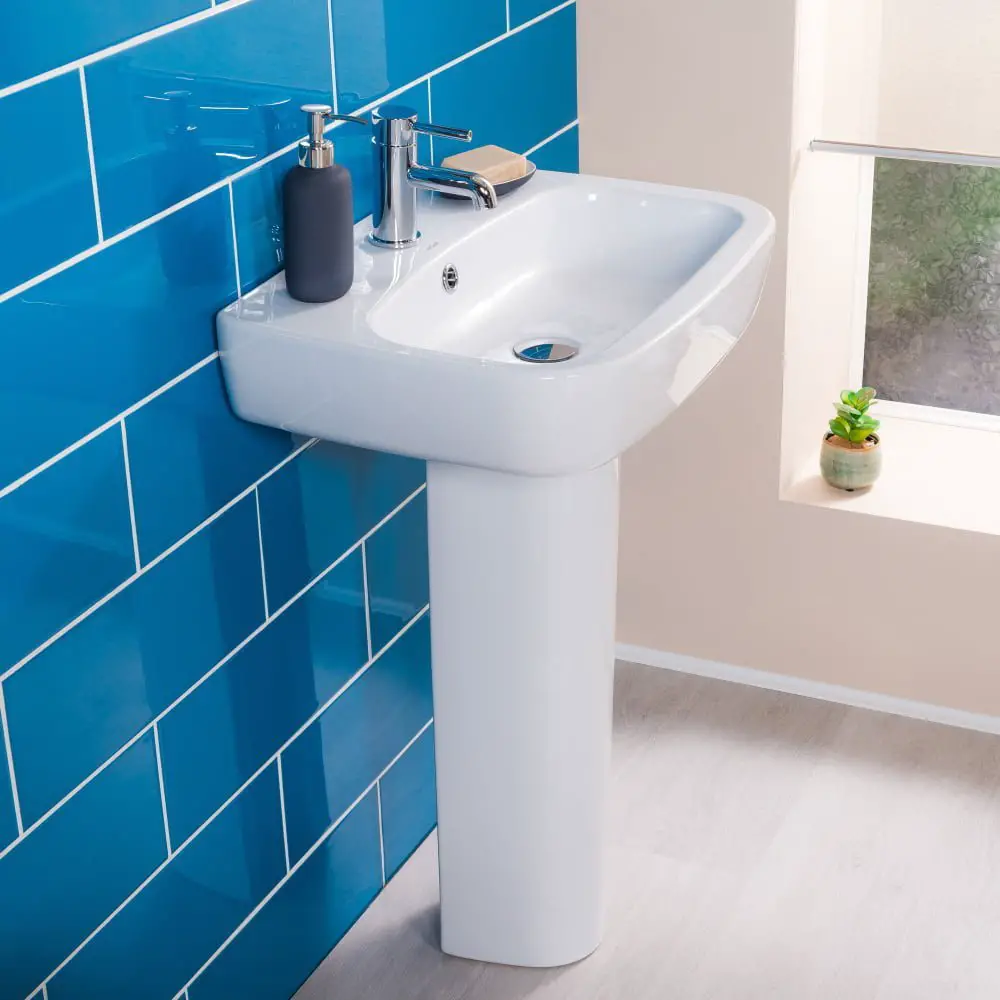 Pedestal sinks are a classic choice for vintage bathroom designs. They have a timeless appeal and can fit into any size of the bathroom, making them an excellent option for small spaces.
Pedestal sinks come in various styles, from ornate to simple designs that can complement any decor style. They also offer practical benefits such as easy cleaning and maintenance due to their open design that allows access underneath the sink area.
When paired with brass fixtures or retro light fixtures, pedestal sinks add charm and character to your vintage-inspired bathroom design while providing functionality at the same time.
Subway Tiles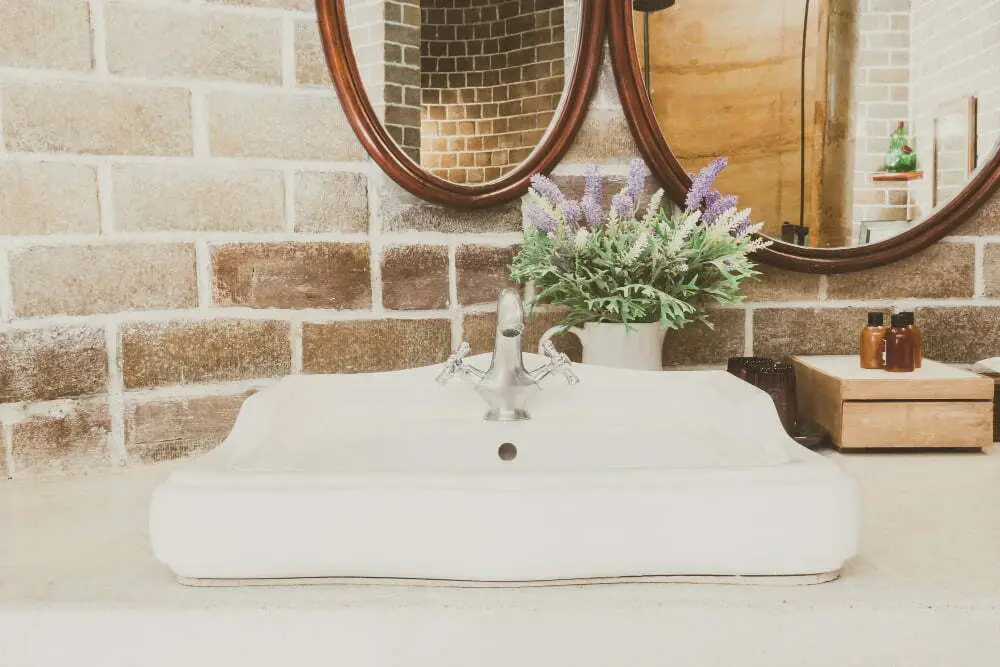 Subway tiles were first used in the early 1900s and have since become a staple in many bathrooms. They are versatile, easy to clean, and can be arranged in various patterns such as herringbone or stacked horizontally or vertically.
For a true vintage look, opt for white subway tiles with black grout lines. This will create an eye-catching contrast that is both timeless and elegant.
Alternatively, you can choose colored subway tiles to add some personality to your bathroom while still maintaining its vintage charm.
Subway tile installation is relatively simple but it's important to hire an experienced professional if you're not confident doing it yourself. With proper installation and maintenance, these durable tiles will last for years while adding character and style to your bathroom design scheme!
Black and White Floor Tiles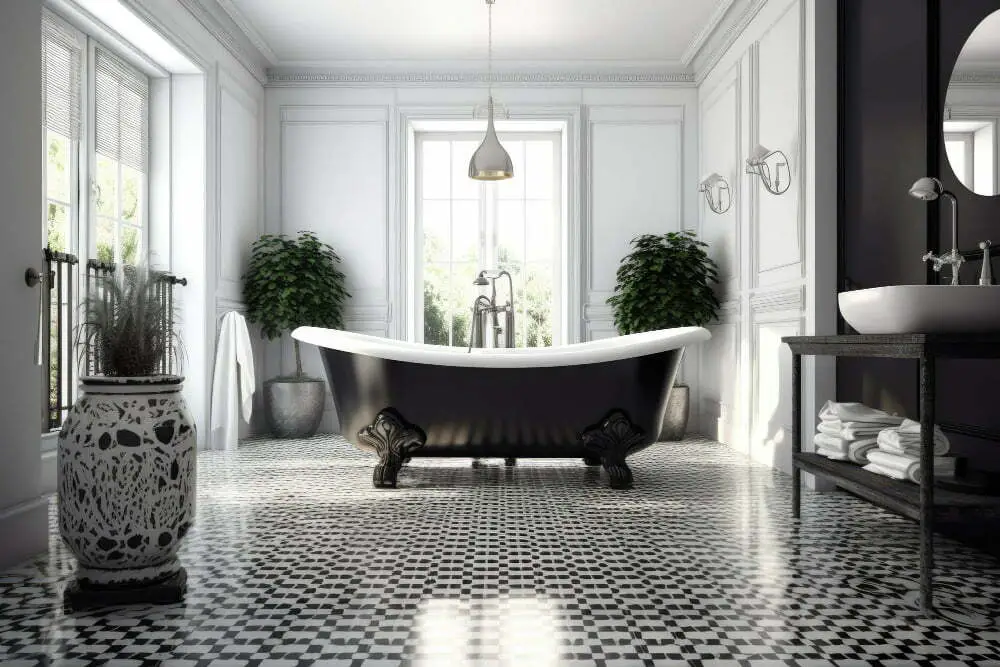 Black and white floor tiles tiles create a timeless look that can be paired with various styles of decor. The contrast between the black and white colors adds depth to the space, making it feel larger than it is.
To add interest, consider using patterned black and white tiles or creating a border around the perimeter of the room with contrasting colored tiles.
Another option is to use large format black and white floor tiles for an updated take on this traditional style. Regardless of how you choose to incorporate them into your bathroom design, these iconic floor coverings will never go out of style!
Brass Fixtures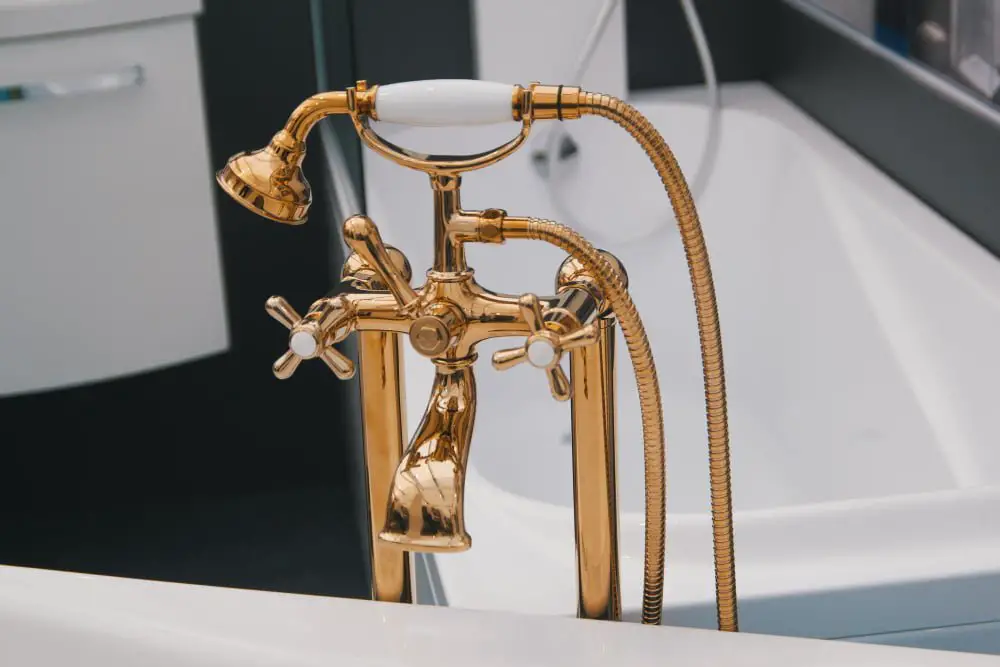 Brass fixtures are a great way to add vintage charm to your bathroom. They can be used for faucets, showerheads, towel bars and other accessories.
Brass has a warm tone that complements the white or pastel colors often found in vintage bathrooms. It also adds an elegant touch that elevates the overall look of the space.
When choosing brass fixtures, consider their finish as well as their style. A polished brass finish will give your bathroom a shiny and glamorous look while an antique or brushed finish will create a more subdued and rustic feel.
To complete the vintage vibe of your bathroom with brass fixtures, pair them with other elements such as subway tiles or black-and-white floor tiles for contrast. You can also use wooden accents like shelves or cabinets to balance out the metallic shine of brass fittings.
Freestanding Storage Cabinet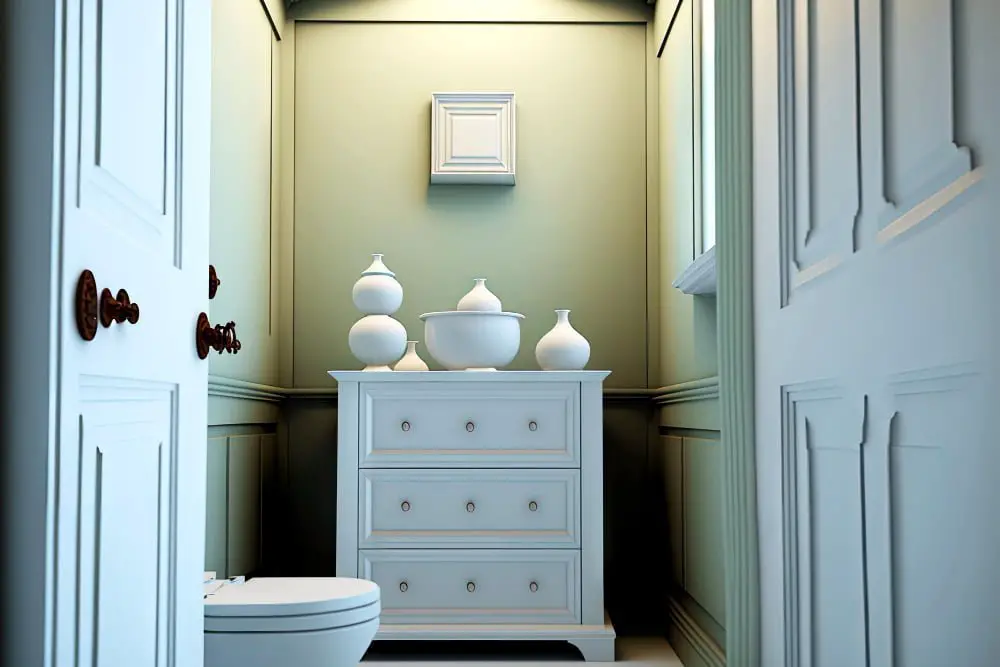 A freestanding storage cabinet is a great addition to any vintage bathroom design. Not only does it provide extra storage space for towels, toiletries, and other essentials, but it also adds character and charm to the room.
Look for cabinets with glass doors or open shelving to display your favorite vintage finds such as perfume bottles or antique jars filled with cotton balls. A distressed finish will give the piece an authentic aged look that complements the overall aesthetic of your bathroom design.
Consider placing a small stool next to the cabinet so you can sit down while getting ready in front of a mirror on top of it – this will create an inviting atmosphere reminiscent of old Hollywood glamour bathrooms!
Vintage Mirror Frame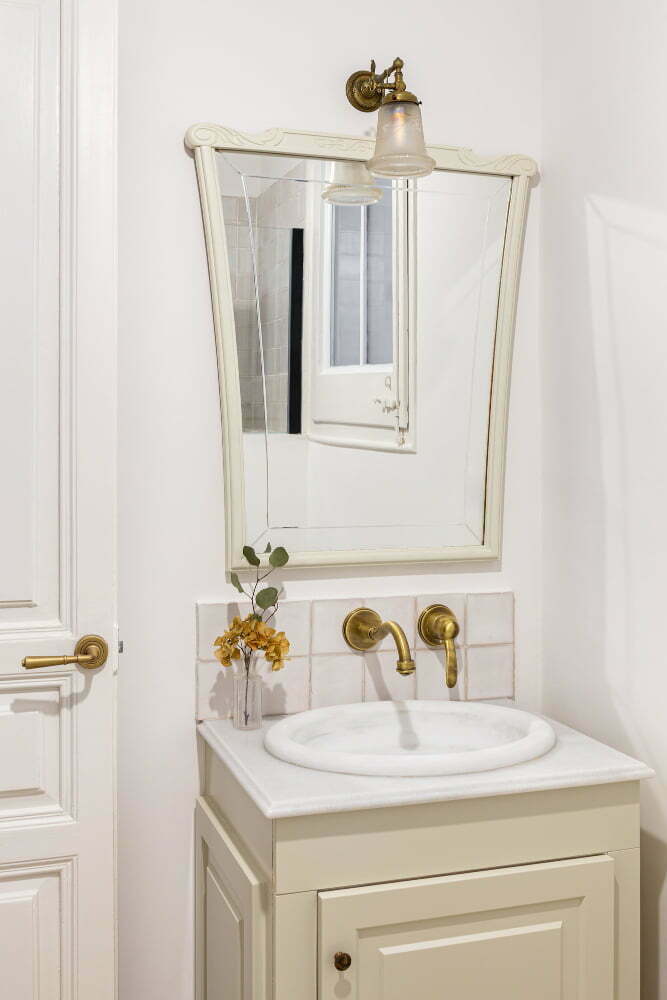 Look for ornate, gilded frames with intricate details or distressed wooden frames for a rustic touch.
You can find vintage mirrors at flea markets, antique stores, or online marketplaces like Etsy. Alternatively, you can transform an existing mirror by adding a frame made of reclaimed wood or molding pieces from the hardware store painted in an antique finish.
A vintage mirror frame will not only elevate the style of your bathroom but also provide functional use as well as reflecting light and making space feel larger than it is!
Wallpaper With Floral Patterns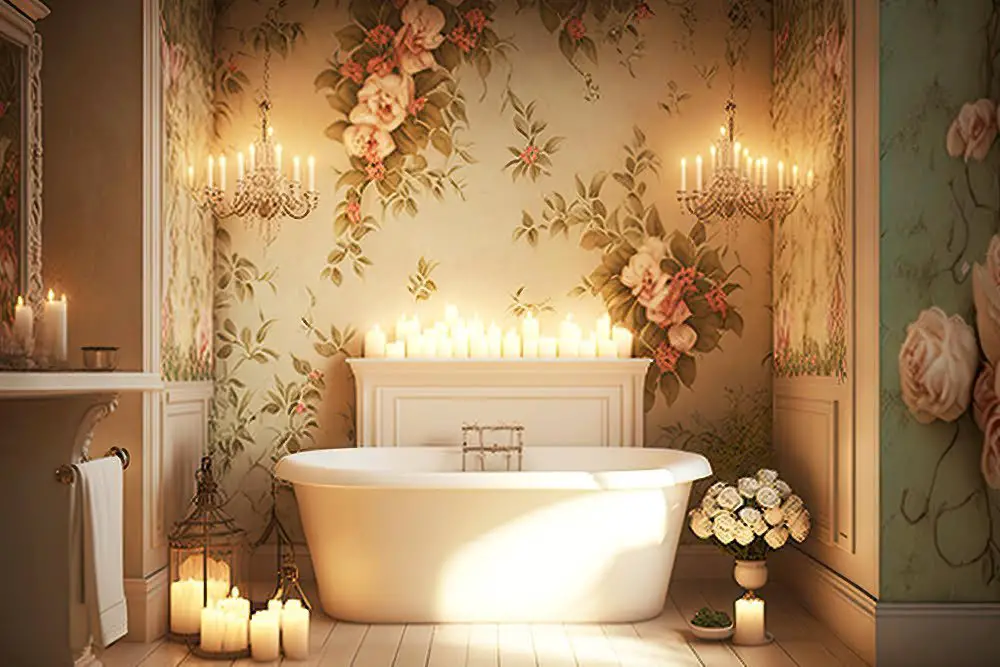 Choose a wallpaper that has muted colors and delicate flowers for an authentic vintage look.
You can use it on one accent wall or cover the entire room, depending on your preference. To complete the look, pair it with other vintage elements such as brass fixtures and clawfoot bathtub.
Keep in mind that too much pattern can be overwhelming, so balance out the floral wallpaper with solid-colored towels and accessories for a cohesive design scheme.
Wainscoting Panels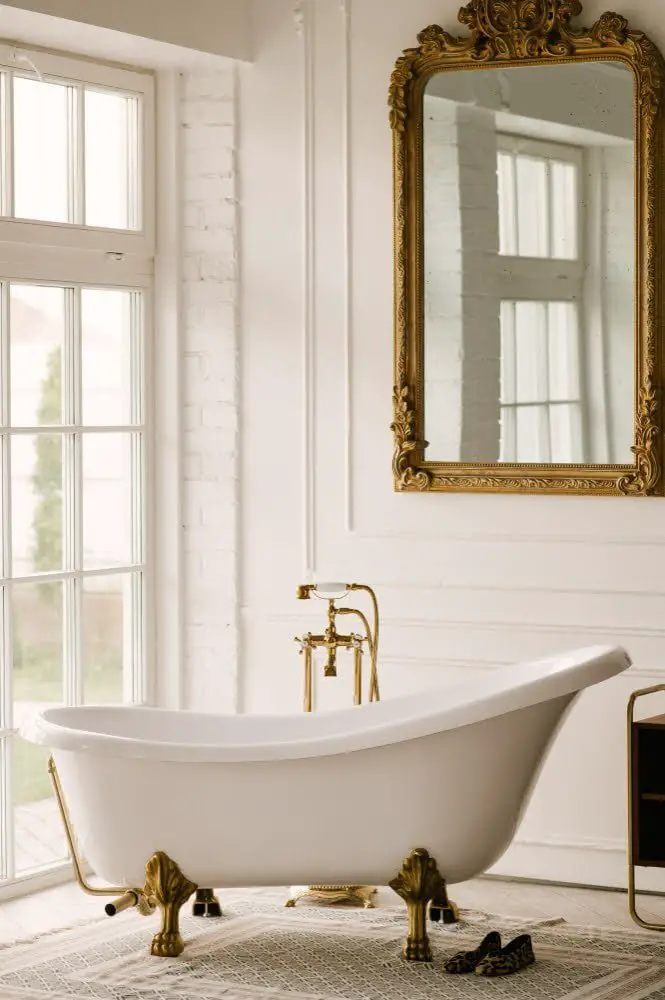 These decorative wooden panels can be installed on the lower half of the walls, creating a cozy and inviting atmosphere.
Wainscoting comes in various styles, from simple beadboard designs to more intricate raised panel patterns. You can paint or stain them in any color that matches your bathroom decor or leave them natural for an authentic vintage look.
Not only do wainscoting panels add visual interest, but they also protect the walls from moisture damage caused by splashing water and steamy showers. Consider adding wainscoting as part of your next bathroom renovation project for a timeless touch that will never go out of style!
Hexagonal Tile Flooring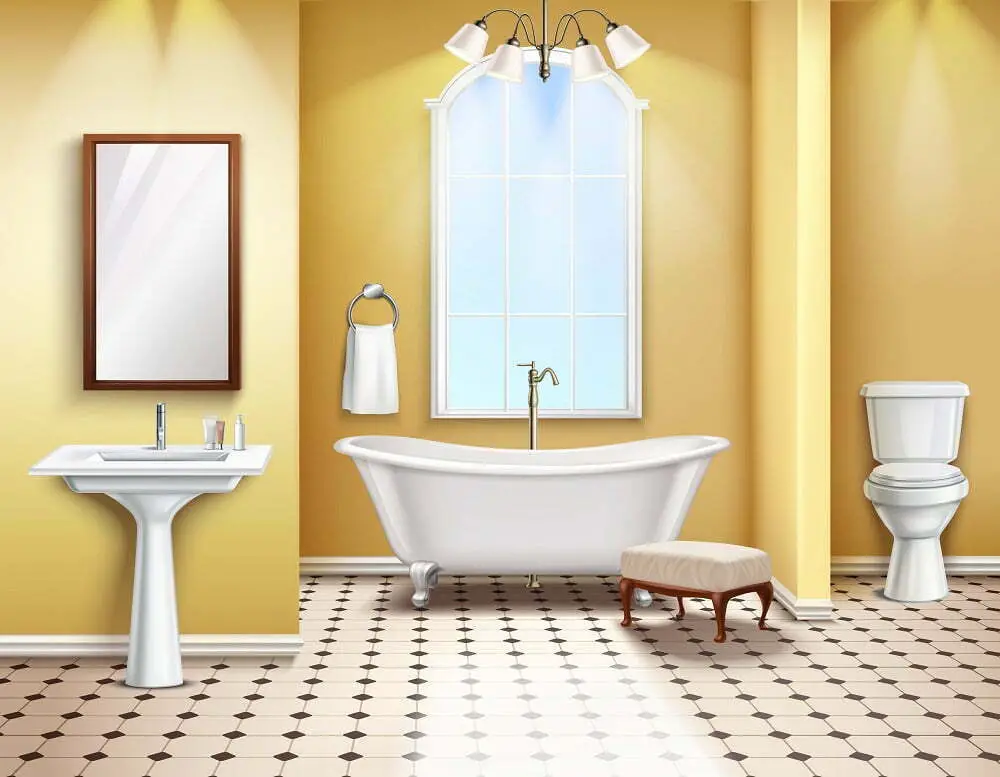 Hexagonal tile flooring is a popular choice for vintage bathroom designs. These tiles come in various colors and patterns, allowing you to create a unique look that suits your style.
The hexagonal shape adds visual interest to the floor and can be used as an accent or cover the entire space. You can choose from small or large hexagons, depending on the size of your bathroom.
Black and white hexagon tiles are classic choices for vintage bathrooms, but you can also opt for colorful ones if you want to add some personality to your space. Hexagonal tile flooring is durable, easy-to-clean, and timeless – making it an excellent investment for any homeowner looking to transform their bathroom into a stylish retreat with vintage charm!
Antique Vanity Unit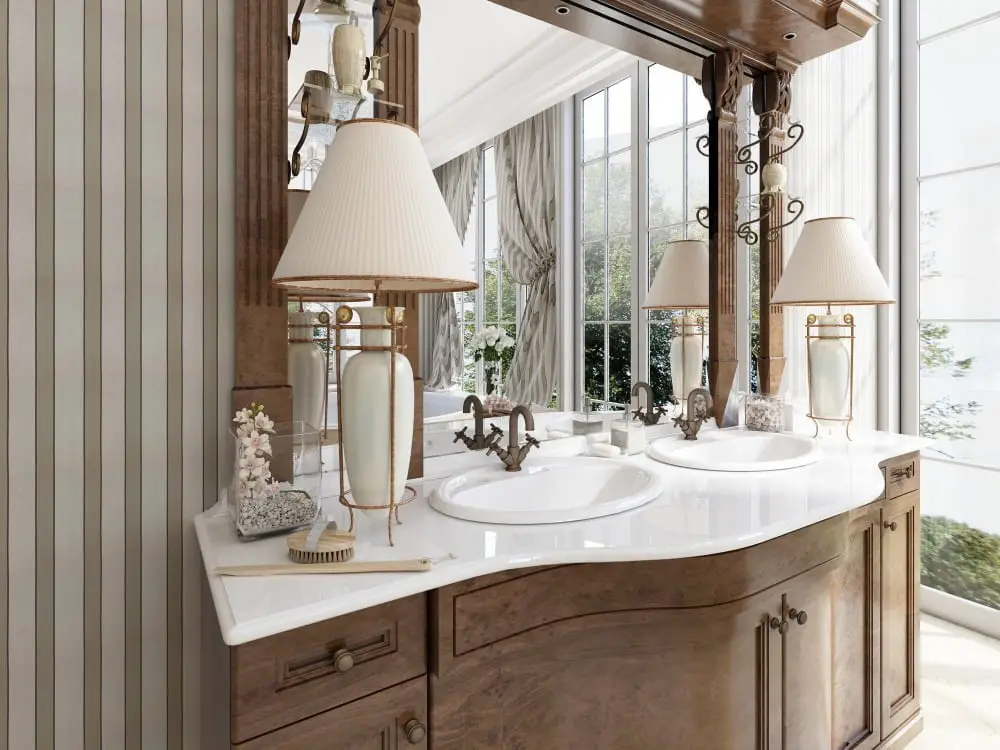 An antique vanity unit can add a touch of elegance and sophistication to any vintage bathroom design. These units often feature intricate carvings, ornate handles, and beautiful mirrors that reflect the charm of bygone eras.
You can find them in various styles such as Victorian or Art Deco, depending on your preference. Pairing an antique vanity unit with modern fixtures like brass faucets or subway tiles creates a unique blend of old-world charm and contemporary style that is sure to impress your guests.
Retro Light Fixtures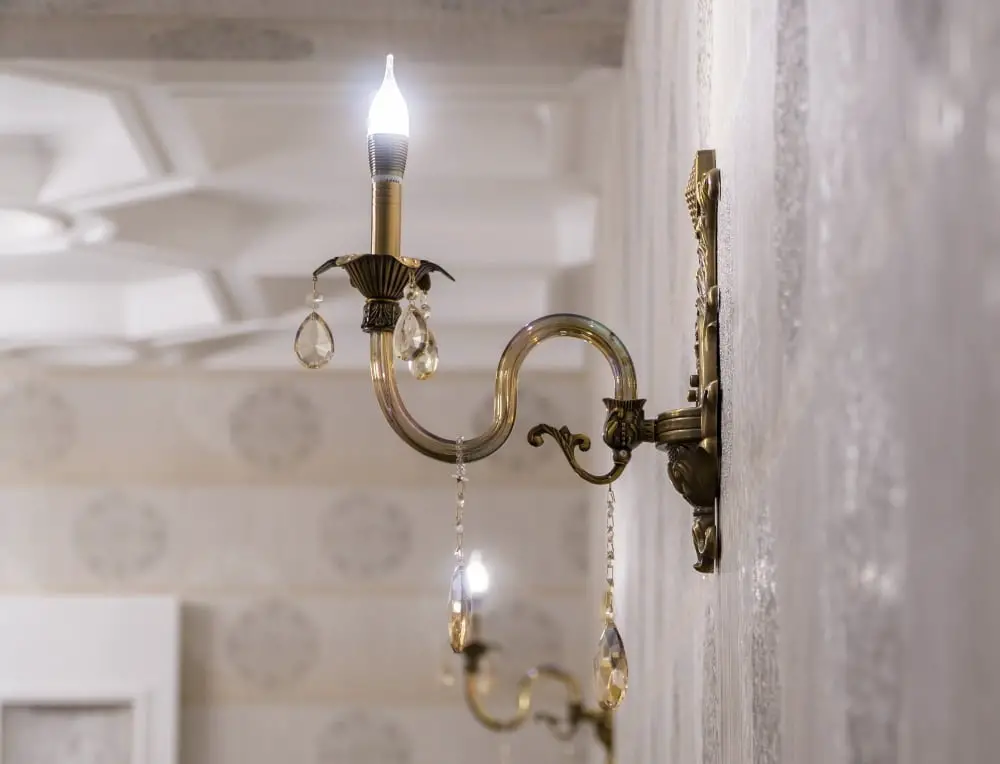 Retro light fixtures are a great way to add some vintage charm to your bathroom. Look for fixtures with unique shapes and finishes, such as sputnik chandeliers or milk glass shades.
You can also repurpose old fixtures by giving them a fresh coat of paint or replacing the bulbs with Edison-style ones for an authentic retro look. Hang them above the vanity mirror or in the center of the room as a statement piece.
Whatever style you choose, these light fixtures will bring warmth and character to your vintage-inspired bathroom design.
Wooden Towel Ladder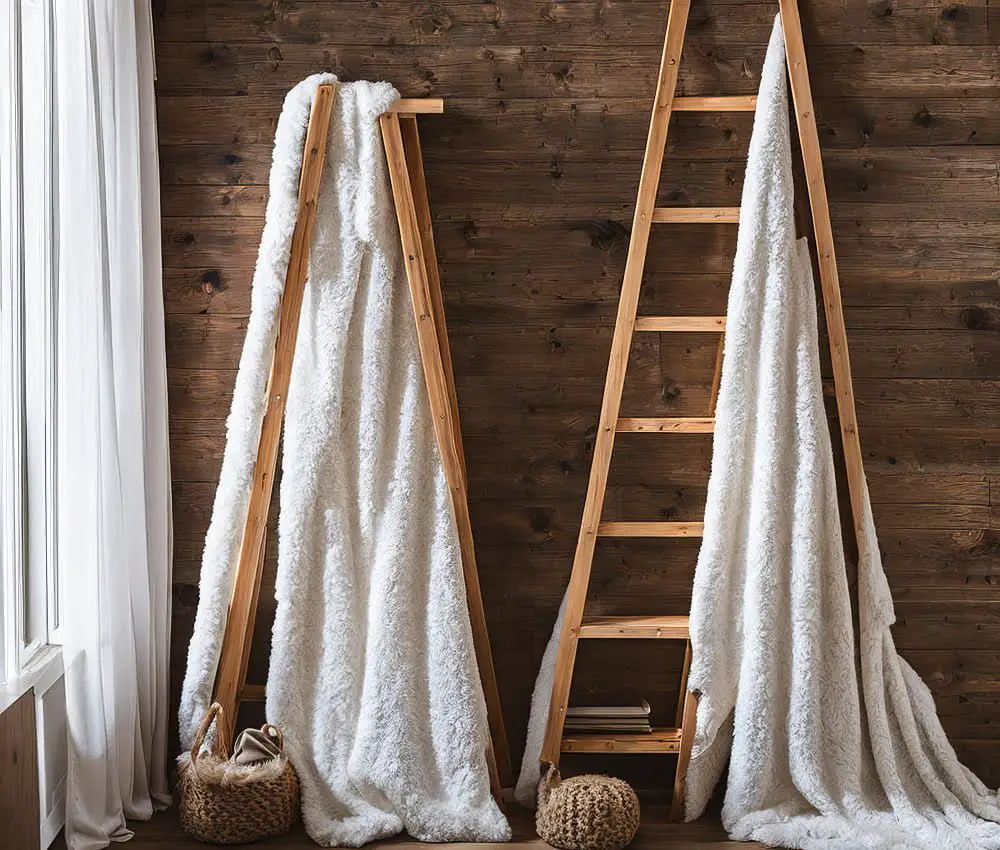 A wooden towel ladder not only provides a practical solution for hanging towels, but it also adds warmth and texture to the space.
A simple DIY project, you can easily make your own wooden towel ladder with just a few pieces of wood and some basic tools. Alternatively, there are many options available for purchase online or in home decor stores that come in various sizes and finishes to match your bathroom's aesthetic perfectly.
Whether you choose to use it as an accent piece or as functional storage, a wooden towel ladder is sure to elevate the overall look of your vintage-inspired bathroom design.
Lace Curtains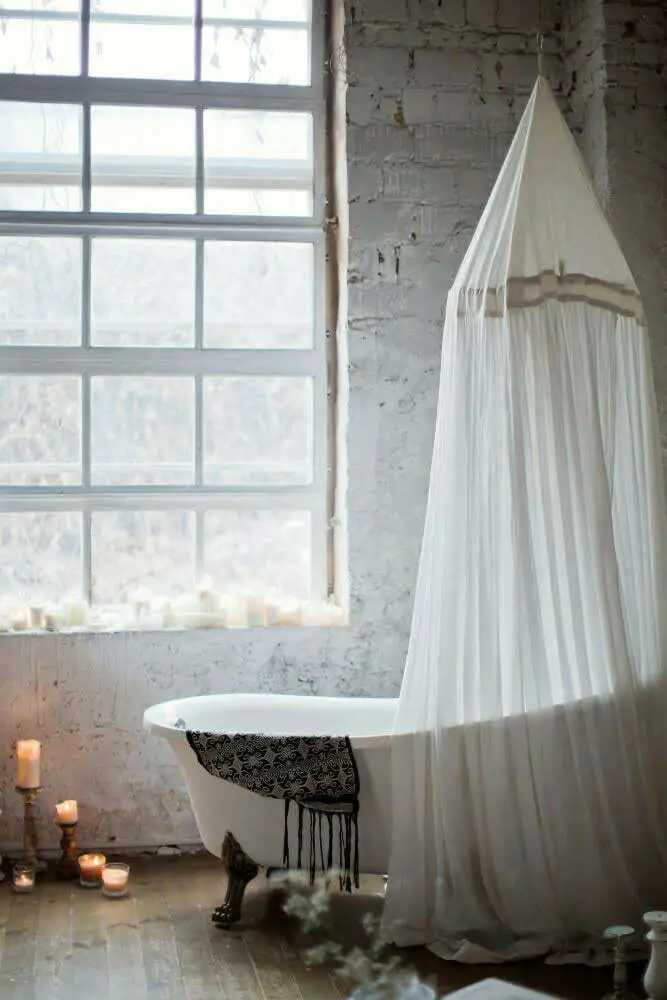 Lace curtains add a touch of elegance and softness to the space while still allowing natural light to filter through.
Lace curtains come in various patterns, from delicate florals to intricate geometric designs, making it easy for you to find one that complements your bathroom's overall aesthetic. Hang them on simple rods or ornate tiebacks for an added touch of sophistication.
Not only do lace curtains provide privacy, but they also create a cozy atmosphere perfect for relaxing baths or getting ready in the morning.
Cast Iron Radiator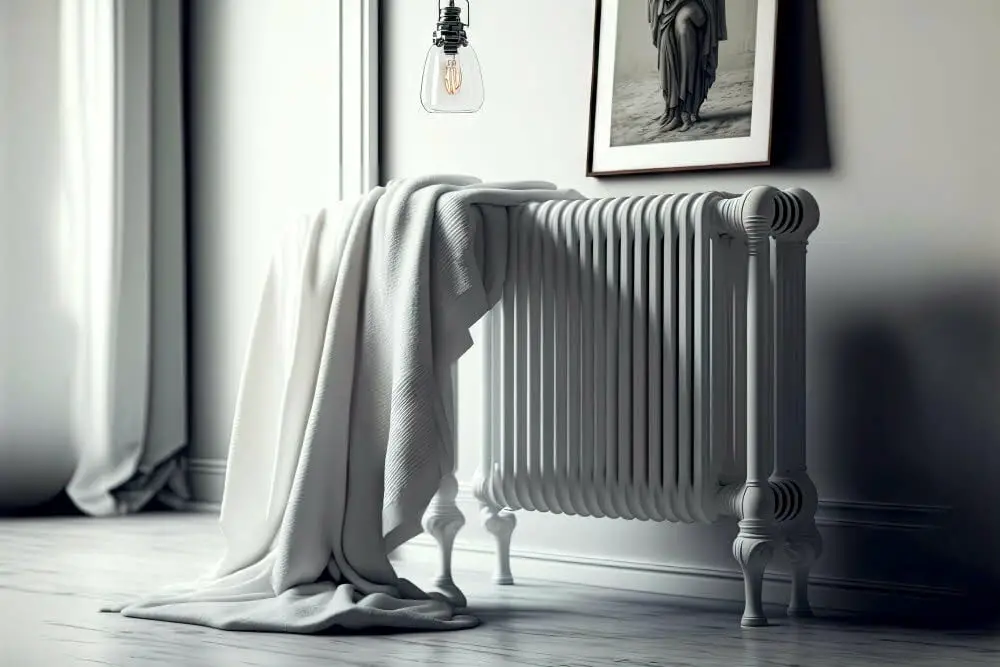 These classic heating units not only provide warmth but also add an element of charm and character to the space.
Cast iron radiators come in various sizes, shapes, and designs that can complement different styles of bathrooms. They work well with clawfoot bathtubs, subway tiles, and other vintage elements commonly found in traditional bathrooms.
One advantage of cast iron radiators is their durability; they can last for decades without needing replacement or maintenance if properly cared for. These types of radiators retain heat longer than modern ones due to their high thermal mass.
When choosing a cast-iron radiator for your bathroom renovation project, consider its size relative to the room's dimensions as well as its style compared with other fixtures such as faucets or lighting fixtures. A larger radiator may be necessary if you have a large bathroom or live in colder climates where more heat is required during winter months.
Overall adding a cast-iron radiator will give your vintage-inspired bathroom both functionality and aesthetic appeal while maintaining the authenticity of this timeless design style
Beadboard Ceiling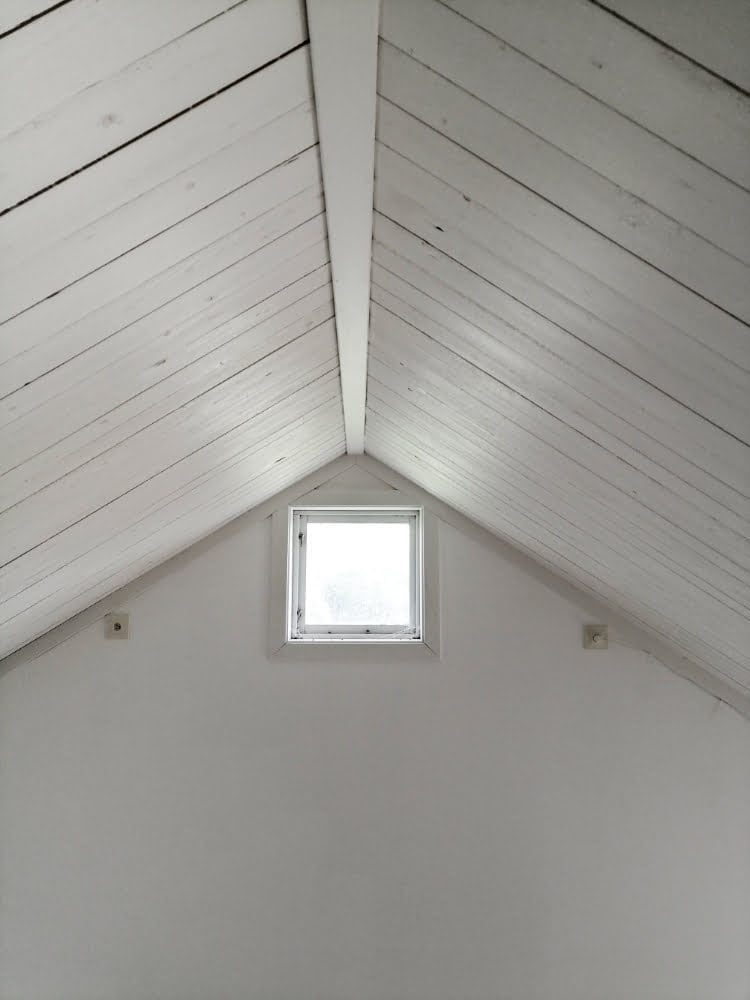 Beadboard ceiling is a classic element of vintage bathroom design that adds texture and depth to the space. It consists of narrow wooden planks installed in a tongue-and-groove pattern, creating a seamless look with visible seams.
Beadboard ceilings can be painted white or left natural for a rustic feel, depending on the overall style you want to achieve. They work particularly well in small bathrooms as they visually expand the height of the room and provide an interesting focal point above eye level.
Beadboard ceilings are relatively easy to install and maintain compared to other types of ceiling finishes such as plaster or drywall.
Medicine Cabinet With Glass Doors
A medicine cabinet with glass doors is a perfect addition to any vintage bathroom design. Not only does it provide practical storage space for your toiletries, but it also adds an elegant touch to the room.
The glass doors allow you to display your beautiful perfume bottles or antique shaving mugs while keeping them organized and easily accessible. You can find vintage-style medicine cabinets at flea markets or online stores that specialize in retro home decor items.
Alternatively, you can create a DIY version by repurposing an old window frame and adding shelves inside with clear glass panels on the front side of each shelf for easy viewing of contents within the cabinet.
Mosaic Accent Wall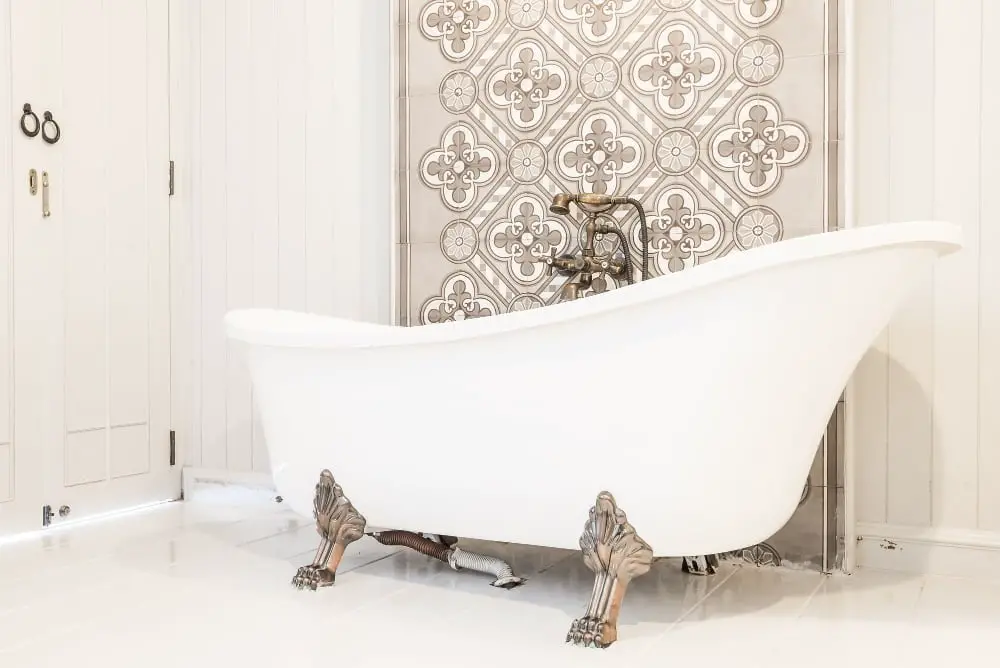 Mosaic accent walls are a great way to add texture and color to your vintage bathroom design. You can create an intricate pattern using small tiles in different shades of the same color or mix and match various colors for a more eclectic look.
Mosaic tiles come in many shapes, sizes, and materials such as glass, ceramic or stone. You can choose from classic patterns like herringbone or basket weave or create your own unique design that complements the rest of your bathroom decor.
A mosaic accent wall is perfect for adding visual interest behind a bathtub, vanity unit or even as an entire feature wall in smaller bathrooms where you want to make a statement without overwhelming the space with too much patterned wallpaper.
Porcelain Soap Dish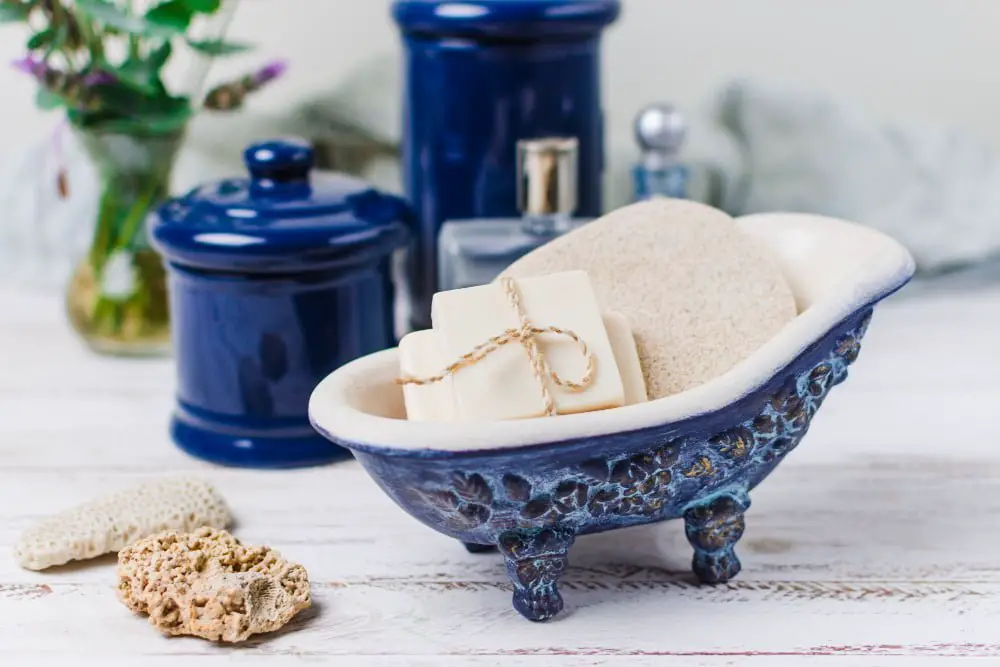 Porcelain soap dishes are a charming addition to any vintage bathroom design. They come in various shapes, sizes, and colors that can complement the overall aesthetic of your bathroom.
A white porcelain soap dish with intricate details can add an elegant touch to your sink area while keeping your soap dry and organized. You can also opt for a colorful porcelain dish that matches the color scheme of your bathroom or adds a pop of color to it.
Porcelain is easy to clean and maintain, making it an ideal material for everyday use in bathrooms.
Victorian-style Faucets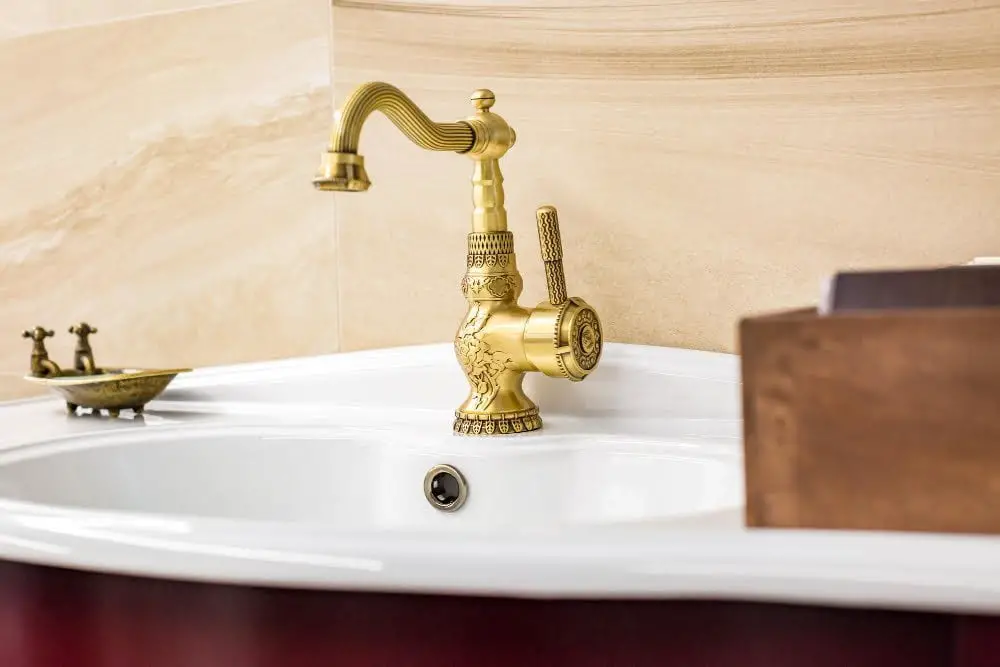 Victorian-style faucets are a great way to add vintage charm to your bathroom. These faucets typically feature intricate details and ornate designs that were popular during the Victorian era.
They come in a variety of finishes, including polished chrome, brushed nickel, and oil-rubbed bronze. Pairing these faucets with other vintage elements like clawfoot tubs or pedestal sinks can create an authentic period look in your bathroom.
If you're looking for a simple way to update your space without doing a full renovation, swapping out modern fixtures for Victorian-style ones is an easy solution that will make a big impact on the overall aesthetic of your bathroom design.
Continue reading:
Recap