Last updated on September 20, 2023
Wine glasses aren't just for drinking wine – they can be the perfect solution to create that unique decor accent. Here are some of the most creative wine glass decorating ideas. Read on!
Wine glasses have a long history that spans their shape and size. They're usually used for certain types of wine like the red and white wines and even champagnes.
But you don't have to be a wine drinker to enjoy them because they can be transformed into centerpieces, decorations, and gifts for your loved ones.
That's why I've compiled a list of the most creative wine glass decorating ideas to turn it into a fancy decor piece. It might inspire the artist within you. Check these out!
Table of Contents
Hand Painted Wine Glasses
A nice glass of wine can be enjoyed the usual way, but hand painting it will make it look more personalized and fancier if you do it yourself. Trees, confetti, and even Christmas lights are good designs you can do for your wine glass.
Cute Wine Glasses
And you thought pick-up lines couldn't be used on a wine glass. Cute wine glasses are perfect gifts for friends and family because everybody loves them. Simple words and quotes can significantly lift up someone's mood.
Wine Glass Candle Holders
When it comes to practical wine glass decorating ideas, they can be candle holders too. You simply need to turn them upside down. A wine glass can be painted and modified the way you want it. They can be cartoon characters, Christmas characters, and they're easy to do.
Acrylic Paint On Glass Permanently
Acrylic paint is considered the most versatile paint. It's so quick to dry, water-resistant, made to last, affordable, and easy to clean. It's also newbie-friendly so it's recommended for those who aren't familiar with art painting on wine glasses.
Stained Glass Wine Glasses
Stained glass for your wine glass will make it look really elegant and beautiful. It symbolizes different levels of emotion but the downside is it's really expensive plus it takes great skill to properly use it especially on a small object like a wine glass.
Wine Glass Centerpieces
With the proper items and skill, a wine glass can become an important item of display in an area, most likely in a table setting. If you've got a nice collection of wine glasses, it will be the center point of everyone in the room. It can be combined with candles, gifts, etc.
Fall Wine Glasses
Another unique approach to making art on your wine glass is creating fall art. It's a great gift for anyone, especially wine lovers, and it doesn't limit you with just leaves and branches, but fall fruits or vegetables (like pumpkins) will do too.
DIY Glitter Wine Glasses
Glitter on a wine glass is easy and it creates a unique, decorative look for any event and Holidays. The glitter can be coordinated to match the color of the event and it adds sparkle too. It's easy to learn the basic design and you can move on to detail and more complex designs as time goes on.
Wine Glass Stencils
Stenciling is when you use a sheet of cardboard, plastic, or metal with patterns (a stencil) and apply spray paint to the surface to create art. This method can be done on a wine glass too and it's recommended for someone who doesn't really have a talent for arts since you can just get it almost anywhere.
Wine Glass Art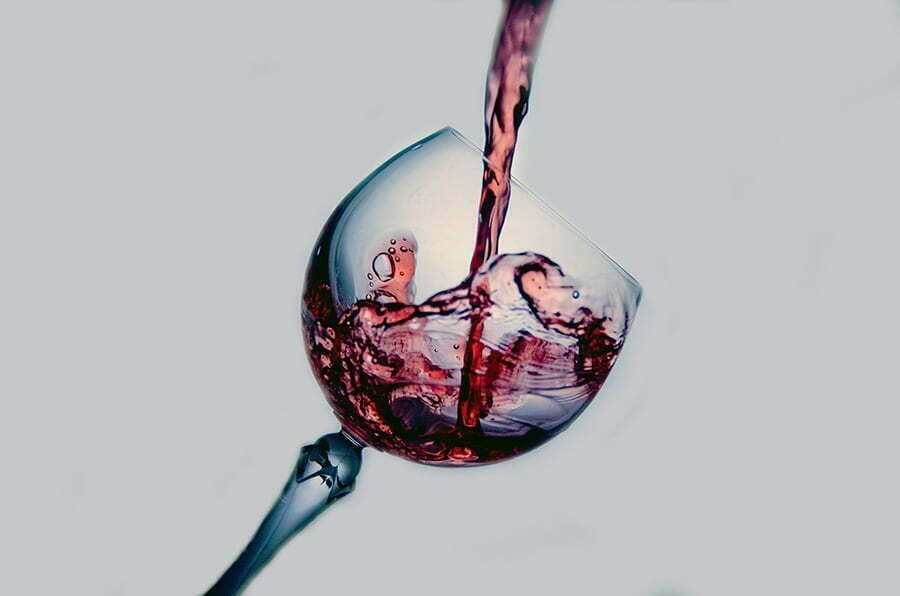 Wine glass art is kind of a broad concept as there are so many kinds of art that you can do with glass. A fancy art makes a big difference for the drinker as it can set the right mood. Stencils, glitter, acrylic paint, or abstract art – are some of the ways you can put art on your wine glasses.
Abstract Wine Glasses
Abstract art is a type of art that uses shapes, forms, colors, and textures to represent something. Applying abstract art on a wine glass will make it really mysterious and unique looking.
DIY Halloween Wine Glasses
When Halloween comes, a wine glass can be a perfect Halloween centerpiece as it can be decorated with Halloween accents. You can paint wine glasses black like a witch's hat or draw skeleton or ghost arts on it.
Christmas Wine Glasses
And of course, if it can be used for Halloween, wine glasses are also great for the Christmas season. There are plenty of art pieces you can use on wine glasses. It could be Christmas trees, Santa, gifts, and even Reindeer. The white color is perfect to depict snow.
Mini Wine Glass Christmas Ornaments
Doing arts on glass wine is good but why stop there, right? How about small Christmas ornaments to make your glassware more attractive and fancier. Ribbons, candles, and small jewelry are just some of the best samples.
Best Paint for Glass
There are so many paints out there but only a few are good for painting on a wine glass.
The first one on the list is acrylic paint because it's suitable for glass.
Enamel that takes longer to dry but stays for a long time.
Specialty glass paint that's readily available and is made for glass.
Colored Frosted Glass Paint
Frosted glass is semi-transparent and has been sandblasted to make it look more opaque. It adds a unique quality to your glass plus you can change the color of it or paint a design. It's gonna be a great table centerpiece without needing to spend a lot.
Continue reading: